GHA DISCOVERY is your ticket to perks at chains like Parkroyal, Pan Pacific, Oaks and more. After a recent revamp, DISCOVERY members can now earn points, too – or more accurately, DISCOVERY Dollars.
Here's a look at the GHA DISCOVERY program, including how to unlock elite status. In fact, you could even earn top-tier Titanium status in as few as three stays, so read on!
How do I join GHA DISCOVERY?
Becoming a member of GHA DISCOVERY is quick and easy.
Head to the 'sign up' page of the GHA DISCOVERY website.
Fill in your name and contact information.
Finalise your membership application, and note down the membership number provided. This will also be sent to your email address to keep on file.
Which brands are under the DISCOVERY umbrella?
GHA DISCOVERY counts 34 brands within its portfolio, with over 500 locations across 85 countries. In Australia, the chain has 62 hotels spanning four key brands: Avani, Oaks, Pan Pacific and Parkroyal.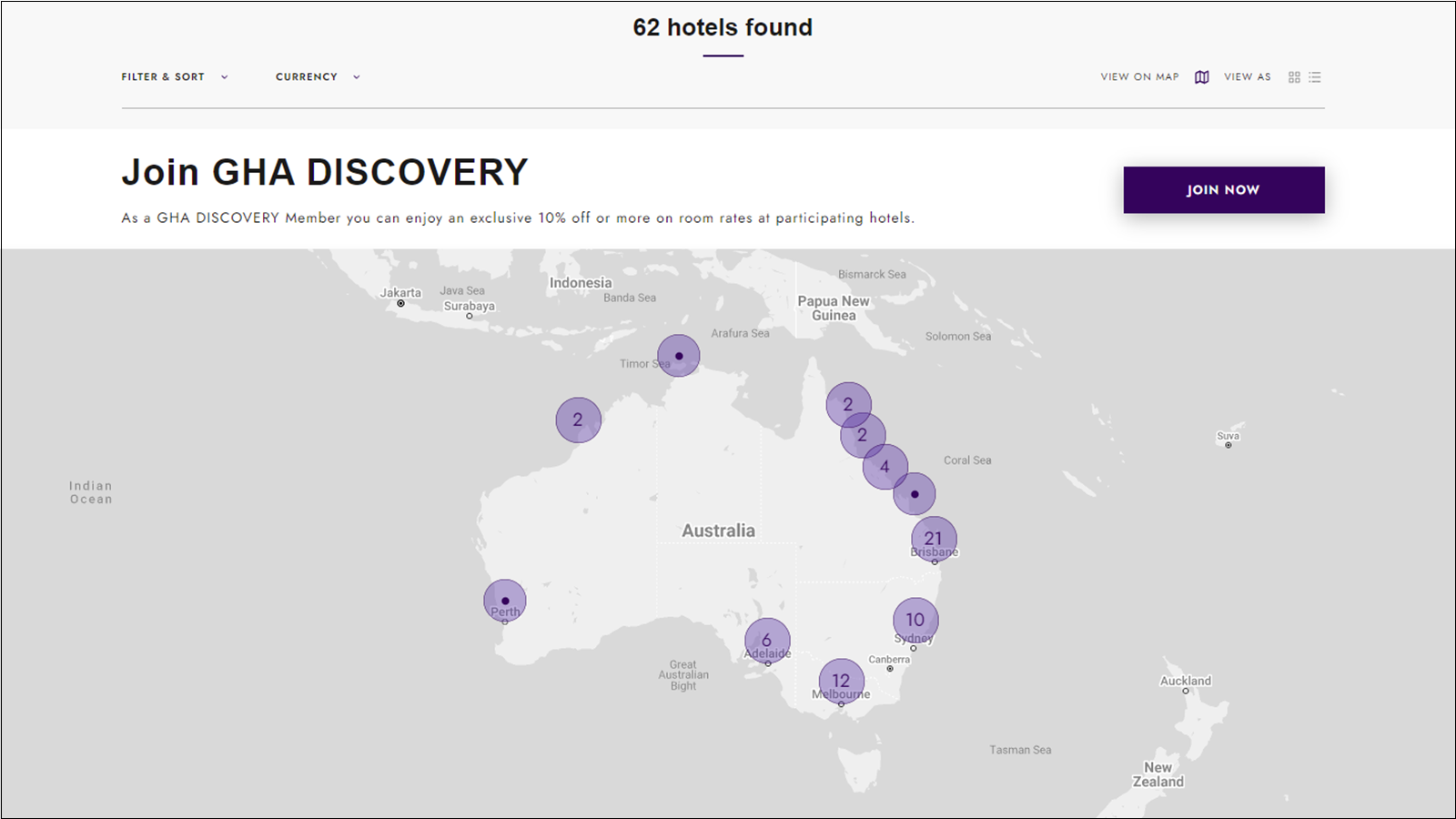 You'll find Avani Residences in Melbourne, Adelaide and the Gold Coast. Parkroyal offers locations in Sydney and Melbourne, while GHA's signature luxury brand, Pan Pacific, has properties in Melbourne and Perth. The rest of GHA's Australian locations are all Oaks-branded.
Internationally, the Global Hotel Alliance covers a much broader collection of brands. Here's the full list as of March 2022.
Anantara Hotels, Resorts & Spas
Araiya Hotels & Resorts
Avani Hotels & Resorts
Campbell Gray Hotels
Capella Hotels & Resorts
Corinthia Hotels
Discovery Destinations
Divani Collection Hotels
The Doyle Collection
Elewana Collection
Fauchon Hospitality
GLO Hotels
JA Resorts & Hotels
Kempinski Hotels
The Leela Palaces,
Hotels & Resorts
Lungarno Collection
Marco Polo Hotels
Mysk Hotels
Niccolo Hotels
Nikki Beach Hotels & Resorts
NUO Hotels
Oaks Hotels, Resorts & Suites
Outrigger Resorts
Pan Pacific Hotels & Resorts
Parkroyal Hotels & Resorts
Parkroyal Collection Hotels & Resorts
Patina Hotels & Resorts
Shaza Hotels
Sun International
The Residence by Cenizaro
The Sukhothai Hotels
& Resorts
Tivoli Hotels & Resorts
Ultratravel Collection
Viceroy Hotels & Resorts
It's fair to say that many of those brands aren't quite household names. But it's worth exploring the collection on the GHA website, where there's an explanation of each brand, along with where you'll find them.
For instance, you may not have stayed with Marco Polo Hotels before. Yet the Marco Polo Hongkong Hotel is one of Kowloon's luxury highlights and comes with a great Continental Club (Executive Lounge). After a pleasant stay several years back, it's certainly one that I hope to revisit when the SAR's international travel restrictions ease.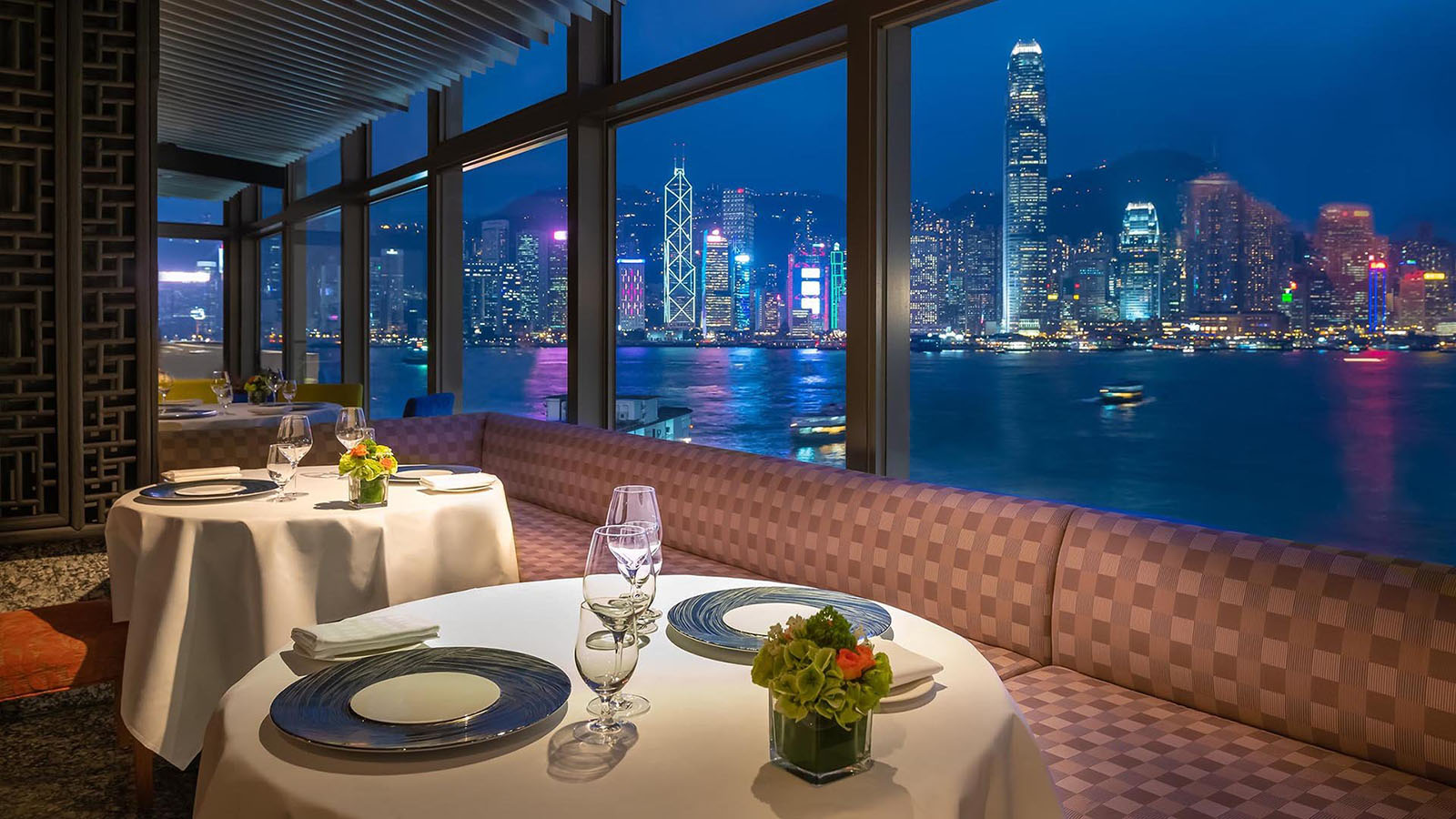 What are the GHA DISCOVERY status levels?
GHA DISCOVERY offers four public membership tiers, with benefits increasing the more you stay and spend. There's also an unpublished fifth tier, granted by invitation only.
GHA DISCOVERY Silver
All GHA DISCOVERY members begin at the Silver tier and receive the following benefits.
Free standard WiFi
Earn 4% back in DISCOVERY Dollars
Member rates – save 10% when booking direct
Access to exclusive and local offers
GHA DISCOVERY Gold
Stay twice in a membership year or spend US$1,000, and you'll move up to GHA DISCOVERY Gold.
As Gold was previously DISCOVERY's entry-level tier, benefits are much the same as Silver, except:
Earn 5% back in DISCOVERY Dollars, rather than 4%.
In practice, this means Gold members receive 25% more DISCOVERY Dollars with every stay compared to Silver.
GHA DISCOVERY Platinum
Stay 10 nights per year or spend US$5,000, and you'll graduate to GHA DISCOVERY Platinum. Alternatively, stay at just two DISCOVERY brands each year for the same bump-up. This means you could reach Platinum in as few as two stays.
Platinum members can look forward to:
6% back in DISCOVERY Dollars
Enhanced room upgrades, subject to availability
3pm late check-out, subject to availability
Locally inspired welcome amenity on arrival
GHA DISCOVERY Titanium
As the highest tier in the DISCOVERY program, Titanium members can expect the chain's best perks. You'll join the Titanium ranks after staying 30 nights or spending US$15,000 each membership year.
But you can also reach Titanium after staying with just three hotel brands each year. One stay at Pan Pacific, one stay at Parkroyal and one stay at Oaks could be all you'd need!
Here's what's on offer for Titanium members:
7% back in DISCOVERY Dollars.
Room upgrades to the second-next category (a 'double upgrade'), subject to availability.
Early check-in from 11am, subject to availability.
Late check-out until 4pm, subject to availability.
Improved room availability when booking up to 48 hours before your stay.
Receive a locally inspired amenity upon arrival, as with Platinum membership.
'Brand benefits' – additional perks reserved just for Titanium members, which vary by brand.
Share Titanium status with a friend or family member.
GHA DISCOVERY Red
GHA's secret DISCOVERY level, Red, isn't unlocked in the same way as the other tiers. Members are instead 'invited to Red Tier status by GHA at GHA's absolute discretion,' the chain advises.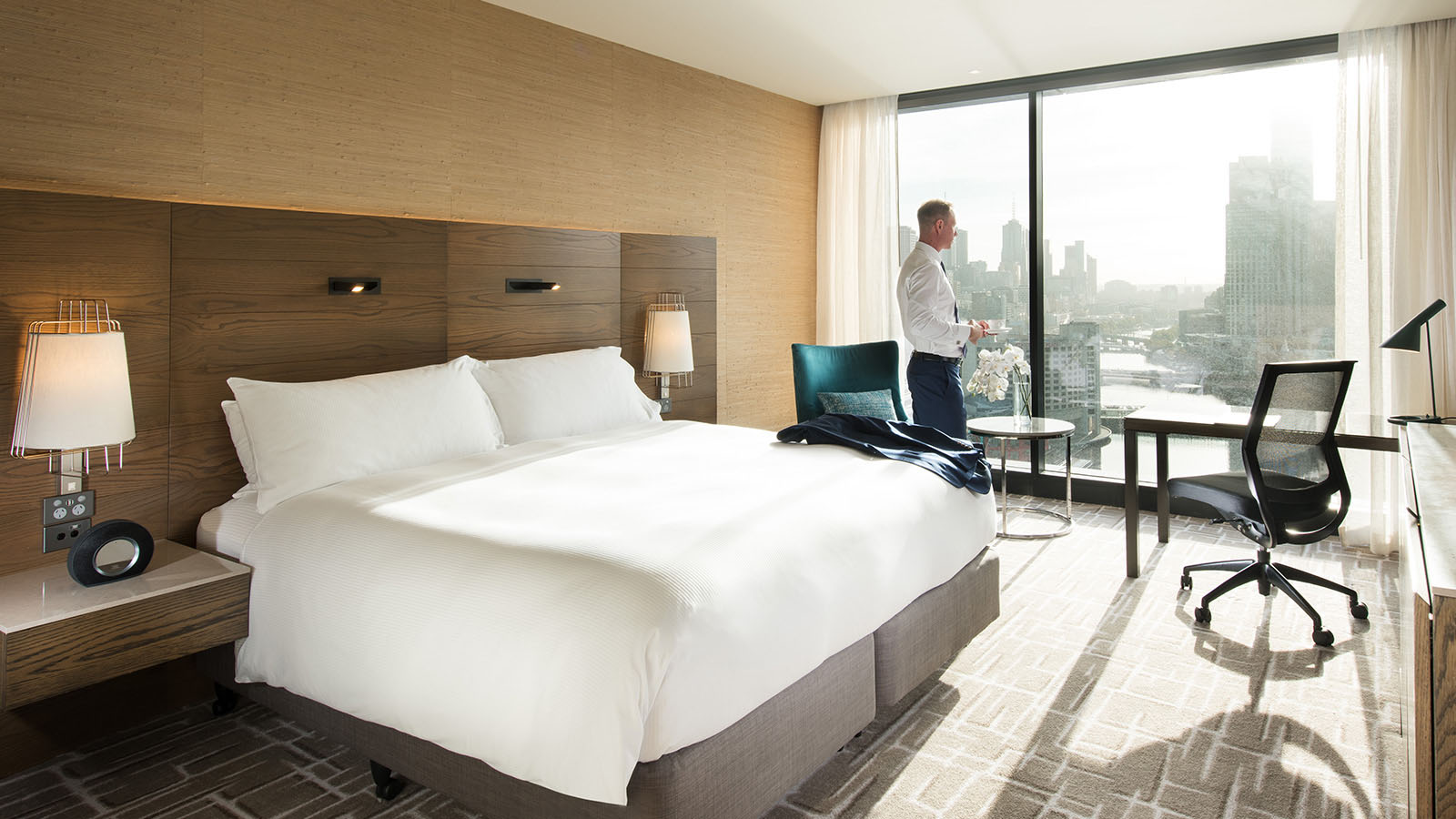 With all the perks of the Titanium tier, here's how Red sits a level above:
Room upgrades to suites, subject to availability at check-in. Where a suite isn't available, the member may instead be upgraded to rooms on Club or Executive Floors.
Early check-in from 10am, subject to availability.
Late check-out until 6pm, subject to availability.
A welcome amenity that's refreshed daily.
In short, Red-tier status makes your upgrades better, and your stays longer and more enjoyable.
Ad – Scroll down to continue reading.Minimum spend, terms & conditions apply.
How do I earn DISCOVERY Dollars?
Every time you stay at a participating hotel, you can earn DISCOVERY Dollars. Make sure your GHA DISCOVERY membership number is provided when booking your stay, or at check-in.
You'll earn DISCOVERY Dollars (D$) in line with your membership level. As above, earning rates are between 4% and 7% of the amount paid for each stay.
For example, for every US$100 spent, a Silver-tier member would collect D$4.
How do I redeem DISCOVERY Dollars?
As the name suggests, DISCOVERY Dollars are yours to spend at participating hotels. Unlike other points-based programs, there's no 'best' or 'worst' way to spend those rewards.
Because DISCOVERY Dollars have a set value, there's no advantage in saving them up for a specific redemption. Unless you're travelling for work and collecting those DISCOVERY Dollars on business trips, you may as well spend them as you earn them.
It's also worth remembering that because DISCOVERY Dollars work like cash, the number needed for any given stay can change from stay to stay.
Whether you spend your DISCOVERY Dollars on a luxury stay or a more affordable hotel, they're giving you the same equivalent cash saving.
What effect does COVID-19 have on GHA DISCOVERY?
As with most travel-related loyalty programs, GHA DISCOVERY hasn't been immune to the impacts of COVID-19. But the chain has taken steps to keep its members engaged during the pandemic.
For elite cardholders, that's meant a year-long status extension from 2020 until 2021. But many members (myself included) saw their loyalty rewarded even further, with a subsequent bump in status from 2021 to December 2022.
In late 2021, GHA DISCOVERY also underwent a complete reboot. Where the program had focused on 'local experiences' previously, members can now earn rewards in the form of DISCOVERY Dollars. This makes it more competitive against rival hotel chains than the pre-2022 offering.
How do I contact GHA DISCOVERY?
For enquiries about the GHA DISCOVERY program itself, the easiest path is online. Through the chain's website, you can submit a help ticket with your specific query, and somebody will get back to you.
If your query concerns a particular hotel or an individual stay, it's usually best to contact the hotel directly.
Summing up
If you plan to stay with one of GHA's many hotels, it makes sense to join the DISCOVERY program. With free hotel WiFi provided just for signing up, you'll get your GHA adventure off on the right track.
Plus, with the ability to earn top-tier status from as few as three individual stays (when each is at a different brand), it's incredibly easy to climb the status ladder. That's particularly handy if you're just getting started: and in a few short trips, you'll be rushed to the rank of a road warrior.
Feature image courtesy Global Hotel Alliance/Parkroyal Hotel Pickering Singapore.
---
Stay up to date with the latest news, reviews and guides by subscribing to Point Hacks' email newsletter.
Ultimate guide to the GHA DISCOVERY program
was last modified:
August 30th, 2022
by