IHG points are the force behind the IHG One Rewards program. You can enjoy free or discounted stays at IHG properties globally with enough points in your account. Why not kick back at one of their luxury brands such as Intercontinental hotels?
While you'd normally earn IHG points from hotel stays and other partners, you can also buy a fair chunk every year. Here's everything you need to know about purchasing points from IHG.
How many IHG points can I buy?
Members can purchase up to 150,000 points a year (excluding bonus points which are added separately). The cost for each block of points varies. For example, 1,000 points cost US$13.50 (~AU$20), while the full 150,000 points cost US$1,500, which is US$10 (AU$14.83) per block of 1,000 points.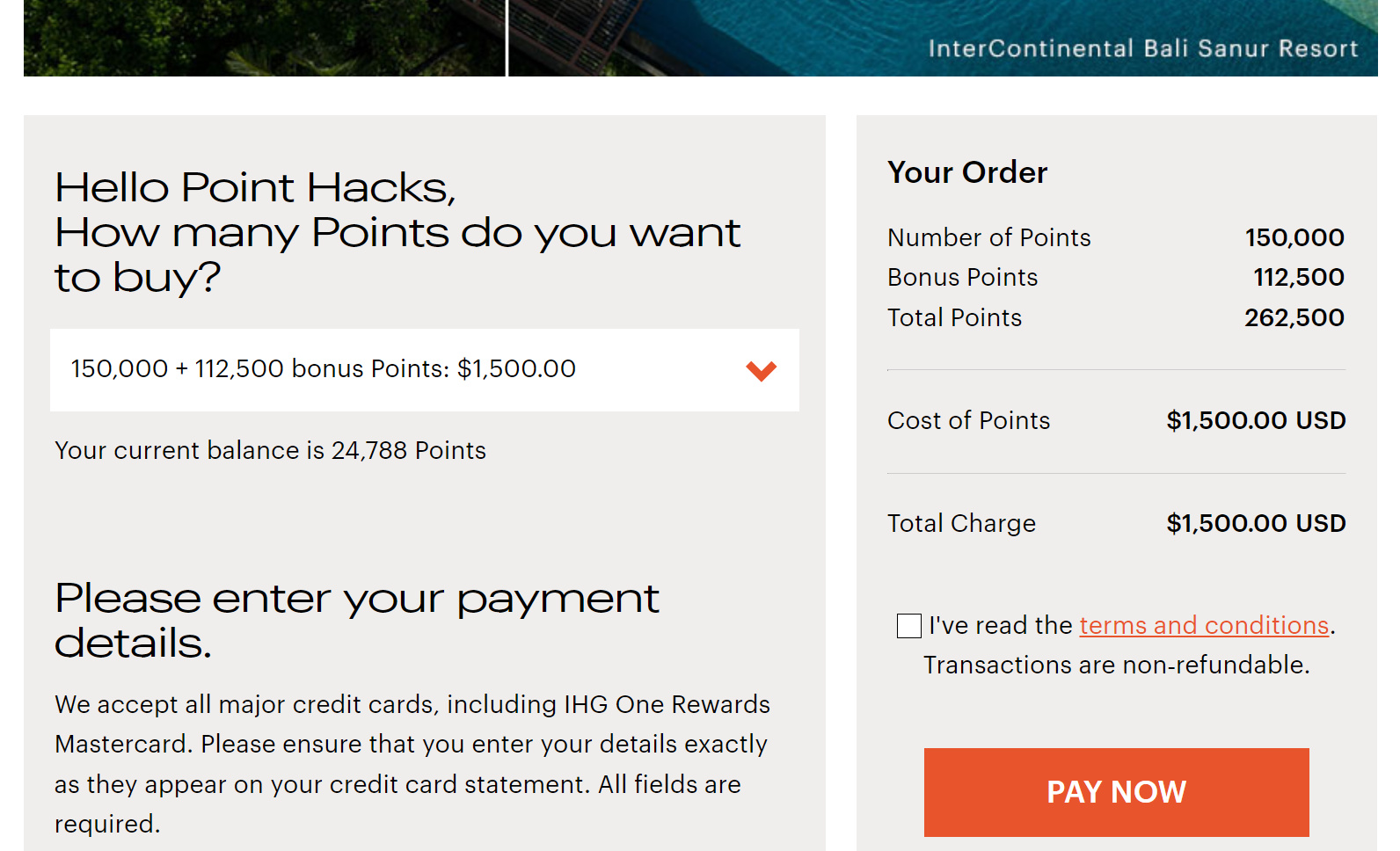 These rates mean each point costs between 1 to 1.35 US cents each, which is quite high and generally not great value for redemptions. But during IHG promotions, the rate can drop to as low as 0.5 US cents per point, which makes it much more useful for booking higher-end hotels.
Read our separate guide to the latest promotions with buying IHG points.
How do I buy IHG points?
If you don't have a direct link to a promotion, start by logging into your account and looking for 'Points' on the dashboard. When you're logged in, follow the link to 'Buy the points you need'.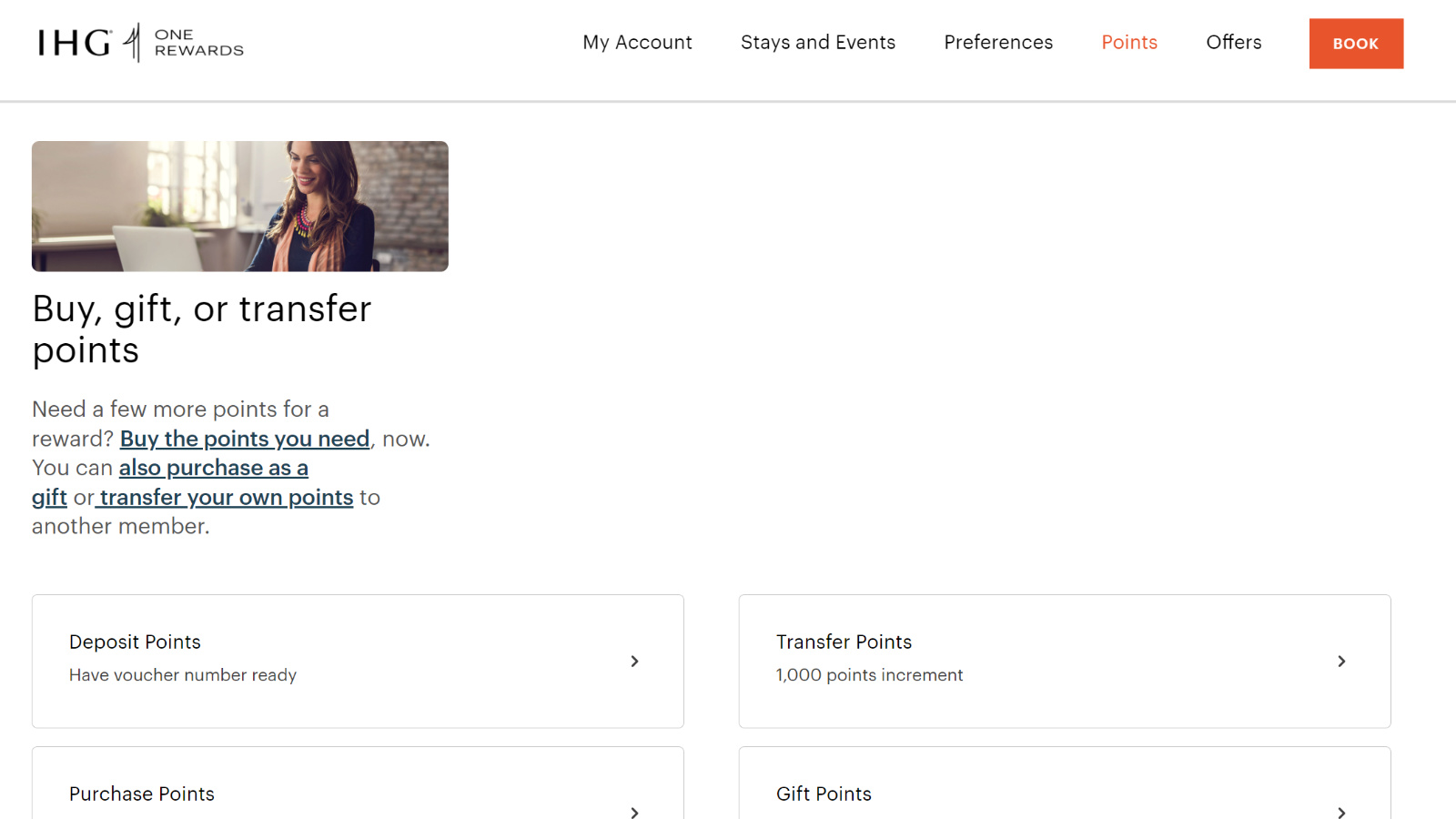 On the landing page, you will be able to choose how many points to buy, including any promotional offers. See the screenshot above for an example with a 75% bonus applied.
Unfortunately, purchased IHG points don't always land in your account instantly. You may need to wait up to 72 hours for the points to come through. Click here to buy points →
Ad – Scroll down to continue reading.Minimum spend, terms & conditions apply.
Can I buy IHG points for other people?
Yes, you can also purchase points for other accounts as a gift. The overall process is the same as above, except you also need to know the recipient's account number and name. But otherwise, you can take advantage of points promotions when gifting points as well.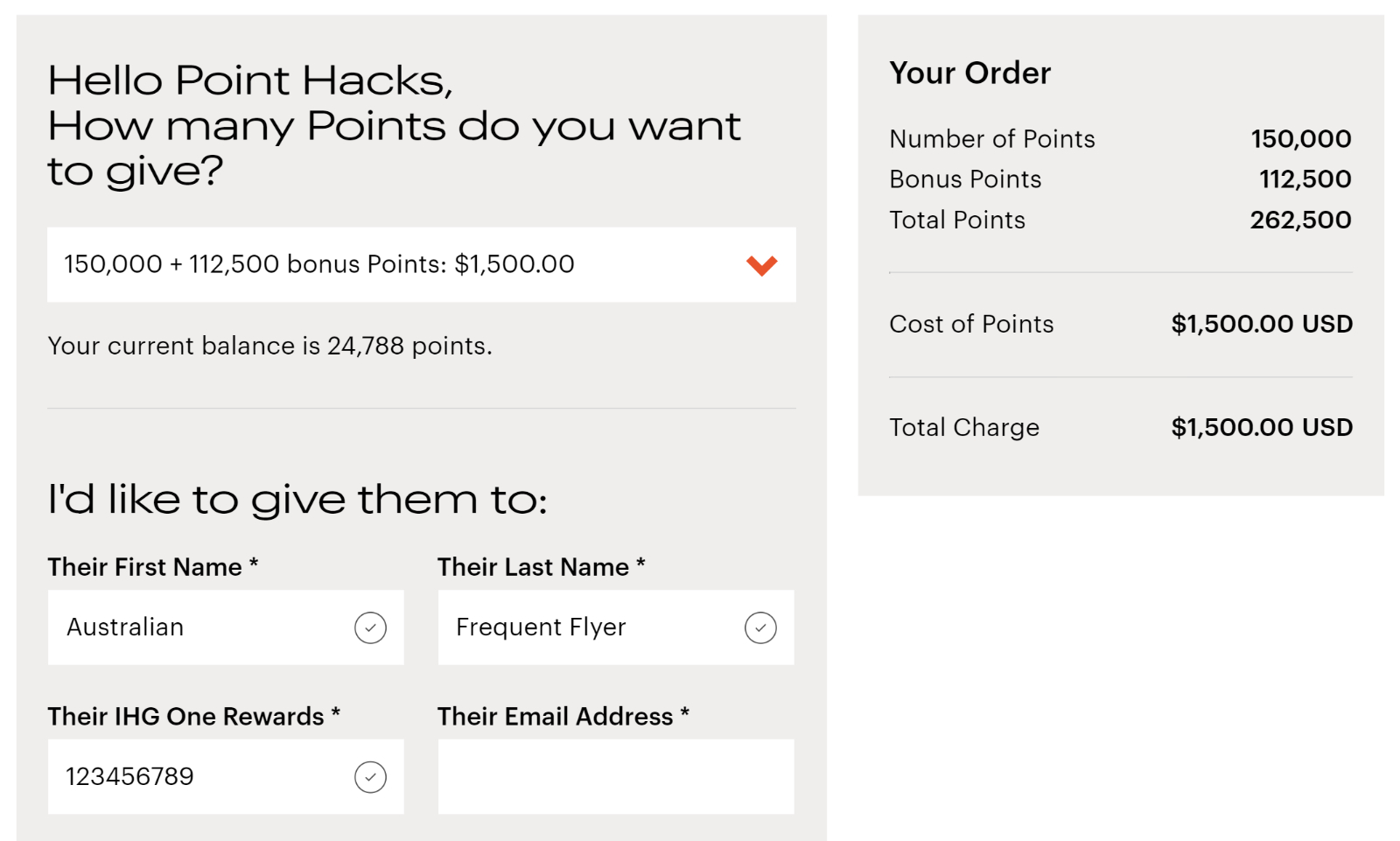 Each account is still subject to the 150,000 points cap per year. Click here to gift points →
Can I transfer IHG points to other people?
Well, yes you can. IHG members can transfer points to other members, but for a fee. It costs US$5 per 1,000 points transferred, paid via credit card.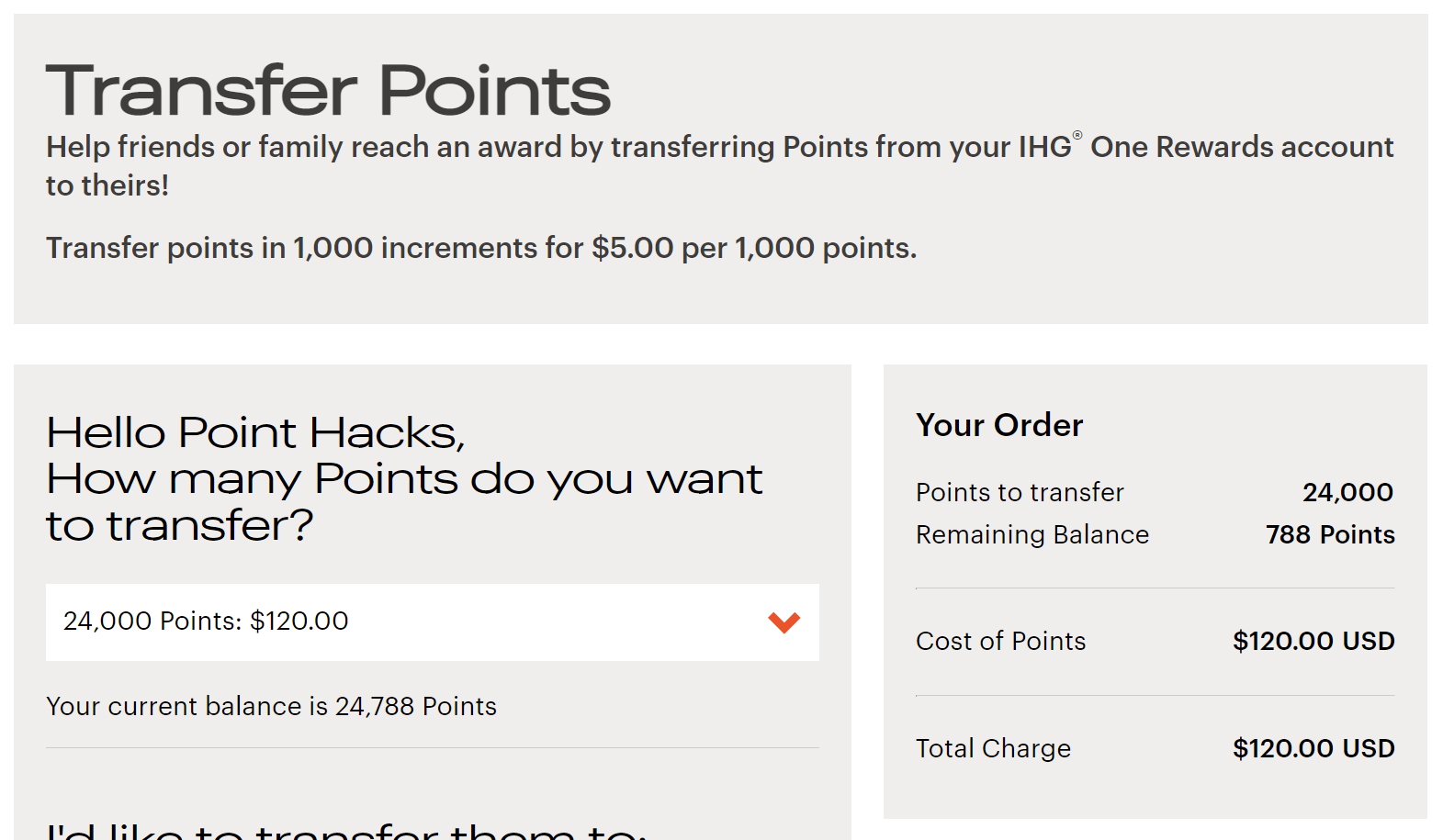 While this might be good in a pinch (such as being just a few thousand points short for a redemption), it's definitely a costly exercise! Why pay money to transfer your own points, when you can buy points with a promotion?
There are no defined limits on the number of points that can be sent or received, largely due to the fee which also has no cap. You just need to send at least 1,000 points. Click here to transfer points →
Summing up
IHG One Rewards makes it reasonably easy to top up your own account (or someone else's) by buying or gifting points online. We always recommend waiting for a good bonus to come along – a 100% bonus (or double points) is usually the one to aim for.
As with any other points purchases, it's best to have a specific hotel redemption in mind before you buy more IHG points. IHG hotel rewards are dynamically priced, so the rates can change at any time. You don't want to be caught short!
This content contains affiliate links from which Point Hacks may earn commissions from transactions generated from new customers, bookings and general enquiries. Find out more here.
How to buy IHG Points for hotel redemptions
was last modified:
September 29th, 2023
by