Australian retailer Strandbags stocks an extensive selection of bags to suit all occasions. And whether you're stocking up for work, play or travel, you can get rewarded when you join Strandbags' loyalty program, Strand+.
In our guide, we'll cover everything you need to know about Strand+, plus our top hacks for earning extra rewards when shopping at Strandbags.
What are the benefits of Strandbags' loyalty program?
Signing up for Strand+ gives you the ability to earn rewards from your purchase. As a member, you'll enjoy the following benefits:
Earn $5 for every $50 spent
10% off birthday reward
Exclusive sale preview
Exclusive promotions
Strandbags stocks a huge selection of handbags, backpacks, wallets and other accessories that are suitable for women, men and children. Notably, they also have a wide range of travel gear, which is particularly handy if you need to pick up a large suitcase in preparation for shopping in Marrakech. The rewards can certainly stack up quickly on high-value items.
How do I earn rewards?
To ensure your purchases are tracked, present your Strandbags membership card or provide your email address when shopping in-store. If you're shopping online, make sure you're logged into your account to get rewarded.
Rewards are calculated twice a year. That means that your total spend in the prior six months determines the value of your rewards voucher. When you join the program, your first $50 spend yields a $10 reward voucher, and you'll receive $5 for every $50 spent thereafter. There's also a $300 cap on reward vouchers that you can earn every six months.
Note that purchases of gift vouchers aren't attributed towards your total spend, and refunds are deducted, too.
How do I redeem rewards?
If you've spent enough in the previous six months to earn a voucher, it will arrive in your email inbox – so it's important to ensure you've provided a valid email address!
Vouchers can be redeemed when shopping in-store or online.
How can I maximise my rewards when shopping at Strandbags?
Strand+ already provides some excellent member perks, but here are some additional tips to maximise your rewards.
Earn Qantas Points when shopping online with Strandbags via Qantas Shopping Mall
Qantas Shopping Mall makes it easy to earn Qantas Points when shopping online with your favourite retailers, including Strandbags. All you need to do is click through Qantas Shopping and complete your transaction on the retailer's website. Your purchase total will be tracked, and you'll be awarded with Qantas Points – easy! And since you're checking out on the Strandbags website, you'll be on your way to earning Strand+ benefits, too.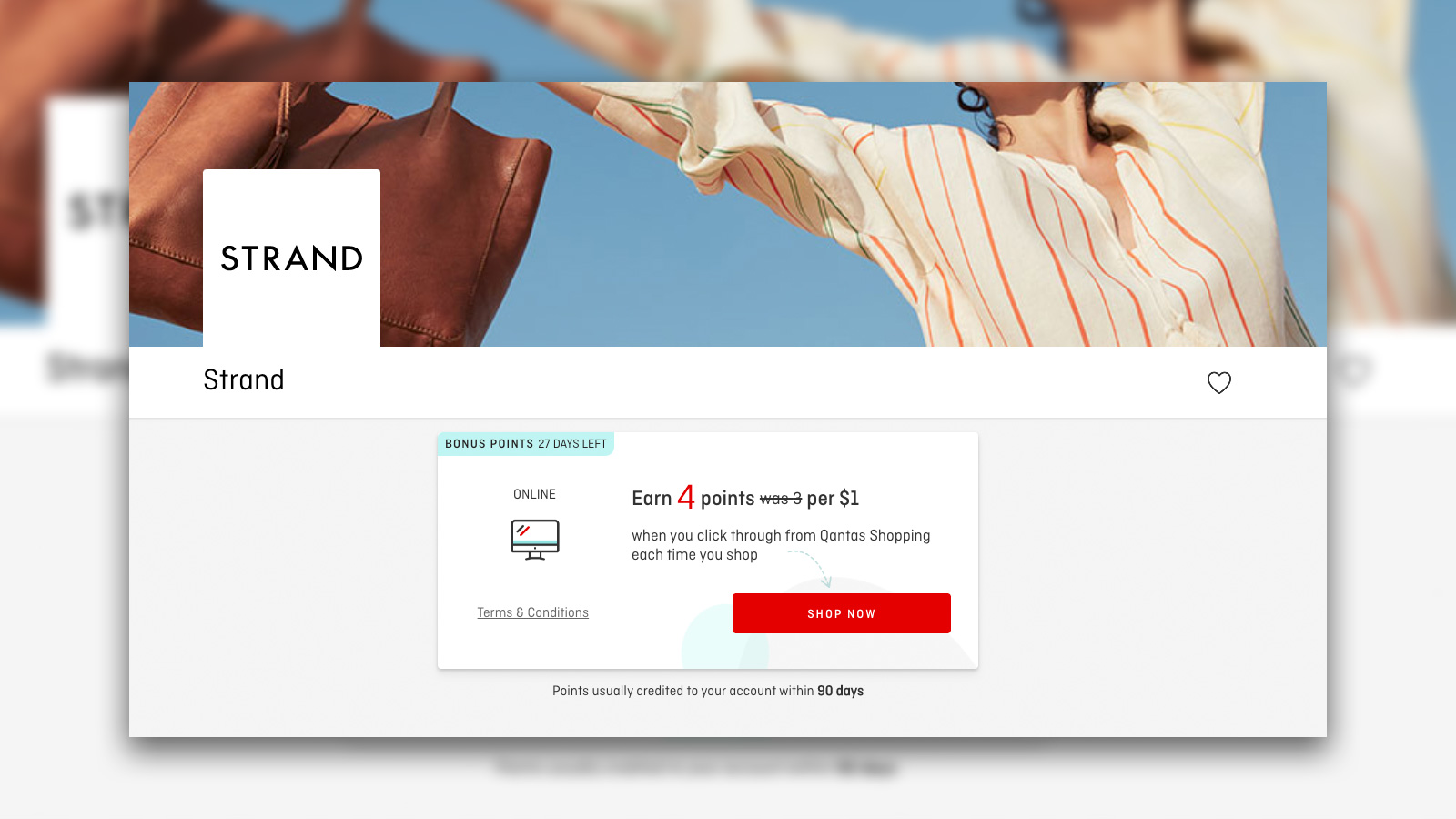 Earn Velocity Points when shopping online with Strandbags via Velocity e-Store
The Velocity e-Store is a similar concept that allows you to pocket Velocity Points via an online shopping portal. At the time of writing, the earn rate is two Velocity Points per $1 spent at Strandbags, but with offers throughout the year, there's the potential to earn more points.
Pay with a points-earning credit card
This hack can have you earning double the rewards when you shop at Strandbags, or triple when you use one of the online shopping portals above. And it's so easy – by paying with a points-earning credit card, you'll earn points on your purchase. These can be frequent flyer points to get you closer to your next holiday, or points towards a flexible points program. Some credit cards even have no cap on the points you can earn, like the Qantas American Express Ultimate and Westpac Altitude Rewards Black.
How do I join Strand+?
Strand+ is free to join. Simply sign-up online or in-store, ensuring you provide an email address so you can receive your rewards vouchers and other member-exclusive offers.
Summing up
Strandbags' loyalty program, Strand+, is a great one to sign up for if you're looking to get rewarded when shopping for all your daily travel essentials – from wallets to suitcases and everything in between.
Discover more ways you can earn rewards when shopping at your favourite retailers. Our guides cover the top loyalty programs in Australia, including JB Hi-Fi Perks, EB World, Bonds & Me and more.
FAQs
Does Strandbags have a loyalty program?
Australian retailer Strandbags has its own loyalty program called Strand+ where members can earn rewards on their purchases.
How do I earn a Strandbags voucher?
By joining Strandbags' loyalty program, Strand+, you'll have the ability to earn a $5 voucher for every $50 you spend online or in-store.
The Ultimate Guide to Strand+
was last modified:
October 19th, 2023
by