Sydney and Singapore Airlines have a special connection – after all, the airline's first Airbus A380 made its maiden voyage to Sydney in October 2007. Nowadays, Singapore Airlines has just 11 of the superjumbos in its fleet, but they sport a sparkling-new interior with the latest seats in Business and First Class.
When I got the opportunity to travel from Sydney to Bangkok and explore the city for a few nights, I hopped straight onto the Singapore Airlines website and nabbed a Business Saver reward seat for 68,500 KrisFlyer miles and just $104 in taxes – including the onward flight to Bangkok!
You can also book this particular flight for 67,000 Velocity Points + taxes (plus a carrier charge of US$90 which doesn't apply via KrisFlyer), one-way, per person. From the excellent SilverKris Lounge in Sydney to 'Book the Cook' onboard, there's a lot to love about Singapore Airlines Business Class.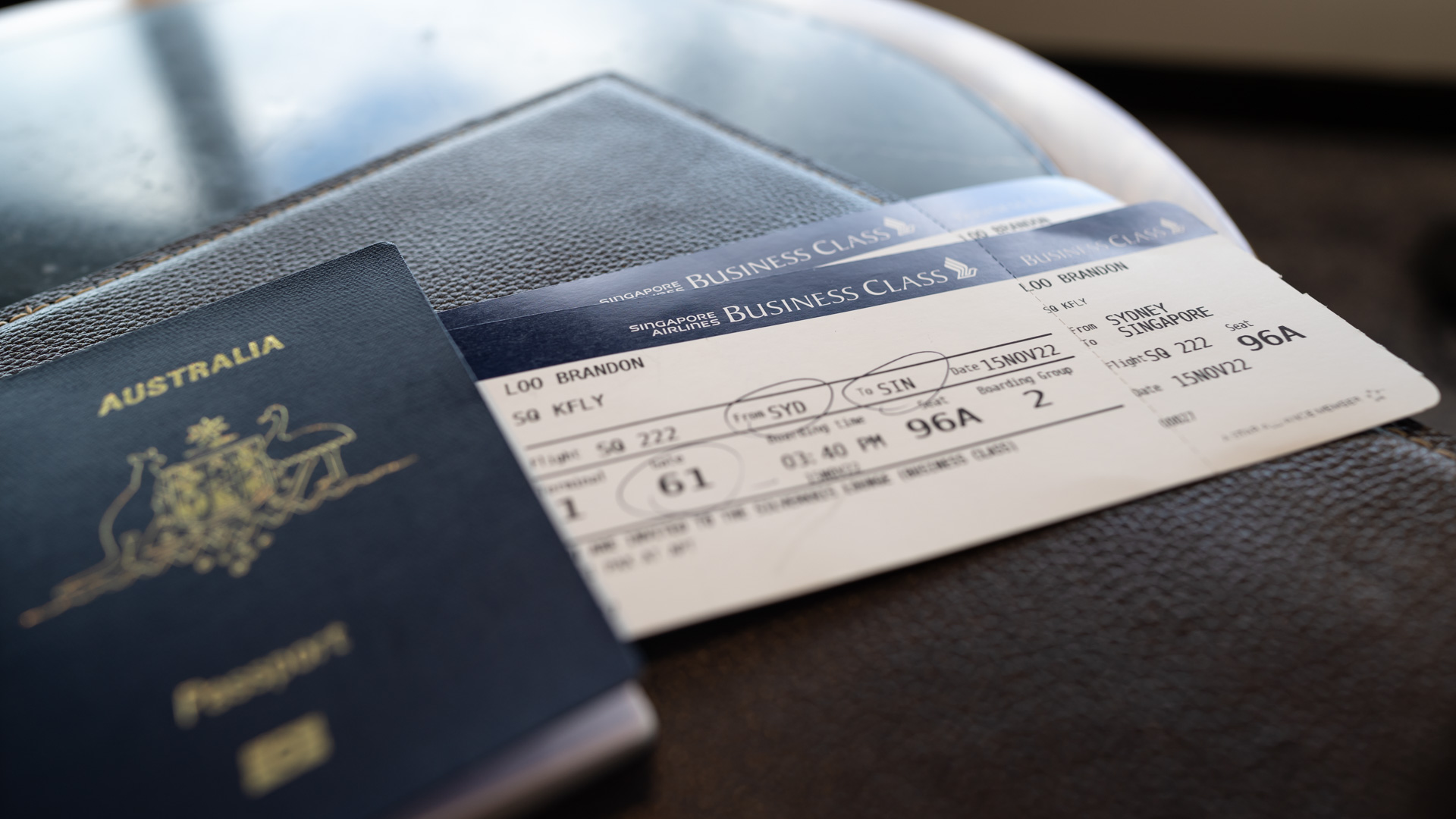 Check-in, lounge and boarding
Check-in at Sydney Terminal 1
With my easy 4:10 pm departure, check-in for SQ222 at Sydney Airport opens just after midday. Rather than working in my hotel room, I decide to shift my office to the airport and arrive early.
There are practically no queues to speak of during the day at Sydney's International T1, so check-in is very quick. They're even able to help look into changing my connecting Singapore-Bangkok flight to an earlier one, which is appreciated. (Unfortunately, Business Class is full on the earlier flights, so I leave it for now. Later in Singapore, I ask again and manage to swap onto a flight where one seat has opened up).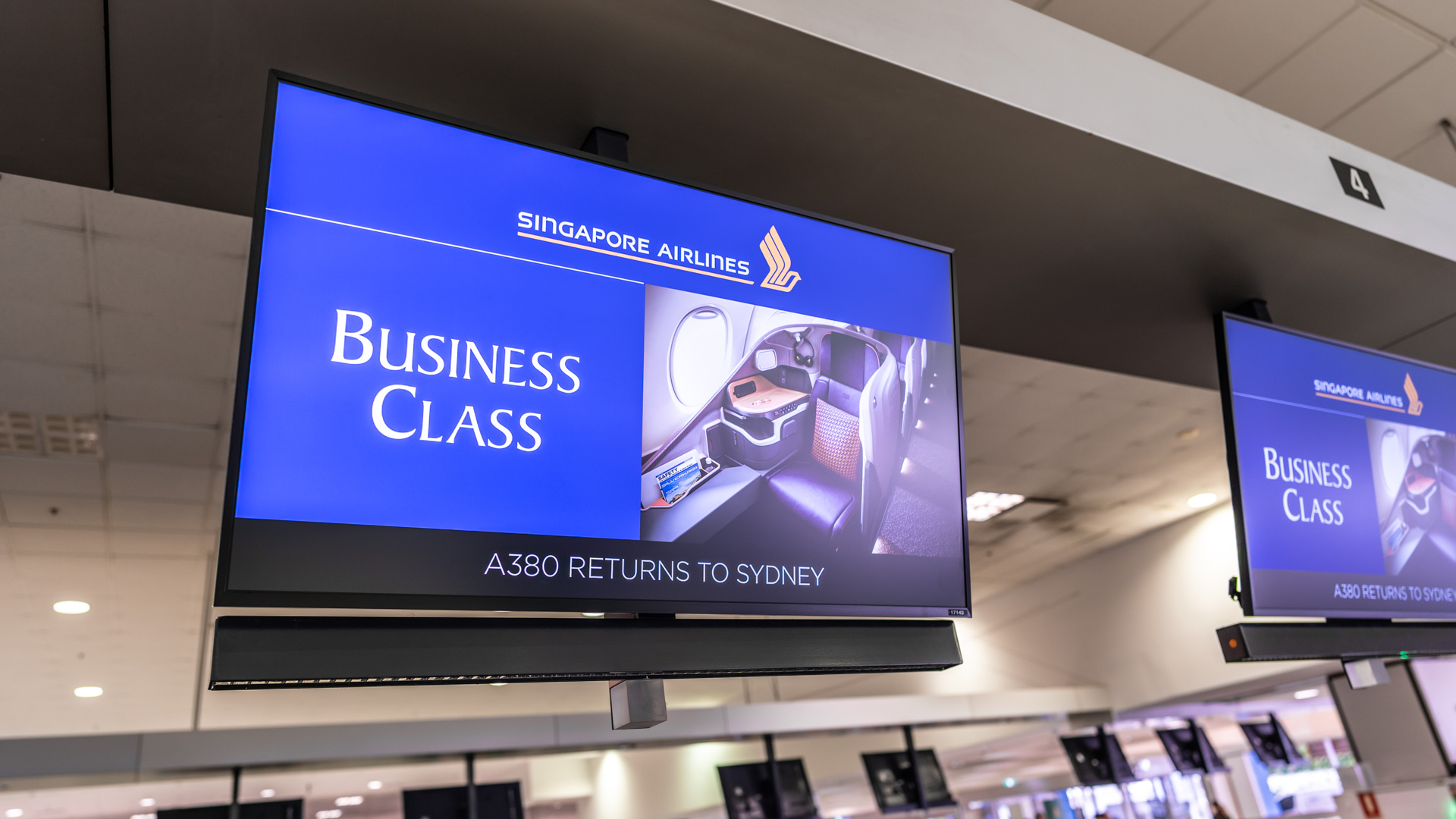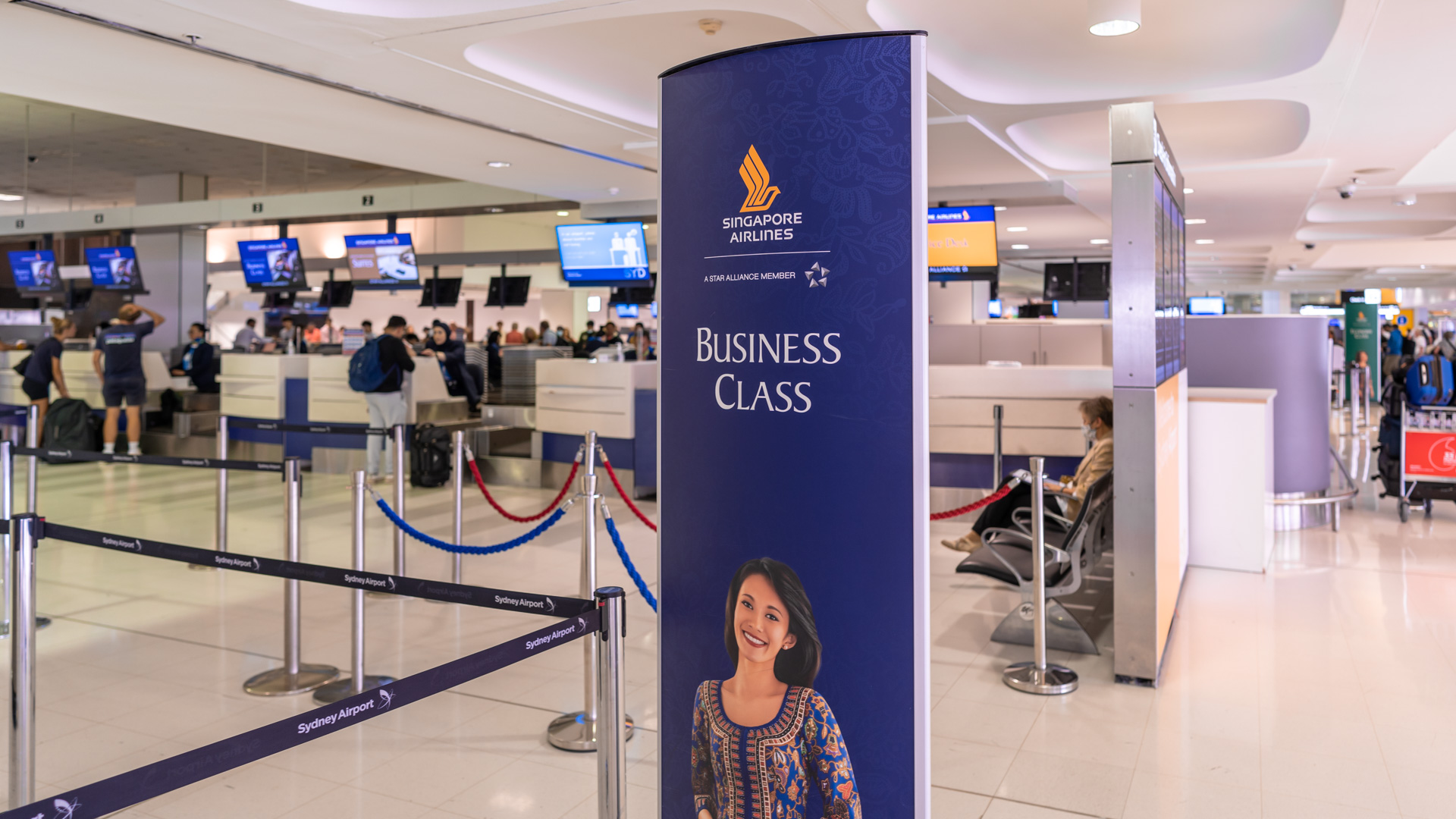 Visiting the SilverKris lounges in Sydney
Eligible Singapore Airlines passengers can access the SilverKris Lounge in Sydney, which has both Business and First Class sides. Most lounge-worthy guests will turn left at reception to enter the Business Lounge, which is easily one of the best in Sydney.
The food looks so appetising – from the freshly-cooked teriyaki chicken to the roasted potato salad and the cheese selection. You won't go thirsty either, especially with bottles of Mumm Malborough Brut Prestige to whet the appetite. No question, this lounge is worlds ahead of the Qantas International Business Lounge in Sydney.
Passengers can also access the neighbouring Air New Zealand lounge with a Business Class boarding pass, as both airlines are part of Star Alliance. It's a larger and airier space than the SilverKris lounge – and staff can whip up a great cocktail – so it could be worth a visit too.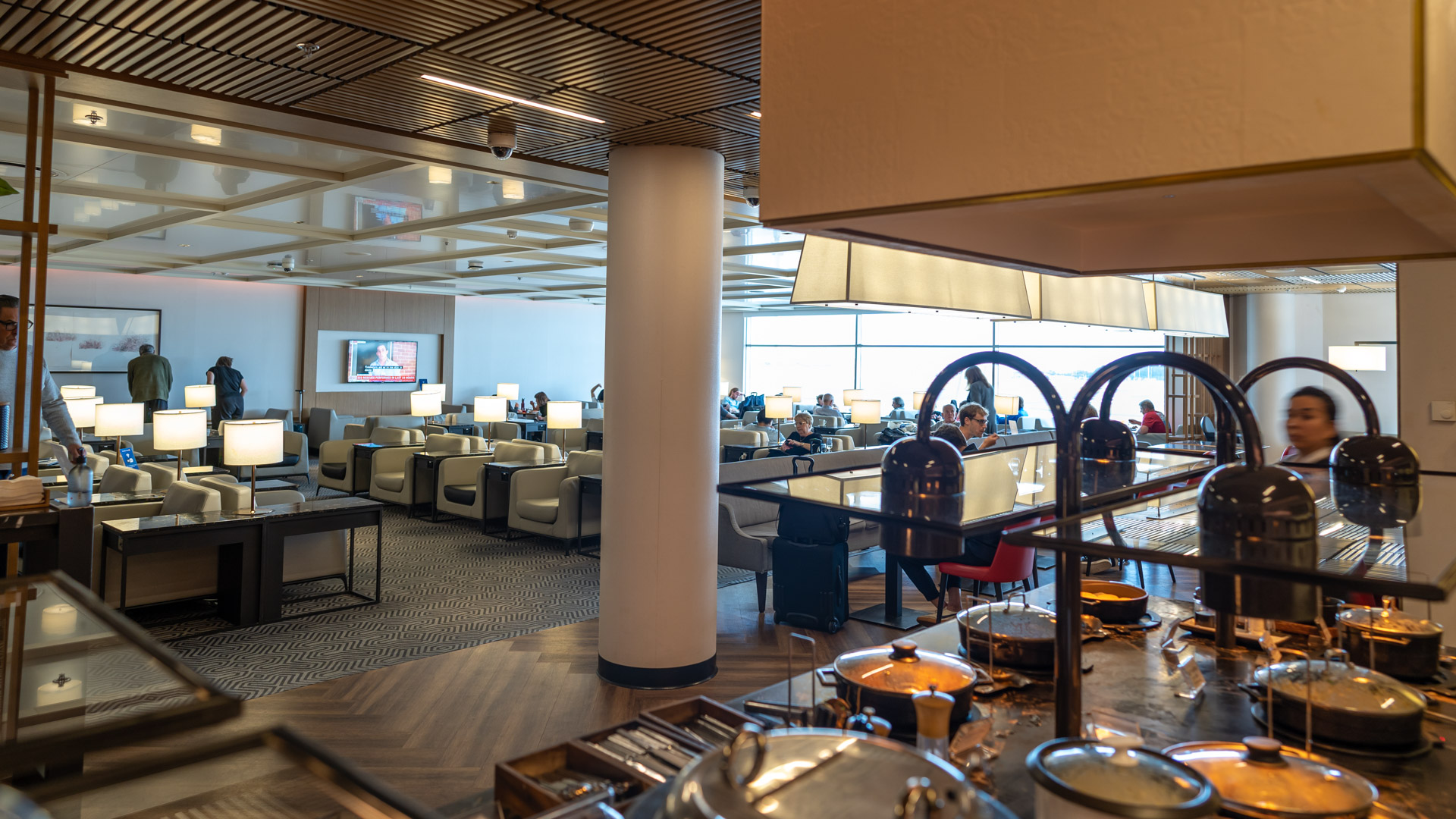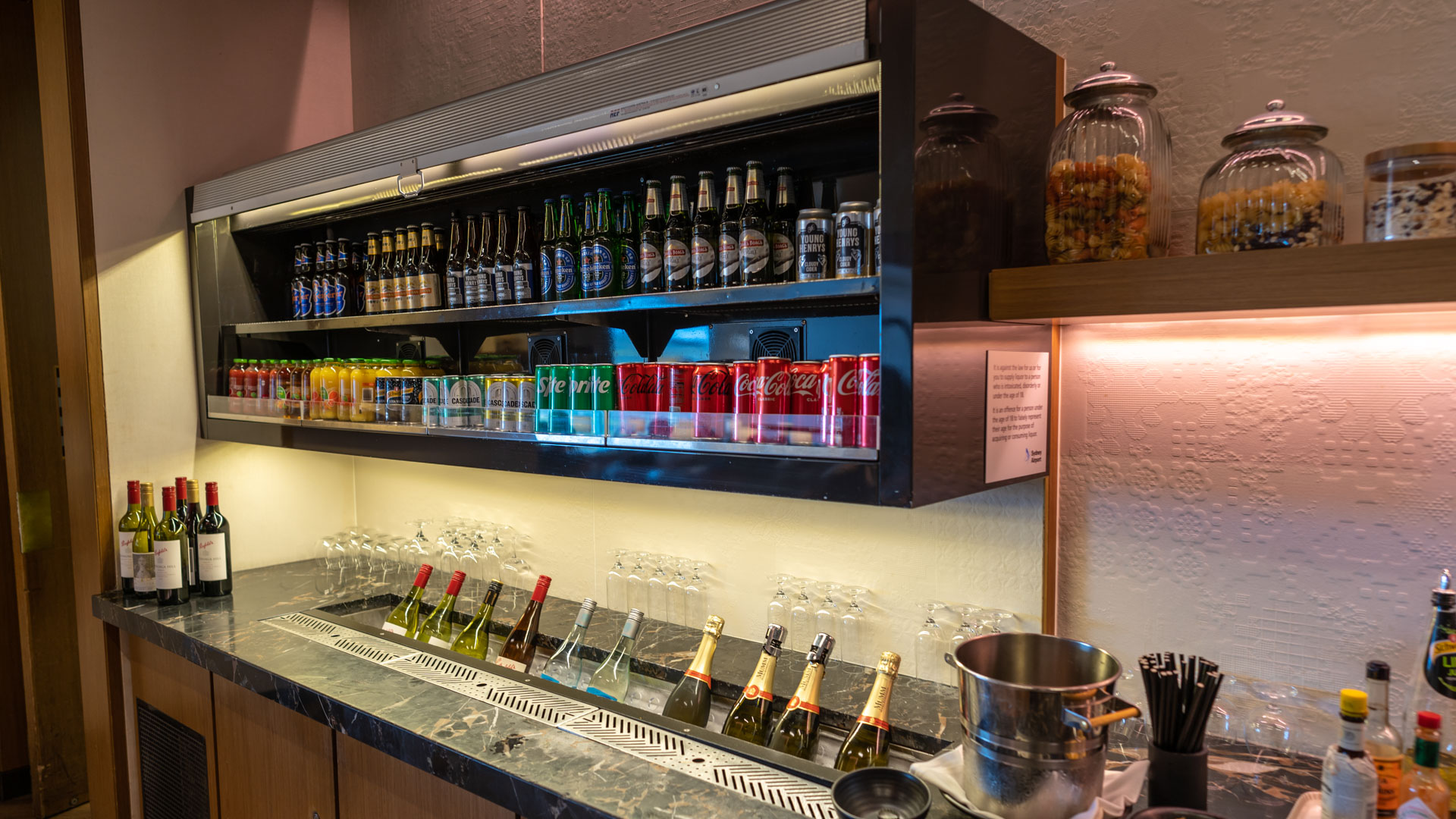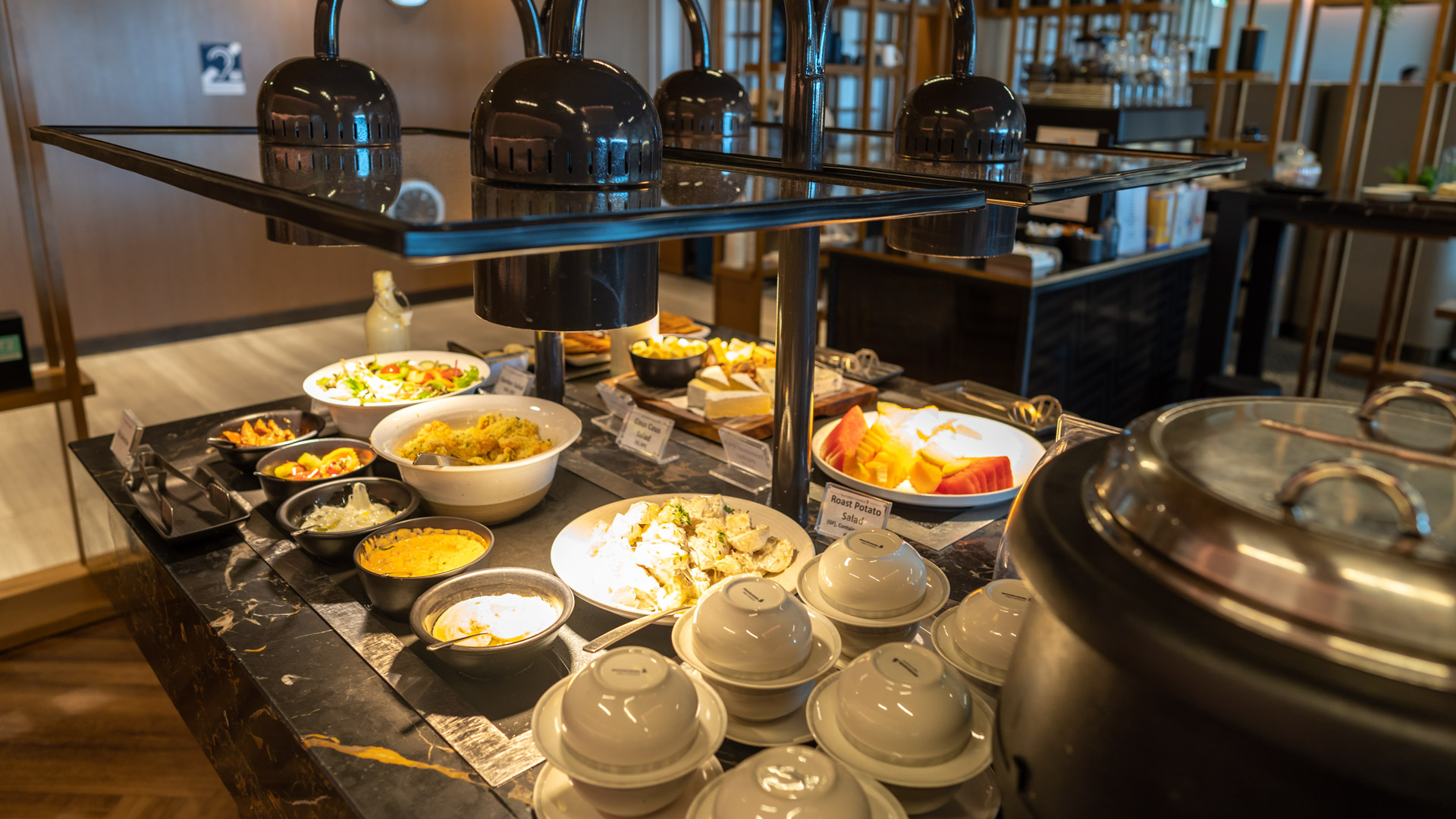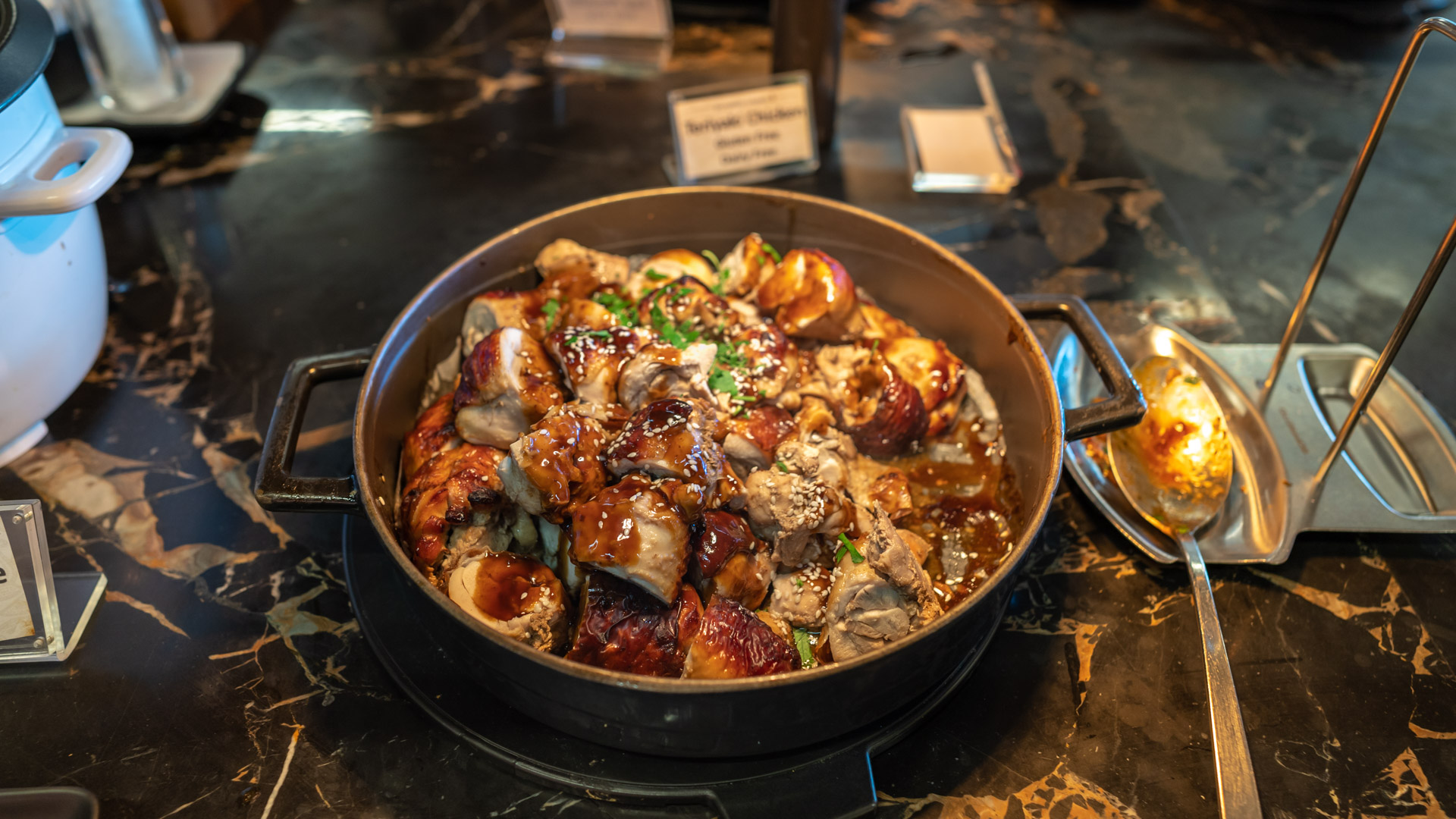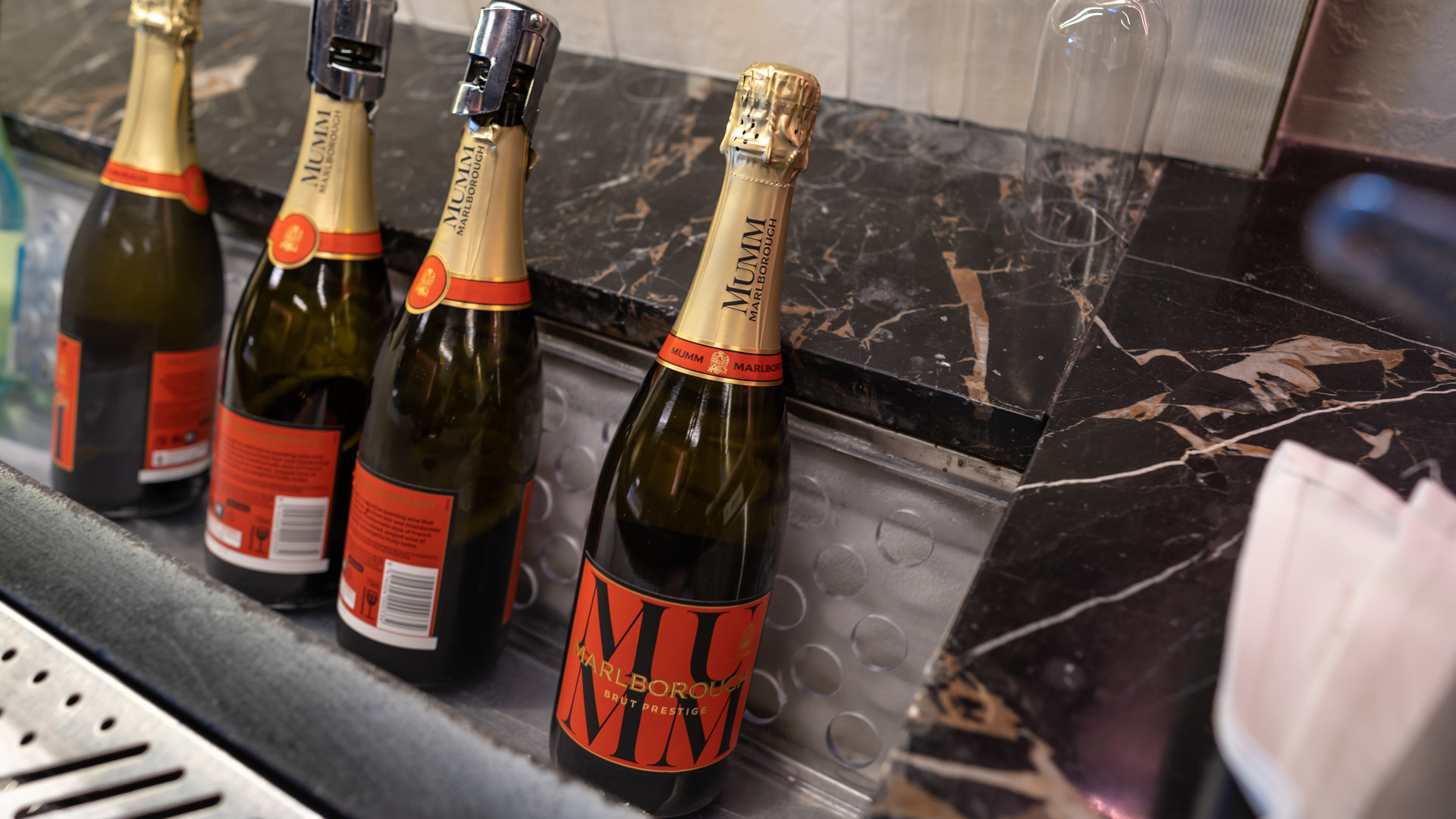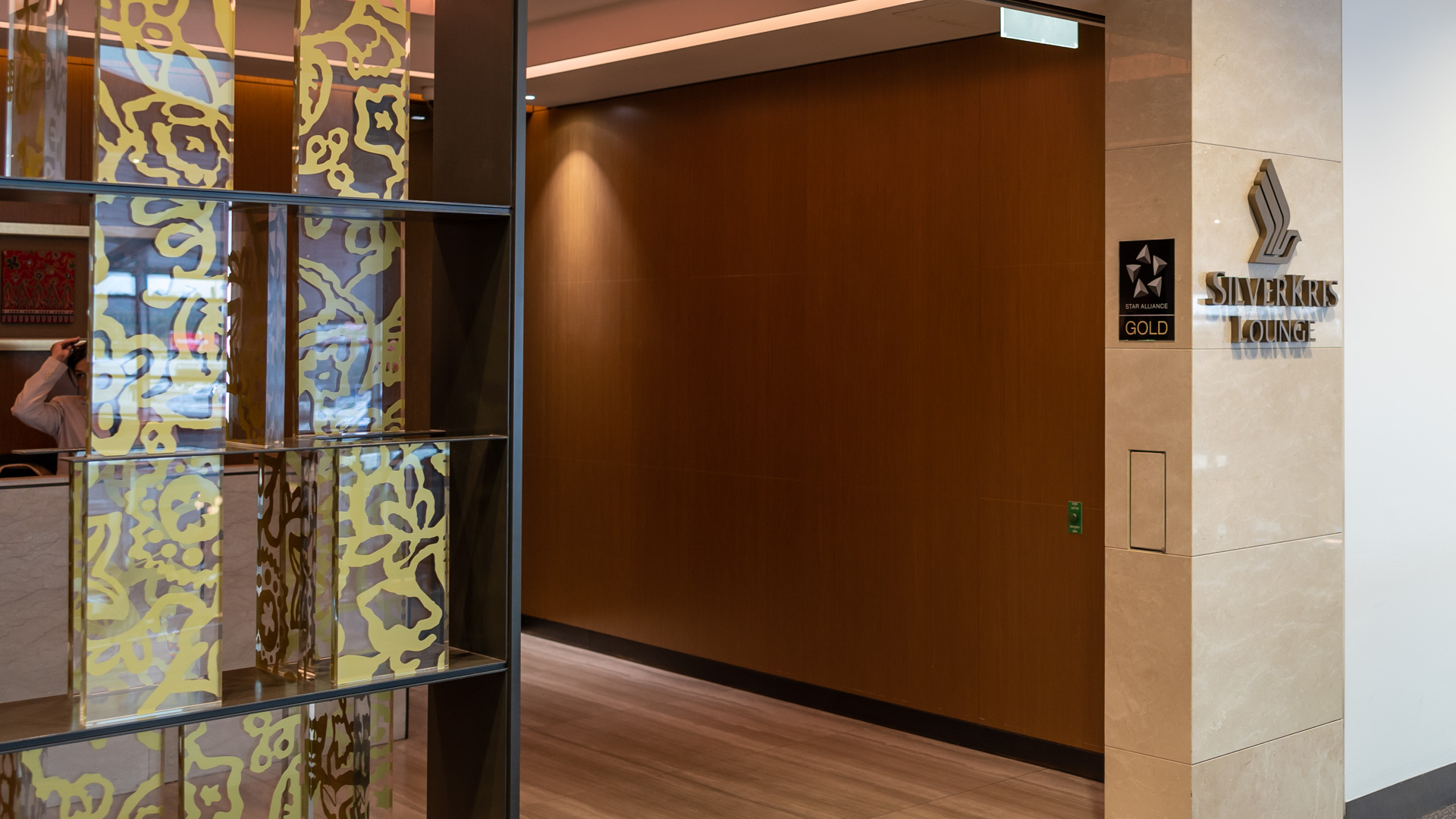 If you happen to be a First Class passenger or a Solitaire PPS member travelling in any class (or a guest of one of them), then a hidden panel behind reception slides open to reveal the First Class Lounge.
I was fortunate enough to be guested in by someone, so after spending some time in the Business Class Lounge, I indulged in a wonderful à la carte lunch in the First Class side. Who knew that Singapore prawn laksa, chicken satay and duck pancakes would pair so well with G.H. Mumm Champagne?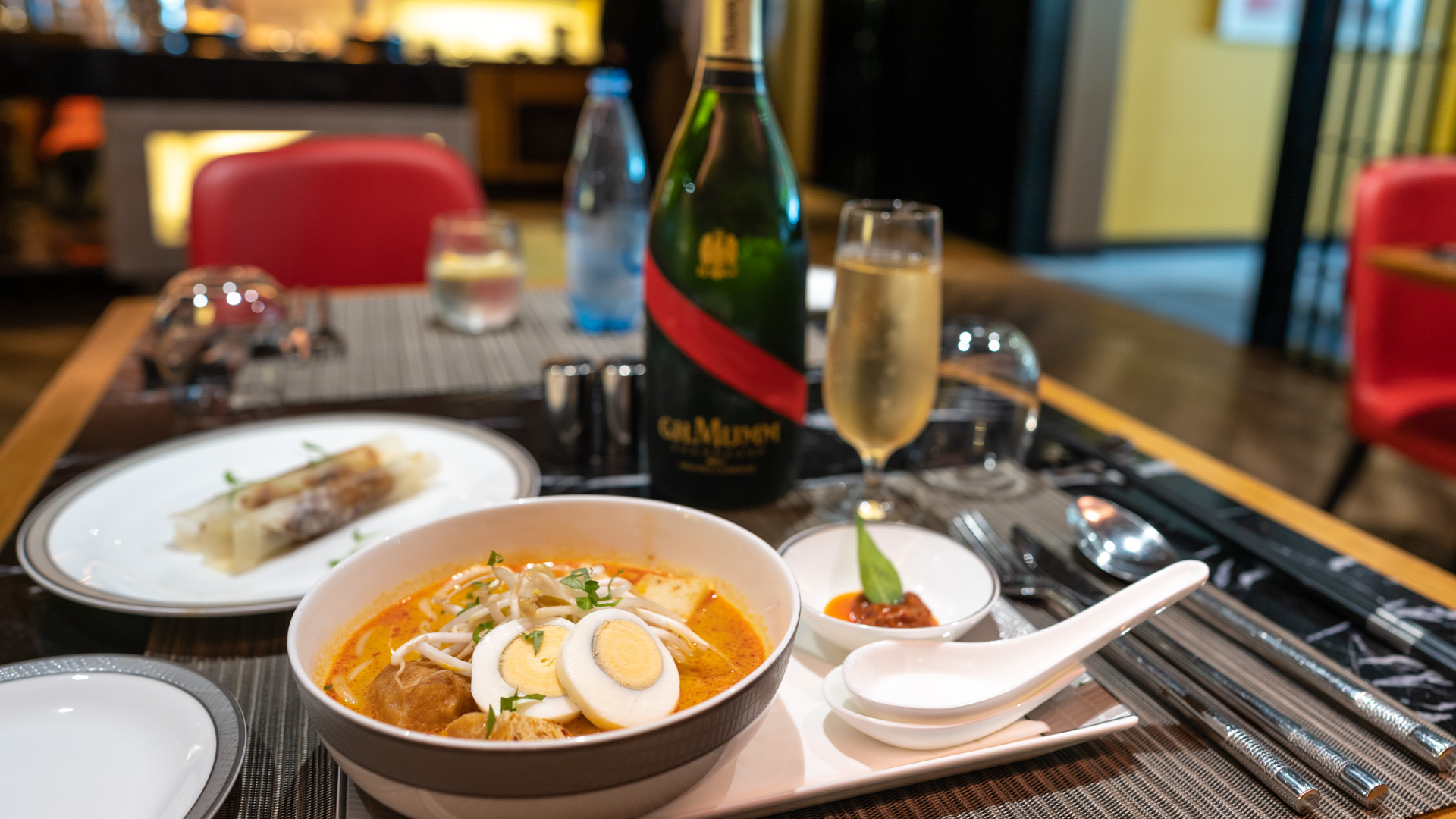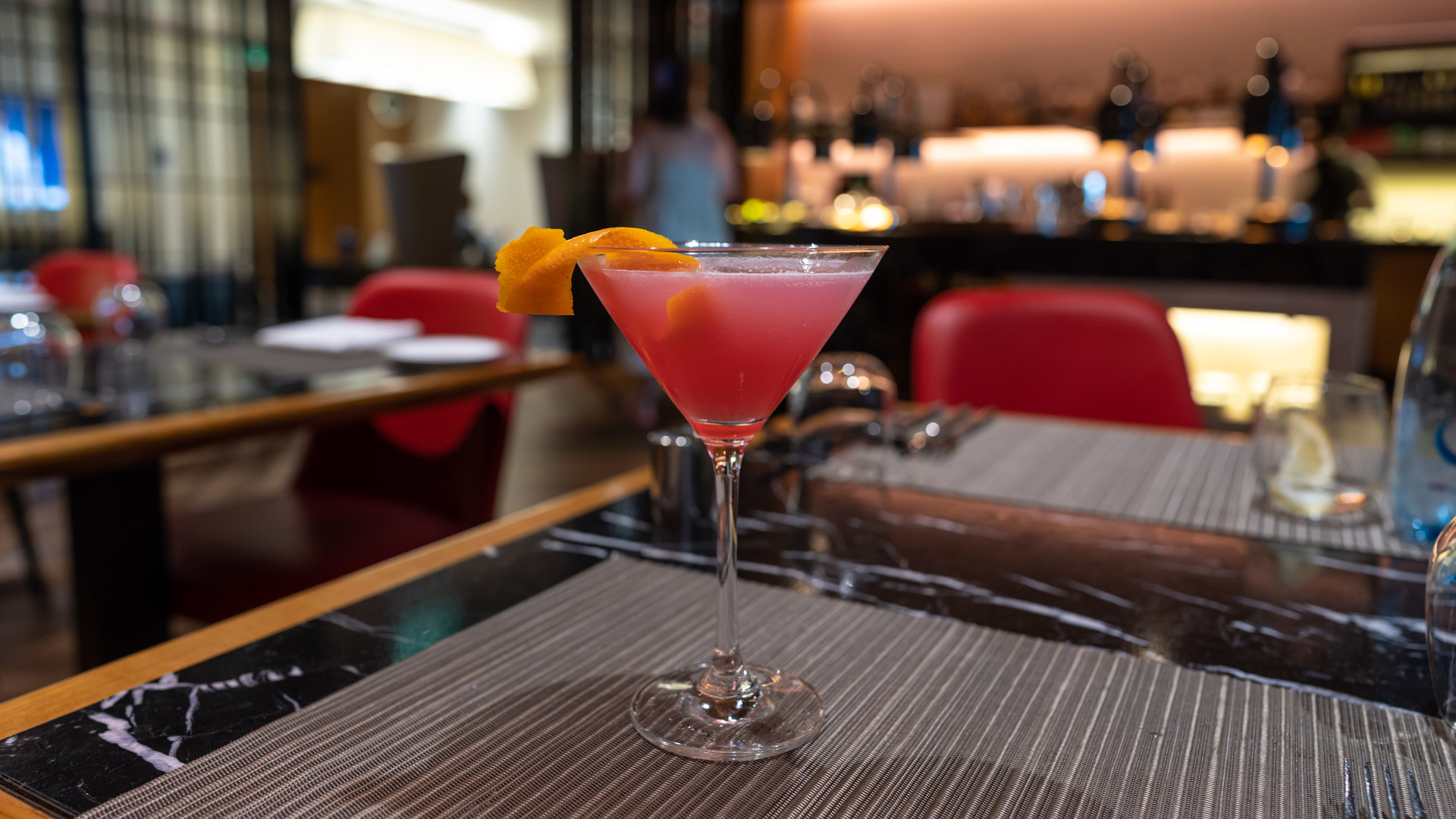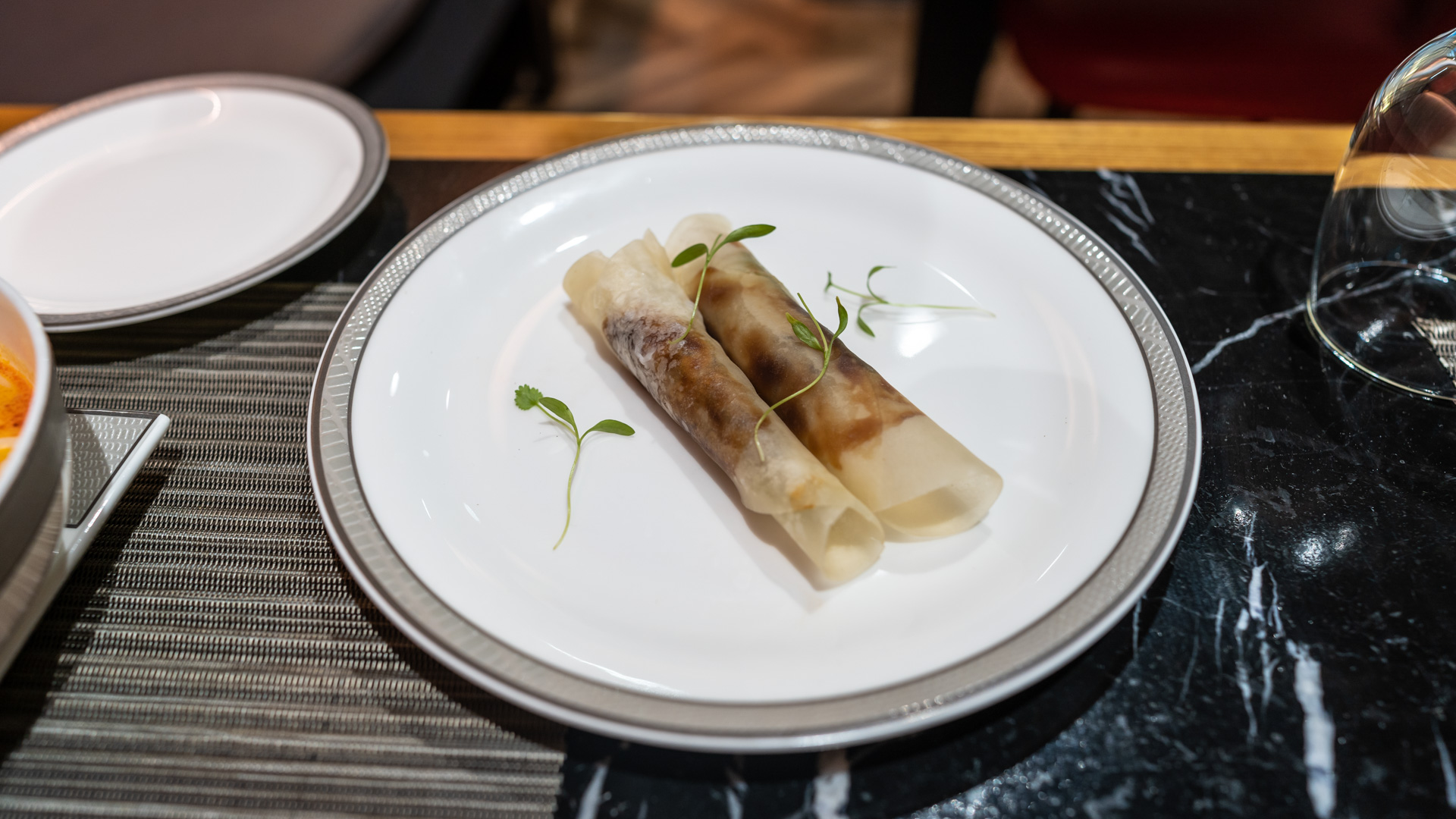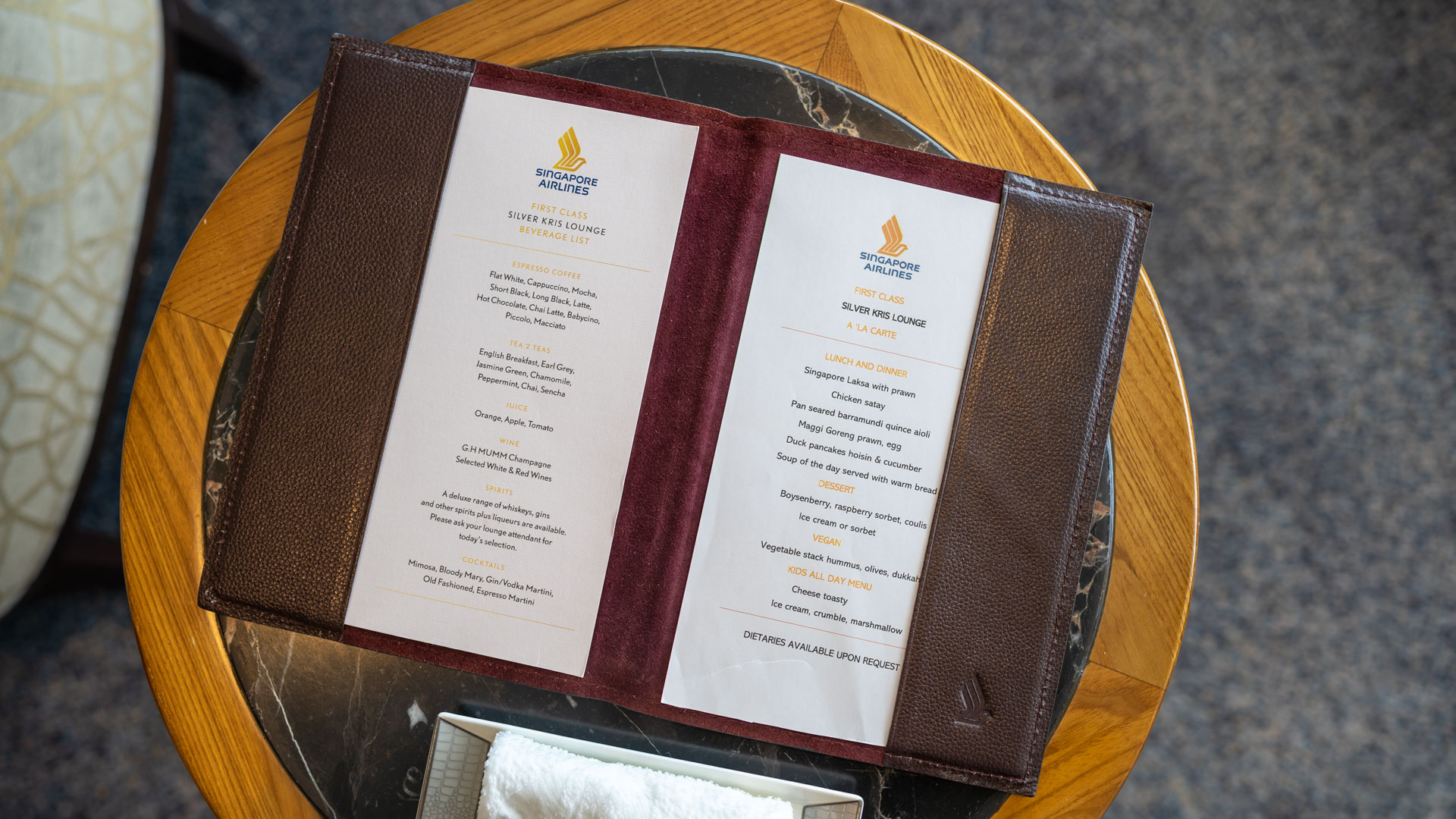 It's easy to pass hours in the lounge with good food and good conversation, so it's somehow time for boarding before I know it. I don't have to hang around at the gate for long as Singapore Airlines offers priority lanes for Business Class and Suites passengers. The Airbus A380 awaits.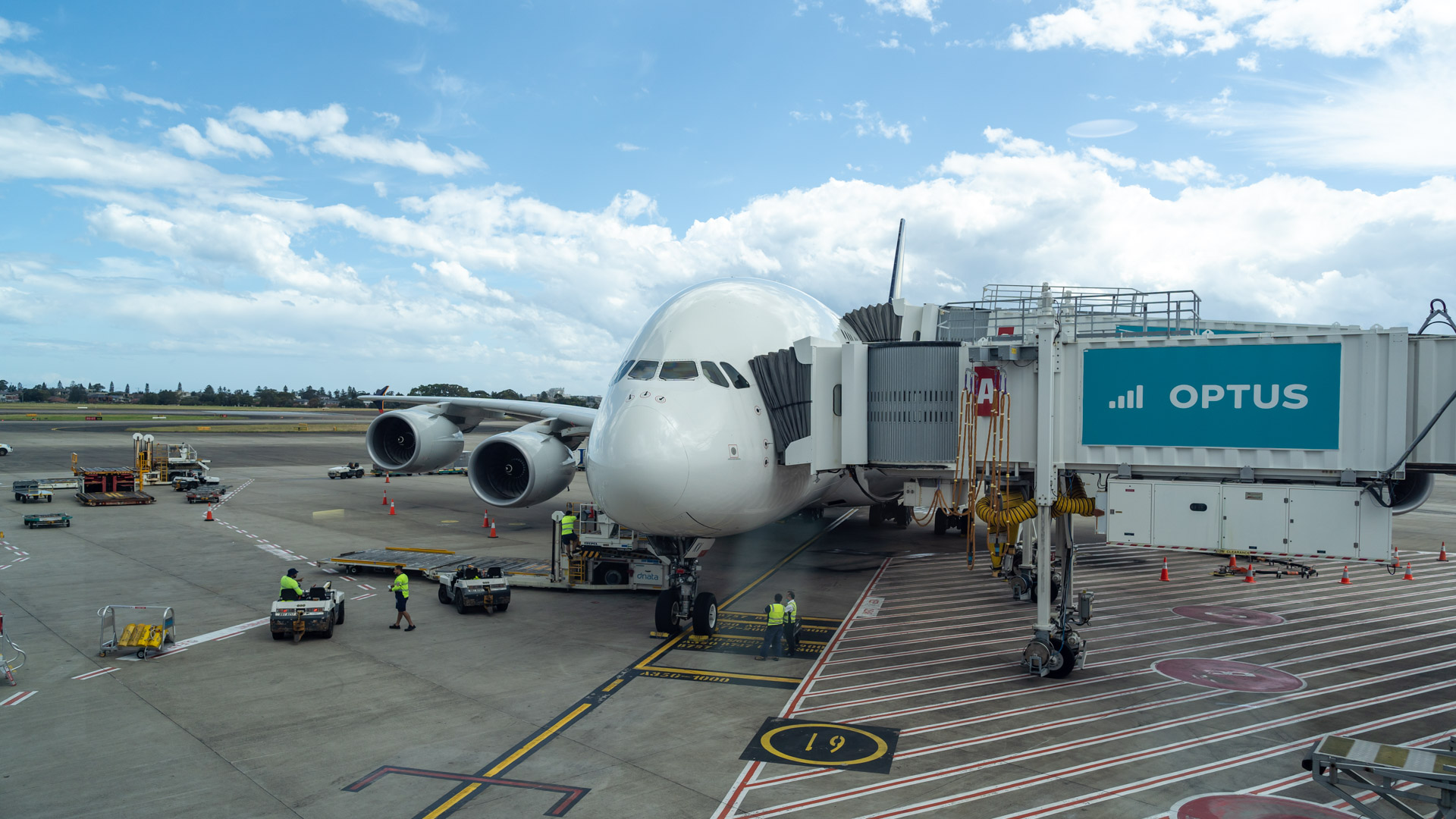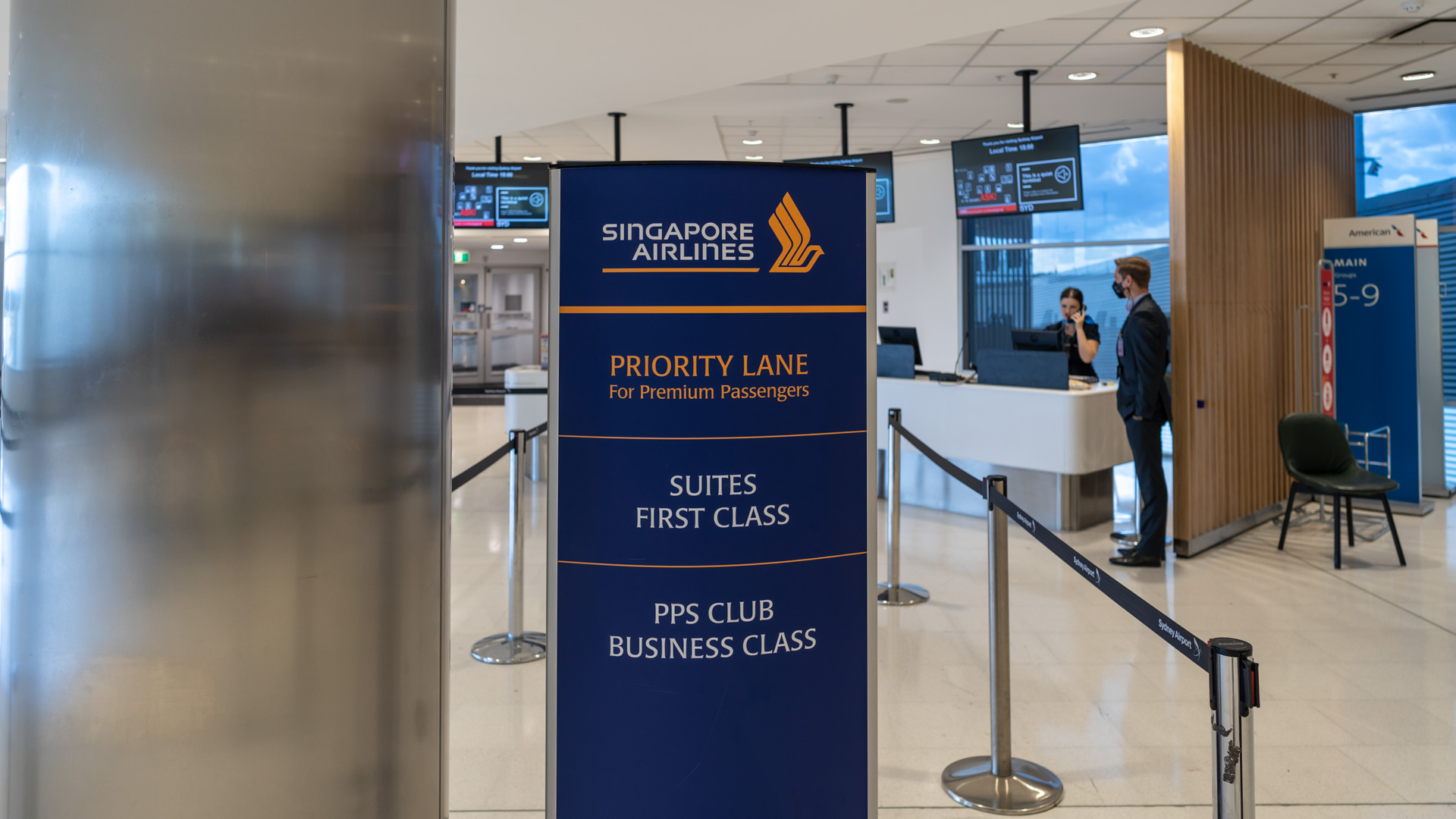 Singapore Airlines Airbus A380 Business seating
Business Class cabin overview
Singapore Airlines' Airbus A380s have been refurbished in recent years. The First Class Suites are now relocated upstairs (and trimmed down to just six berths). Business Class is completely overhauled with the latest, cutting-edge seats. Lucky us.
On the upper deck, you'll find 82 Business Class seats in a standard 1-2-1 layout. Travelling with a partner? You could enjoy a double bed in Business if you manage to select a bulkhead pair – that's 11D/F, 91D/F and 96D/F.
As for me, I pick 96A, which is a bulkhead seat in the second-last row of Business Class. It's an excellent seat for that 'private' feeling, as it seems like I'm in a cabin of my own. It also helps that the bulkhead seats have a larger footwell, making it easier to lounge and sleep.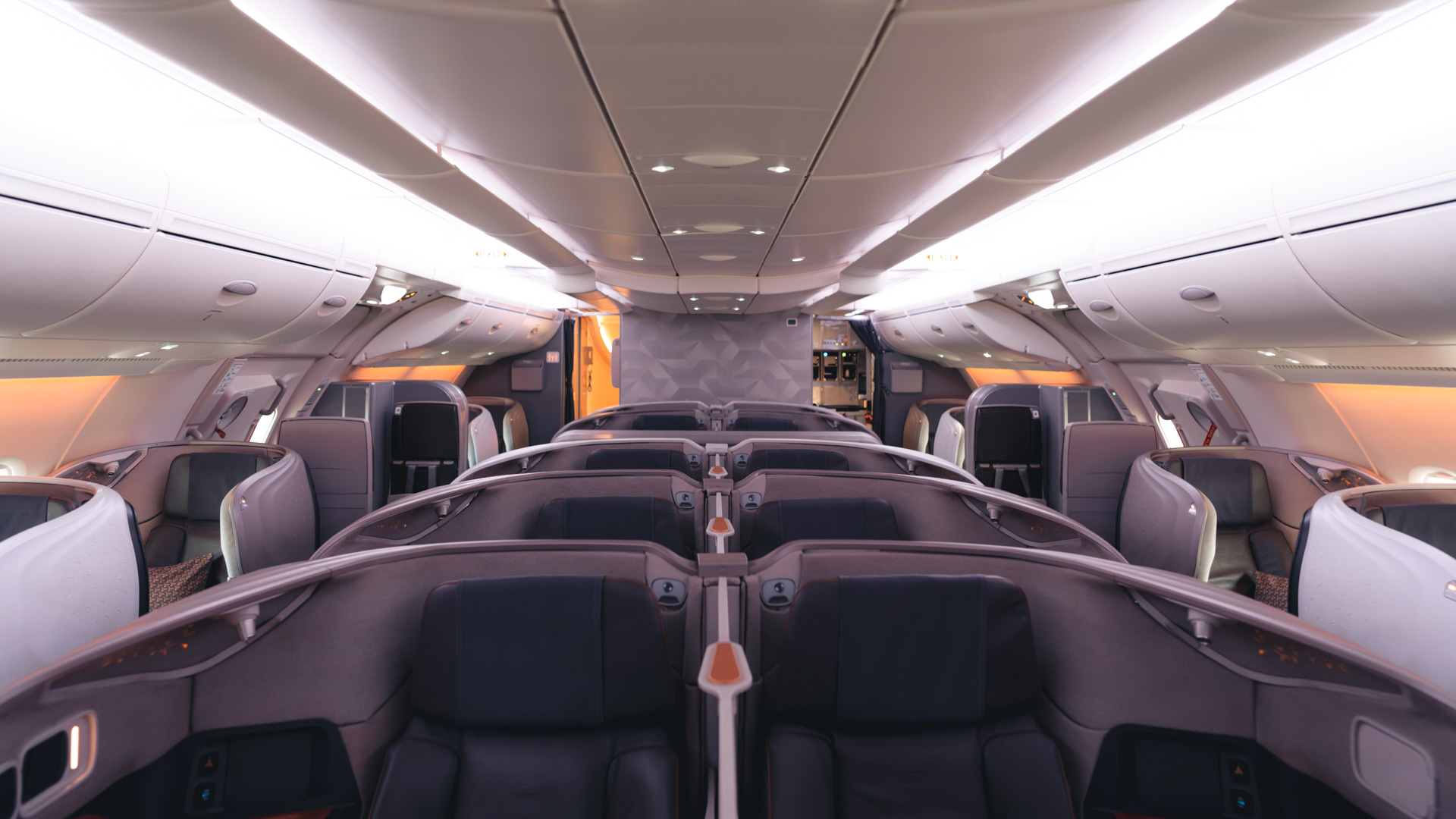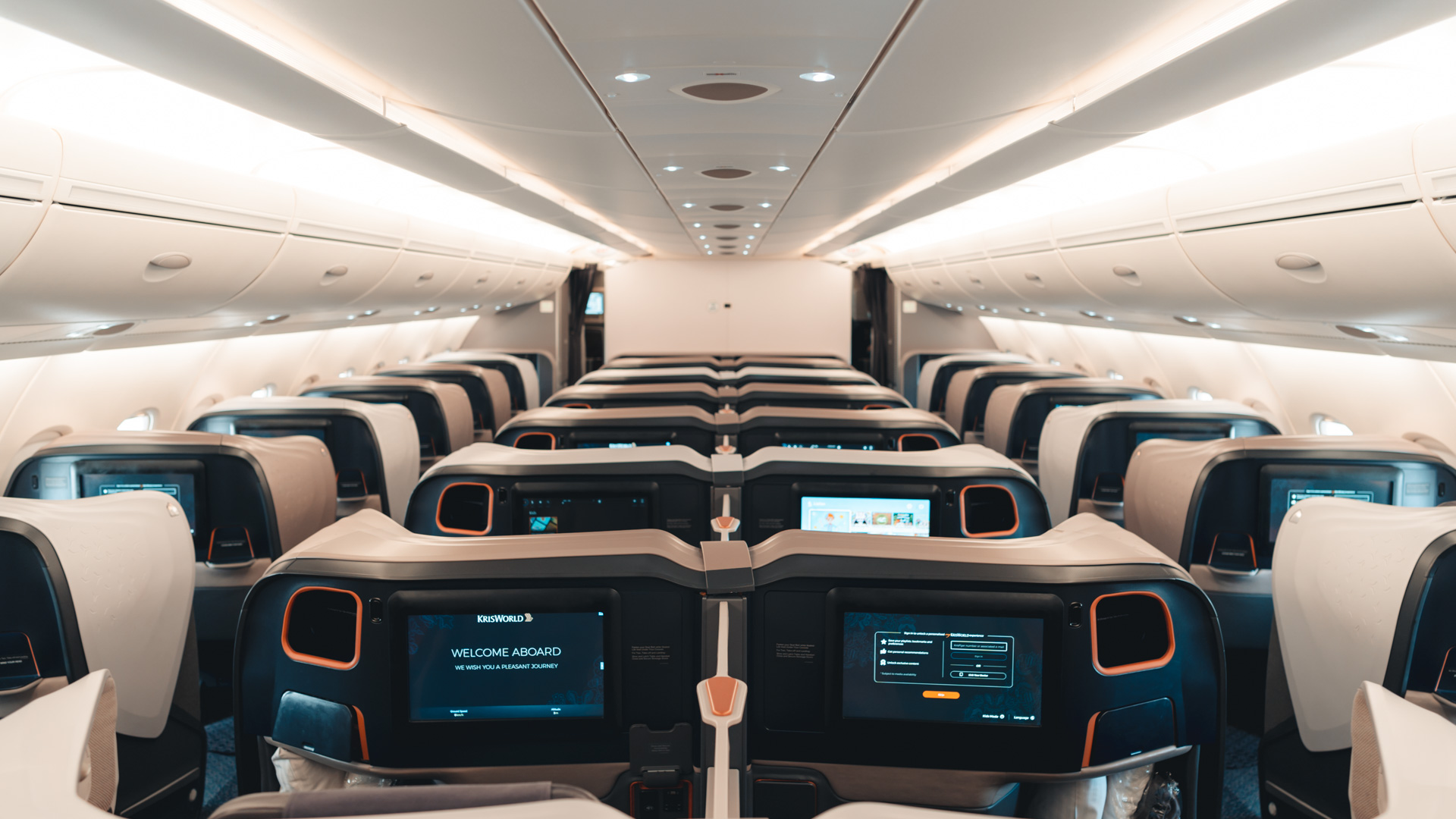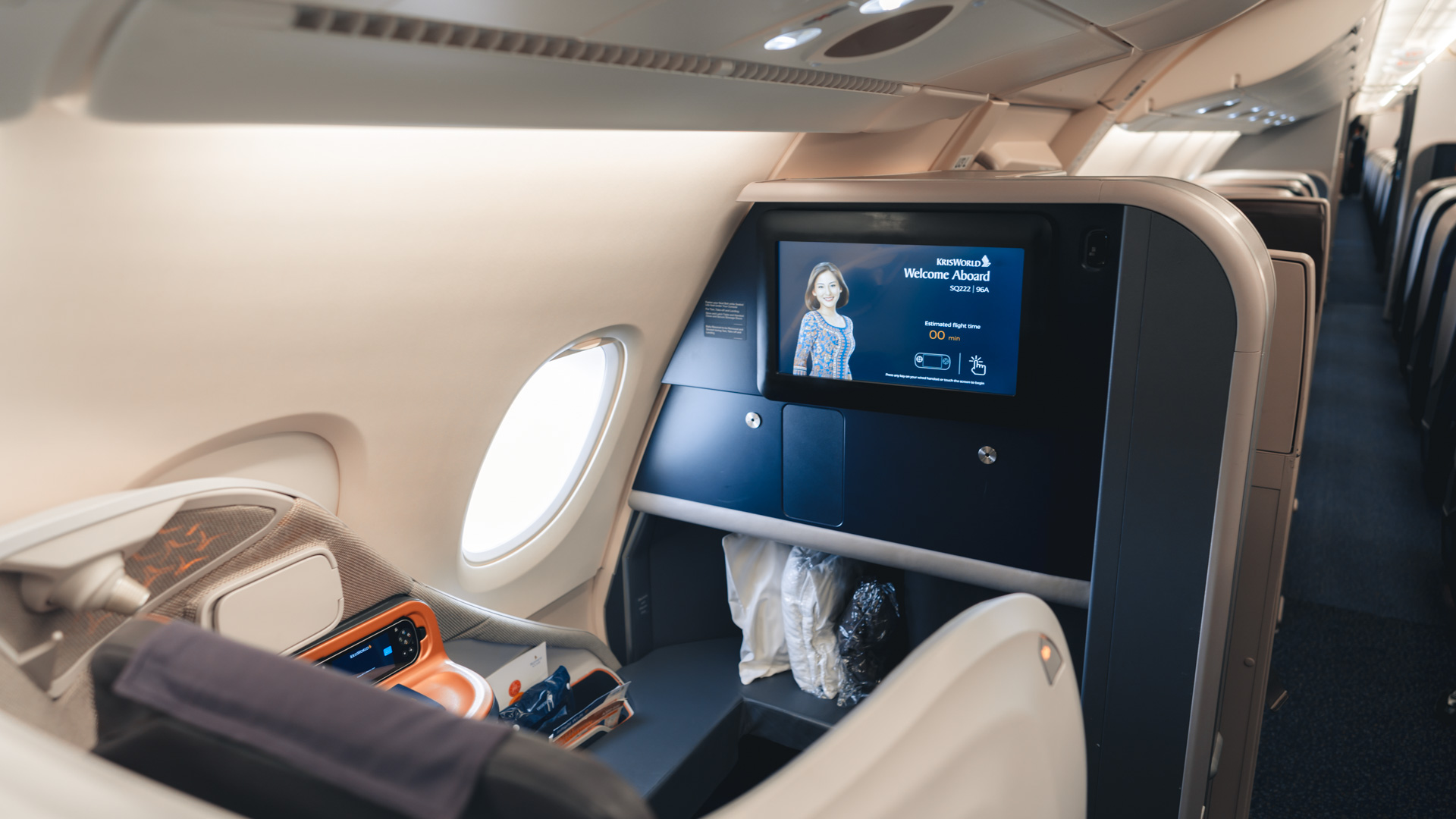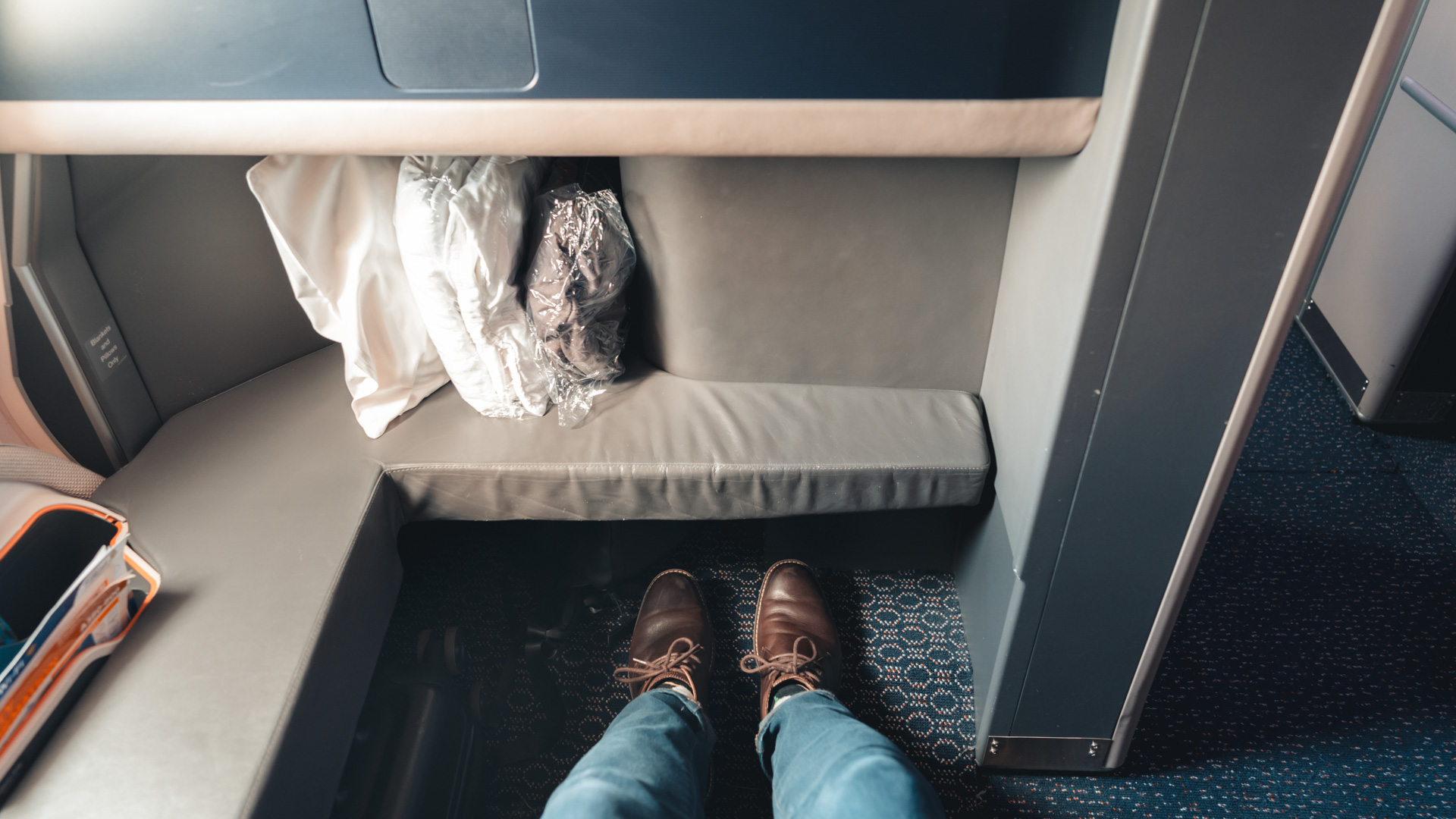 Business Class seat features
If I had to describe these seats in one word, it would be 'sleek'. The moulded carbon fibre shell isn't just eye-catching – it's much lighter and allows passengers to enjoy greater space within the seat. Rich hand-stitched purple leather by Poltrona Frau, lighted motifs and dashes of orange accentuate the appearance of luxury.
Practical touches include various nooks and crannies for storage, an 18″ full-HD touchscreen for inflight entertainment and a well-positioned AC charging port. I don't run into any hitches on this flight. Just note that in the bulkhead seats, the screen is positioned at a higher eye level than the other seats.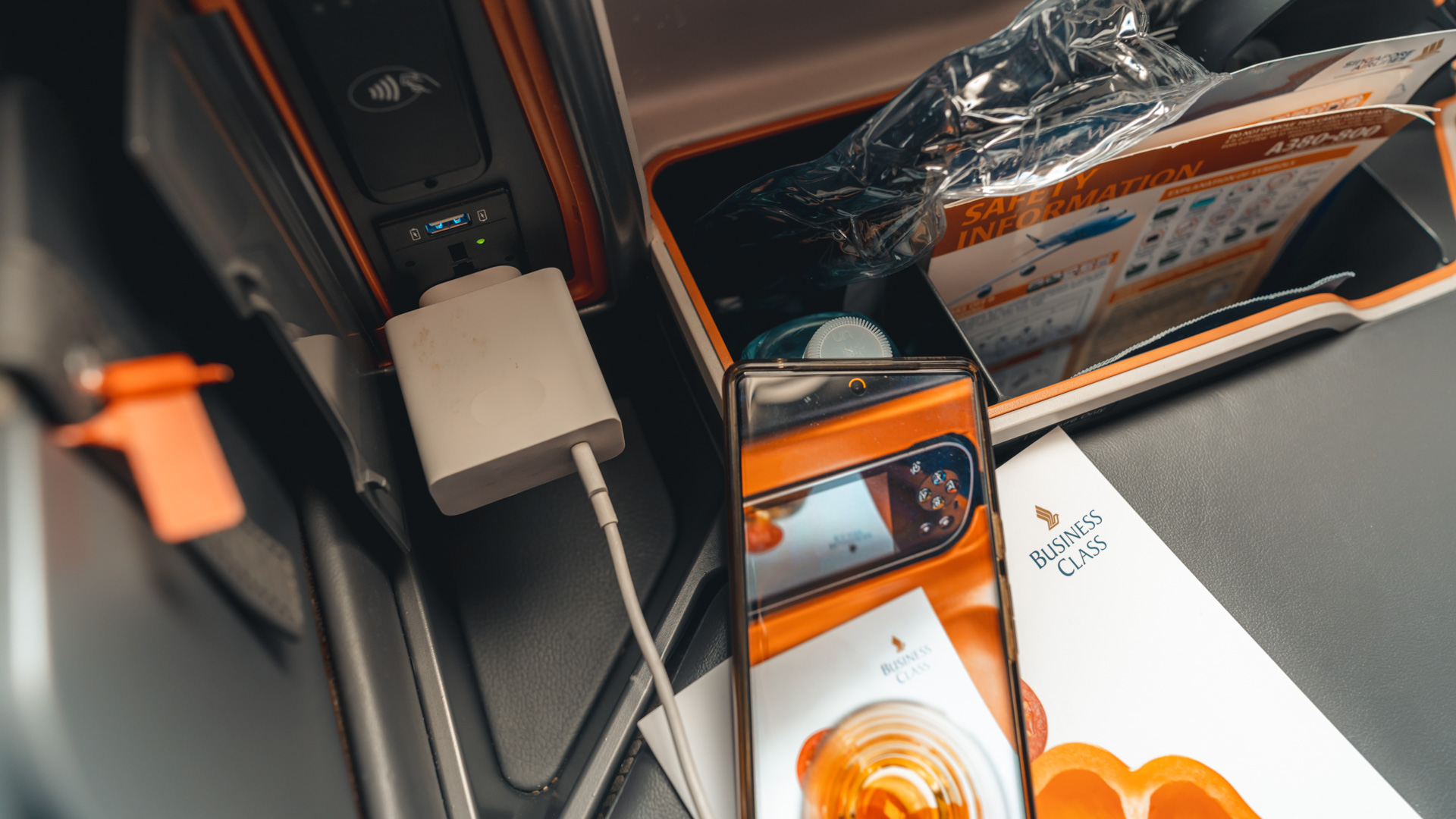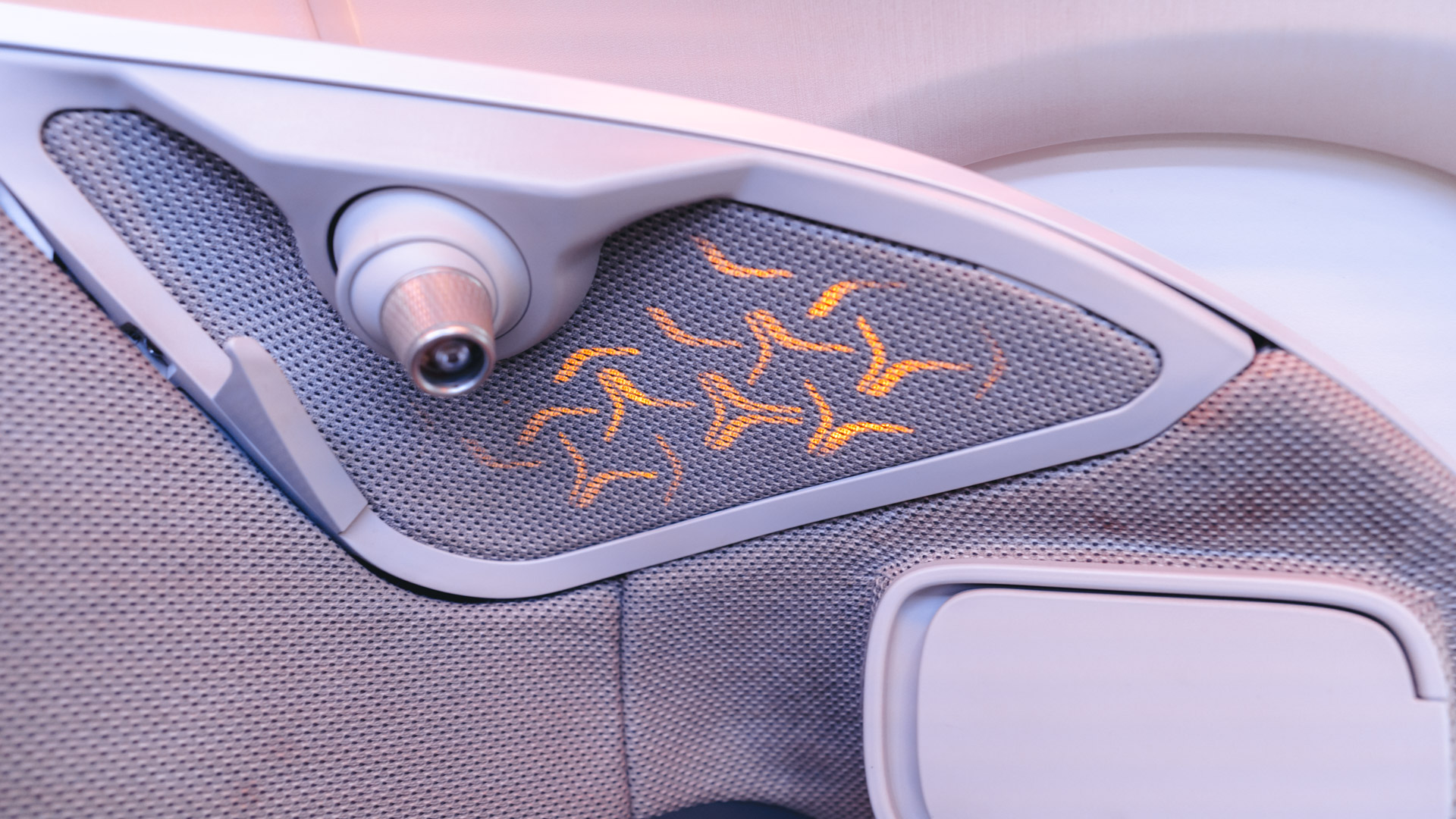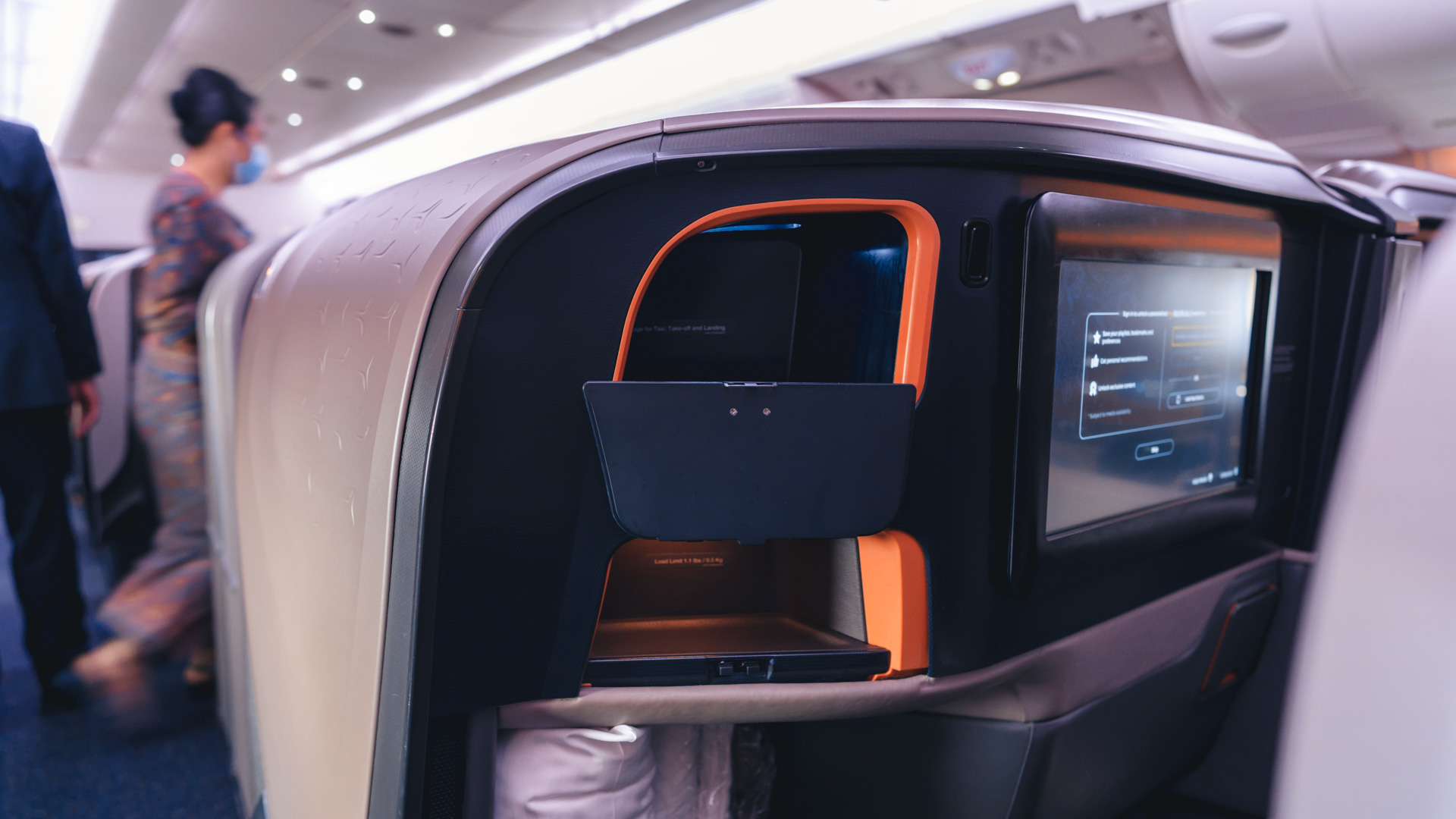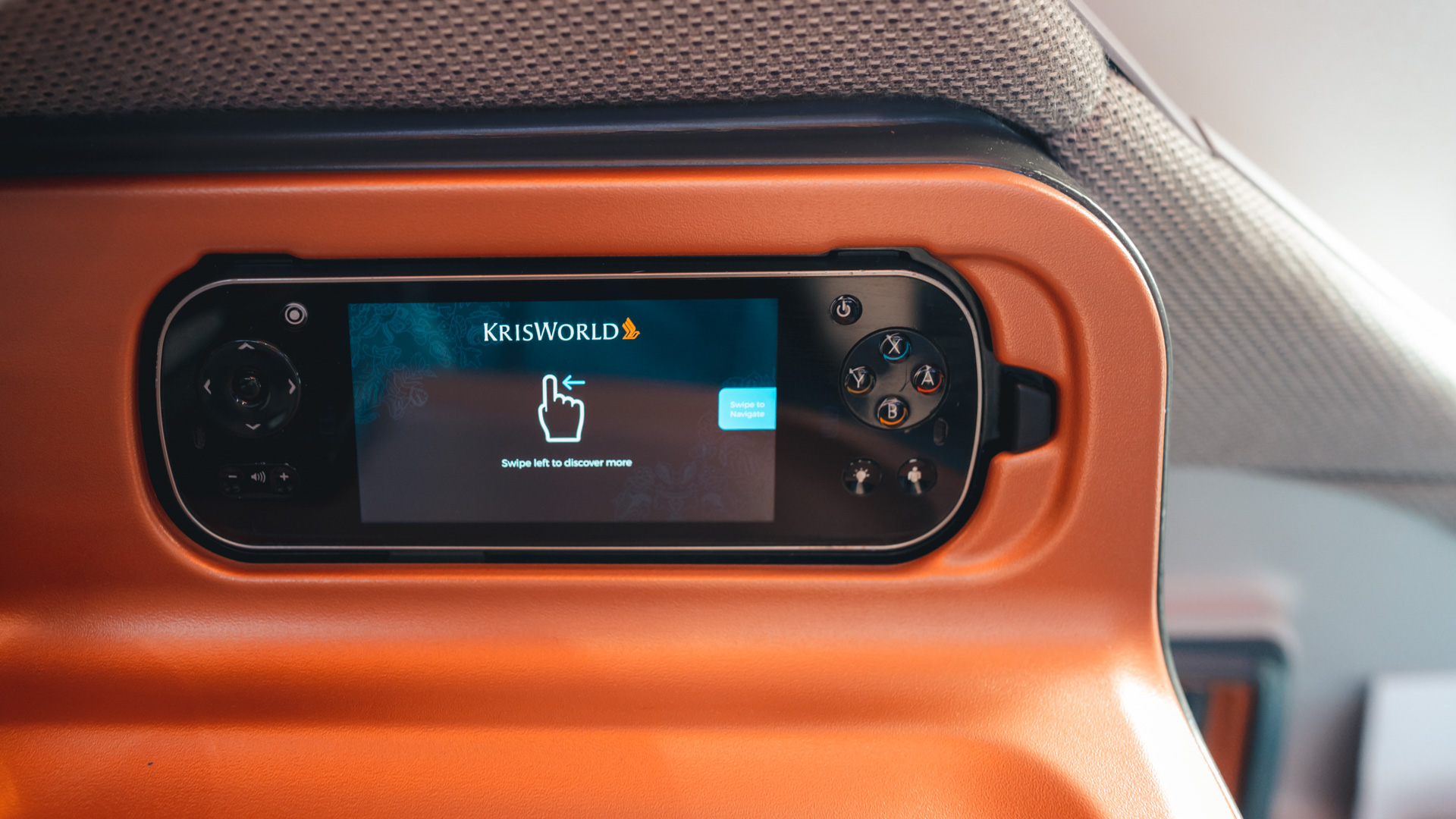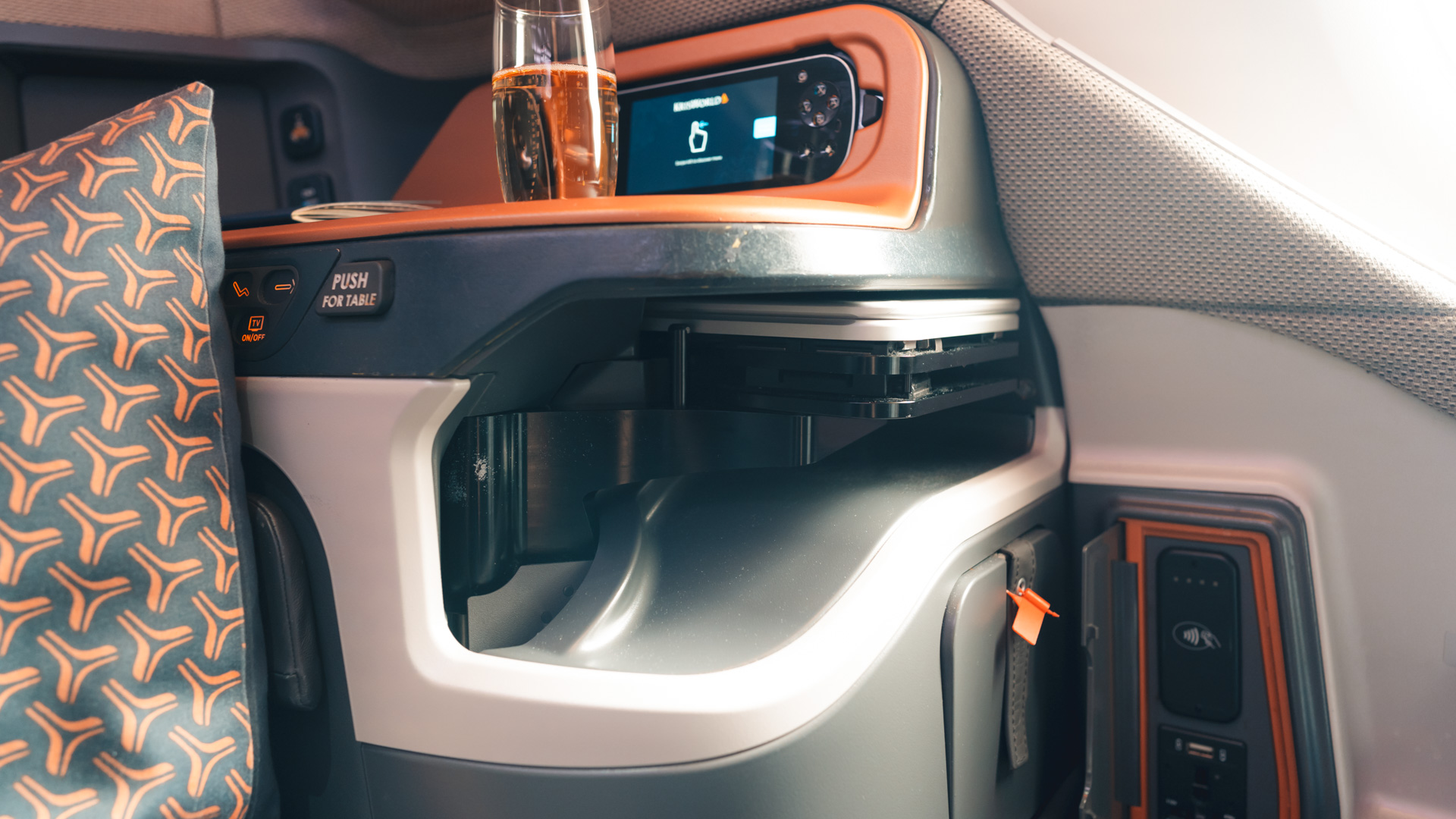 When it's time to rest, your Business Class seat also reclines into a fully-flat bed that's at least 76″ (193 cm) long. It's a shorter bed compared to some other airlines, but I personally don't find any issue with its length. The one observation I do make is that the bed surface is quite hard, even after the mattress topper is on. Having a topper with more padding could appeal to more passengers.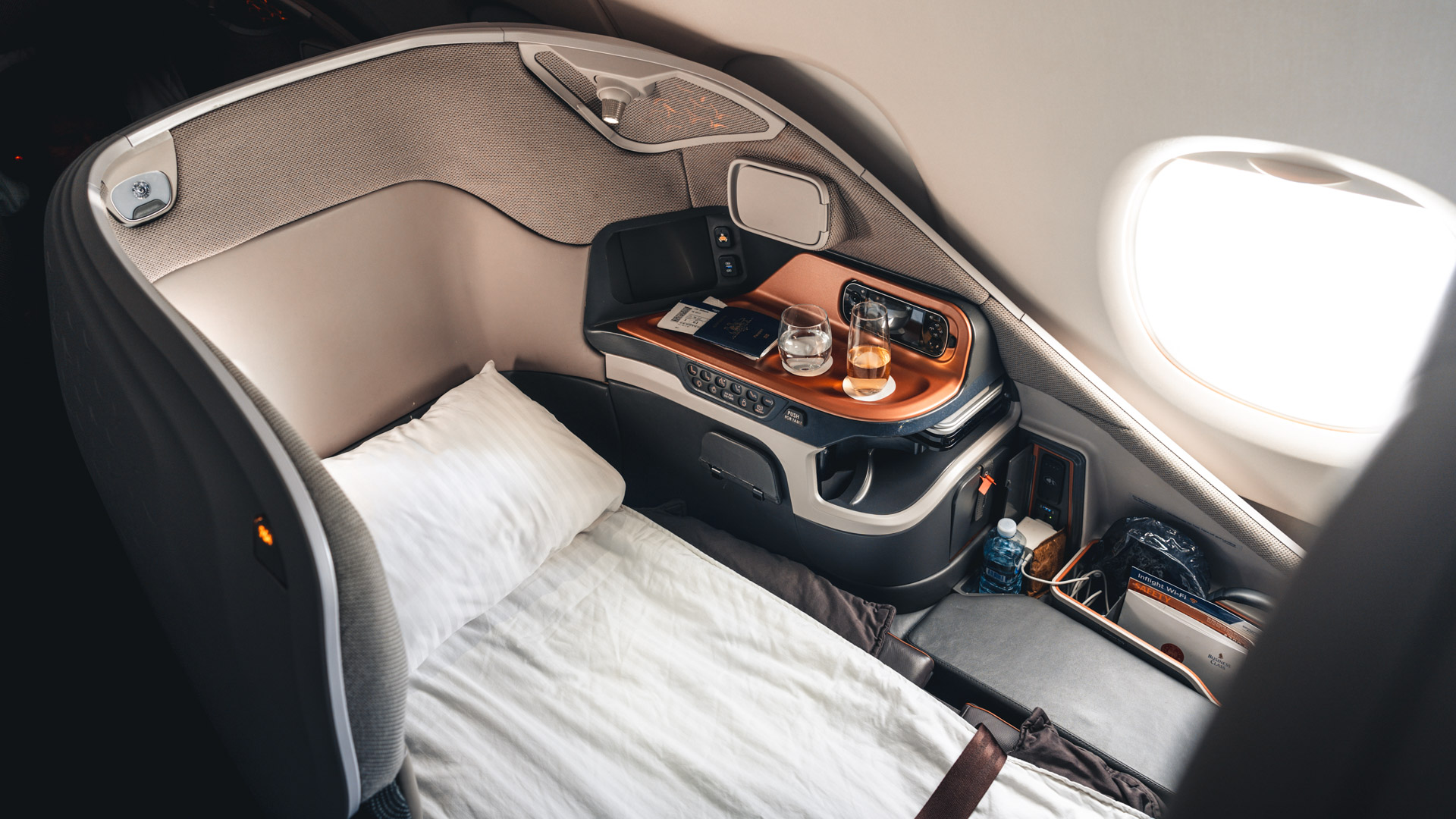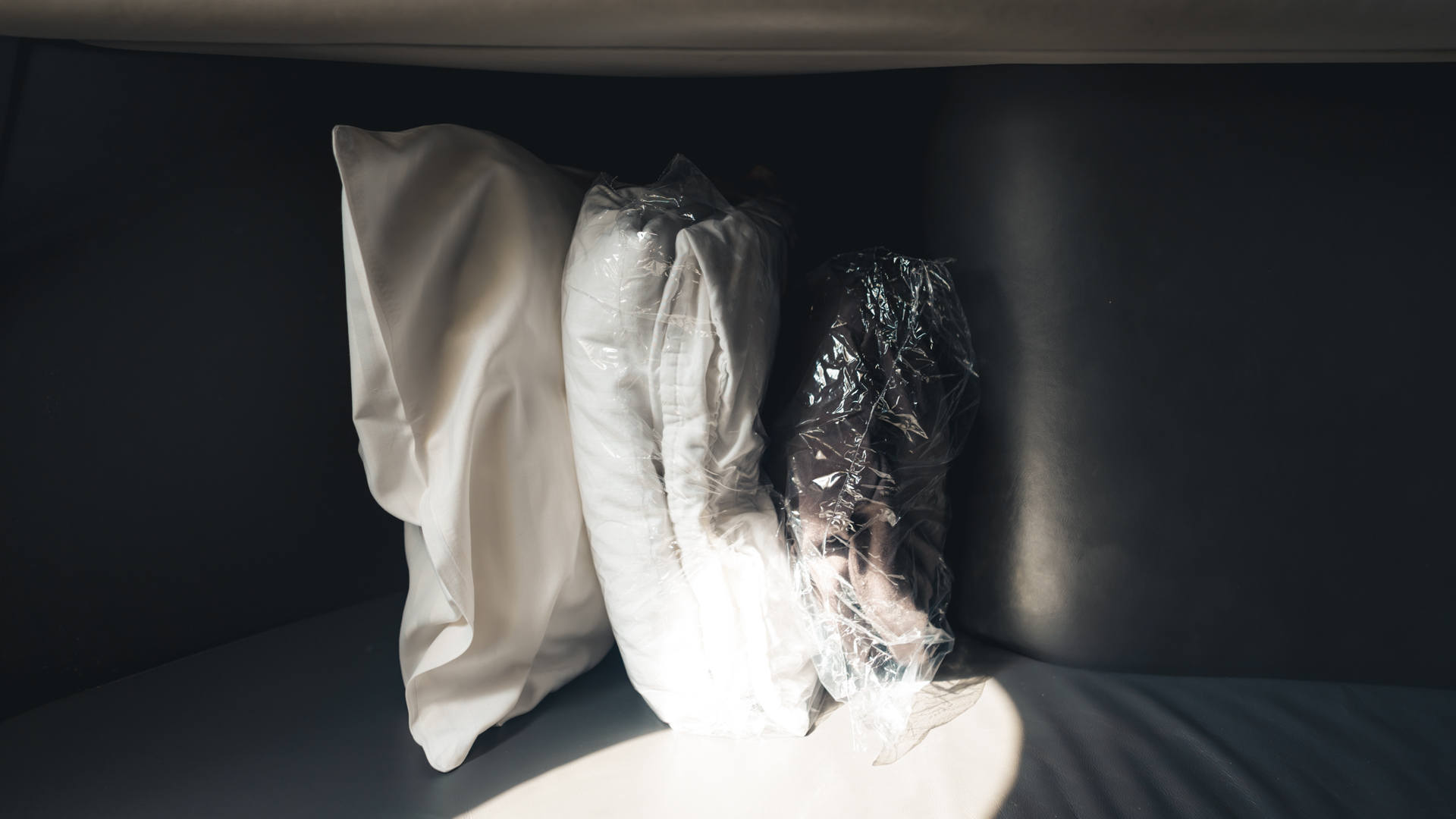 Singapore Airlines Airbus A380 Business food and beverage
Pre-departure beverages
Onboard flights between Australia and Singapore, you'll normally find Charles Heidsieck Brut NV Champagne being poured. I can't resist going for a glass before take-off (and having a few refills later in the flight). The extensive beverage list also includes cocktails such as the Singapore Sling.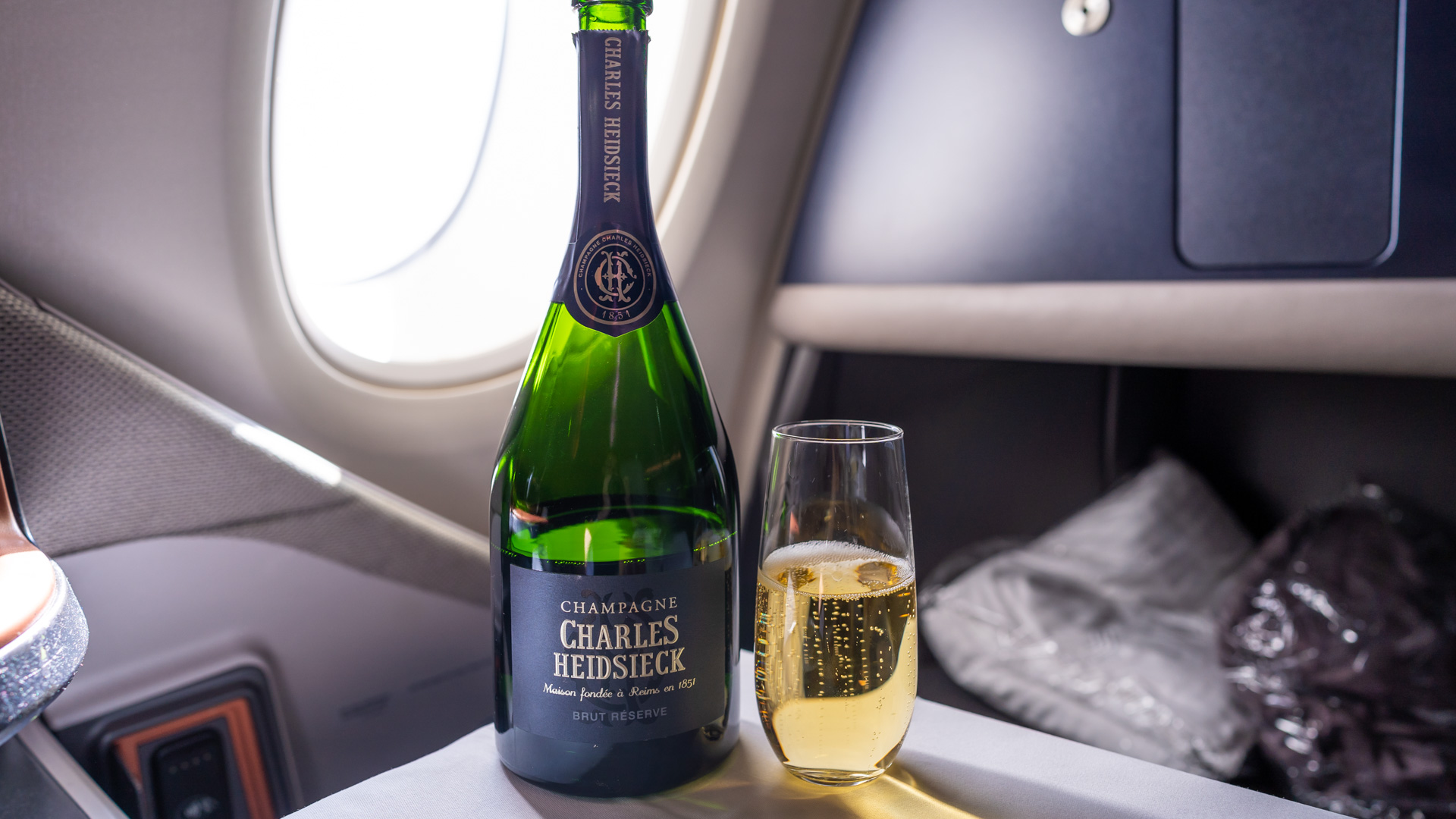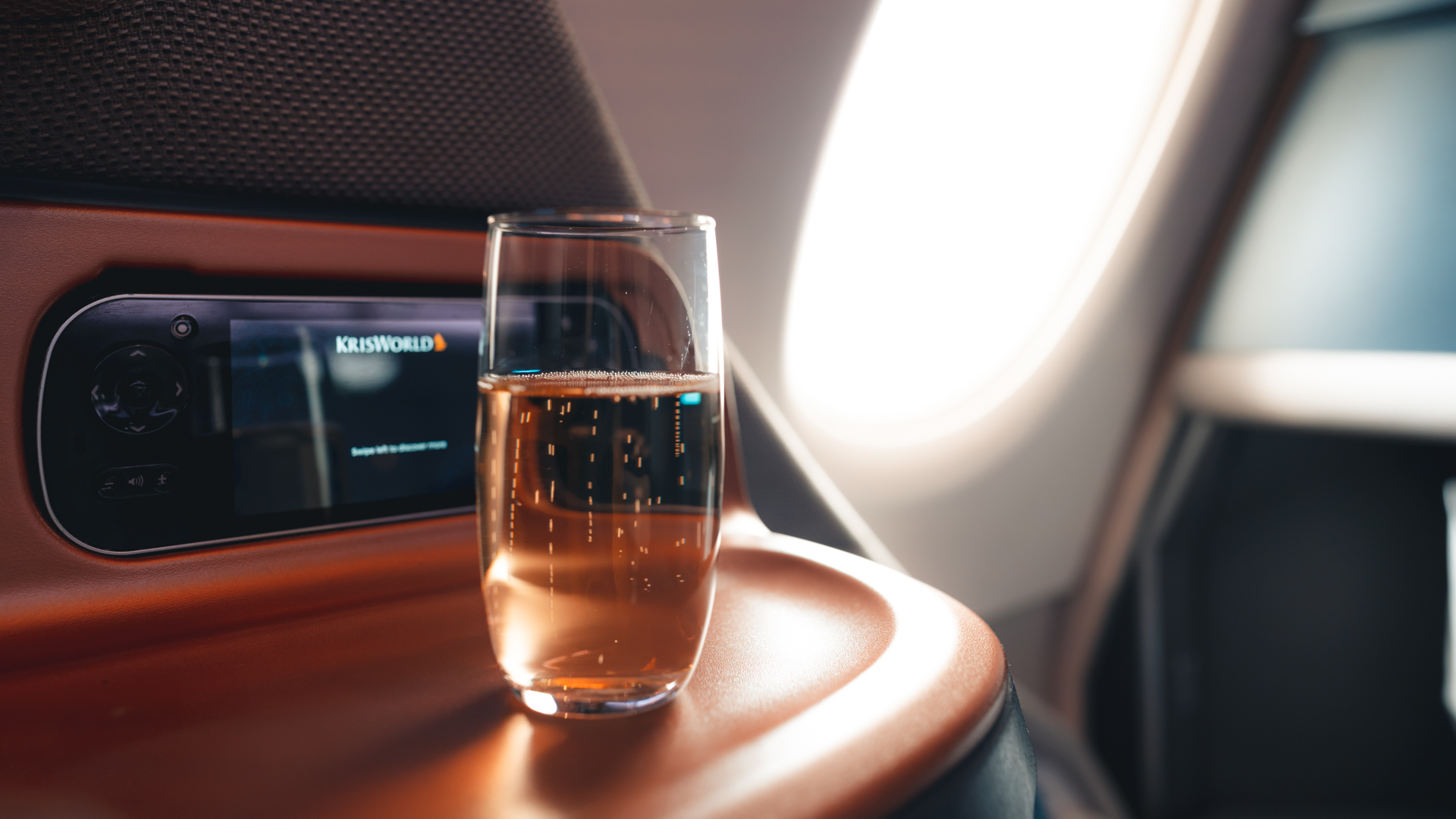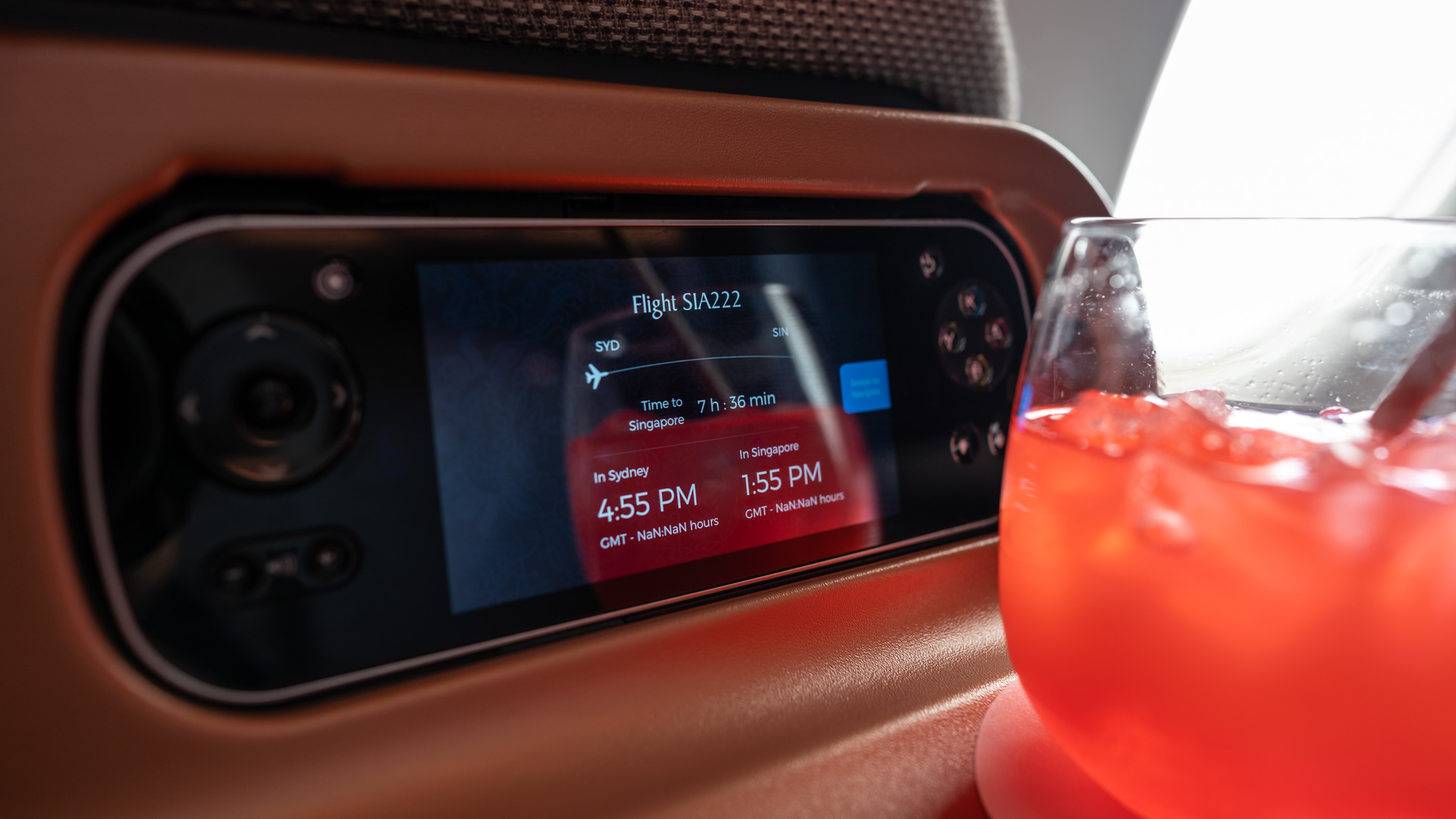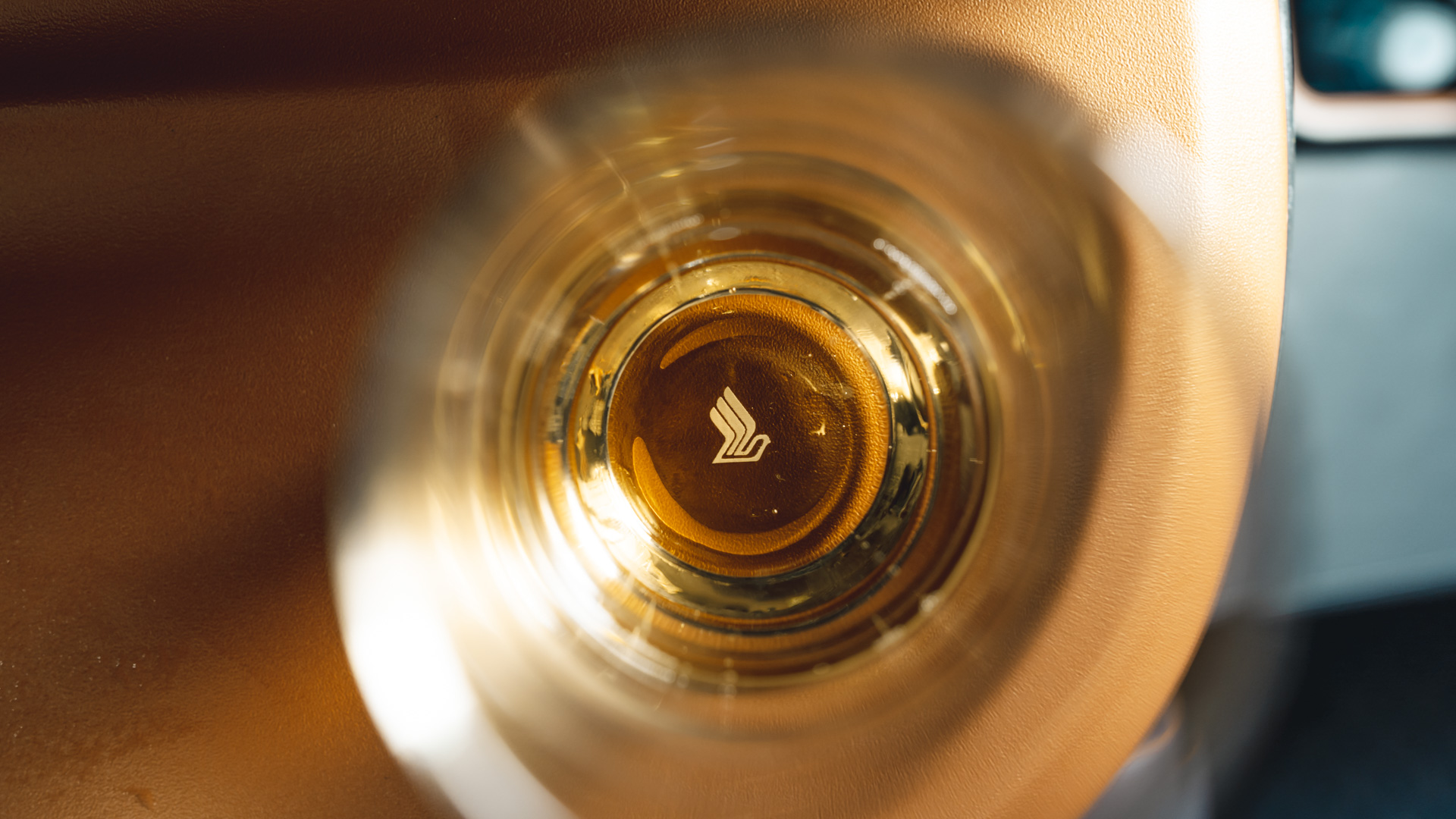 While I don't drink any other wine on this flight, here's a sample of the wines you might expect to find onboard – all mid-range drops in the $20-$40 range:
2021 Heggies Vineyard Estate Riesling
2021 Dandelion 'Twilight of the Adelaide Hills' Chardonnay,
2016 Clarendelle Medoc, Bordeaux
2019 Dandelion 'Lionheart Of The Barossa' Shiraz, Barossa Valley
Onboard dining
Having browsed the 'Book the Cook' options before departure, I decide to stick with the onboard menu for dining today. Unfortunately, the signature Singapore satay course doesn't make an appearance on most Australian flights to Singapore, this one included.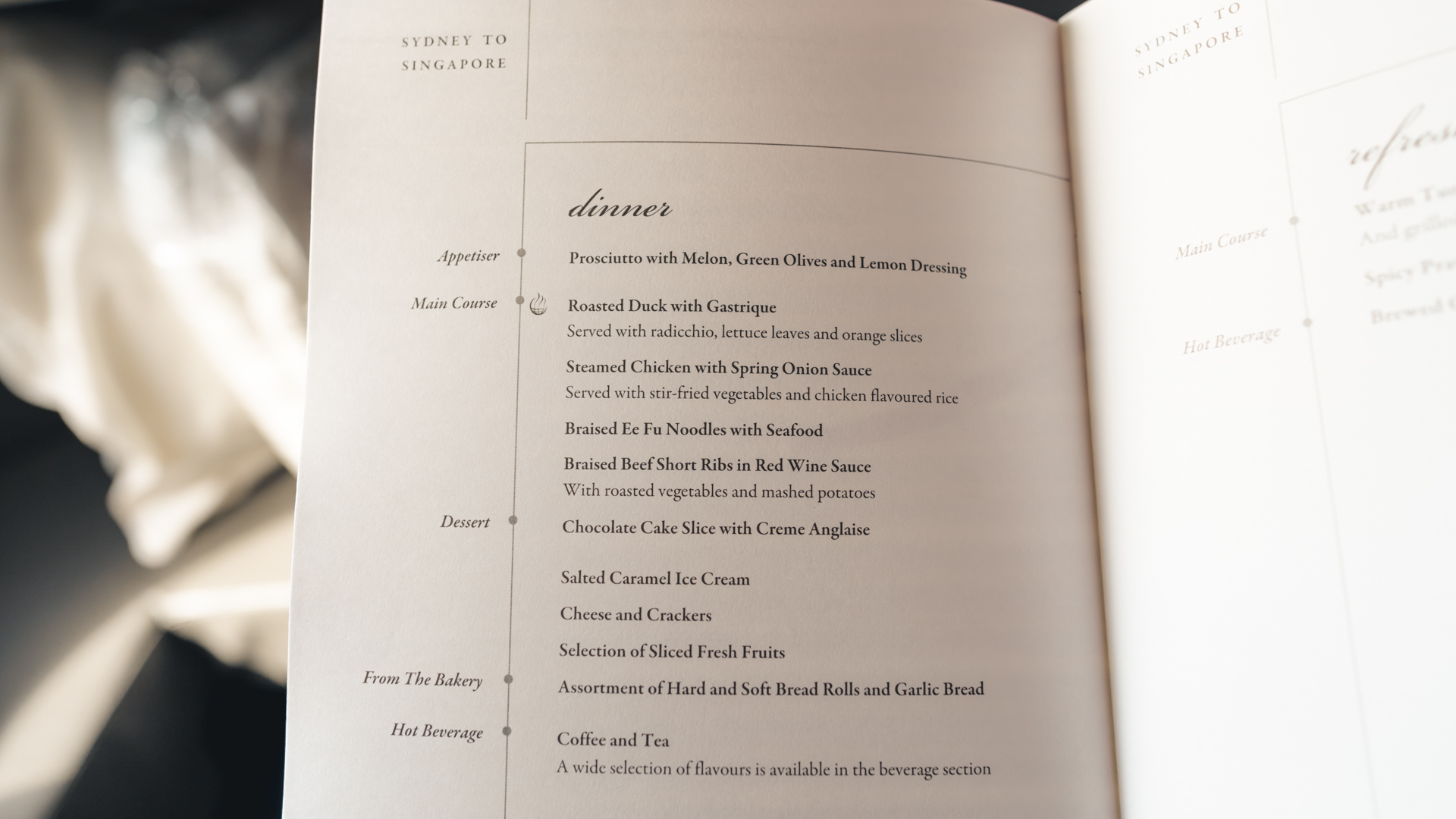 Dinner starts 40 minutes into the flight with a filling prosciutto and melon salad. It's certainly very tasty – especially accompanied by that more-ish garlic bread. The lemon dressing in a plastic tub doesn't bother me at all, but it does seem a rather odd presentation choice for Business Class.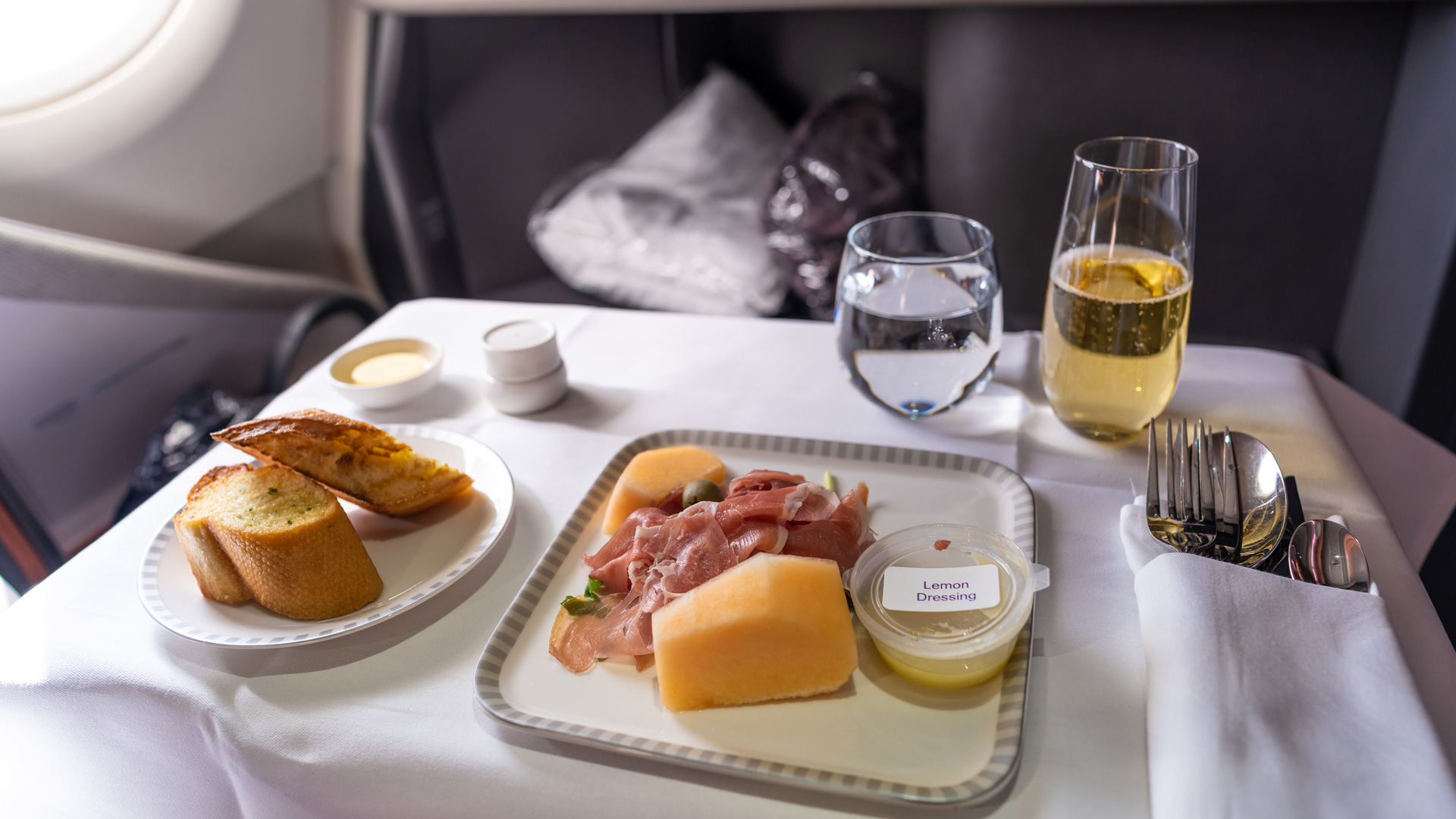 Next up is the 'roasted duck with gastrique', created by the airline's Australian consultant chef, Matt Moran. I haven't had a hot protein served over lettuce leaves before, but the colours are vibrant and the sweetness of the orange within the gastrique (a sweet and sour sauce, put simply) is an excellent match for the roasted duck leg.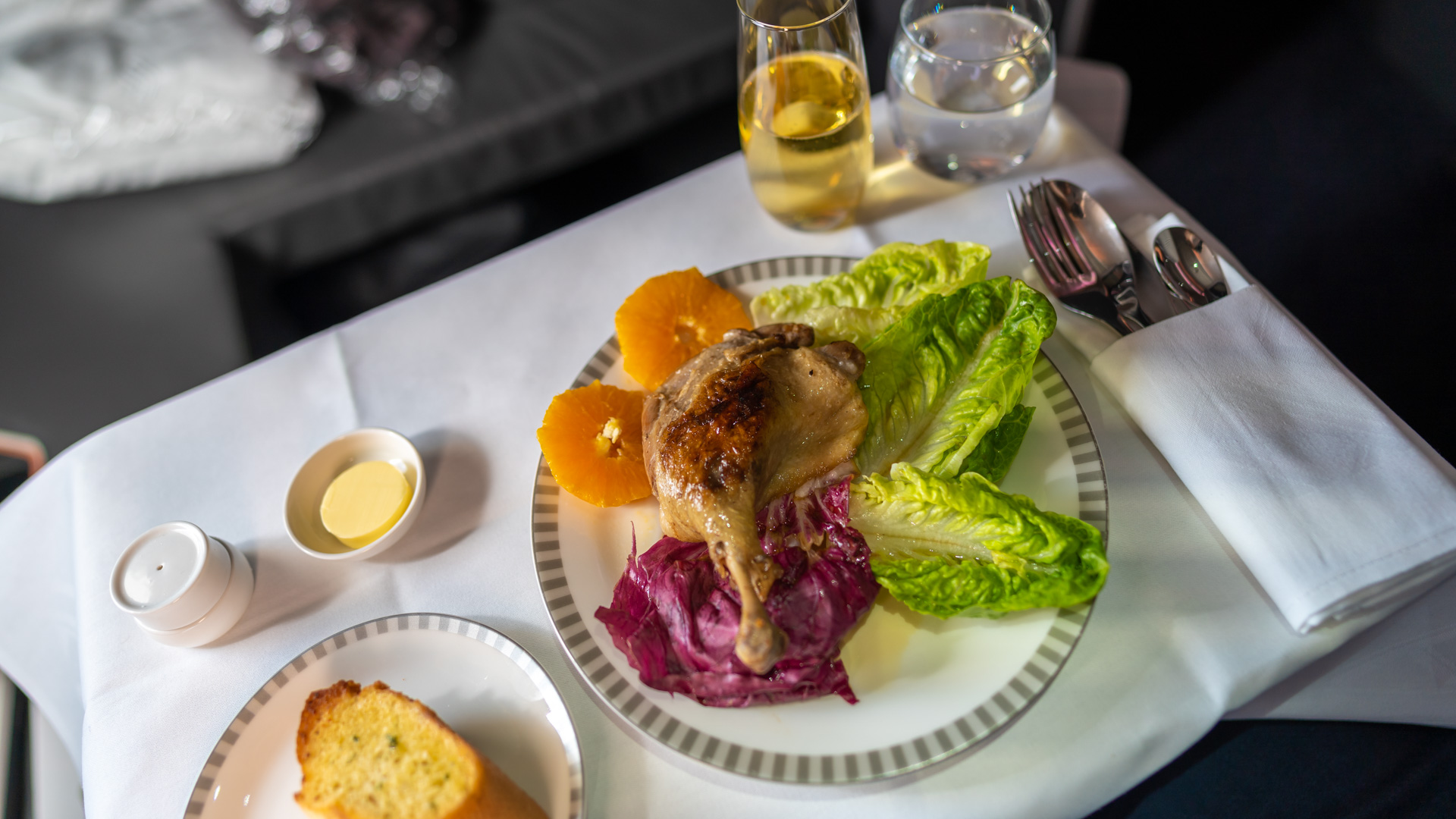 Other main courses on the inflight menu include:
Steamed chicken with spring onion sauce
Braised ee fu noodles with seafood
Braised beef short ribs in red wine sauce
Dessert is served off a trolley laden with tempting treats – chocolate cake with Crème Anglaise, cheese and a fruit bowl are the options. I choose the decadent chocolate cake and request them to put a bowl of fruit aside for later if any are still left. It's all about balance, right?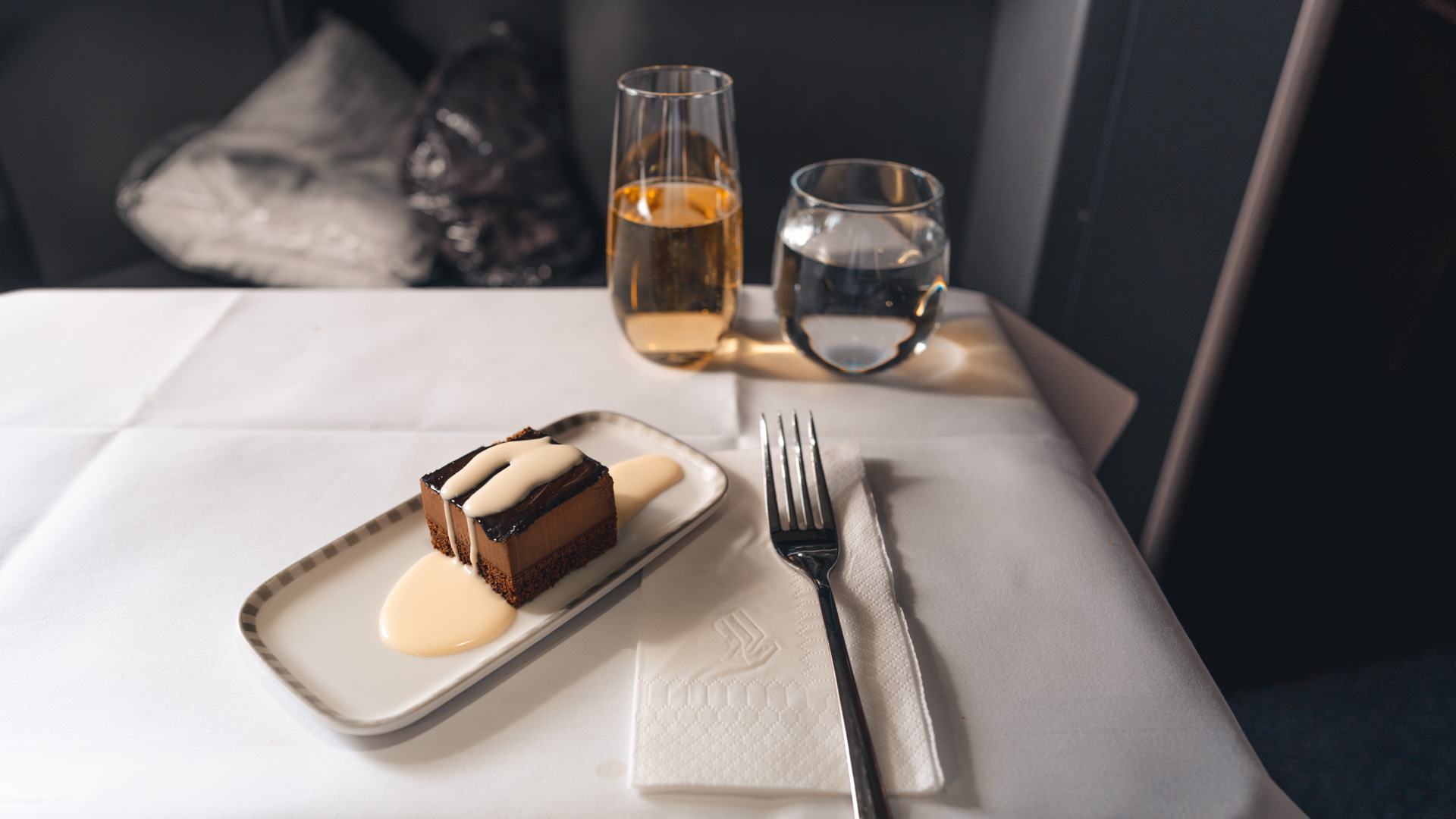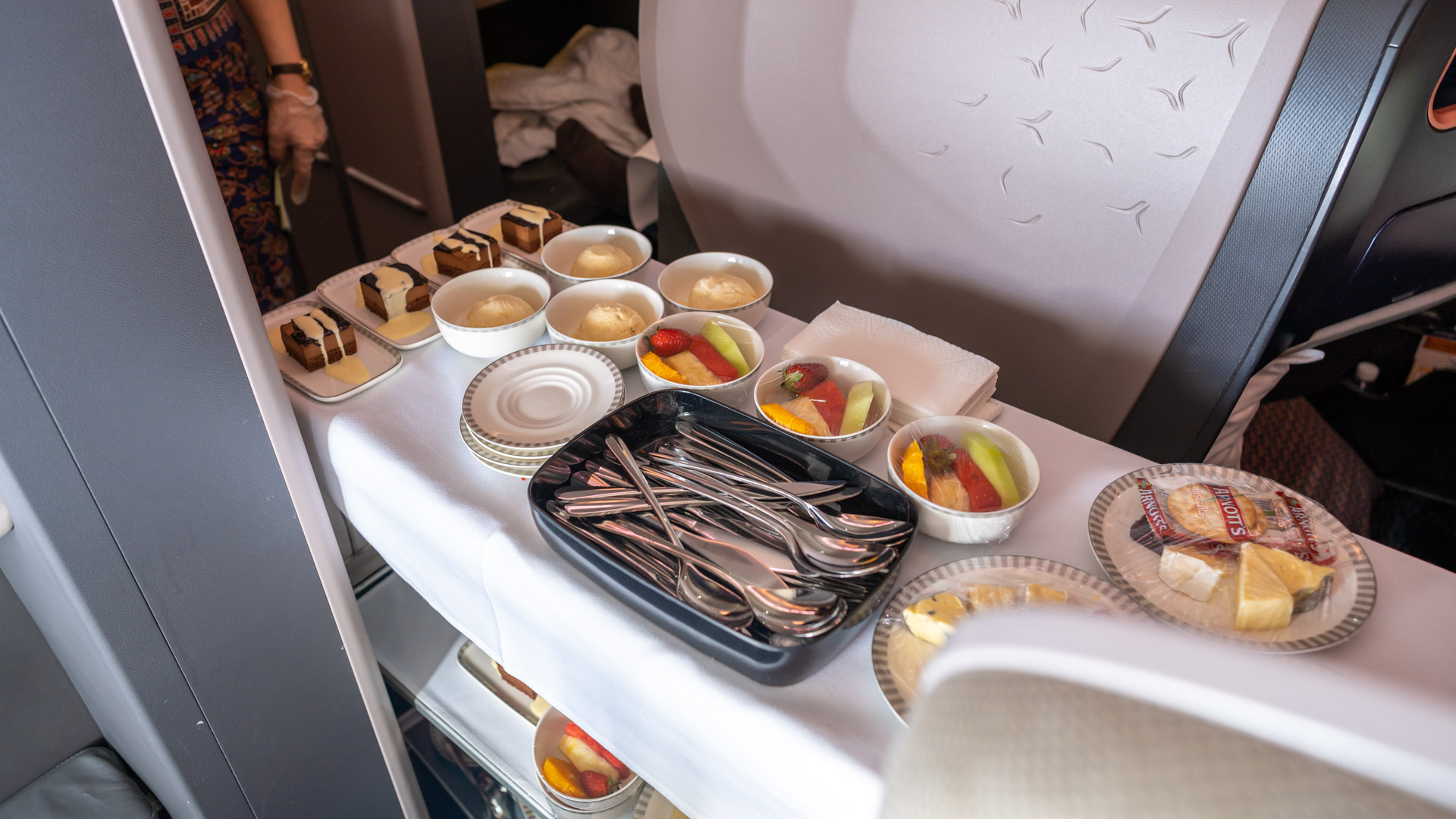 Pre-arrival snack
I'm quite full after all this, so I only snack again towards the end of the flight. The bowl of fruit reappears here, followed by the landing snack of a toasted ham and cheese sandwich, or spicy prawn and squid stir fry on steamed rice. In hindsight, a shot of Suntory's 'The Chita' Single Grain Japanese Whisky isn't the best choice after waking up, but boy is that a smooth and crisp whisky.
Somehow, I'm still craving a sweet bite to finish so I ask if there's any ice cream left. It turns out there isn't any left from the Business menu, but the cabin crew kindly source me one from Economy – a Connoisseur salted caramel and macadamia stick. That's an excellent substitute.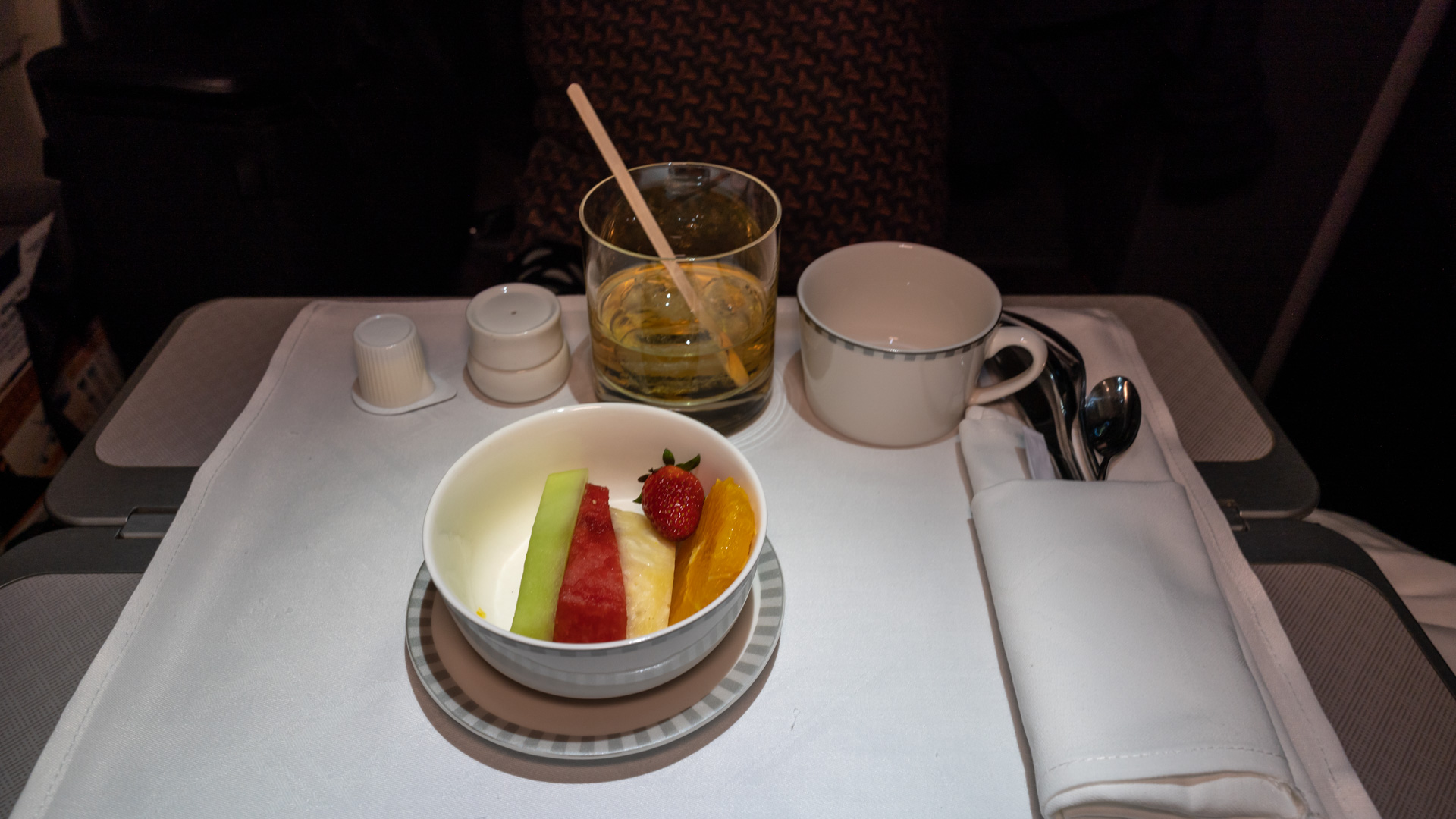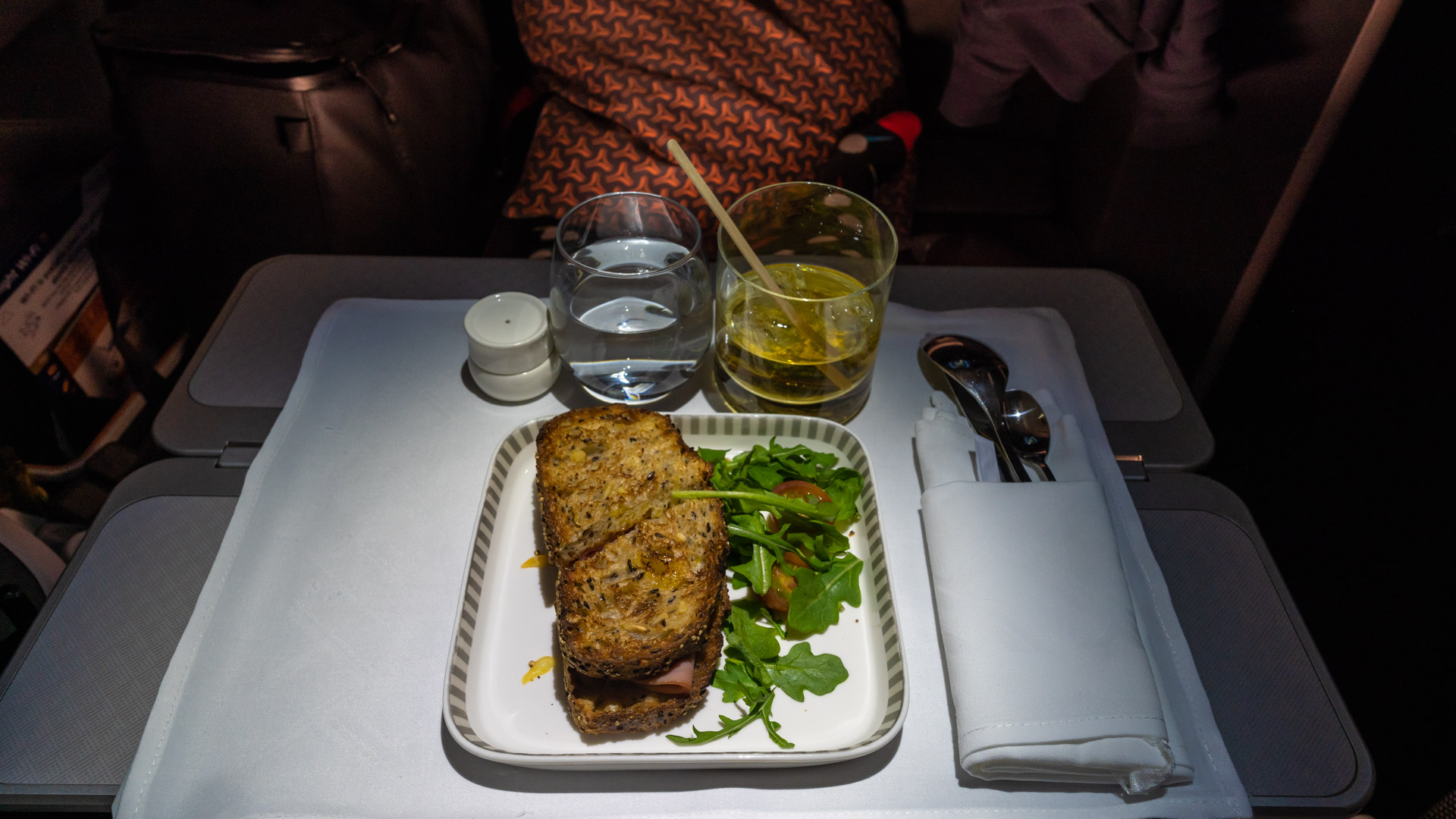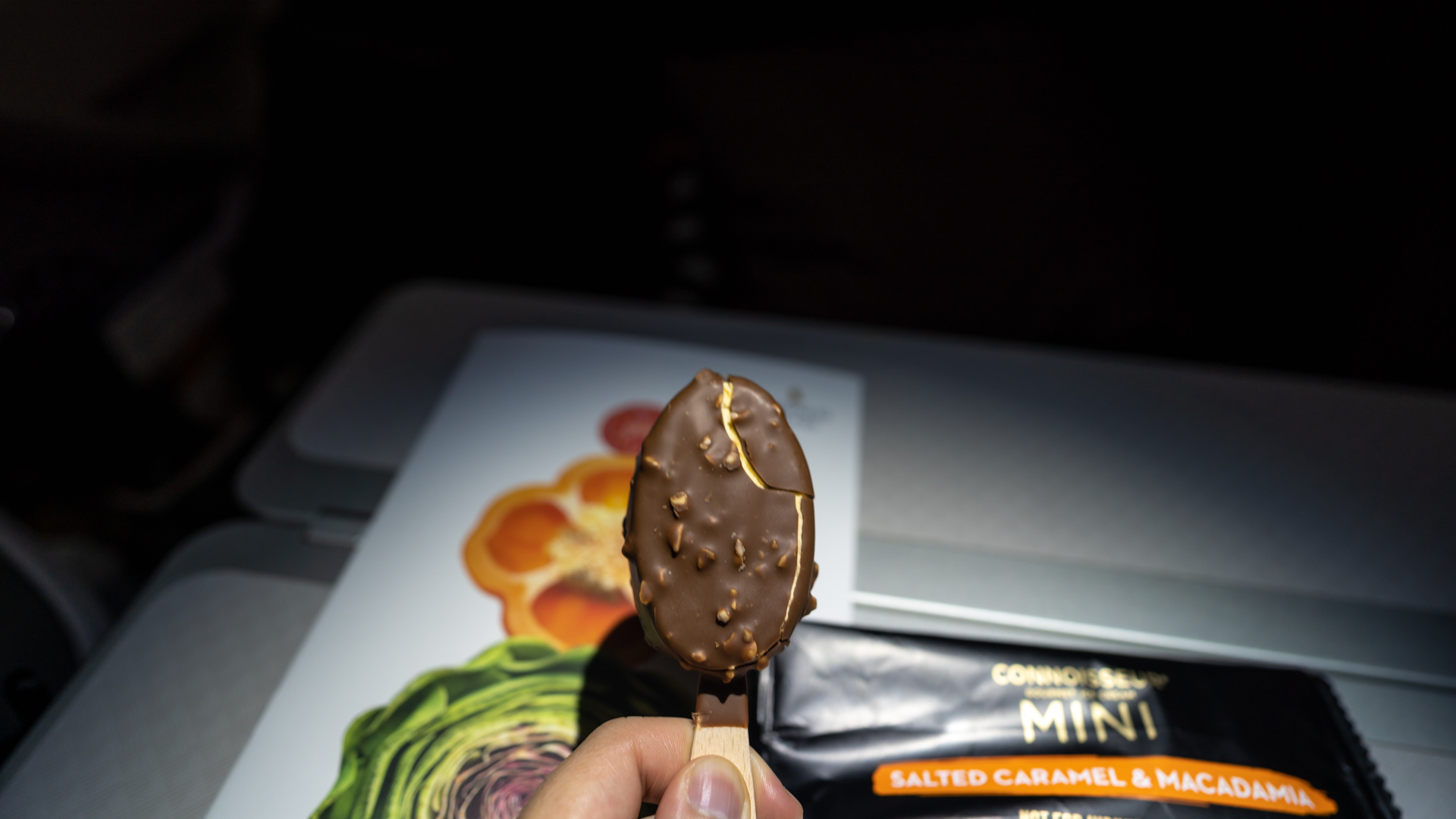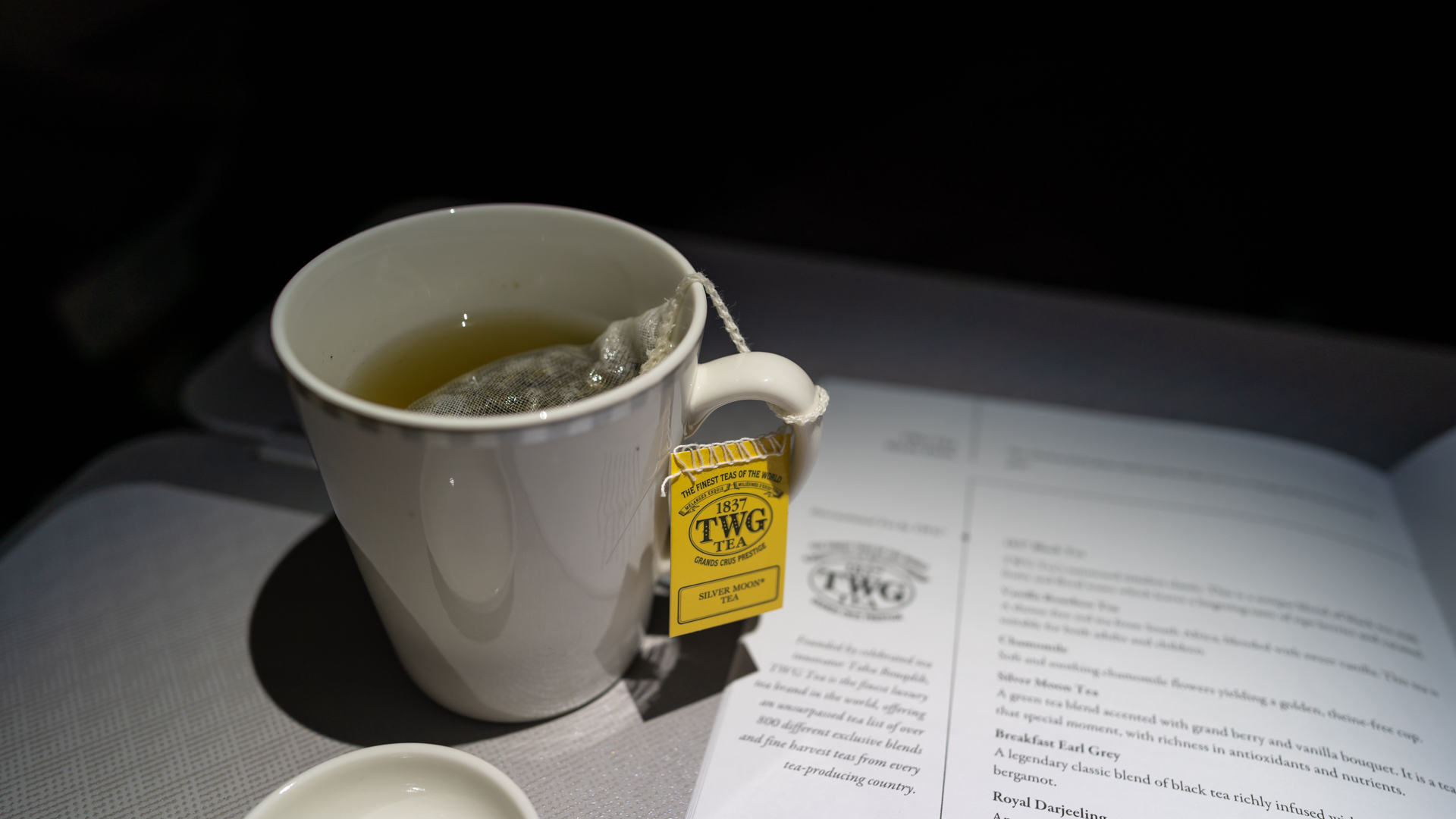 Finally, a freshly-brewed TWG tea is the perfect way to wrap up the flight before we land in Singapore. Overall, Singapore Airlines's approach to inflight dining scores highly in execution, taste and presentation. But I do notice the current menu in February 2023 is identical to my flight in November 2022 – a bit more variety wouldn't go astray, especially for regular flyers.
Singapore Airlines A380 Business Class amenities
Inflight entertainment
Even before the aircraft leaves the runway, you've got hundreds of hours of content on demand via KrisWorld. There's plenty to choose from across movies, TV shows, music and games. I find that the 18″ touchscreen is very responsive and great for watching shows.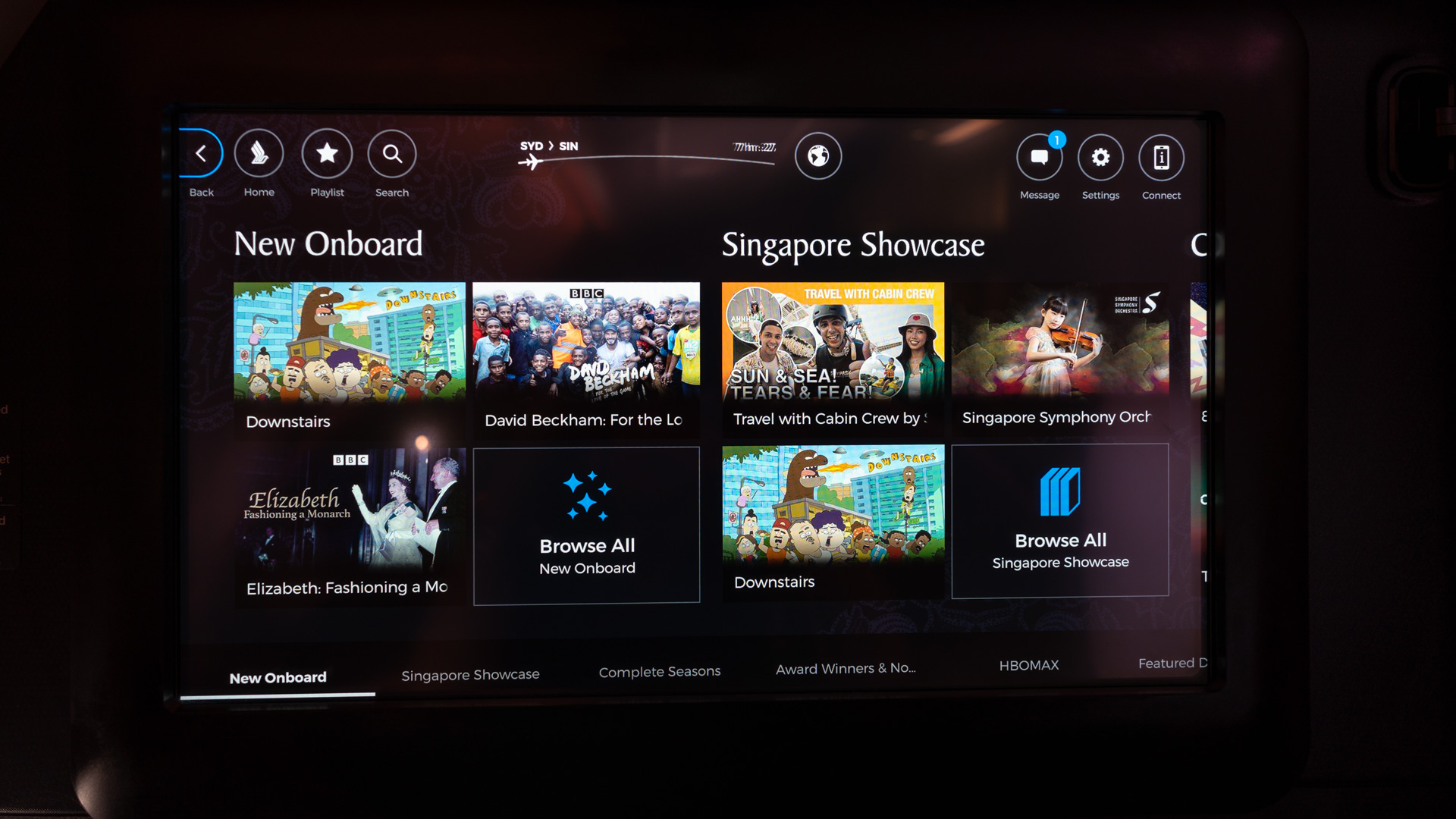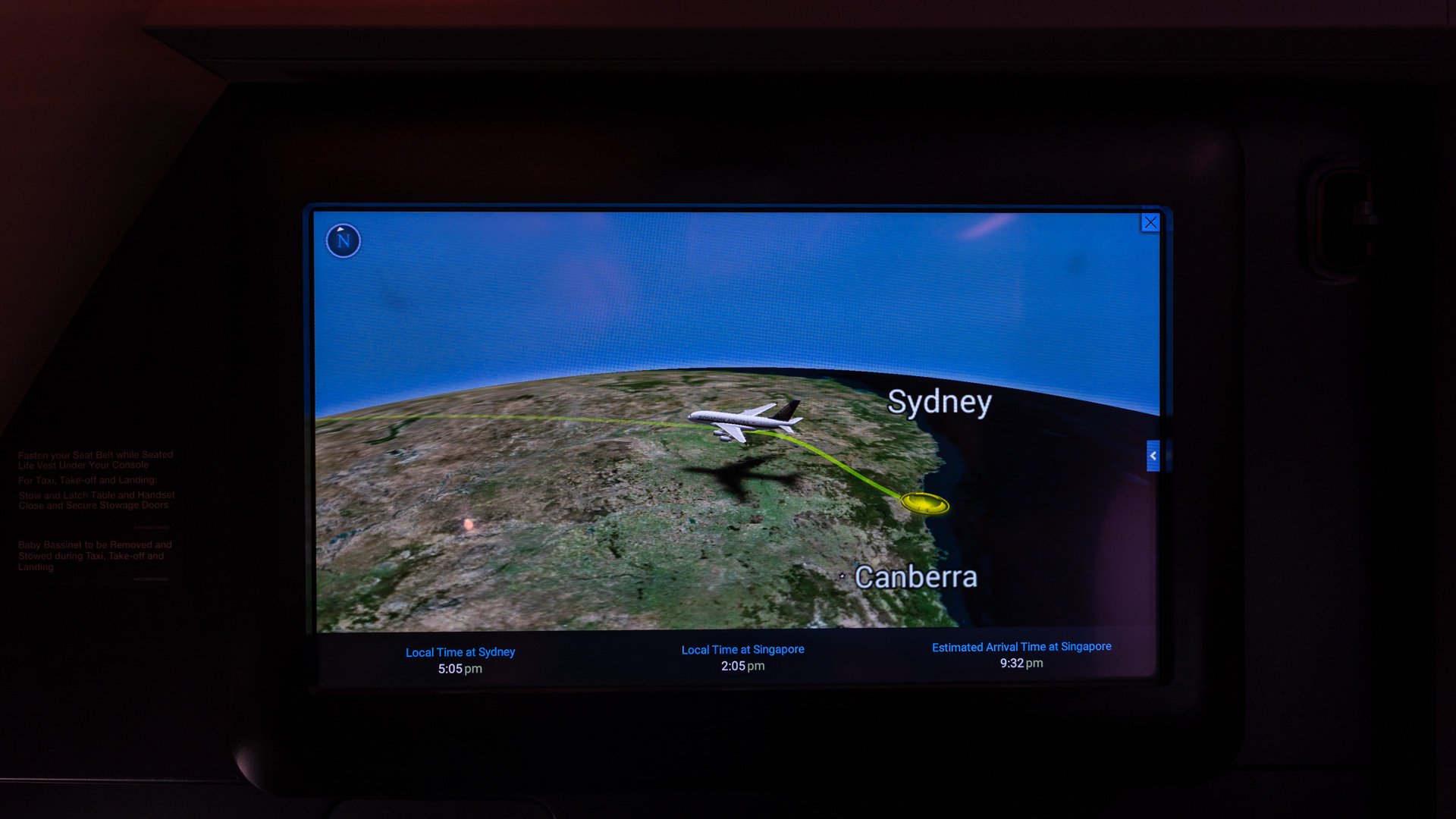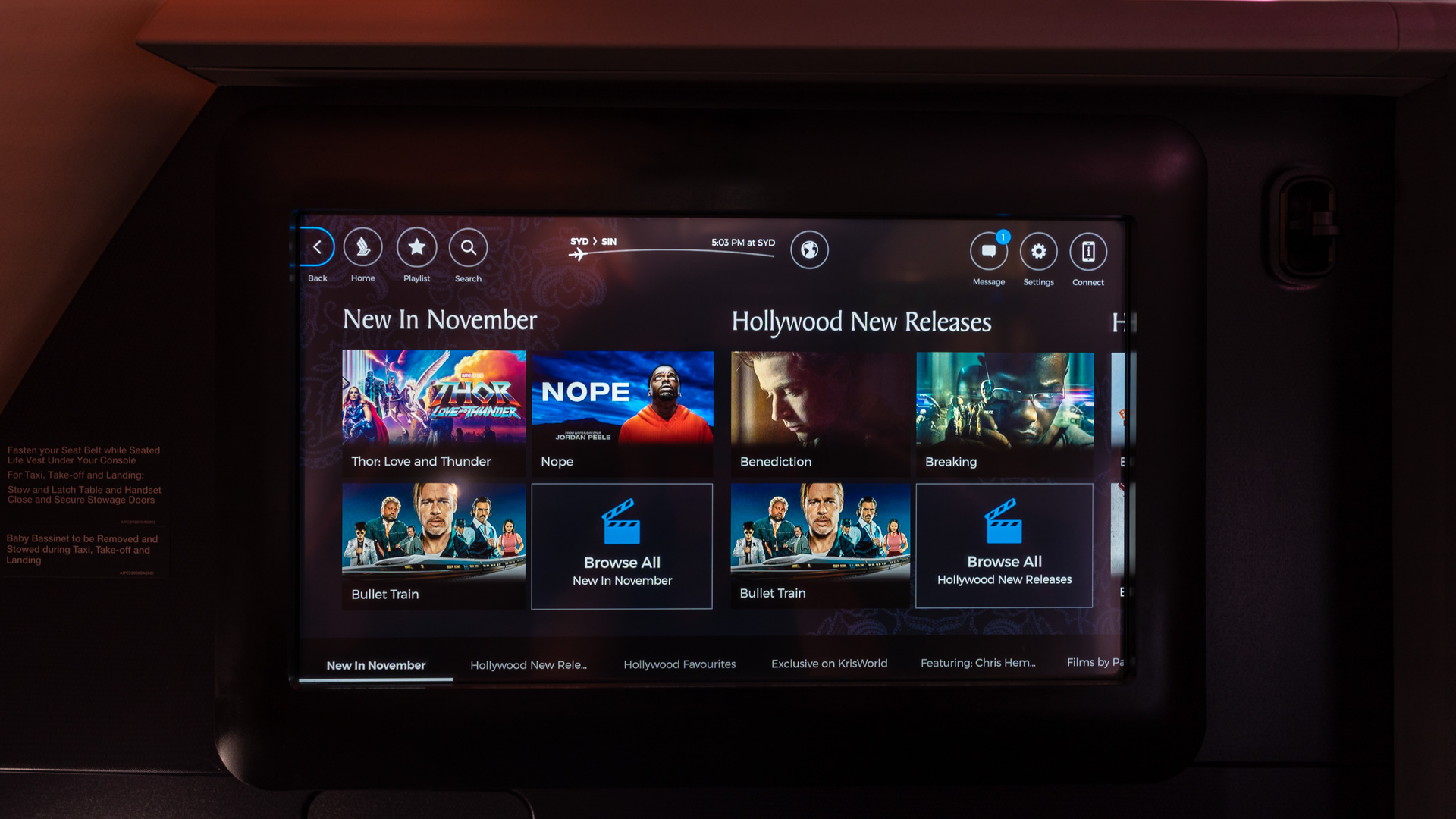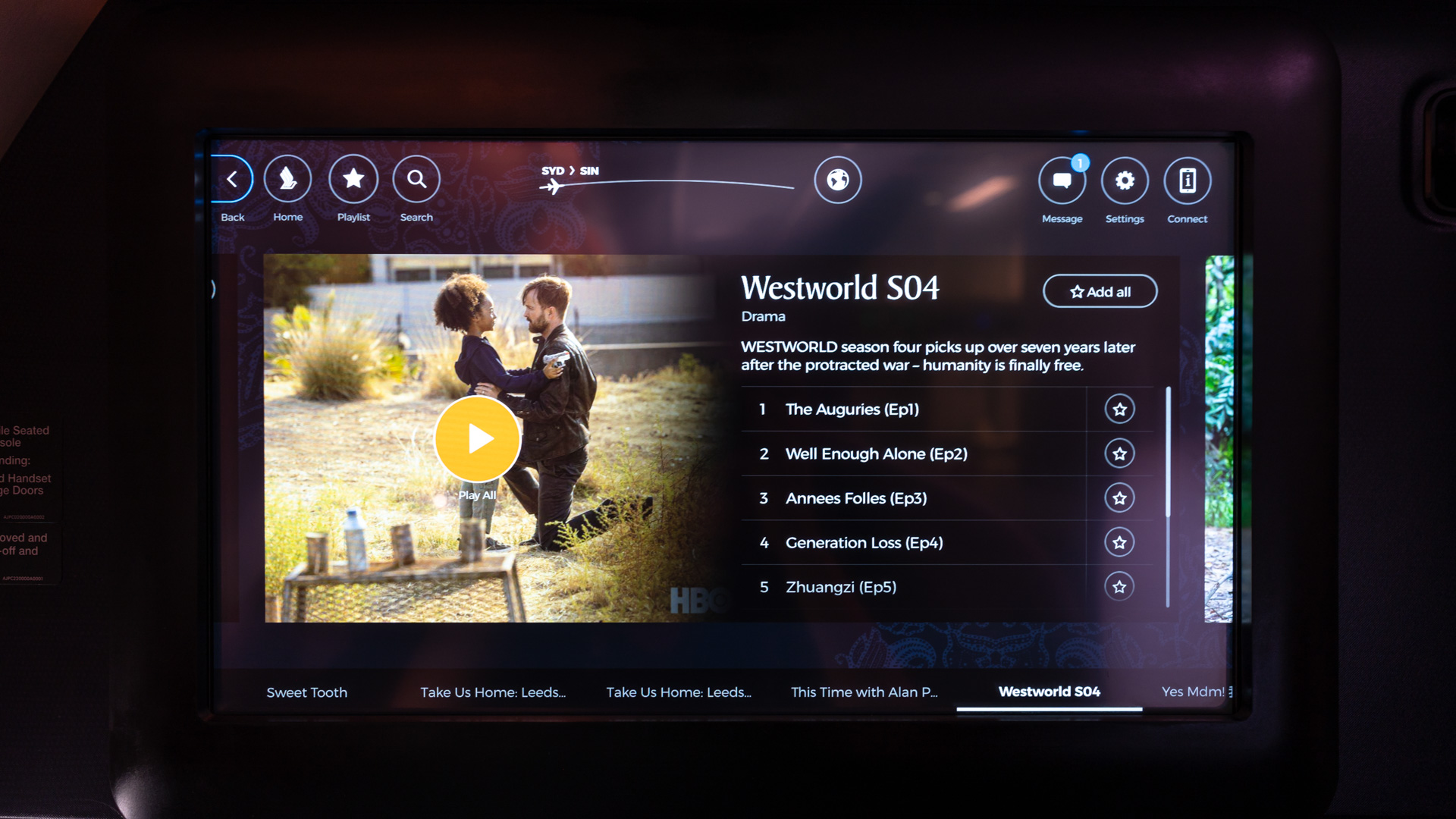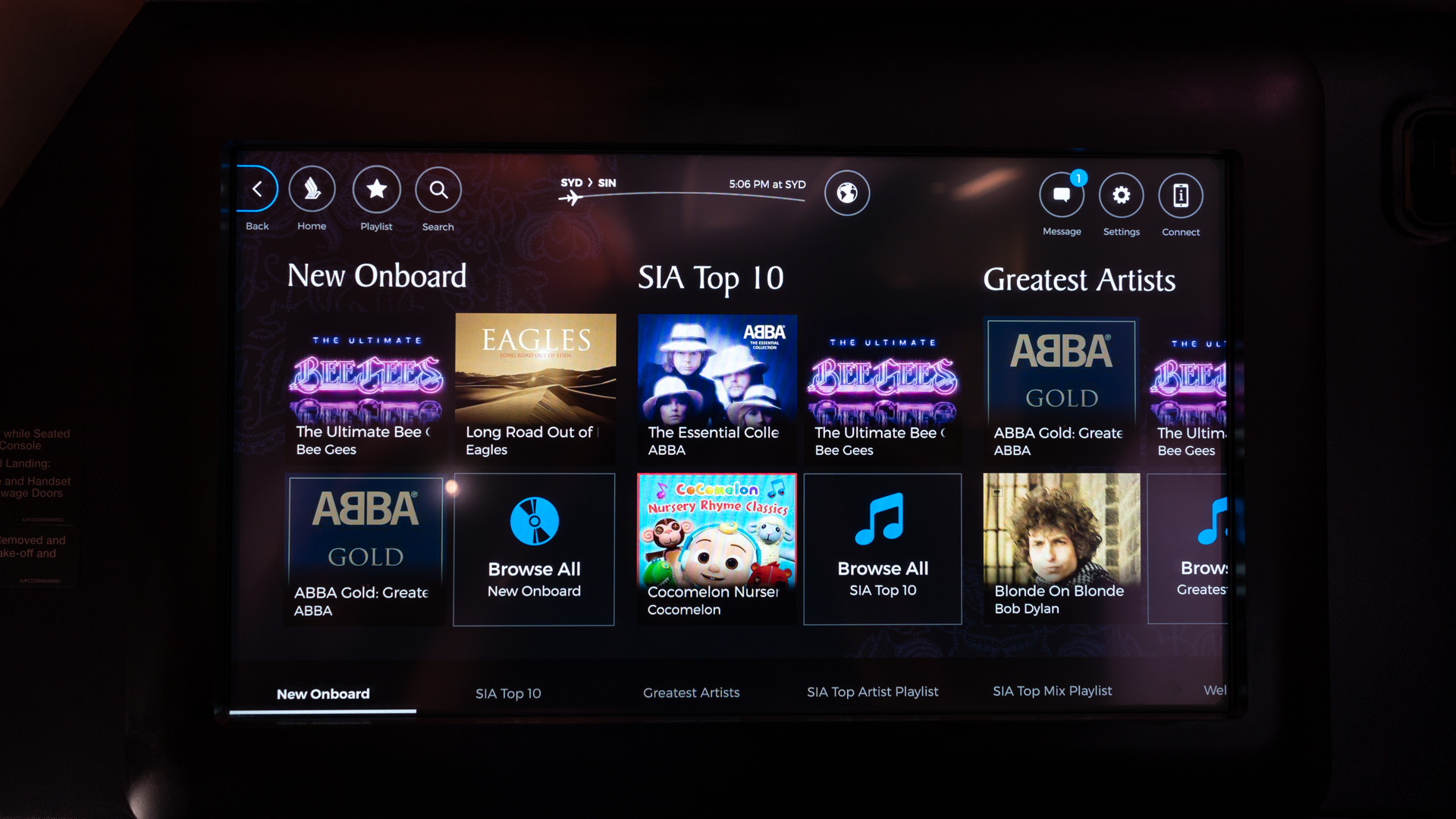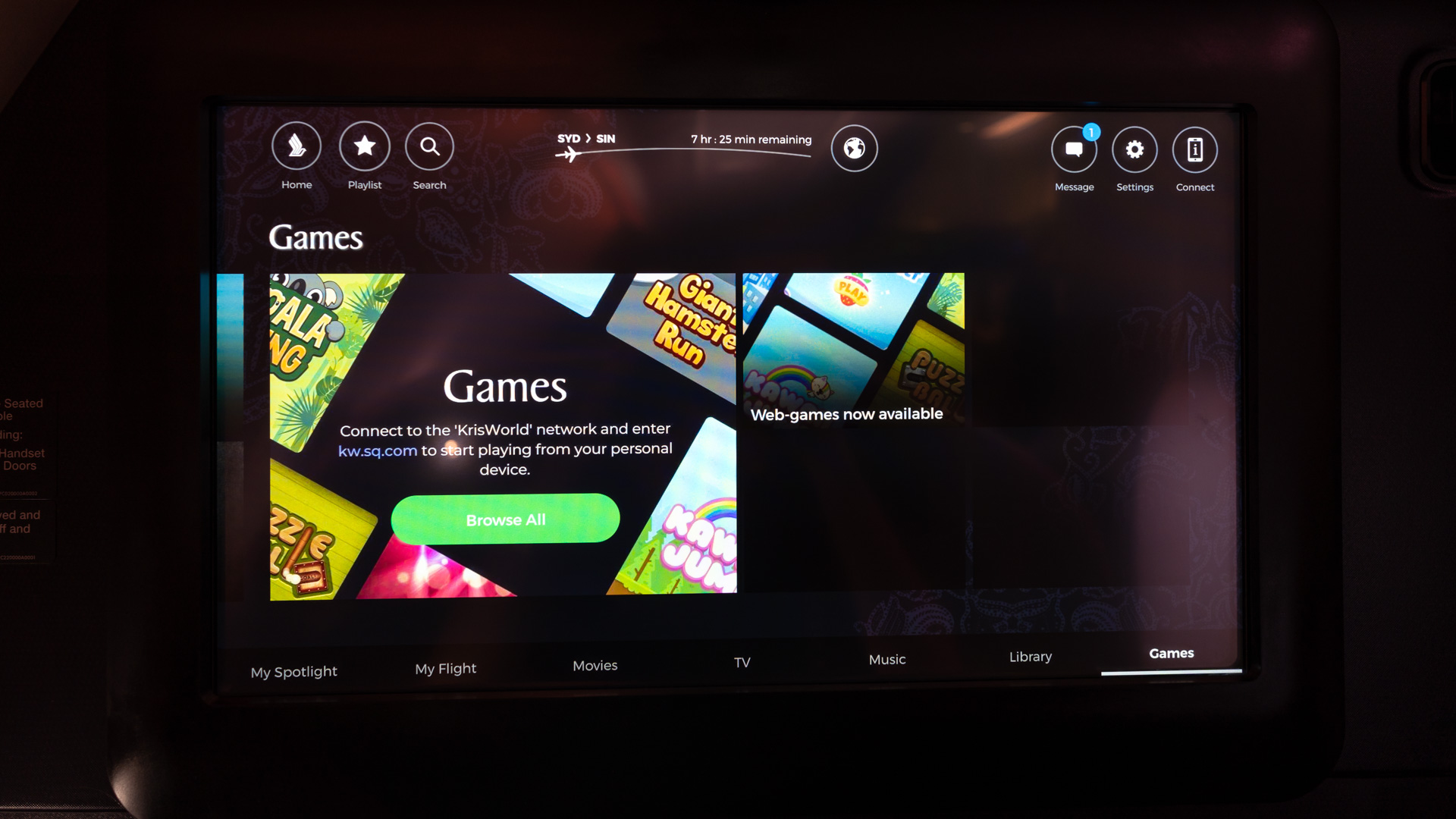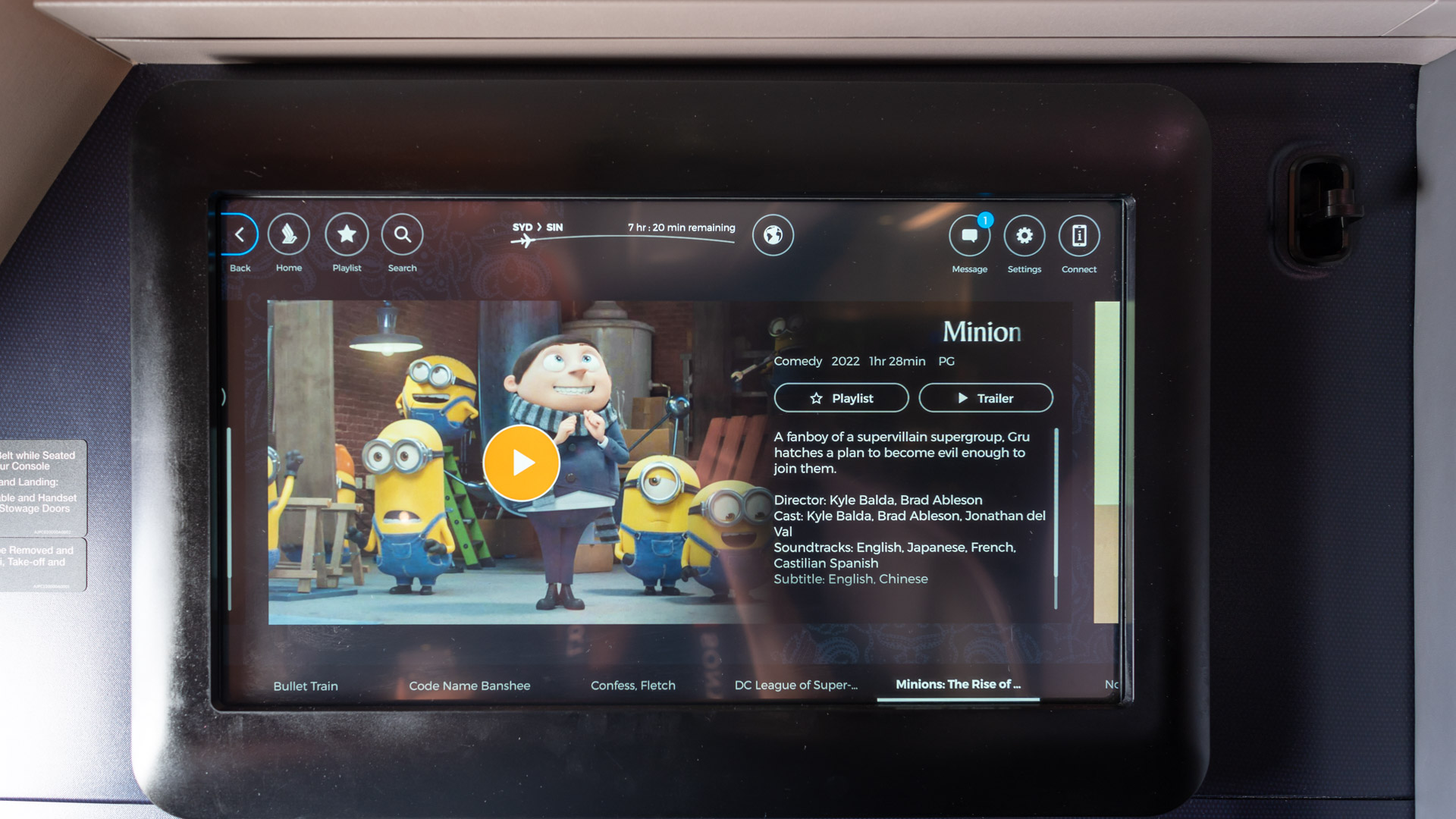 Noise-cancelling headphones are already at the seat upon boarding. They're quite comfortable and I would be happy to use them if I didn't already bring my own.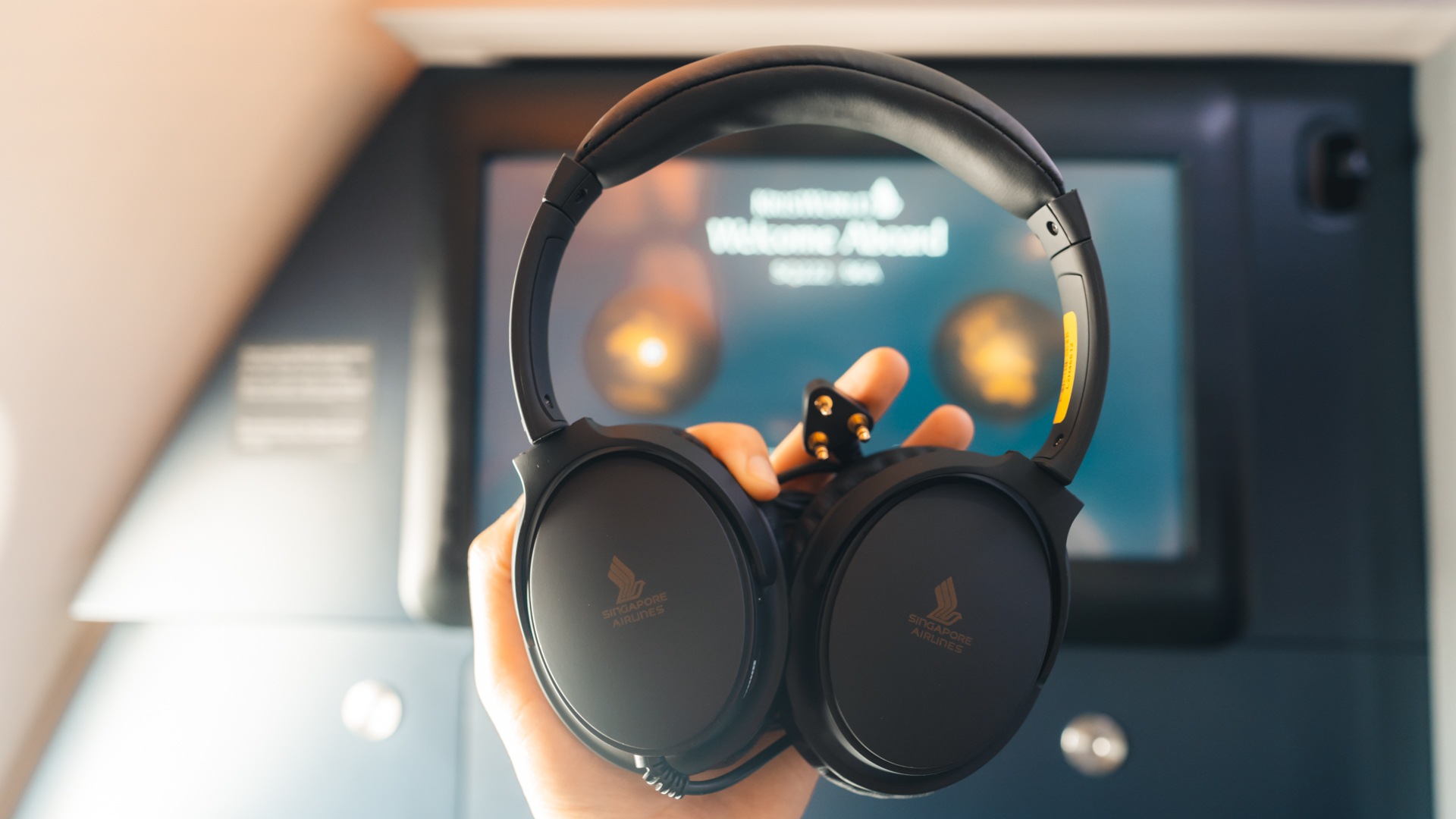 Inflight Wi-Fi
Singapore Airlines has started to roll out unlimited inflight Wi-Fi in Business Class. Speeds are decent considering we're on a plane – 3.52 Mbps down and 1.09 Mbps up, but with a high latency of 1520 ms.
To access the unlimited free plan, you just need to sign in with your email, last name and seat number. Paid plans range from US$3.99 for one hour to US$15.99 for a full flight pass.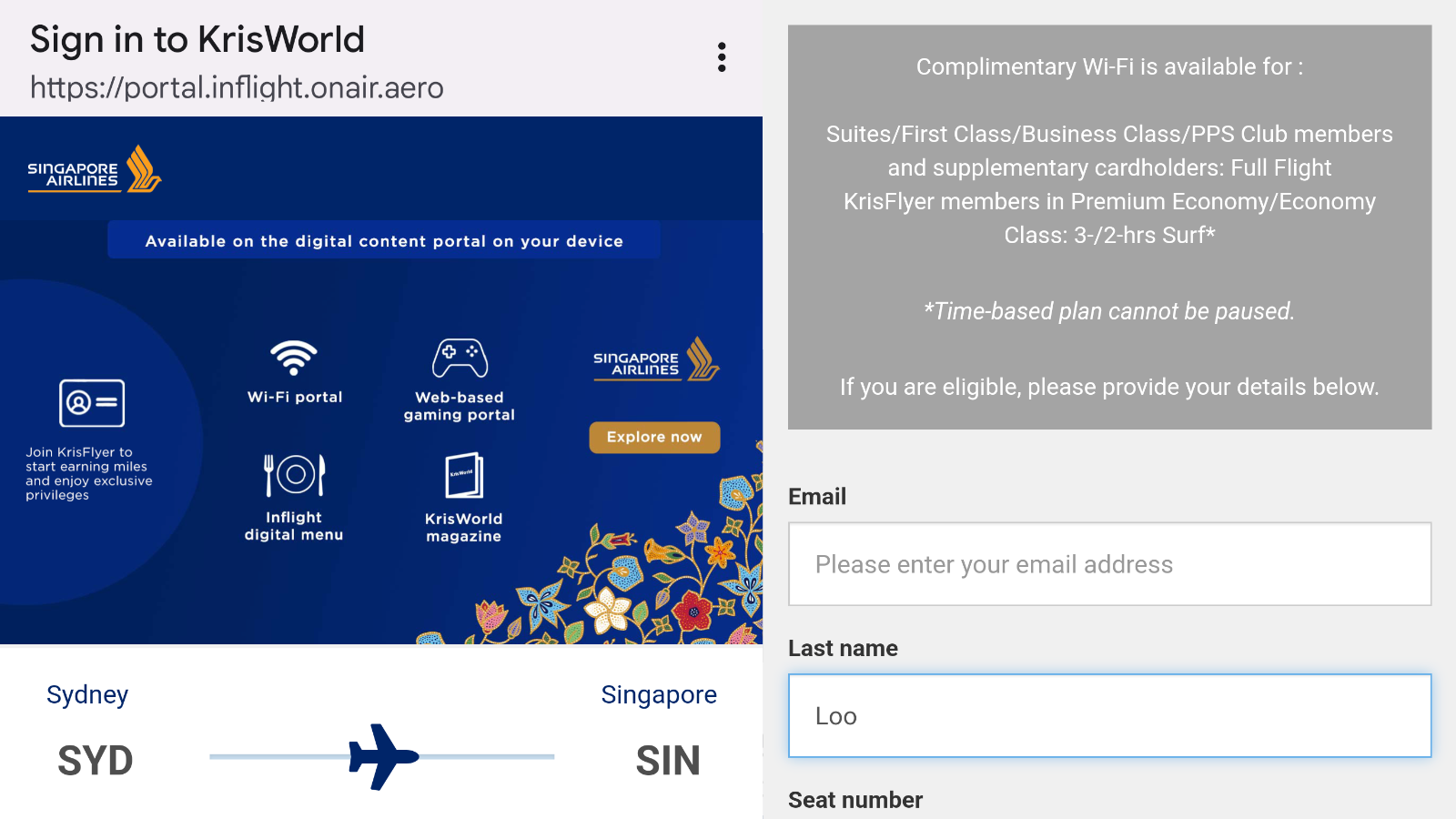 Amenity kits
Singapore Airlines has long been a standout in not providing amenity kits in Business Class, preferring to stock various amenities in the lavatories instead. That stance has softened somewhat recently, and you can now ask for a basic kit with various skincare products from British perfumer, Penhaligon's.
Remember, these are still on request only and limited in number. The lavatories continue to stock essential products such as dental kits.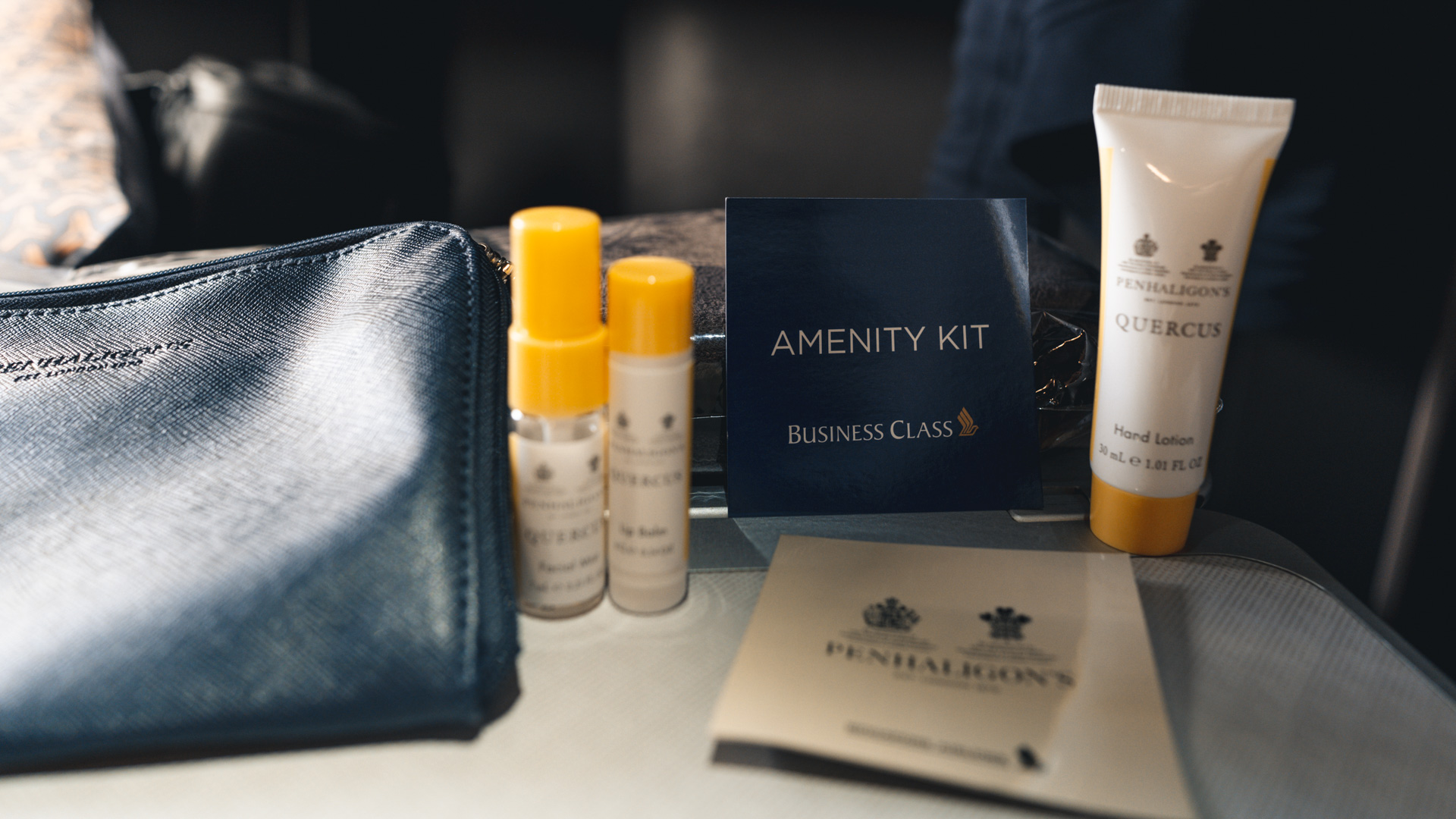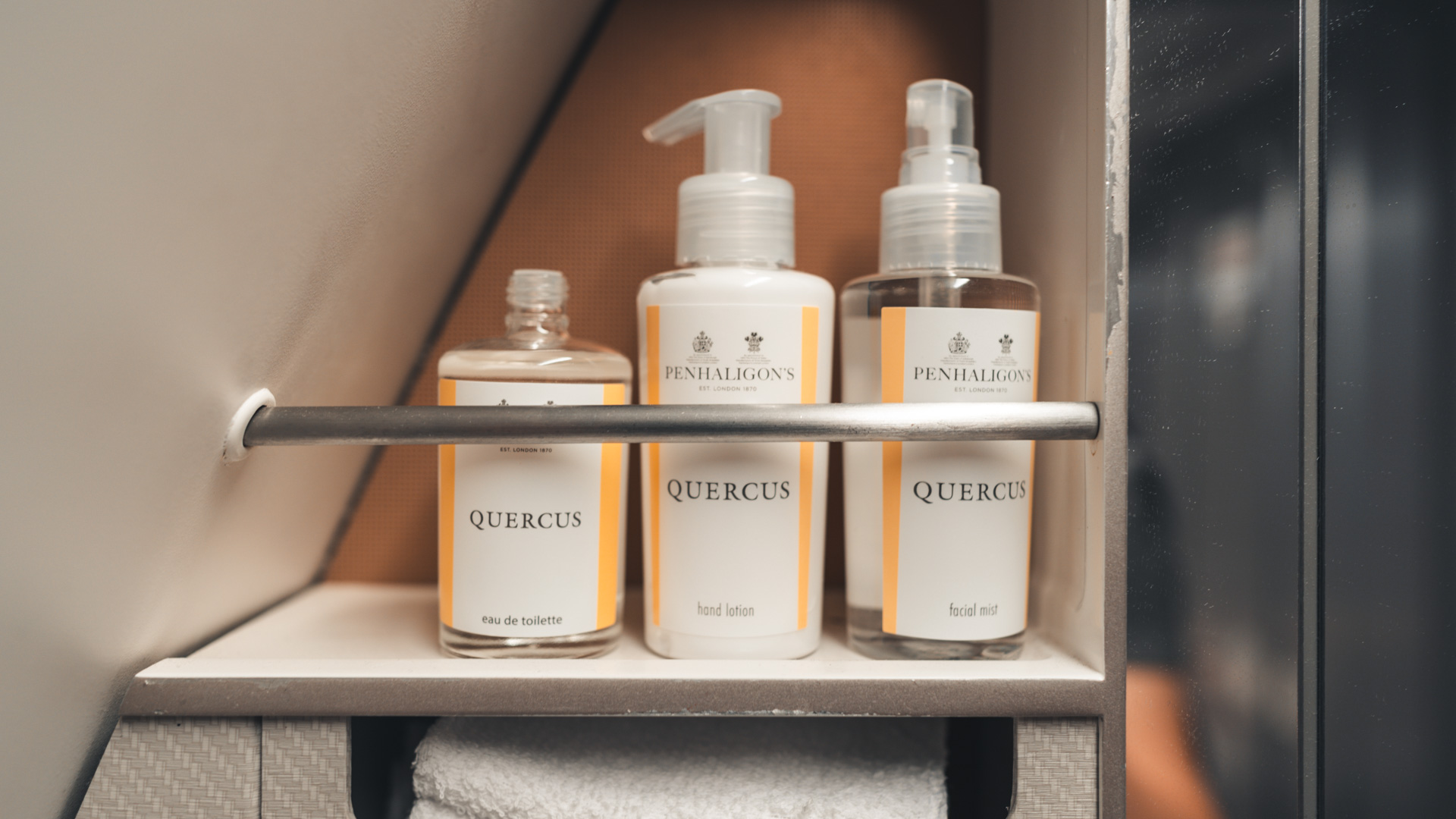 Summing up
Singapore Airlines hasn't emerged from the pandemic unscathed – the Airbus A380 fleet retirement has been accelerated, and some cuts made to service haven't been reversed. One example of this is hot towels – previously offered in all cabins, and now a distant, fond memory.
But those minor touches aside, Singapore Airlines still does a fabulous job with the core product. The Airbus A380 Business Class seat is well-suited for both lounging and sleeping. The full inflight menu is back with many delicious-sounding options to pick from. Free and unlimited Wi-Fi? Check. A solid lounge in Sydney? Also, check.
The upper deck of the Airbus A380 still feels quite spacious, despite the narrower width. Though all the standard seats looked fine, I'm quite happy with the bulkhead seats and the extra space it provides. Just keep in mind those prized seats are usually blocked for PPS Club members. But at exactly 48 hours before departure, all remaining seats are opened up. The fastest finger wins.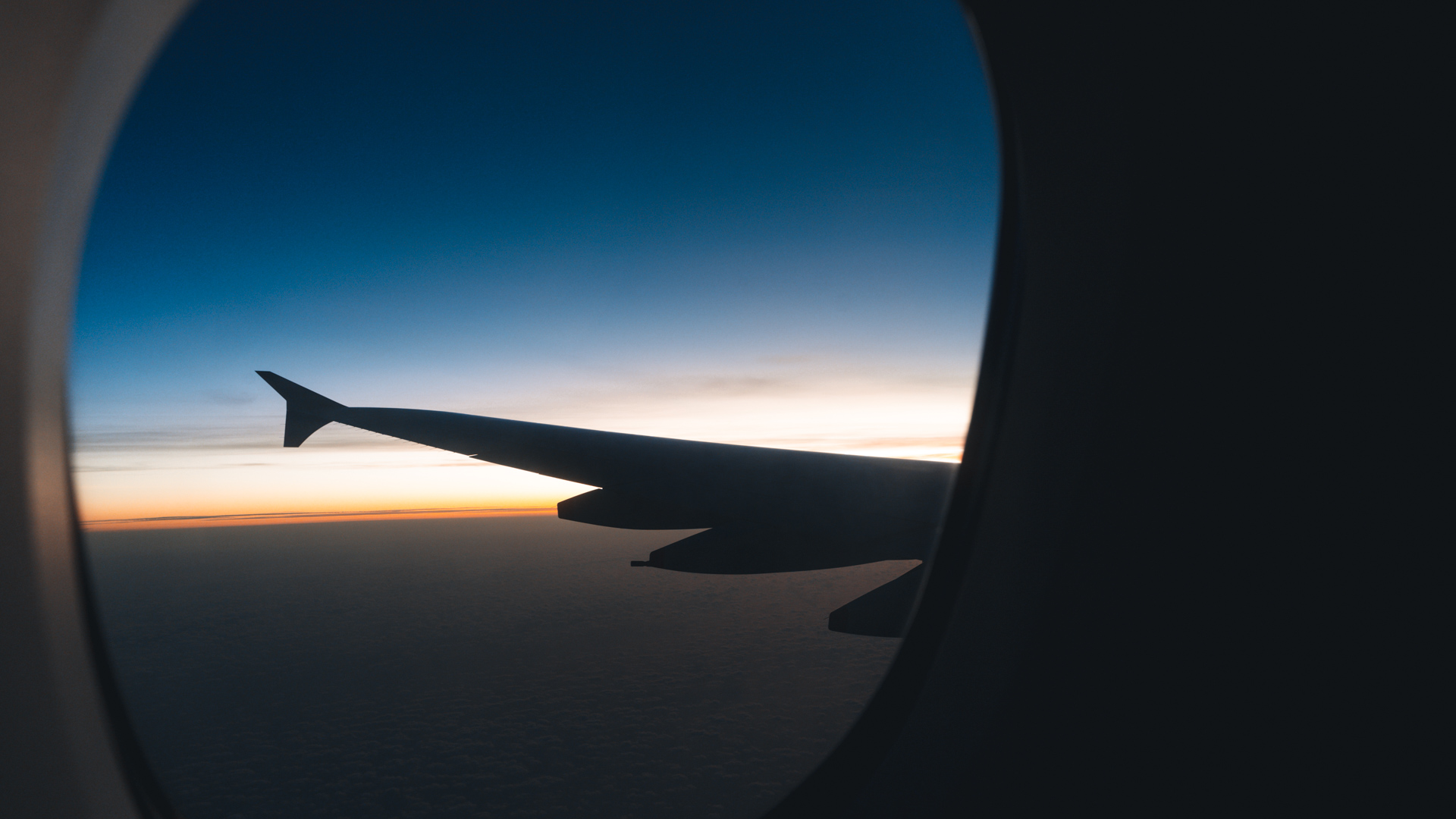 Also read: Singapore Airlines Airbus A350 Business Class (Singapore-Bangkok) →
All photography by Brandon Loo, who travelled at Point Hacks' expense.
Singapore Airlines Airbus A380 Business Class (Sydney – Singapore)
was last modified:
February 10th, 2023
by