Check your email inbox to see if you are eligible for this promotion. This is only for last-minute travel during July and August.
This guide keeps track of bonus points promotions to increase your Qantas Frequent Flyer balance. There is a separate guide for bonus Status Credits promotions.
Register to earn double Qantas Points on flights to the US [targeted]
I received the following email from Qantas Frequent Flyer: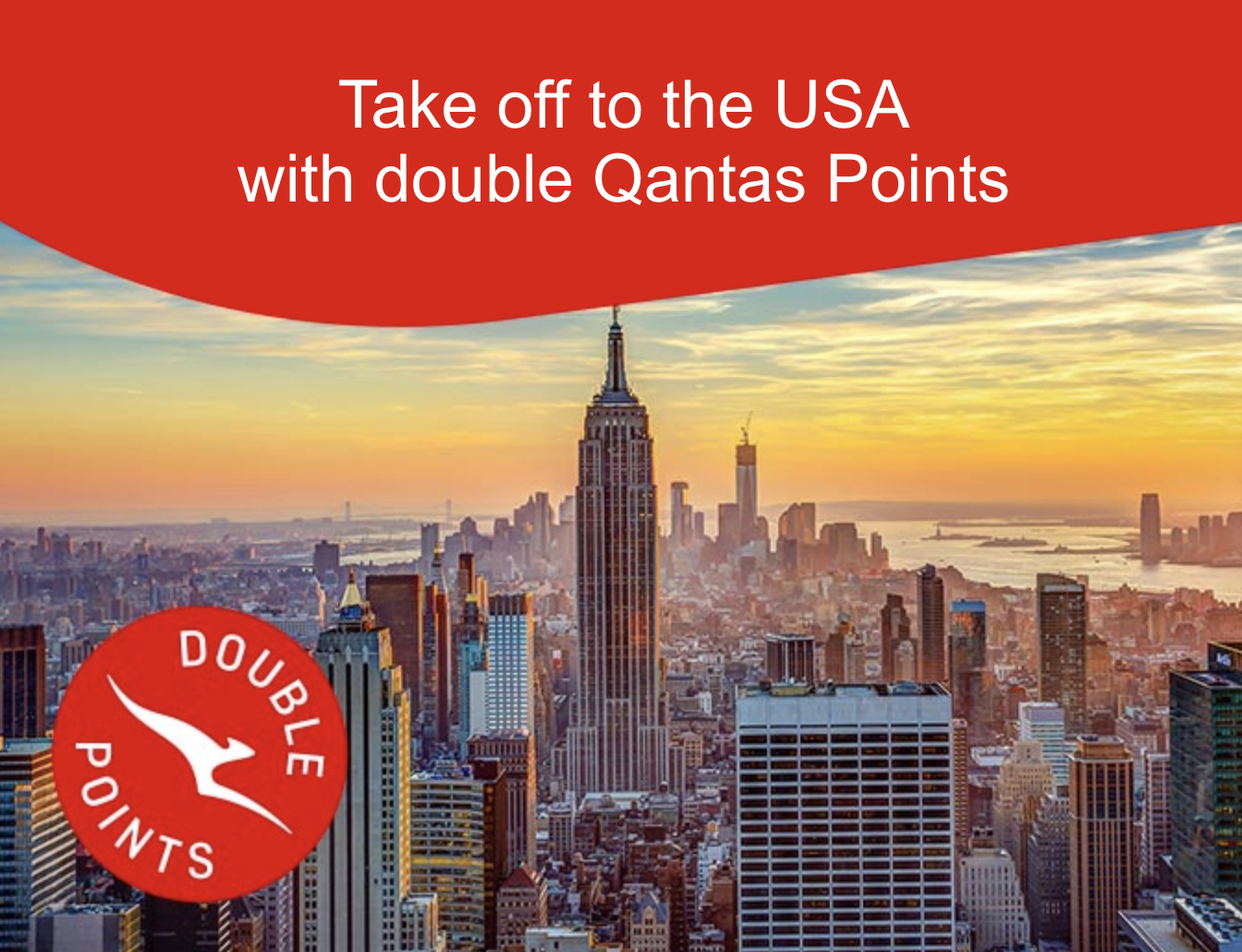 Hi Matt,

Whether you're planning an adventure around America or visiting for work, flying to the USA is now even more rewarding.

Book an Economy flight to San Francisco, Los Angeles, New York, Dallas or Honolulu and earn double Qantas Points on Qantas operated flights with a QF flight number.*

Simply register and book your flight between 12.01am (AEST) 13 July 2019 and 11.59pm (AEST) 22 July 2019, for travel between 23 July 2019 and 31 August 2019.

Remember to include your Qantas Frequent Flyer number in your booking.
You must complete all travel by the end of August, so this promotion is best suited to those looking for a last-minute getaway.
A personalised registration link was provided—there is no public landing page for this promotion. As such, I would recommend checking your email inbox to see if you have been targeted. Previous booking, unfortunately, are not eligible for bonus points.
Current Qantas flight prices to the US
Qantas flights to the US during this and next months aren't too expensive, which is surprising given it is the northern summer. I can see flights to Los Angeles pricing from $1,140 return from Sydney, Melbourne and Brisbane.
Sydney to Honolulu flights start at $1,062 return. August is one of the driest months of the year in Hawaii.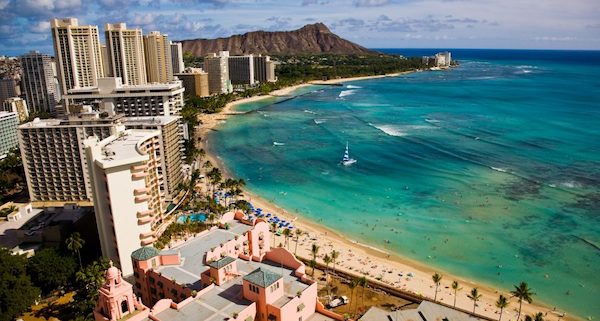 A Discount Economy ticket from the East Coast to Los Angeles return usually nets you 9,000 Qantas Points. With this promotion, you'll earn 18,000 points, which I value at $360. That means that if you buy your ticket for $1,140, you're getting almost a third of the value back in points. That's a great deal.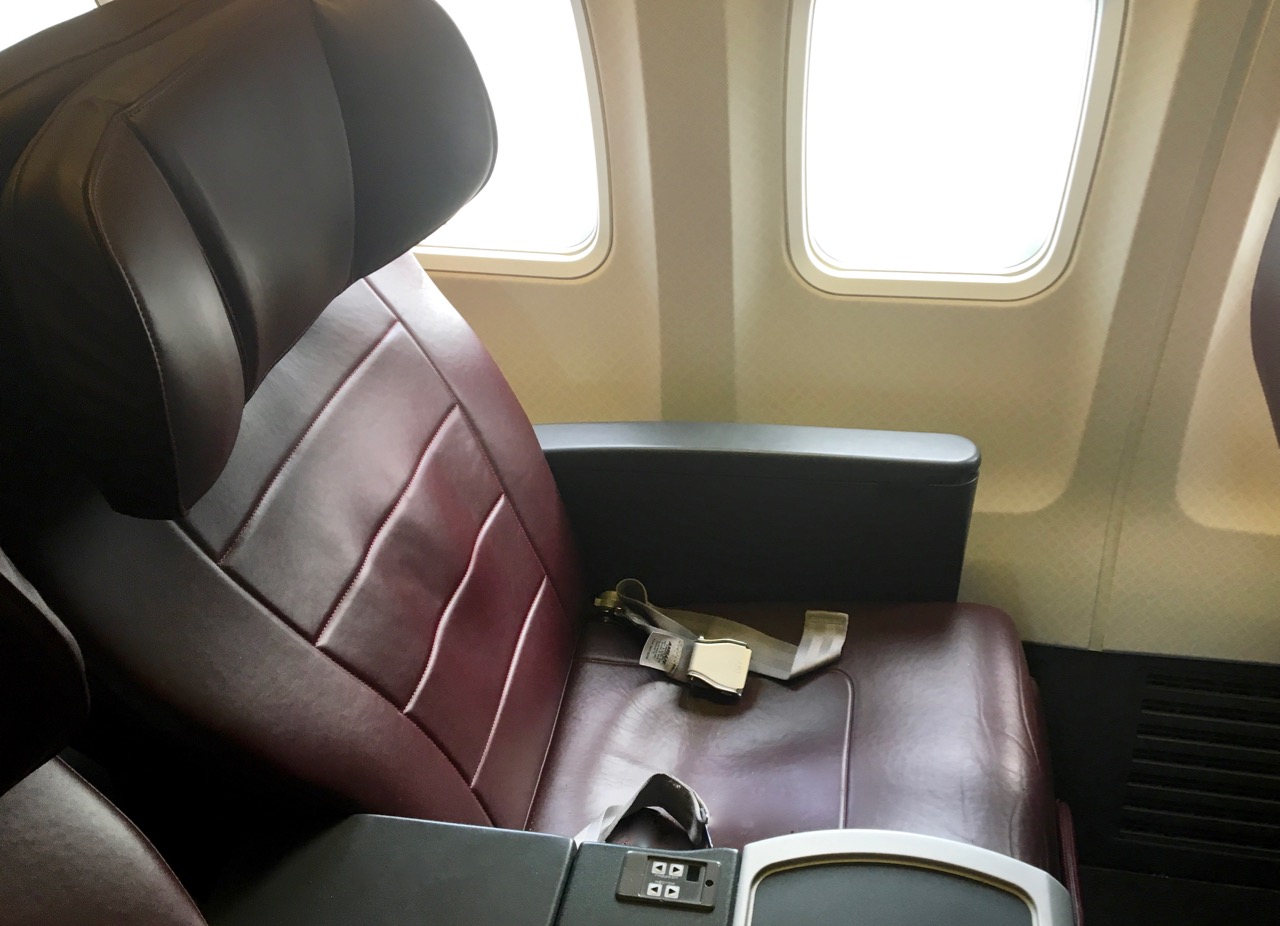 A bonus perk for millennials
Additionally, if you're aged between 18 and 35 years old and are planning to travel Qantas internationally up until February 2020, then you can get a free lounge pass.
Other current bonus Qantas Points offers
Earn 18,000 bonus Qantas Points for completing a CSIRO diet
You'll earn 10,000 bonus points when you join the 12 Week Program (including the Protein Balance program) plus an additional 8,000 points when you complete the plan.

It'll cost you $199 for the full program, but your private health insurance may cover some/all of this under Dietary Advice or Wellness.
You'll receive the 10,000 bonus points about halfway through the program.
Once you successfully complete the program, you usually have the choice to get your fee refunded. However, with this bonus Qantas Points offer, you do not have that option. Instead, to get the extra 8,000 points, it's quite an involved process:
Record your weight in the online diary at least once a week for 12 consecutive weeks, within the week of your scheduled weigh-in
Upload a photo of yourself every week for the 12 week program via your private weight tracker within the website
Achieve a net weight loss over the 12 weeks
Complete a program completion survey
Contact the customer service team within 14 days of completing the program
Consent to the CSIRO using your story to help inspire other members
It's important that you are aware of the many steps required to get your second batch of bonus points. As such, I would only recommend this offer to those people who were going to sign up to a weight loss program anyway.
Here is the offer page and sign-up link.
Lucrative offer: earn 20,000 bonus Qantas Points by opening and depositing $350 into a new Australian Super account
Until 31 December, new Australian Super members who join via this promotional page and contribute at least $350 into their account within six months of opening it can earn 20,000 bonus Qantas Points.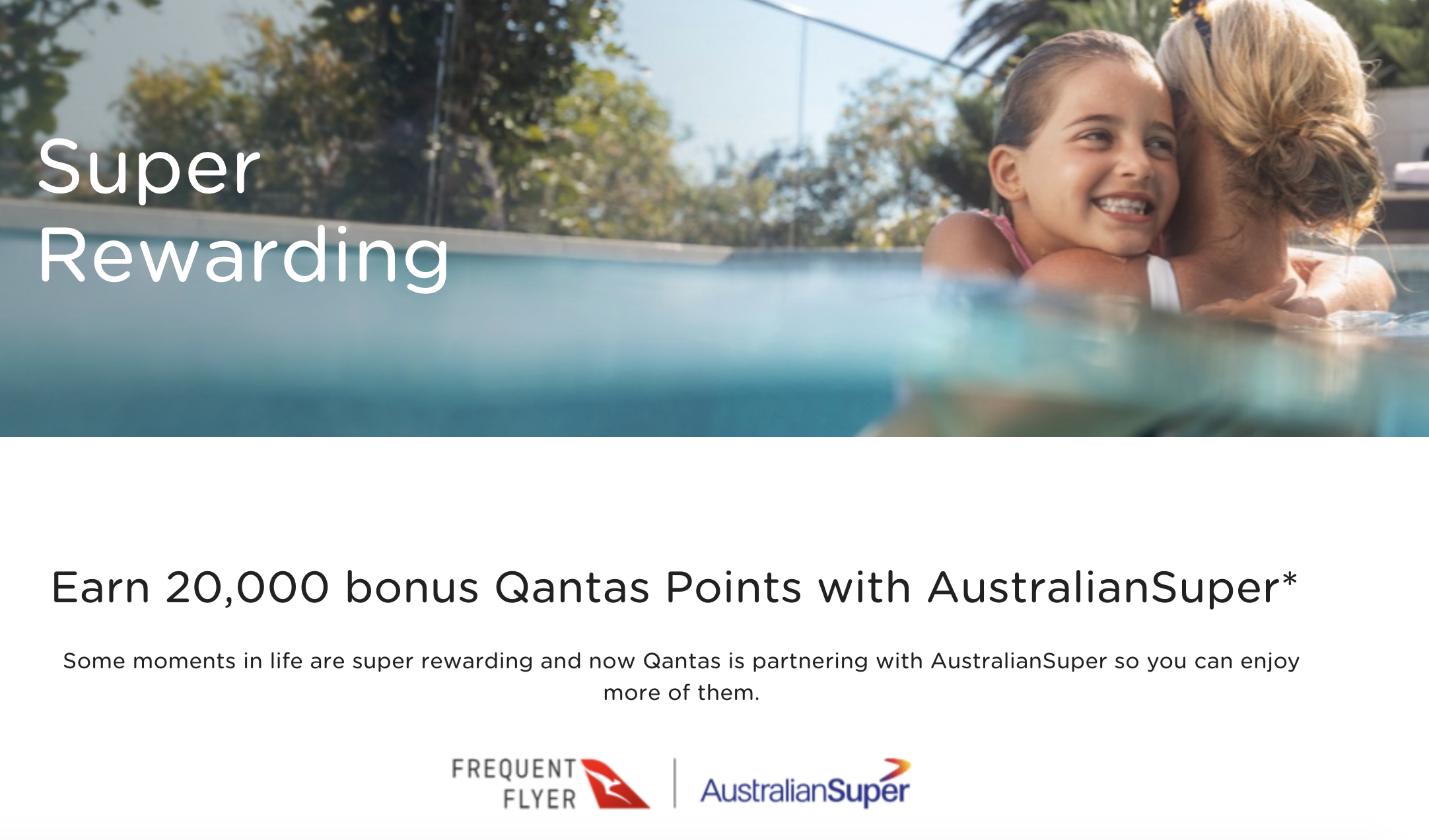 You'll receive the bonus points 'approximately 2-3 months after meeting the join and contribution criteria.'
A few notes:
Existing members and TTR (Transition to Retirement) Income accounts are ineligible for the bonus points offer
You'll be charged an administrative fee of $2.25/week
You may be charged an investment fee of 0.66% of your balance
You can avoid insurance premiums if you opt out of the insurance
Whilst you cannot withdraw your funds until retirement, you can roll them over to another super fund in Australia—you may wish to wait until 1 July to do so as that is when the $35 exit fee will disappear
This does not constitute individual tax advice but rather just passing on details of this promotion—contact a financial services professional if you need advice
Earn up to 20,000 bonus Qantas Points with HelloFresh food delivery
You'll earn 2,000 points on each of your first 10 HelloFresh boxes.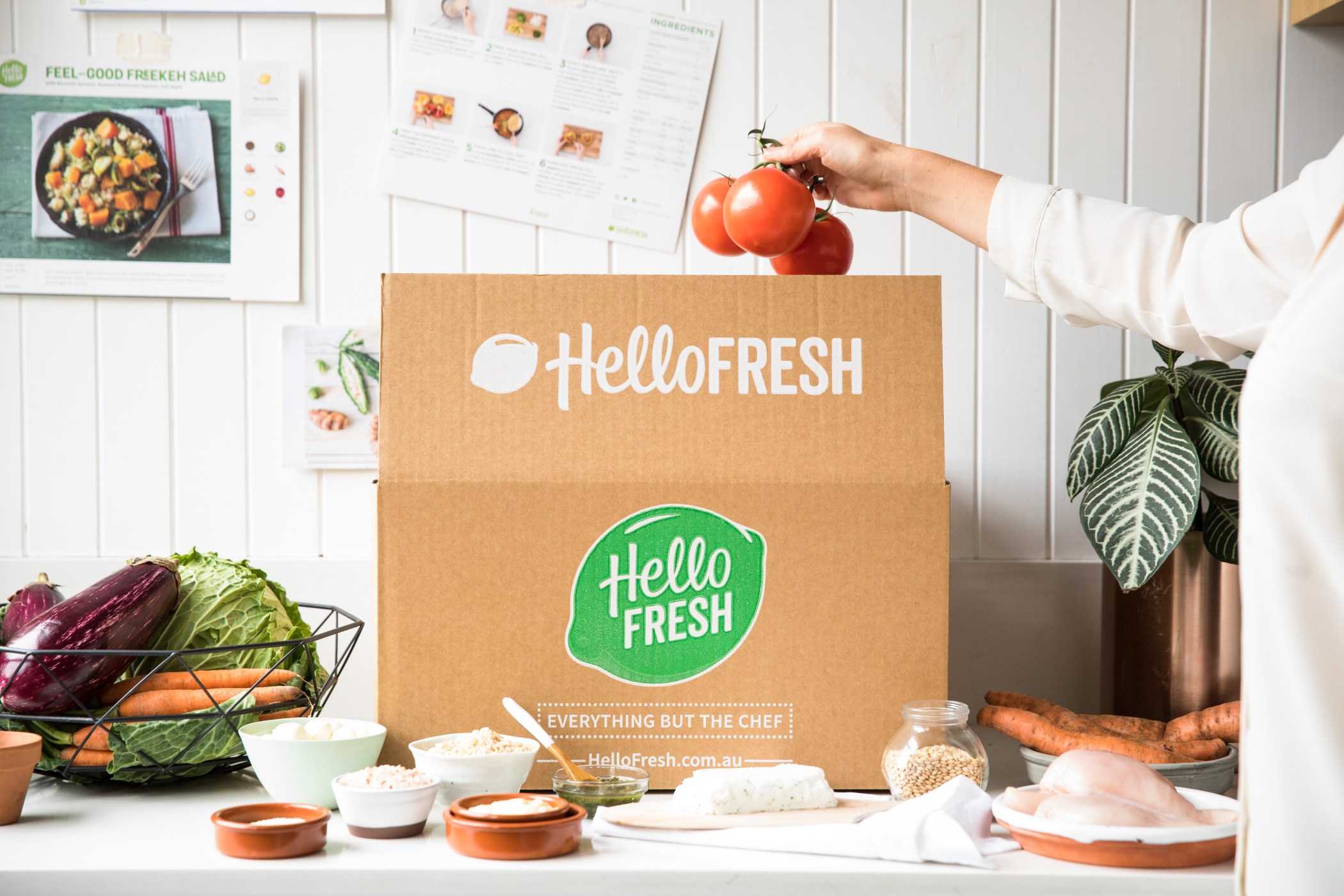 How to access the offer
Subscribe to a weekly Classic, Veggie or Family Box using promo code QANTAS20K
Make sure that the email address you enter into the HelloFresh website is the same as the one in your Qantas account
There does not seem to be an expiry date on this offer. This offer excludes Tasmania.
You can start your order through the offer page.
What is HelloFresh?
If you aren't familiar with the service, HelloFresh has made a video to explain how it works:
Earn more by referring
If you want to refer friends and family, you'll earn 1,000 bonus Qantas Points and $50 off your next order for each one—and they'll get $50 credit towards their first box. To refer a friend, log into your HelloFresh account and share your HelloShare code.
Terms and conditions
Here are the full terms and conditions of the offer:
You must be a Qantas Frequent Flyer member to earn points. A joining fee may apply. Membership and points are subject to the Qantas Frequent Flyer program terms and conditions. HelloFresh Meal box offer available to Qantas Frequent Flyer members and is only valid for new households and for Classic, Veggie or Family Boxes within HelloFresh delivery areas. Use of promo code QANTAS20K will automatically sign you up to an ongoing weekly subscription which can be paused or cancelled before weekly cut-off times. You'll receive $1 off your first box order and 2,000 bonus Qantas Points on each of your first 10 boxes. In order for the offer to be valid, members must order their first box within 4 weeks of signing up and receive up to 10 boxes within 20 weeks of receiving their first box. Qantas Points may not be awarded on boxes ordered after 20 weeks. Qantas Points will be credited to your Qantas Frequent Flyer account within 60 days of receiving each box. Changes to box types or box subscriptions can be made before Tuesday 11:59PM AEST/AEDT (for WA, SA, NT) or by Wednesday 11:59PM AEST/AEDT (for QLD, NSW, ACT, VIC) prior to the week of your next scheduled delivery. Full T&Cs, and delivery areas available at HelloFresh.com.au/termsandconditions
Offer history
If you are looking for when Qantas has offered bonus Status Credits in the past, check out this separate guide.
Ongoing: 20,000 bonus points for new Australian Super accounts; up to 20,000 bonus points for HelloFresh food delivery; up to 18,000 bonus Qantas Points for completing a CSIRO diet
July 2019: Double Qantas Points on Economy Class flights to the US
May-June 2019: Double or triple Qantas Points on Qantas and Emirates flights [targeted]
April 2019: Double points on all Qantas and Emirates flights; Earn 10,000 bonus Qantas Points for joining Fitness First
February 2019: 3 points on Woolworths Online purchases; up to 50,000 bonus points for new Caltex StarCards; 8,700 bonus points for new Woolworths Home & Contents Insurance policies; 5 bonus points for each night of 'good sleep' with the Qantas Wellbeing app
November 2018: Double points on all Qantas and Emirates flights
April-May 2018: 1000 bonus points on your next domestic or international Qantas flight with a QF flight number; double points on selected Qantas and Emirates international flights
March 2018: Double points on all Qantas-coded and -operated flights
February 2018: Double Qantas Points on eBay purchases
January 2018: 1,000 bonus points and free upgrade on car rentals with Avis and Budget
November 2017: Double points on Qantas and China Eastern flights to/from and within China; 10,000 bonus points with a Samsung Galaxy S8 purchase
September 2017: Double points on Qantas and Emirates flights to Europe, Singapore and Dubai; 300 bonus points for downloading Qantas Money app
August 2017: 20,000 bonus points with a Samsung Galaxy S8 or S8+ purchase
April to June 2017: Double points on partner transactions, up to 5,000 points per month (there are reports of this promotion not being honoured by Qantas)
April 2017: Double points on all Qantas-coded and -operated flights and QF-coded Emirates flights to NZ
January 2017: Double points on all Qantas-coded and -operated flights
July 2016: Triple points on Qantas Economy Class flights and Emirates codeshare flights to the UK
Ongoing opportunities to boost your Qantas Points balance
There are a number of other ways to earn bonus Qantas Points, including by signing up to a Qantas Points-earning credit card, buying wine through Qantas Wine, swiping your Woolworths Rewards card and booking accommodation through Airbnb.
And here are some of the best ways to use them.
Register to earn double Qantas Points on flights to the US [targeted]
was last modified:
February 26th, 2021
by