With the cheaper airlines spending their ad budgets to follow you around the internet, you may begin to think that your only gateway to the kingdoms of the East will ensue hard seats, leg cramps and a deliciously hot, plastic-wrapped container labelled 'gourmet chicken'. Or, perhaps you ponder 'maybe there is a better way?'
United Airlines isn't regarded as one of the world's best airlines—far from it. My wife and I flew them and it was, well, nice but that was it.
It wasn't out-of-this-world (like Singapore Airlines Suites Class), or even a warm and delightful experience like THAI Business Class. However, this isn't a guide about flying United Airlines. Rather, it's a guide to using United Airlines miles to fly on their three strategic partners in our region—Singapore Airlines, THAI and Air New Zealand.
How to buy United miles for cheap Star Alliance Business & First Class flights
was last modified:
December 13th, 2019
by
Transfer, bonus and discount miles
The cynical part of me wants to say that airlines try to confuse people with a bait and switch of good promotions with bad promotions. Maybe this is true, maybe it's not. What is certain is that they run a lot of promotions and they vary greatly in value. Let's look at the three types and how they work.
Transfer miles: when you can transfer miles from one account to another (like a partner or friend) and you get a discount on the transfer price. This can have its own benefits but we'll leave it out of the analysis for this article.
Bonus miles: when you buy a certain number of miles and you get some percentage extra, usually tiered where the more you buy the higher percentage you get.
Discount miles: when you buy a certain number of miles at a discount—it becomes cheaper than if you bought them during a non-promotion period.
The biggest mistake you can make is accidentally thinking that a 50% bonus promotion is the same as a 50% discount promotion. I've been caught out on this before and paid much more than I should have.
To be clear, only 100% bonus is equal to a 50% discount promotion. That is you are buying 2-for-1 at normal rates or paying half the price for the number of miles you need.
The Star Alliance region-based award chart
Different airline mileage programs work differently. Some like Qantas Frequent Flyer and Virgin Australia Velocity offer a 'distance-based' award. This means that each trip fits into a distance 'bucket'. Sure enough, most places fit just inside the more expensive bucket than you would like—the loyalty programs are operated at a huge profit.
However, United Mileage Plus (and others) use a location-based (sometimes called a distance-based) award chart. That is, that Australia to South Asia is the same price, regardless of city.
If you're looking to explore the closest neighbours to Australia/New Zealand there are only three things to remember:
Australia and New Zealand are in the same area
'Oceania' covers all of the Pacific Islands
'South Asia' covers the main hubs of Singapore and Bangkok and finishes west at Bangladesh (but not India) and north up to Hong Kong. China, South Korea, Taiwan, Mongolia and Japan are not included in this and are a little more expensive.
The full United award chart can be found here, in interactive form.
You can also look into Upgrade Awards—those where you have purchased a ticket and use your United Miles to upgrade the ticket. There are strategies to take advantage of the upgrade awards but in my experience, there are too many moving parts for most people's travel hacking appetite. Aim for full award tickets but in the 'saver' category for best value.
An example redemption
One of the best uses of United MileagePlus miles is to fly THAI First Class between Australia and South Asia (encompassing Southeast Asia in the award chart) or Japan for only 65,000 miles one-way.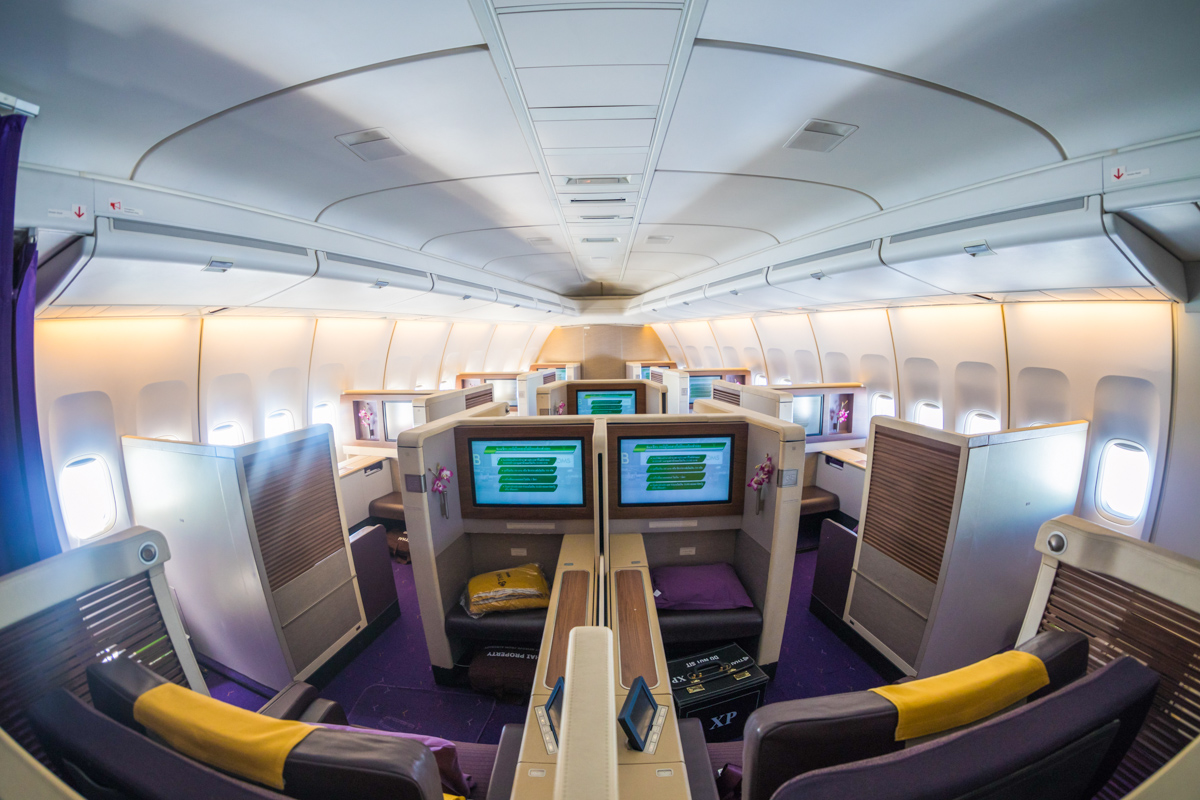 If you are departing from or connecting onto another flight in Bangkok, you'll also get a complimentary one-hour massage at the Royal Orchard Spa.
You can also use United MileagePlus miles to experience Lufthansa A380 First Class.
Purchasing and booking
You can buy a maximum of 175,000 Mileage Plus miles per account, per year. If you need to cancel or change your booking, you'll be up for a fee of US$75-125, depending on how close the change/cancellation is to your departure date. Full details of change fees here.
Researching award availability—as you should do before you purchase any miles—can easily be done over at united.com, with United's own site being one of the best in which to look for Star Alliance award availability.
Flight availability and 'Saver Awards'
When you hack a $2000+ fare for less than $800 you might need to negotiate something. Flexibility. Unfortunately, it can be common that the destination you want to go to, at the time when you want to go is simply unavailable. This happens.
United Mileage Plus has 'Saver' and 'Everyday' Award tickets. As you can imagine, it costs more as you progress past 'Saver'. A word of advice: only ever book 'Saver' award tickets unless you are in a situation with a lot of points and you must fly on certain dates.
If you search in Asia, United will only show you THAI, Air China and United Airlines. They also can offer you Singapore Airlines but don't show this online so when you're researching, ensure you give them a call to confirm if there is a Singapore Airlines flight on the day you want to book. They do have a phone booking fee and can be a little pushy to try lock you in.
Firstly, if they tell you about a flight that wasn't online, tell them you don't want to pay the fee because you would have chosen this flight online if they showed it – their fault, not yours. Secondly, if they try and make you commit, feel free to say you have to speak to your partner/lawyer/dog before you commit.
My First Class hack
A 'First Class Saver' fare from Singapore to Sydney (via Bangkok) was 40,000 points per person (now 65,000 miles as of November 2017). However, United has an unofficial policy that if there isn't availability for all legs of the trip in the desired class, you get a reduction in the points required. In our case, it was 35,000 points.
A word of warning: when booking it will tell you if part of the trip is flown economy or business (if booking first class). You will find that this trip will cost 35,000 points even if you fly economy from Sydney to Bangkok and then first class to Singapore. If this was Business/First it would be okay—but Economy wouldn't be worth it.
Our trip was Singapore – Brisbane (Sydney was unavailable for the dates we needed) and we had two choices:
Singapore – Bangkok – Brisbane (Business for all legs)
Singapore – Hong Kong (First) – Bangkok (First) – Brisbane (Business)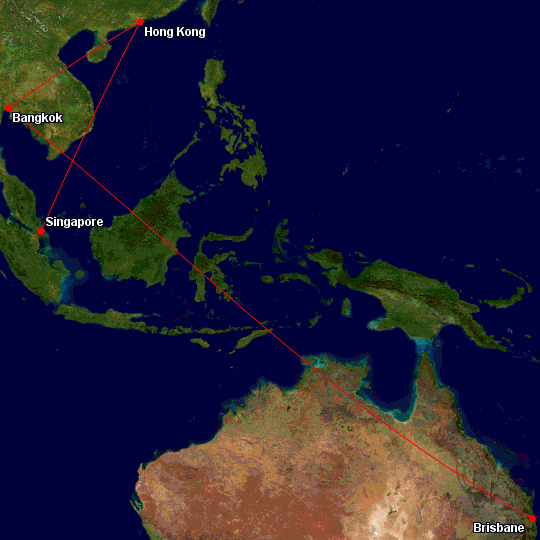 If we were travelling with kids then maybe the additional stop in Hong Kong wouldn't be an ideal transit, however, we managed to fly on the United First Class, THAI A380 First Class (wow!) and finally a Thai Airways Business Class back to Australia.
Adding the extra flight to Hong Kong was only an extra 5,000 points per person, and we had two First Class flights replacing a single business class flight. Why not?
For two people, this entire flight cost 70,000 points + US$100, and I bought those points for AU$1,446.
Expert tips
When you first buy miles there is a chance that you might have the transaction blocked or 'on hold' until they verify your account. The email I received said: 'Please note that because your account is new, a member of our corporate security team may contact you to verify the order.' A quick email fixed the problem.
With this disruption during my first United points purchase, I accidentally purchased the wrong number of miles — only enough for myself and not for my wife—whoops.
Unfortunately, the program had ended and there was no more discount. I emailed United Airlines ([email protected]) and explained that I meant to buy 80,000 miles instead of 40,000 (total) and that I'd like to take advantage of the discount because they blocked my transaction. No problems here—they let me make another purchase as an honoured the discount.
Summing up
As always, it only makes sense to buy miles (in any program) when you have a specific redemption in mind and have found award availability.
If so, then buying United miles for travel on one of their partners could be of good value. However, pricing for travel on United itself is dynamically-priced.
It is worth taking a minute to see if Avianca LifeMiles is offering a bonus as that may reduce the cost of your trip.
Not yet a member of United MileagePlus yet? Sign up for free here.
How to buy United miles for cheap Star Alliance Business & First Class flights
was last modified:
December 13th, 2019
by
Supplementary images courtesy respective airlines and frequent flyer programs.
How to buy United miles for cheap Star Alliance Business & First Class flights
was last modified:
December 13th, 2019
by