American Express cards have a great money-saving perk — regular cashback deals on both big-name brands and smaller boutique stores. If they happen to cover things you'd normally buy anyway, these offers are a great way to make the most out of your card.
While we won't update this list with every single promotion that shows up (especially as some are targeted), we will include the bigger travel and points-related deals that more people can take advantage of. Don't forget to enrol in the year-round Shop Small campaign as well, which offers three bonus points per dollar at small retailers.
---
Get ready for the next round of Amex offers by signing up for a new card. Enjoy free flights with a hefty welcome bonus!
---
Ad – Scroll down to continue reading.Minimum spend, terms & conditions apply.
Highlighted Deals and Promotions from American Express
Note: Not all American Express deals may be available to all Card Members, or may differ from what is shown below. Some offers are targeted to specific individuals and card types.
1. Spend $300 or more with Amex Travel and get $100 back!
Here's one of Amex's best travel deals in 2021. Simply spend $300 or more in hotels or car hire with Amex Travel, and enjoy $100 straight back into your wallet! With many properties offering free cancellation, now is a great time to lock in some travel in 2022.
This offer is limited to the first 40,000 people to save it. It's also not targeted, so what are you waiting for? Head to your Amex Offers page now.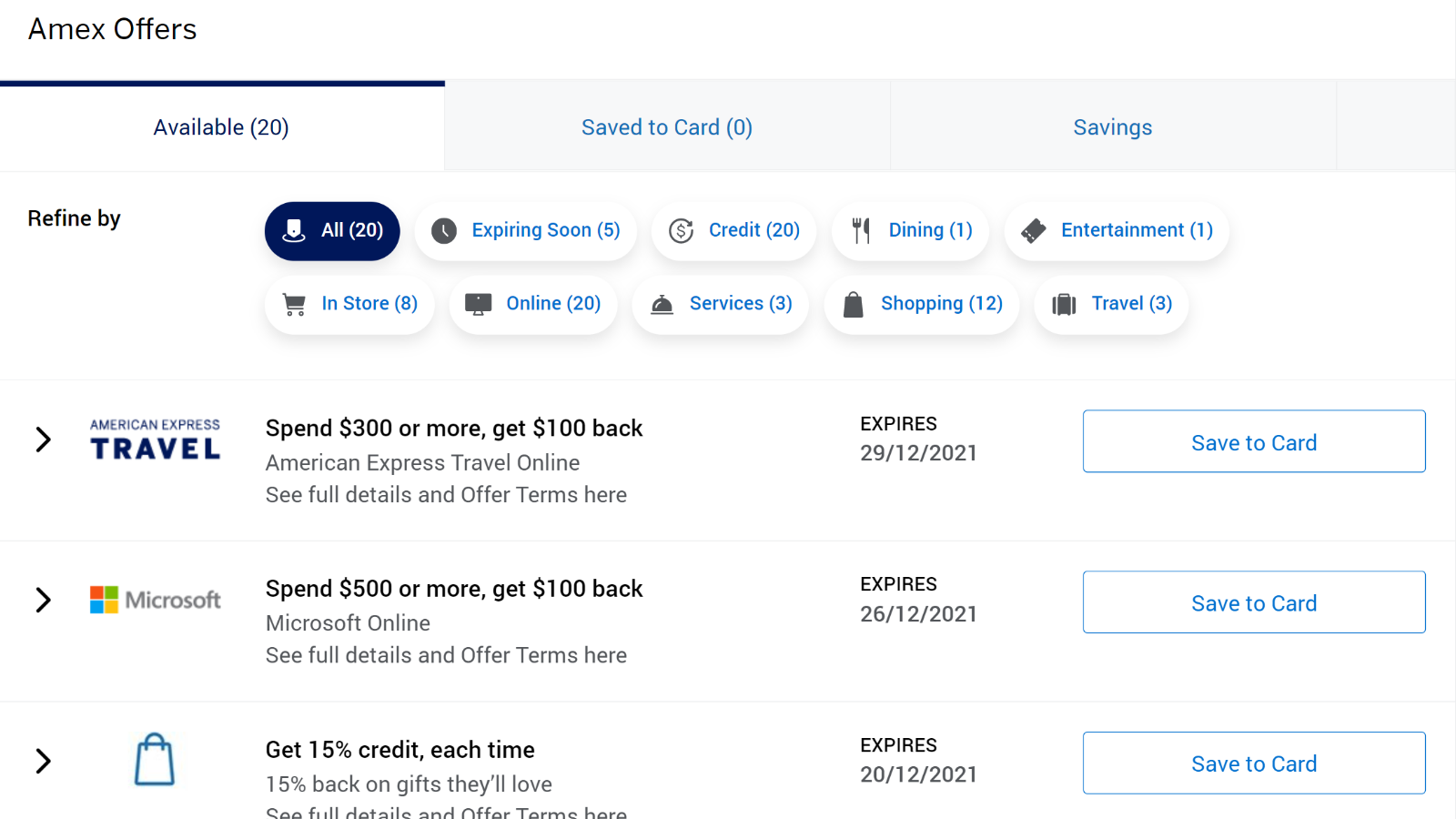 2. Convert points to Hilton Honors with a 30% bonus
Sitting on a stash of American Express Membership Rewards points? Transfer some – or all – of those points to Hilton Honors to fetch a 30% bonus. There's a minimum transfer of just 2,000 Membership Rewards points. The 30% booster applies to transfers made until 11:59 pm AEST on 30 December 2021.
For example, Membership Rewards points normally convert into Hilton Honors points at a 2:1 rate. That's 50,000 Hilton Honors points when you transfer 100,000 Membership Rewards points. But with the 30% bonus added on top, your tally instead becomes 65,000 Hilton Honors points on that same transfer. You can transfer your points online.
3. Convert points to Marriott Bonvoy with a 30% bonus
Mirroring the incentive for Hilton Honors members, there's also a 30% bonus with Marriott Bonvoy. Just convert your Membership Rewards points into Marriott Bonvoy points by 30 December 2021. A minimum transfer of 600 Membership Rewards points applies per transaction. After that, points can be converted in additional increments of 300 Membership Rewards points.
Let's say you again had 100,000 Membership Rewards points to ship across. Amex normally applies a 3:2 conversion rate on these transfers. On a normal day, that'd return about 66,666 Marriott Bonvoy points. Yet with the 30% booster, you'd instead take home approximately 86,665 points with Marriott Bonvoy. Note again, points are transferred in increments of 300, so this example is illustrative only.
4. Spend $400 or more, get $80 back with Hilton
Looking at booking hotels for your next domestic trip? Spend $400 or more at participating Hilton hotels across Australia to get an $80 credit back to your account! The list of participating properties includes locations across New South Wales, Victoria, Queensland, South Australia and Western Australia.
Headed to Sydney? You could choose between Hilton Sydney and West Hotel Sydney, Curio Collection by Hilton. In Melbourne, the new Hilton Melbourne Little Queen Street and the DoubleTree by Hilton Melbourne – Flinders Street both have you covered. Limited to the first 30,000 cards to save this offer.
5. Get 12% off eligible hotel bookings with Agoda
For a wider variety of hotels with savings still attached, look to Agoda. Book a participating hotel in Australia and you could save 12%. This deal is open for new reservations created by 31 December 2021, for stays until 31 March 2022. Bookings must be made via the dedicated Amex landing page on the Agoda website.
6. Spend $100 or more, get a $30 discount with Trip.com
Another online travel agency, Trip.com, is offering $30 back when you spend $100 or more. For this, you'll need to book a pre-paid hotel via the Trip.com mobile app or Australian website. On the payment screen, enter the promo code AMEXAU30. Limited to the first 500 transactions.
Customers must pay for their booking using an American Express card to be eligible. Bookings close 31 December 2021 for stays through 31 March 2022, unless the offer is exhausted earlier.
7. Spend $300 or more, get a $50 back with Wotif
Booking a hotel in Australia for at least two nights? You could save $30 when making that reservation via Wotif! Book via Wotif's dedicated Amex landing page by 31 December 2021, for stays until 30 June 2022. When your reservation costs $300 or more (excluding taxes and fees), enter the coupon code WOTIF50AMEX. This delivers a $50 discount on the booking price. Limited to participating hotels within Australia. Maximum 45 redemptions per customer.
8. Spend $85 or more, get $10 back with Youfoodz
Youfoodz is one of Velocity's newest partners in 2021. For the month of November 2021, earn double Velocity Points per dollar spent. Plus, you can pocket a further 1,000 Velocity Points on your first eligible order. You can also fetch $10 back when you spend $85 or more in one transaction when saving this offer to your American Express card.
9. Shop Small 2021: three extra points per dollar
Amex's popular Shop Small campaign is running for a full year. Be sure to enrol in the offer to enjoy three bonus points per dollar spent at participating small retailers.
Summing up
Need a reminder on how to access these American Express deals and promotions? Read our dedicated guide to taking advantage of Amex Offers. Be sure to save the offers to your card before doing the transaction, and check the T&Cs for each deal to make sure you don't do anything that would make the transaction ineligible.
For all offers, you won't be able to earn the credit back if you use third-party payment processors such as Zip, AfterPay, Klarna or PayPal, among others. So be sure that you pay the merchant directly with your eligible American Express card to secure the cashback. If you have multiple Amex cards, also check that the offer is saved to the particular card you're using to pay.
Updates by Brandon Loo and Chris Chamberlin.
This content contains affiliate links from which Point Hacks may earn commissions from transactions generated from new customers, bookings and general enquiries. Find out more here.
The latest deals and promotions from American Express Offers
was last modified:
December 17th, 2021
by