The Novotel Century Hong Kong is a 4-star mid-tier property centrally located on Hong Kong Island. It is especially popular with families during holiday periods but also caters for business travellers looking for somewhere relatively well-priced and with good transport connections.
Research & booking
The Novotel Century Hong Kong is ranked #127 out of 746 hotels in Hong Kong on TripAdvisor, which puts it at the top 20% of hotels in the area.
After recently attaining Accor Gold status, I booked a Superior Room at the hotel for a one-night stopover in Hong Kong and was fortunately upgraded to one of the few remaining Executive Premier rooms. These rooms usually start from $400 AUD a night.
Room Layout
The 23 sqm Executive Premier rooms are not any bigger than the 'Standard' or 'Superior' room sizes which is disappointing. It is the average size of a hotel room in crowded Hong Kong.
The room has a typical layout with the bathroom and cupboards on either side of you at the entrance, before opening up to the actual room.
Directly in front is a small 40' TV, the mini-bar fridge and a decent working desk, which makes sense given it is more business travellers who will stay in these higher room categories.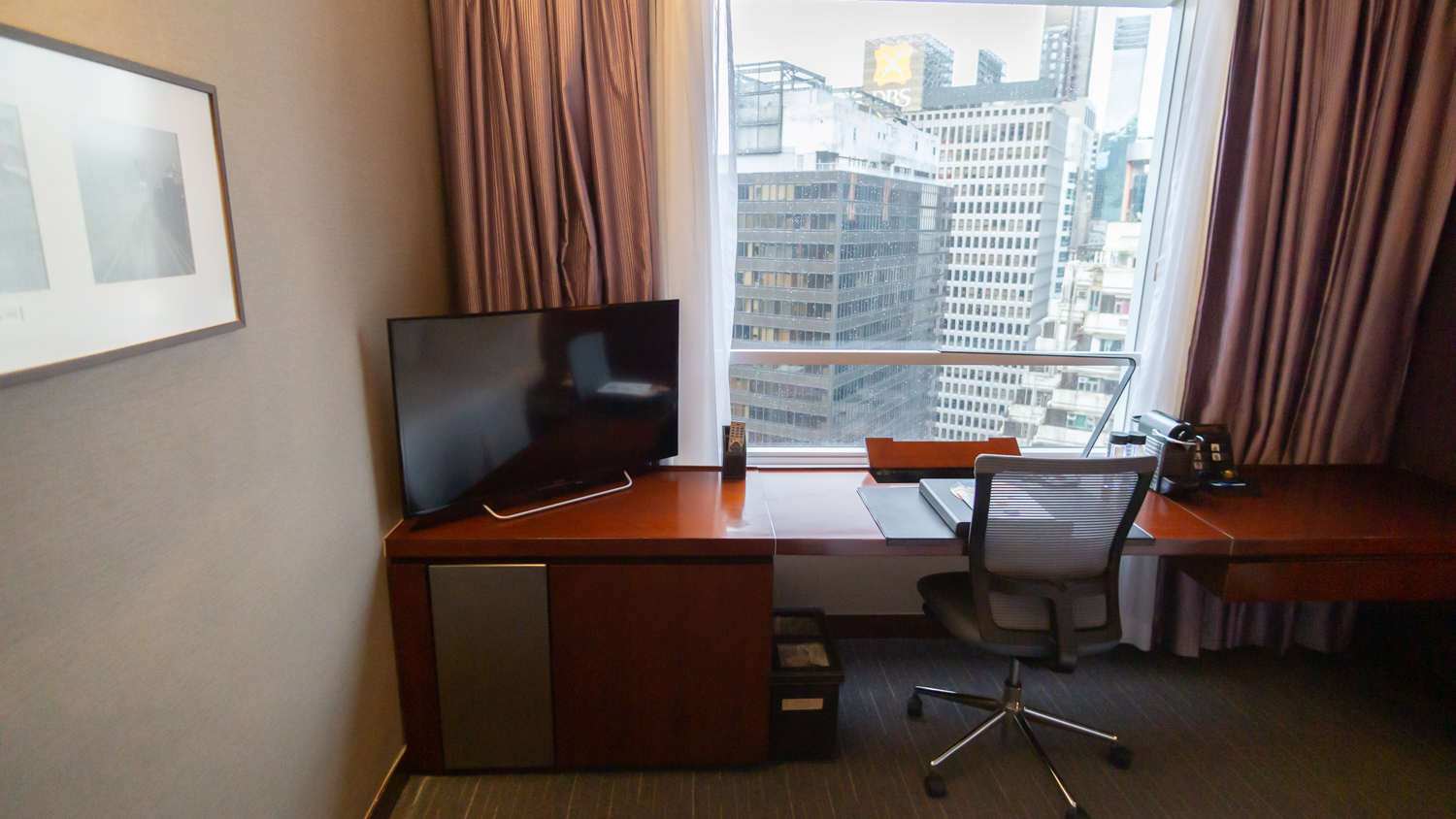 Executive Premier rooms are on the 20th floor and up, giving great views of the city.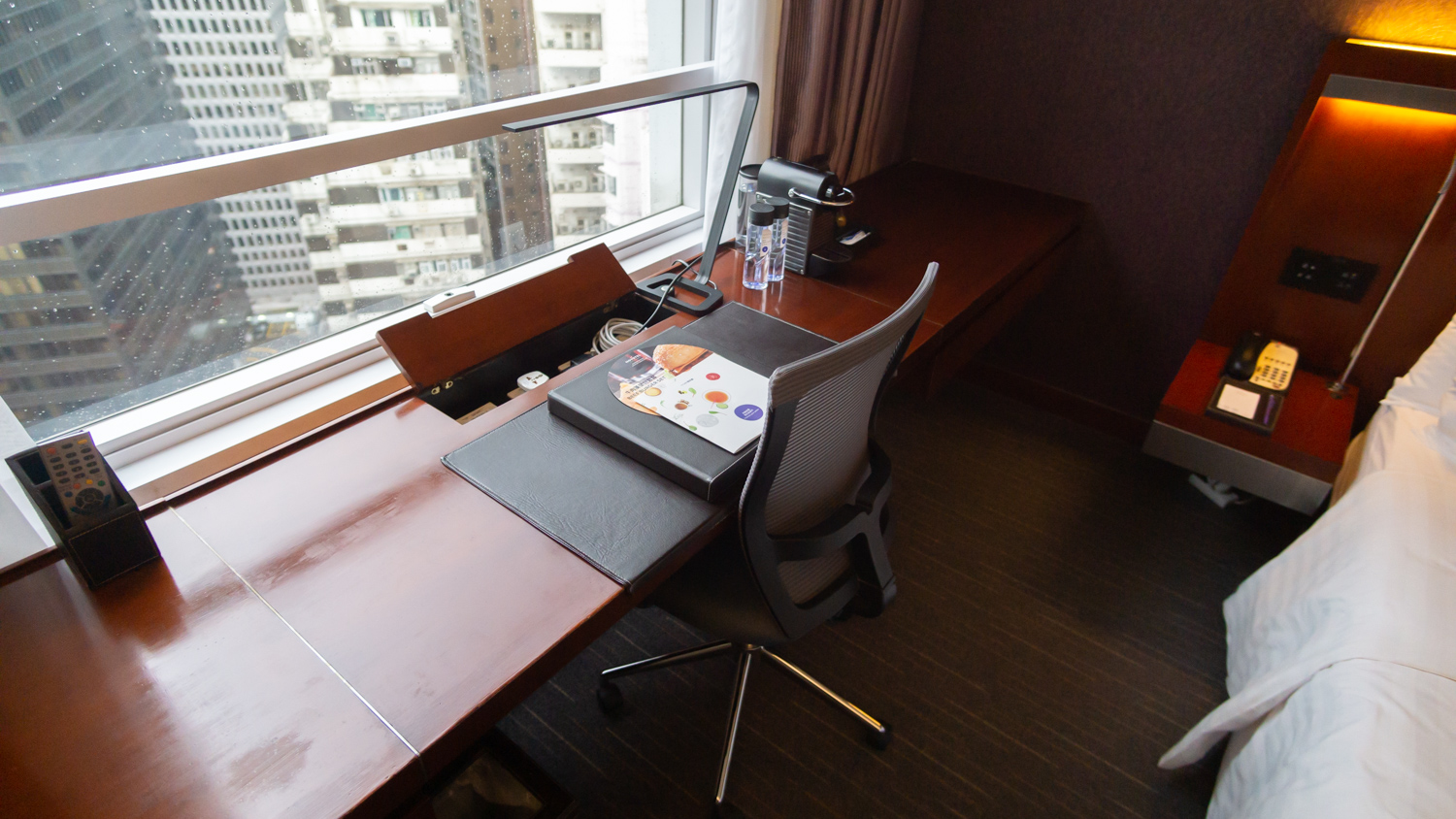 The bed is comfortable although unremarkable. One side has AC power plugs, while the other side (with the alarm clock) has USB charging.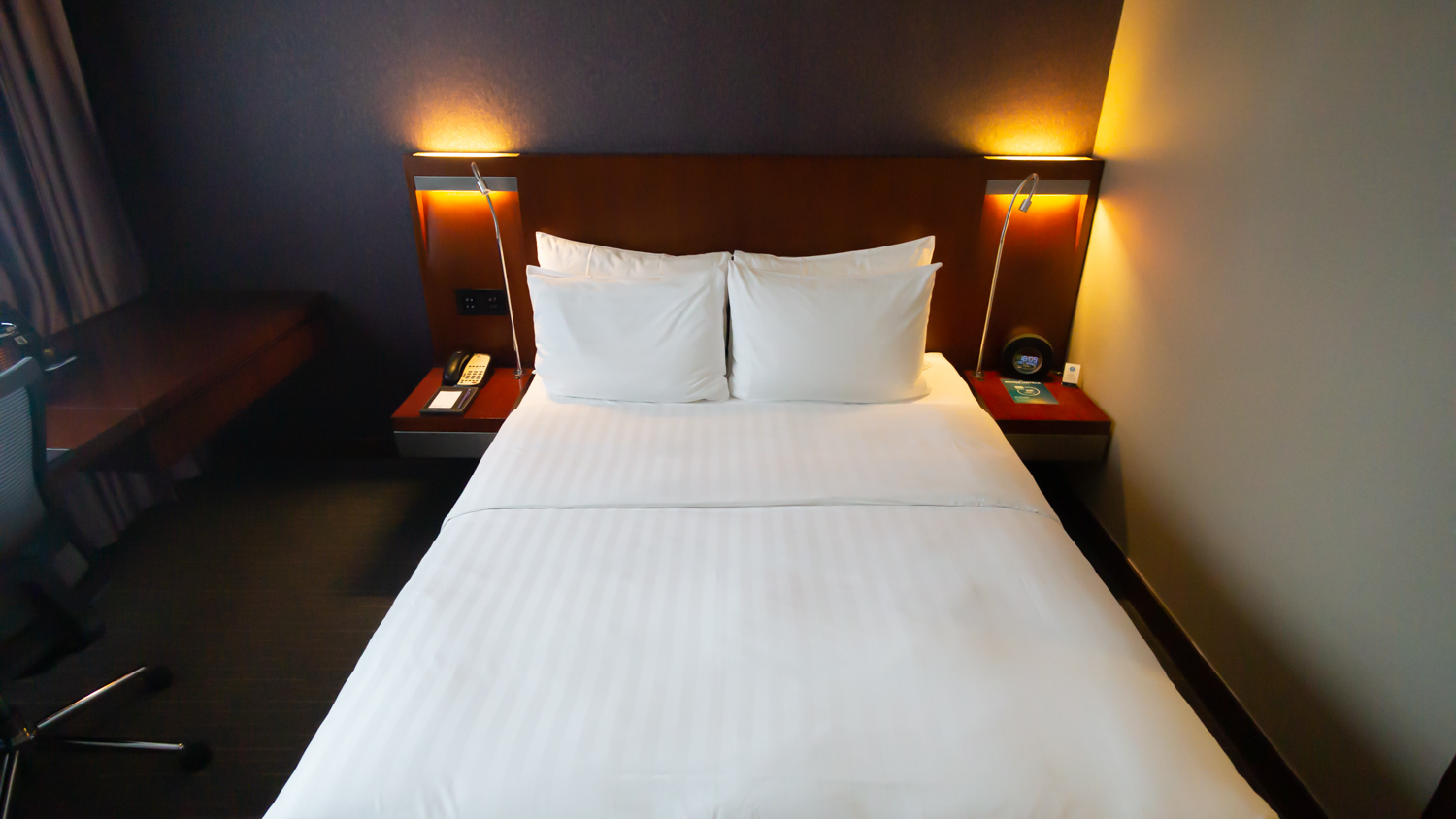 One bathrobe is provided even though there were two guests in the booking. The usual hairdryer, iron and in-room safe are found in the cupboards.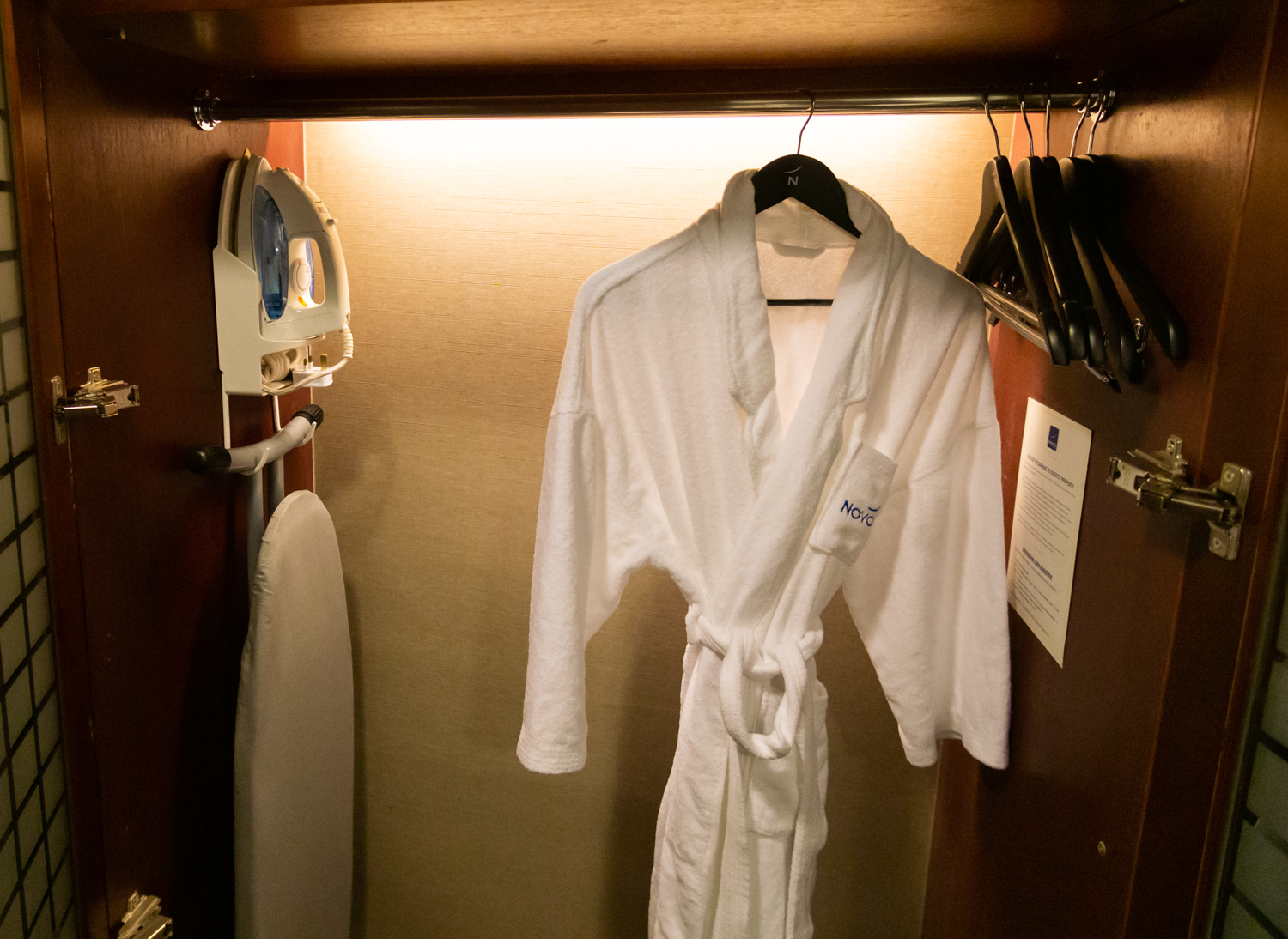 Lighting in the room at night time is adequate – I really dislike room lights that are too dim.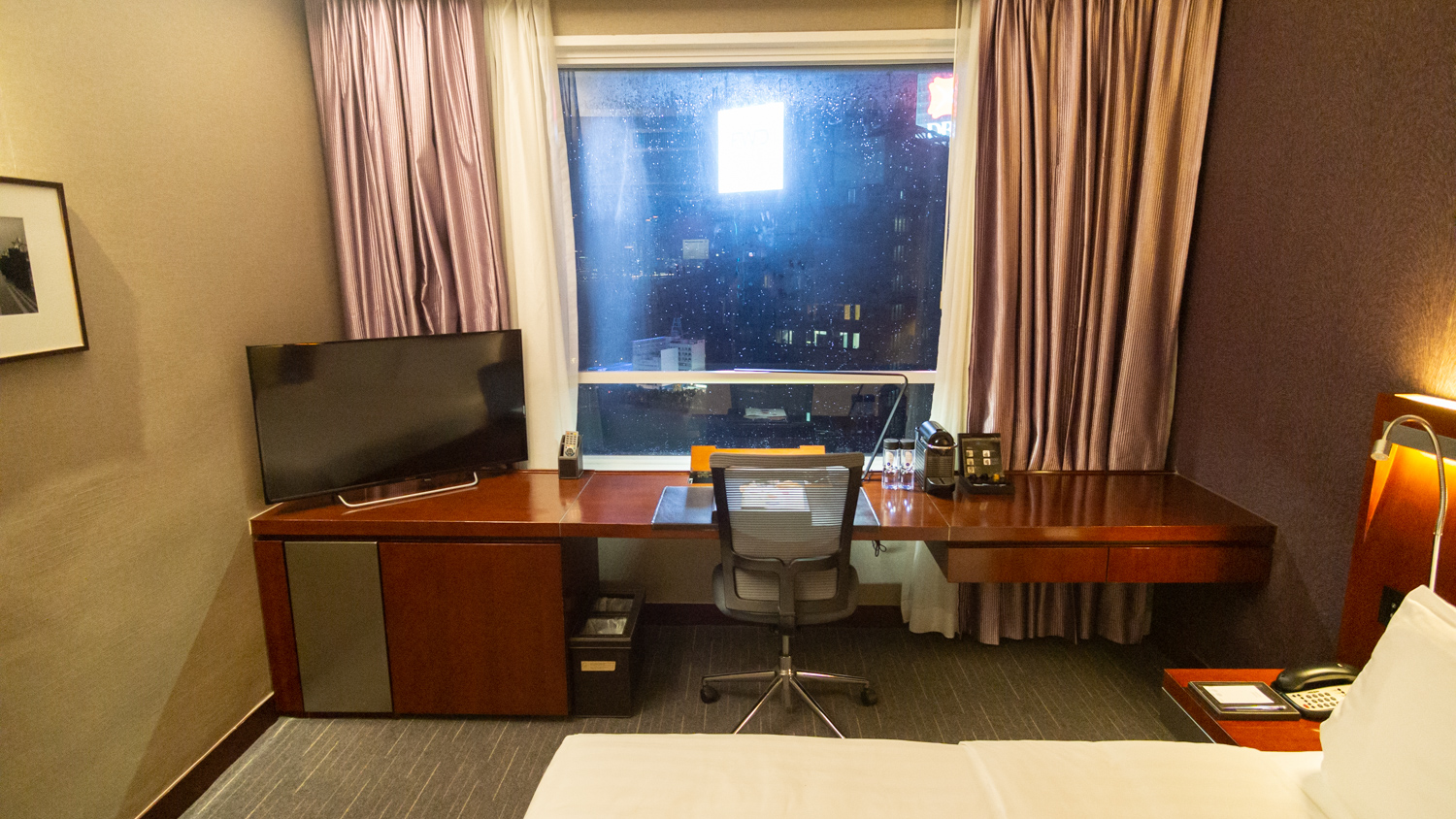 Technology
There are sufficient areas to charge your devices around the bed and on the working desk, where an international adapter is also provided.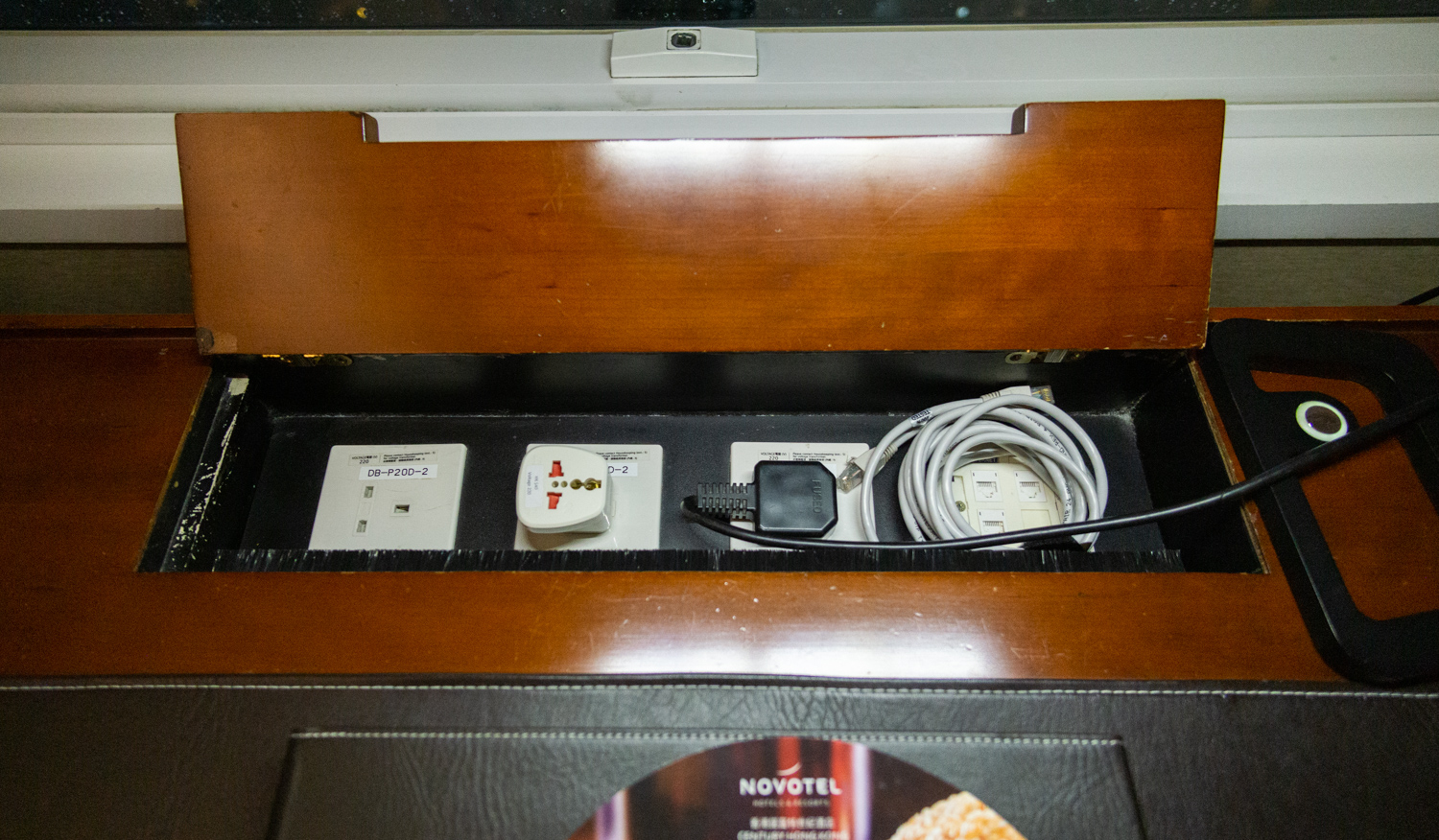 The television is a great letdown. While I'm sure the 40' Sony TV itself is good quality, unfortunately, the 'AV system' that the Novotel uses is outdated and very low-res, making it quite unenjoyable to watch any content from the bed.

Lighting controls are intuitive and everything can be controlled from the bed.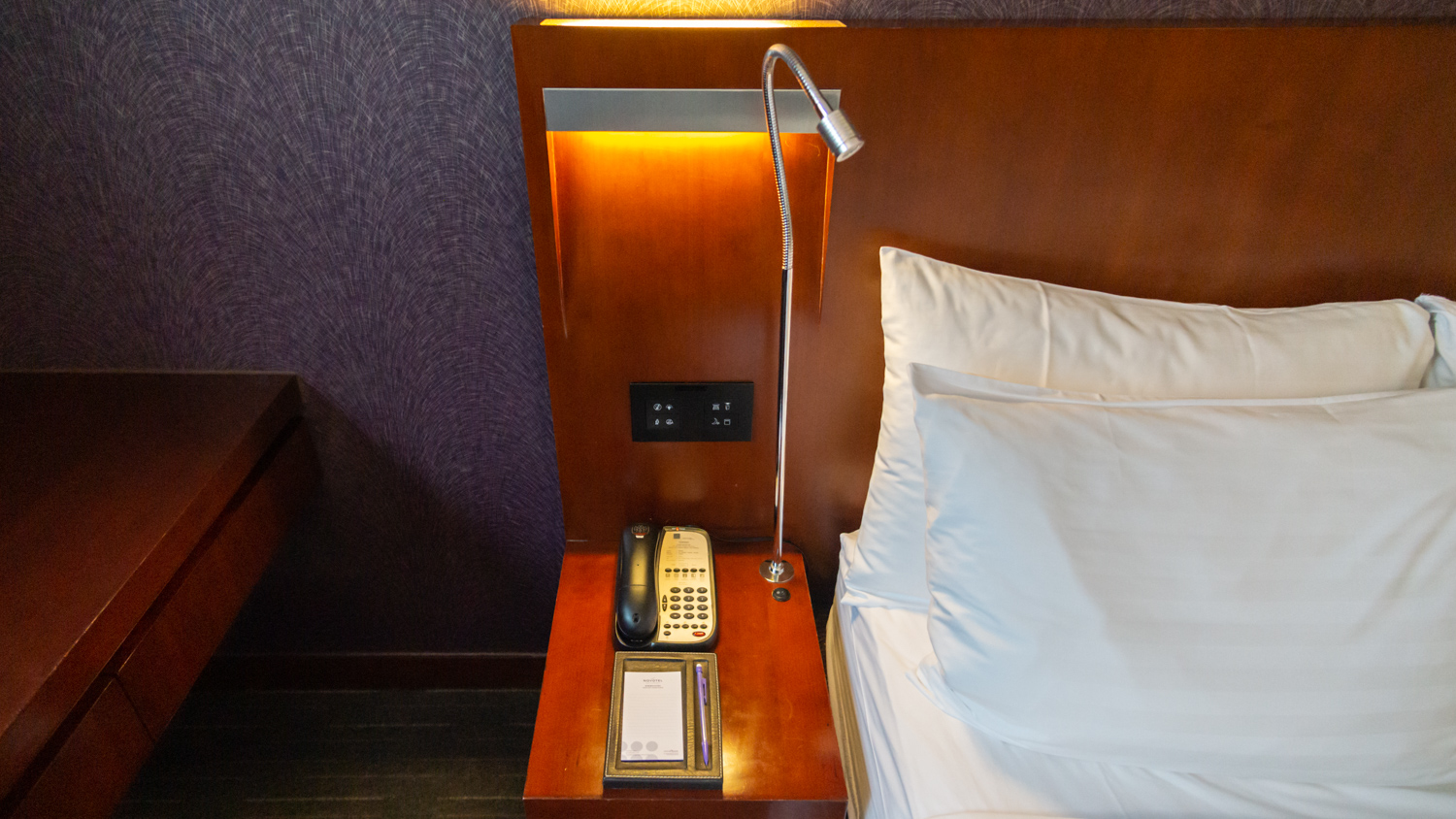 Bathroom
Don't expect any bathtubs here! The bathroom is clean, basic and functional which suits the target demographics of the hotel anyway.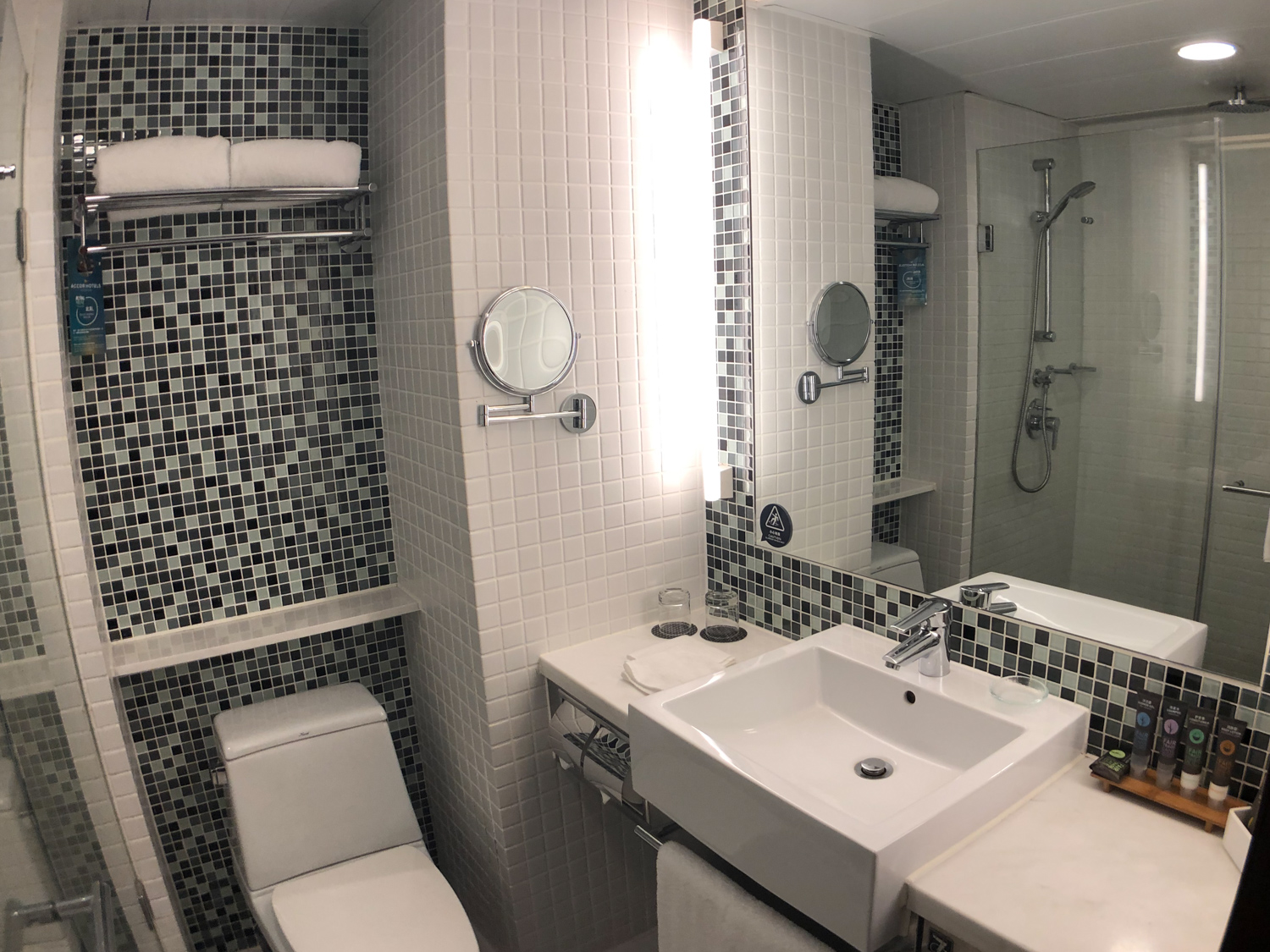 Novotel's in-house range of shampoos, conditioners and other sanitary products are all well-stocked in the bathroom and can be replenished just by calling house-keeping.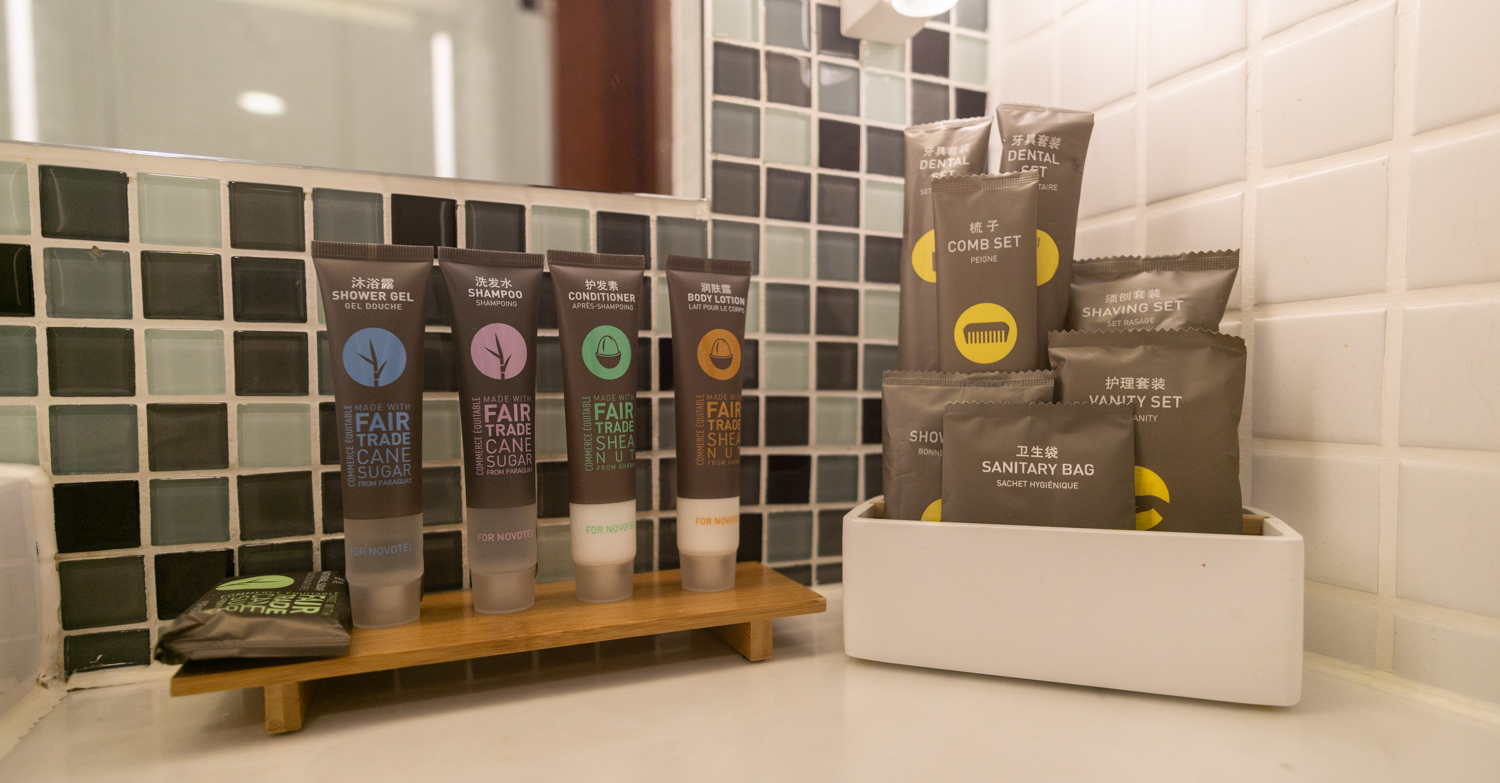 In-room service
If you are peckish, there is a substantial room service menu although the costs are understandably much higher than what you can get nearby from shops.
From the example menu below, a Hainanese Chicken Rice is approximately $40 AUD, while a bowl of laksa or Japanese ramen will set you back roughly $30 AUD.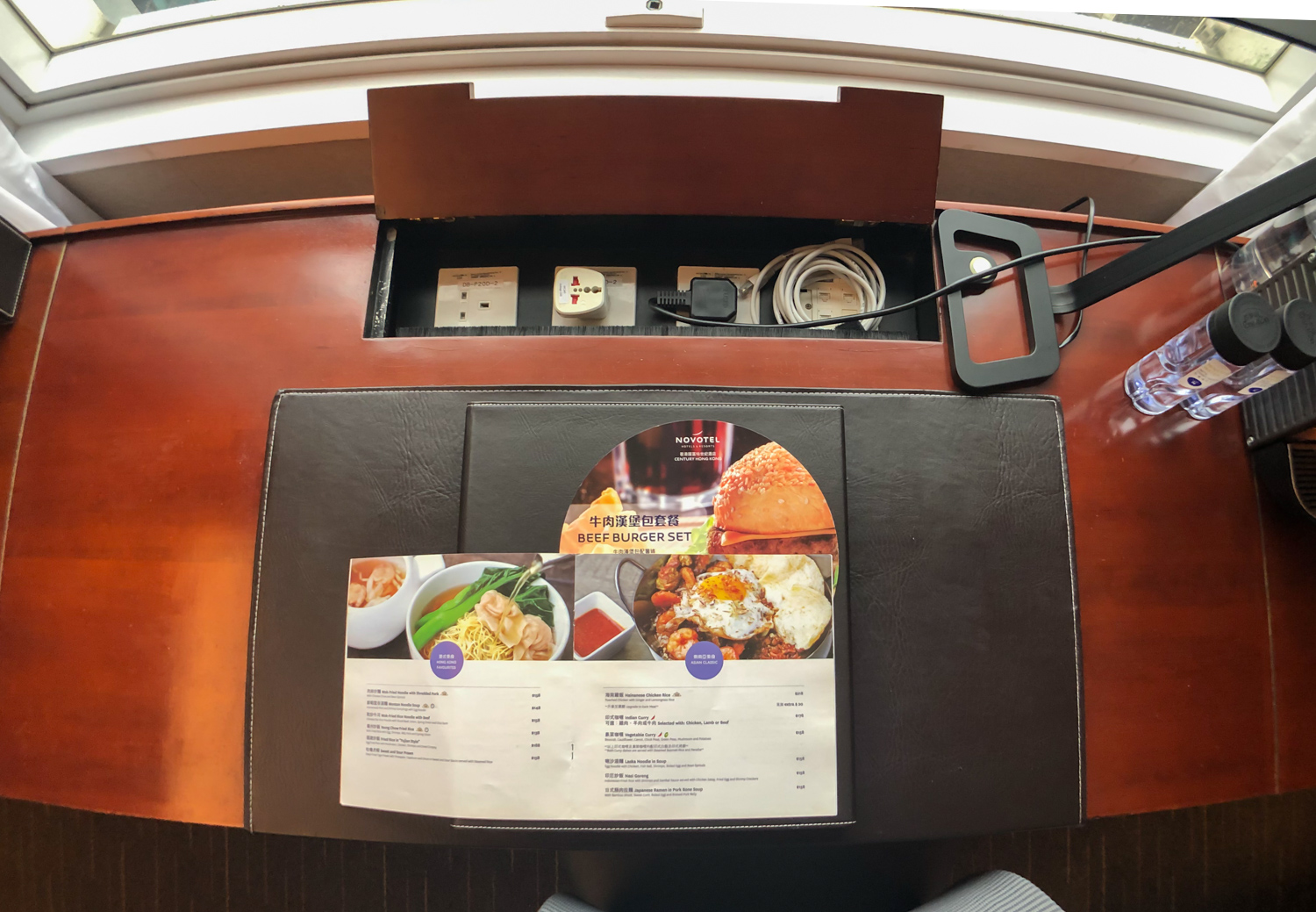 The minibar has your usual suspects of canned drinks, water and snacks (all found in the fridge), starting at roughly $8 AUD each. Coffee and tea are free though of course, with an in-room Nespresso machine.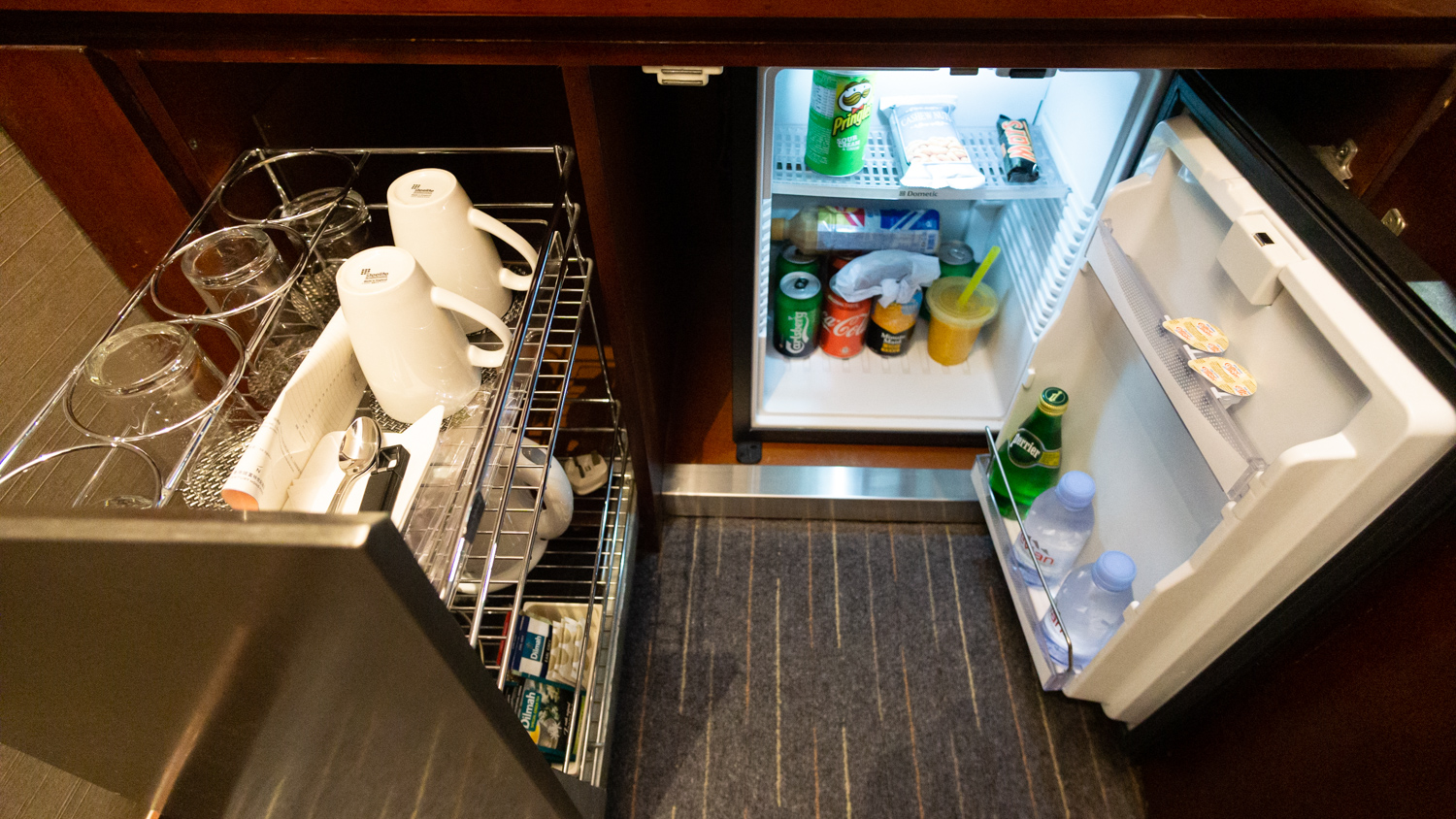 The Hotel and Lobby
The Novotel Century Hong Kong has recently been refurbished in the lobby area, making it look brighter and grander from the outside.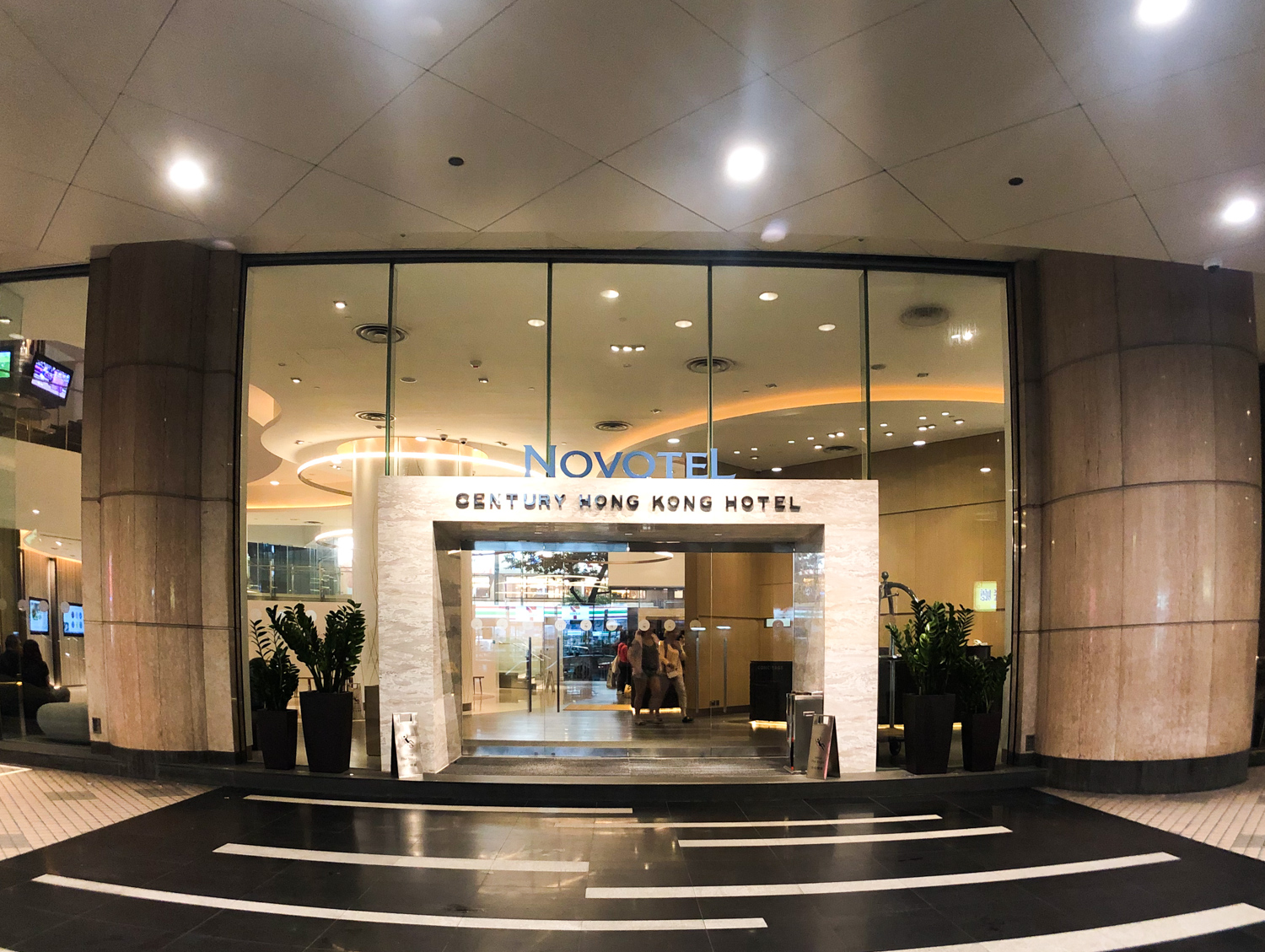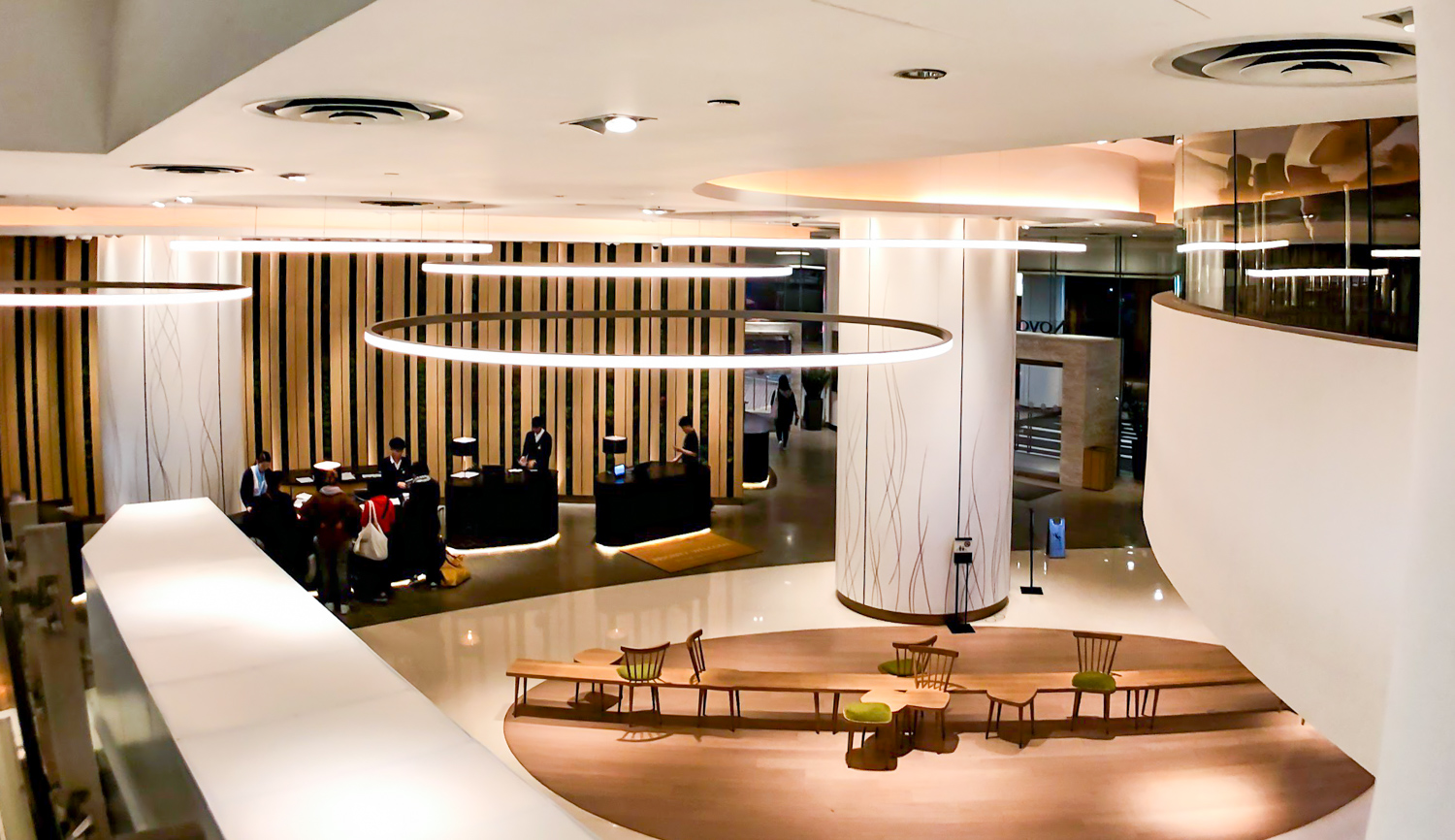 Although these photos look peaceful, it was absolute chaos in the early evening with large groups and families trying the check-in. I did see a few frustrated solo travellers who were waiting a long time to get processed.
Accor Gold guests have access to a Priority Line, although that didn't move any faster either. Upon checking in, I was handed instructions about the Premier Lounge as well as two welcome drink tokens. These both made my stay a lot more interesting, as you'll see below.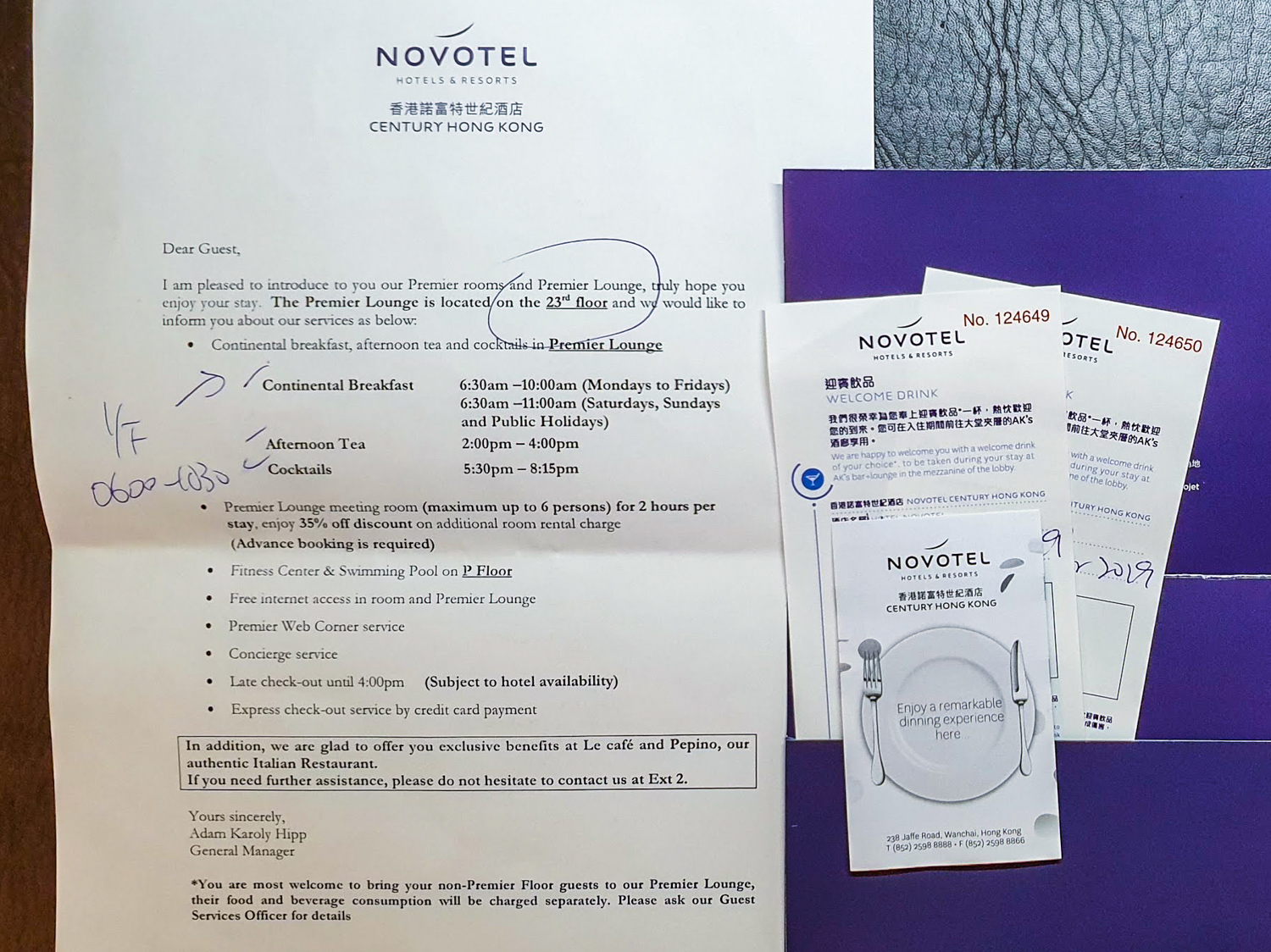 Dining
AK's Bar and Lounge is found on the first floor adjacent to the lobby, offering a relaxed area to have some drinks. There's often a half-price happy hour from 5pm to 9pm on most days.
My welcome drink tokens entitled me to choose a drink from a set menu, with the Lychee Paradise cocktail being absolutely divine – tasty and light without being overpoweringly sweet!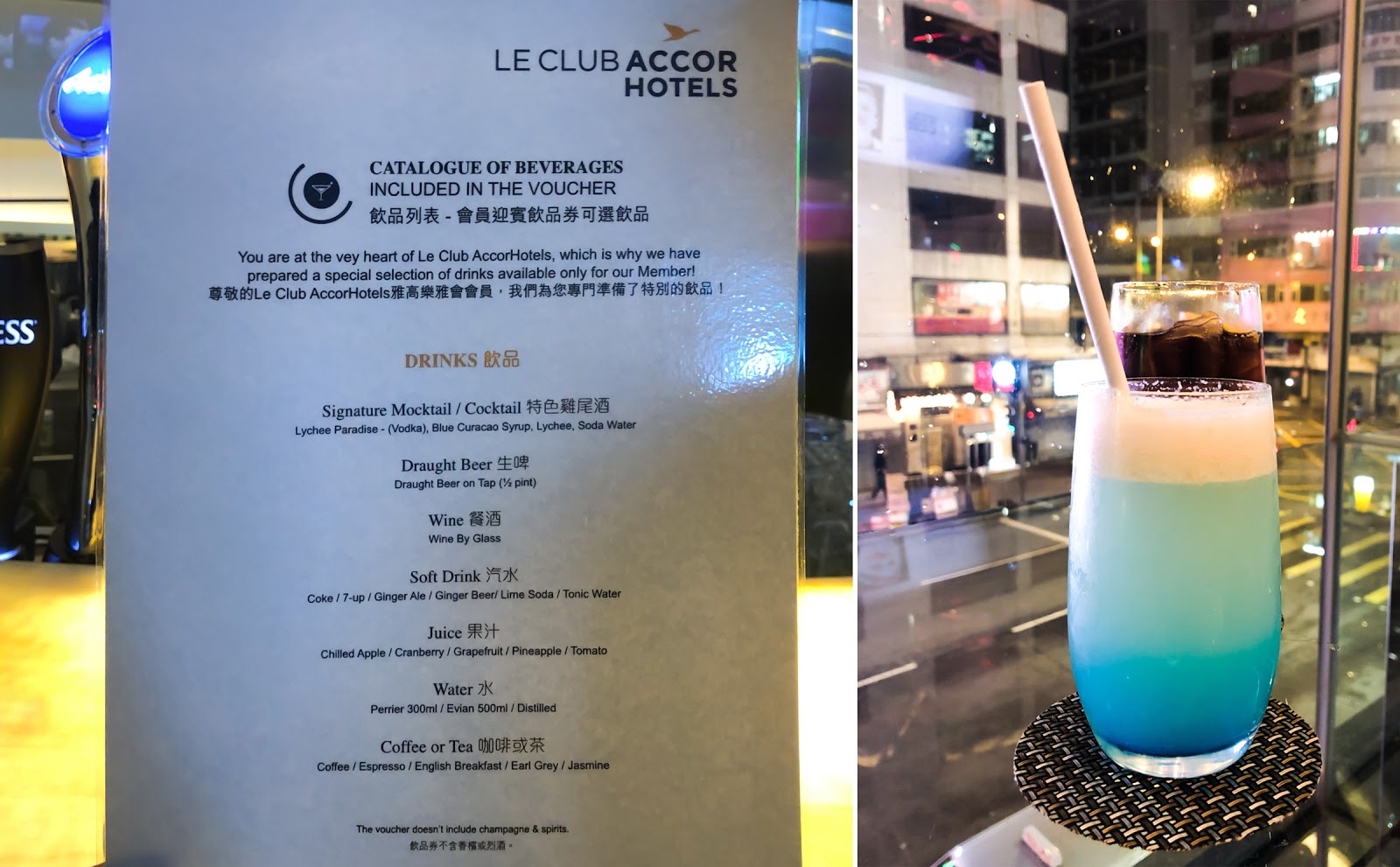 The nearby Le Cafe offers a buffet breakfast for eligible guests in the morning, including Executive Floor guests who are welcome to dine by default.
There are plenty of hot food options such as fried rice, plus the usual bacon and sides. A chef's station will cook eggs the way you like it.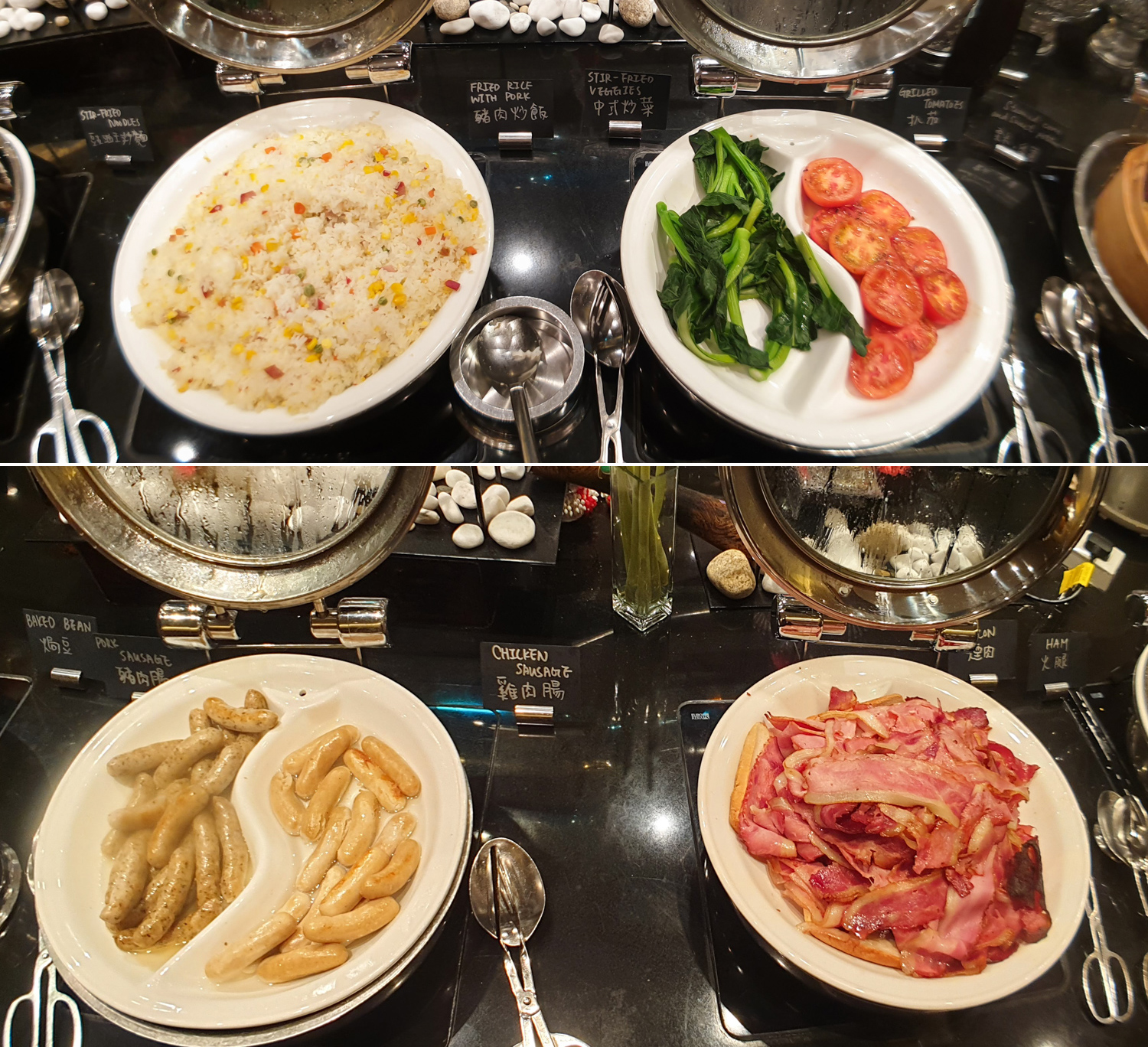 Anyone who has been to a Qantas or Virgin Australia lounge in the morning will recognise this exact same pancake machine. Continental options include fruits, yoghurts and fermented milk drinks.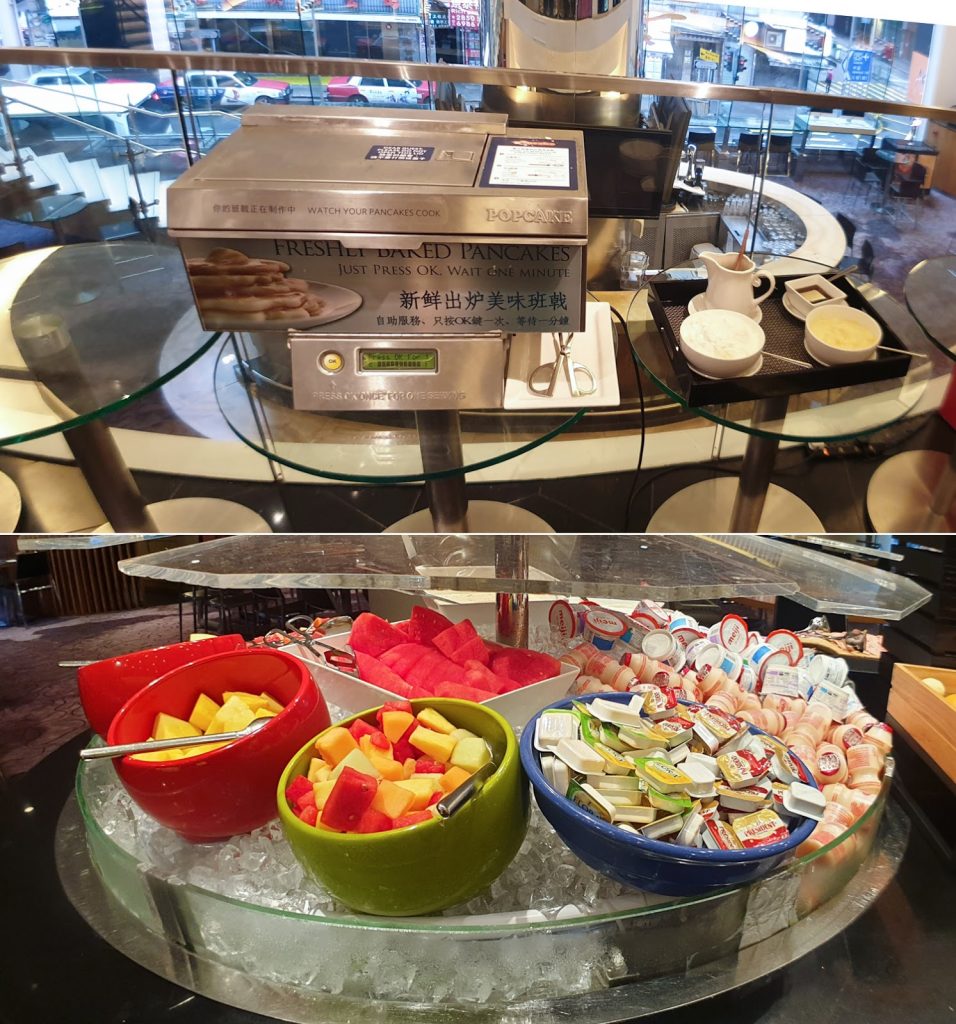 Overall, the breakfast was pretty good, although I wouldn't have paid extra for it if it wasn't included in my room rate, as Hong Kong has so many more unique options.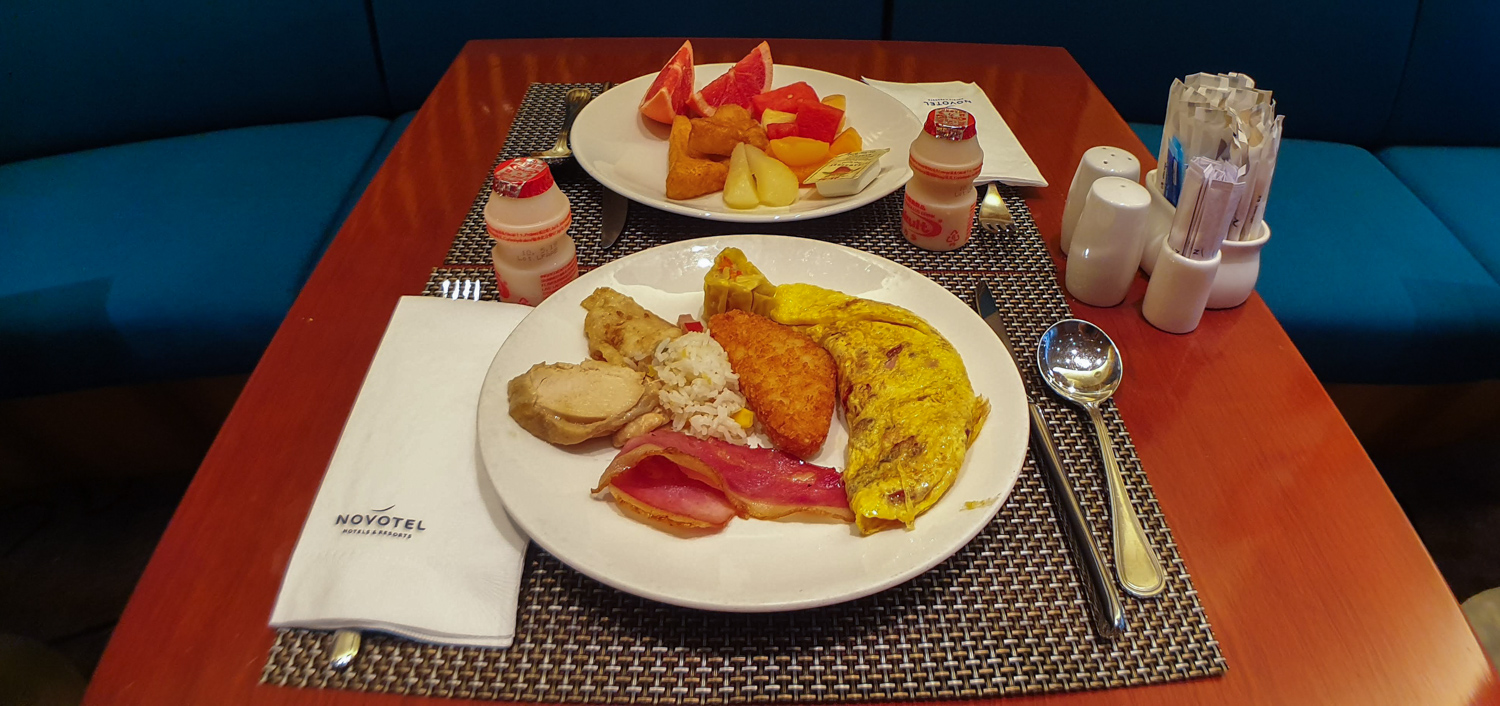 Facilities
The Premier Club Lounge is up on the 23rd floor, offering guests a space to enjoy some drinks and snacks during the day. It's quite a small area, around the size of three standard hotel rooms.
After the reception, there is one sitting area and a meeting room to the side. The next room down has all the foods and drinks.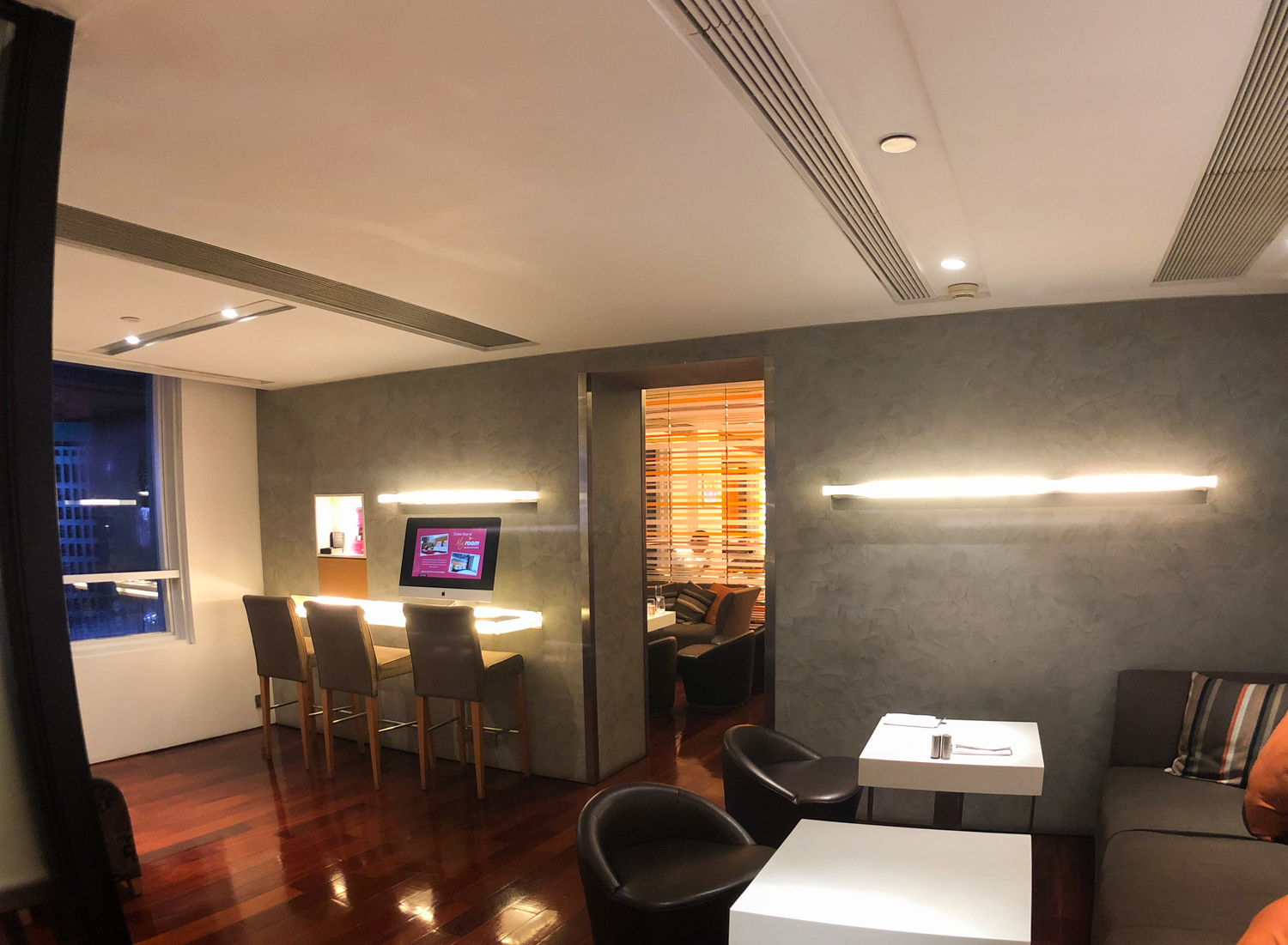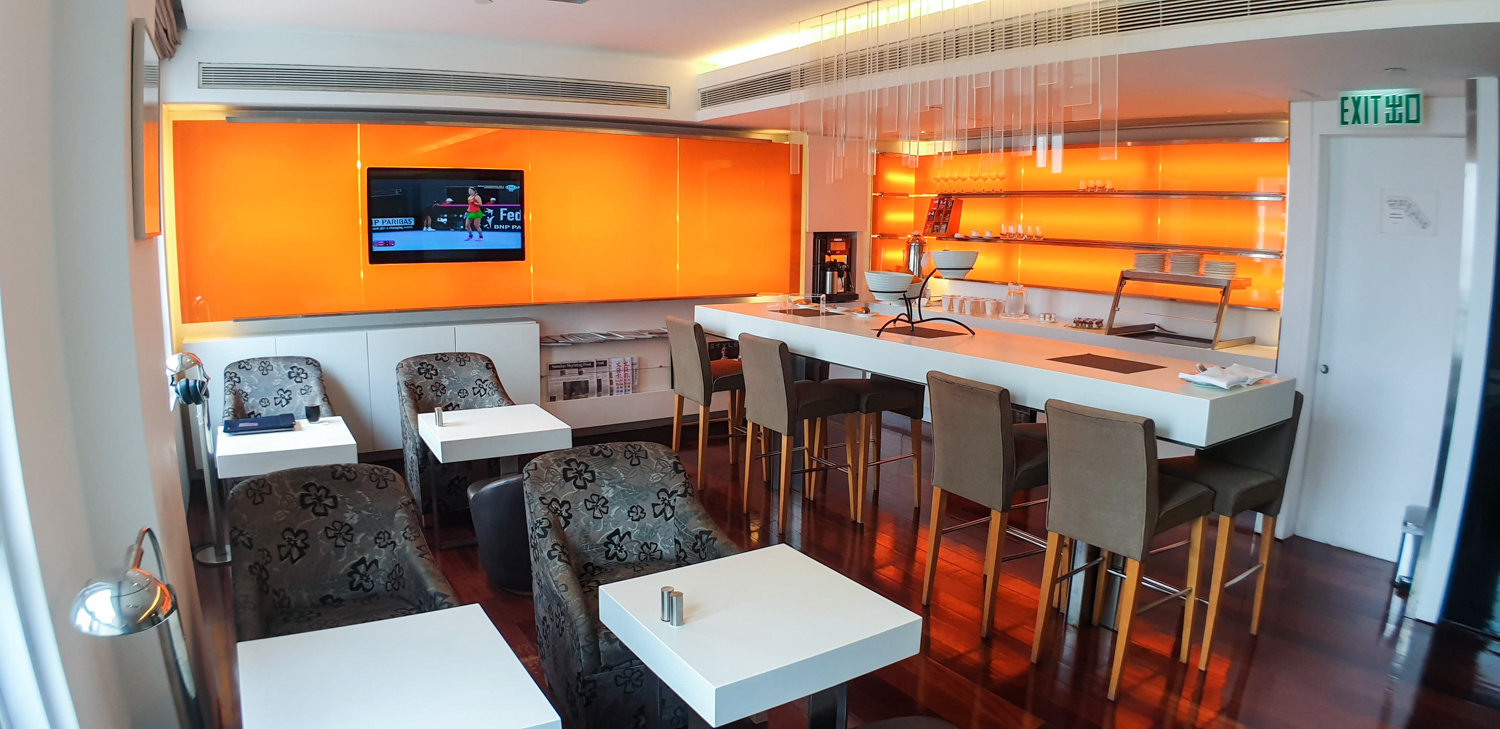 Breakfast is also served here in the morning, with a slimmed-down selection of favourites compared to the main restaurant below.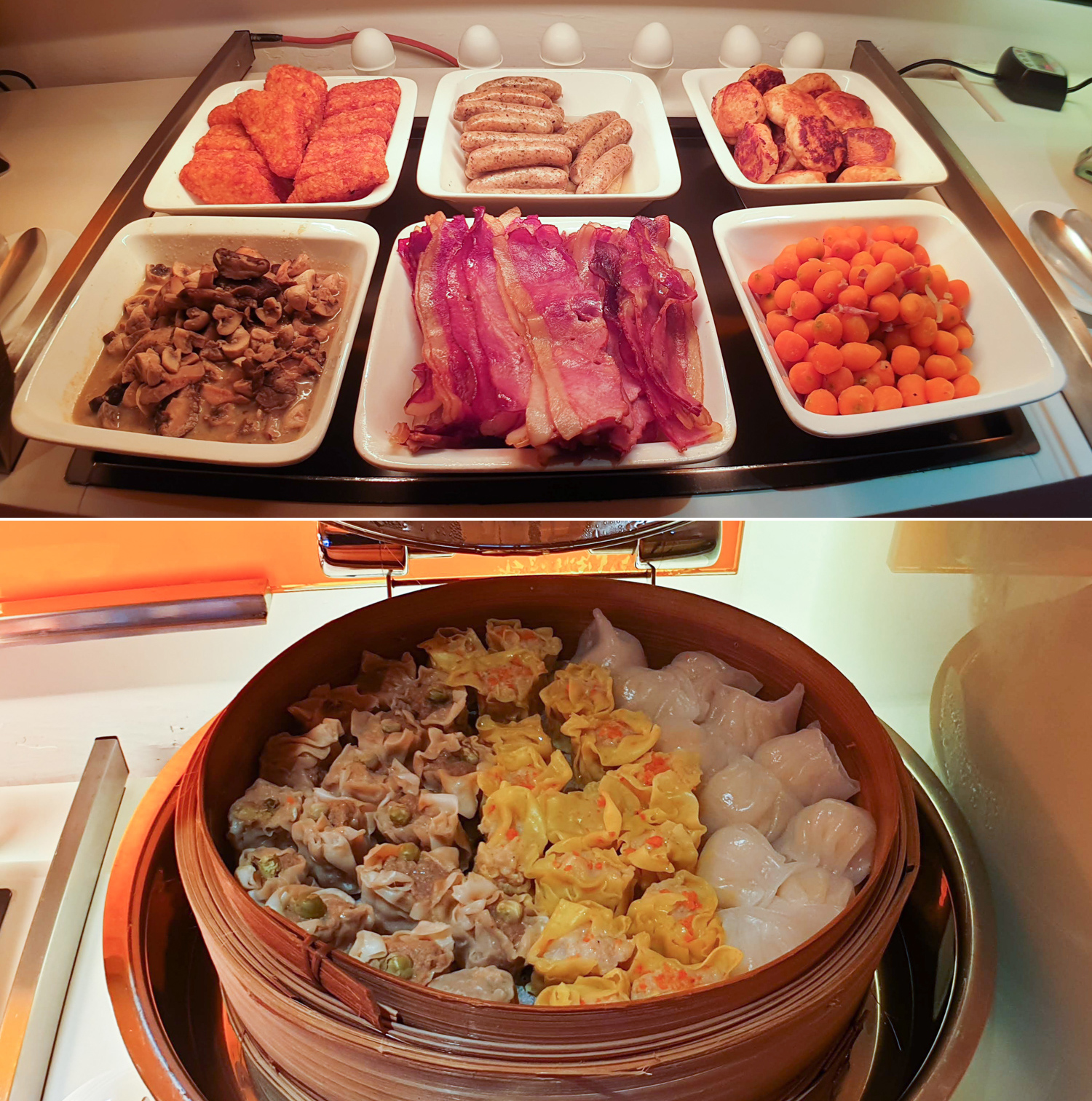 From 2pm to 4pm, there is a small afternoon tea spread consisting of cakes, sandwiches and fruits.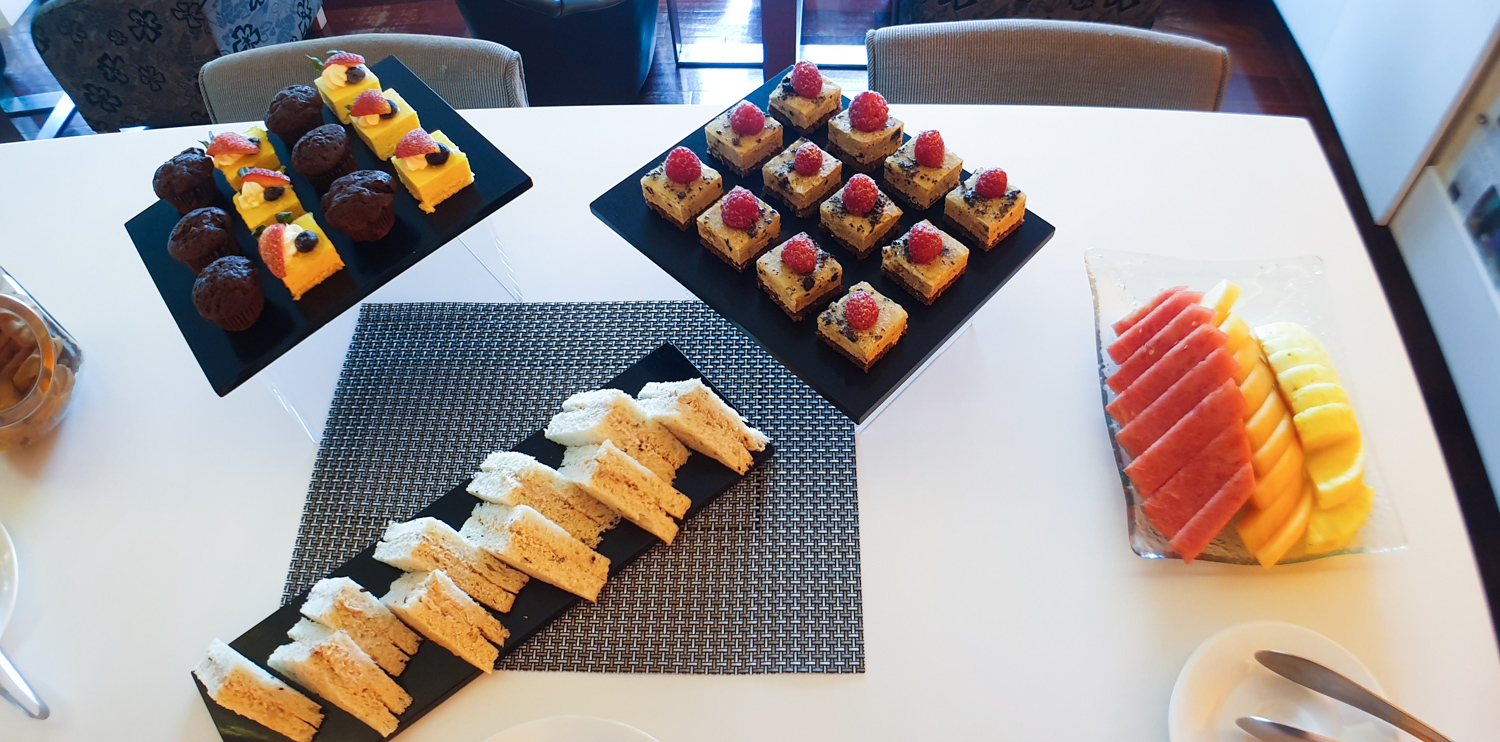 The evening 'cocktails' session from 5:30pm to 8:15pm has DIY spirits and mixers, plus some simple finger food. While it might be enough to keep your hunger at bay, I wouldn't recommend having 'dinner' here.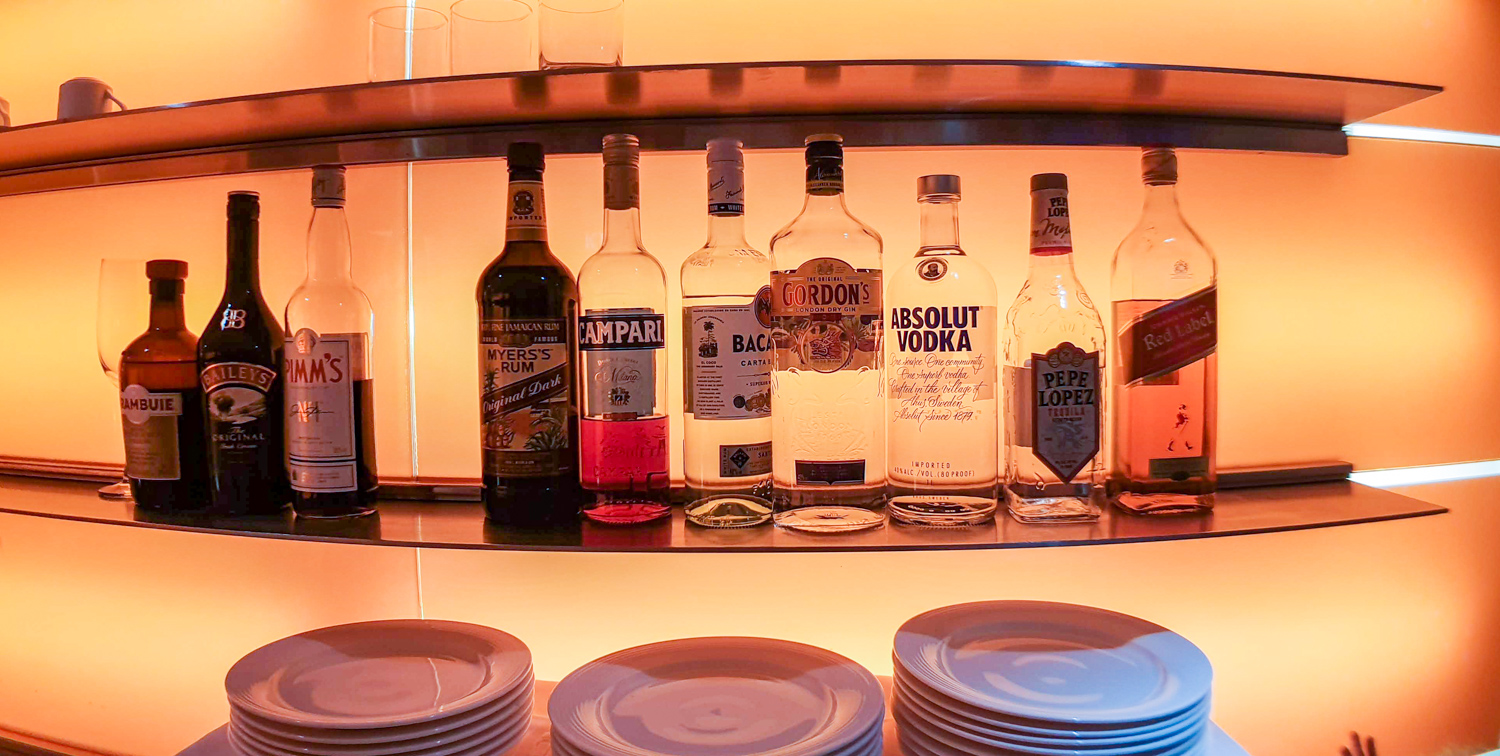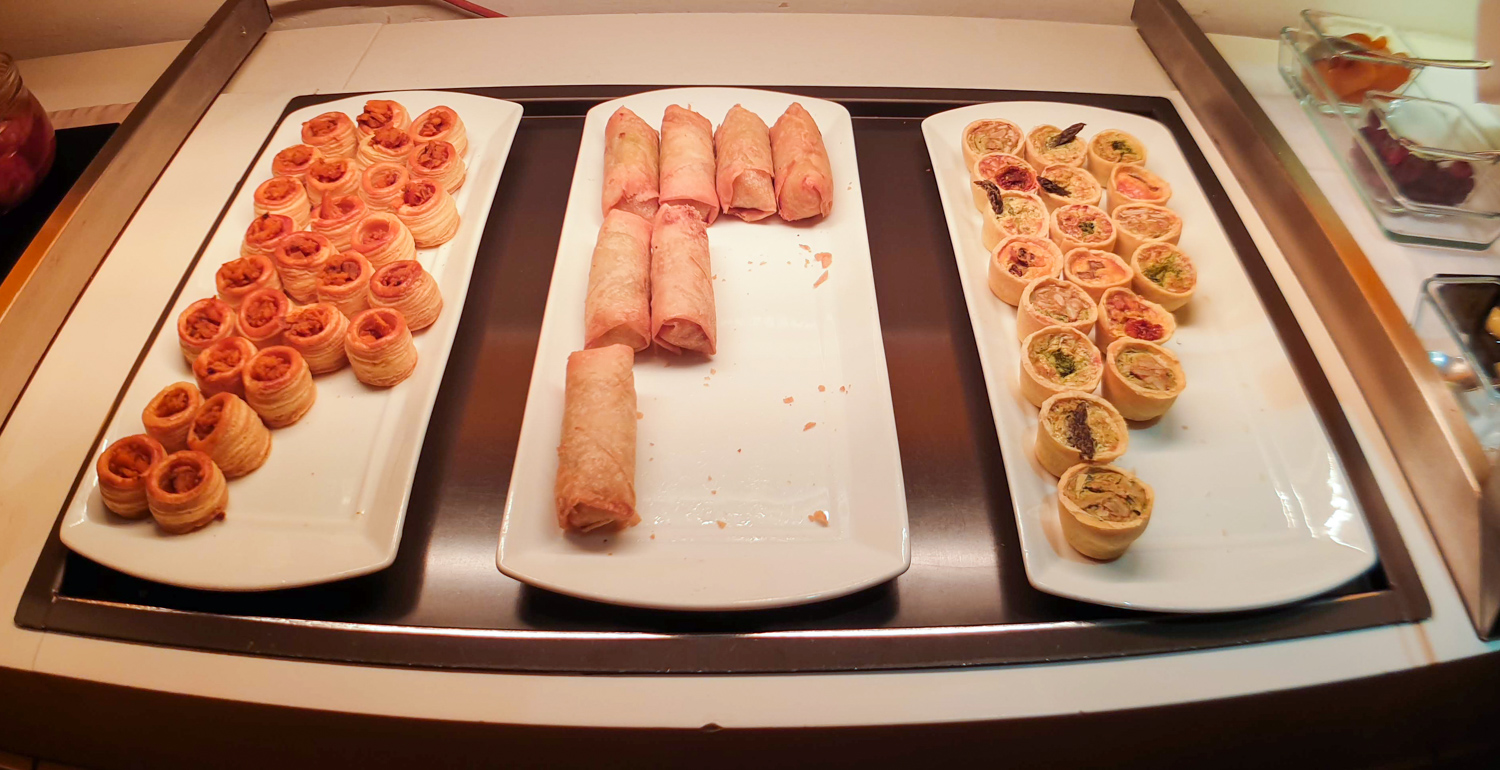 The lounge was quite busy during these dining periods given its small size, but during the day it is a nice quiet area to work if you need to. Wireless Sony headphones (MDR-HW700) are provided.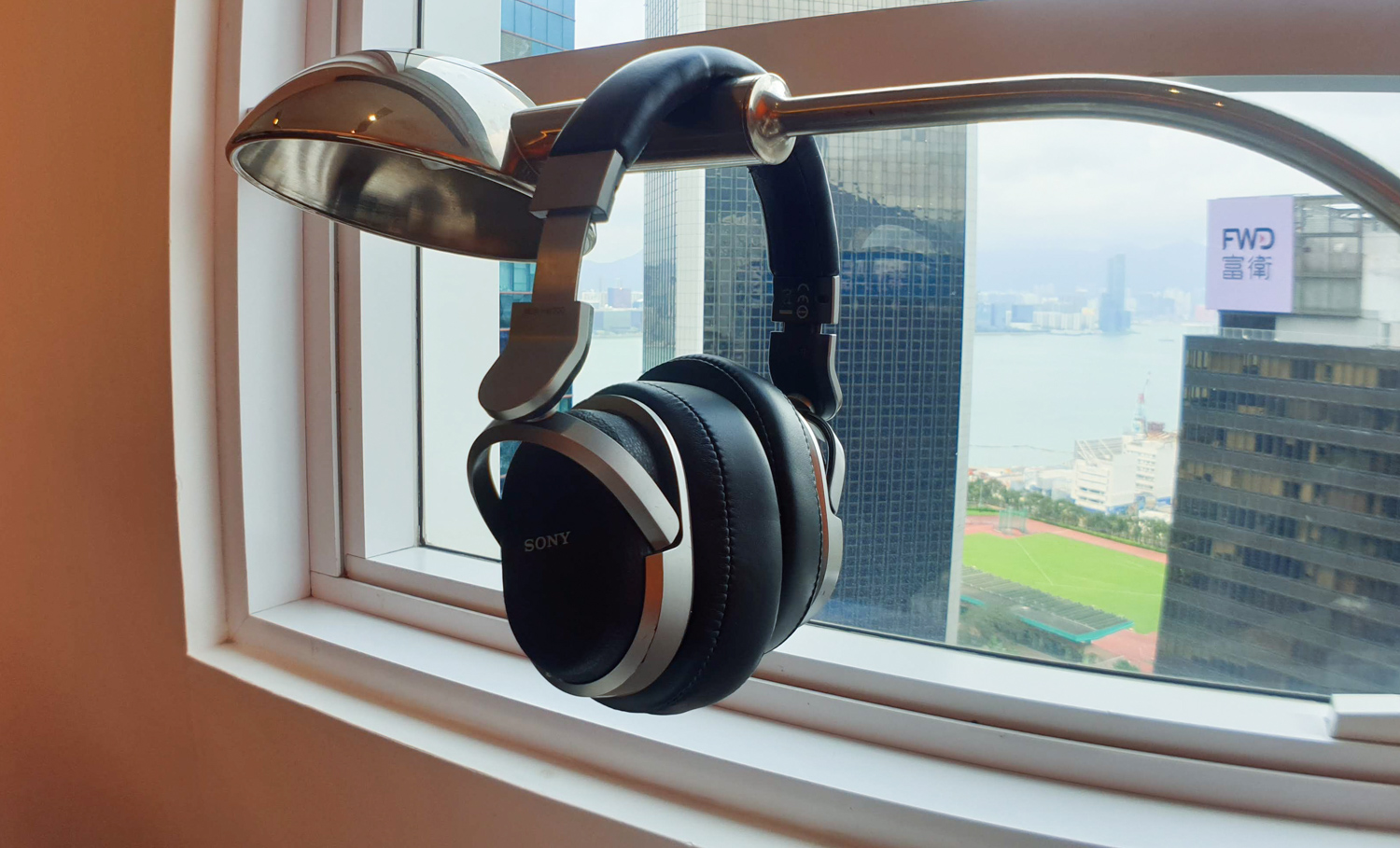 Hotel guests can also exercise in the well-equipped gym with cardio and weights. It tends to be quite quiet at night (where this picture was taken), but considerably busier during the day where there is staff on hand to distribute towels and check room registrations.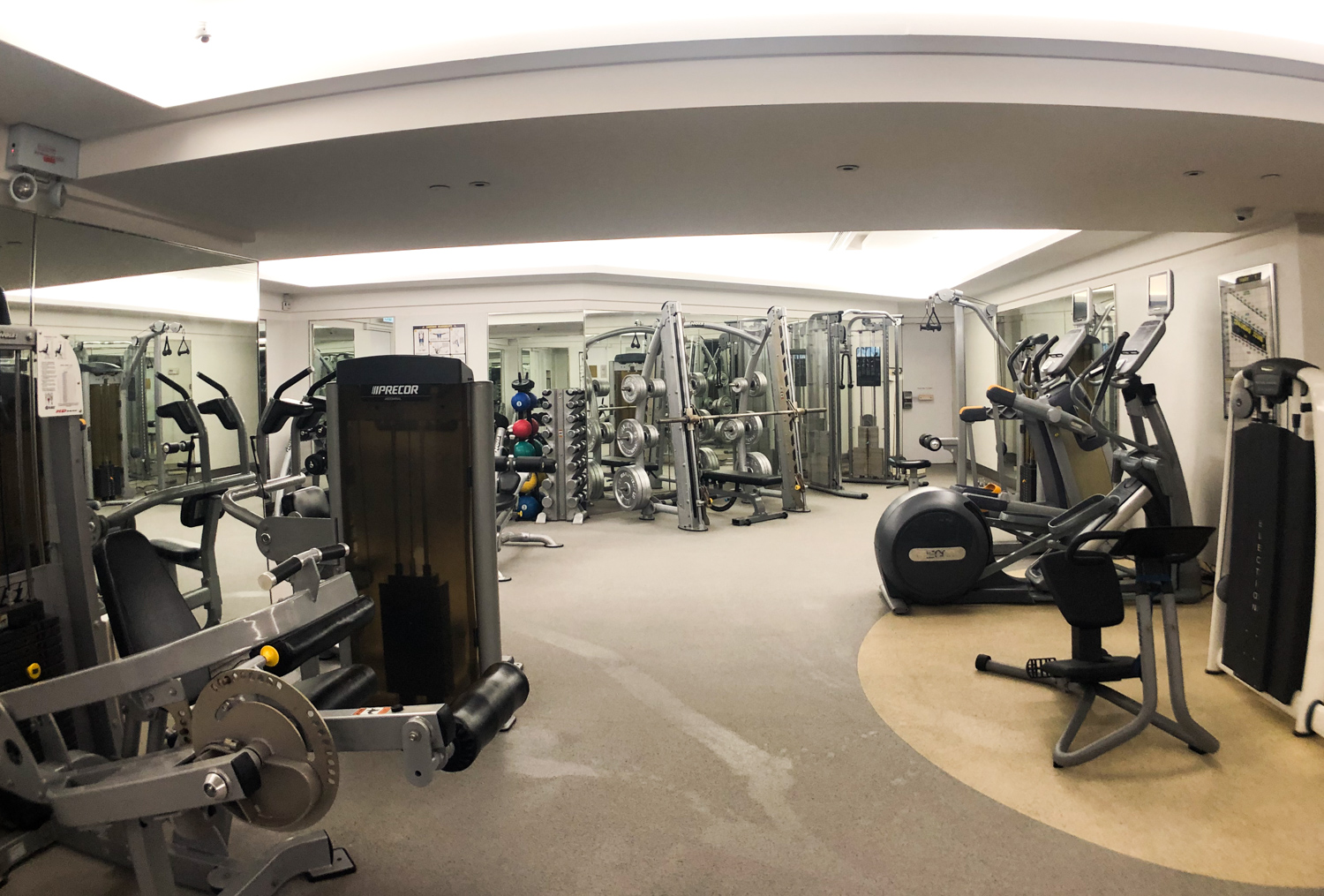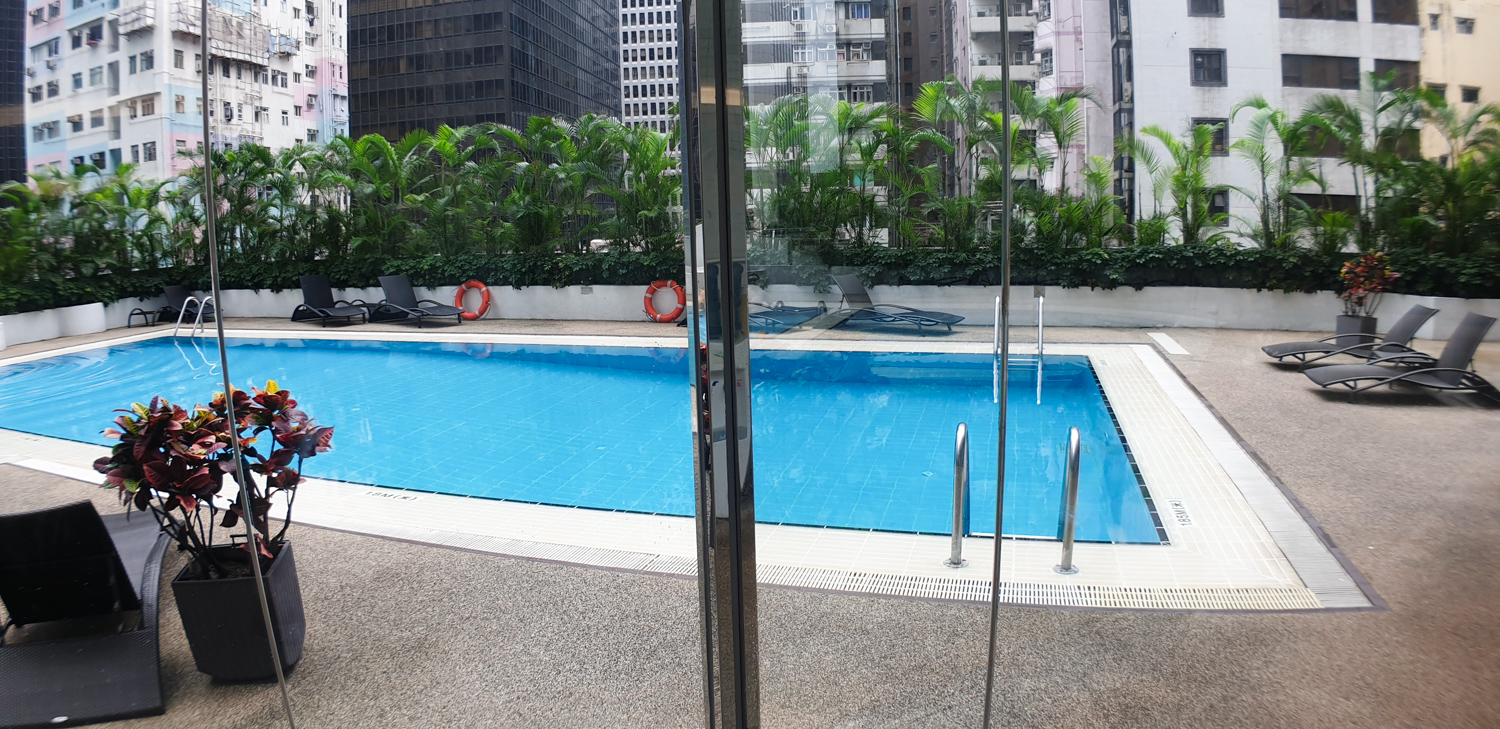 Although not strictly a 'facility' of the hotel itself, the Novotel Century is located on the free transfer bus from Hong Kong Station, for passengers arriving on the Airport Express. The shuttle will also take you back from the hotel to the train station, and comes every 20 minutes.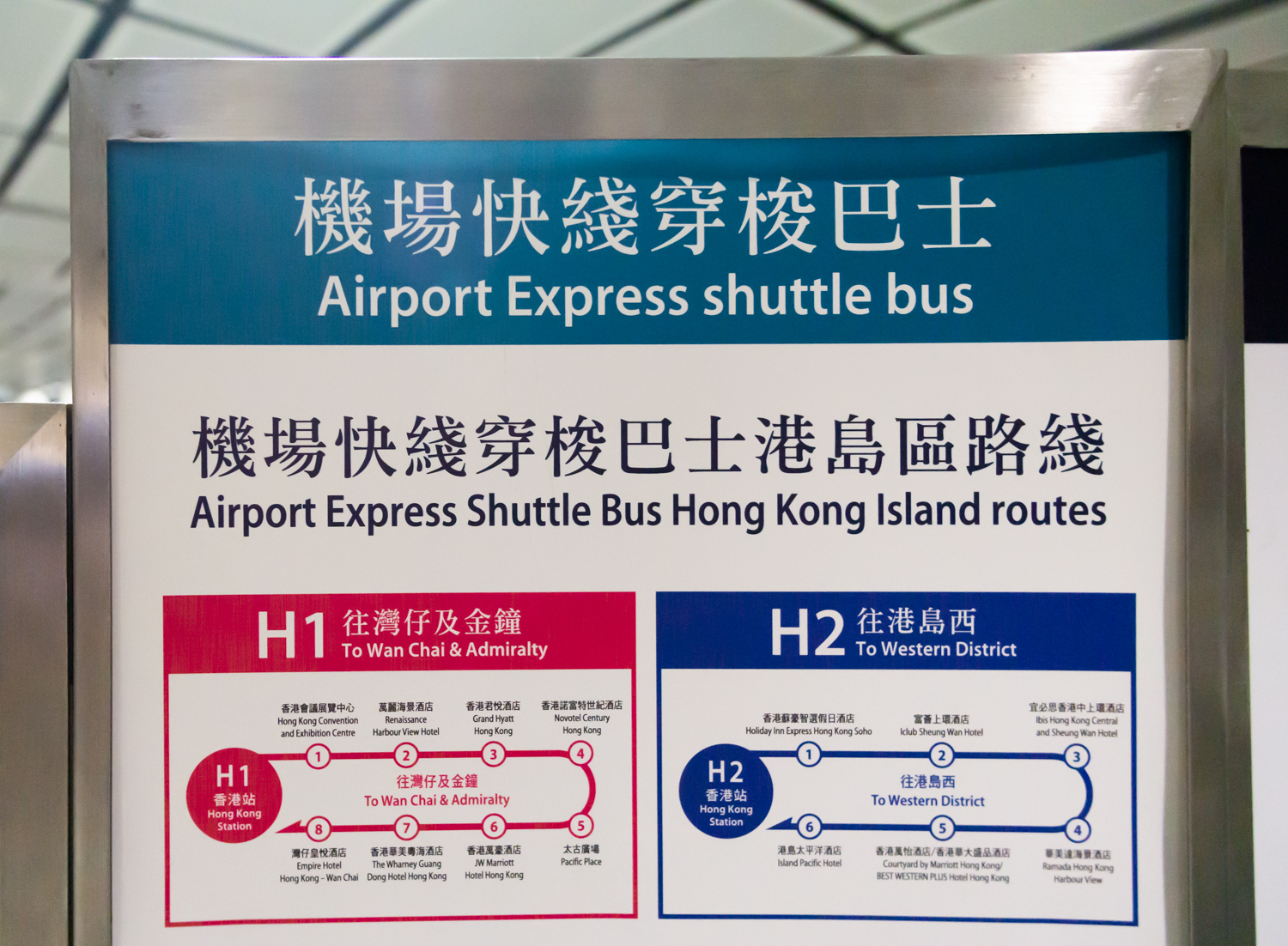 Other Novotel reviews
Summing up
The Novotel Century Hong Kong is a fairly good mid-range hotel overall, although I think it can be a little over-priced for what it offers and delivers. That is probably the 'Hong Kong' effect at work here.
I'm grateful to receive the room upgrade to the Executive Premier floors on the basis of Accor Gold plus the other little perks (such as late check-out to 3pm), but I think I would have been slightly underwhelmed if I stayed here without status, as an ordinary guest.
The hotel ticks all the boxes for travellers, but just without doing it in any significantly special way,
Things I liked:
Decent buffet breakfast spread
Ticks all the boxes for facilities – swimming pool, gym and meeting areas
Great welcome cocktail
Clean, functional rooms
Easily accessible from the Airport Express, close enough to public transport
Things I did not like:
Dated and small room designs
Terrible quality of media on the TV
Executive Premier lounge could be bigger and have more interesting food options
Novotel Century Hong Kong Executive
was last modified:
June 20th, 2023
by