Qantas Frequent Flyer is currently offering up to 50% bonus on Top-up Points purchases before 17 December 2021. We wouldn't typically recommend buying points from Qantas because it's usually not the best value. But with a 50% bonus, it could definitely be worth considering if you're booking reward travel and don't want a rewards credit card.
For example, a transcontinental flight with Qantas requires 41,500 Qantas Points. The Red Roo usually sells Sydney-Perth in Business Class for more than $2,000 one-way. But with 50% bonus Top-up Points, you can buy 82,500 Qantas Points for just $1,511 – almost enough for a return journey!
Buying Qantas Points Top-ups is also a fast-track way to reach Points Club and Points Club Plus status. Perks for these high-earning members include complimentary lounge passes – or even a full Qantas Club membership.
The current Qantas Top-up Points promotions
Expiry: 11:59 pm AEDT 17 December 2021
Offer: 50% bonus points.

Buy 1,000 – 4,000 Qantas Points = no bonus.
Buy 5,000 – 150,000 Qantas Points = 50% bonus.

Valid until: 17 December 2021.
Use Qantas Points for: reward seats on Qantas and partner airlines including oneworld members, Emirates and more. Upgrade Qantas flights with points.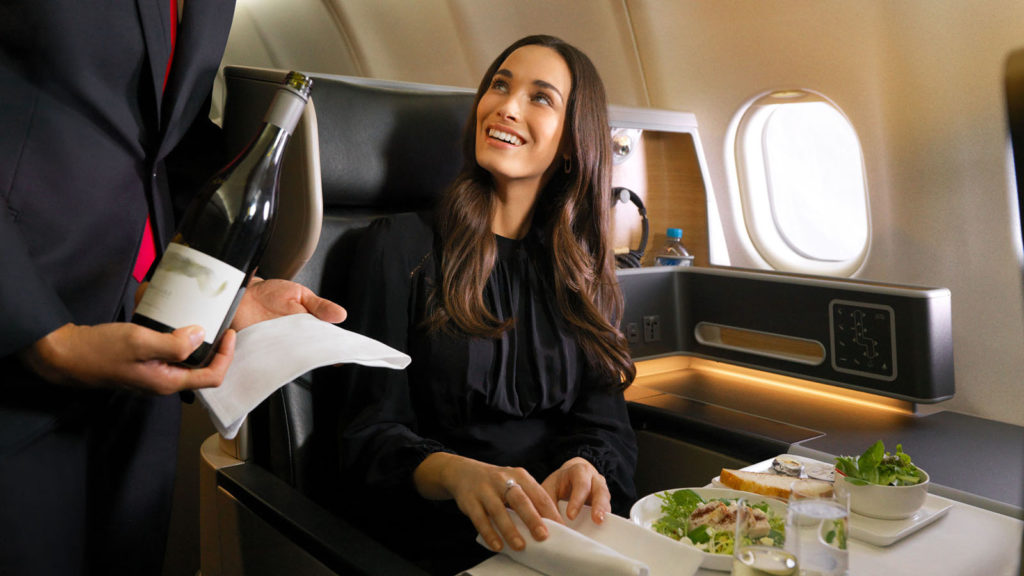 This promotion yields a decent per point price of 1.78 cents when buying 225,000 points for AU$3,999. You can get far more value than that when redeeming for Business and First Class flights, but generally not for Economy flights. As usual, we'd only suggest you buy points if you have a particular reward flight in mind.
As long as your Qantas membership account is more than 30 days old, you can buy Top-up Points up to four times in a 12-month period. With this current offer, you can theoretically max this out by buying 900,000 Qantas Points for $15,996. That's quite a hefty haul, so you'd probably be wanting to plan First Class flights around the world!
If you want to buy points for multiple family members, consider splitting up the purchases. Each family member could benefit from the purchase and get closer to Points Club or Points Club Plus status.
Purchase Qantas Top-Up Points here →
Ad – Scroll down to continue reading.Minimum spend, terms & conditions apply.
Offer history
Qantas Top-up Points offers are few and far between. But we've started keeping track of these deals from April 2021, so hopefully, we'll see more deals in 2022 and beyond.
Date
Bonus offer (%)
Notes
December 2021
50
highest
(tiered from 5,000 points)
April 2021
50
highest
(tiered from 16,000 points)
Summing up
Qantas Frequent Flyer is a popular program, but keep in mind that it costs lots of points for the same flights compared to some other partner programs like Mileage Plan or AAdvantage. Qantas Top-up Points is usually poor value, but a 50% bonus sweetens the deal somewhat.
This promo is probably best for those who want to boost their Qantas Points balance, but without the fuss of dealing with overseas programs. If that's you, go for it. And of course, the boost to Points Club or Points Club Plus status is handy as well. Just be sure to aim for Business or First Class reward flights.
If you want to know all your other options, check out our dedicated guide on other ways to buy Qantas Points. After all, one can never have enough Qantas Points.
This content contains affiliate links. Point Hacks may earn commissions from transactions generated from new customers, bookings and general enquiries. Find out more here.
Top-up Qantas Points with up to 50% bonus
was last modified:
December 13th, 2021
by