At the beginning of 2019, my best friend from high school and I decided to plan a trip to the United States. She had never visited New York and San Francisco so we chose these as our two destinations. As we were going to be in both places for five nights, we wanted accommodation in both cities that was convenient and comfortable. In New York, we chose the Moxy NYC Times Square.
Research & Booking
A relatively new addition to the New York hotel scene, Moxy NYC Times Square opened its doors in September 2017 and is currently ranked #296 out of 498 hotels in New York City on TripAdvisor.
The hotel is a Marriott Bonvoy Category 6 hotel so you can secure yourself a base room for 50,000 points per night (or 40,000 points for off-peak nights and 60,000 points during peak—when these options are introduced).
Rooms start at US$238 (AU$341) for a 'Guest room' with a double bed. I kept a close watch on the Mariott website prior to my departure, and on two occasions, I found lower room rates than those that I had selected. As such, I 'modified' my booking to secure myself and my friend a better nightly rate.
Lobby & Check-in
We arrived at the hotel just before 8pm and were advised that we had both been given rooms on the highest guest floor, 17. We were both also given three 'coins' that we were told could be redeemed for drinks at Bar Moxy.
There are six check-in stations on the ground floor, so guests entering always have a clear path to the lift area.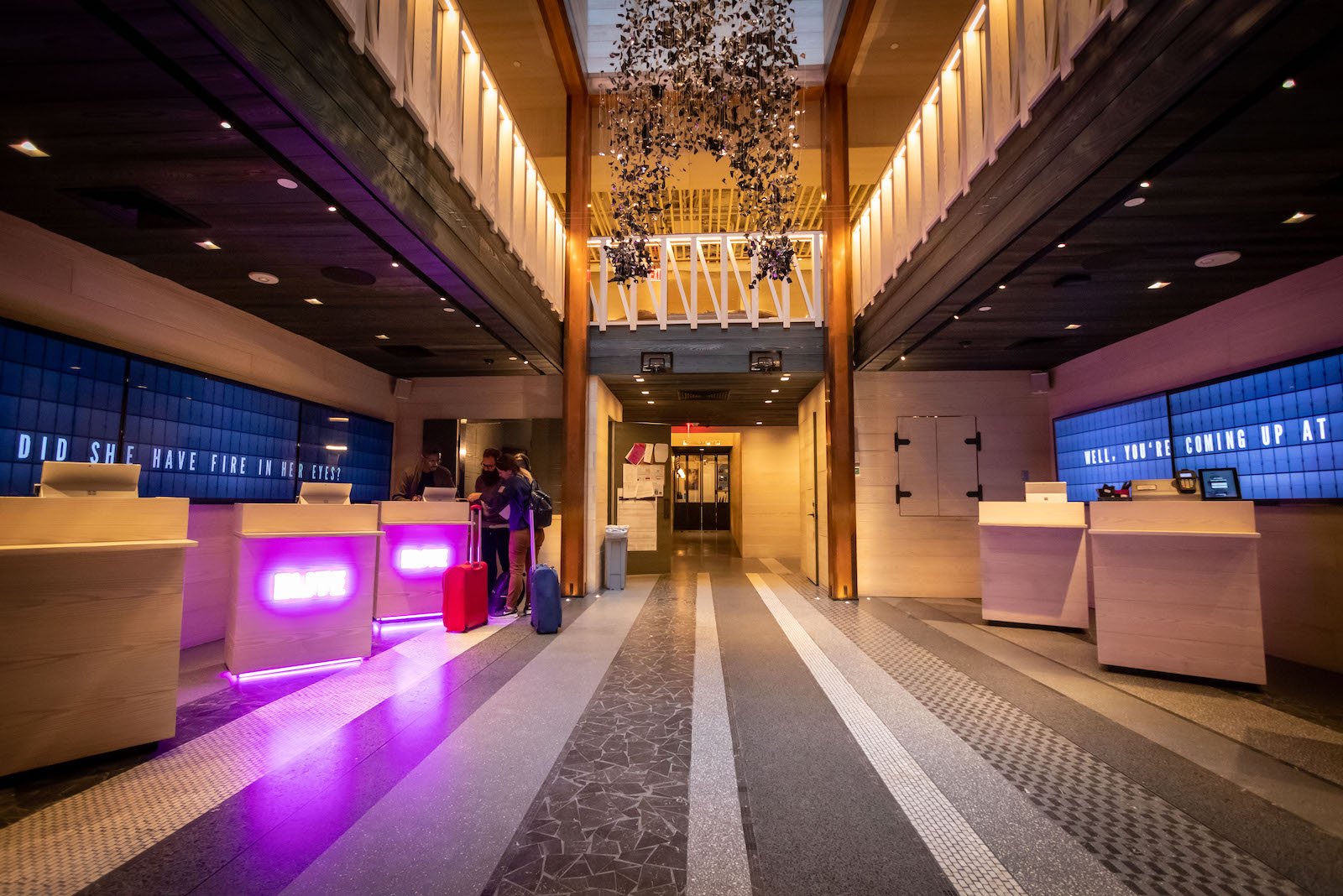 Along the length of the entire space, several large digital displays feature split-flap style messages that change constantly.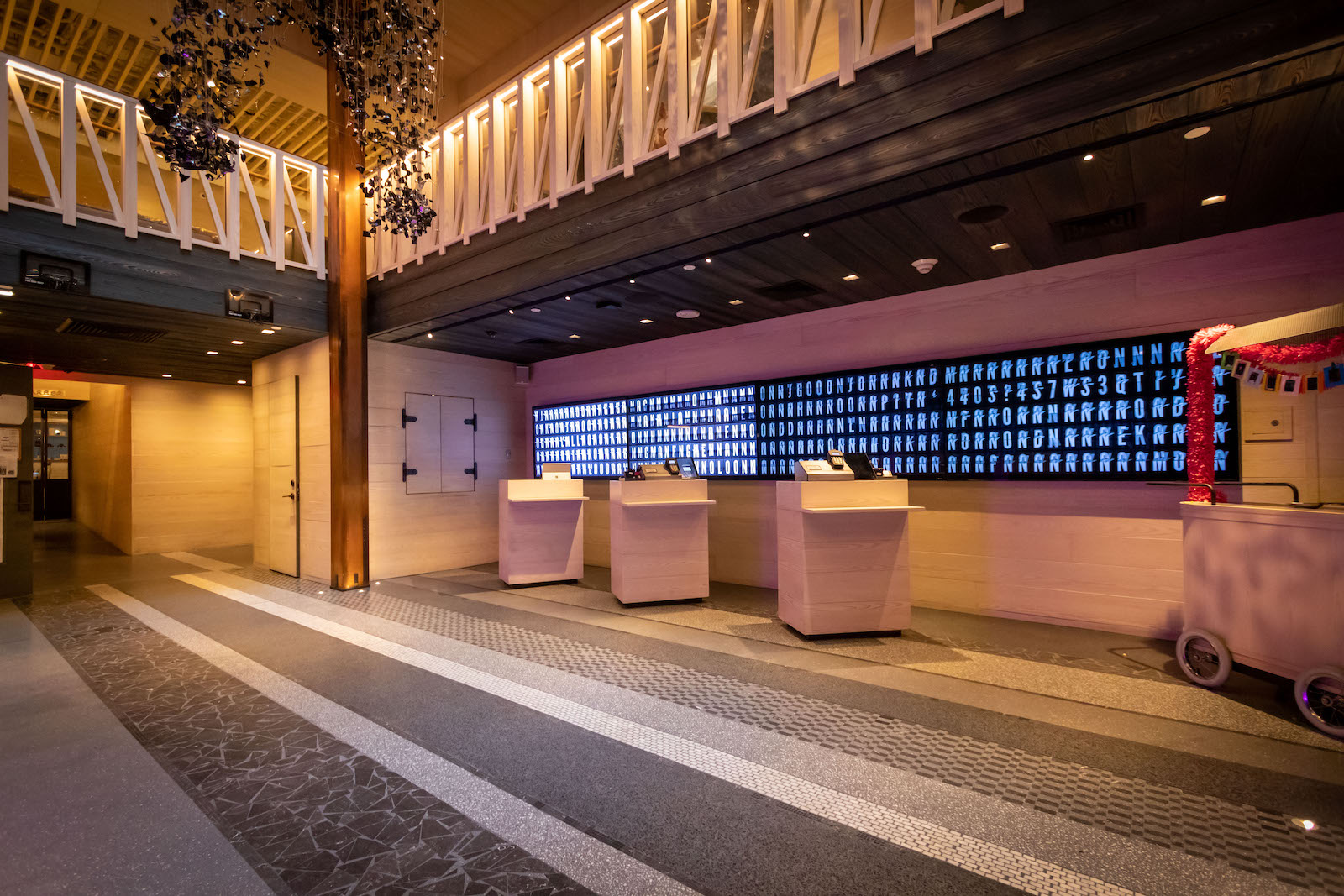 Room
As with many hotels in New York, the rooms aren't large and whilst we were told the rooms we were given on Level 17 were larger than others in the category, they were still small.
You enter the room and immediately to the left is the wet area/bathroom.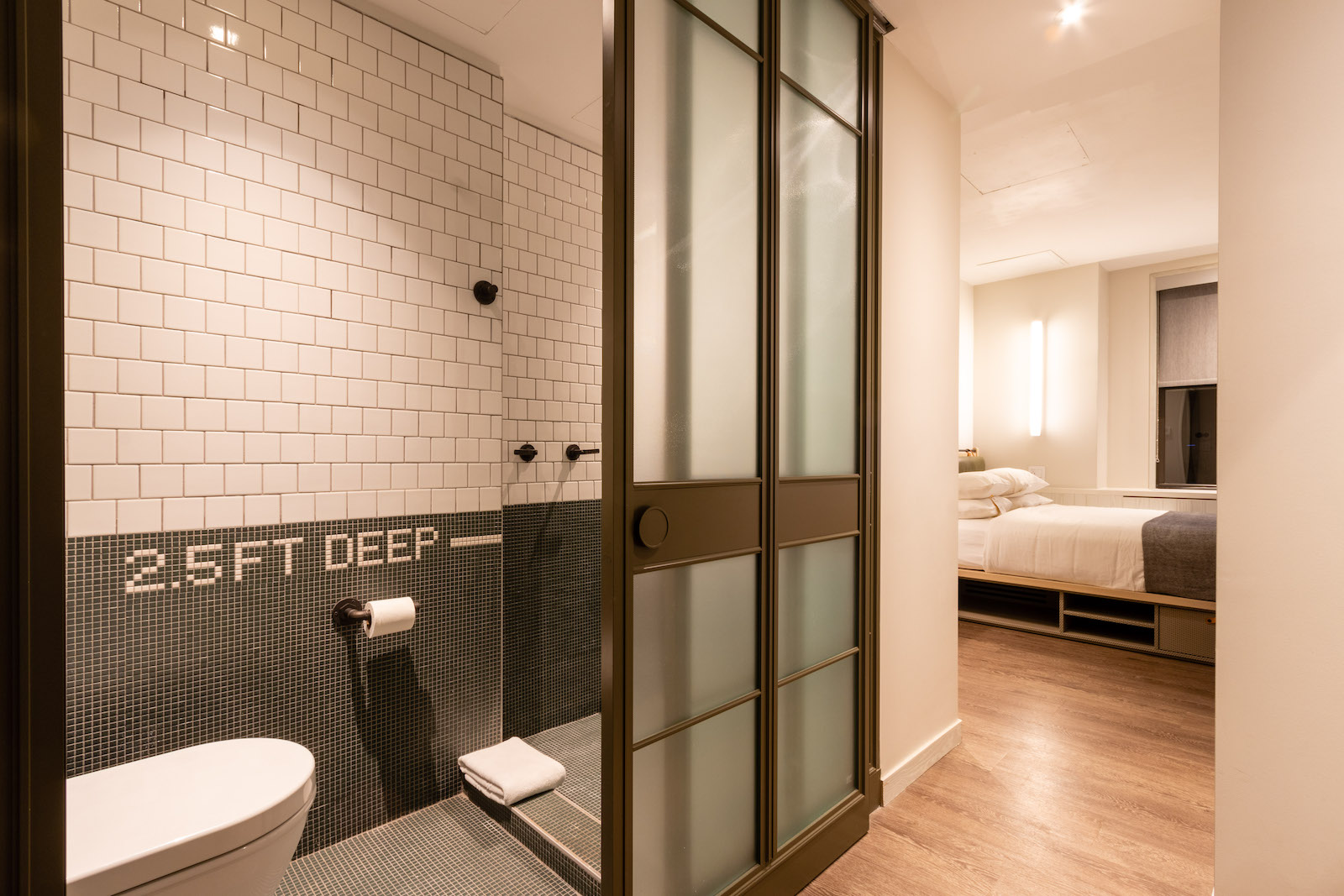 To the right is a full-length mirror and the open pegboard closet system that features in all rooms.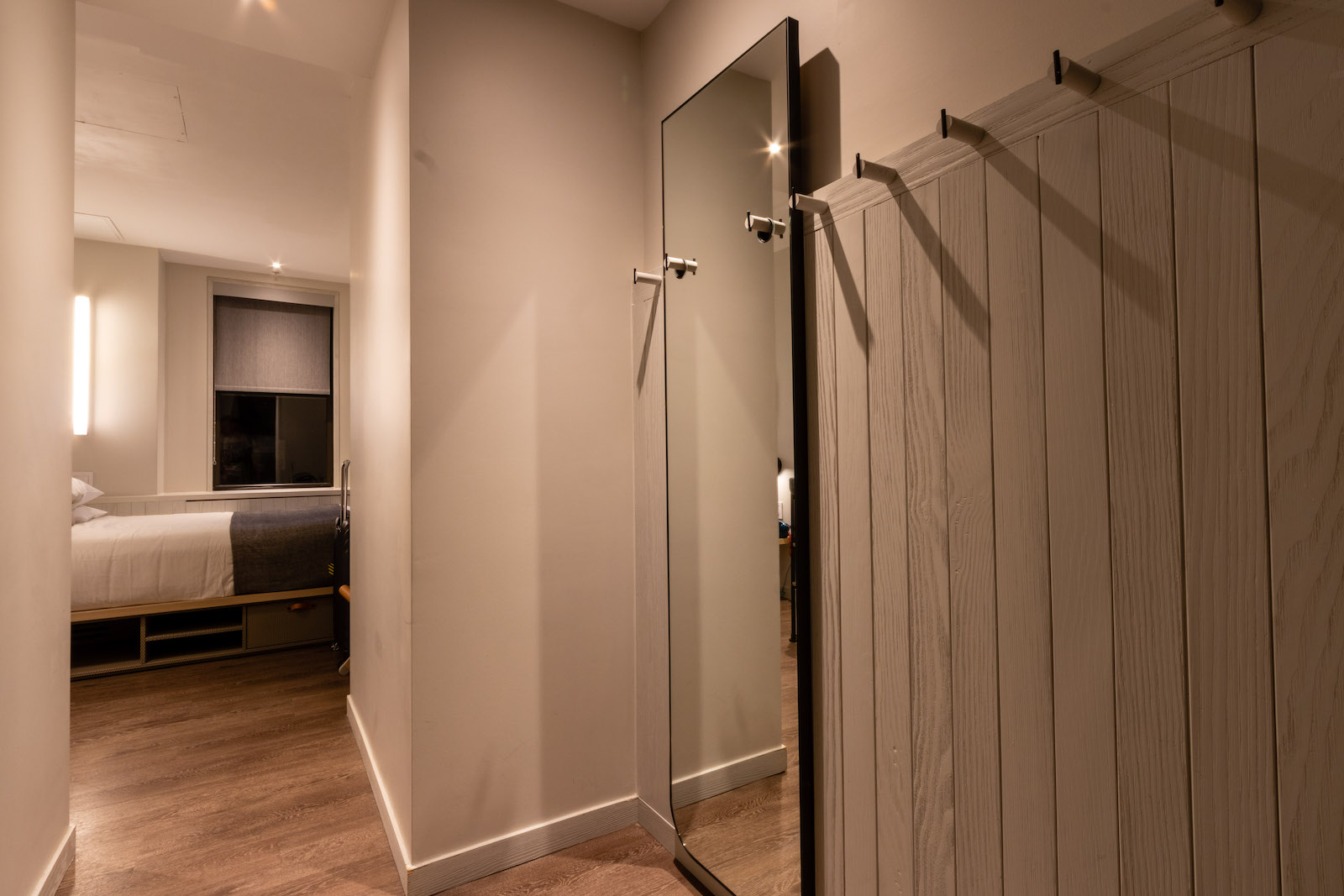 Down the short hallway, the room opens into the main space with a double bed against the far wall, a side-table with a retro phone for calling the 'crew' and for playing bedtime stories.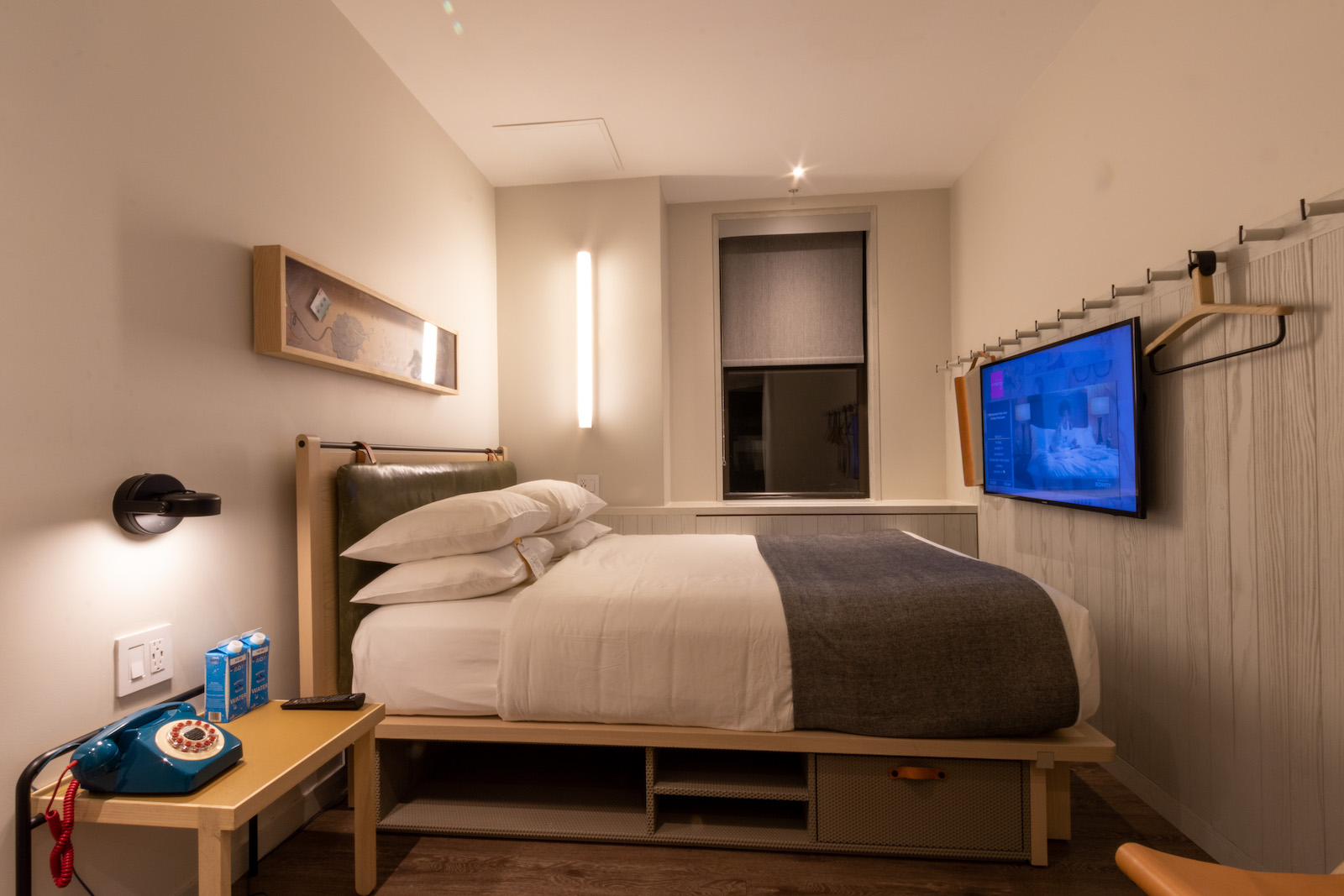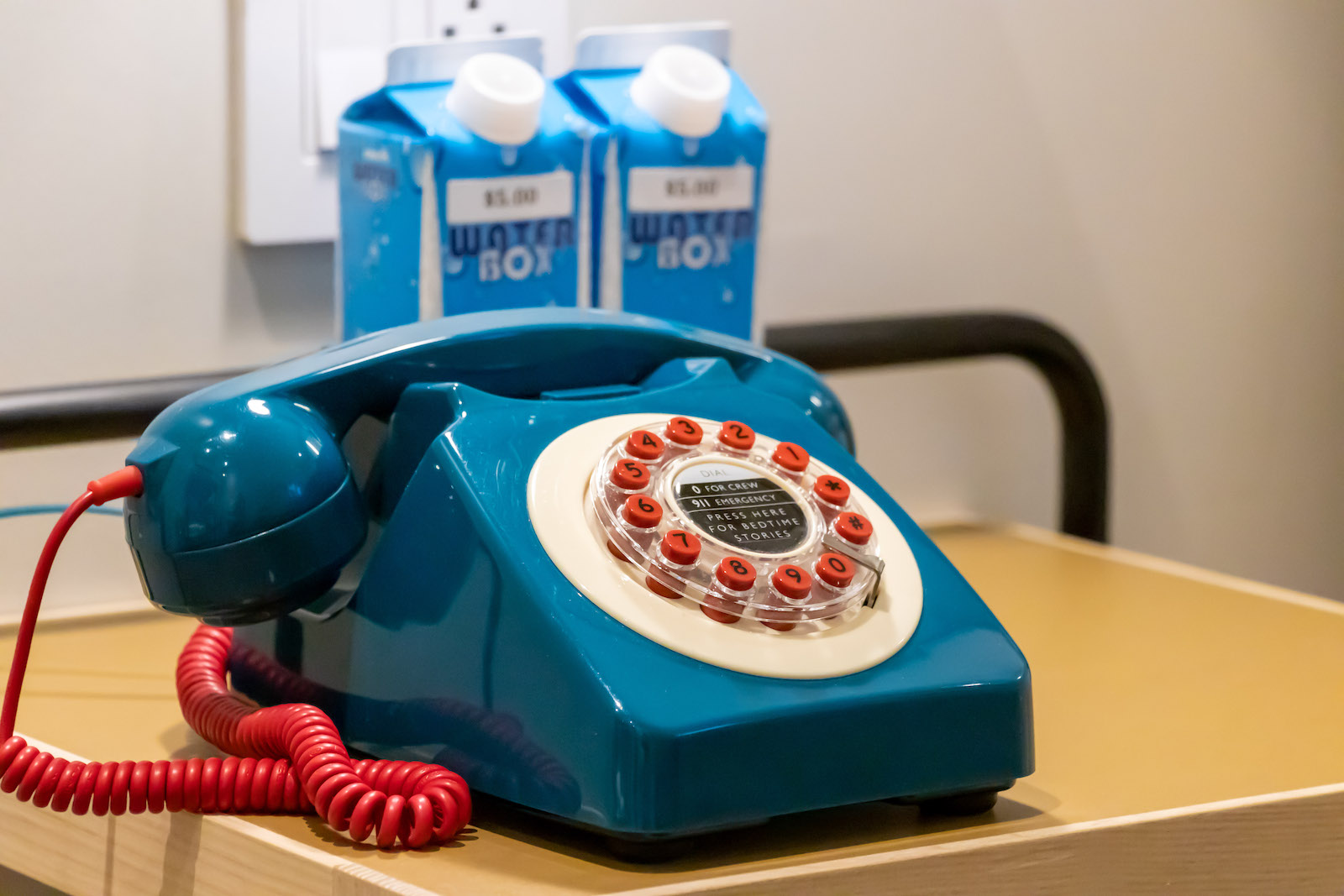 The open pegboard closet systems continues in this space and features several wooden hangers for your clothes, a foldable chair and a 'desk' that folds completely flat but works wonderfully as both a laptop stand and table for in-room dining. There's also a 43-inch flat-screen television opposite the bed.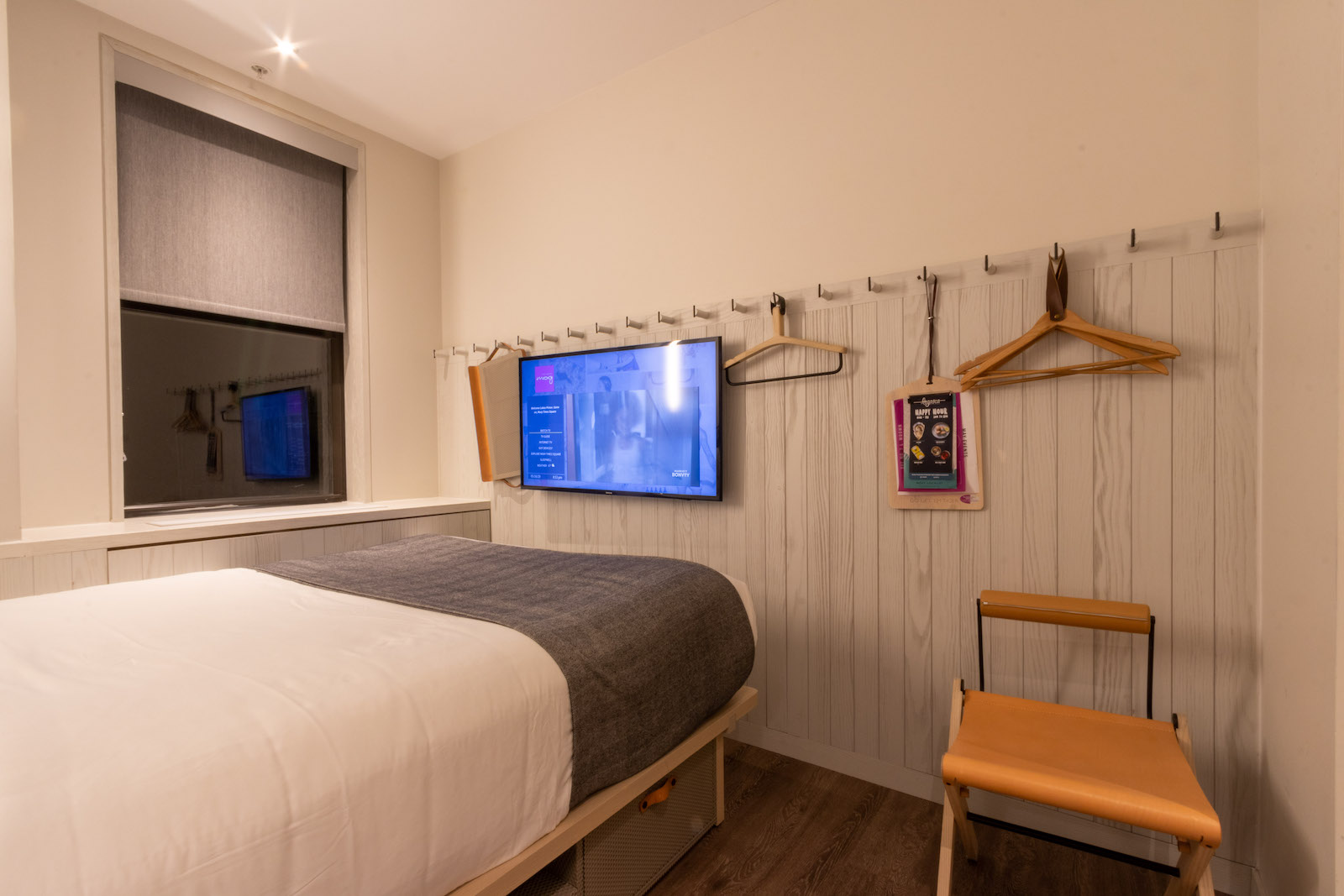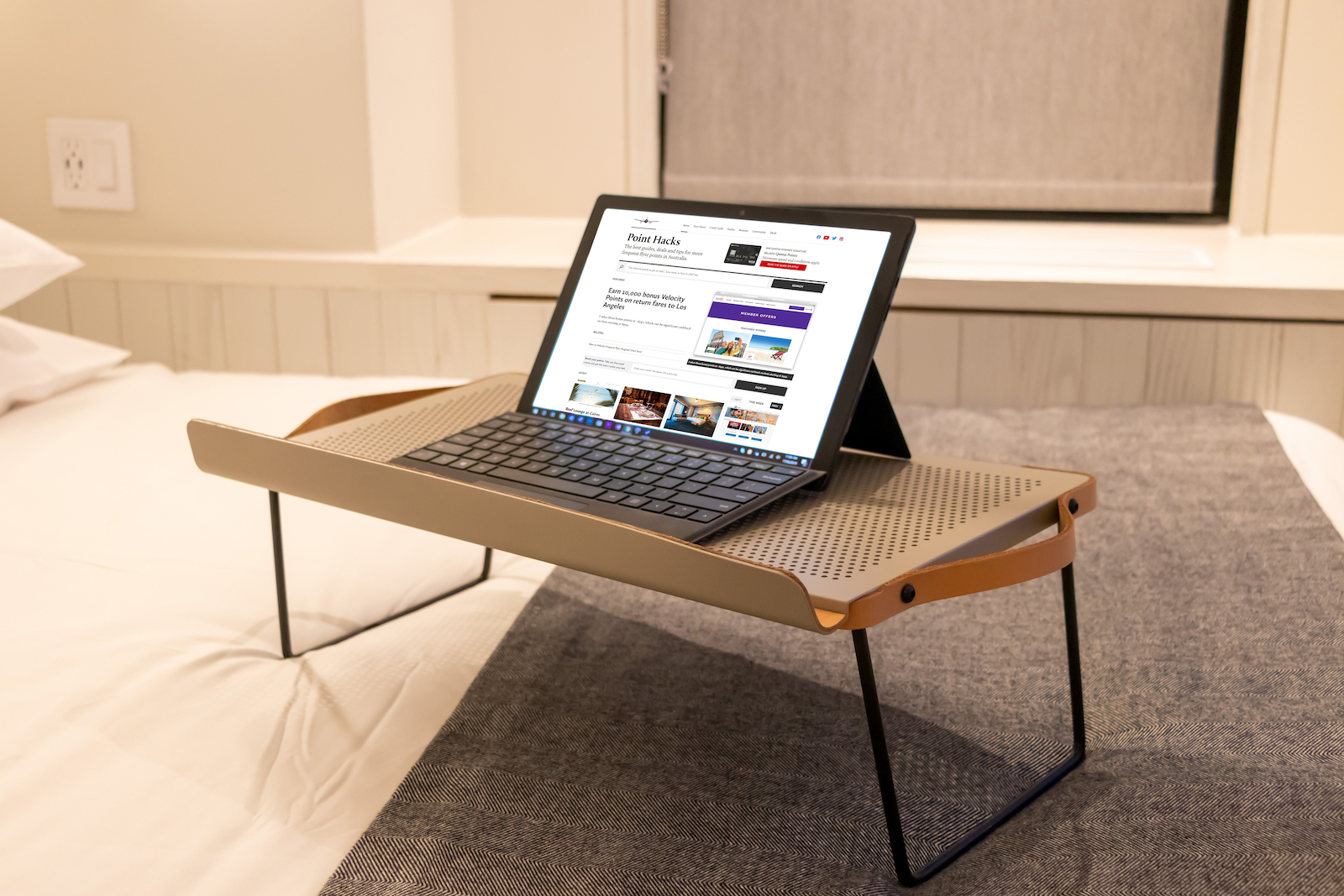 Bathroom
Immediately to the left of the door when entering is the whimsically styled wet area. Taking up almost half the room, the entire space is designed to resemble a public pool, complete with 'No Diving' sign in the shower.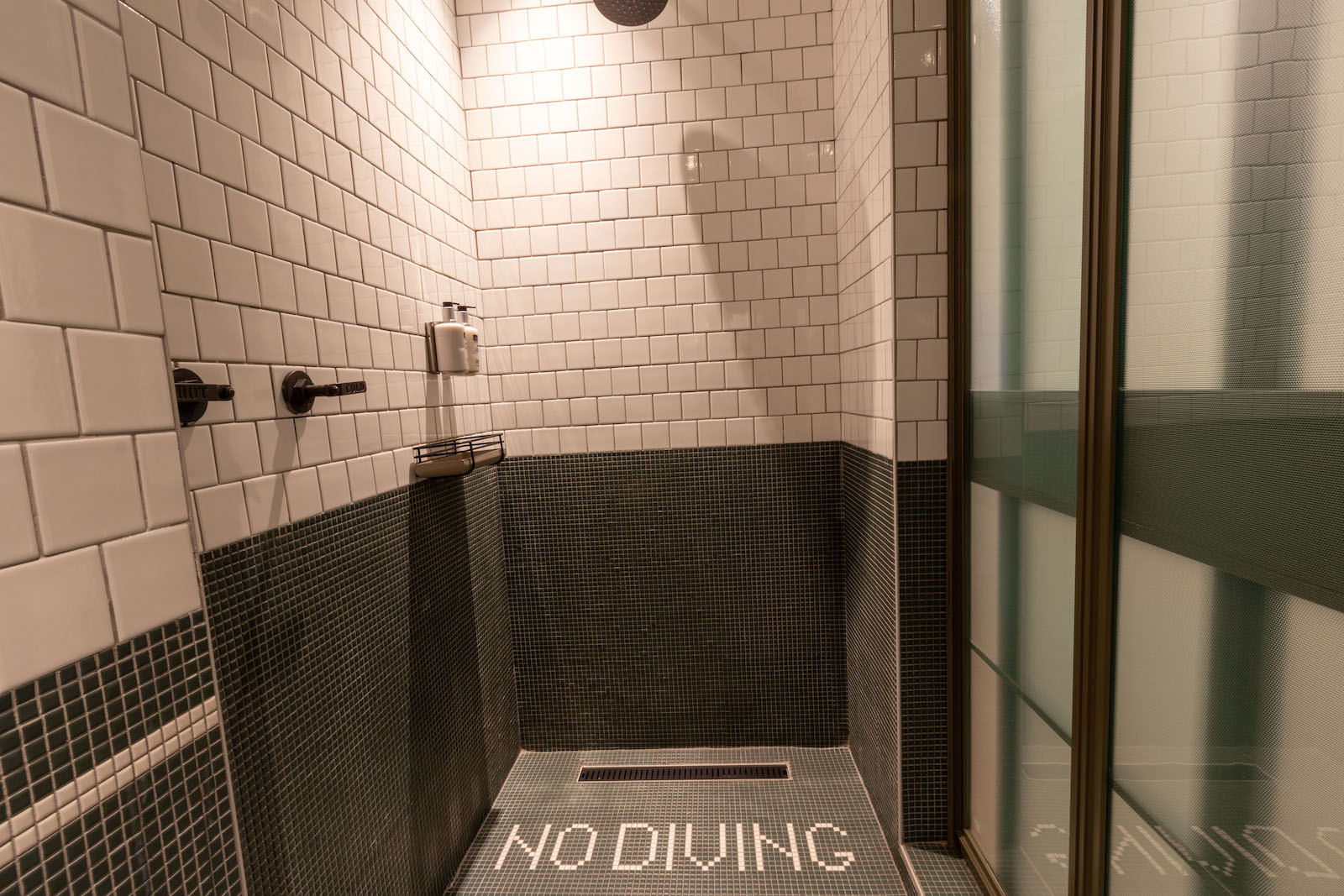 There is, however, no sink or vanity in the wet area, with these items placed outside near the bed. Coupled with the size of the room, its placement and the choice of fixtures, having the sink next to your bed did make you feel like you were in a prison cell. Albeit one with WiFi.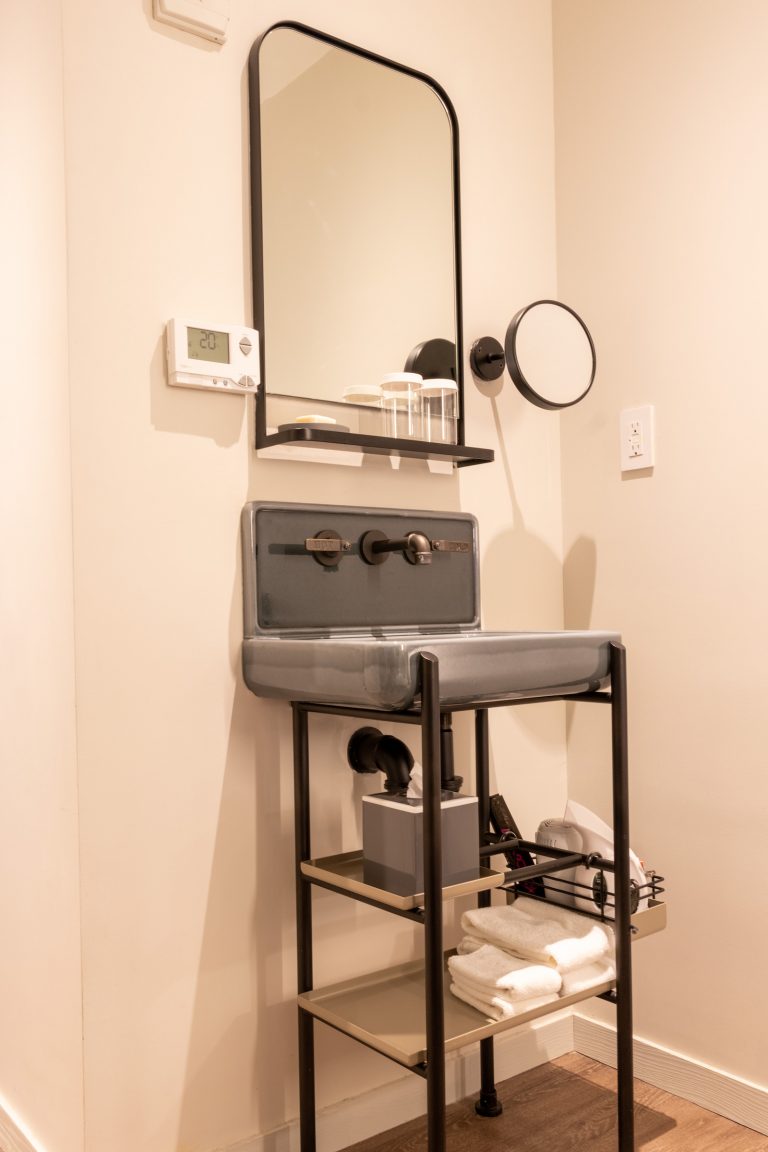 Restaurants & bars
The Moxy NYC Times Square has five dining and nightlife options. Bar Moxy, at the heart of the hotel on Level 2, is a lovely light-filled space with two dedicated rooms for meetings and plenty of seating options.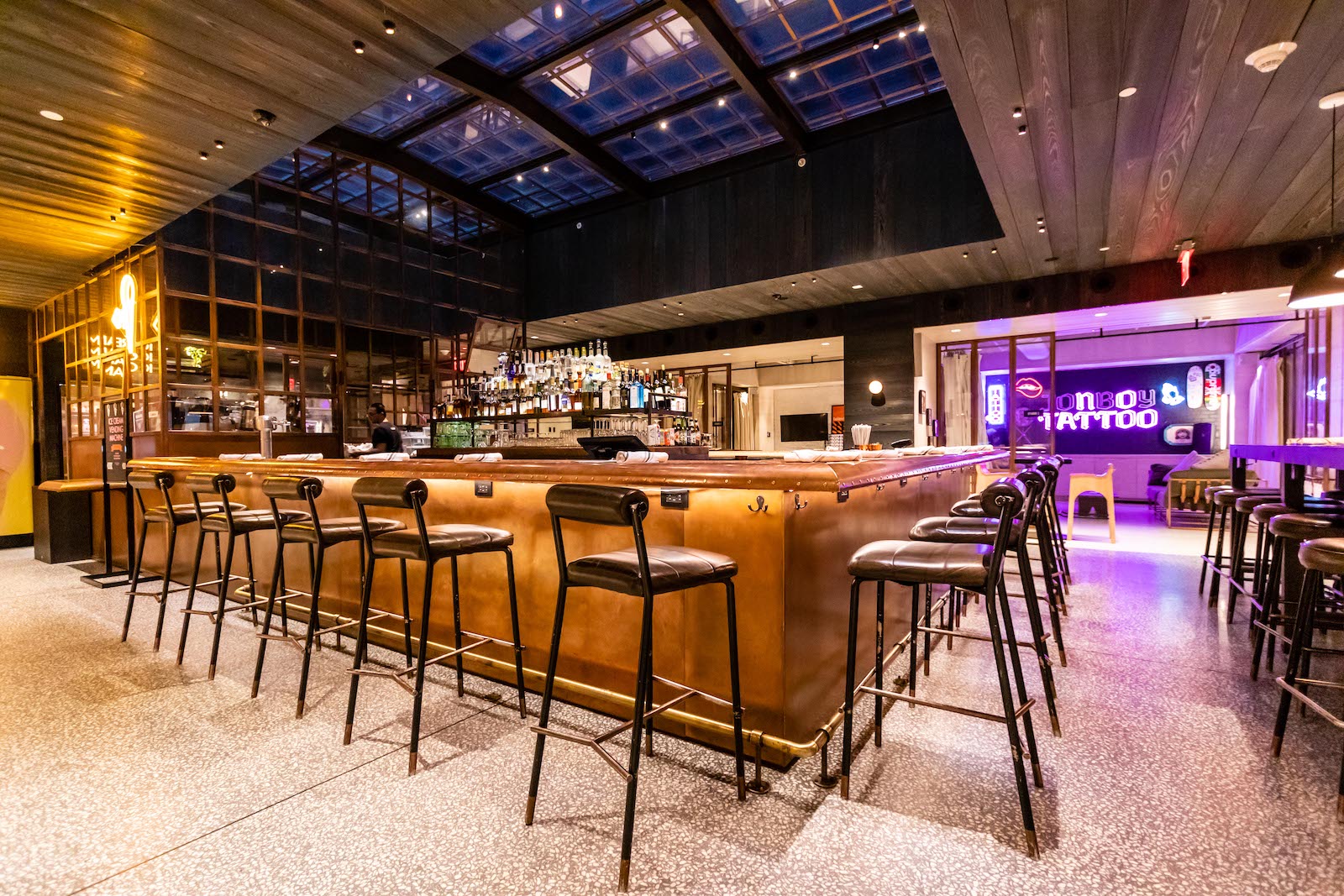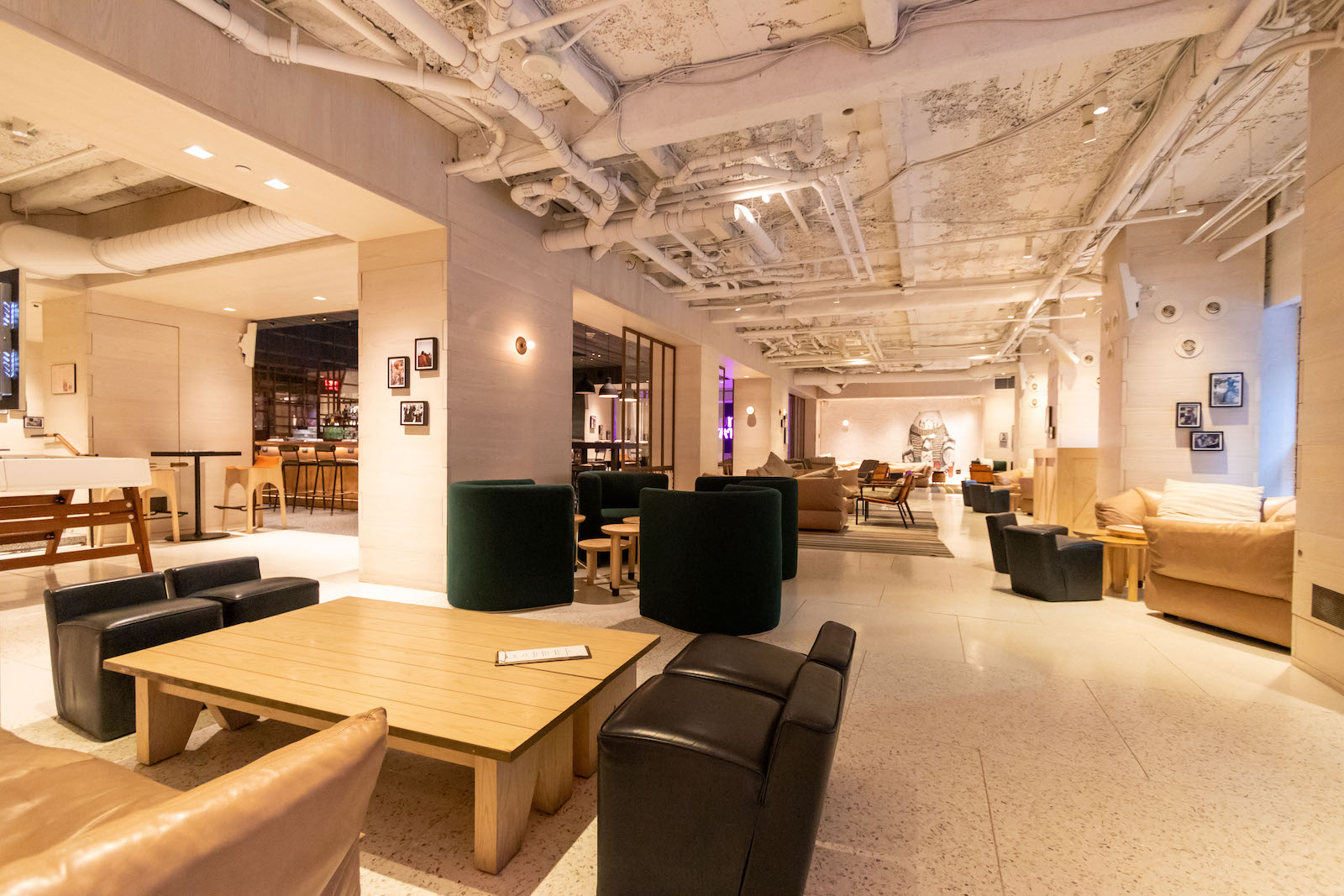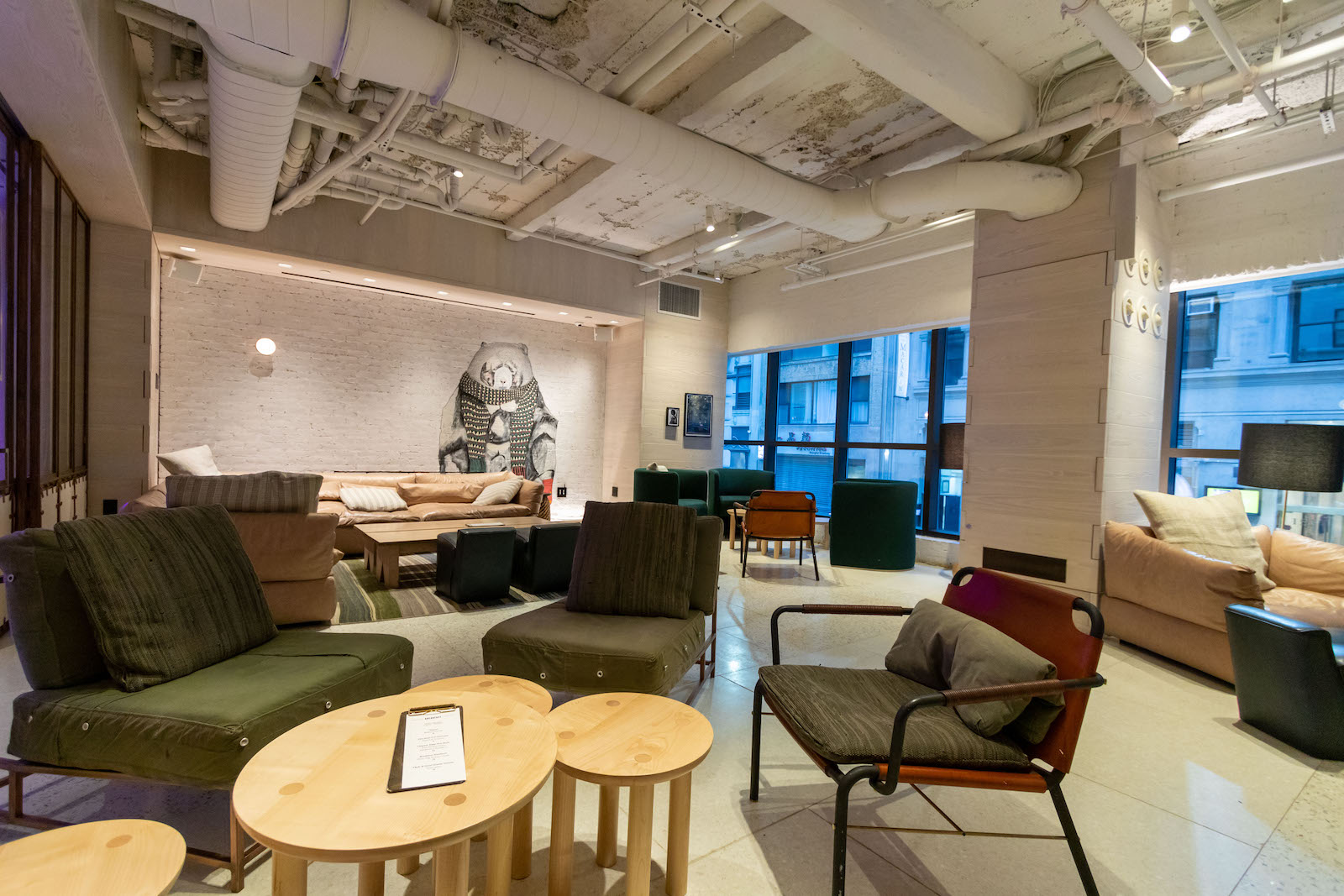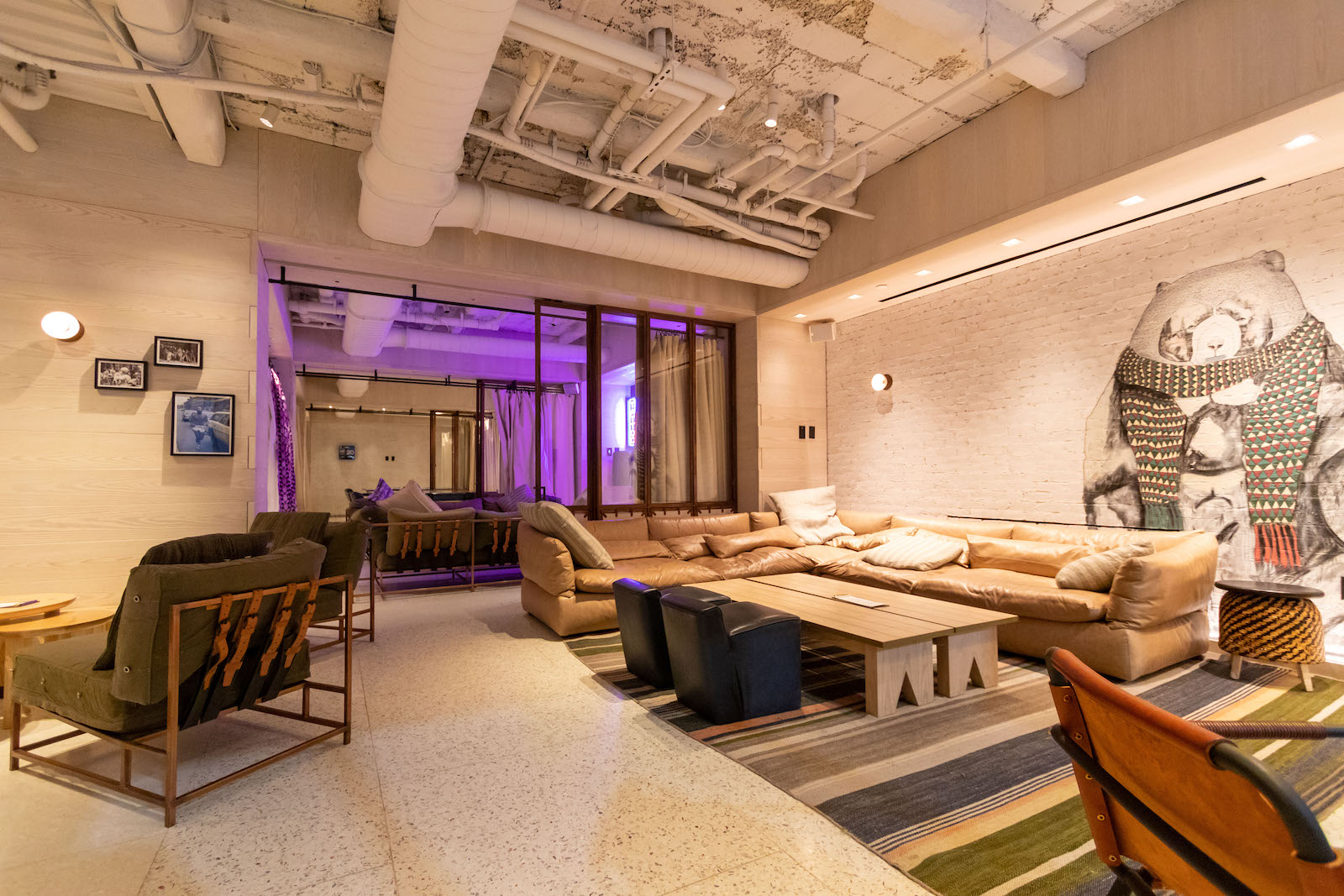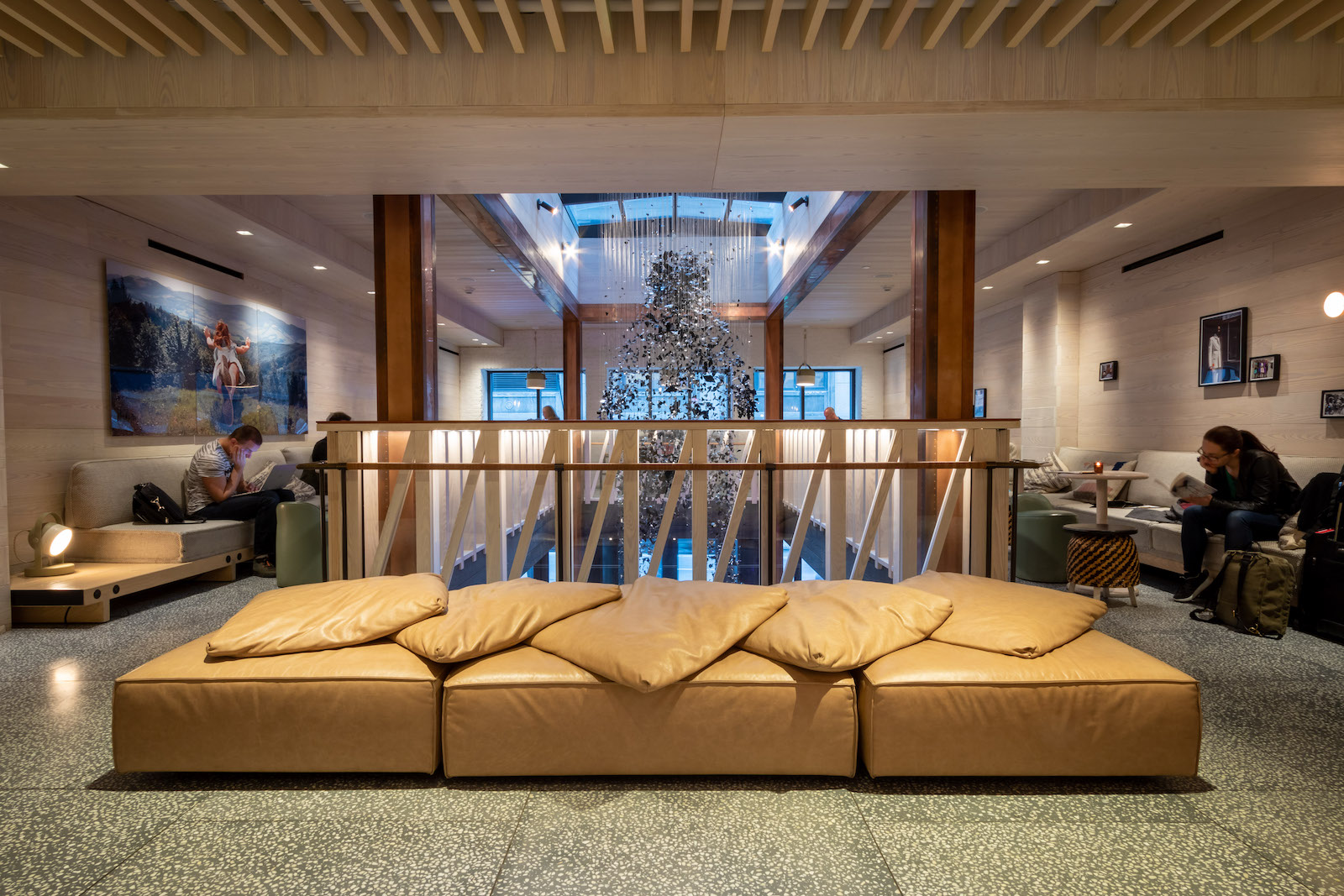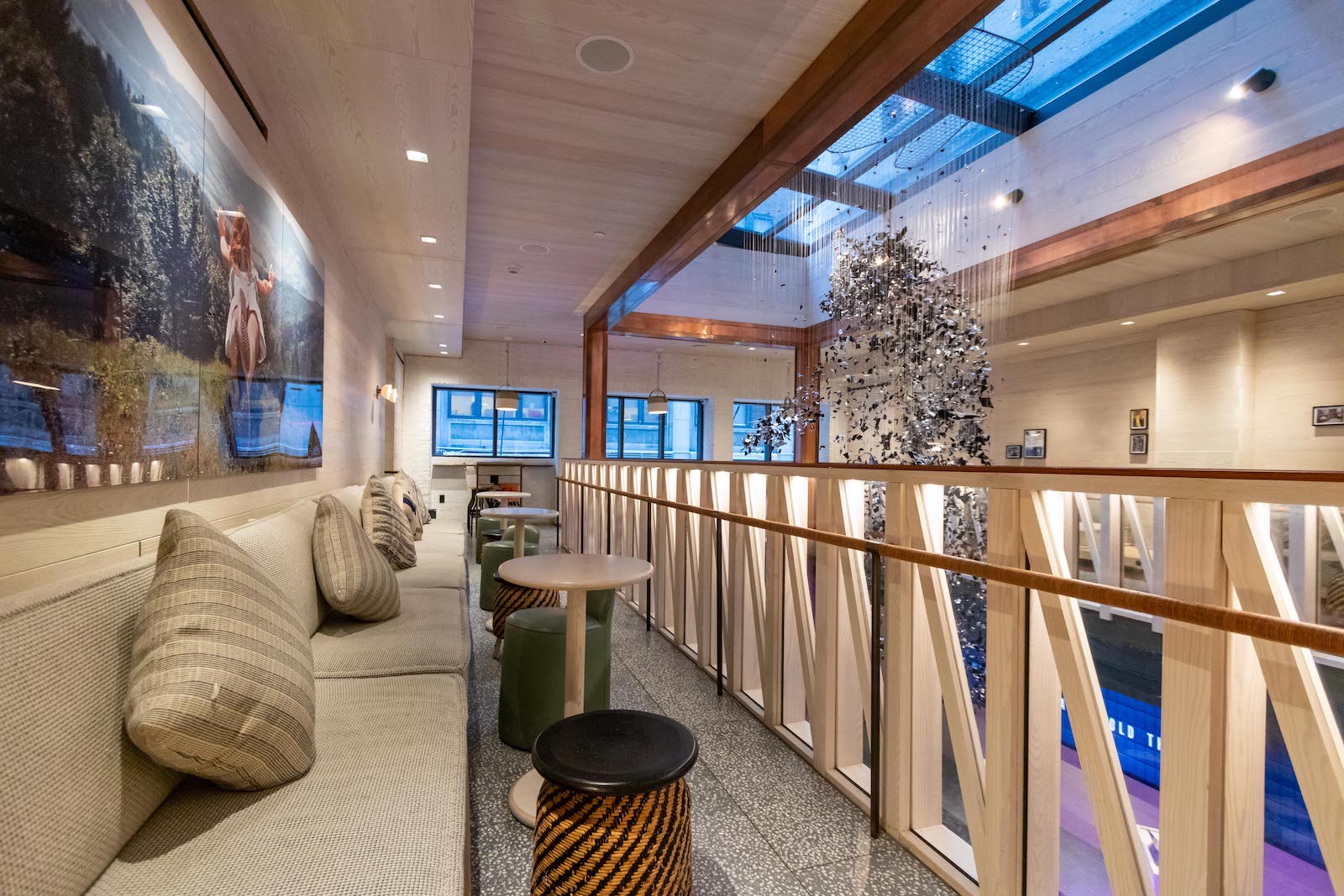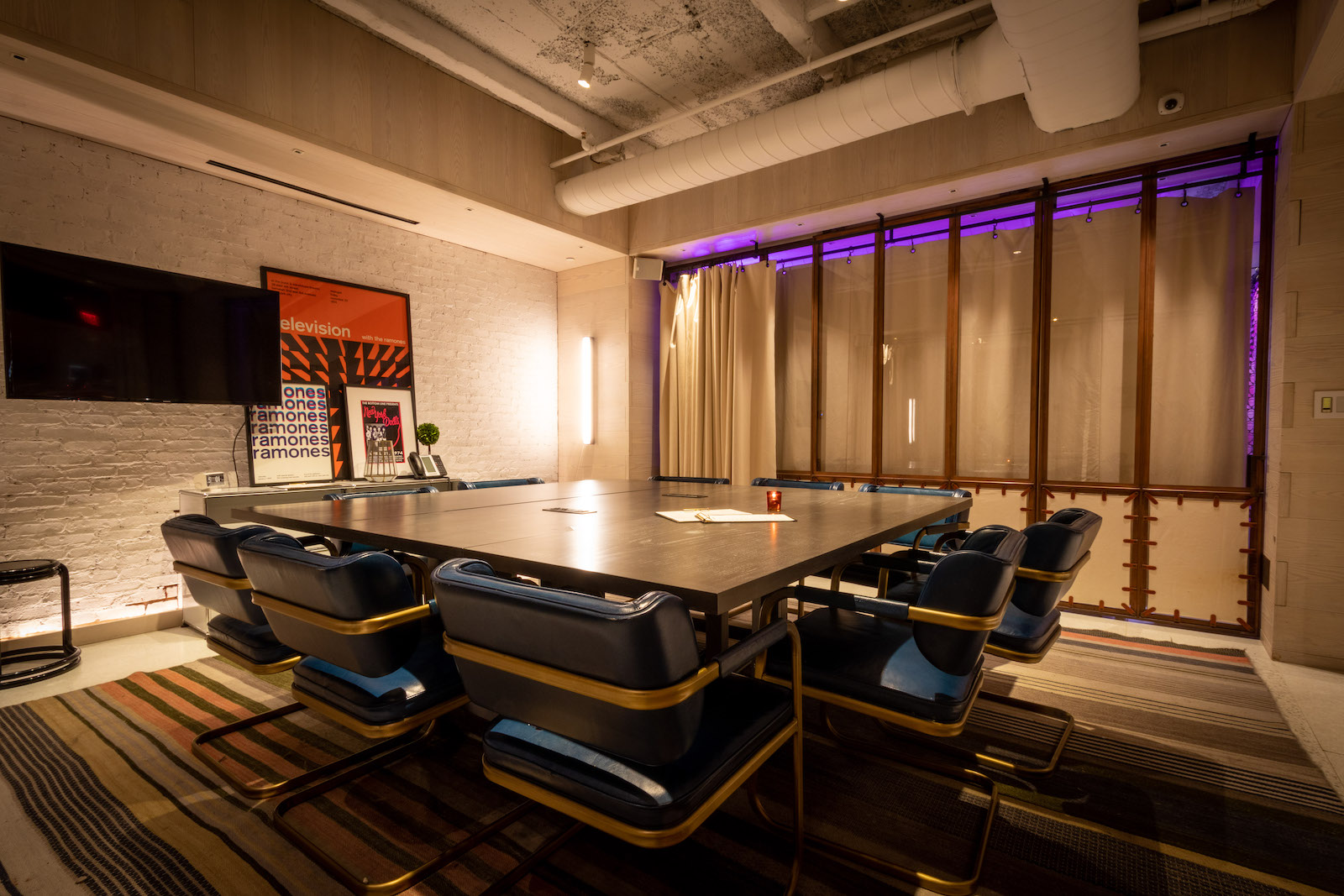 Next to Bar Moxy you'll find The Pickup, the hotel's grab and go café.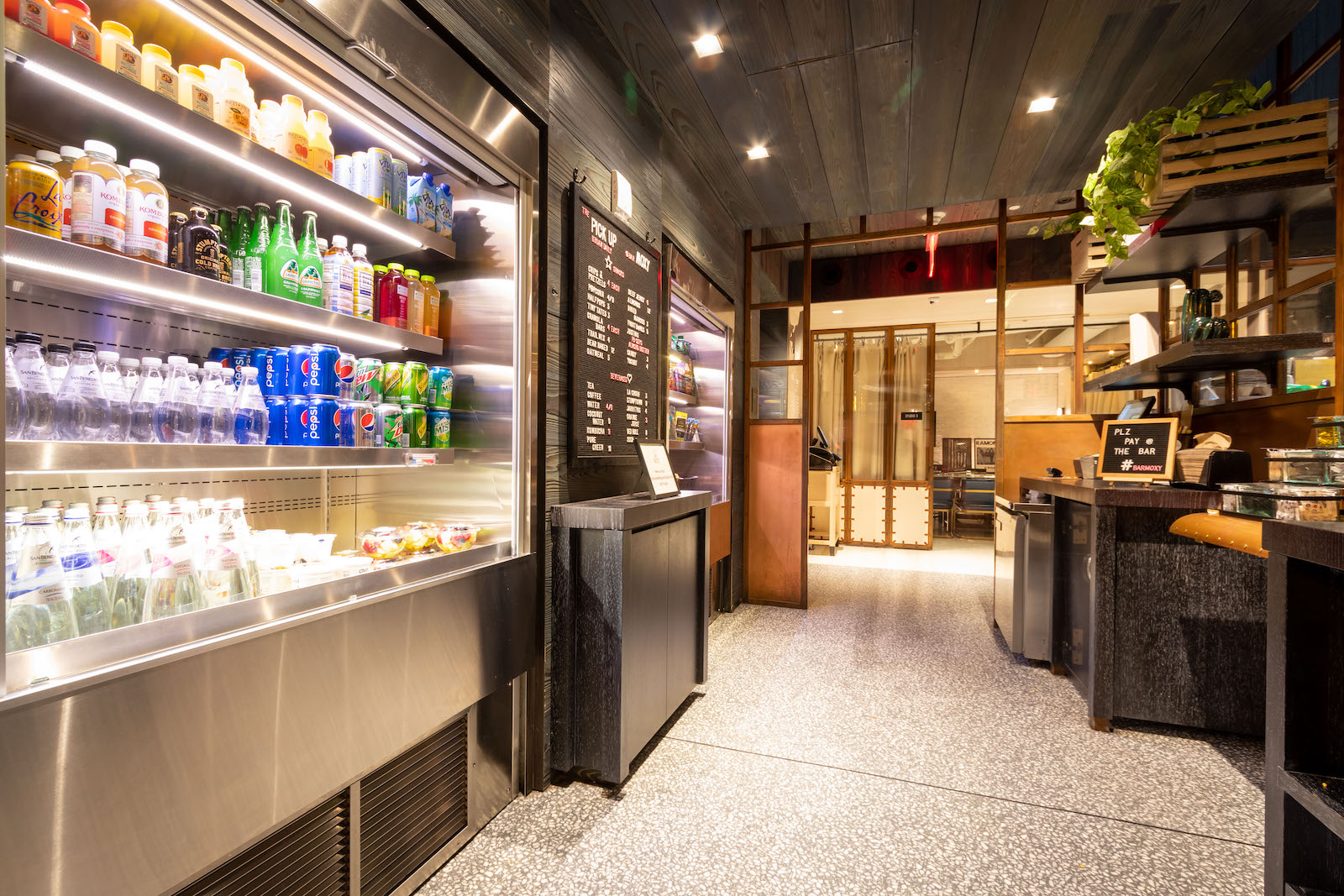 Also on Level 2 is Legasea, a modern seafood brasserie.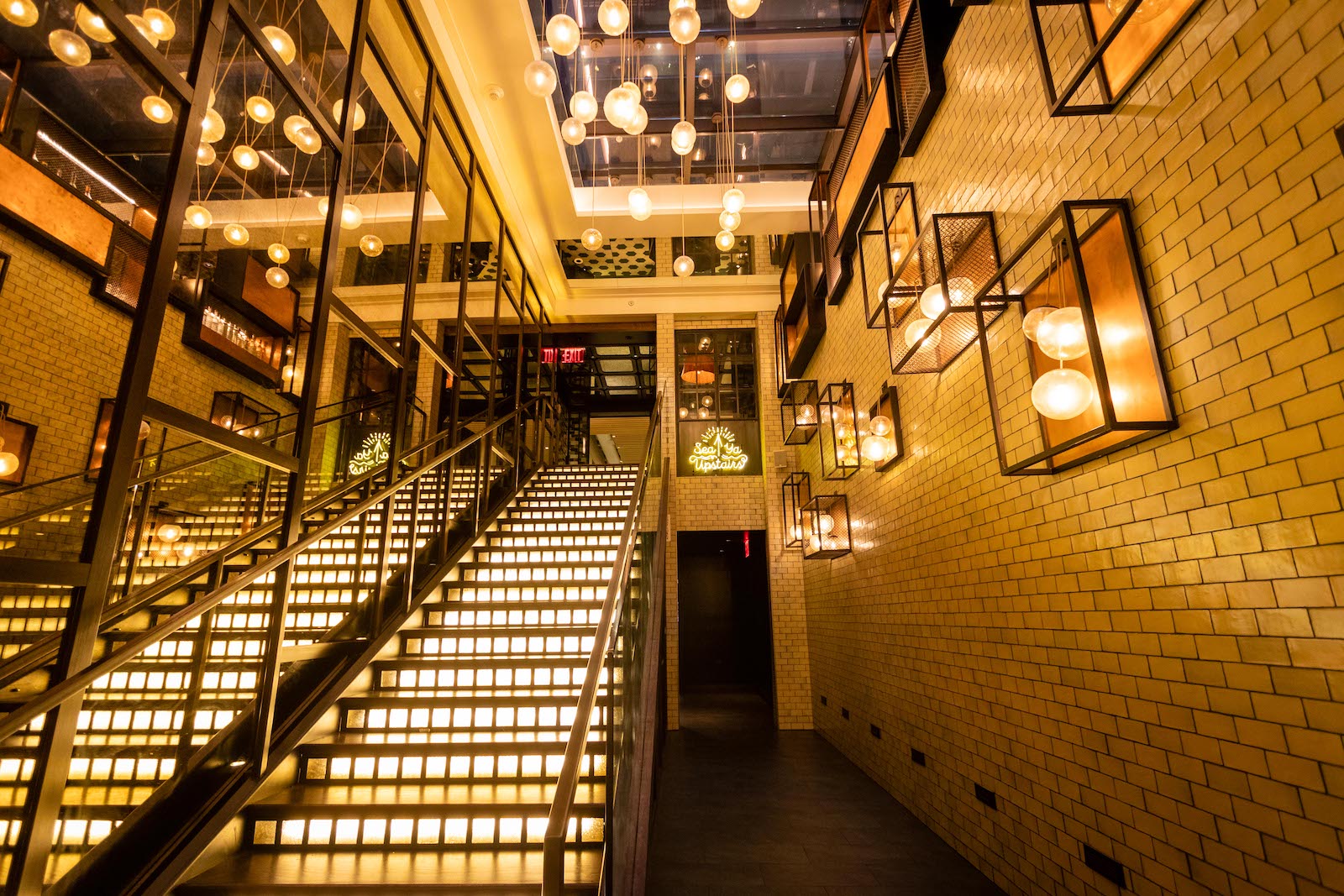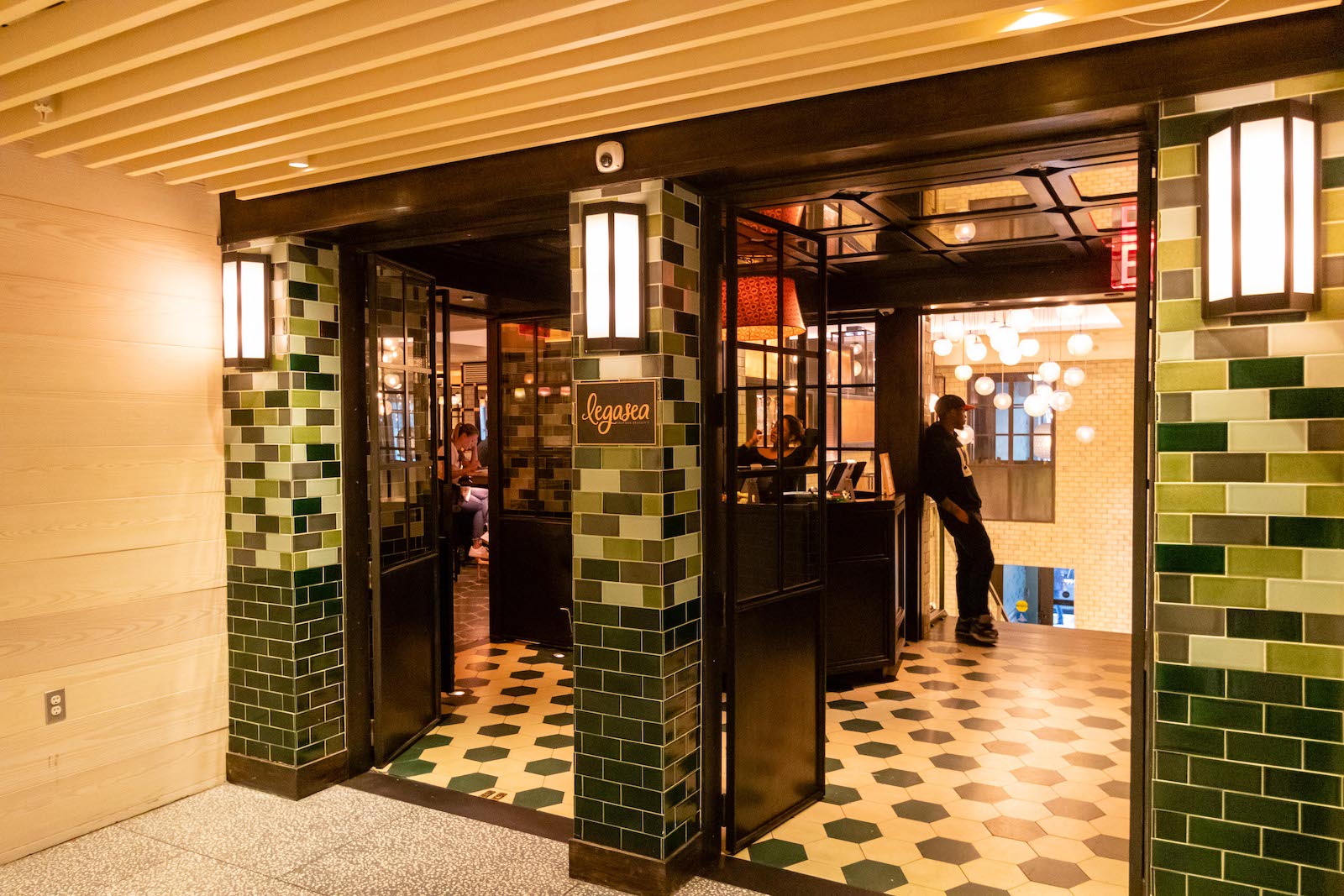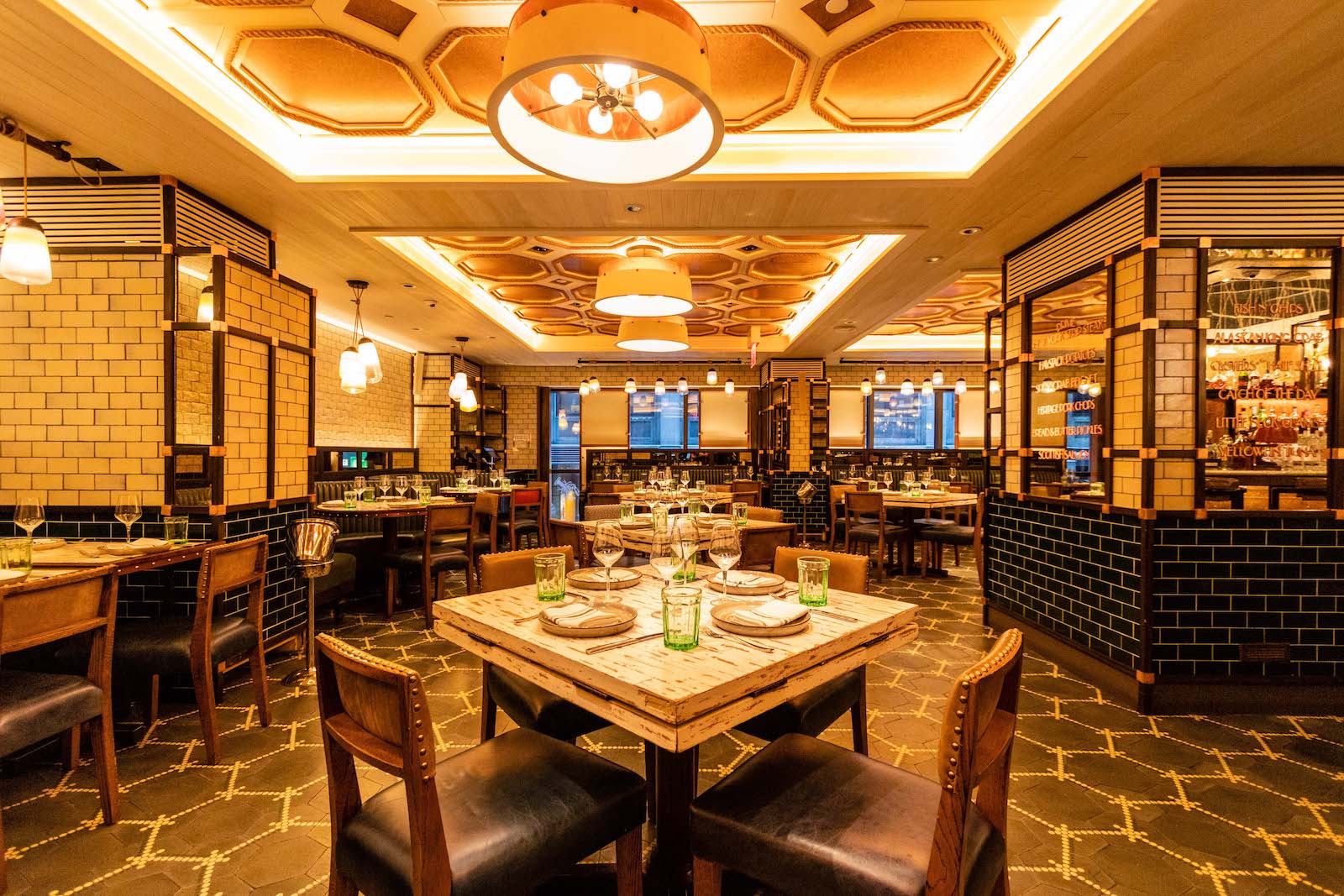 On the street level, you'll find Egghead, an 'egg-centric' sandwich shop with the main staple of, you guessed it, eggs!
The hotel's crowning glory, however, is Magic Hour, a large rooftop bar and lounge with views to the Empire State Building and featuring an oversized topiary garden and a putt-putt golf course that is home to trippy animal sculptures.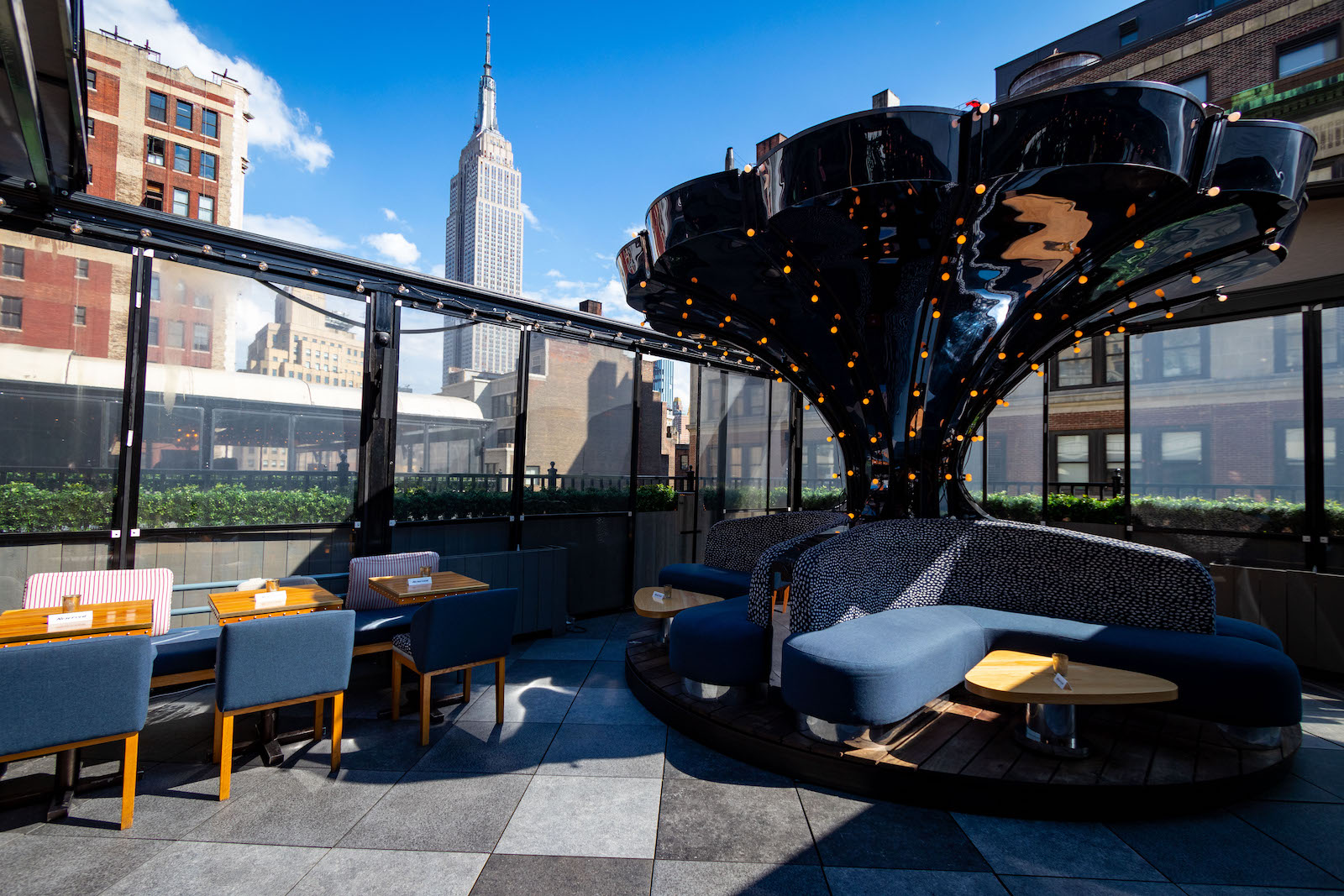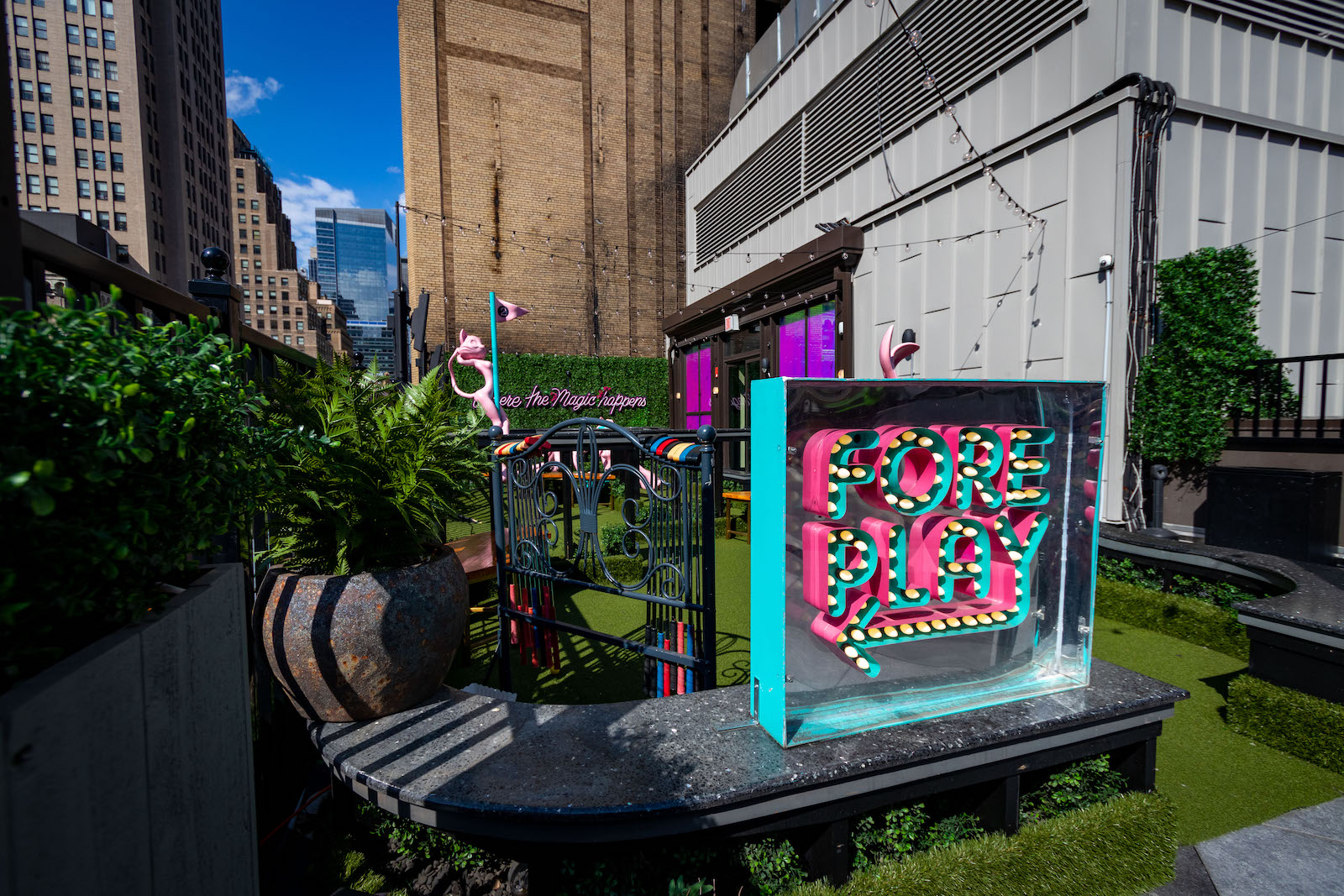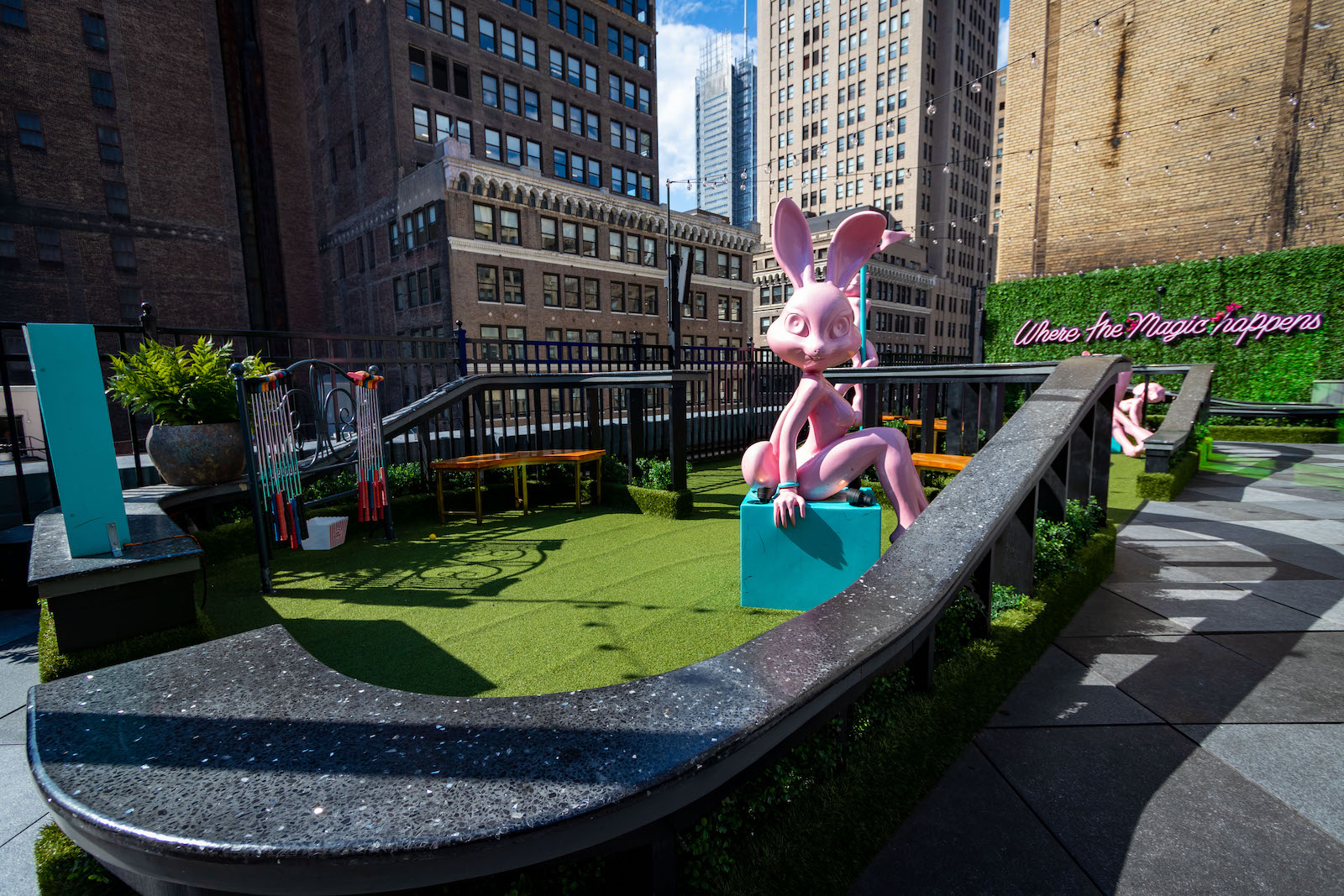 Unfortunately, Magic Hour is also the hotels greatest disappointment. During check-in, we were told that guests had priority, internal access to the lift that goes directly to the rooftop. When we returned to the hotel with some friends one evening and wanted a nightcap at the rooftop bar, we tried to use the guest entrance only to be told that we had to wait outside with the hundred or so other people queueing to enter.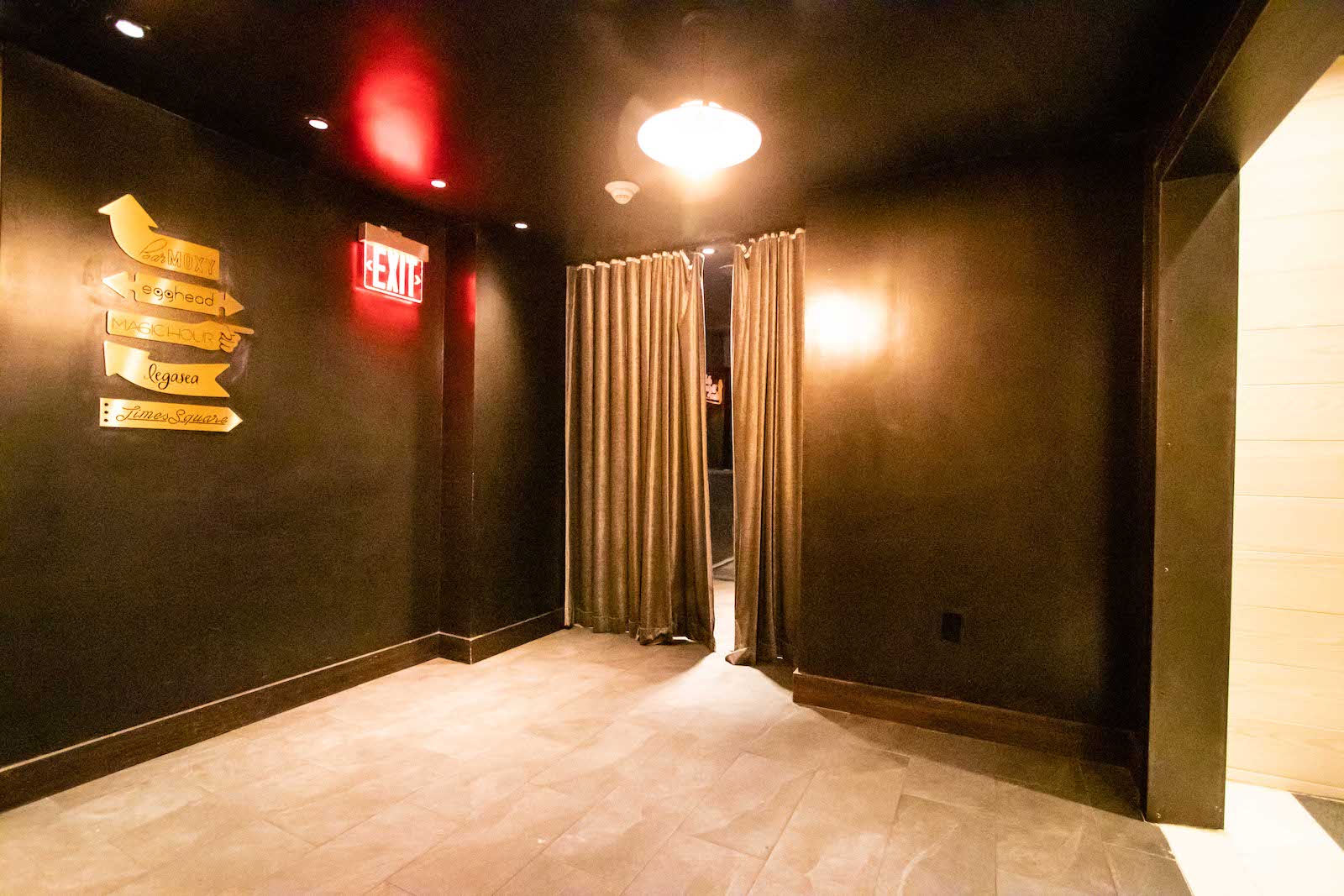 Attempting again a few nights later, we were told to wait at the guest entrance, only to be told again that we had to join the queue of people outside if we wished to use the bar. Following this interaction, I complained to the front desk stating that we were told on check-in that guests were able to use the internal entrance and go directly to the bar.
Between the security at the door to the rooftop bar and the team on the front desk, no one was able to give me a direct answer about the accessibility options for the rooftop bar. As a result, we queued outside on a Monday afternoon, on our last day, waiting for Magic Hour to open so at least we could experience it once during our visit.
Facilities
Open 24/7, Sweat at Moxy is the hotel's fitness centre, featuring treadmills, ellipticals and a small selection of free-weights and kettlebells.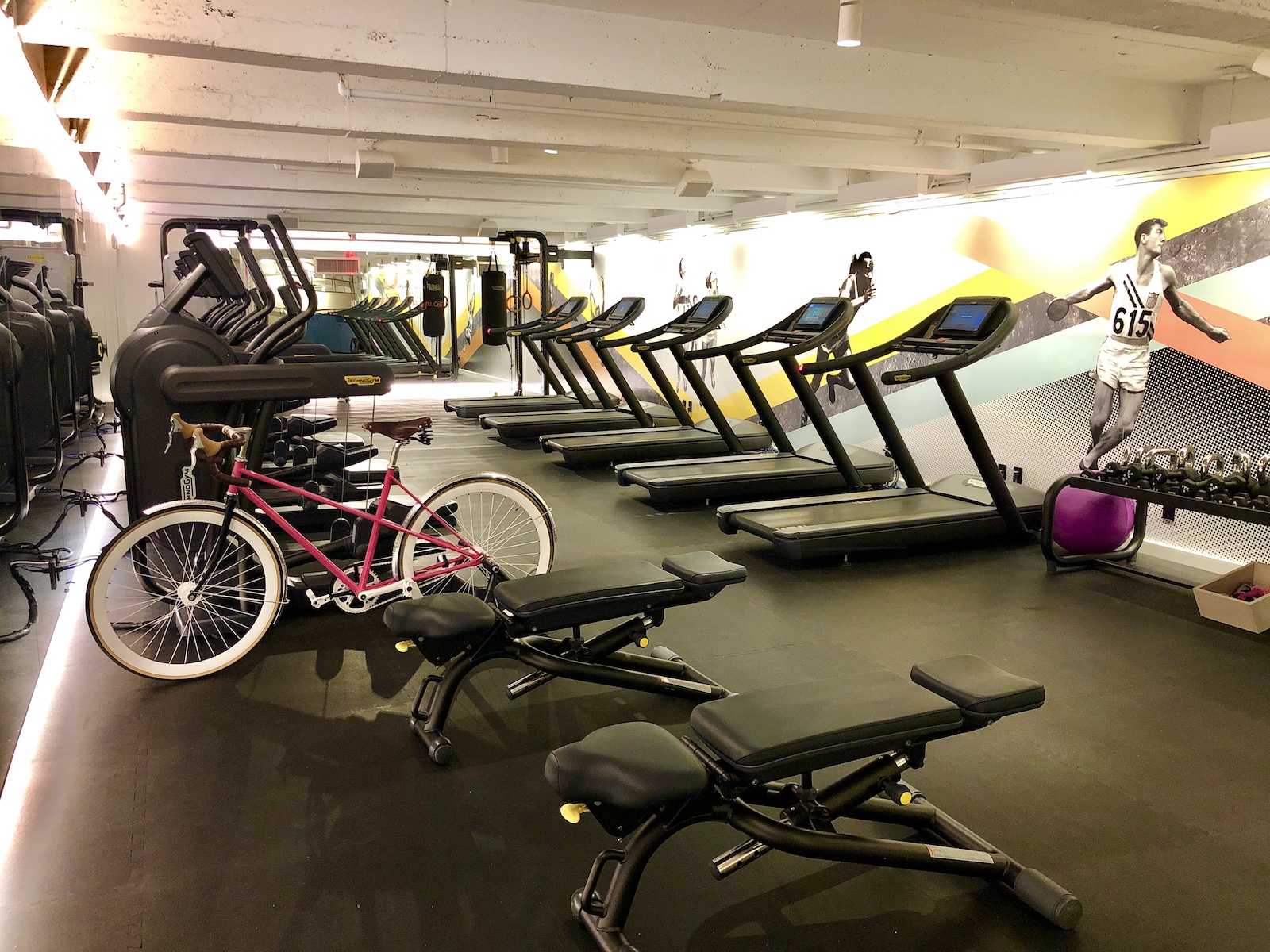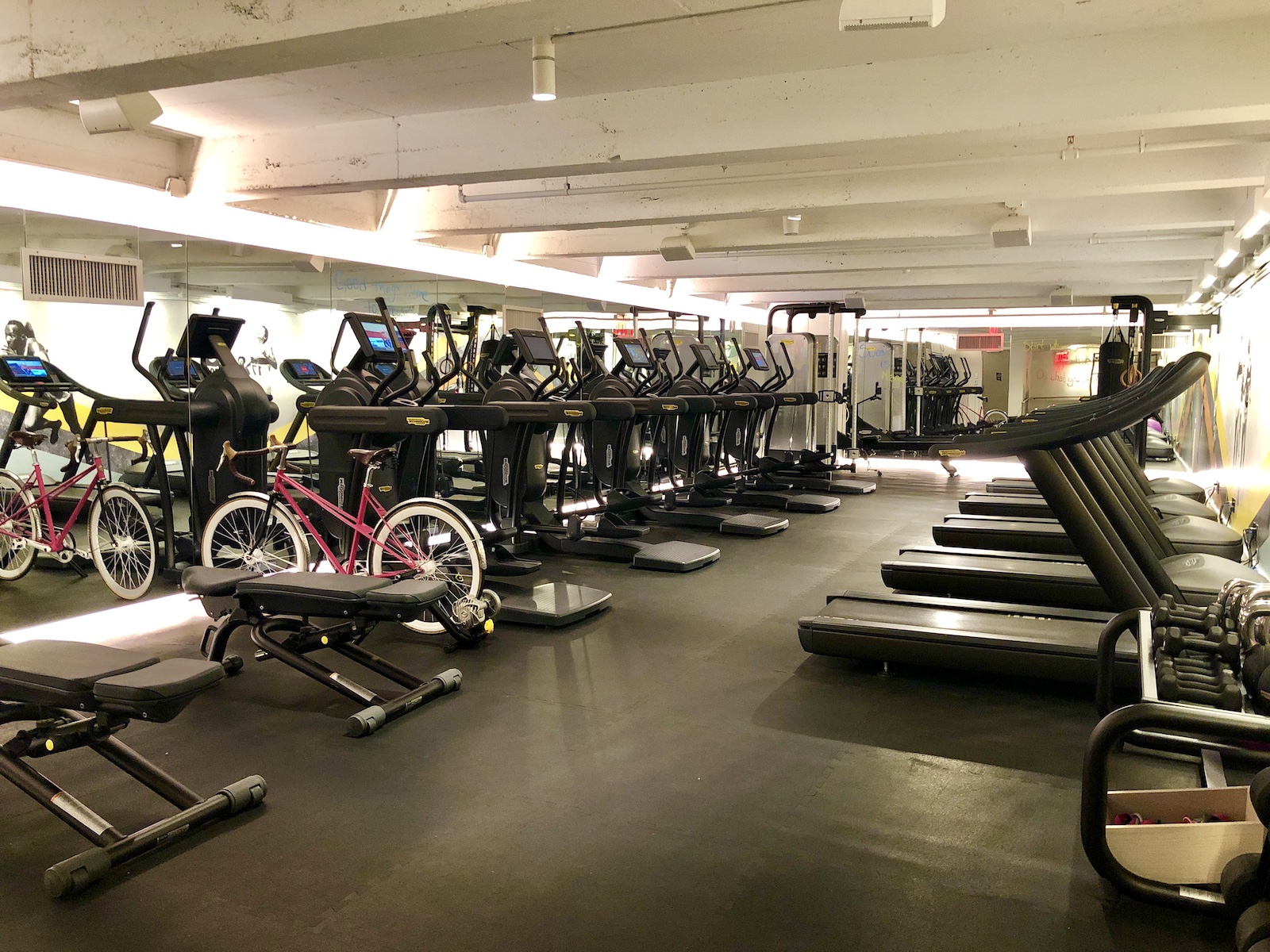 If you're in need of some primping, you can also have a fresh cut or blow-dry at Blind Barber.
Celebrity tattoo artist JonBoy is also available at select times on Level 2 for all your skin decoration needs.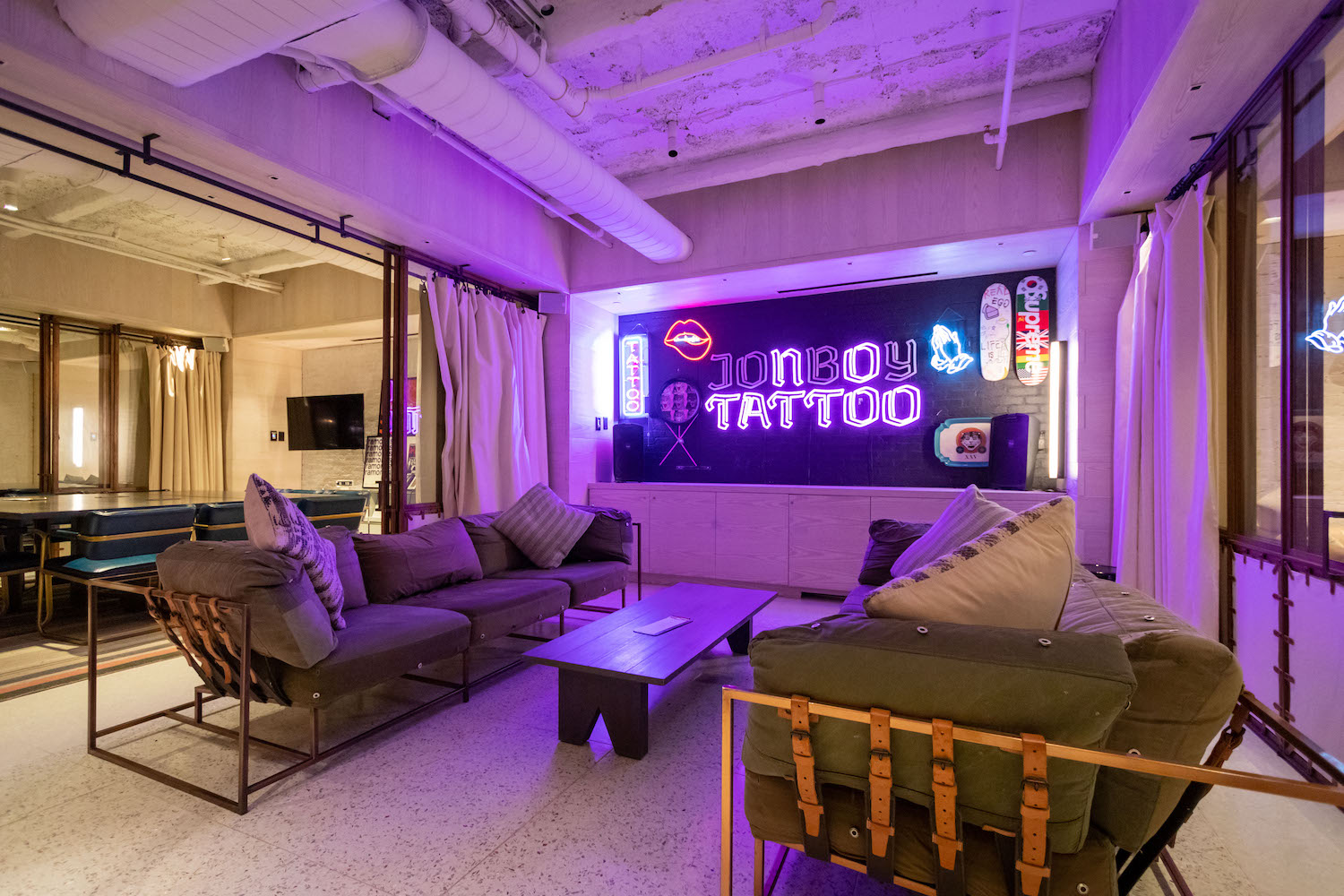 If you're in need of a spare coat hanger, or in my case an iron as I was woeful at using the provided garment steamer, you can find these items in The Stash, located on every level.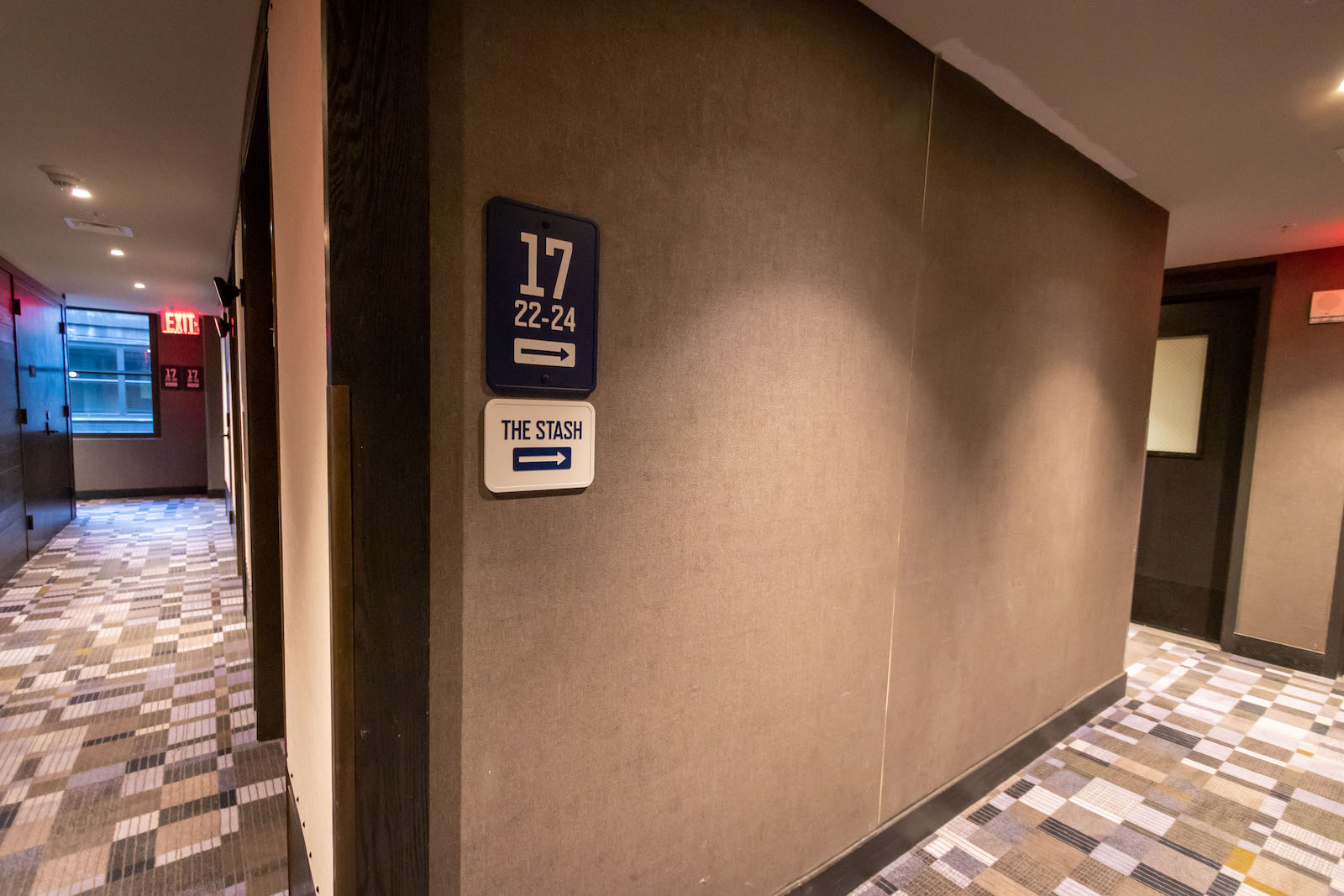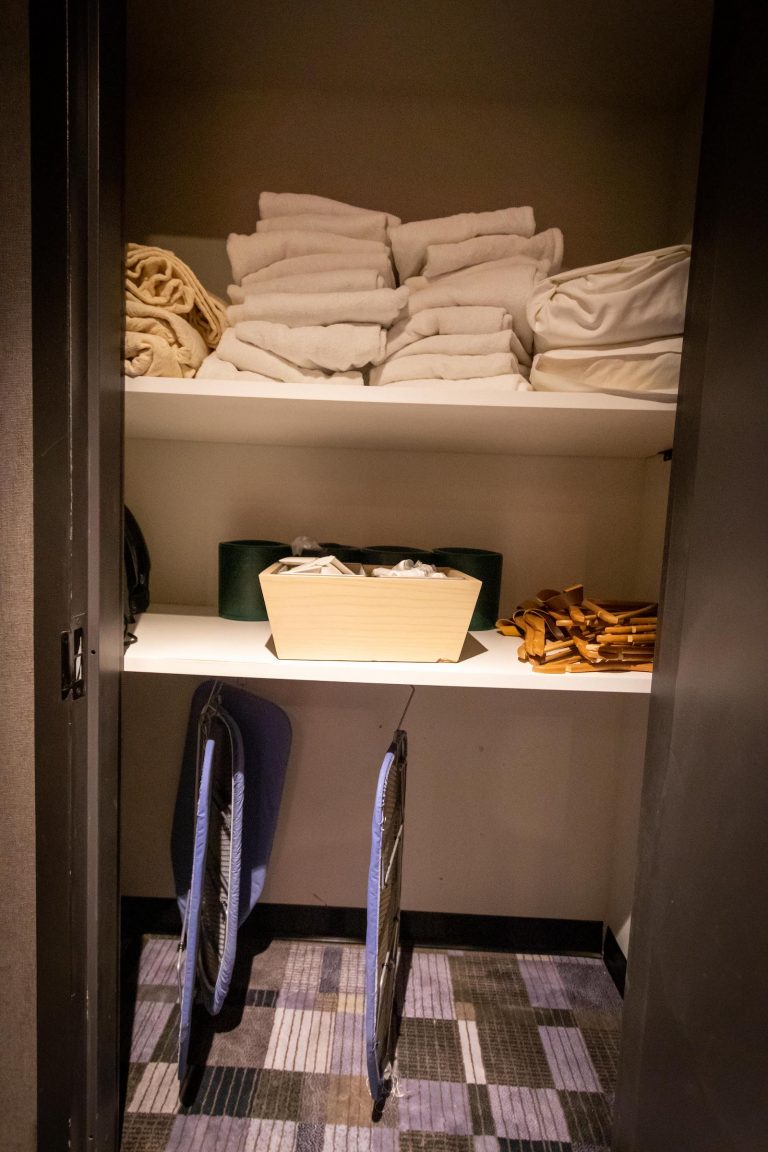 Unfortunately, for such a modern hotel, the lift system really lets the Moxy NYC Times Square down. To call a lift, you swipe your card on the reader and press your desired floor and are told which number lift to wait for. The lifts, however, are so slow that you'll often find dozens of people waiting on Level 2 and the ground floor, repeatedly swiping the card readers, only to be told that a different lift is arriving to take them to their floor.
To illustrate just how slow the lifts are after my friends and I were unable to access the rooftop lounge, they settled at Bar Moxy for a nightcap and I returned to my room to fetch a phone charger and it took me over 30 minutes to travel to Level 17 and back to Level 2.
Despite claiming 'furiously fast and free WiFi' on its website, the actual speeds were mediocre.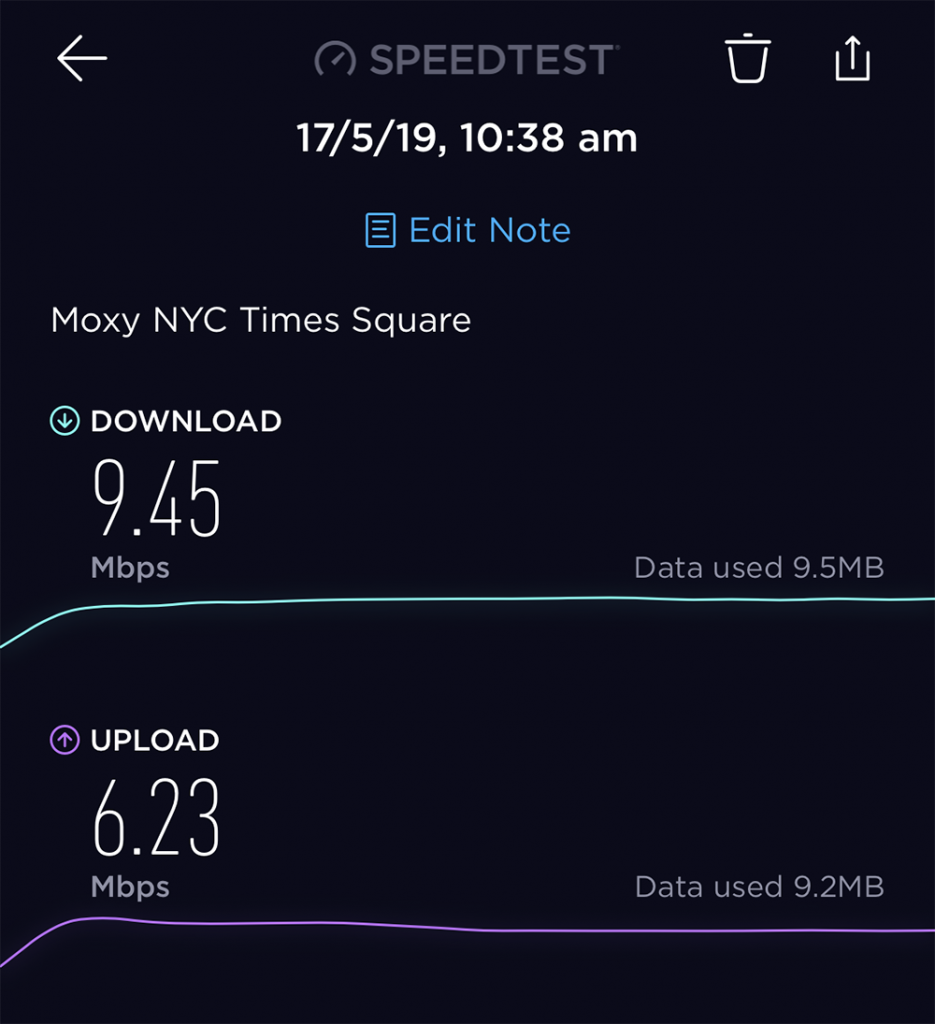 Around the hotel
One of the best things going for the Moxy NYC Times Square is its location. Positioned just south of Times Square, the hotel is within easy walking distance to Broadway and Madison Square Garden if you're catching a show, and a speedy four-minute walk to Penn Station which will take you uptown and downtown with ease.
Other related reviews
Summing up
The Moxy NYC Times Square is a perfectly positioned, spectacularly styled hotel with so much modern character for its price point. Although the rooms are small, these are perfectly balanced by the big public spaces that transform depending on the time of day and provide ample options for dining, drinking, working or lounging.
Unfortunately, however, the hotel is let down by its overly restrictive and confusing rooftop bar access policy for guests and a lift system so slow that it makes you wish there was a good old fashioned flight of stairs so you could get to where you want to go quicker.
Moxy, New York City Times Square
was last modified:
June 20th, 2023
by