Qantas Insurance is an ever-growing arm of the frequent flyer program. Initially starting out as Qantas Assure, offering just Health and Life products, it rebranded to its current form with an expanding suite of insurance-related products.

Qantas Insurance introduced car insurance to its line-up and in October 2019 and more recently brought Home Insurance into the fold in December 2020, with options for homeowners, landlords and rental tenants.
How can I earn Qantas Points from insurance?
There are currently five main Qantas Insurance products where you can directly earn Qantas Points:
Life Insurance and Income Protection
Travel Insurance
In addition, you can earn Qantas Points by using the Qantas Wellbeing App, which is fully functional when holding some of the insurances above.
Note: This is a neutral guide to Qantas Insurance products. You should read the relevant PDS in detail and assess whether the cover and associated costs are appropriate for your personal circumstances.
What is Qantas Health Insurance?
Private health insurance is a major expense for many Australians, so there are plenty of providers and offers on the market. Qantas provides a health insurance product backed by nib, offering coverage for singles, couples, families and single parents.
Health insurance has Hospital cover and Extras cover, which can be purchased individually or together. Hospital cover helps pays the high costs associated with various in-hospital services, while Extras covers help with non-hospital healthcare such as dental, physio and optical.
Qantas Insurance often has lucrative sign-up offers that exceed 100,000 points, if various joining conditions are met. This usually involves taking out top-level hospitals and extras cover.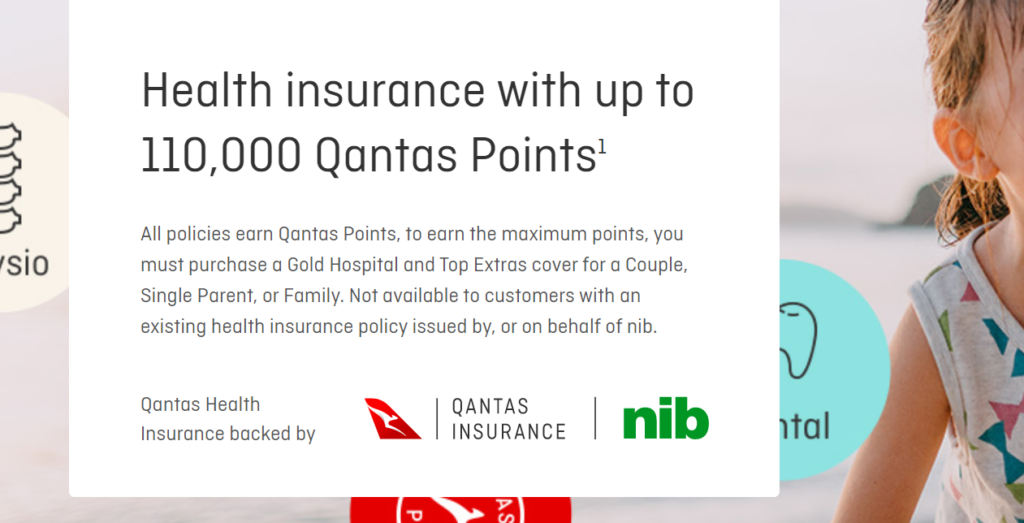 What is Qantas Life Insurance?
Life insurance is designed to protect your loved ones financially in the unfortunate event of your death. Underwritten by TAL, there are three other related insurances you can opt for including:
Total Permanent Disability Insurance: Financial relief if you become totally and permanently disabled and can't work
Trauma Insurance: Financial 'breathing space' to adapt to life if you become critically ill or injured
Income Protection Insurance: Pays a portion of your income to keep the household running smoothly in case you have an injury or illness and can't work.
These services can all be rolled together into one monthly premium if desired. Qantas does occasionally offer bonus sign-up points for its range of life insurances if a minimum monthly premium (e.g. $300) is met.
Ad – Scroll down to continue reading.Minimum spend, terms & conditions apply.
What is Qantas Car Insurance?
Qantas members can earn Qantas points when they take out a Qantas Car Insurance policy, as well as complete various tasks that relate to their car insurance such as maintenance.
As usual, there's a sign-up bonus awaiting new customers to Qantas Car Insurance, which is pegged at up to 20,000 Qantas Points for the foreseeable future, depending on the annual premium.
You will earn 1 Qantas point per dollar spent on your premium, with no cap on the number of points that can be earned. Points can be earned on three types of products, which are:
Comprehensive
Third-Party Property, Fire and Theft
Third-Party Property only
A further 1,600 additional Qantas Points can be earned when you complete various car safety challenges through the Qantas Wellbeing App. These include checking tyre pressures, the safety of their brakes, and when you book your car in for a service.
What is Qantas Travel Insurance?
COVID-19 update: Qantas Insurance is not currently selling new travel insurance policies. See the page for more details. If you already have a policy and wish to claim, then visit the claim page.
---
Travel insurance is a necessity for anyone travelling overseas, as medical bills can quickly balloon out of control in the event of an incident. But Qantas Insurance also offers domestic coverage as well, tailored more towards insuring against delays and cancellations.
Underwritten by XL Insurance Company, there are three types of single-trip policies are available:
Australian Comprehensive
Australian Baggage and Cancellation
International Comprehensive
On the Australian and International Comprehensive policies, you could earn 1 Qantas Point per dollar spent on premiums.
In addition, Annual Multi-Trip cover is offered for high flyers who want 12 months coverage of unlimited trips, each up to 60 days maximum. This too will earn 1 Qantas Point per dollar, plus a 1,000 point sign-up bonus.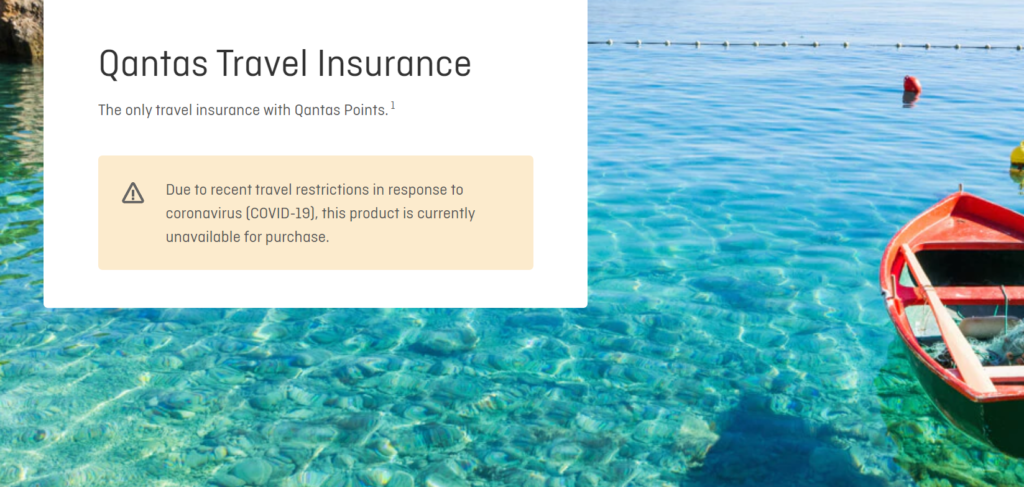 The program currently covers individual member accounts only, however, Qantas has indicated that this could be expanded into Qantas Business Rewards at some future point.
Through the Qantas Wellbeing App, up to 5,000 bonus Qantas Points can be earned by Annual Multi-Trip policyholders who complete various daily and weekly fitness challenges.
What is Qantas Home Insurance?
The newest product launched in 2020, Home Insurance, aims to protect the real estate and personal property of homeowners, landlords and rental tenants. Cover includes:
Home and Contents (combined) insurance
Home or Contents (separate) insurance
Renters insurance
Landlord insurance
You'll earn 1 Qantas Point per dollar spent, plus up to 1,600 points a year by doing home security checks and reporting the results through the Qantas Wellbeing App. Bonus sign-up points are on offer as well.
What is the Qantas Wellbeing App?
You will have noticed the Qantas Wellbeing App is mentioned often with each insurance product. It's a companion app of sorts, designed to complement a range of Qantas products and services.
The Wellbeing App awards small amounts of points for doing various tasks, including meeting daily and weekly step counts, challenging people for fitness goals, and completing simple health assessments.
All Qantas Members are offered a 28-day trial when they download the app, which allows them to earn up to 1,000 Qantas Points without having to purchase an Eligible Qantas Insurance product.
Once the trial has ended, Qantas Frequent Flyer members who purchase an Eligible Qantas Insurance product can earn up to 20,000 Qantas Points each year by completing activities in the App.
(If you do not purchase an Eligible Qantas Insurance product, you can still earn Qantas Points at a reduced rate — up to 2,000 Qantas Points each year.
There are a number of ways you can earn points through the Wellbeing App, which include:
Completing daily and weekly challenges
Competing against other users in a weekly Friends Step Challenge
Inviting friends to become Qantas Wellbeing App users
Completing Master of Rings Challenge for Apple Watch users
Logging and following healthy sleeping habits
Completing various tasks such as health, home and car checks
Summing up
Over a number of years, Qantas has steadily been venturing outside their traditional airline industry to enter into new markets via their Qantas Loyalty division.
The insurance industry is one that it has clearly focused on during this time, with the Qantas Insurance arm now offering a wide range of products. The major missing link to date is Home and Contents Insurance, which could be due to debut in late 2020.
The ability for Qantas members to earn points on these products is welcome. See our Qantas Deals page to see if there are any current offers, including large sign-up promos.
The Qantas Wellbeing app is innovative and allows Qantas Points to be earned by all members, Qantas Insurance policyholders or not, albeit in very small quantities. If it encourages more people to exercise, then it would have done its job.
As always, make sure to shop around and compare premiums before deciding to take out cover, and never let Qantas Points be your sole decision driver. But if their products stack up for your personal situation, then the points become the icing on the cake.
Frequently asked questions
Who underwrites Qantas Health Insurance?
Qantas Health Insurance is currently underwritten by the Australian health care fund company NIB. NIB health and medical insurance to over one million Australians.
Does Qantas have car insurance?
Yes, Qantas introduced its own car insurance product in 2019. It issued by Auto & General Insurance Company Limited and arranged by Qantas Airways.
Does Qantas do home insurance?
Not presently. Qantas' home insurance product is slated to arrive by the end of 2020. Keep an eye on our website for more details on Qantas Home Insurance.
Is Qantas Assure part of NIB?
Qantas Assure (now Qantas Insurance) uses partners such as nib to underwrite some of its insurance products. However Qantas Insurance is not part of any other larger insurance group as it is an offshoot of the Qantas Frequent Flyer loyalty program.
Previous content written by Daniel Scibberas.
A guide to earning Qantas Points with Qantas Insurance
was last modified:
December 4th, 2020
by