Open to guests travelling on any airline out of Sydney International Airport, the Plaza Premium Lounge is a small, smart space where you can kick back with a cold beer while taking in the mesmerising pulse of the airport.
Savvy passengers can get in for free with the right credit card or boarding pass in hand. Otherwise, anyone can pre-book access online from ~AU$56 or simply buy an entry pass at the door. One thing is clear – it sure beats waiting out flights in the terminal.
Lounge location and details
After clearing immigration and security, I make my way past duty-free into the large food court with the two-storey McDonalds (use that as a beacon if you get lost). Looking to the left, I find the pier with gates 24-26, where the Plaza Premium Lounge is located.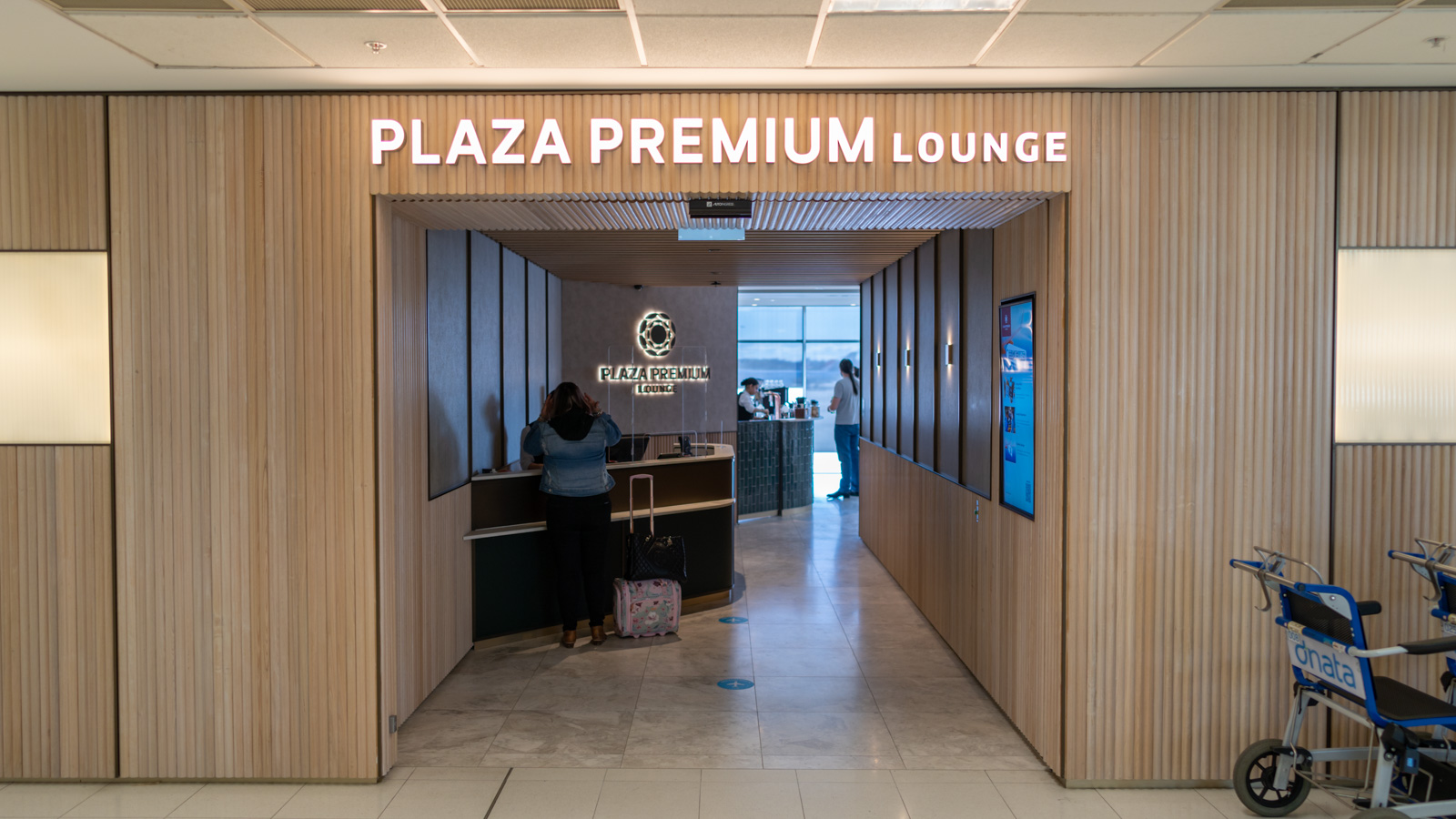 Plaza Premium takes up the footprint of the old American Express lounge, which has since moved to roomier digs on the other side of the terminal.
At the time of writing, it's open for up to six hours in the morning, and then another 3.5 hours in the evening. But check the Plaza Premium website for full opening hours.
Seating and layout
With a cosy capacity of up to 70 guests, the Plaza Premium Lounge makes the most of its limited footprint. But it's certainly prime real estate, with panoramic views of all the action at Sydney Airport. Sitting against the glass, I see plenty of planes coming in for landing.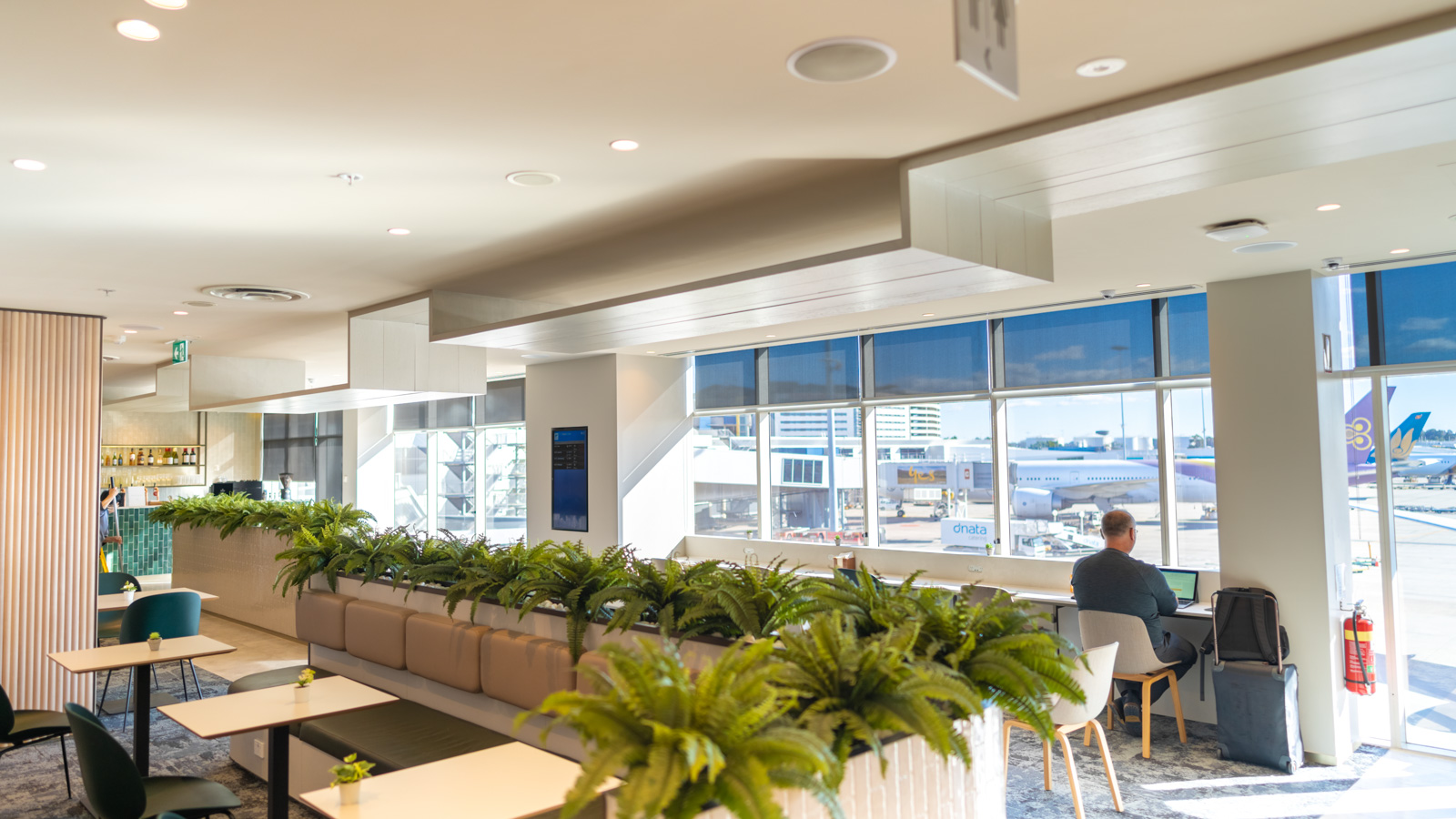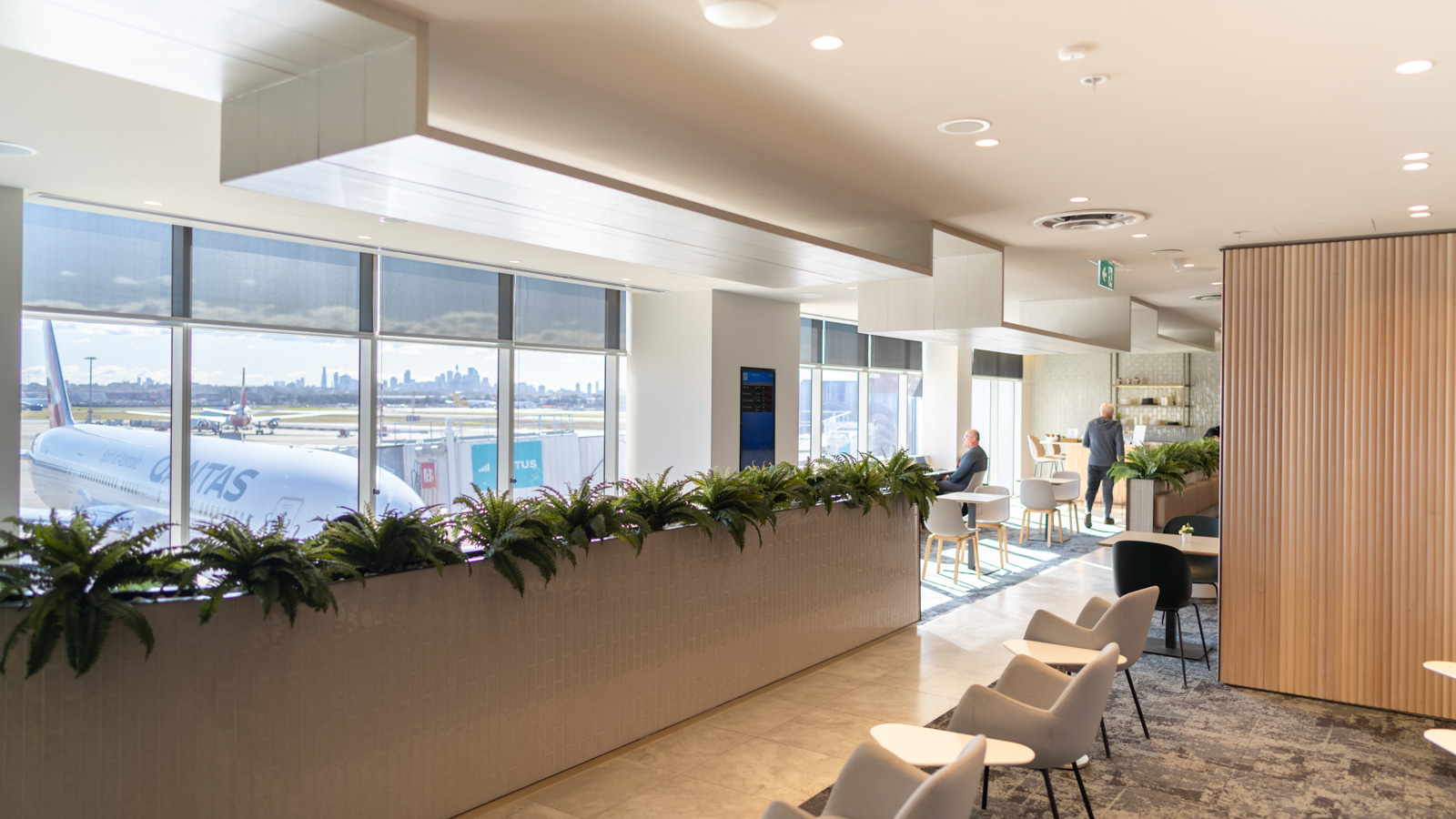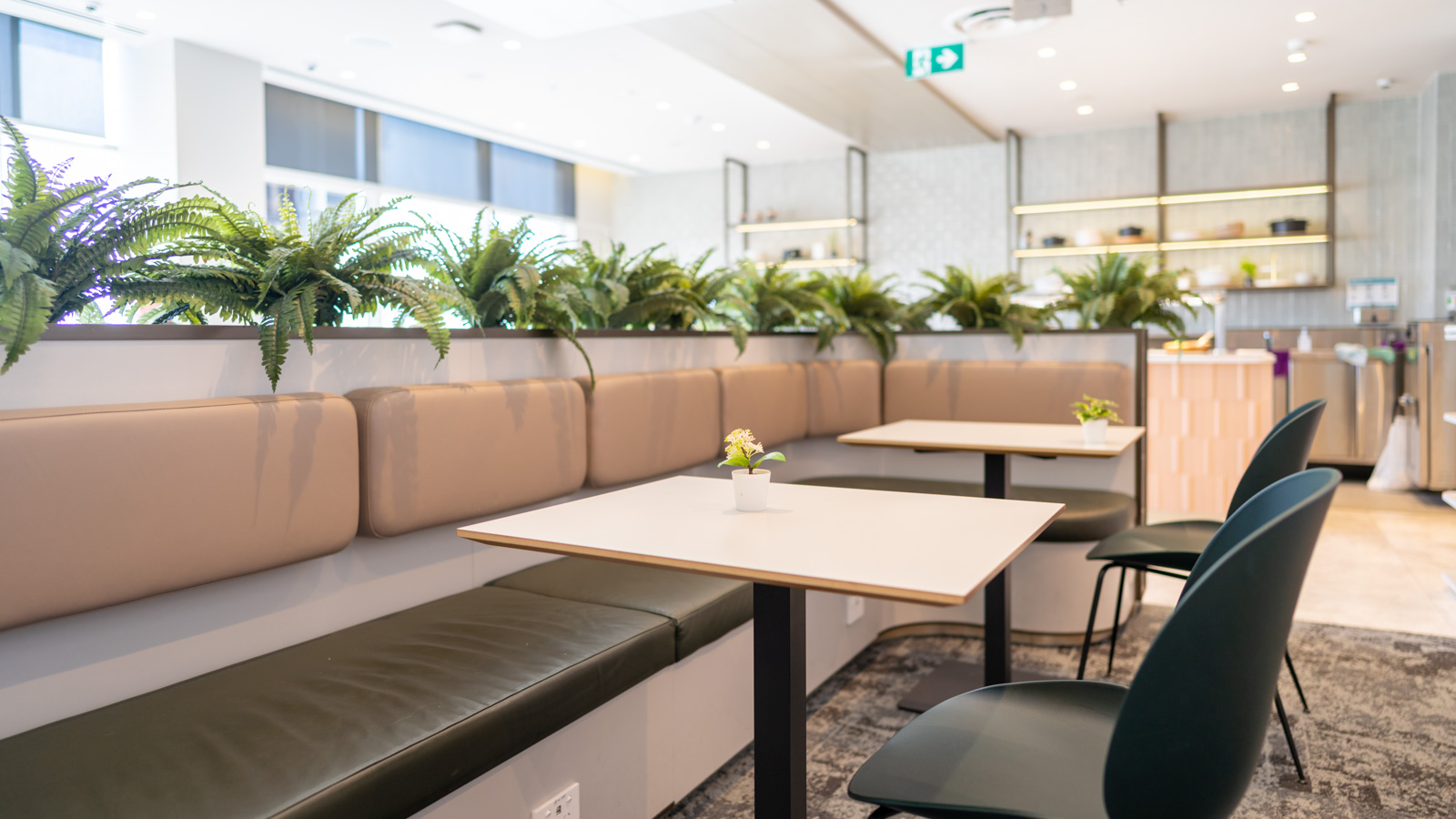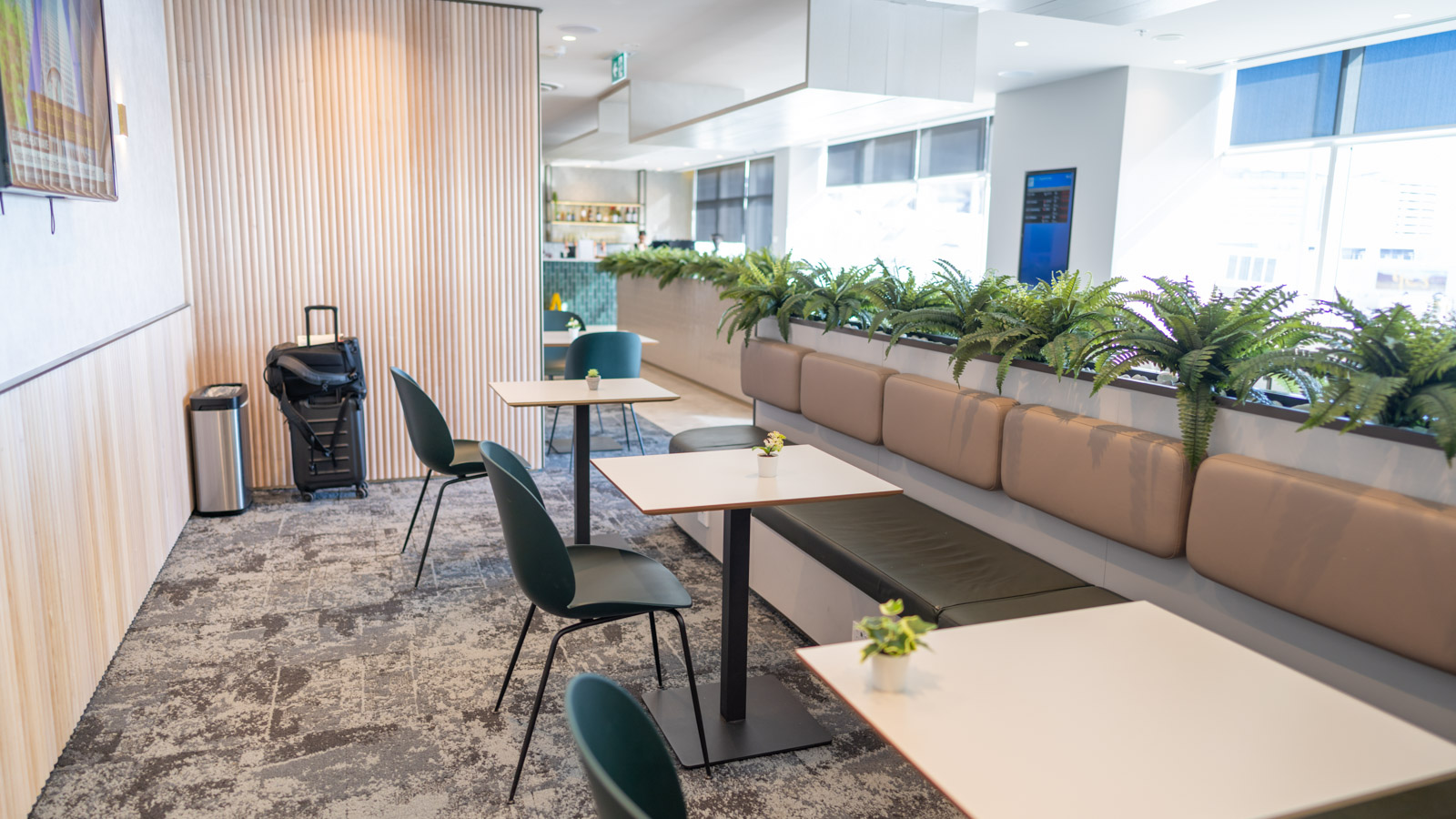 The lounge is a rectangular space semi-divided into different zones with clever use of partitions and greenery. Initially, I take a seat in the dining area to enjoy a morning coffee, before I later settle down near the windows to take in the views.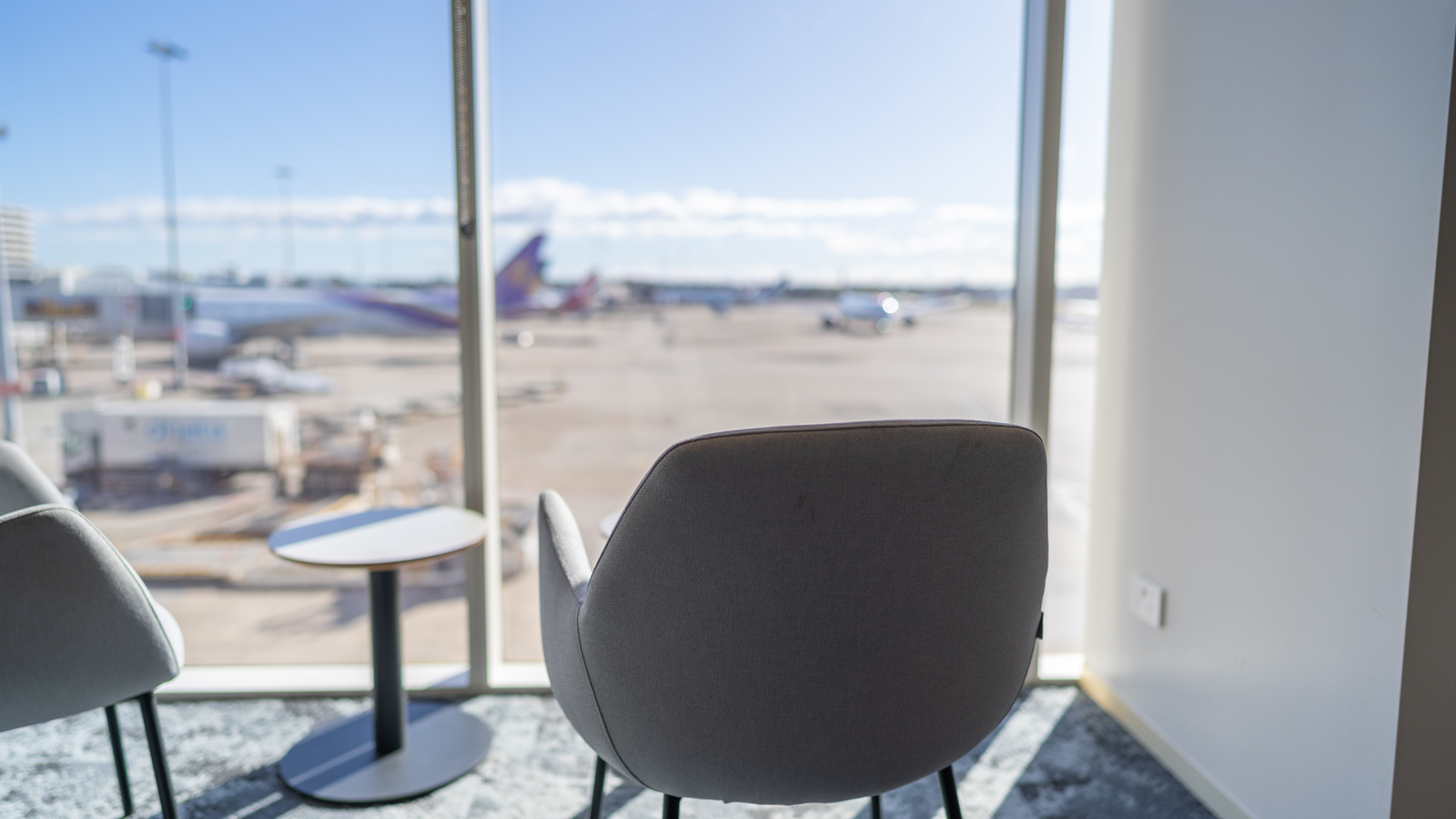 The 'Aero Bar' is located at one end of the lounge, near the entrance. Peckish? The buffet section is found on the other side, just adjacent to the hallway leading to the toilets.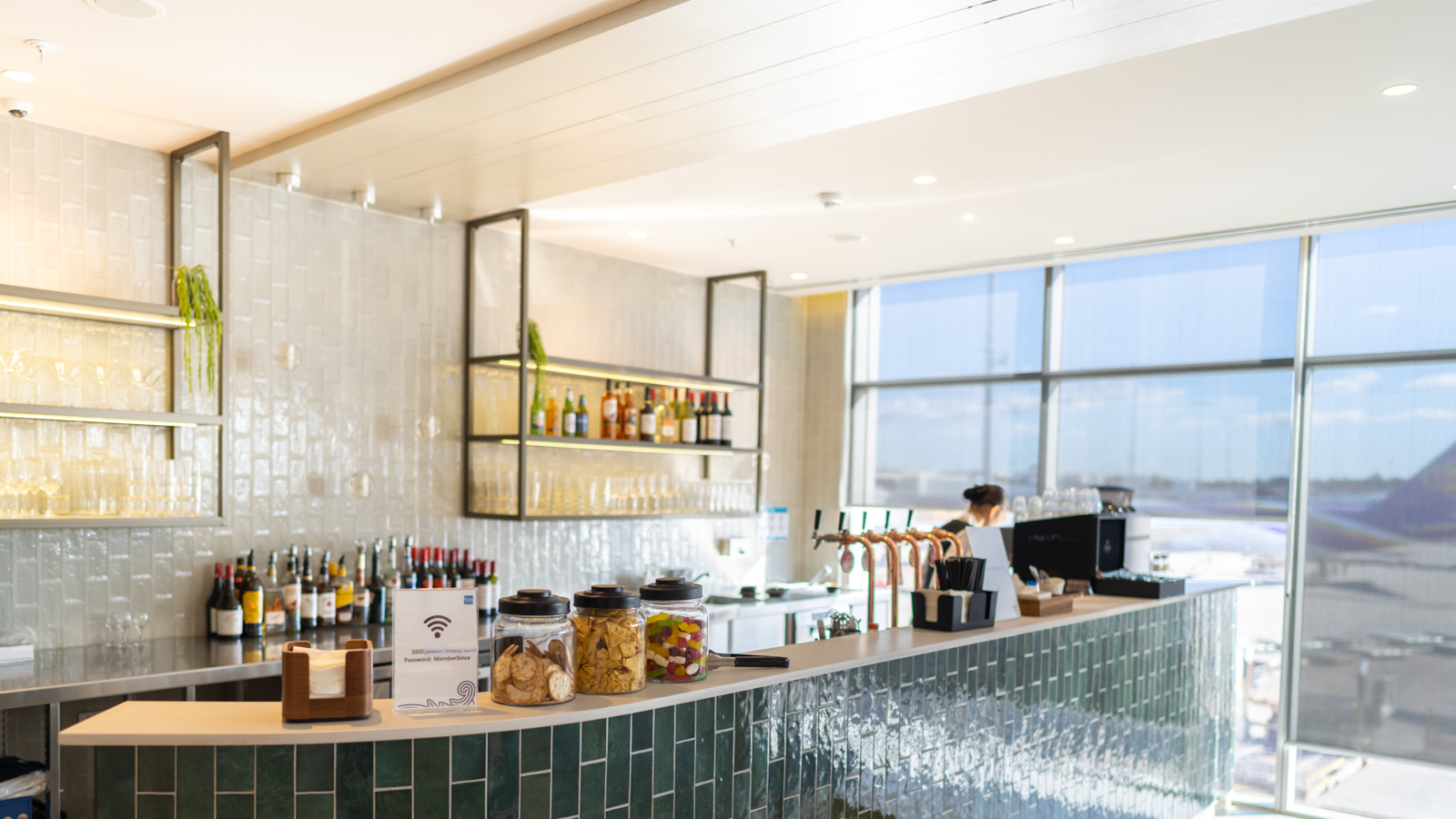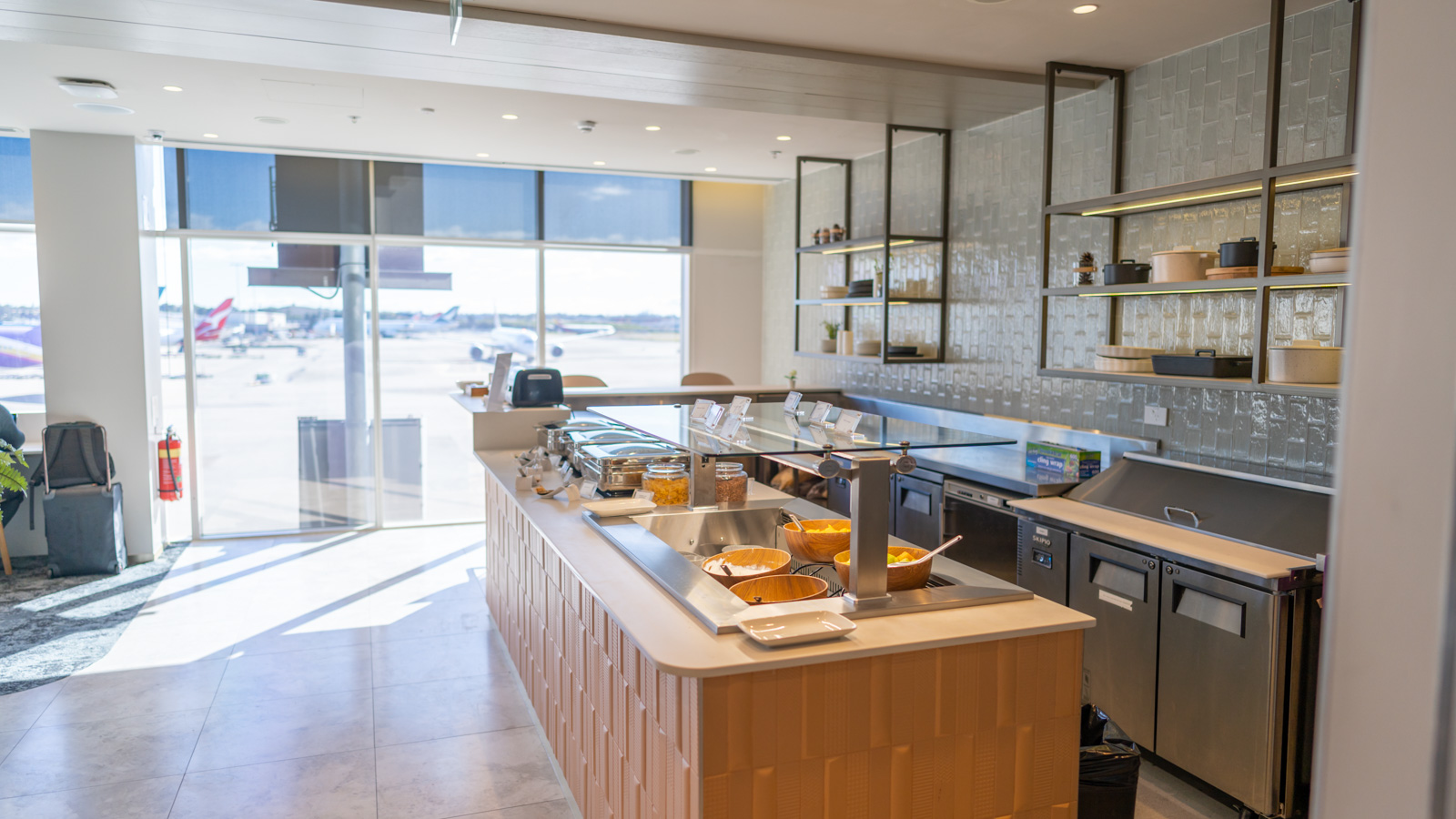 Food & drink
Dining
I'm visiting during the morning – a decent breakfast spread awaits. I'm quite impressed by the variety of dishes on offer for such a small lounge. Continental options include flaky croissants, yoghurts and fruits.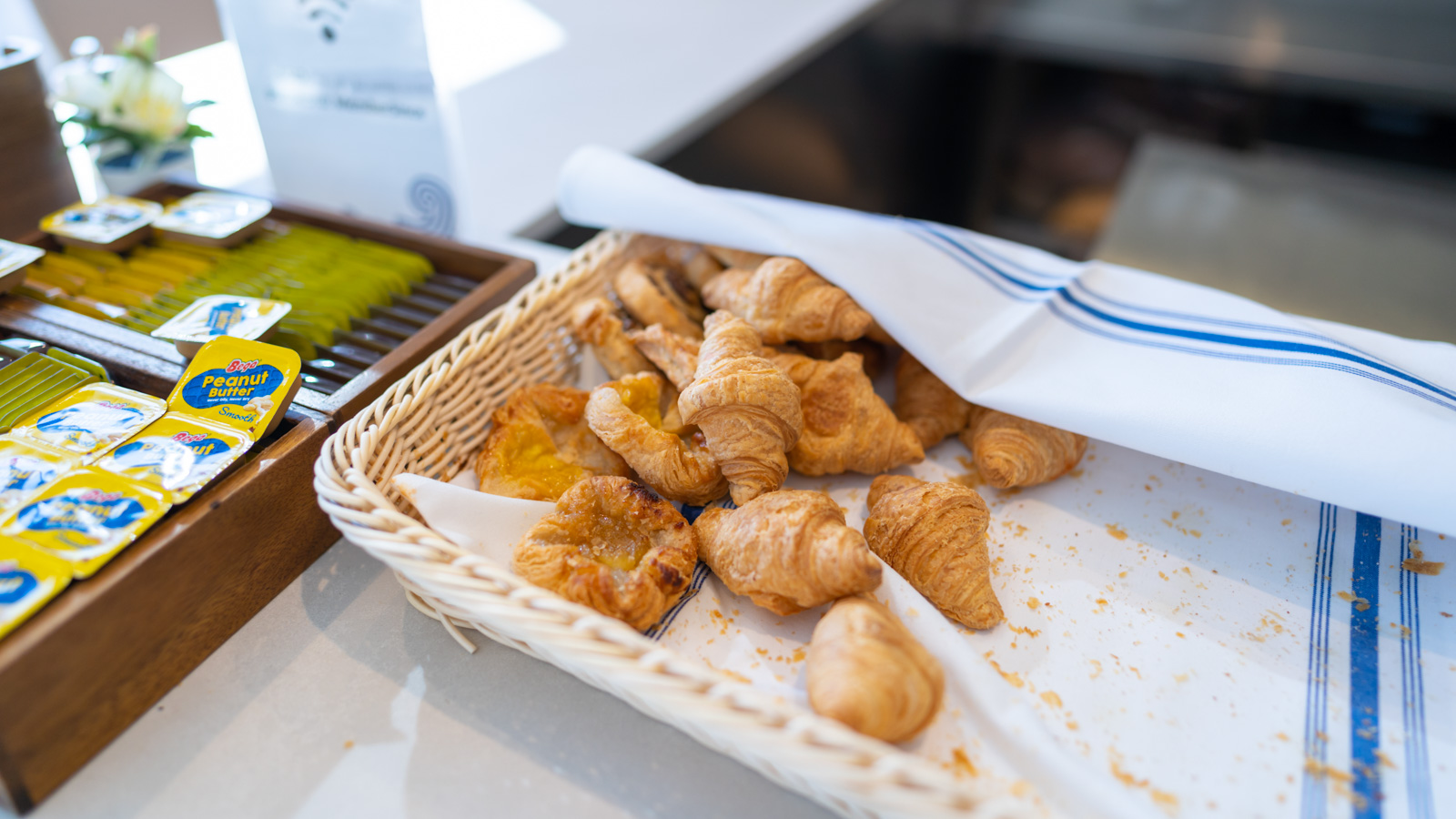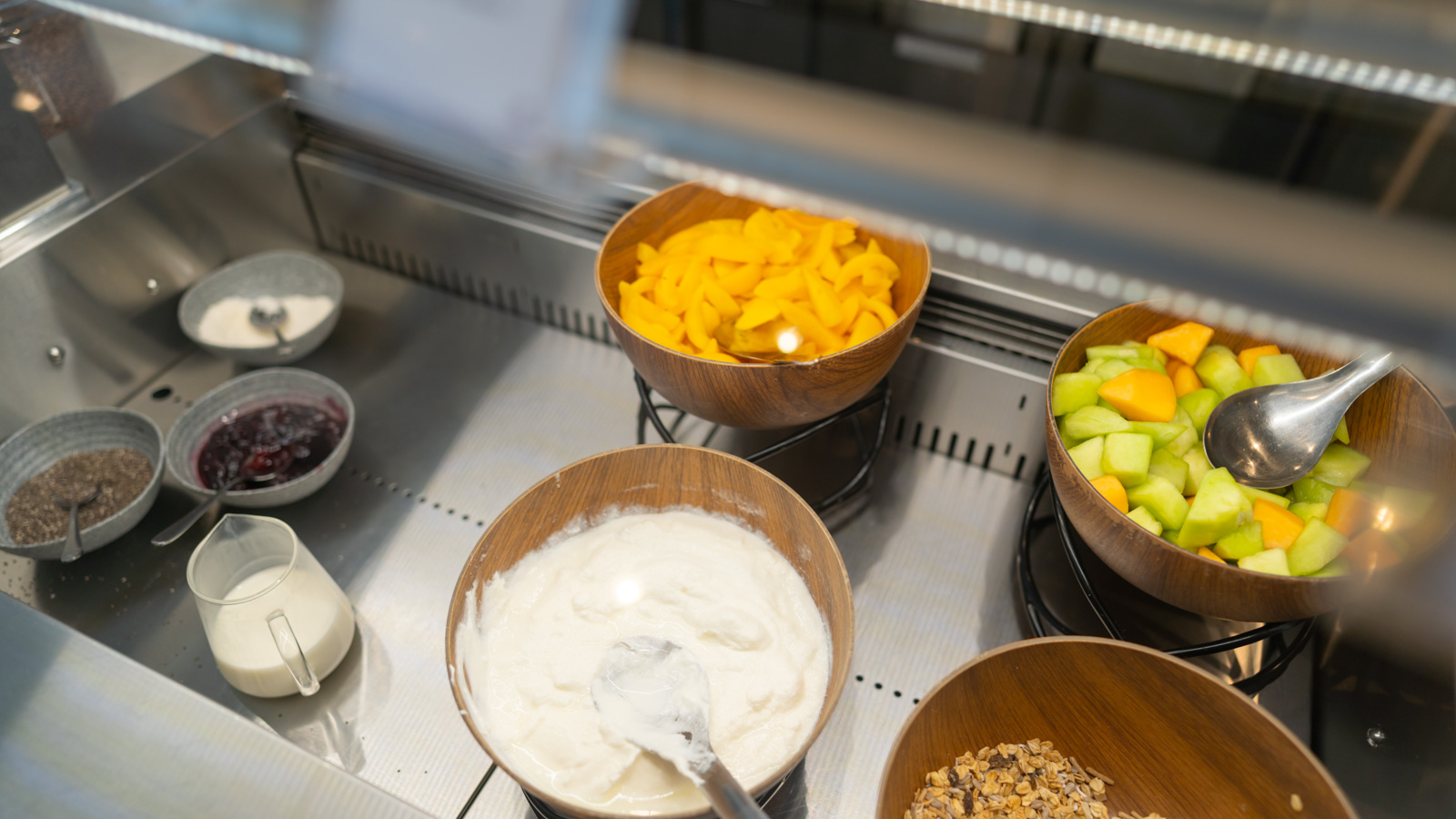 Over at the hot section, I can dig into baked beans, roast potatoes, bacon, sausages and scrambled eggs. It's fairly pedestrian breakfast fare, but the quality (and variety) is markedly better than some other major lounges I've visited.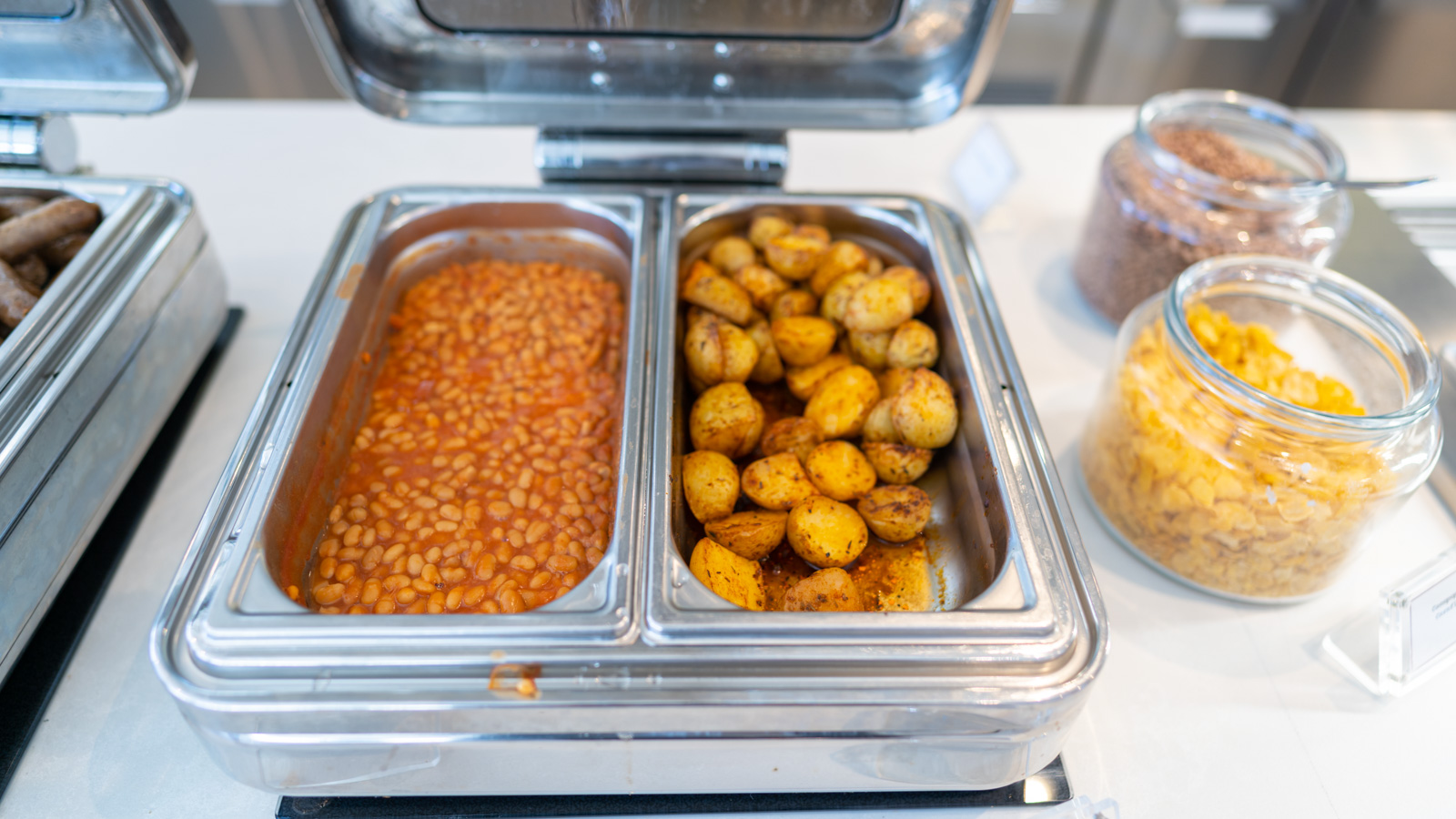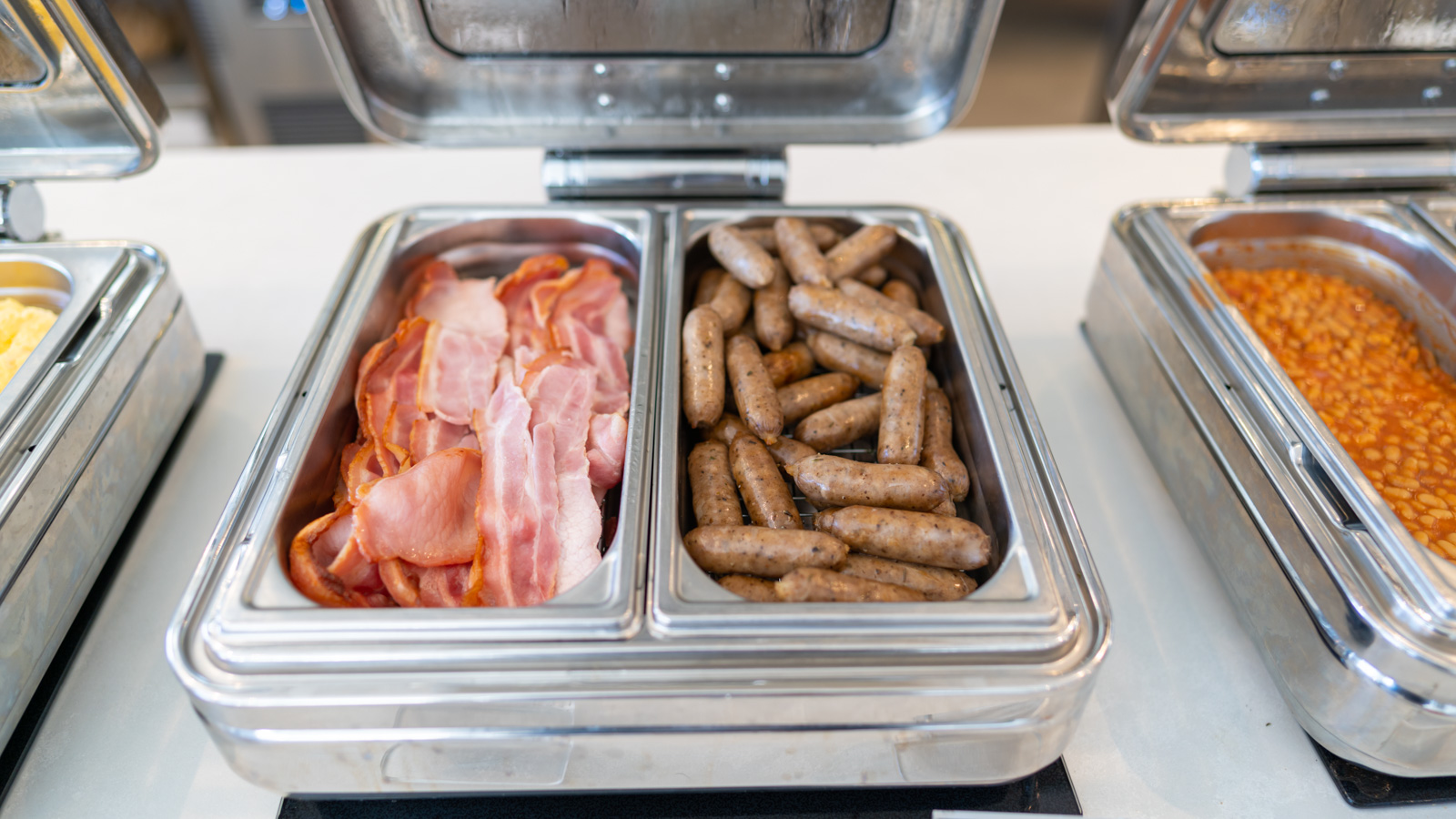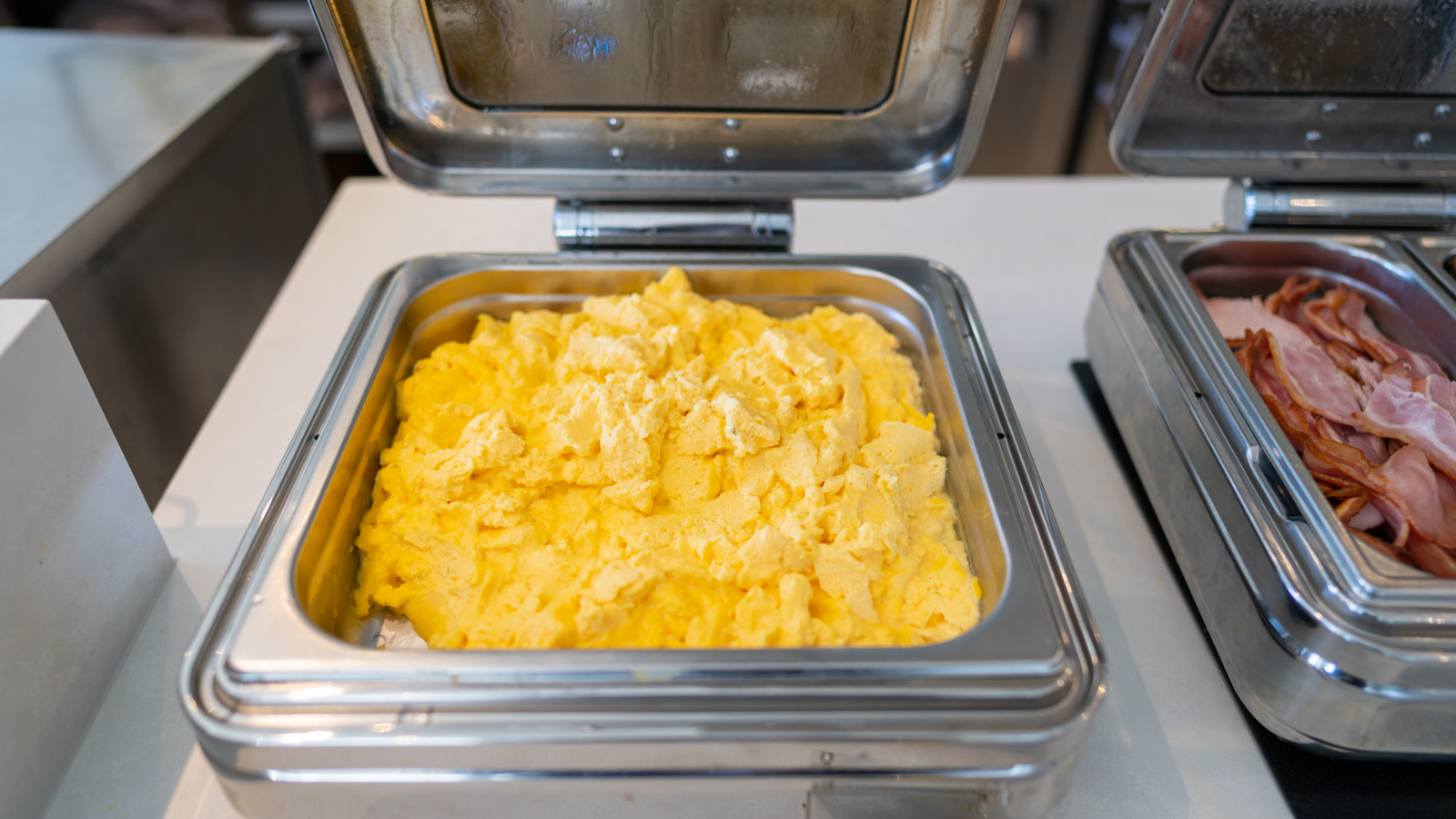 While I wasn't around for the all-day menu, it usually includes a range of buffet and on-demand dishes such as soup, pasta, sandwiches and rice dishes. Unfortunately, the afternoon High Tea isn't available, as the lounge is currently shut from just after midday until 6:00 pm.
Beverages
The barista-made cappuccino is perfect in appearance and taste – just what I need after coming from the long immigration and security lines at Sydney T1. Rather sip on an English Breakfast? You'll find Dilmah teas here.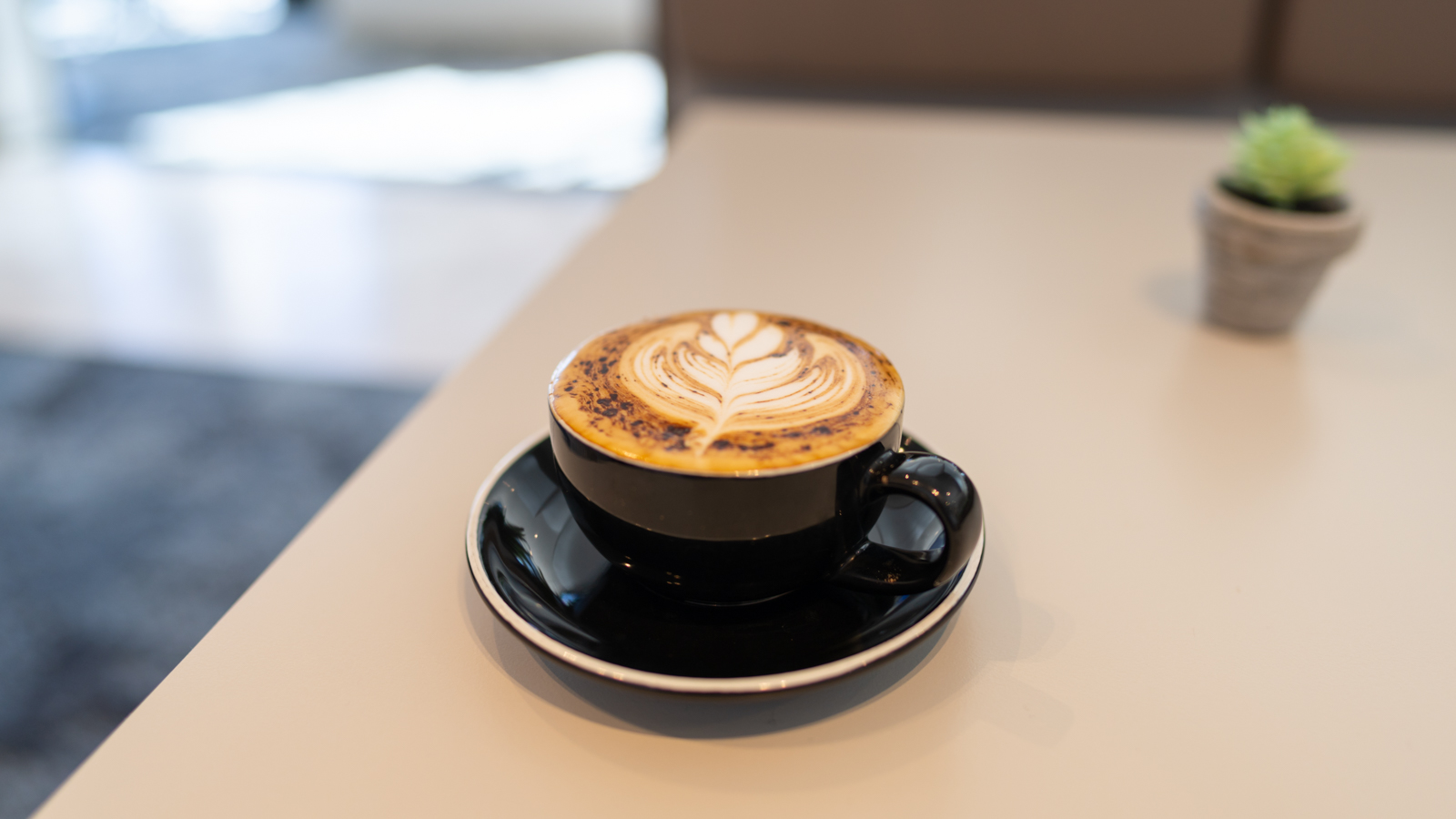 Beers on tap aren't available at the moment, though bottled Pure Blonde, Cascade and Great Northern beers (plus Pure Blonde Organic Cider) are offered instead.
Penfolds Koonunga Hill Chardonnay and Cabernet Sauvignon are two of the respectable wines on offer, along with Juliet 2019 Pinot Noir and NZ 821 South Sauvignon Blanc.
As for spirits, a decent complimentary selection awaits including the usual standard selection of Bundaberg Rum, Jim Beam bourbon and more. Premium spirits are also available from $5 for a double shot – check with the bar for the current range.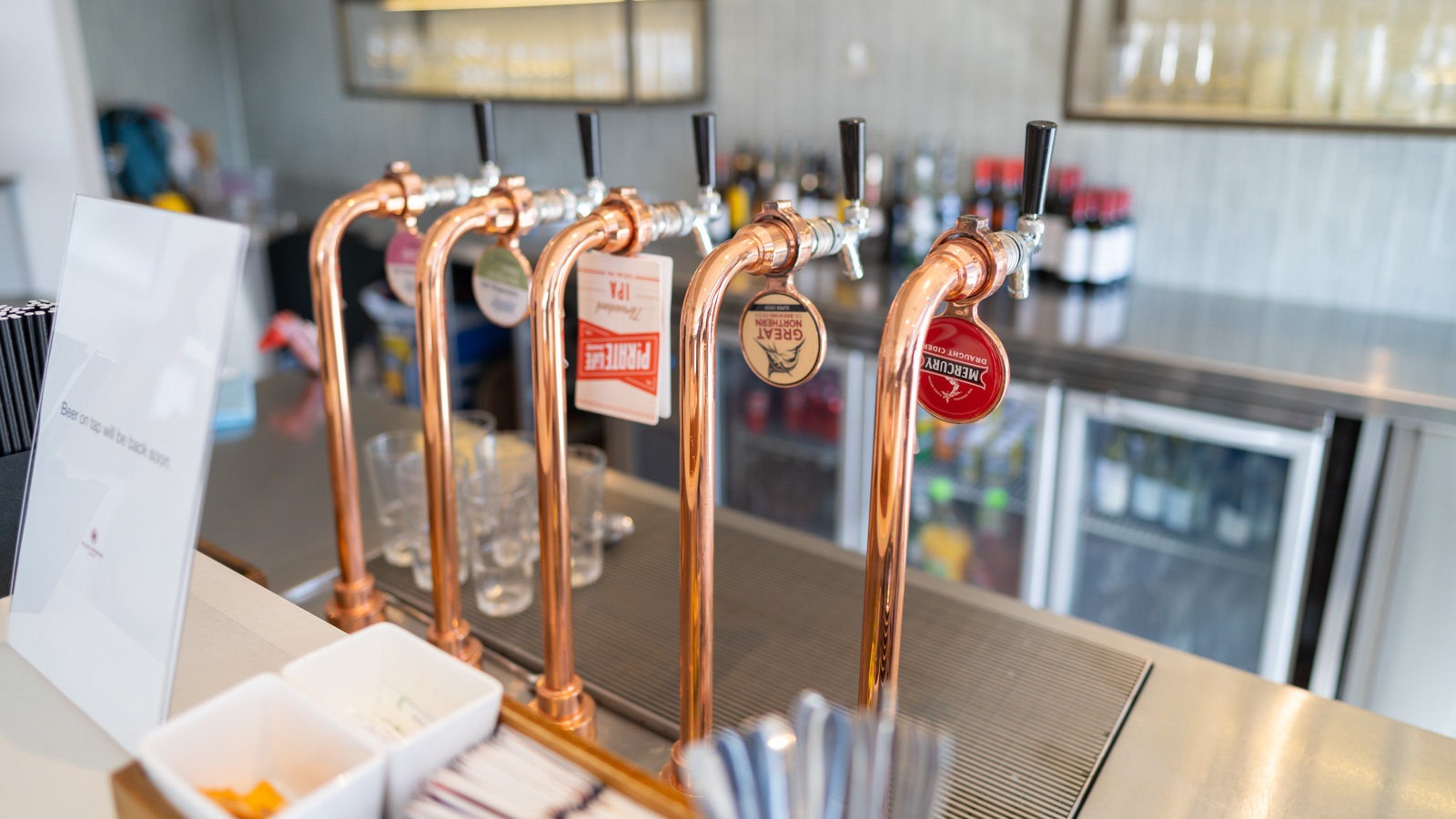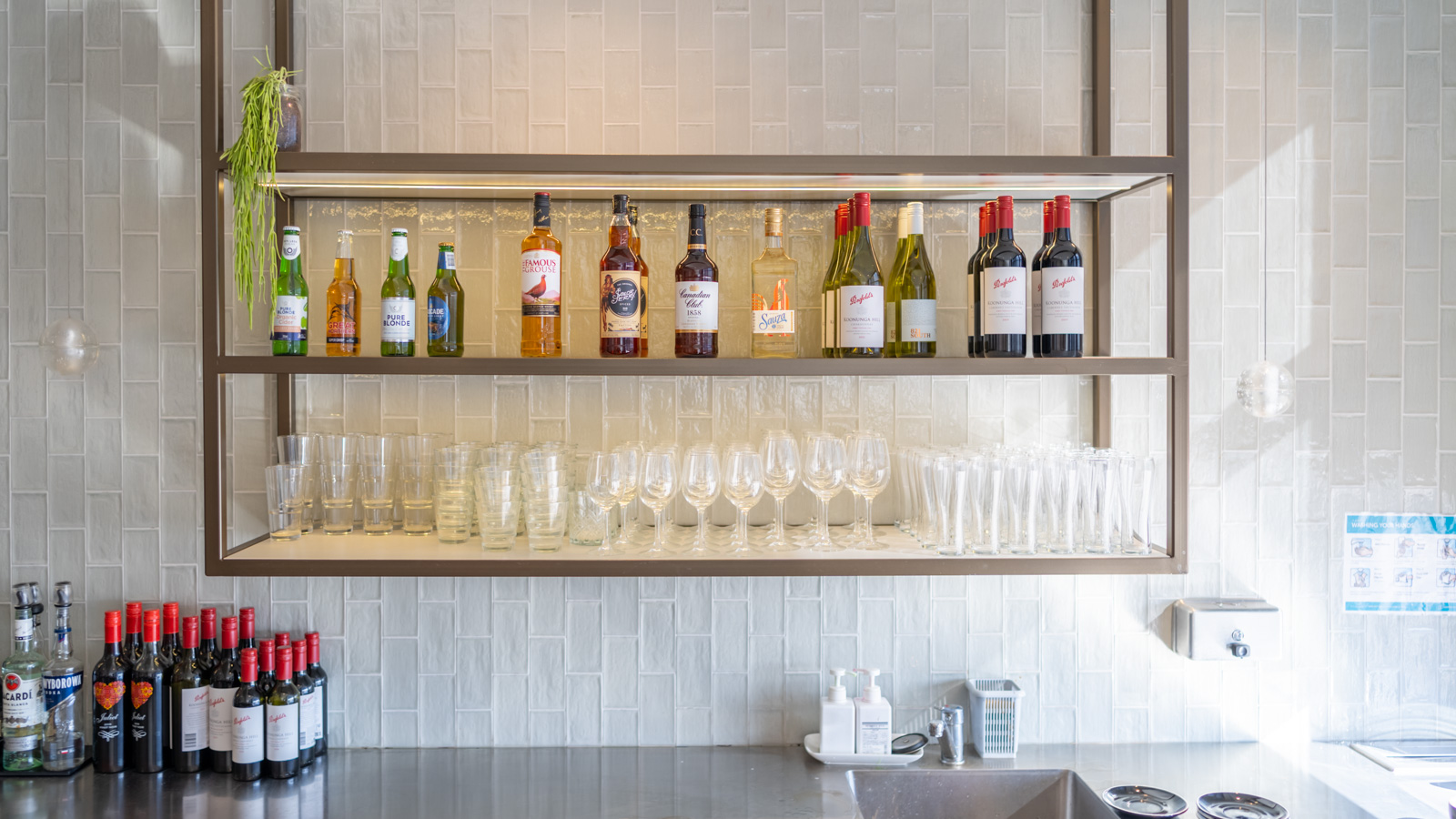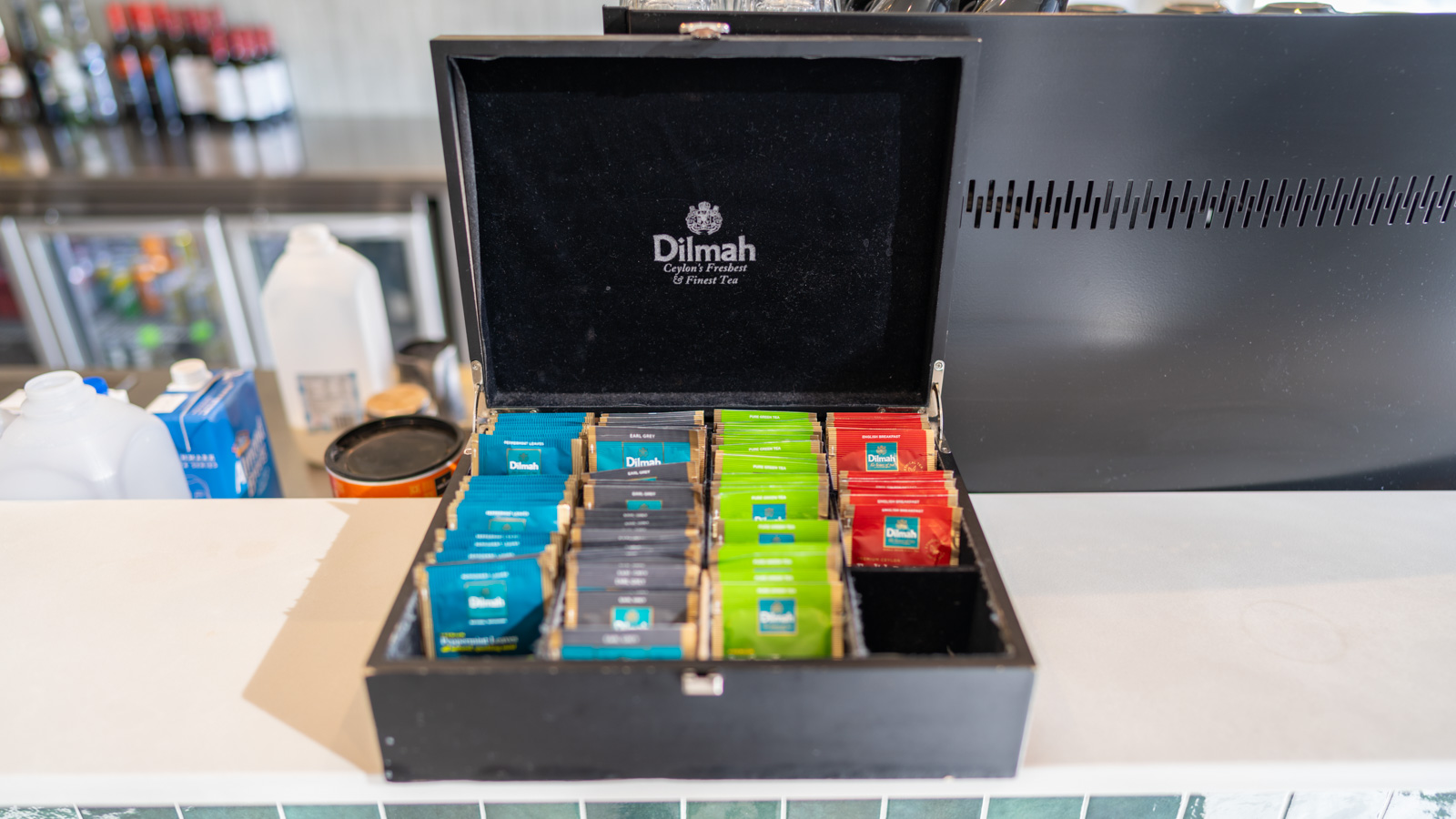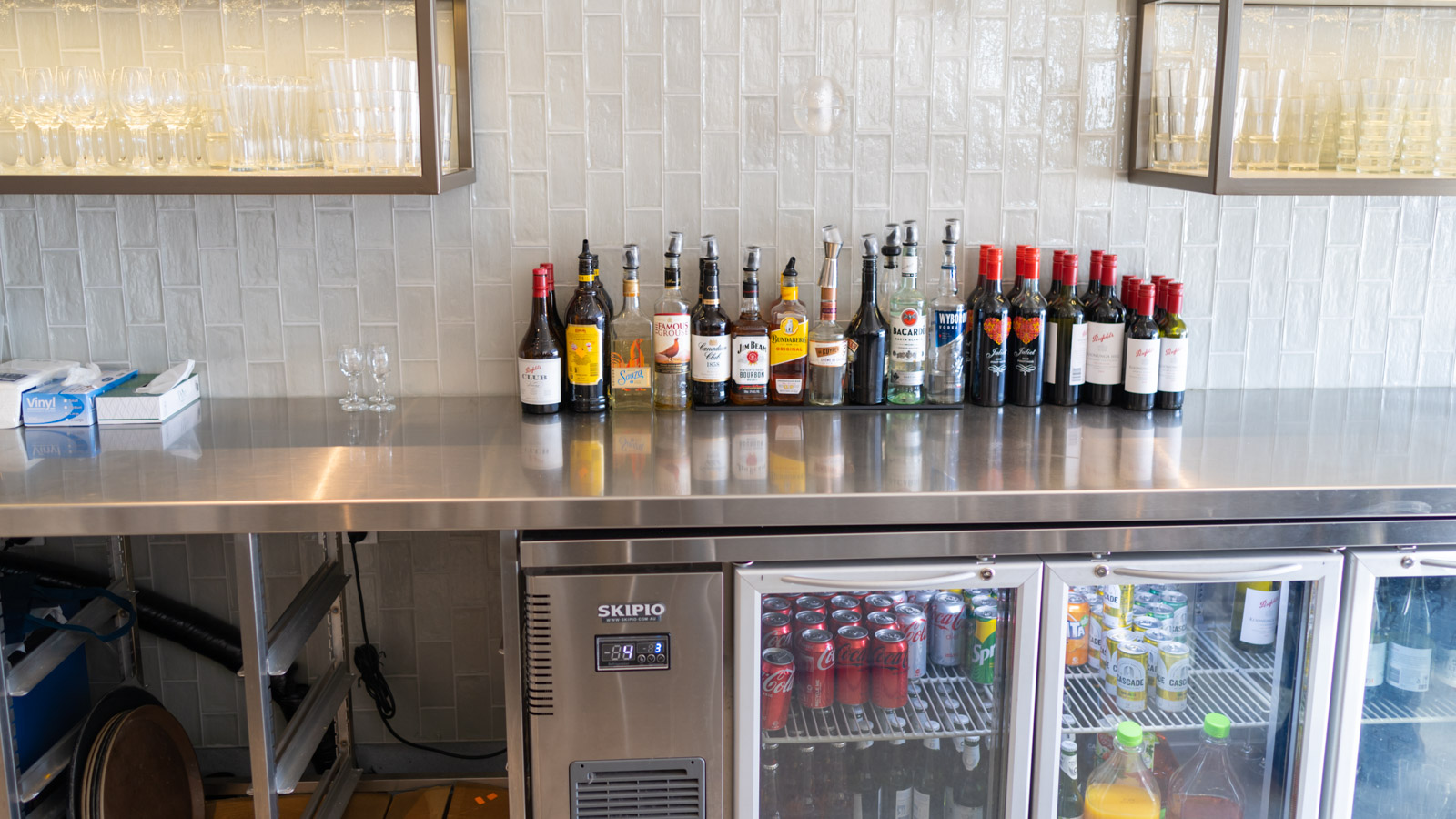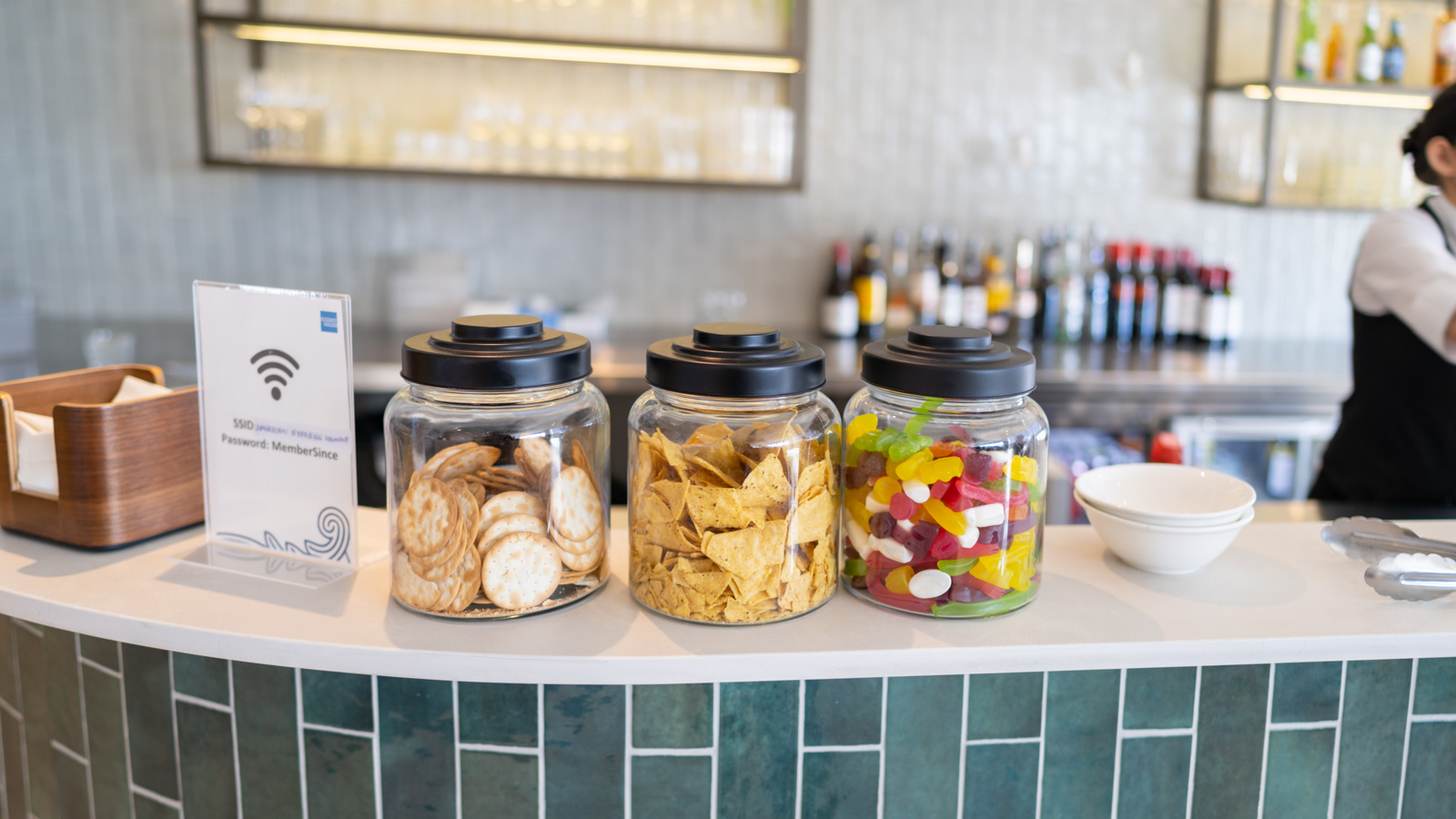 Amenities
There's not much more to see in a lounge of this size. Lounge staff don't make boarding announcements here, so the flight information screen will come in handy. Power points are readily available, but Wi-Fi is on the slower side, with my speed tests coming in at under 5 Mbps in download and uploads.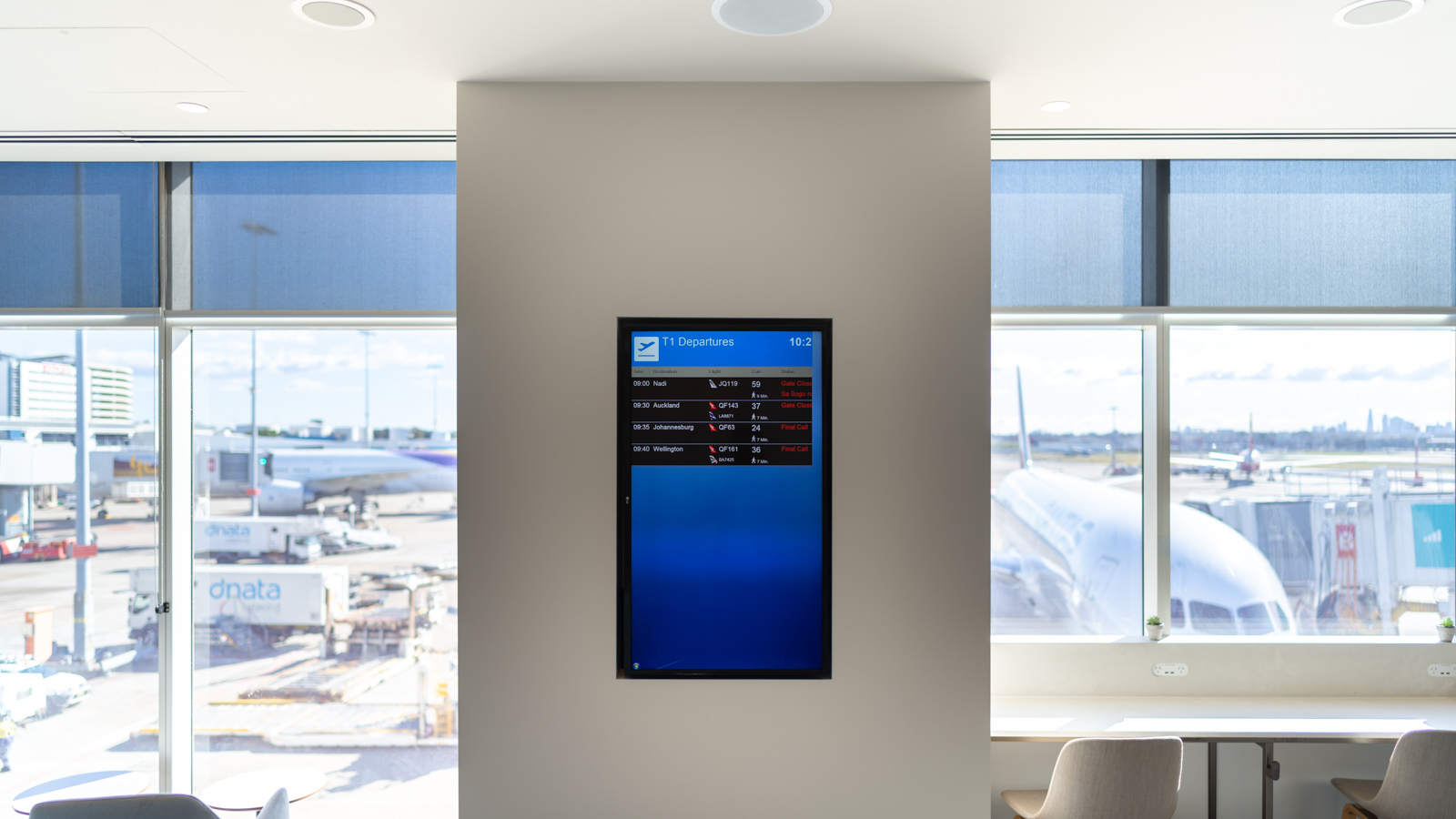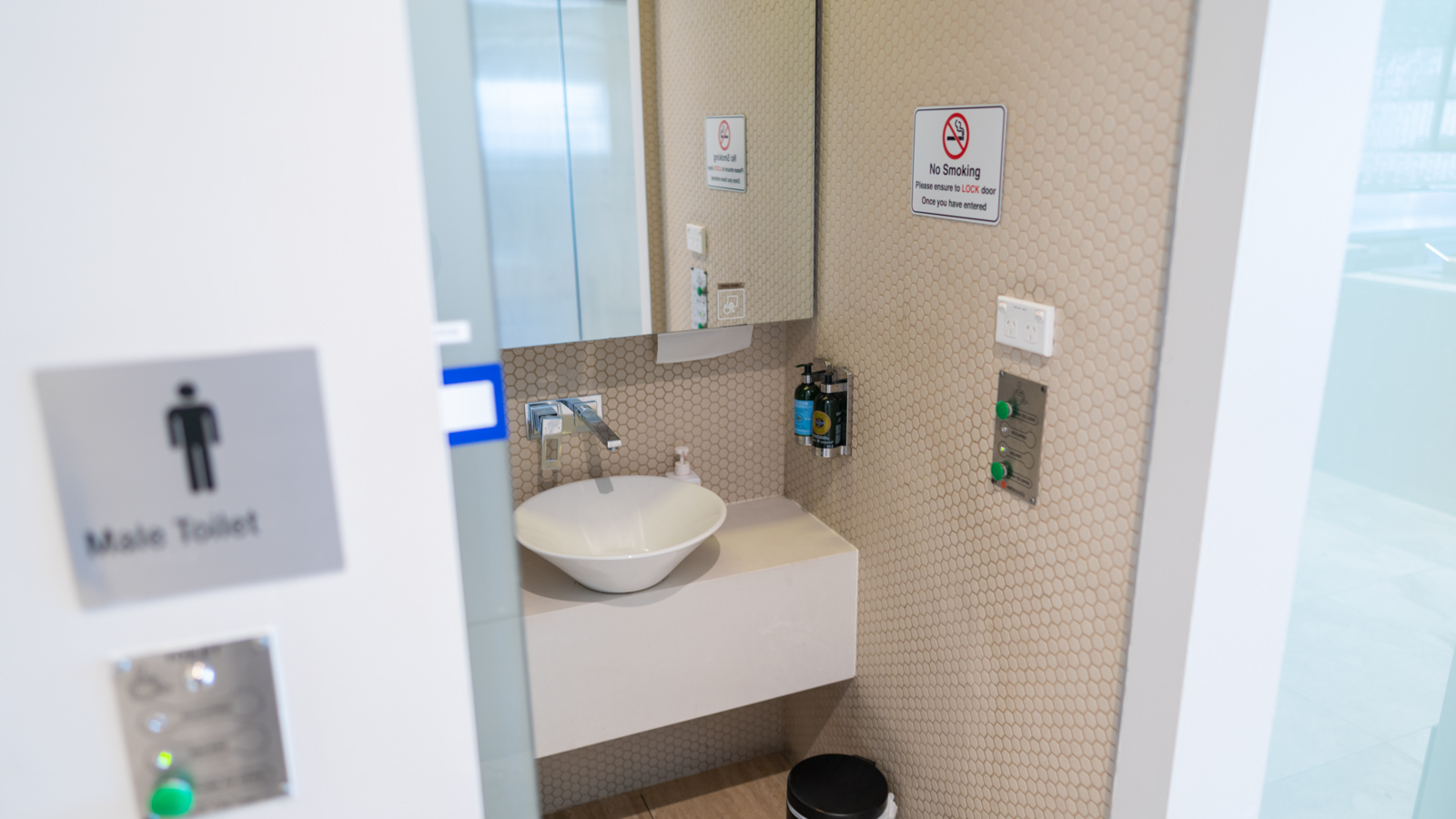 There's no space for showers, but the bathrooms consist of two cubicles with button-controlled doors. Be sure to follow the instructions and lock the door electronically while you're inside! Previously, you could shower at the neighbouring Skyteam lounge by special arrangement. But since the SkyTeam lounge is currently shut, showers aren't possible right now.
Lounge access options
Complimentary credit card access: American Express Platinum and Centurion Card Members have free access to this lounge before any flight.
Class of travel: Business and First Class passengers on contracting airlines including (but not limited to) Air Calin, Air Canada, Bamboo Airlines, China Airlines, China Southern, Delta Airlines, Garuda Airlines, Korean Air, Malaysia Airlines, Vietnam Airlines and Xiamen Airlines.
Airline frequent flyer status: Eligible status members of those aforementioned airlines may also be eligible for access, depending on the contractual arrangement with each carrier.
Alliance frequent flyer status: Eligible oneworld, Star Alliance and Skyteam members may have access when flying one of the aforementioned airlines within the same alliance. This depends on the contractual arrangements with each carrier.
Lounge membership program: Members of Smart Traveller may be able to buy passes/memberships or use Arrture Points towards lounge access. DragonPass members may also use passes or memberships to access this lounge.
Day pass: Pre-book entry online or at the door.
Note that the list of partner airlines that use the Plaza Premium Lounge in Sydney may change over time. Consult with your carrier to see the latest lounge access policies. Plaza Premium is also no longer partners with Priority Pass.
Summing up
Plaza Premium's Lounge in Sydney may be small, but it packs a punch. With excellent views, a tended bar and a decent food selection, I'd certainly be happy waiting out a flight here.
The limited footprint may cause problems when travel rebounds even more. But during my visit, it comfortably accommodated the morning peak without any issues.
Pre-COVID, the lounge was known for its sizeable a la carte menus and High Tea in the afternoon. I hope this enhanced dining makes a return when the demand supports it, as it would elevate the experience in this space even more.
Photography by Brandon Loo, who travelled at Point Hacks' expense. He visited the lounge as a guest of Plaza Premium.
Plaza Premium Lounge, Sydney
was last modified:
August 4th, 2022
by