Qantas Frequent Flyer and Hoyts have enjoyed a fruitful partnership since mid-2017, offering the opportunity to earn and redeem Qantas Points on tickets and treats at the movies. The program recently underwent a further revamp in May 2021, simplifying the premium tiers down to one and changing up some key benefits.
In this post, we outline the earn and redemption rates, membership tiers, and advise when it is worth paying extra for a VIP membership.
How do you earn Qantas Points at Hoyts?
Qantas Frequent Flyer members can earn Qantas Points on cinema tickets and food & beverage purchases. There are two tiers of membership and points earn:
HOYTS Rewards: free to join; earn 0.5 Qantas Points for every $1 spent

(e.g. a $20 purchase = 10 points)

HOYTS Rewards VIP: $15/year; earn 2 Qantas Points for every $1 spent

(e.g. a $20 purchase = 40 points)
(Note that points cannot be earned on gift cards or vouchers; HOYTS Rewards annual fees or membership fees; Val Morgan advertising; Corporate sales, bookings and events; or any other bulk sales or purchases through HOYTS Corporate and Community Sales teams.)

Here are the benefits that free and VIP members receive, as of June 2021:
Hoyts Rewards member
Hoyts Rewards VIP member ($15/yr)
Save 10% on movie tickets
Earn HOYTS Points (25 pts per A$1)
Free popcorn refills
Birthday rewards
$9 movie tickets for members over 60+
$10 Movie of the week tickets
Earn Qantas Points (0.5 pts per A$1)
Save 25% on movie tickets
Save 10% on food & drink
Earn double HOYTS Points (50 pts per A$1)
Free popcorn refills
Birthday rewards
$9 movie tickets for members over 60+
$10 Movie of the week tickets
Earn Qantas Points (2 pts per A$1)
How do you earn and use Hoyts Points?
Separate to Qantas Points, you can also earn Hoyts Points with eligible transaction. Essentially, free members earn 25 Hoyts Points per A$1 spent, while VIP members earn 50 Hoyts Points per A$1 spent. Those points can be used for Candy Bar items and discounted tickets, such as below.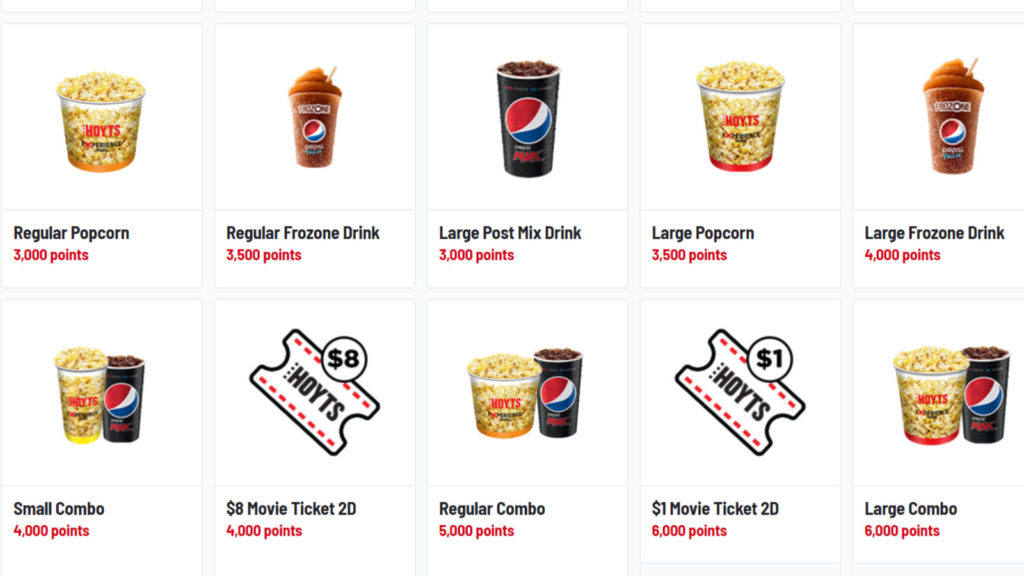 It's hard to pin a value on Hoyts Points because pricing varies wildly between cinemas. But let's assume a standard adult ticket is $20 and a regular combo costs $17.50.
Using Hoyts Points for tickets
With a standard A$20 ticket, 4,000 Hoyts Points saves you A$12 while 6,000 Hoyts Points saves you A$19. The latter option is slightly more worth it ($1 Movie Ticket 2D for 6,000 pts), giving you 0.32 cents per Hoyts Point.
Using Hoyts Points for Candy Bar
With a standard A$17.5 regular combo, 5,000 Hoyts Points is enough for the whole combo. This provides slightly better value compared to the discounted ticket, with 0.35 cents per point.
Note that during my cinema visit during June 2021, a regular combo was on special for just 1,600 Hoyts Points instead of 5,000 – that gives a triple value of $1.09 per point, if you can still access this deal (see the screenshot below).
Ad – Scroll down to continue reading.Minimum spend, terms & conditions apply.
Is it worth paying for VIP membership?
Unfortunately, Hoyts' paid membership tiers no longer include a free or discounted ticket on sign-up that would help offset the cost of your annual fee. Instead, you'll need to quickly assess whether you visit the cinema often enough to take advantage of VIP perks.
The break-even point is roughly at A$60 a year on tickets – if you buy three adult tickets at $20 each, then you'll save $15 with the VIP membership discount, which makes up the annual cost. You'll then start saving more money on future visits, which is great for a family or frequent theatre-goers!
Also note that you will be earning double Hoyts Points and quadruple Qantas Points on purchases as a VIP member compared to a regular member. Though your points earn won't be anything significant overall, it does add up. In particular, Hoyts Points are great for redeeming for goodies at the Candy Bar and saving your cash for the tickets.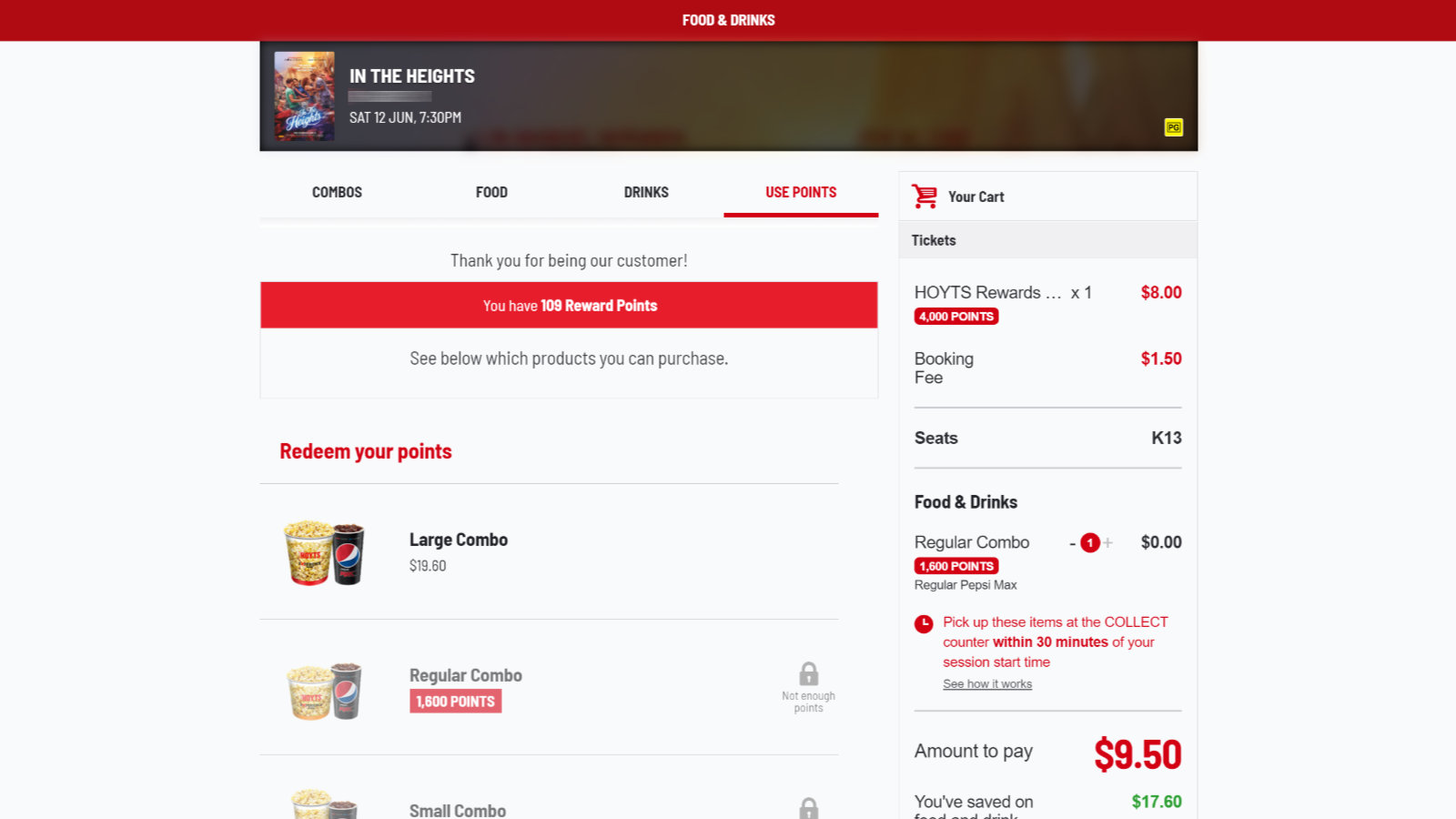 How do you join HOYTS Rewards and link to Qantas Frequent Flyer?
Navigate to 'My Details' through the menu options
Add your Qantas Frequent Flyer number to link to your HOYTS Rewards account
Then scan your Qantas Frequent Flyer or HOYTS Rewards card when purchasing in-person, or use your number online.
How do you redeem Qantas Points at Hoyts?
You can also use your Qantas Points in exchange for discounts at HOYTS. It's at the rate of 4,000 points for a $20 discount on tickets and treats. That equates to a value of 0.5 cents for each Qantas Points, which is only just a fraction of what they are worth (currently 1.80 cents per point based on our latest valuations).
We wouldn't recommend using your Qantas Points for redemptions at HOYTS. For much higher-value redemptions, check out our best uses of points guides, including flights and more.
Summing up
The ability to earn Qantas Points at the movies just by signing up to HOYTS Rewards and linking your accounts is a no-brainer. Even if you go to the movies just occasionally, we suggest doing so to earn some benefits.
If you spend a higher amount, say more than $60 a year on tickets, it might be worth signing up for the Hoyts VIP tier to save up to 25% on tickets and also a lot more points for each purchase. Using Hoyts Points for Candy Bar items and discounted movie tickets is pretty decent value (given it's the only option for your balance, anyway).
Note, however, that redeeming your Qantas Points at Hoyts represents poor value, because you are getting far less bang for your buck compared to flight rewards and more.
This article was originally written by Matt Moffit.
Earn Qantas Points at the cinema with Hoyts
was last modified:
June 15th, 2021
by