In mid-2017, Qantas Frequent Flyer and HOYTS launched a partnership, offering the opportunity to earn and redeem Qantas Points on and for tickets and treats at the movies.
In early August 2019, the cinema chain relaunched its HOYTS Rewards program.
In this post, I outline the earn and redemption rates, membership tiers, and advise when it is worth paying extra for a Plus or Premium membership.
How to earn Qantas Points at HOYTS
Qantas Frequent Flyer members can earn Qantas Points on cinema tickets and food & beverage purchases.
There are three tiers of membership and points earn:
HOYTS Rewards: free to join; earn 0.5 Qantas Points for every $1 spent; 100-point linking (to Qantas) bonus
HOYTS Rewards Plus: $12/year; earn 2 Qantas Points for every $1 spent; 500-point linking bonus; discounted LUX tickets
HOYTS Rewards Premium: $50/year; earn 3 Qantas Points for every $1 spent; 1,000-point linking bonus; discounted LUX tickets with free second entrée and one wine/beer per month
(Note that points cannot be earned on gift cards or vouchers; HOYTS Rewards annual fees or membership fees; Val Morgan advertising; Corporate sales, bookings and events; or any other bulk sales or purchases through HOYTS Corporate and Community Sales teams.)

Regardless of membership tier, all members receive:
Exclusive access to Saver and Super Saver Tickets
10% off all food & beverage purchases from the candy bar
Free birthday candy bar treats
Free popcorn refills
$10 movie-of-the-week tickets
$8 tickets for seniors (over 60)
Is it worth paying for Plus or Premium Membership?
If you average spending $34 or more at HOYTS every month, then it is worth you paying the $12 annual membership fee for Plus to earn Qantas Points at a higher rate (and that doesn't take into account the other benefits of the higher membership tier). That's based on our valuation of Qantas Points at 1.9c each.
Given that two tickets to a movie can often cost upwards of $34, if you go with a friend/partner once a month to the movies over a year, then paying for Plus is worth it.
If you're a high spender averaging over $200 each month, then a Premium membership becomes worth it.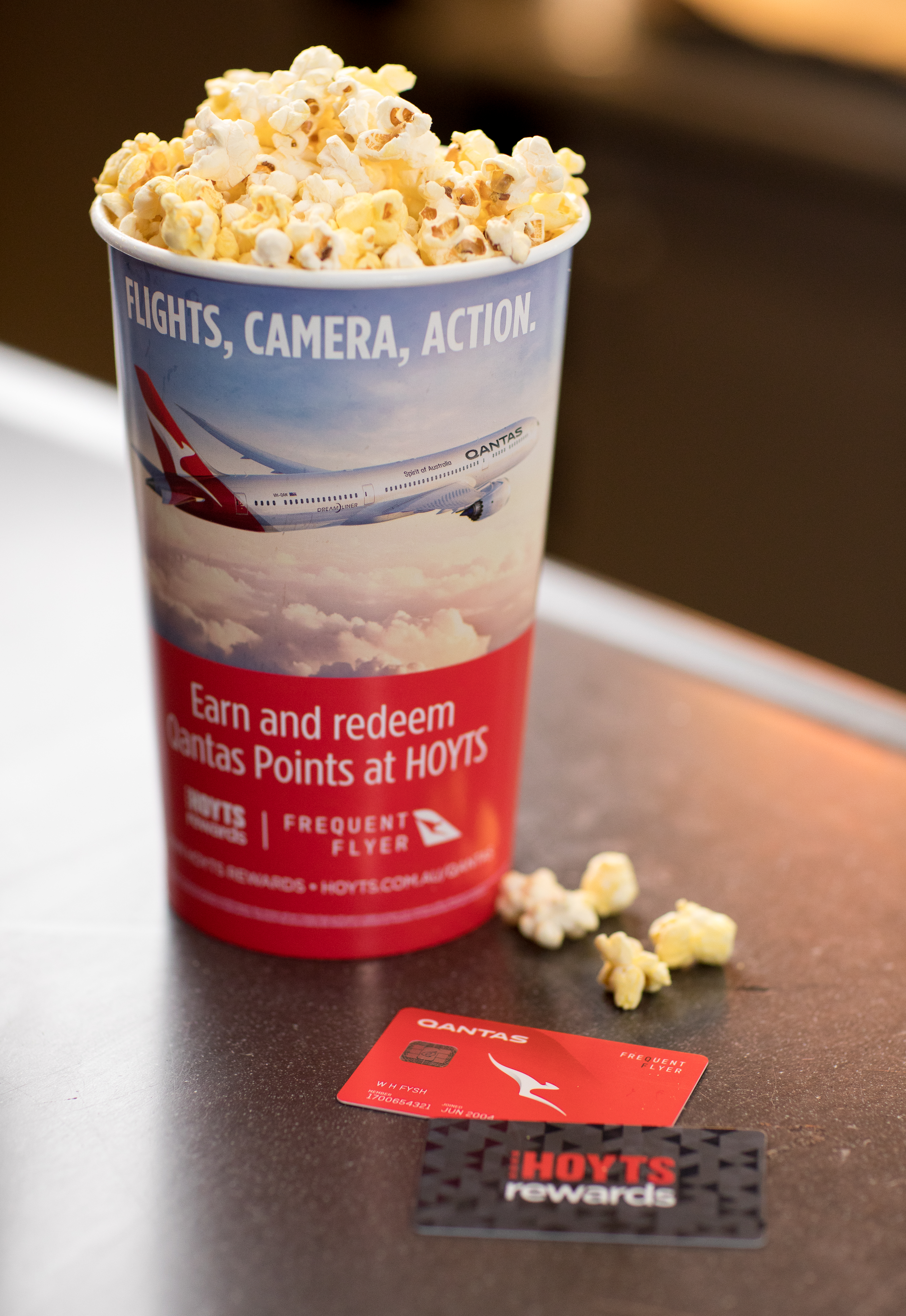 How to join HOYTS Rewards and link to Qantas Frequent Flyer
Select My Account from the dropdown box on the right-hand side of the page
Add your Qantas Frequent Flyer number to link to your HOYTS Rewards account
Then scan your Qantas Frequent Flyer or HOYTS Rewards card when purchasing in-person or use your number online.
How to redeem Qantas Points at HOYTS
You can also use your Qantas Points in exchange for discounts at HOYTS. It's at the rate of 4,000 points for a $20 discount on tickets and treats.
That equates to a value of 0.5 cents for each Qantas Points, which is only just over a quarter of what they are worth, so I wouldn't recommend using your Qantas Points for redemptions at HOYTS.
For much higher-value redemptions, check out our best uses of points guides.
Summing up
The ability to earn Qantas Points at the movies just by signing up to HOYTS Rewards and linking your accounts is a no-brainer.
If you spend a higher amount, then it may be worth considering paying for a Plus or Premium membership.
Note, however, that redeeming your Qantas Points at HOYTS represents poor value.
Have you taken advantage of the Qantas Frequent Flyer-HOYTS Rewards partnership? What is your opinion of it?
How to earn Qantas Points at the cinema with HOYTS
was last modified:
January 20th, 2020
by