Choice Privileges is the loyalty program of Choice Hotels, one of the largest chains in the world with more than 7,100 properties across 41 countries and territories around the world. With the program, you can earn points on stays to use as rewards later, as well as earn status so frequent travellers have more benefits and recognition.
All members also get lower rates on most stays, so it makes sense to sign-up if you are going to book with a Choice Hotels property directly.
How do I join Choice Privileges?
Joining Choice Privileges is free and easy. If you're not already a member, then follow these steps:
Head to the 'Join Choice Privileges Rewards' page and enter your personal details.
Create a username and password
Click 'Join now' to become a member.
Log in to your account while booking with hotels directly to take advantage of lower rates, and to earn points after your stay.
Membership is available to residents of the U.S., U.S Territories, Canada, Europe, Middle East, Africa, Mexico, Central America, the Caribbean, Australia, New Zealand and Singapore.
What Choice Privileges hotel brands are there?
Choice Hotels has a range of upmarket (Ascend, Cambia), mid-tier and budget hotel brands.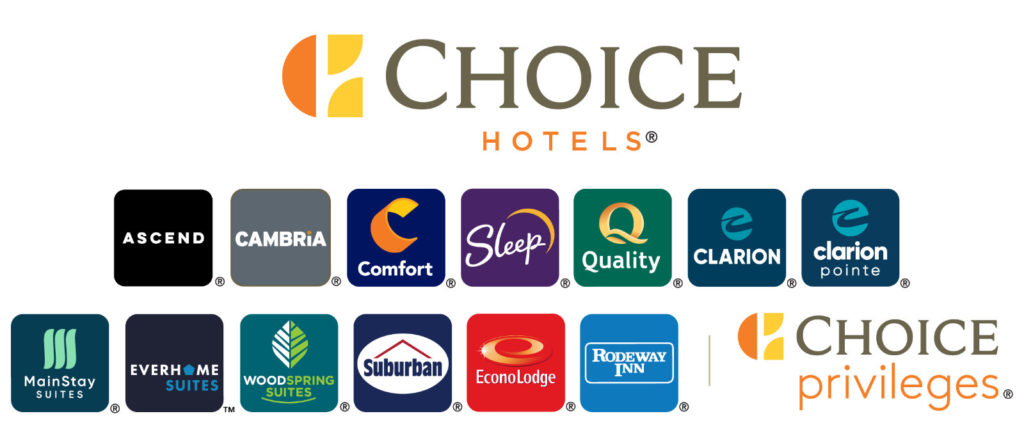 You can earn and redeem Choice Privileges points on stays at Ascend Hotel Collection, Cambria, Comfort, Sleep, Quality, Clarion, MainStay Suites, Everhome Suites, Woodspring Suites, Suburban, EconoLodge and Rodeway Inn properties. The most common brands in Australia and New Zealand include the Ascend Hotel Collection, Comfort, Quality Inn, and EconoLodge.
What are the Choice Privileges membership levels?
The Choice Privileges Rewards program has four different membership tiers, which are:
Member
Gold
Platinum
Diamond
Choice Privileges Member
Requirement: just enrolment in the program
Earn 10 points per US$1 spent
Book at member rates
'Your Extras' including bonus 400 points or 100 airline points if your stay includes a Sunday-Thursday
Express check-in
Choice Privileges Gold
Requirement: 7 nights a calendar year
In addition to Member benefits, you'll get:
10% bonus points on top of the normal rate
Choice Privileges Platinum
Requirement: 15 nights a year
In addition to Gold benefits, you'll get:
25% points bonus on top of the normal rate
Choice Privileges Diamond
Requirement: 25 nights a calendar year
In addition to Platinum benefits, you'll get:
Complimentary room upgrade at participating properties
60% points bonus on top of the normal rate
How do I earn Choice Privileges points?
The main way to earn Choice Privileges points is by staying at their hotels. You'll earn 10 points for each $1 USD (or equivalent currency) spent on your hotel room bill. This normally includes the room rate and any incidentals you charge to the room, such as dining. Elite members earn a bonus on top.
If your stay includes a Sunday-Thursday, then you'll be able to opt for bonus points: either 400 Choice Privileges points or 100 airline frequent flyer points.
You can buy up to 180,000 Choice Privileges points a year to build up your balance to the next reward. At usual rates, points cost between US$9.90 to US$12.10 per block of 1,000, depending on how many you buy. There are occasional sales which might discount this by up to 40% or more.
Another option upgrade your stay with a package that offers bonus points on top of your stay, for a nominal extra amount. This works out to be slightly cheaper than buying the points outright without a discount. For example, you can book this base room below for $108, or get a package with 4,000 bonus points for $145.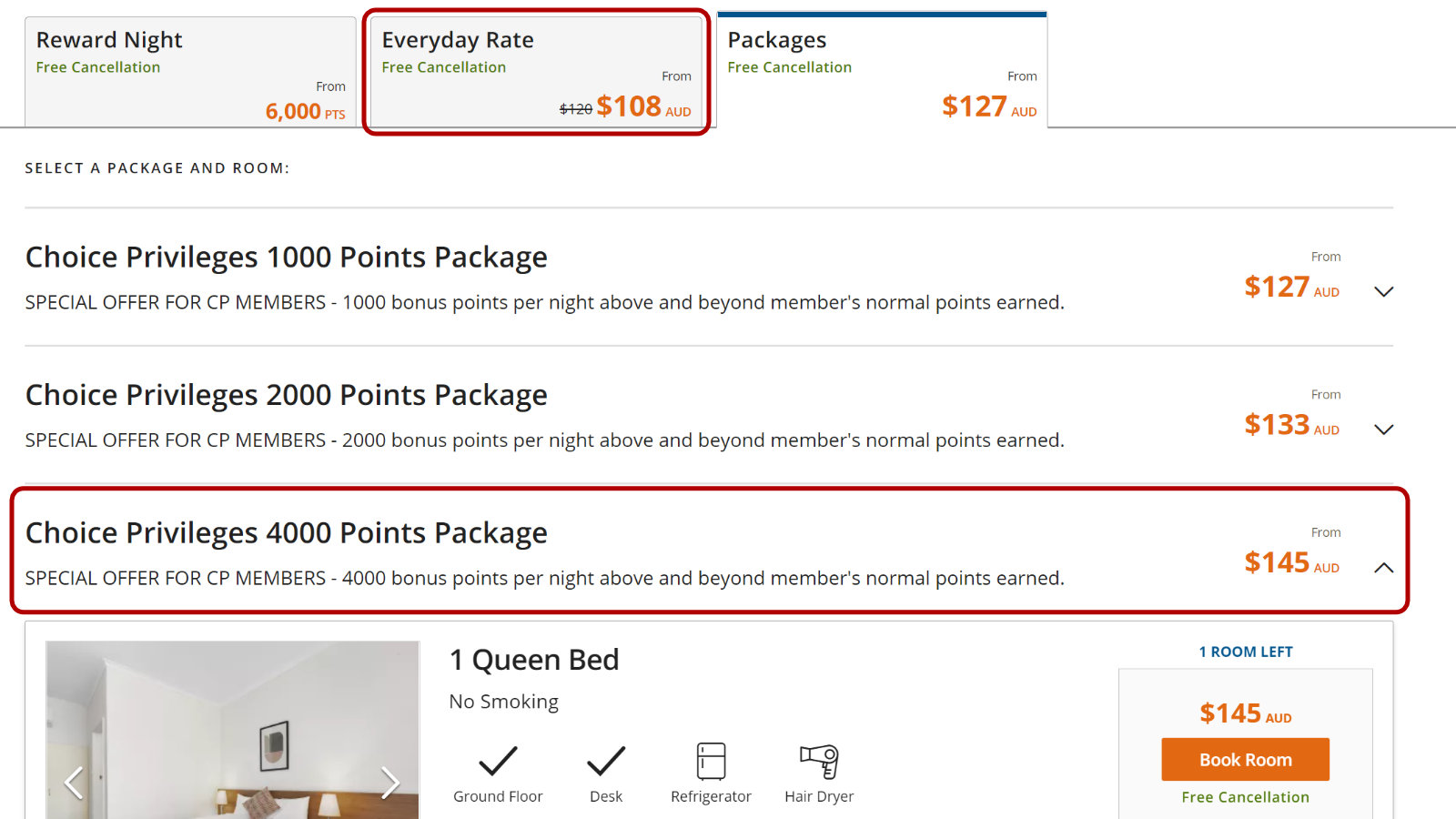 That's essentially paying A$37 more to earn 4,000 points, which would normally cost US$48.40 if you were to purchase it outright. If you needed those points for a reward, then that could be a reasonable deal.
See the latest Choice Privileges deals here
How do I use Choice Privileges points?
Choice Privileges points are often used to book reward night stays at hotels. Reward Nights are usually valid for a base room with two adults, tax included. The number of points needed for a stay depends on the property and can be viewed when making a booking on the Choice Hotels website.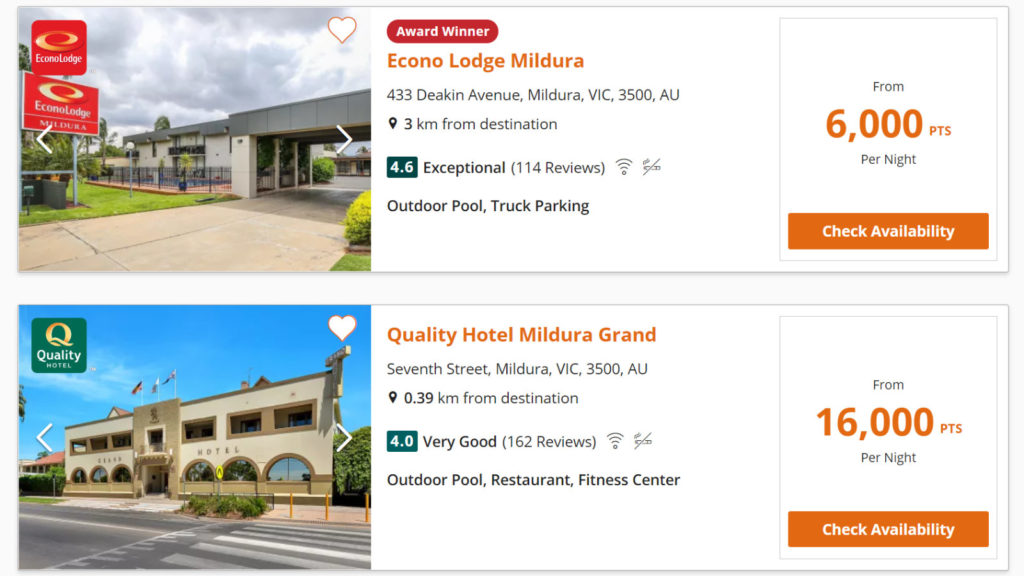 You can also transfer Choice Privileges points to airline partners, including Qantas Frequent Flyer and Velocity Frequent Flyer in Australia, as well as Air Canada Aeroplan, American Airlines AAdvantage and Alaska Airlines Mileage Plan further afield.
The usual conversion rate is 2,000 Choice Privileges points to 800 Qantas or Velocity Points. There are occasional promotions which might double this, so do keep an eye out for those.
Should I earn hotel points and transfer to an airline program or earn airline points directly?
With Choice Privileges, you have the option of earning standard hotel points on your stay (which can later be used for reward nights and airline points), or you can opt to earn hotel points directly. So what's the best option for members of Qantas Frequent Flyer and Velocity Frequent Flyer?
Based on our calculations below, you'll usually be better off earning Choice Privileges points. Although the earn rate in Australia is roughly the same, you will net more airline points by converting from your Choice Privileges balance. Plus, this keeps your points strategy flexible and you may be able to take advantage of transfer bonuses down the track.
Earning points directly with stays
Qantas: 3 points per dollar in Australia. 600 points per stay in New Zealand, Singapore, and other countries
Velocity: 3 points per dollar in Australia and New Zealand. 600 points per stay in Singapore and other countries
For an A$800 stay over 3 nights in Australia (and New Zealand for Velocity members), you'd earn 2,400 Qantas or Velocity Points, which is a great haul. The same stay overseas would net a flat 600 points for either program.
Earning Choice Privileges points and transferring to airlines
As mentioned earlier in this guide, base members earn 10 points per US$1 spent. It then takes 2,000 Choice Privileges points to redeem for 800 Qantas or Velocity Points. Taking the same A$800 stay example as above, that's worth roughly US$630 at time of writing.
You'd then earn 6,300 Choice Privileges Points as a standard member, which would be worth 2,400 Qantas or Velocity Points – that's essentially the same as earning those airline points directly. However, this method applies to all Choice Privileges hotels, so you'll be better off when travelling overseas, compared to earning a flat 600 points.
How is Choice Privileges managing COVID-19 disruptions?
Elite status: Thresholds reduced to 7/15/25 nights for Gold, Platinum and Diamond tiers respectively
Points expiry: For elite (Gold, Platinum, Diamond) members, points won't expire until 31 Dec 2021
Status extension: Eligible status is being extended through to 31 Dec 2021
How do I contact Choice Privileges?
To contact Choice Privileges specifically, call 1800 806 644 from Australia. This is separate from Reservations Services and contacting individual hotels, which are usually managed independently. Otherwise, send an email to [email protected].
Summing up
Although Choice Privileges might not be as well known in Australia and New Zealand, its program has a simple and solid offering. You can earn at least 10 points per US$1 spent, with plenty of opportunities to top-up points through various packages and promotions.
Once it's time to use those points, you've got the option of free reward nights starting from 6,000 points, or to transfer your points over to Qantas and Velocity Frequent Flyer.
Frequently asked questions
How many Choice Privileges points are needed for a free stay?
The rates vary depending on the property. In Australia, reward nights start from 6,000 points.
Do Choice Privileges points expire?
As long as you have qualifying activity in the last 18 months, your points won't expire. This includes stays which earn points, using points for rewards or buying points.
How do I check my Choice Privileges points?
Check your Choice Privileges points balance online at Choice Hotels.
New to the Choice Privileges program? Start here!
was last modified:
May 18th, 2021
by