If you want to indulge in the best that Qantas has to offer, a visit to the flagship International First Lounge in Sydney is a must. It's consistently ranked as one of the world's top ten airport lounges and is a shining jewel in Qantas' crown.
Enjoy the experience your way with table service in the restaurant area, a comprehensive dining menu, day spa offerings and a full bar. Join us as we live the first class life at Sydney International Airport!
Lounge location & details
The space hasn't changed much since it opened in 2007, but that isn't a bad thing given the amount of effort and detail Qantas has put into its original design.
After clearing immigration and security at Sydney Airport Terminal 1, I head left and pass the duty-free shops. Nearby, an escalator leads to both of Qantas' international lounges. The eye-catching entrance to the First Lounge is directly above.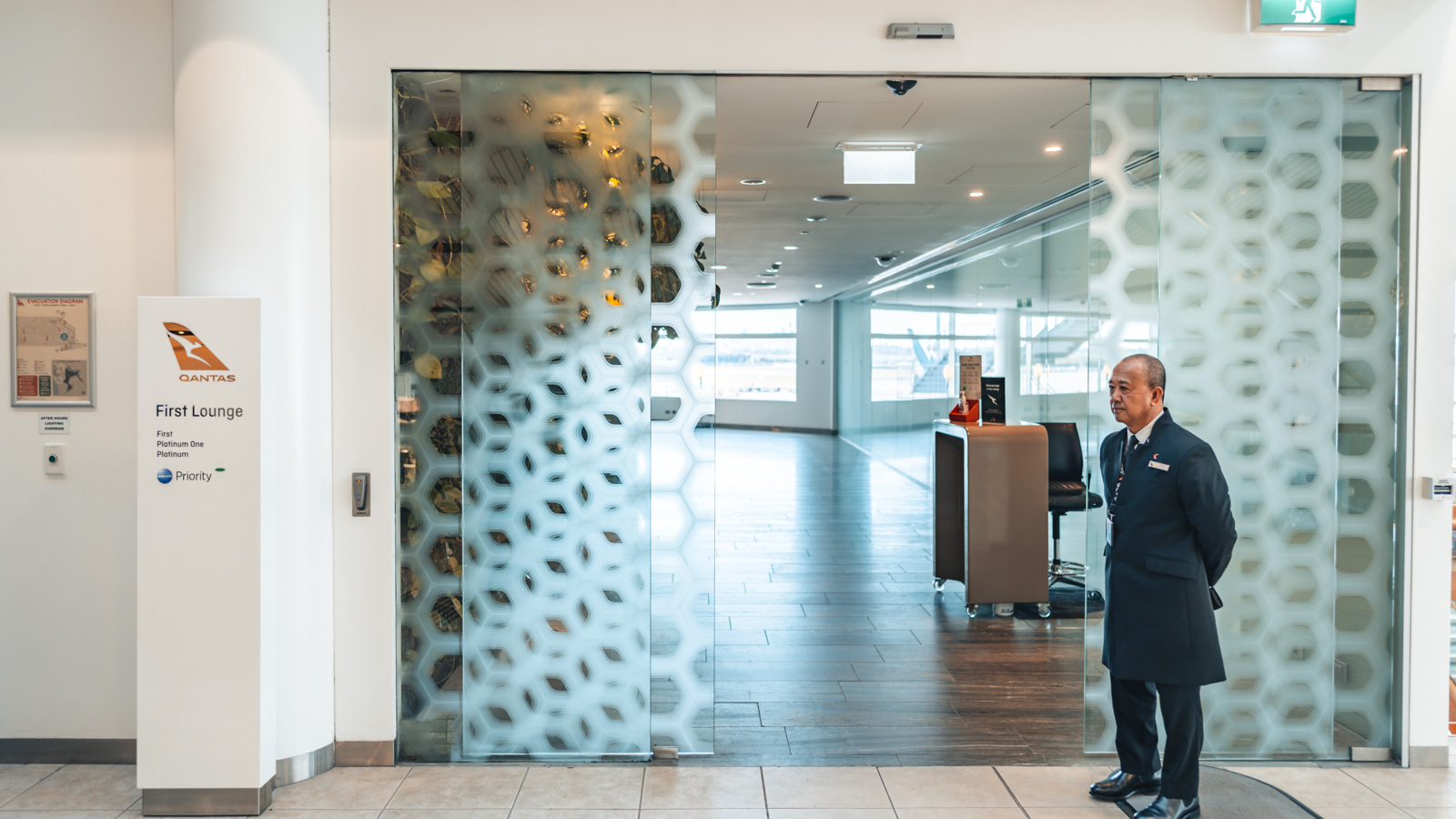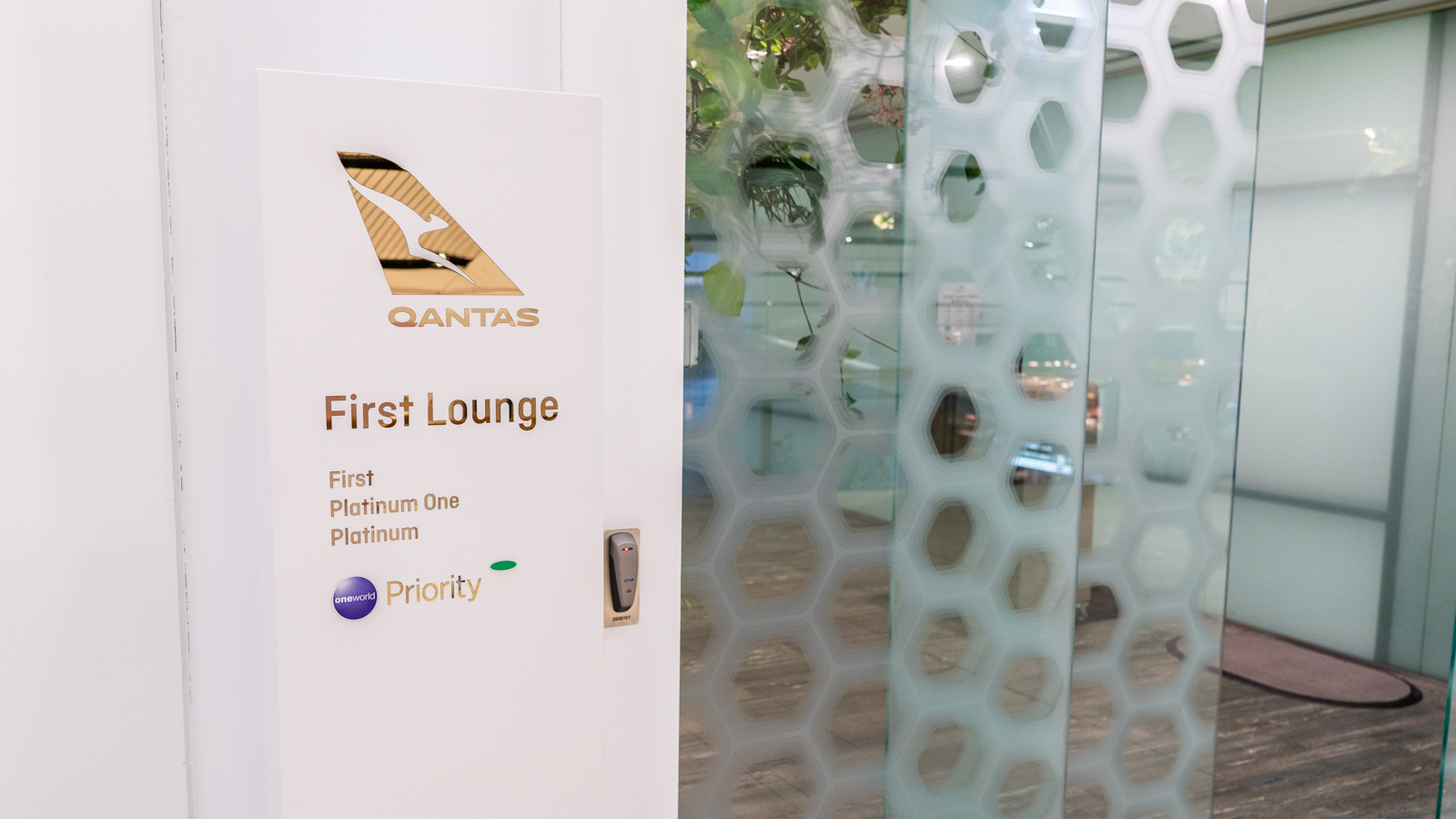 Once I enter, I take a moment to appreciate the large signature piece of the Mark Newson-commissioned interior – the living green wall. It's thriving, much like the demand for international travel these days.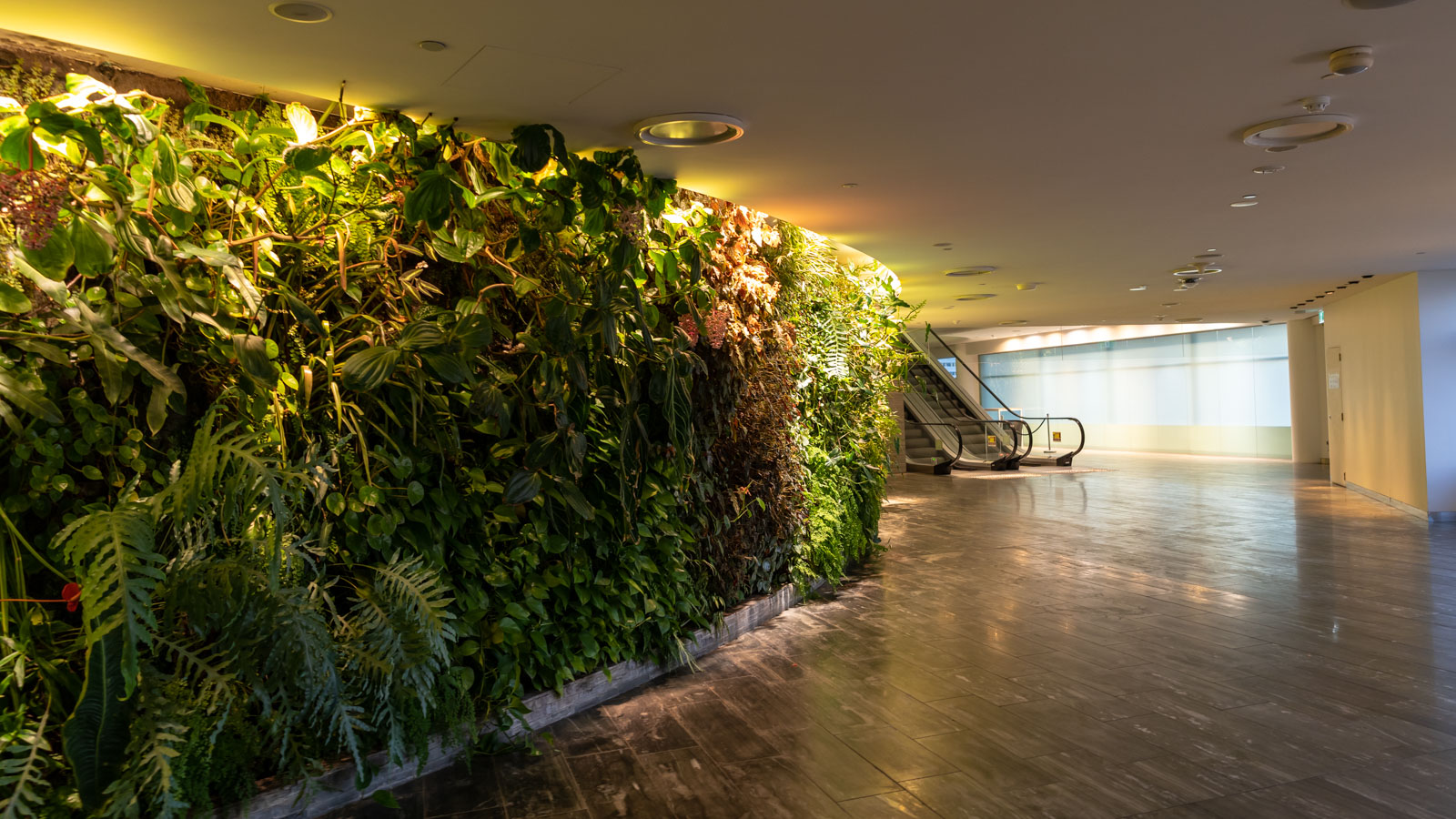 It's then time to take another set of escalators up, arriving at the grand main reception area to get my boarding pass checked. There are a few old-school split-flap boards dotted around the lounge. I just love the clack-clack-clack noise as the departure information updates.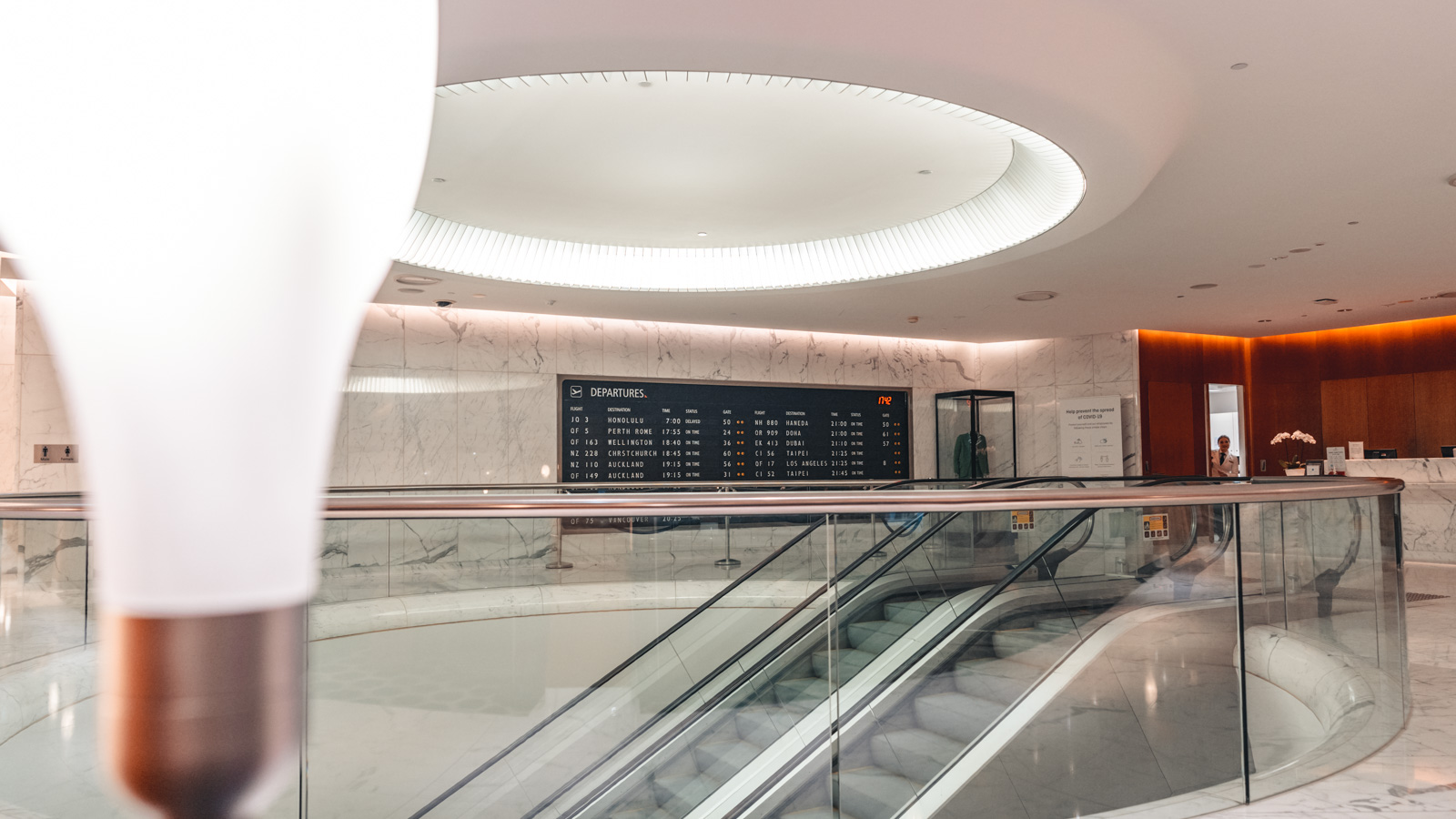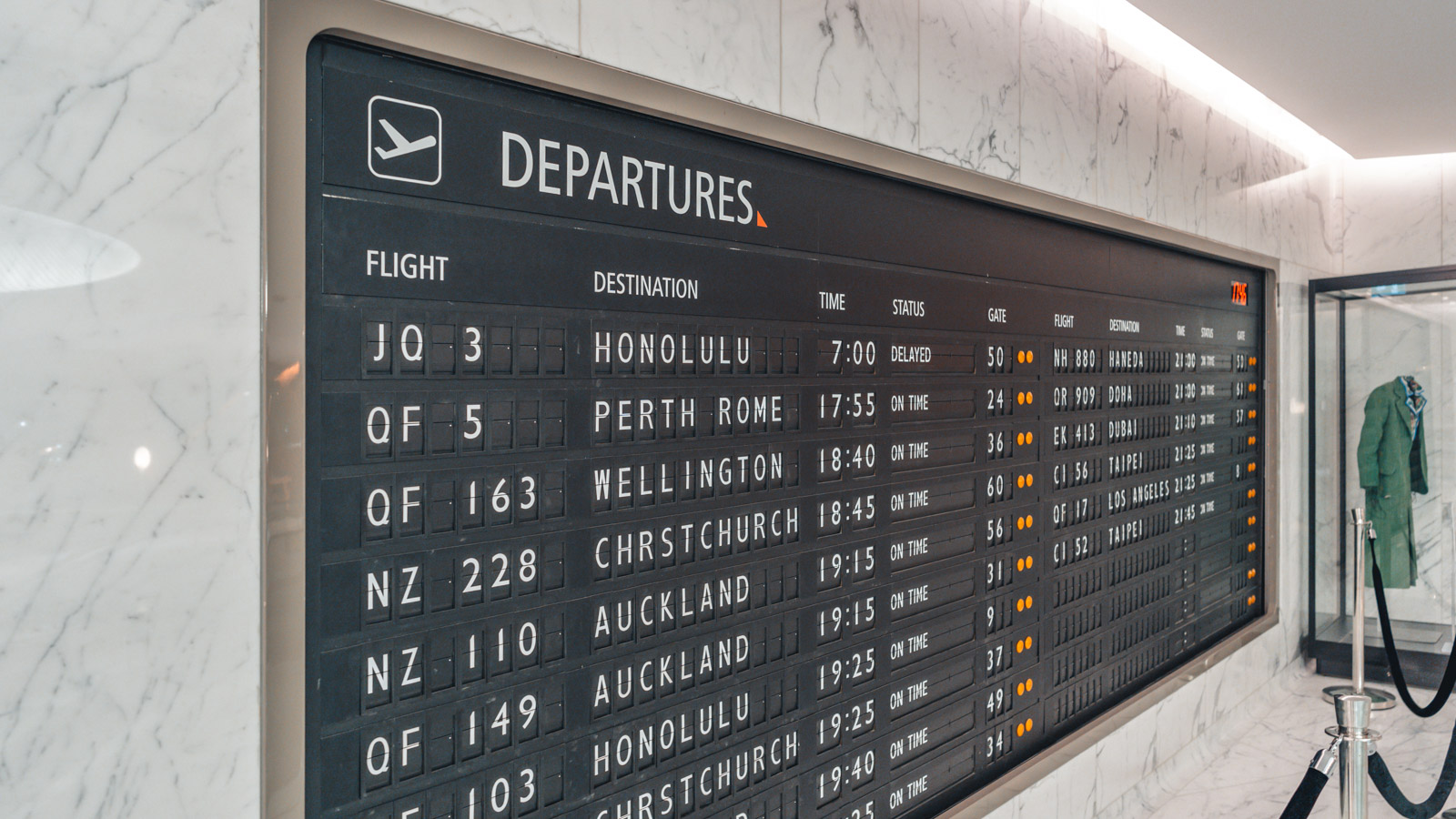 At the time of writing, the lounge is currently open from 5:00 am until the last Qantas international departure of the day.
Seating and design
The Marc Newson-crafted space is simply dazzling. Despite the lounge being more than 15 years old, the design remains as majestic as ever. Thick, imposing wooden beams divide the long lounge into distinct sections for lounging and eating.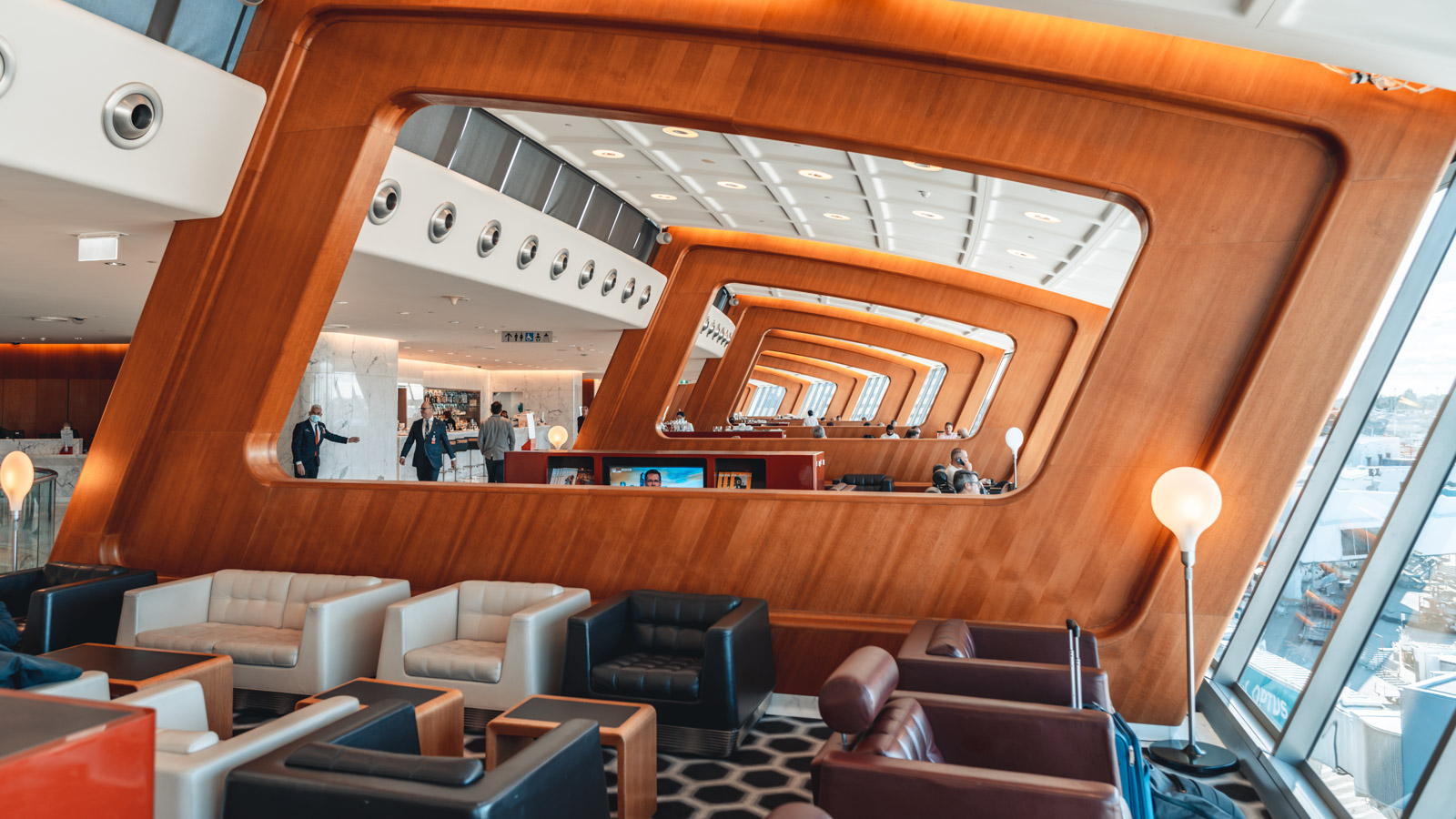 It gives a clear delineation to the space, and from left to right, the lounge is divided into multiple seating areas, some with silenced TVs, then restaurant seating with a large bar and open kitchen, followed by more seating and the library area at the end.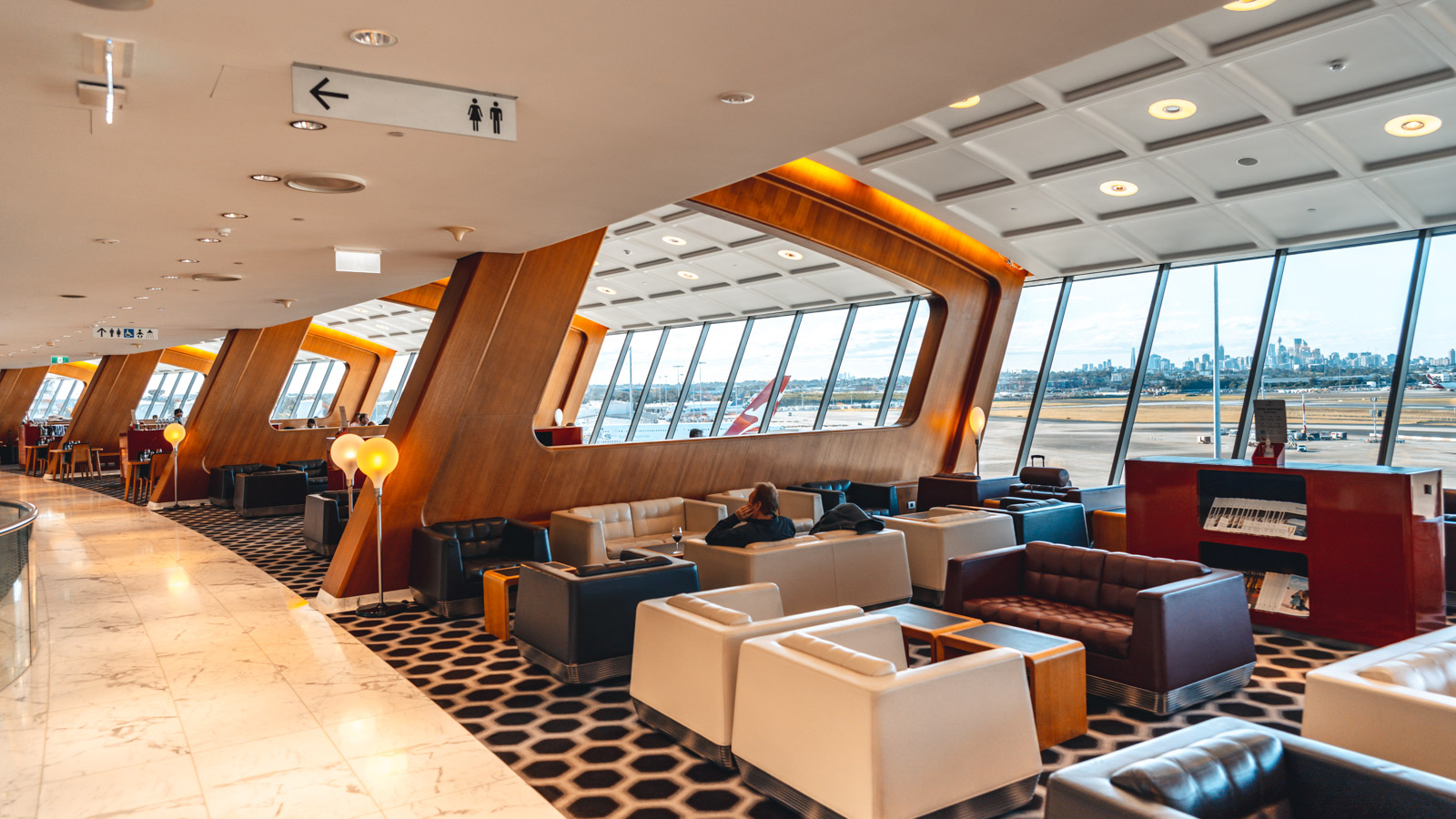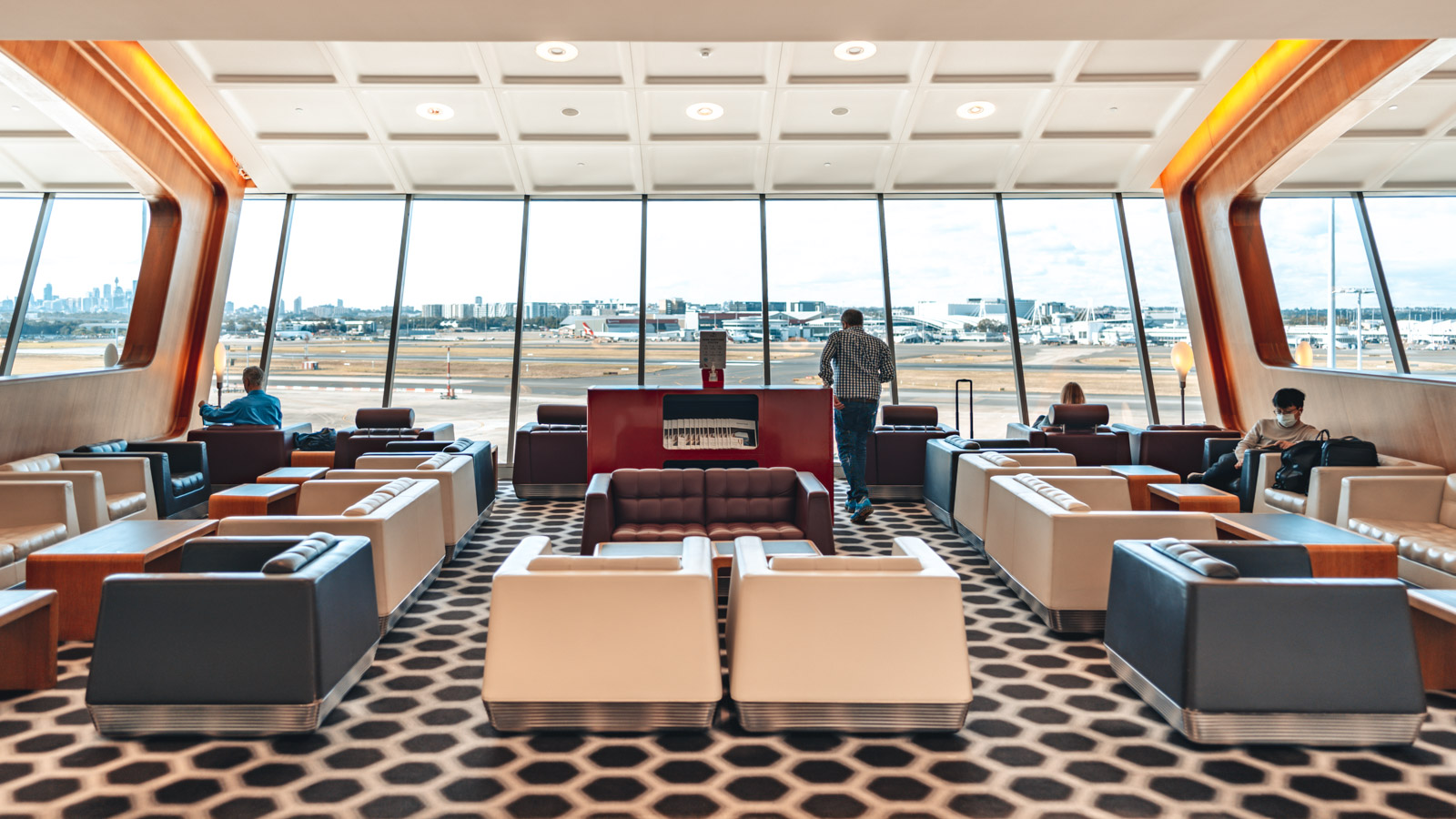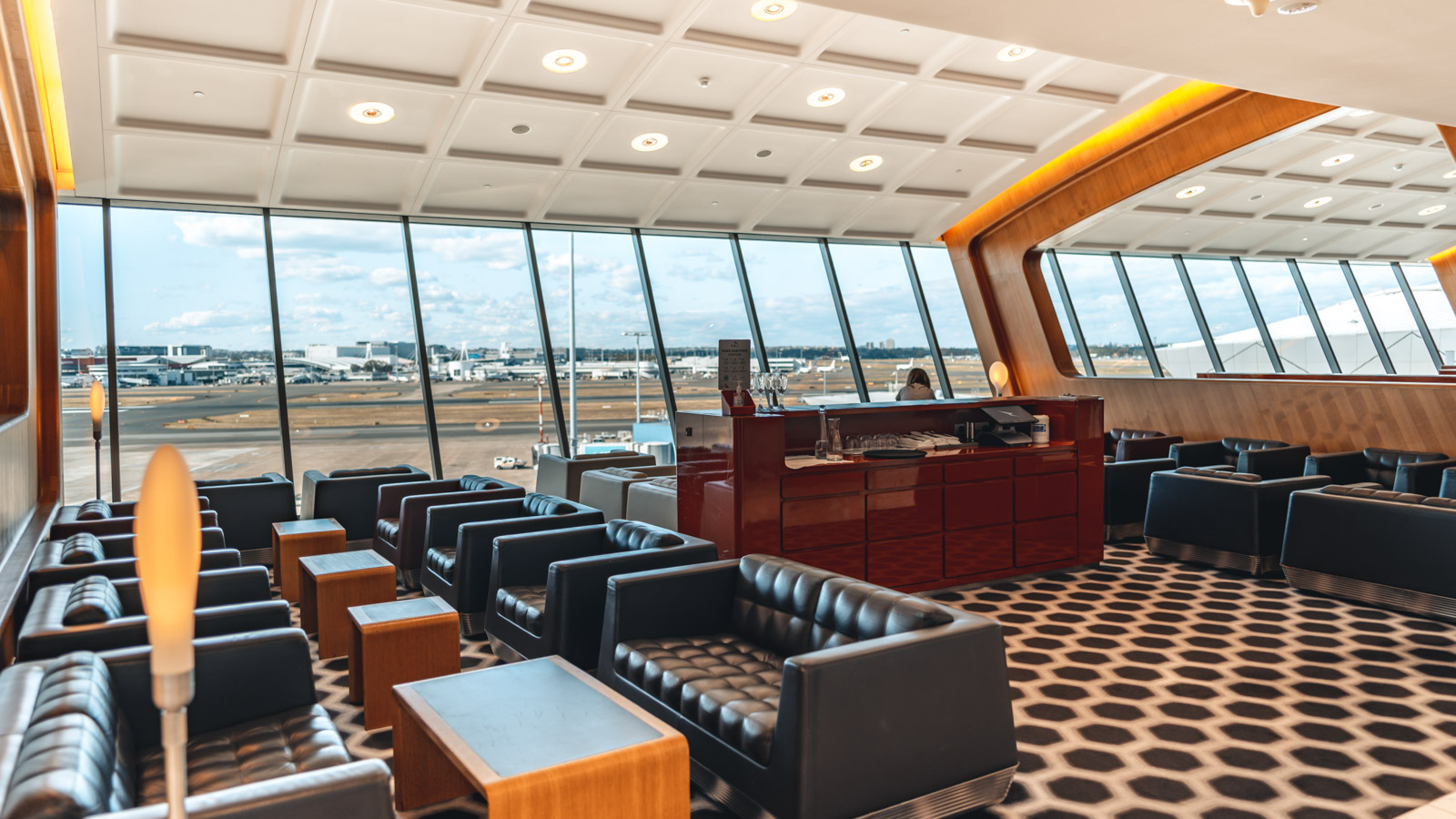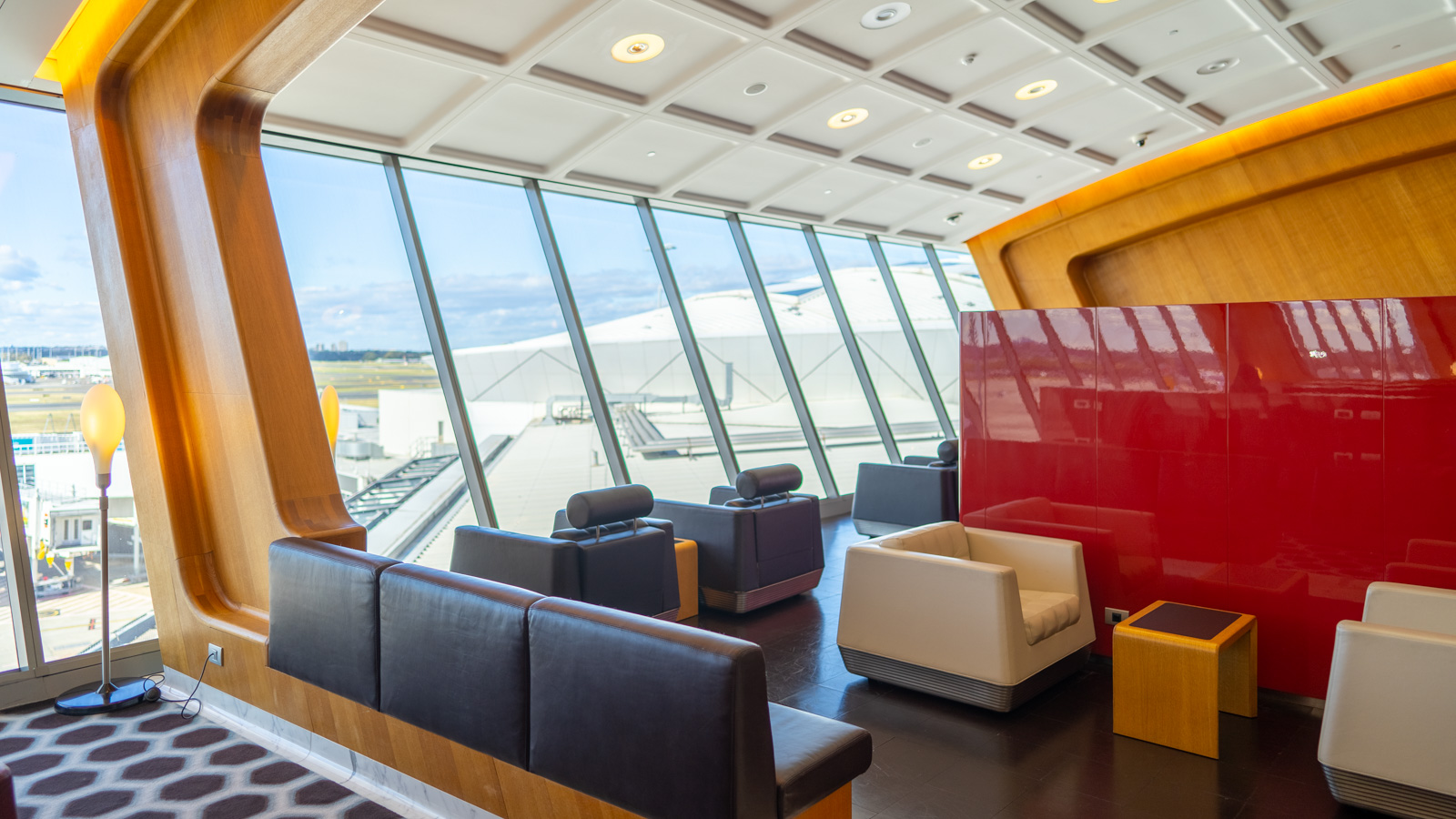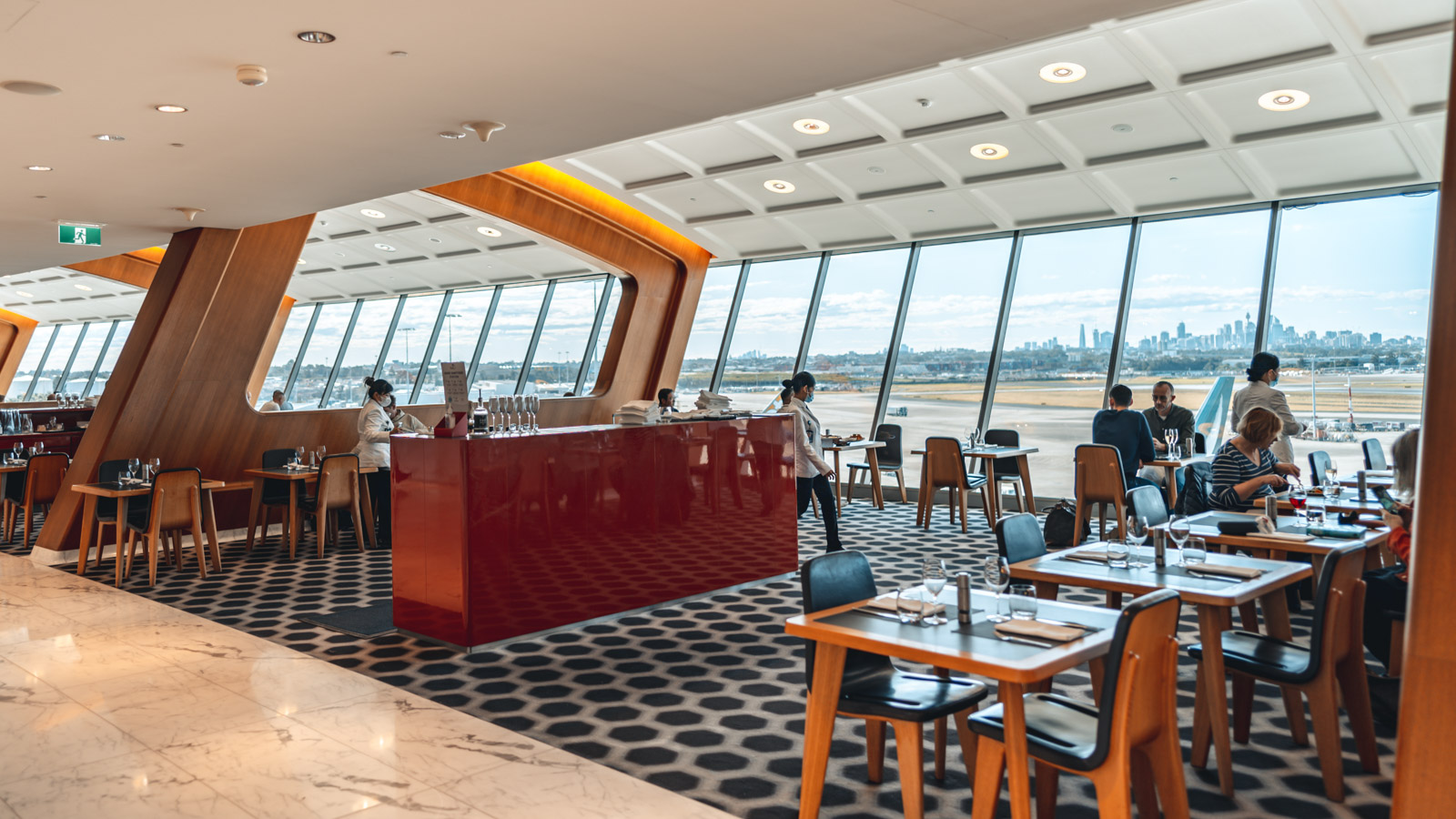 The library area really catches my eye. It's a lovely and quiet place to relax, with many 'heavy coffee table books for variety. A few meeting rooms are found near here as well. There's also a small business area on the other end of the lounge for working or printing.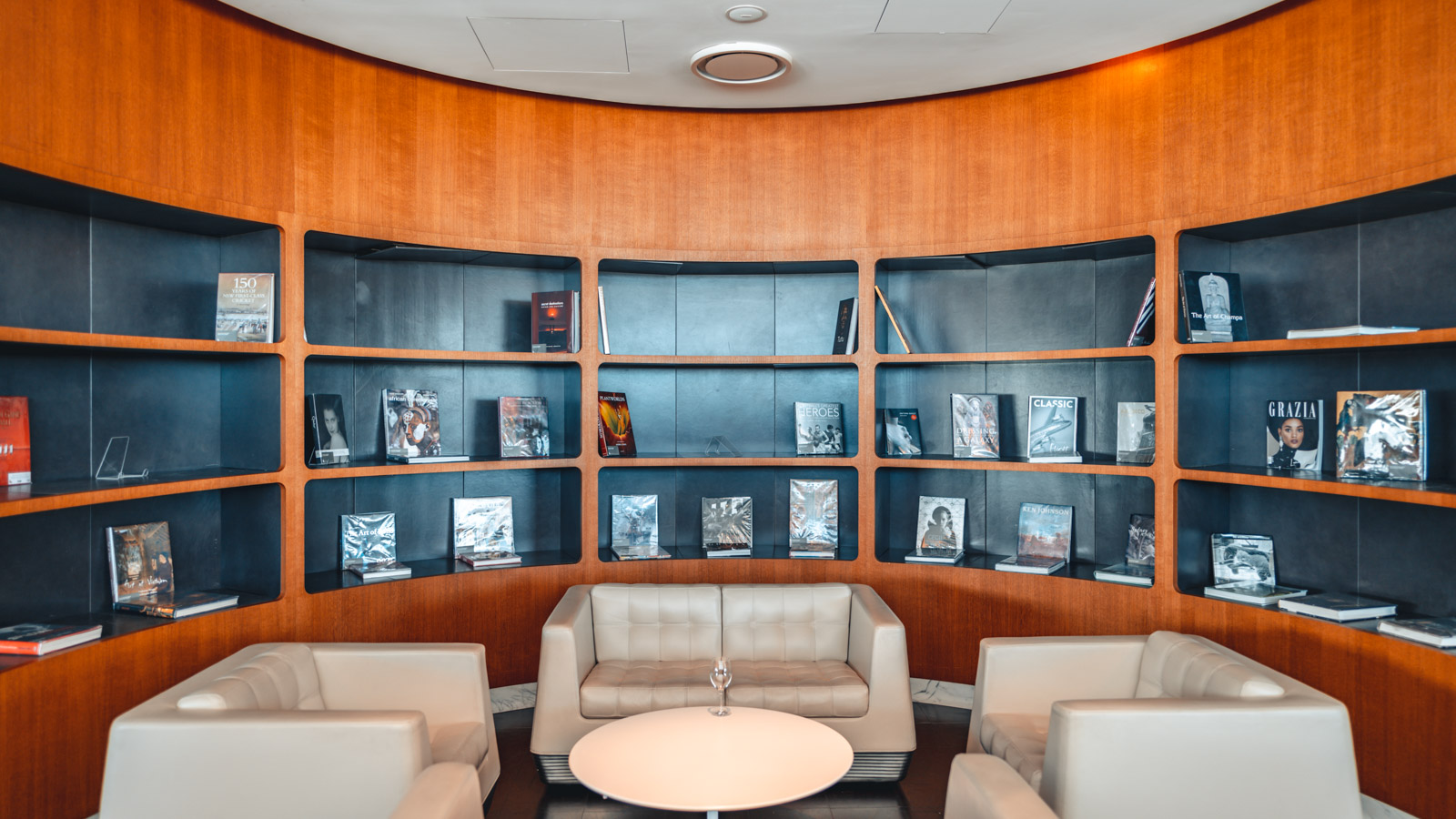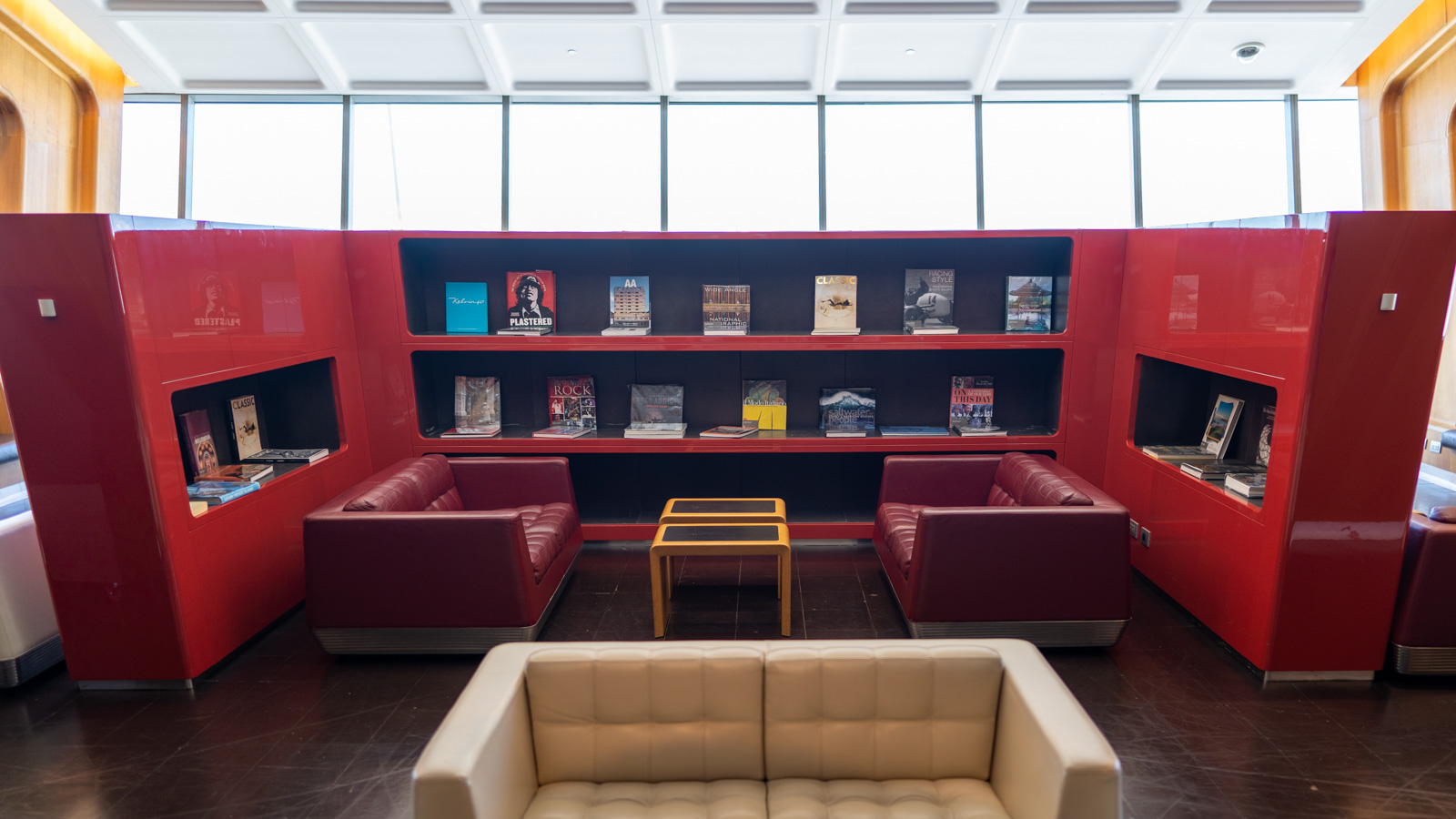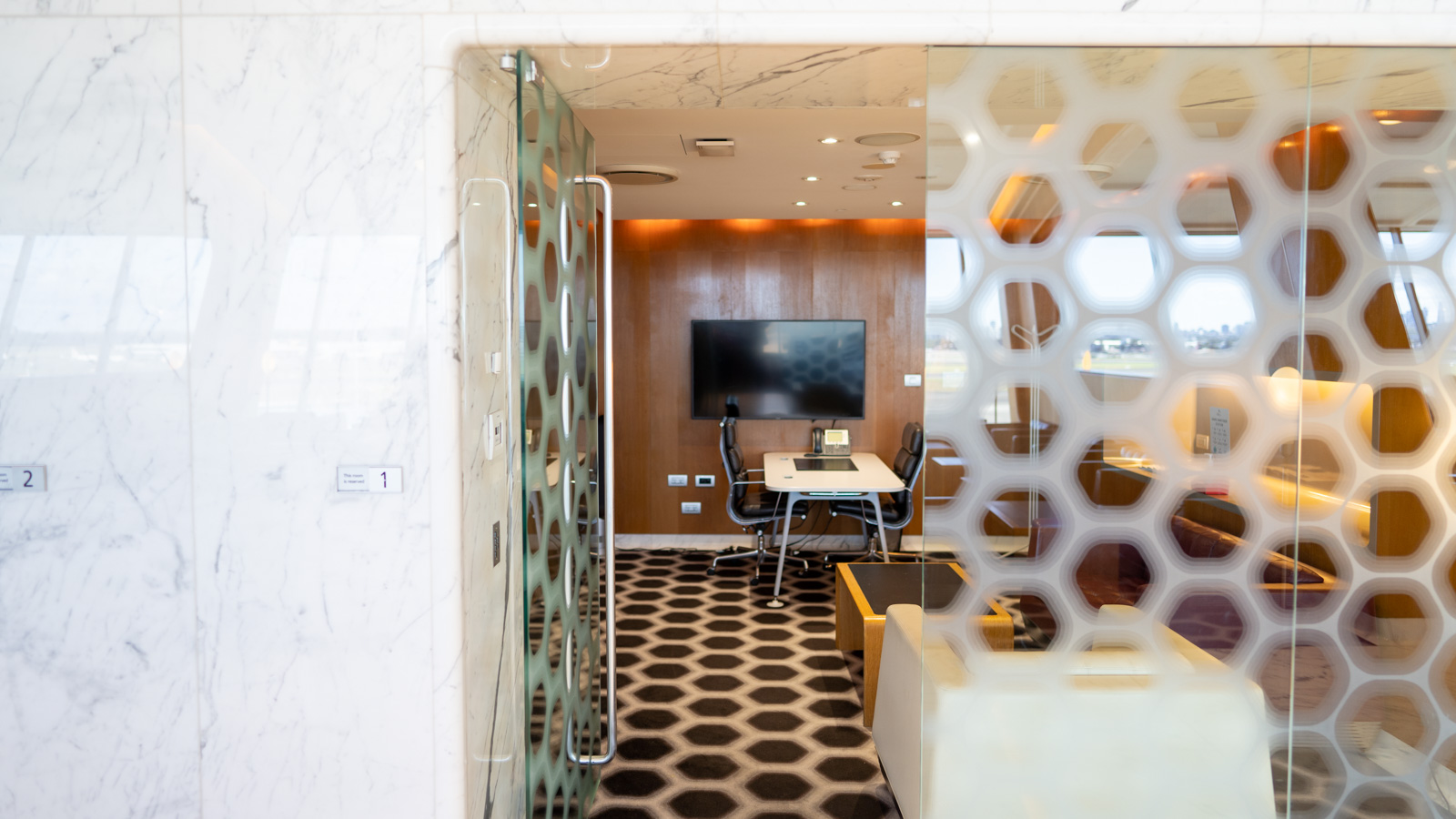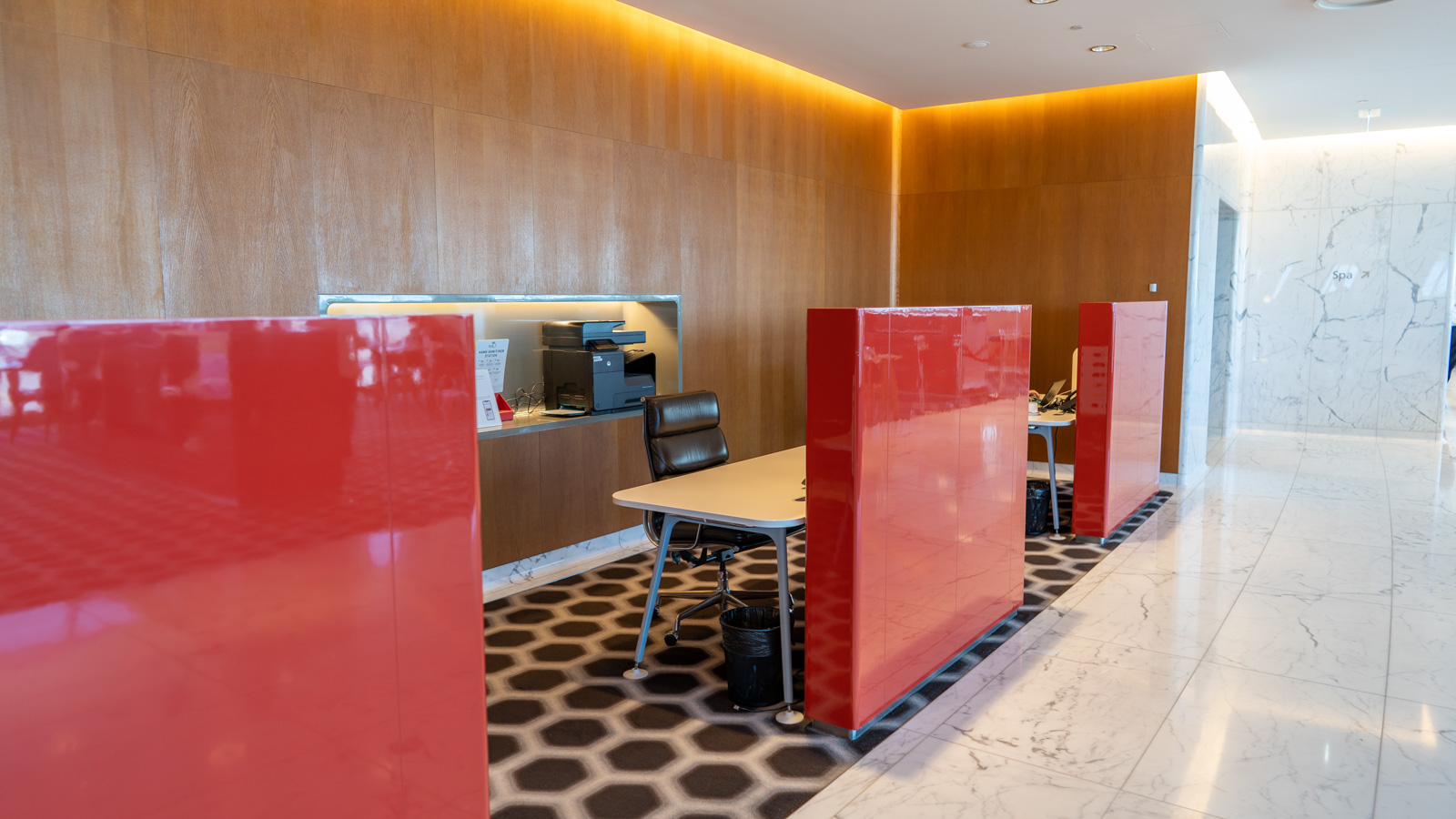 Food & drink
The Qantas International First Lounge boasts what might just be the nicest dining experience at Sydney International Airport, at least where food and views are concerned. The restaurant menu is managed by Neil Perry, Qantas Director of Food, Beverage and Service.
Speaking of which, service is delivered to a high standard with white-coated Sofitel staff.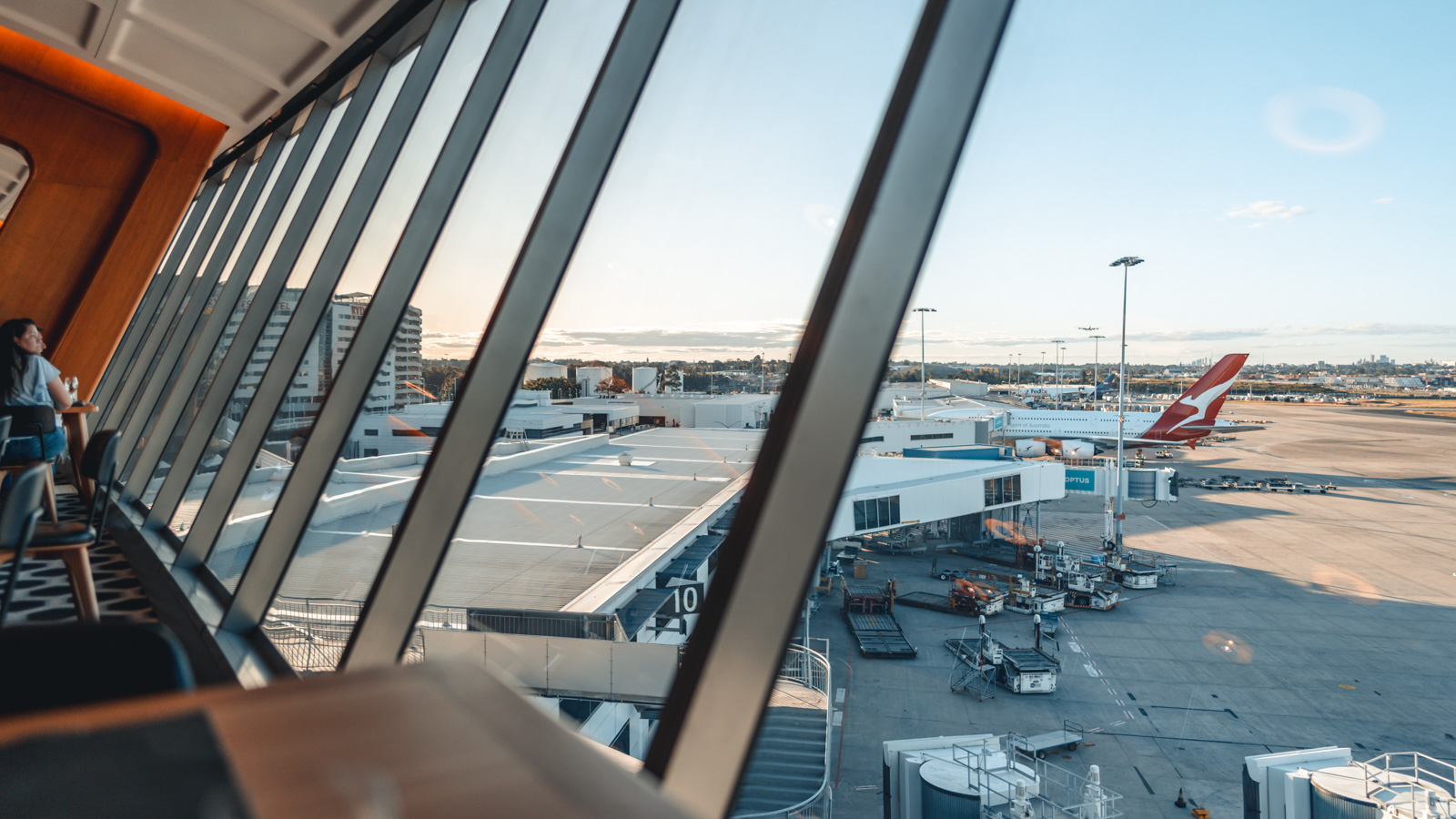 There are three dining sections in the First Lounge, each filled with a variety of tables. During my visit, two sections are open. I'm promptly seated near the window, handed a copy of the menu, and asked whether I'd like to have a glass of still or sparkling. ('Sparkling, please').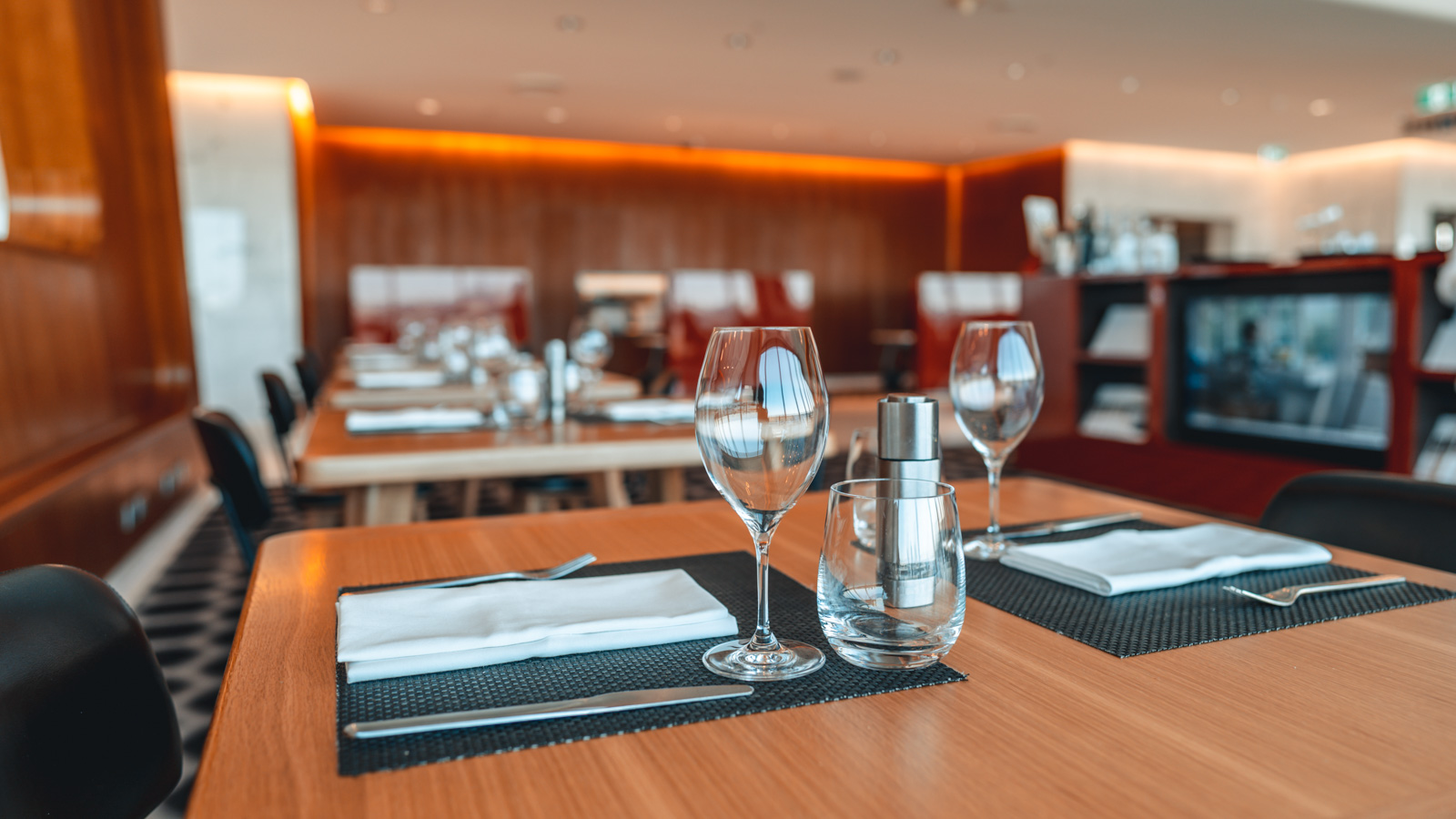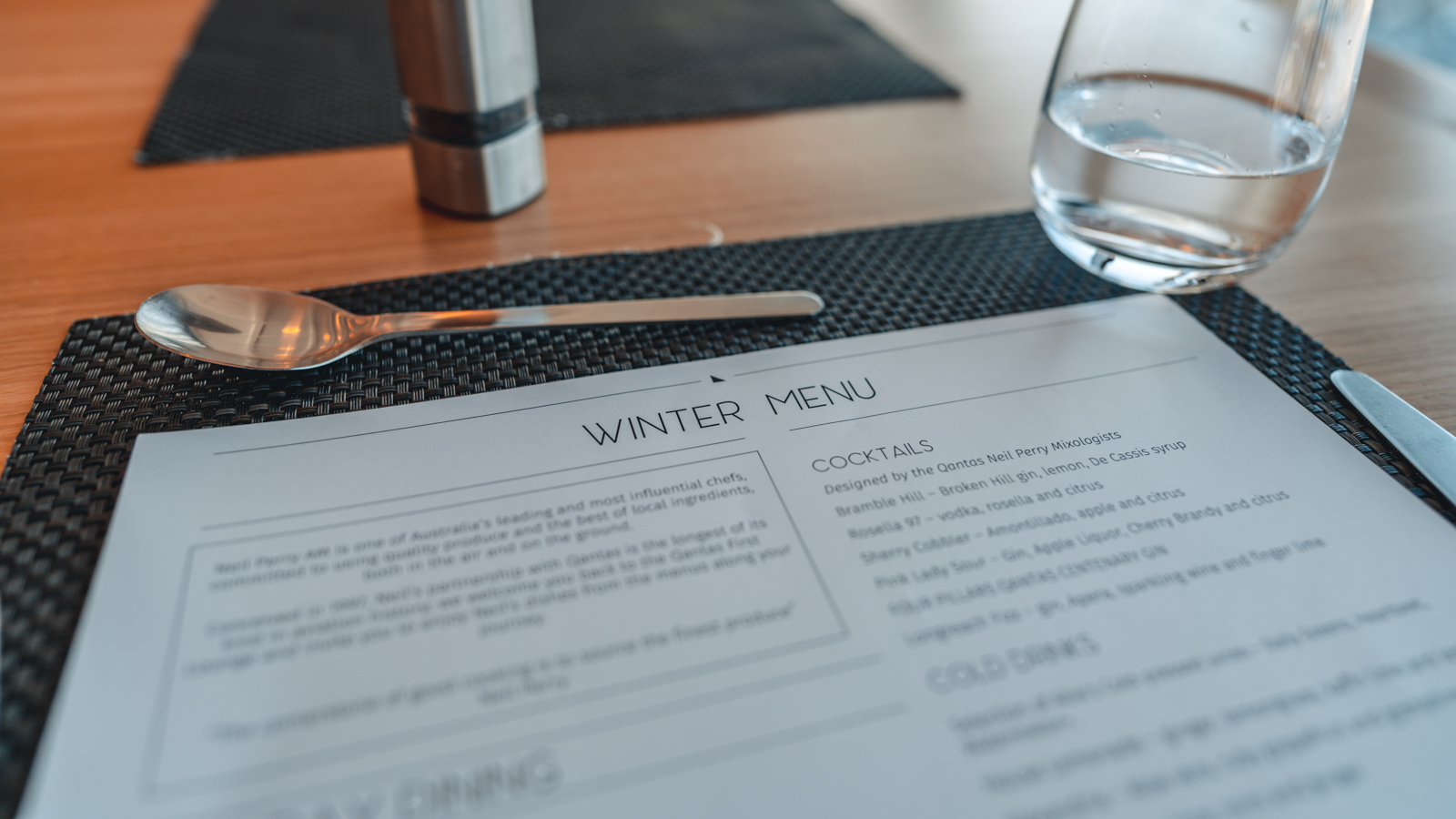 Lunch
During my visit, I enjoy a two-course lunch, followed by dessert a few hours later. I kick things off with a Longreach Fizz, consisting of gin, Apera, sparkling wine and finger lime.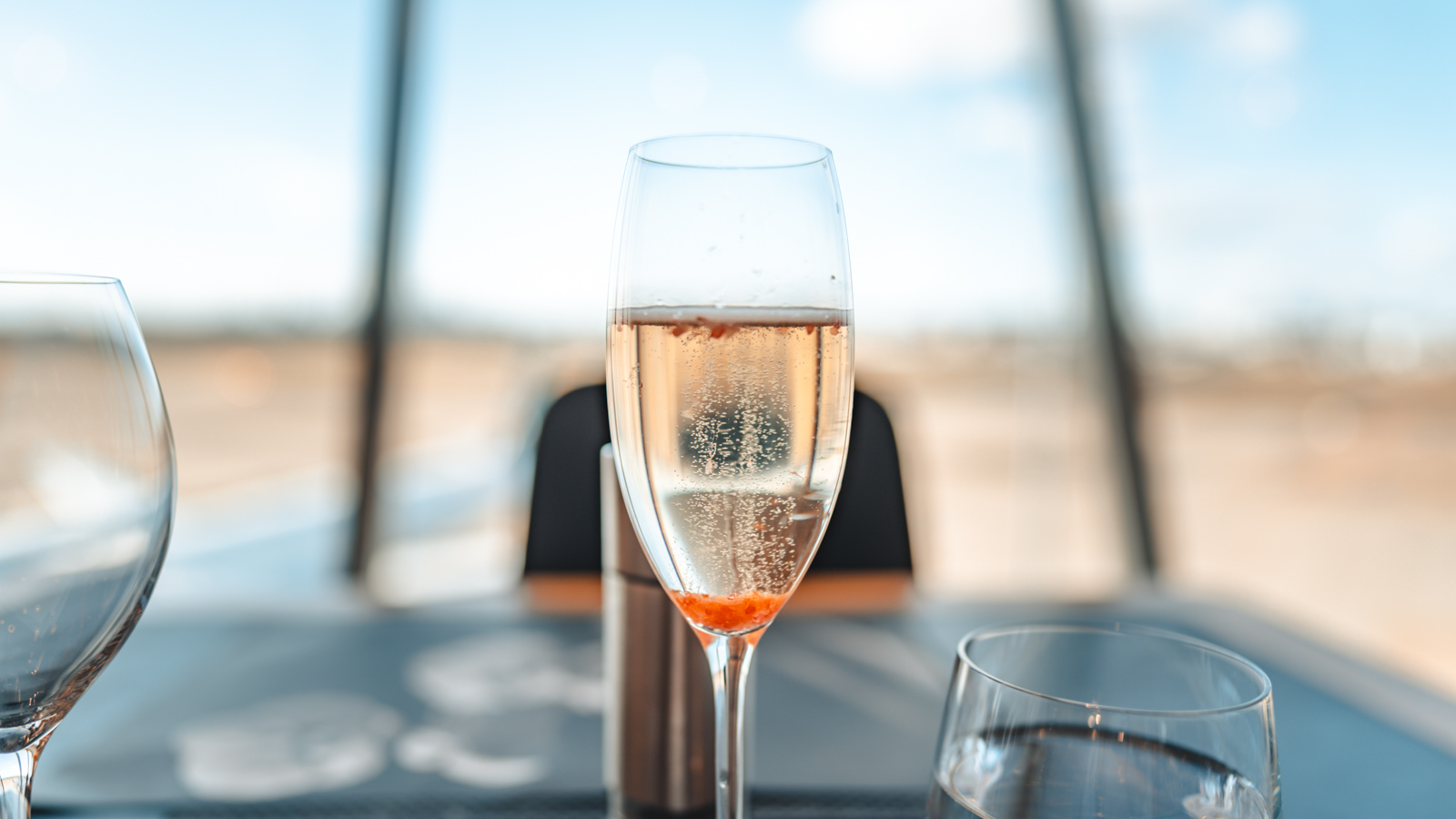 I can never go past the salt and pepper squid, which comes with a generous serving of aioli and green chilli dipping sauce. I can't help noticing the serving of squid is smaller now, but there's nothing stopping anyone from ordering a second helping!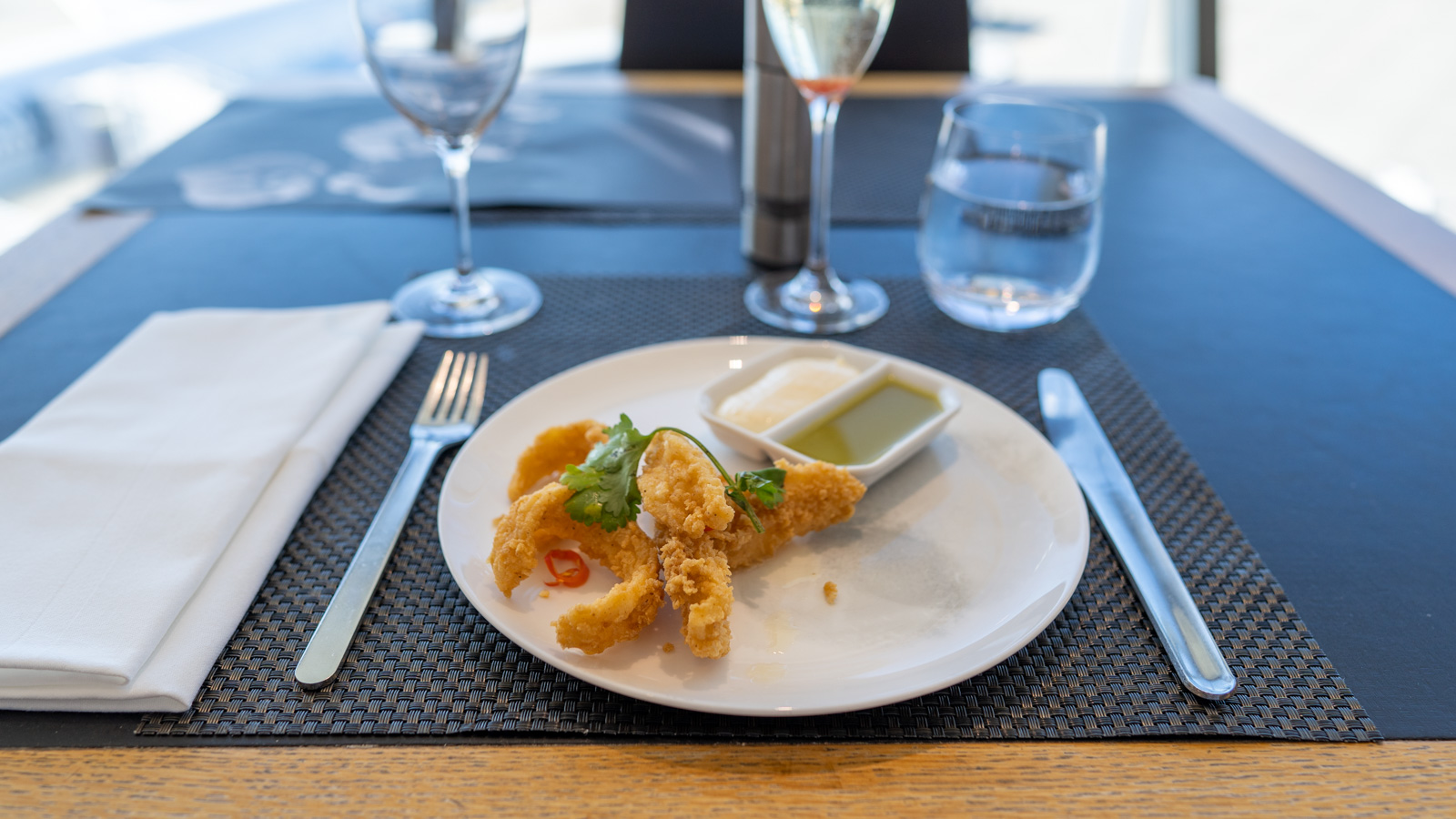 Next up is a warming plate of glazed pork belly on rice, along with a gua bao with roast pork, chilli paste and pickles. I realise there's a lack of variety here – I do plan to order the barramundi or the slow-cooked beef brisket next time!
But both pork dishes are delicious. The roast pork bao is deliciously crispy, with a sharp hit of chilli. The glazed pork on rice is rich in flavour, and the pickles enhance the dish.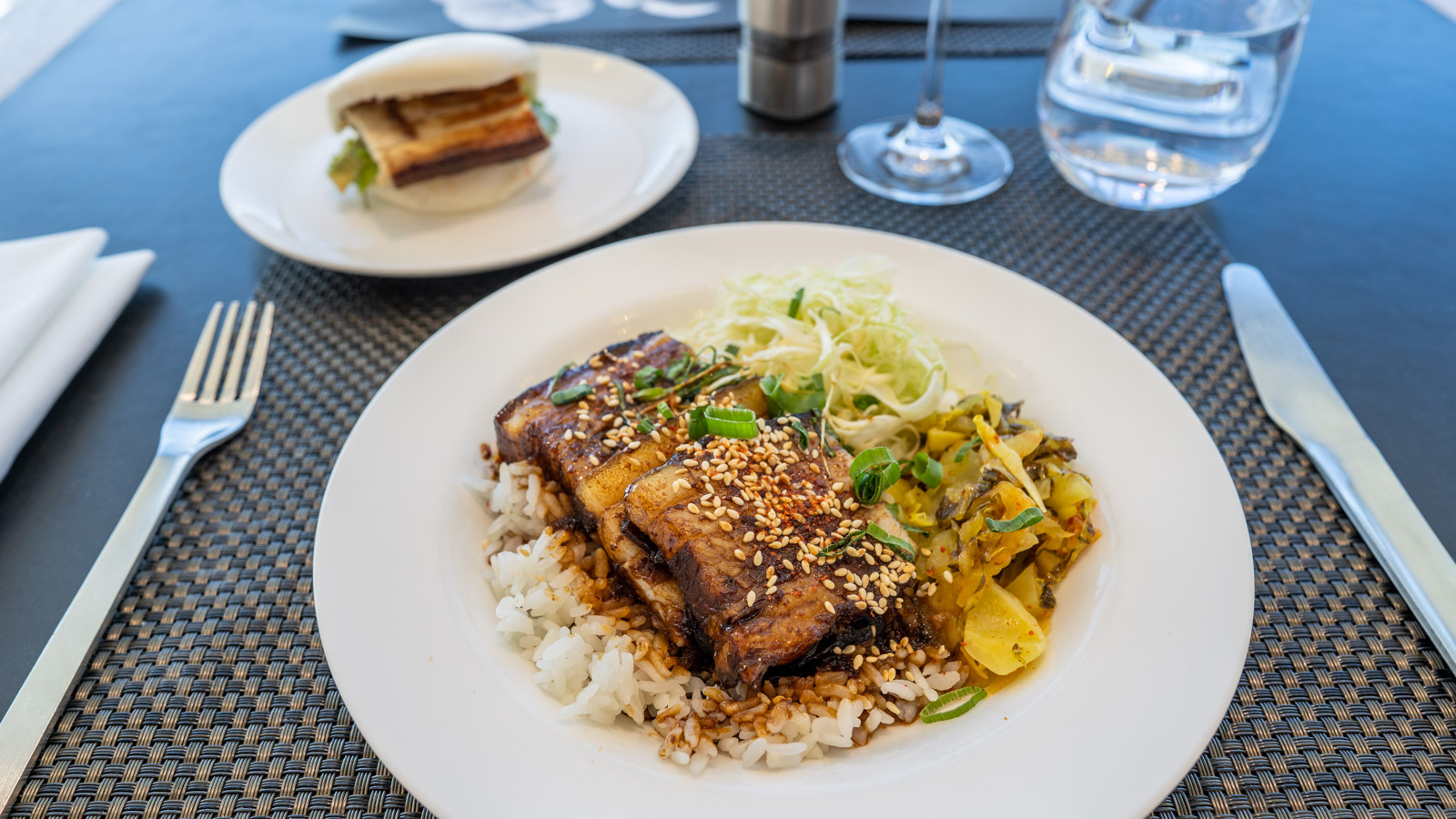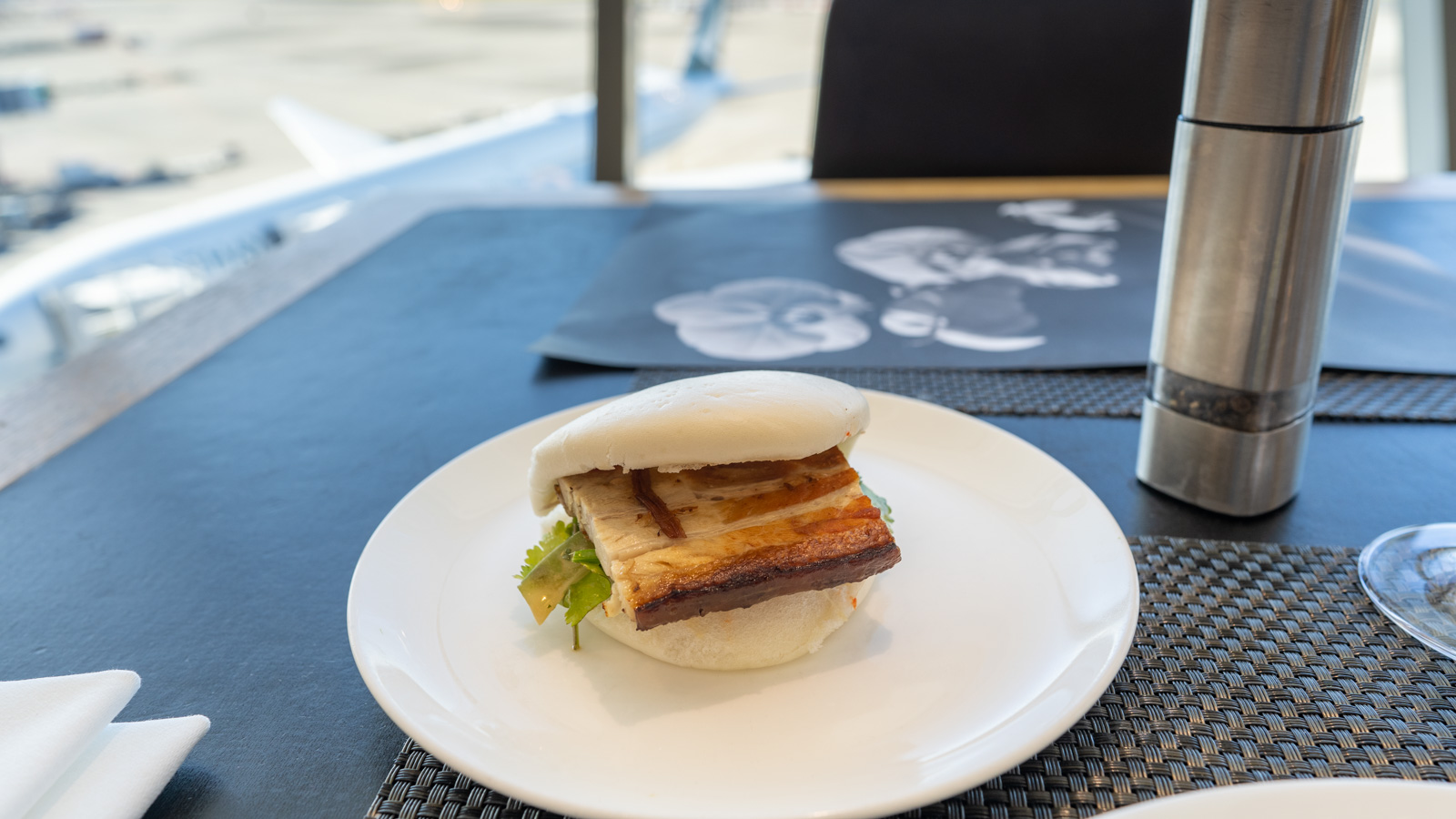 Dessert
After doing some work for a few hours elsewhere, I revisit the restaurant for a spot of afternoon tea. Having tried the signature pavlova before at the Melbourne International First Lounge, I opt for the sinful ice cream sandwich accompanied by a virgin mojito.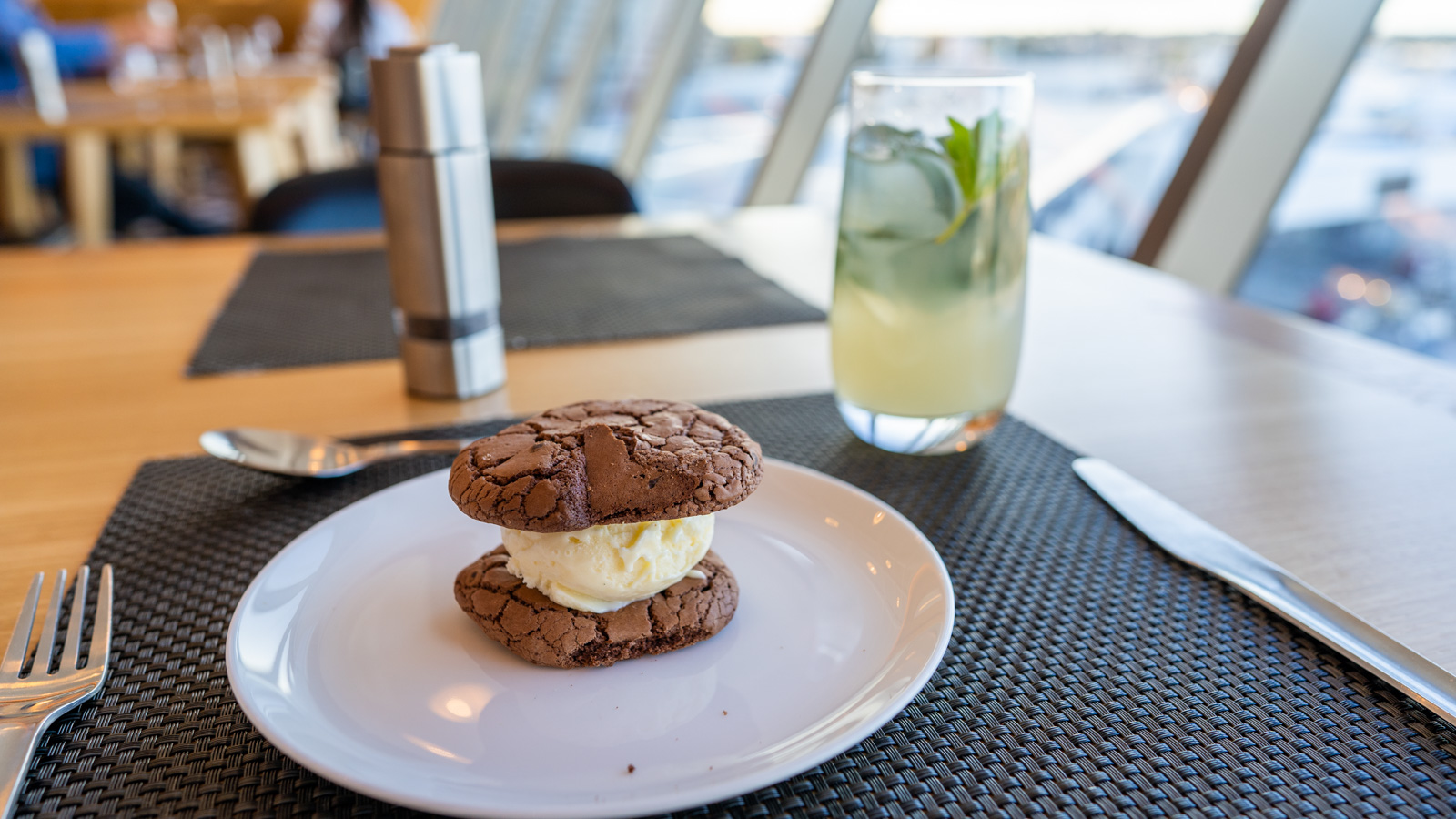 Read the Qantas First Lounge menus
Feeling peckish? The full 2022 Winter All-Day Menu is below, which is shared across both the Sydney and Melbourne International First Lounges. You can also download the Breakfast menu here [PDF].
Bar and beverages
While I imagine most people will order drinks with their meals, you can also approach the marble-clad bar directly and ask them to pour or mix up just about anything!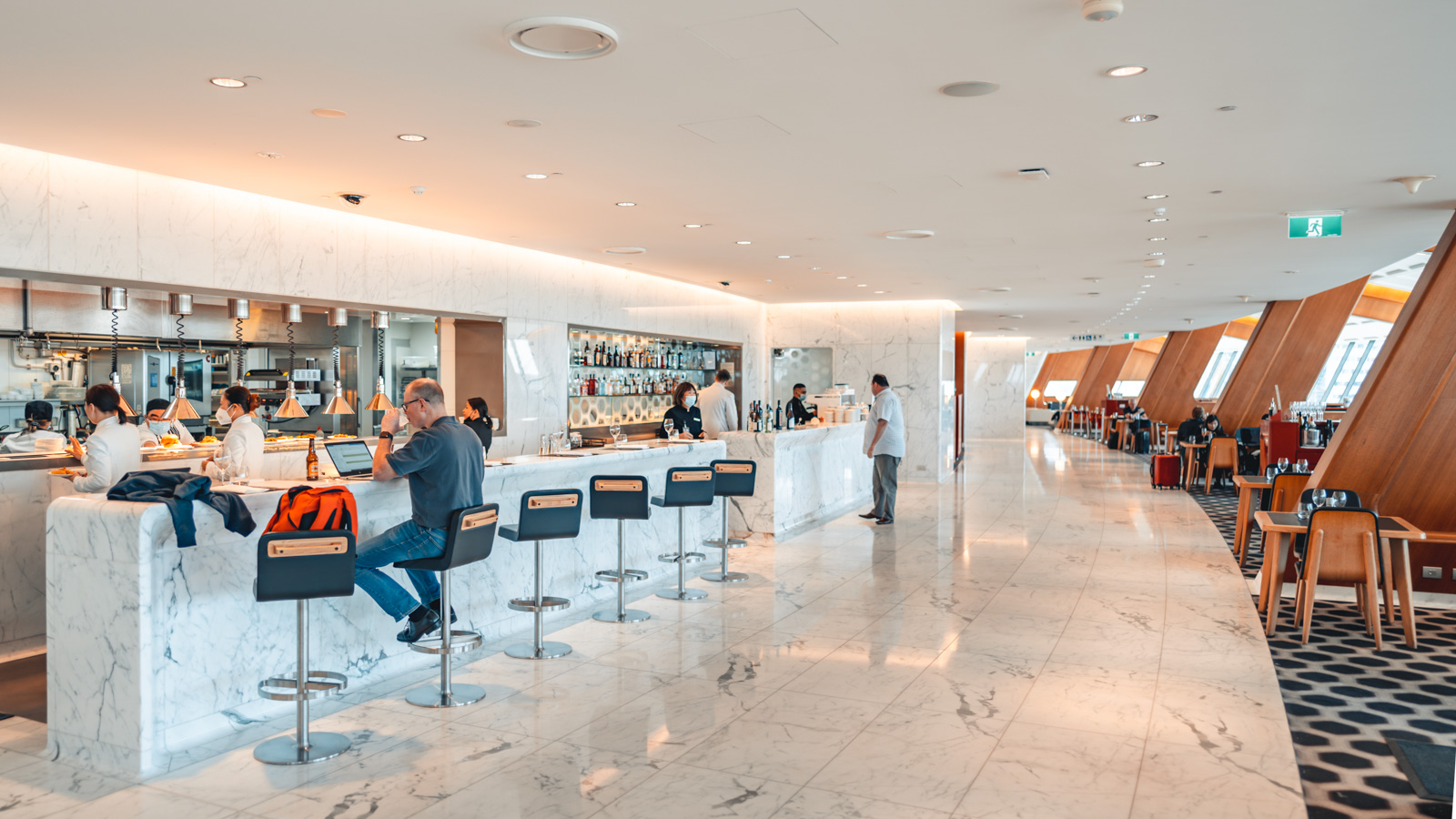 Champagne is no longer listed on the menus, but there are three non-vintage drops on offer – Pommery, Taittinger and Piper-Heidsieck. Below are some of the other Australian wines, beers and soft drinks available. Some are located at satellite bars on either end of the lounge, where you can pour it yourself.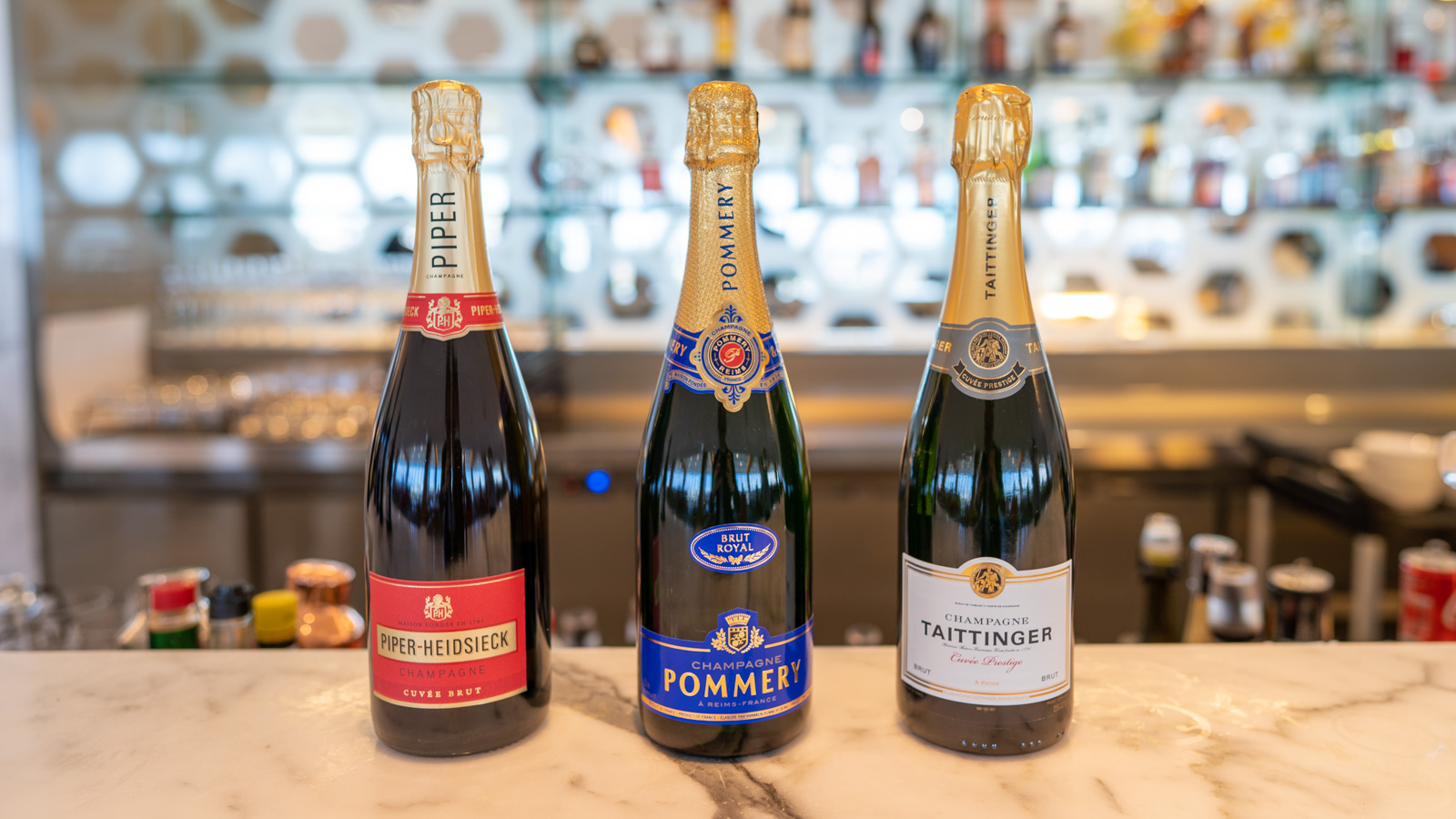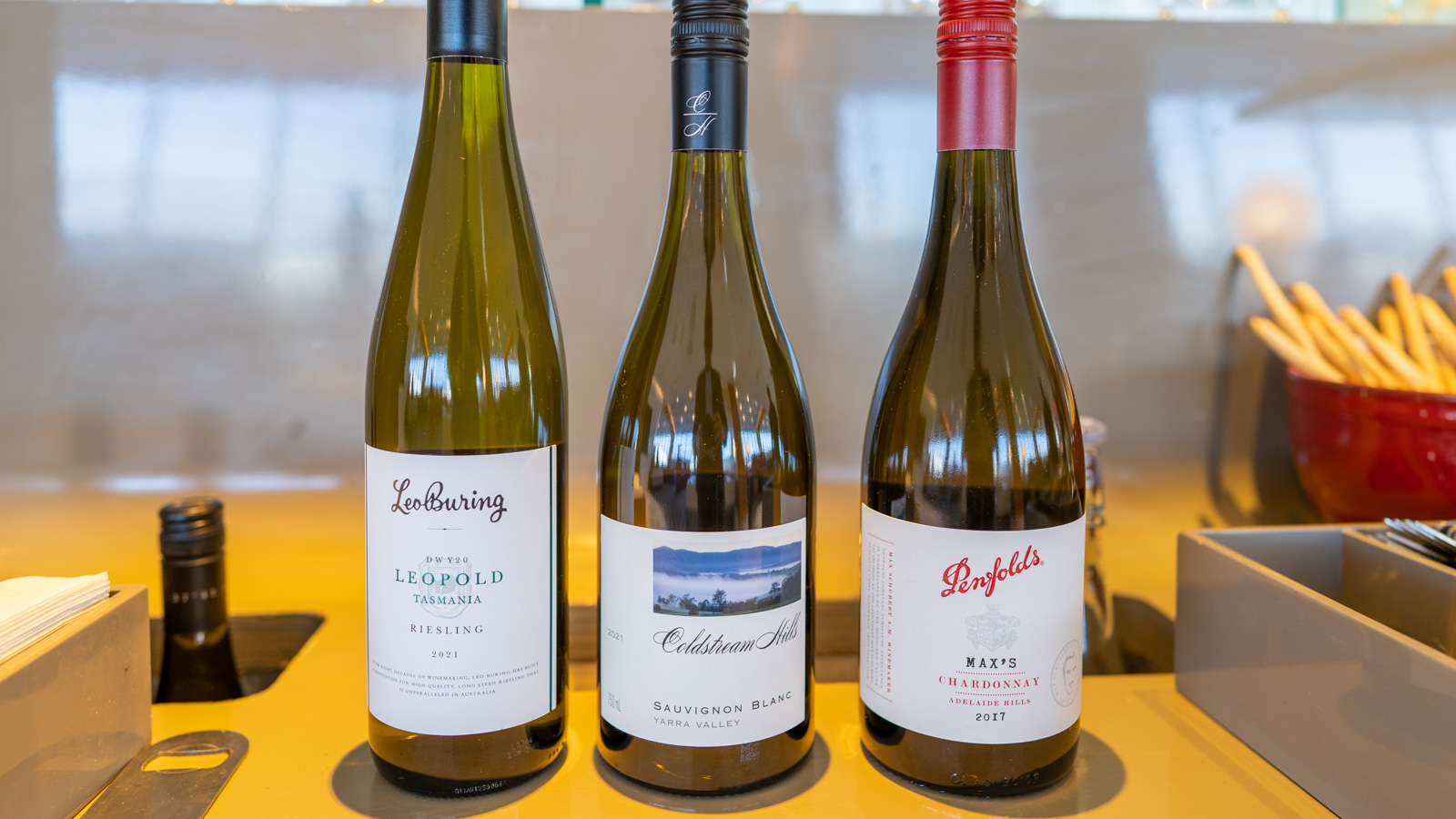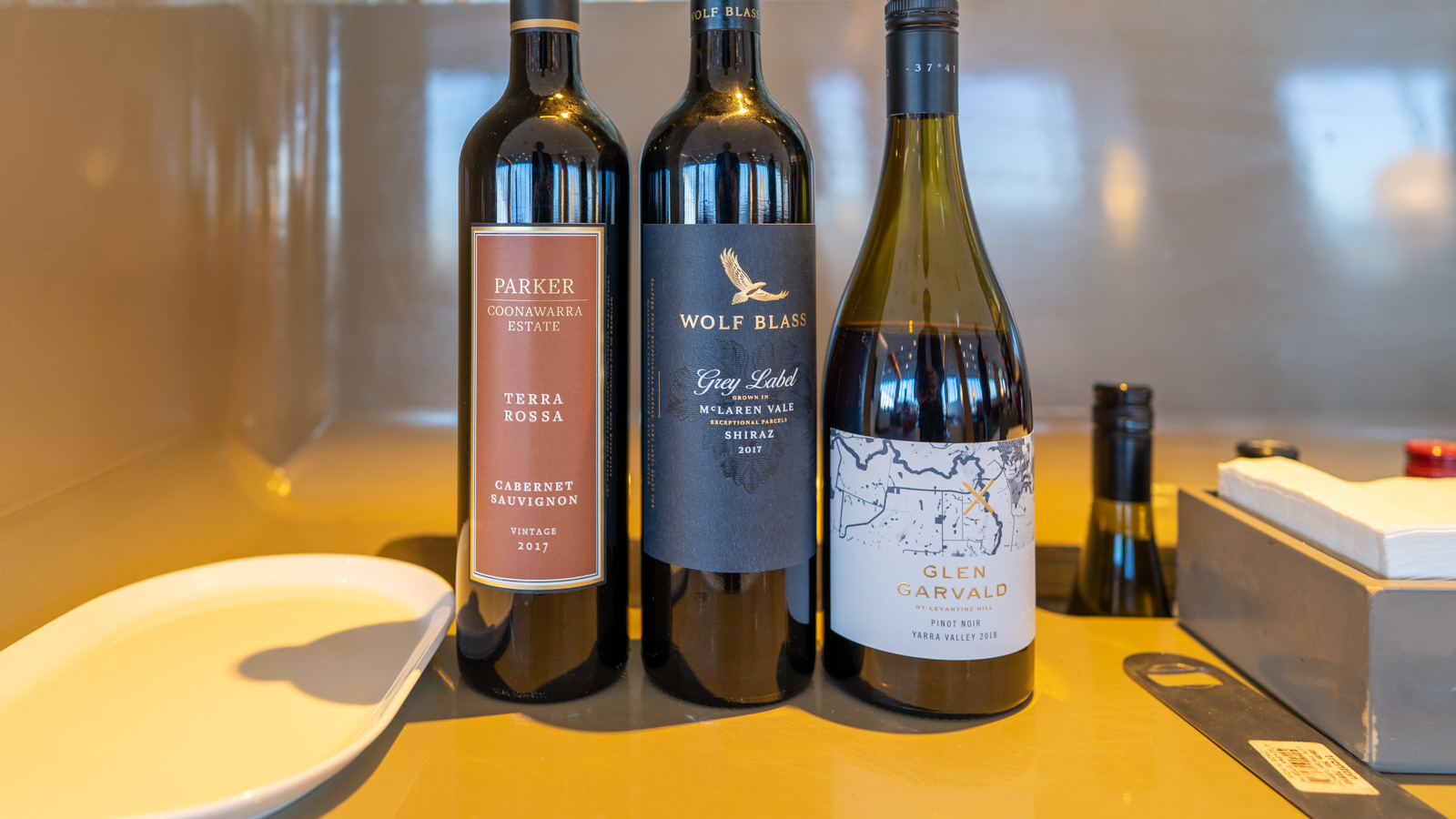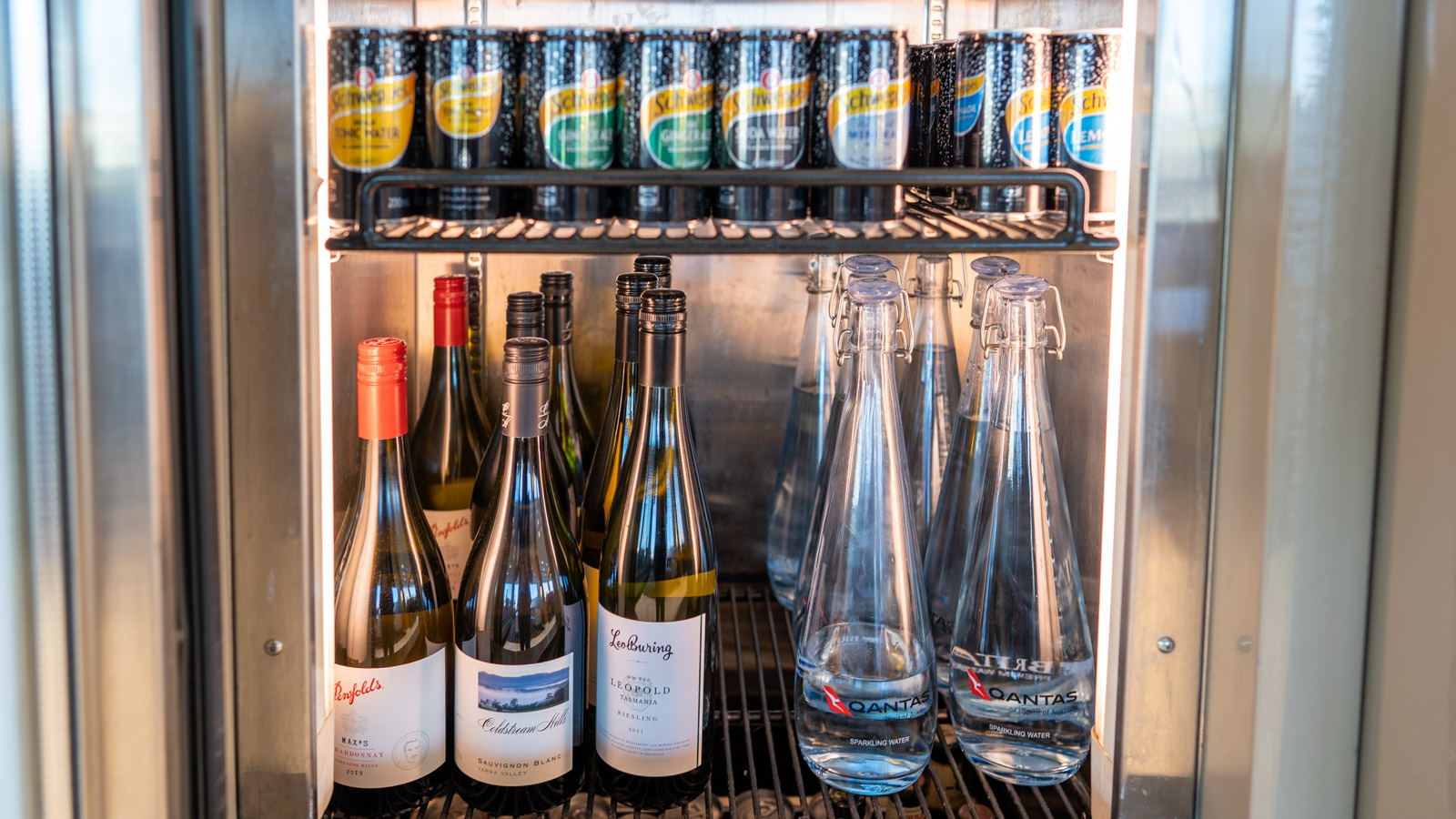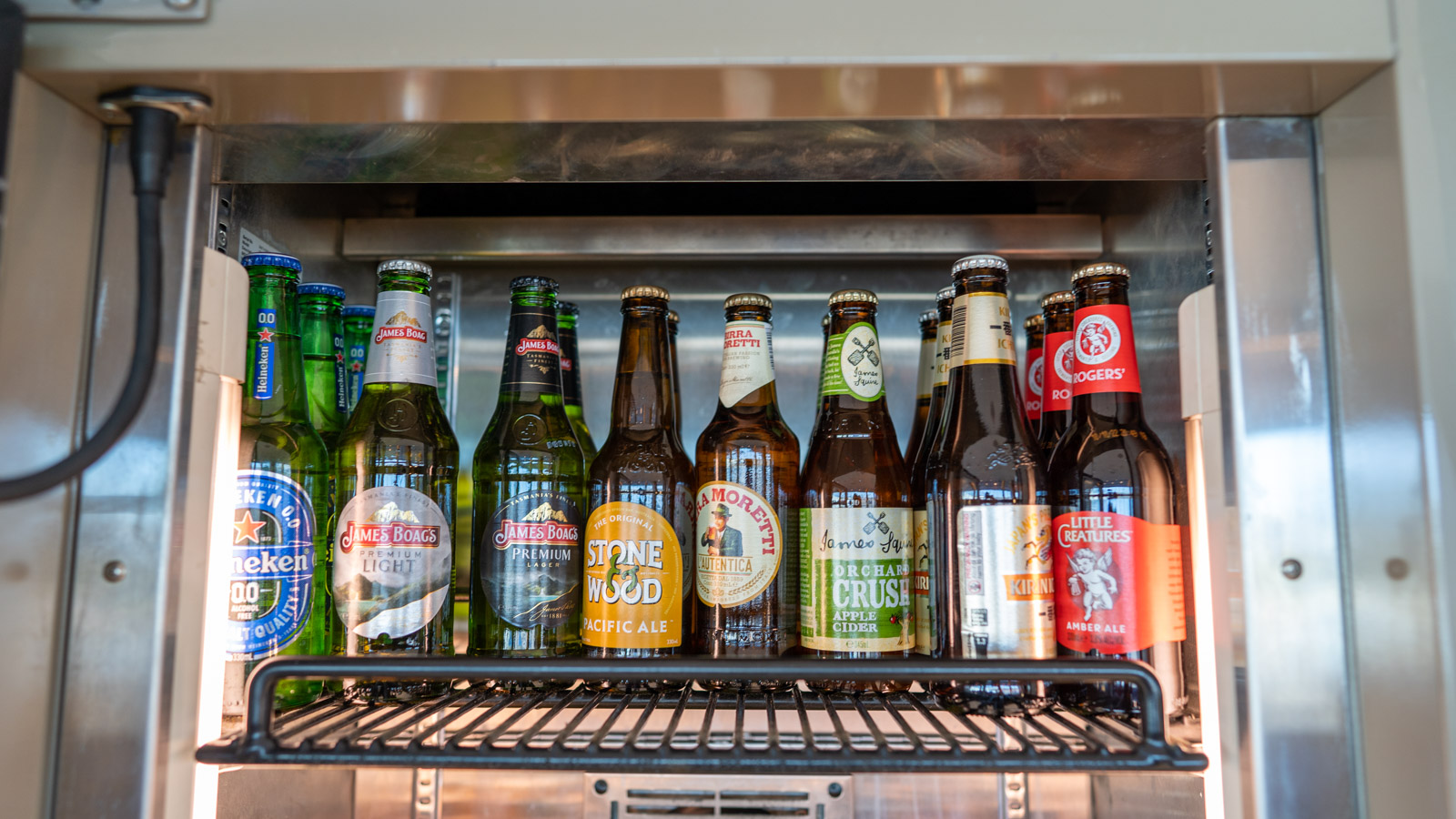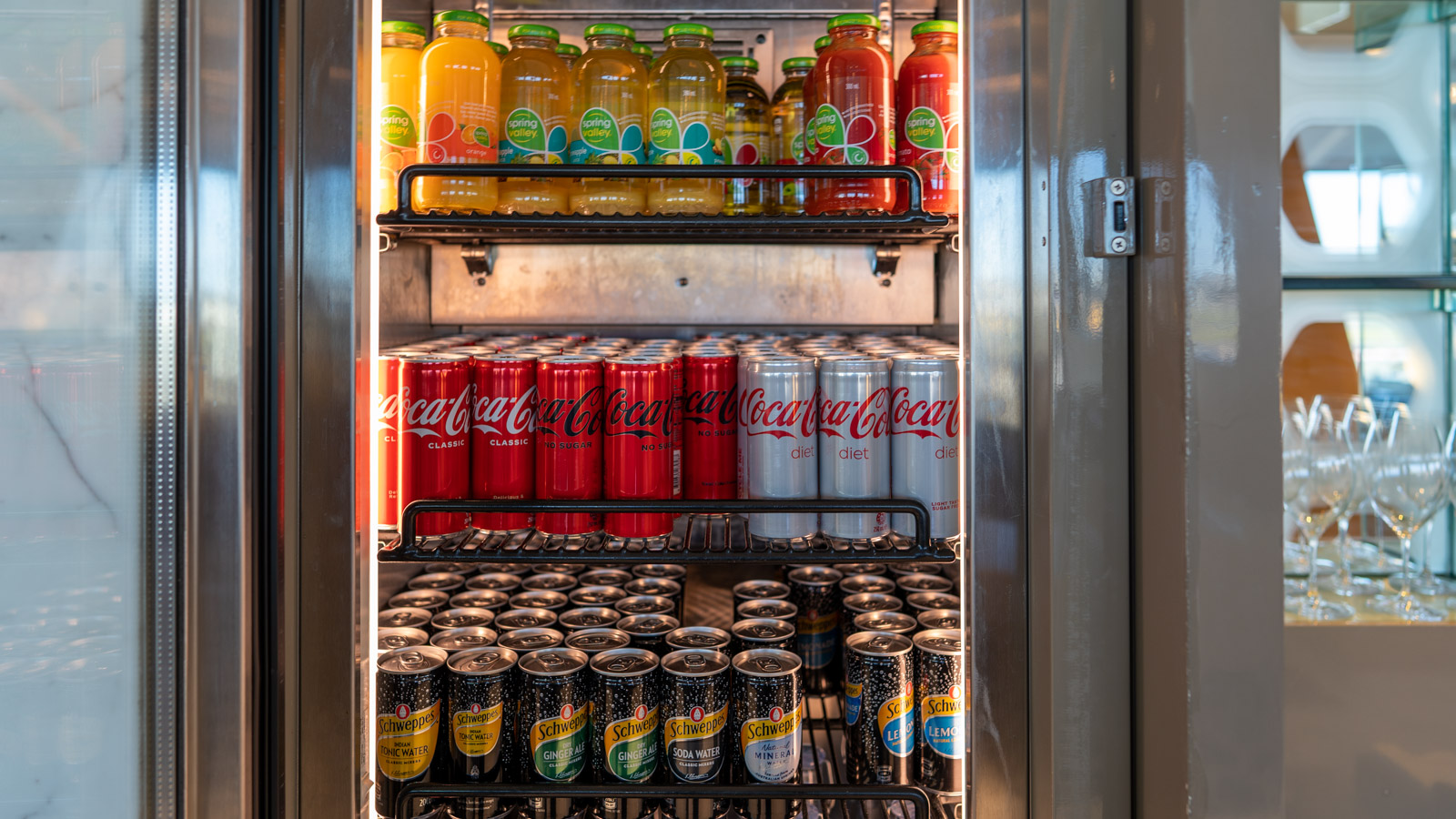 Qantas First Lounge Day Spa
Enjoying a day spa treatment at an airport lounge is truly a treat if you can get a booking! Qantas First Class departing passengers are contacted the day before departure to get first dibs at bookings. For everyone else, you can enquire at the door.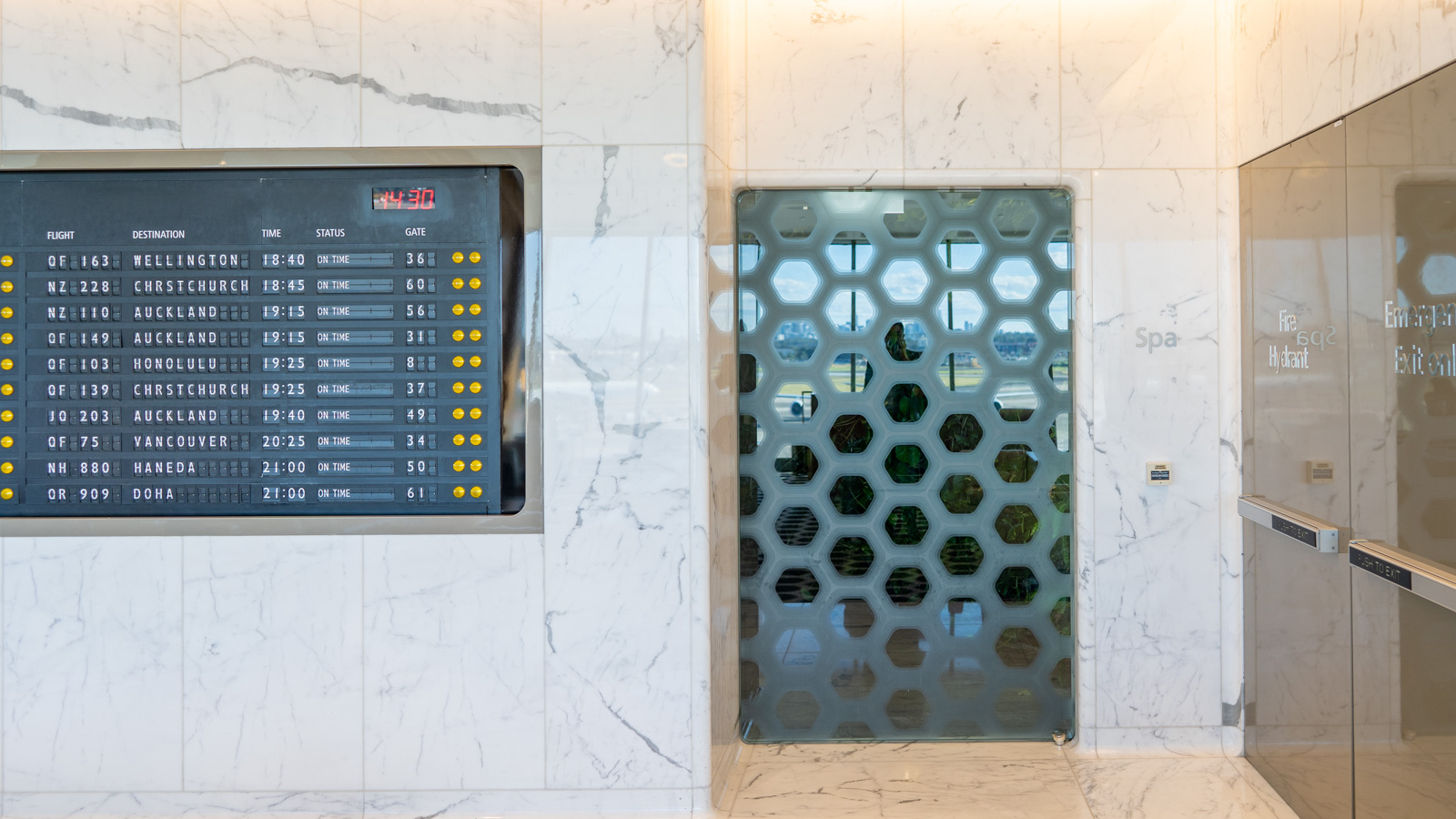 The spa's operating hours are currently limited, tailored to Qantas Airbus A380 flights with First Class. I didn't manage to get a treatment this time, but I still took a peek at the amazing sanctuary Qantas has crafted within its lounge. The main treatment rooms look like they've been taken straight out of a forest.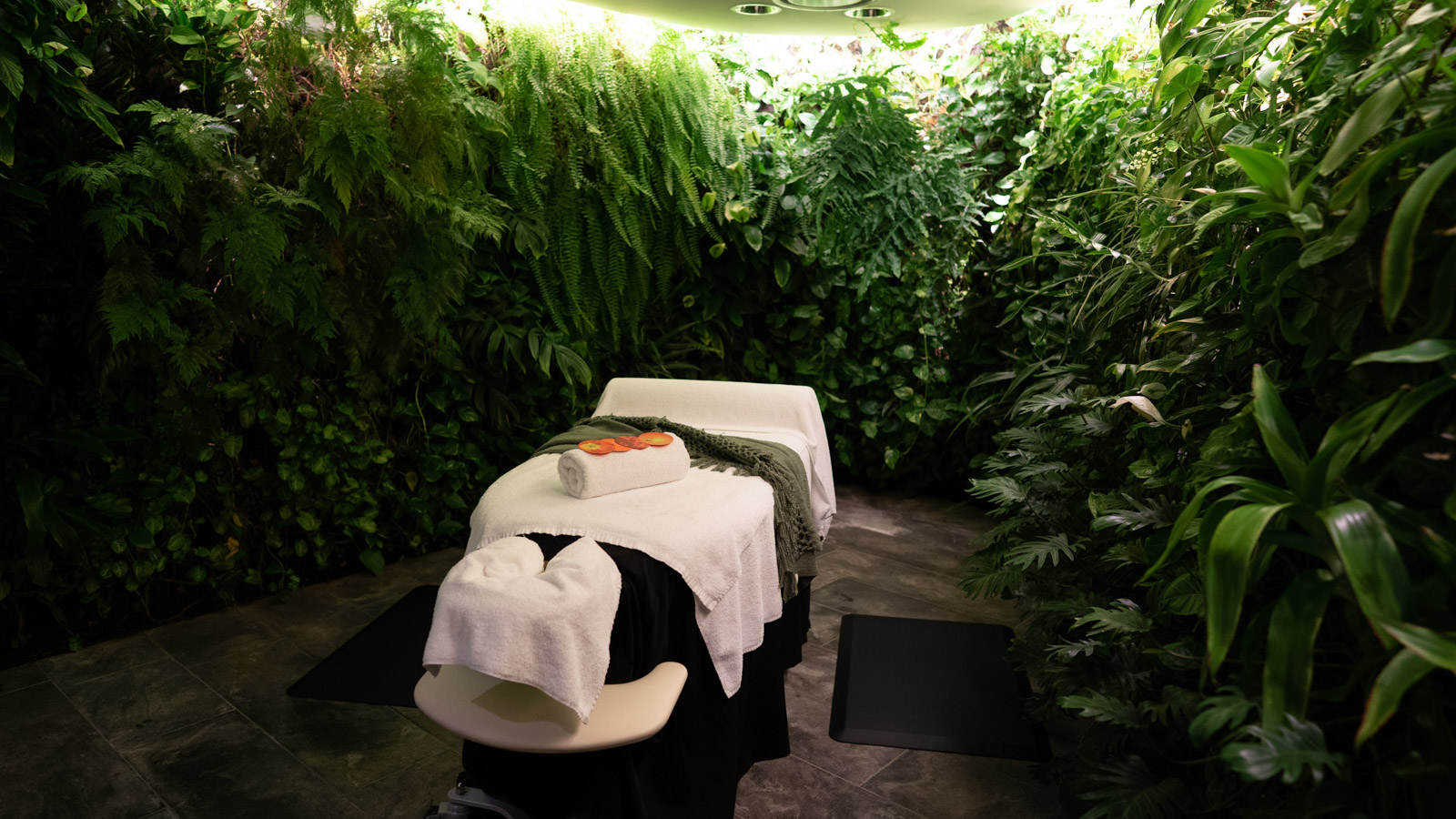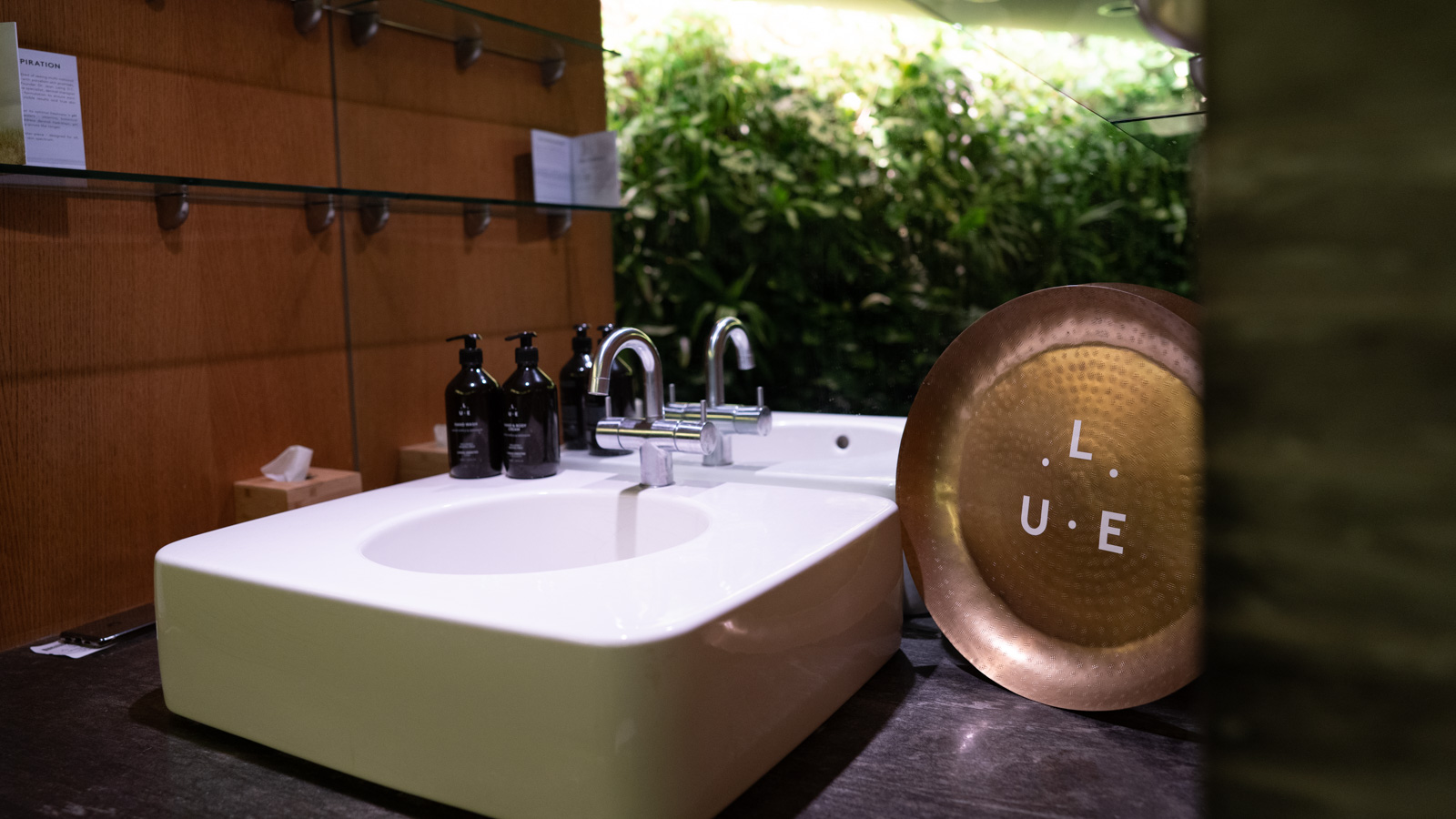 Here is the current spa menu. Each treatment is 20 minutes long.
Other lounge amenities
Bathrooms
Even the bathrooms get the luxe treatment. Each 'cubicle' is its own space, tastefully crafted from Italian Carrara marble. LaGaia Unedited products are on hand for washing and moisturising, and it does smell very premium.
Separately, there are also a few shower suites with the same treatment. Look out for rooms with rolled towels, as those have been freshly cleaned. The rainfall shower is strong, and I enjoy an invigorating wash before boarding my flight in the evening.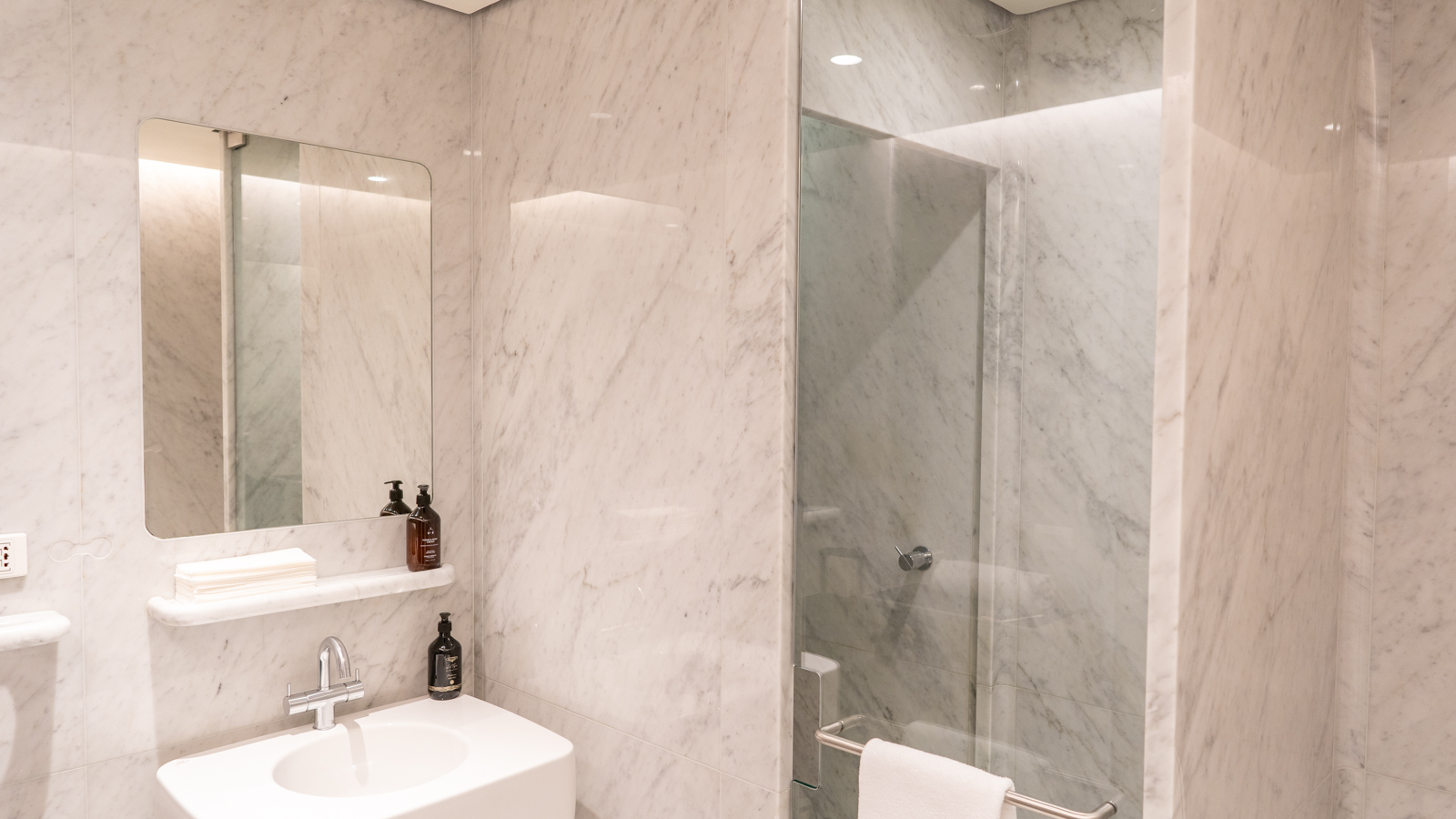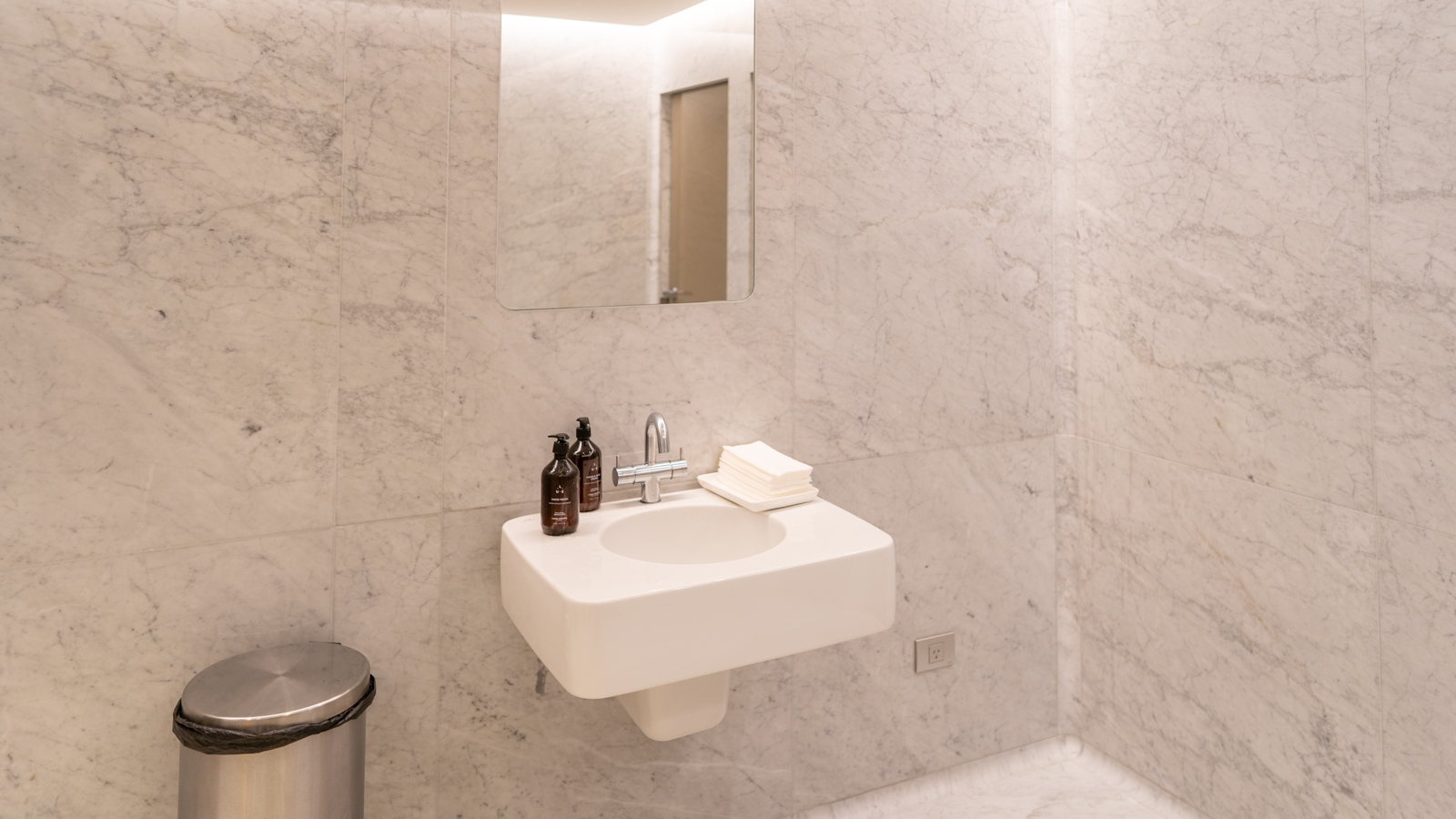 WiFi and power
As an older lounge, don't expect to find power points at every seat. I spot some power points along the wooden beams separating the spaces.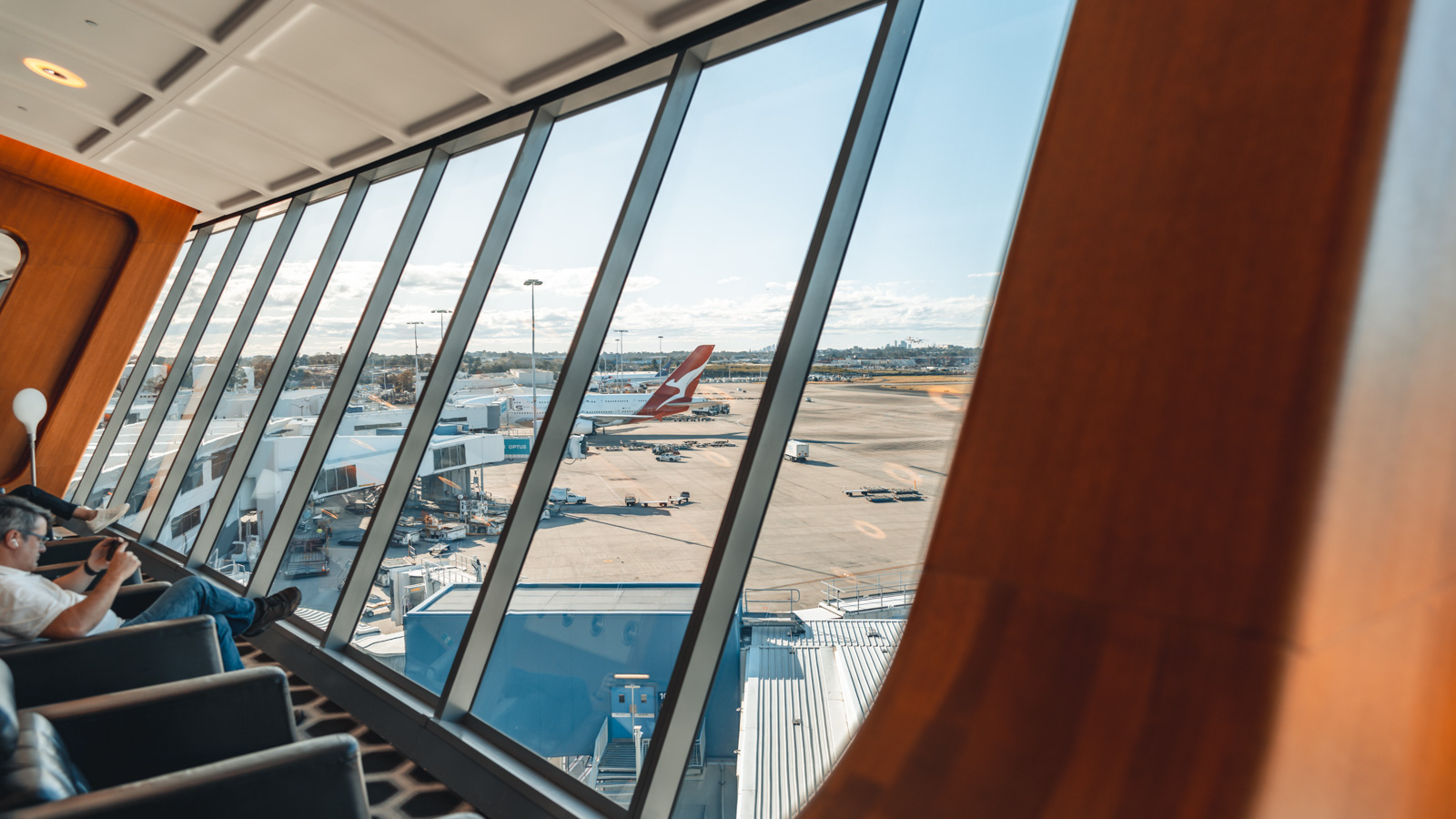 I'm blown away (not literally) by the first-class internet speeds in the International First Lounge. Downloads and uploads blaze above 100 Mbps both ways, with a low ping of 7 ms. That's fast enough to handle just about anything you throw at it.
Lounge access options
The Qantas International First Lounge is a very exclusive space, and the entry requirements reflect that. At this stage, the lounge stays open until the last Qantas flight of the evening has departed. The opening hours cover most other partner airline flights during the day. But be aware the lounge might not be open for some late-evening departures.
Class of travel: First Class passengers on Qantas, Emirates and oneworld partner airlines.
Airline frequent flyer status: Qantas Platinum and Platinum One members.
Airline partner frequent flyer: Emirates Skywards Platinum members.
Alliance frequent flyer status: oneworld Emerald members departing on a oneworld flight.
Complimentary lounge pass: only with 'Titanium' passes from the Qantas Premier Titanium Card, or with 'P1-Benefit' passes issued to Qantas Platinum One members.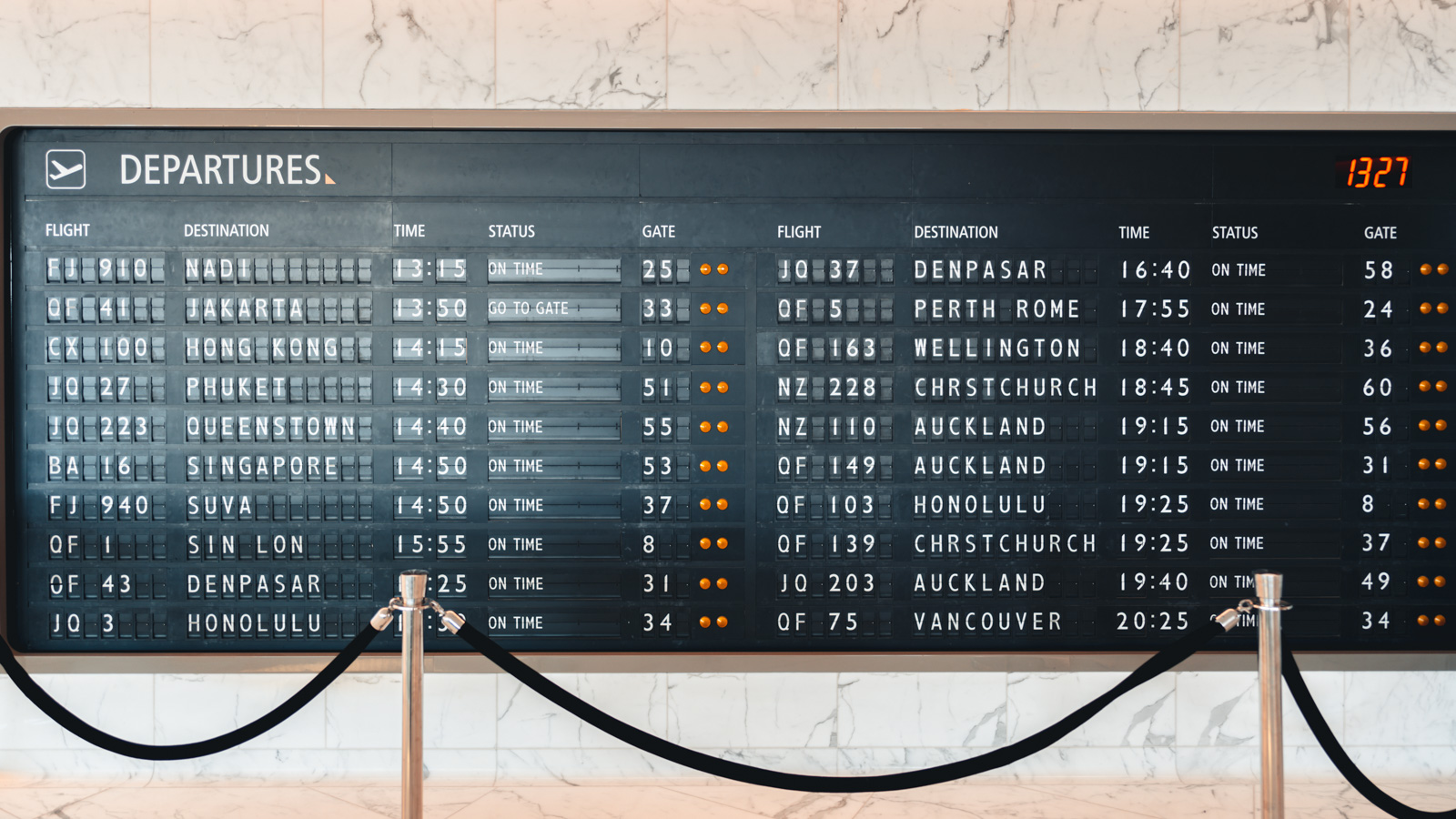 How can I access the Qantas International First Lounge with points?
Don't have Qantas Platinum or oneworld Emerald status for International First lounge access? Another way is to redeem a large number of points to fly in First Class with an appropriate airline.
The options here include:
All of these are theoretically accessible using frequent flyer points, such as Qantas Points or Cathay Pacific Asia Miles. You'll need a healthy balance, and flexibility in when and how you can travel. With current reward seat availability issues, you'll also need a healthy dose of luck.
Having said that, we've seen some Qantas and Qatar Airways A380 First Class rewards pop up in the month leading up to departure.
Summing up
What strikes me about the Qantas International First Lounge in Sydney are the design and space, the views and the food. The First Lounge goes above with excellent service and offerings.
Having Qantas Platinum or oneworld Emerald status is the key to enjoying this remarkable space whenever you fly out of Sydney International Airport on Qantas or a oneworld partner. It's truly one of the best benefits that drive many flyers to maintain their Platinum status. And of course, passengers travelling in First Class are in for a treat before their flight.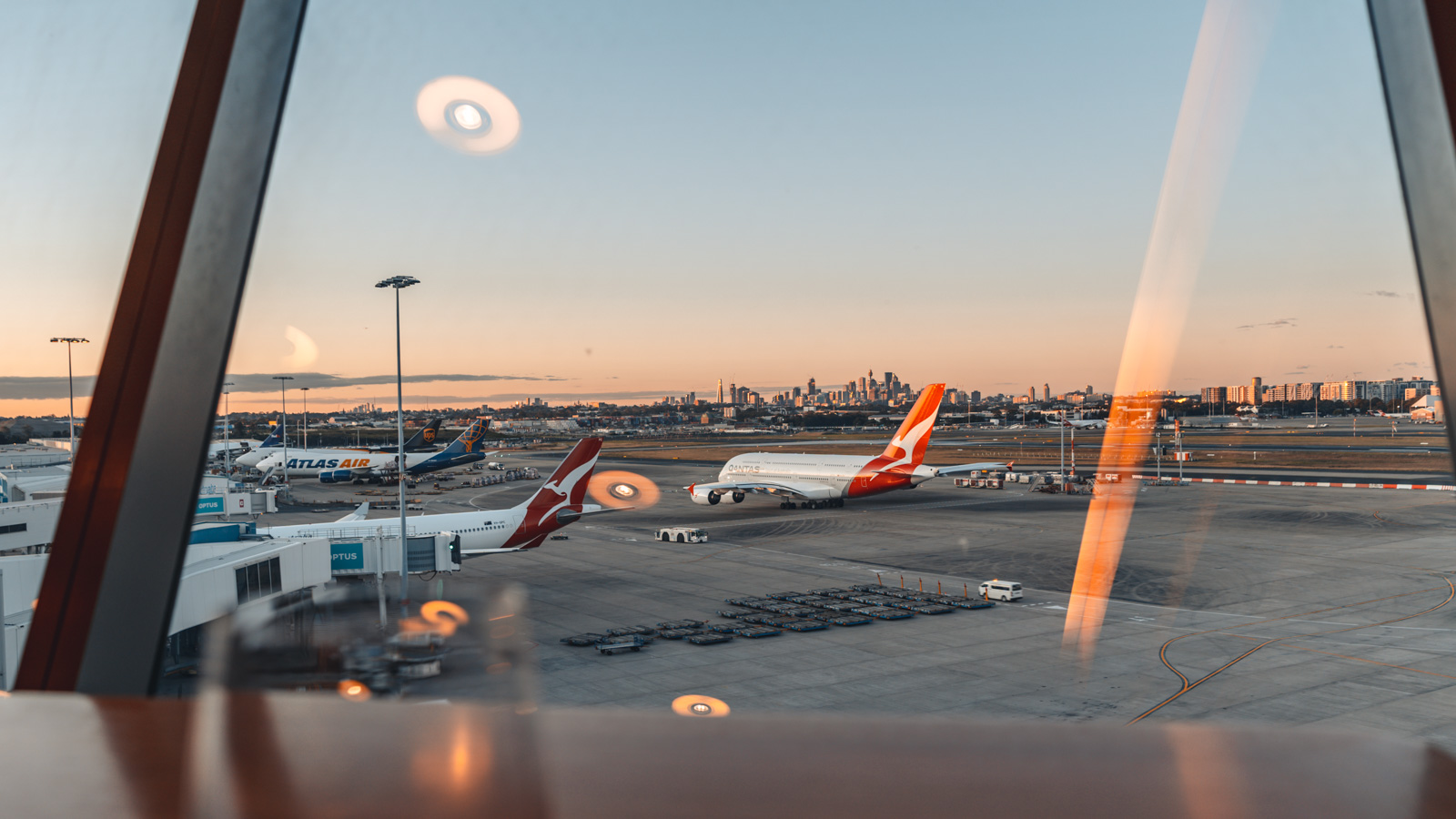 This is also one of a few lounges that I'll try to make extra time for, even if it's just to work for a while longer. The ambience is wonderful, and it's a lovely way to relax before a flight.
Photography by Brandon Loo, who travelled at Point Hacks' expense. He visited the lounge before a Qantas flight with Qantas Platinum status.
Qantas International First Lounge, Sydney
was last modified:
July 25th, 2022
by