Have lots of frequent flyer points to spend but don't know where to start? You're not alone. Knowing when and how to redeem points can be tricky even for seasoned pros.
Whether it's finding a reward seat in the first place or working out which frequent flyer program to use for the booking, here are some ways to give yourself a head start.
Airline websites that can help you redeem points
As you might expect, airline websites are a great place to start when it's time to redeem your points. But here's a tip. Even though you'll have to use your 'home' frequent flyer website to book that dream flight, other airline websites can be helpful too when trying to find that flight.
Here's a look at some of your options, which can save you time when hunting for that elusive premium cabin seat.
Redeeming points for oneworld flights
When it comes to redeeming points for oneworld flights, there's a good chance you'll be using Qantas Points. Fortunately, the Qantas website is a perfect place to start – but it's easy to get caught out, so listen up!
When beginning your search, ticking the 'use points' option is a no-brainer. But almost every single time, the results you'll see are centred around Points Plus Pay. This is where your points are essentially used to 'buy' an airfare. That's very different from the better-value Classic Flight Reward seats that we're looking for.
Here's exactly what I mean. With the Qantas website having a penchant for showing Points Plus Pay results, a simple search from Brisbane to Kuala Lumpur looks like this. Yes, that's an asking price of up to 221,400 Qantas Points for a one-way flight in Economy. No thanks!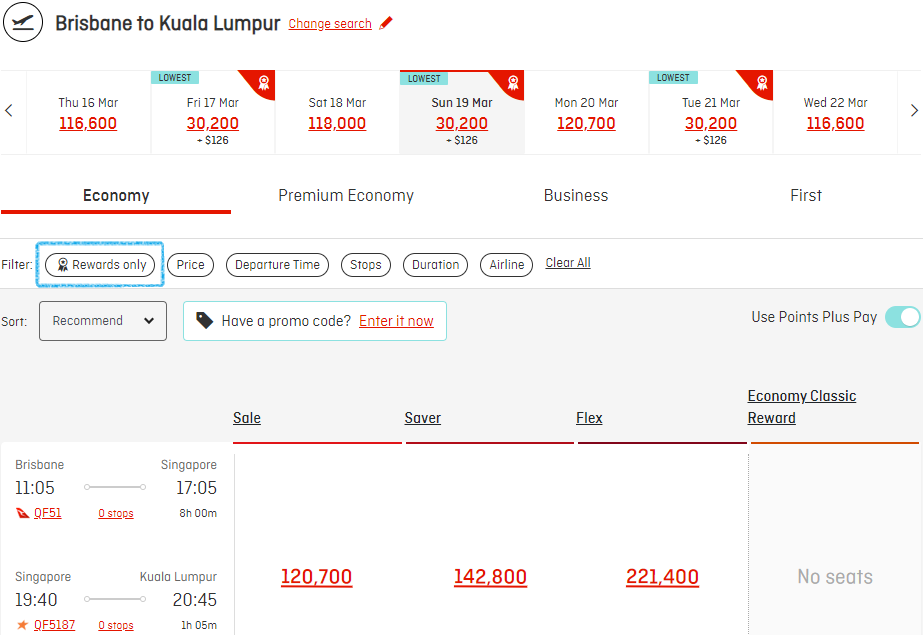 Here's the trick. See that 'Rewards only' button highlighted above in blue? Give that a click. All those pesky Points Plus Pay flights disappear, leaving you with only the real reward flights. That takes Economy down to just 30,200 Qantas Points, with Business Class available for 75,000 Qantas Points. That's a much better way to redeem your points.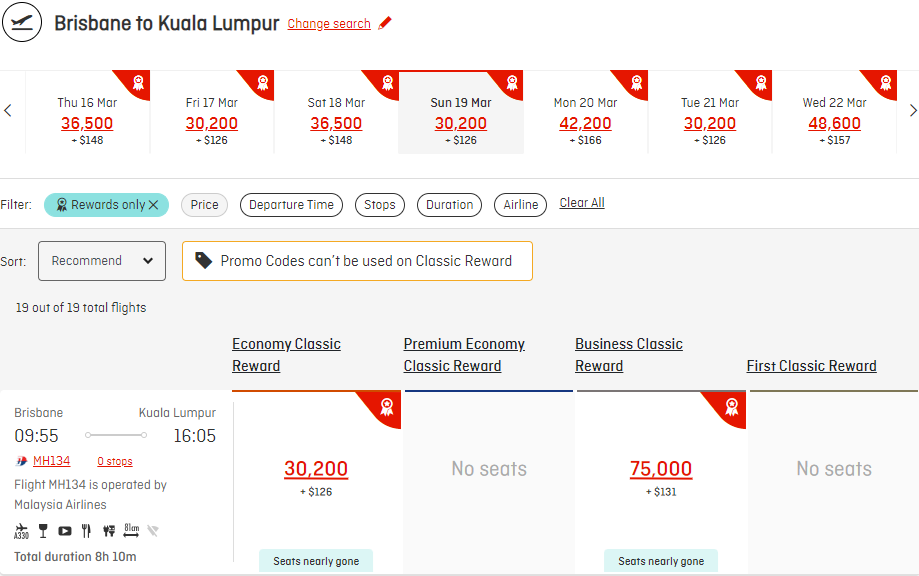 Frustratingly, you'll have to follow that same process every time you run a new search. Yes, that means clicking 'rewards only' time after time, to get the results you're really looking for. It's bothersome, but it gets results.
Our tip: Find flights faster via the American Airlines website
Even if you only have Qantas Points to spend, you can save lots of time by searching for reward flights via the American Airlines website instead. That's because if you can see a oneworld partner flight available for booking using AA miles, there's a very good chance you can reserve the same seat using Qantas Points.
Let's say I want to fly from Sydney to Hong Kong in May 2023, and only want Business Class. After entering that basic search, I can then filter to narrow down to the days with Business Class available. Using the left and right arrows, I can also quickly scroll from month to month for a broad overview.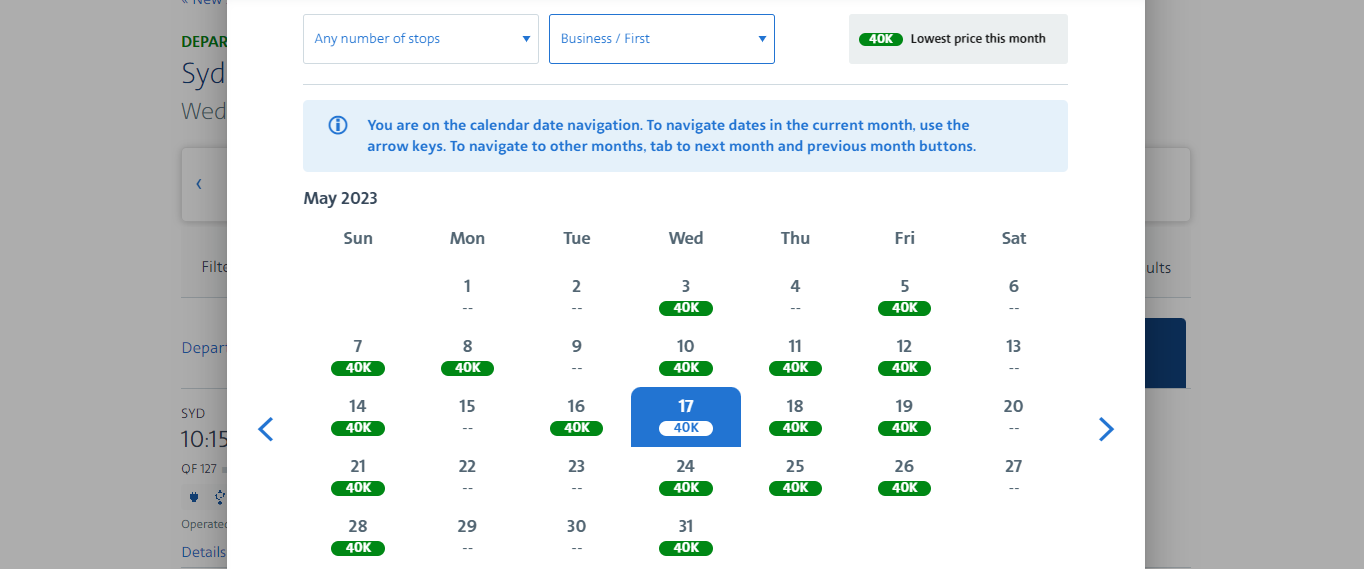 We're already off to a great start, but here's the thing. Most of the results above include a connecting flight. I might have to fly from Sydney to Perth first and then from Perth to Hong Kong, for instance. It's handy to have options if your travel dates are fixed, but what if you just want a direct flight? Easy.
Along with using the 'Business / First' filter, a second filter can be added for 'nonstop only'. This reduces those unwanted connections and reveals only the dates when you can fly direct.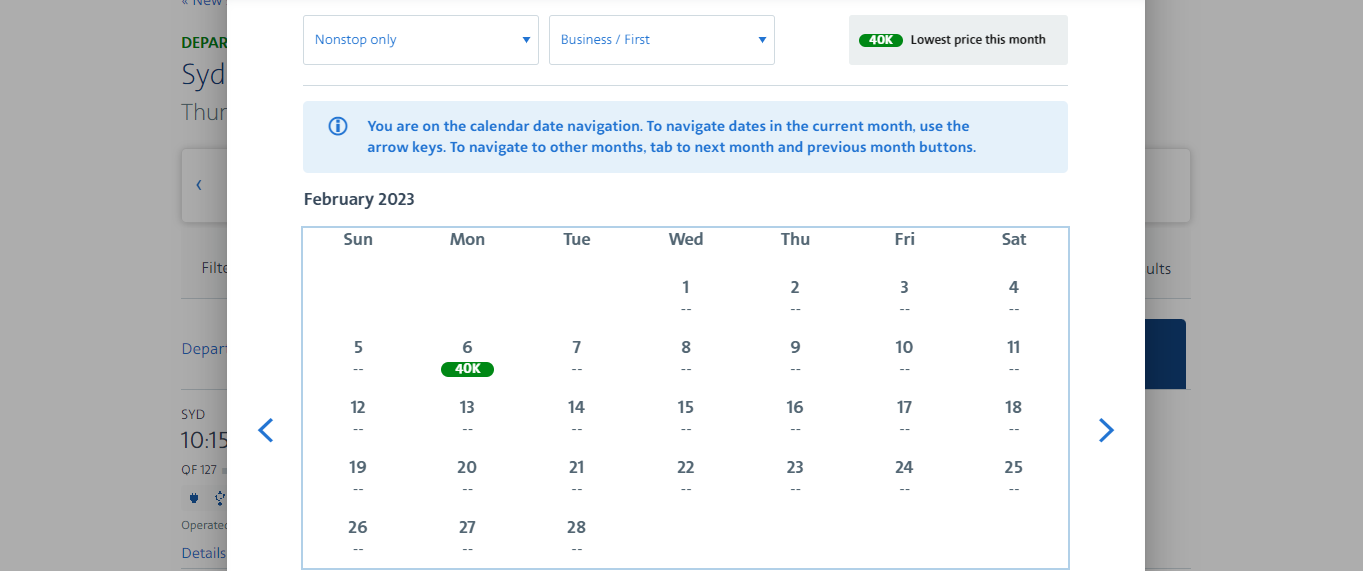 True to form, clicking that date reveals a Cathay Pacific Airbus A350 flight. I've searched for Business Class, which is available – but I can see that Premium Economy and Economy are bookable too.

Now, if you're actually booking using Qantas Points, you'll want to ignore the asking price in both miles and dollars as appear on the AA website. What we're looking for is availability – simply, that there's a reward seat available to redeem with points.
Having quickly and easily filtered through the calendar to find a direct Business Class flight, I then run a search on the Qantas website for the same date. Sure enough, I can see reward seats available on the exact same flight, in the exact same cabins. All from just a couple of minutes spent on the AA website.

With Qantas Points to spend, I can then click through and book. Of course, if I had AAdvantage miles to spend, booking via American Airlines would provide even greater value, thanks to the lower redemption rates and absence of carrier charges.
It works for most Qantas partner airlines, including those within oneworld. But it also works on other airlines that Qantas and American Airlines are both partners of, such as Fiji Airways. That's how Brandon found reward seat availability and booked his trip to Fiji in March 2022.
Redeeming points for Star Alliance flights
When I'm looking for Star Alliance award flights, I search two main places. One is the Singapore Airlines website, and the other is the United website.
Finding Star Alliance flights via the Singapore Airlines website
When hunting for those Star Alliance seats, I'll always start with the Singapore Airlines website. That's for two reasons.
Firstly, I usually have more KrisFlyer miles to spend, compared to points in any other Star Alliance program. Secondly, Singapore Airlines itself releases more seats to KrisFlyer members than to members of most other programs. So with KrisFlyer miles to spend, I may as well check my options there first.
When booking Singapore Airlines flights using KrisFlyer miles, you'll want to book a 'Saver' award whenever possible. These rewards are priced at the lowest rates, and with Singapore Airlines, you'll only pay genuine taxes on the booking.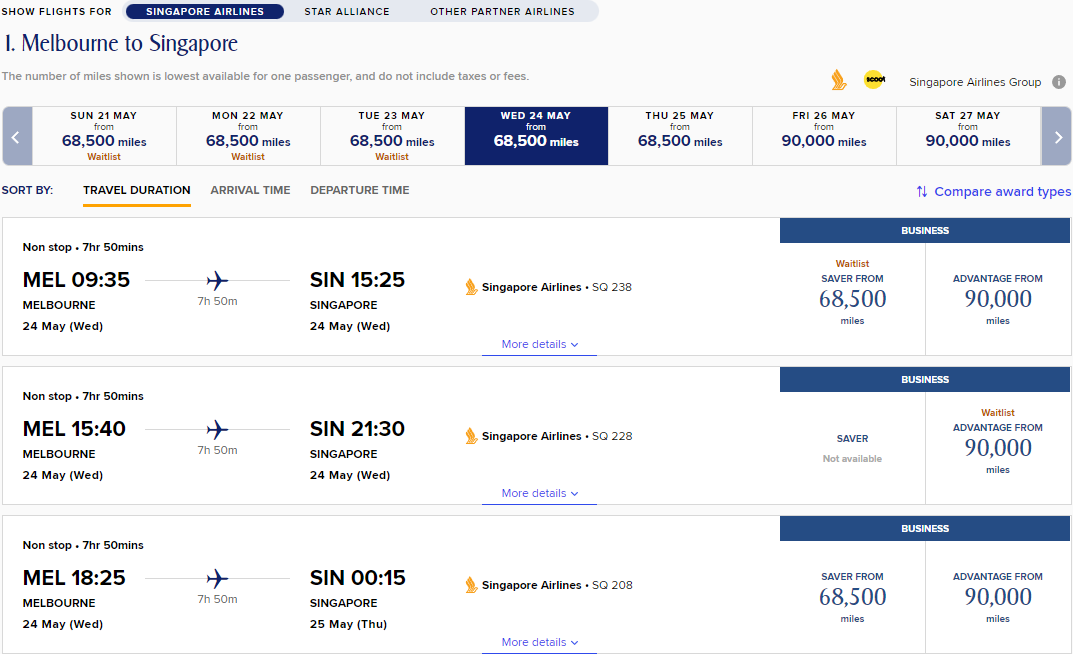 Beyond Singapore Airlines itself, KrisFlyer miles can also be used on partner airline flights. For Star Alliance, just hit the 'Star Alliance' button at the top of the search screen to reveal these.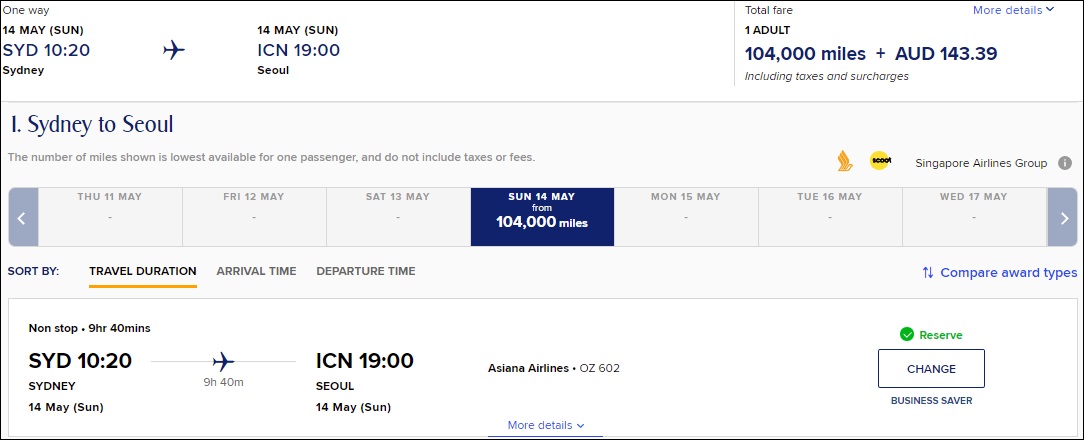 Now, the Singapore Airlines website allows you to search for flights one week at a time. But when you're booking on a Star Alliance partner airline, the United website can be a faster way to search.
Using the site's 'flexible calendar' tools and the various filtering options, you can also drill down to find those lucrative award flights. For instance, from Sydney to Seoul, a few quick clicks finds a date with a direct Asiana Airlines flight open for booking using miles.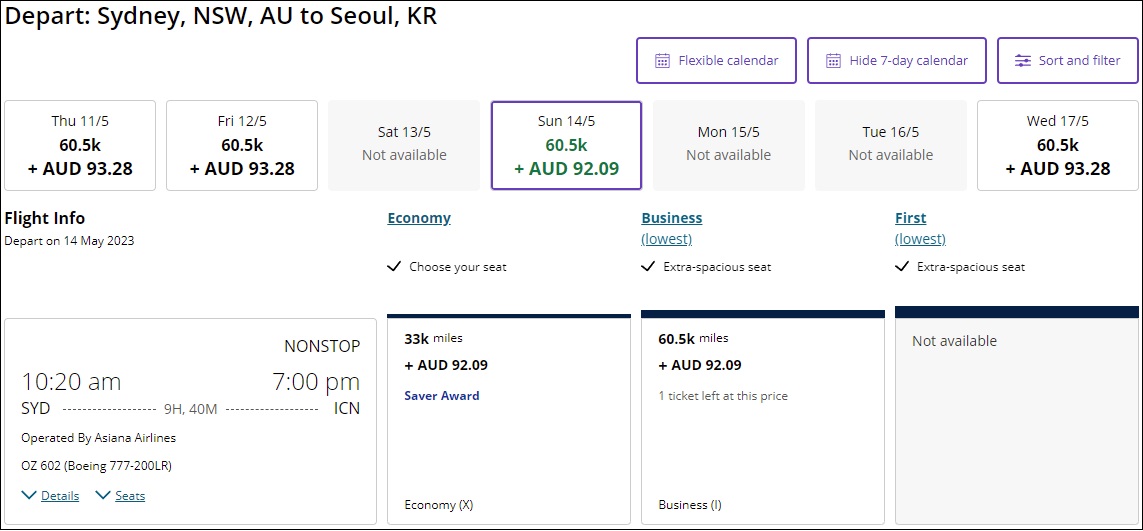 Again, you're not using the United website to book, merely to search. The logic is that if you can see a partner airline flight on the United site, you can most likely book it using your preferred Star Alliance program, such as KrisFlyer.
To also reiterate, redemption rates vary between programs. This strategy is all about helping you spend the miles you already have.
Redeeming points for SkyTeam flights
For me, the Delta website is my go-to for tracking down award flights on SkyTeam. It's super easy to use, and with a few quick clicks, you can browse award seat availability over weeks at a time.
Just tick the 'miles' option when you're searching. You don't even need a Delta SkyMiles account.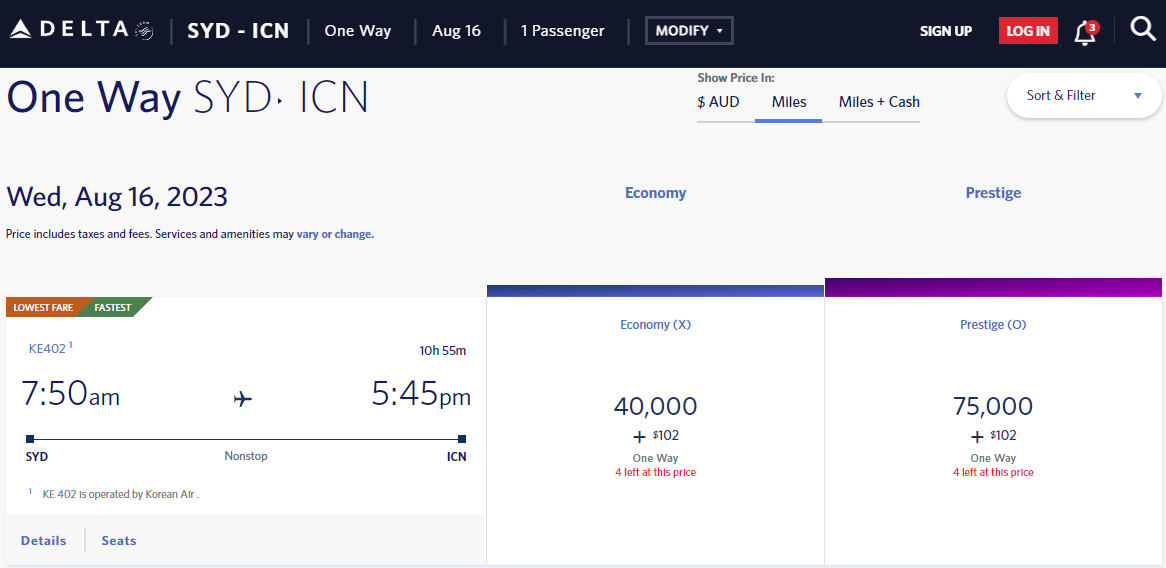 You can also use the Delta website to find reward seat availability on Virgin Atlantic. Here's why that's a real timesaver. Members of Virgin Australia's Velocity Frequent Flyer program can book Virgin Atlantic flights using Velocity Points. But those bookings can only be made over the phone, and not online.
Because you can't search for availability using the Velocity site, that could be a terribly long phone call while the agent tries to find you something suitable. But if you use the Delta website to check for available Virgin Atlantic flights, you can then tell the operator exactly what you want, and you'll be all booked, quick smart.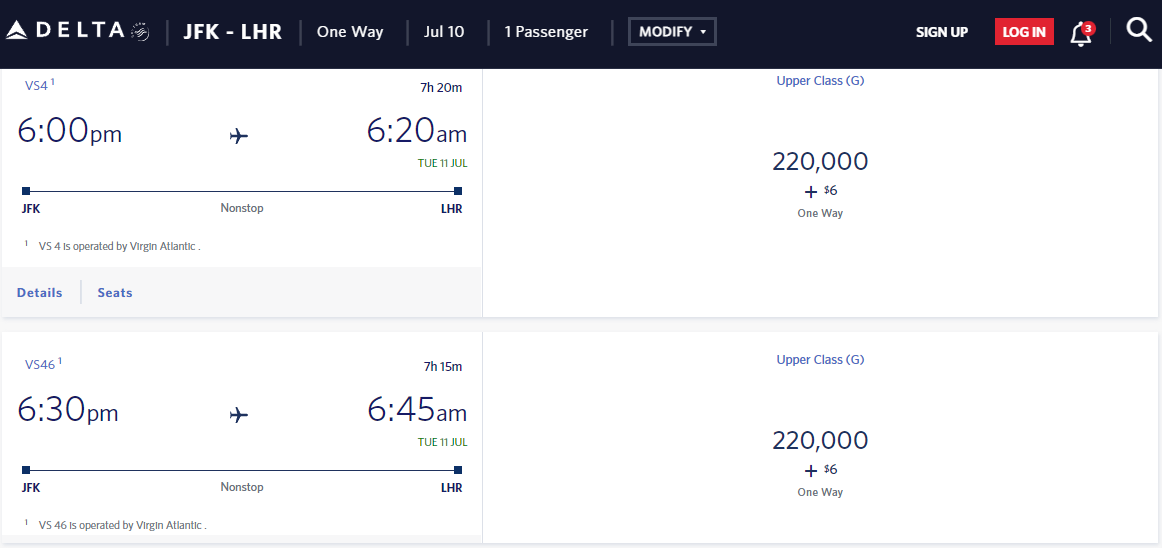 As a rule of thumb, if the Delta website shows Virgin Atlantic flights in 'Upper Class (G)', this means you can book Virgin Atlantic's best experience ('Upper Class'/Business Class) using Velocity Points.
If there's availability in 'Premium (P)', you can book Virgin Atlantic Premium Economy with Velocity Points. And if you see a Virgin Atlantic seat available in 'Economy Classic (A)', you're A-OK to call Velocity and book that same flight using Velocity Points.
Redeeming points for Virgin Australia and partner flights
Speaking of Velocity, the Virgin Australia website is great for redeeming points on most other flights. This covers Virgin Australia itself, as well as the airline's key international partners.
Reward seats on Air Canada, Etihad Airways, Qatar Airways, Singapore Airlines and United Airlines can all be booked via the Virgin Australia website.
Depending on the route and airline, you may find availability in Economy, Premium Economy, Business Class or First Class. Searching from Perth to Doha on a random date finds a reward seat trifecta on Qatar Airways, for instance.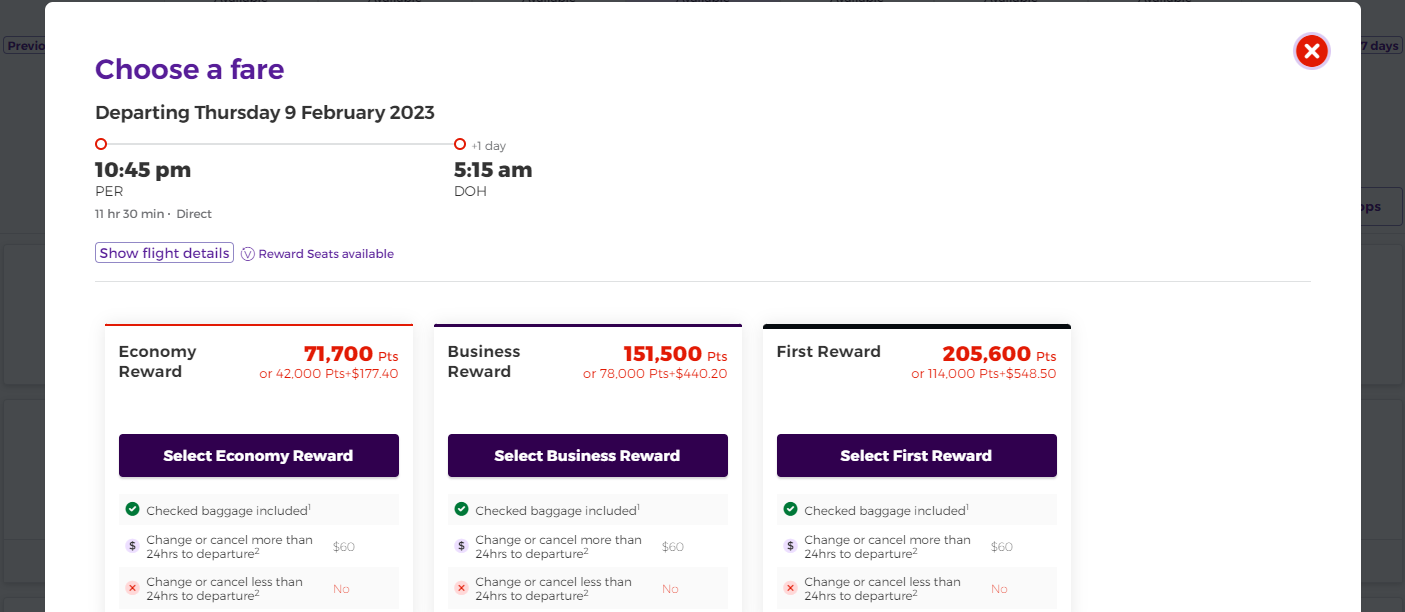 You'll need to call Velocity to book reward flights with Hawaiian Airlines, South African Airways and Virgin Atlantic. For South African Airways, just follow the 'Star Alliance' steps above to find the most suitable reward seat before you call.
We already know how to find Virgin Atlantic flights via the Delta website easily, so what about Hawaiian Airlines? Read on!
Ad – Scroll down to continue reading.Minimum spend, terms & conditions apply.
Other online tools to help redeem points
Beyond the airline websites, here are a couple of other tools that can help speed up the process of finding reward seats.
ExpertFlyer
An old favourite of mine is ExpertFlyer. It's super handy for finding flights on which you can redeem your points. This includes Virgin Australia's partner Hawaiian Airlines.
ExpertFlyer is quite affordable, too. A 'basic' subscription costs just US$4.99 per month and allows up to 250 searches. For unlimited queries, a 'premium' subscription is the way to go at US$9.99 per month or US$99.99 per year.
Whichever you pick, just head to the 'Awards & Upgrades' tab and key in your preferred flight details. Then, select the airline you hope to fly with – not the airline where your points are coming from. When using Velocity Points on Hawaiian Airlines, this means selecting Hawaiian Airlines.
Once you've done that, you'll see which cabins ExpertFlyer can search. For Hawaiian Airlines' premium cabin, that's 'First – Saver & Partner Awards (D)'. As you may have guessed, if one of these seats is available, that means you're all set to book with Velocity Points.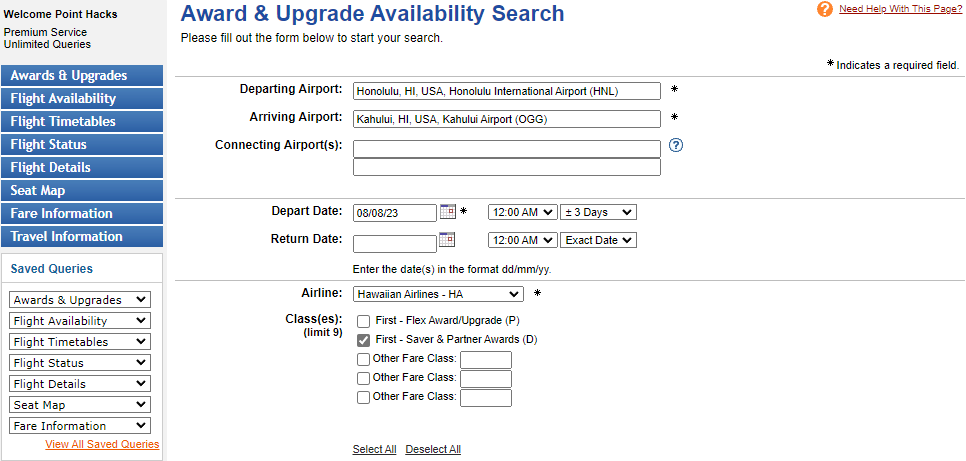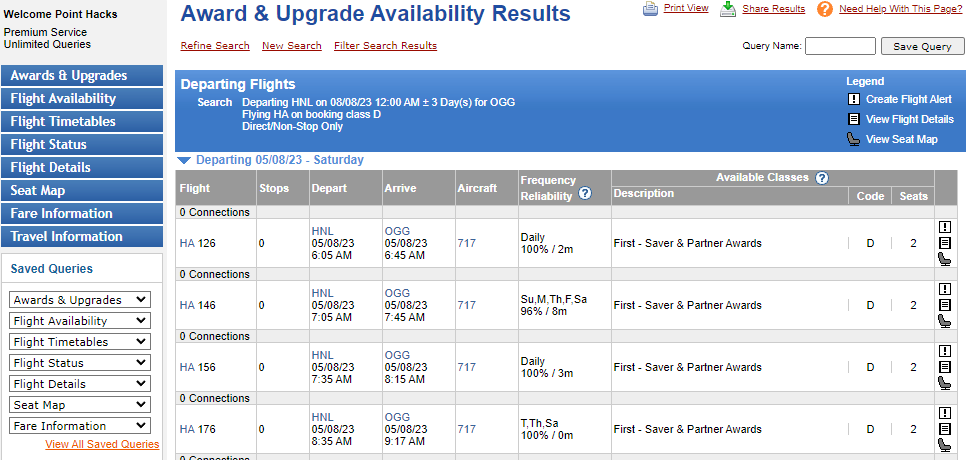 Reward seats are hard to get on Hawaiian Airlines' Sydney-Honolulu flights at the moment. But when travelling within Hawaii, it's easy to get First Class on the airline's inter-island routes. For instance, from Honolulu to Kahului (Maui).
On the date searched above, Hawaiian Airlines has two First Class seats available on most flights when booking using Velocity Points.
ExpertFlyer supports a whole host of airlines, but it's better suited to power users who already know what they're doing. Those who are on the right track – but need a little more guidance – may find AwardLogic a better fit.
AwardLogic
Another great tool for finding flights on points is AwardLogic. Like ExpertFlyer, it certainly has its place for power users. But its graphical interface and simple search process are also great when you're dipping your toe into the world of points and miles.
Rather than specifying which airline you want to book, AwardLogic takes a different approach. You can instead enter which points programs you're a member of, and where you want to go. AwardLogic takes that into account in presenting its search results.
Not only can you find flights with reward seat availability – the website also advises which of your points you can use to book. And in fact, how many points you need.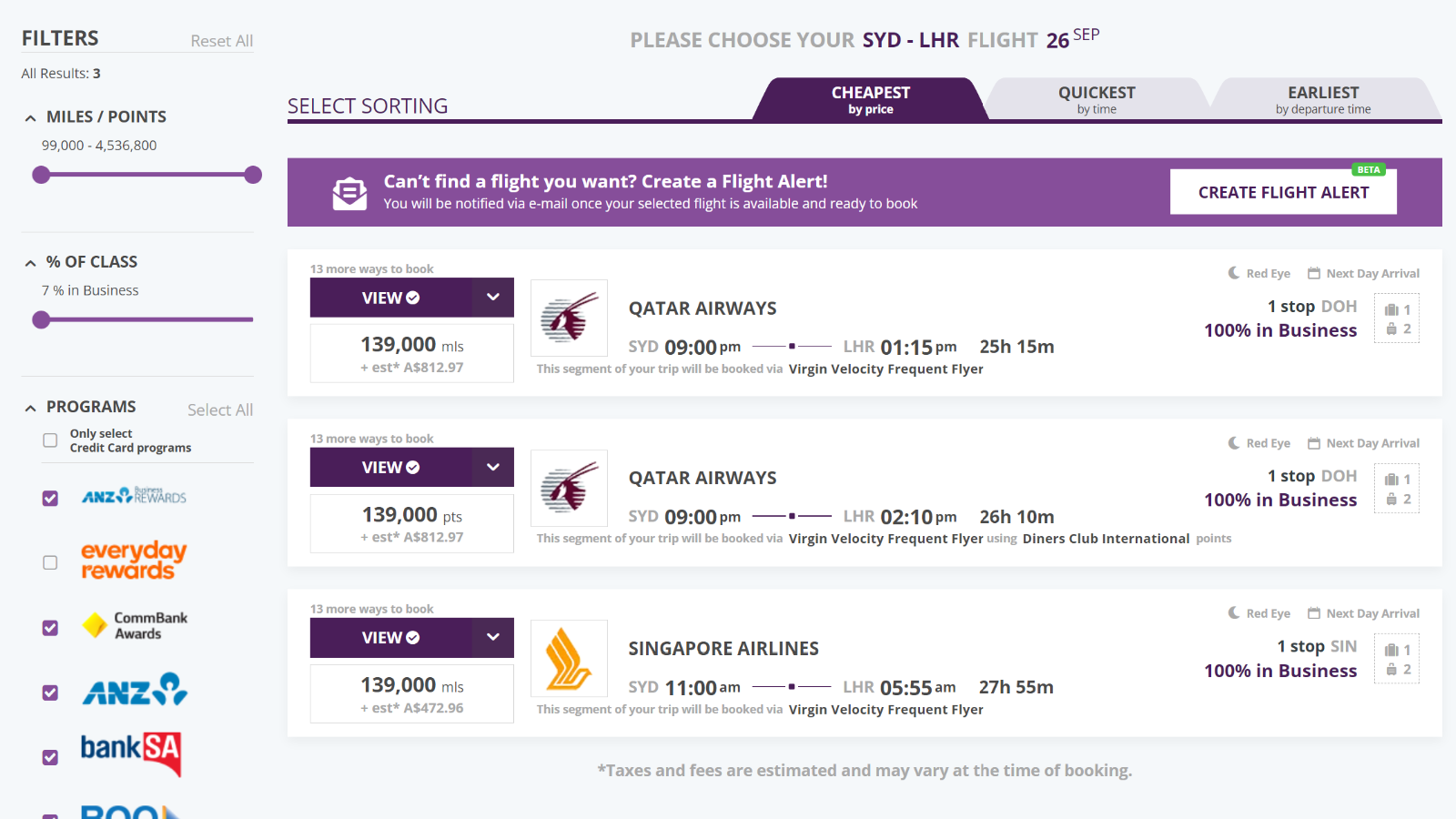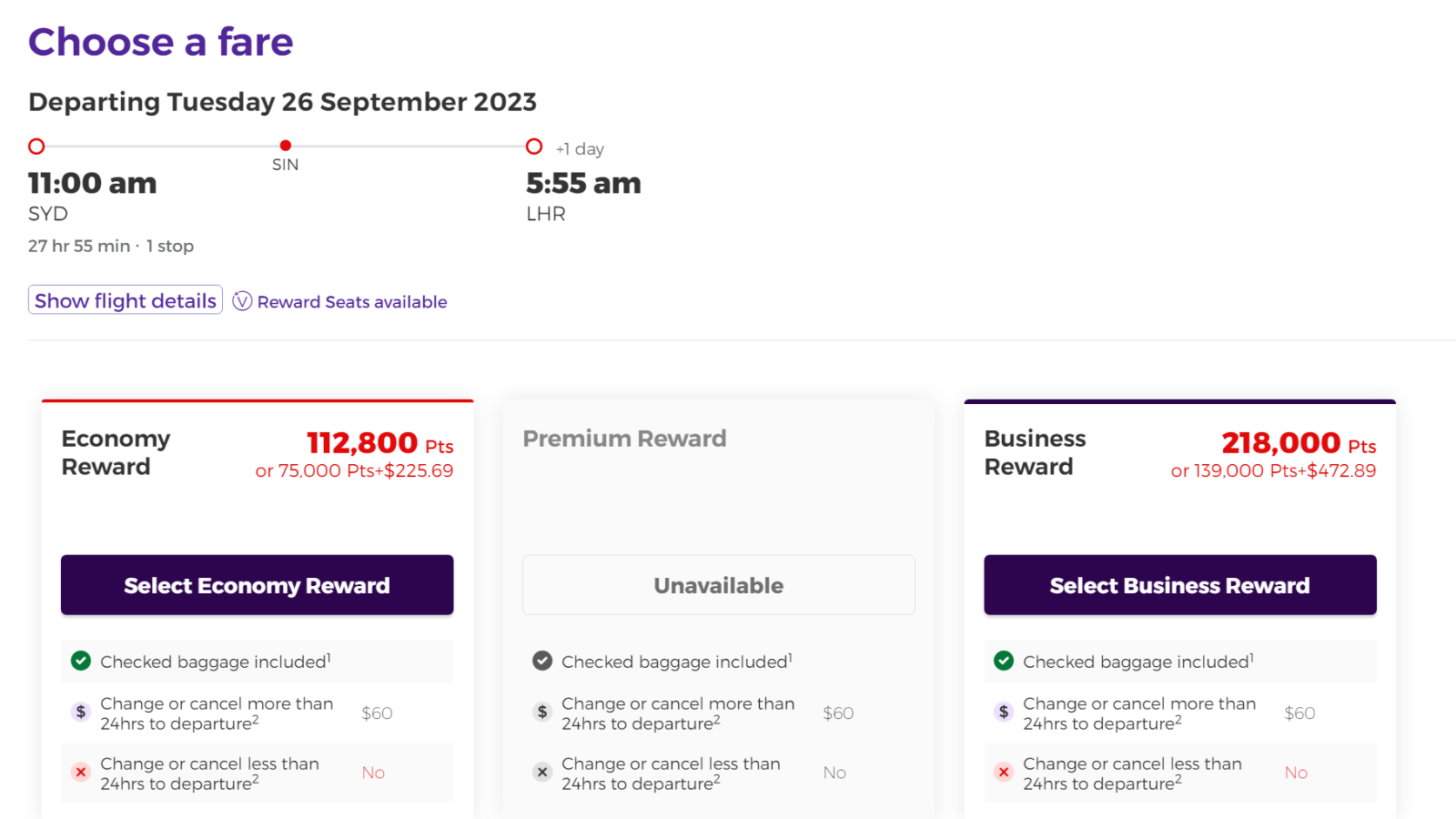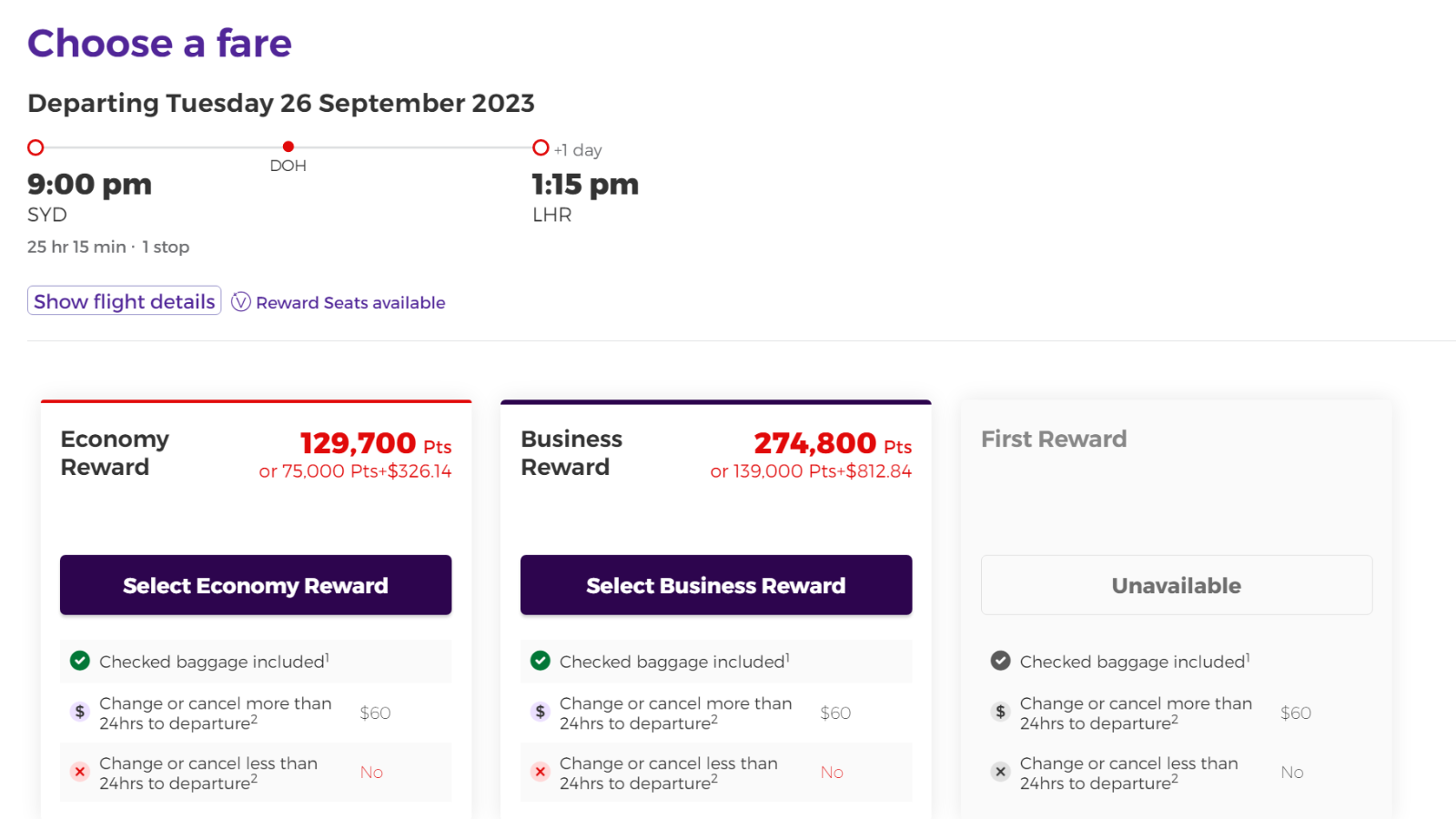 This flexibility in searching also extends to credit card points. AwardLogic knows where those points can be converted, and how many of them you'd need.
For a one-off search, AwardLogic's day pass costs US$4.99. That's useful if you already know what you're looking for, only need to make one booking and are able to find what you need. Otherwise, the US$19.99/month subscription provides unlimited access and queries.
AwardLogic is a Point Hacks commercial partner. We may earn a commission if you sign up through affiliate links on this page.
Summing up
There are many ways to find frequent flyer reward seats. Most people would just head to their frequent flyer program's website and search that way. But as regular travellers come to discover, looking more broadly can achieve fantastic results.
Especially now as international travel is back on everyone's agenda, any advantage you can get in finding flights will give you the best chance of securing that dream trip.
Feature image courtesy of Bram Naus/Unsplash.
---
Stay up to date with the latest news, reviews and guides by subscribing to Point Hacks' email newsletter.
These tools can help to redeem your frequent flyer points
was last modified:
December 11th, 2022
by