Qantas is enriching its insurance portfolio with the launch of Qantas Home Insurance. With a variety of options to suit different properties and budgets, Qantas Home Insurance could be another way for frequent flyers to top-up their points balances.
Qantas Loyalty CEO Olivia Wirth explained that expanding on the success of its existing insurance range was giving members more ways to earn points for everyday expenses on the ground.
The products we've launched through Qantas Insurance have seen frequent flyers pocket billions of points.

Part of that success has been offering ways to earn points in ways that are relevant to what you're insuring. In the same way that we've rewarded our health insurance customers for exercising and car insurance customers for checking their tyres, home insurance customers will be able to earn points by doing some basic household safety tasks.
Underwritten by Auto & General, which also covers Qantas Car Insurance, the new Home Insurance policies are available for purchase today.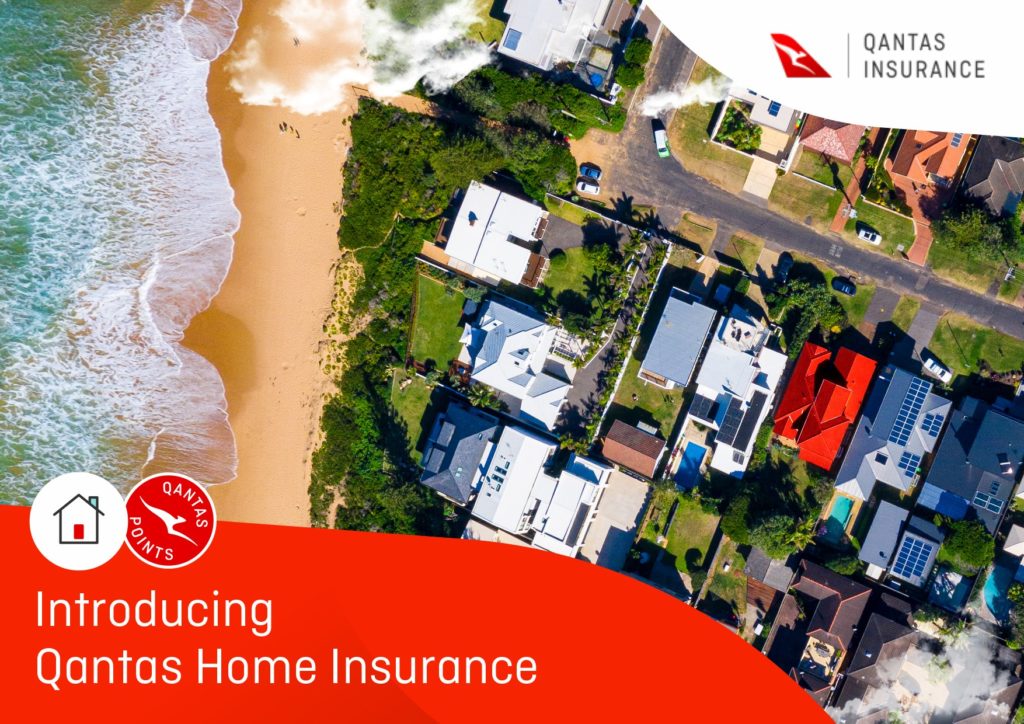 How do I earn Qantas Points with Qantas Home Insurance?
Here's the most interesting part of insurance: getting the points. There are four ways you can earn points on Qantas Home Insurance:
Bonus sign-up Qantas Points when you join
Earn 1 Qantas Point per $1 spent on your premium
Up to 1,600 Qantas Points a year through the Qantas Wellbeing app for completing home safety checks and more
Pay your premium using a points-earning credit card
Until 28 February 2021, you could collect up to 40,000 Qantas Points on new Qantas Home Insurance policies. It's tiered according to your annual premium, from 4,000 bonus points for premiums under $500 all the way to 40,000 bonus points for premiums above $1,550.
Ad – Scroll down to continue reading.Minimum spend, terms & conditions apply.
What types of Qantas Home Insurance are there?
There are four variations of cover available for members:
Home and Contents combined insurance
Home or Contents separate insurance
Renters insurance
Landlord insurance
We've provided brief summaries of those coverage options in the next section. But for the full details, it's very important you visit the Qantas Insurance page or view the Home Insurance PDS [PDF file].
Qantas Home and Contents Insurance
Under standard Home and Contents insurance, you can expect to be covered for the following scenarios (with some conditions and exclusions):
Damage by fire and flames
Theft, attempted theft or damage of your property
Malicious intentional damage by vandalism and riot
Breaking of glass, ceramic and sanitary fixtures
Damage by storms and rainwater (not flood)
The escape of liquid, like a burst pipe, causing damage
Damage by a lightning strike or thunderbolt
An explosion causing damage
Damage by earthquake or tsunami
Damage to your property by impact (e.g. a fallen tree)
Common exclusions to home insurance include cars and caravans, even if converted for use as a domestic dwelling, artificial turf, garden beds and more. Consult the PDS for the full range of exclusions.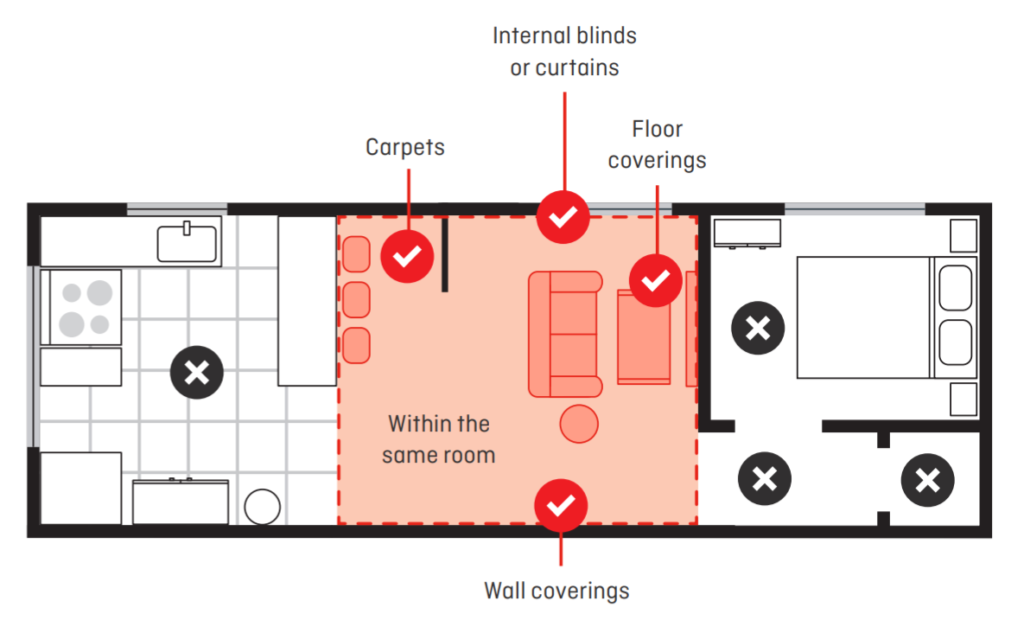 Additional coverage with Contents Insurance
If you take out Contents insurance, then you may have increased coverage for some of these items when at your insured address:
Furniture and furnishings
Household electrical appliances
Internal blinds and curtains
Potted plants
Tools and gardening equipment
Tools of the trade, including musical instruments
Limits and exclusions may apply. For example, there is an $800 payment limit for cash, cheques, gift cards and other financial items that would otherwise be covered by a Contents policy.
Qantas Landlord Insurance
Holding landlord's insurance (usually added on to Home and Contents insurance) will primarily protect you against two unforeseen outcomes:
Your tenant defaulting on rent
Theft and malicious damage by your tenant and their visitors
In the first case, the insurer will pay your net rental income until the building is re-tenanted or rental payments start again.
The rent must not have been in arrears before applying for cover and you will need to provide a written lease agreement with the tenant that's been in place for at least 4 weeks.
In terms of damage, you must report the incident to the police to be covered. Once again, a written lease agreement at least 4 weeks old must be in place for claims to be considered.
Qantas Renters Insurance
Renters insurance is essentially the same as Contents Insurance, but for renters rather than homeowners. It includes cover for temporary accommodation if your rental home is unliveable due to an insured event, plus coverage for your belongings in a rental home.
Earning more points through the Qantas Wellbeing App
The Qantas Wellbeing App is traditionally associated with health and fitness, so you may be surprised to learn that you can earn up to 1,600 extra Qantas Points a year through holding Home Insurance.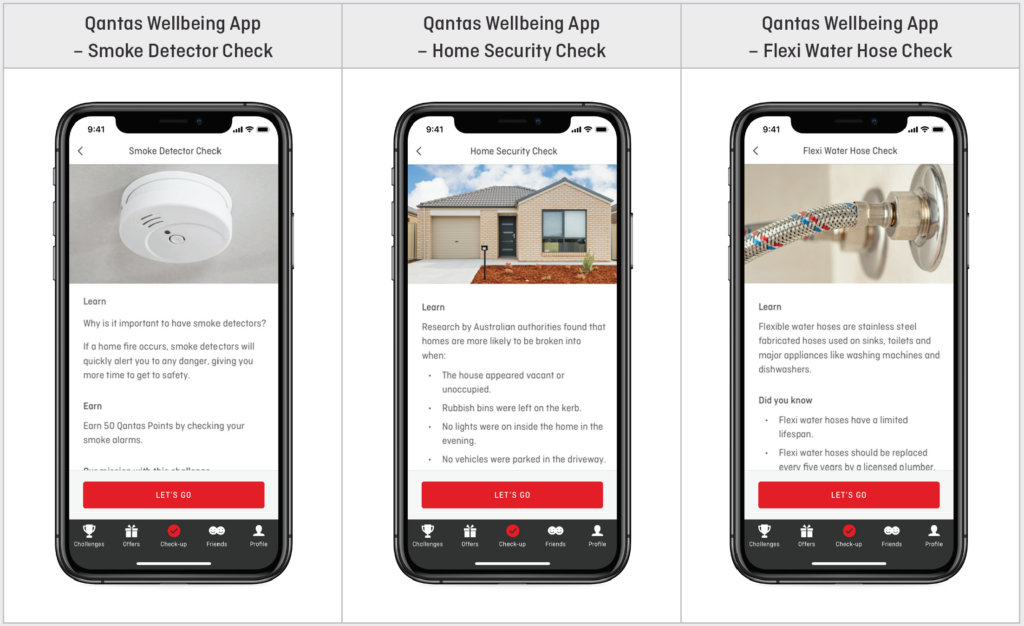 Performing checks on your smoke detectors, home security and more won't just earn you more points, but also could reduce the risk of a major unforeseen event happening to your house.
Summing up
Home Insurance is the natural next step for Qantas Insurance, which already has its fingers in health, travel, car and life cover too. You should always shop around when looking at insurance products, as the offer of bonus points may mean you're still paying more through a higher premium.
But if the price and coverage suit you, then Qantas Home Insurance could be your next ticket to a family holiday or flight upgrade.
Also read: How to earn Qantas Points with Qantas Insurance
Bring home 40,000 points with Qantas Home Insurance
was last modified:
February 25th, 2021
by