If you take a larger or fancier vehicle this month, then you'll get up to 6 points per $ spent (instead of 3).
Earn double Qantas Points on eligible airport rides in May
Request an UberXL or Uber Comfort to or from eligible Australian airports until 31 May using the Qantas app and you can earn double Qantas Points.
Gold, Platinum and Platinum One members will earn 6 points per A$1 spent
Silver members will earn 4 points per A$1 spent
Bronze members will earn 2 points per A$1 spent

For example, a Gold member who completes an airport trip for $60 will earn 360 Qantas Points for their journey. I value those points at $7.20, giving you a kickback of 12% (instead of the usual 6%).
UberXL is a high-capacity vehicle with extra seats or room for luggage, and Uber Comfort is their version of Premium Economy. You can read more about the different types of services here.
You do not need to register for this offer.
---
In this guide
Qantas Frequent Flyer and Uber have a partnership offering members and riders the option of earning Qantas Points.
There a few catches though—it is not a blanket, simple points-earning opportunity for all rides. Different status Qantas members will find this more lucrative than others—so for more points, you may be better off using ingogo. Here's how it works.
Eligible Uber rides for earning Qantas Points
The key condition for earning Qantas Points from your Uber ride is that you need to be travelling to/from an included Australian airport:
Adelaide, Brisbane, Cairns, Canberra, Gold Coast, Hobart, Maroochydore, Melbourne, Perth, Sydney, Townsville, Newcastle, Toowoomba, Avalon and Byron Bay
In addition, you'll need to have pre-linked your Uber and Qantas accounts, which can also be done within the Qantas app.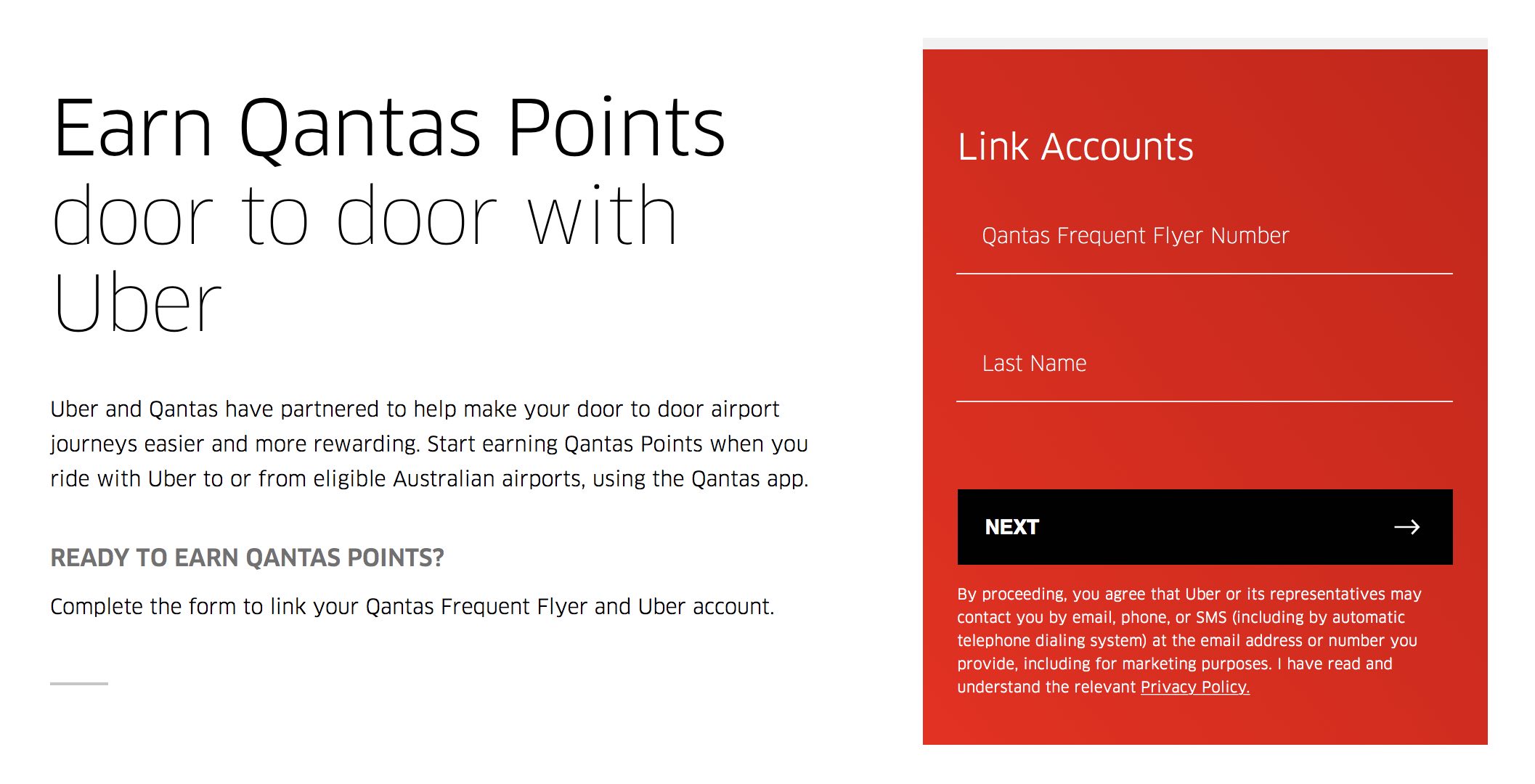 As of July 2018, you can now book your Uber ride directly with the Uber app (rather than having to go through the Qantas app).
How many Qantas Points you can earn from Uber rides
Qantas are rewarding their more loyal frequent flyer members with more points based on your Qantas elite status:
Gold, Platinum, Platinum One and Chairman's Lounge members: 3 points per $ spent
Silver members: 2 points per $ spent
Bronze members: 1 point per $ spent
For anyone who hasn't registered with Uber yet, there are also 2,000 Qantas Points on offer for new Uber riders after initiating your registration from the Qantas app.
Summing up
More options for earning points are (almost) always good, and the ability to earn Qantas Points with Uber rides is welcome.
However, the restriction on earning points only for rides to/from specific Australian airports means that you're not going to earn a ton of points from this partnership.
Be sure to read our comparison guide for earning points with rideshare and car booking services.
Earn double Qantas Points on eligible Uber airport rides this month
was last modified:
May 16th, 2019
by