Are you interested in upgrading your ticket? Or making sure you're maximising the points and Status Credits earned from your flight? Even though it can be a tedious process, it's useful to know which fare class you're booked in. It's literally the 'A-B-Cs' of flying.
In this guide, we explain why fare classes are important, what the different fare classes are, and where to find them on your ticket. This will help you boost your frequent flyer balances and improve your chances of getting upgraded.
It's important to note that the average frequent flyer generally doesn't need to know what fare class their ticket is booked in. But it's easier to figure out what you can and can't do when it comes to flight changes, upgrades and more when you know the magic letter on your ticket.
What are fare classes?
Fare classes and buckets can be used interchangeably. They're the letter on your ticket that signifies what fare you've purchased. Even though you may have just bought an Economy or Business Class ticket, there are actually different subtypes of those fares which come with different rules, allowances and earn rates.
Most airlines will use marketing terms to make it easier to group different fare classes together. For example, Singapore Airlines has four Economy categories – Lite (V, K), Value (Q, N), Standard (M, H, W), and Flexi (Y, B, E). Notice how Economy Value fares can't be upgraded, and how Economy Flexi fares earn more miles.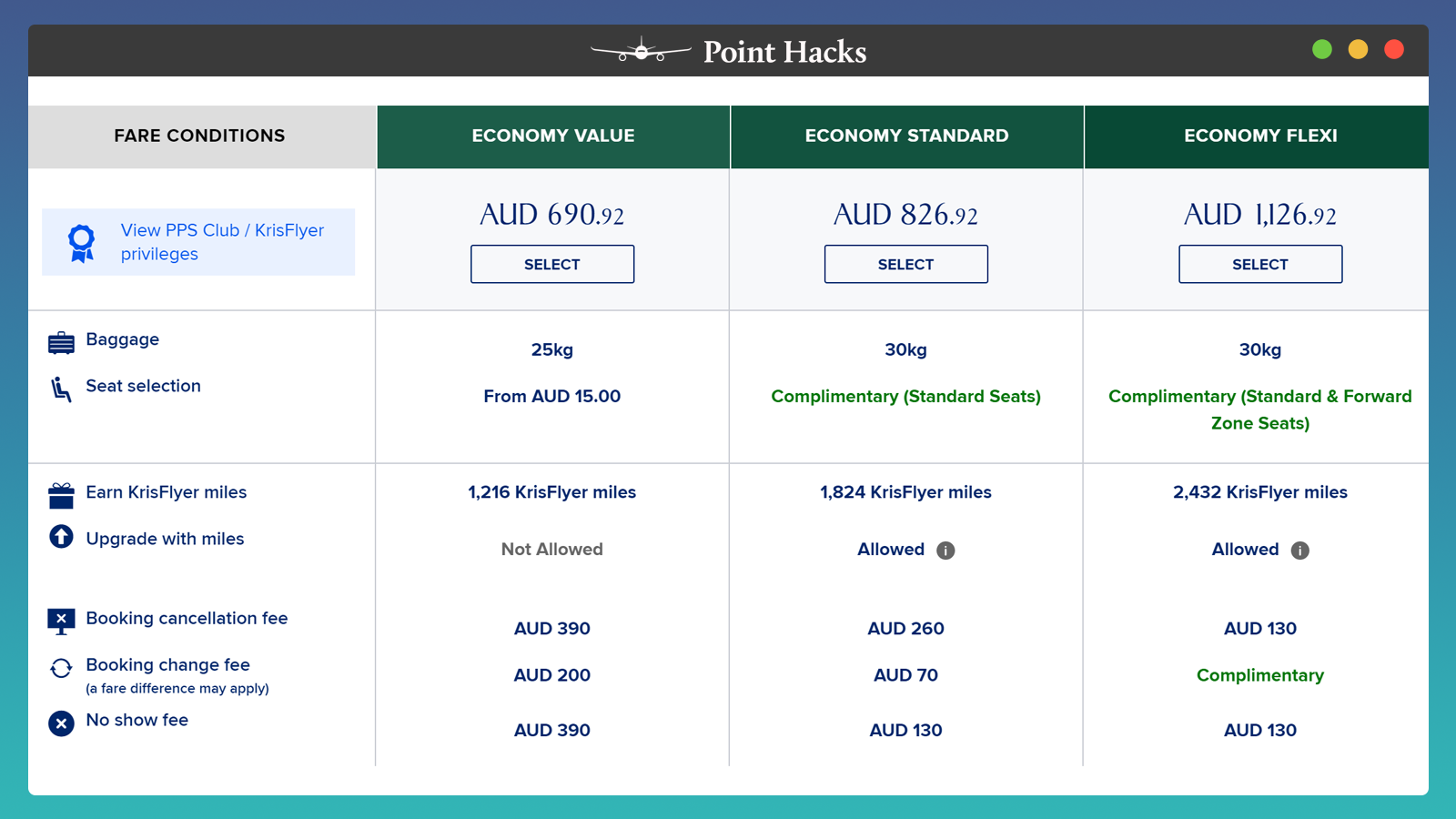 Why are fare classes important?
1. Points earn
Firstly, the fare class may determine how many points or miles you will earn on a ticket you've purchased with cash. Airlines don't treat all fare classes the same. A good resource to help you decide which frequent flyer program to credit your flight to is wheretocredit.com.
This is particularly important with Qantas Frequent Flyer because Qantas does not treat each partner equally. For example, some fares on partners such as Malaysia Airlines or Cathay Pacific earn very little or even no Qantas Points.
Below is the table Qantas uses to determine how many points you earn on Malaysia Airlines. If you booked a Business Class ticket from Sydney to Kuala Lumpur to London, you'd only earn points and Status Credits at the 'Flexible Economy' rate, because Qantas penalises passengers flying on that route with competing carriers. In this situation, you might want to credit the flight to a different program such as British Airways Executive Club.
But if you were flying around Asia in Malaysia Airlines Business Class, you'd earn at the higher Business Class rate instead. It all comes down to how they treat each fare class. You'll see that reward seat fares ('X' for Economy and 'U' for Business for Qantas and partner airlines) don't appear on the table for any partner airline. That's because reward seats generally don't earn any points.
2. Status Credits earn
If you are chasing elite status with a frequent flyer program, then the fare class will also determine how many Status Credits (SCs) you'll earn.
For example, the cheapest Qantas fare (Discount Economy) will earn 40 SCs for Sydney to Auckland return. A standard Business Class return ticket will earn more than quadruple that (170 SCs), and get you to higher status quicker. Those rates are all determined by their fare class.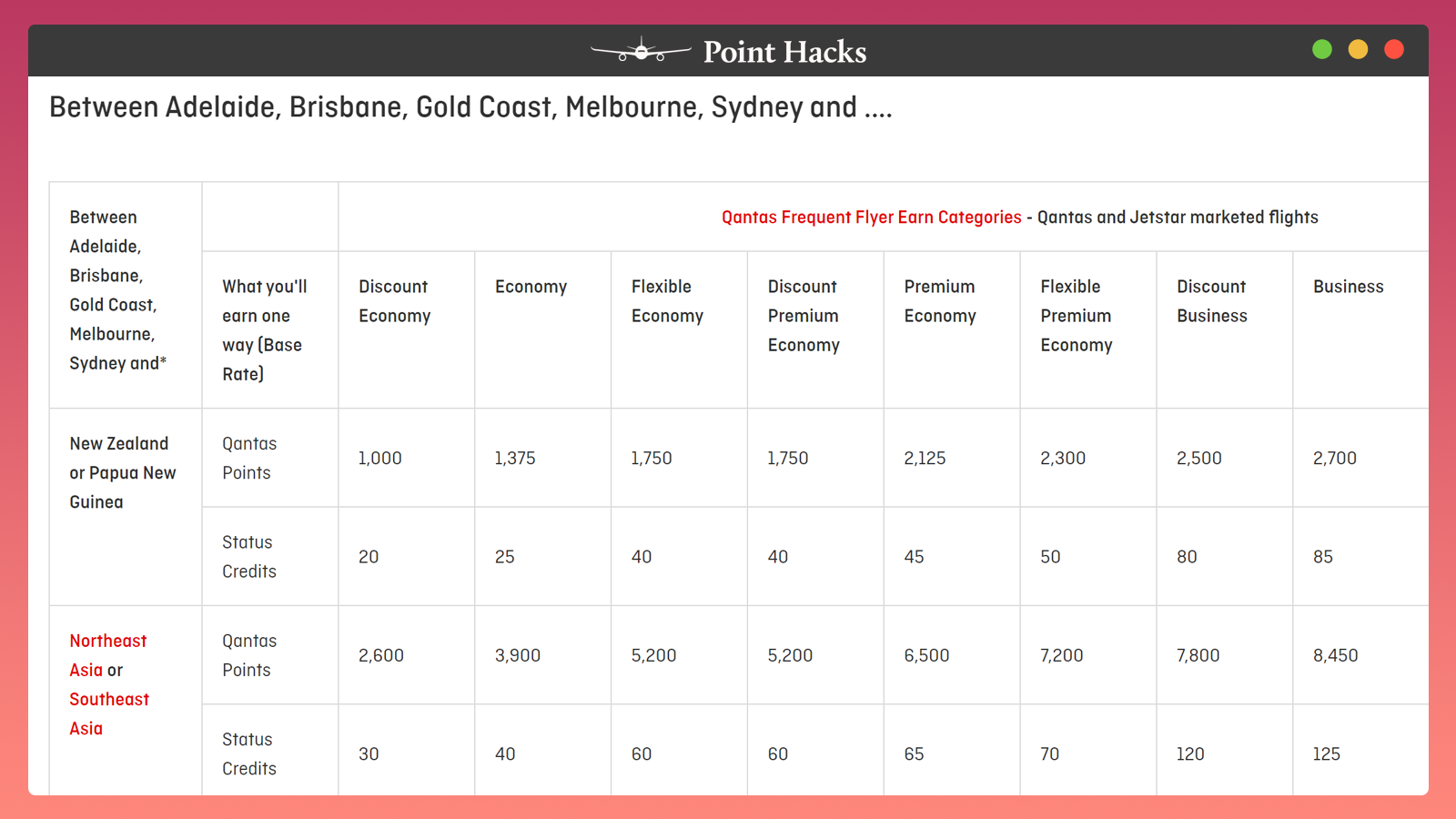 3. Upgrade eligibility
The fare class will also determine if you can upgrade your ticket or not – and that's a really common question we get here at Point Hacks. Let us be upfront first: the chances of being upgraded are usually quite low, particularly on long flights. Most airlines prioritise upgrades by status level, followed by fare type.
For more information, here are our guides on how to upgrade your flight with: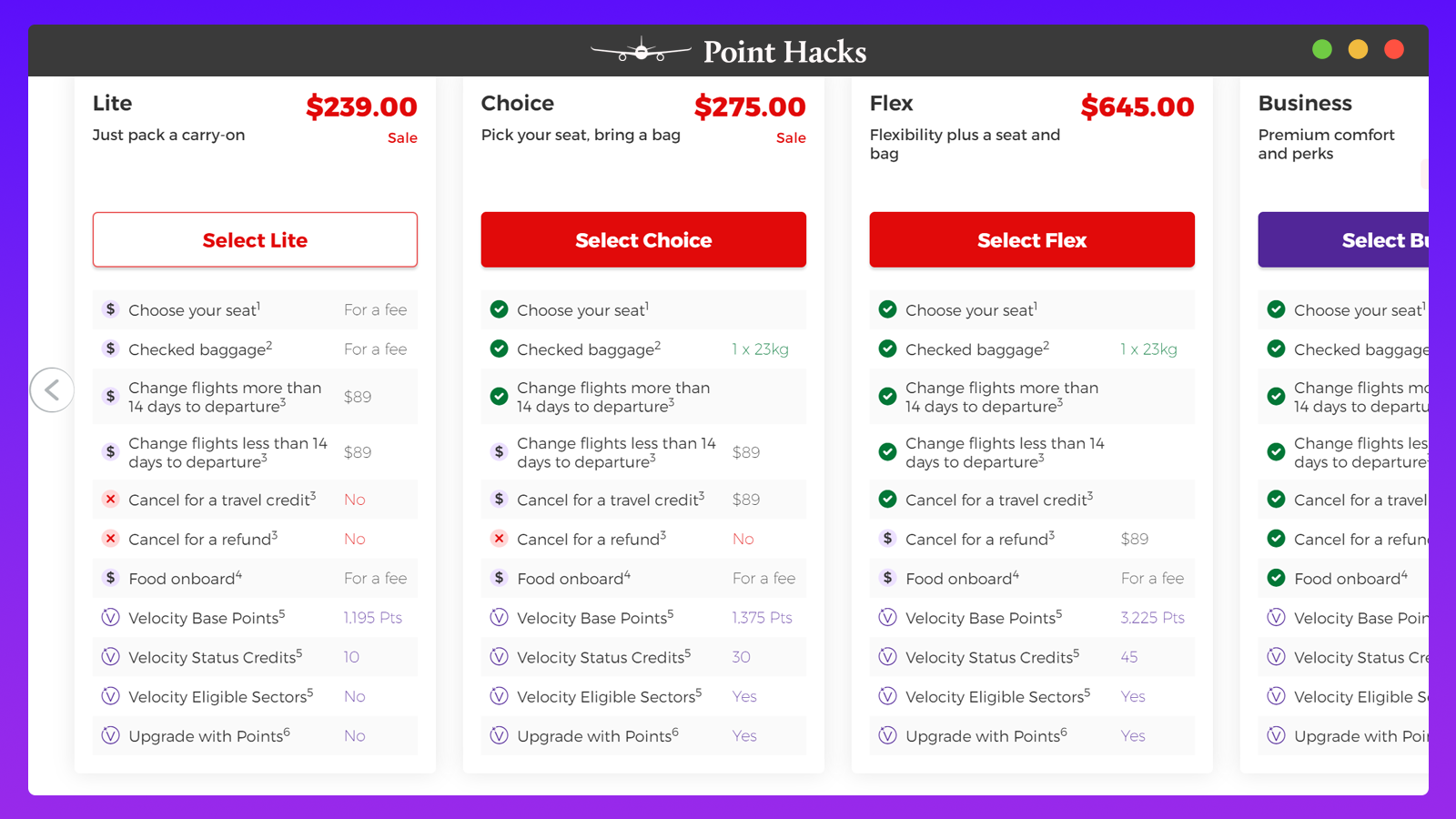 4. Ticket prices
Fare buckets have a big impact on the ticket prices that you see for sale. Generally, flights are loaded with multiple fare buckets within one ticket category, which share the same benefits. However, they are all priced at different levels.
For example, let's say Qantas has the following fares for sale on a Perth-Broome domestic flight:
5 seats in 'E' (Red e-Deal) for $228
9+ seats in 'Q' (Red e-Deal) for $301
9+ seats in 'K' (Flex) for $687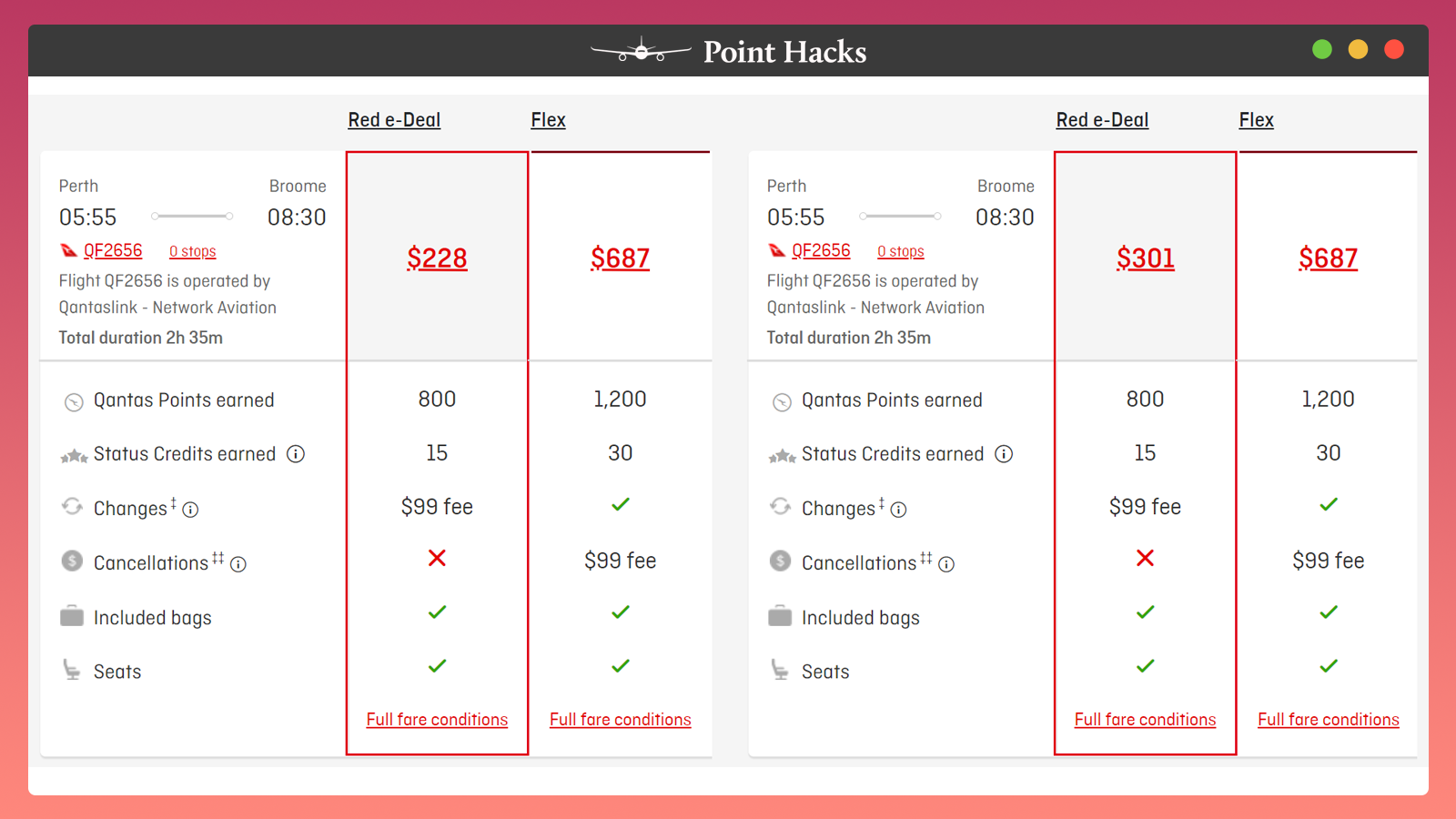 If you booked flights while there were still seats available in the 'E' bucket, then you would see the screenshot on the left, with the $228 price. But let's say that there are no more 'E' bucket fares left. In that case, the next Red e-Deal fare shown would be 'Q', and you'd see the price of $301 on the right.
The same would apply if you were trying to book for six passengers. Because there are only five fares at the cheaper price, the system will show the next available fare that has six or more seats available. Passengers on the same booking must have the same fare class – you can't mix and match.
In both cases, your purchased fare would come with identical change policies, points earn and upgradability. But because of fare classes, one is more expensive than the other simply for revenue purposes.
Now let's imagine it's a day before the flight and all the Red e-Deal fare buckets are sold out. In this case, your only option for last-minute travel would be to go for the 'K' flexible Economy fare class. This is often why last-minute airfares are so expensive – not because the airline 'inflates' a price, but because the cheaper fare buckets are simply sold out.
5. Reward seat and upgrade availability
In most cases, there need to be certain fare buckets available for you to successfully request a points upgrade or to book a reward seat. For example, the all-important Business Reward Seat fare code is 'U' for Qantas and most of its partner airlines, 'Z' for Virgin Australia and 'I' for Singapore Airlines.
Armed with this information, you might be able to use a tool such as 'ExpertFlyer' to keep an eye out for reward seat availability and even set alerts. It works well for certain airlines such as Qantas.
In the case of Qantas, Platinum frequent flyers and higher can also request reward seats to be released. But for this to happen, there needs to be availability in certain commercial fare classes before the call centre agent can place the request. Those are:
| | | |
| --- | --- | --- |
| | Platinum | Platinum One |
| Domestic Economy | N | N |
| Domestic Business | D | D |
| International Economy | Q | L |
| International Premium | T | R |
| International Business | I | D |
| International First | A | F |
Seasoned frequent flyers will be able to look up those fare classes via a tool like ExpertFlyer to confirm seat availability before calling Qantas to request a reward seat.
Ad – Scroll down to continue reading.Minimum spend, terms & conditions apply.
What are the Qantas fare codes?
Qantas has different fare codes for domestic and international travel. For simplicity's sake, we'll only focus on the domestic Economy and Business fares (you can see the international fare classes here).
Fare Name
Fare Codes
Earns points and Status Credits?
Upgradeable?
Red e-Deal
(Discount Economy)
E, O, Q, N, S, V, L, M
Yes, 'Discount Economy' rate
Yes, 'Discount Economy' rate
Flex
(Flexible Economy)
K, H, B, Y
Yes, 'Flexible Economy' rate
Yes, 'Flexible Economy' rate
Classic Flight Reward Economy
X
No*
Yes, 'Classic Flight Reward Economy' rate
Business
(Standard)
I, D
Yes, 'Business' rate
N/A
Business
(Flexible Business)
C, J
Yes, 'Flexible Business' rate
N/A
Classic Flight Reward Business
U
No*
N/A
* Classic Flight Rewards don't usually earn points and Status Credits. However, Points Club members may earn a limited number of Status Credits on QF-operated Classic Flight Rewards.
To be honest, you don't have to get too hung up on the actual fare code itself for Qantas domestic flights. That's because all the fare codes within one category will share the same fare conditions, points earn and upgradability.
The only discernable difference is the price, and you are generally offered the lowest-priced fare code at the time of booking. If you're curious to find out the fare letter, it does show up on your 'Manage Booking' page after you've booked. Unfortunately, Qantas does not display fare classes at the time of booking.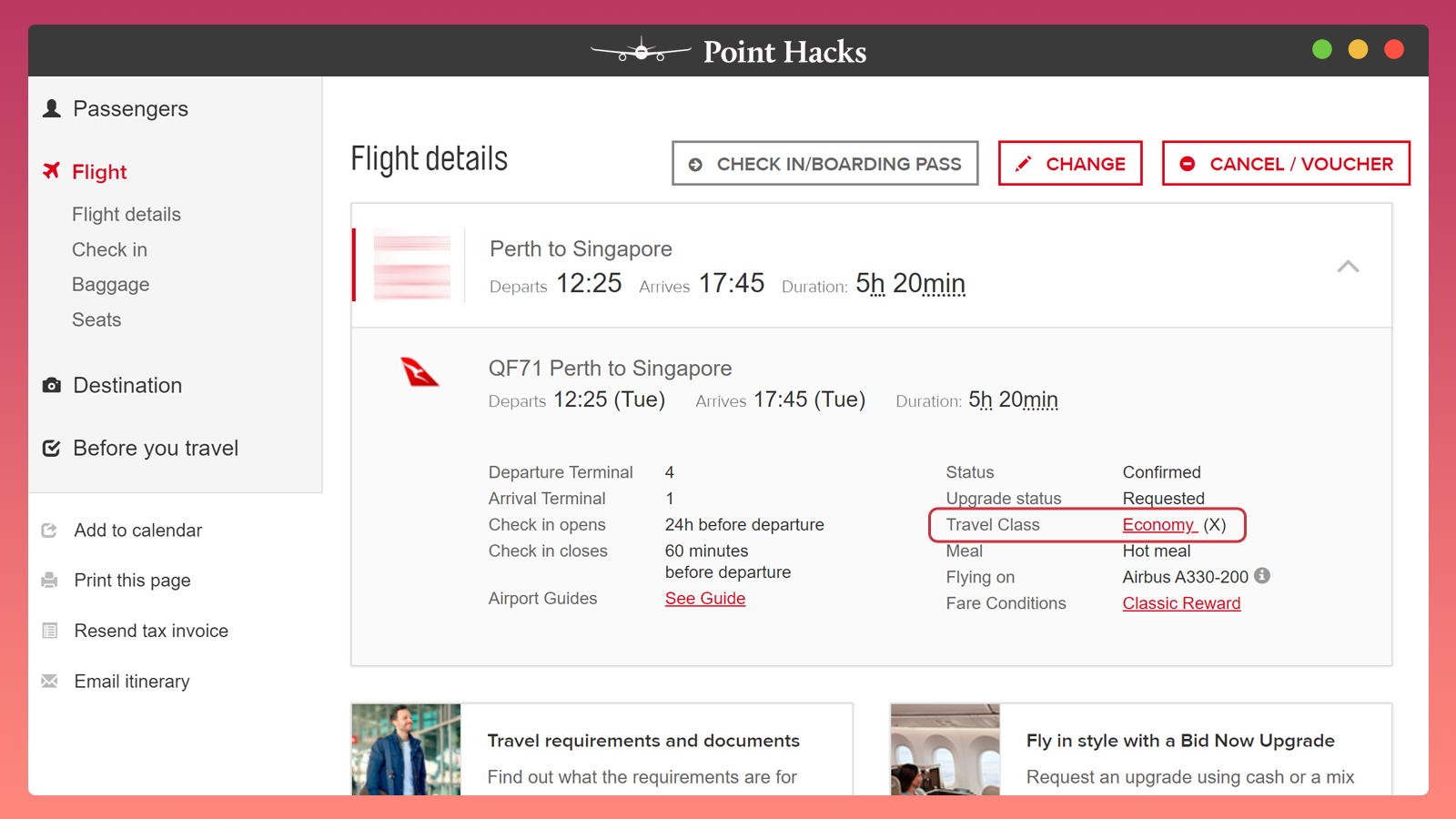 What are the Virgin Australia fare codes?
Once again, we will focus on Virgin Australia domestic flights. Here are the fare codes you can expect to find.
| | | | |
| --- | --- | --- | --- |
| Fare Name | Fare Codes | Earns points and Status Credits? | Upgradeable? |
| Economy Lite | M | Yes, 'Economy Lite' rate (no sectors for status) | No |
| Economy Choice | R, E, O, N, V, P, Q, T, I, S | Yes, 'Economy Choice' rate | Yes, 'Economy Choice' rate |
| Economy Flex | Y, B, W, H, K, L | Yes, 'Economy Flex' rate | Yes, 'Economy Flex' rate |
| Velocity Reward Economy | X | No | No |
| Business | D, C, J | Yes, 'Business' rate | N/A |
| Velocity Reward Business | Z | No | N/A |
There's also no need to get too caught up in knowing what fare you purchased. Velocity Frequent Flyer awards five points per dollar you spend on domestic fares (more for elite status members), so this isn't tied to a fare bucket.
Virgin Australia awards Status Credits on the marketing fare name (e.g. Choice, Flex), rather than individual fare letters.
If you are curious, you can find the fare class at the booking stage. Just select your desired price on the Virgin Australia website and look for a link to the fare rules. The very first letter in the code is the fare class.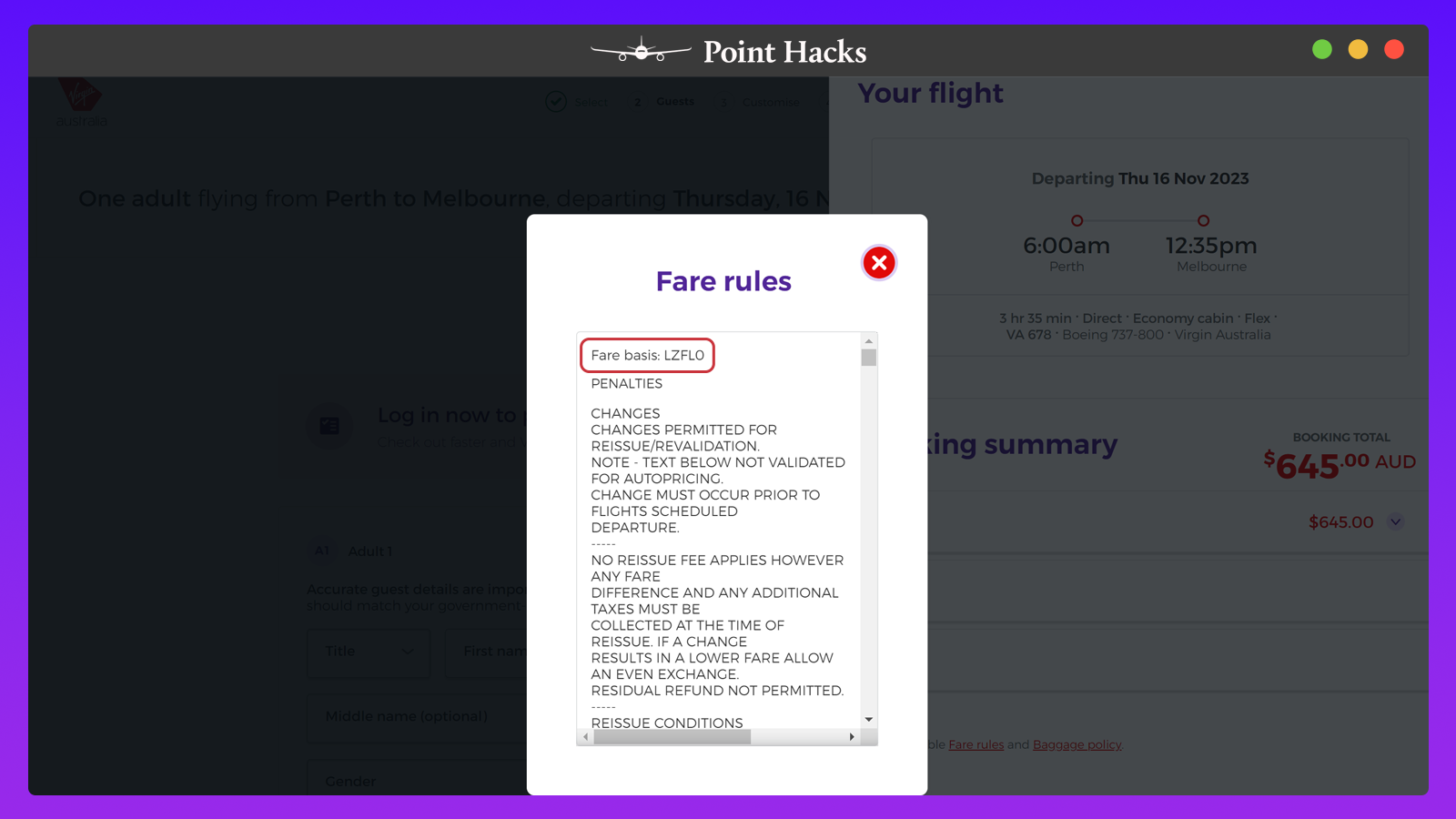 Where else can I find the fare class on my ticket?
One place to find this information is on the 'advanced' version of Google Flights. It's called ITA Matrix. In the search results, click on the flight and it will show the fare class in parentheses.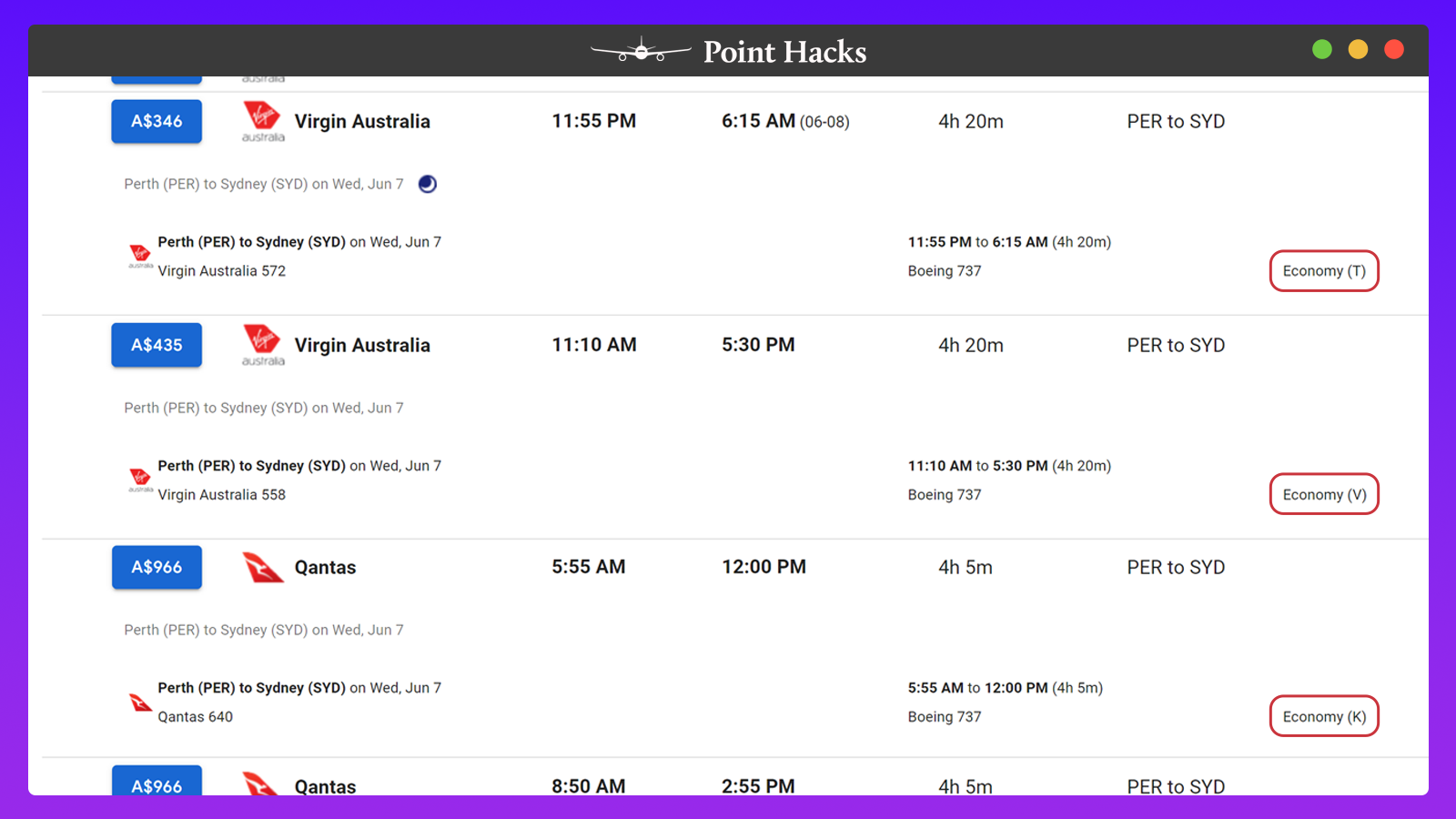 In this case, we can tell the Virgin Australia fares are different levels of Economy Choice ('T' and 'V') whereas the $966 Qantas fare is Economy Flex (K).
Many other online travel agencies, such as American Express Travel, will show fare classes at checkout. And of course, any competent travel agent will be able to tell you the fare class if you ask them.
The fare class will also be visible on your e-ticket after booking.
Summing up
Working out fare class codes can be tedious work. However, it does make a difference in how many points and Status Credits you'll earn, as well as the price of a fare. It will also determine whether your ticket is upgradeable to a higher class.
Most airlines simplify things for their passengers, bundling different groups of fare classes into broader names that are easier to remember (such as Red e-Deal or Economy Choice). It makes it easier to figure out frequent flyer benefits on certain tickets, and that's about as much as a typical passenger needs to know.
The main reason you might want to know the actual letter of a fare class is to figure out how many points and Status Credits you'll earn in different airline programs. Most airline websites will have tables or a calculator to tell you the expected earn rate of a particular fare.
Across most full-service airlines globally, you have the chance to find out your fare class both before and after booking your ticket. If you are after an upgradable ticket, then make sure that you are selecting the right type of fare before you book. For example, Qantas Economy Sale fares on international routes are not eligible for upgrades.
Above all, remember to attach your frequent flyer number to your booking so that you can claim the points and Status Credits that you are entitled to. You can even change the frequent flyer number on your boarding pass right up to boarding.
What are fare classes and why are they important to frequent flyers?
was last modified:
June 19th, 2023
by