Are you interested in upgrading your ticket? Or making sure that you're maximising the points and Status Credits earn from your flight? Even though it can be a tedious process, it's useful to know which fare class you're booked into.
In this guide, we explain why fare classes are important, what the different fare classes are, and where to find them on your ticket. This will help you boost your frequent flyer balances and improve your chances of getting upgraded.
It's important to note that the average frequent flyer generally doesn't need to know what fare class their ticket is booked in. But it's easier to figure out what you can and can't do when it comes to flight changes, upgrades and more when you know the magic letter on your ticket.
Why are fare classes important?
1. Points earn
Firstly, the fare class (or 'bucket' in aviation speak) will determine how many points or miles you will earn on a ticket you've purchased with cash. Not all fare classes are created equal.
The best place to decide which frequent flyer program to credit your flight to is wheretocredit.com.
2. Status Credits earn
If you are chasing elite status with a frequent flyer program, then the fare class will also determine how many Status Credits (SCs) you'll earn.
For example, the cheapest Qantas fare (Discount Economy) will earn 90 SCs for Australia to LA return. A more expensive Flexible Economy ticket will earn double that (180 SCs), and get you to status quicker. Those fares are all determined by their fare class.
3. Upgrade eligibility
The fare class will also determine if you can upgrade your ticket or not—and that's a really common question we get here at Point Hacks.
Let us be upfront first: the chances of being upgraded have never been lower. Apart from usually having to book a more expensive Economy Class ticket, those with elite status will get priority over you.
However, it is not impossible — as Natasha's case study shows. For more information, here are our guides on how to upgrade your flight with:
4. Ticket prices
Finally, fare buckets have a big impact on the ticket prices that you see for sale. Generally, flights are loaded with multiple fare buckets within one ticket category, which share the same benefits. However, they are all priced at different levels.
For example, let's say Qantas has the following fares for sale on a Perth-Broome domestic flight:
5 seats in 'E' (Red e-Deal) for $228
9+ seats in 'Q' (Red e-Deal) for $301
9+ seats in 'K' (Flex) for $687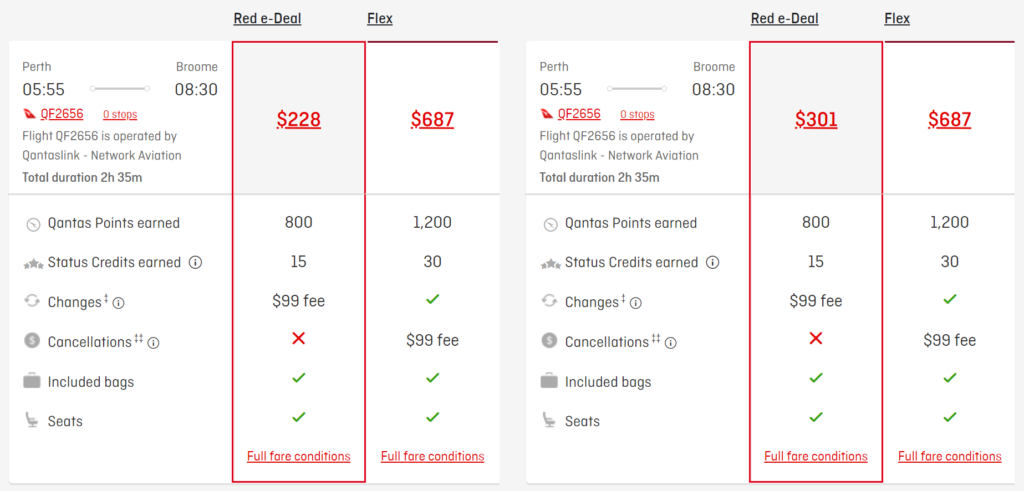 If you booked flights while there were still seats available in the 'E' bucket, then you would see the screenshot on the left, with the $228 price.
But let's say that the 'E' bucket was sold out. In that case, the next Red e-Deal fare shown would be 'Q', and you'd see the price of $301 on the right.
In both cases, your purchased fare would come with identical change policies, points earn and upgradability. But because of fare classes, one is more expensive than the other simply for revenue purposes.
Now let's imagine it's a day before the flight and all the Red e-Deal fare buckets are sold out. In this case, your only option for last-minute travel would be to go for the 'K' flexible Economy fare class. This is often why last-minute airfares are so expensive.
What are the Qantas fare codes?
Qantas has different fare codes for domestic and international travel. For simplicity's sake, we'll only focus on the domestic Economy and Business fares for now, as international travel is still some time off from re-opening again with the COVID-19 pandemic.
Fare Name
Fare Codes
Earns points and Status Credits?
Upgradeable?
Red e-Deal
(Discount Economy)
E, O, Q, N, S, V, L, M*
Yes, 'Discount Economy' rate
Yes, 'Discount Economy' rate
Flex
(Flexible Economy)
K, H, B, Y
Yes, 'Flexible Economy' rate
Yes, 'Flexible Economy' rate
Classic Flight Reward Economy
X
No**
Yes, 'Classic Flight Reward Economy' rate
Business
I, D
Yes, 'Business' rate
N/A
Business
(Flexible Business)
C, J
Yes, 'Flexible Business' rate
N/A
Classic Flight Reward Business
U
No**
N/A
* 'M' class moves from Flexible Economy to Discount Economy from 4 November 2020 onwards. This table has been updated with the change already. Premium Economy has been excluded.
** Classic Flight Rewards don't usually earn points and Status Credits. However, Points Club members may earn a limited number of Status Credits on QF-operated Classic Flight Rewards.
To be honest, you don't have to get too hung up on the actual fare code itself for Qantas domestic flights. That's because all the fare codes within one category will share the same fare conditions, points earn and upgradability.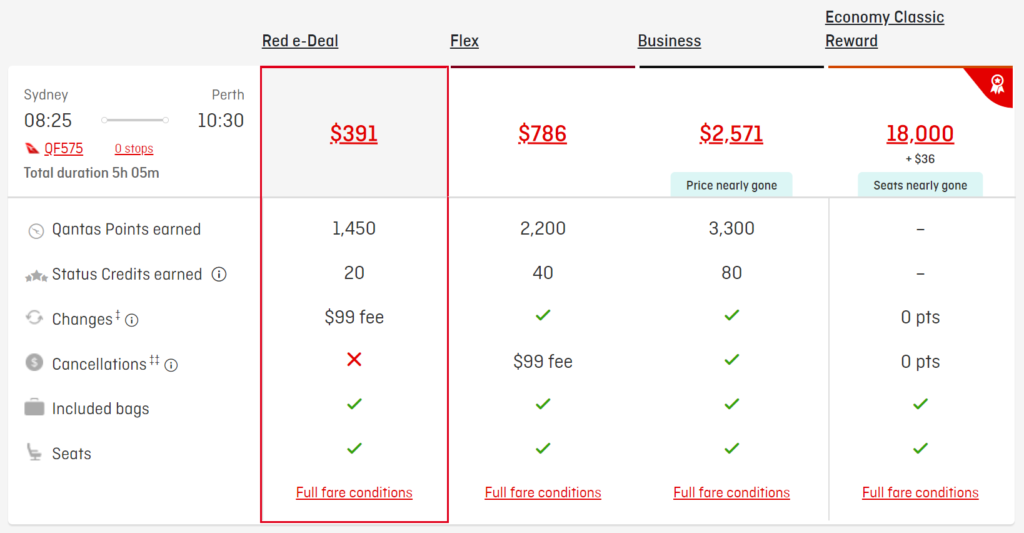 The only discernable difference is the price, and you are generally offered the lowest-priced fare code at the time of booking. If you're curious to find out the fare letter, it does show up in your 'Manage Booking' page after you've booked.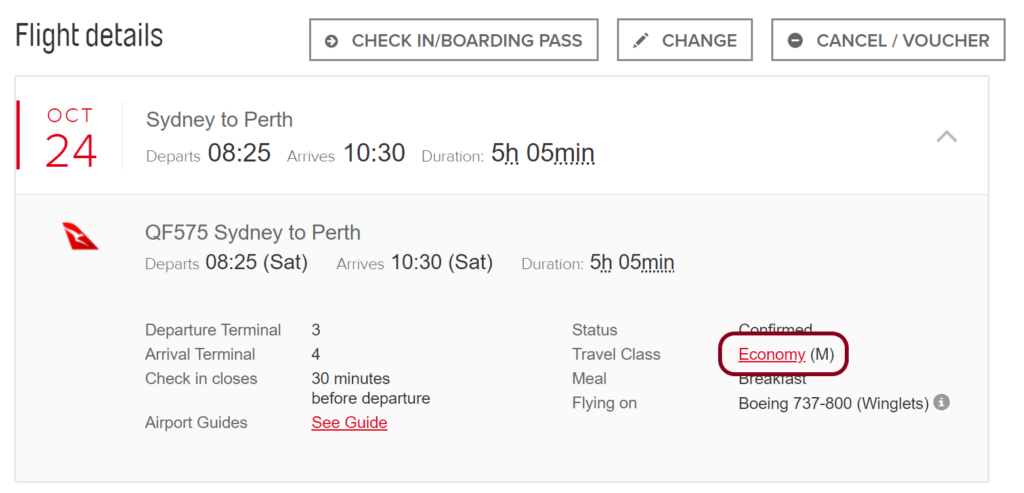 Ad – Scroll down to continue reading.Minimum spend, terms & conditions apply.
What are the Virgin Australia fare codes?
Once again, we will focus on Virgin Australia domestic flights for now. Here are the fare codes you can expect to find.
| | | | |
| --- | --- | --- | --- |
| Fare Name | Fare Codes | Earns points and Status Credits? | Upgradeable? |
| Getaway | M, S, T | Yes, 'Getaway' rate | Yes, 'Getaway/Elevate' rate |
| Elevate | Q, V, N, E | Yes, 'Elevate' rate | Yes, 'Getaway/Elevate' rate |
| Freedom | L, K, H, B, Y | Yes, 'Freedom' rate | Yes, 'Freedom' rate |
| Velocity Reward Economy | X | No | No |
| Business Saver | I | Yes, 'Business Saver' rate | N/A |
| Business | D, C, J | Yes, 'Business' rate | N/A |
| Velocity Reward Business | Z | No | N/A |
There's also no need to get too caught up in knowing what fare you purchased. Velocity Frequent Flyer awards 5 points per dollar you spend on domestic fares (more for elite status members), so this isn't tied to a fare bucket.
Status Credits are awarded based on the fare name (e.g. Getaway, Freedom), rather than individual fare letters.
If you are curious, you can find the fare class at the booking stage. Just select your desired price on the Virgin Australia website and look for a link to the fare rules. The very first letter in the code is the fare class.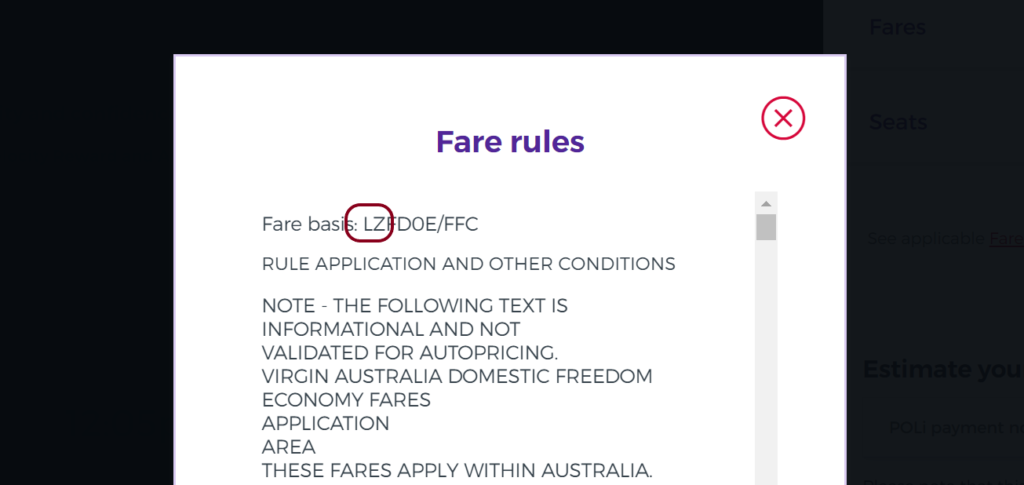 Where else can I find the fare class on my ticket?
Before you book
One place to find this information is on the 'advanced' version of Google Flights. It's called ITA Matrix. In the search results, click on Details on the right-hand side and it will show the fare class in parentheses.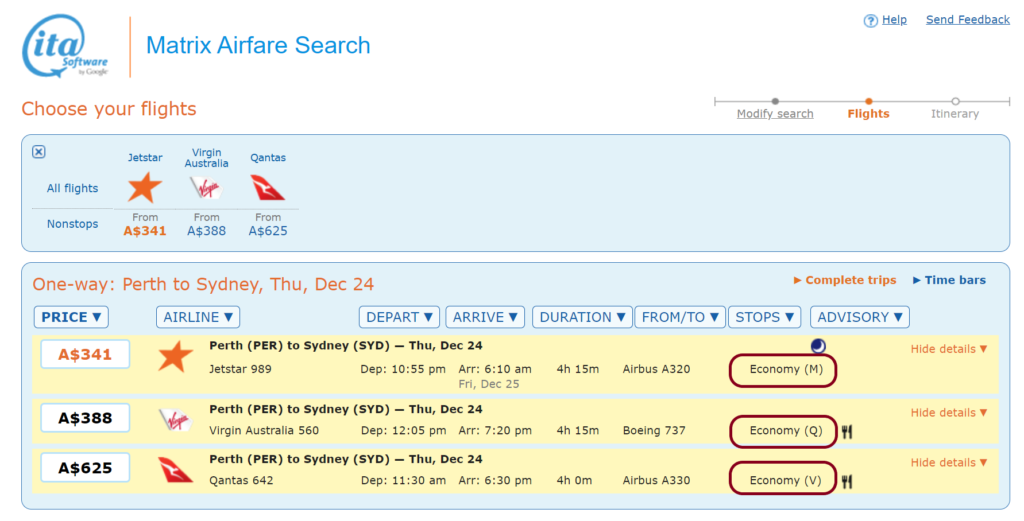 In this case, we can tell the $388 Virgin Australia fare is Economy Elevate (Q) whereas the $625 Qantas fare is a discounted Economy Red e-Deal (V).
A potentially easier way is to conduct your search through American Express Travel. Just do your flight search as usual and look out for the tell-tale fare class code on the search screen (the below screenshot mirrors our Perth-Broome example from earlier).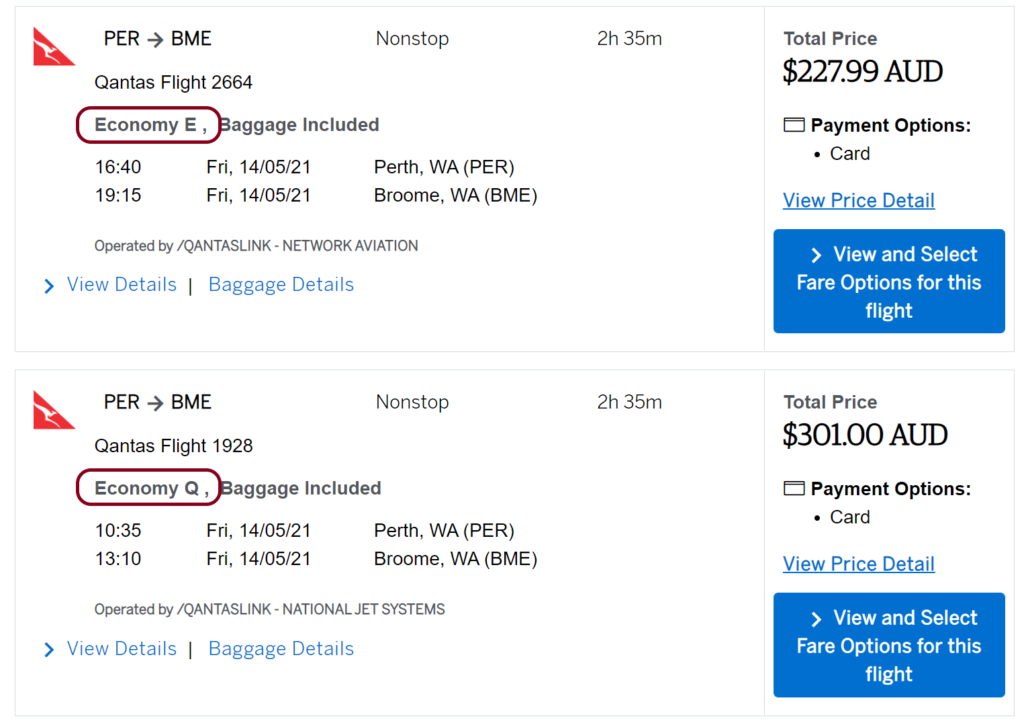 After you book
You'll usually receive an email confirmation of your reservation. Depending on the airline, the fare class should be mentioned somewhere. You'll usually find it in the flight details box, which could be in the body of the email or in an attached PDF.
From the two examples below, we can easily see that this United flight (top) is booked into fare class N, whereas the Iberia flight (bottom) is booked into fare class O.


What happens if you can't find the fare class code? Contact the airline and give them your six-character booking reference number. You can obviously do so by phoning them. However, you may save time by sending a (private) message to them on social media.
Summing up
Working out fare class codes can be boring work. However, it does make a difference in how many points and Status Credits you'll earn, as well as the price of a fare. They'll also determine whether your ticket is upgradeable to a higher class.
Most airlines simplify things for its passengers, bundling different groups of fare classes into broader names that are easier to remember (such as Red e-Deal, Getaway etc). It makes it easier to figure out frequent flyer benefits on certain tickets.
Across most full-service airlines globally, you have the chance to find out your fare class both before and after booking your ticket. If you are after an upgradable ticket, then make sure that you are selecting the right type of fare before you book.
Above all, remember to attach your frequent flyer number to your booking so that you can claim the points and Status Credits that you are entitled to. Here is our guide to the eight opportunities you have to add your frequent flyer number to your booking.
This article was previously written by Matt Moffitt
What are fare classes and why are they important to frequent flyers?
was last modified:
October 23rd, 2020
by