The Qantas Premier Titanium card is offering 150,000 Qantas Points when you spend $5,000 or more in the first 90 days, and for an annual fee of $1,200, it includes a number of perks that money can't normally buy.
The bonus offer is available to new cardholders until 26 October 2022 and this guide takes a closer look at the card to determine whether it could work for you.
You will be ineligible to take up this offer if you currently hold, or have held a Qantas Premier Titanium Mastercard in the previous 12 months.

Who is the Qantas Titanium card geared towards?
There is no doubt that this card is a niche offering targeted to frequent buyers, which has become the dominant means by which members earn Qantas points in contrast to traditional flying. With an annual fee of $1,200 per year and a minimum income eligibility of $200,000, this card is not for everyone, and if you decide to take it up, you'd want to give it a very good daily work-out to make sure that you are extracting the most value from it.
You'll also want to make sure that you predominantly use Qantas for most of your flying, as all the benefits of the card are directly linked to the airline and Qantas Frequent Flyer.
The Premier Titanium card appears to be targeted towards a demographic that would otherwise seek out the American Express Platinum card, and it should be no surprise that this card also sports a metallic look in a similar vein to the Amex Platinum.
To a lesser extent, it also competes with the Citi Prestige card.
---
Citigroup Pty Limited ABN 88 004 325 080 AFSL No. 238 098 Australian credit licence 238098, is the Credit Provider and Issuer of the Qantas Premier credit cards on behalf of Qantas Airways Limited ABN 16 009 661 901. All applications are subject to credit criteria. Fees, charges and Terms & Conditions apply.
---
The Qantas Premier range also includes the Qantas Premier Platinum and the Qantas Premier Everyday Mastercard. All cards are issued by Citi on behalf of Qantas Premier.
Qantas Premier Titanium Mastercard details
Card Details
Card
Qantas Premier Titanium Mastercard
Loyalty Program
Qantas Frequent Flyer
Points earned from spend
1.25 Qantas point per $1 spent on eligible domestic spend up to $12,500 (10,000 points) per statement period, then 0.5 Qantas Point per $1 thereafter

2 Qantas Points per $1 spent on international spend (uncapped)
Points earned with Qantas spend
2 additional Qantas Point per $1 spent on eligible Qantas spend
(uncapped)
Points Cap
no cap
Earns points at ATO
no
Insurance included
Travel Insurances (PDS)
Overseas transaction fee
3% of the transaction amount
Minimum Income
$200,000 p.a.
Annual fee
$1200
Earn Rates
The card earns at the following rates:
| Per statement period | Qantas Points/$ |
| --- | --- |
| up to $12,500 | 1.25 Points |
| above $12,500 | 0.5 Points |
There's also an additional 2 bonus points per dollar for spend on Qantas products and services, such as flights booked through qantas.com and Qantas Club membership, along with a higher earn rate of 2 Qantas Points per dollar for overseas purchases.
While the earn rate per dollar spent up to $12,500 per statement period is the most competitive in the market, and the earning cap per statement period is reasonable, it is a shame that the earn rate cuts down significantly above $12,500.
As a result, this card is best suited to those looking to spend near the $12,500 threshold limit per statement period. If your spending requirements are in excess of this, you may wish to consider holding another other high-earning card as a supplement to Premier Titanium.
There are a few things to consider here:
The Qantas Premier Titanium card is a Mastercard, meaning that it is currently accepted in more locations than American Express
However, the Qantas Premier Titanium is also a direct-earn card, meaning that all your points are funneled into your Qantas Frequent Flyer account automatically at the end of each statement period, making you ineligible to take advantage of occasional bonus promotions for manually transferring your reward points to Qantas Frequent Flyer, which is possible with the American Express Rewards card.
Please note the card terms and conditions and the rewards terms and conditions.
Also, be aware of the definition of an Eligible Transaction, which does not include transactions from operating a business, or from government transactions, e.g. paying the ATO, council rates, and even Australia Post. The full definition can be found in the Qantas Premier Credit Card Rewards Terms and Conditions.
Bonus Status Credits
The card also earns an additional 20% Status Credits on all eligible Qantas flights.
Note the following conditions regarding the bonus status credits:
Bonus Status Credits are only earned on Qantas operated and marketed flights and must be booked using the Qantas Premier Titanium credit card
The offer cannot be used to move you from Platinum to Platinum One Qantas Frequent Flyer membership nor can a Platinum One member use the status credits to retain the Platinum One membership status.
Bonus Status Credits will also not contribute to Lifetime Status, Loyalty Bonuses, Platinum Bonus Reward, Platinum One Member additional benefits and will not be earned in conjunction with other Status Credit promotions unless otherwise specified.
There are five membership tiers in Qantas Frequent Flyer, from lowest to highest:

Here's a look at how the bonus Status Credit earn on the Qantas Premier Titanium can help you qualify for elite status:
Status
Without Qantas
Titanium card
With Qantas
Titanium card
Silver
300
250
Gold
700
584
Platinum
1400
1167
Platinum One
3600
3600
And here are the numbers you need to maintain your status:
Status
Without Qantas
Titanium card
With Qantas
Titanium card
Silver
250
209
Gold
600
500
Platinum
1200
1000
Platinum One
3600
3600
While 20% status bonus may at first not seem so large, you can see from the above numbers that it could be the difference between reaching the next status tier or not.
Having said that, if you are looking to get this card solely for this benefit, perhaps you may wish to consider putting the $1,200 annual towards actual flights during a Qantas double Status Credit promotion. This way you get bonus status credit as well as the flight!
Read the Point Hacks beginner's guide to Qantas Frequent Flyer Status and benefits here.
Lounge Access
On this front, the Qantas Premier Titanium card disappoints. There is really no excuse for a card with a four digit annual fee to not include some form of unlimited lounge access.
The card does come with two Qantas First lounge passes, which is definitely welcome, especially given its the only card in the market to do so. The card also comes with a further two Qantas Club or International Business Class lounge passes, making it a total of 4 digital lounge passes every year in total.
First Class lounge access
You can access Qantas' First Class lounges twice per year, which allows you to enjoy the comfort of Qantas' premier lounges in Sydney and the newer version of it in Melbourne even if you are not flying in First Class.
Other Qantas lounge access
The card also gives you two single-entry complimentary lounge Invitations each year on your card anniversary, which can be used at domestic Qantas Club lounges or Qantas-operated International Business Lounges (excluding Los Angeles Tom Bradley Terminal International Business Lounge) in accordance with the Qantas Premier Titanium Credit Card Airline Benefit Terms and Conditions and the Qantas Lounge Invitation Terms and Conditions.
Qantas' credit card partners are focusing on rolling out digital instead of paper lounge passes, so it is no surprise that Qantas' own card is going to use the same system.
You can view, as well as transfer, your invitations to any other Qantas Frequent Flyer member on the Qantas Complimentary Lounge Invitations website.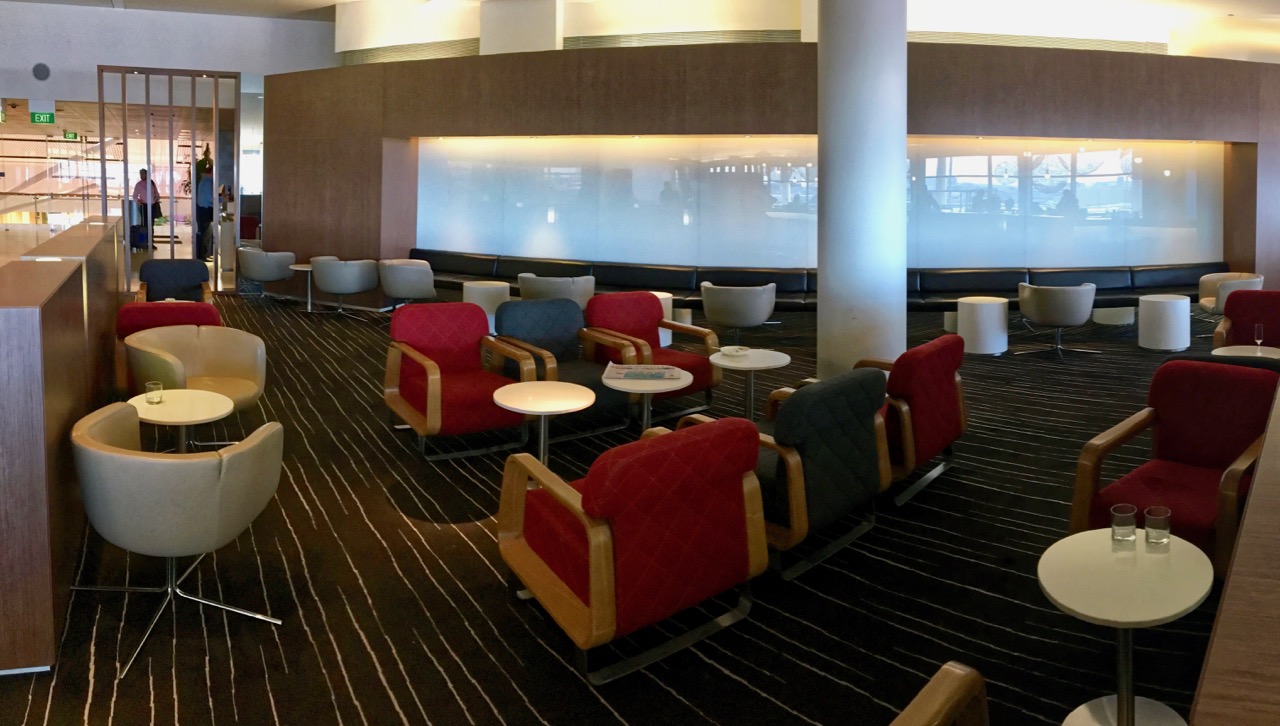 Qantas domestic and international fare discount
The Qantas Premier Titanium gives you 10% discount on eligible Qantas flights booked through the Qantas Premier Titanium concierge. This covers all fare classes both on domestic and international for up to two booking per years for two people.
Eligibility
Flights must be booked via the Qantas Premier Titanium Concierge
Flights must be paid for with your Qantas Premier Titanium card
Offer is available for any fare or cabin class
Cannot be combined with other offers
Limited to two times per year, for two people
Find out more about this feature here: Qantas Premier Titanium features and benefits
Qantas Money Apple Pay support
Qantas Money cards now support Apple Pay, meaning you can now use their cards on your compatible Apple device for easier payments.
Summing Up
While we always welcome innovation within the credit card market, especially with new offerings such as First Class lounge access and status credit bonuses, I feel that this particular offering has missed the mark based on the cost for the card versus the benefits received. And the very inhibitive minimum income requirement makes it that much harder to get excited about this card.
Let's not forget that there are competitors in the market such as American Express that offer a similar card, albeit with a slightly higher annual fee, that also offer a less restrictive earnings cap and abundantly more benefits. These include travel credits, multiple hotel elite status, and unlimited complimentary worldwide lounge access. Perhaps this is an acknowledgement by Qantas that there is sufficient goodwill in its brand to charge a premium. Qantas Frequent Flyer is a good loyalty program so perhaps they may be right, but as yet, I am not convinced.
If your sole airline is Qantas however, then this card may make sense. Just make sure to place a majority of spending on the card, including purchases of Qantas services, to ensure that you maximise your benefits.
The author is the Managing Editor of Point Hacks and receives no incentives, commissions or payments in relation to publishing this article.
150,000 Qantas Points, 20% additional Status Credits and 2 Qantas First Class lounge invitations with the Qantas Premier Titanium Credit Card
was last modified:
March 8th, 2022
by