This guide is ground zero for those who are just starting off with Qantas Points. Read on for how to join the program, earn as many points as you can, and use them for maximum value.
The latest significant overhaul of the Qantas Frequent Flyer program took place in September 2019. Changes include:
an increase in rewards seat availability for all travel classes
a reduction in fees and charges for award redemptions
an increase in Qantas Points needed for premium cabin classes
a decrease in Qantas Points needed for Economy Class cabins
the ability to use Qantas Points for domestic Air New Zealand flights.
Read more about the announcement here →
What is Qantas Frequent Flyer?
Qantas Frequent Flyer is Qantas' official loyalty program. It's the most popular frequent flyer program in Australia, starting in 1987 and growing to almost 12 million members today.
The Qantas Frequent Flyer program allows you to earn points through Qantas credit cards, flying, bonus points promotions and much more. As you earn more Qantas Points, you'll also have the potential to earn Status Credits and unlock exclusive status benefits. Points can also be redeemed for award flights in all classes.
This program is useful for those who live in Australia and fly on Qantas and its partners like Emirates, Qatar Airways and Cathay Pacific.
How do I join Qantas Frequent Flyer for free?
Signing up to Qantas is technically not free — it usually costs $99.50 for those with an address in Australia. Use one of our codes to sign up to Qantas Frequent Flyer Membership for free.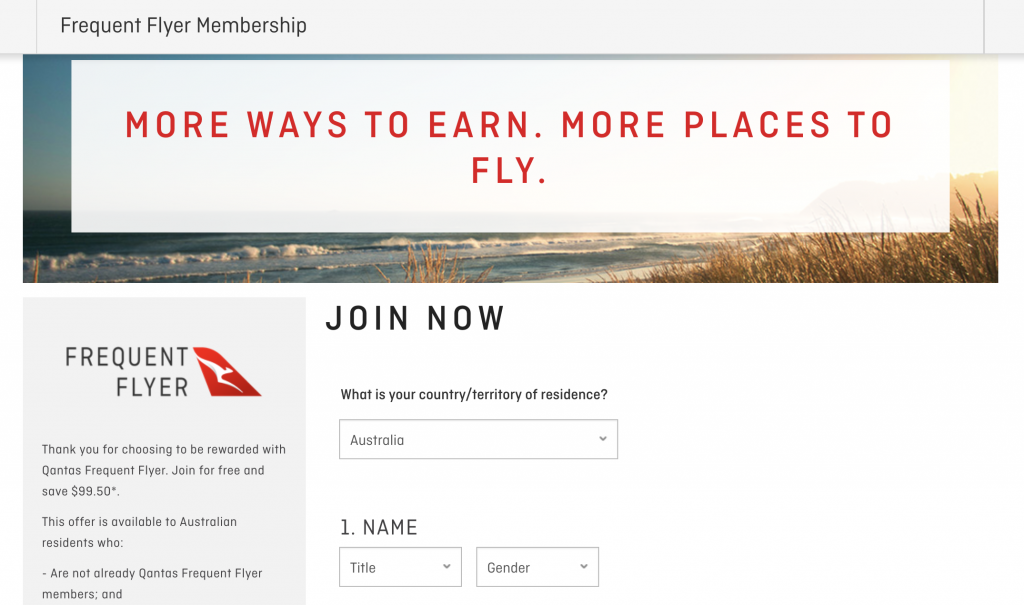 How do I earn Qantas Points?
The two quickest ways to earn Qantas Points are by:
Read more about Qantas Points-earning credit cards here.
There are a number of other ways to earn bonus Qantas Points. We've highlighted some popular examples below. For further reading, we also have a list of 25 ways to earn even more Qantas Points.
Earning Qantas Points with flights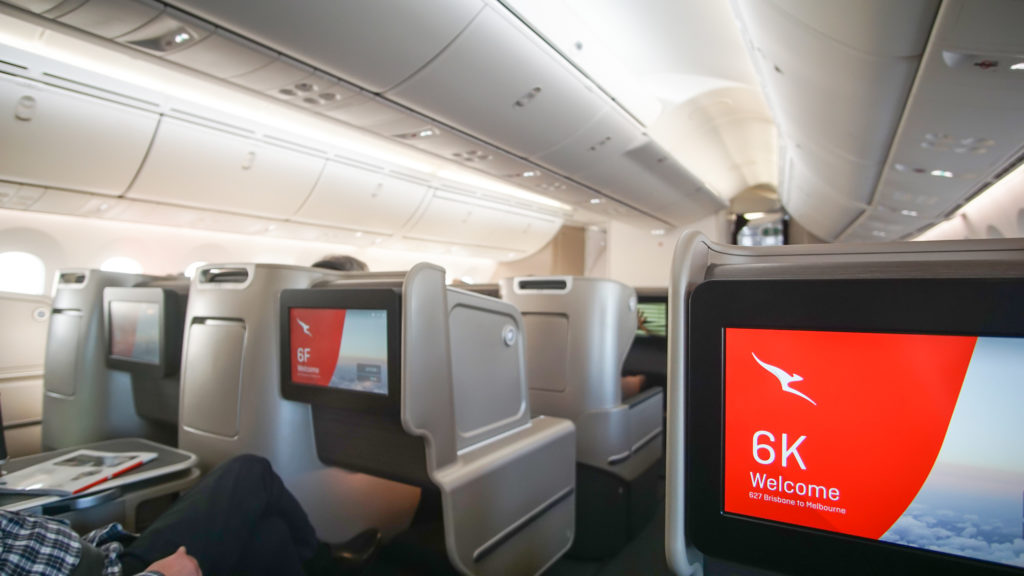 First and foremost, you can earn Qantas Points on eligible fares purchased and flown with Qantas, Jetstar, Emirates and Oneworld partner airlines. The number of points earned depends primarily on the airline, route, cabin class and your Qantas Frequent Flyer status tier.
Use the Qantas Points Calculator to work out how many points you could be earning on your next trip. Also, see if there are any Qantas bonus points promotions available for your bookings. Be sure to enter your Qantas Frequent Flyer number into the booking where possible.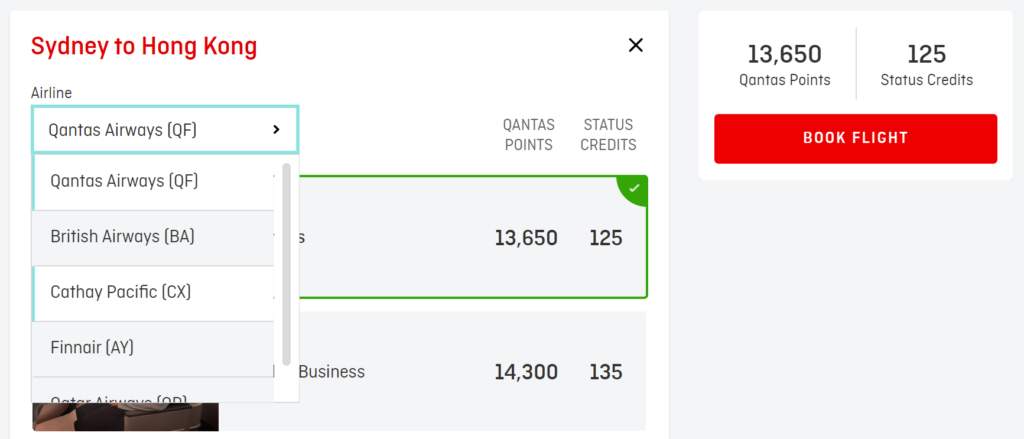 Earning Qantas Points with accommodation, car hire and activities
Book your hotel through Qantas Hotels to earn at least 3 Qantas Points per dollar spent. For something fancier, consider a package through Qantas Luxury Offers to secure 6 points per dollar and potentially some bonus status credits!
For 1 point per dollar, you could also book through Luxury Escapes or Airbnb. Once accommodation is done, why not book trips and activities via Qantas Activities or load up a prepaid travel card? Wind down with a game of golf through the Qantas Golf Club.
To get you where you need to be, why not book car rental with Avis and Hertz, or travel with Uber. In many cases, Qantas Points are on offer.
Earning Qantas Points with credit cards and financial products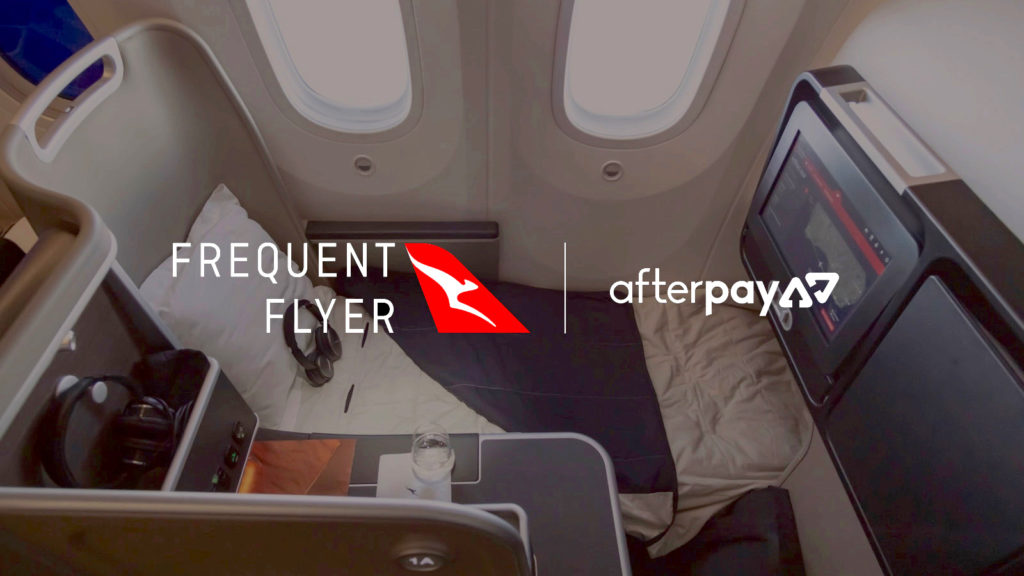 As we mentioned previously, holding a Qantas Points-earning credit card is universally regarded as one of the best ways to quickly accumulate points. But there are other ways you could earn points on other financial products too.
This includes transferring your credit card points over with a bonus, for reward schemes that allow transfers to Qantas. If you manage a business, you should look into joining the Qantas Business Rewards program and taking advantage of promotions.
Need Insurance?
Consider taking out health, income protection or life insurance through Qantas, especially when huge sign-up bonuses are on offer. In many cases, you will get the points after holding a policy for 60 continuous days.
For day to day spend, remember to swipe your Everyday (Woolworths) Rewards card and opting into earning Qantas Points. Every 2,000 Everyday Rewards points are equal to 1,000 Qantas Points. For other shopping, taking advantage of My Card Offers if you have a Mastercard, and use AfterPay to earn even more points while paying off in four equal instalments.
By combining some of these strategies with shopping offers below, you could double-dip or even triple-dip on Qantas Points from one transaction.
Earning Qantas Points with shopping and purchases
Here is a quick summary of the many ways you could be earning Qantas Points while shopping. Remember, you should also pay with a points-earning card to double-dip on each purchase!
Transferring Qantas Points from other sources
If you're short on Qantas Points, you could top-up with these following methods.
How do I use Qantas Points?
In our opinion, the best value of your Qantas Points comes from redeeming them for flights on Qantas and its partners. Here are some of the uses.
Using Qantas Points for flights
Your Qantas Points are best used for what we call 'reward seats' (other places may call them 'award seats', while Qantas calls it 'Classic Flight Rewards'). These are fixed-price seats on flights that can be purchased with frequent flyer points, plus a co-payment for taxes and surcharges.
Don't get this mixed up with 'Points Plus Pay', which is an entirely different concept that converts the cash price into a points price, at a very bad rate.

It's particularly excellent value in Business and First Class, but there are good redemptions to be found in Economy and Premium Economy too.
The first image below is what you can expect on most Qantas domestic Business Class flights. And the second is Qantas' Business Suite, a popular lie-flat seat found on many east-west transcontinental and overseas flights.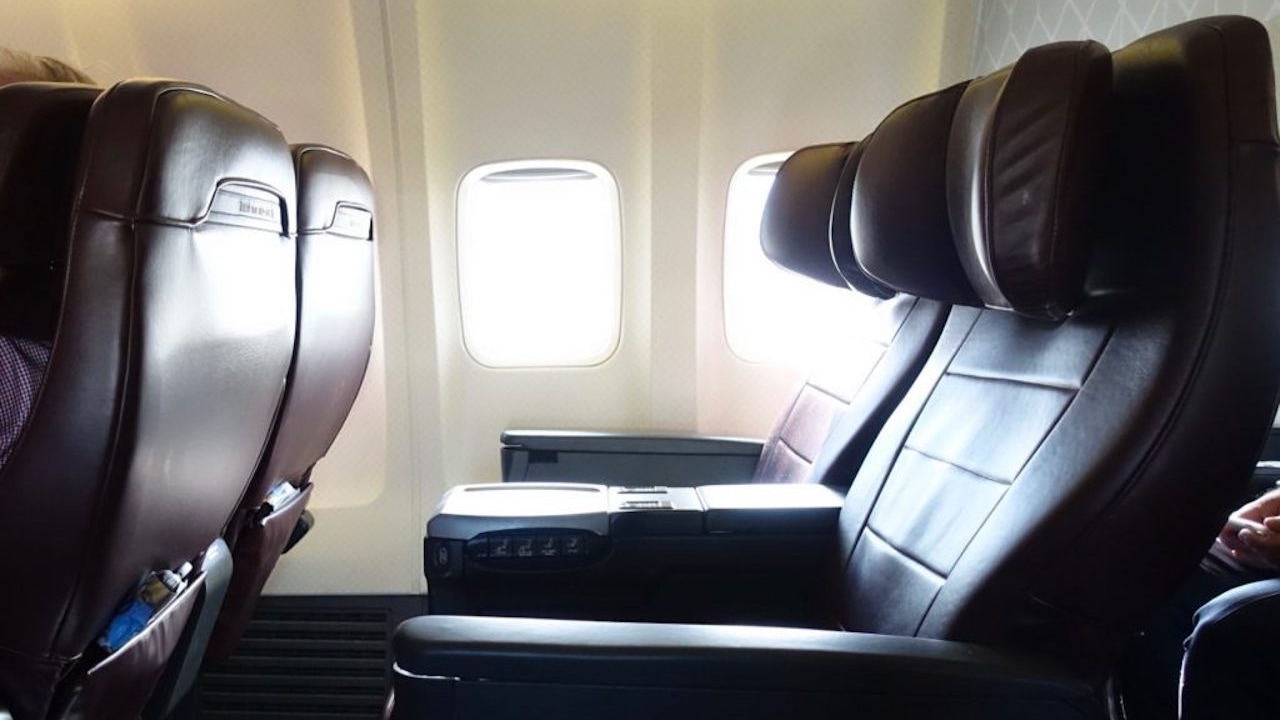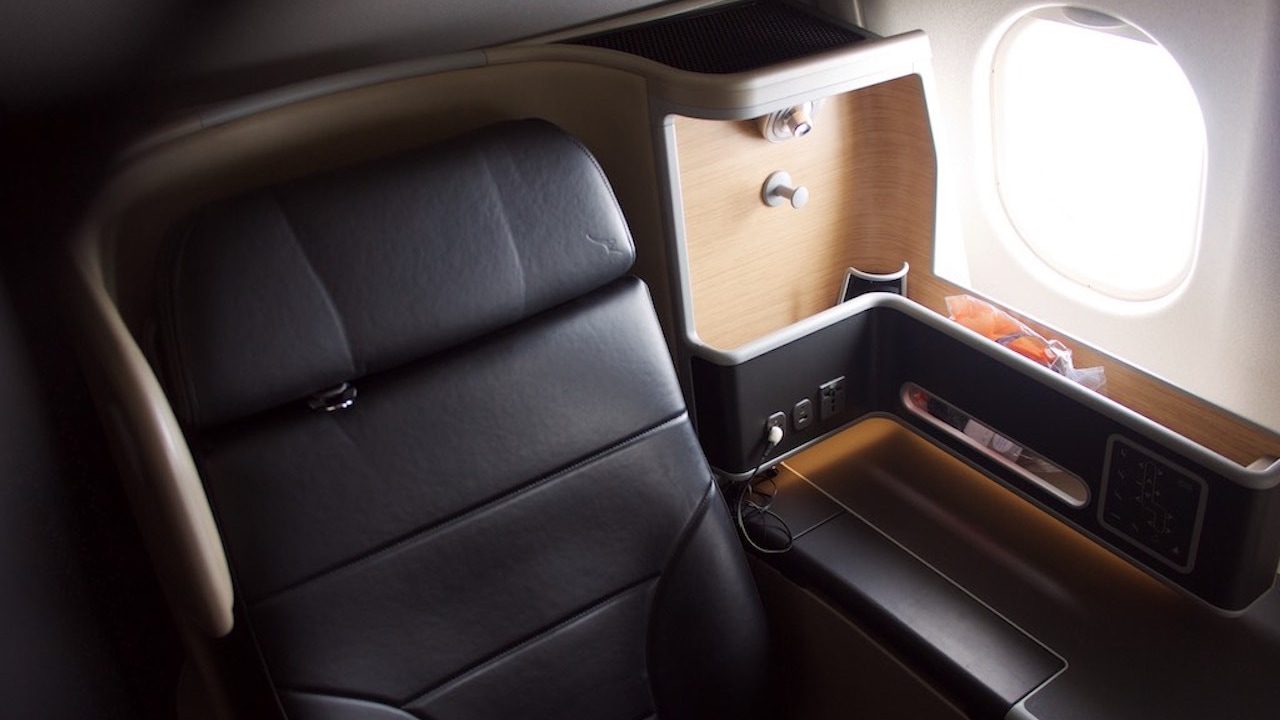 Other major partner airlines include Qatar Airways, Cathay Pacific, Japan Airlines and Emirates. The latter has excellent Business and First Class products and provide a great redemption opportunity for Australia-based travellers, as the points needed are lower than most other partners.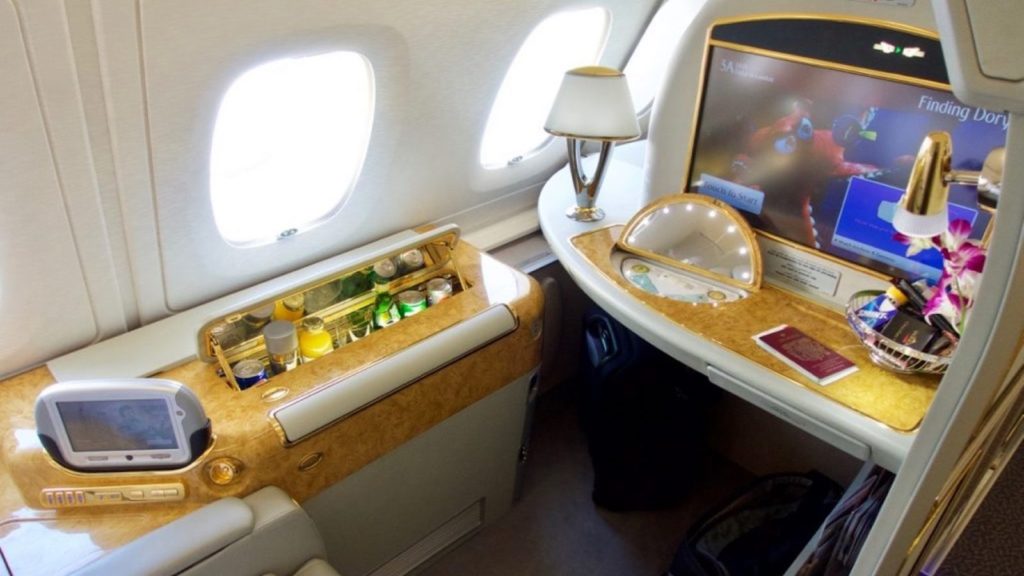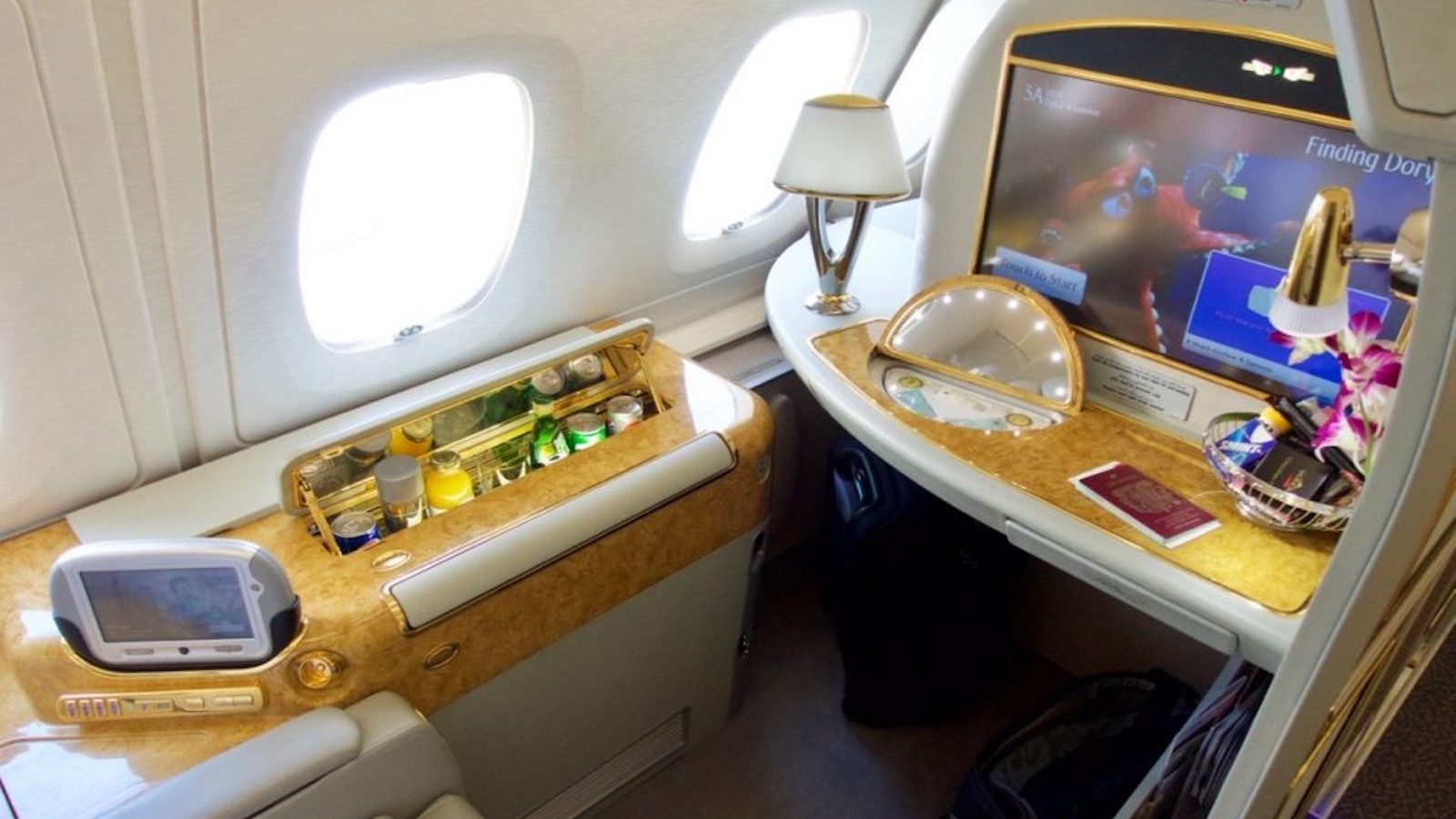 Some partner airlines have the advantage of having lower cash co-payments and better reward seat availability than Qantas. The taxes and surcharges attached to some Qantas award bookings tend to be high, and premium cabin availability is tight on flights to and from the US.
Therefore, flying other partner airlines such as American Airlines or Fiji Airways can be a good alternative to Qantas, if you are struggling to find reward seats on other carriers.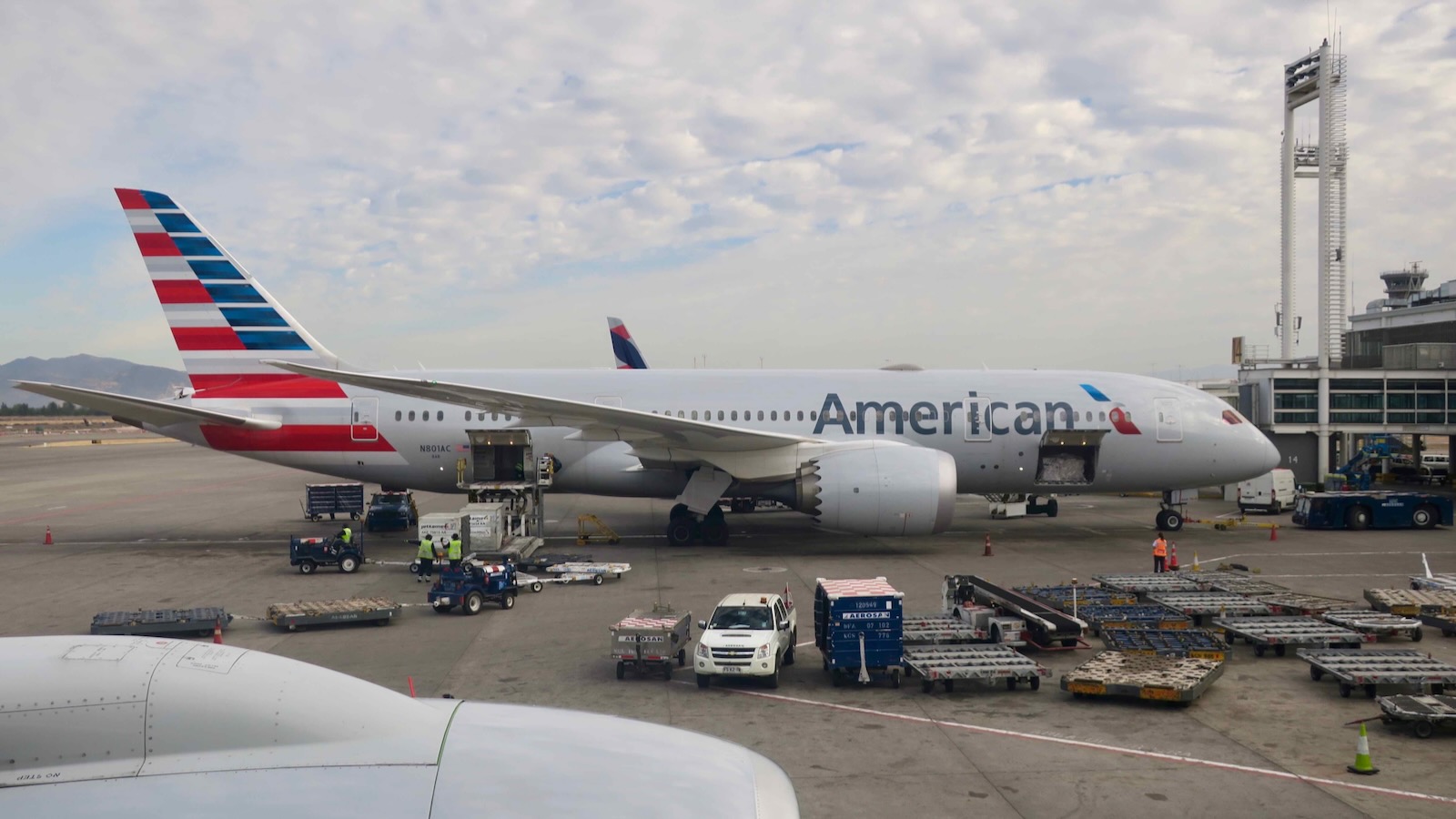 Redeeming for Economy Rewards can make sense
Whilst we usually advise saving your points for premium cabin travel, using your Qantas Points for Economy Class travel can provide good value in these cases. If you are looking for more inspiration for what to do with your Qantas Points, check out our best uses of points series.
One common gripe that Qantas Frequent Flyers have is the lack of award availability. To help narrow your search, here are the best (and worst) international routes for Qantas award availability.
If you would like to search for flights from a city that doesn't appear on the Qantas website, check out this guide. Finally, if you have no idea how to start your search for a reward seat, check out this post.
Using Qantas Points for upgrades
Many people aim to play the upgrade lottery, but if you don't have high Qantas Frequent Flyer status, your chances of securing a Business or First Class seat are quite low.
Upgrades are very limited and tend to be allocated in the days before a flight, in order of status and fare purchased. In limited cases, anyone can upgrade a domestic flight with points if there is Business Class reward seat availability.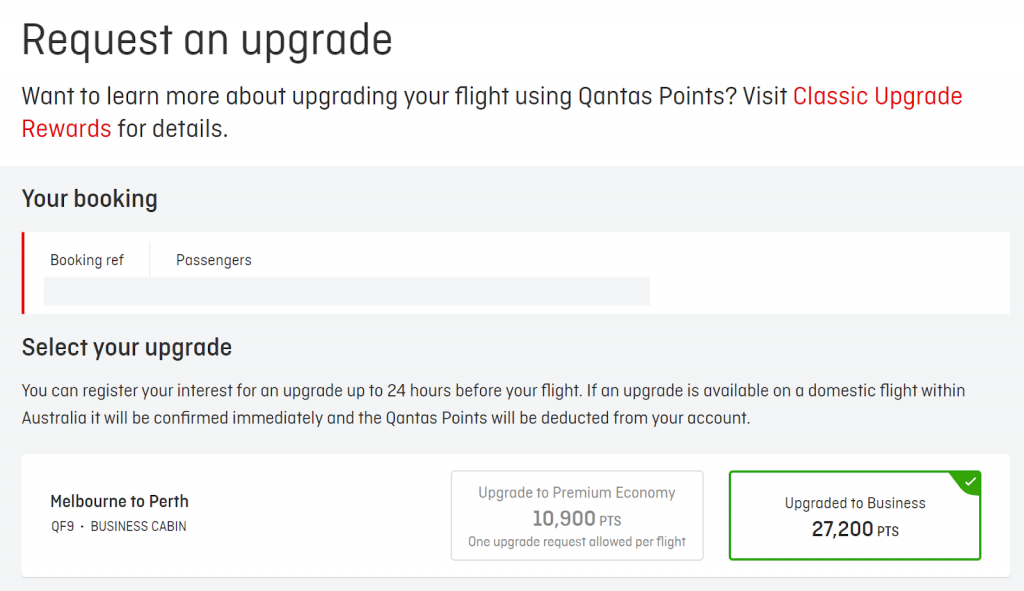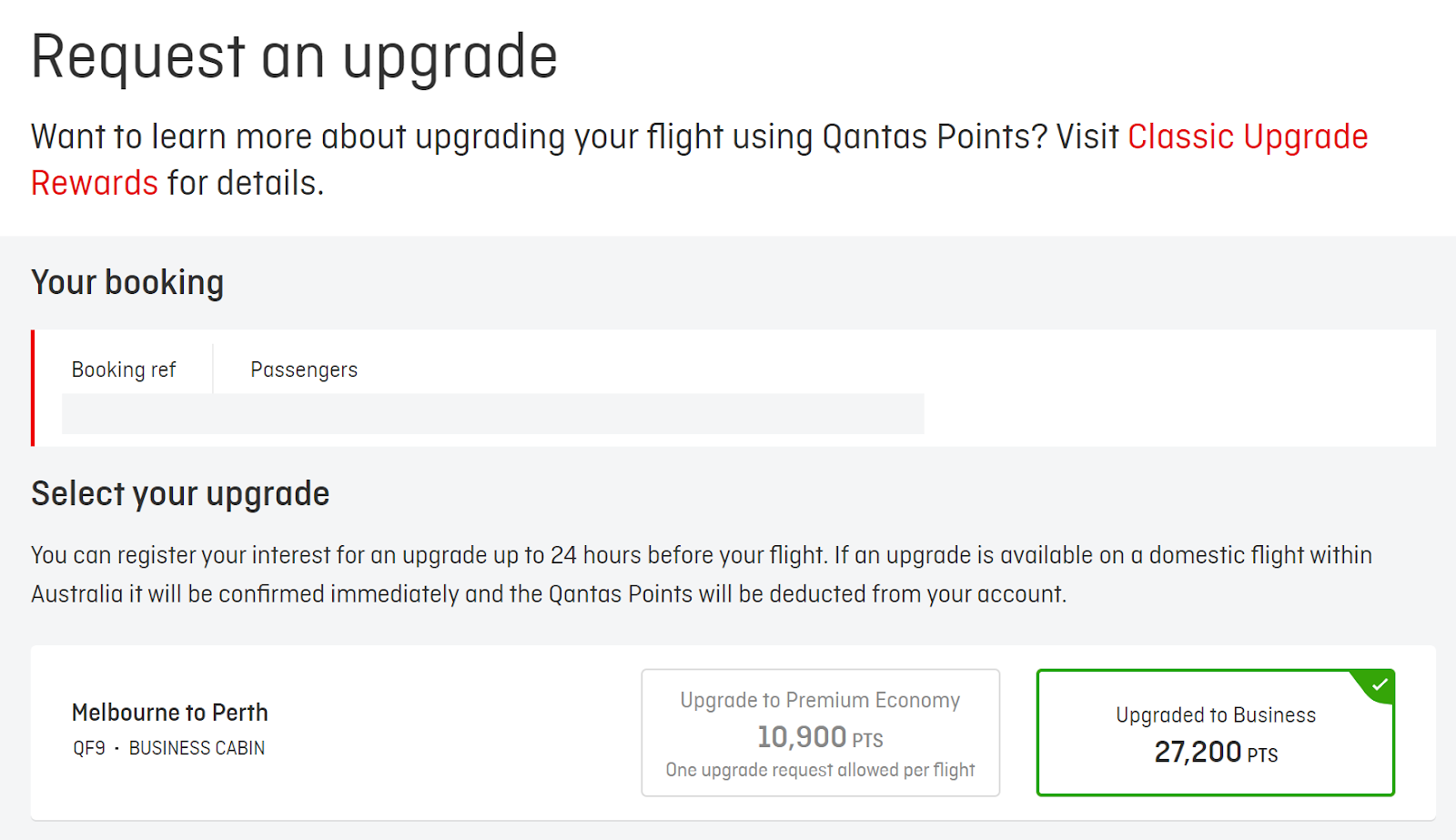 You'll probably be bursting with more questions on upgrades. Read our comprehensive guide to how Qantas Upgrades work for more information and feel free to ask any queries in the comments section.
Using Qantas Points for premium rail travel
In December 2020, Qantas Frequent Flyer inked a deal with Journey Beyond Rail Expeditions to introduce 'Classic Rail Rewards' — fixed rates for using Qantas Points to book Gold Service cabins on The Ghan, the Indian Pacific and the Great Southern.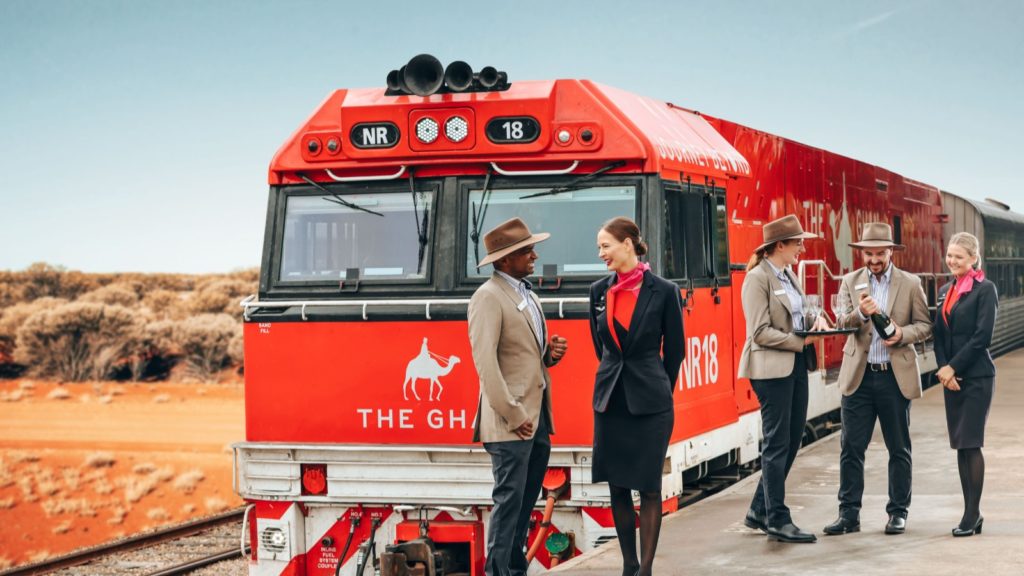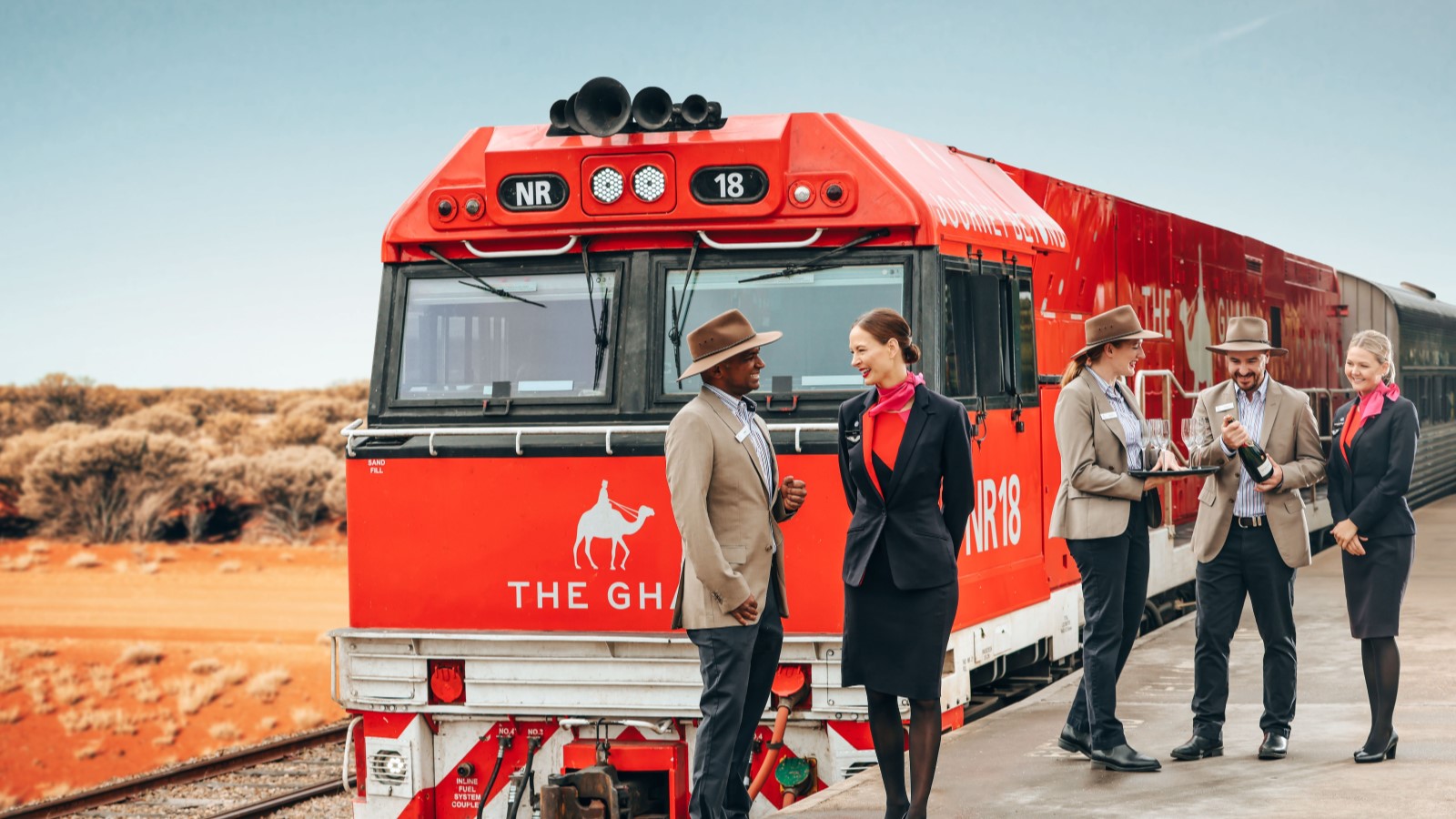 Rates are slightly on the pricey side and start from 100,000 Qantas Points per person for a 2-day, 1-night journey. Gold Service fares are all-inclusive with a sleeper berth, meals and excursions part of the package.
Other uses of Qantas Points
If you have some points that are expiring or have no use for, you also have the option to donate your Qantas Points to one of eleven charities that they partner with. This is an easy way to extend points expiry, which otherwise expires after 18 months of no points-earning or spending activity.
The other main use of Qantas Points is for shopping. You can buy gift cards and all sorts of popular merchandise, but the value per point tends to be quite low.
You could also use your points to cover some of your airfares with 'Points Plus Pay', to offset the room rate through Qantas Hotels, or for Qantas Club membership, but these methods tend to give poor value for your points.
What is Qantas Frequent Flyer status?
Holding Qantas Gold, Platinum or Platinum One status is the key to unlocking a raft of premium perks with Qantas and its partners, such as complimentary upgrades, lounge access, and priority check-in and boarding, no matter what class of travel you fly.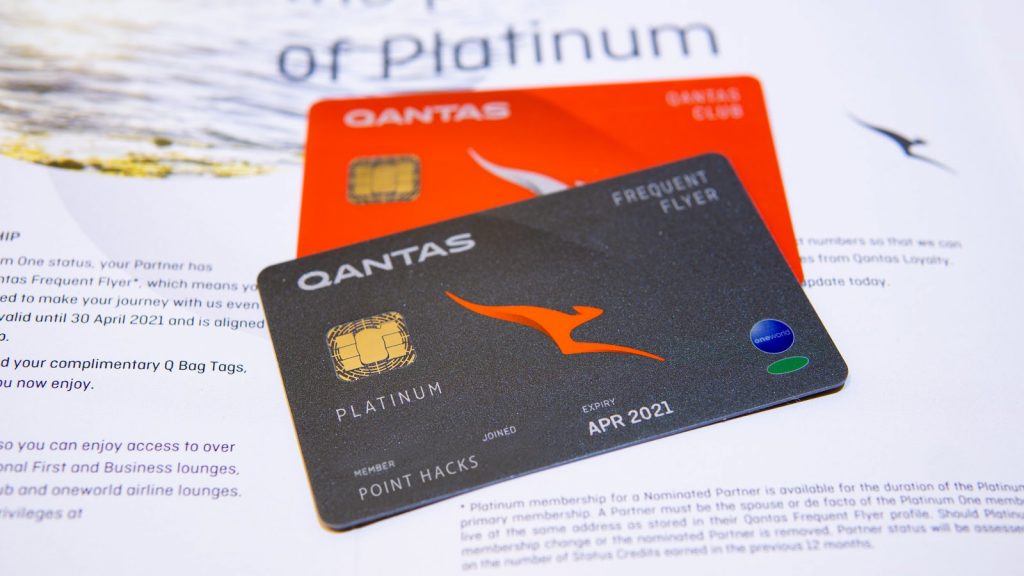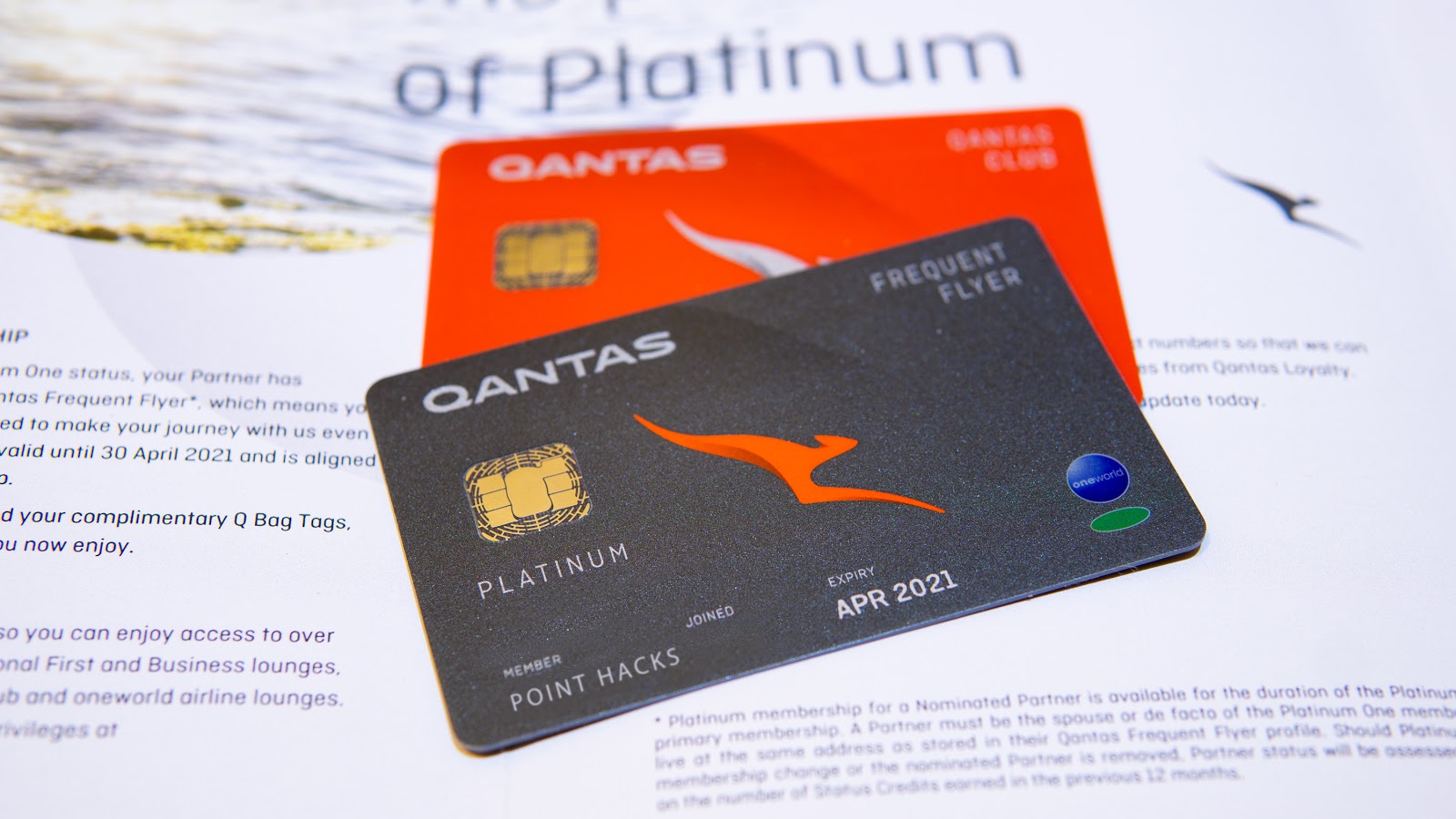 ---
COVID-19: Qantas is extending most frequent flyer status membership by one year, plus giving our bonus status credits to affected individuals.
---
Status Credits (SCs) dictate what level of membership you currently attain. There are five standard membership tiers with Qantas, from lowest to highest:
Bronze (entry-level)
Silver
Gold
Platinum
Platinum One
(There's also an invite-only Chairman's Lounge membership at the top, but those details aren't relevant to this guide). Here is a quick summary of the Qantas Frequent Flyer elite status tiers.
Qantas Bronze membership
To achieve: 0 SCs
To maintain: 0 SCs
There are no substantial benefits to this entry status level. It just means you are a member of the Qantas Frequent Flyer program and can earn or redeem Qantas Points and Status Credits.
Qantas Silver membership
To achieve: 300 SCs + 4 eligible sectors
To maintain: 250 SCs + 4 eligible sectors
For lifetime status: 7,000 SCs
Oneworld equivalent: Ruby

As the first step with Qantas Frequent Flyer status, you'll gain a single-entry lounge passes and free Q Bag Tags. Other perks include:
50% more Qantas Points on eligible flights
Better choice of seating options onboard
Extra baggage allowance with Qantas
Increased upgrade priority over Bronze
Premium Service Desk check-in for Domestic flights and Business Class Priority check-in for International flights
Qantas Gold membership
To achieve: 700 SCs + 4 eligible sectors
To maintain: 600 SCs + 4 eligible sectors
For lifetime status: 14,000 SCs
Oneworld equivalent: Sapphire

This is considered the 'sweet spot' for status as unlimited Business Class lounge access is now provided before most Qantas, Jetstar and partner airline flights where available. Other benefits above Silver include:
75% more Qantas Points on eligible flights
Increased upgrade priority over Silver
Business Class priority check-in, boarding and baggage
Global Business Class lounge access (Qantas Clubs domestically)
Qantas Platinum membership
To achieve: 1,400 SCs + 4 eligible sectors
To maintain: 1,200 SCs + 4 eligible sectors
For lifetime status: 75,000 SCs
Oneworld equivalent: Emerald

For the very frequent flyer, Qantas Platinum gives premium service and extra perks, as below:
100% more Qantas Points on eligible flights
Increased upgrade priority over Gold, from 48 hrs prior
First Class priority check-in, boarding and baggage
Global First Class lounge access (Business Lounges domestically)
Qantas Platinum One membership
To achieve: 3,600 SCs (at least 2,700 SCs earned on Qantas-marketed flights)
To maintain: As above
For lifetime status: N/A
Oneworld equivalent: Emerald

Qantas Platinum One is the highest standard status tier for its most elite frequent flyers. It comes with a dedicated Platinum One team to assist you personally with your travel plans. Although many benefits are similar to Platinum, new perks include:
Free Qantas Platinum membership for a friend
Increased upgrade priority over Platinum, including those on behalf of other family members
Waivers of many support and booking fees
Two complimentary lounge invitations that are valid at any Qantas-operated lounges, including First Class.
Complimentary extra-legroom seating where offered.
Exclusive privileges with MONA (Hobart) and MCA (Sydney)
Invitations to special events and experiences
---
Here is a video that explains Qantas frequent flyer tier levels in more detail.
Looking for more advanced tips? Here are the best routes to do a status run on and the quickest ways to earn Qantas Gold status in one trip. We also explore whether it's worth the effort going from Platinum to Platinum One.
If you don't fly often enough, you can still earn some perks through the Qantas Points Club, newly launched in 2020. You can also get lounge access by becoming a member of the Qantas Club.
How can I contact Qantas Frequent Flyer?
To get in touch with Qantas Frequent Flyer about a membership enquiry or flight redemption, try one of the methods below:
Phone 13 11 31 within Australia or +61 2 9433 2329 from overseas (7am-7pm AEST; closed Sundays and public holidays)
SMS 0477 726 827 (0477 QANTAS) only within Australia for simple requests like choosing a seat or linking two itineraries
Send them a direct message via Twitter or Facebook Messenger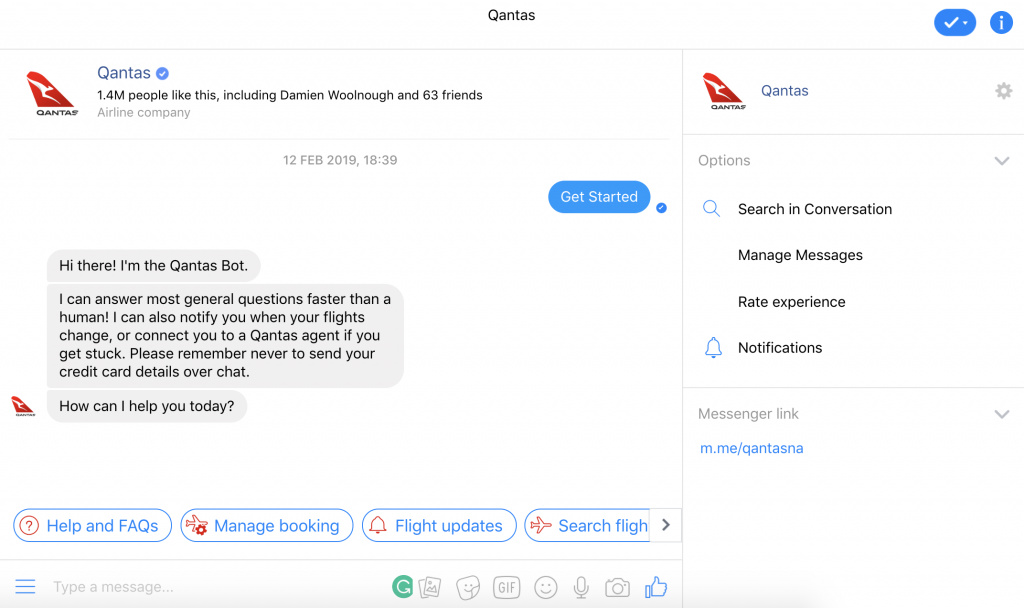 Summing up
If you live in Australia and fly or are interested in flying Qantas, then the Qantas Frequent Flyer program is one worth signing up for.
Qantas Points can be used both on Qantas and its partner airlines and are most quickly earned by signing up for one of these credit cards.
The Ultimate Guide to Qantas Frequent Flyer
was last modified:
October 19th, 2023
by