We've got the latest Qantas deals here! For example, you could rake in a hefty 140,000 Qantas Points by taking out top health insurance for at least 60 days — that's a Business Class ticket to just about anywhere.
Plus, nab an extra 40,000 Qantas Points on new car insurance and home insurance policies. You'll also earn a Qantas Point for every dollar spent on the premium and unlock full Qantas Points earning ability in the Qantas Wellbeing App.
Deal: Earn 2,000 bonus Qantas Points when you spend $400+ with Airbnb [targeted]
For those who have linked their eligible Mastercards to Qantas Card Offers, check your accounts for this great targeted offer.
Spend A$400 or more in a single transaction before 28 February 2021 to earn 2,000 Qantas Points! Even though parts of Australia may still be under travel restrictions, you can book ahead for your next stay within your state.
Some Airbnb listings also offer full flexibility with the ability to get a refund if your travel plans change later on — be sure to check the policy before booking. Don't forget to also search your Airbnb through Qantas Hotels to earn an additional 1 point per A$1 spent.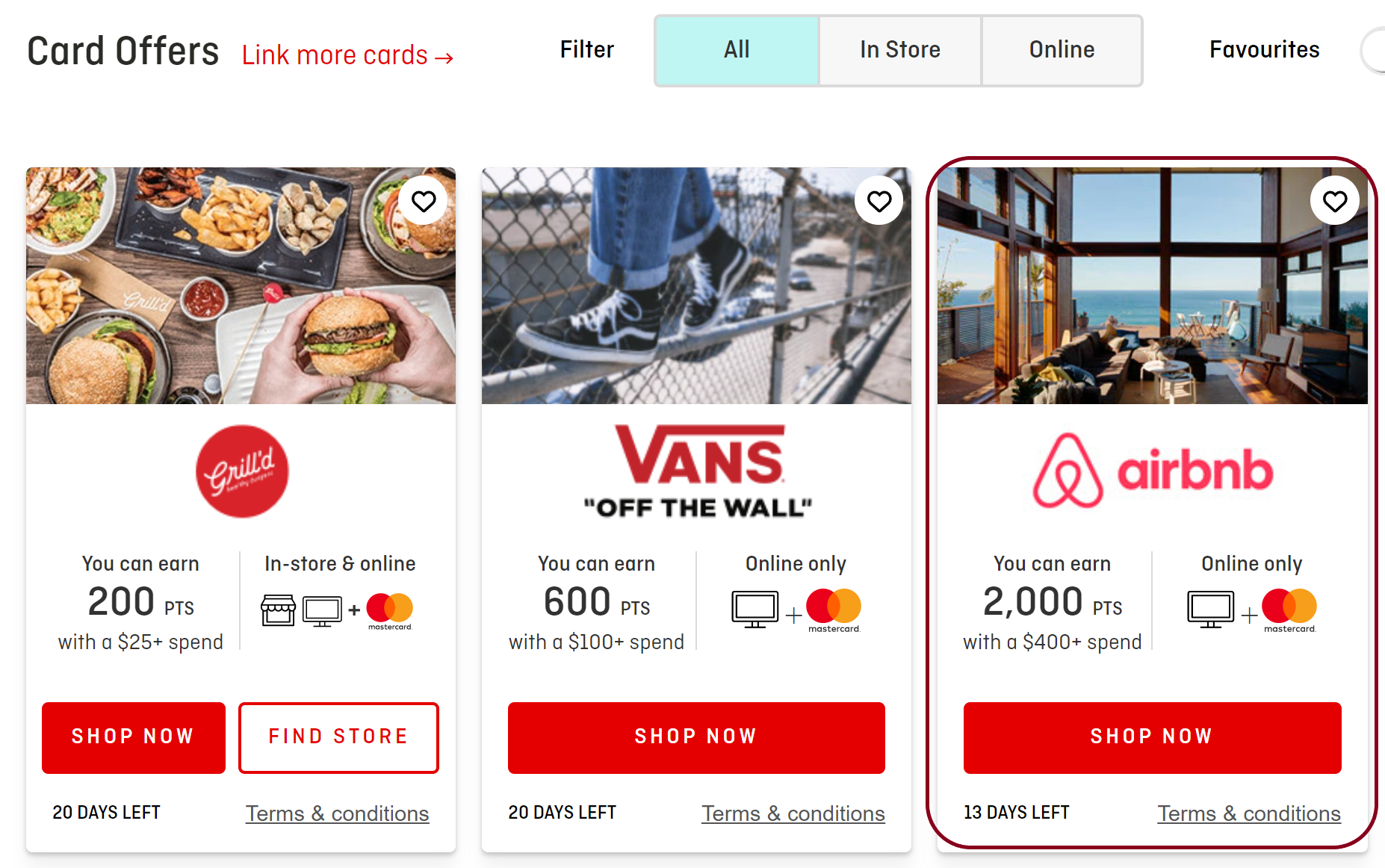 See this deal under 'Qantas Card Offers' →
Deal: Earn 21x bonus Qantas Points with BP Rewards [targeted]
If you've previously used the Qantas Card Companion tool, then check your emails and account for this great deal.
Eligible members will earn 21x more bonus points at BP once this offer is activated. You may have received this offer by email on Wednesday 10 Feb 2021 if you were targeted. It will also show up under 'Earn Points'.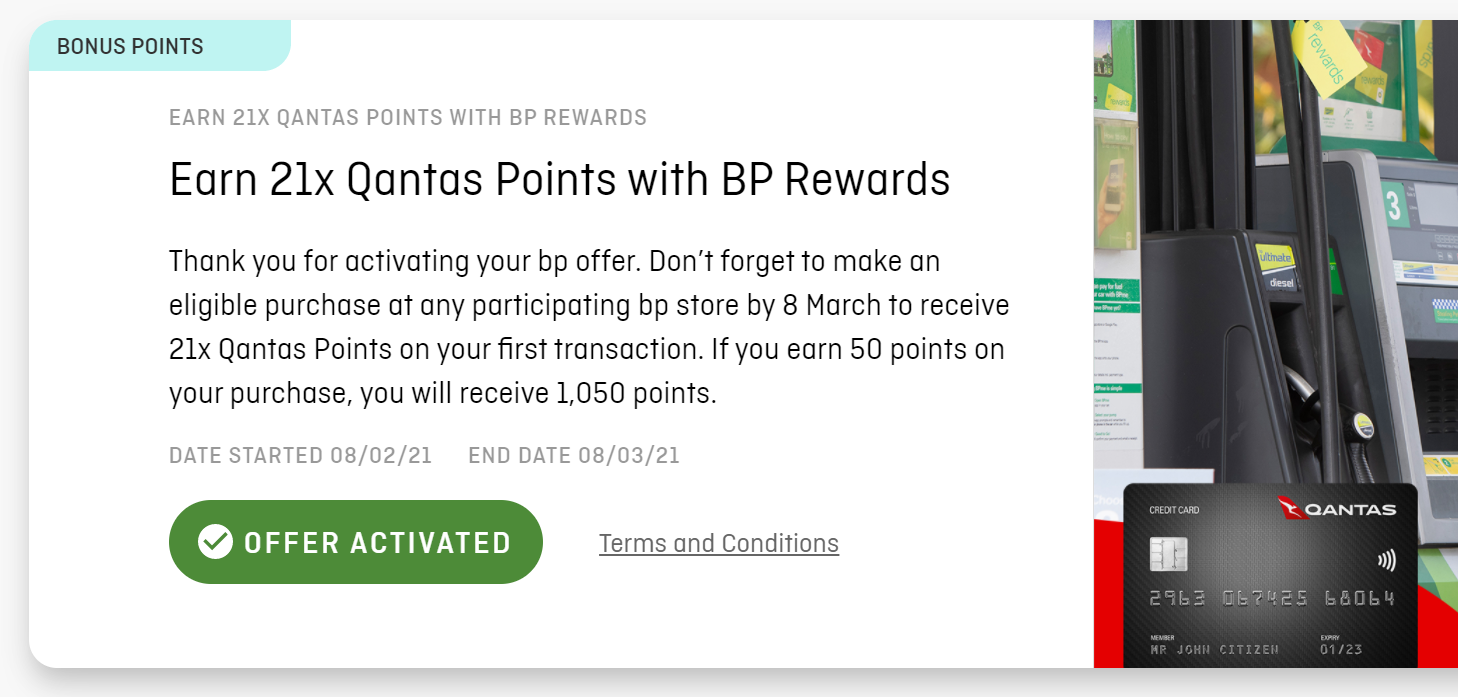 With this deal in place, you could earn:
42 Qantas Points per litre of BP Ultimate Unleaded
21 Qantas Points per litre of all other fuel types
21 Qantas Points per $1 spent in-store on eligible products (not including gift cards, smoking products etc.)
If you fueled up on 45L of BP Ultimate Unleaded and spent $10 in-store on some groceries, you could pocket 2,100 Qantas Points!
This offer only applies to your first transaction within the promotion period, so make sure to only use it when your tank is near-empty. You need to be a member of BP Rewards and set your preference to earning Qantas Points.
See this deal under the Qantas Card Companion (if targeted) →
Alert: Earn 10 Qantas Points a day when you record 7,500 steps
Lockdown or not, there's no reason to not meet your step-count goals. For the month of February, the Qantas Wellbeing App will reward you with 10 Qantas Points for each day you reach a minimum of 7,500 recorded steps.
Complete all 28 days, and you could earn a tidy 280 Qantas Points. While that number may be on the small side compared to other offers, remember that every point counts to reaching your reward goal and it'll also help reset your balance's expiry date.
Learn more about the Qantas Wellbeing App →
Deal: Earn up to 140,000 Qantas Points with health insurance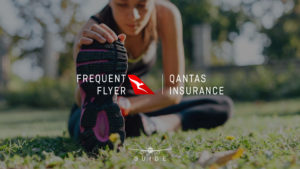 Qantas Insurance is offering up to 140,000 bonus Qantas Points to anyone taking out a new Gold Hospital and Top Extras cover for a couple, single parent or family. Other policies may also earn some bonus points, but not as much.
Yes, the premiums for a top-level package will be quite high. It's up to you to weigh up whether earning 140,000 Qantas Points in the first year is worth taking out that cover for at least the first year (with a minimum of 60 days).
If you take out combined hospital + extras cover, then you may also get 2 & 6-month waiting periods waived for extras, such as dental and optical.

Remember that Qantas Points earned this way could count for Points Club or Points Club Plus membership, unlocking many valuable perks. 130,000 Qantas Points could also be redeemed for numerous Business and First Class flights.
How do I sign-up for Qantas Health Insurance?
Visit the Qantas Insurance website and click 'Get a Quote' under the appropriate section.
Enter the personal details of yourself and any family members sharing the same policy.
Sign in (or sign up) as a Qantas Frequent Flyer member.
Select your Hospital cover, if desired.
Select your Extras cover, if desired.
Review your cover, premiums and sign-on bonus. Fill out the remaining details and make payment to activate the policy.
Hold the policy for at least 60 continuous days to be eligible for the points.

What are the catches with this offer?
There are three main points to be aware of:
You must not have held a health insurance policy in the last 6 months with Qantas, nib, AAMI, Apia, GU Health or Suncorp, tr you won't be eligible for any bonus sign-on points. This is because these insurers all share the same underwriter.
You must hold the new Qantas Health Insurance policy for at least 60 continuous days to earn the applicable sign-on bonus. Once the points are successfully received, you are free to do whatever you wish with your health cover without losing the sign-on points.
Only the top Hospital and Extras cover combined will net the maximum 140,000 Qantas Points.
Deal: Earn 1,000 bonus points with Avis when hiring for 7 days or more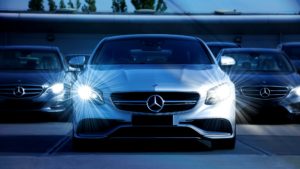 Rent a car with Avis for 7 days or more, and pocket a bonus 1,000 Qantas Points! This on top of the usual 4 points per A$1 spent you can normally earn on Avis rentals within Australia.
Simply book by 28 March 2021 for rentals that commence up to 28 March 2021 as well. Use the coupon code 'MPPA045' during reservation to activate this deal.
The full offer terms and conditions can be read here. Eligible bookings will have a 'Promotion' star tag displayed during the search process.
Deal: Earn up to 40,000 Qantas Points with car insurance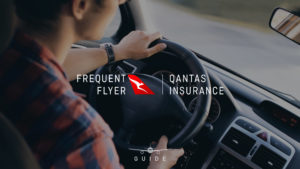 Qantas Car Insurance is offering up to 20,000 Qantas Points for new policies, subject to minimum premium amounts. This offer is ongoing.
How does this work? Essentially, you'll be awarded a set number of Qantas Points depending on what your annual premium is quoted. See the offer page for more details.
$0 to $500: 4,000 Qantas Points
$500 to $850: 20,000 Qantas Points
$850 to 1,250: 30,000 Qantas Points
$1,250 to $1,550: 30,000 Qantas Points
$1,550+: 40,000 Qantas Points
You'll also earn 1 Qantas Point for every dollar spent on the premium and could earn up to 1,600 Qantas Points via the Qantas Wellbeing app for getting a car service and tyre pressure checks.
Bonus sign-up points are awarded for eligible new customers after holding the policy for at least 60 continuous days. If you do cancel your policy before the end of the year and have not made any claims, your premiums will be pro-rata refunded, but with a $40 early cancellation fee.
Read our in-depth guide to Qantas Car Insurance for more information on the policies offered and how to sign up.
Pocket 2,000 bonus Qantas Points with Airbnb; 21x bonus points at BP
was last modified:
February 15th, 2021
by