Qantas is ramping up its focus on India with direct Sydney-Bengaluru (Bangalore) flights now taking off. Feeding into the carrier's fresh domestic codeshare partnership with IndiGo, Sydney-Bengaluru also marks the first-ever direct commercial flight from Australia to Southern India.
With the first Sydney-Bengaluru departure a Qantas 'points plane' – on which every single seat could be booked as a Qantas Classic Reward – I secured my ticket and stepped aboard.
Qantas check-in, lounge and boarding to Bengaluru
While Qantas' Bengaluru flight departs from Sydney, my journey begins up in Brisbane. With a domestic connection on the same ticket, I'm able to check-in for this international leg at Brisbane's domestic terminal.
I get boarding passes for both the Sydney and Bengaluru flights and my bag is tagged through with no need to collect and re-check it in between. Once I've landed in Sydney, I'm onto Qantas' terminal transfer bus and then straight through the dedicated 'First and Business Class' departures queue, which takes about 20 minutes.
There's not a great deal of time between my flights, but I still manage to squeeze about 15 minutes in the lounge. Normally, this would be the Qantas International Business Lounge for Qantas Business passengers. But today, I'm the guest of a Qantas Platinum member, so the excellent Qantas First Lounge awaits.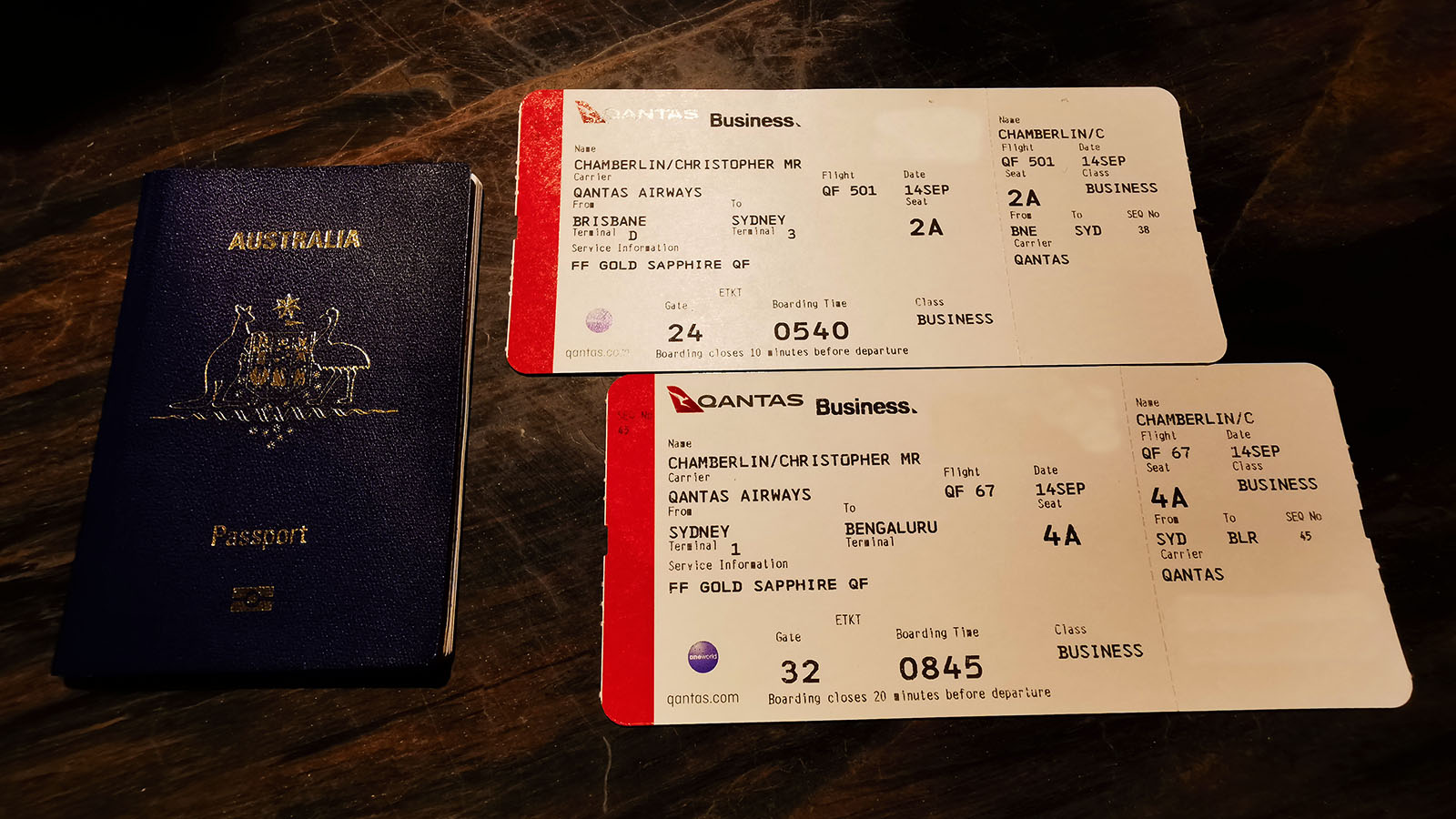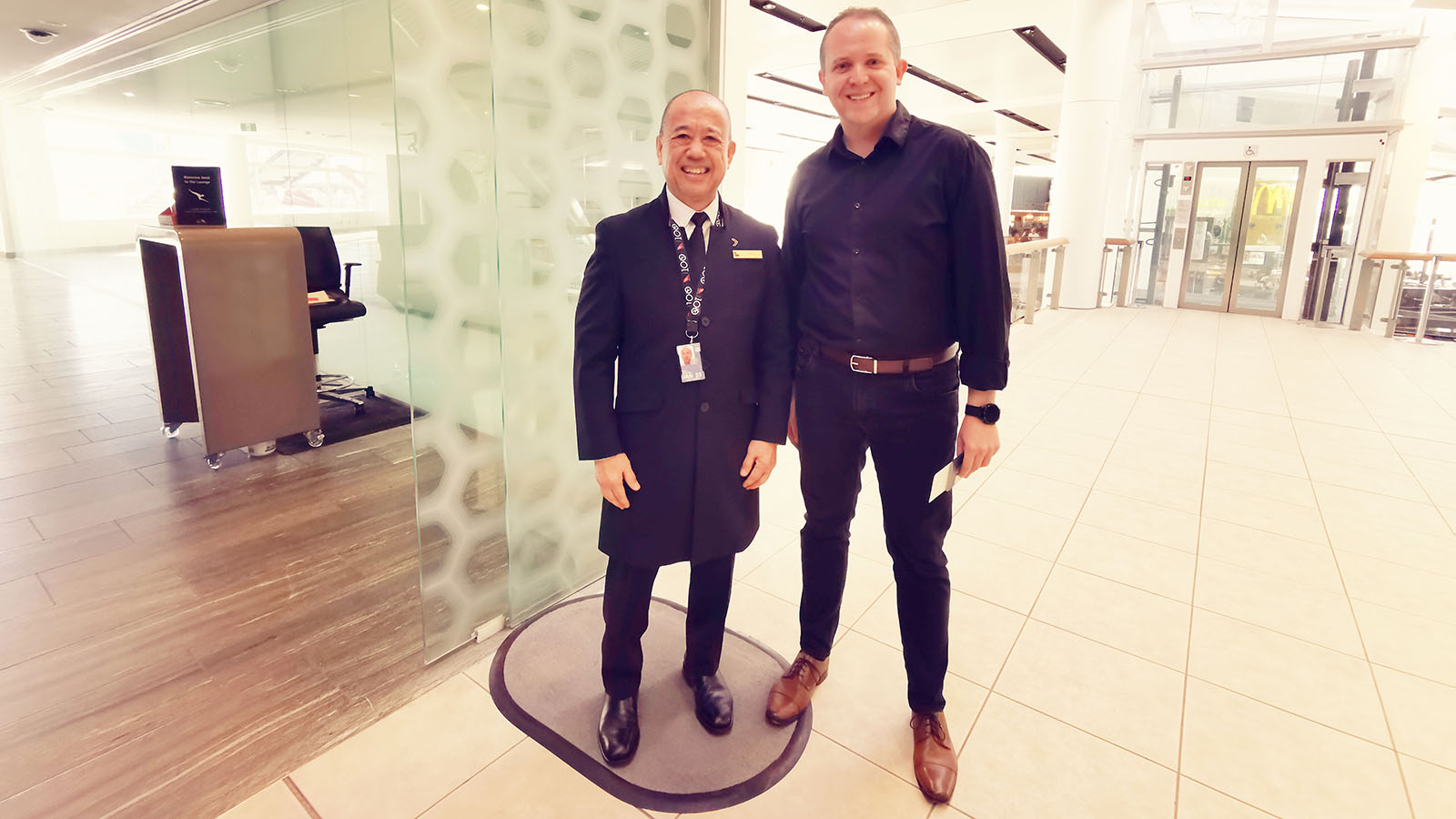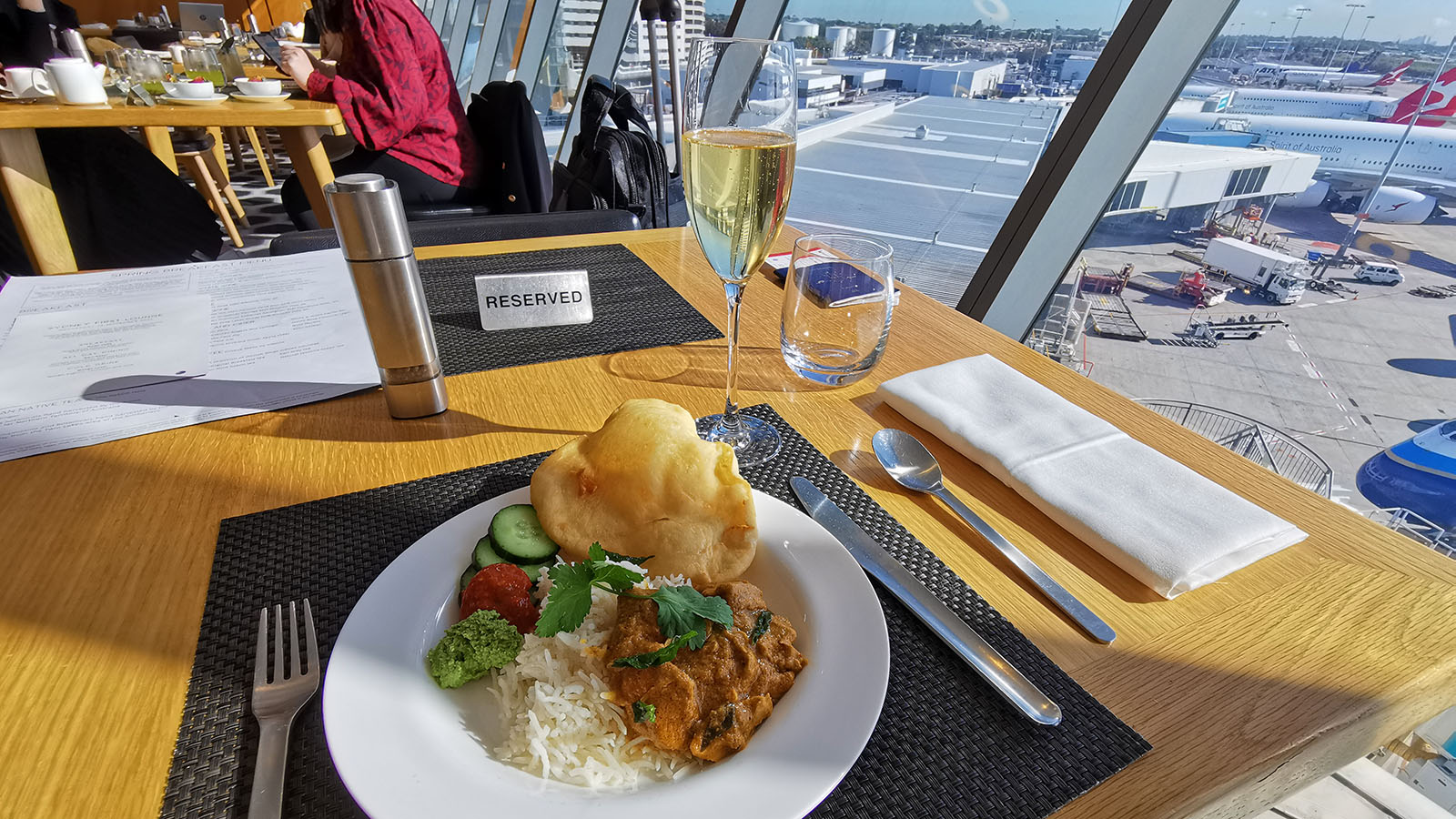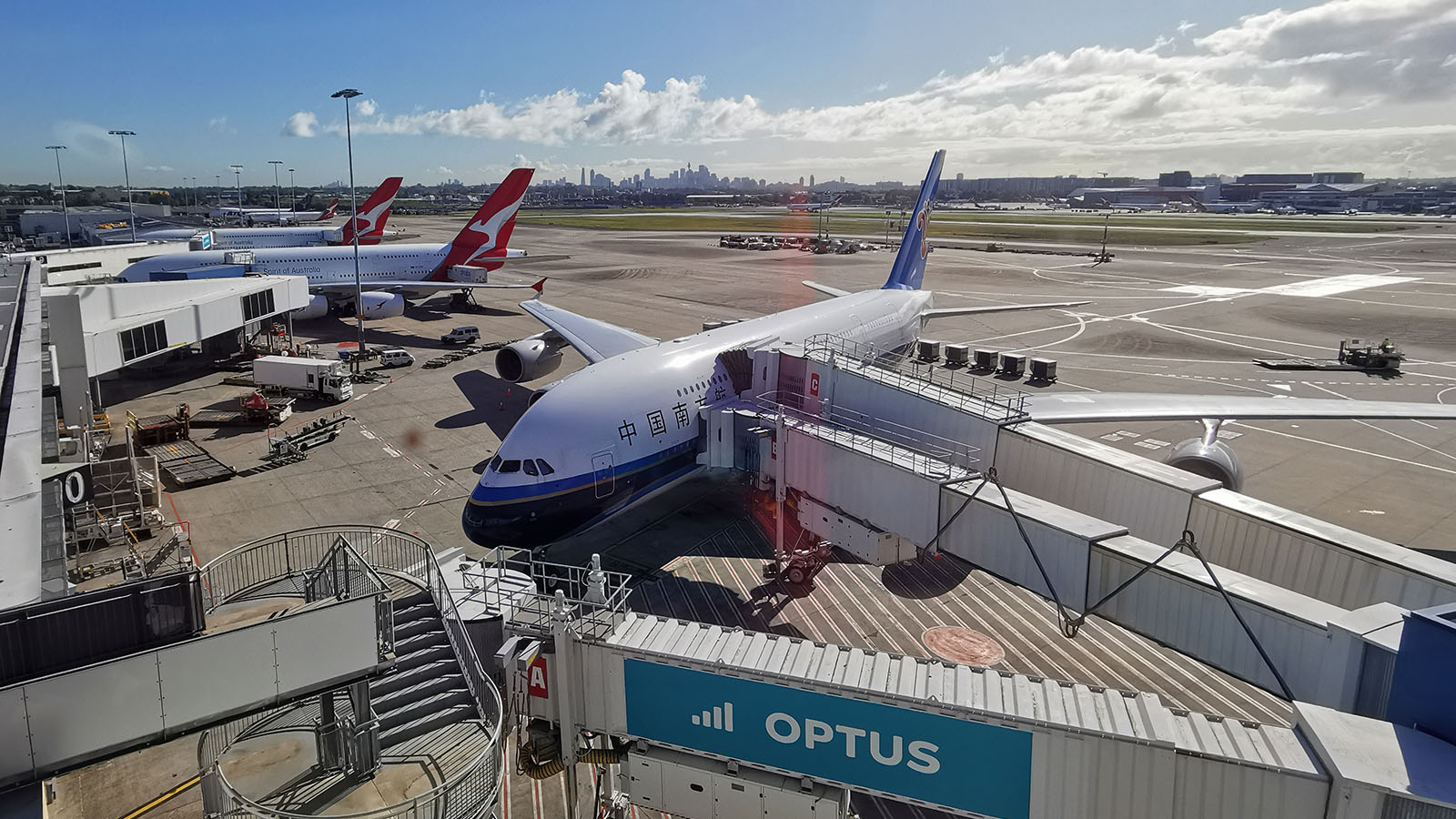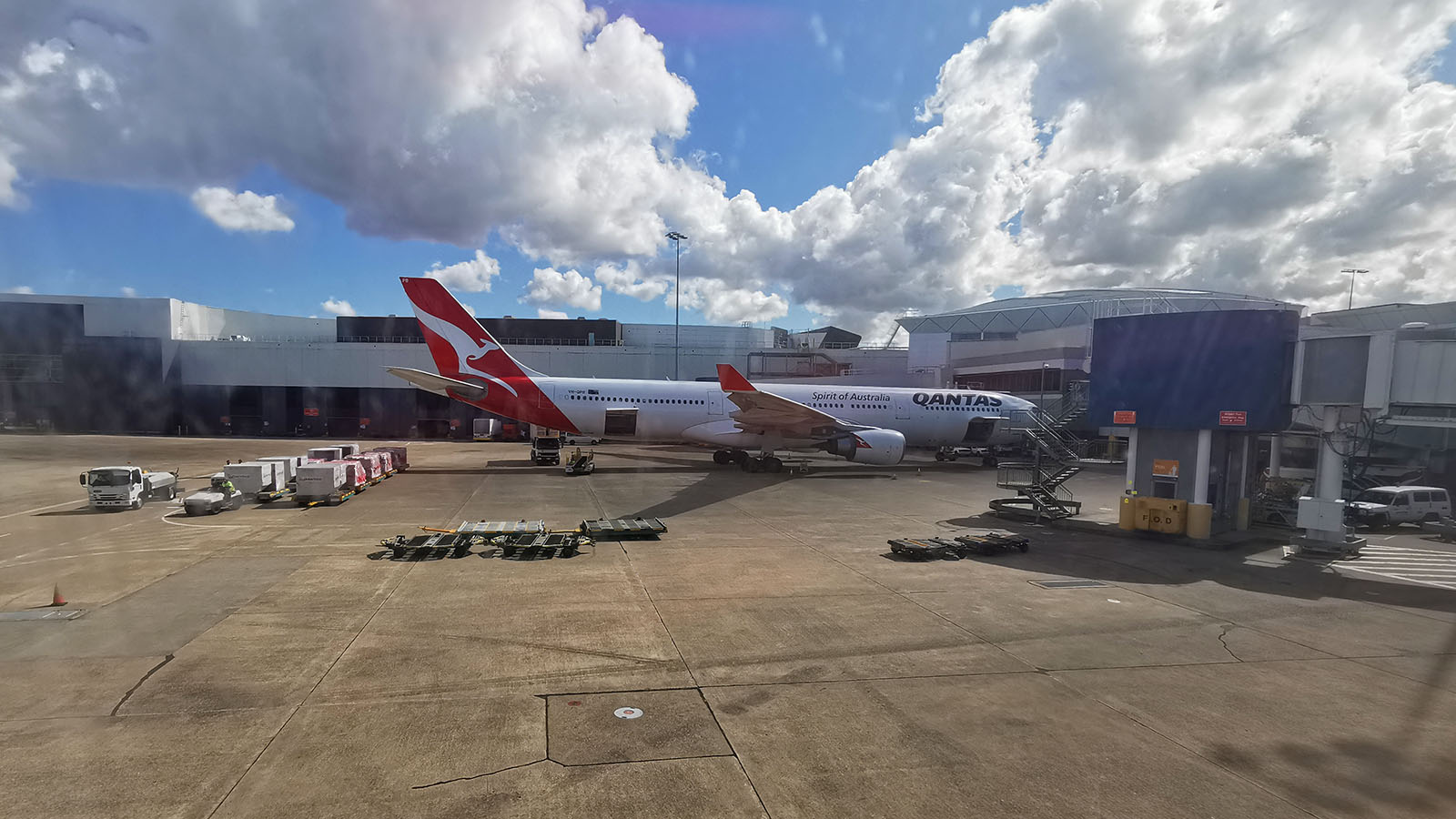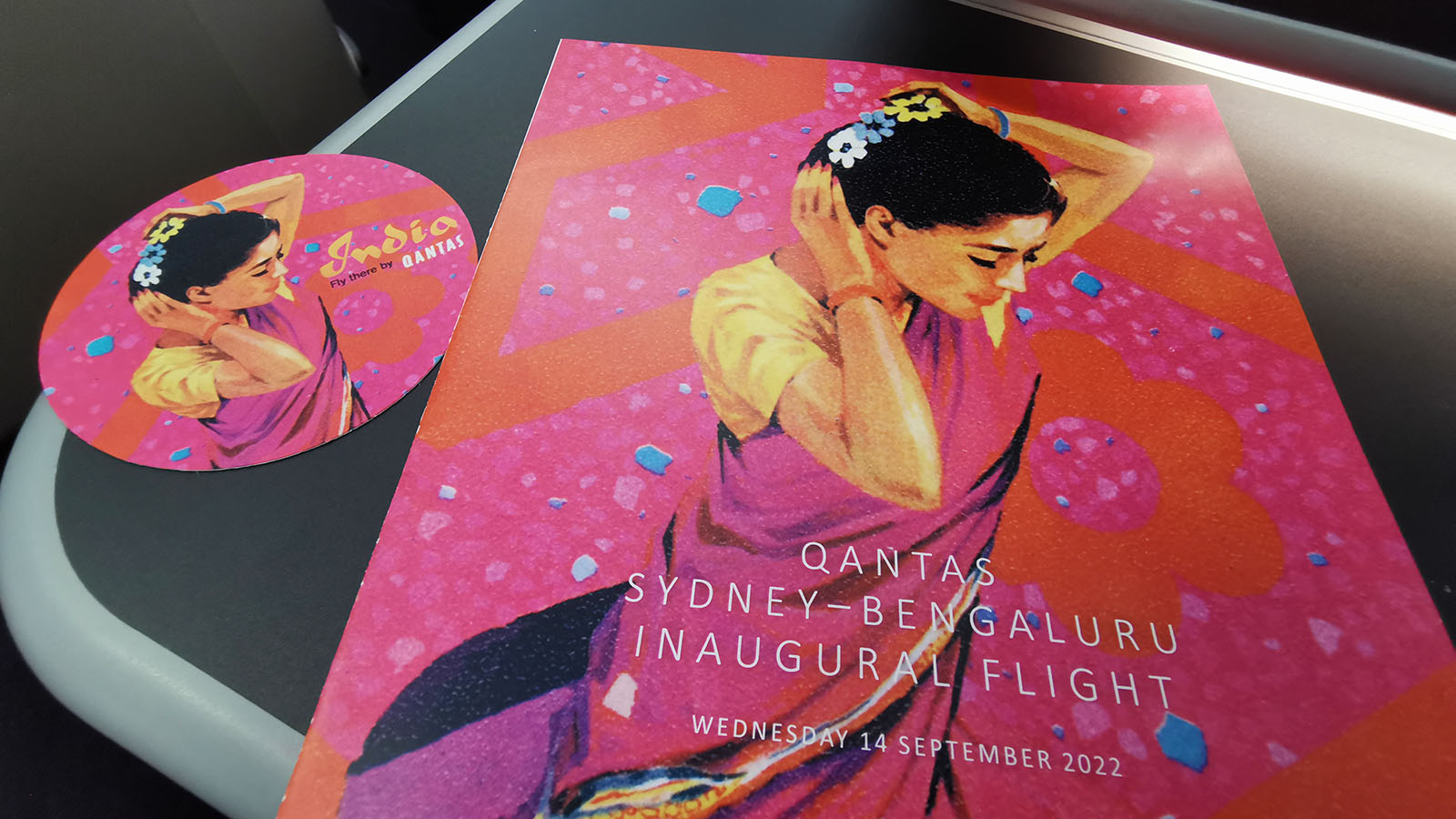 There's no time for a spa treatment – next visit! – but there's still time enough for a quick hello with Nestor. I also sneak in a glass of Champagne (Pommery NV), and a special dish that's popped up on the lounge menu to mark this inaugural flight.
Kori Gassi is that short-term addition, being chicken in coconut and tamarind with mint chutney, cucumber and lime pickle. It's certainly a tasty start to the day – and as nice as the salt and pepper squid can be, it's also great to have something different.
Before long, it's time to depart. I stroll swiftly to the gate and am promptly on board Qantas' inaugural service to Bengaluru. It's also the first-ever commercial flight linking Australia with southern India. Something tells me we're in for a treat.
Qantas' Airbus A330 Business seating
If you've been collecting Qantas Points for a while now, you'll probably be familiar with the airline's Airbus A330 Business cabin. But if not, here's what to expect – and what you'll get on board Qantas to Bengaluru.
Seats come in a 1-2-1 layout. Of course, this means everybody gets direct aisle access. But with this also being a staggered layout, some pods place you closer to the aisle, while others position you further away.
I've planned ahead and selected 4A. This gives me a great view while being just that little bit further away from any aisle traffic. There's also a tad more privacy with a solid wall dividing the seat from that aisle, rather than a more open shell as in the alternative rows.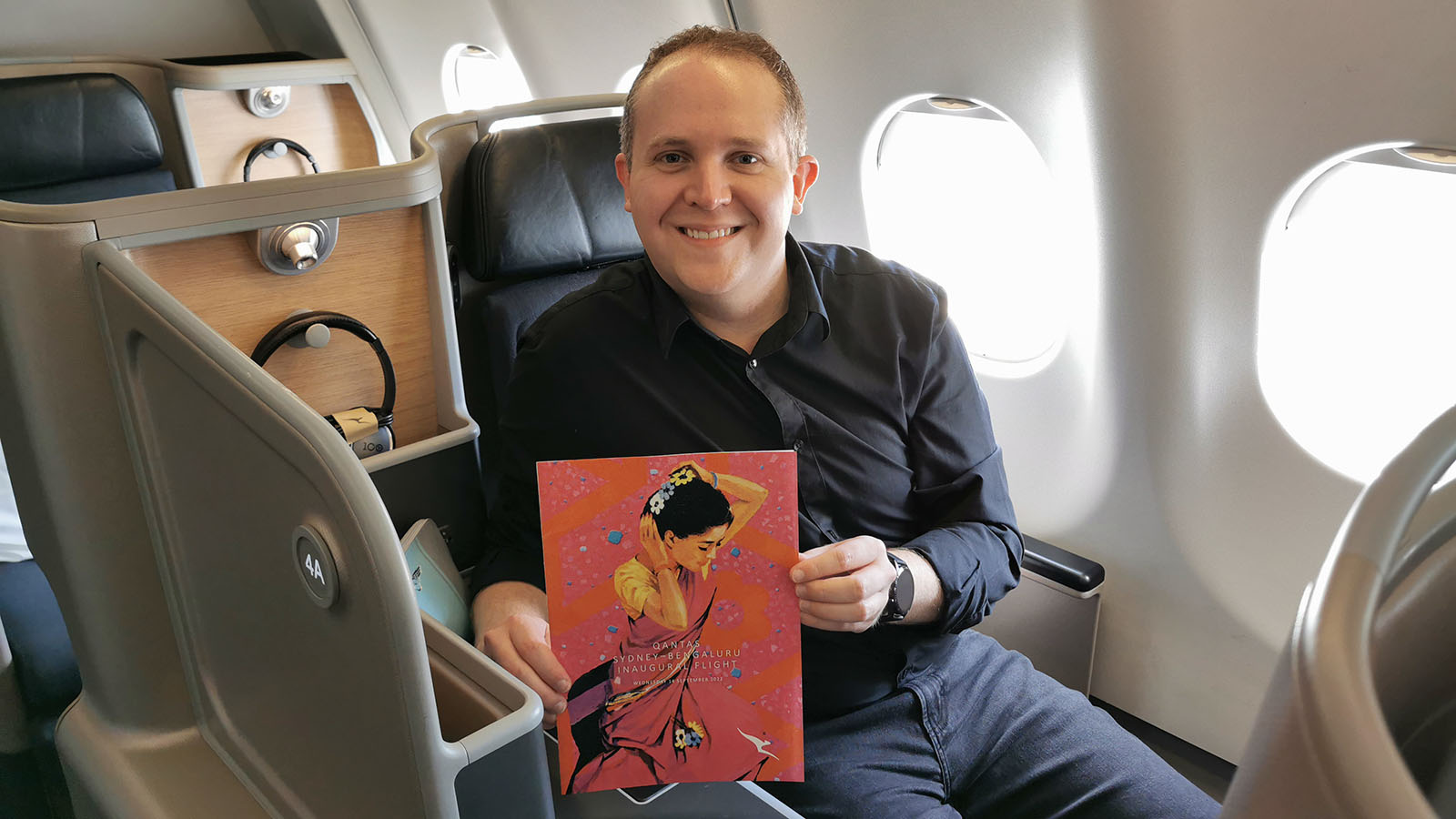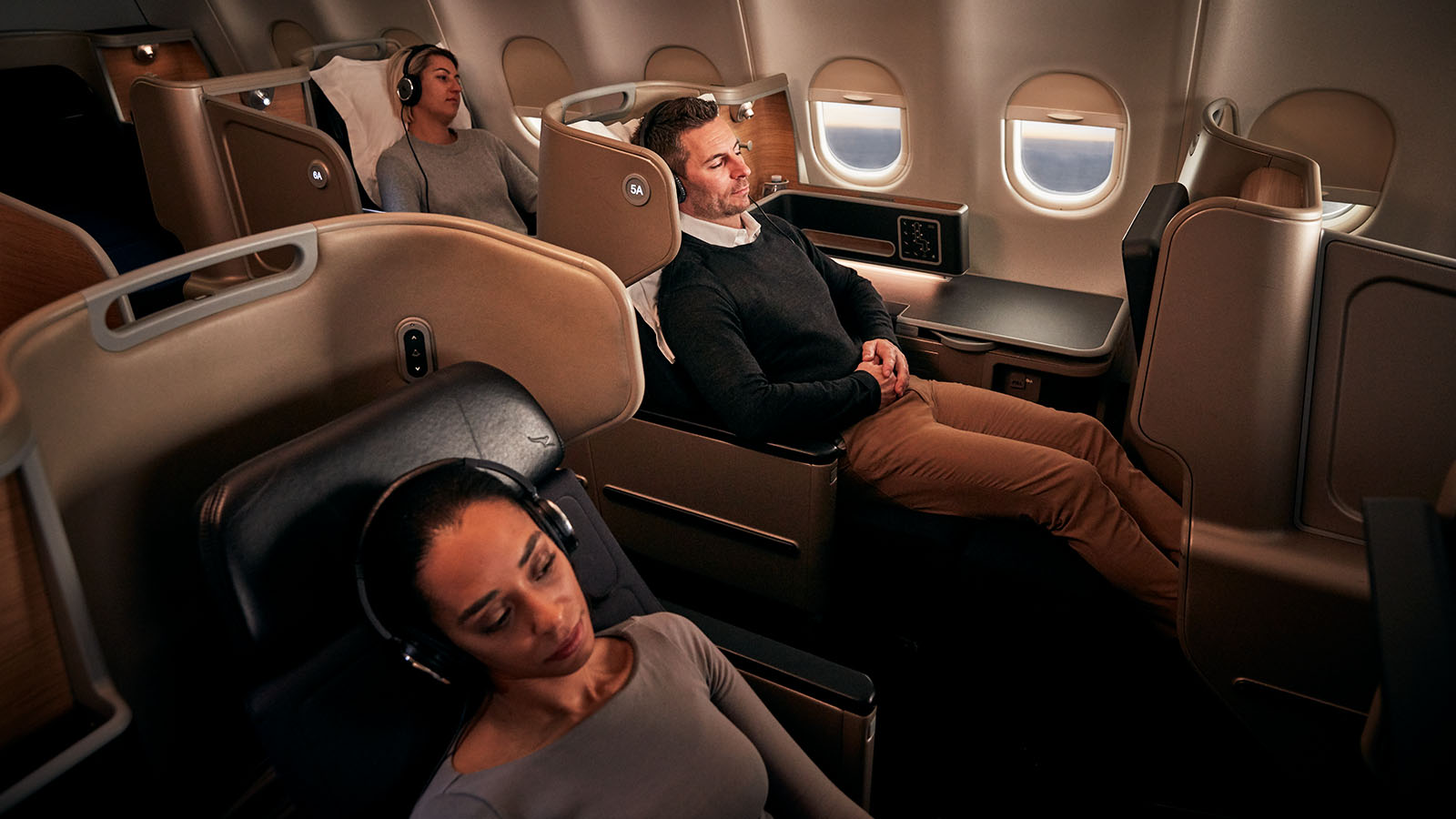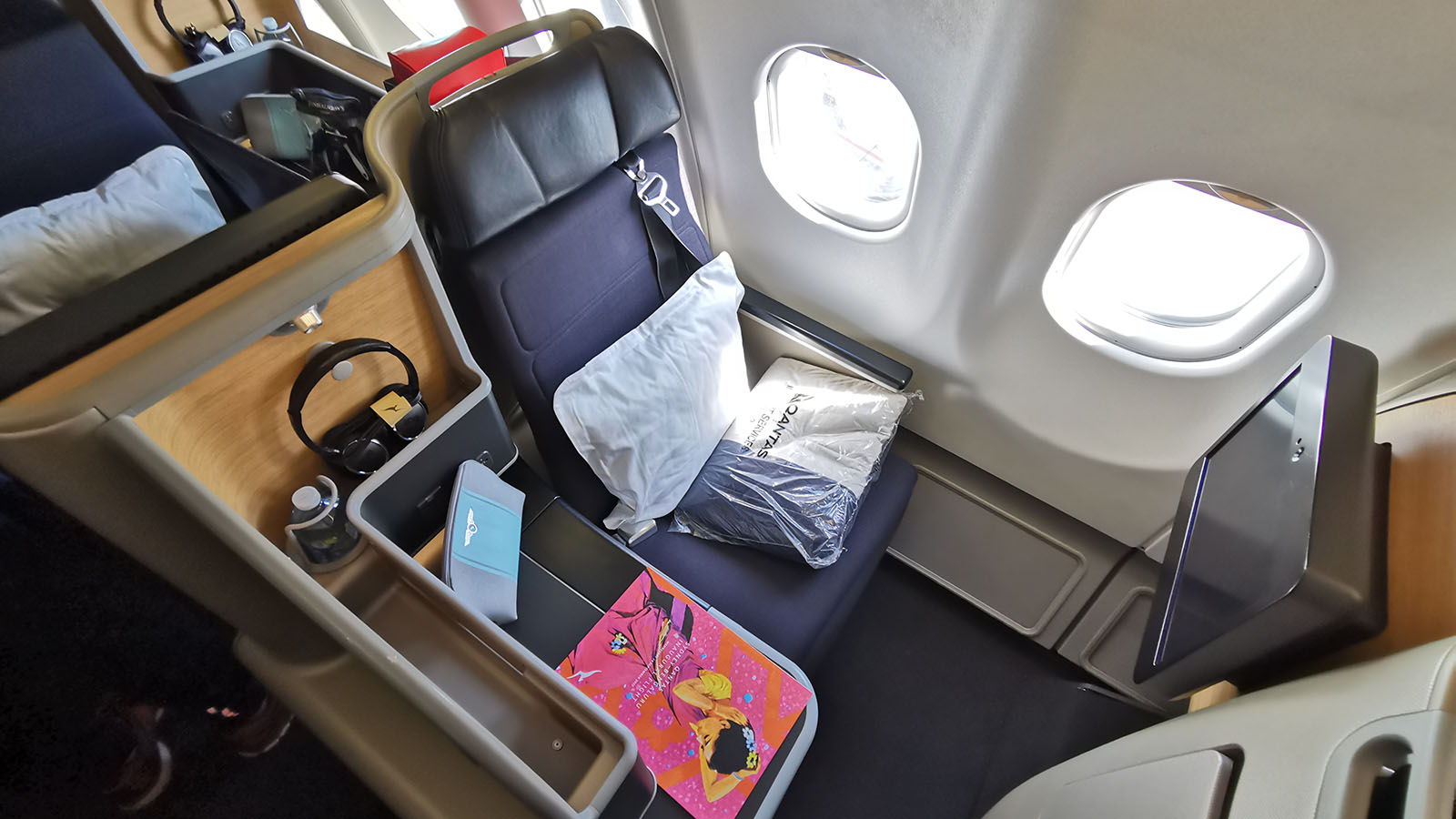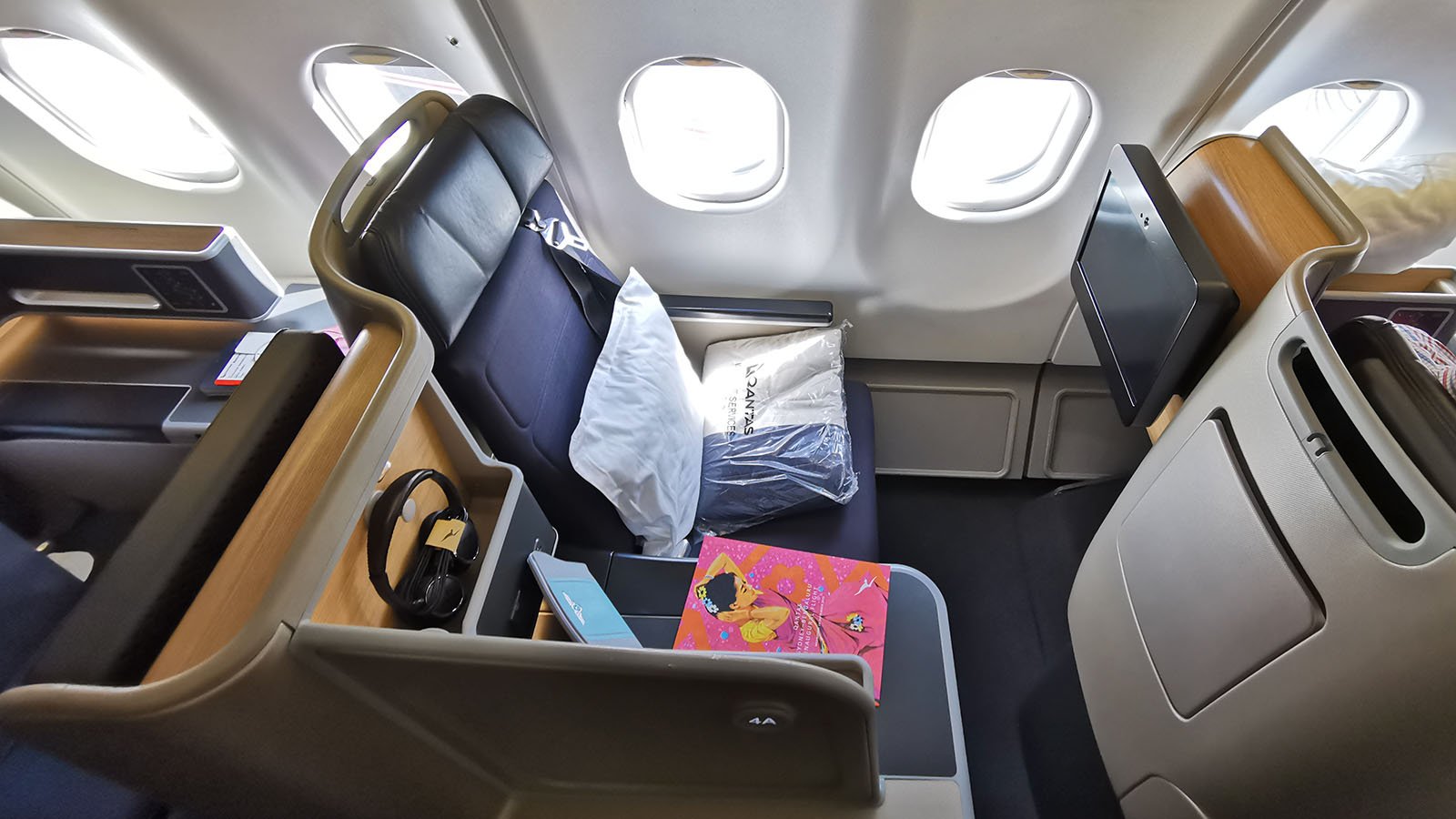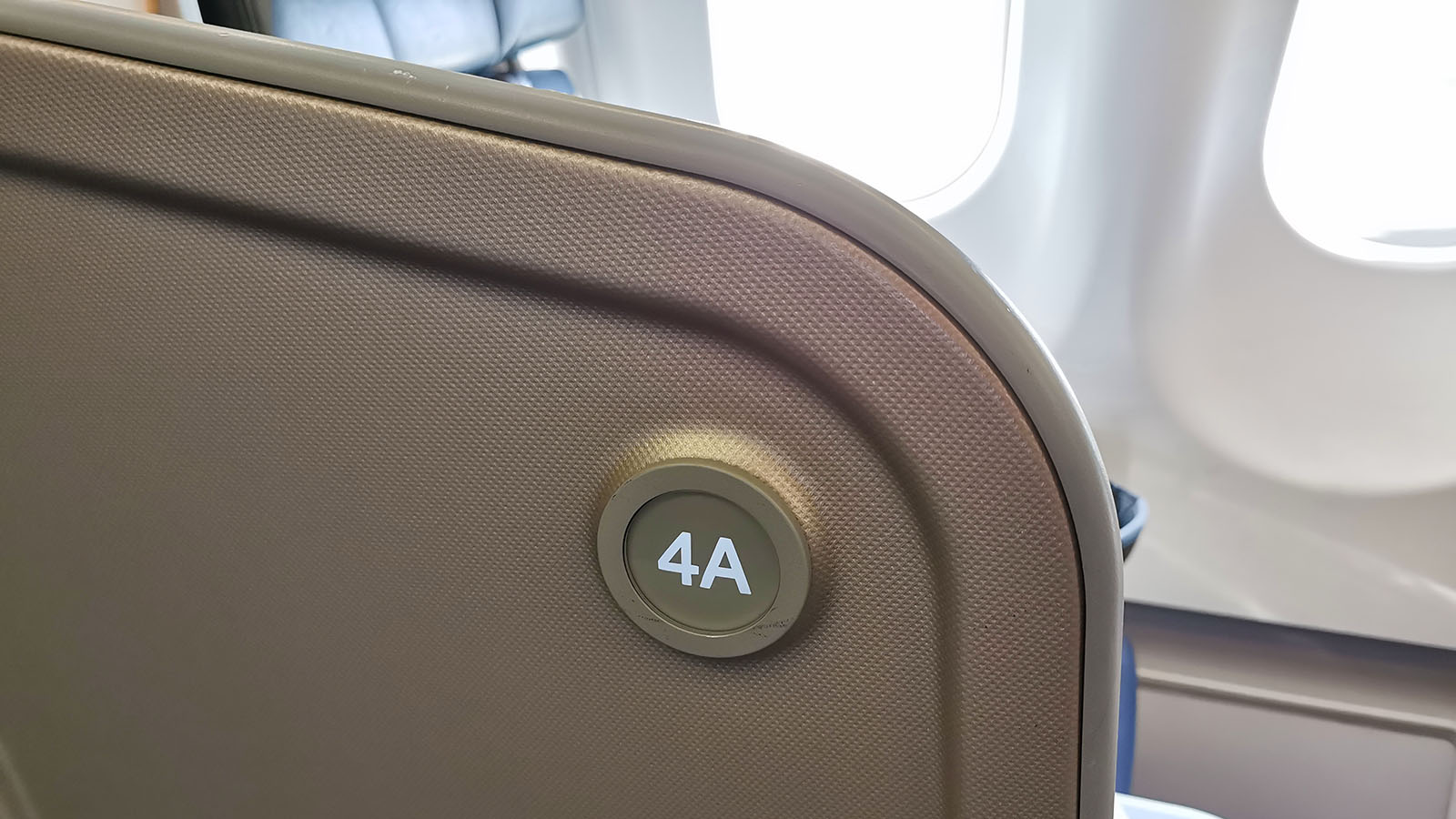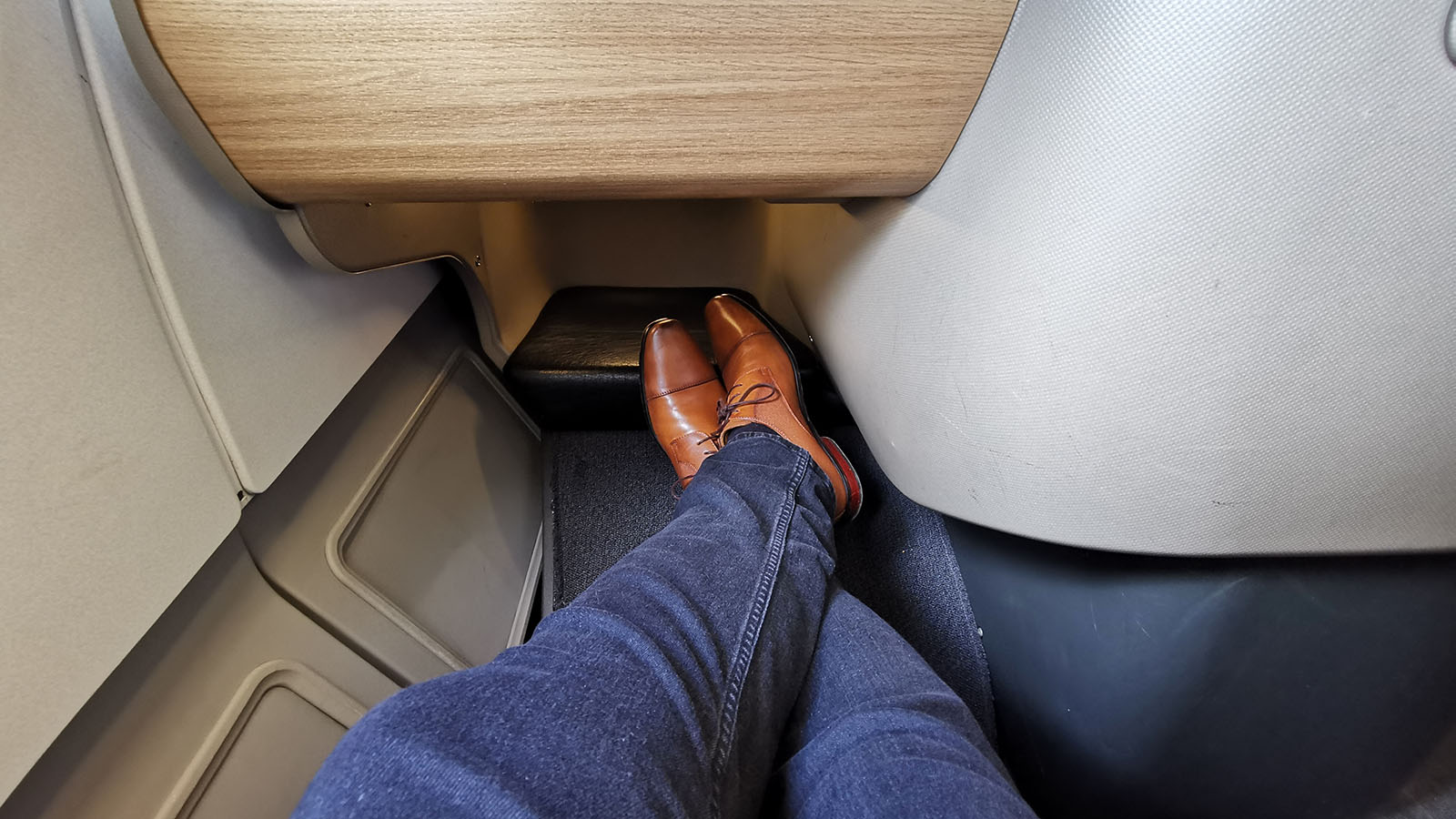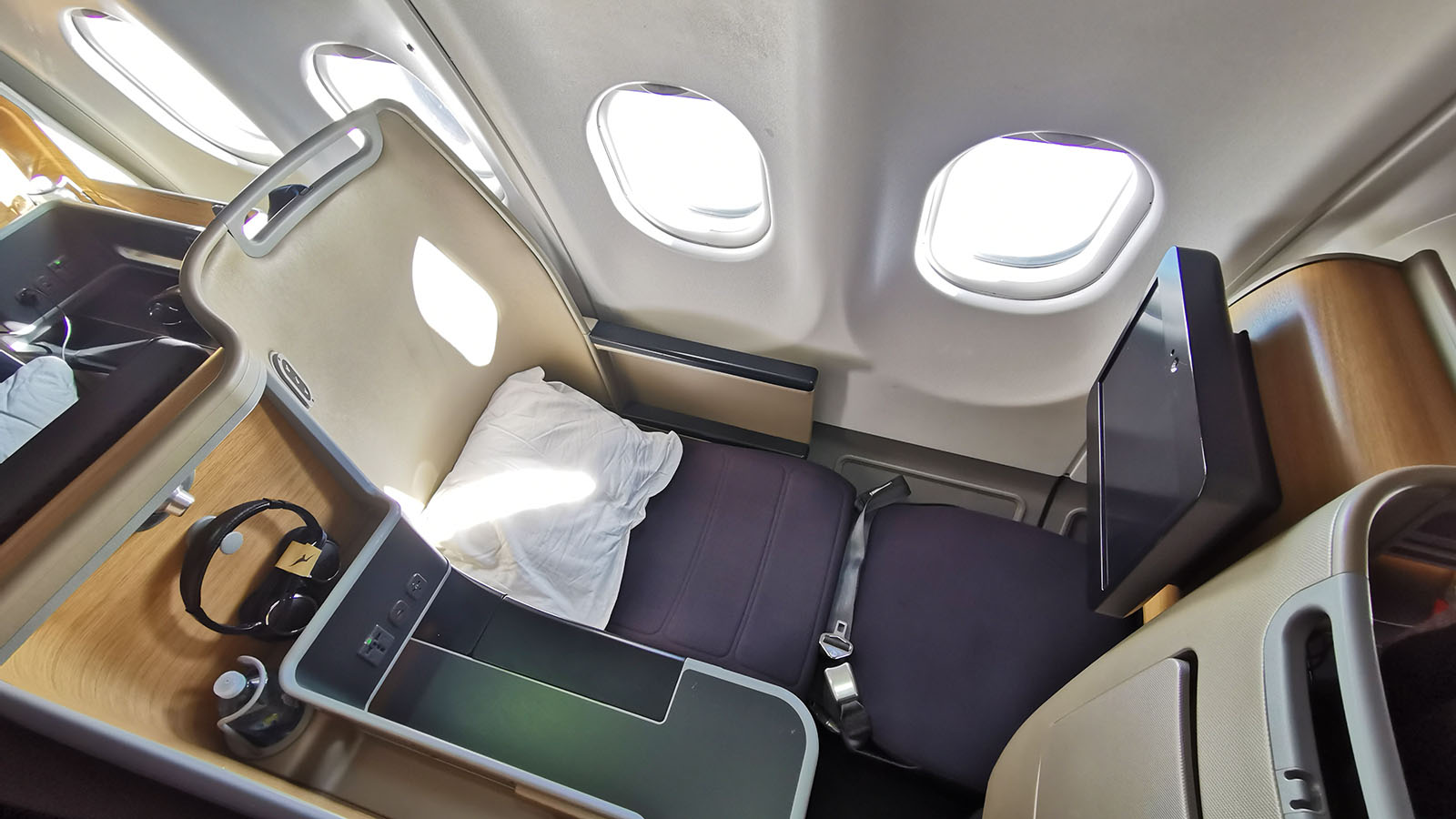 This is a similar seat as you'll also find on Qantas' Boeing 787s and refurbished Airbus A380s. Although these other jets have some noticeable improvements such as sharper TVs, larger windows and a moveable privacy divider in the centre pairs, most other features are the same.
All up, it's still perfectly comfortable. There's an in-seat massage feature for when you want to relax and a 'do not disturb' indicator when you'd rather focus on work. With ample storage surrounding the seat, everything you need for the flight can also stay close at hand.
Just note, if you're hanging out for a pair of Qantas pyjamas, they're only provided on the overnight flight home from India – not the daytime flight up. But you'll still find a pillow and blanket waiting at your seat.
Qantas' Airbus A330 Business food and beverage
Cabin crew waste no time in toasting this inaugural Bengaluru flight, with Champagne (Duval-Leroy Brut) offered before take-off. And as one of Qantas' longer Airbus A330 services, there's plenty of time to explore the rest of the menu en route.
I begin with the 'Qantas Sky Spritz'. That's a white wine spritz with finger lime and Davidson plum – a refreshing and colourful way to continue.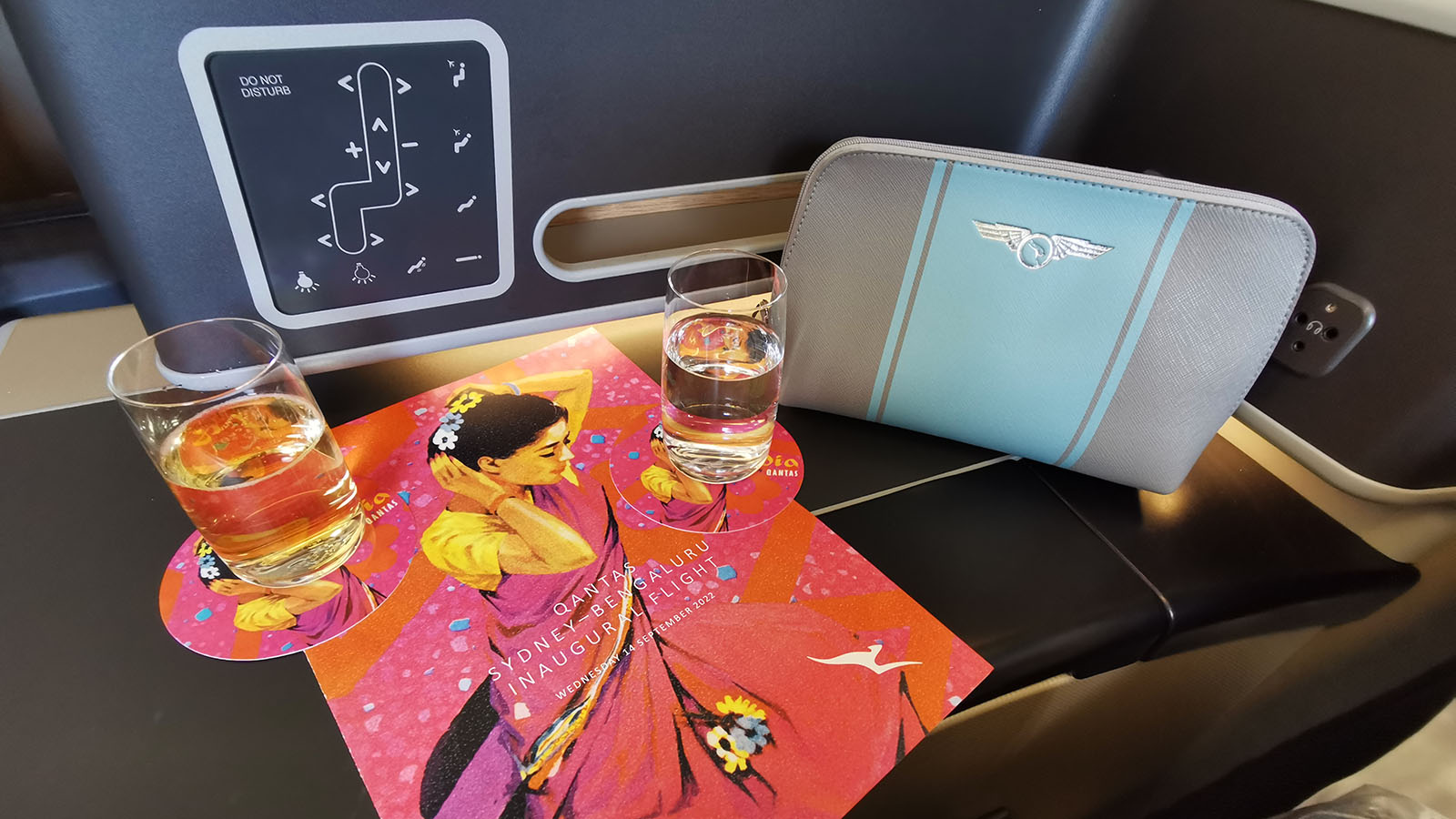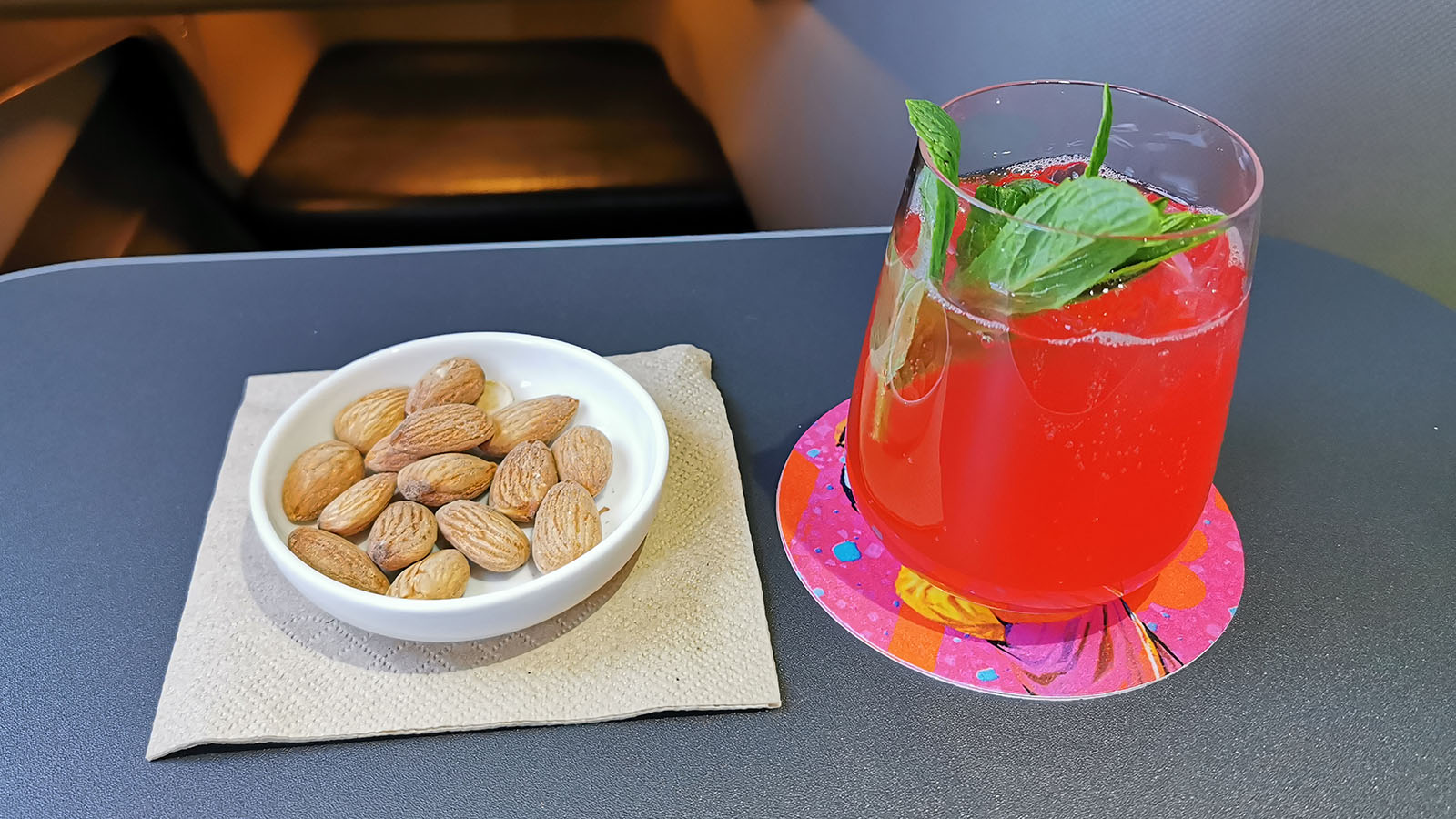 Lunch on Qantas from Sydney to Bengaluru
On all of my recent Qantas Business flights, the meal service has been more in line with domestic standards. That is, meals delivered on a single tray, sitting atop the bare tray table. But on today's flight, crew line the meal table with linen and deliver each course individually. It's what Qantas did on international and long domestic flights before COVID, and it's great to see that return – on this route, at least.
With bread and leaves served on the side, I opt for the zucchini and basil soup starter. It's subtle in flavour but livens up with a sprinkle of pepper. Given I crawled out of bed at 3 am to make my connecting flight, a strong latte really hits the spot before the next course.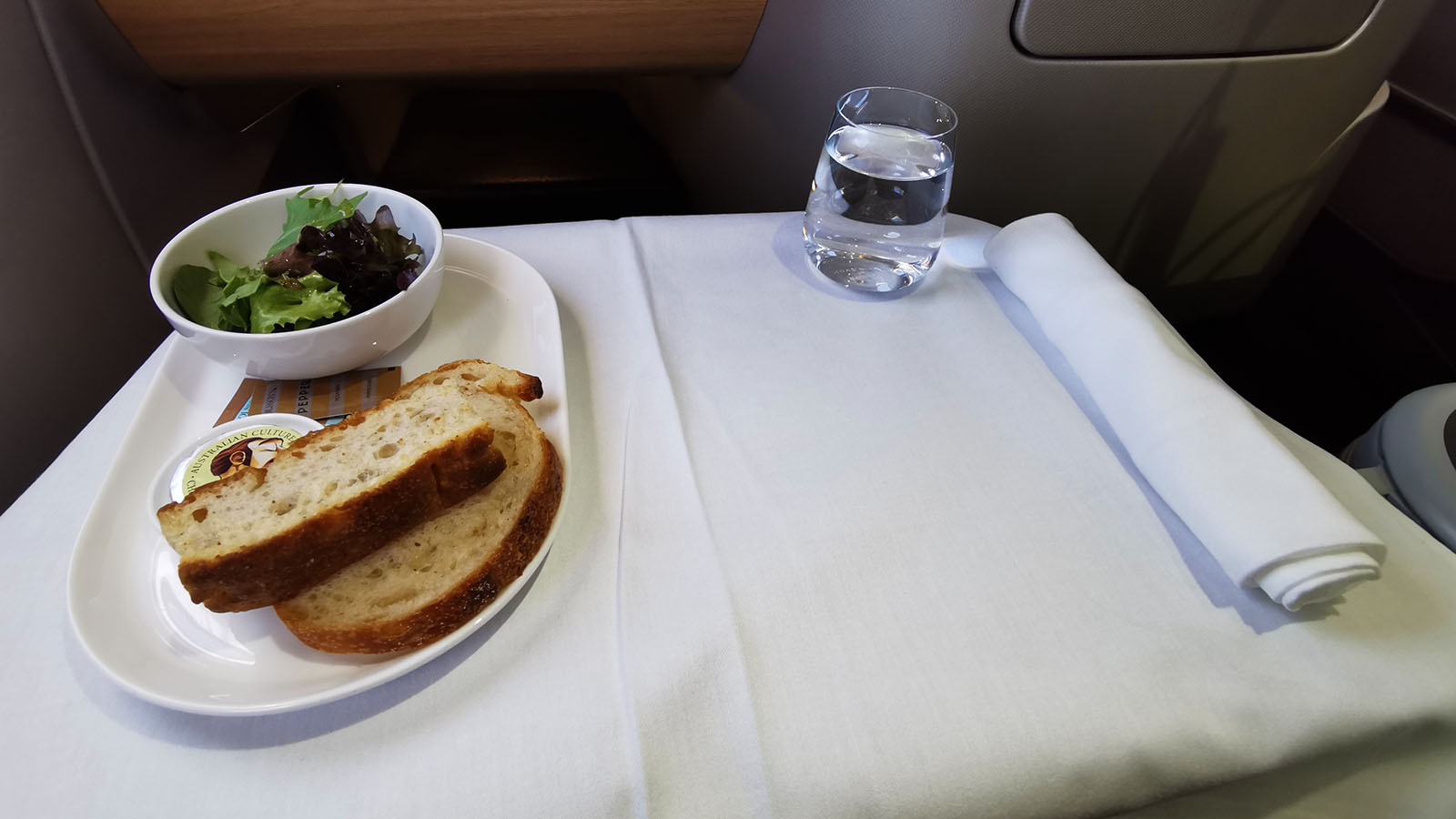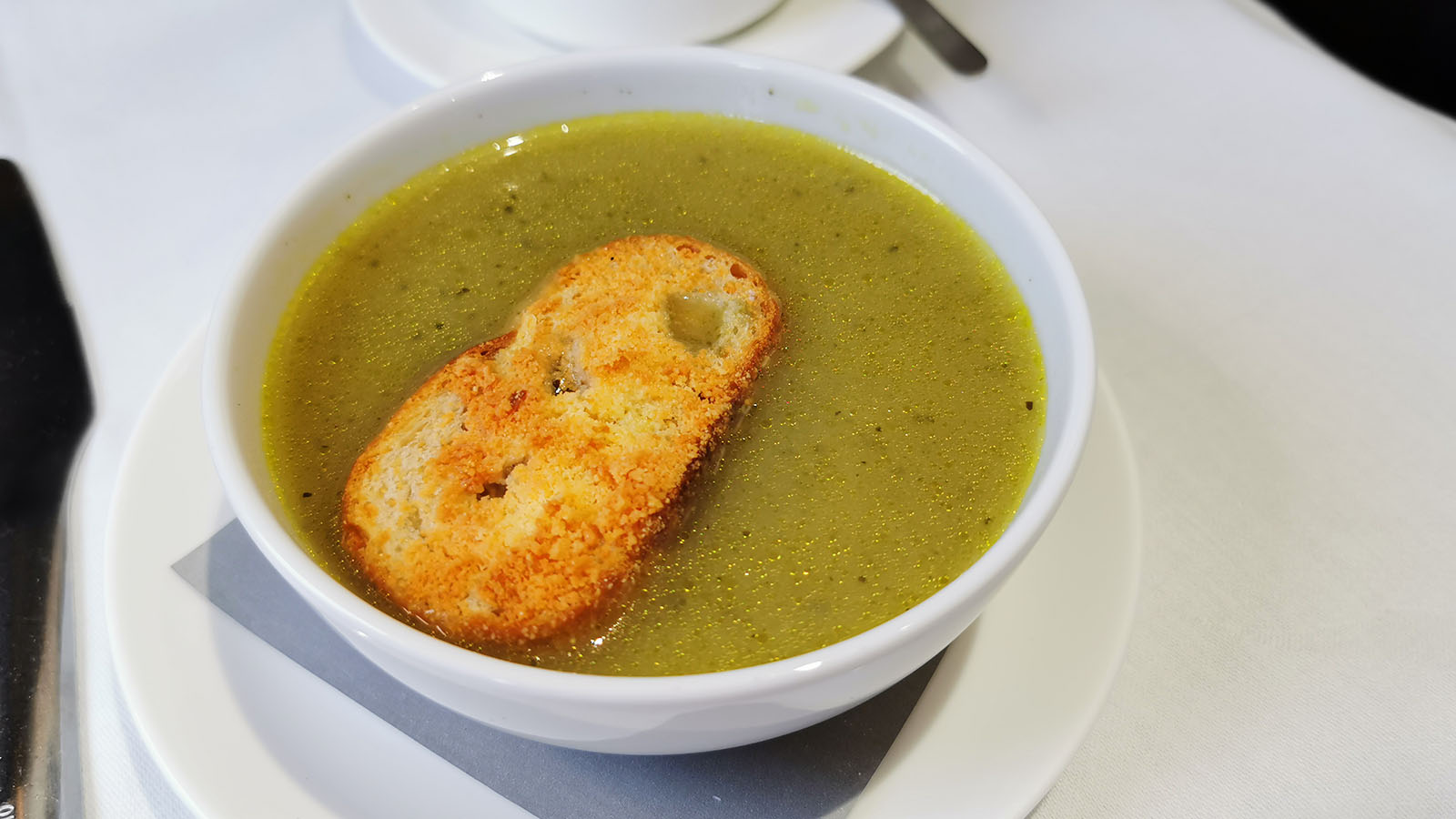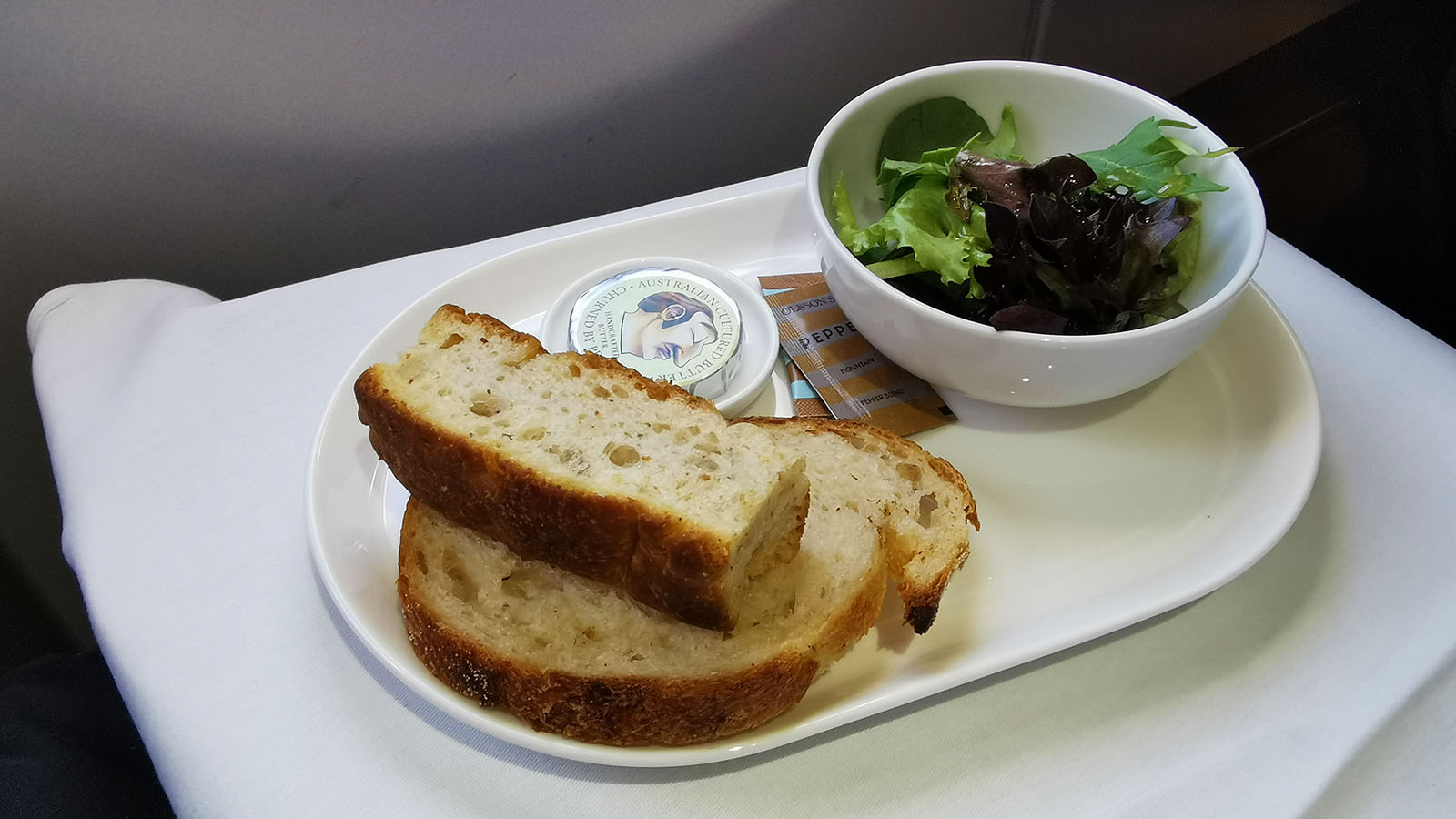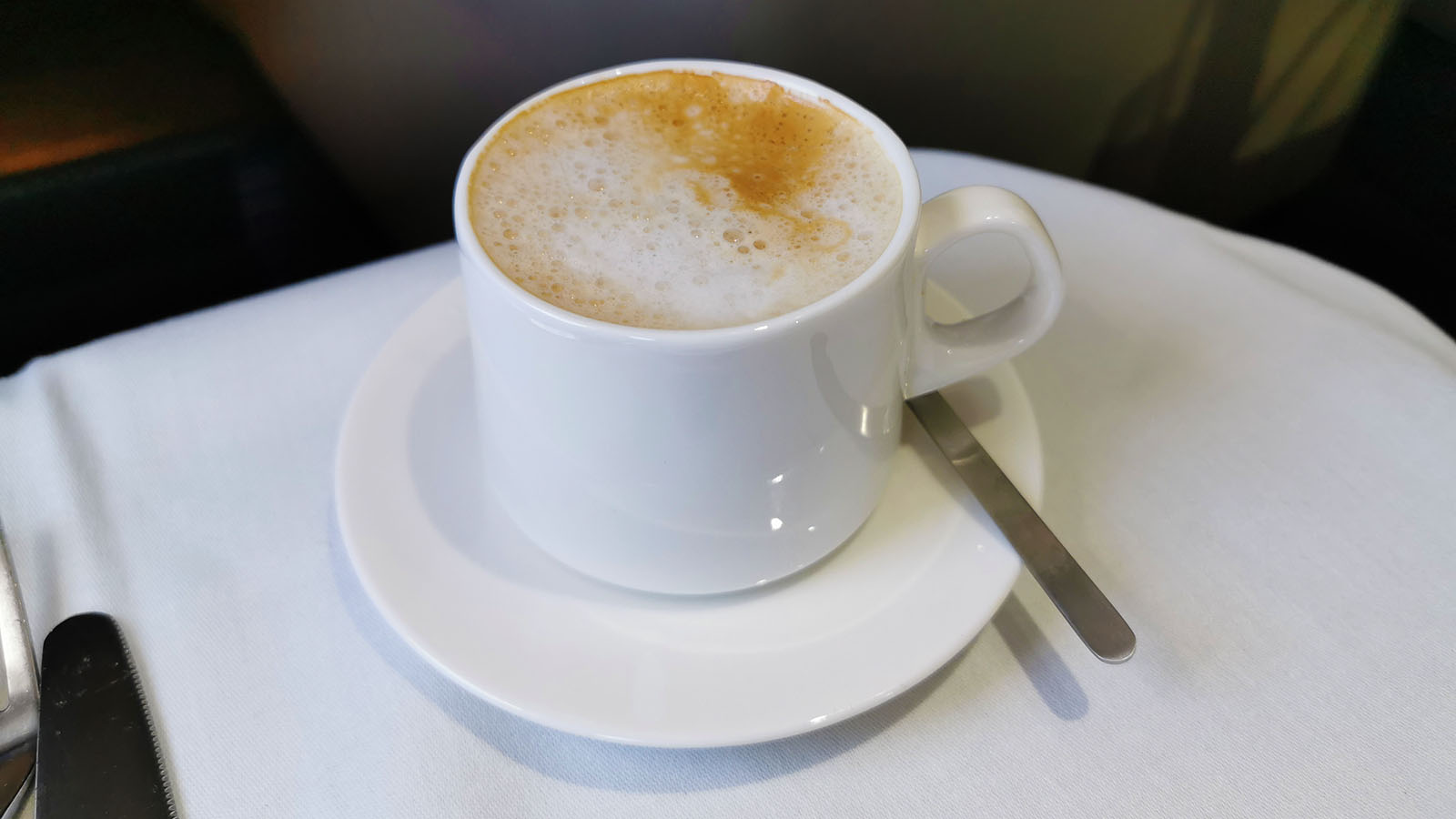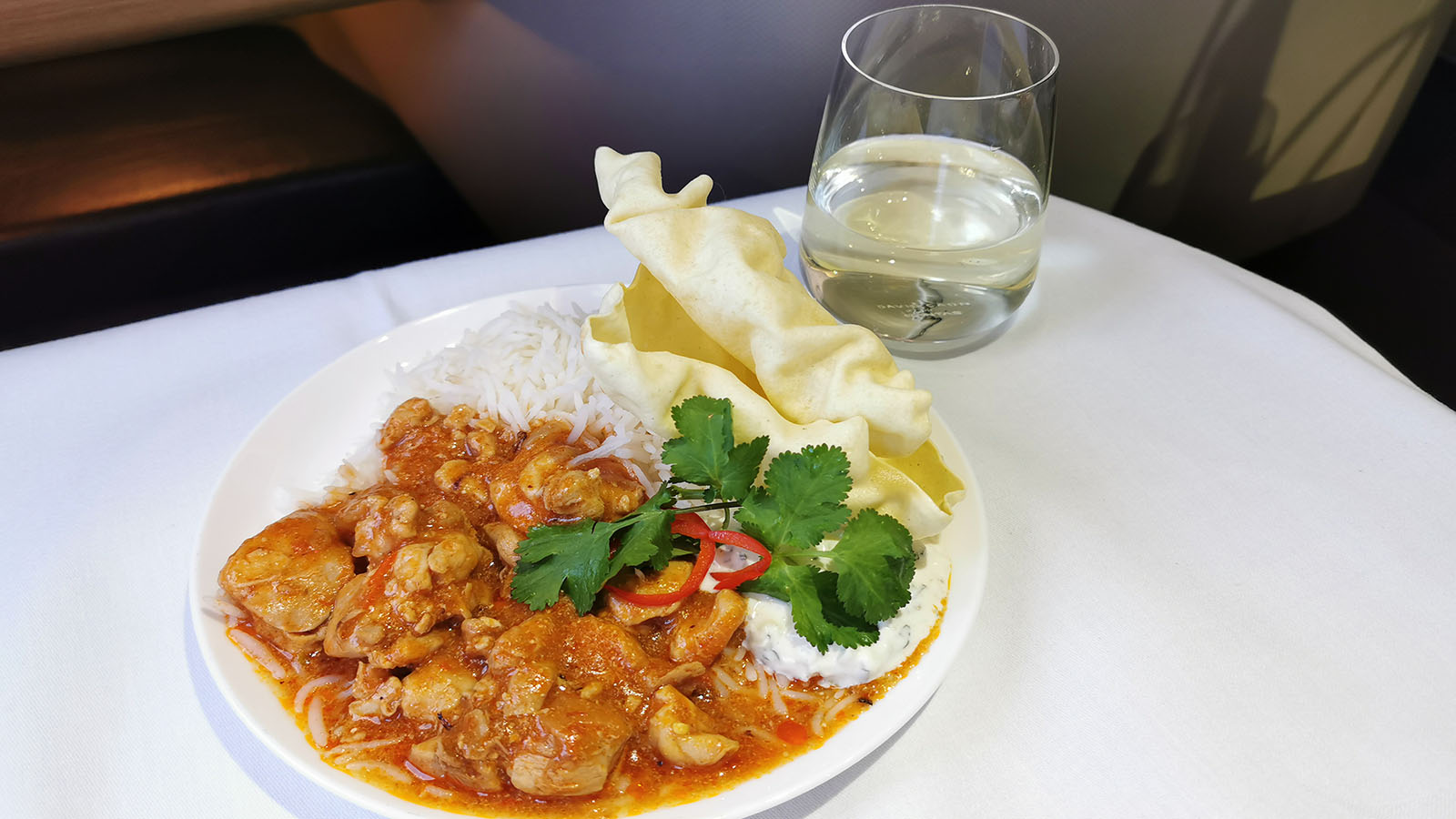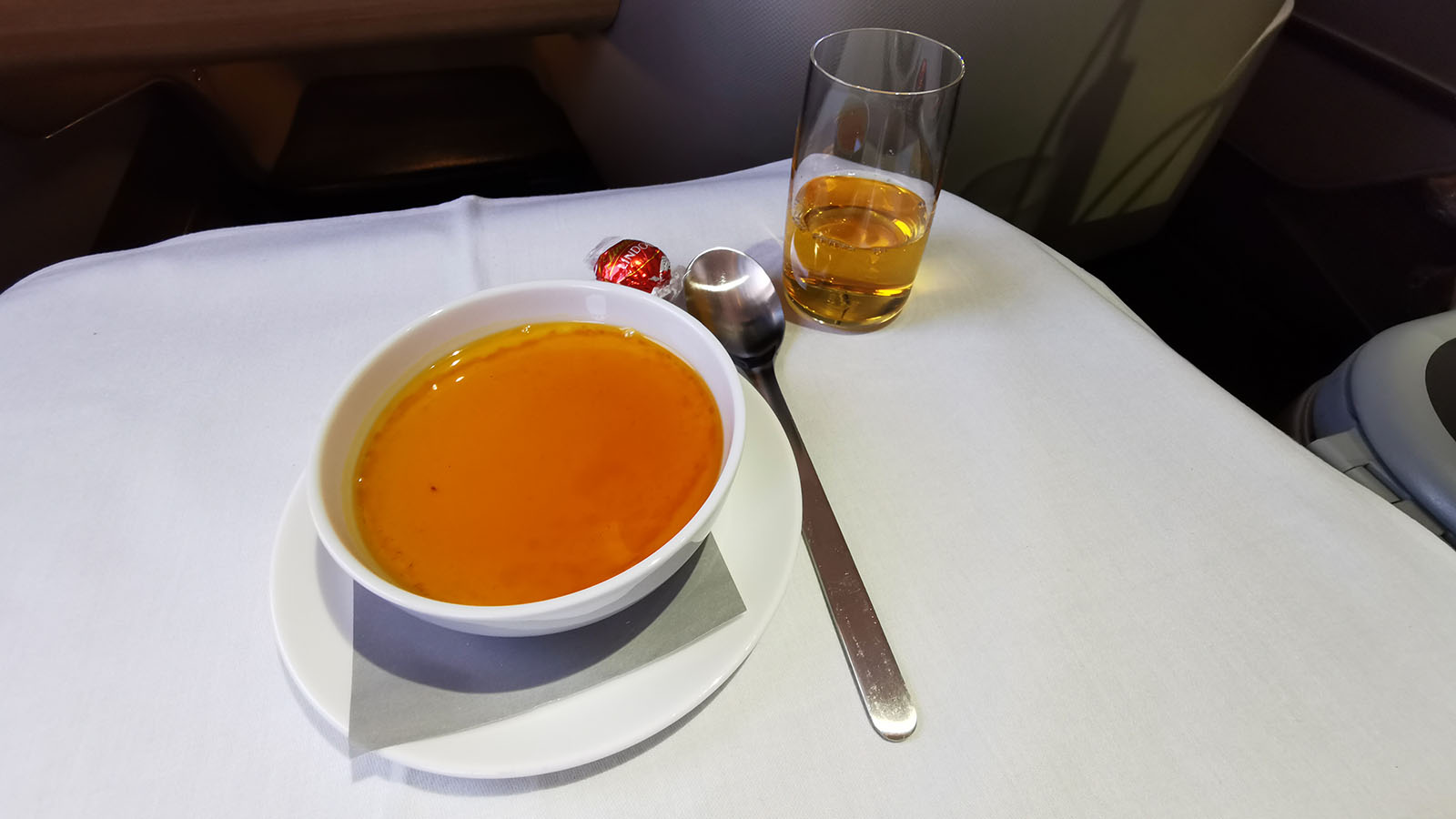 For the main, I choose something with a nod to the flight's destination: chicken tikka masala. Of course, this isn't a traditional Indian dish – rather, one created for a western palate – but it's certainly a closer match than more typical Australian fare.
On the side, I enjoy a glass of the Seppeltsfield Vermentino 2021. It's a sweeter wine, and for that reason, not one that I'd ordinarily sip on its own. But when paired with the buttery chicken, it works well.
Lunch concludes with dessert, and it's hard to pass up a delicious crème caramel. I'm spoiled with a Lindt chocolate ball for later (but it doesn't last long), and a nip of the sweet yet more complex De Bortoli 2017 Noble One. This is a drop Qantas had been serving only in First, but it's now being poured in Business, too.
Early dinner on Qantas before landing in Bengaluru
Closer to Bengaluru, it's time for a pre-arrival dinner. For some variety, I order the plant-based option. On this flight, that's vermicelli cooked with curry leaves and mustard seeds, lentils and South Indian-style pumpkin.
It's a tasty pick, and even as a meat eater, doesn't leave me wanting. Given much of Indian cuisine is vegetarian anyway, it's nice to have an option that reflects this.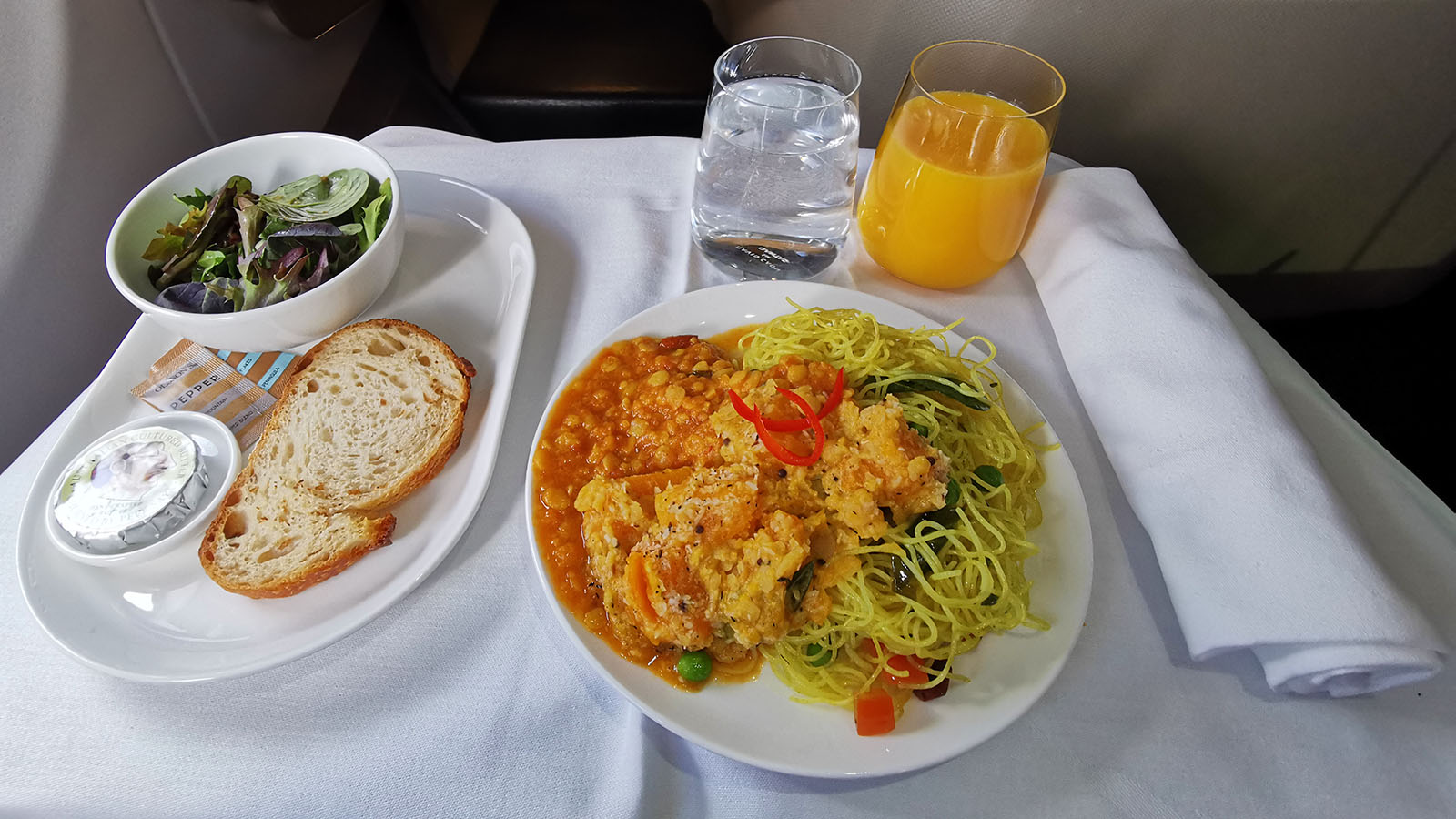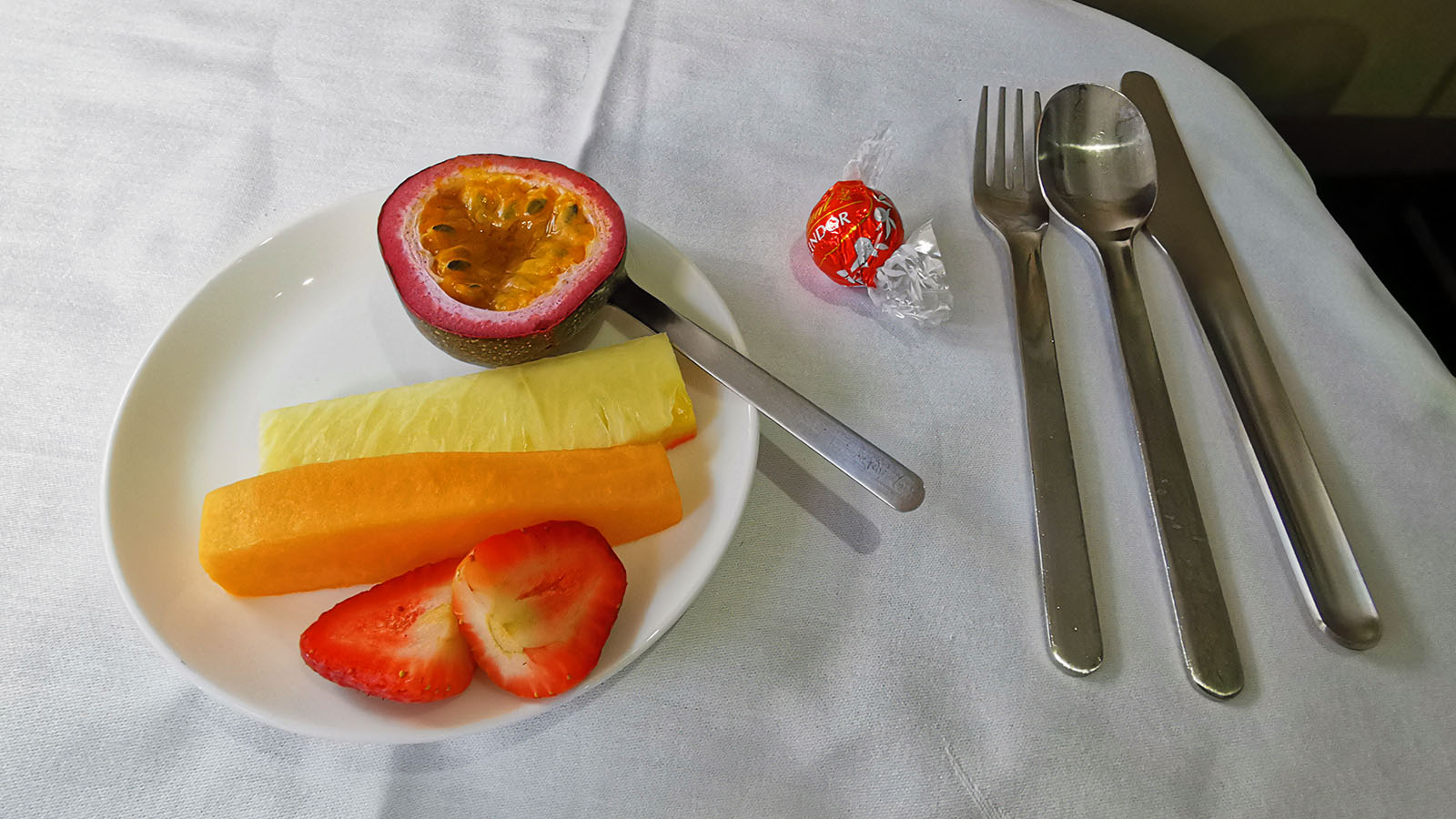 While the Tiramisu really caught my eye to conclude, I'd already eaten one sweet dessert on this flight. Instead, I went for the lighter fruit plate – with a third coffee to help me stay awake!
If hunger happens to strike in between meal services, you can also order some small bites from the snack menu. Think biscuits, fruit, chips and chocolate. While it'd be great to see something more substantial available for those who desire it, given the substantial lunch, I can't say I was hungry for anything more.
Qantas' Airbus A330 Business service and entertainment
While inflight service can sometimes be hit and miss, this flight to Bengaluru finds the Qantas crew at their best. Passengers are repeatedly addressed by name, and it's clear the crew aren't just excited to be flying, but also to be jetting off to a new destination.
Even the captain shares this enthusiasm. Once we're safely cruising at 36,000 feet, he happens to recognise my name on the manifest and stops by to say hello. Thanks for reading, captain Rex! While being one of Qantas' more experienced pilots, it's still Rex's first inaugural flight. (Of course, that's Rex the pilot, not the Australian airline of the same name).
To the hardware, Qantas' Airbus A330s offer widescreen TVs at each seat in Business on these Bengaluru-bound flights.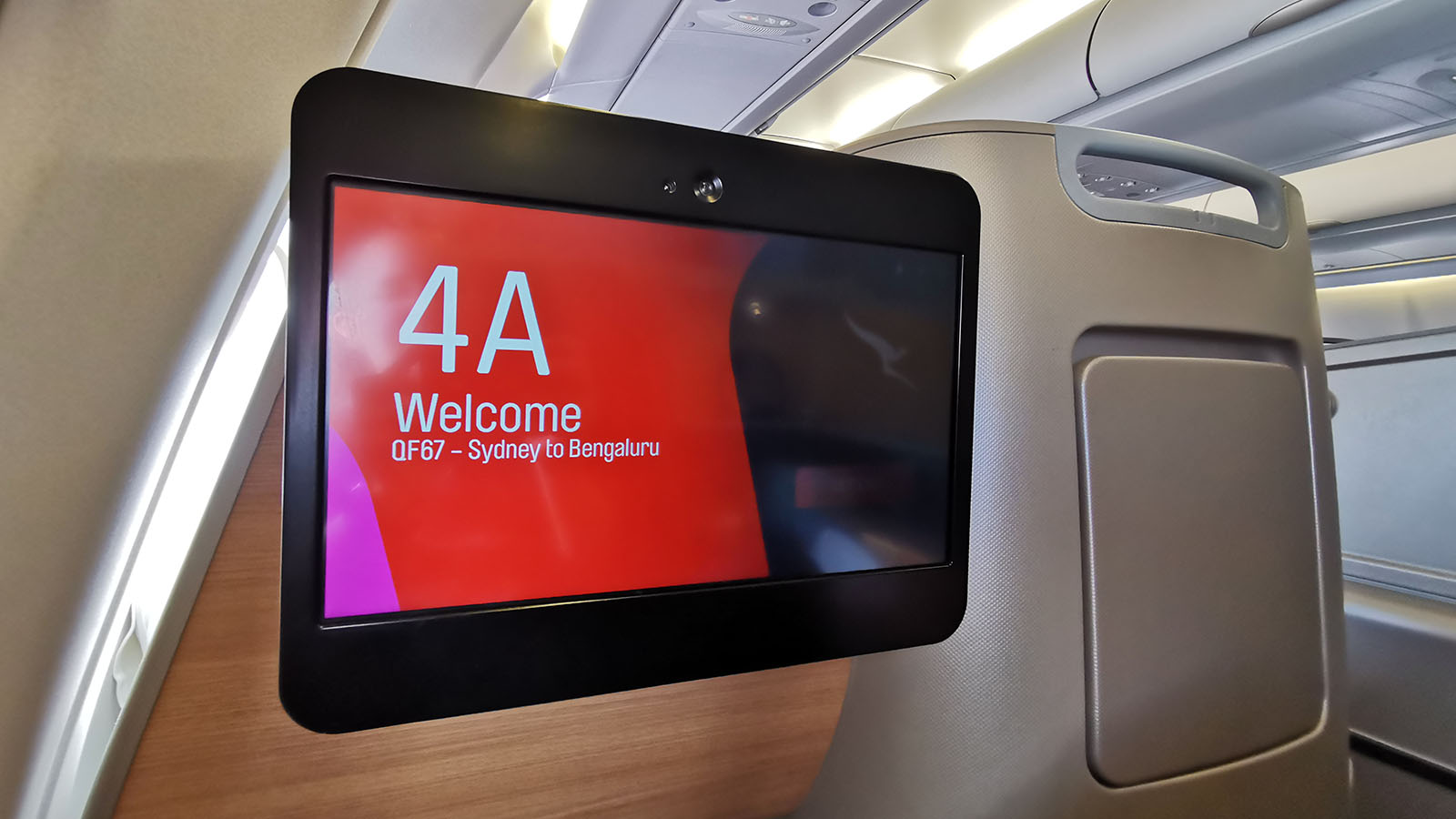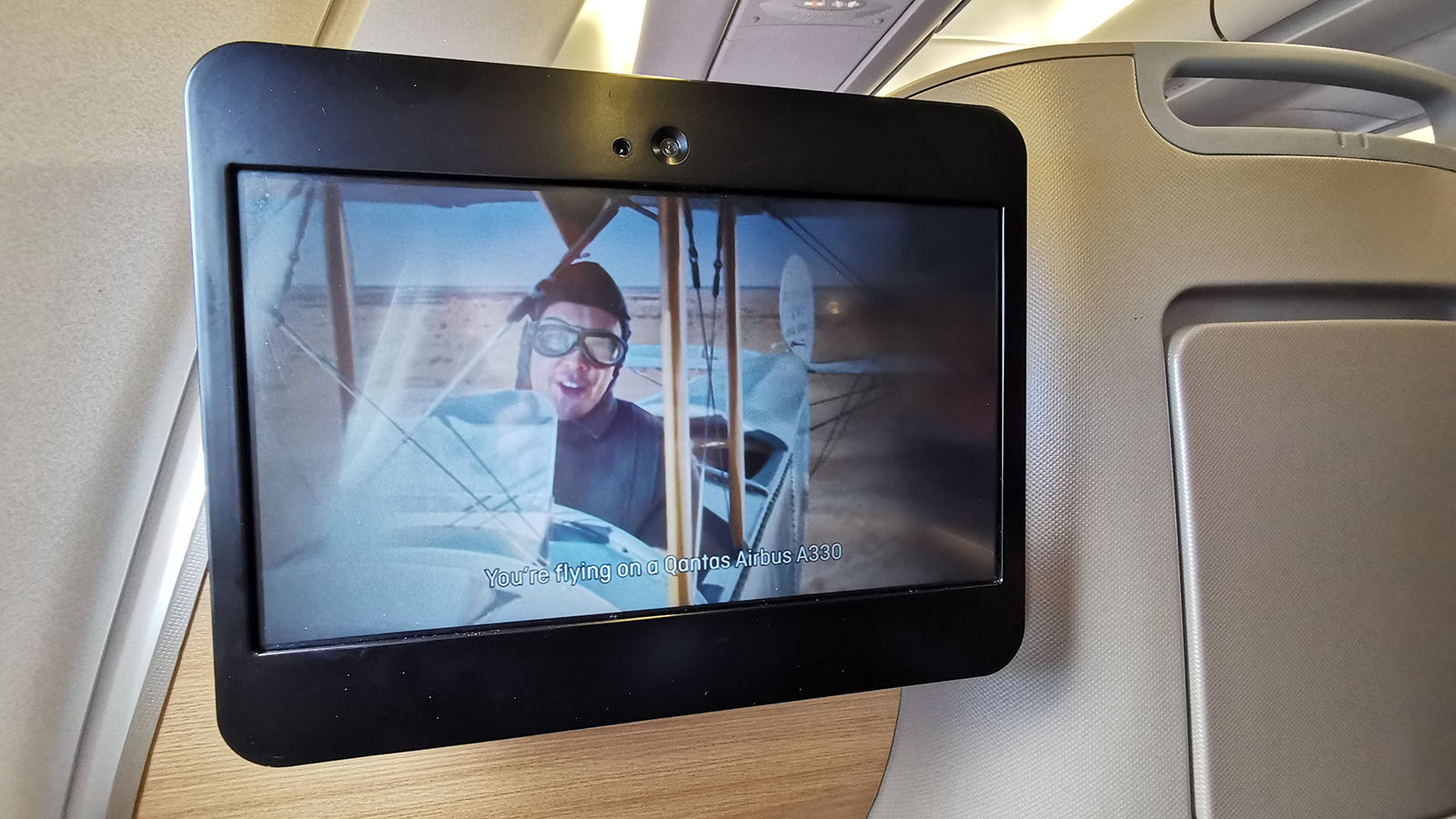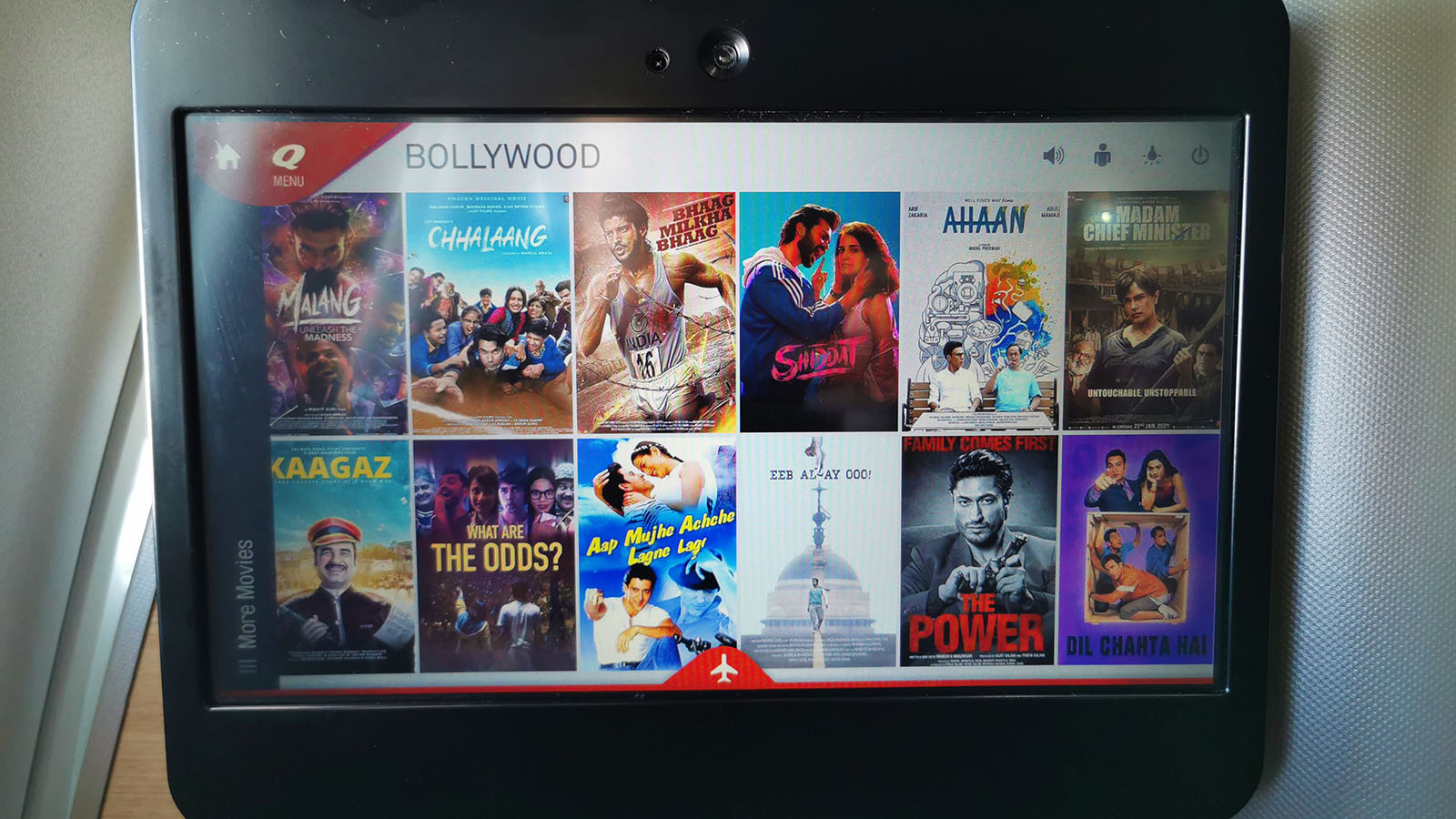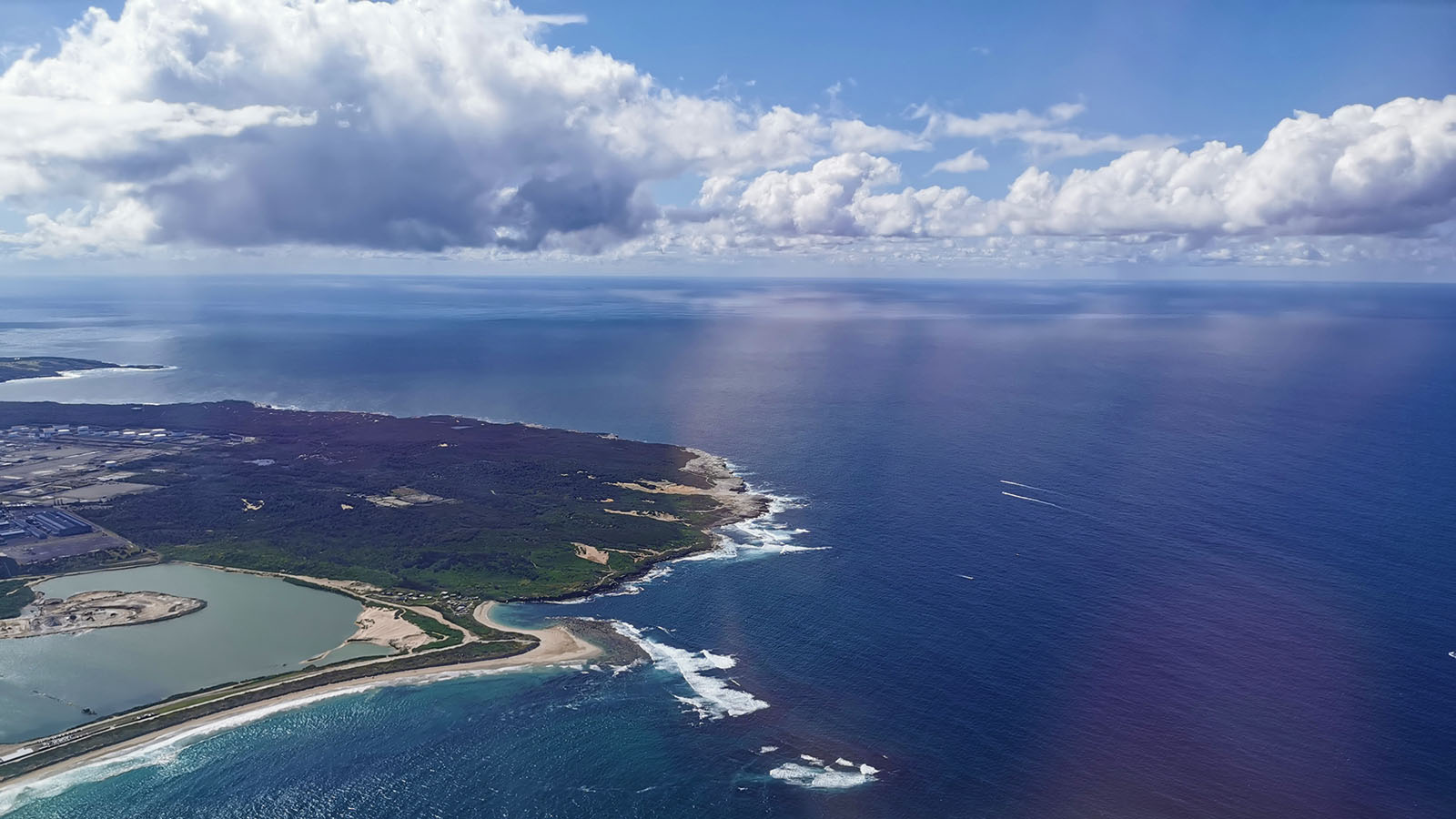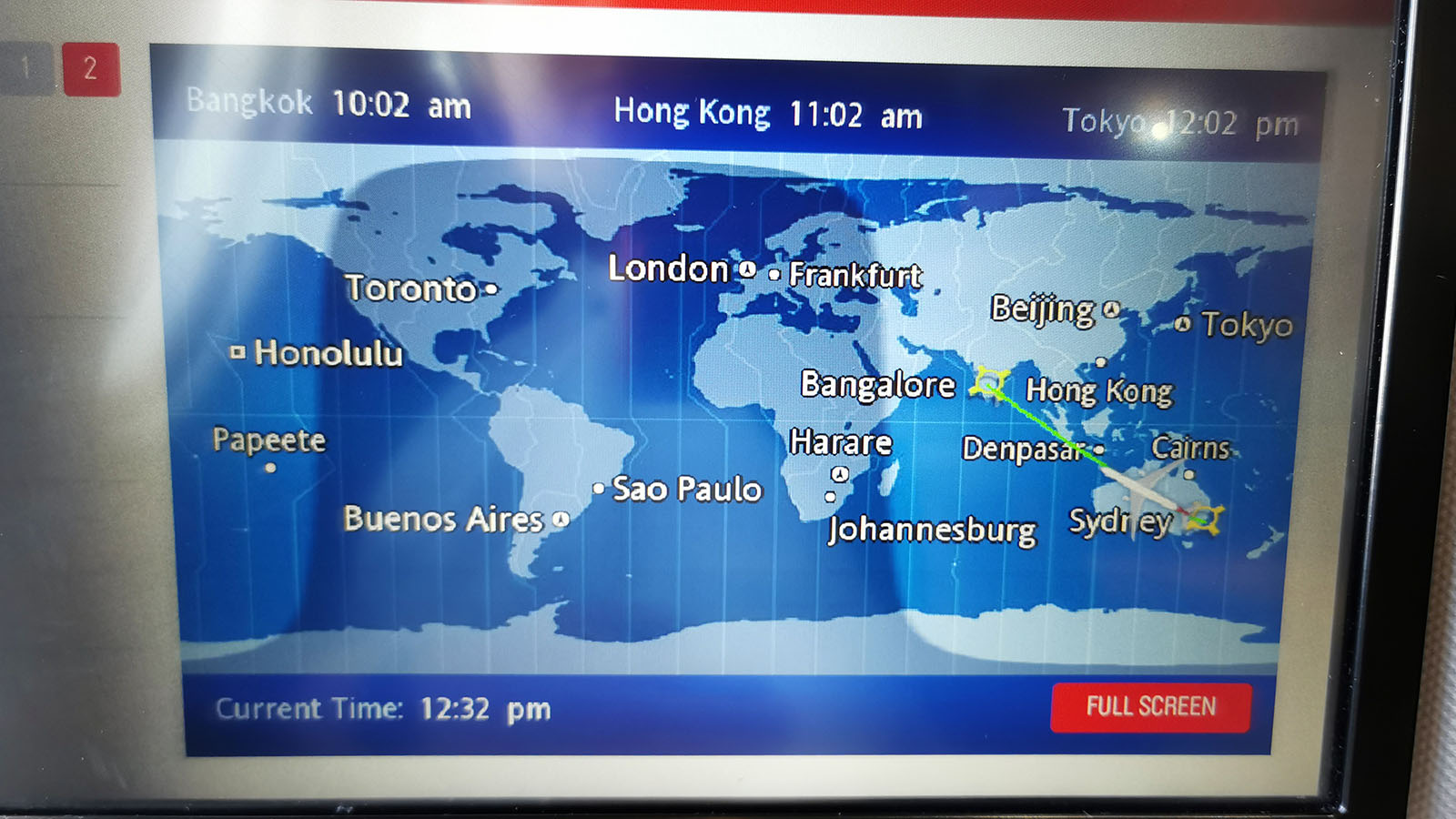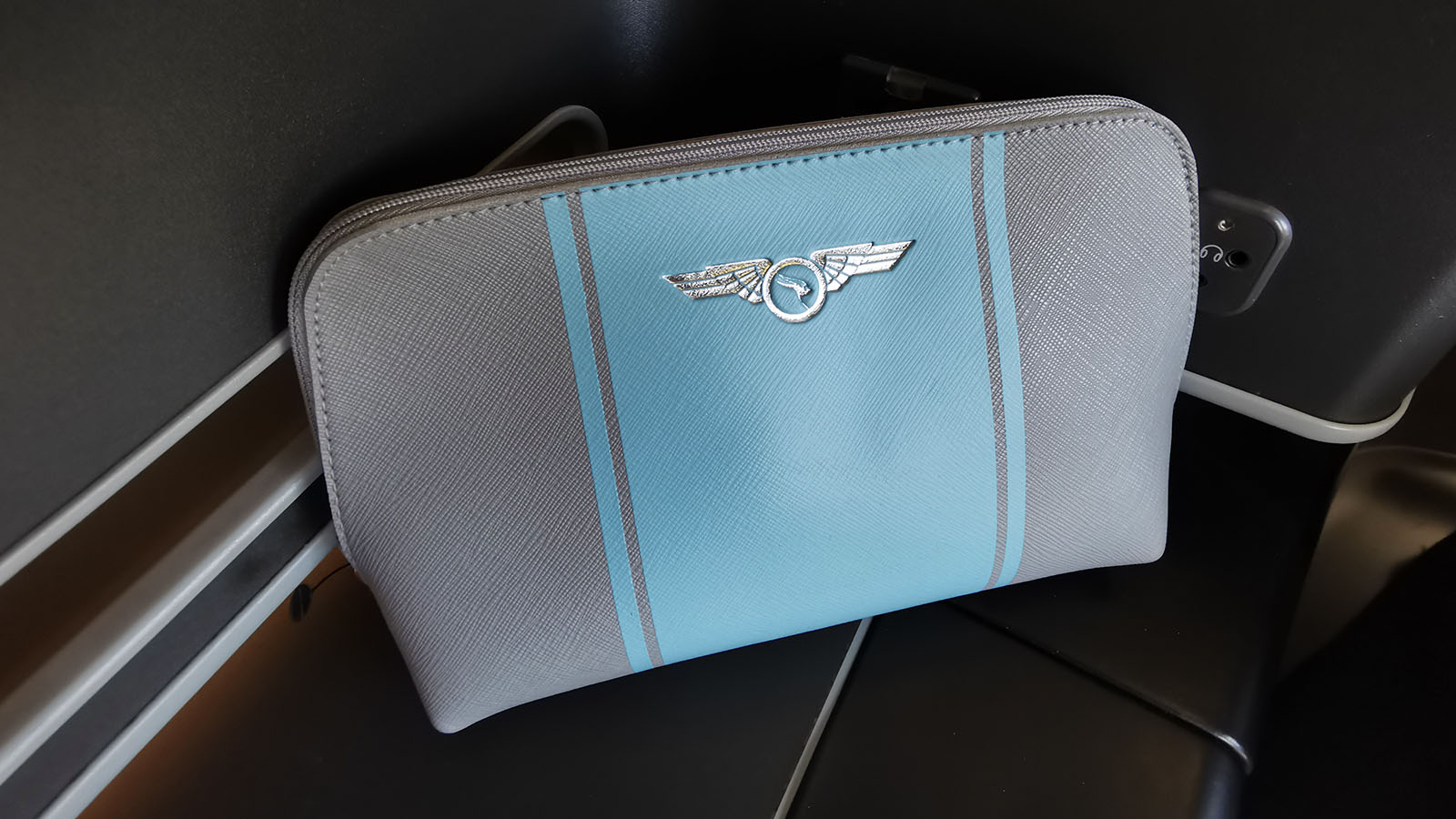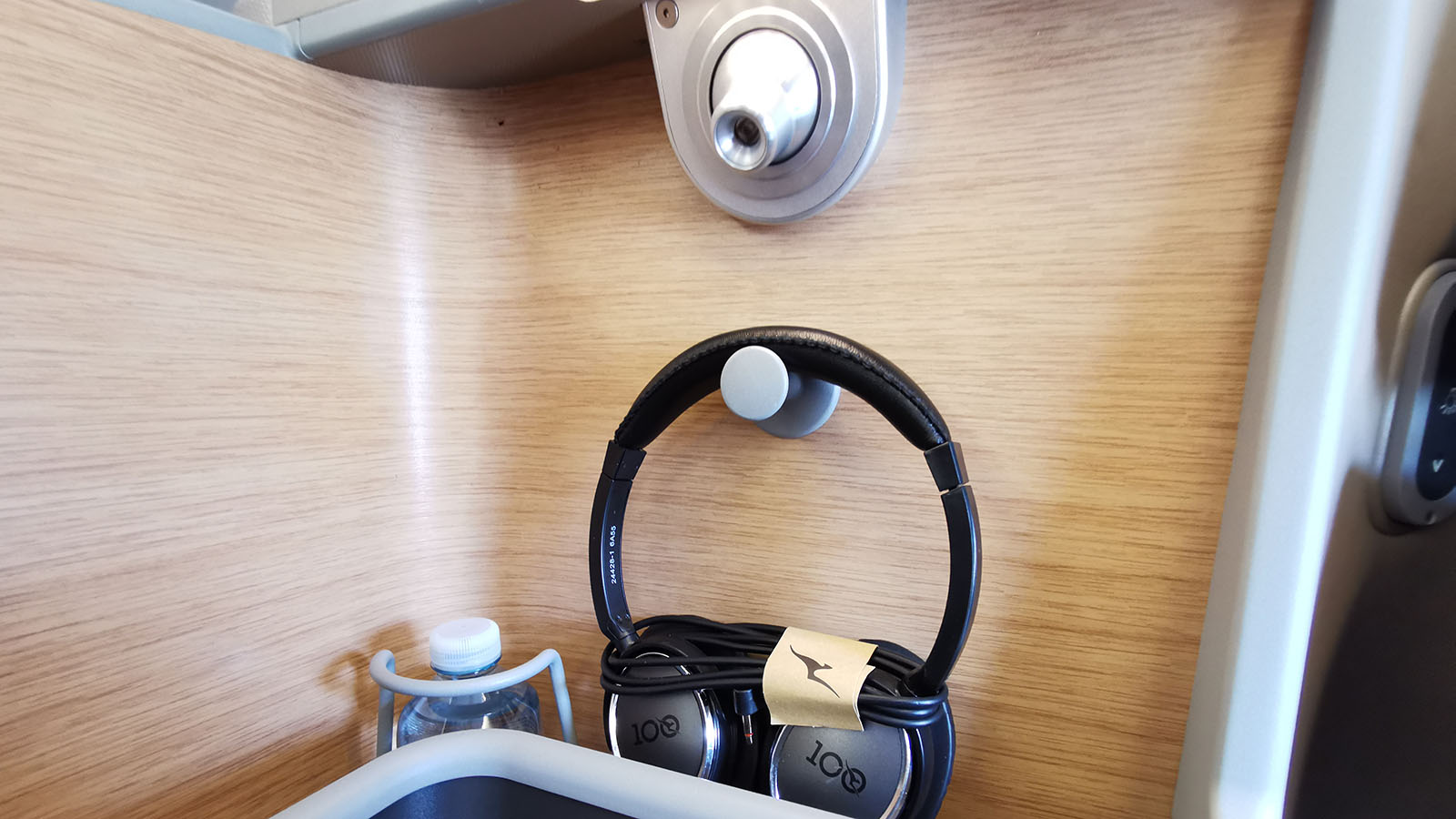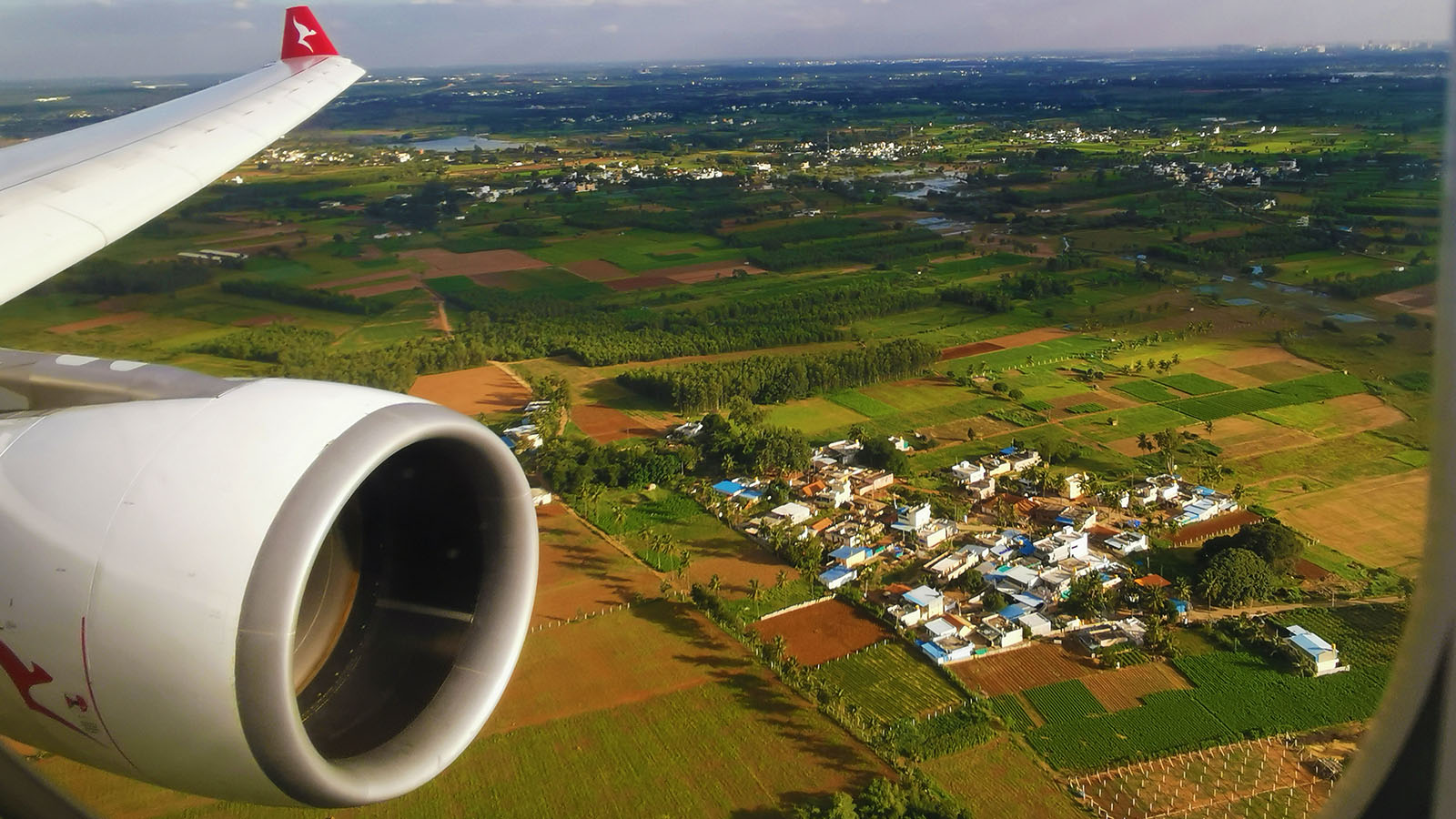 The screen is noticeably not as crisp as the more modern panels on Qantas' Boeing 787s and Airbus A380s – but of course, this is Business Suite V1. It's still watchable, and it's great to have the moving map open in the background while I'm busily working on my laptop.
When the laptop is parked, I catch an Aussie comedy over lunch: How to Please a Woman, where out-of-work men learn the art of cleaning houses. Later in the flight, I explore the Bollywood collection and take a chance on an unknown title. What are the Odds? winds up being a great pick – and helpfully, it's partly in English, with English subtitles during Hindi dialogue.
All Business passengers are provided with noise-reducing headphones. But I'm fussy about sound quality, so I always pack my own noise-cancelling pair. There's also a 'Qantas 100' amenity kit ready and waiting.
The one thing missing on Qantas: international inflight Wi-Fi
For me, the absence of inflight Wi-Fi is really a pain point on daytime flights like this. That's even truer when travelling on a weekday.
With many other major carriers offering some kind of connectivity on long international flights, Qantas keeping its aircraft unplugged won't win favours with many travelling on business. The same is true with travellers hoping to use their time inflight to make sightseeing plans. That's something I always tend to do last minute!
I fly regularly for both business and leisure, and find inflight Wi-Fi extremely useful for keeping up with the office in real time. Without it, there are things I can't finalise until I'm at my hotel.
As I also often travel at short notice, being able to make plans while in the air is something I've come to appreciate on other airlines. Qantas having international inflight Wi-Fi would be a significant drawcard for passengers like me – and I suspect, many others.
Summing up
It's great to see Qantas not merely returning to its cornerstone routes, but trying its hand at new opportunities like Bengaluru.
The route also ties in with the carrier's fresh codeshare partnership aboard Indian carrier IndiGo. This now allows Qantas Frequent Flyer members to easily earn and spend Qantas Points on destinations across the subcontinent.
Still, it'll be interesting to see whether future flights to Bengaluru keep such high service standards as on this inaugural departure – particularly on the food and beverage front. With Qantas' Star Alliance rival Air India also competing for Australian passengers, it'll be in Qantas' interest to keep its best foot forward.
Also read: How to book IndiGo flights using Qantas Points
Photography by Chris Chamberlin, who travelled at Point Hacks' expense.
---
Stay up to date with the latest news, reviews and guides by subscribing to Point Hacks' email newsletter.
Qantas Airbus A330 Business, Sydney – Bengaluru (Bangalore) inaugural flight
was last modified:
September 15th, 2022
by