For many years, the 'Big Three' Middle Eastern airlines didn't see a need for Premium Economy. After all, demand for regular Economy, Business Class and First Class can often be enough to fill even the world's largest passenger aircraft. But Emirates is breaking away from the norm – now with Premium Economy on some of its Airbus A380 flights.
It's early days, but Emirates is already averaging load factors of more than 90% in its Premium Economy cabin. And that's without travellers currently being able to book or upgrade to Premium Economy using points.
Naturally, you can still earn Skywards miles or Qantas Points when travelling on paid Premium Economy fares. And if you're chasing status with Qantas, it's also now possible to book Emirates Premium Economy on Qantas (QF) codeshare flight numbers.
So what's it like to fly Premium Economy with Emirates' signature flair? I ventured to Dubai to find out.
Check-in and boarding
Emirates Premium Economy is currently available on selected Airbus A380 flights from Sydney and Melbourne. Being based in Brisbane, that sees my trip beginning with a quick domestic hop on Emirates' partner Qantas. And as it happens, that leg finally gets me over the line for Qantas Lifetime Silver – huzzah!
To celebrate in style, I've booked a long daytime connection in Sydney. EK413's 9:10 pm departure time gives me that flexibility… and it sure beats being rushed. I certainly don't waste the opportunity, venturing into the city for lunch and a literal flight of Champagne with a dear friend. Then after putting on our brave faces (and harnesses) to scale the Sydney Tower Skywalk – some 268 metres above the ground – it's time to fly for real.
I'm only away for a few days, so a cabin bag is all I need. Thanks to online check-in, I'm able to get my boarding pass before even leaving Brisbane. That means I don't necessarily have to arrive when the check-in desks are staffed. I'm free to venture straight through security and passport control at leisure.
But chances are, you're probably packing a checked bag. So I'm pleased to report, Emirates Premium Economy comes with a dedicated priority queue at check-in. I've arrived in plenty of time and pop by to cover off the obligatory passport check: saving time later at the gate.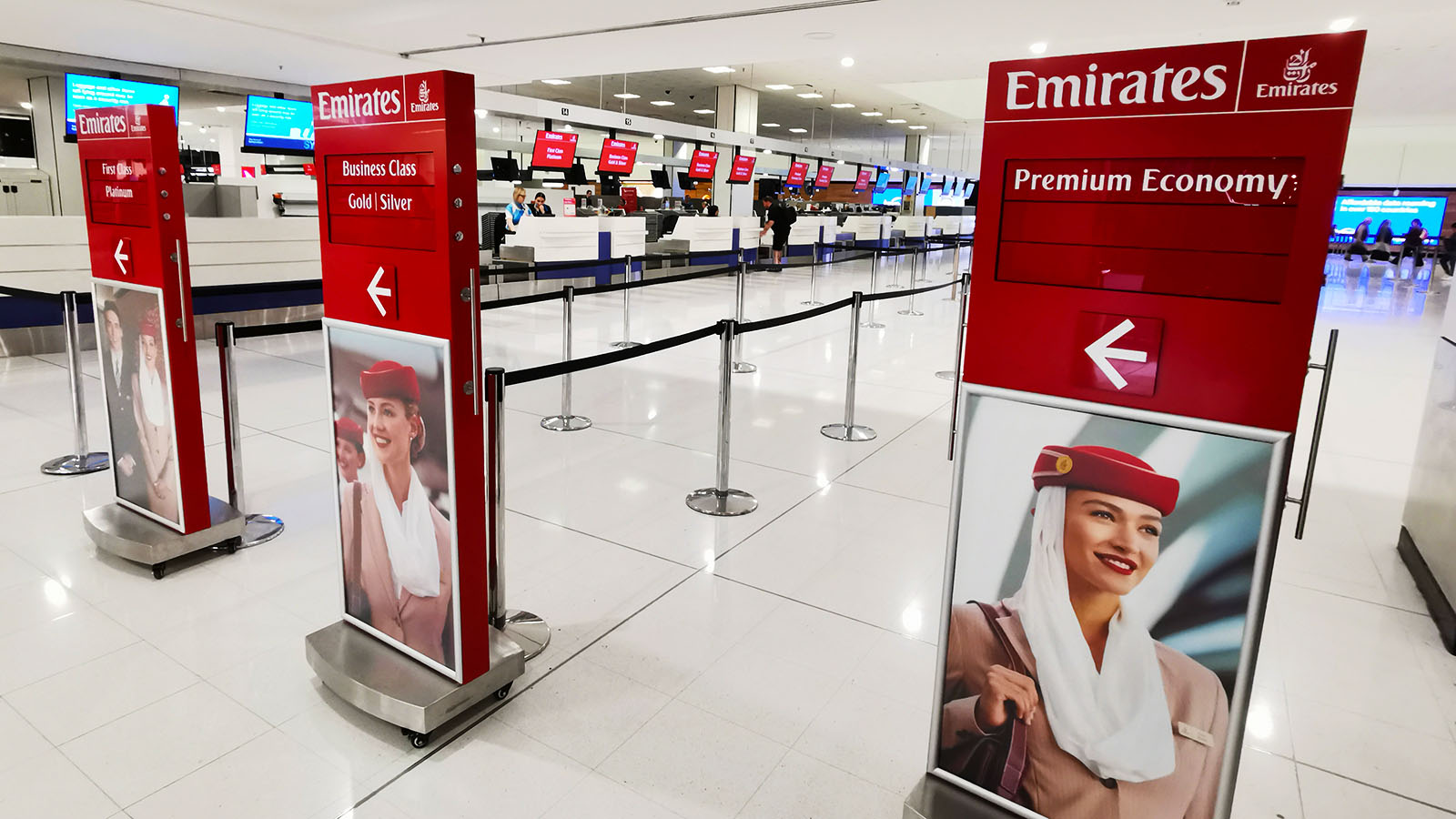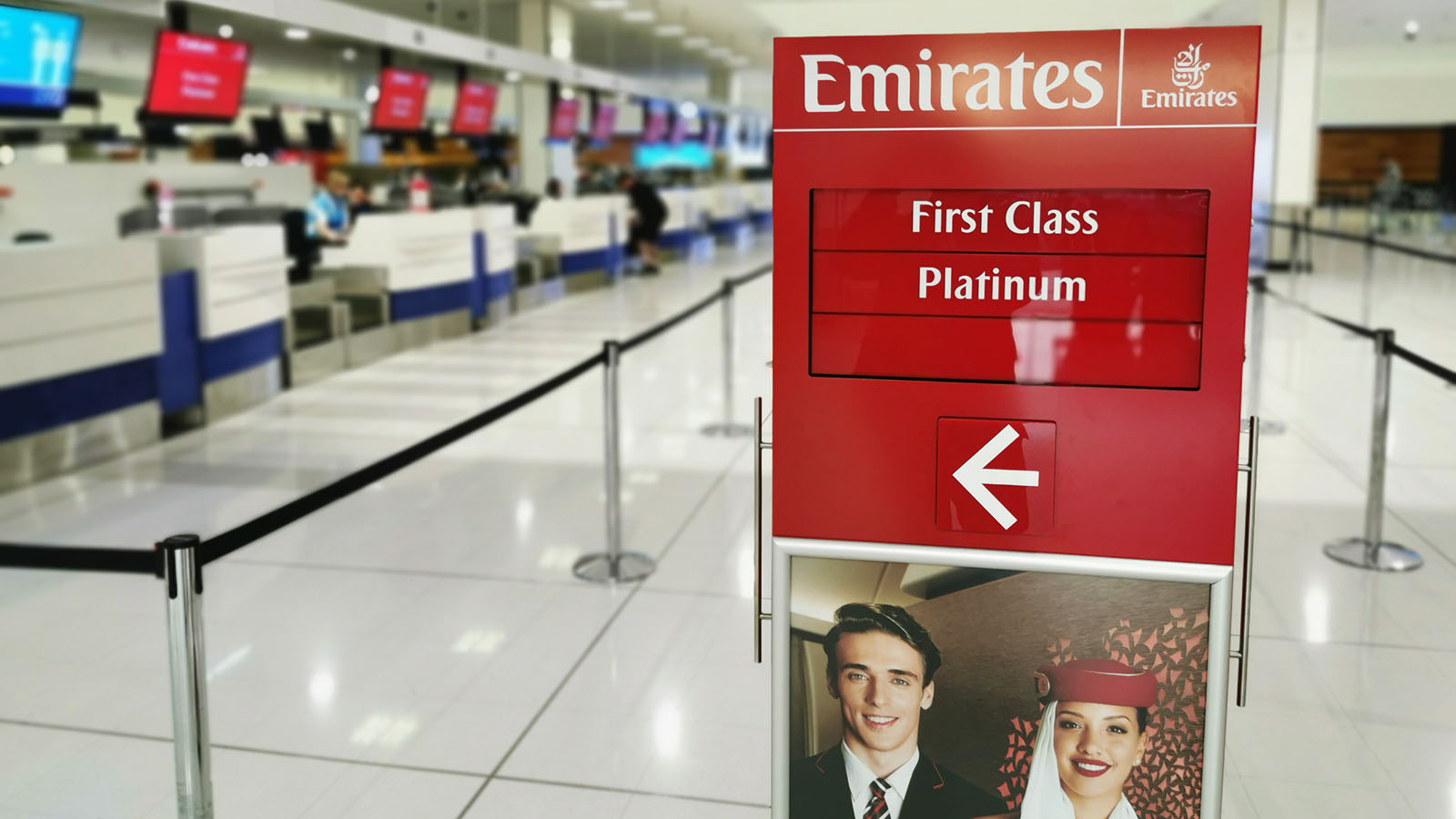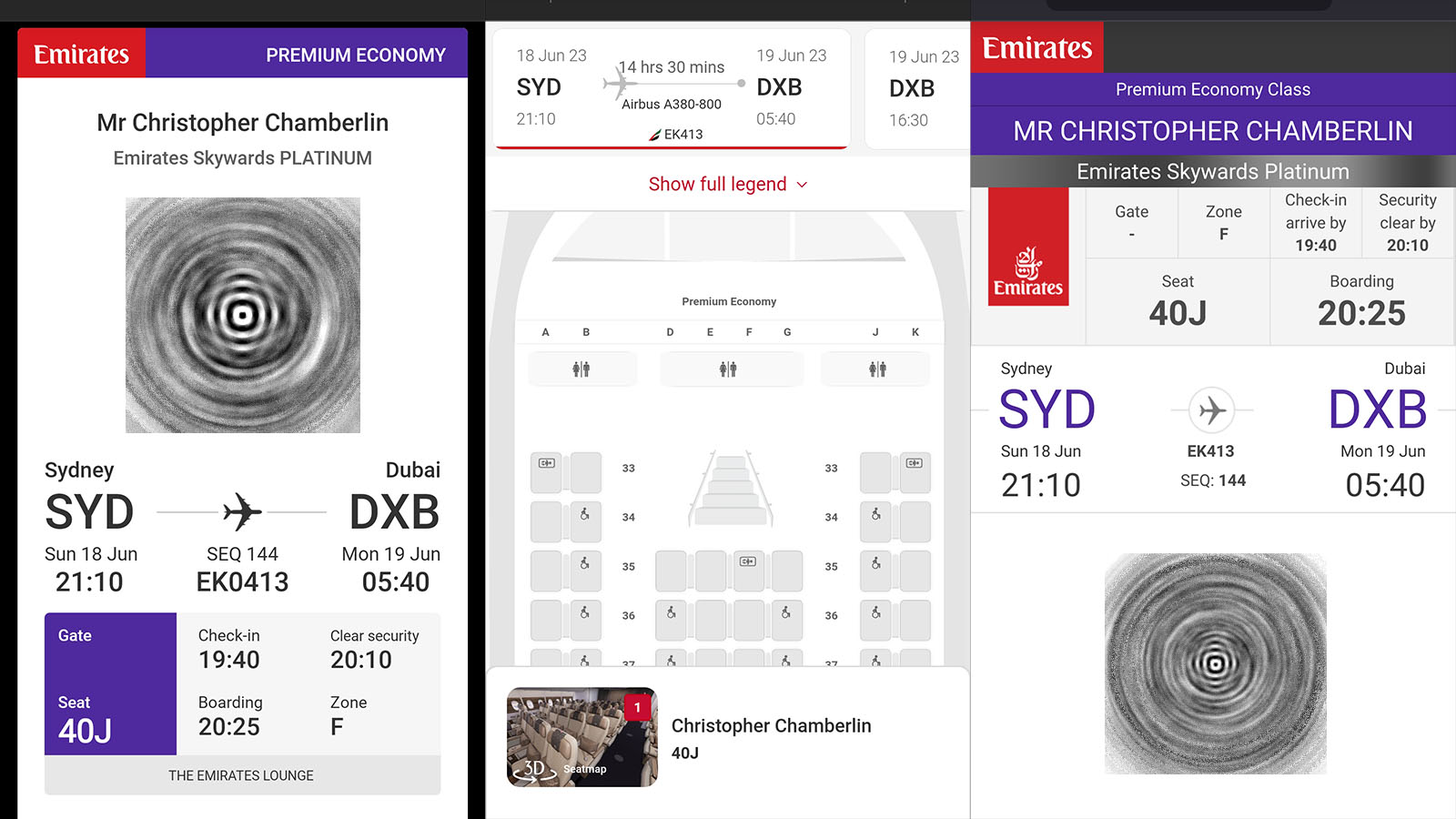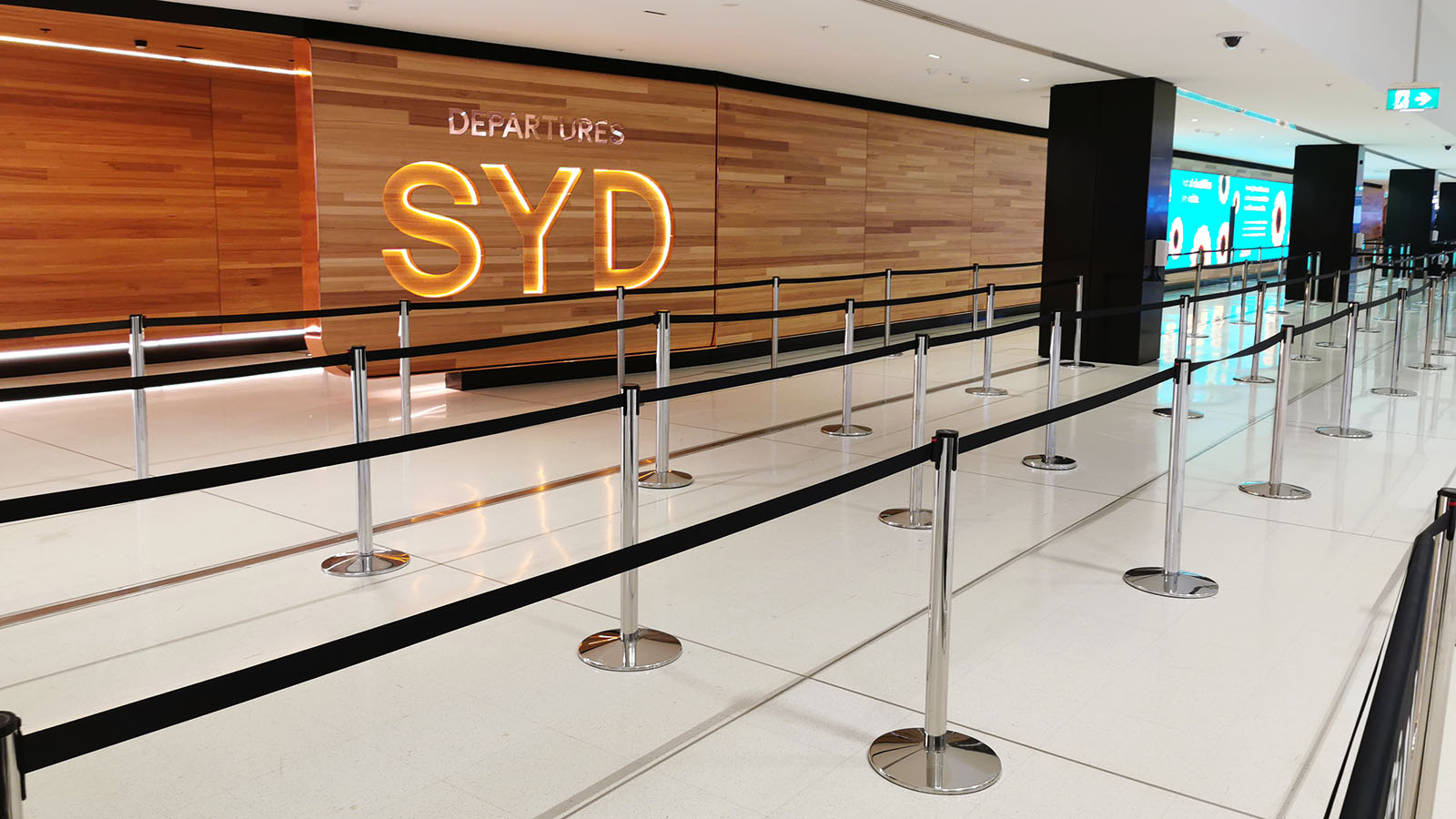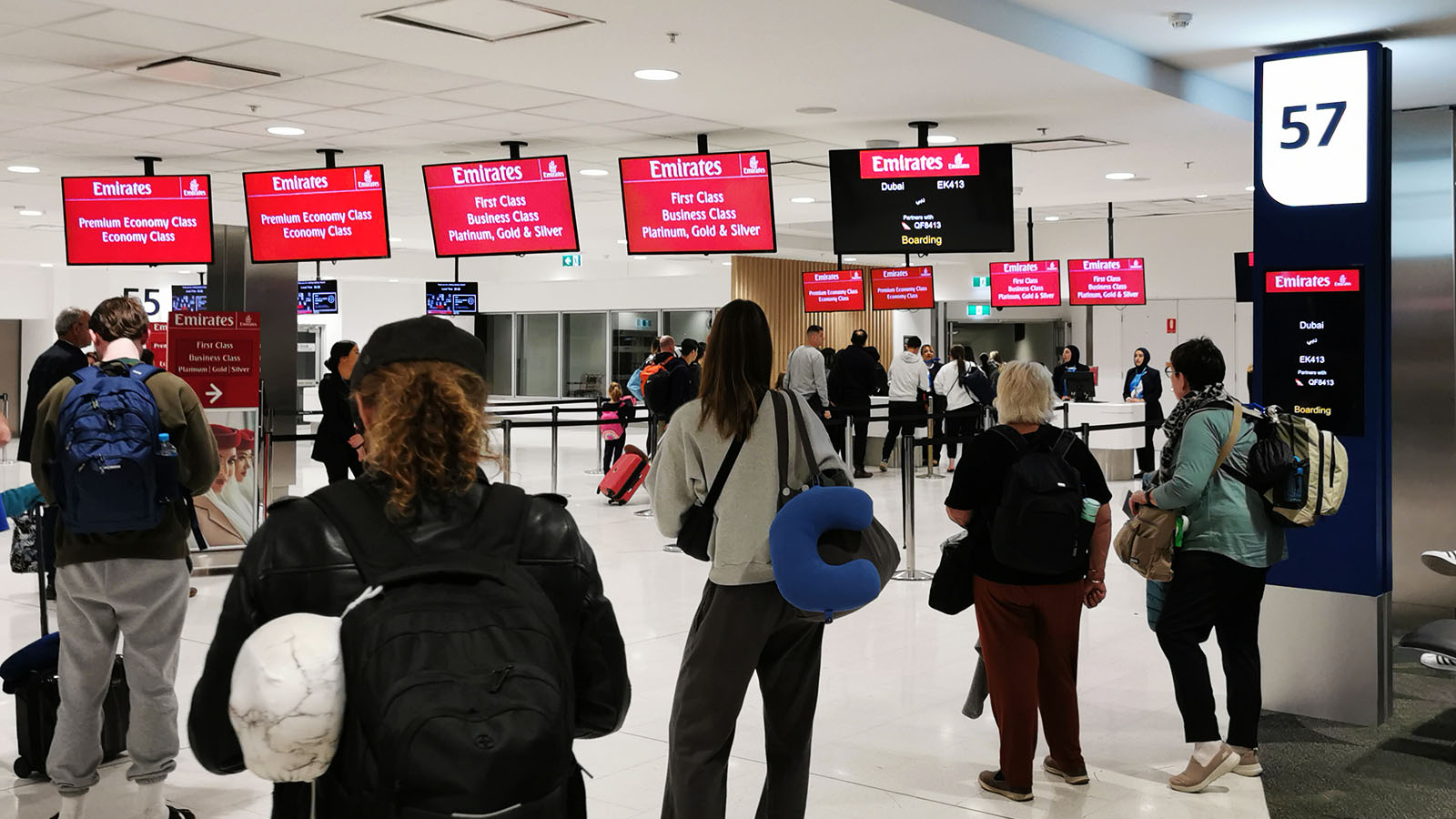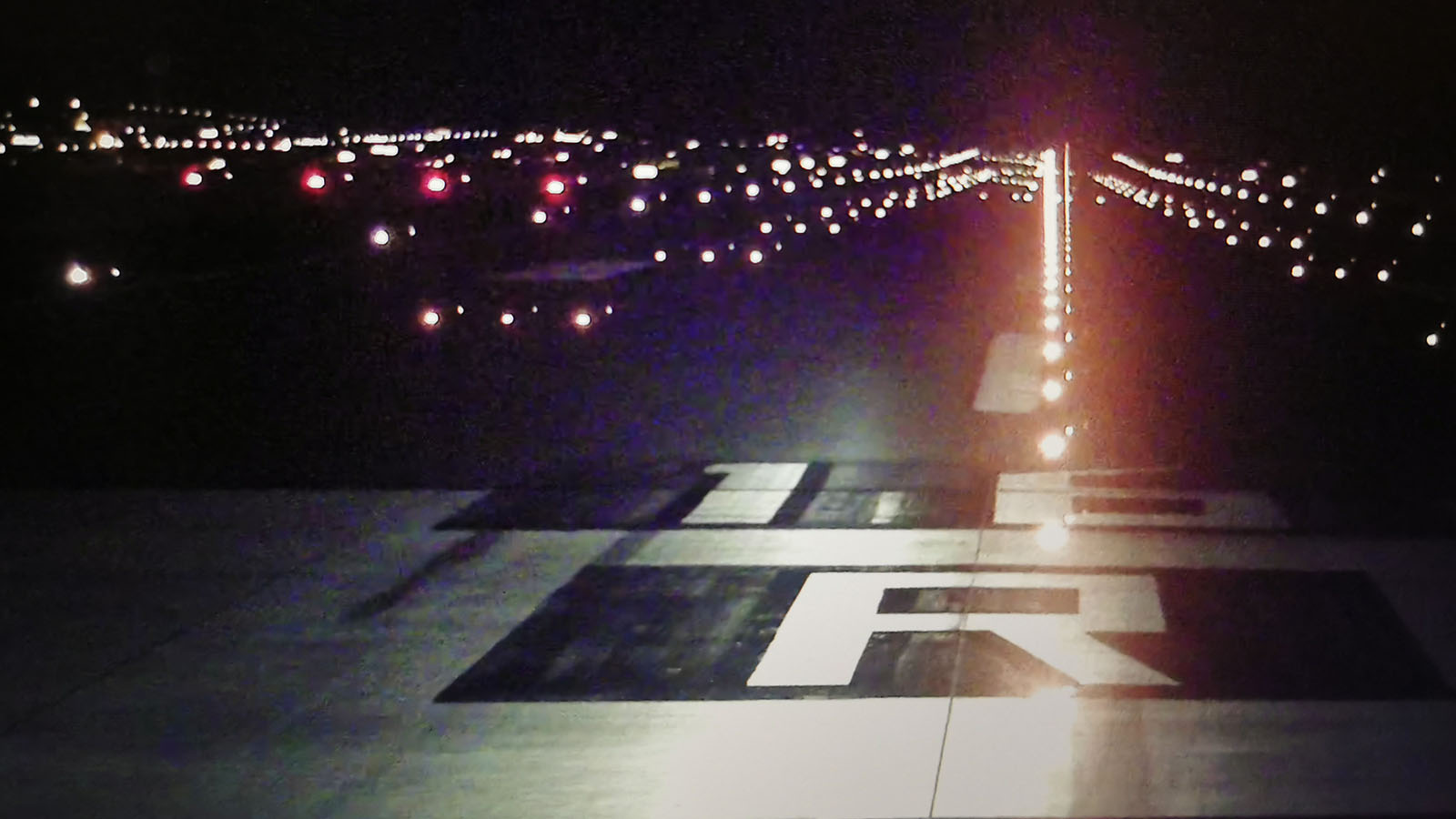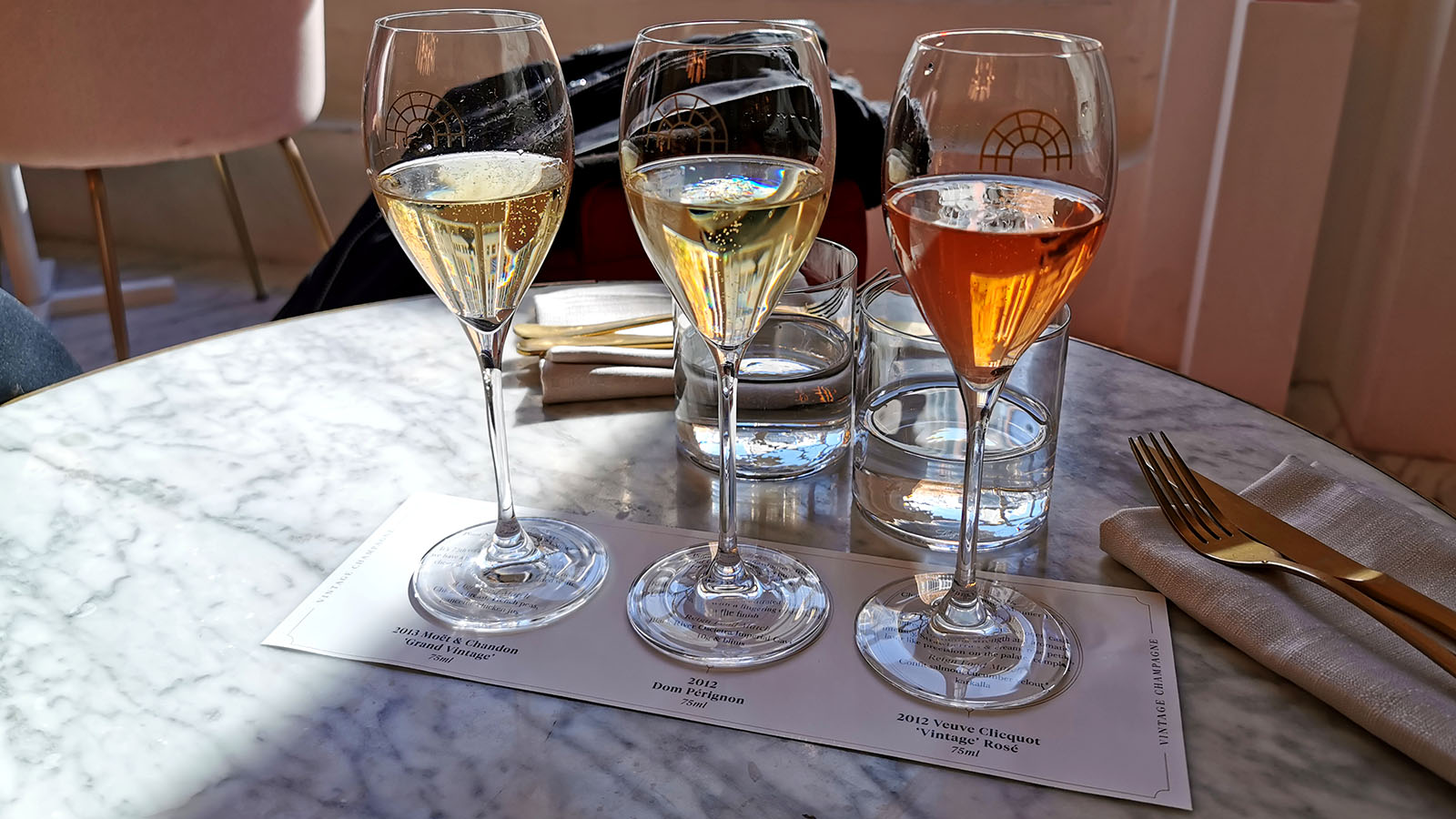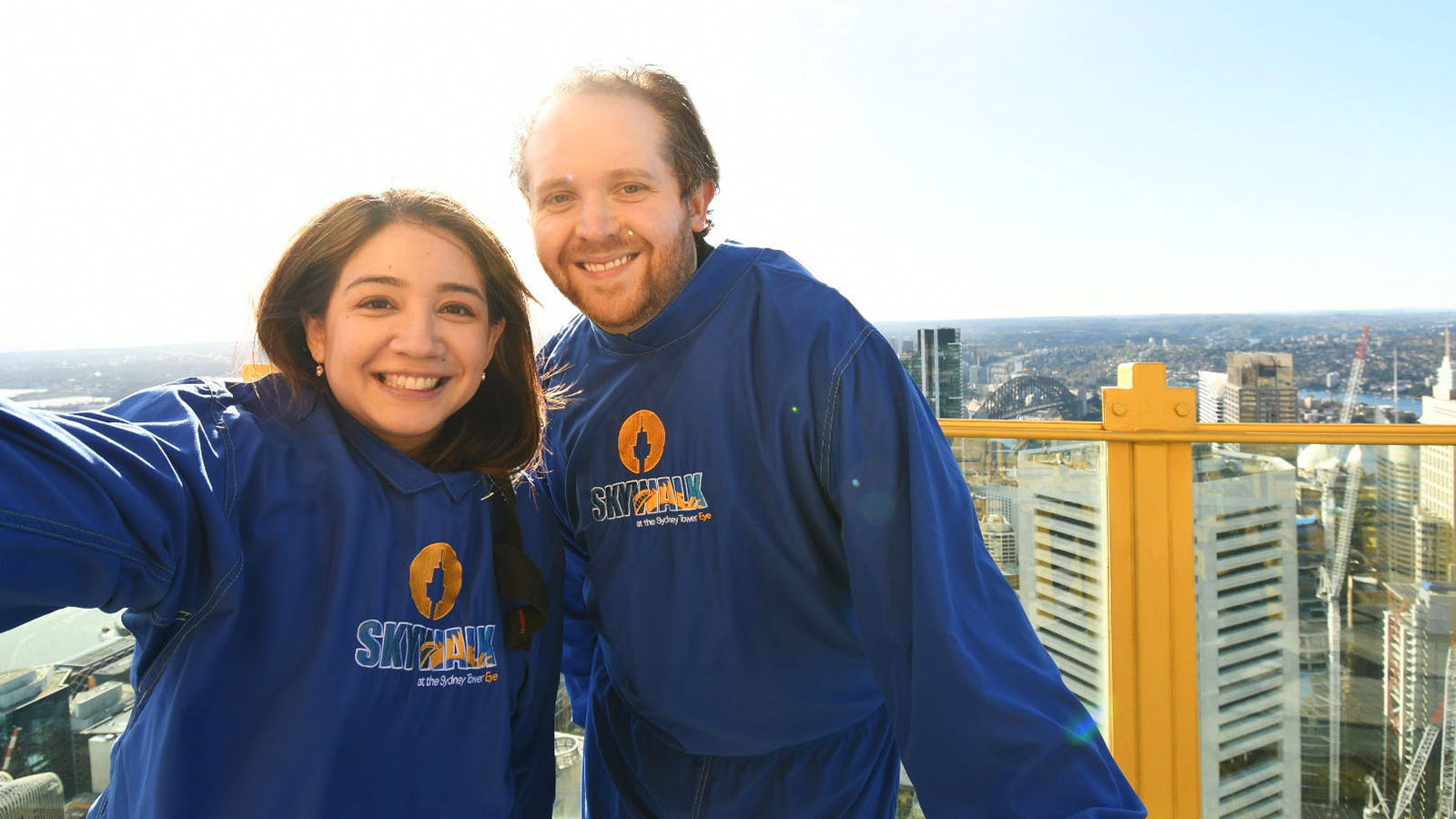 At passport control and security in Sydney, Premium Economy passengers use the general queues. But there's almost nobody else in line at the same time, so I'm through in mere minutes.
Fast-forward to the gate, and Premium Economy boards via the same lane as Economy – although Premium Economy is called first. Passengers with eligible Qantas or Emirates status can also board via the Business Class and First Class lanes, as applicable.
Lounge options in Sydney
A ticket in Emirates' Airbus A380 Premium Economy doesn't include lounge access by default. This is instead where frequent flyer status, the right credit card or lounge membership can come in handy.
Here are the many options available at Sydney Airport when flying Emirates, short of purchasing entry.
I'm fortunate to qualify for every single lounge above. And if you have the same freedom, it's hard to go past the Qantas First Lounge. I stop by for the signature salt and pepper squid and seasonal pavlova. Shower suites are also plentiful, so I'm not kept waiting.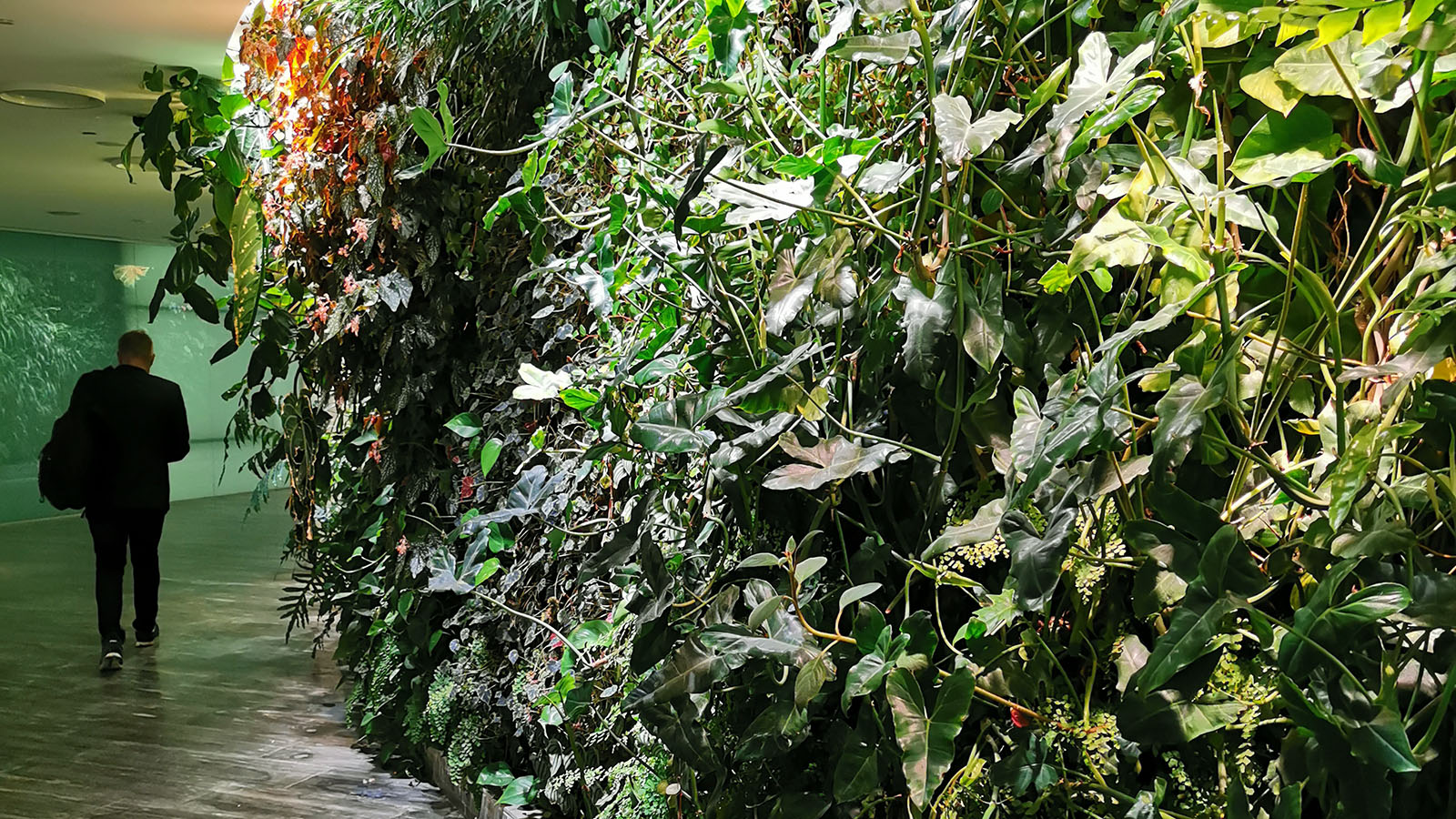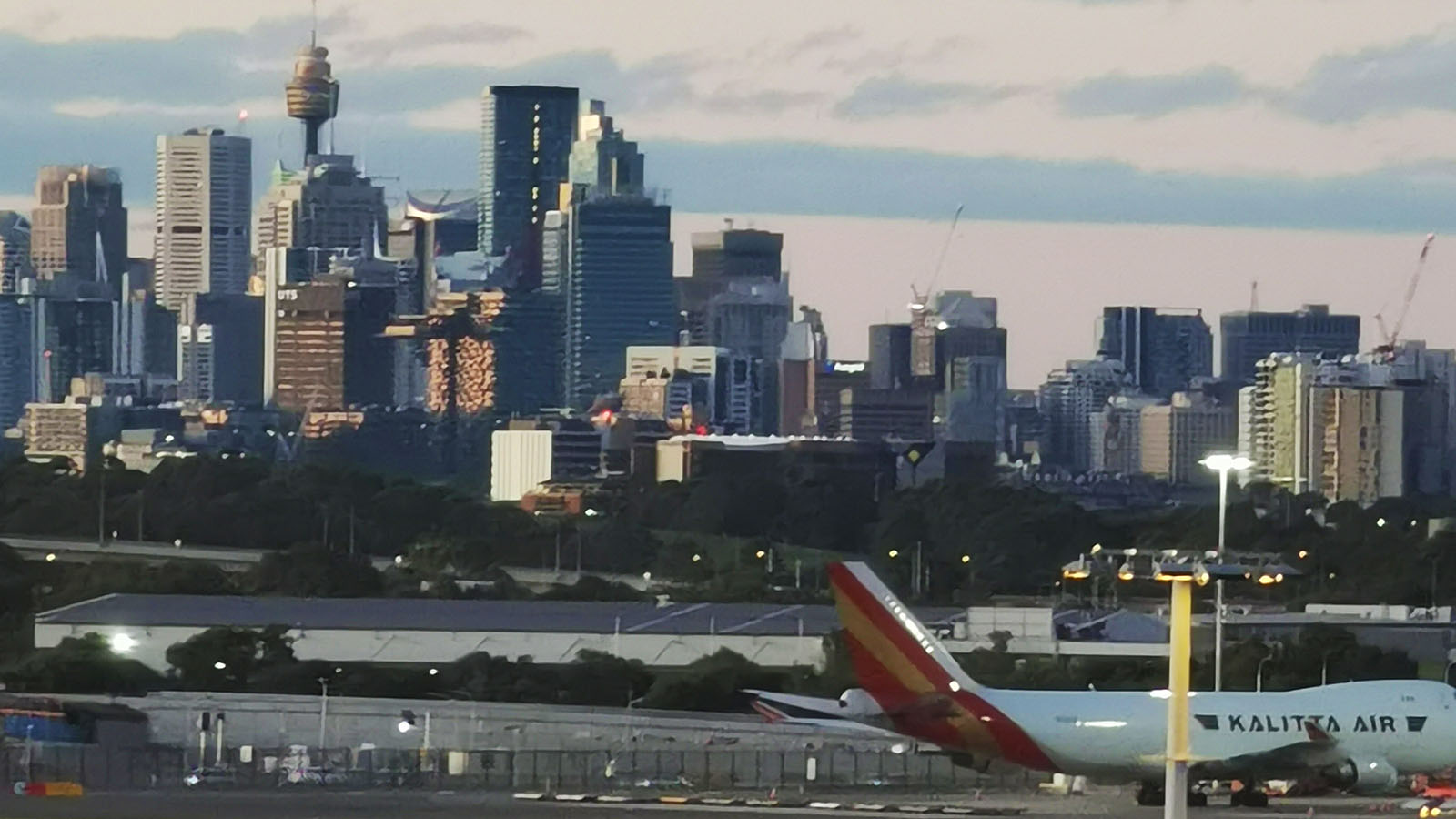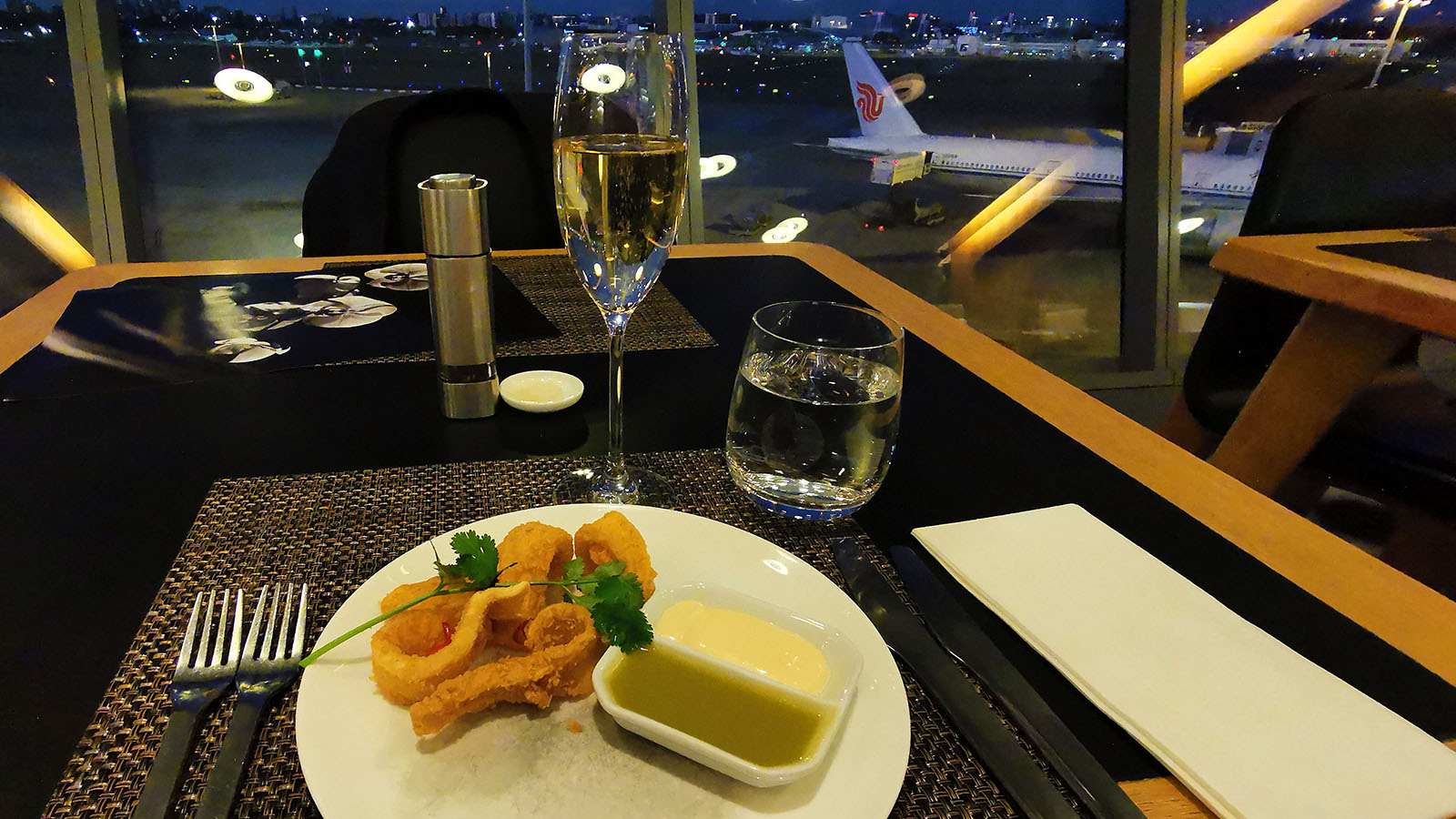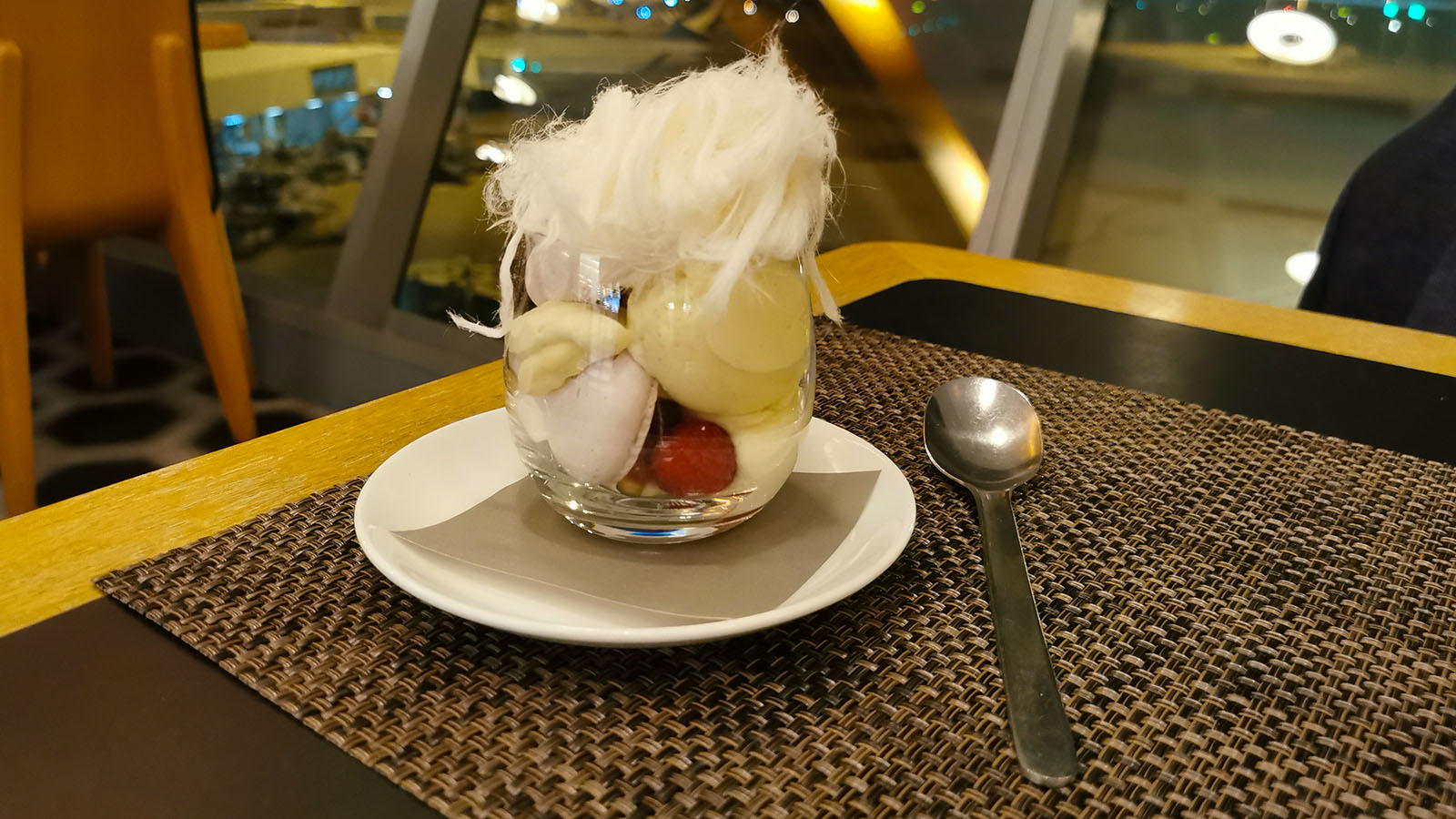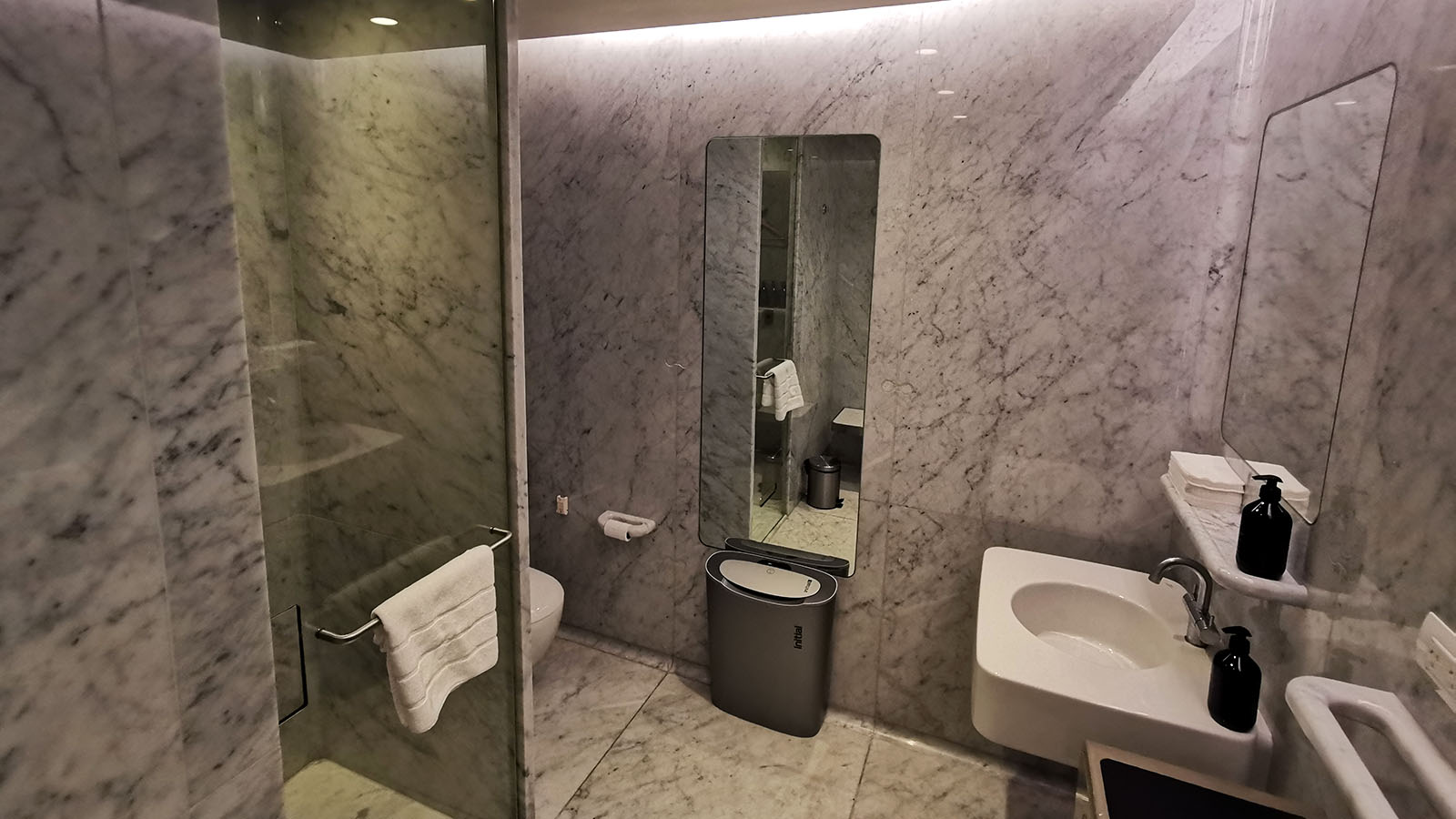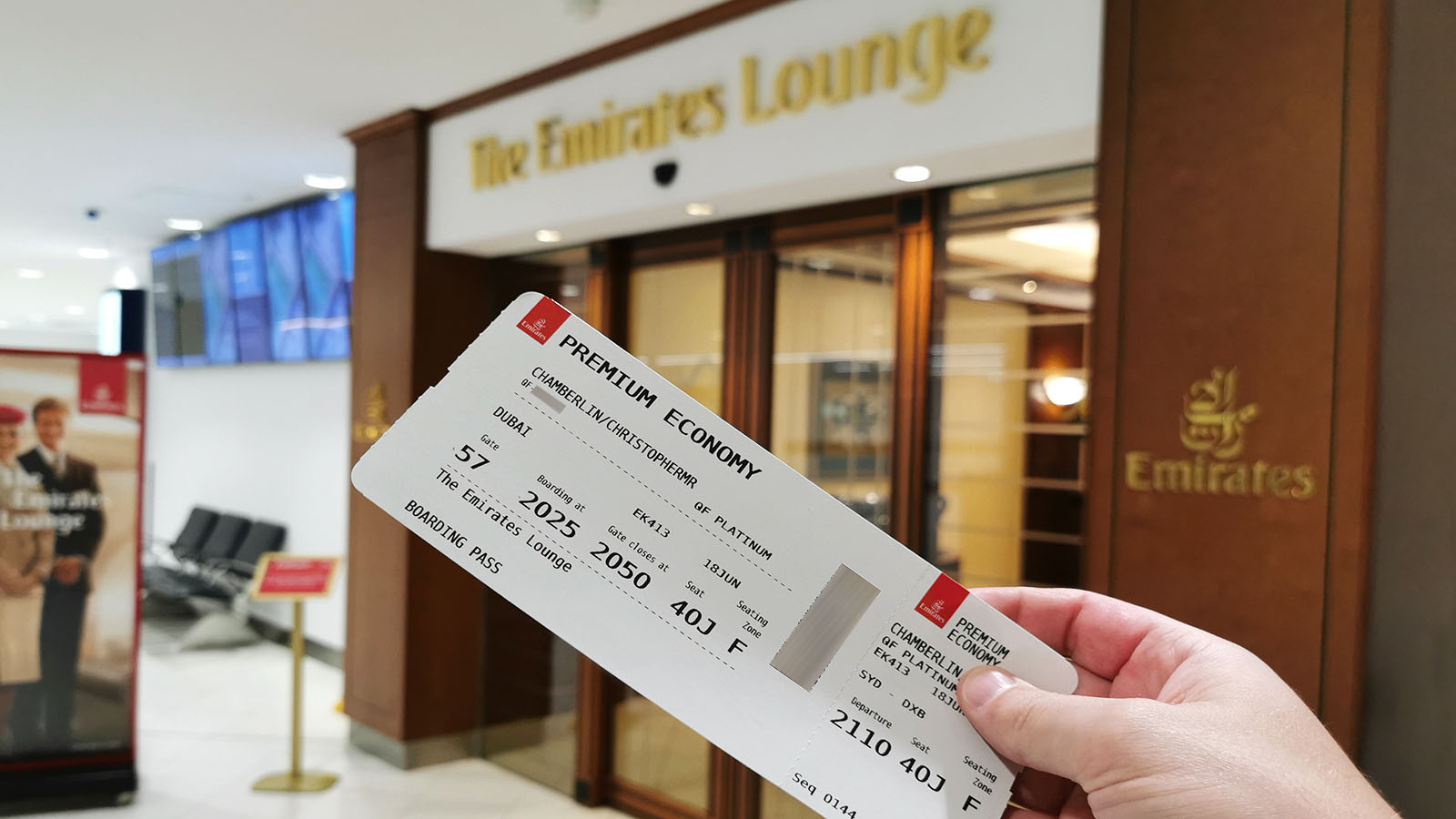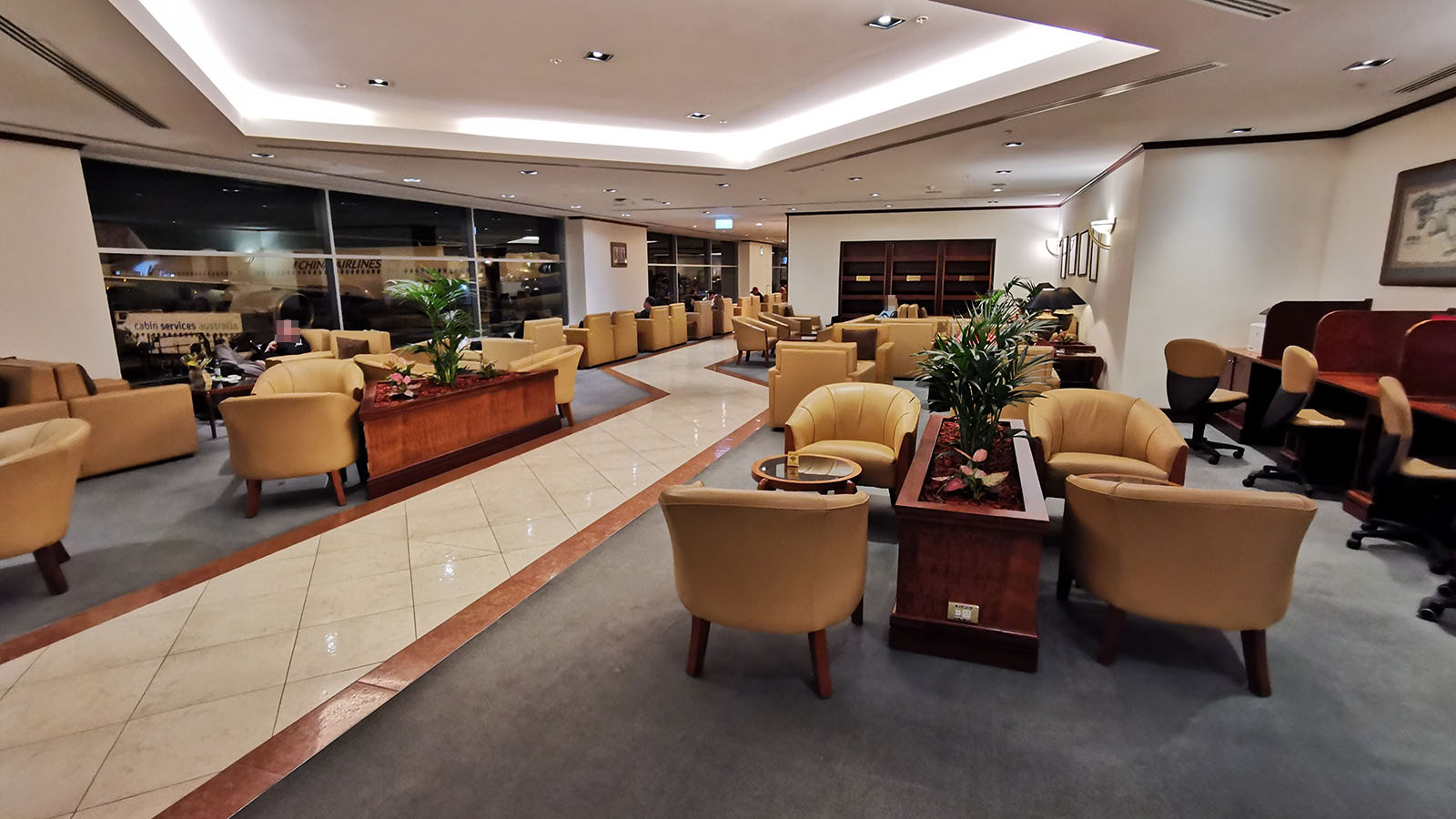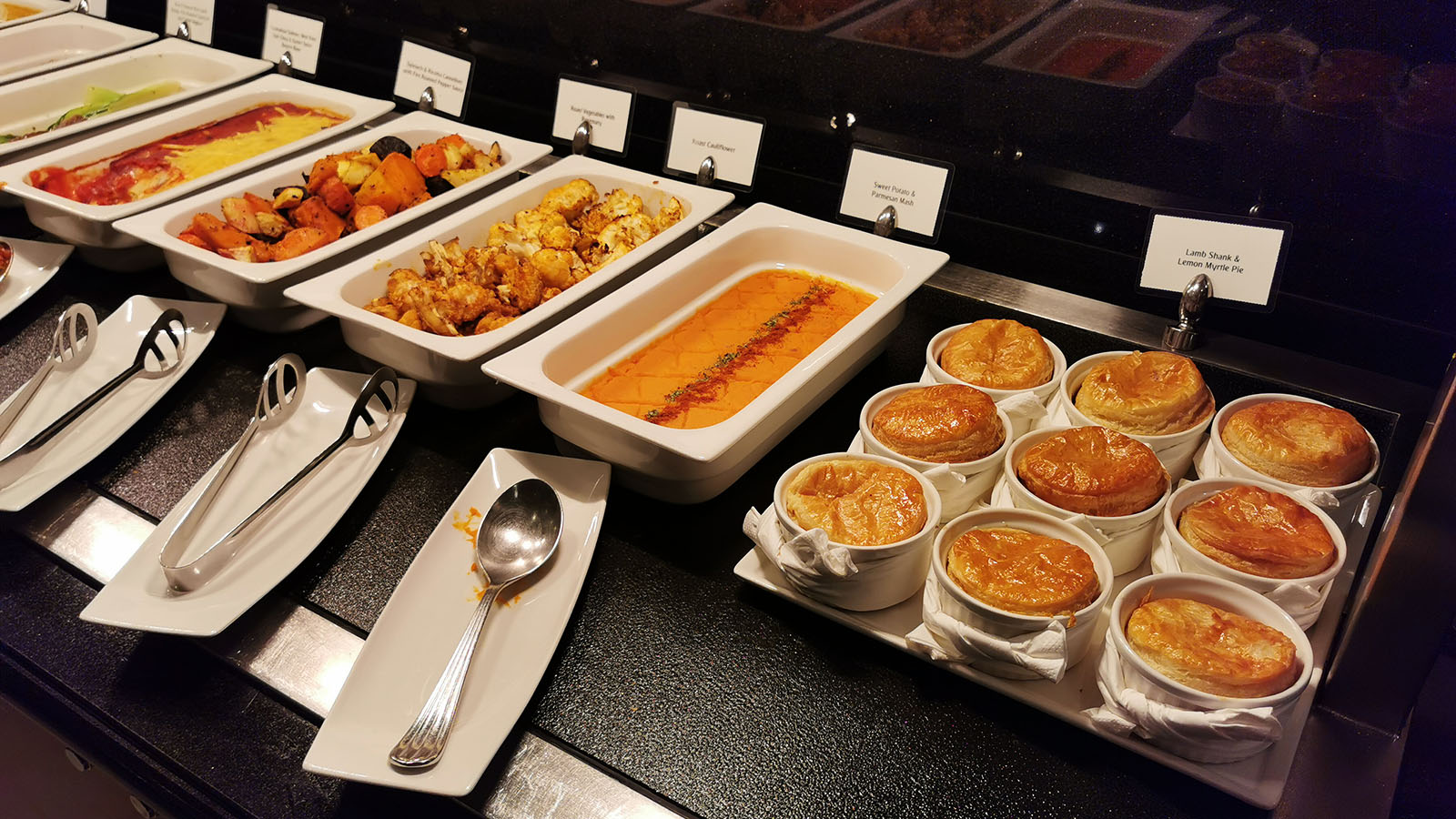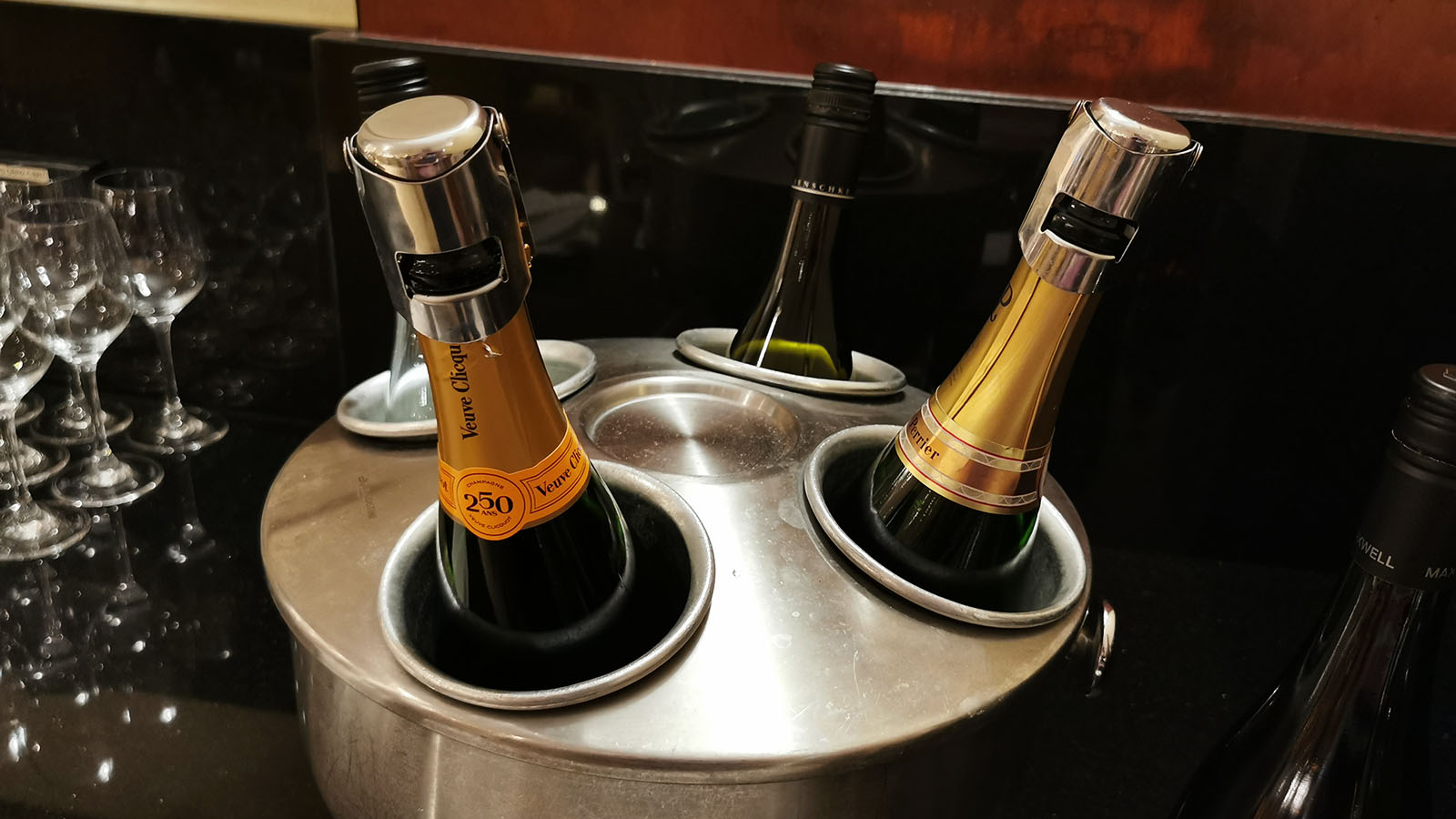 Closer to departure, I wander across to the Emirates Lounge. It's on the other side of the terminal, but conveniently right near the departure gate for EK413. There's a full hot and cold buffet. I have a few bites, but I'm saving room for supper in Premium Economy.
Emirates Airbus A380 Premium Economy seating
The upper deck of Emirates' superjumbos is generally home to First Class and Business Class. This sees Emirates' Premium Economy cabin residing at the very front of the Airbus A380's main deck. It's nestled around the A380's iconic grand staircase, with seats adopting a 2-4-2 layout.
That works particularly well when travelling as a pair. Whereas most rows in Economy have at least three seats per group, the duos here avoid that third wheel. Larger families may appreciate the central quads, although they're less ideal for solo flyers.
But how does the seat feel? I spent almost 15 hours sitting on it: so let me say, it's very comfortable. It starts with a generous recline. That's coupled with enough pitch – 40 inches, to be precise – for the passenger behind to dine when you're fully tilted back. There's also a fold-up leg rest, and a separate bar-style footrest.
The headrest extends vertically to suit taller travellers. Each side of the headrest can also tilt inwards, giving you something to lean on when sitting on an angle.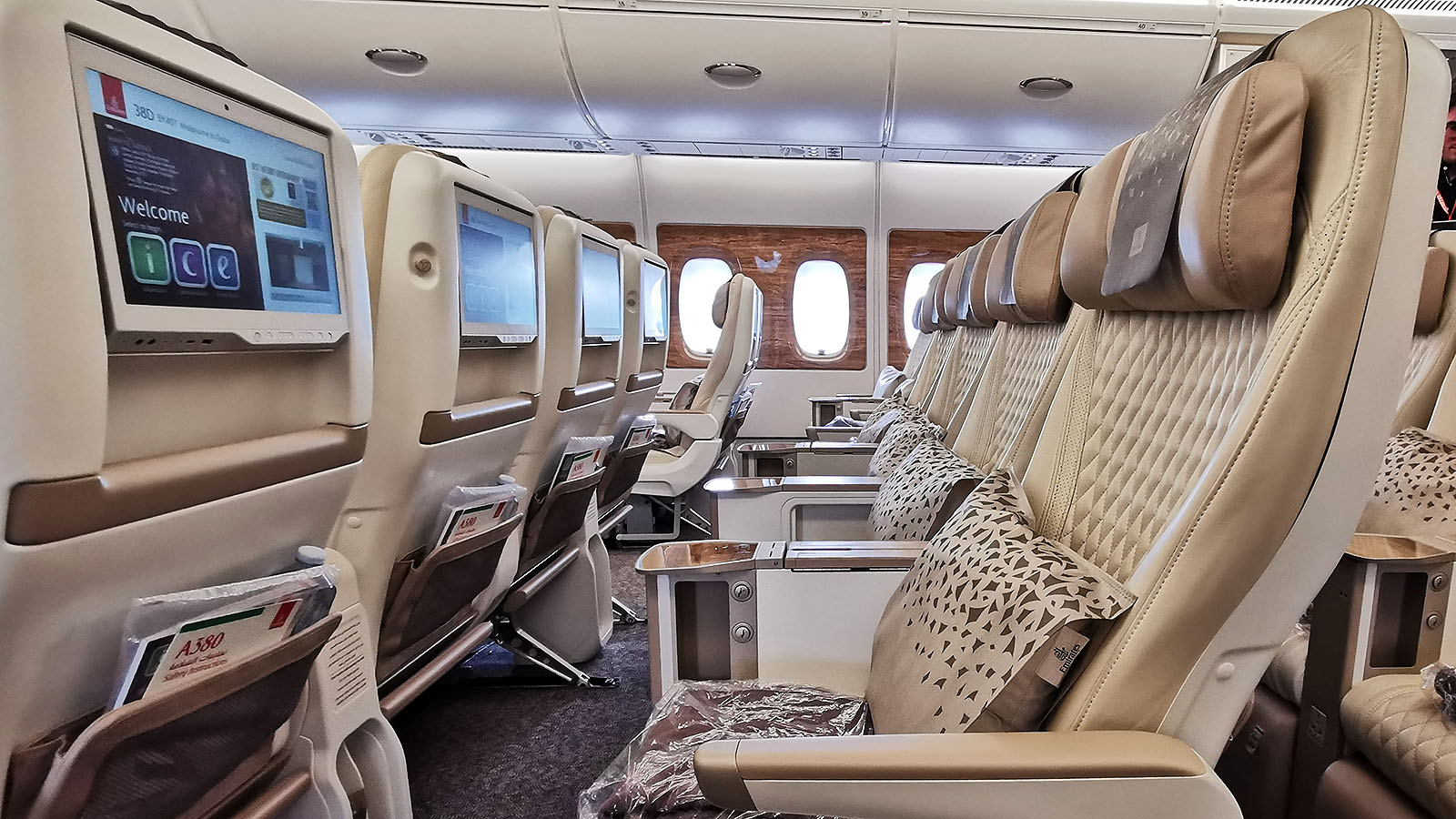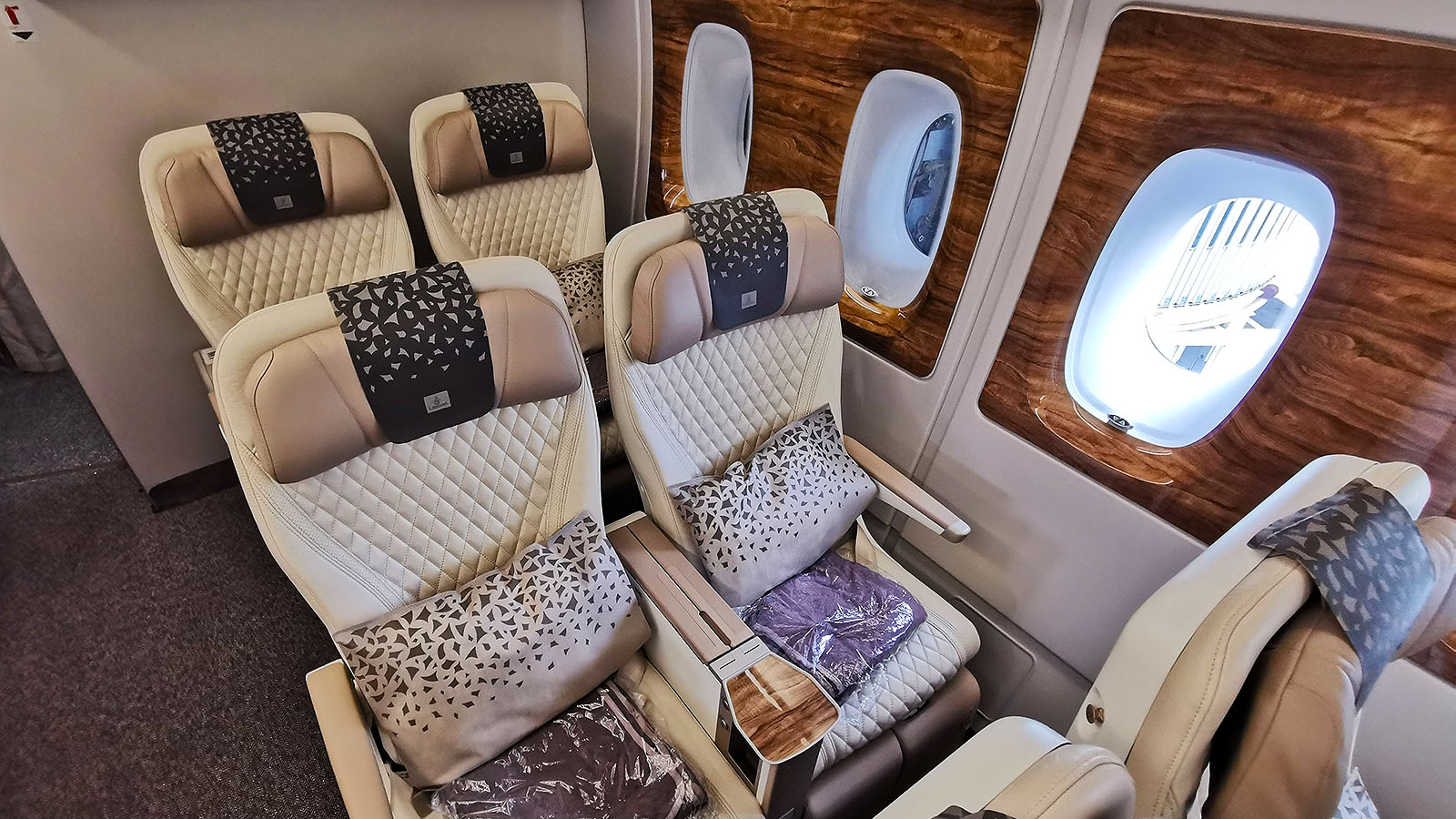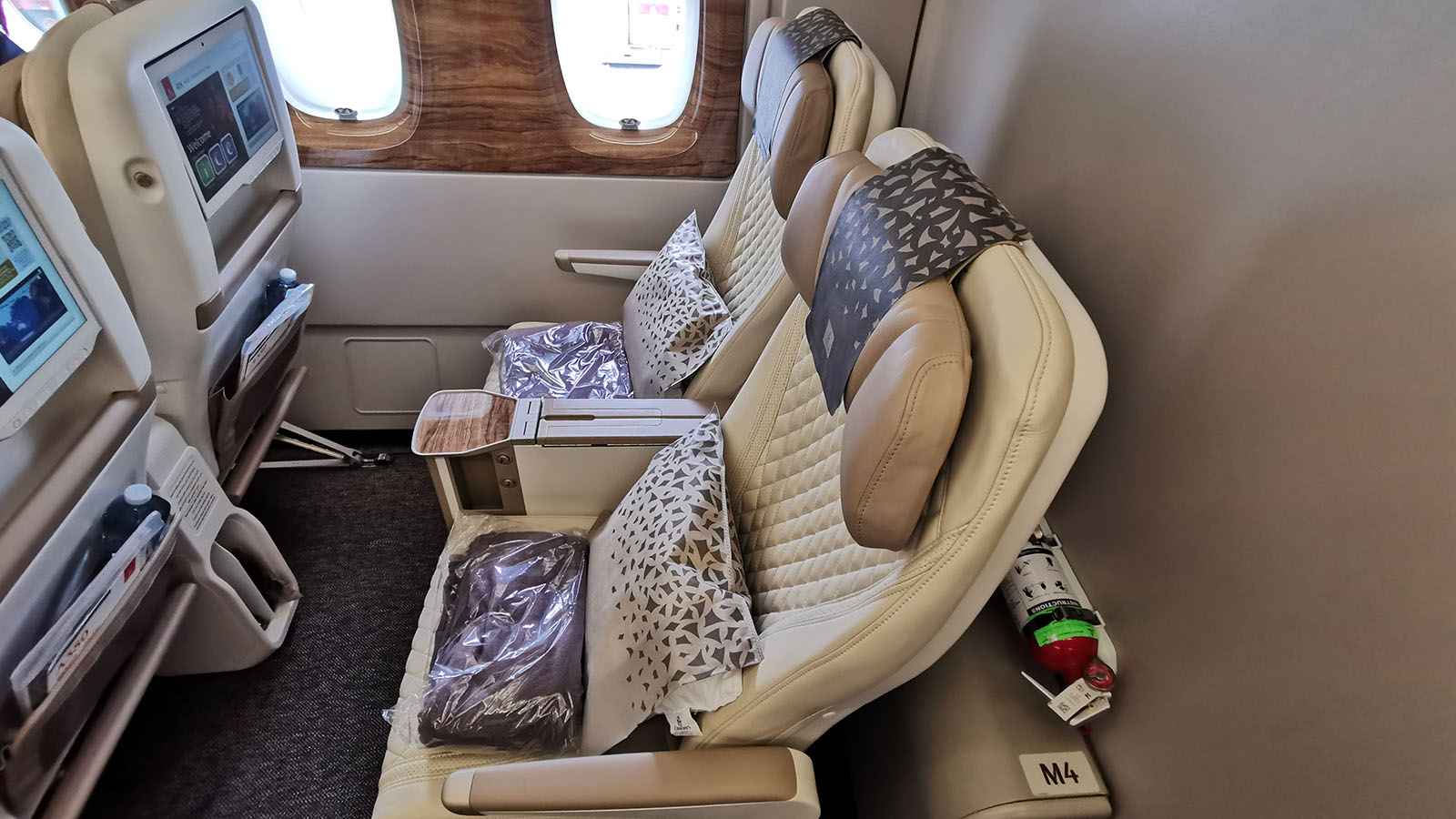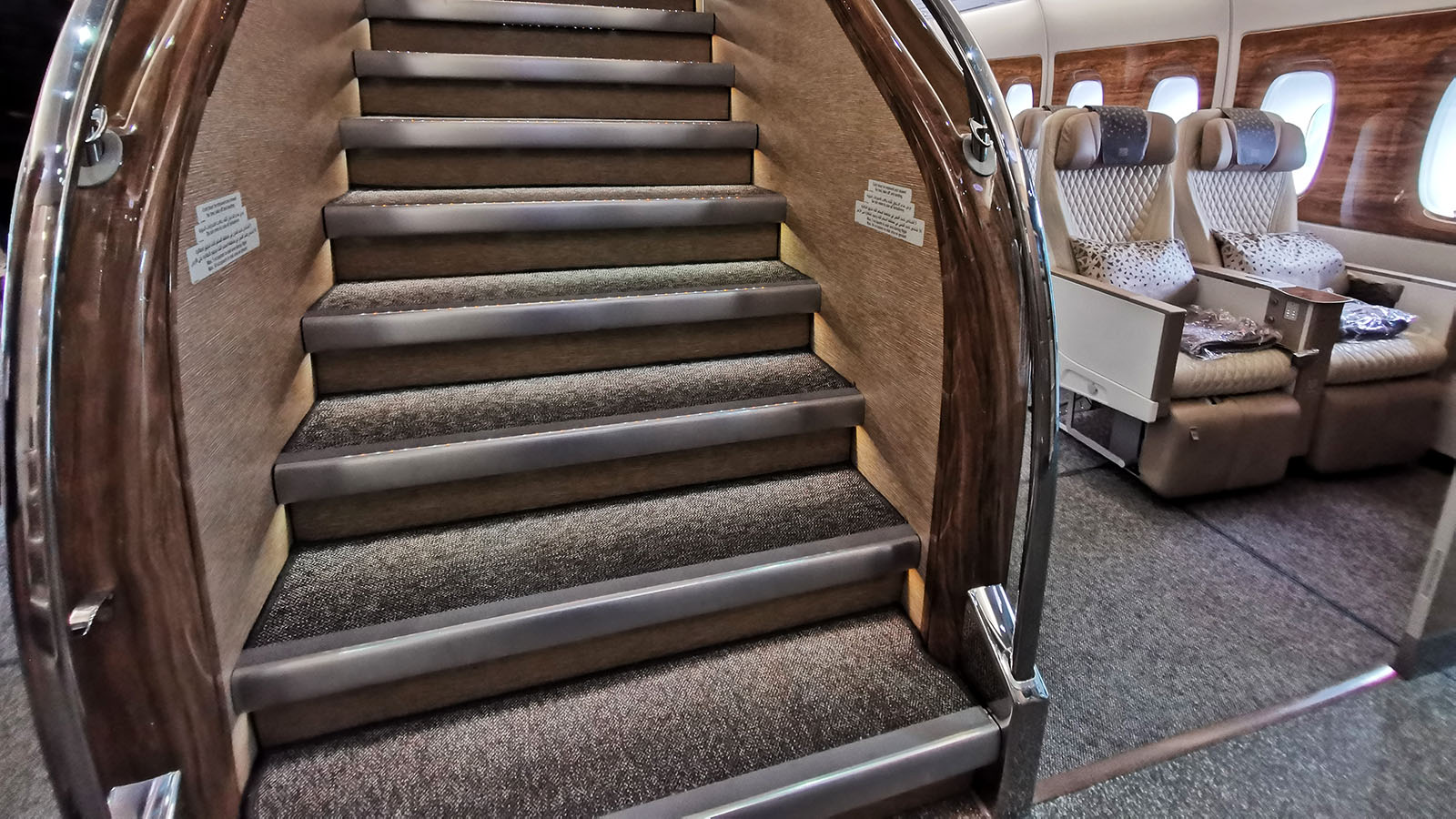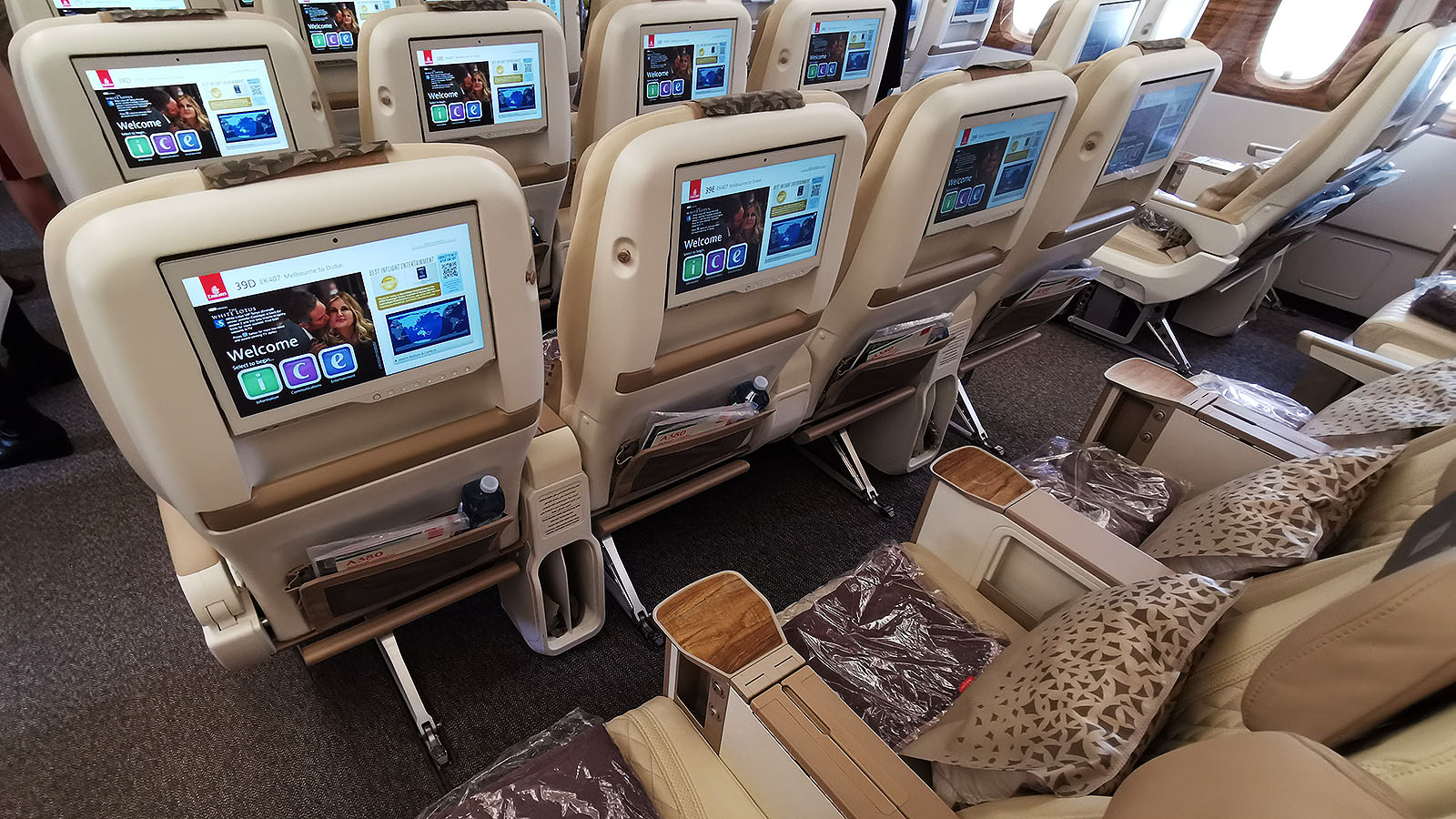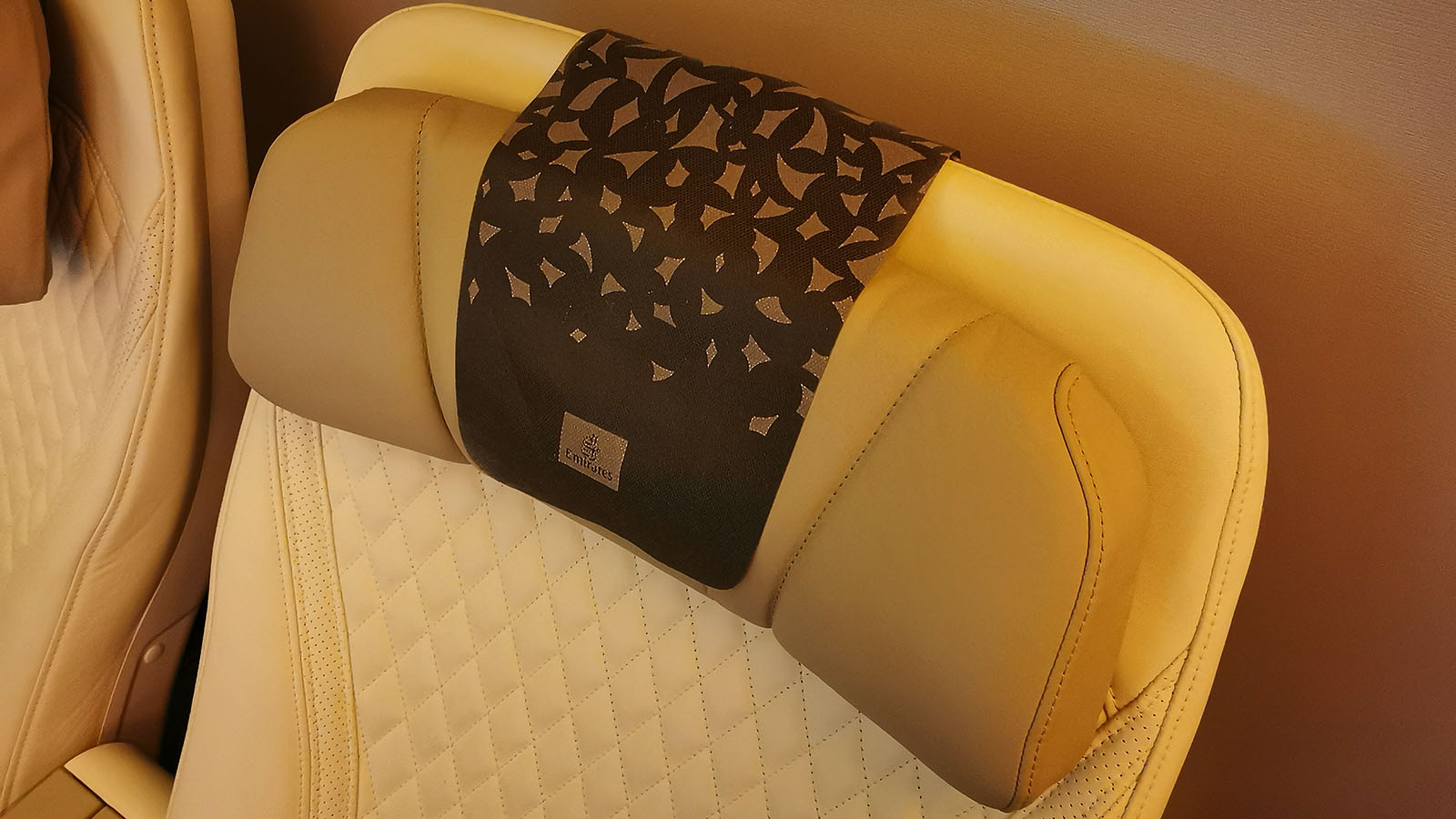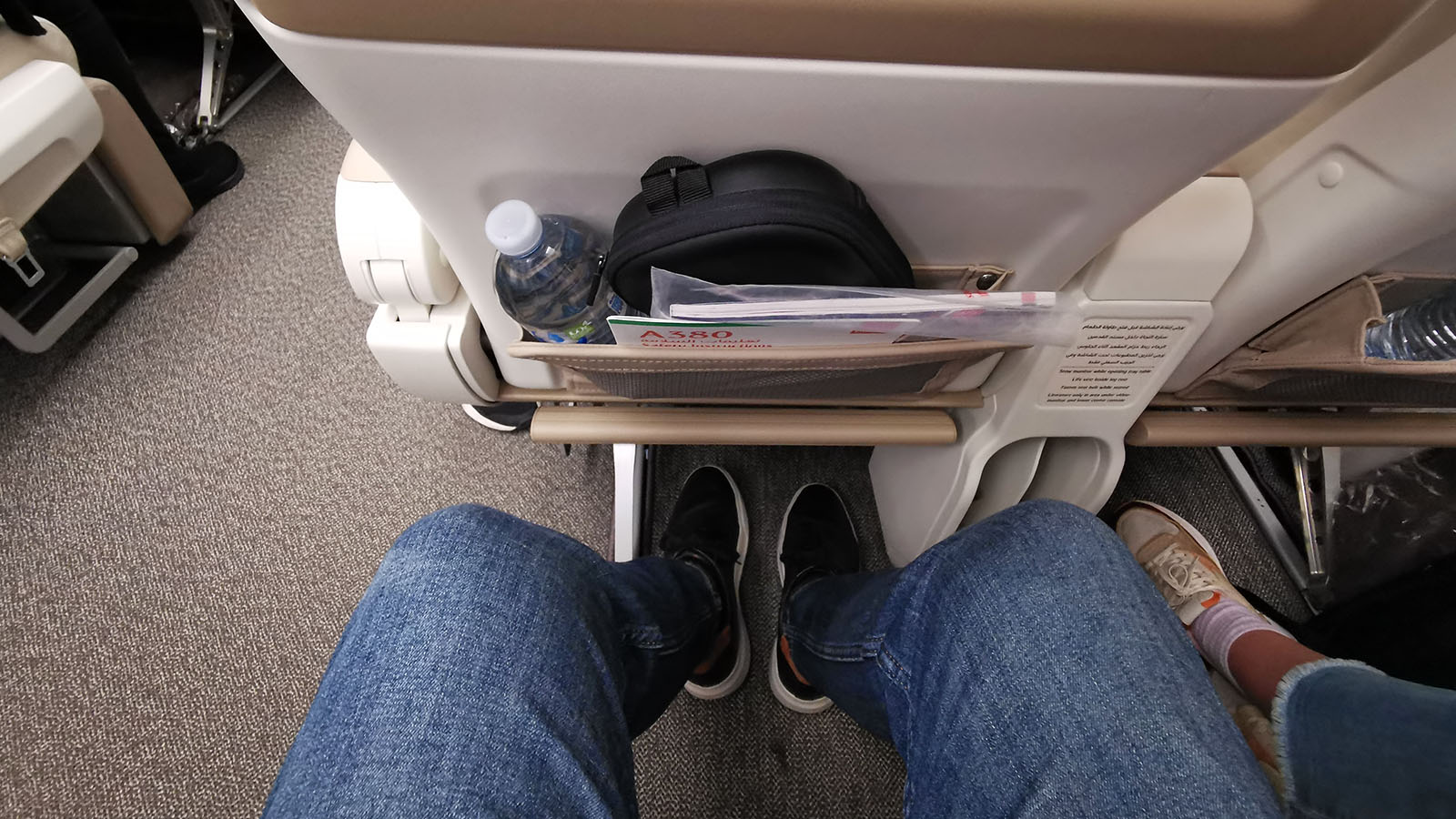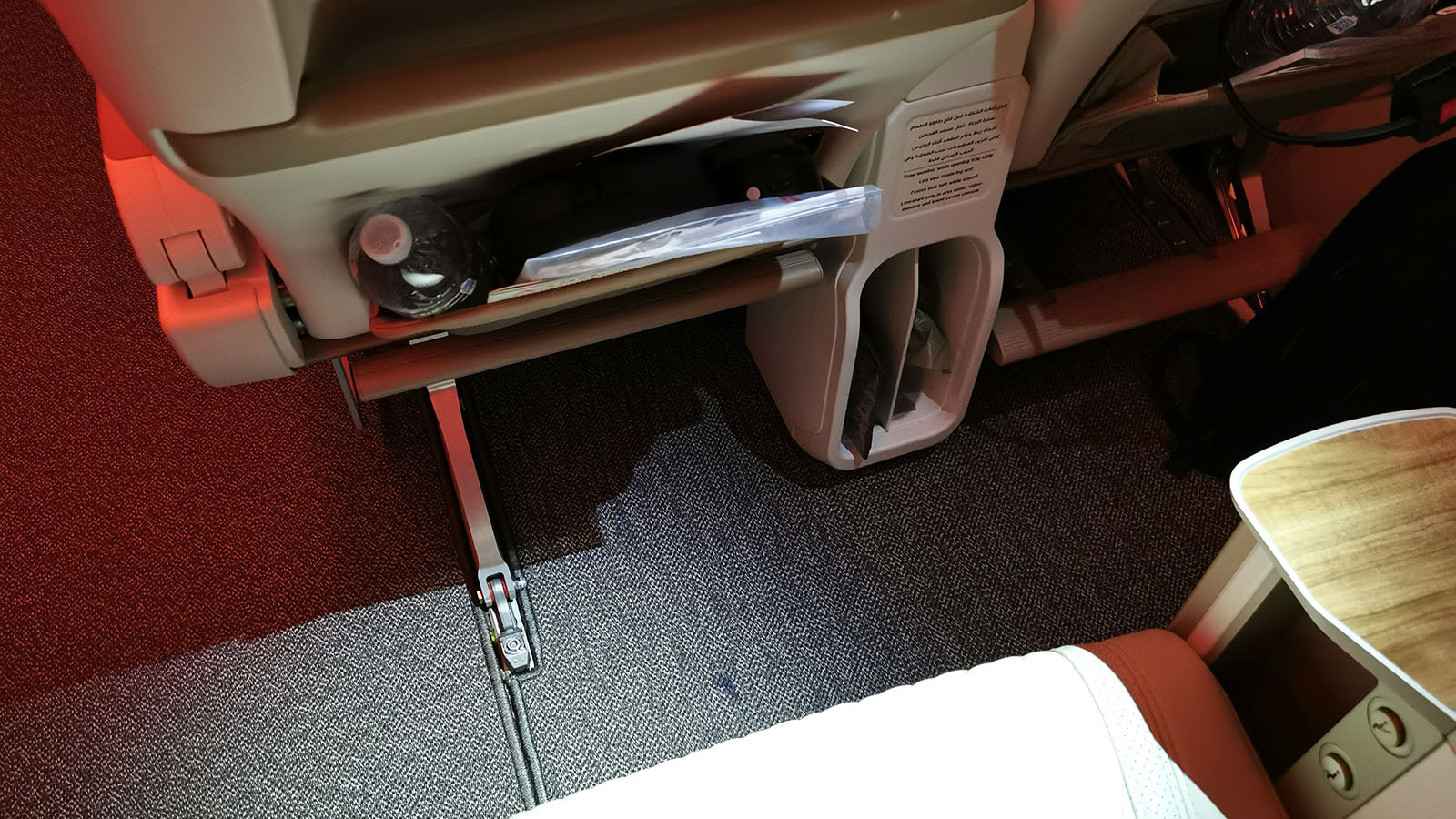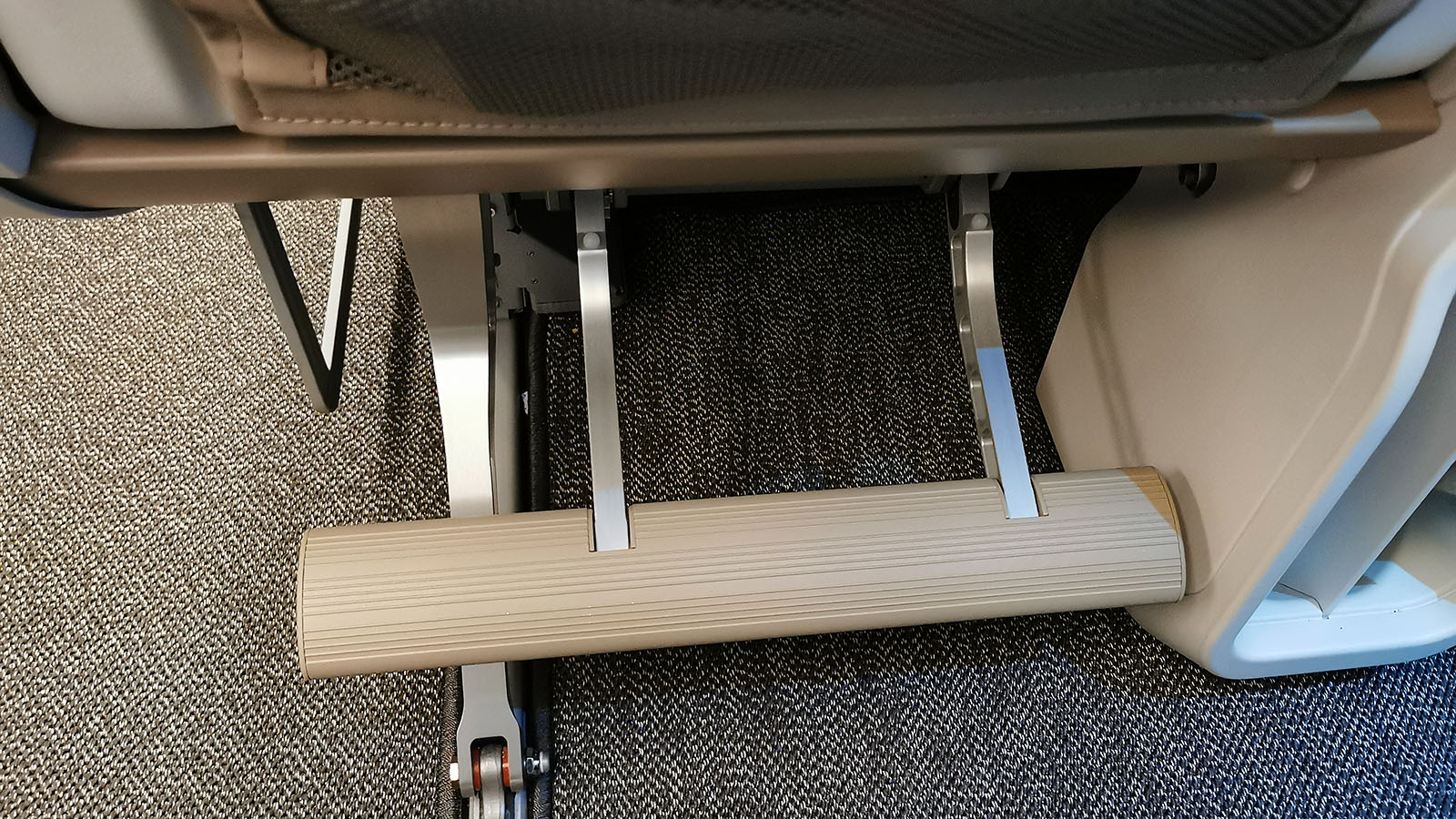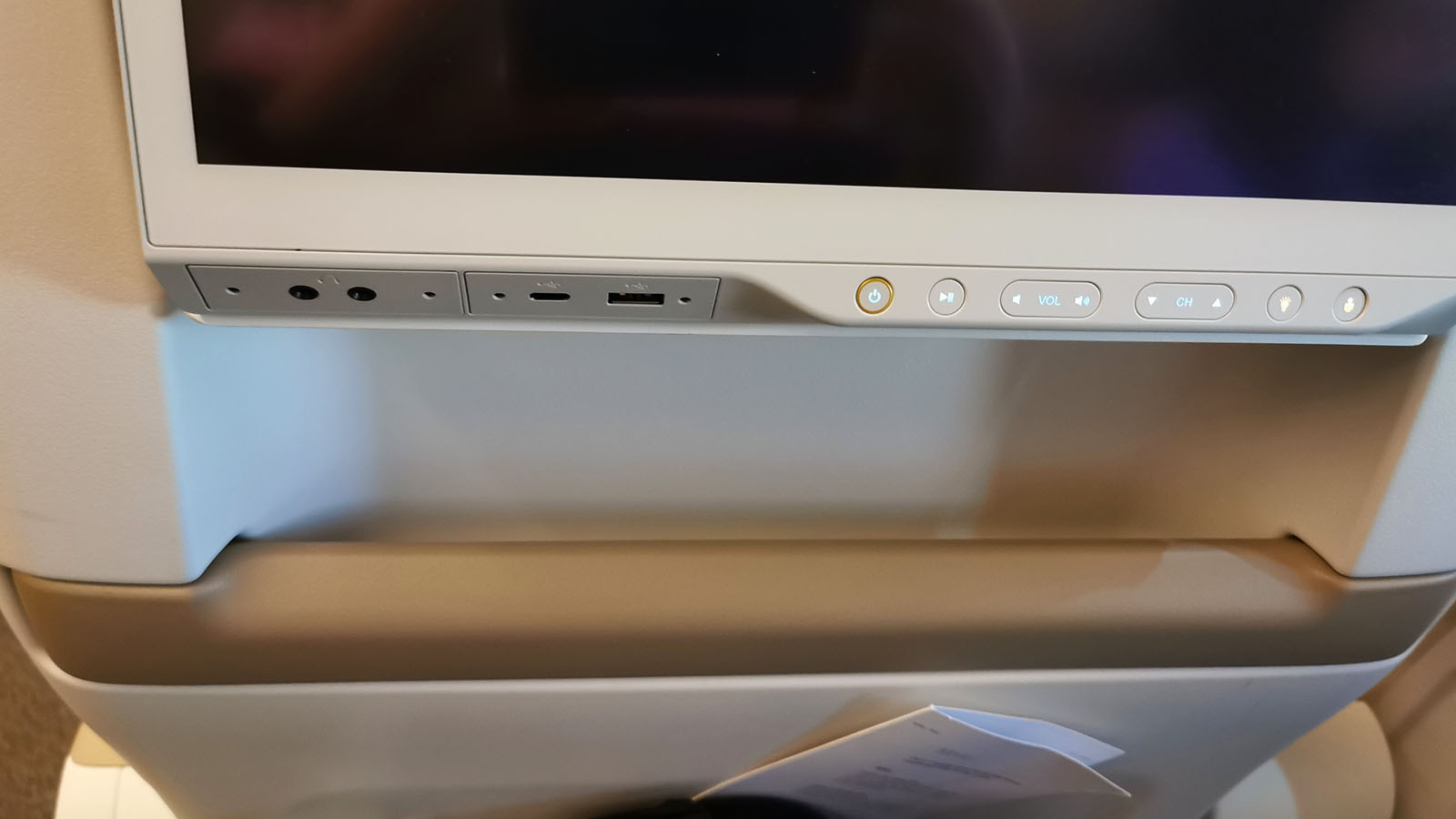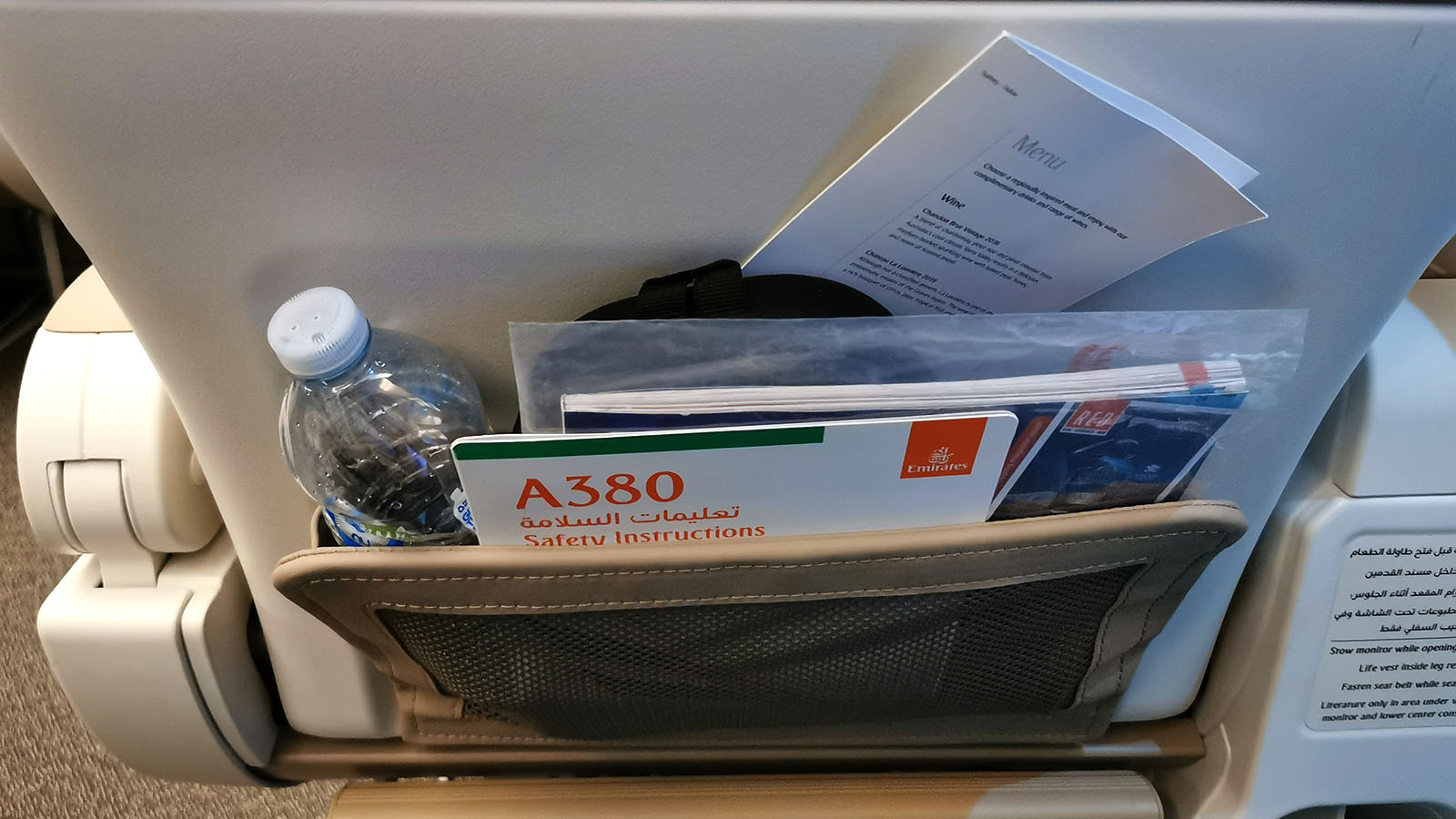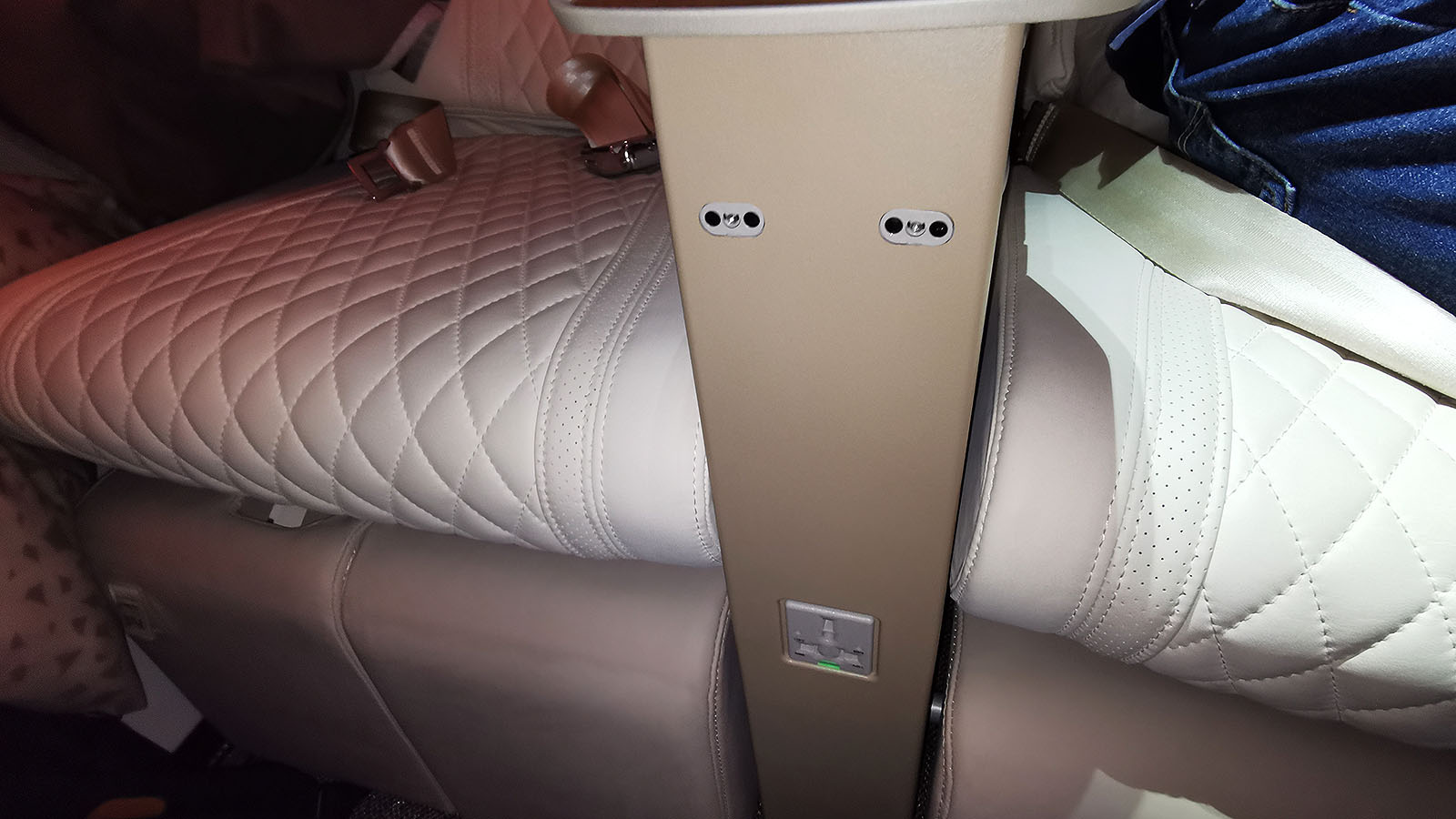 All told, I clock six hours of sleep on this overnight flight. That's the most rest I've managed on any Premium Economy flight with any airline. For me, having that dependable leg rest makes all the difference.
For added context, I recently flew Vancouver-Brisbane in Business Class: a journey of similar length. On that leg, I dozed for a straight eight hours in my flatbed. In contrast, a recent Sydney-Los Angeles Economy flight saw me get barely an hour of sleep. This puts Emirates Premium Economy much closer to Business Class than regular Economy – in my book, anyway.
My only gripe? There aren't as many AC power outlets as there are Premium Economy seats. Each pair of seats has only one outlet, for instance.
Emirates Airbus A380 Premium Economy food and beverage
Dining is another way that Emirates' A380 Premium Economy is more 'Business Class minus' than 'Economy plus'. It starts with a drink served on boarding. Choices before departure are non-alcoholic, and the crew recommend a tasty passionfruit juice. It's a good call – and my seatmate follows suit.
Once we're in the sky, another drink service follows. I opt for a sparkling wine – and on today's menu, that's an Australian Chandon Vintage Brut 2016. It's a fruity drop, with nuts served on the side. Remember, you're not quite in Business Class – which is where you'll find the (true) Champagne on Emirates.
The service continues with dinner. There's a choice between braised beef cheeks and roasted chicken. The latter comes in a sweet soy sauce. I quite like the sound of that – it wins my vote, and its strong but well-balanced flavours don't disappoint.
On the side, there's a chilled roasted pumpkin salad, plus Arabic bread. Add to that, a creamy vanilla pannacotta – and for a light finish, cheese and crackers, plus bite-sized chocolate. Given my early lunch in Sydney and light meal in the Qantas First Lounge, it's the perfect amount of food.
If you're peckish during the flight, there's a well-stocked snack basket at the back of the cabin. Or just ding your call bell for more substantial bites during the night, such as a calzone.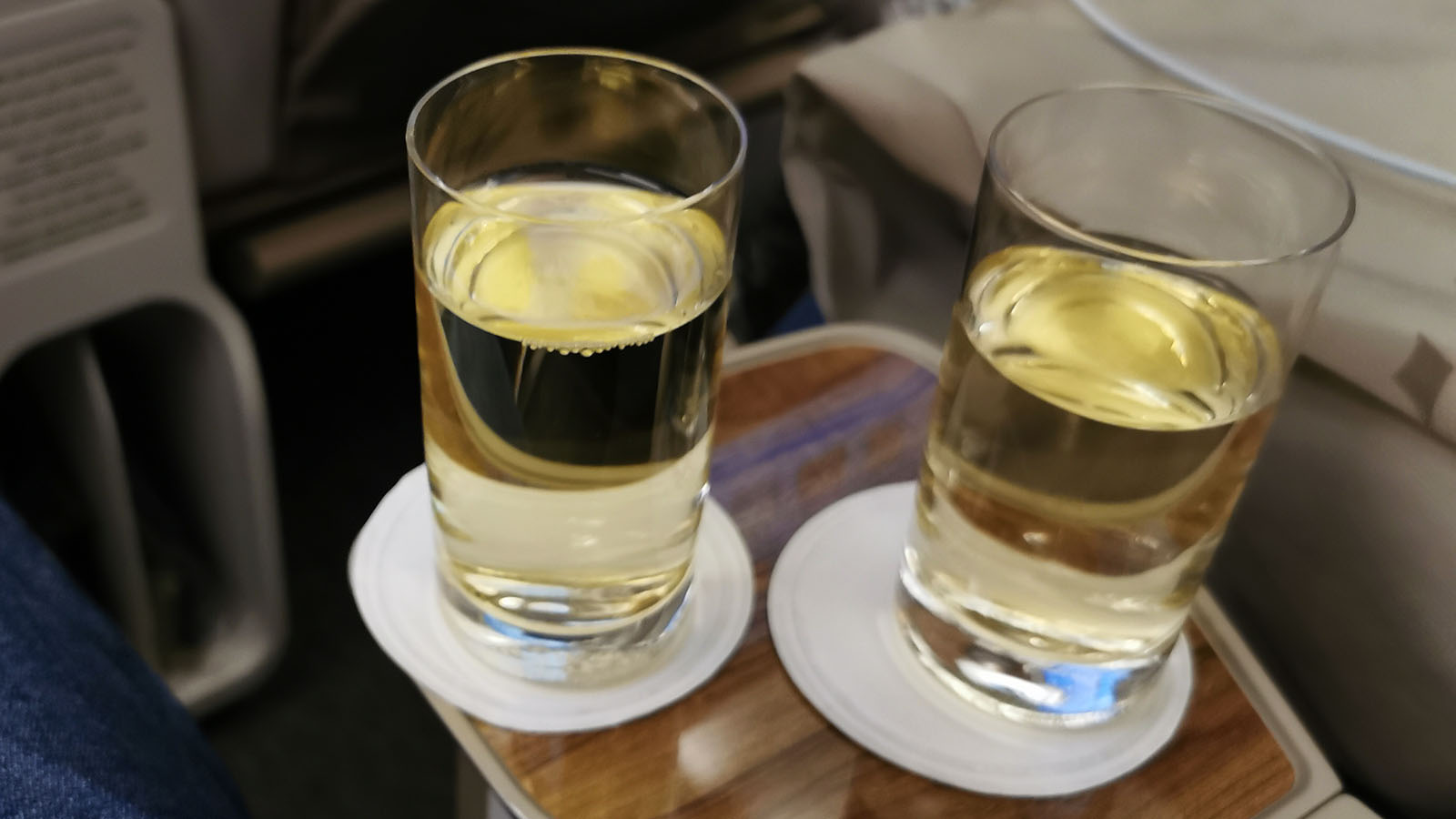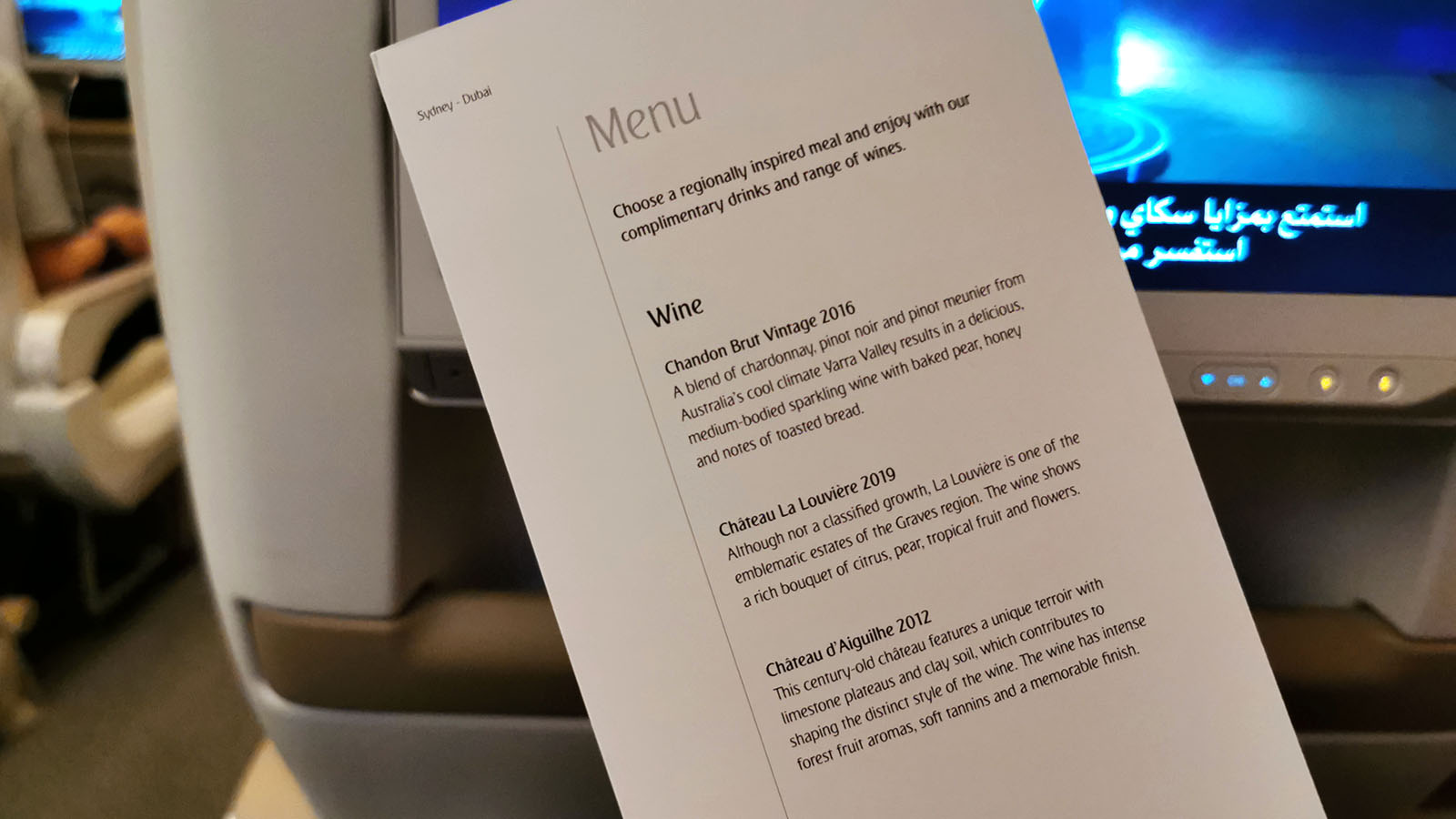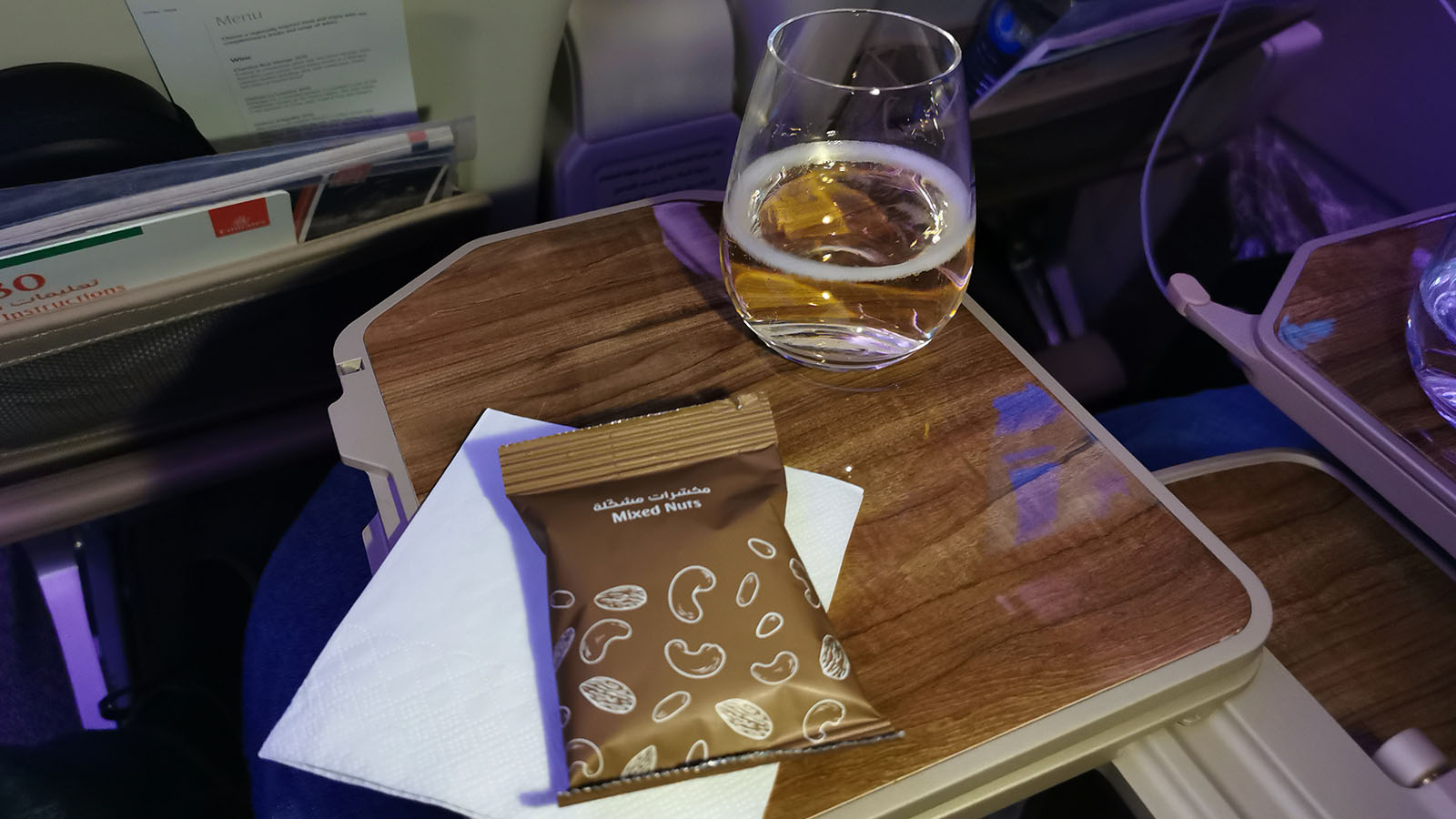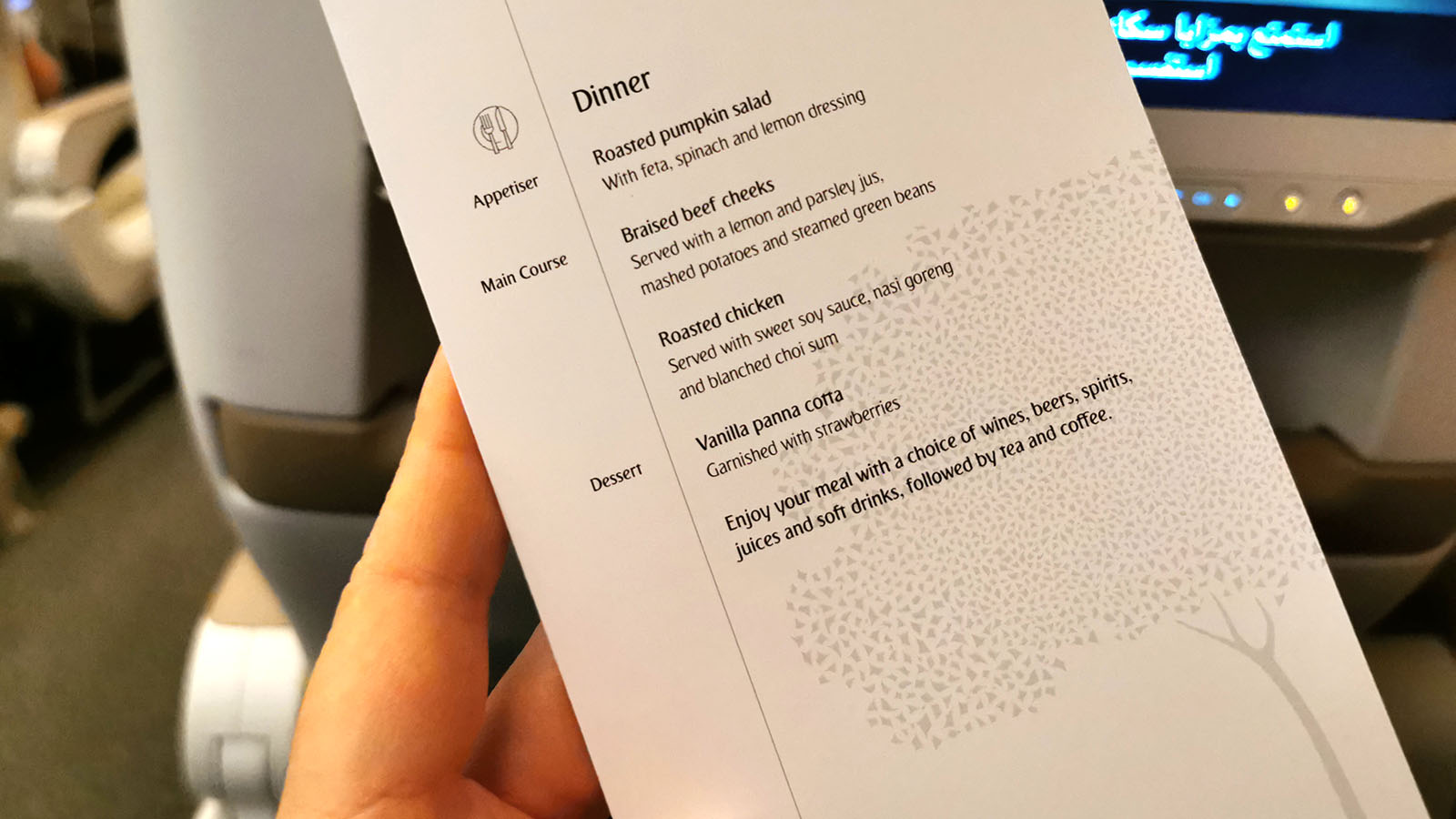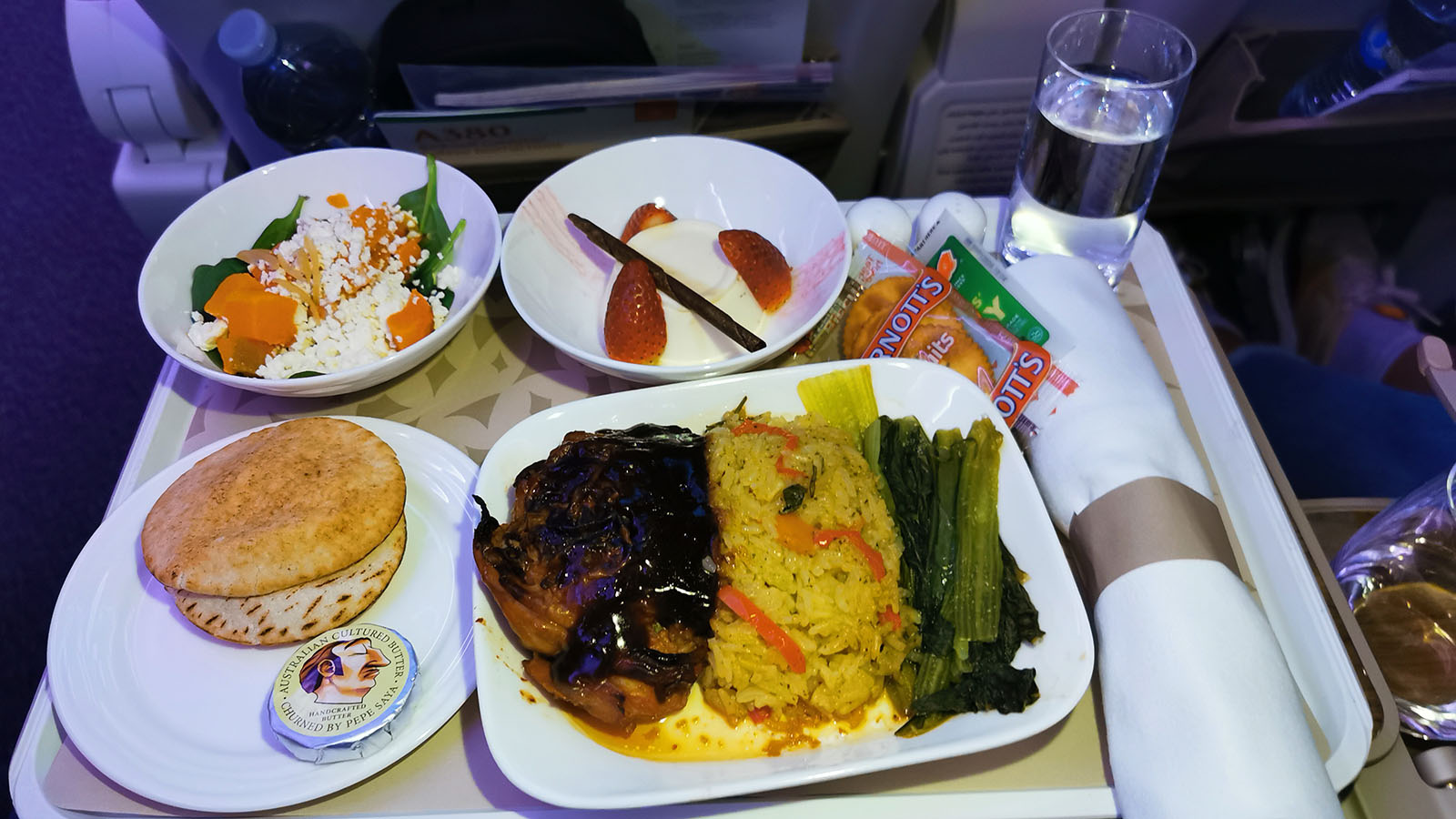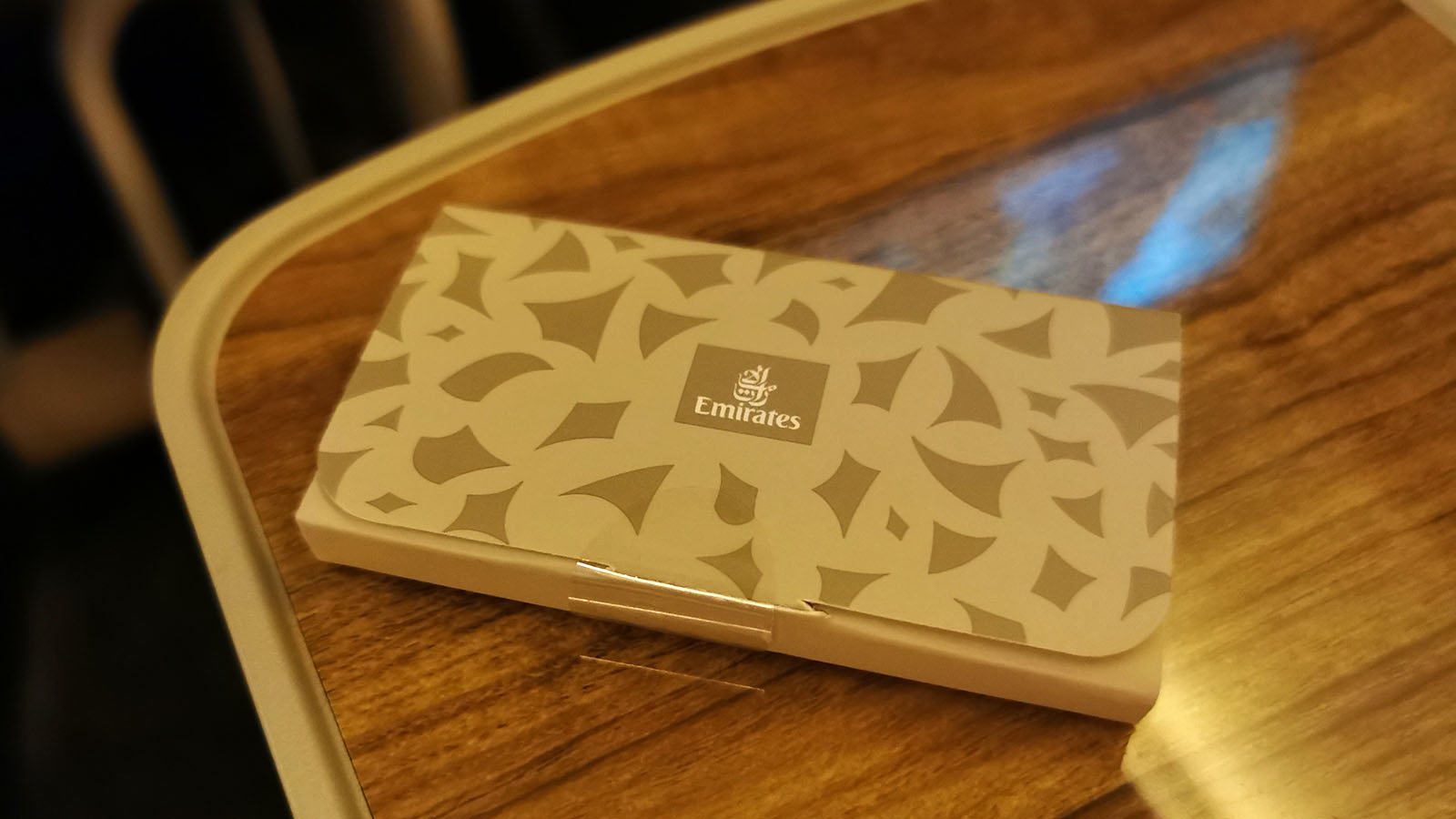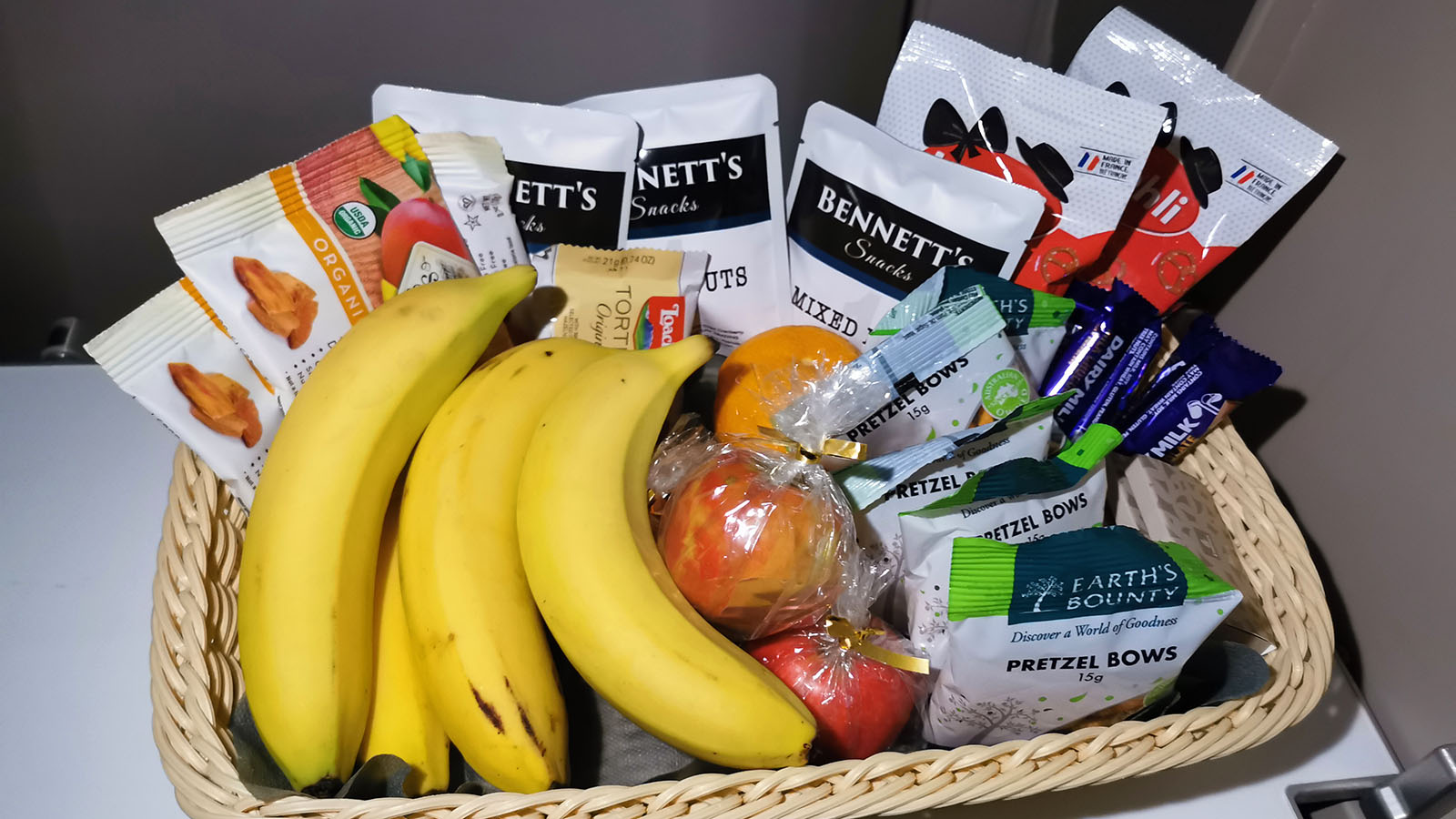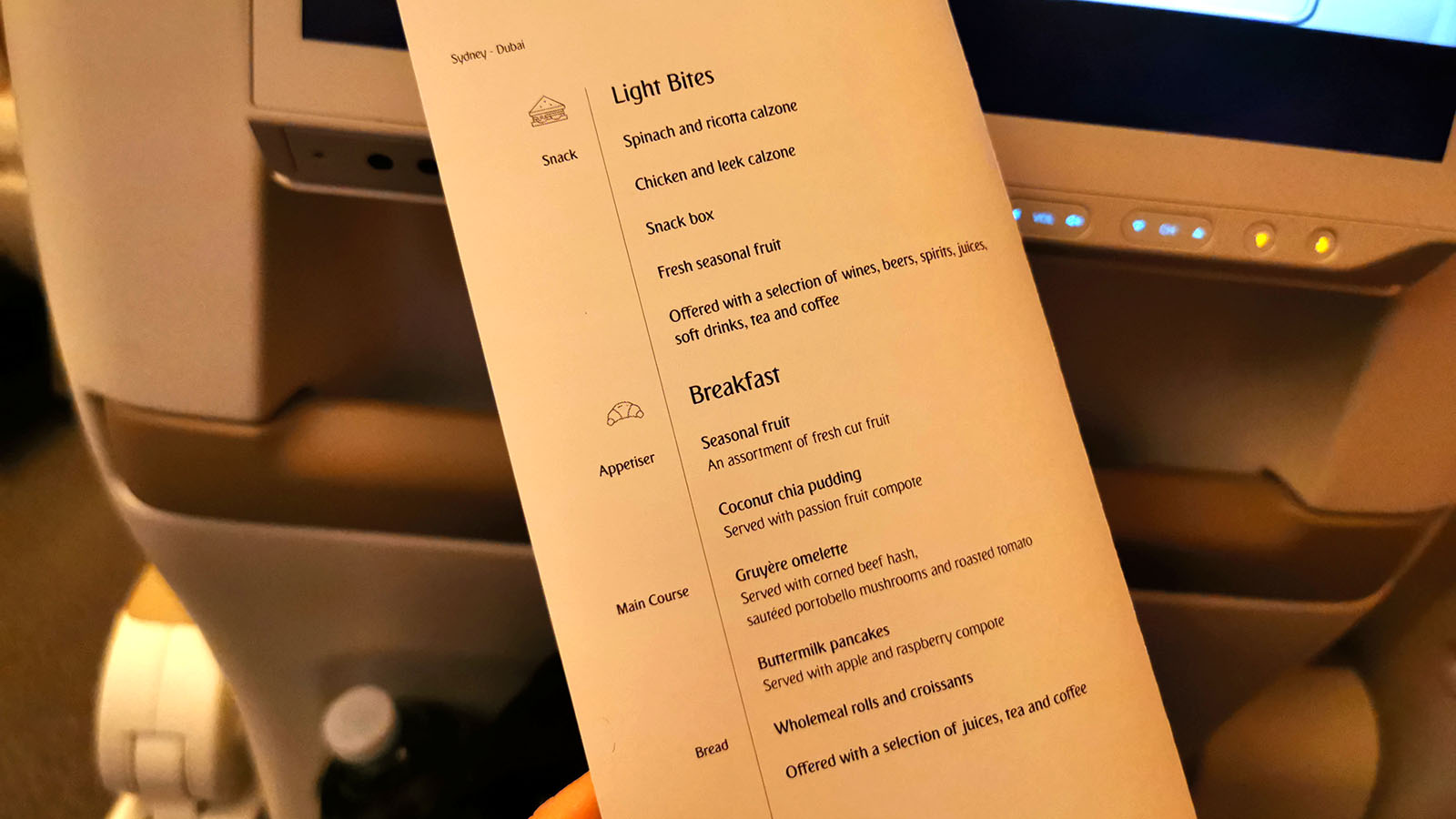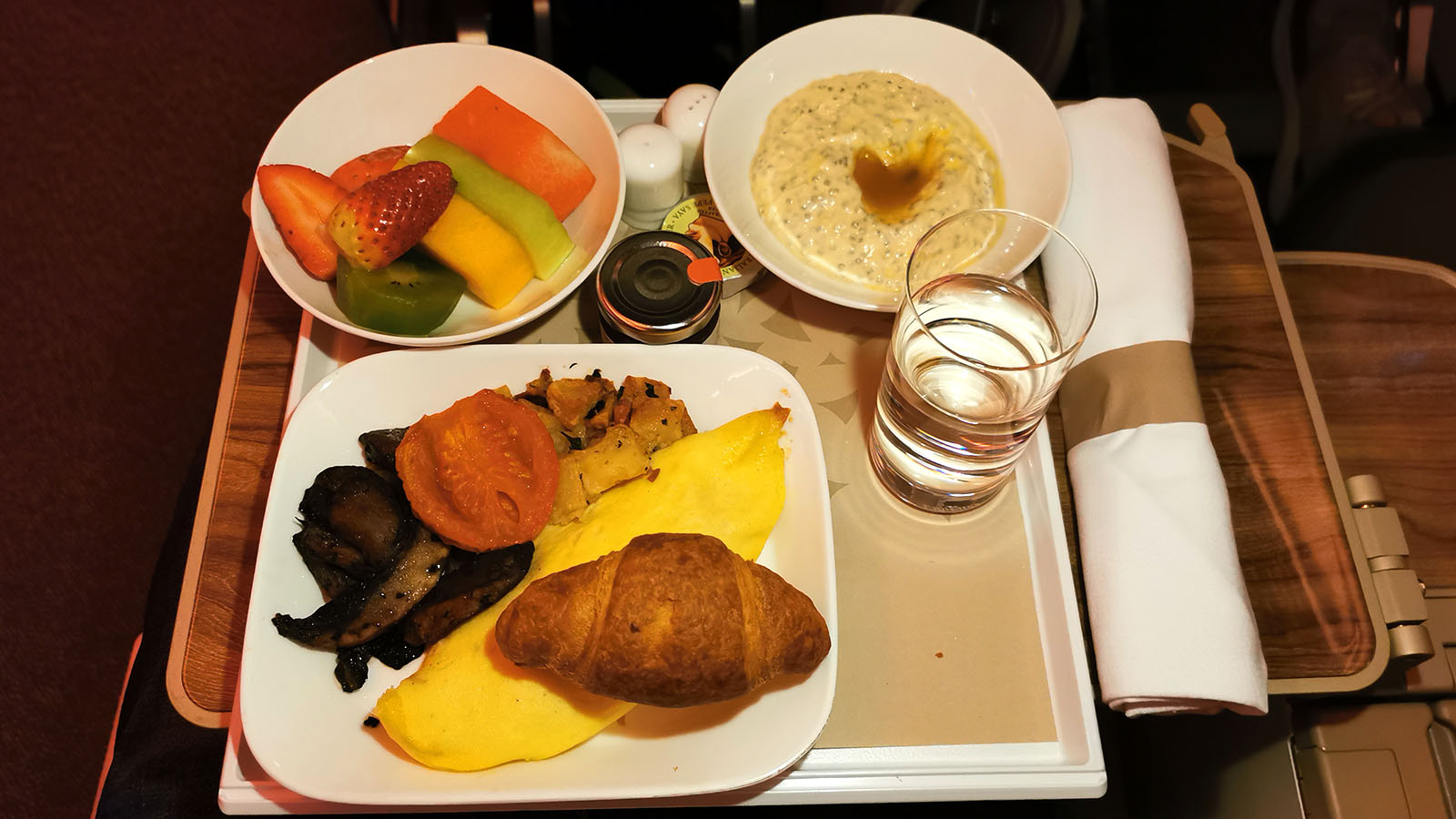 Breakfast is served before landing in Dubai – very appropriate, given the 5:40 am arrival time. It consists of fresh fruit, a coconut chia pudding, a choice of bakery items and a main dish. I'm tossing up between the pancakes and the omelette, but the omelette wins the day.
It's tasty and filling, such that I'm not hungry again until eight hours have passed after breakfast.
Emirates Airbus A380 Premium Economy service
On the Emirates Airbus A380, service in Premium Economy sits in the league of Business Class. Cabin crew use passenger names in most interactions – and help is never far away. On this flight, I don't need to press my call bell even once. But at the same time, it didn't feel like the crew were hovering in the cabin – the perfect balance, really.
I also receive a warm 'welcome back' as a Platinum frequent flyer: both at the aircraft door and again at my seat. It's something that Emirates does for travellers with Gold status and higher. And when you're always on planes, that personal touch goes a long way to making each journey feel less 'routine'.
Crew also pre-empt many needs without the passenger having to ask. For instance, very little time passes between waking up and being offered coffee. There's no espresso machine in Premium Economy, but the filtered caffeine still hits the spot.
Inflight Wi-Fi and entertainment
With hours still to go before landing, I appreciate the breadth of entertainment options. I don't want to get hooked on a movie, so I give a new comedy series a try. I Love That for You proves to be a great choice. Closer to landing, I flick to the aircraft's external camera, which provides a great view.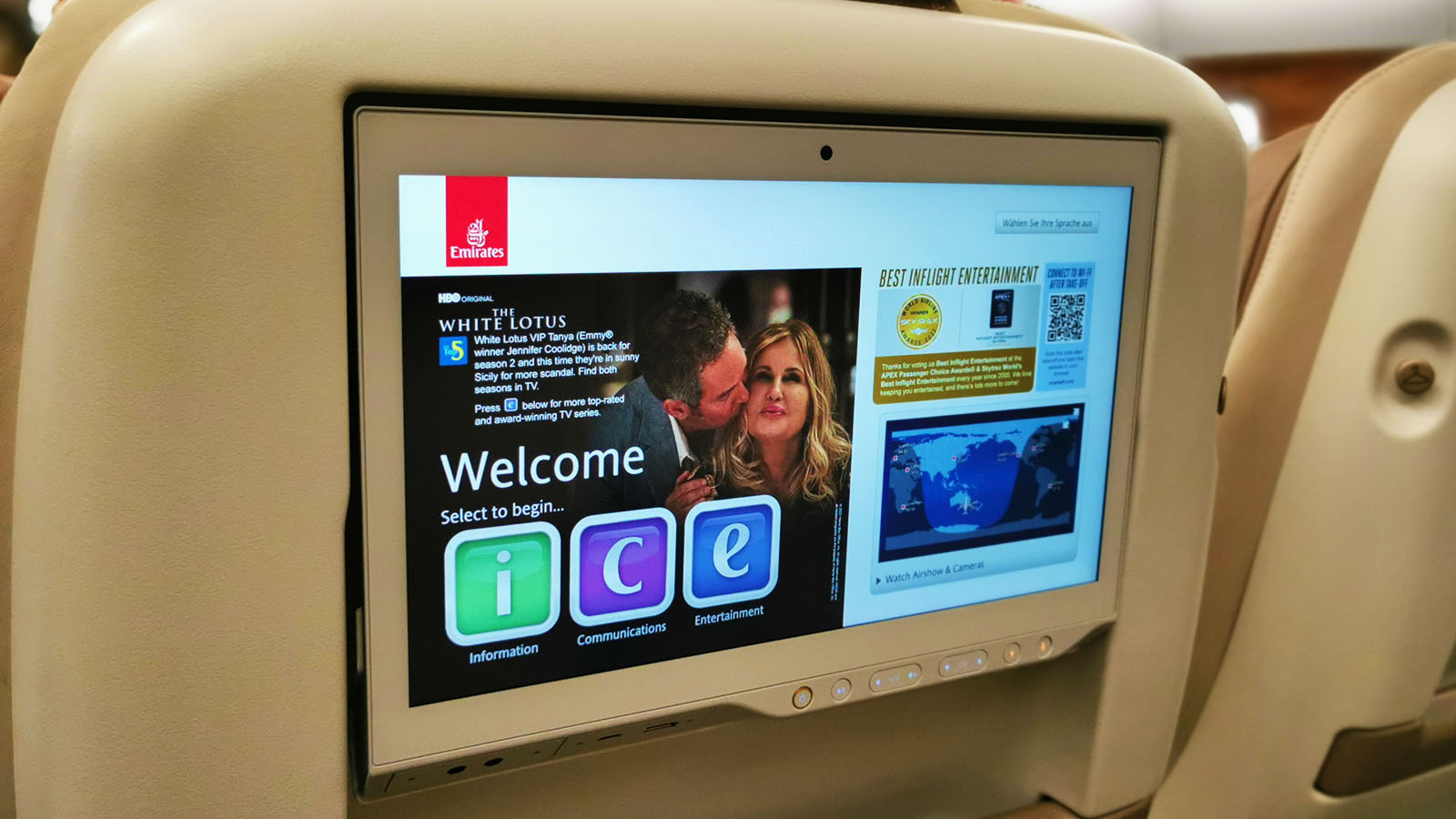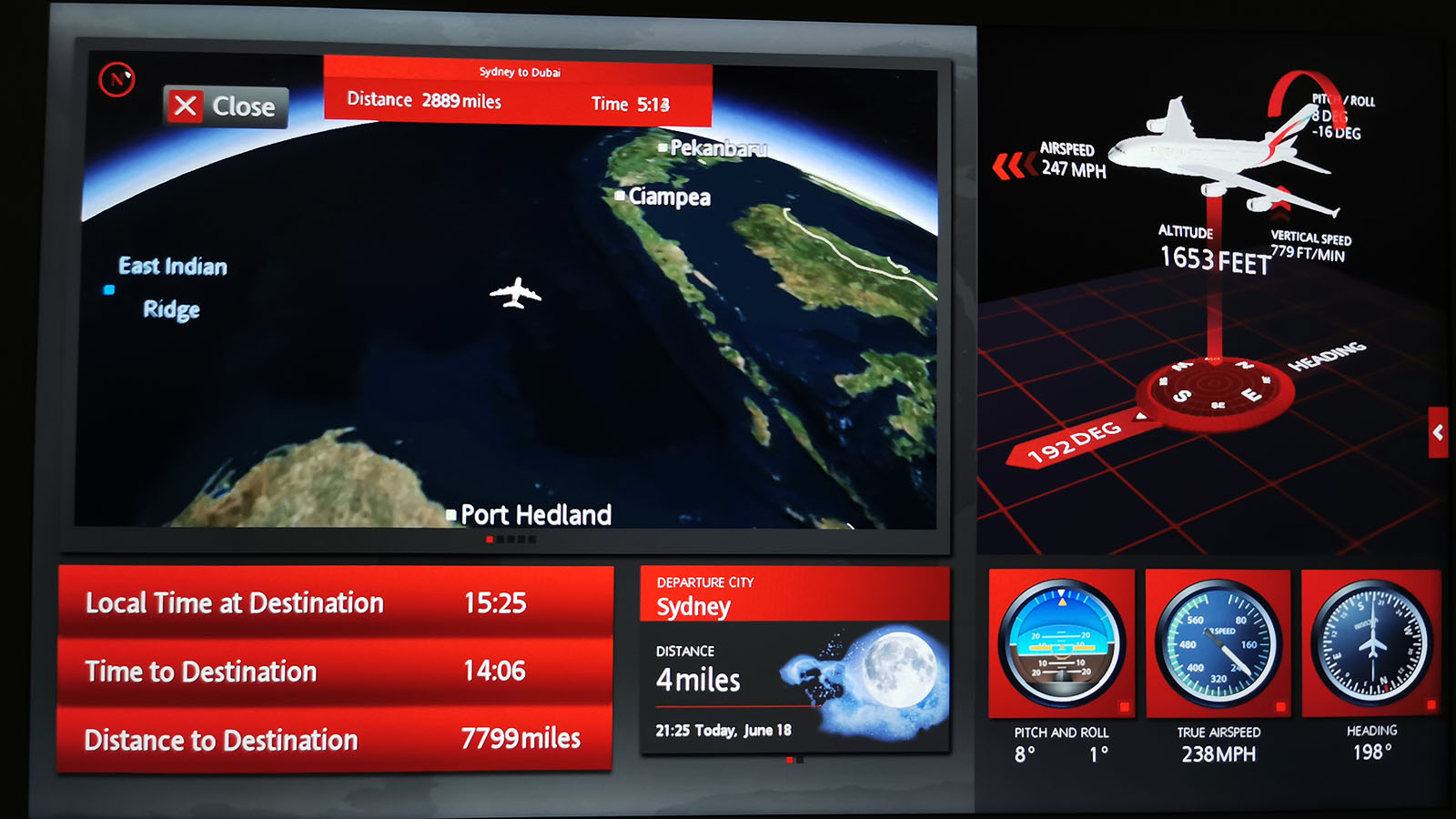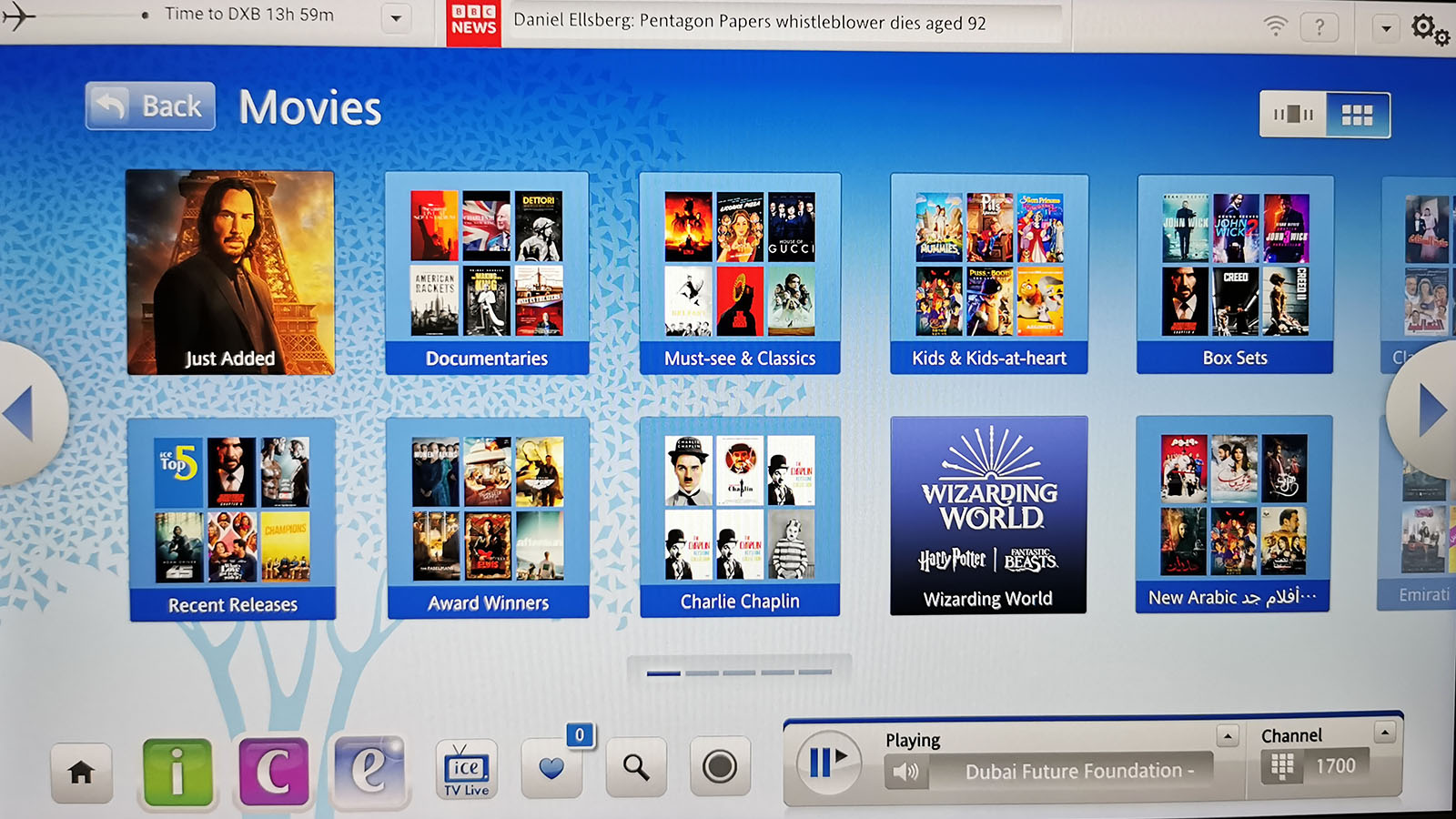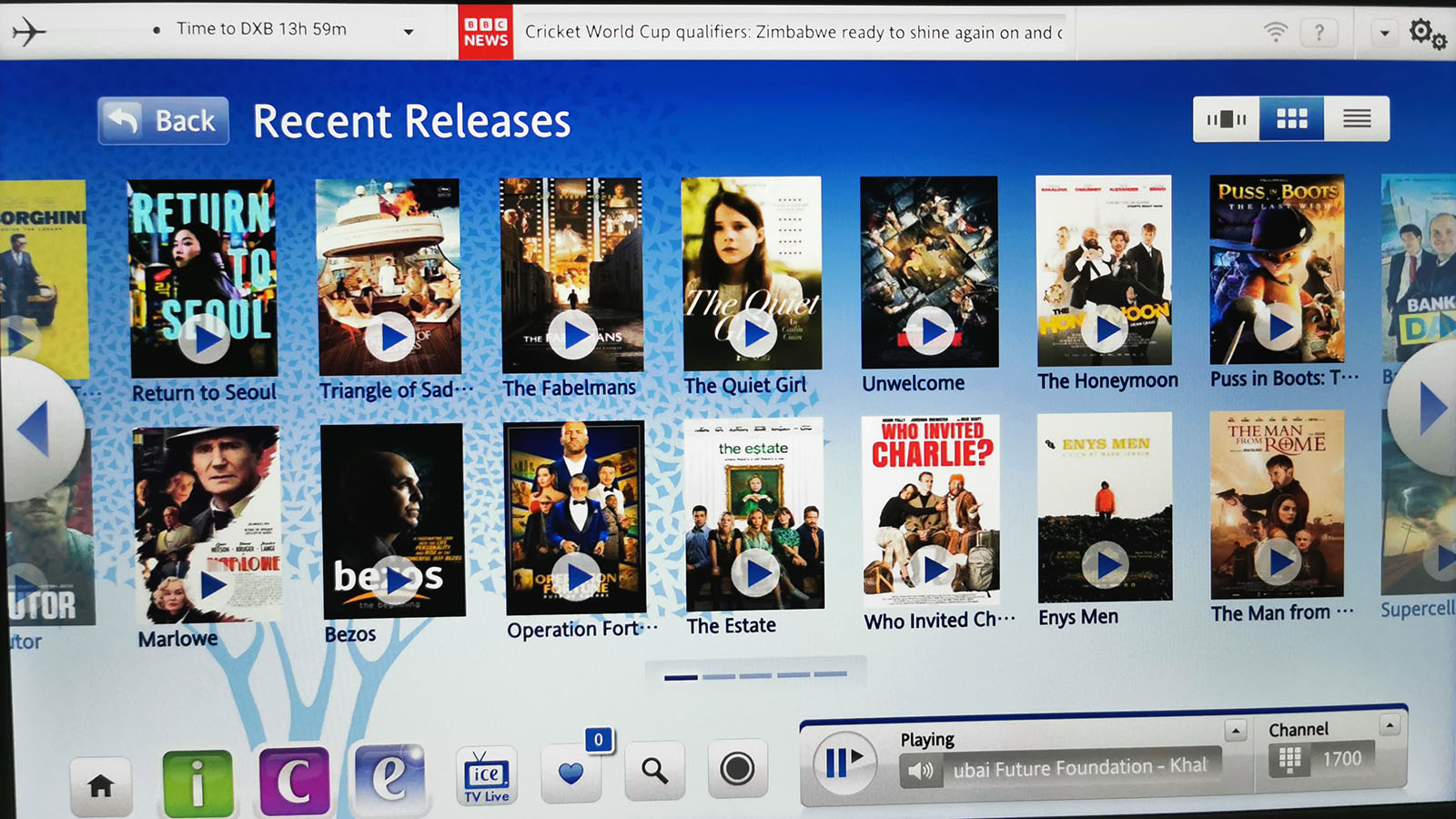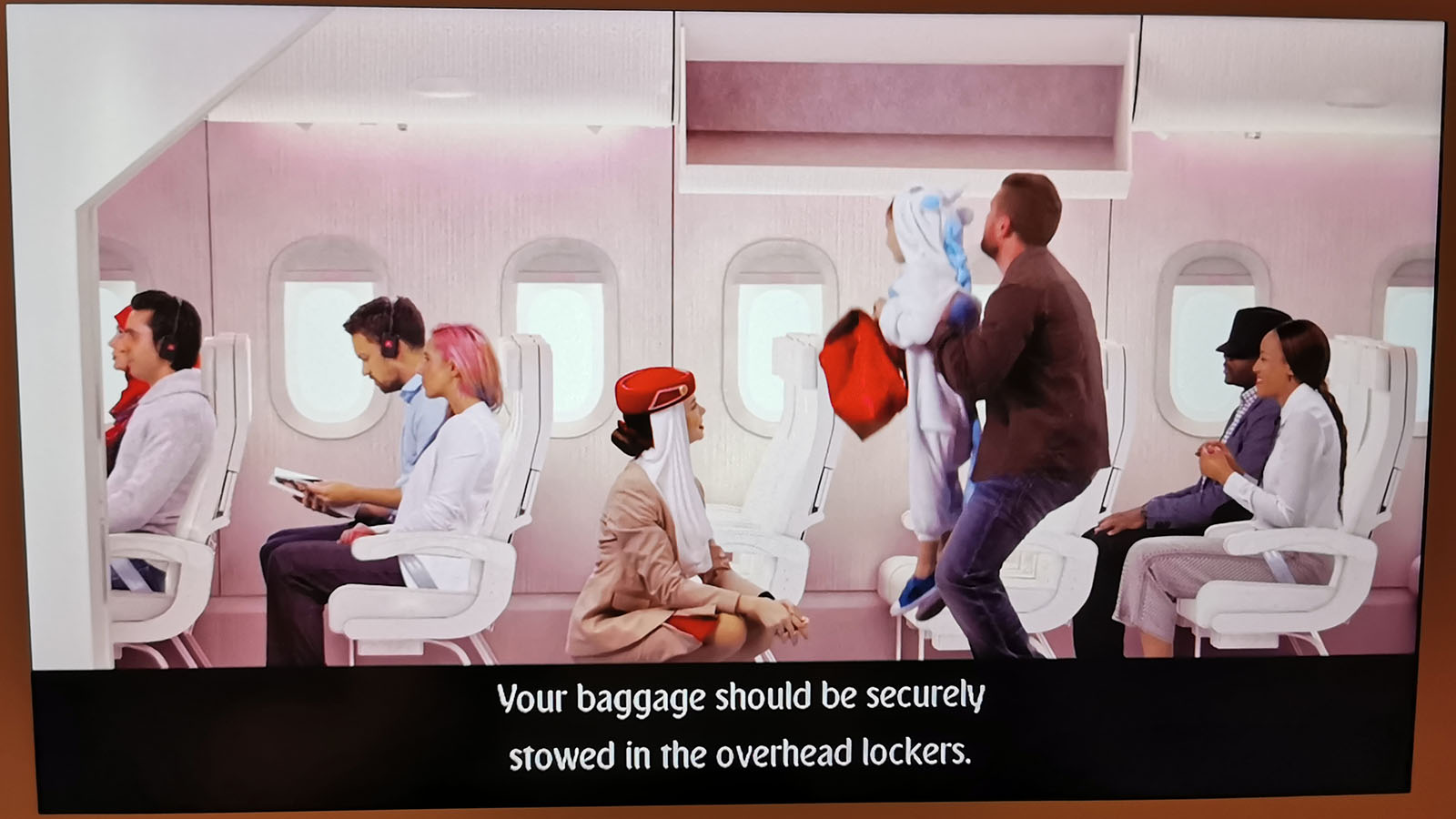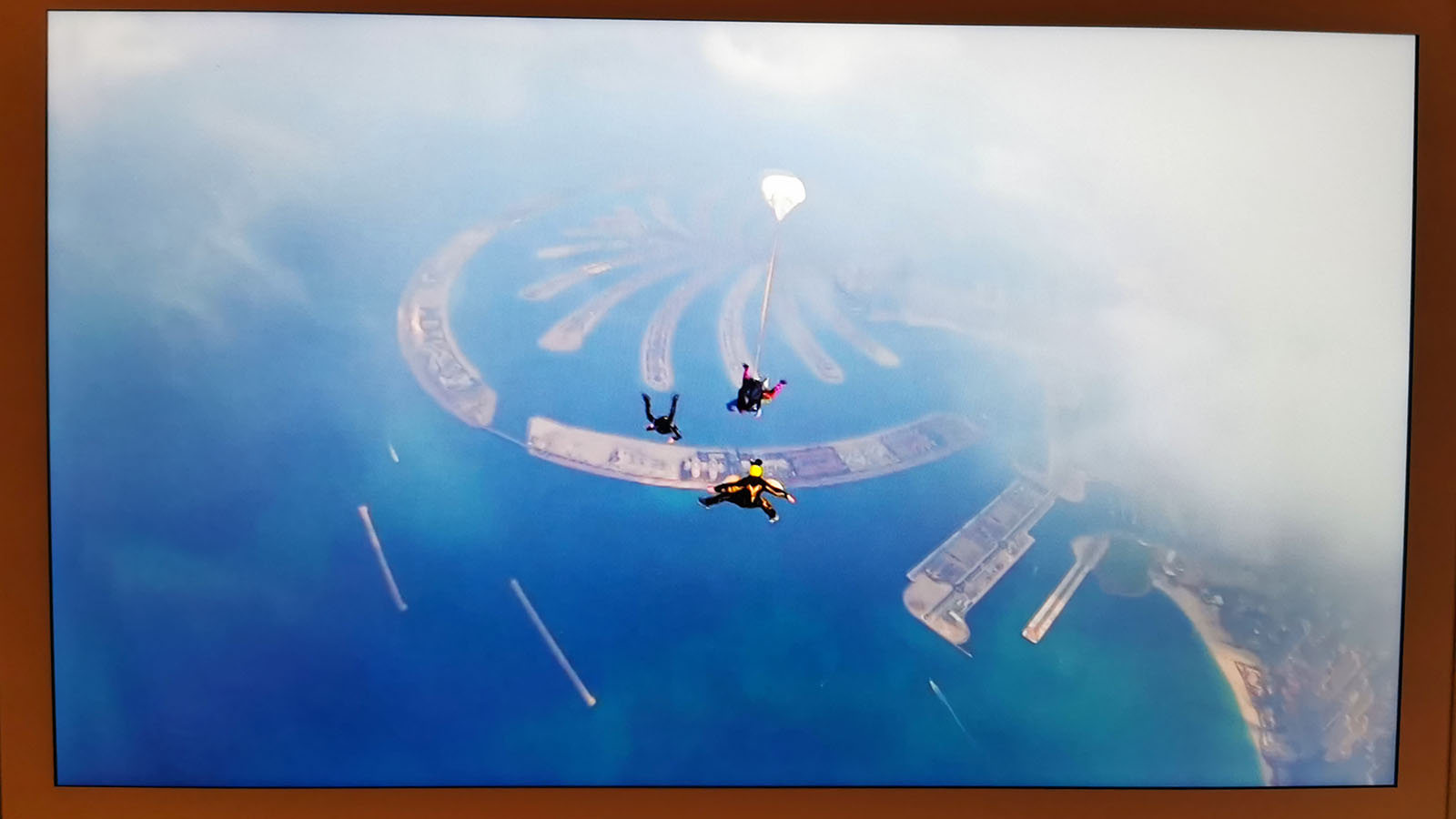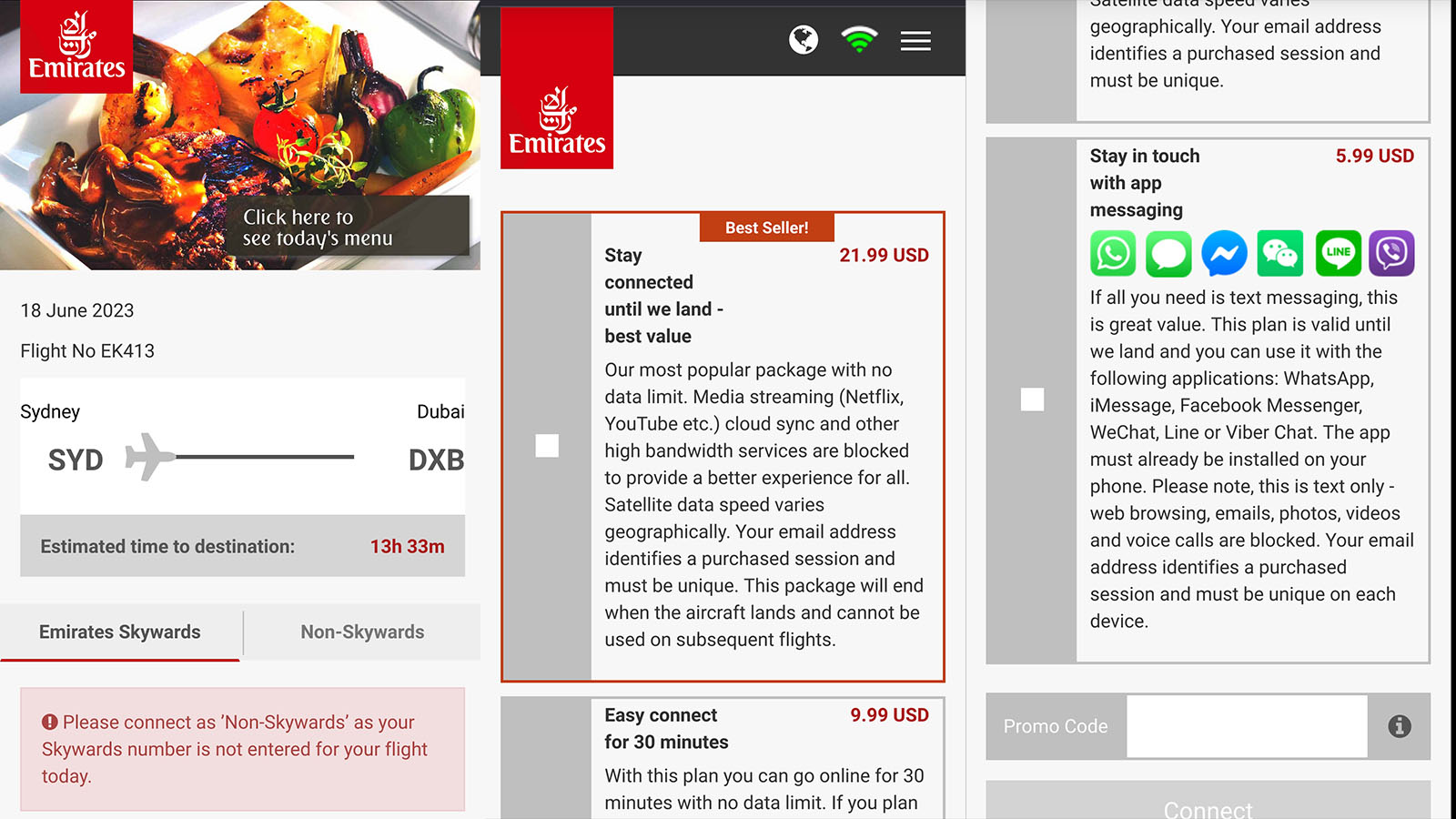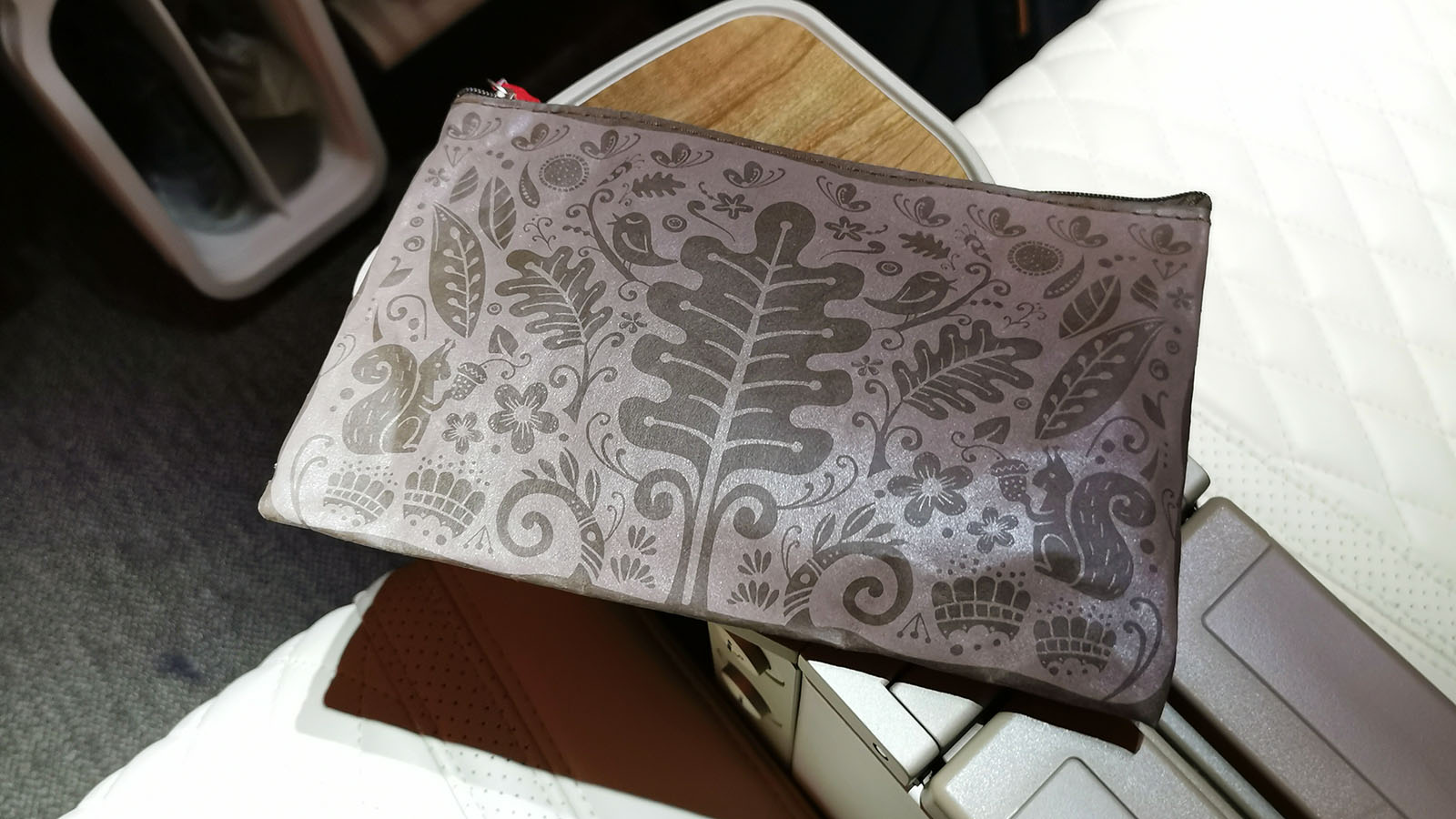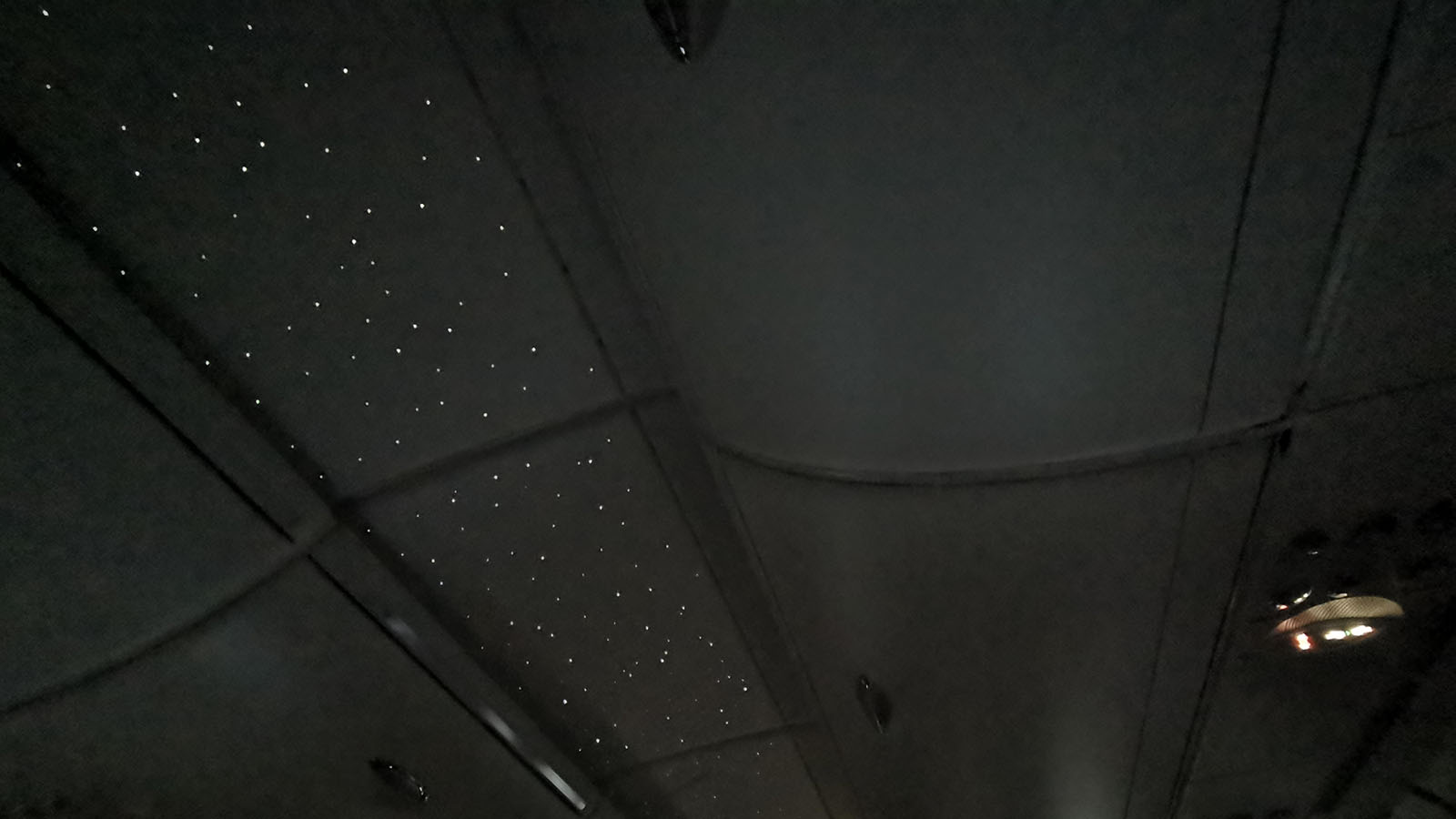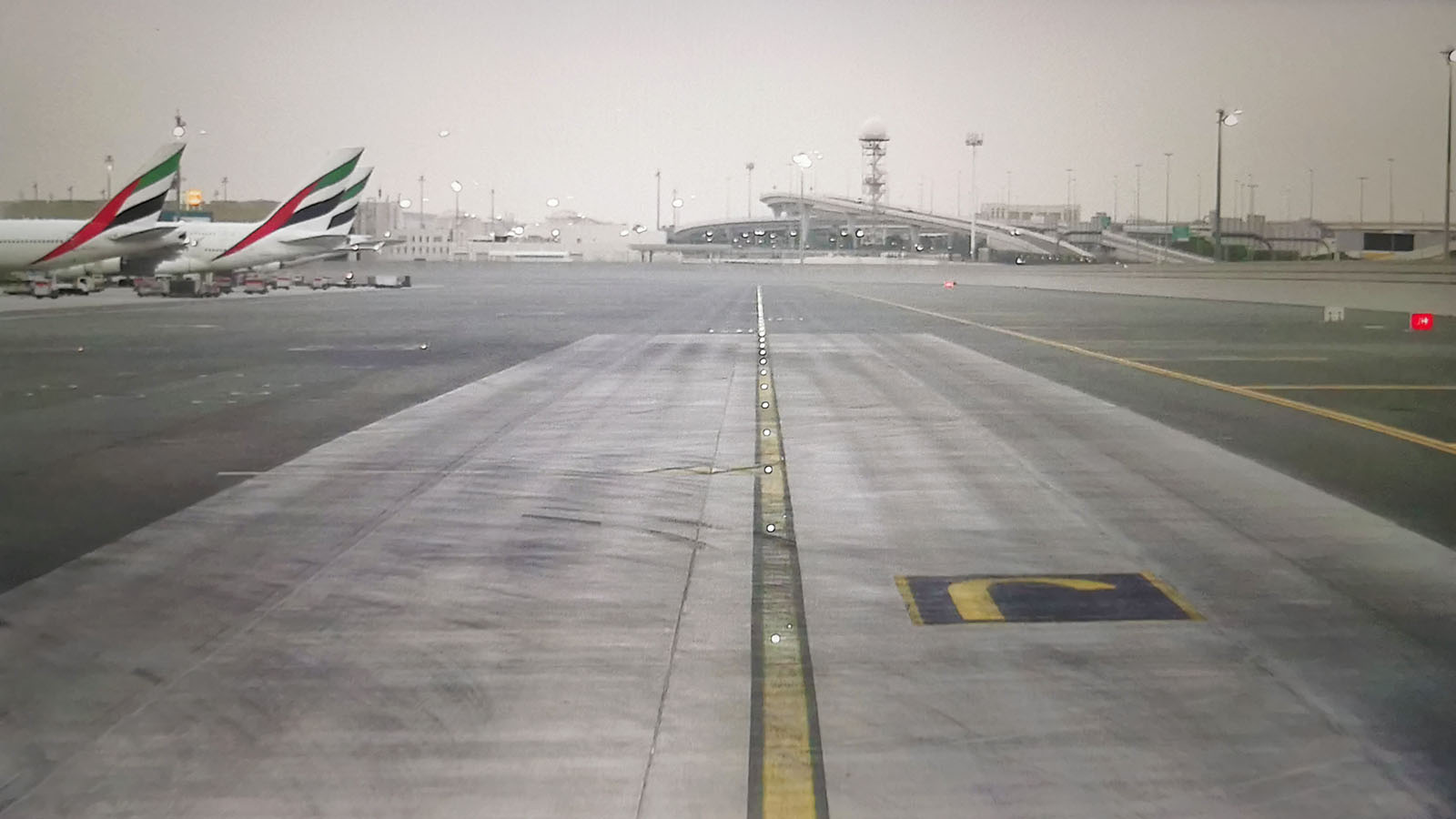 Inflight Wi-Fi is available too. If an Emirates Skywards number is linked to your booking, messaging through services like WhatsApp is free. If you have Skywards Platinum status, you'll get full Internet access at no charge. Otherwise, expect to pay US$9.99 for 30 minutes of connectivity, US$21.99 for the entire flight (full Internet) or US$5.99 for messaging only.
Unfortunately, there's no free access if a Qantas Frequent Flyer number is linked. You have to pay, even if you have elite Qantas status, or are also a Skywards member. I log into Skywards just to try, but the system doesn't budge. My Qantas number needed to be there for lounge access earlier, so I end up buying a pass to get some work done. The service works very well at least, with no dropouts.
The verdict
I've flown Premium Economy with many airlines over the years. Sometimes, the experience is more akin to 'Economy service in a better seat' (Vietnam Airlines comes to mind). Other times, it's more 'Business Class service but without the bed'. On the Airbus A380, Emirates Premium Economy is, quite fortunately, the latter.
It's an impressive start for a carrier that's still quite new to the Premium Economy market. So new, in fact, that Emirates Premium Economy flights can't yet be booked with points. There's simply no 'reward seat' class – even for members of Emirates' own Skywards program. But as Premium Economy rolls out to more flights, that's expected to change.
To the experience itself… for me, sleep is the most important thing on an overnight flight like this. I wasn't expecting much rest – particularly without a bed – but I'm pleasantly surprised with my six hours of kip. It gives me more than enough energy to keep the trip's adventure streak running and tackle the world's longest urban zipline in Dubai just hours after landing.
Dining on crockery, drinks poured in glassware and service to rival Business Class also make the journey pleasingly comfortable.
On daytime flights though, the limited number of power points could prove an issue. There are USB-A and USB-C charging ports built into the TV screen – great for phones – but many laptops require AC outlets. Having one for each passenger would be a significant improvement. It'd also be great to see Emirates extend the same Wi-Fi privileges to Qantas Frequent Flyer members as are available to Skywards cardholders.
But even in its current state, Emirates Premium Economy is a great way to fly. Hopefully, it'll make its way onto Emirates' Brisbane-Dubai flights soon enough. But on a personal note, I really don't mind the lounges – or the company – that come with that transit through Sydney.
Also read: Emirates' Vice President Barry Brown talks Premium Economy with Point Hacks
Feature image courtesy of Emirates. Other photography by Chris Chamberlin, who travelled as a guest of Emirates. Lounge access in Sydney was courtesy of Chris' (earned) Qantas Frequent Flyer status.
---
Stay up to date with the latest news, reviews and guides by subscribing to Point Hacks' email newsletter.
Emirates Airbus A380 Premium Economy (Sydney – Dubai)
was last modified:
June 23rd, 2023
by