Buying Velocity Points is a great way to top-up your balance if you are just short of a major flight redemption, although it might not be worth it if you are trying to get hundreds of thousands of points in one hit.
In this guide, we will look at the two most accessible ways to buy Velocity Points.

How to buy Velocity Points?
was last modified:
October 19th, 2020
by
Buying Velocity Points from the Velocity website
Of course, the most straightforward way to buy Velocity points is direct from the source.


The Velocity Points Booster lets you buy up to 250,000 Velocity Points per calendar year.
The rates start at $36 for 1,000 points (3.6 cents per point) to $5850 for 250,000 points (2.34 cents per point).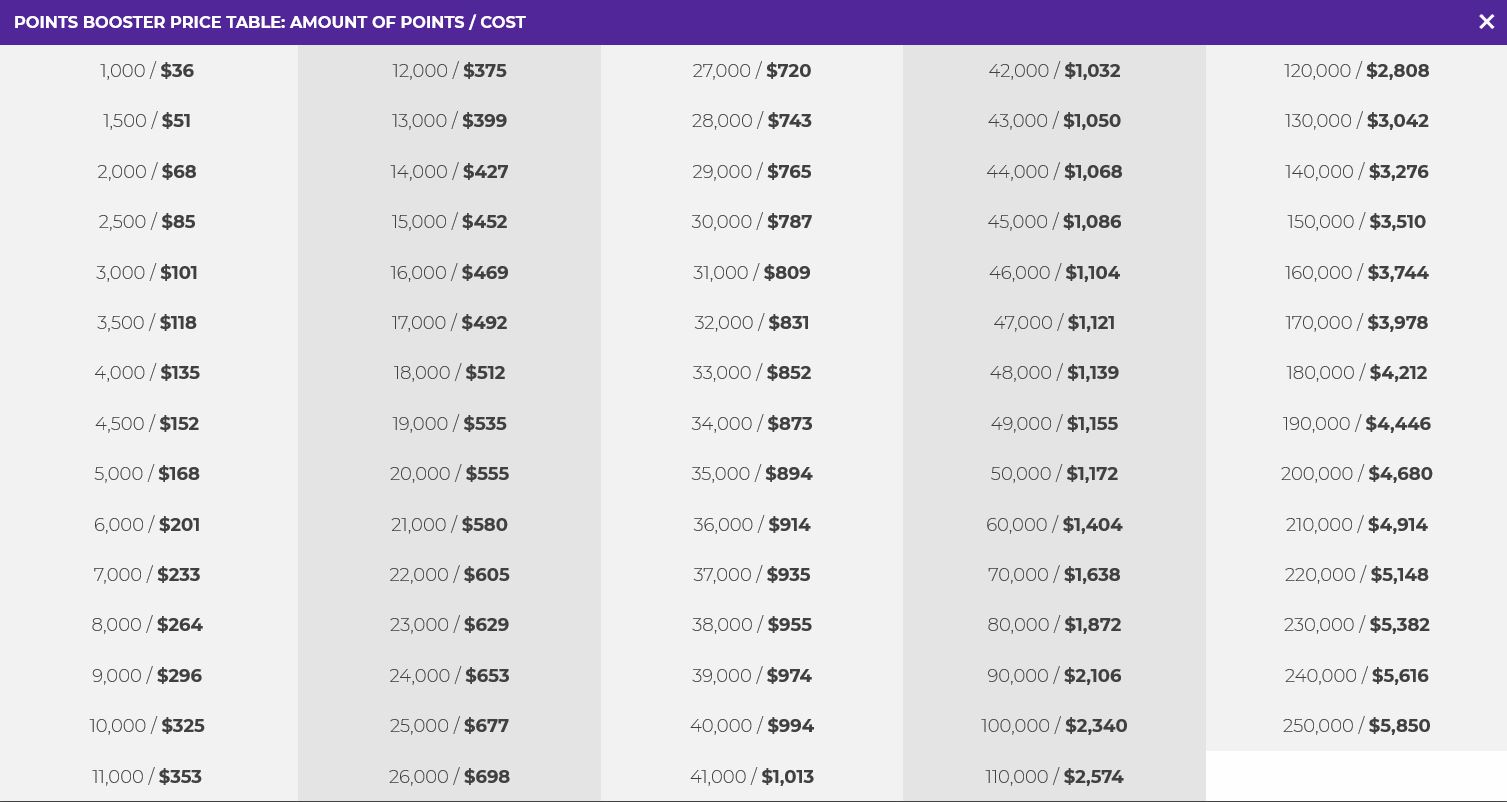 We value Velocity Points at 1.8 cents per point. These purchase rates are a lot higher, meaning it's generally not great value unless you are really just a little short of your goal.
How to buy Velocity Points in three easy steps:
Head over to the Buy Velocity Points page on the Velocity website and log in.
Choose how many points you would like to purchase.
Enter your payment details to complete the transaction.
Note that the transaction is run by points.com which is based in the US, and chances are you might get charged an international transaction fee even though the payment amount is in AUD.
Buying Velocity Points from American Express
American Express cardholders enrolled in Membership Rewards can buy points from Amex directly and transfer them to Velocity.
The cost is $25 AUD per 1,000 points. However, since the April 2019 devaluation, Membership Rewards points have halved in value. 1,000 Membership Rewards points now fetch 500 Velocity Points.
This brings the cost of a Velocity point up to 5 cents each, which is worse than buying Points Boosters straight from Velocity.
Other ways to 'buy' Velocity points
There are a few other creative and indirect methods to buy Velocity points on the side.
This includes buying some wine from Virgin Wines, which often offer some bonus points on top of your purchase.
The Velocity e-Store lets you earn Velocity points on purchases with participating retailers. Many major brands offer 2 Velocity points per dollar spent on their stores.
Frequently Asked Questions
When should I buy Velocity points?
1. To top-up your balance if you are just short of a flight redemption
2. To book reward seats if they are available, and the cash price of your flight is high.

Keep an eye out for promos which offer bonus points or a discount. This will help make the purchase better value for you.

What is a good price for Velocity points?
We value a Velocity Point at 1.8 cents per points, meaning that you would want to purchase a Velocity point at a cost that less than this amount.
How much does it cost to buy Velocity points?
The Velocity Points Booster costs between $18 for 500 points, up to $5850 for 250,000 points.
How many Velocity Points do you need for the lounge?
Single-entry lounge pass can be purchased for 10,000 Velocity points at the Velocity Rewards Store. Alternatively, it costs $65 on the day at the lounge reception for entry.

Check out our guide for other ways of earning and using Virgin Australia lounge passes.
Can you lose Velocity points?
Your Velocity points will not expire as long as you earn or spend at least one Velocity point in a 24-month period. This includes earning points with any partner, or spending points on a flight redemption. Family Pooling and Family Transfers do not count.

How to buy Velocity Points?
was last modified:
October 19th, 2020
by