KrisFlyer is the points program for the Star Alliance member Singapore Airlines. It's an extremely versatile scheme that's equally good for booking journeys via Singapore and big round-the-world trips involving multiple partner airlines. This makes it very easy to earn KrisFlyer miles through a KrisFlyer miles earning credit card.
While it's not possible to directly earn KrisFlyer miles from credit cards in Australia, there are a few flexible points programs that do have partnerships. In this article, we will guide you through all the essential questions you should consider to ensure you maximise the points earning potential of your credit card.
What is the best Singapore Airlines KrisFlyer credit card sign-up bonus deal?
Card
Bonus Flexible
Points
Transfer
Ratio
KrisFlyer Miles (equivalent)
Annual Fee
Expiry
Card Guide

American Express Platinum
Business ↓
200,000 Membership Rewards Points
3:1
66,666 KrisFlyer Miles
$1,750 p.a. ongoing
ongoing
Read Here

American Express Platinum ↓
150,000 Membership
Rewards Points
3:1
50,000 KrisFlyer Miles
$1,450 p.a.
ongoing
Read Here

St.George Amplify Rewards Signature ↓
150,000
Amplify Points
3:1
50,000 KrisFlyer Miles
$199 for the first year,
$295 p.a. ongoing
30 November 2023
Read Here

ANZ Rewards Black ↓
180,000 ANZ
Rewards Points
3:1
60,000 KrisFlyer Miles
$375 p.a. ongoing
No current offer end date
Read Here

Westpac Altitude Black ↓
150,000 Altitude Points
3:1
50,000 KrisFlyer Miles
$150 for the first year,
$295 p.a. ongoing
30 April 2024
Read Here

American Express Explorer ↓
50,000 Membership
Rewards Points
3:1
16,666 KrisFlyer Miles

$395 p.a.
ongoing
Read Here
The offers displayed on this page are selected from a range of products across pointhacks.com.au as at the time of publishing this article. The use of terms "Best" and "Top" are derived from the highest bonus points offered.
What is the best credit card for KrisFlyer miles?
Find below a roundup of some flexible points earning cards that allow transfer to KrisFlyer miles with noteworthy bonus offers to know about this month.
What is the easiest way to earn KrisFlyer miles?
In Australia, the easiest way to earn KrisFlyer miles is by first earning points in other participating rewards programs, then transfer those points onwards to KrisFlyer miles.
The main benefit of this arrangement is that you have flexibility in where your rewards points go. Just send them to your KrisFlyer miles account when it suits you, rather than wait for a monthly transfer. Sometimes, there are bonuses for transferring too.
These programs can transfer to KrisFlyer miles:
Velocity Frequent Flyer can also be transferred to KrisFlyer (1.55 Velocity Points to 1 KrisFlyer mile), check out our guide here to learn more.
What do I look for in a KrisFlyer miles-earning credit card?
Transfer rates: Just like Asia Miles, flexible reward programs may have different transfer ratios to KrisFlyer miles, although most of them now transfer at a ratio of 3:1. This means you could get different KrisFlyer points balance from two cards that offer the same sign-up bonus and earn rates.
Bonus points offer: At Point Hacks, our bread and butter is to highlight big bonus points offers that many credit cards have for new customers. It is not uncommon to see signup bonuses of 100,000 rewards points or more (which may be worth up to 33,000 KrisFlyer miles)!

Although this shouldn't be your sole consideration for choosing a card, it may definitely be a big deciding factor in your final decision.
Earn rates: It's also important to know how many KrisFlyer miles you could earn for ongoing purchases Each card has its own 'effective earn rate' which can be worked out from the points you earn from the card, divided by its transfer rate to KrisFlyer miles.

For example, a card that earns 2 reward points per dollar spent and has a 3:1 transfer rate to KrisFlyer miles will effectively earn you 0.66 KrisFlyer mile per dollar spent.

Most Visa and Mastercards will effectively earn 0.33 to 0.66 KrisFlyer mile per dollar, depending on the type. Some will have caps on the number of points earned per month, which is something to keep in mind if you have got a few large purchases coming up (it would be better to spread them out if possible).
Bonus travel inclusions: Gold, Platinum and Black-tier credit cards will include extras to enhance your travel experience — potentially something like Priority Pass membership for lounge access. Consider if these will benefit your future travels, as it may help differentiate one card from another.
Included insurances: Those same grade rewards credit cards also tend to include some form of complimentary insurances. Most common is travel insurance, which is activated when you purchase flights or accommodation with the card.

Be sure to read the Product Disclosure Statements (PDS) very carefully, as these free insurances will have clauses that could catch you out. Other cards might also throw in price-drop protection, extra extended warranties on products, or even smartphone screen damage cover.
What do I need to be mindful of with KrisFlyer miles-earning credit cards?
Like any other credit card, you should take the following financial factors into account when deciding which rewards card is best for you.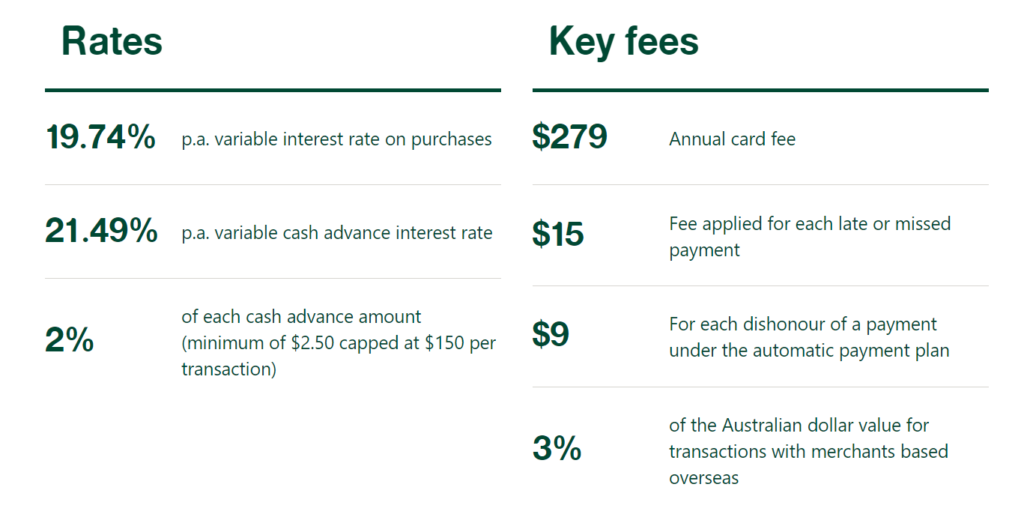 Interest rate: All rewards cards have high-interest rates on purchases and cash advances. What's the easiest way to avoid them? Simply spend what you can afford, and pay off your balance in full every month — as simple as that.

If you have issues with credit card debt, a rewards card may not be the best option right now, as the fees and interest incurred will almost definitely outweigh the value of any KrisFlyer miles earned (plus, you don't earn points on bank fees).
Annual fee: The annual fee is a yearly charge by the issuing bank that most credit cards have. It's designed to cover the benefits and costs associated with your particular card.

For example, look at the American Express Essentials Card which earns Membership Rewards points. It has a $0 annual fee, but generally has no sign-up bonus and earns 1.25 points per dollar (0.41 KrisFlyer miles).

Compare that to the American Express Explorer Card. It has a $395 annual fee, but that's offset by a $400 travel credit each year. There's usually a big sign-up bonus, and it earns 2 Membership Rewards points per dollar (0.66 KrisFlyer miles).
Interest-free days: Most credit cards will allow from 44 to 55 days of no interest charged on your purchases, which is a standard feature. This gives you a little breathing space to pay off your purchases next month without any fees. However, this may not apply if you also take out a balance transfer at the same time, so read the T&Cs.
Income requirements: Credit cards with increasingly higher tiers (i.e. Gold, Platinum, Black) will usually have a higher income requirement to apply for it. This is because those cards have higher credit limits, which would be a liability to someone who is not earning enough money.
What do I need to know before I apply for a KrisFlyer miles credit card?
Here is a quick summary of what you should know before applying for a rewards credit card:
Can I easily fulfil the criteria for bonus points? Most bonus point offers will require you to spend more than a certain amount (often $1,000+) per month, for a few months.

If this is difficult for you to achieve with normal household spend or paying some bills early up-front, then this might not be the right credit card for you. Remember, the goal isn't to spend more money unnecessarily. It's to earn points without varying your spending habits too much.
Am I eligible for the bonus points? Most cards will exclude you from bonus points if you have held their credit cards in the last 12-18 months. This will be in the terms and conditions. It's best not to apply for a card when you're not eligible for a bonus sign-up, as you won't be maximising your points-earning potential.
Is my credit score healthy? The chances of having your application accepted are much better if you have a good credit history. This means not having a history of debt, or applying for too many credit services (e.g. loans or even mobile plans) in a short period of time.
How can I earn KrisFlyer miles after I get my credit card? Once you get your rewards credit card, be sure to meet the minimum spend requirements to unlock your sign-up bonus and convert it to KrisFlyer miles. Once that's all done and dusted, there are a few strategies to boost your points-earning capabilities for KrisFlyer miles.
Take advantage of transfer bonuses: Most bank programs sometimes run transfer bonuses that might offer 15-40% more points when transferring. If KrisFlyer miles is part of the promo, then that could be a good time to transfer.
Put your everyday purchases on the card: from insurance premiums to car hire, new indoor plants to a gym membership — you can maximise your points by putting most of your normal household expenses on the credit card and paying it off in full every month.
Frequently asked questions
The following answers are general advice and do not take into account your personal circumstances. Be sure to consider all aspects of a credit card before applying.
What credit card is best for KrisFlyer miles?
The best frequent flyer card depends on everyone's individual circumstances. This guide will help you understand all aspects of a rewards-branded credit card so you can make the best choice for yourself.
Does Singapore Airlines have a credit card?
In Australia, Singapore Airlines and KrisFlyer do not offer any direct-earning cards. However, this guide will show you other cards with flexible rewards programs you can apply for that can convert reward points to KrisFlyer miles.
Is getting an airline credit card worth it?
If you manage your finances well, can take advantage of sign-up bonus deals and can continue earning points on regular spend, then it could be worth having a rewards credit card for earning airline frequent flyer points.
What is the best credit card for airline tickets?
In Australia, most credit cards are the same when it comes to buying airline tickets. Generally, only some Qantas and Velocity-branded cards will offer bonus points when buying flights through Qantas and Virgin Australia respectively.

What is the best credit card for KrisFlyer miles?
was last modified:
October 15th, 2023
by