If your journey with Emirates begins in Dubai, the First Class Lounge in Concourse B of Terminal 3 might be the first port of call – especially if you're travelling in First Class or hold a shiny Platinum card with Emirates Skywards or Qantas Frequent Flyer.
Located upstairs from Emirates' Business and First Class check-in area, the lounge is one of three Emirates First Class lounges in Dubai. It's the most convenient lounge if you're departing from the B Gates, but there's nothing stopping you from poking your head in before you head off to the other lounge in Concourse A (the biggest one) or Concourse C (the smallest one).
I briefly visited this lounge while transiting in Dubai on my way from Perth to Vienna in First Class. As no gate was assigned to my onward flight when checking in, my boarding pass was printed with 'Emirates Lounge Concourse B' on it. Connecting First Class passengers were also escorted here from the plane.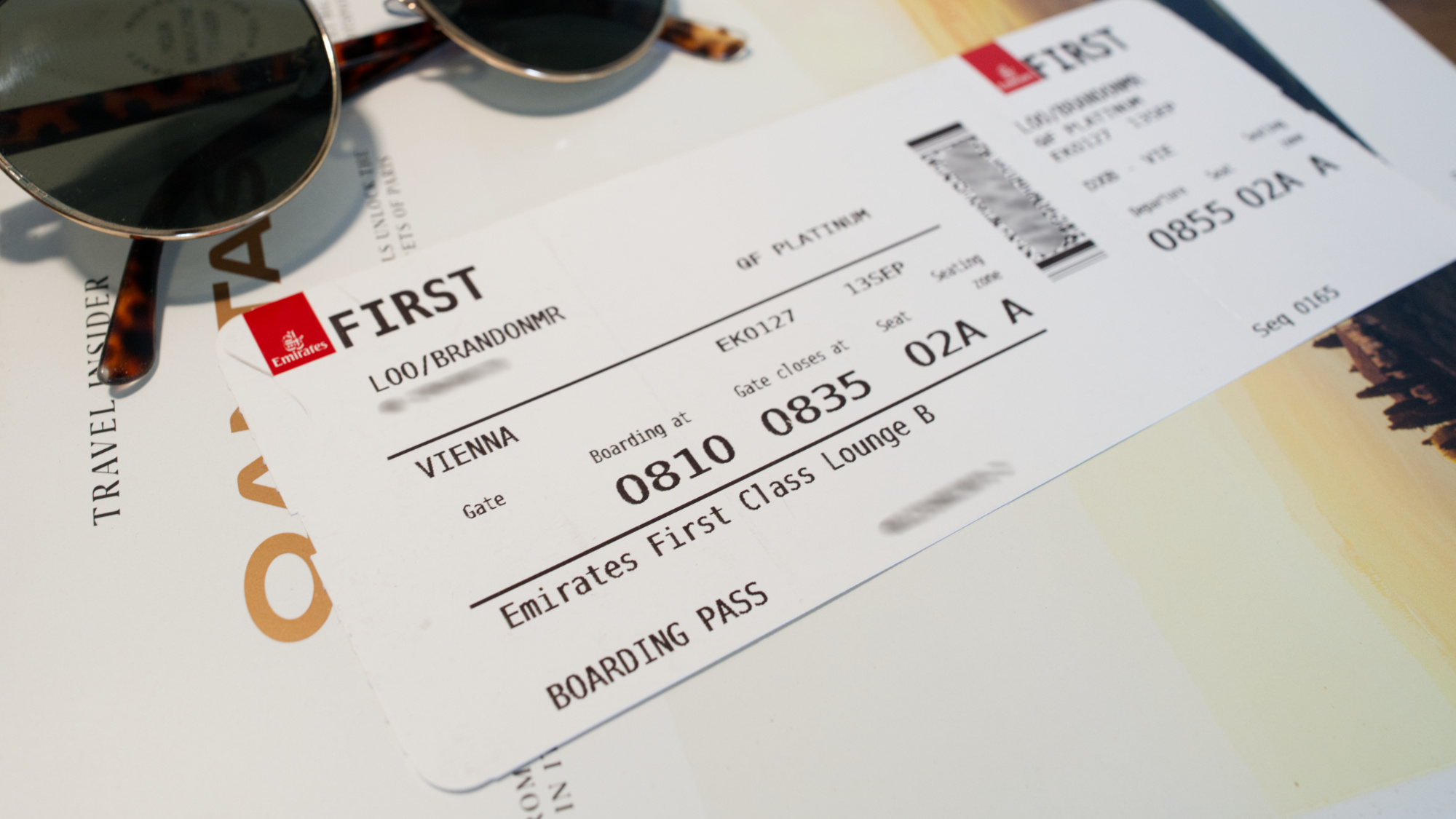 So here's what to expect from a morning visit to the Emirates First Class lounge in Concourse B.
Lounge location and details
Dubai International Airport's massive Terminal 3 is split into two concourses: A and B. (Concourse C is nearby in the neighbouring Terminal 1, which is directly accessible airside). This First Class lounge is located upstairs from the middle of Concourse B, between gates B16 and B18.
As a connecting passenger travelling in First Class, I am promptly taken through transfer security screening before riding a lift up one level to the lounge itself.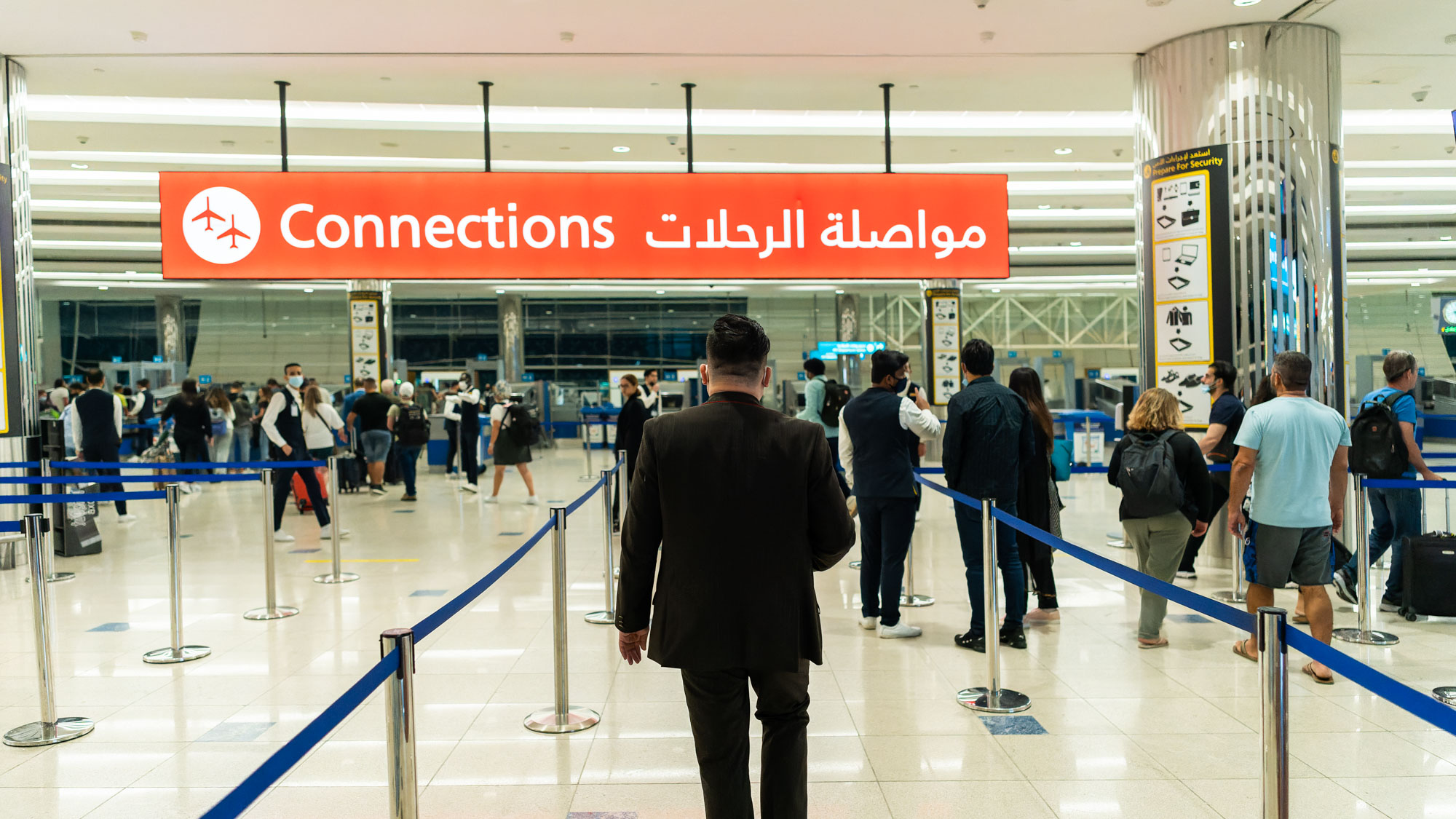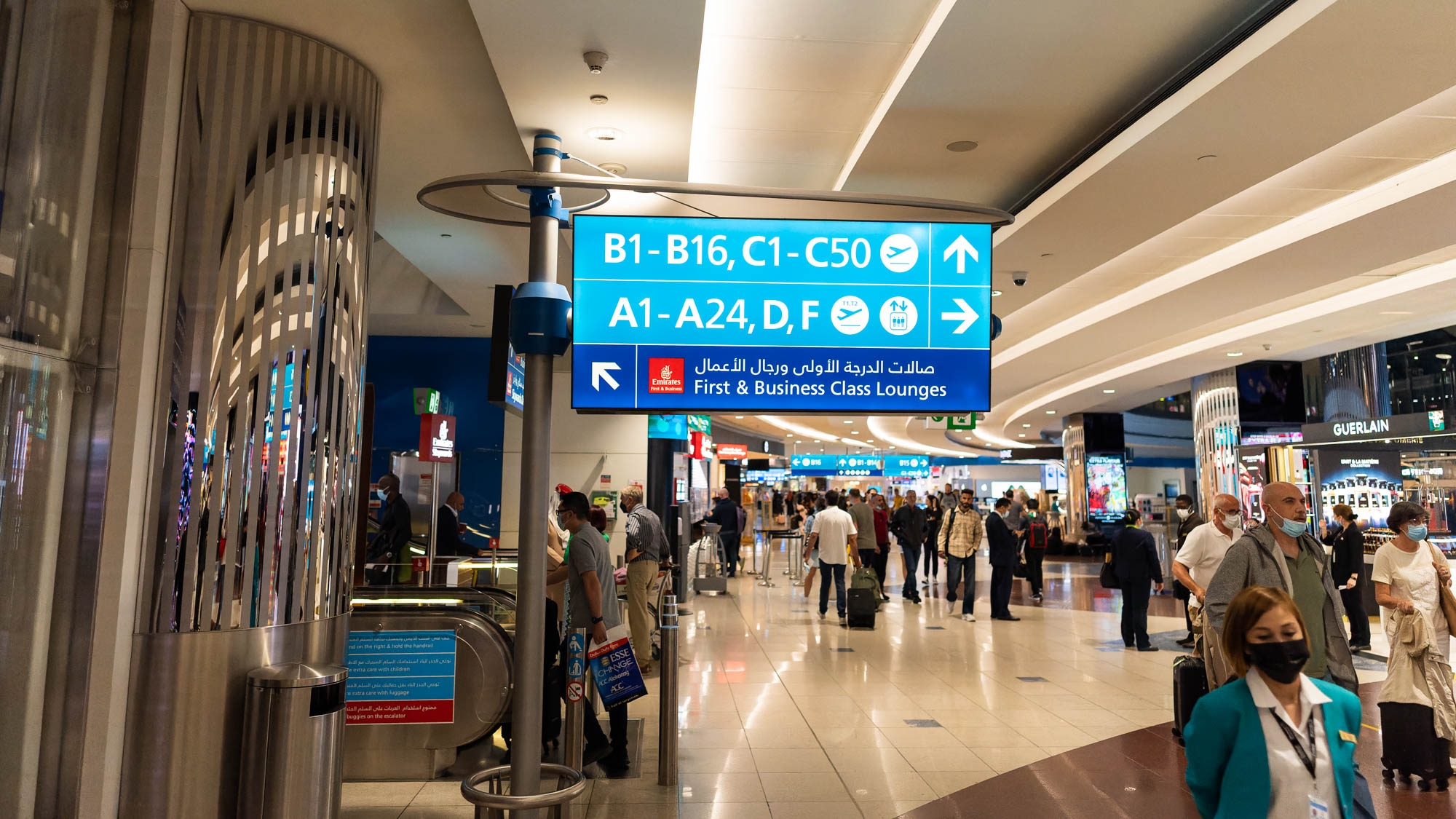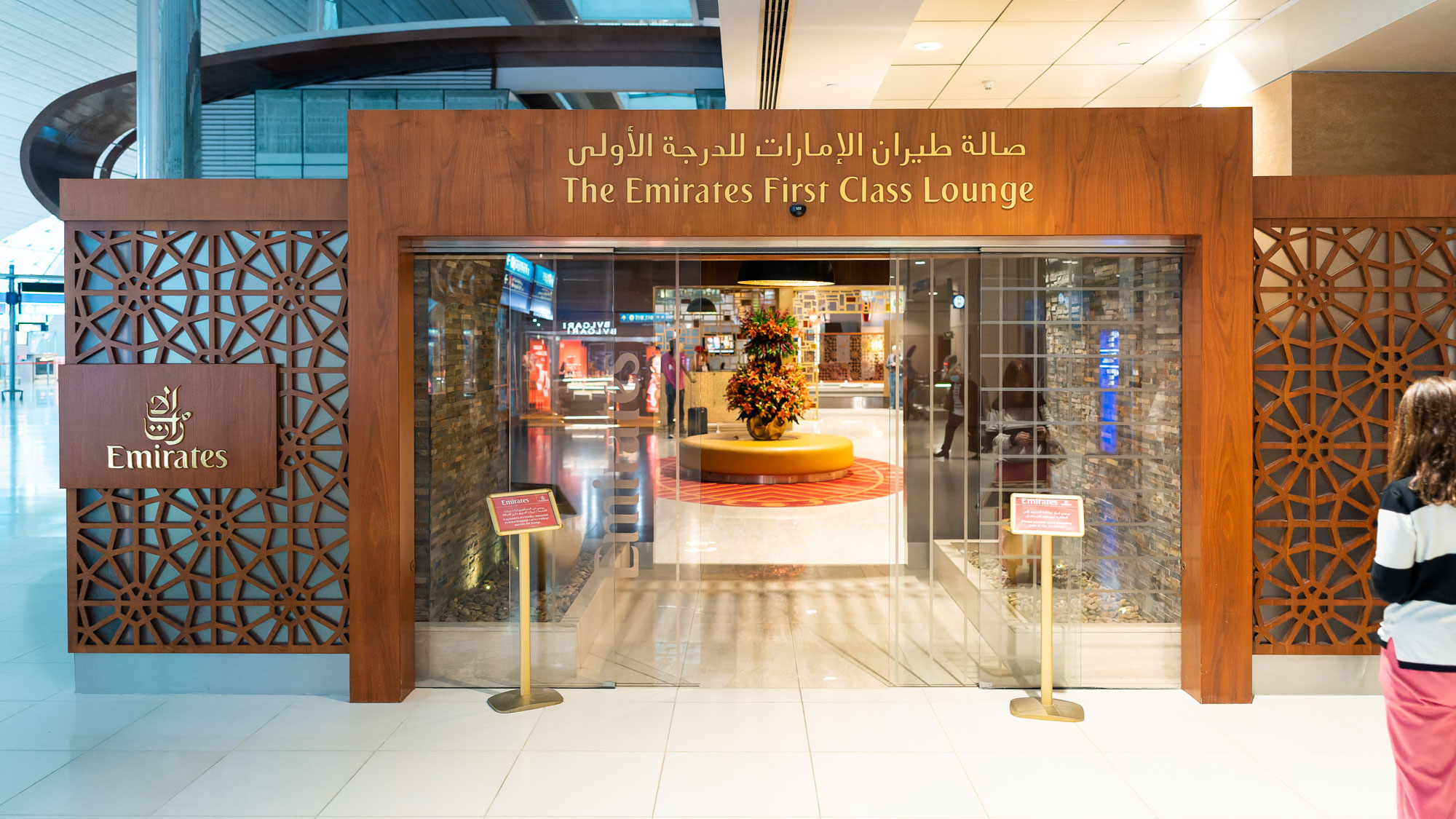 All Emirates lounges here are open 24/7, 365 days a year. No surprise, as Dubai is a major transit hub.
Seating and layout
Emirates' Concourse B First Class lounge takes up a sizeable chunk of this floor and warrants its own directory. The most eye-catching part of the whole lounge is just after reception, where an expansive gently-bubbling water feature reaffirms just how much space Emirates has to play with.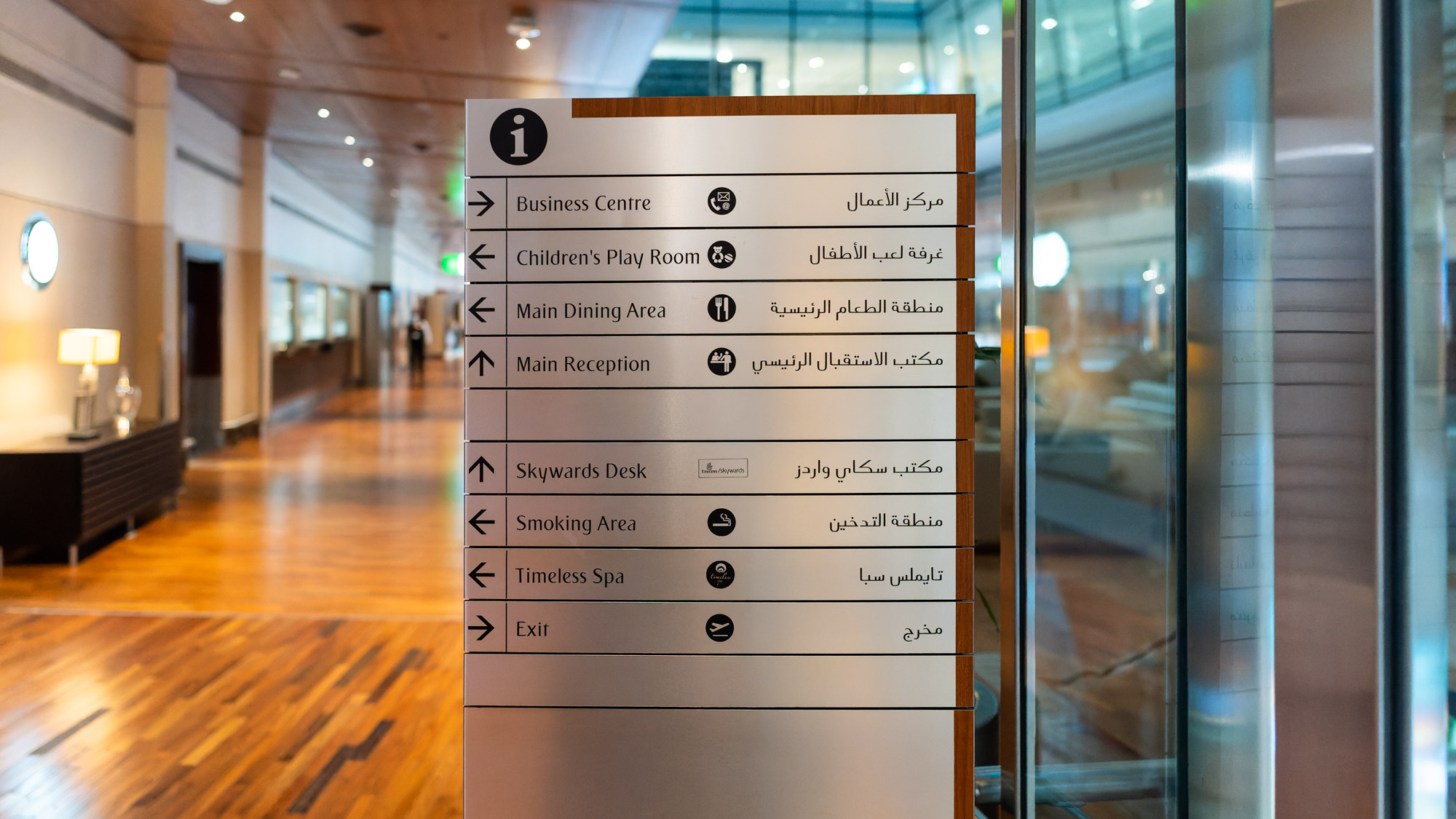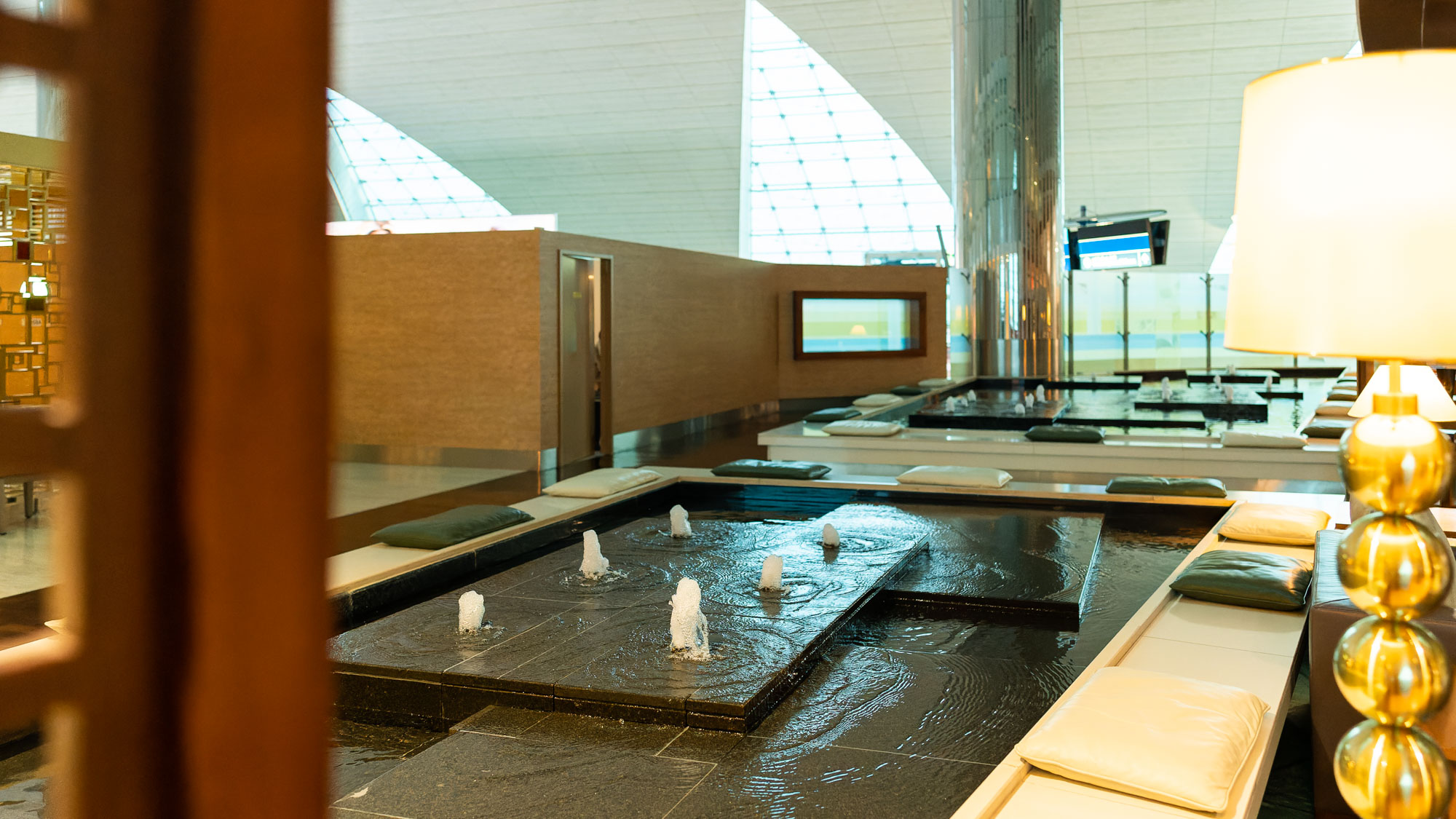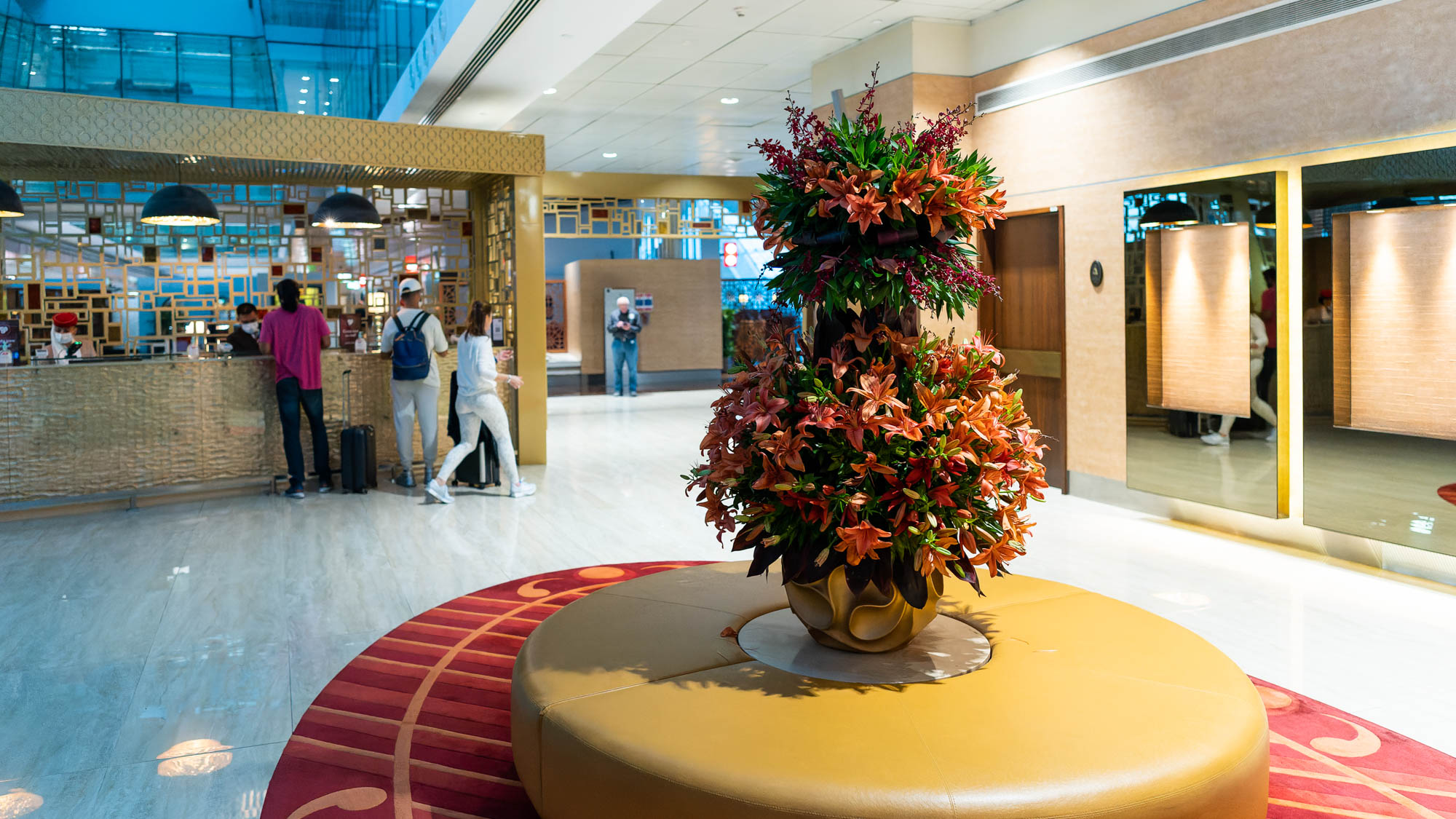 The entry takes on a distinctive Middle Eastern feel, but the décor changes quite a bit throughout the different zones of the lounge. Think of the whole space as a long rectangle with a cut-out in the middle that looks down towards the main terminal.
All sorts of seating can be found throughout, including along the central section overlooking the terminal. Toilets and showers are located on the left when you enter, while the main amenities – such as the restaurant and spa – are on the right-hand side.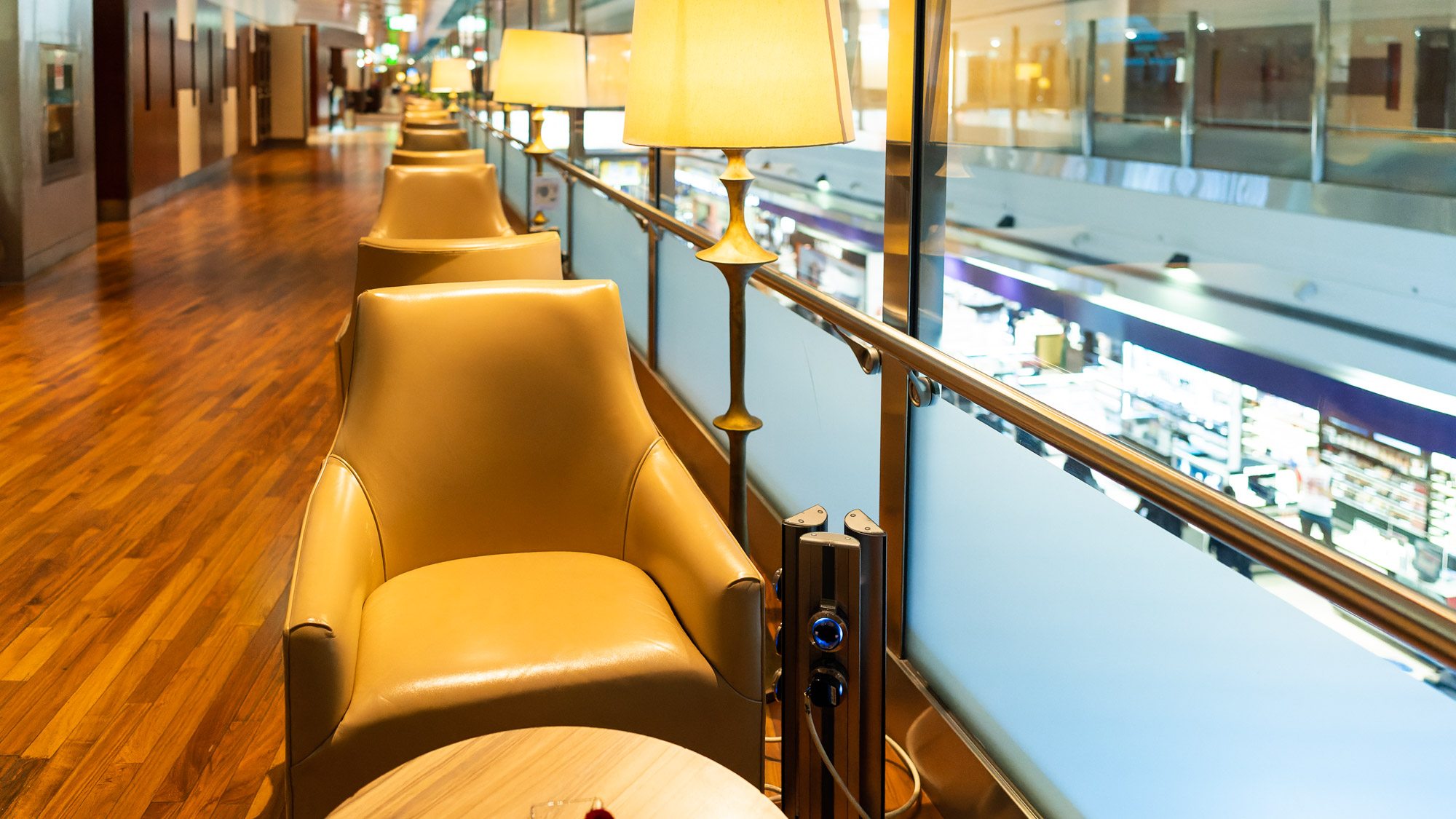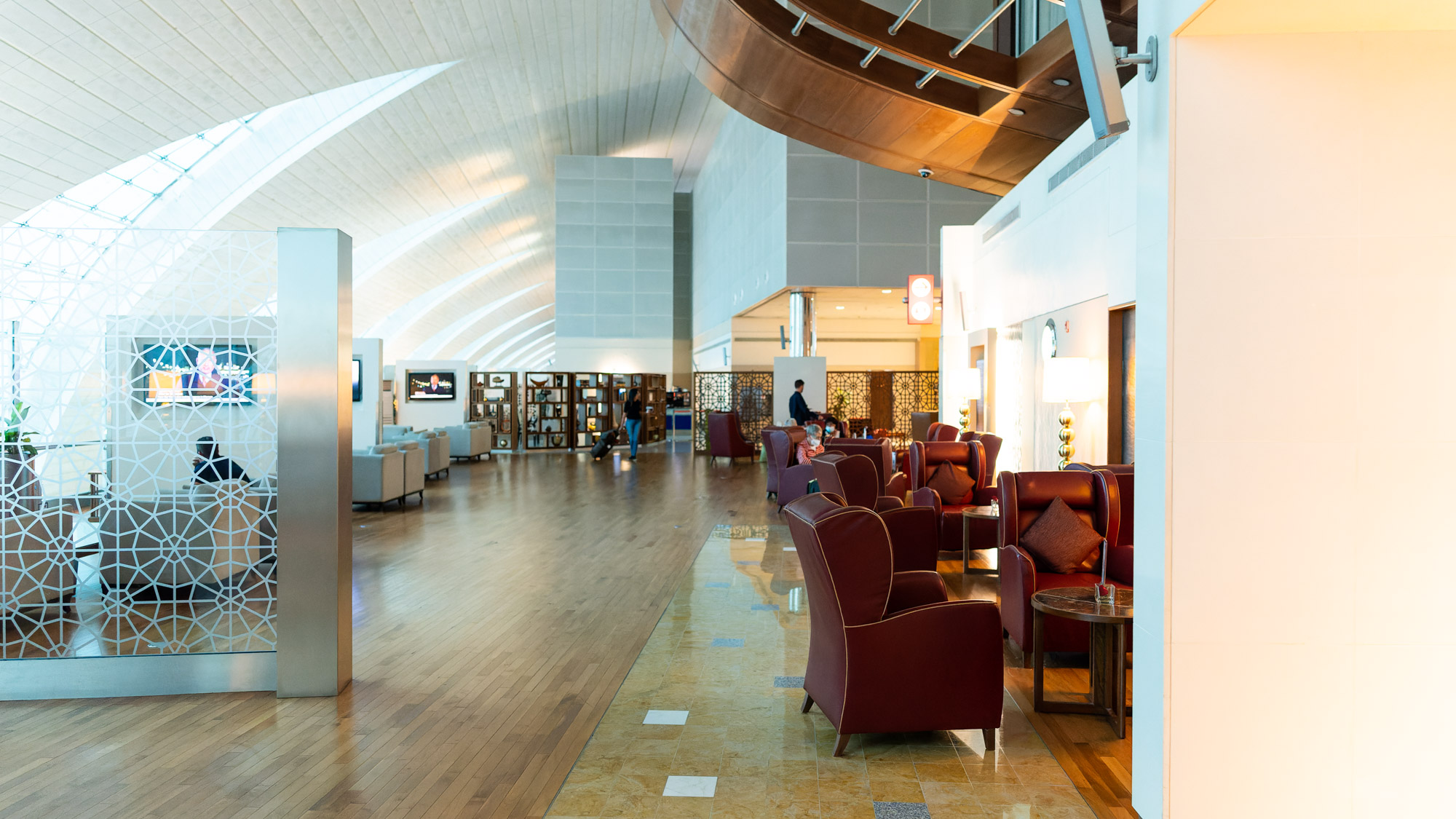 As our transit is quite short, we end up spending most of our time in the restaurant. This is one of the biggest areas in the lounge. Staff provide full waiter service and direct us to one of the many empty tables, each resplendently set with a rose.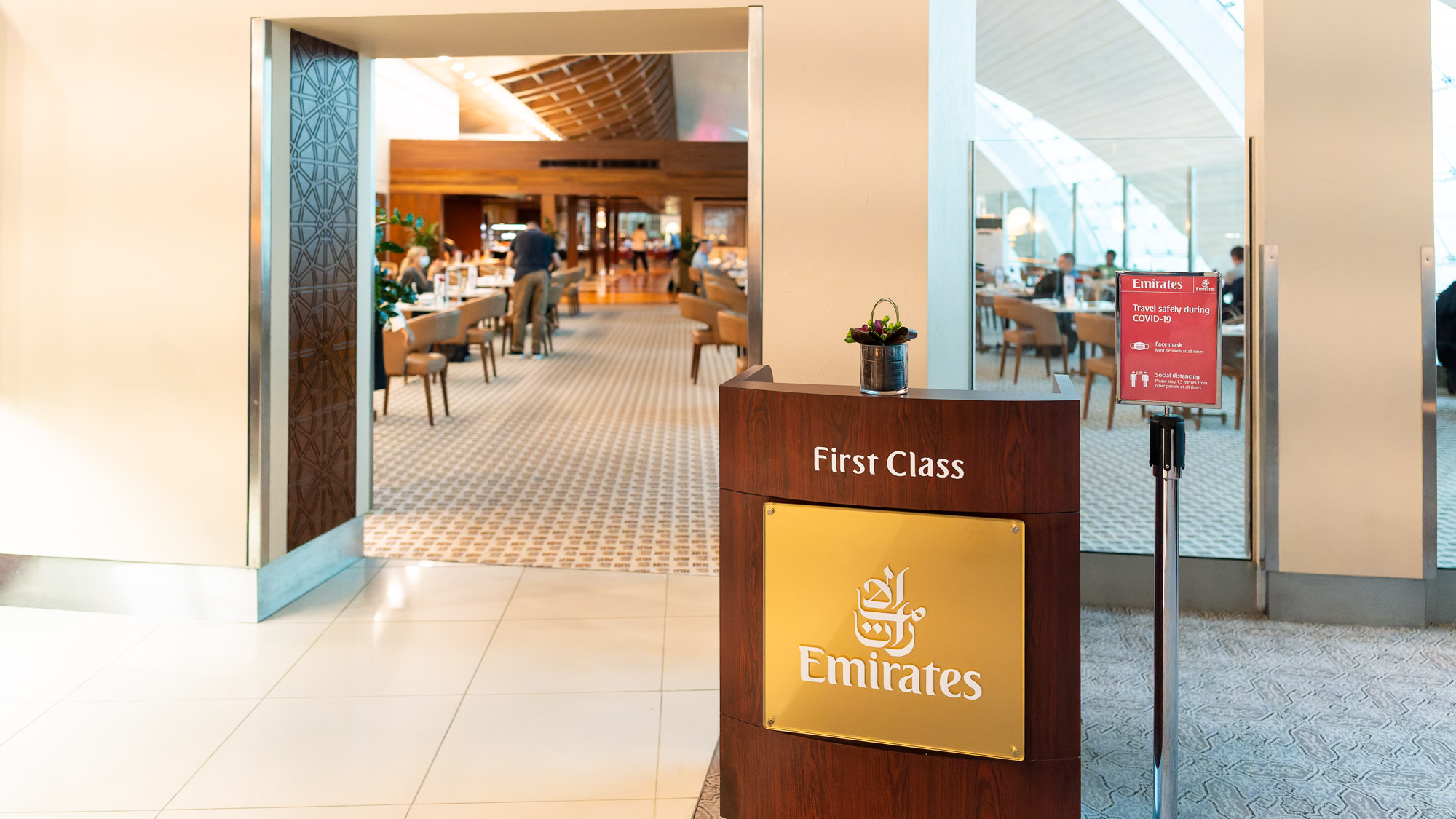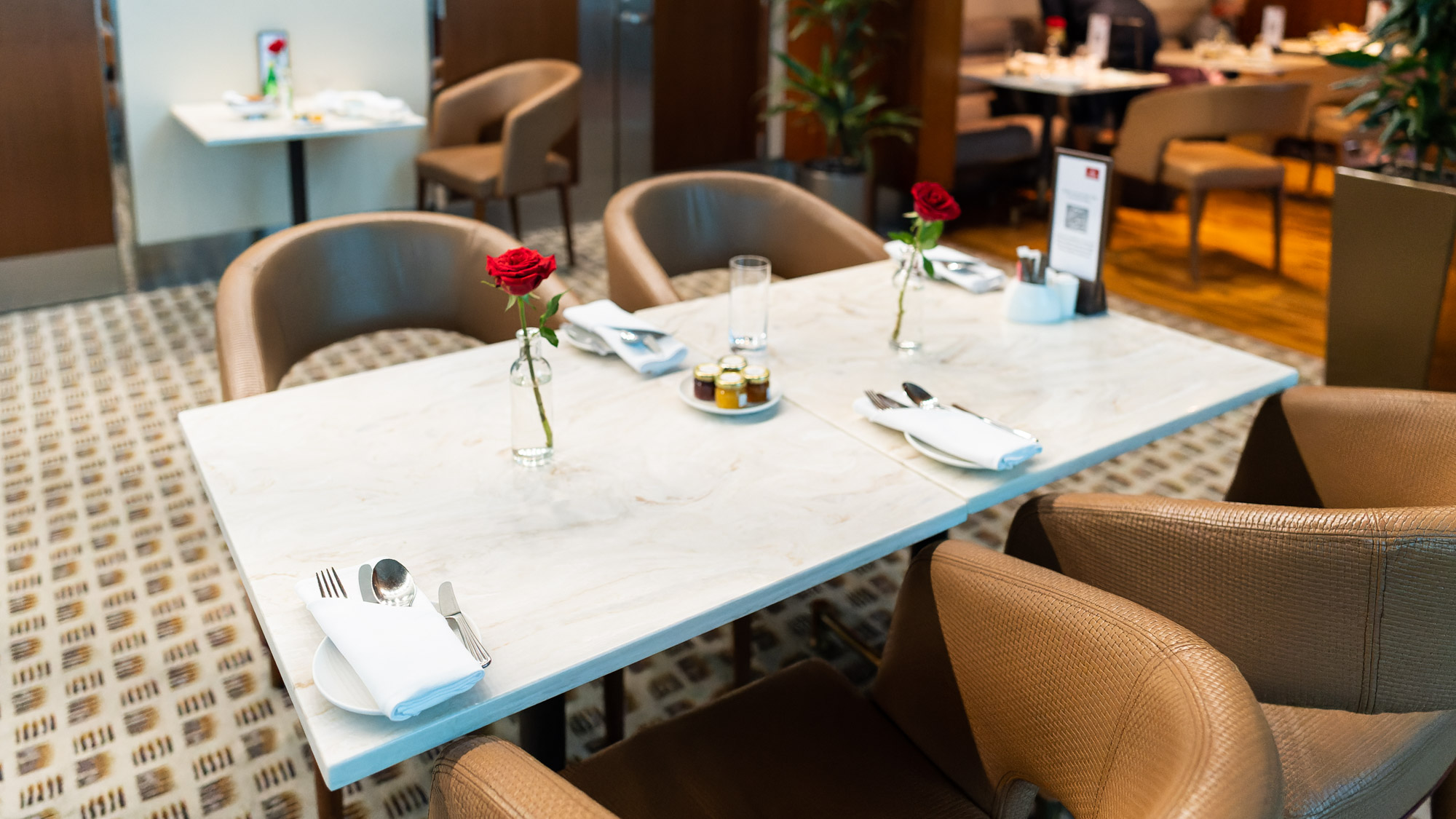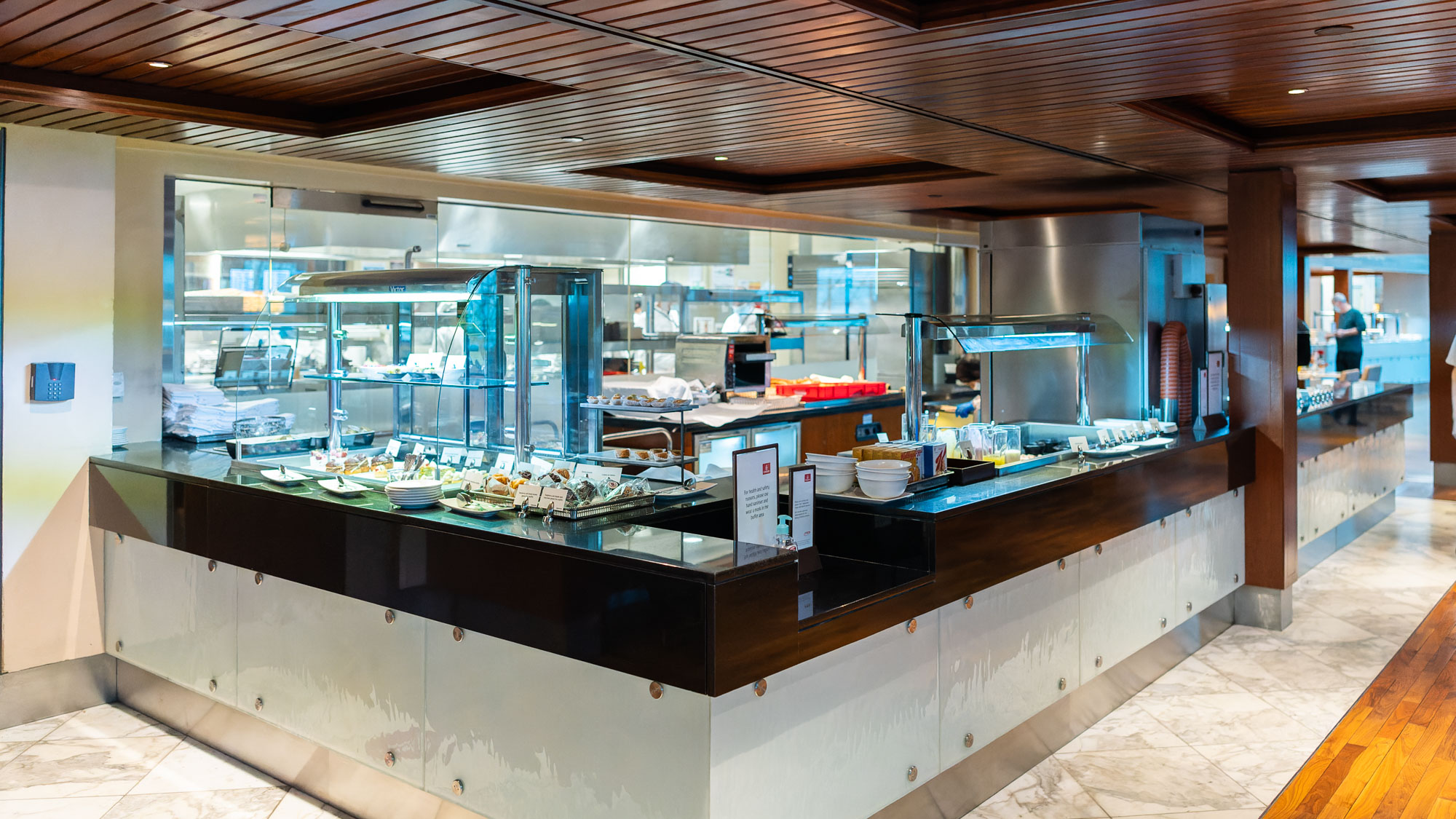 When it's time to go, the lounge has an exit that conveniently leads out to the upper boarding level of the odd-numbered gates from B13 to B21. It's not the same as the direct-from-lounge boarding gates that exist in Emirates' flagship Airbus A380 Concourse A First Class lounge, but it's still a handy shortcut from lounge seat to plane seat.
Food & drink
A la carte restaurant dining
After coming off an 11-hour First Class flight from Perth, we're not after a particularly heavy breakfast here. That's a pity in a way, as I would have loved to try some of the substantial 'all-day' dining dishes. But with our waistlines in mind, we ask for a 'small' plate of sushi.
I'm not sure what their definition of small is, but we're served a sizeable platter of sushi, along with a breakfast bakery basket! Full credit to the chefs – the sushi tastes very fresh and is accompanied by proper wasabi. It wouldn't look out of place at an authentic Japanese restaurant. The croissants are also heavenly and flakey. Two ticks from us.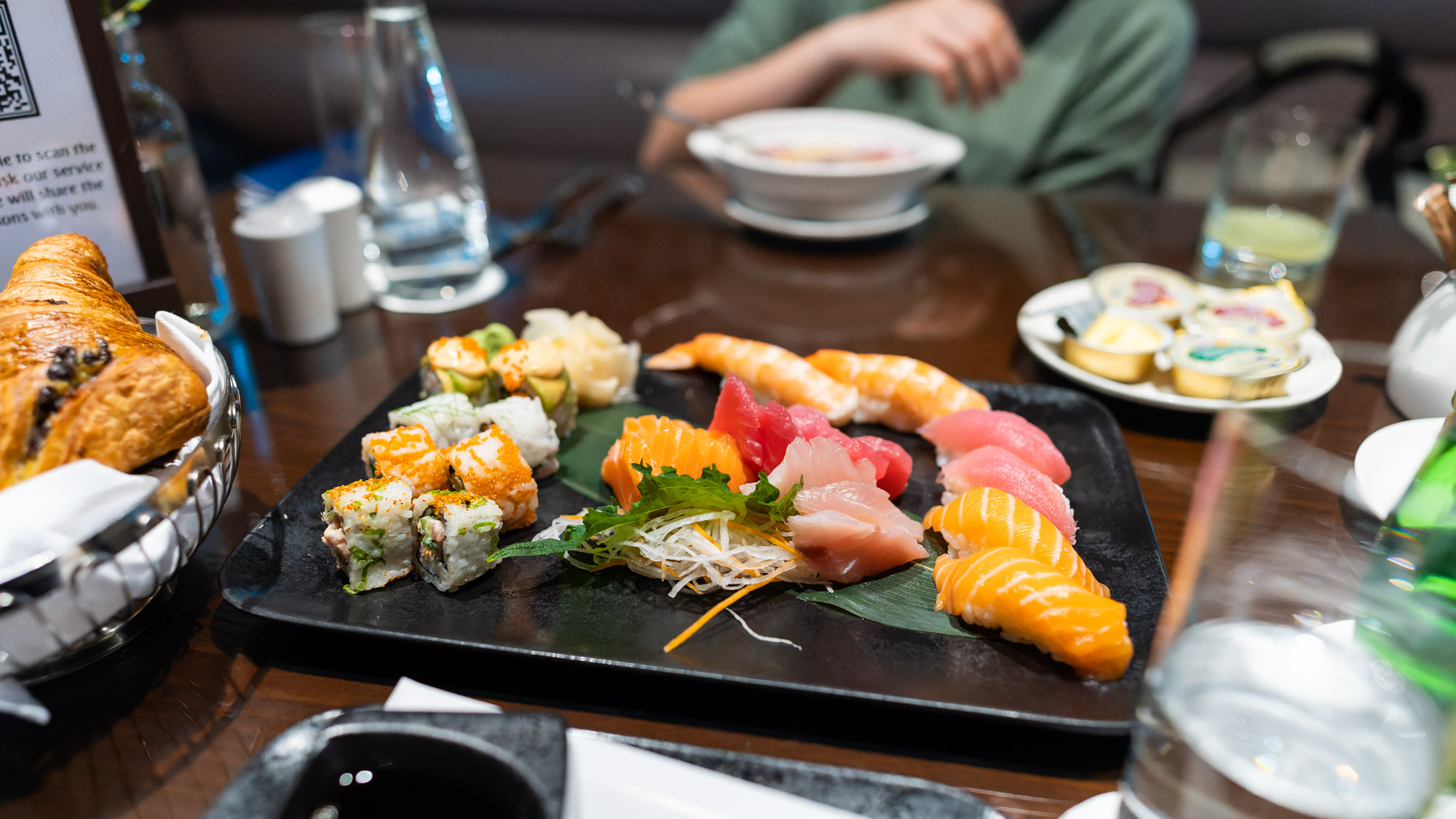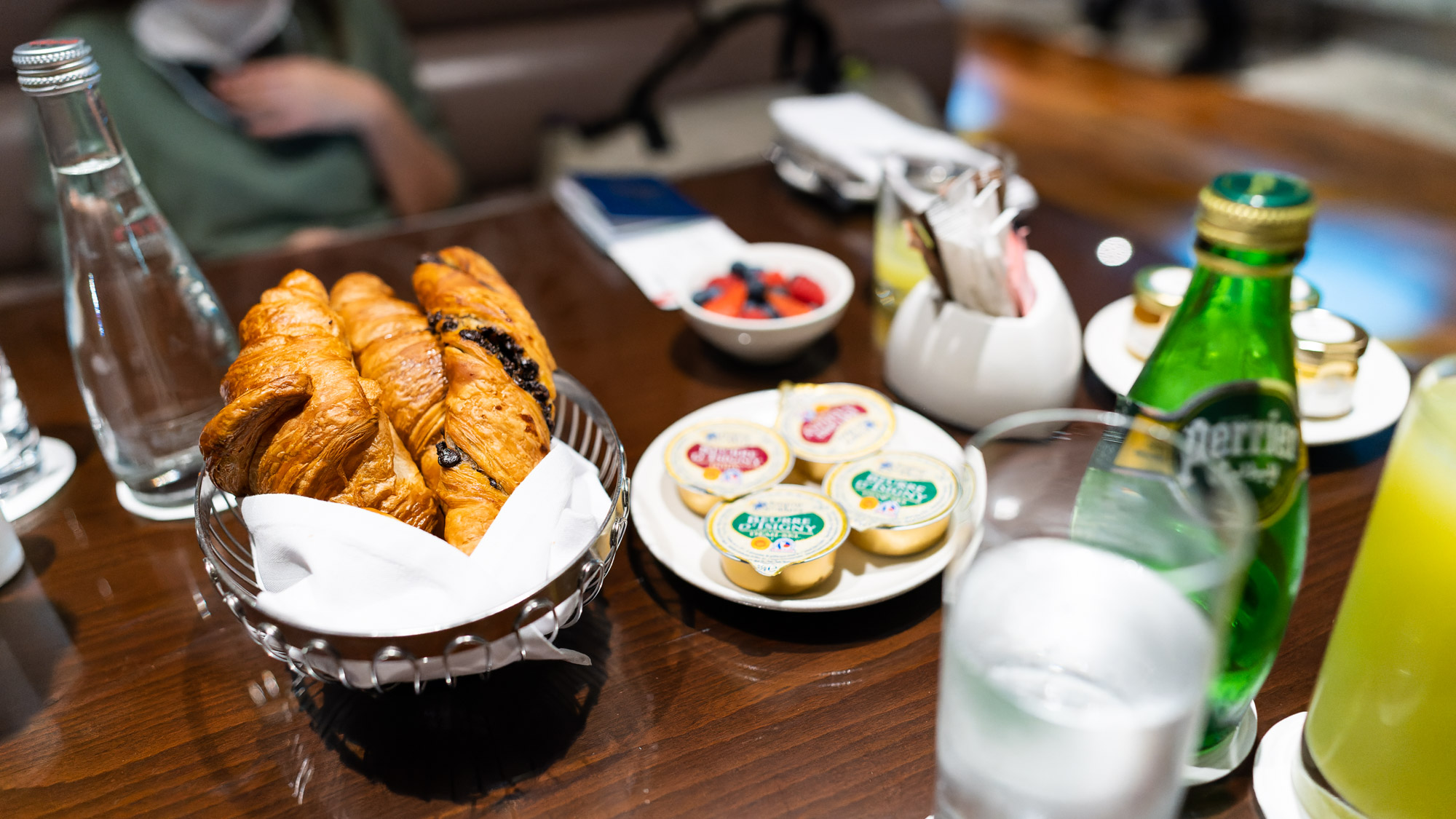 The full dining menu is included below. Breakfast has a wide range of traditional Western and Emirati choices. But as many travellers have flown from different time zones, there's also a handy 'all-day' section. Our sushi is one of the choices, along with wagyu beef tenderloin, a vegan green burger and more.
If you're lucky enough to transit from 11:00 am onwards, a comprehensive lunch/dinner menu has you covered. Highlights include pan-seared scallops, slow-cooked beef short-rib, roasted salmon fillet and more. I'll definitely be looking for a return visit!
Beverages and buffet
The menu also lists the many beverages that can be ordered at any time. Interestingly, the First Class lounge stocks Moët & Chandon Impérial Brut. This in itself isn't bad.
But in contrast, the adjacent Business Class lounge features a Moët & Chandon Champagne bar which stocks a grander range of fizz. In fact, lounge guests there can enjoy the Rosé Impérial, Grand Vintage 2013 and Nectar Impérial. It would be nice to have these options available in the First Class lounge, too!
Finally, the lounge has various stations in case you're not seated at the restaurant. There's a self-serve bar with a dazzling range of spirits. If you're peckish, you can help yourself at the counters to Japanese, Mediterranian or Western cuisine.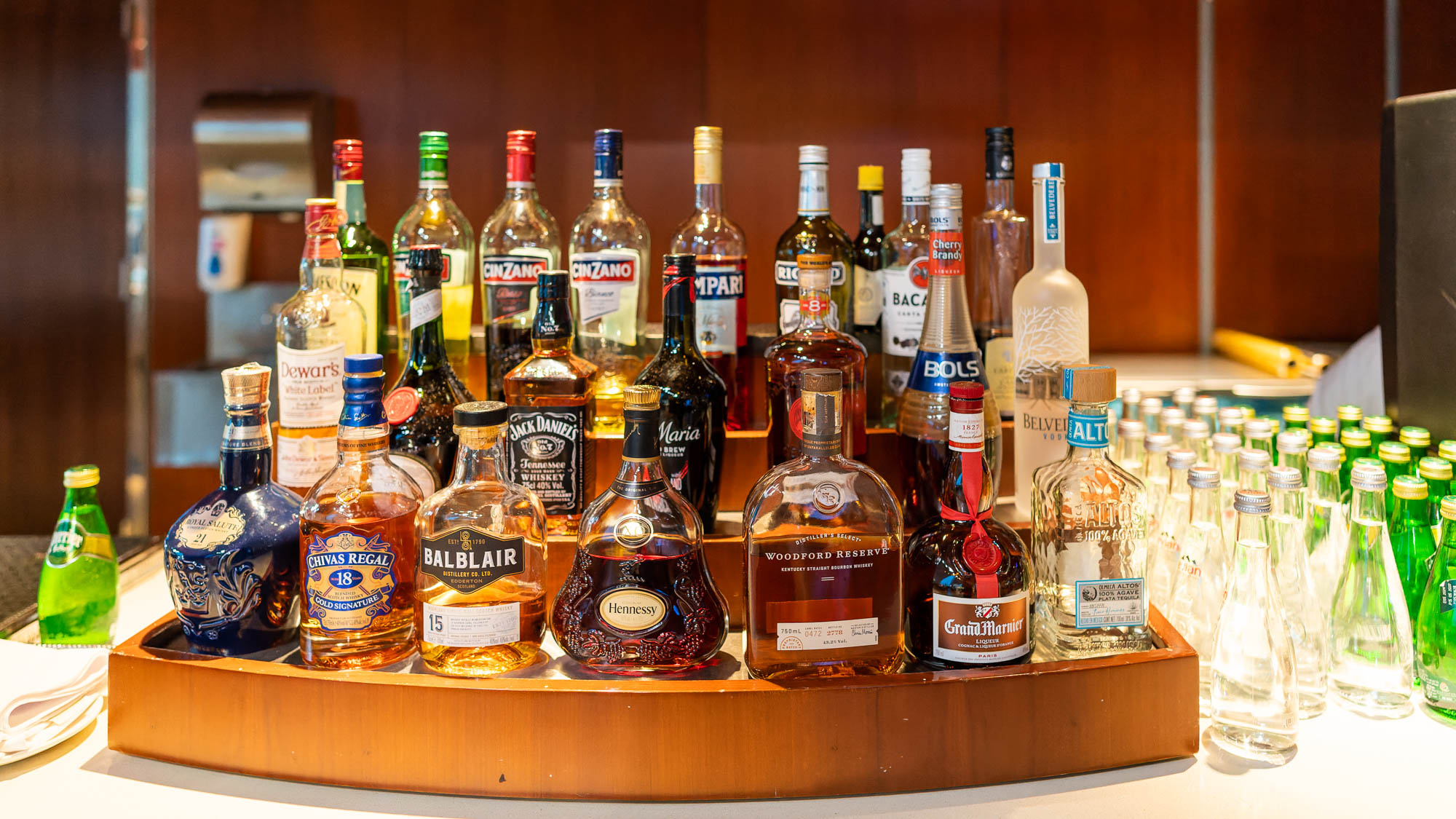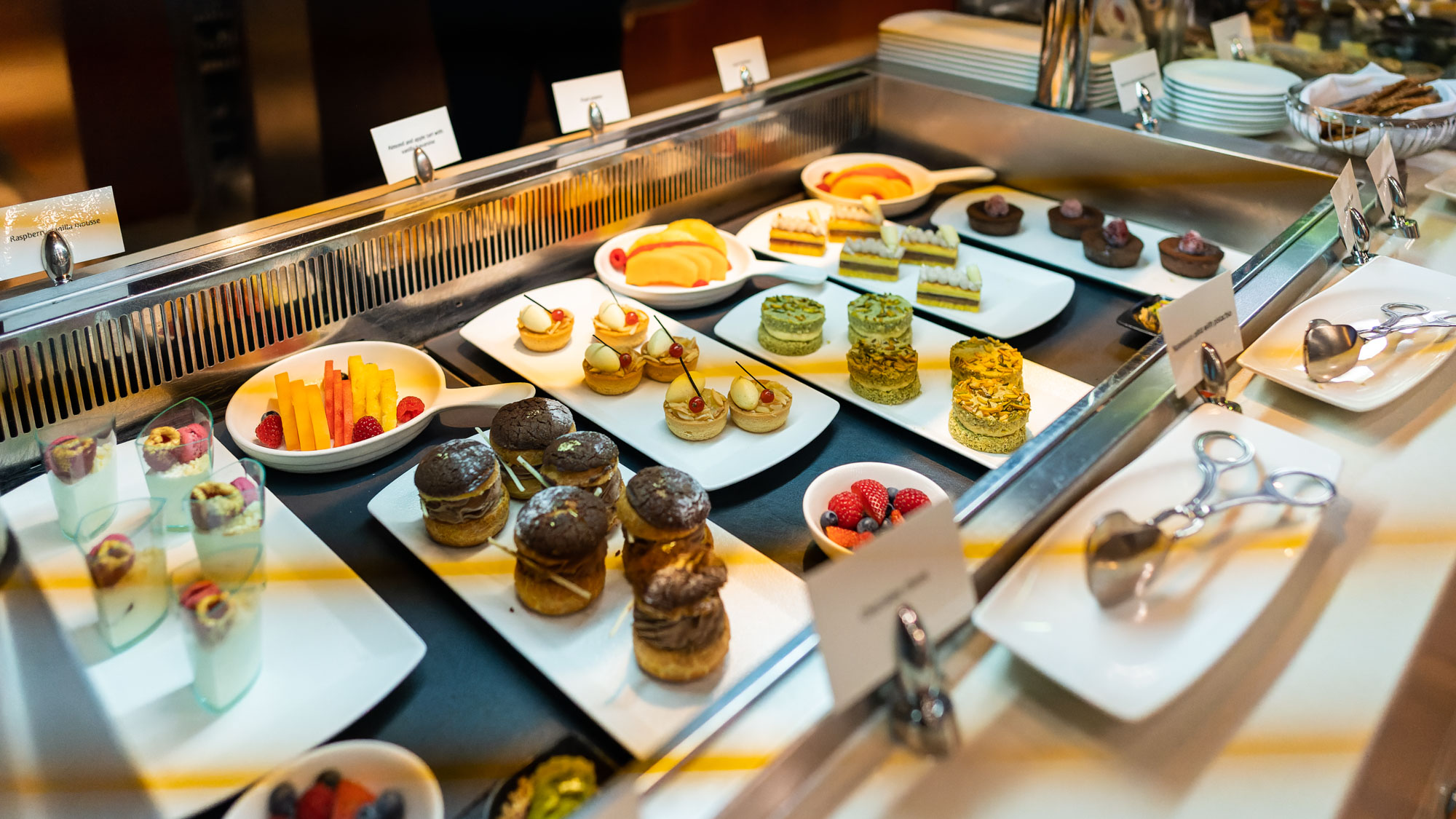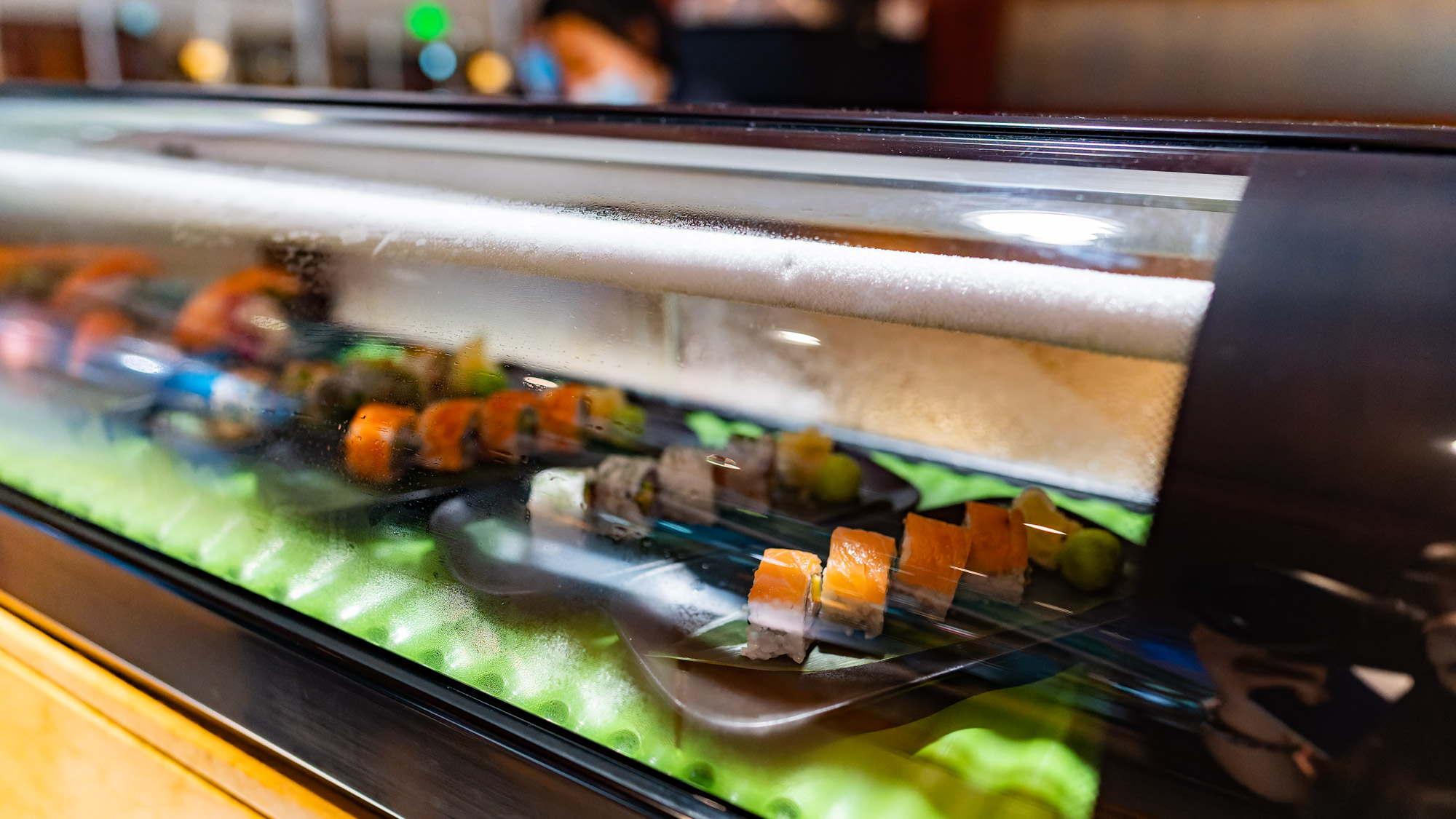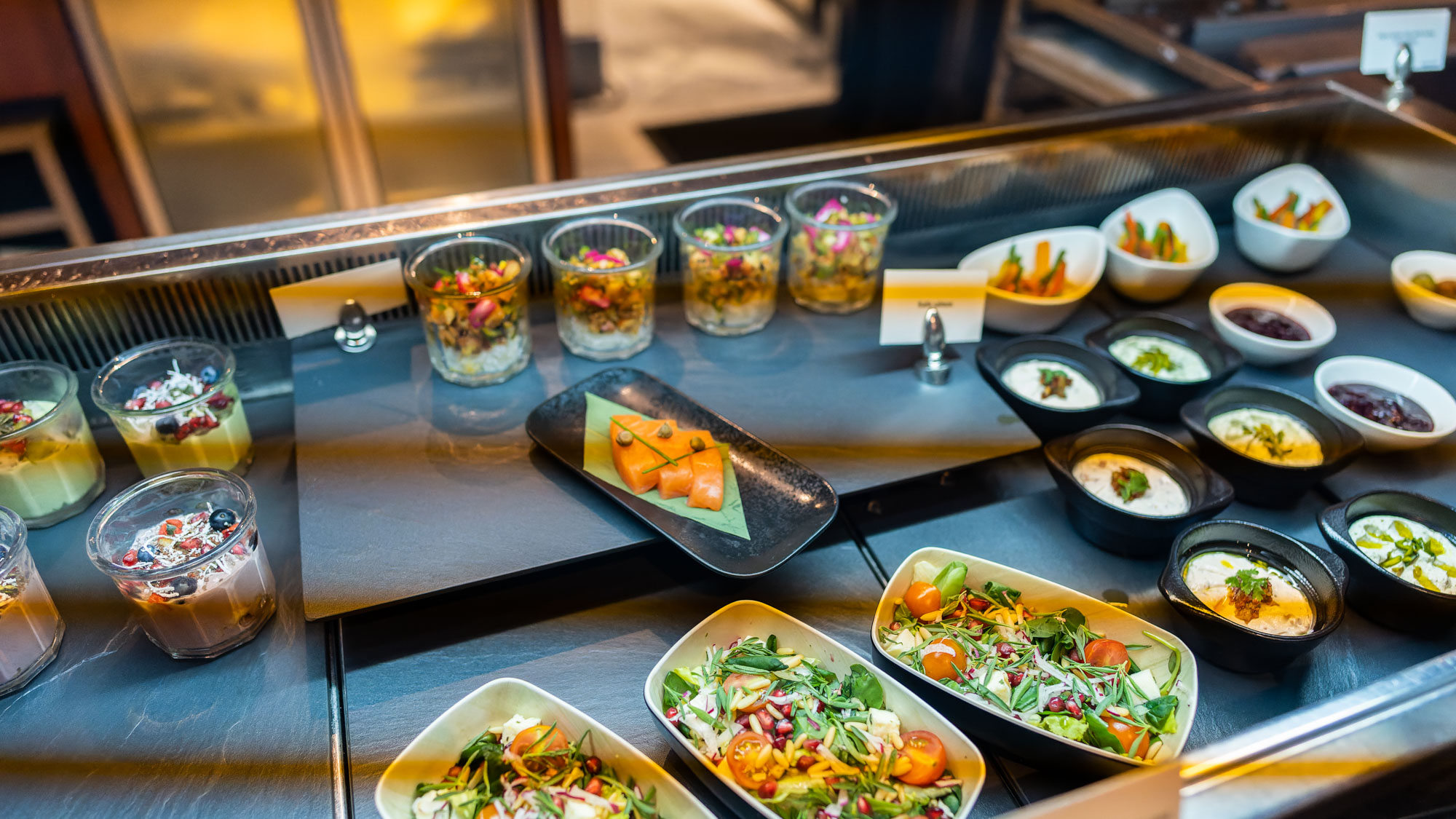 Amenities
Timeless Spa
The on-site Timeless Spa offers a range of treatments and massages. Best of all, 15-minute treatments are complimentary for all guests inside this lounge. I choose the De-Stress back massage, which works wonders on the tension in my shoulders. My partner opts for the Indian Head Massage.
The complimentary services are:
De-Stress Back Massage
Reflex Therapy – Leg and Feet
Indian Head Massage
Thai Body Stretch
Soothing Hand Massage
Longer paid services are available too, costing approximately AED 275 (AU$120) for 30 minutes. The spa isn't very flashy (the massage room is just a small space with a portable massage chair). Just don't expect lush green surrounds like the Qantas First Lounge. But I still walk away with a springier step.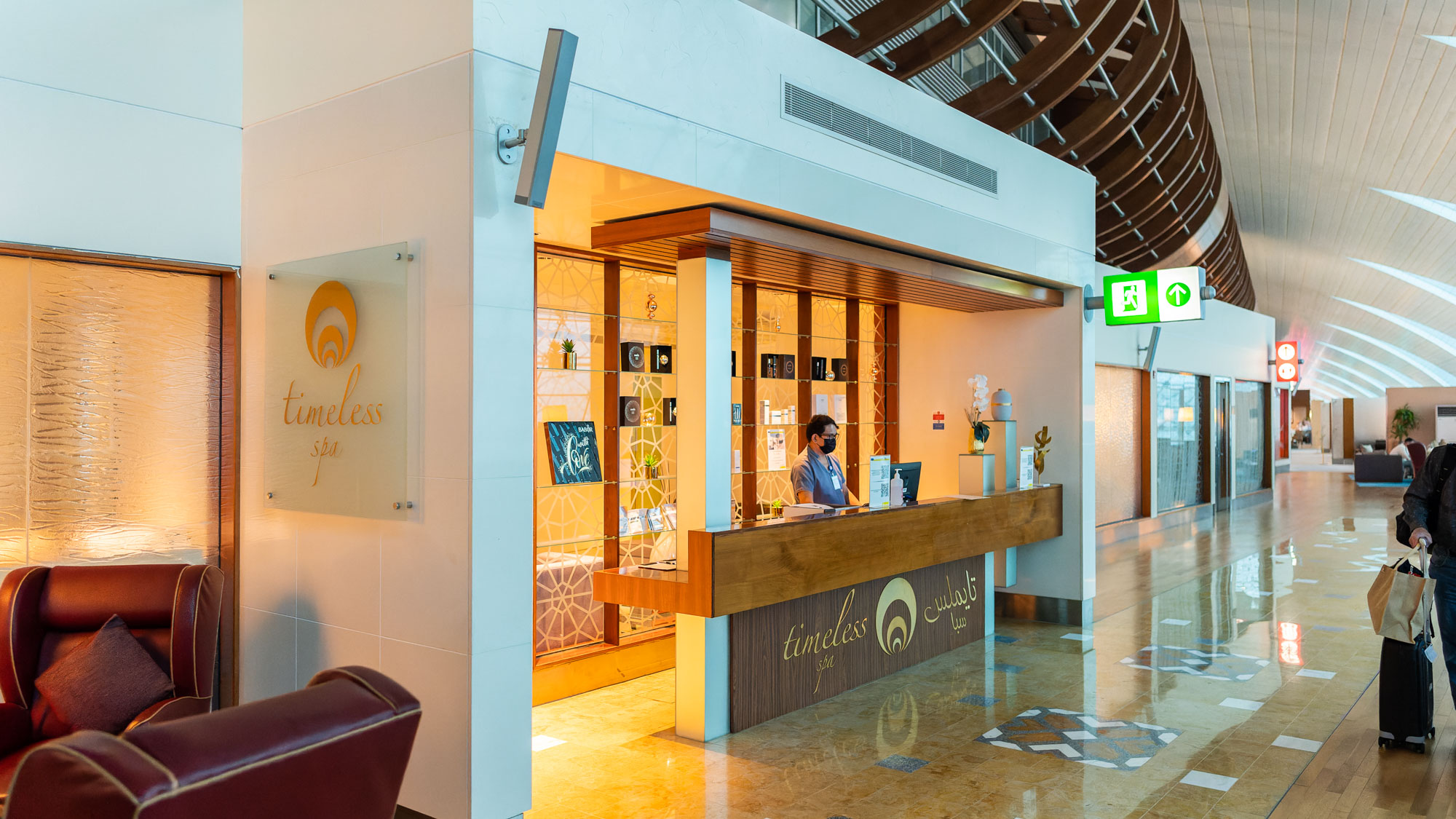 Spaces for work and play
This Emirates lounge has one of the best kids' areas I've ever seen (perhaps for older kids, anyway). The Daytona arcade machine looks very fun, and I regret not giving it a spin! Behind the machine is a variety of play areas for younger children.
And if getting work done is on your agenda, a serious-looking business centre room is available near the bathrooms. But if you just need to charge your phone in between flights, you shouldn't struggle to find power points throughout the lounge. Emirates' lounge Wi-Fi is lightning-quick, clocking at 183 Mbps down and 214 Mbps up.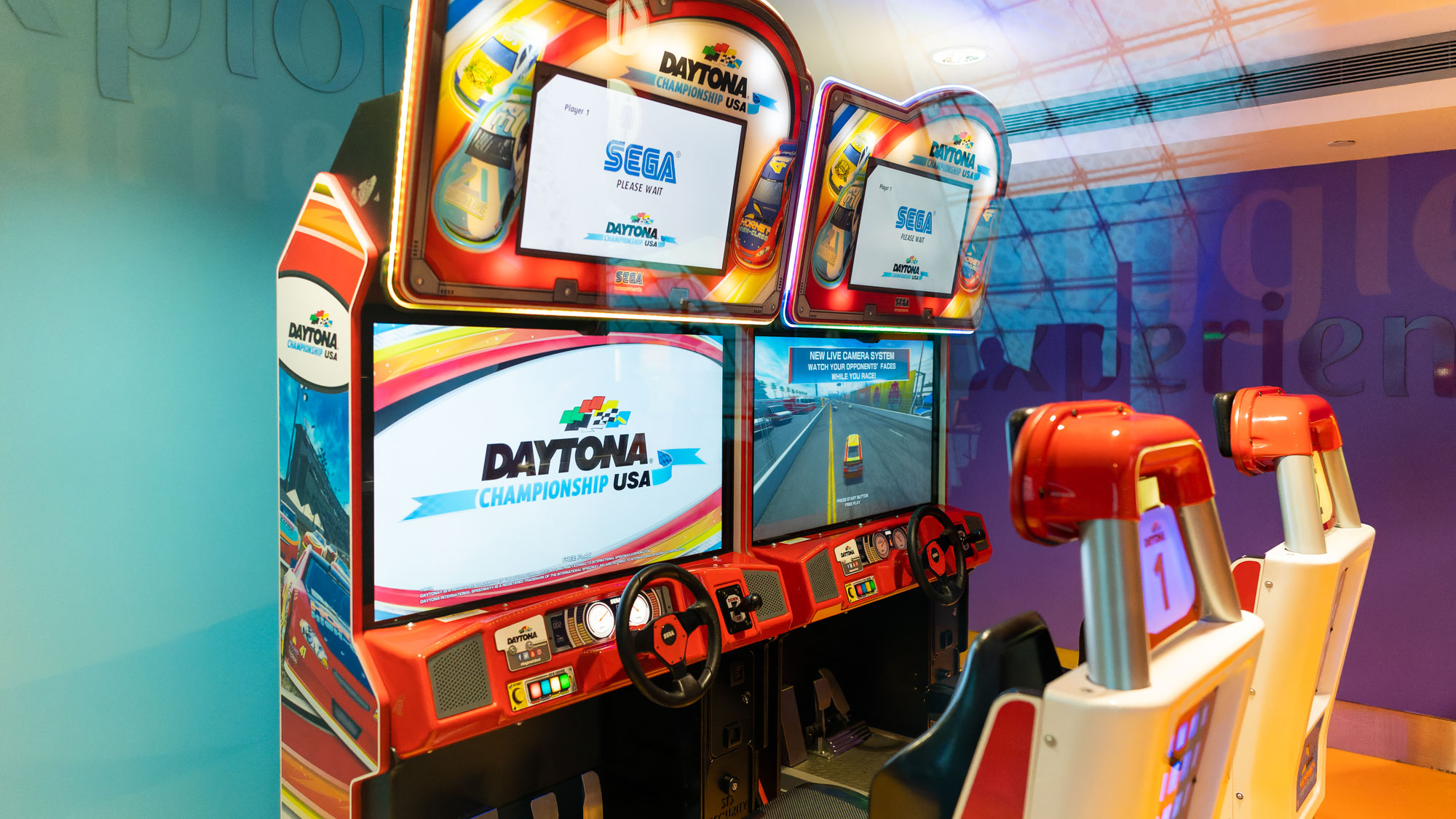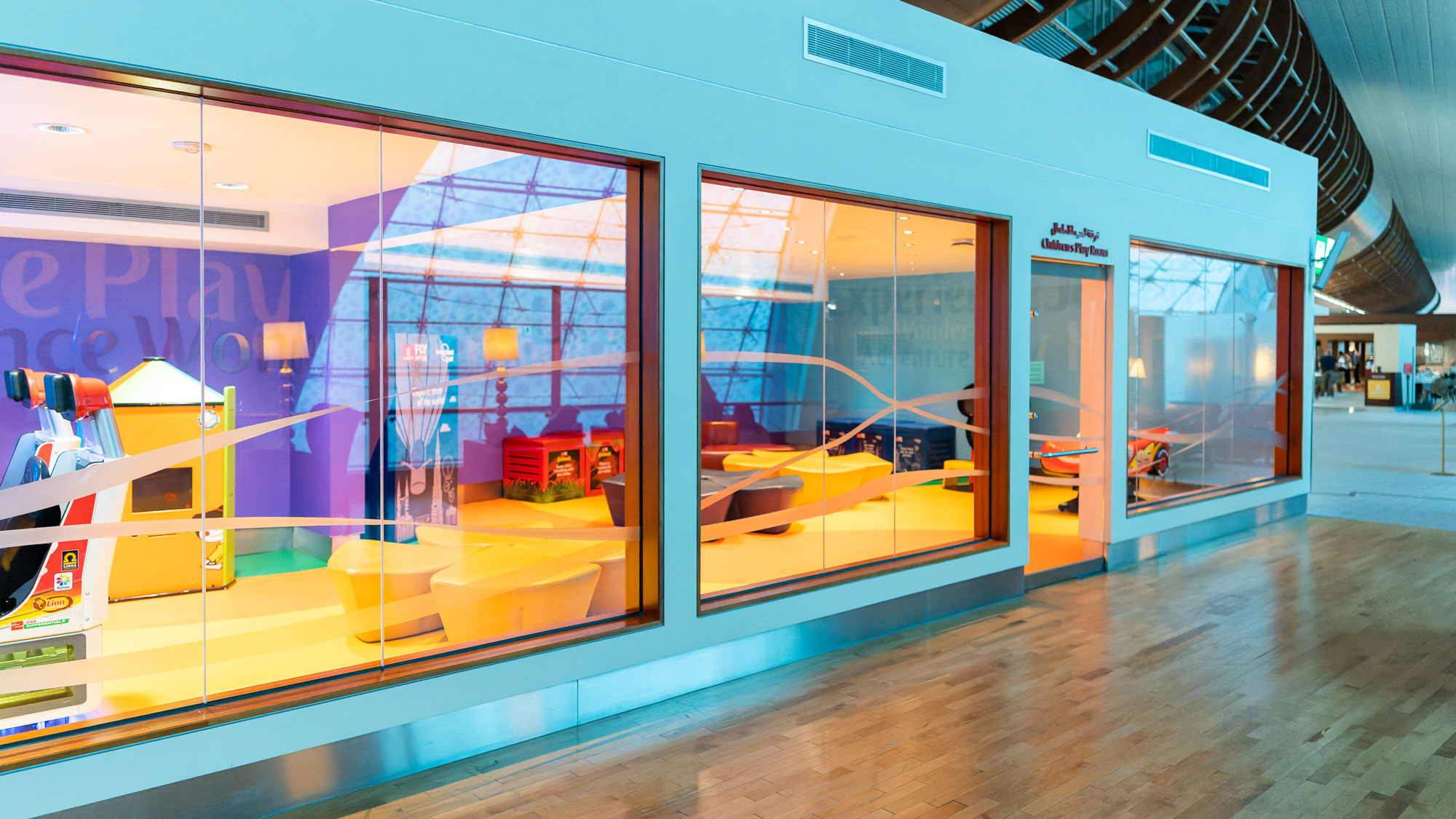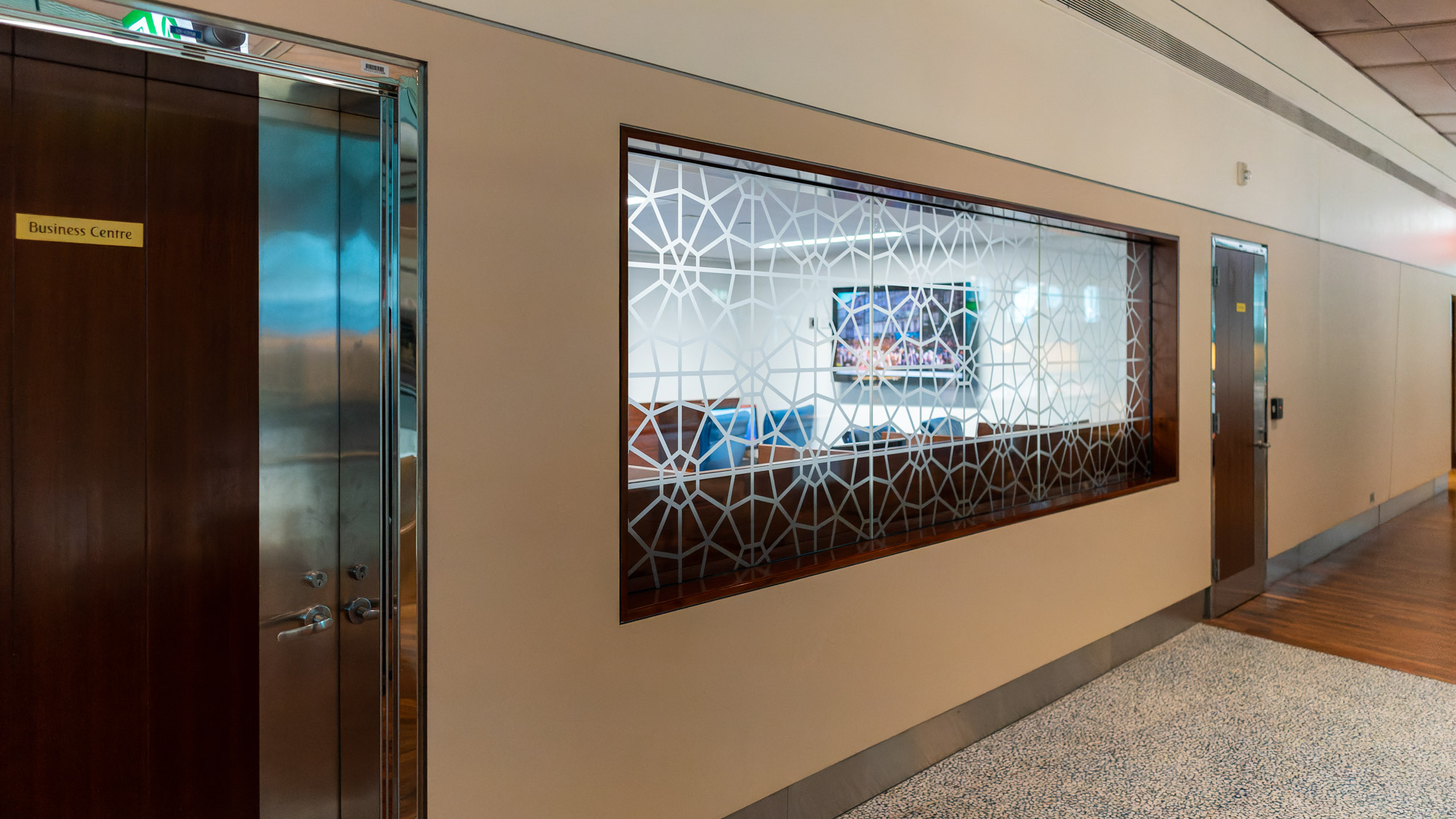 Bathrooms and showers
The lounge's bathrooms are in tip-top shape – there's an attendant to keep each cubicle clean after use. But I find the shower rooms to be fairly basic and unimpressive for a First Class lounge. Side observation: Dubai is so hot that even the toilet water feels like it's running hot!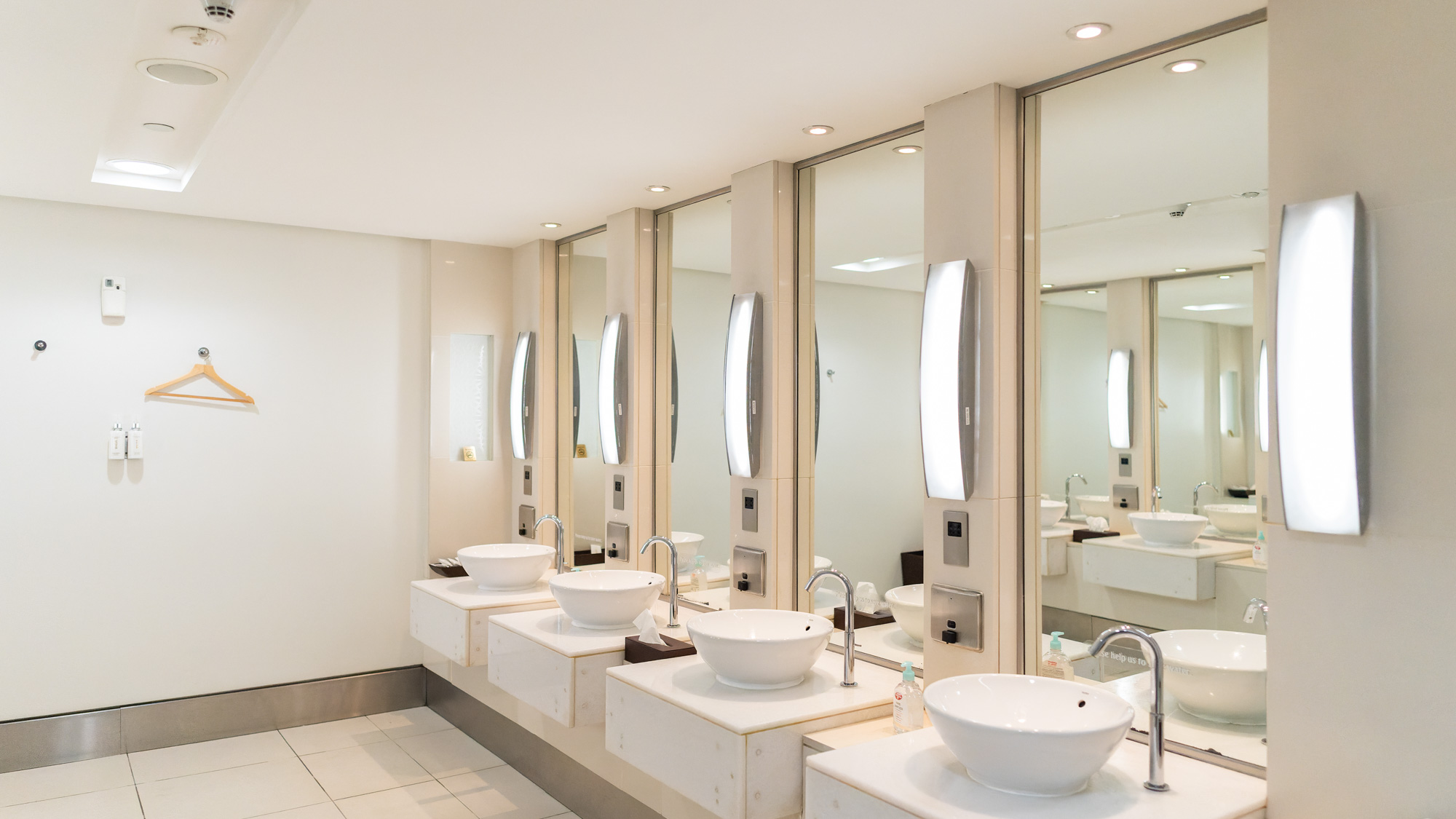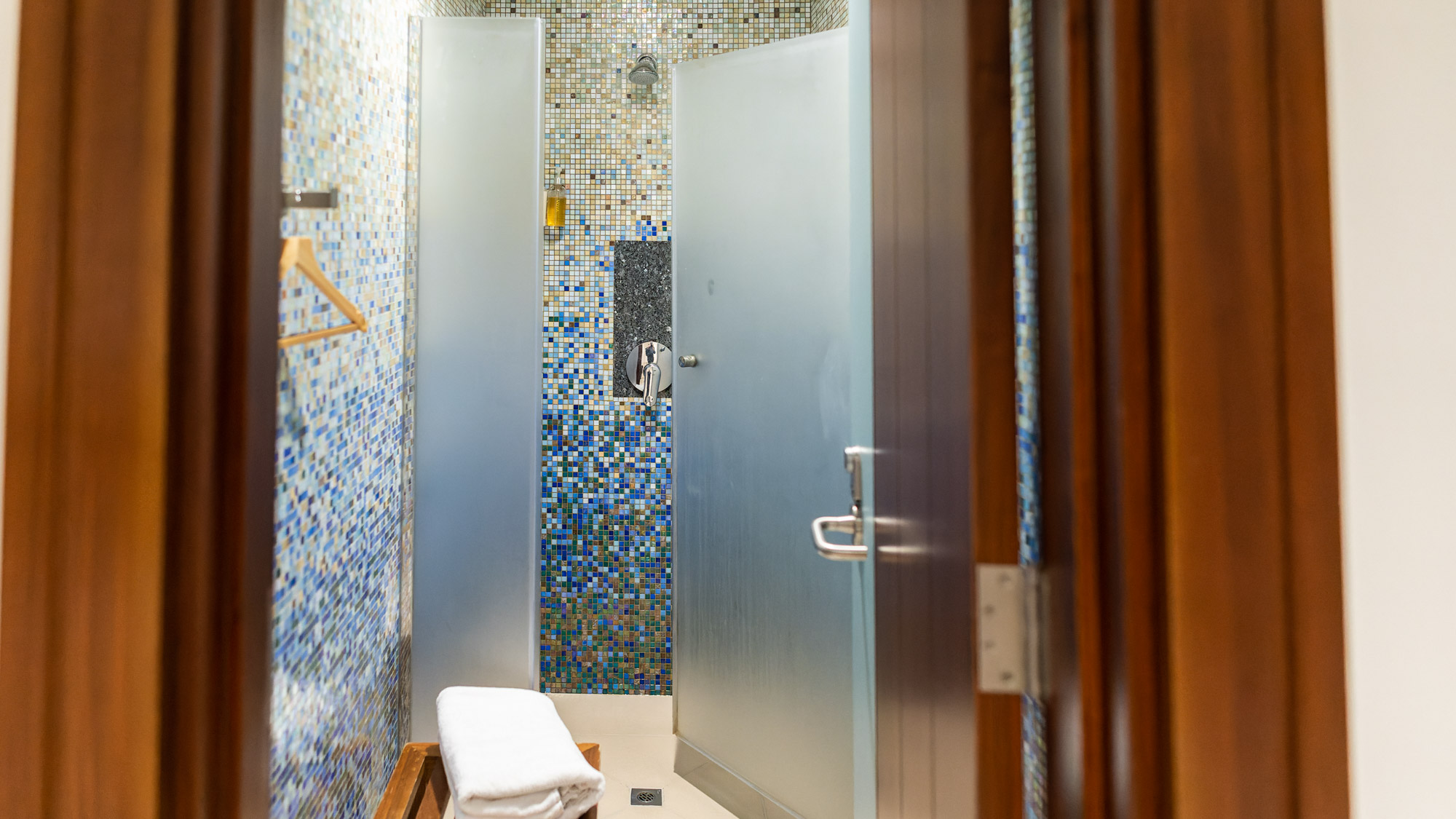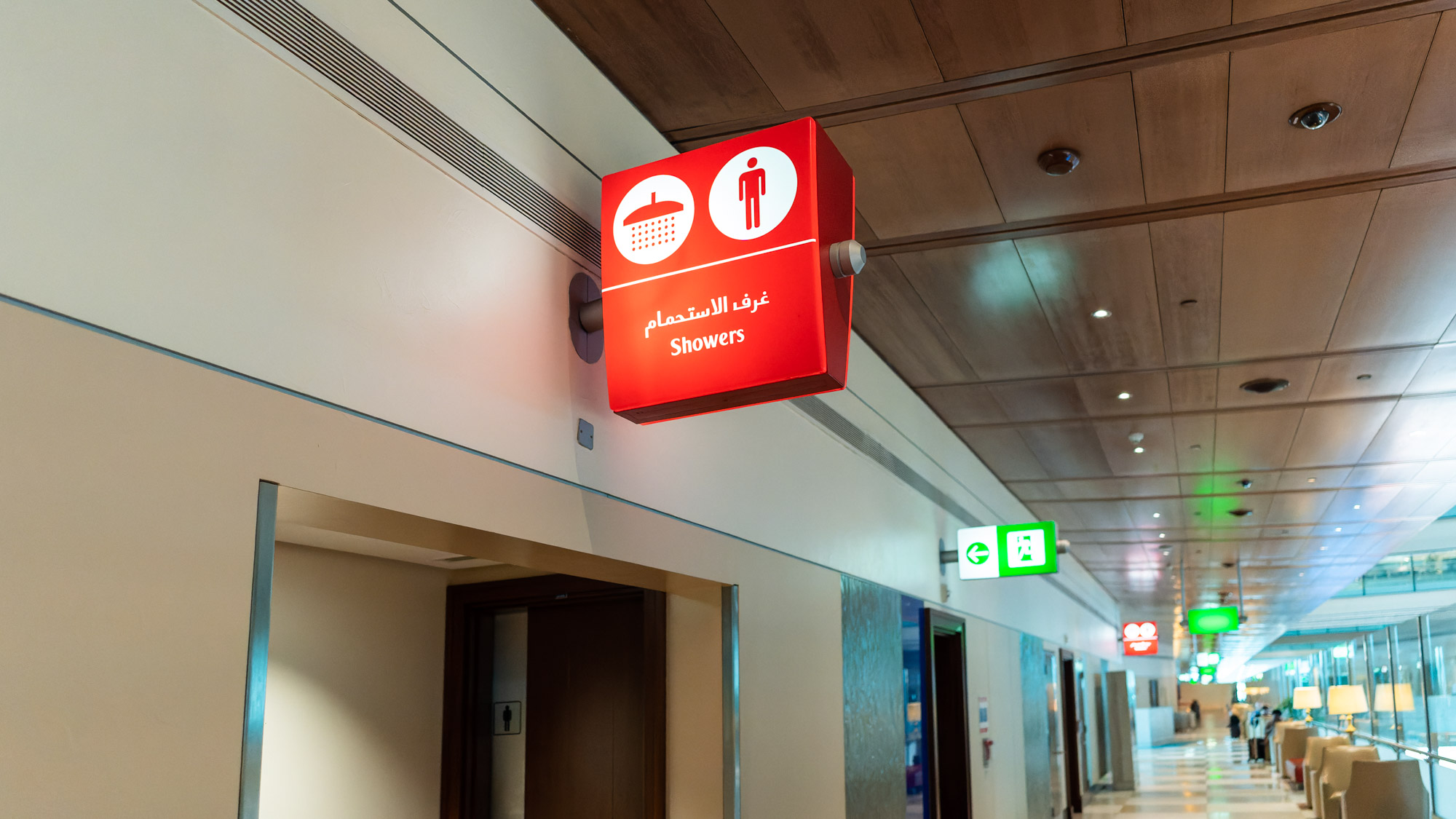 Lounge access options
Class of travel: First Class passengers flying on Emirates.
Airline frequent flyer status: Eligible status members of Emirates Skywards (Platinum and higher).
Alliance frequent flyer status: Eligible status members of Qantas Frequent Flyer (Platinum and higher) when flying on Emirates.
Day pass: Emirates passengers may be able to buy access at the door from US$250 + local taxes per person, for up to four hours of access. This is a discounted rate for Skywards members, which is free to join. Passengers who already have Business Class lounge access – such as Qantas Club members travelling on a QF codeshare and Emirates/Qantas Gold members – may upgrade for US$125 or US$150 + local taxes per person.
Summing up
Emirates certainly impresses with its spacious First Class Lounge in Dubai Concourse B. The restaurant is a stand-out space, and definitely worth a visit. Likewise for the Timeless Spa, which is quite often booked out. If getting a complimentary treatment is part of your plan, I'd recommend booking a slot as early as you can.
As Emirates' second-largest First Class lounge, it doesn't fill up much. There's plenty of room for everyone, but I can't help feeling that such a large space can make the lounge feel lacking in character. Similarly, the bathrooms are showing their age and could do with a spruce up.
Appearances aside, high flyers should still have an enjoyable (and hopefully, delicious) visit to the Emirates First Class lounge. It's a solid four stars from me.
Emirates First Class Lounge, Dubai Terminal 3, Concourse B
was last modified:
November 1st, 2023
by