Qantas' former flagship International Business Class lounge in Sydney welcomes a wide range of travellers – Business Class passengers, Qantas Club members, Gold frequent flyers, and even those with lounge passes from credit cards. Naturally, it's a space that fills up quickly every day.
It was also due to be refurbished across 2018 and 2019, showcasing a 'completely new design' with 30% more seating and a 'signature dining experience'. Unfortunately, that long-awaited refresh hasn't eventuated, so we're left with a lounge that's definitely seen better days!
As overseas travel demand continues to open up far and wide, here's how the Qantas International Business Lounge in Sydney is holding up in 2022.
Lounge location and details
The International Business Lounge is located one level up from the main concourse near Gates 9 and 10. You will first pass the International First Lounge on your way to the Business Lounge, which is found at the end of the walkway. It's less than five minutes away when walking from security.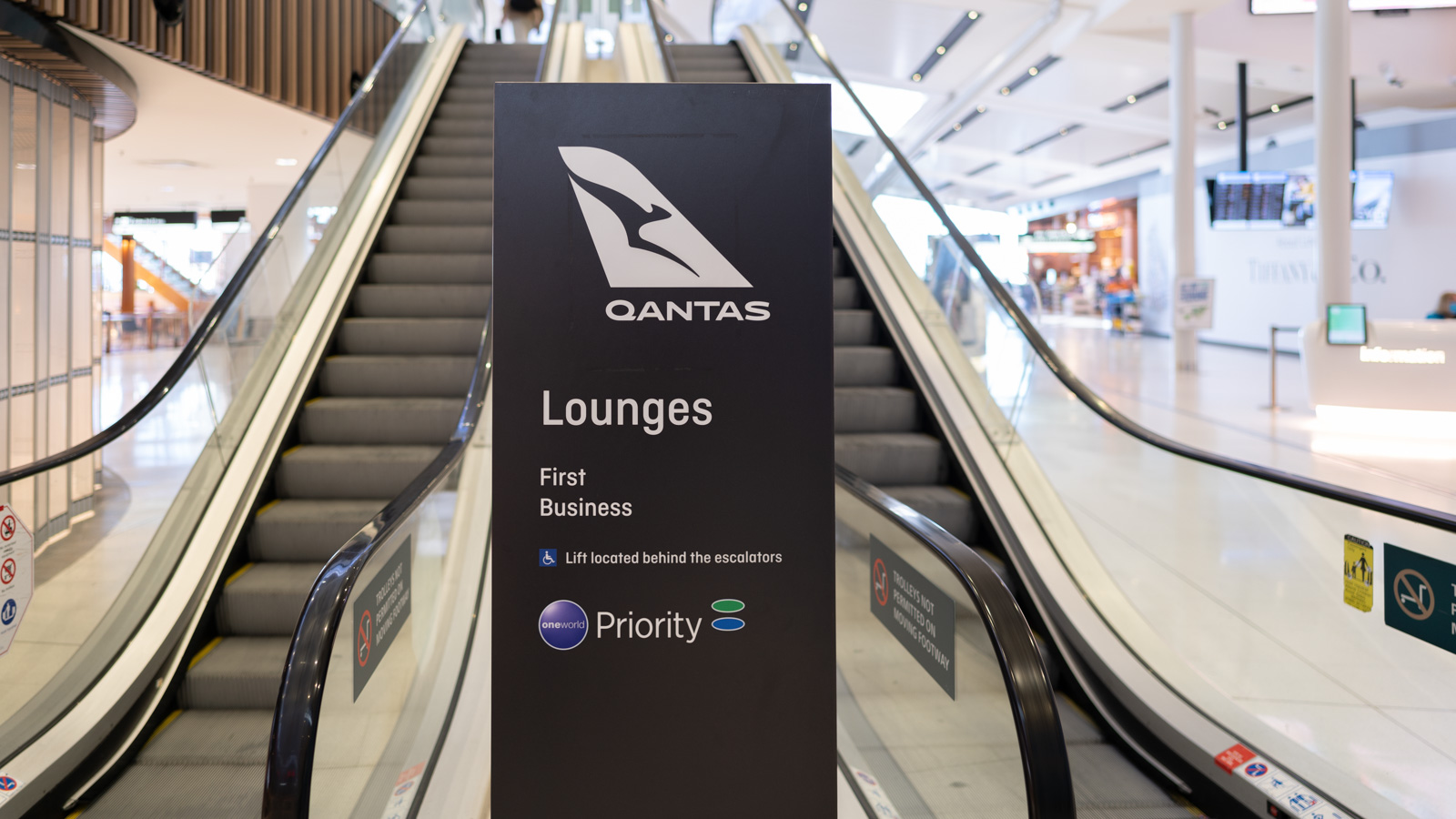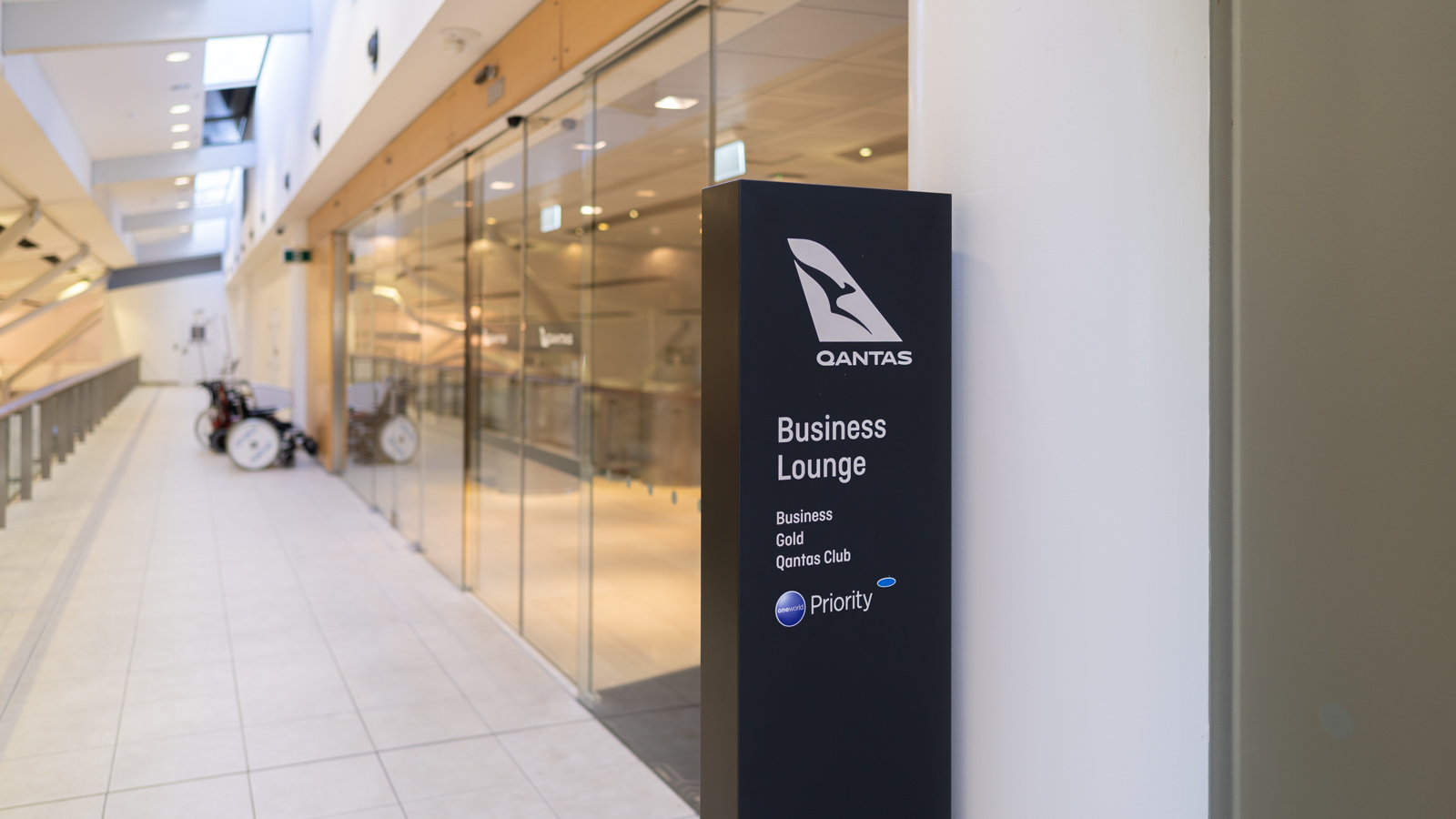 The lounge is open from 5:00 am until the last Qantas departure of the day. And though this space isn't packed to the rafters yet, it's still reasonably busy throughout most of the day.
Seating & layout
Reception, baggage storage
I stroll past the double glass doors and get my boarding pass checked at reception. There's some token seating here, presumably in case someone needs to wait for a guest. I also spot some baggage storage space and the Joey Club kids corner to the side – it looks handy for parents.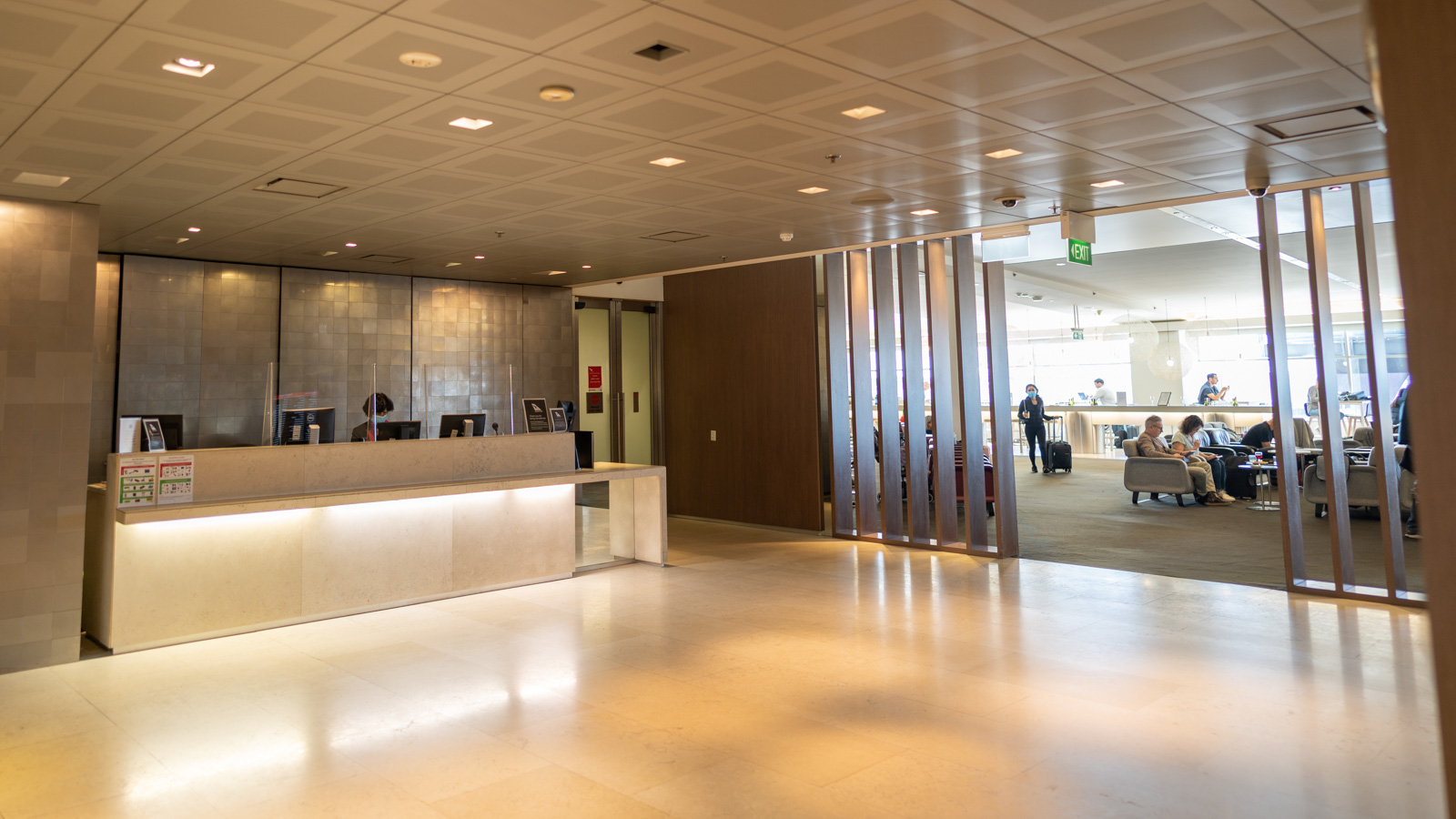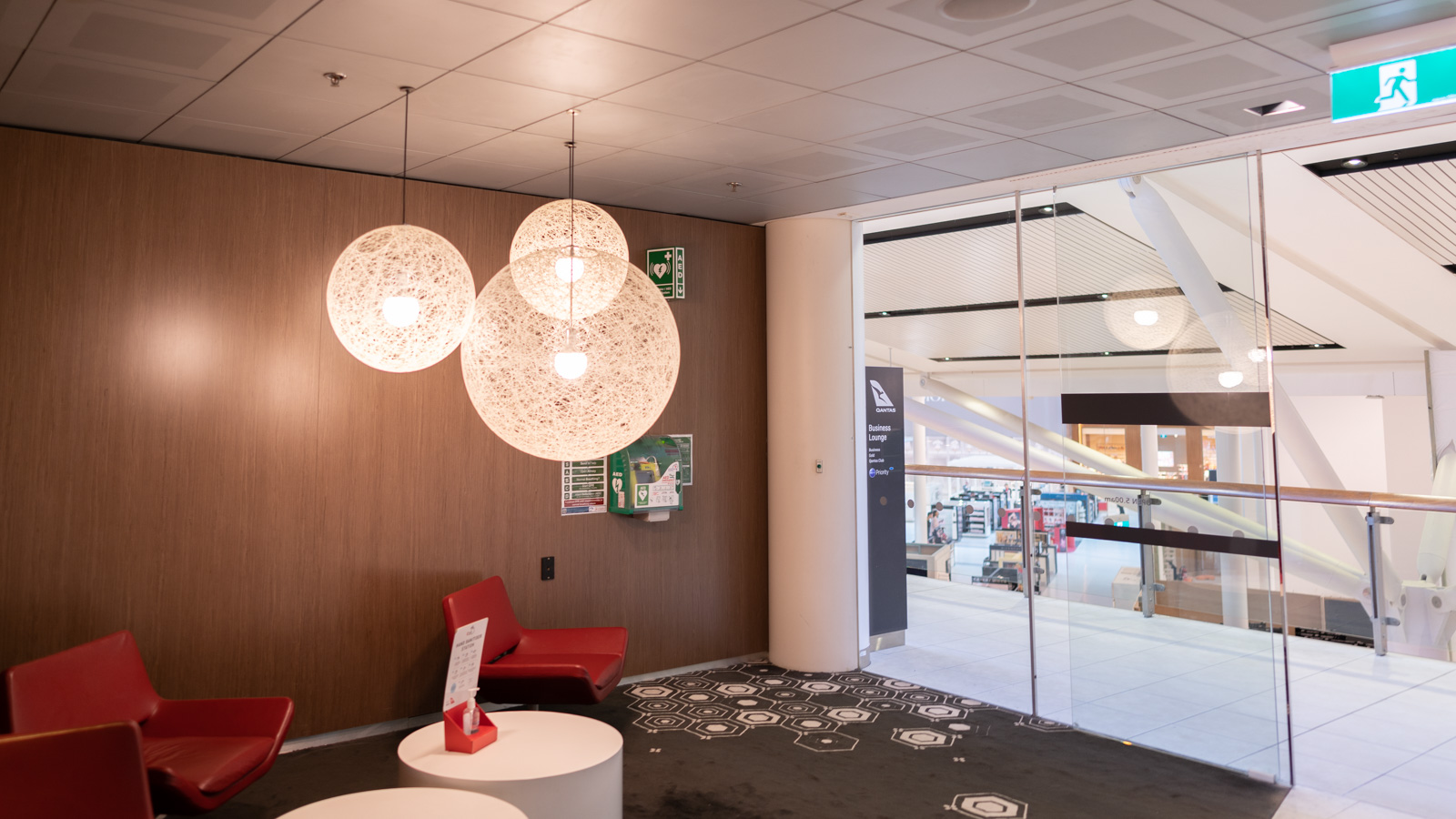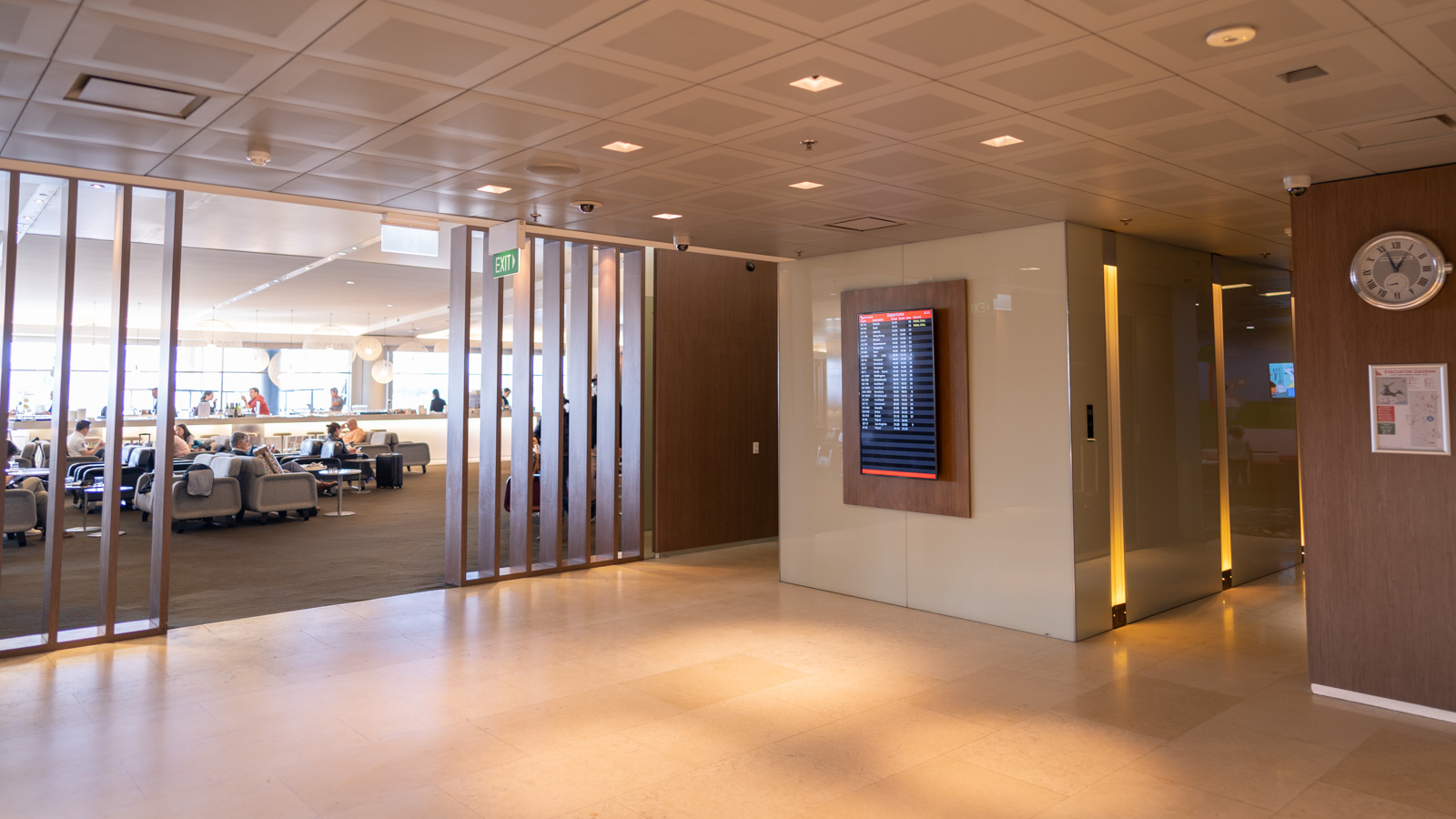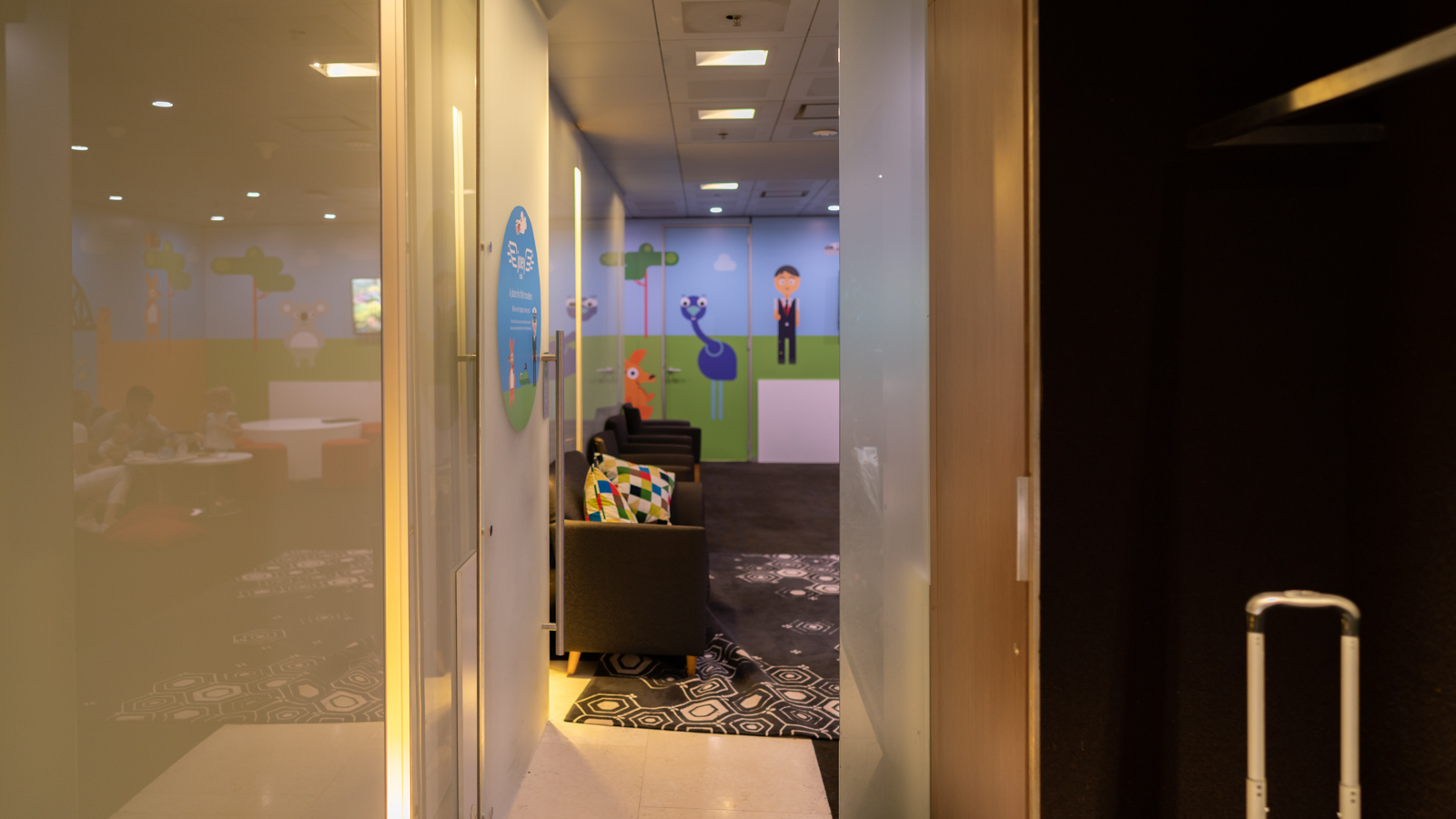 Central lounge area
With bright sunlight streaming through, the International Business Lounge doesn't look too bad as I walk in. The lounge is quite full in the early afternoon, so my photos of the space are limited. But I see a mix of the newer-style Qantas lounge sofas, interspaced with some older chairs.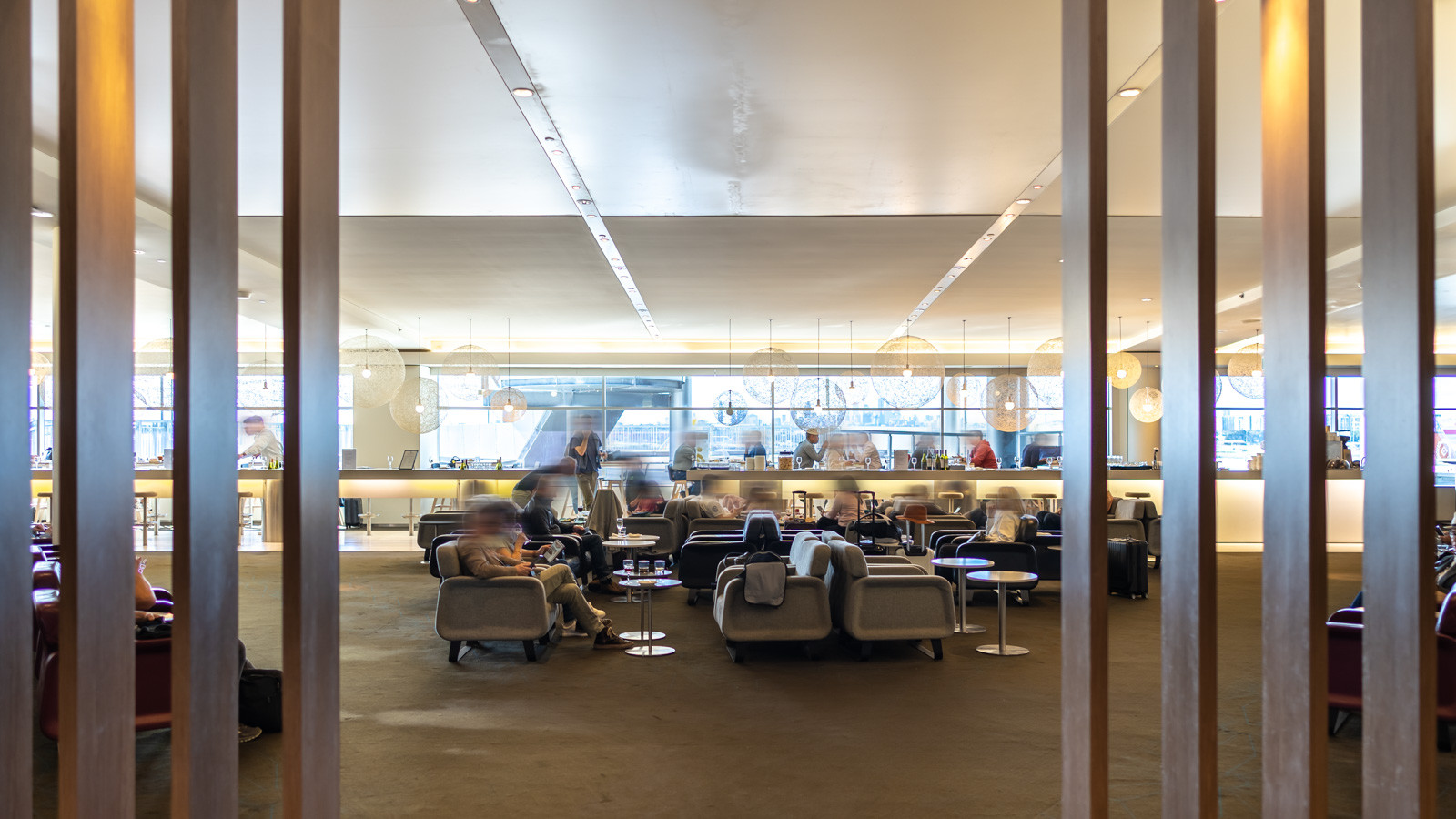 The lounge is shaped like a short and stubby 'T', with the reception desks being in the centre. There are two wings – one to the left and one to the right. The windows let in plenty of ambient light, but the views are more of the rooftops than anything exciting on the apron.
With feature lighting, wine nearby and dining placemats, I find that these central long bar tables come together to form the most eye-catching part of the lounge.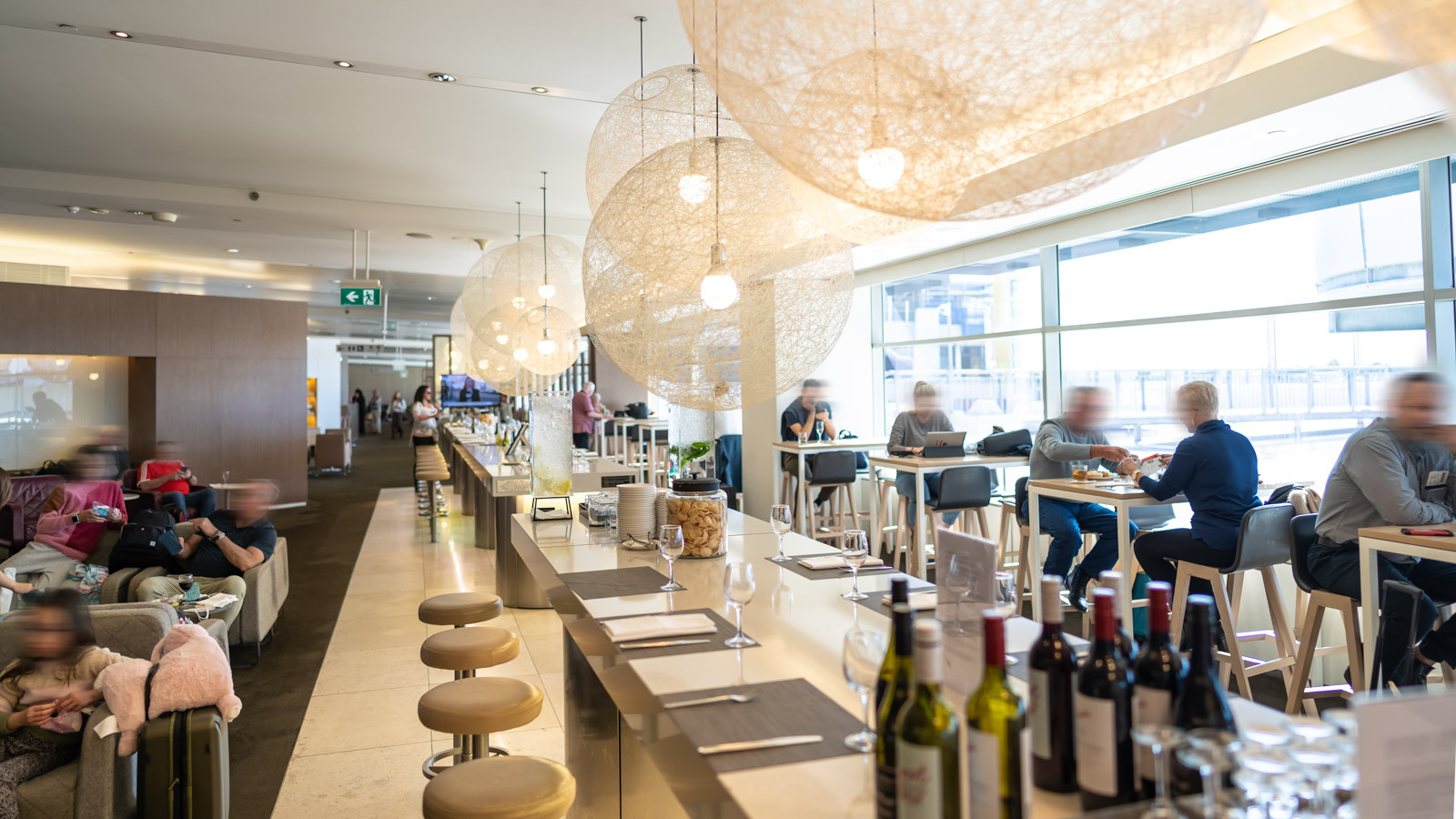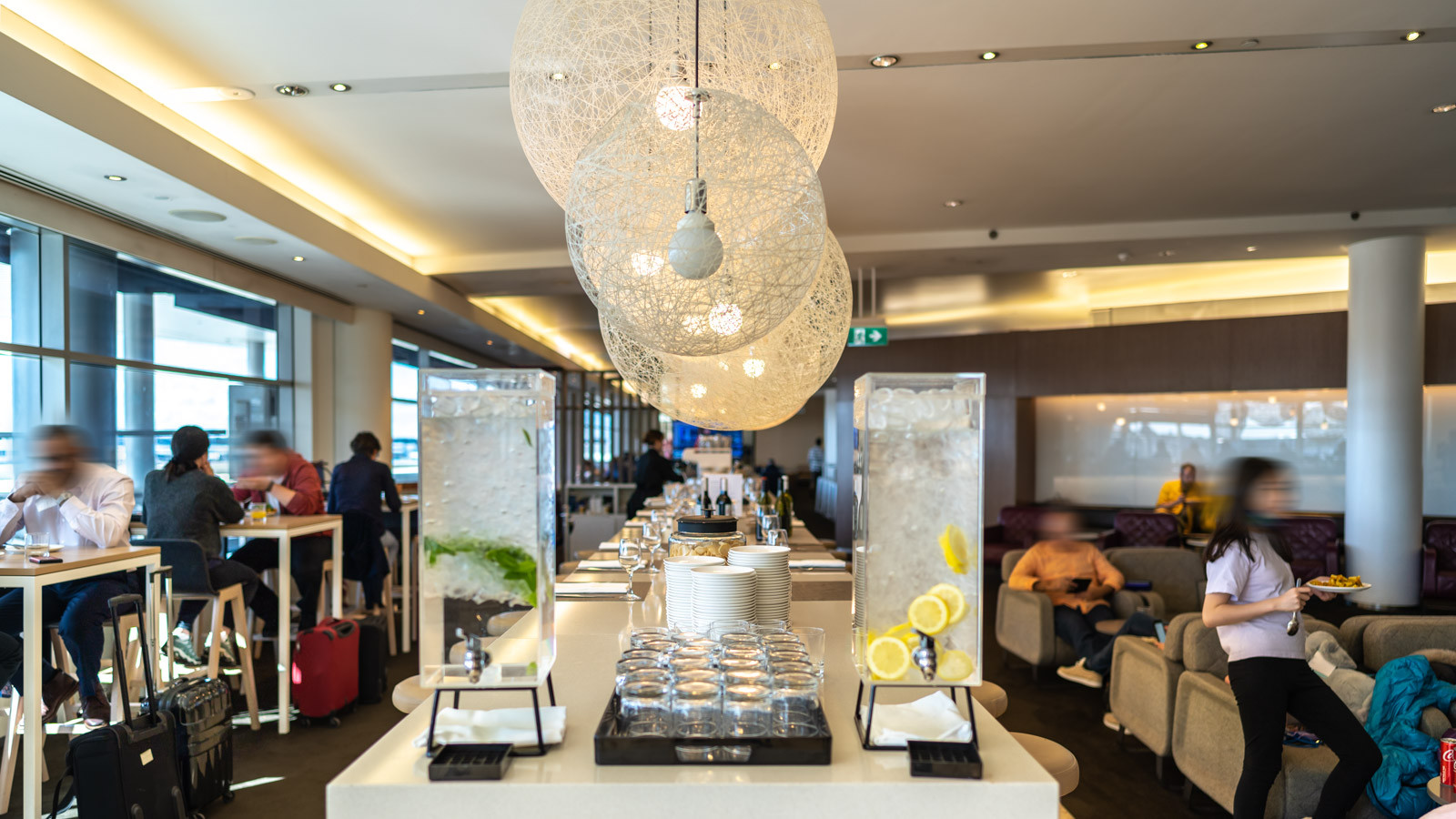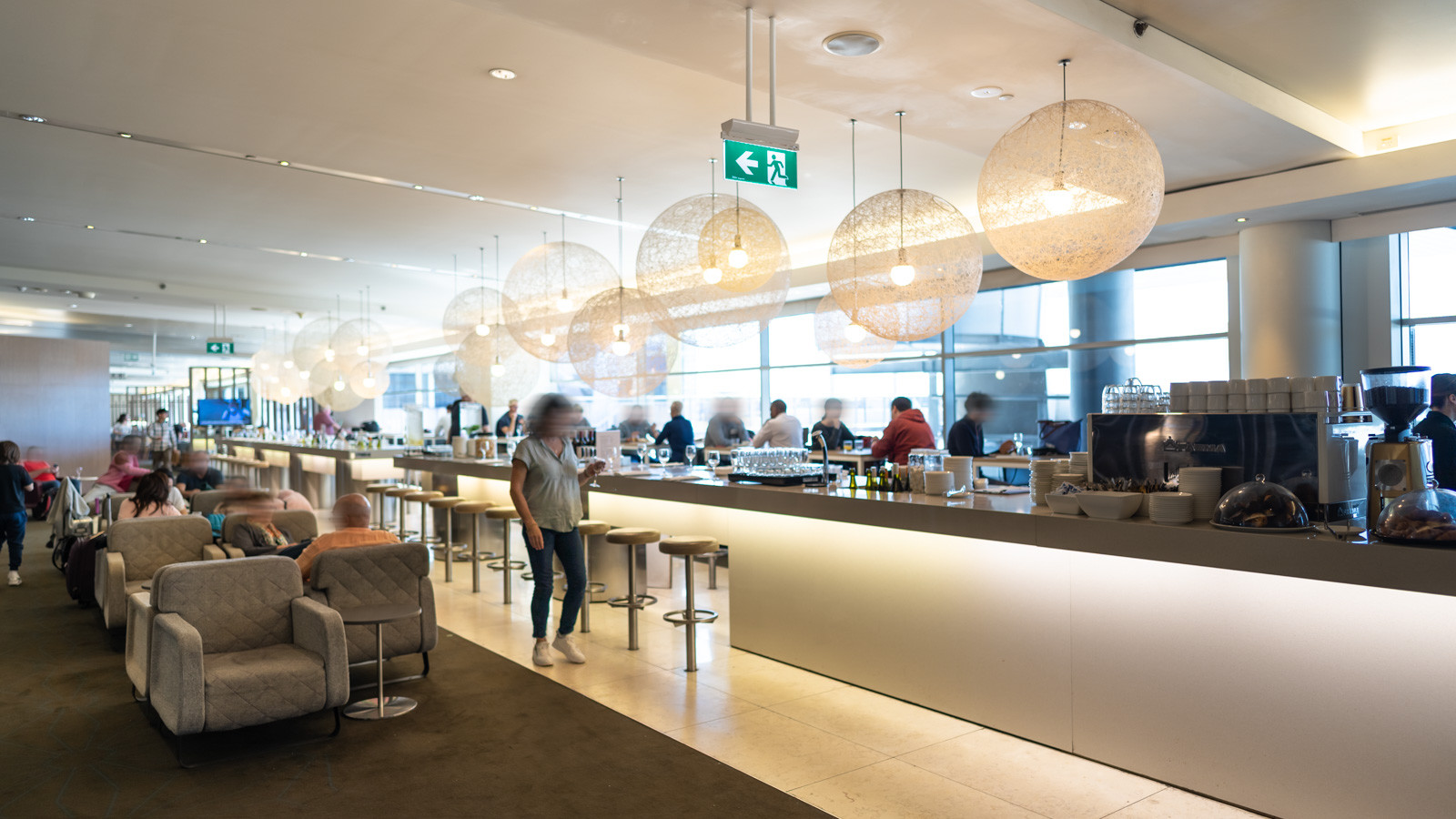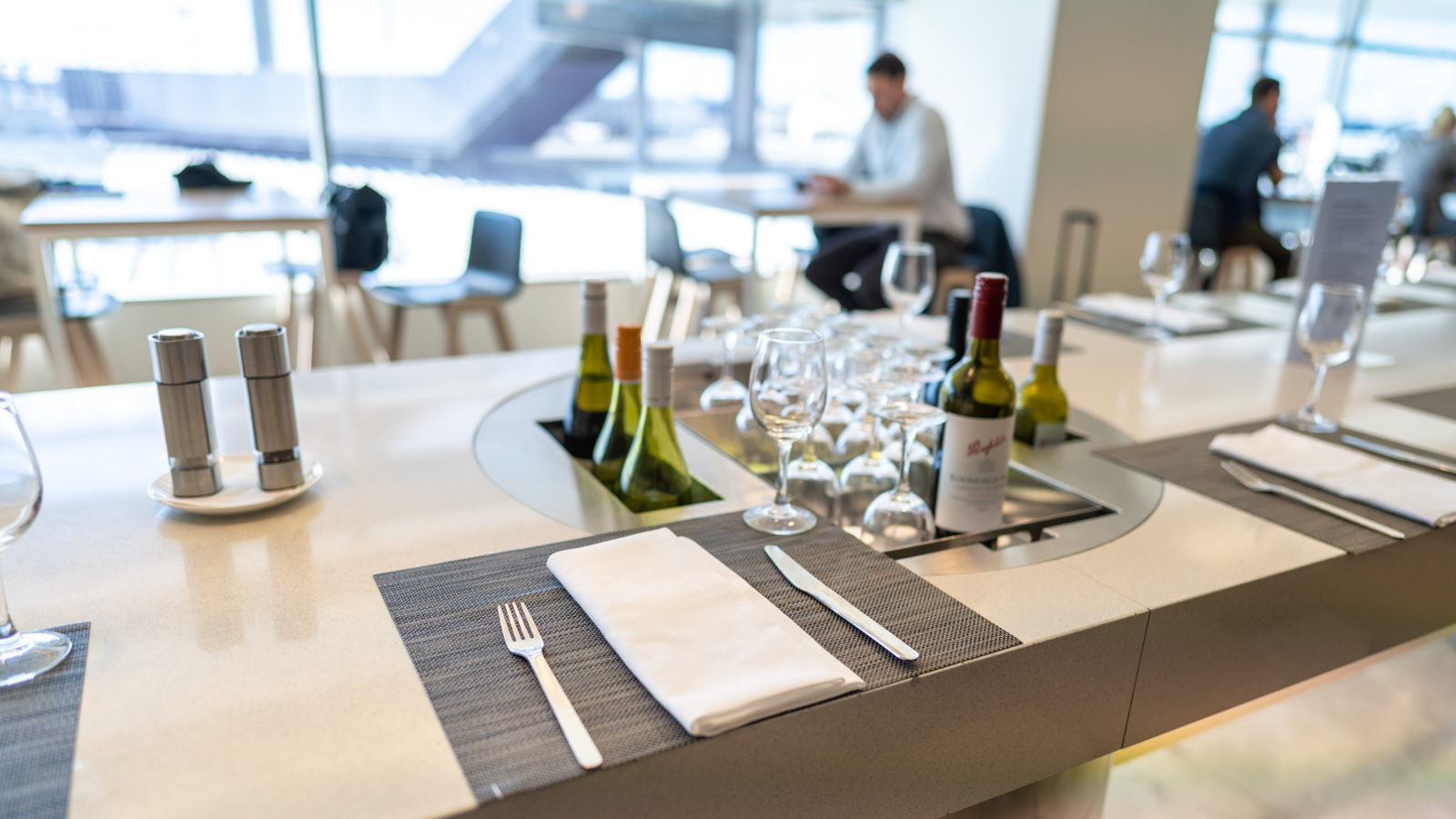 The left and right wings
But this is also the busiest area, so I check out both sides. The left wing appears to be quieter, with more spare seats available. Shower facilities are also available in this section, which I explore later on.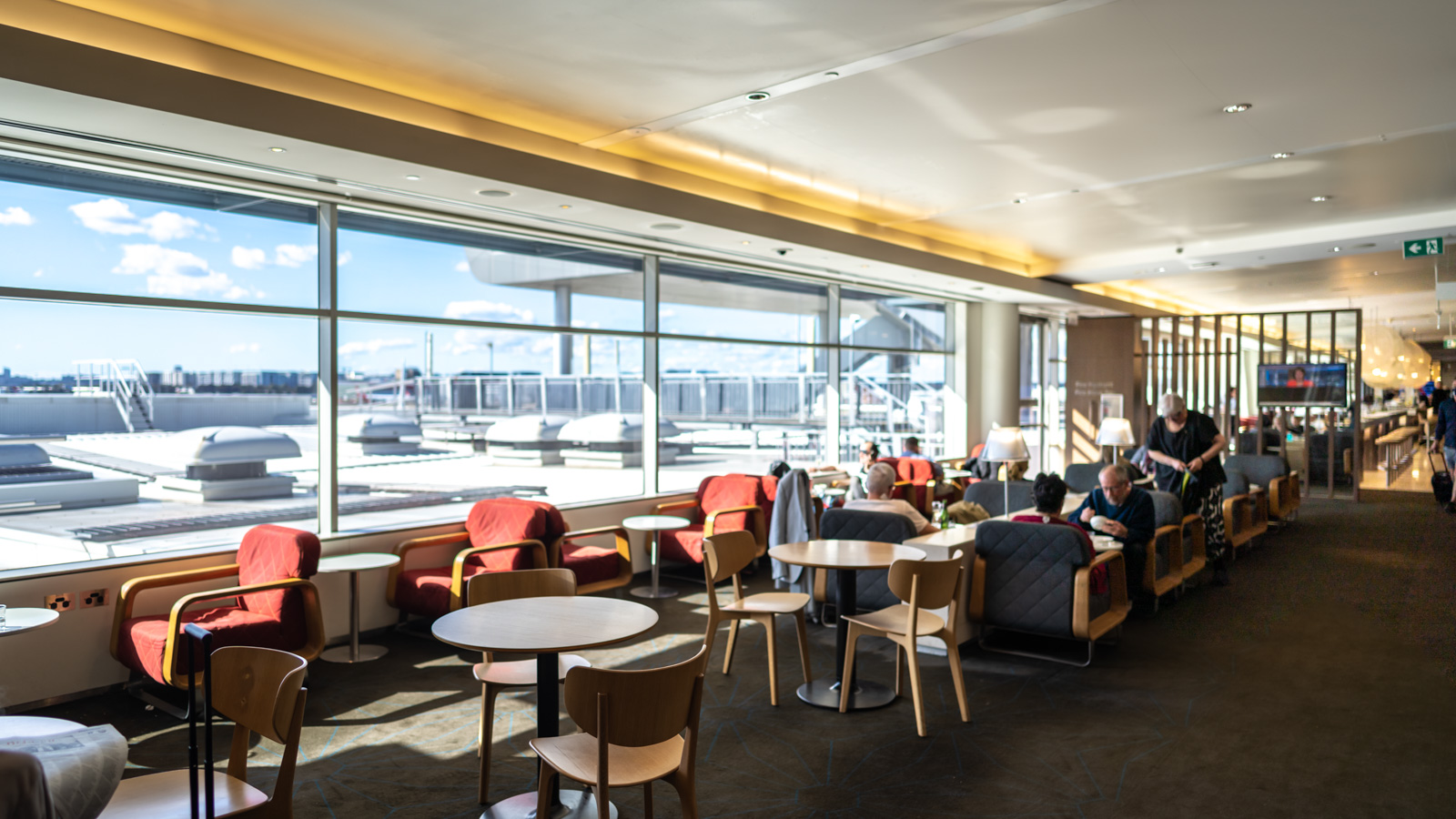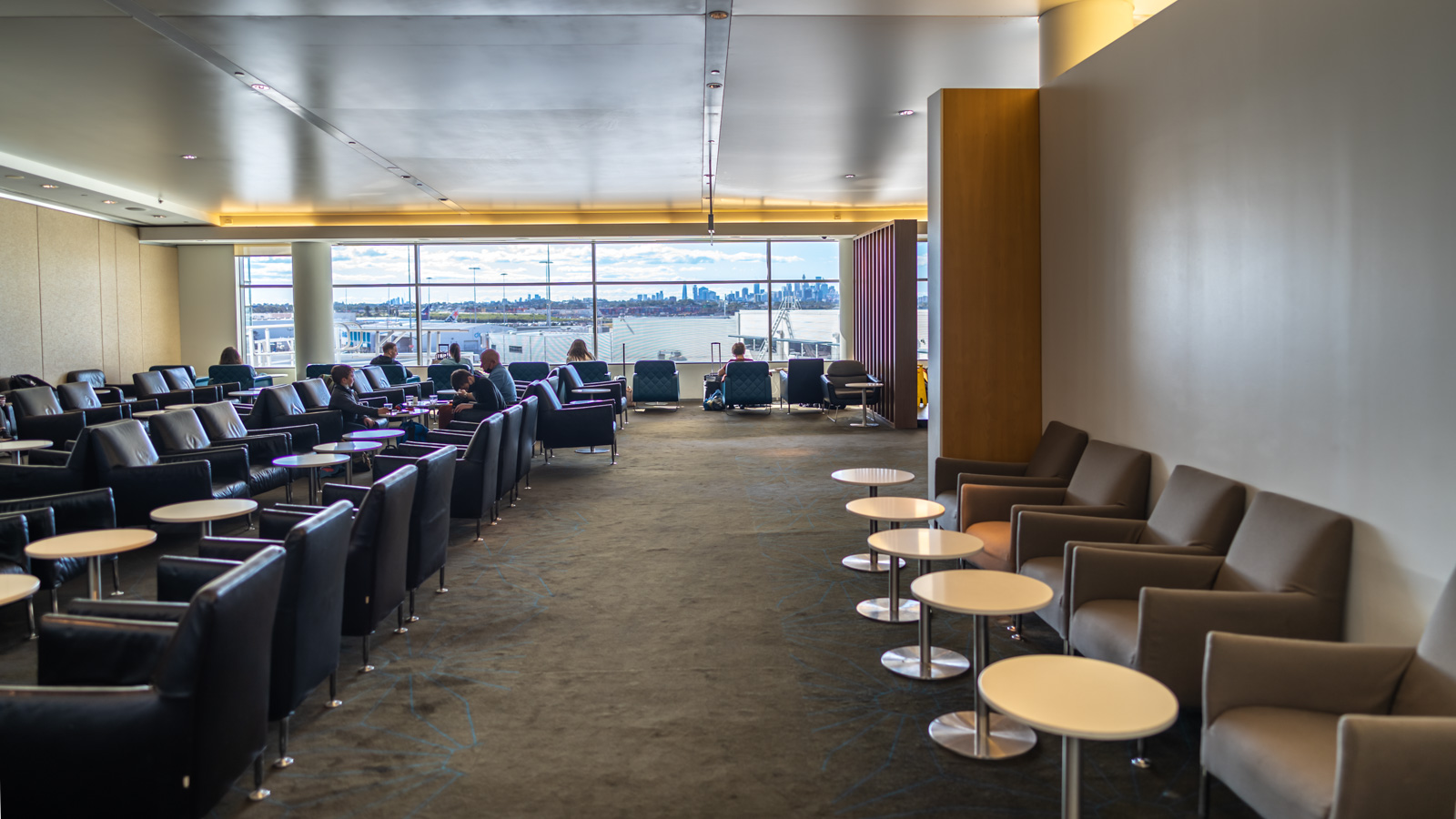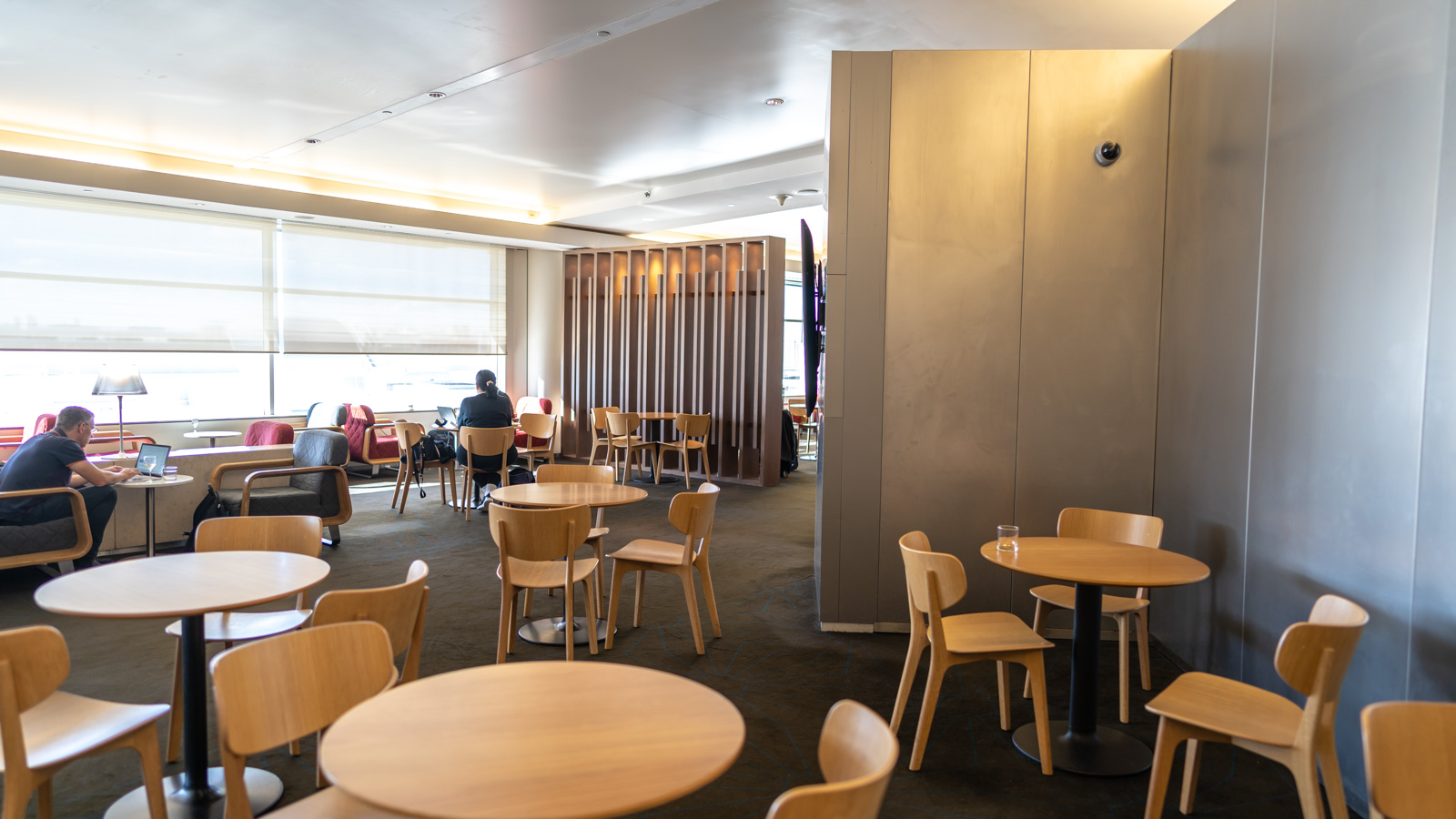 Though both wings have identical dining areas, only the one on the right side is open at the moment. Do keep that in mind if you take a seat in the left wing, as you'll have to cross to the other side to access the buffet.
When the lounge gets even busier, Qantas may open a 'hidden' space that is beyond the fire doors on the right. It leads to a secret nook that's actually under the escalators to the Qantas First Lounge. Unsurprisingly, this area is also closed right now, as the lounge isn't at capacity yet.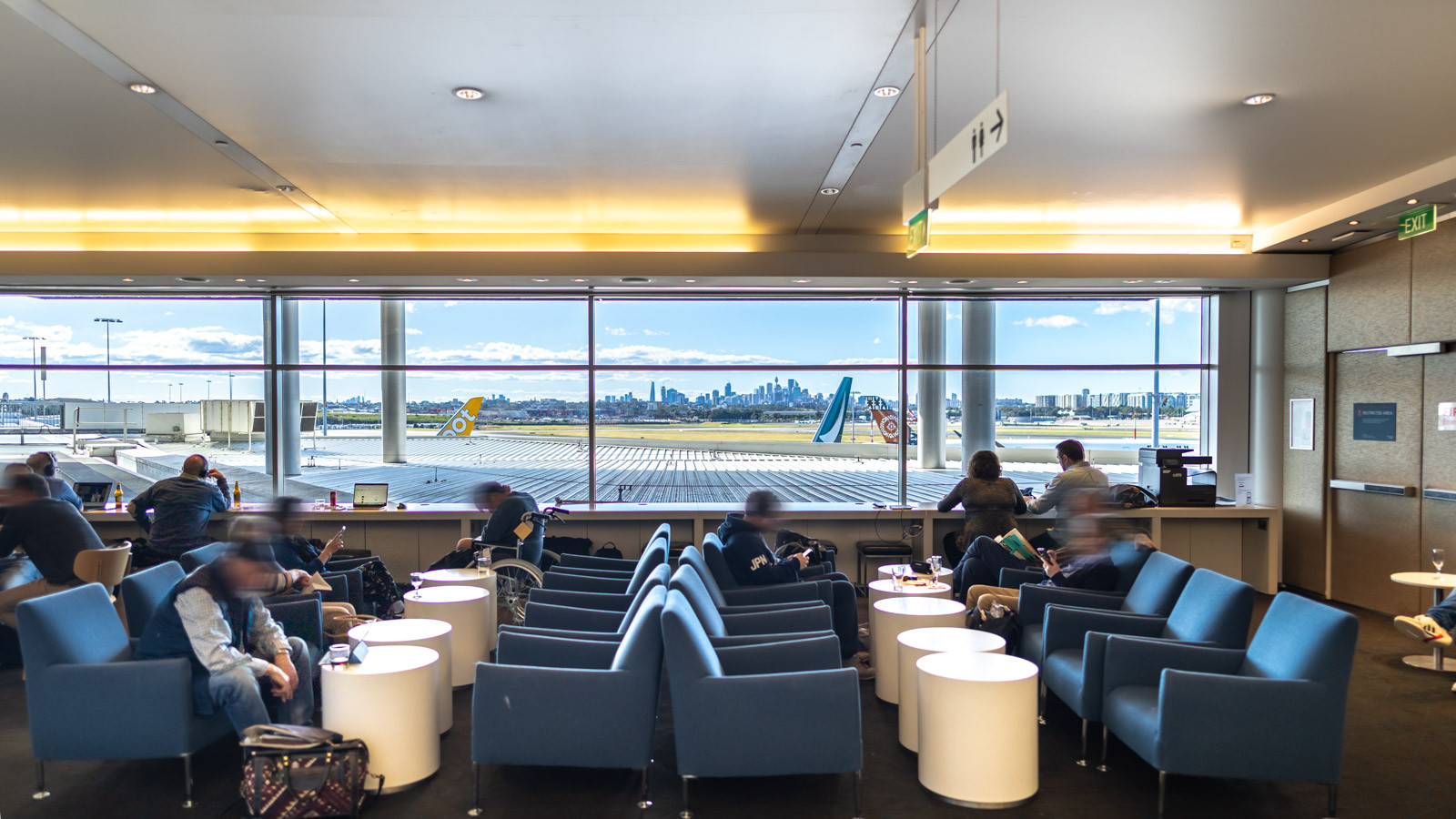 Food & drink
Buffet dining
There are two identical food stations on each side of the lounge, though only the one on the right is open at the time of review. The buffet selections change from breakfast to all-day fare. During my lunchtime visit, there are three hot dishes, salads, cakes and bread rolls.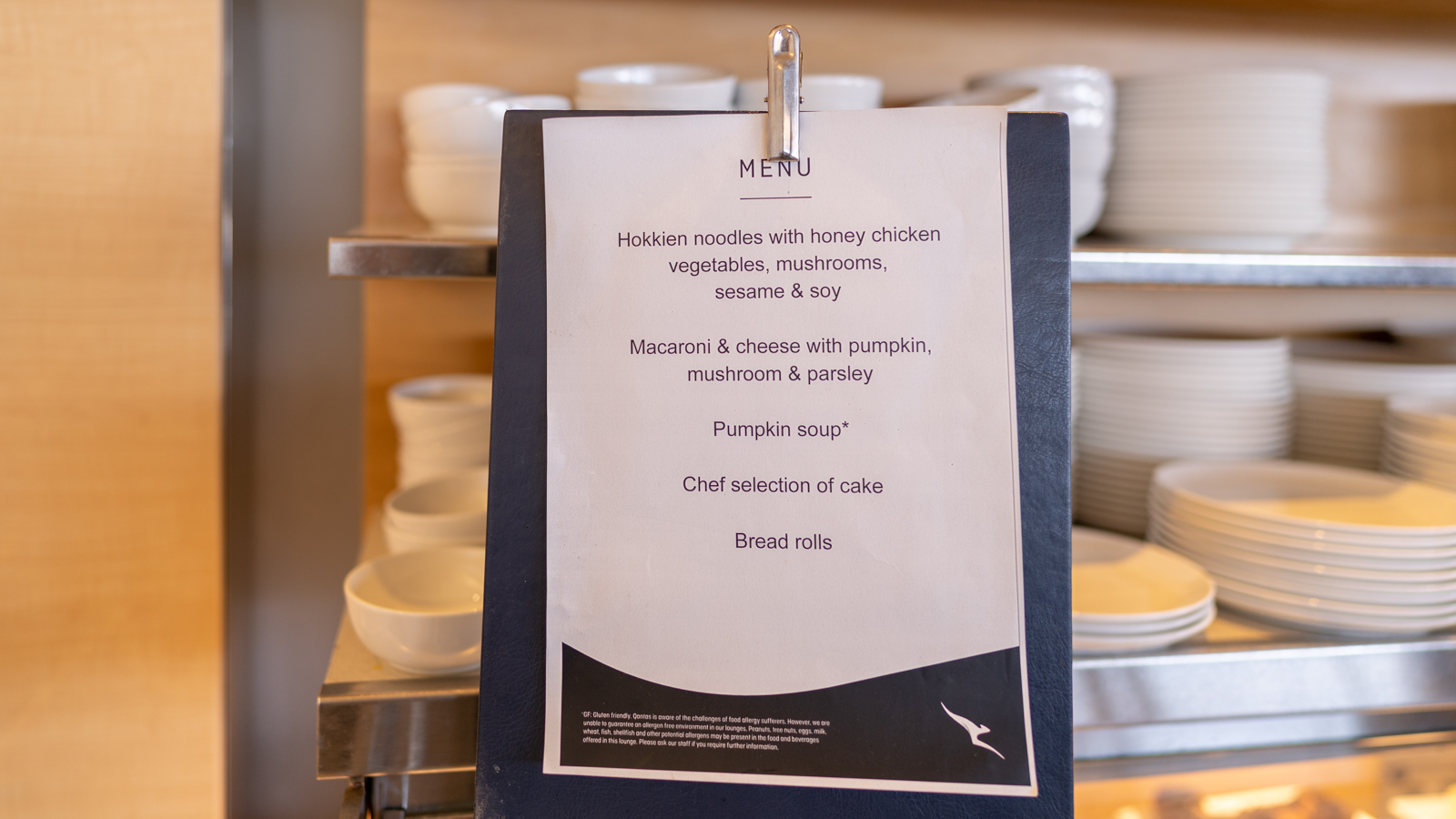 Though I haven't visited this lounge before, I have to say that the menu could do with a bit more variety. Both hot dishes are quite carb-heavy and simple, but the salads do look appetising. Brownies are the main dessert on offer, and the gelato cart I've read about previously is now nowhere to be seen.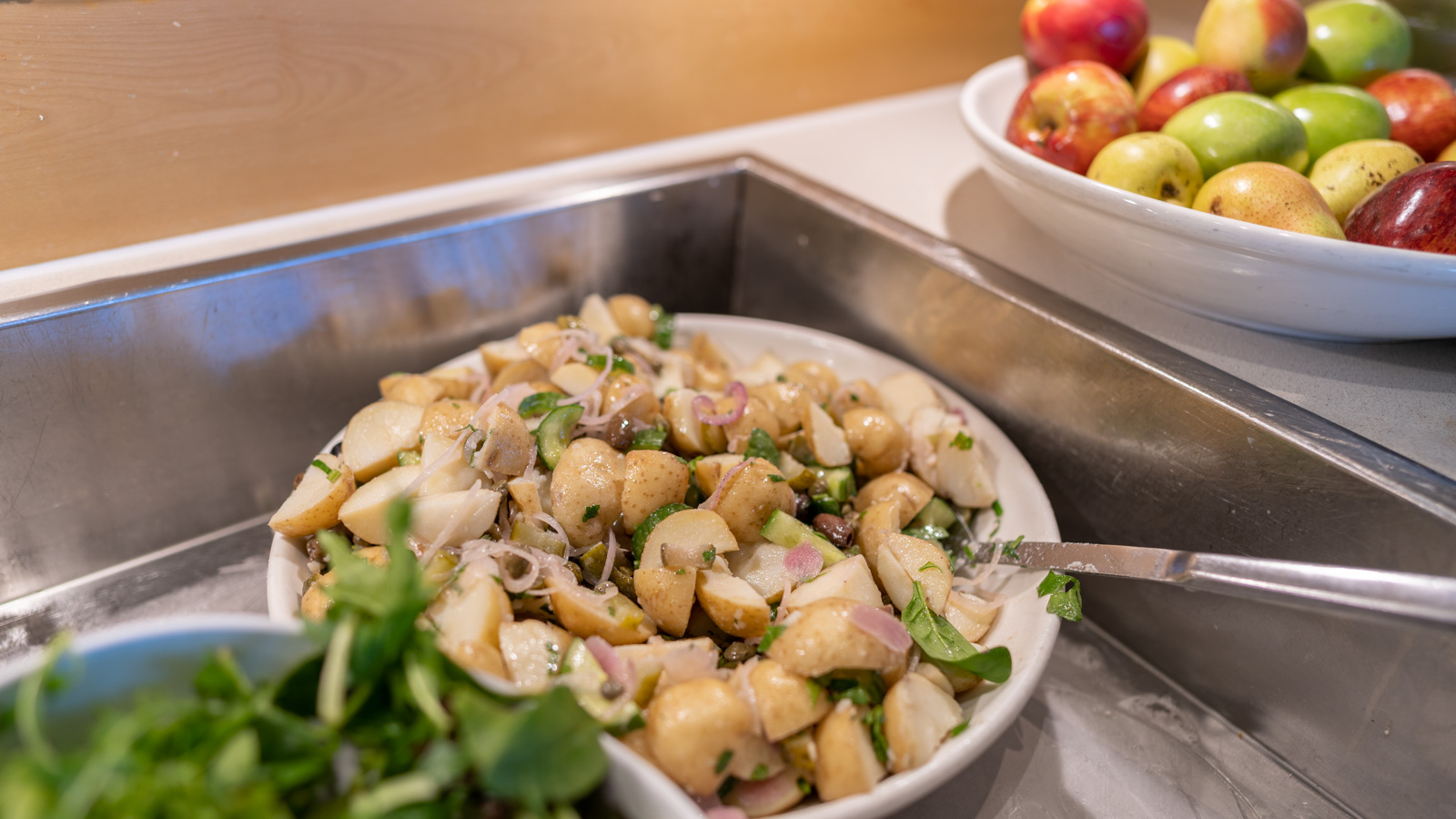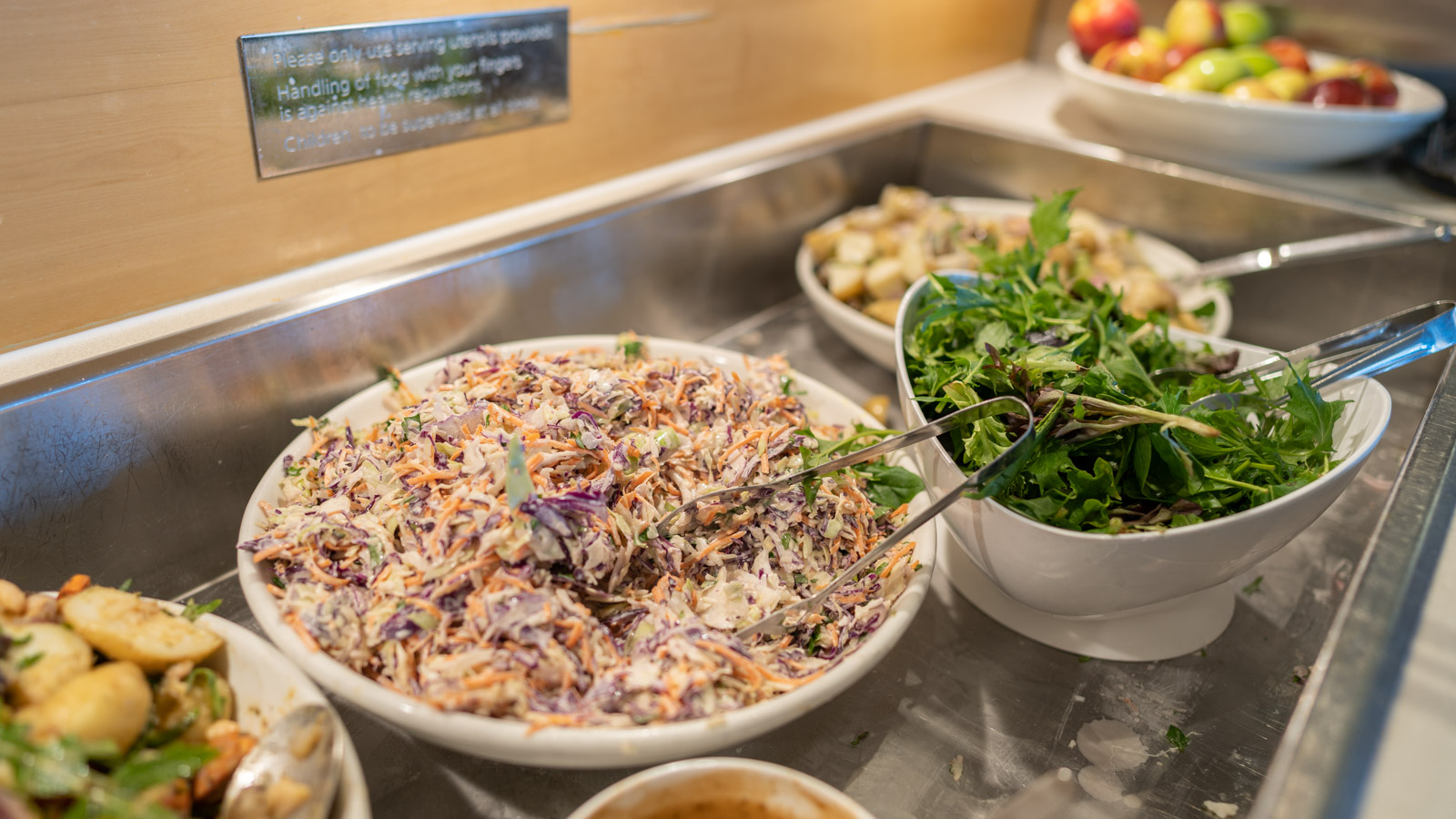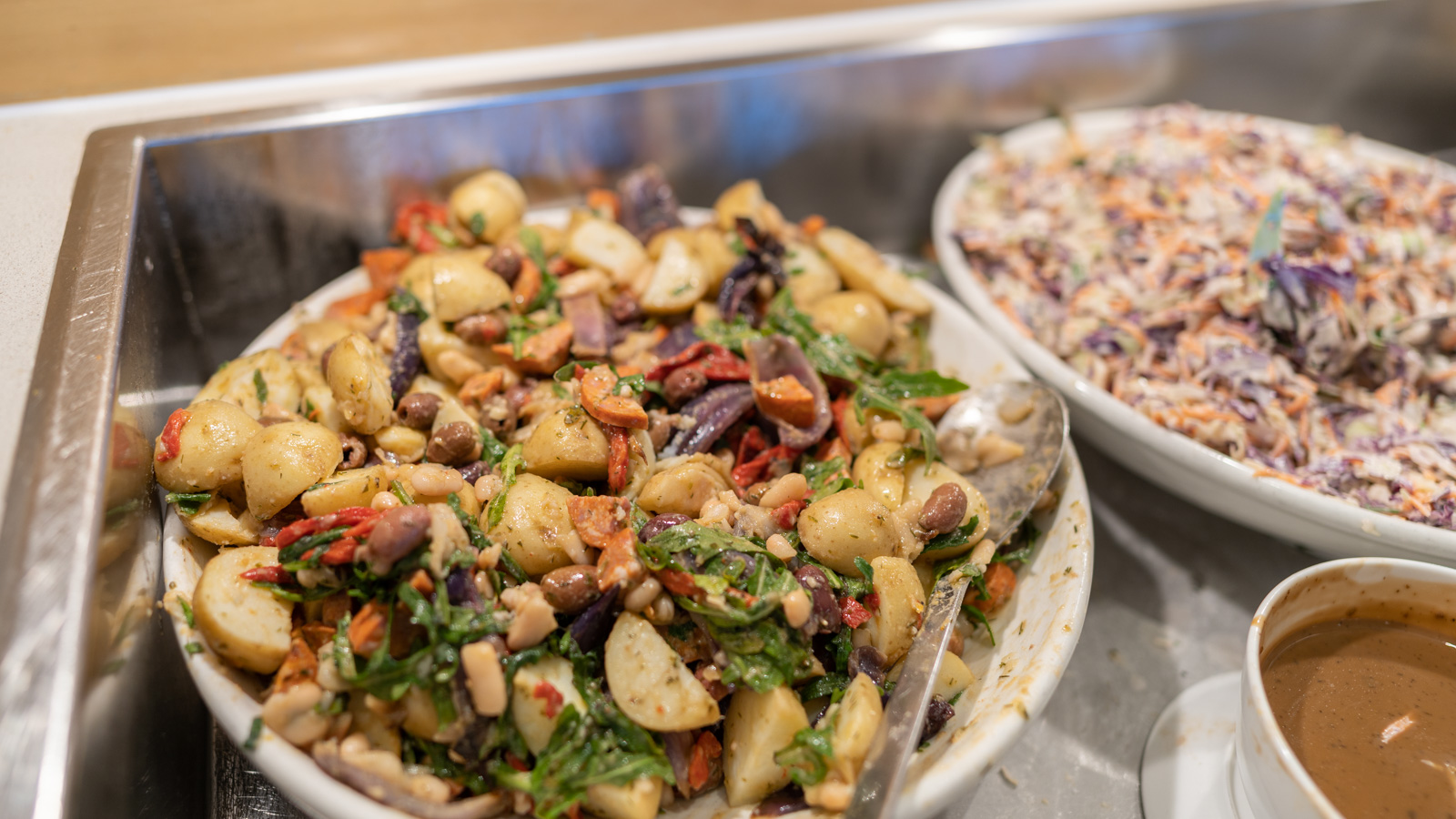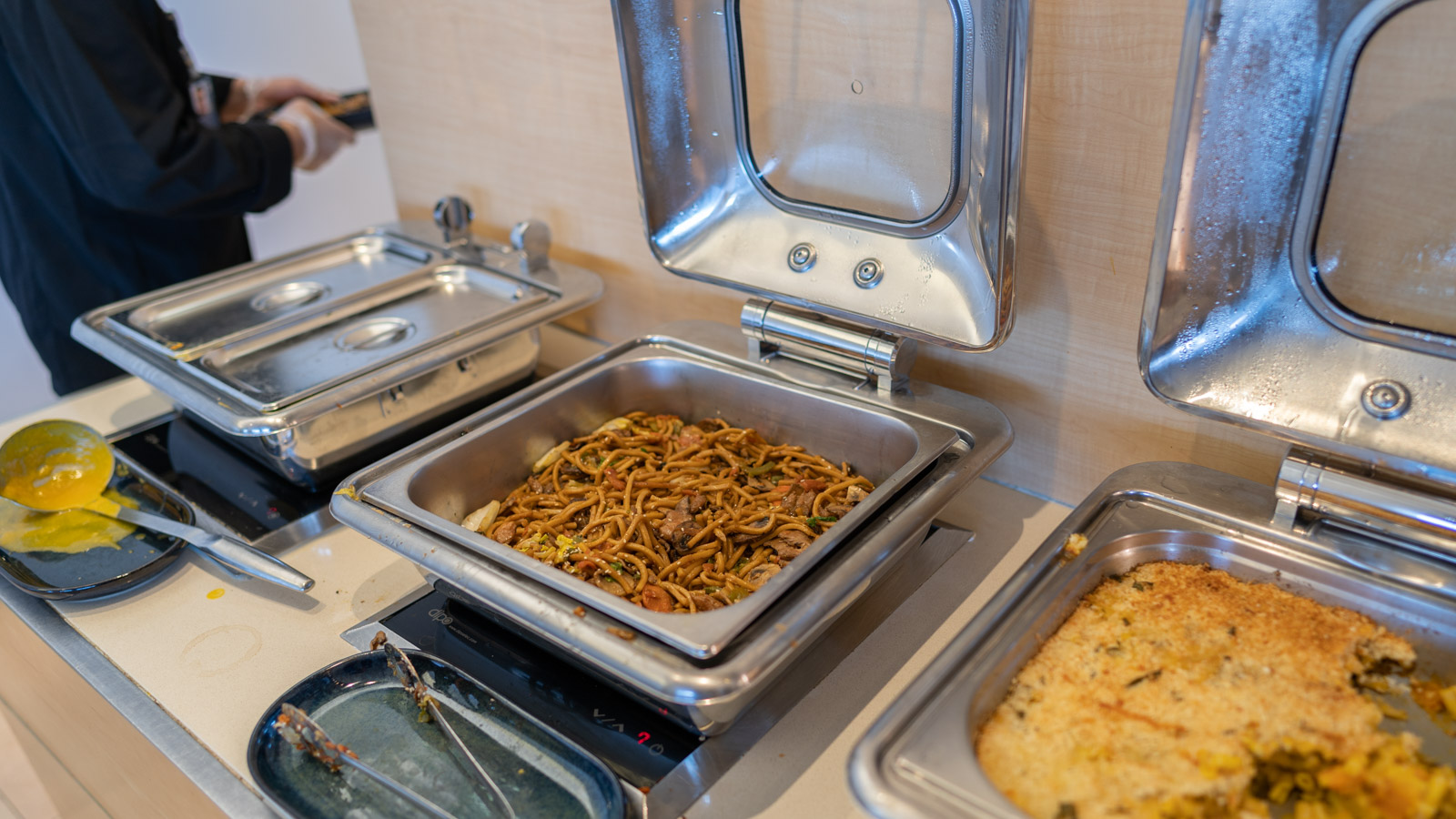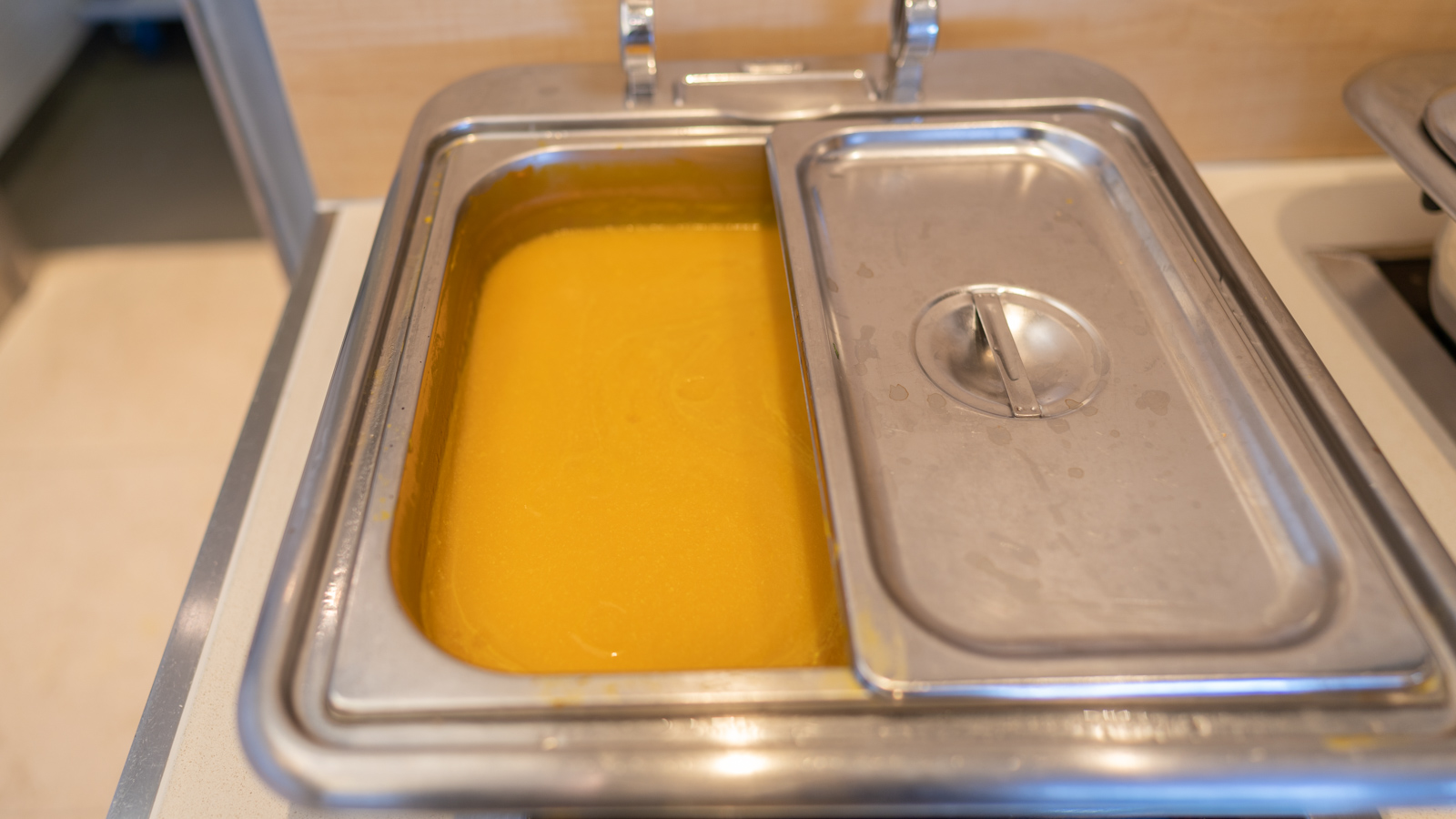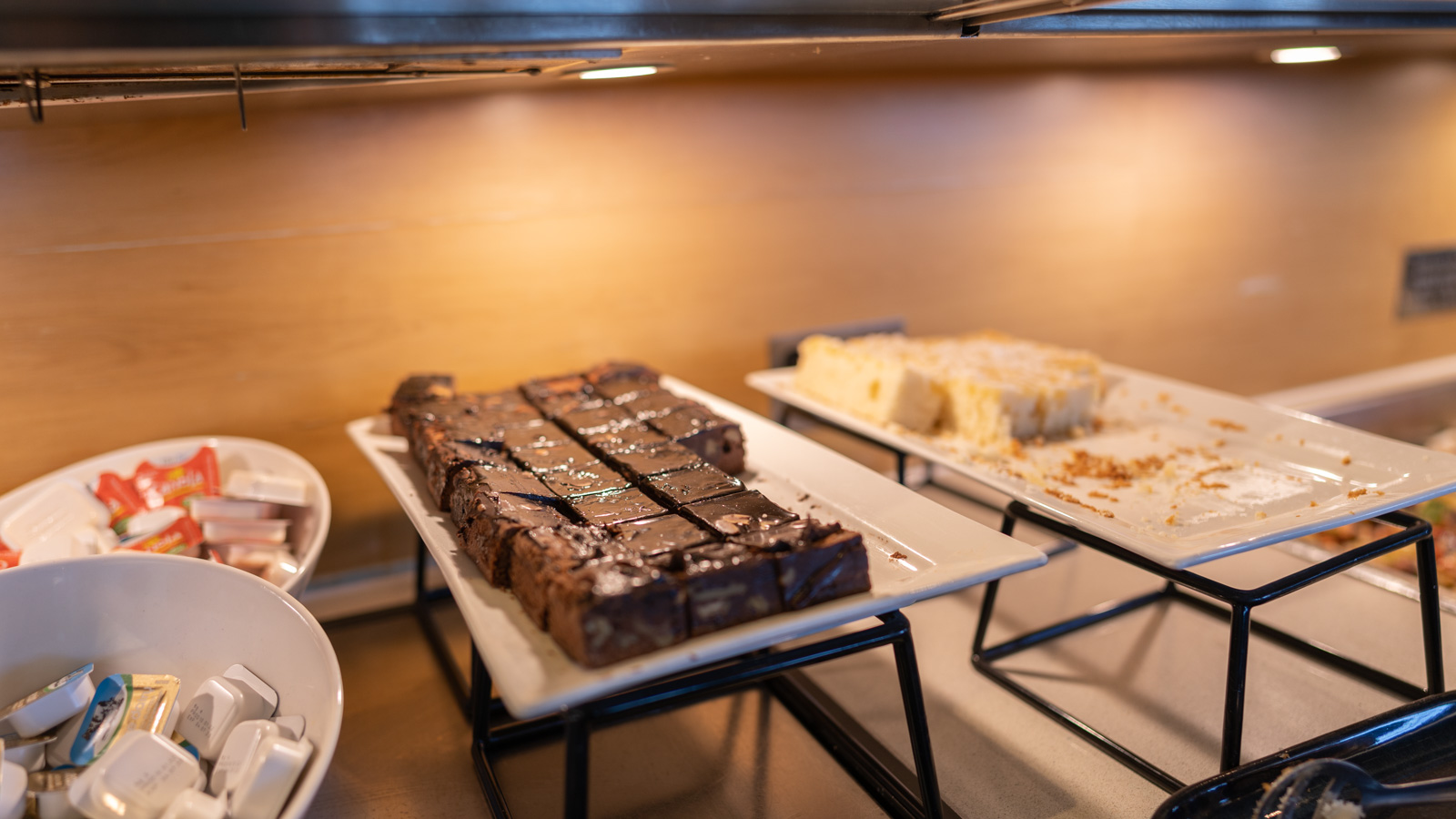 Self-serve bar
Except for barista-made coffee, all food and beverage is self-service – no tended bar here. There is an excellent selection of spirits, local wines, beers (both bottled and on tap), and numerous non-alcoholic beverage options.
I do love a good gin and am pleasantly surprised to see Beefeater 24 on the shelf – it's a smooth step up from the standard entry-level drops. And though I'm not a heavy beer drinker, I'm sure that fans of these brews will be happy to pull their drink straight into chilled glasses from the taps.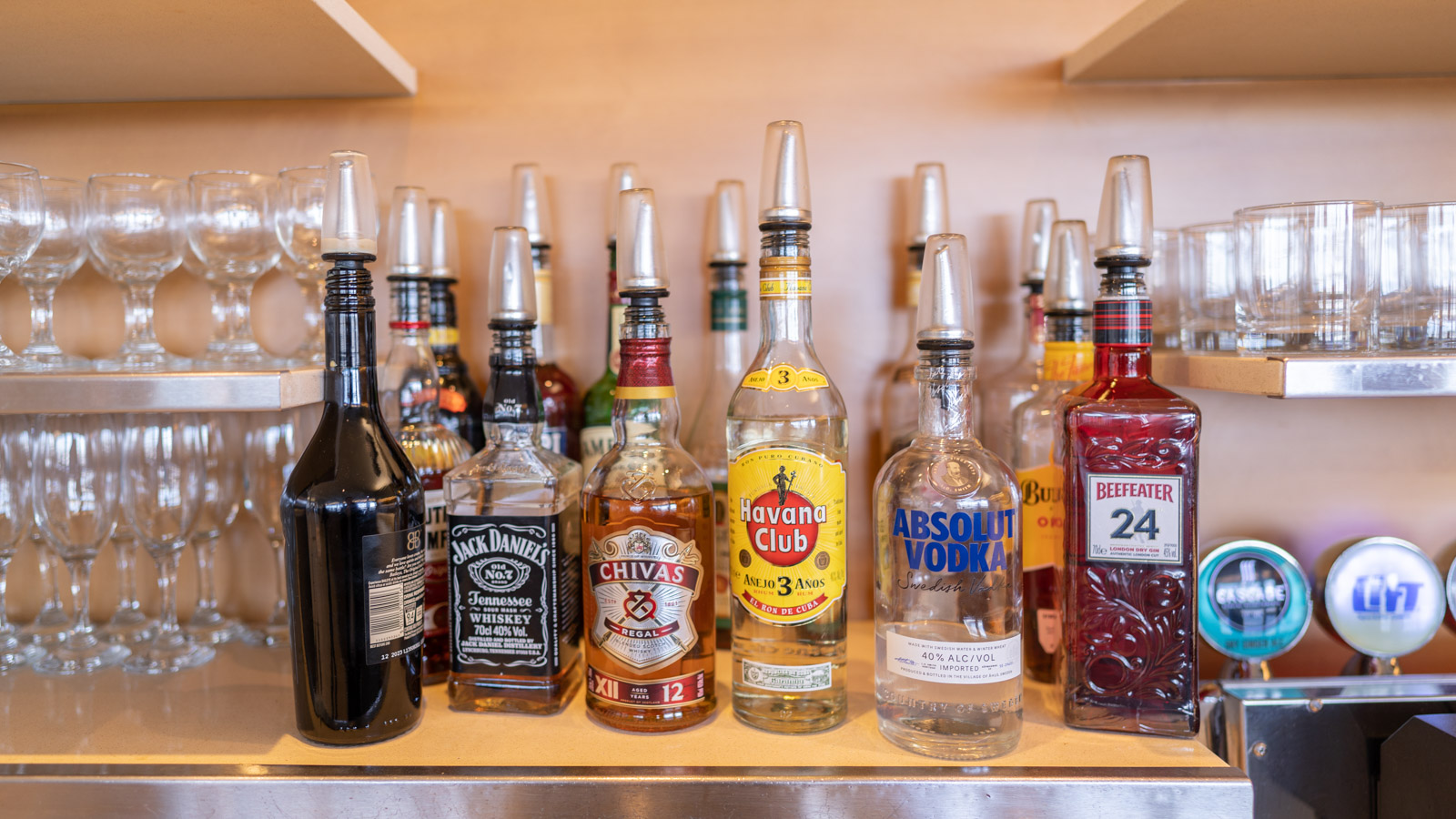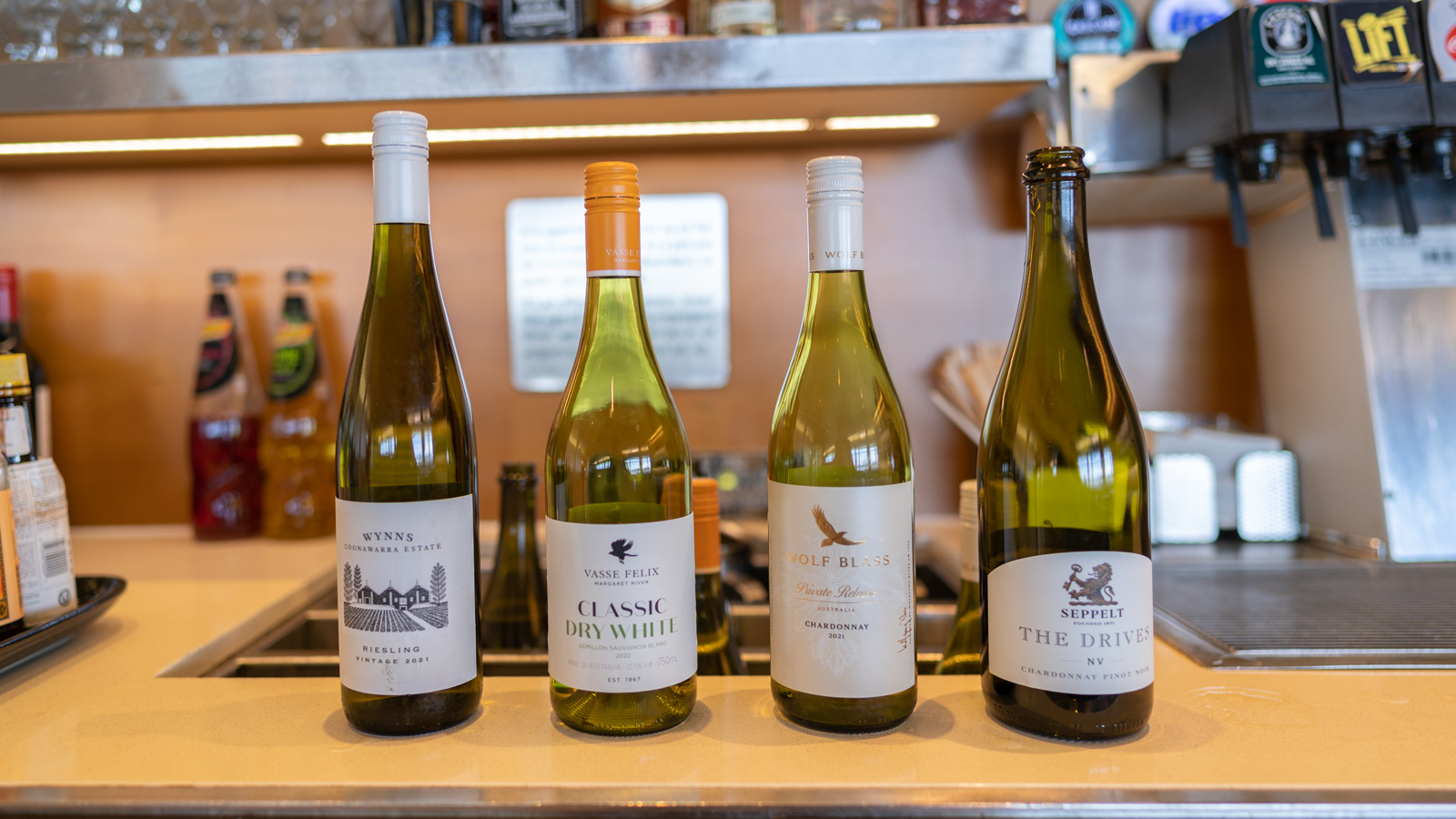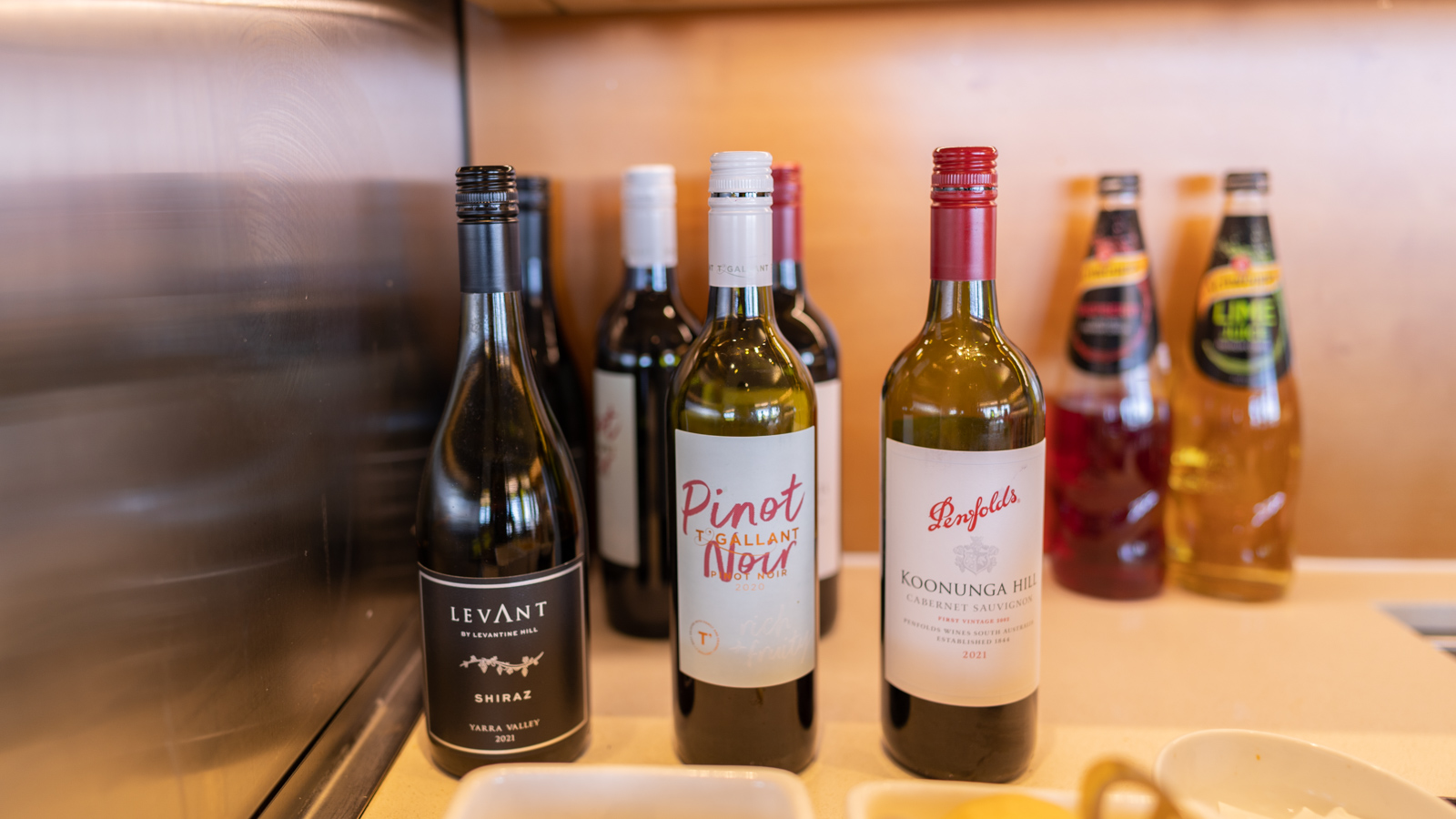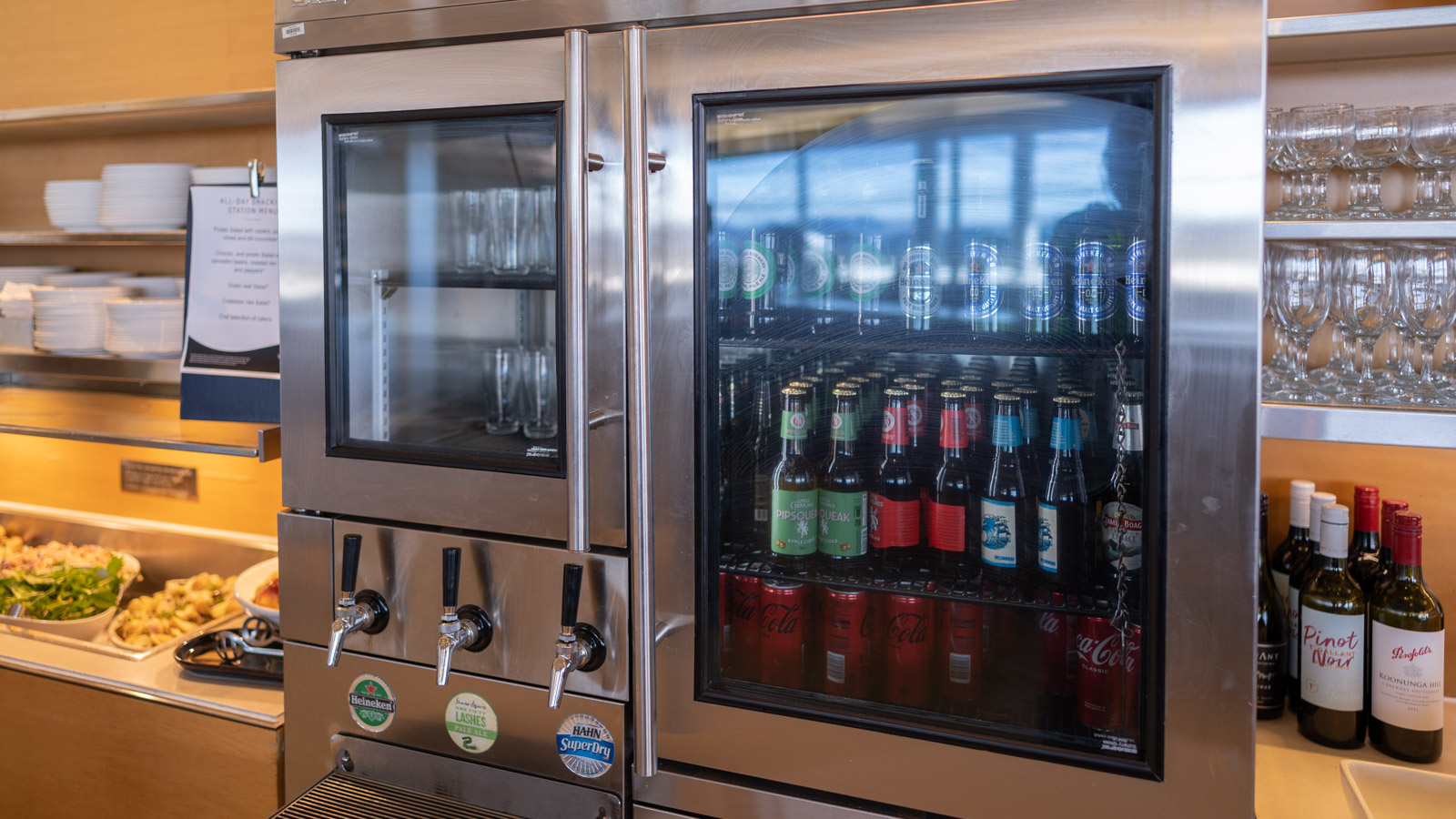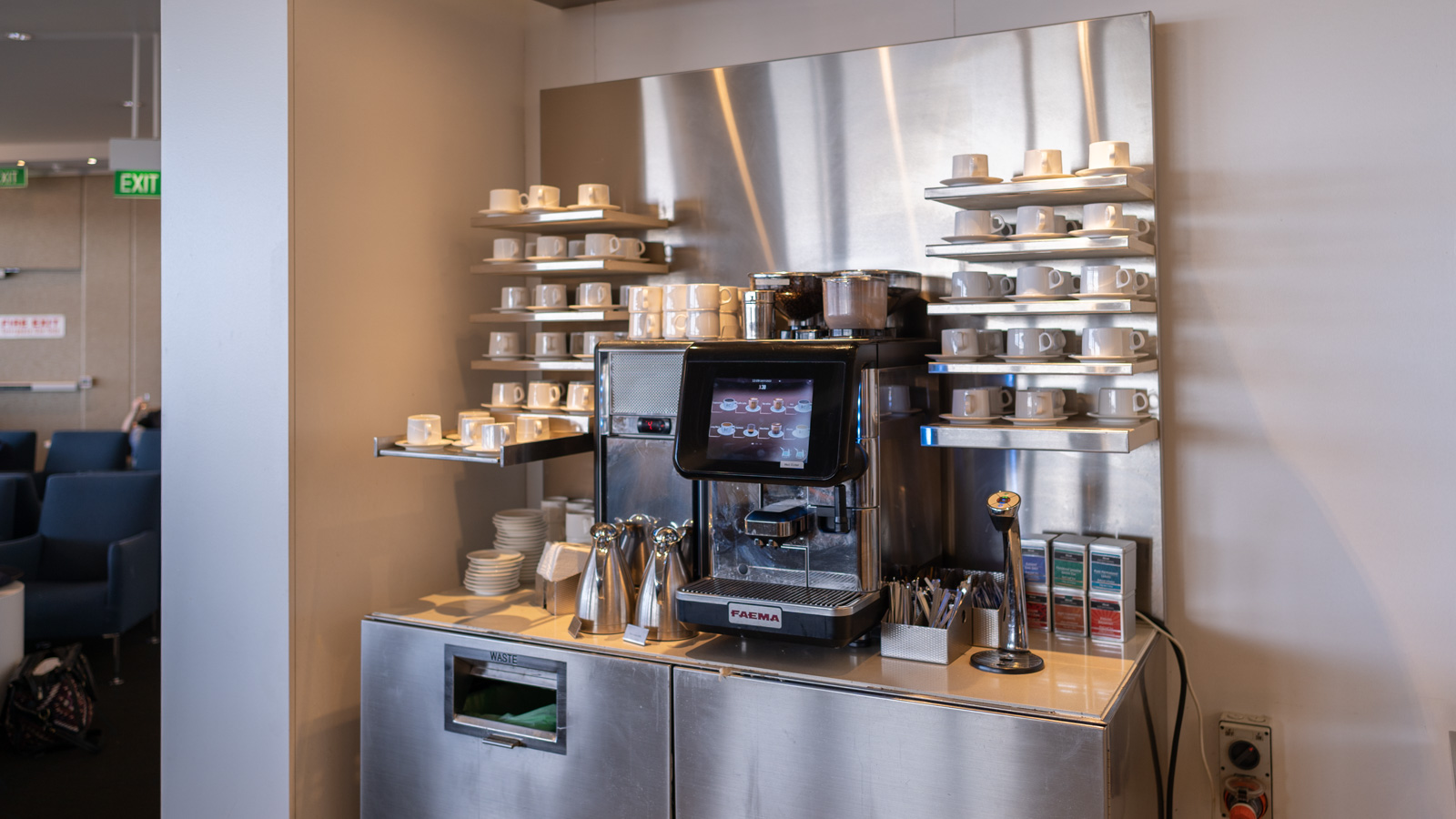 Finally, one of the best features of Qantas' lounges is its focus on barista-made coffee. It's certainly much needed for those with 6:00 am departures! There are two stations in this lounge, one in the central area and a secondary one to the left, which is not currently open.
Amenities
Bathrooms and showers
There are two sets of bathrooms, which are kept clean throughout my visit. The ones in the left wing have showers, which are shown below. Each shower suite is beginning to show its age, but it's still bright and gets the job done. Qantas now uses high-quality Li'Tya (and occasionally, LaGaia Unedited) products in its Business lounges.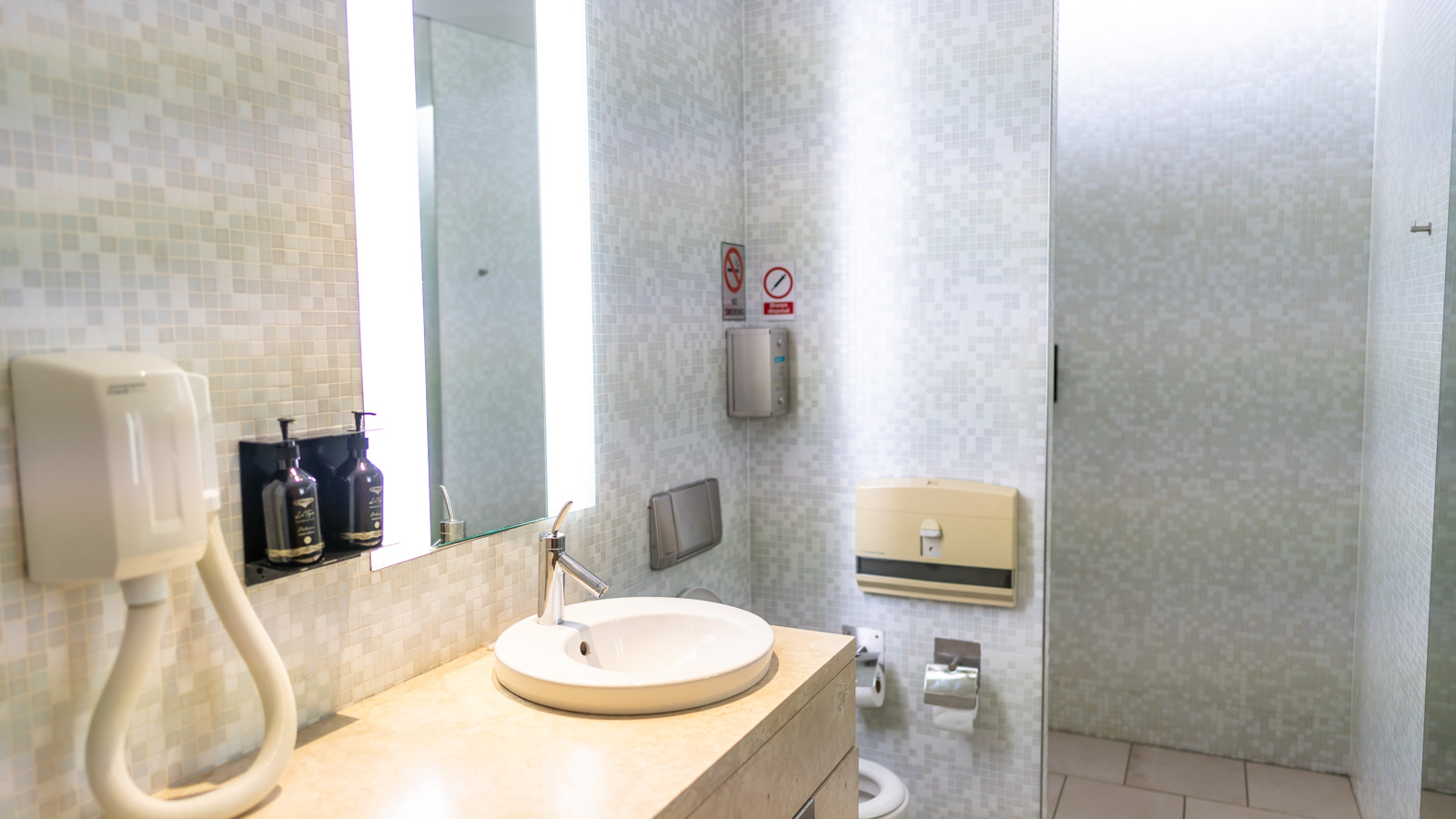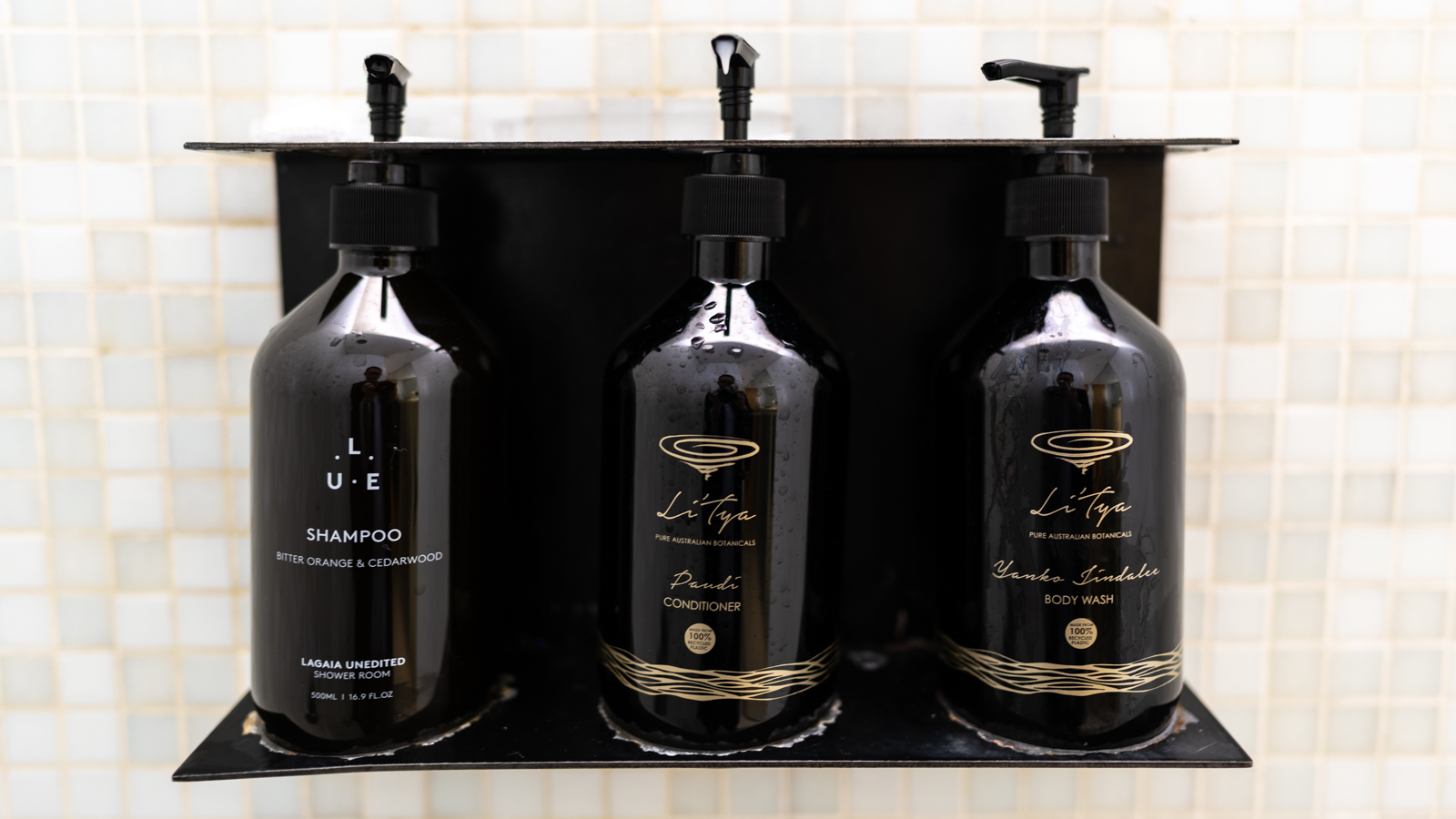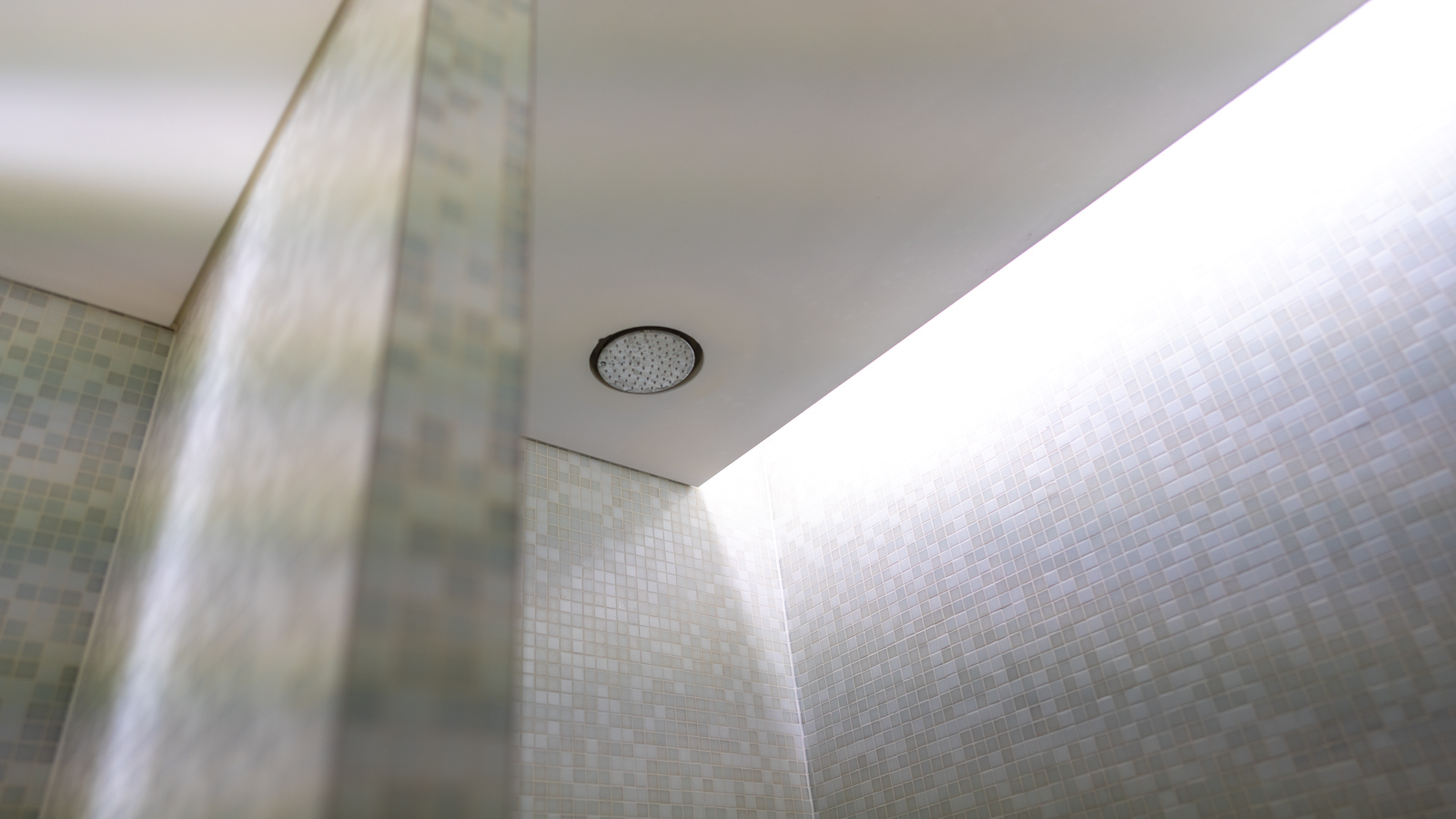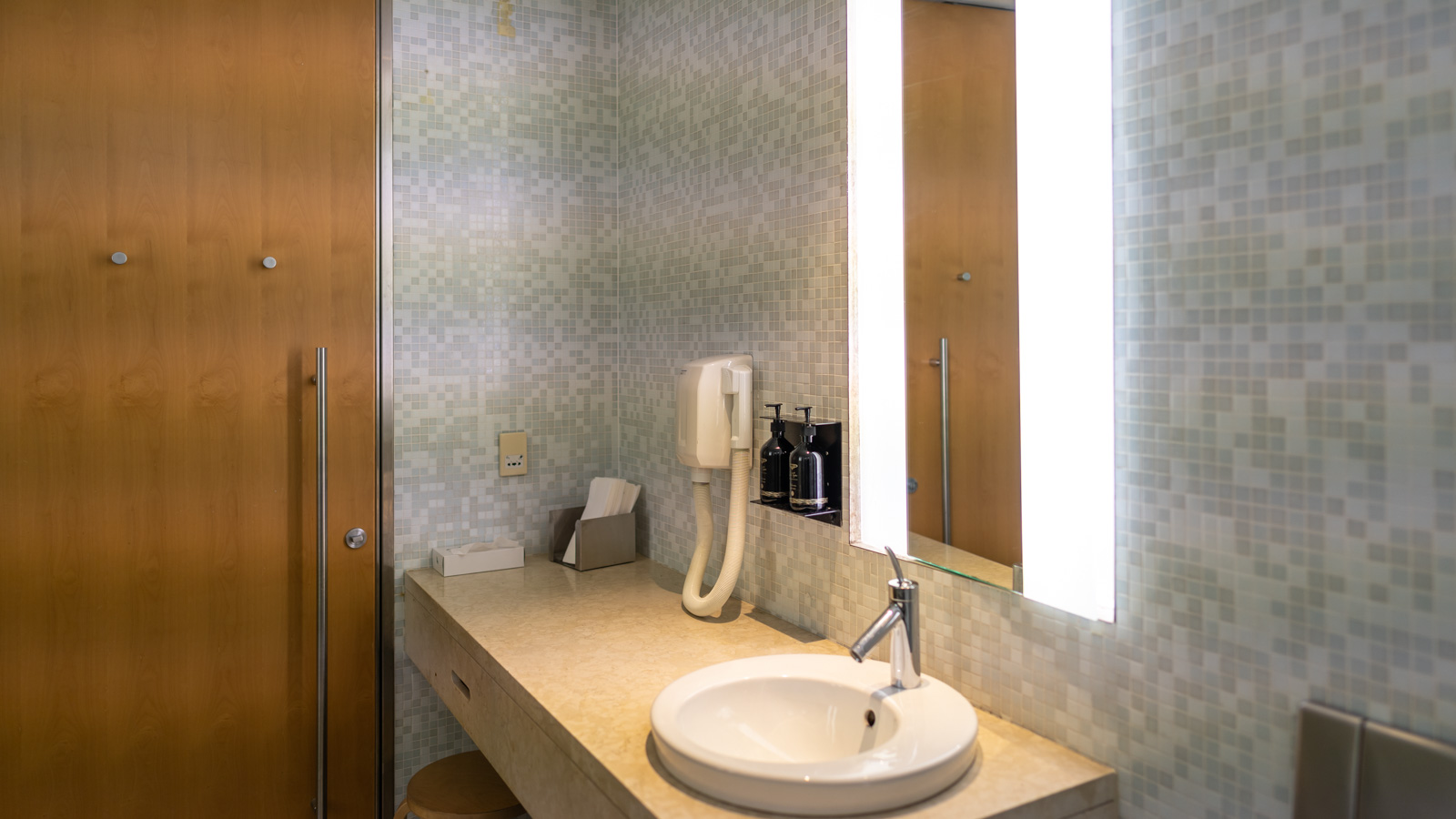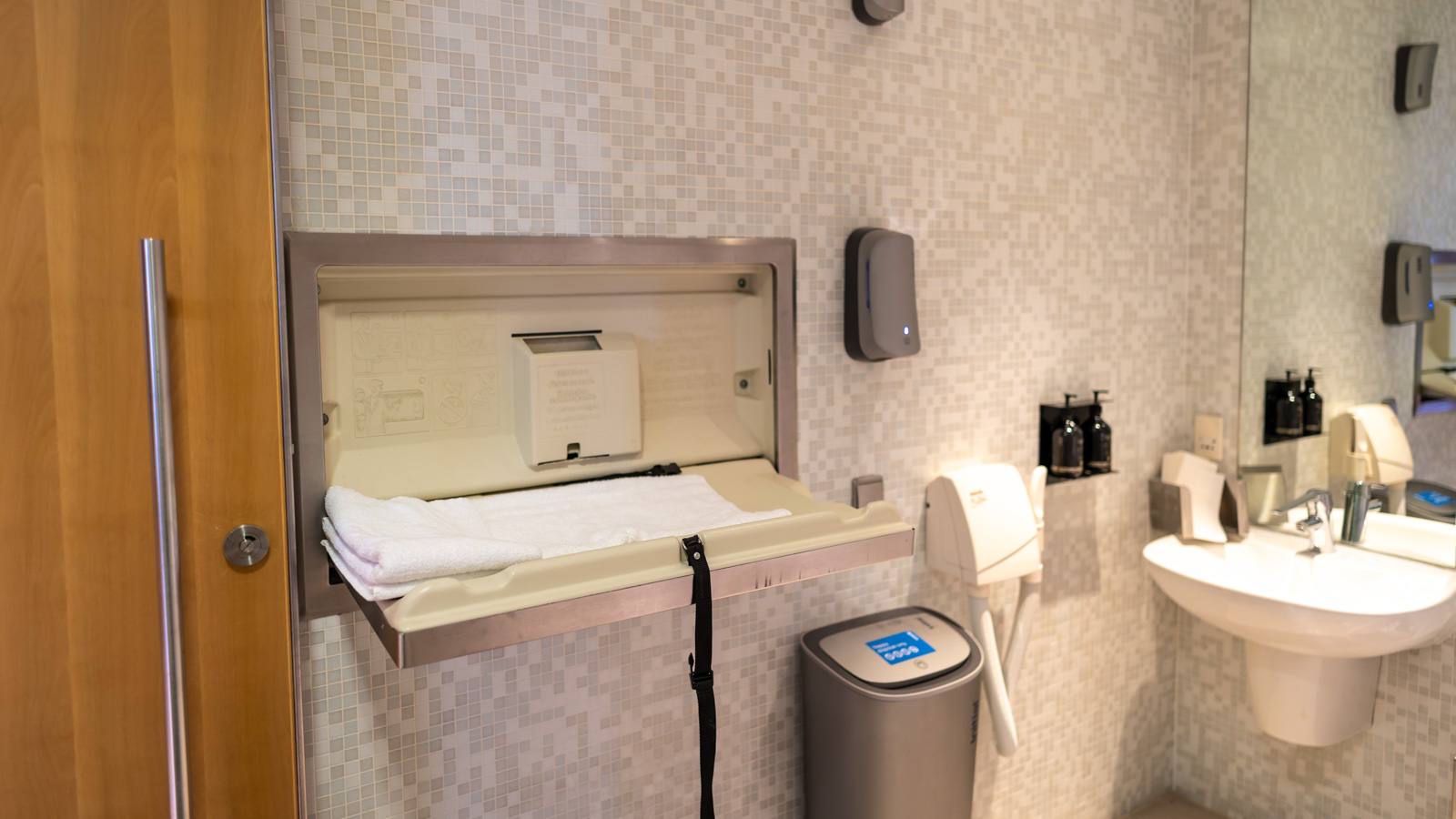 Charging and power
If there's one thing that's perfect in this visit, it's the WiFi speeds. I measure 145 Mbps downloads and 129 Mbps uploads, which is one of the fastest speeds I've seen in a lounge. And that's with the lounge being reasonably busy.
Not all seats have access to power ports, though – I have to scan the walls to find them. They don't have USB ports, so do consider bringing a plug if needed.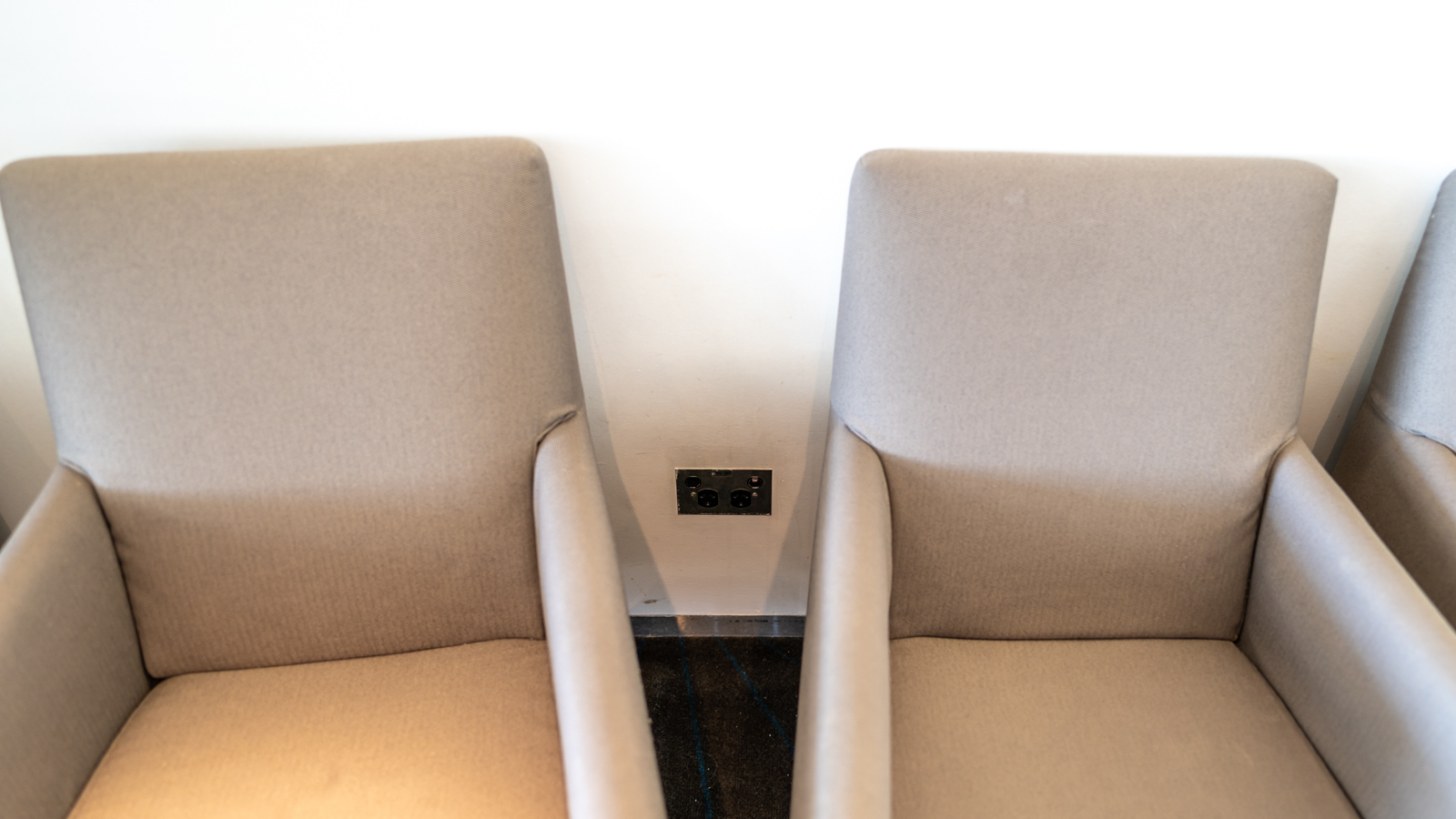 Reading material
The Qantas magazine is now back in lounges, and I always think it's a good read. Lounge guests are more than welcome to take a copy of the magazine onto their flight.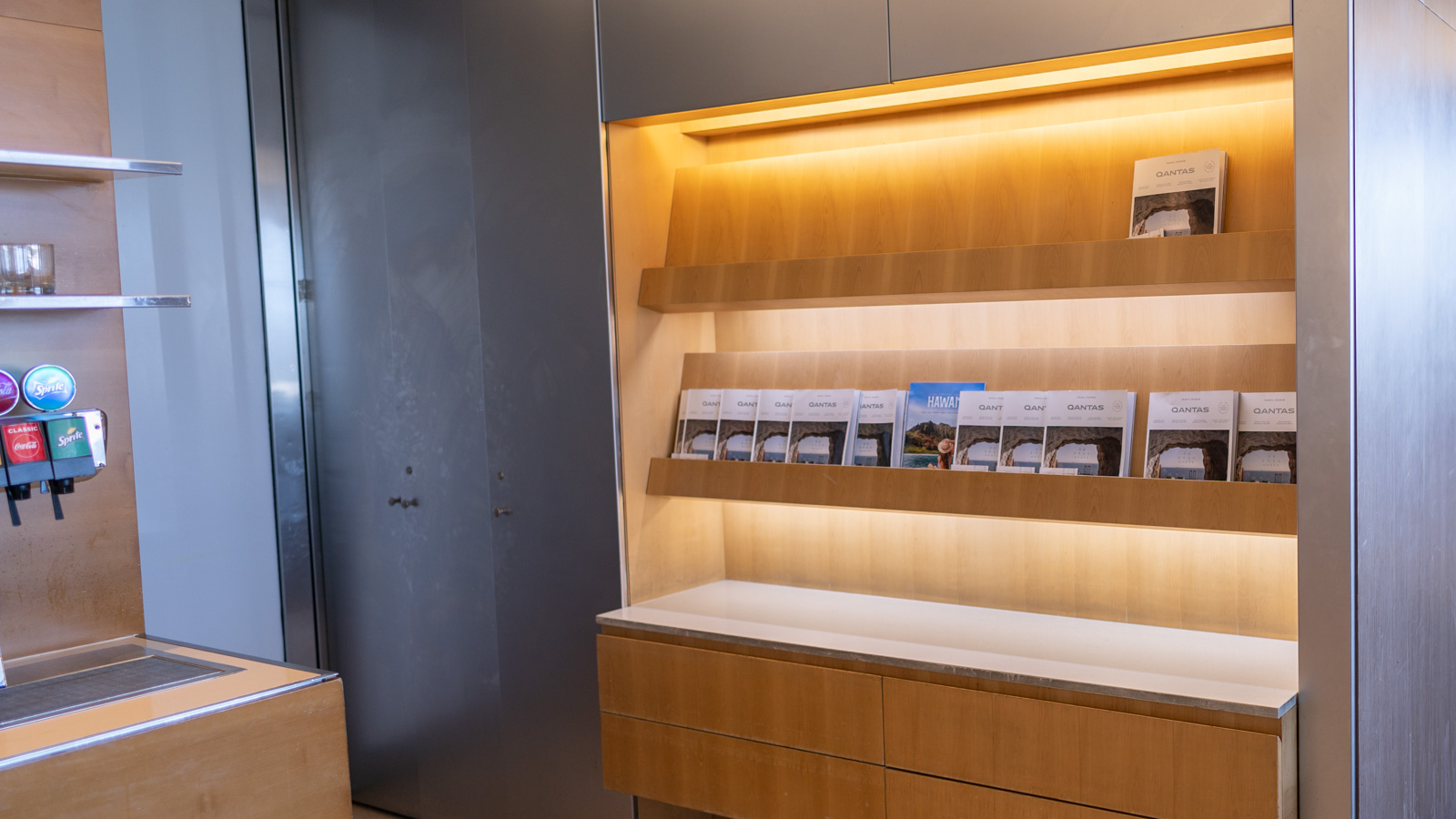 Lounge access options
Class of travel: Business and First Class passengers on Qantas; oneworld partner airlines such as American Airlines, Cathay Pacific, Japan Airlines, Malaysia Airlines, LATAM and Qatar Airways; and non-alliance partners such as China Eastern, Jetstar (Business Max fares only) and Emirates
Airline frequent flyer status: Qantas Gold, Platinum and Platinum One members
Airline partner frequent flyer status: Emirates Skywards Gold and Platinum members
Alliance frequent flyer status: oneworld Sapphire or Emerald members departing on a oneworld flight
Lounge membership program: Qantas Club members travelling on a QF or JQ flight number
Day pass: Qantas single-entry passes travelling on a QF or JQ flight number
Most passengers above (except for single-entry pass holders) can bring one guest along. As this is an international lounge, the guest must either be on the same flight – or at least on a oneworld or Emirates flight – departing the same day. See the Qantas website for full access eligibility.
Summing up
The Qantas International Business Lounge in Sydney is large and often busy. It's a workhorse facility at the airline's main international hub. Given that, the space is positively calling out for a refurbishment to bring it up-to-scratch with Qantas' impressive standard for its newest lounges. Is David Caon available?
The International Business Lounge might not compare to the opulence of its neighbouring International First Lounge or the lavish new Qantas lounges in Singapore or London, but it does its job of providing a bite to eat, a drink, a shower and fast internet speeds.
As expected, the staff and variety of beverages are good – but I think Qantas can really improve the dining experience in this lounge.
Frequently asked questions
Who can use the Qantas International Business Lounge?
Passengers travelling in Business Class gain access to this lounge and those holding elite status with Qantas, oneworld or Emirates. Qantas Club members and those holding single-entry passes and travelling on a QF or JQ flight number can also enter the lounge.
Can I use the Qantas Lounge when flying Jetstar?
Only Business Class passengers who have purchased a Jetstar Business Max fare can enter a Qantas lounge before an international flight. However, Qantas elite status (Gold and higher) and Qantas Club members can enter a Qantas lounge before either a domestic or international Jetstar flight.
Photography by Brandon Loo, who travelled at Point Hacks' expense. He accessed the lounge before a Qantas flight with Qantas Platinum status. This article was originally written by Matt Moffitt.
Qantas International Business Lounge, Sydney
was last modified:
August 1st, 2022
by