Avis Preferred is the membership program of Avis, a car hire service. Unlike fully-fledged loyalty schemes such as Hertz Gold Plus Rewards, Avis Preferred is far simpler in Australia with no 'Avis Points' balances or status tiers. Instead, you'll enjoy selected perks just by signing up as a member.
On the rewards side, you're welcome to earn airline or hotel points with a wide range of partners, whether you're an Avis Preferred member or not.
How do I join Avis Preferred?
It's free to join Avis Preferred, although there are a few steps to go through.
Start your journey at the Avis Preferred enrolment page
Enter your personal details and create a password
Set up a credit card for your account (can't skip)
Enter your driver's license details (can't skip)
Accept the T&Cs and verify your email
You are now a member and will be given a Wizard Number
Ad – Scroll down to continue reading.Minimum spend, terms & conditions apply.
How do I earn points with Avis?
There are a few ways to earn points with Avis. With a wide breadth of partners, you'll be spoiled for choice. Remember, you don't even have to be an Avis Preferred member to earn points.
It's important to know how many points you can earn per rental – not all partners are made equal! For example, Qantas Frequent Flyers pocket 4 points per A$1 spent in Australia and 700 points overseas. But Singapore Airlines KrisFlyer only offers 500 miles per booking, regardless of cost.
1. Set up your preference with Avis Preferred
If you are an Avis Preferred member, access your profile and find a section called 'Earn Travel Partner Points & Miles'. You can choose between dozens of airline frequent flyer programs or a handful of hotel loyalty schemes, such as:
It's easy to choose and switch between partner programs as needed, but this option is best for a 'set and forget' approach. Whenever you make a new reservation, your details will be automatically pre-filled.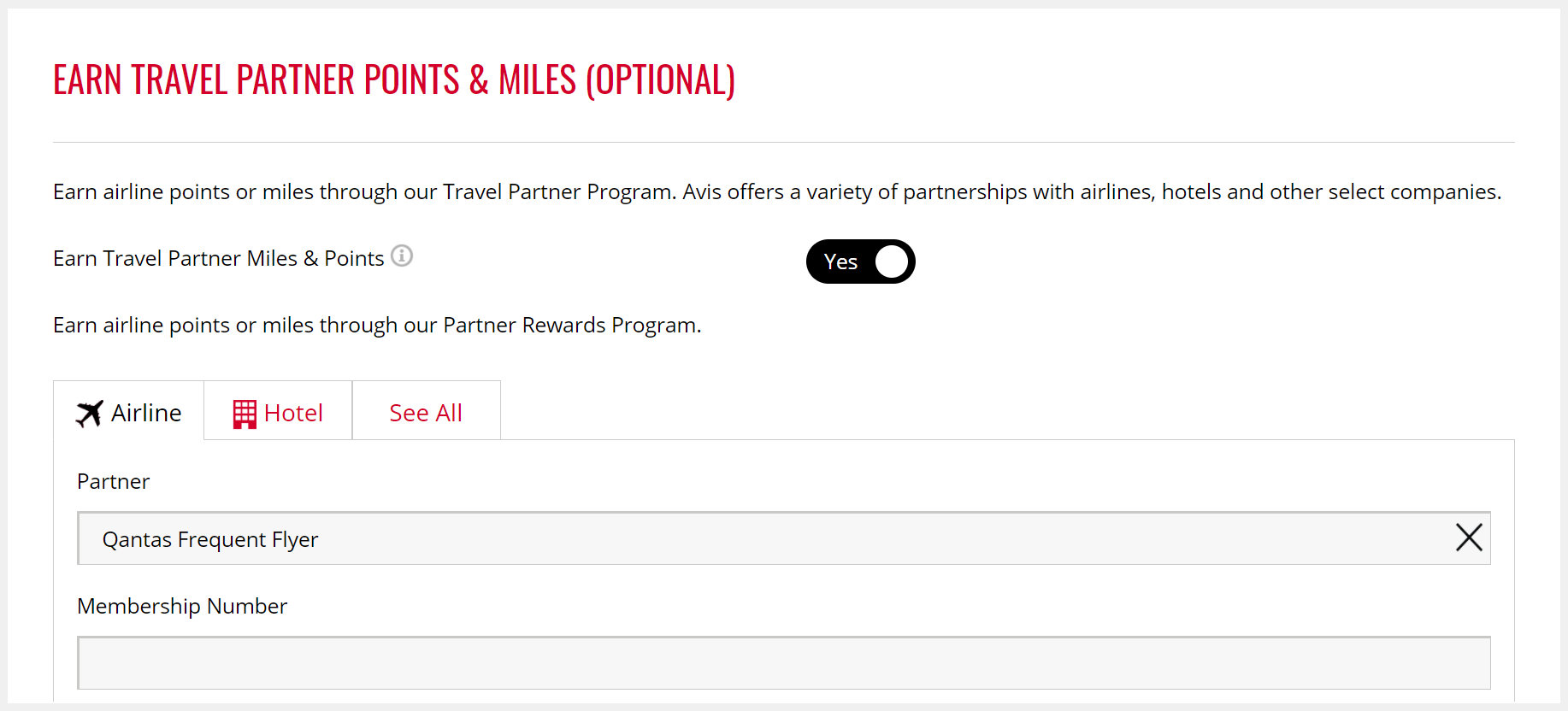 2. Just make the choice at check-out
You can also earn points without being a member simply by inputting your loyalty number during checkout. This works for direct Avis bookings, and some third-party websites as well.

3. Book via the partner portal page
Some programs, including Qantas Frequent Flyer, offer dedicated portals to book Avis cars. As long as you're logged in to your Qantas account, you'll automatically earn points on the booking. In some cases, you might actually end up on top with special offers, upgrades and 'Classic Car Rewards' available for booking.

When booking Avis cars through Qantas, you have the opportunity to include your Qantas Frequent Flyer number, your Avis Preferred number and your ABN for Qantas Business Rewards. This triple-hit combination means you can:
Earn Qantas Points on the booking as an individual
Still enjoy Avis Preferred perks such as priority service (see below)
Also earn Qantas Business Reward points for your business
Read more about earning Qantas Points with Avis →
What else does Avis Preferred get me?
If you go through the trouble of signing up for the Avis Preferred program, you'll also be able to enjoy the following perks on bookings:
Priority service with dedicated counters at major locations
Free additional drivers in Australia and New Zealand
Choose your car before arrival using the Avis app
Faster returns with Avis Rapid Return service
Faster bookings as your personal information is pre-filled
Summing up
Avis Preferred is a small program that offers a core set of benefits if you sign-up for free. Crucially, you don't actually need to be a member to earn points through partner programs.
We highly recommend earning Qantas Points on Avis bookings within Australia. The 4 points per A$1 earn rate is simply better than any other partner earn rate, particularly if you couple it with Qantas-specific promotions such as double points on car hire.
Booking Avis cars through Qantas is the easiest way to reserve a hire car and take advantage of the perks in both programs. If you're also hiring for work reasons, it's a no-brainer to include your Qantas Business Rewards ABN in the booking so your employer/company can manage the booking and earn extra points.
Also read: Which frequent flyer and car rental partnerships offer the most points?
The Ultimate Guide to Avis Preferred
was last modified:
August 24th, 2023
by