Buying points can be one strategic way to save money on travel. The idea being that quite often, the cost of buying points to redeem on flights or hotels can actually be better value than spending cash on the same booking. But is it worth buying points from Radisson Rewards?
In this article, we take a look at the prospect of buying points in the global Radisson Rewards program. This is notably different to Radisson Rewards Americas, which is a related – but separate – program. Read on.
How many Radisson Rewards points can I buy?
Previously, members of Radisson Rewards were limited to buying just 80,000 points per calendar year. But as part of the program's recent revamp, that limit is now much more generous, at 250,000 points per year.
Points are sold in increments of 1,000, and up to 250,000 points can be purchased per transaction. This means you could buy your annual limit in one single purchase, or break the expense into several smaller chunks throughout the year.
From time to time, Radisson Rewards may also offer promotions on buying points. These may see members rewarded with bonus points, over and above what they'd usually receive from the same spend. Alternatively, members may be offered a discount.
This article is based on the usual, 'everyday' rate at which Radisson sells points. Naturally, buying points during a promotion will make the prospect much more attractive.
What does it cost to buy Radisson Rewards points?
For every 1,000 points sold, Radisson Rewards charges US$7 (about AU$9.95).
With that in mind, buying a full slate of 250,000 Radisson Rewards points will set you back US$1,750 (~AU$2,484). Essentially, you're paying 0.7 US cents per point purchased. In Australian currency, that's roughly 0.995 cents per point – or, to write it another way, $0.00995 per point.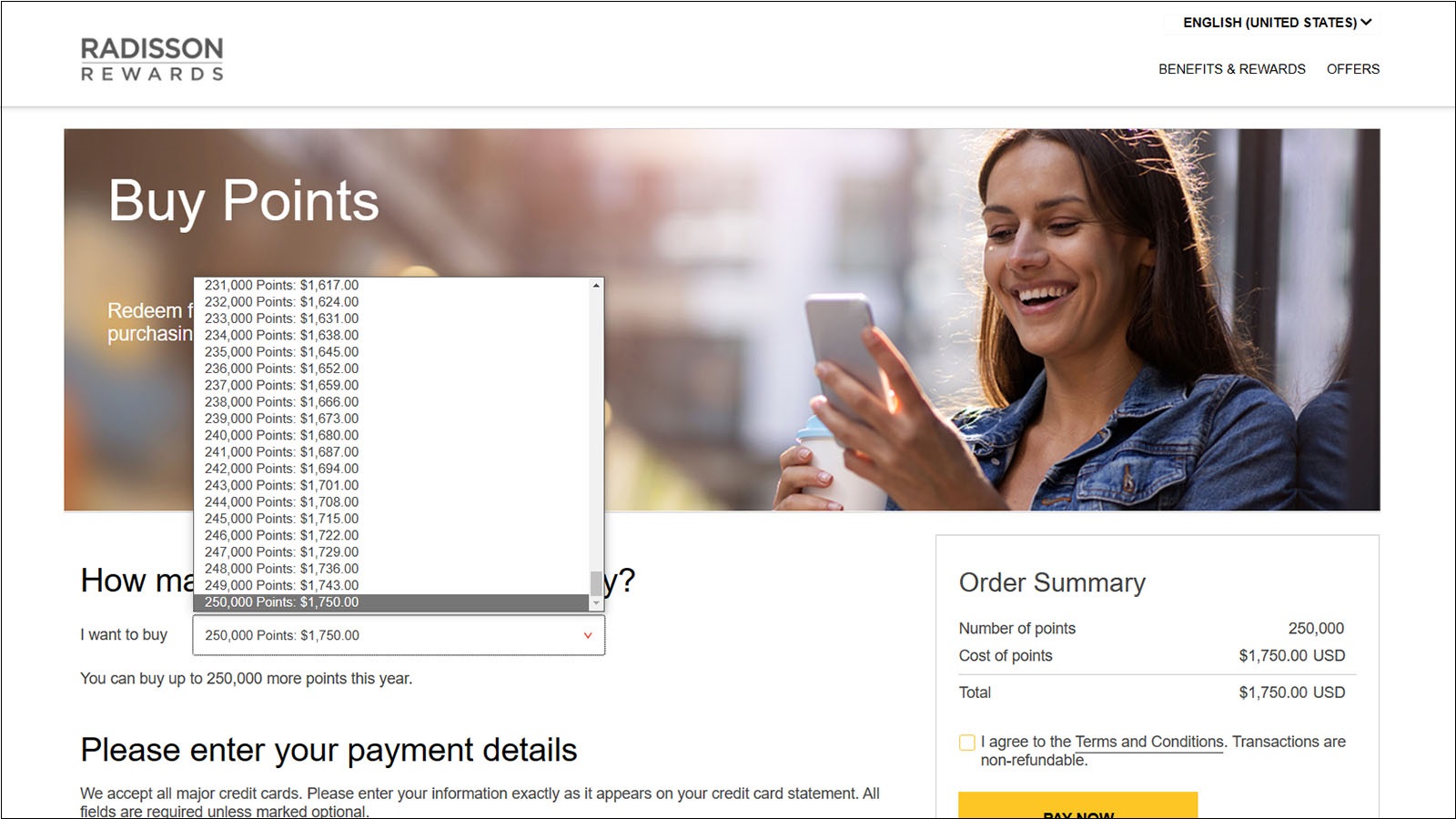 In a breath of fresh air for a purchase made in the United States, sales taxes generally don't apply. This includes when entering an Australian billing address as part of the transaction.
Canadian residents aren't so lucky, though, as state sales taxes are passed on by Radisson and are payable at the time of purchasing points.
Wherever you live, purchases of Radisson Rewards points are non-refundable.
How do I buy Radisson Rewards points?
Keen to buy Radisson Rewards points? Head to this page of the Radisson website to get started.
You'll then need to log into your Radisson Rewards account. Once that's done, you'll see a red 'buy points' button on the page. Click it, choose how many points you'd like to buy, fill in the details, and you're done.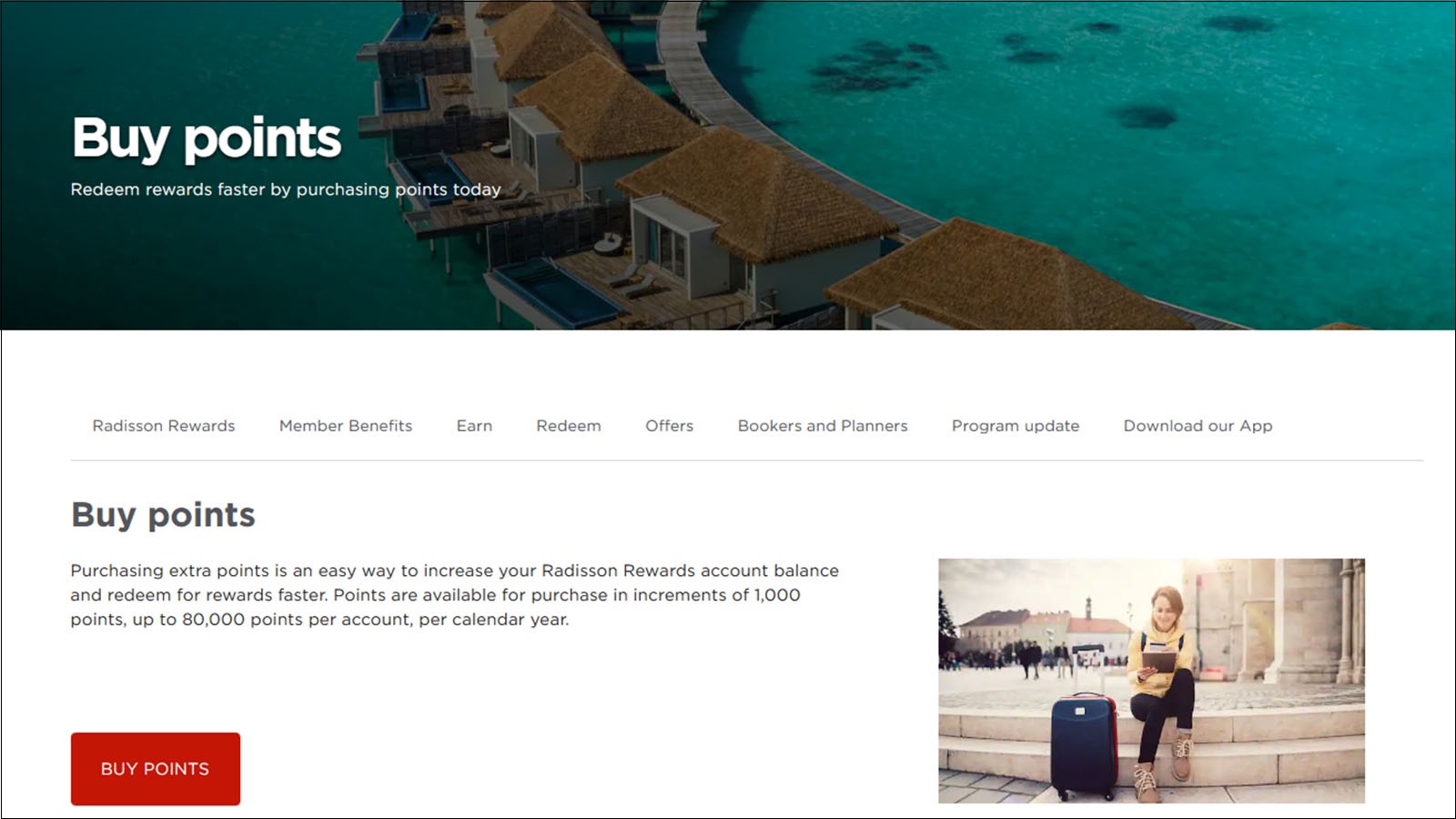 Once your transaction has been completed, it may take up to 72 hours for any purchased points to appear in your Radisson Rewards account.
Can I buy Radisson Rewards points for other people?
In the same way as you can buy Radisson Rewards points for yourself, you can also buy them as a gift for other people.
Members can gift up to 250,000 Radisson Rewards points per calendar year. When gifting points in this way, the price is also the same outside of promotional periods. That's US$7 per 1,000 Radisson Rewards points gifted.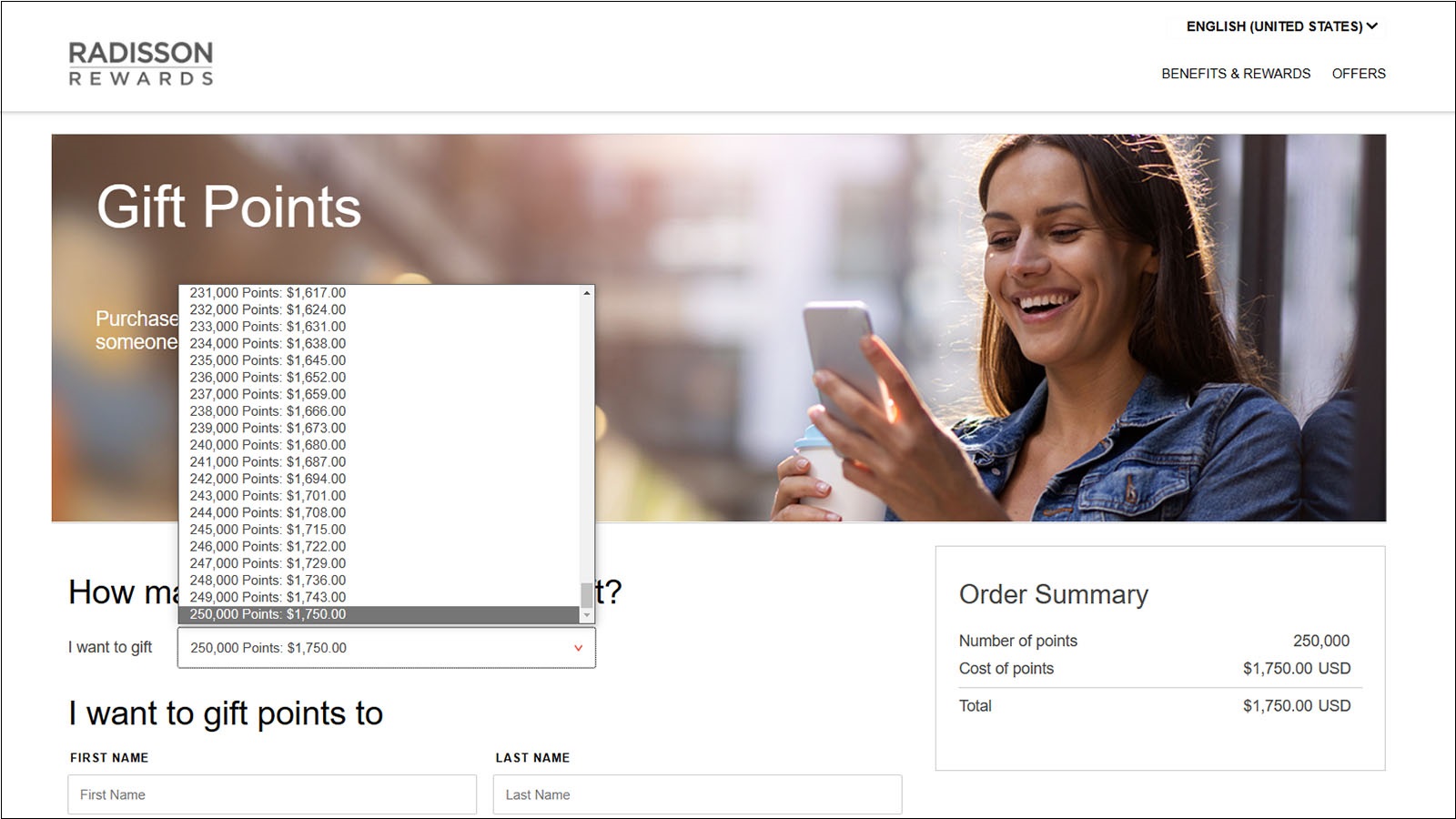 To buy points for another member, you'll need to have their Radisson Rewards membership number ready. You'll also need to make sure you enter their name exactly as it appears on their Radisson Rewards account.
If you're in a generous mood, you can gift points via this page of the Radisson Rewards website.
Can I transfer points to other programs?
Once any bought or gifted Radisson Rewards points are in your account, there are a few things you can do with them. Of course, one option is to book hotel accommodation. This can be done via the standard Radisson Rewards program for hotels in most countries.
But for stays in the United States, Canada, Latin America or the Caribbean, you'll first need to transfer your points across to the similar Radisson Rewards Americas program. That's because Radisson uses different programs in different parts of the world.
While you'll need to join that separate Radisson Rewards Americas program, transferring points across is straightforward. Just visit the Global Points Transfer at Radisson Rewards. Then, have your Radisson Rewards Americas membership number handy, and follow the prompts. You'll then be able to spend those points via the Radisson Rewards Americas website.
Alternatively, Radisson Rewards points can be converted into airline frequent flyer points. You can do this straight from regular 'Radisson Rewards' – no need to ship those points across to the Americas first.
Having said that, transfer partners are limited and the conversion rates aren't great. Here's what we mean, and how many points or miles you could gain by buying the full 250,000 Radisson Rewards points.
| | | |
| --- | --- | --- |
| Frequent flyer program | Conversion rate | 250,000 Radisson Rewards points = |
| Air France/KLM Flying Blue | 10:1 | 25,000 Flying Blue miles |
| British Airways Executive Club | 10:1 | 25,000 Avios |
| SAS EuroBonus | 7:1 | 35,715 EuroBonus points |
If you're thinking about buying Radisson Rewards points just for these frequent flyer conversions, know that the prospect is very poor value. With SAS, you'd be paying 4.9 US cents per EuroBonus point – that's almost 7 cents in AUD.
The rates are even less attractive with Executive Club and Flying Blue, where you'd be paying 7 US cents (nearly 10 Aussie cents) per Avios or mile.
Should I buy points?
As we'll often say, in general, it's best not to buy points unless you have a specific use in mind. Of course, you don't want to buy Radisson Rewards points only to discover that you can't use them as hoped. Or, when using them for a hotel stay, that you could have paid less by just purchasing the room as normal.
Unfortunately, the recent changes to Radisson Rewards make it rather unattractive to buy points. In part, that's because the program no longer uses fixed-rate award charts. When you now spend points on hotel stays, redemptions are dynamic: and not geared to be great value.
Let's use the Radisson Blu Plaza Hotel Sydney as an example. On nights where the paid room rate is AU$393, Radisson charges 137,000 points to book the same overnight stay.
As you'll remember, it costs US$7 to buy every 1,000 Radisson Rewards points. This means you'd need to spend a staggering US$959 – AU$1,365 – to purchase the points needed to offset a mere AU$393 stay. Clearly, paying more than three times as much to stay in the same room isn't appealing to anybody. And even if Radisson were to offer a 50% discount or 100% bonus points, you'd still be paying more than the retail room rate.
The biggest alternative is to swap those Radisson Rewards points for airline frequent flyer points. But as covered in the previous section, that's also not terrific value.
About the only time it'd make sense is if you had almost enough frequent flyer points to book your desired flight – and in a program where it's not otherwise easy to earn or buy such a small quantity.
For instance, US$14 would buy 2,000 Radisson Rewards points. That's on-par with 200 Avios, 200 Flying Blue miles or around 285 EuroBonus points. If that's all you need, then making such a small purchase of points isn't a bad way to go. But if you're buying in bulk, it's hard to realise much value via Radisson.
Summing up
Radisson is one of many hotel chains happy to sell loyalty points in bulk. But usually, this strategy relies on the cost of the points being lower than the value of what they can be redeemed for.
In this case, the usual price of buying points from Radisson is just too high. When you can simply book a hotel room outright at a lower cost than buying and redeeming points for the same, there's really no reason to take the points path.
Particularly given the program's recent changes, we certainly hope that Radisson has some terrific 'buying points' promotions up its sleeve. This could swing the scales in favour of buying and spending points – but for now, it's not something we'd generally recommend.
That is, unless buying points provides better value than purchasing the same room using dollars. If you've found even one example of where buying and redeeming points comes at a lower cost than simply paying for the room, we'd love to hear about it.
Also read: How to buy, gift and transfer Hilton Honors points
---
Stay up to date with the latest news, reviews and guides by subscribing to Point Hacks' email newsletter.
How to buy and gift Radisson Rewards points
was last modified:
June 12th, 2023
by