With changes to Velocity's award chart coming into effect on 1 June 2016, it was time for us to revise where the best redemptions of Velocity points can be found. Thankfully, there are still some good-value opportunities.
This guide is worth reading alongside this piece on the best use of Qantas Points too. Both programs have their own strengths and weaknesses which, in order to get the most from your points, are worth being aware of.
---
1. Redeem for Premium Economy and Business Class on Virgin Australia-operated flights
Redeeming Velocity points for Virgin Australia-operated flights represents the best value in the following situations: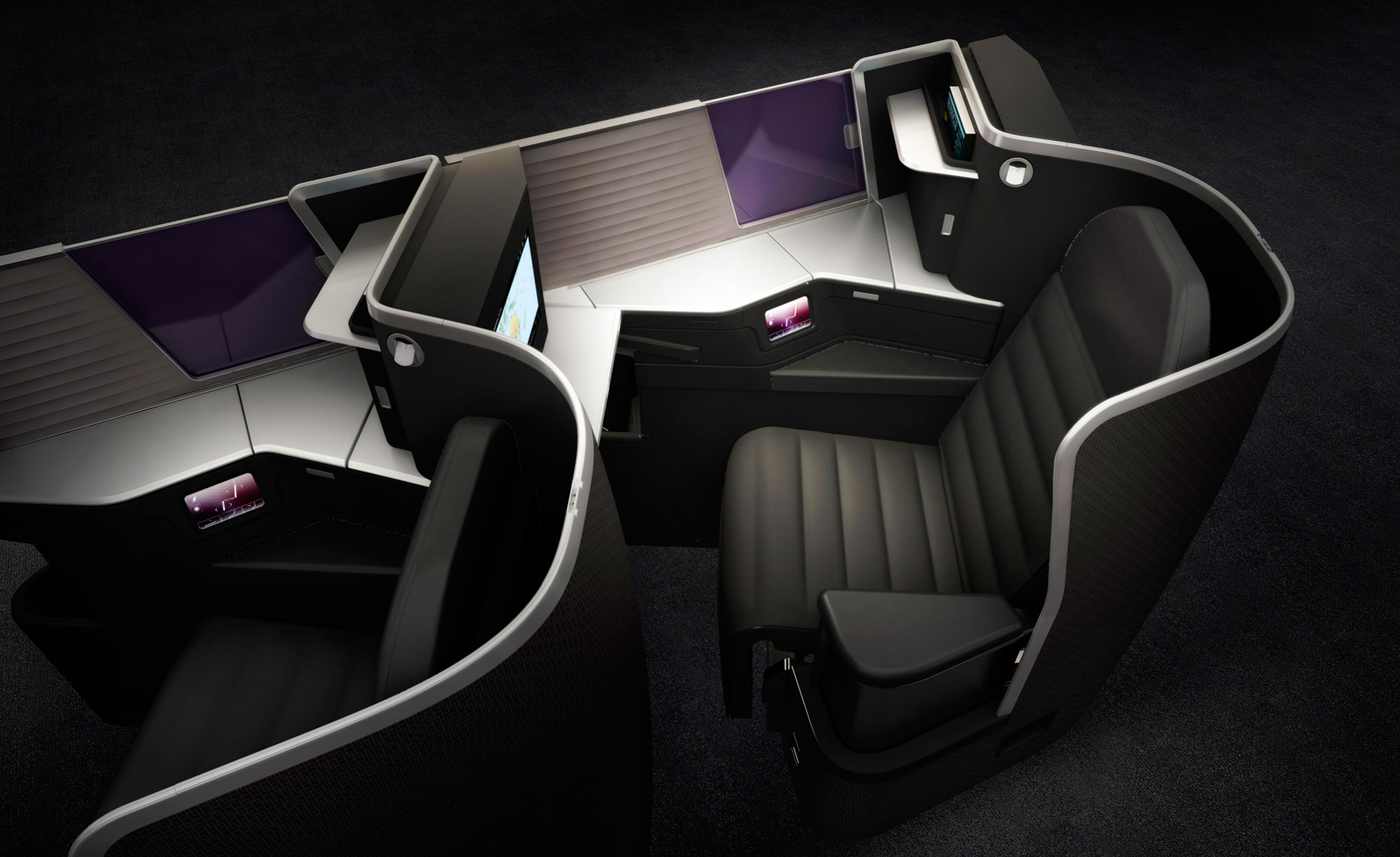 2. Velocity redemptions on most Singapore Airlines flights are now cheaper
In the recent round of changes (the first for Velocity in five years), the pricing for a majority of awards in Table 2 fell, meaning fewer points for redemptions on Singapore Airlines.
Route
Until 31 May 2016
From 1 June 2016
Australia East Coast to Singapore
Economy: 37,500
Business: 80,000
Economy: 35,000
Business: 65,000
Australia West Coast to Singapore
Economy: 35,000
Business: 70,000
Economy: 28,000
Business: 53,000
Australia East Coast to London or New York
Economy: 75,000
Business: 175,000
Economy: 75,000 (unchanged)
Business: 139,000
This provides a useful option for Velocity members to redeem flights on Singapore Airlines using Velocity points because the fuel surcharges and taxes are lower with Velocity when compared to Singapore Airlines' KrisFlyer Miles program.
You can now redeem Velocity points for travel in First or Suites Class on Singapore Airlines.
3. Transfer your points to KrisFlyer for better award space, First Class redemptions and/or a free stopover
Singapore Airlines releases more saver award space to its own members, so sometimes it is worthwhile to transfer your Velocity points to KrisFlyer. Furthermore, by redeeming your award online, you are eligible for a 15% online discount.
Plus, if you want to save some of your Velocity points, even though Singapore Airlines tends to charge significantly higher fuel surcharges for the same flights redeemed through KrisFlyer, in some cases the points differential may outweigh the taxes and fees differential, depending on your respective points balances.
For example, a Business Class ticket from Sydney to London would cost 139,000 Velocity points plus $85 in taxes if booked through Velocity, but you'd save ~30,000 points by paying ~$400 more in taxes if you transferred Velocity Points over to KrisFlyer.
Whether you use Velocity points or KrisFlyer miles will depend on the specific Singapore Airlines redemption you have in mind, and you'll need to compare the points and taxes in both Velocity and KrisFlyer to come to the best decision for your situation.
Remember, you cannot redeem Velocity points for First Class travel on Singapore Airlines A380 flights, meaning you have to transfer them to KrisFlyer in order to enjoy the luxury of the First Class Suites on the A380 on services to Sydney, London, Paris, Los Angeles, Zurich, Beijing and Shanghai, amongst others.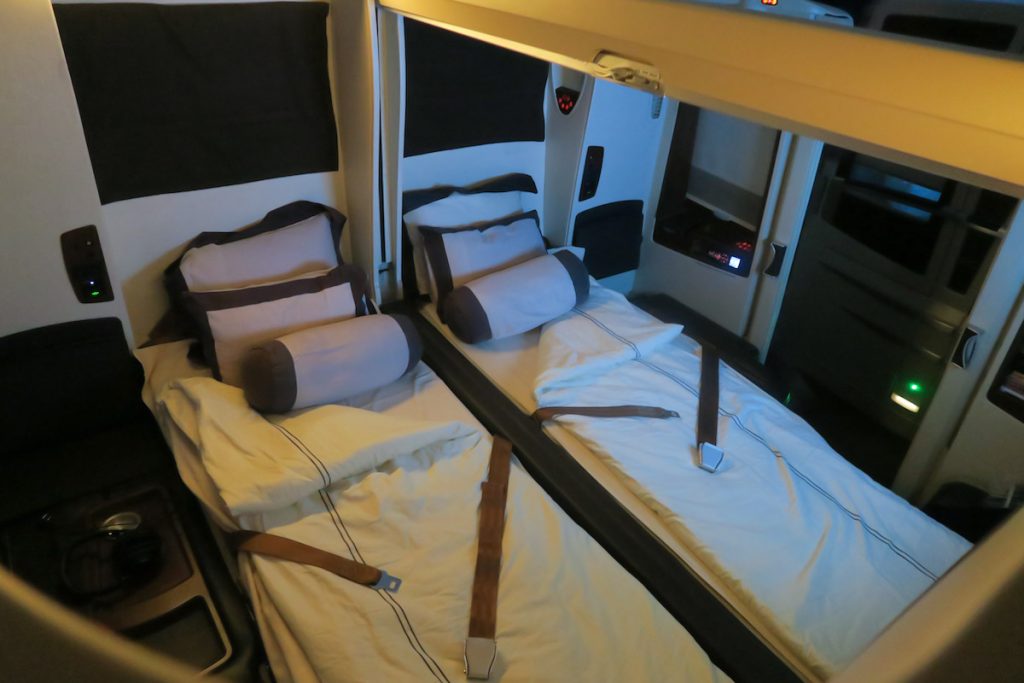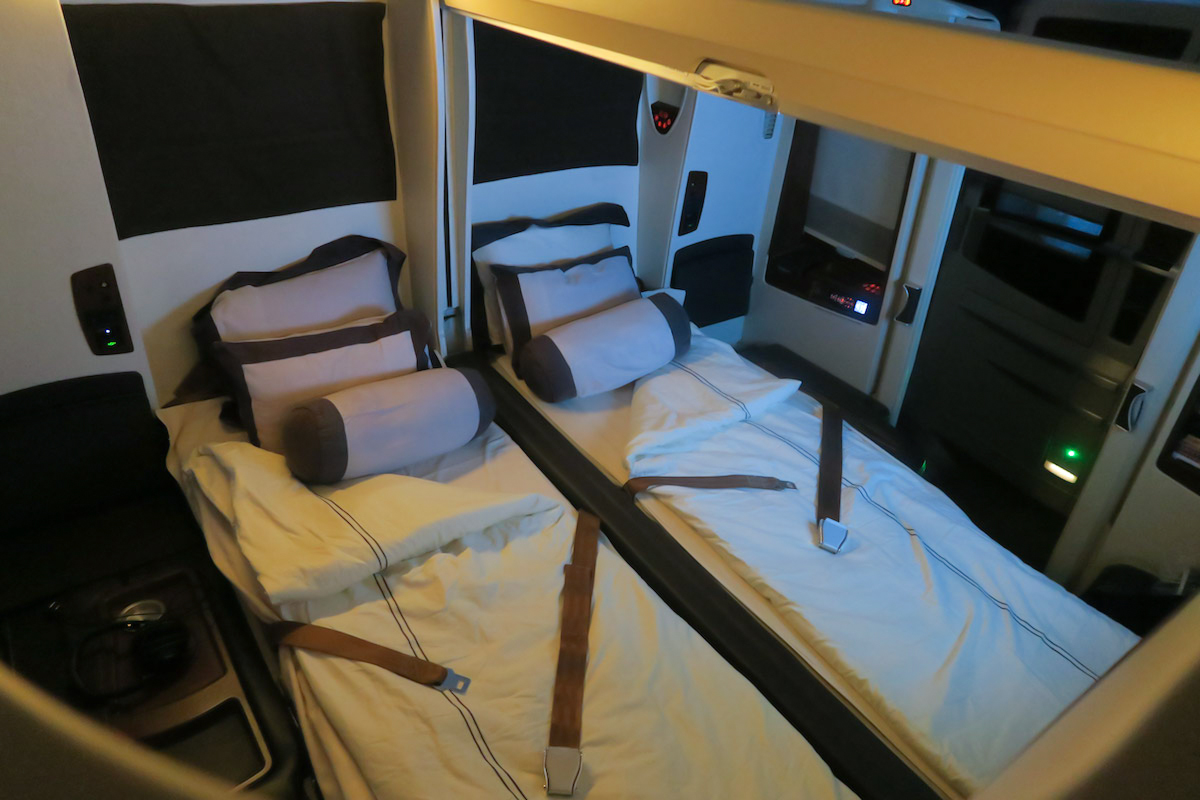 The only way to use your Velocity points to book a double bed on a Singapore Airlines flight is by transferring them to KrisFlyer
And if you transfer enough points and book a return ticket on KrisFlyer, you can get another perk, which Virgin does not offer: a free stopover.
For example, given that you have to fly from Australia to New York via Singapore and Frankfurt, if flying on a return ticket, you can request a stopover (a stop in a city for more than 24 hours) in one of those cities for free. Or, if you're on a one-way saver ticket, you can just buy that stopover for $100 USD.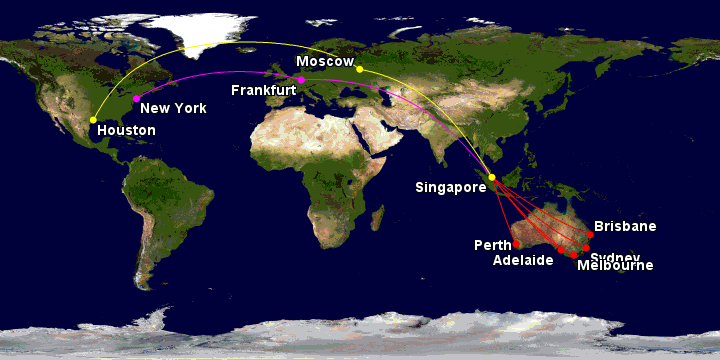 You could also get a free stopover in Singapore or Moscow on your way to Houston
4. Book easily-attainable US domestic flights with Virgin America
Virgin America is one of the more 'exclusive' partners of Virgin Australia, in that there are few other frequent flyer programs that also work with them as a partner.
They operate without a set amount of award seats available set aside for their own Virgin America Elevate members, there is heaps of availability for partner redemptions from Velocity.
Whenever I have called Velocity to ask about availability on Virgin America flights, there are always many seats available on most flights every day in their Economy and First Class cabins (which are priced as Business on the Velocity award chart).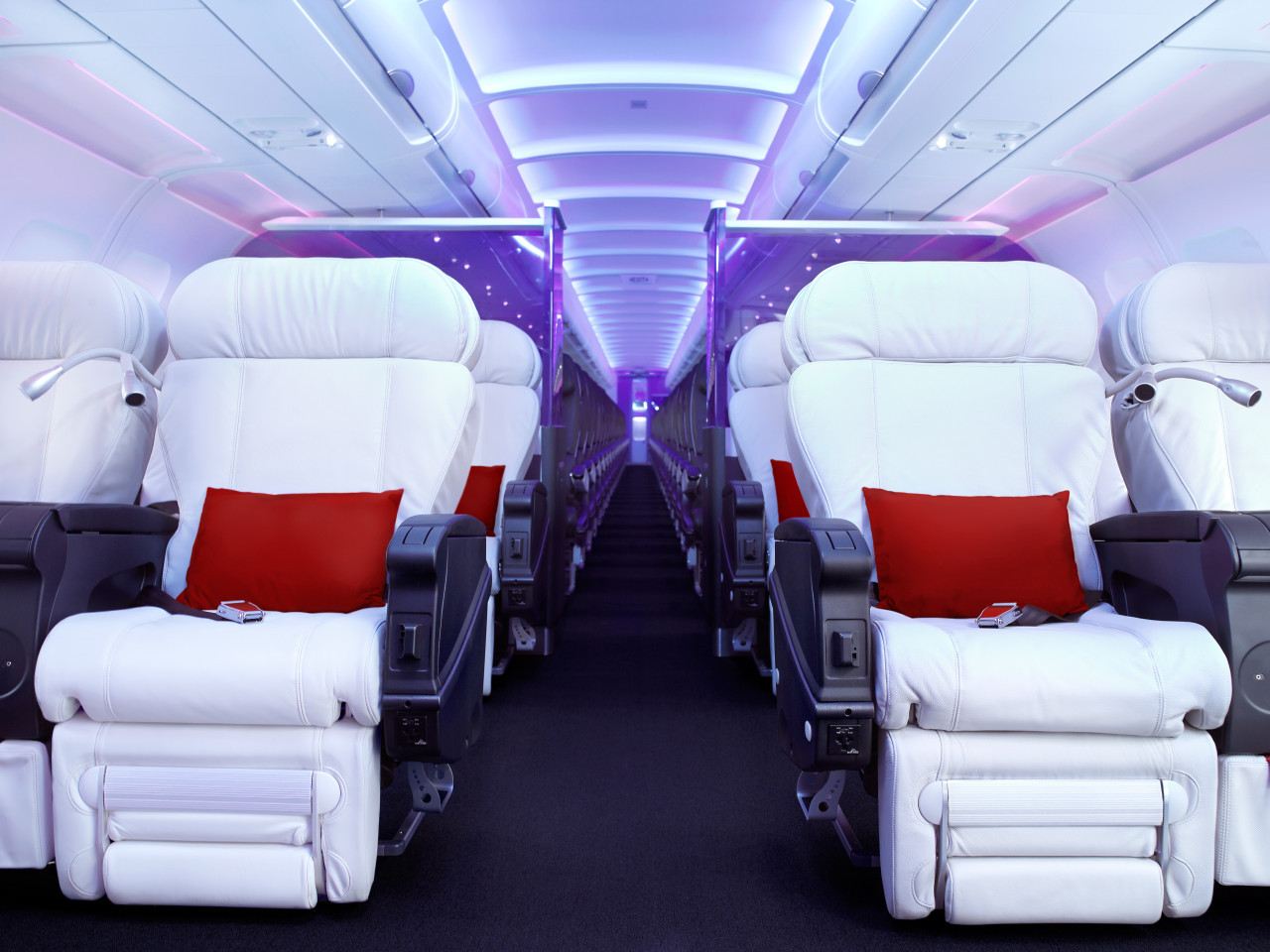 50,000 Qantas points would get you on a fully-flat Business seat on an American Airlines flight from LA to New York, but availability can be notoriously hard to come by.
For essentially the same amount of points (49,500), you can redeem your Velocity points for a seat in Virgin America's First Class cabin, but with much better availability.
Sure, Virgin America's network is much more limited in scope, and their business class is not as spacious as American's, but this is a great win for those who can use it.
Plus, if you fly First Class (or fly Economy and are eligible for Priority Pass access through your American Express card), you can get into the Virgin America Loft at LAX, which is one of the best lounges in the US, for free.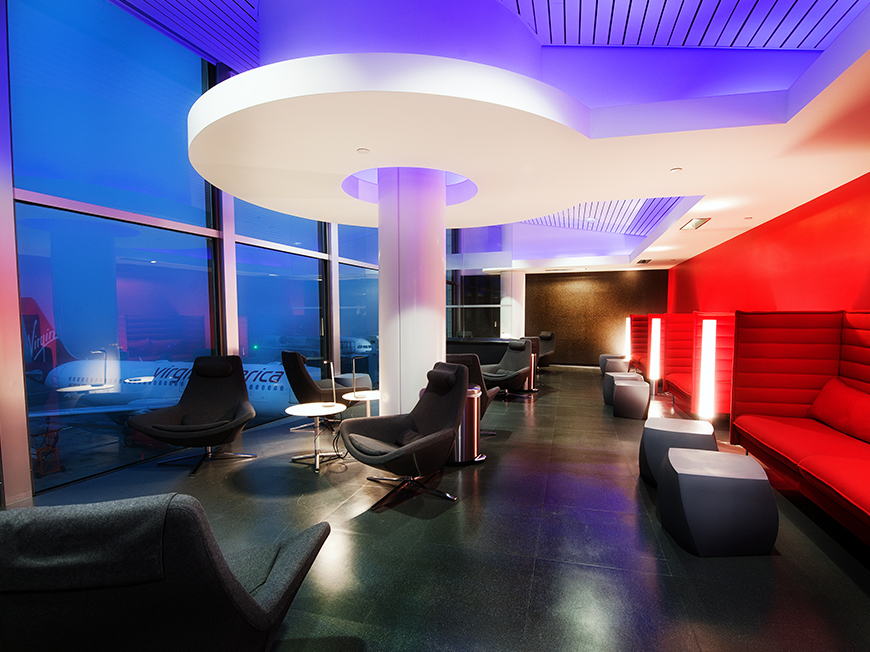 The Virgin America Loft at LAX
5. Plan your points transfers with Velocity's twice-yearly 15% discount and/or 15% transfer promotions
Velocity are unique in our region in consistently offering the opportunity to book points seats at a significant 15% discount and bonusing points transfers in from credit card programs with an additional 15% bonus, often in parallel.
This is, by far, the optimal time to transfer and book your Velocity reward seats for any of the above redemption opportunities.
On top of the cheaper pricing I explained above, you'll then be able to gain even more value from your bank's flexible points program. Here's to hoping this pattern of offers continues.
6. Fly in Business Class to the South Pacific for 71,000 points return
Virgin Australia flies direct from its two biggest hubs of Sydney and Brisbane to Vanuatu, Fiji and Tonga. These flights fall into Zone 3 (1,201-2,400 miles), meaning it costs only 35,500 miles for a one-way Business Class ticket, which is the same as a flight from the East Coast to Perth.
And you'll save money on the ground being in a cheaper destination than Western Australia.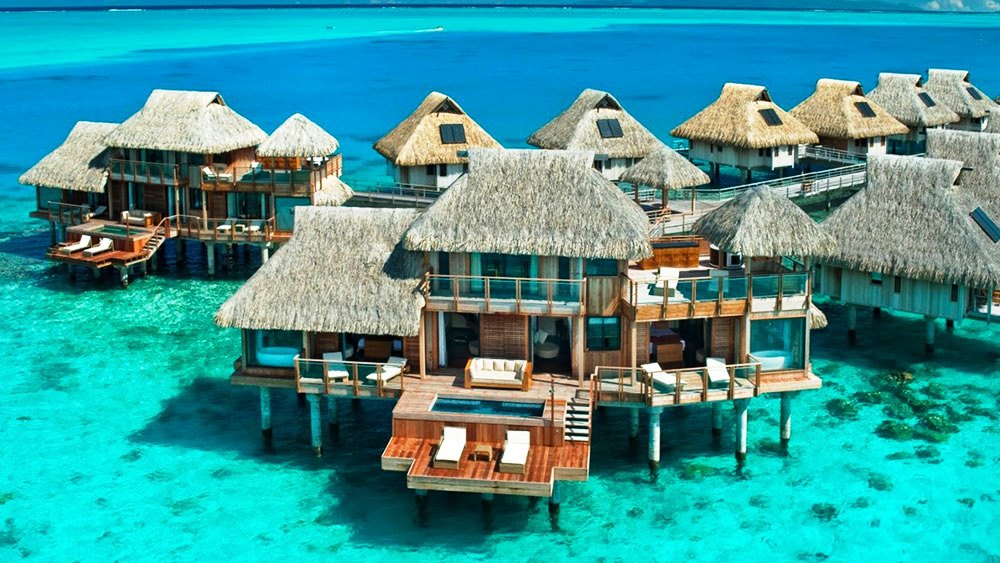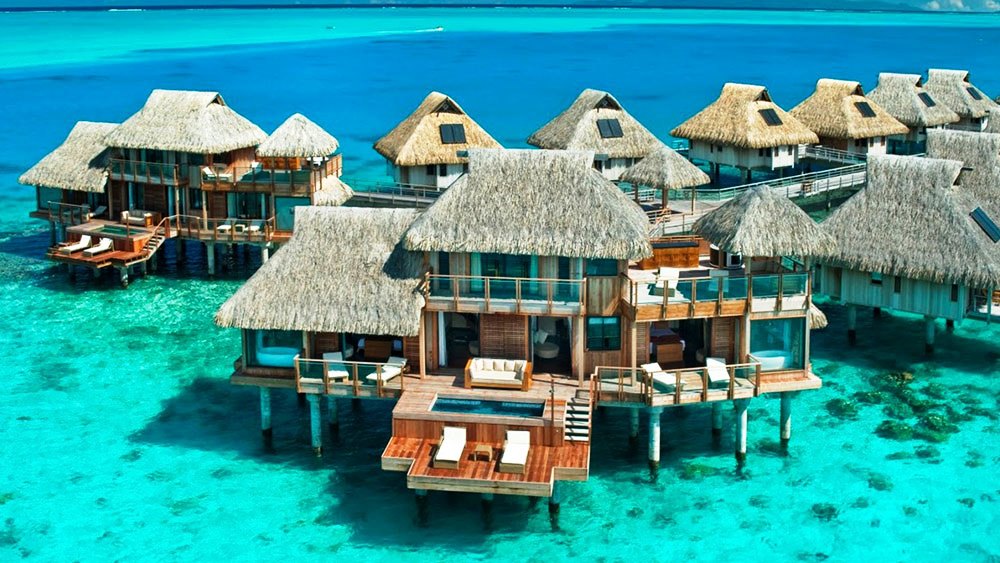 During select dates, Virgin Australia flies its A330 with fully-flat Business Class beds from Sydney to Nadi, Fiji, where you can wake up to this view
What's not so good?
There are definitely weak points to Velocity. Specifically, these are:
Summing up
While there are a number of downsides (an increasing number, unfortunately) to the Velocity program, it still offers good value for Business and First Class redemptions across its own network, flying on Virgin Australia operated flights.
It is now cheaper to book seats on Singapore Airlines flights, with the added bonus of being able to transfer points to KrisFlyer when it is favourable in relation to a tax comparison with Velocity, or for First Class or more award seat availability.
Virgin America redemptions also represent good value in terms of great award availability and the low taxes on flights within the US.
And Velocity's twice-yearly discounts and bonuses are an added incentive to make sure this program does not disappear from your frequent flyer repertoire.
---
Looking for more inspiration for how to spend your hard-earned frequent flyer points?
Here is a comprehensive list of all of our Best Uses of Points guides. There may be some overlap but each guide has its own twist.
Qantas Frequent Flyer
Velocity Frequent Flyer
Asia Miles
KrisFlyer
Etihad Guest
Emirates Skywards
American Express Membership Rewards
Six ways to get the most out of your Velocity points
was last modified:
August 31st, 2017
by
Six ways to get the most out of your Velocity points
was last modified:
August 31st, 2017
by