---
The author stayed as a guest of JW Marriott Surfers Paradise and the property. All photos and opinions are the author's own.
---
The Marriott Surfers Paradise has been a stable of the Gold Coast hotel market for over three decades, being one of the first major hotel chains to enter the holiday strip's high-end accommodation market.
Last year, the hotel looked to take the brand more upmarket, undertaking a major hotel-wide renovation of its rooms and guest amenities to become the JW Marriott Surfers Paradise.
Located at 158 Ferny Avenue at the northern end of Surfers Paradise, the hotel sits alongside the Gold Coast Highway and is only a 5-10 minute walk from Cavill Avenue, which is the heart of Surfers Paradise.
The JW Marriott Surfers Paradise location & our first impressions
As the hotel's doors slide open, guests are again welcomed by the hotel's grand staircase, with upmarket dark charcoal trimmings of JW Marriott adorning the staircase rails, replacing the previous gold rails of Marriott.
The reception and check-in area have all received a make-over, with a clear objective to open the area up to allow staff to provide more personalised and welcoming service, rather than being constrained behind a reception desk.
During check-in, guests can elect to sit on comfortable lounges within the waiting area of the lobby while sipping on a welcome drink provided to every guest.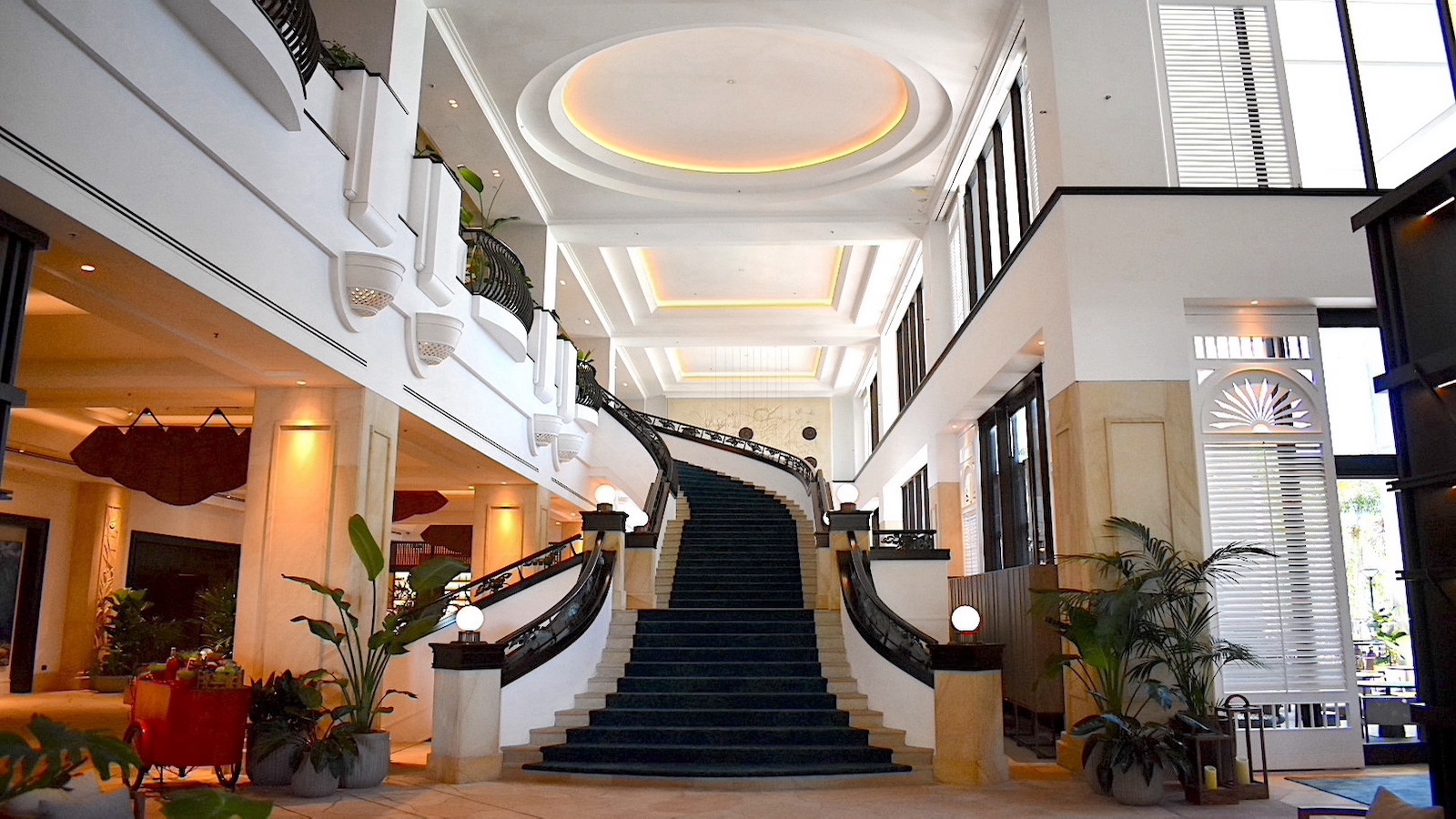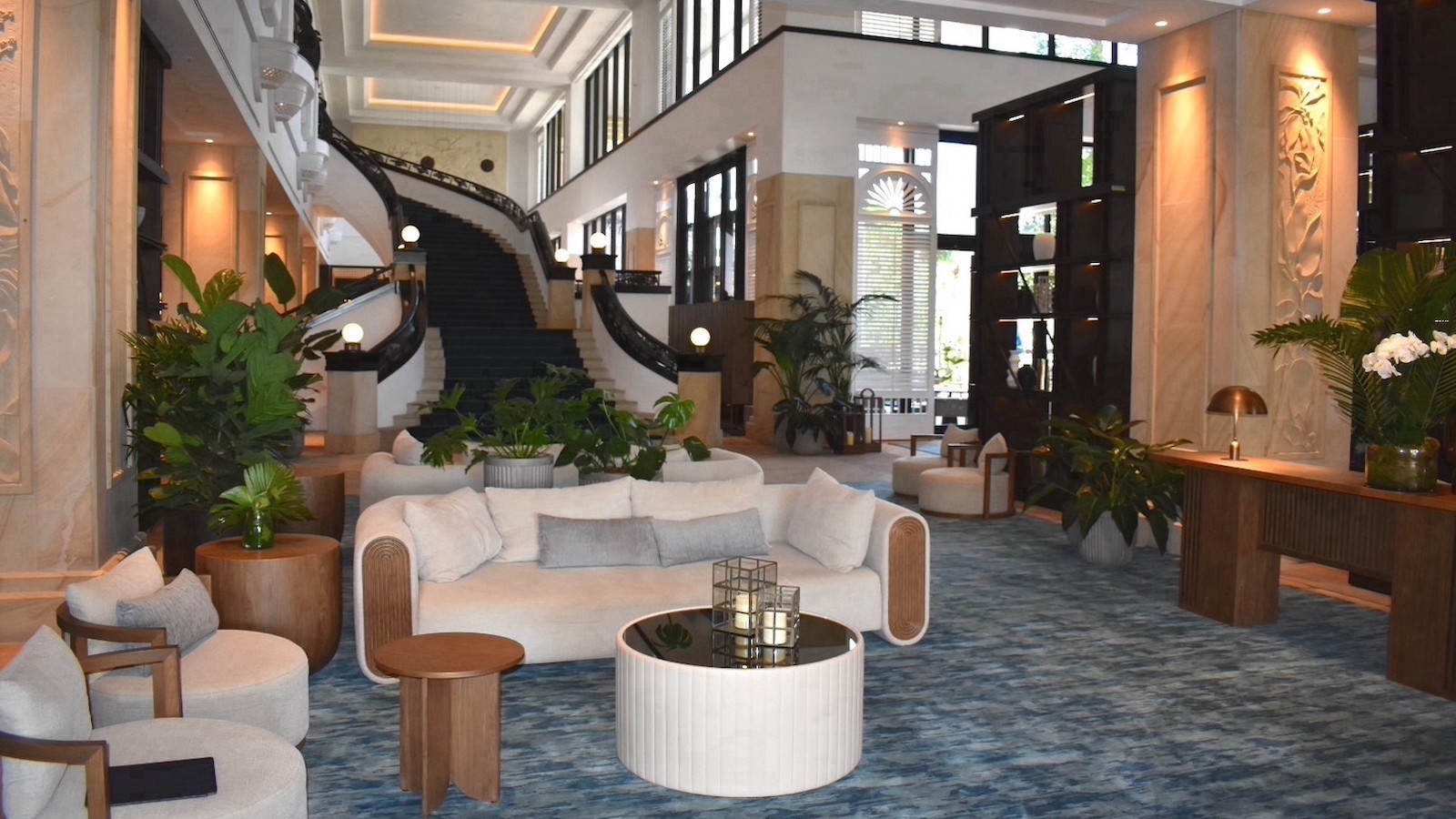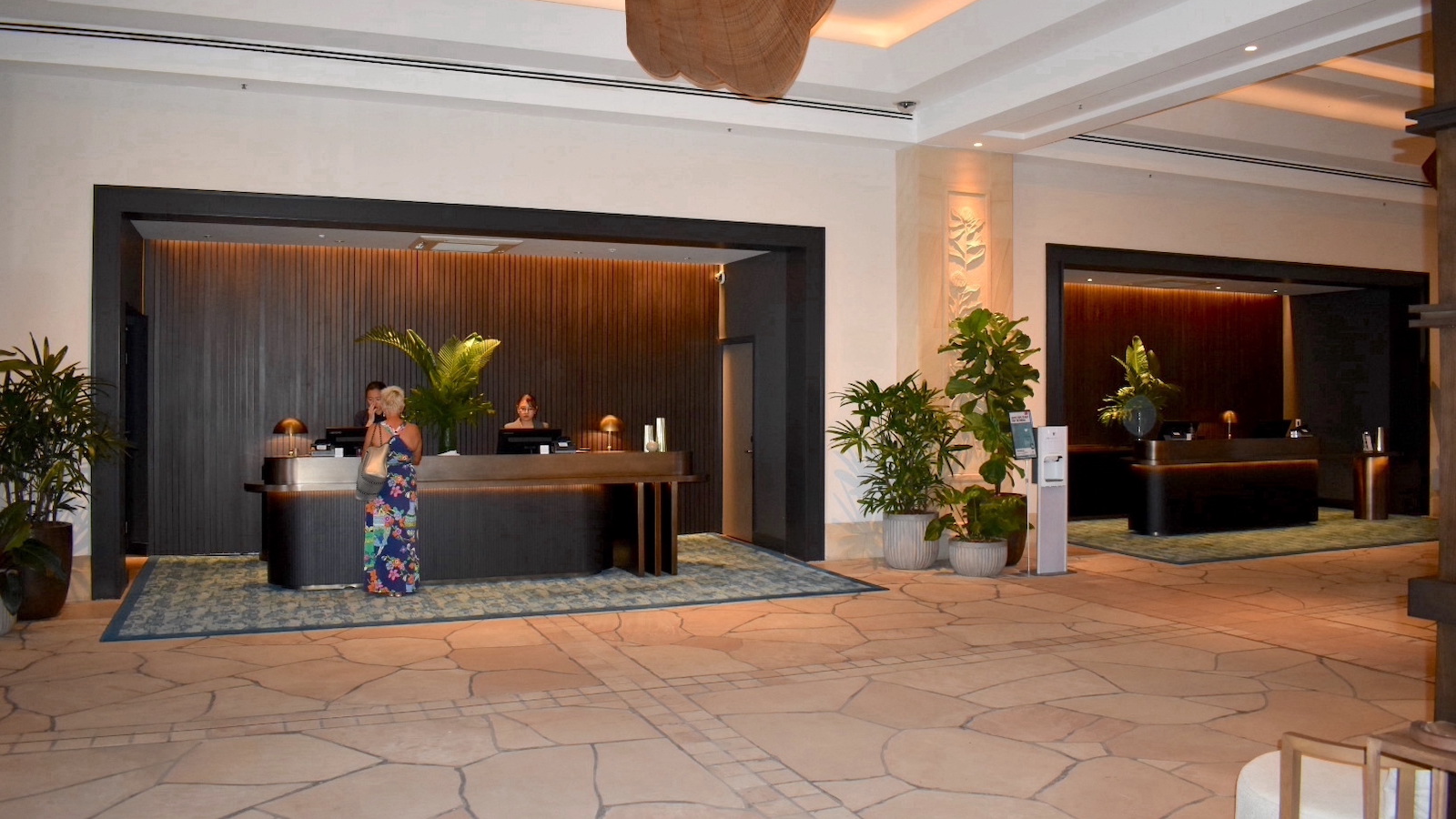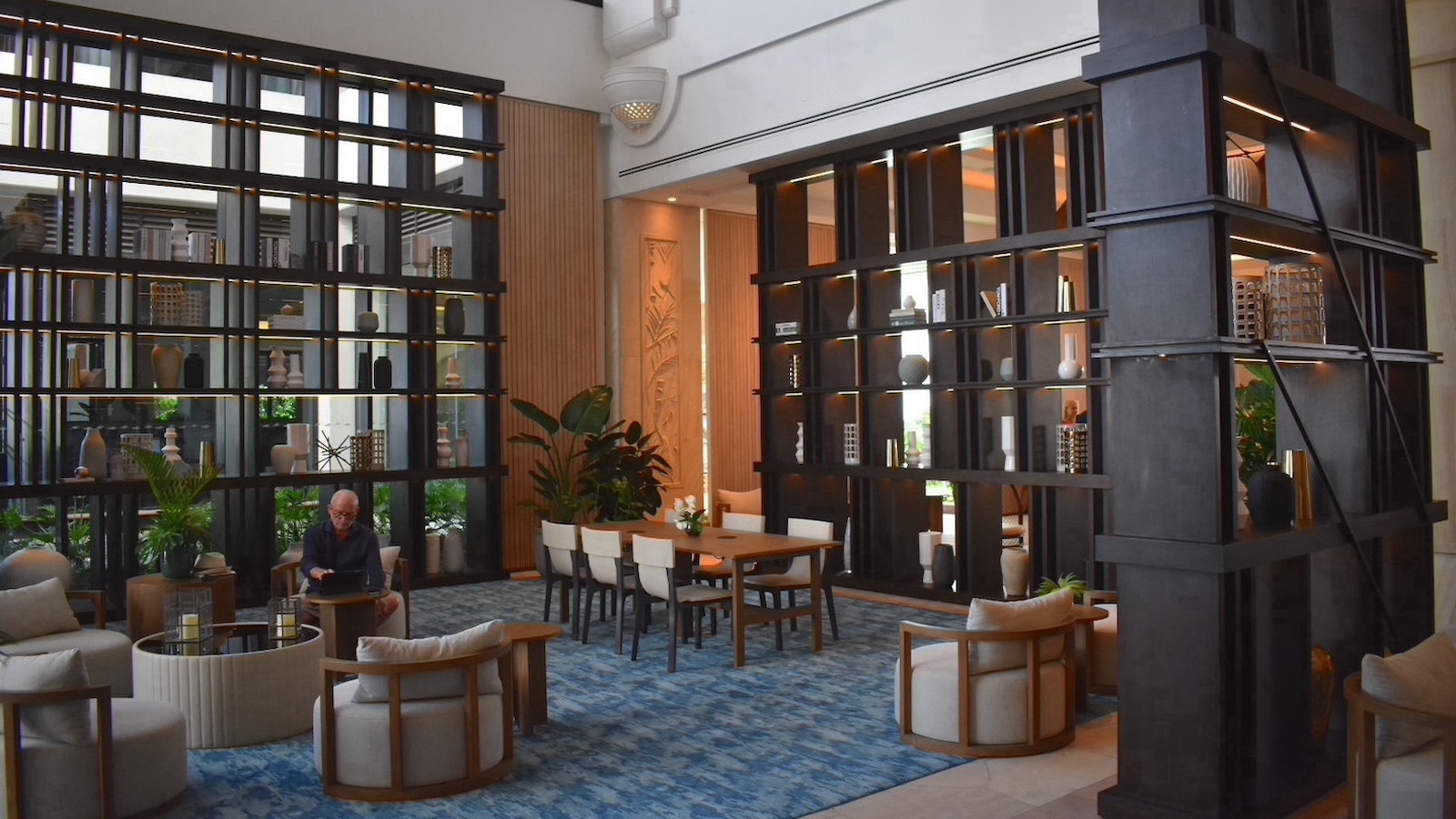 A lobby concierge library is also available that provides guests a great area to do some work or just simply relax with a good book.
What are the JW Marriott Surfers Paradise rooms and suites like?
There is a large array of rooms available for hotel guests, ranging from standard Guest Rooms to the Presidential Suite! I was able to stay in a King Guest Room that had an ocean view, with my images shown below. I also highlight other room and suite types available.
King Guest Room – Ocean View
Standard King Guest rooms are available with an ocean or mountain view, providing stunning views of the Gold Coast's golden beaches or its impressive hinterland.
These rooms are 42 sqm in size and offer all the required amenities expected in an upscale hotel, including bathrobes, slippers, premium bathroom amenities and a full-size television with cable plus digital free-to-air and Chromecast connectivity.
As I was a Marriott Bonvoy Gold member courtesy of my American Express Platinum Card, I was greeted with a welcome gift of a cheese platter and a bottle of Woodbrook Farm Cabernet Sauvignon, which really hot the spot as a mid-afternoon appetiser.
I particularly liked the modern light switches that allowed for a variety of different lighting settings. I hate entering some hotel rooms where the only 2 light options are blinding fluorescent light and off.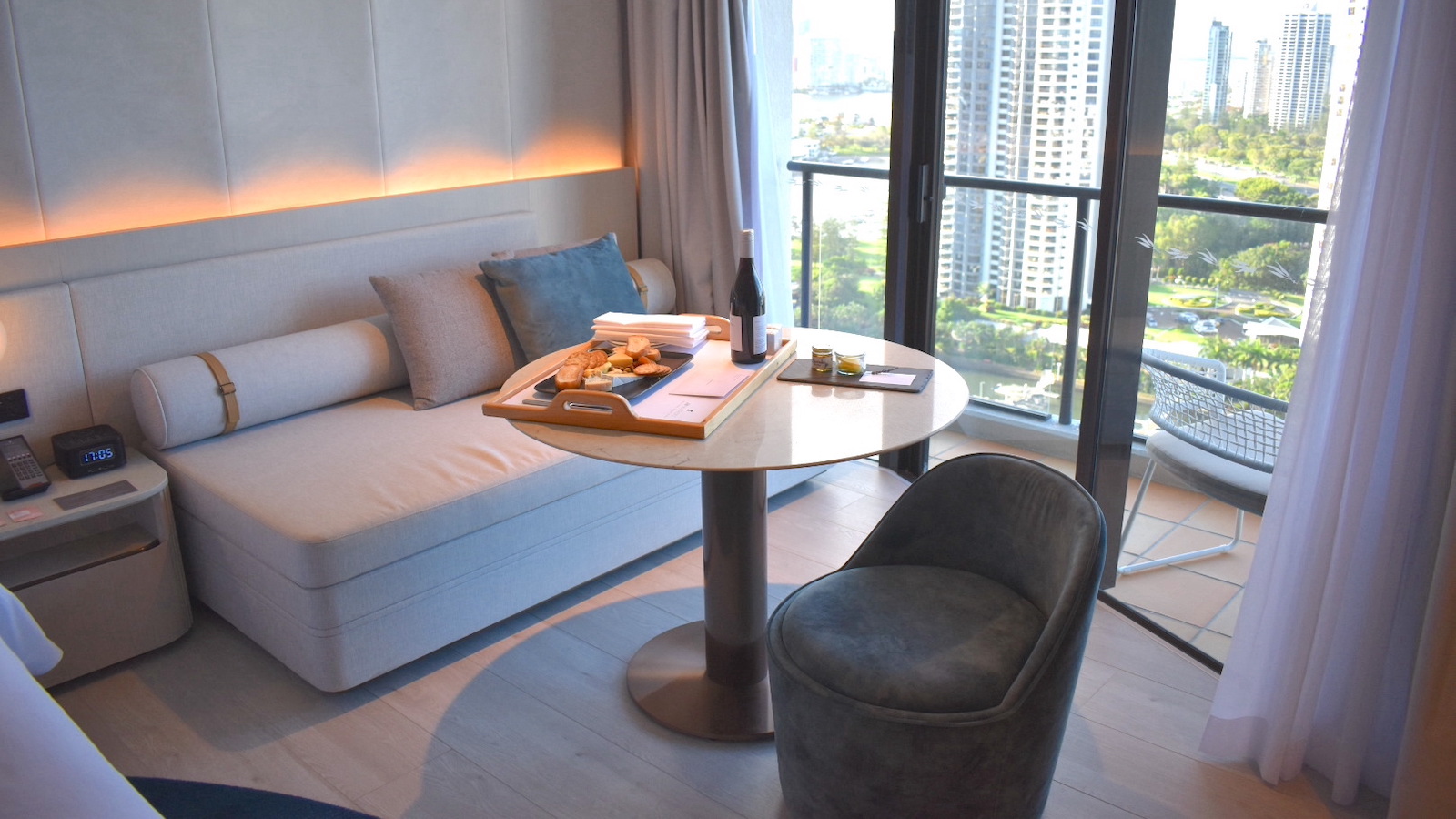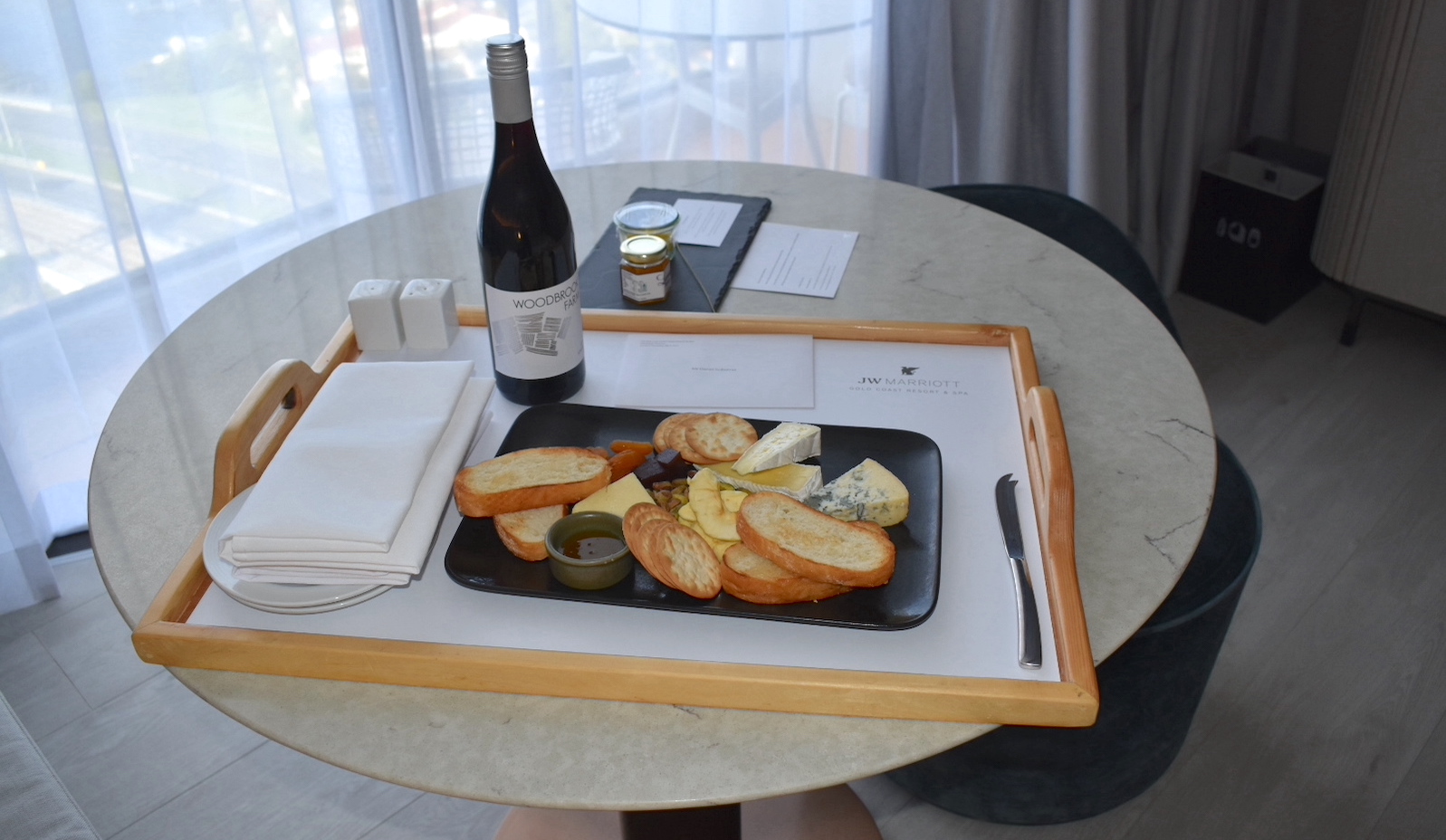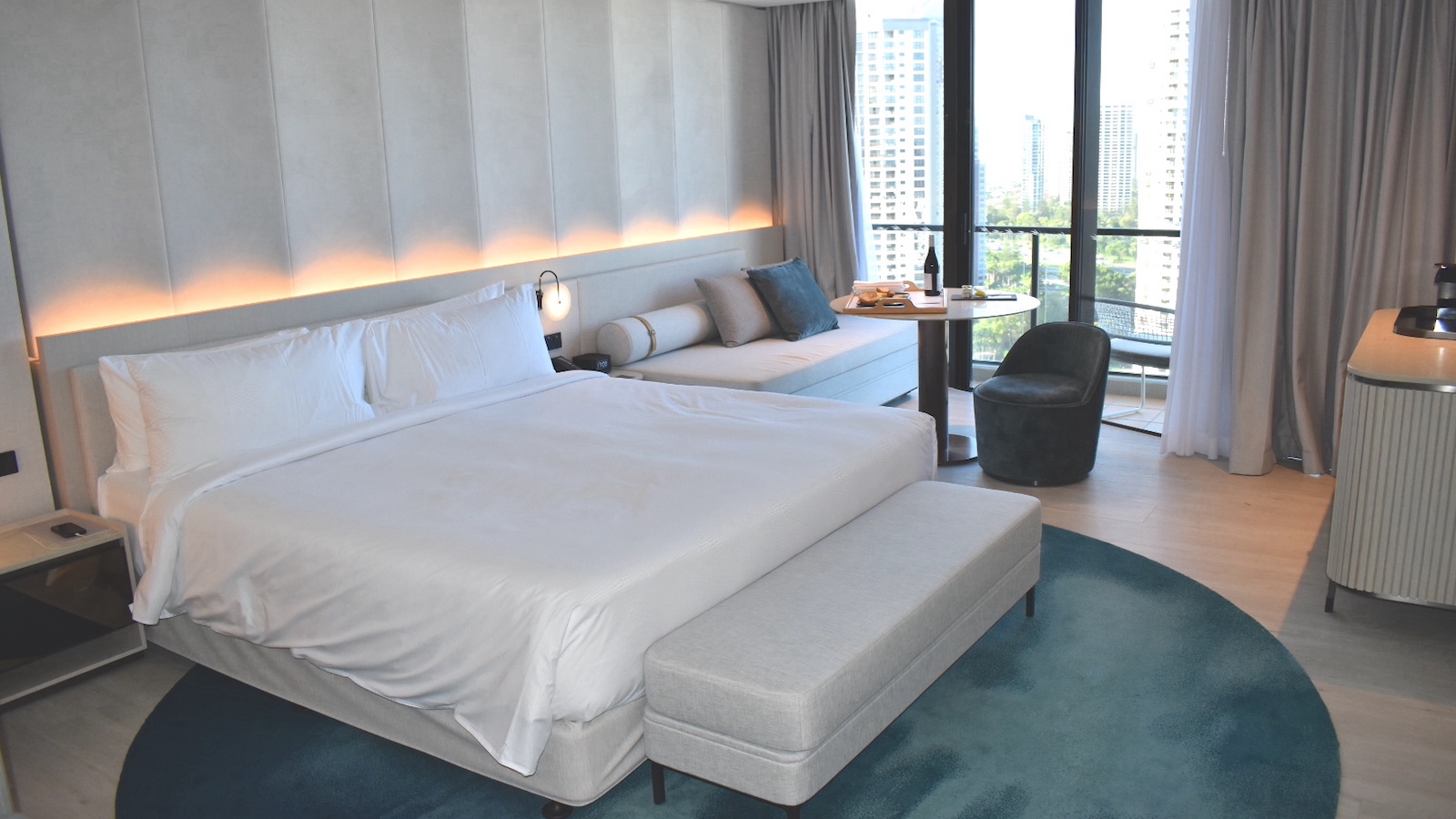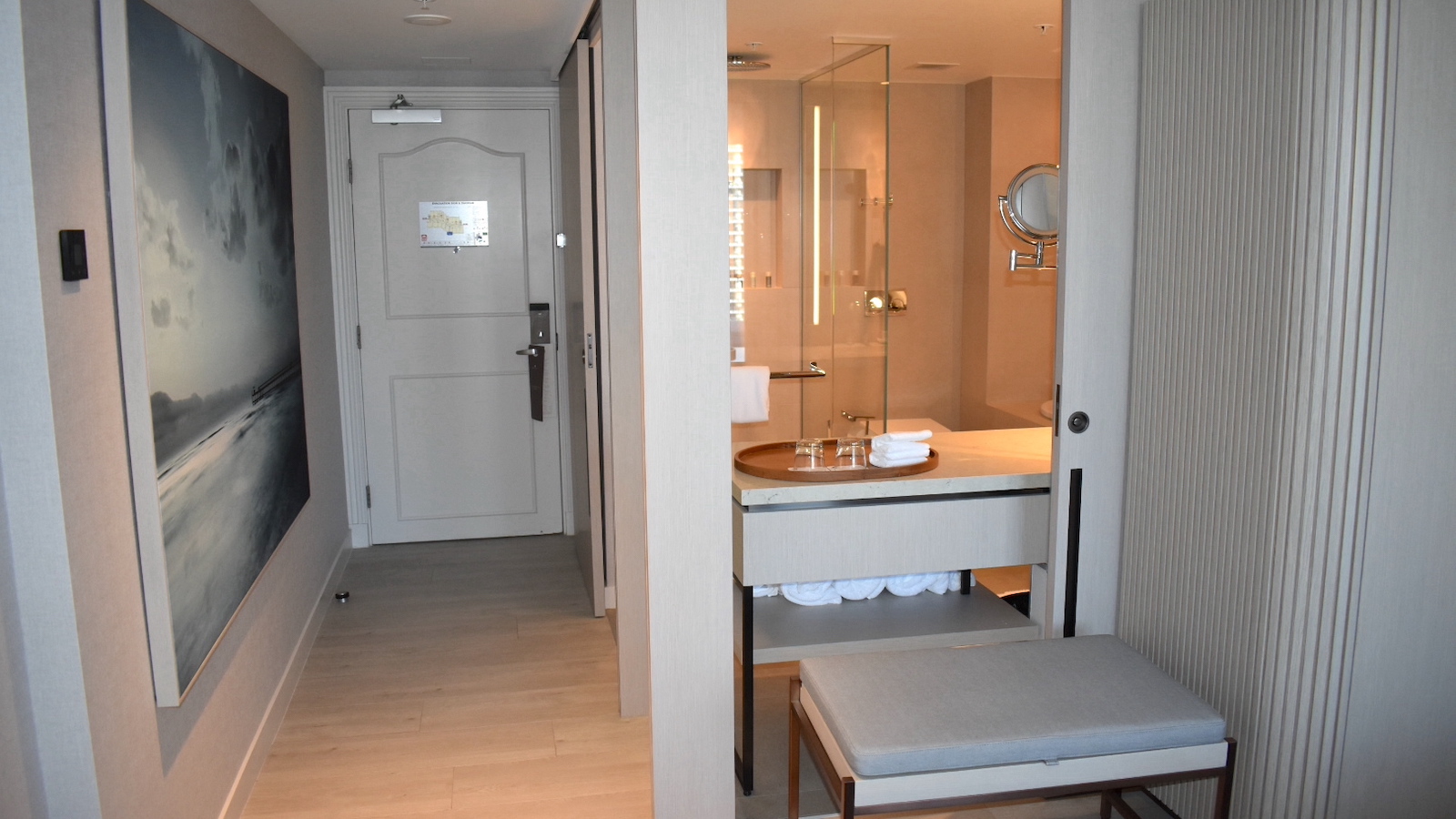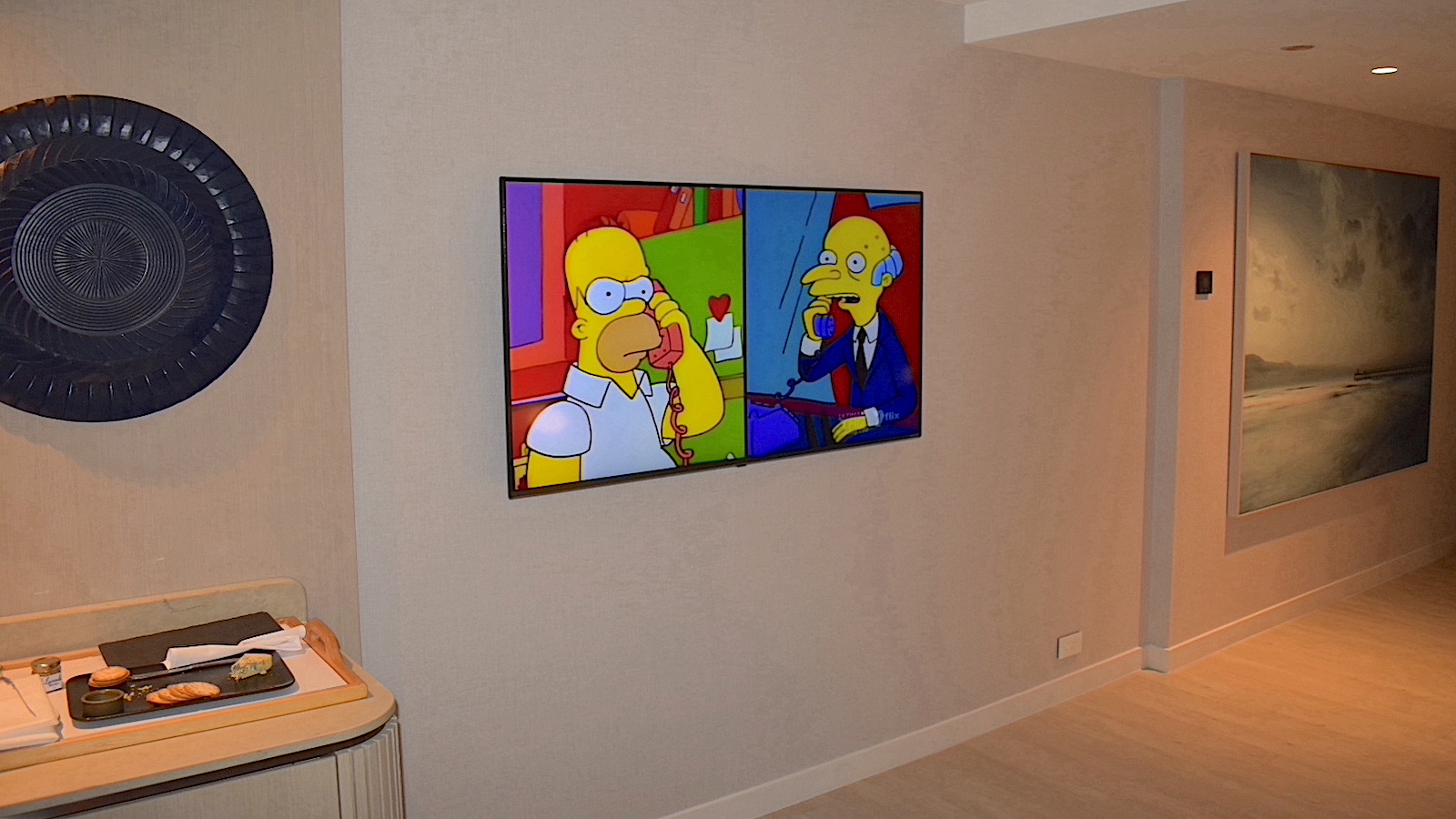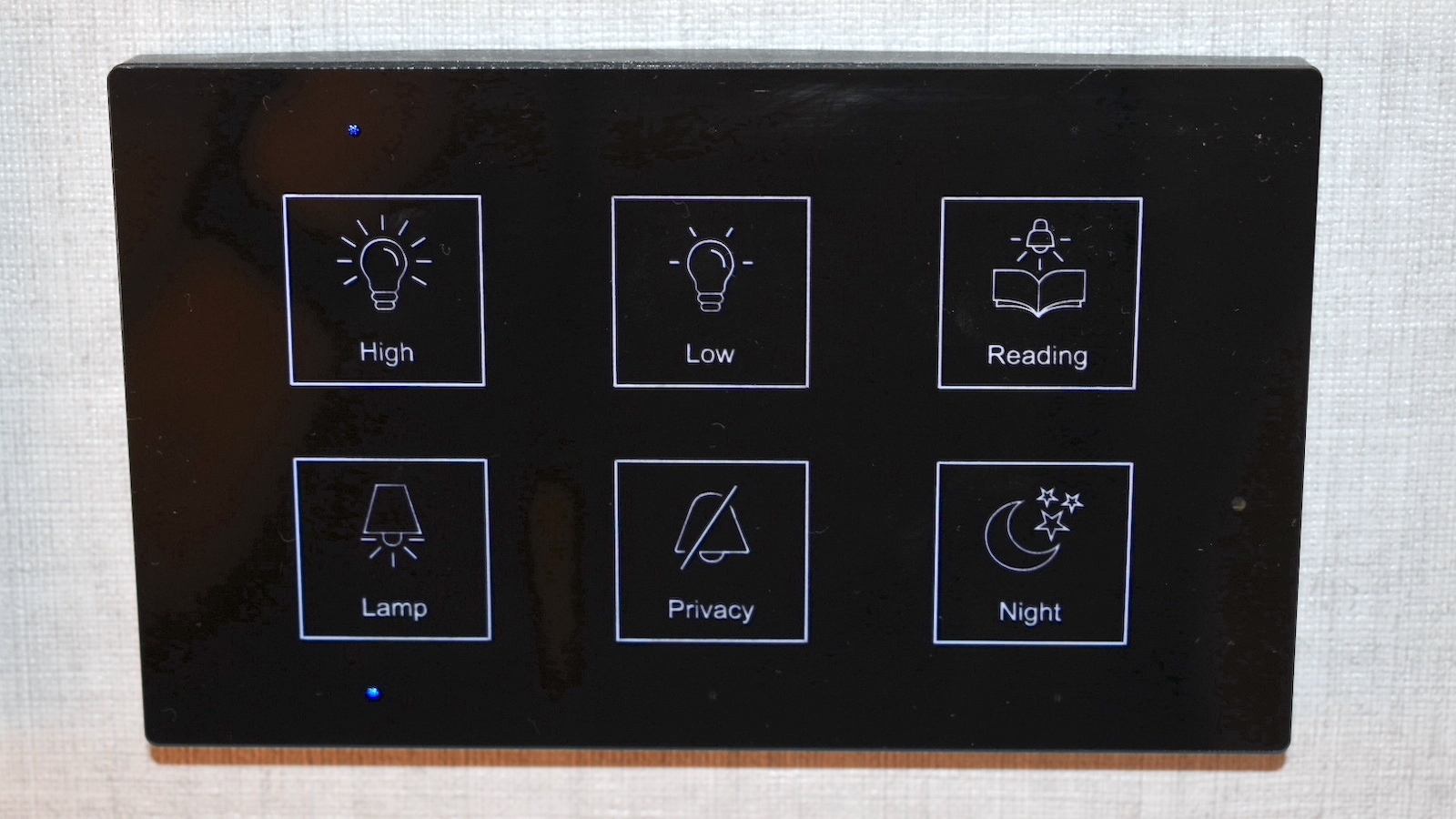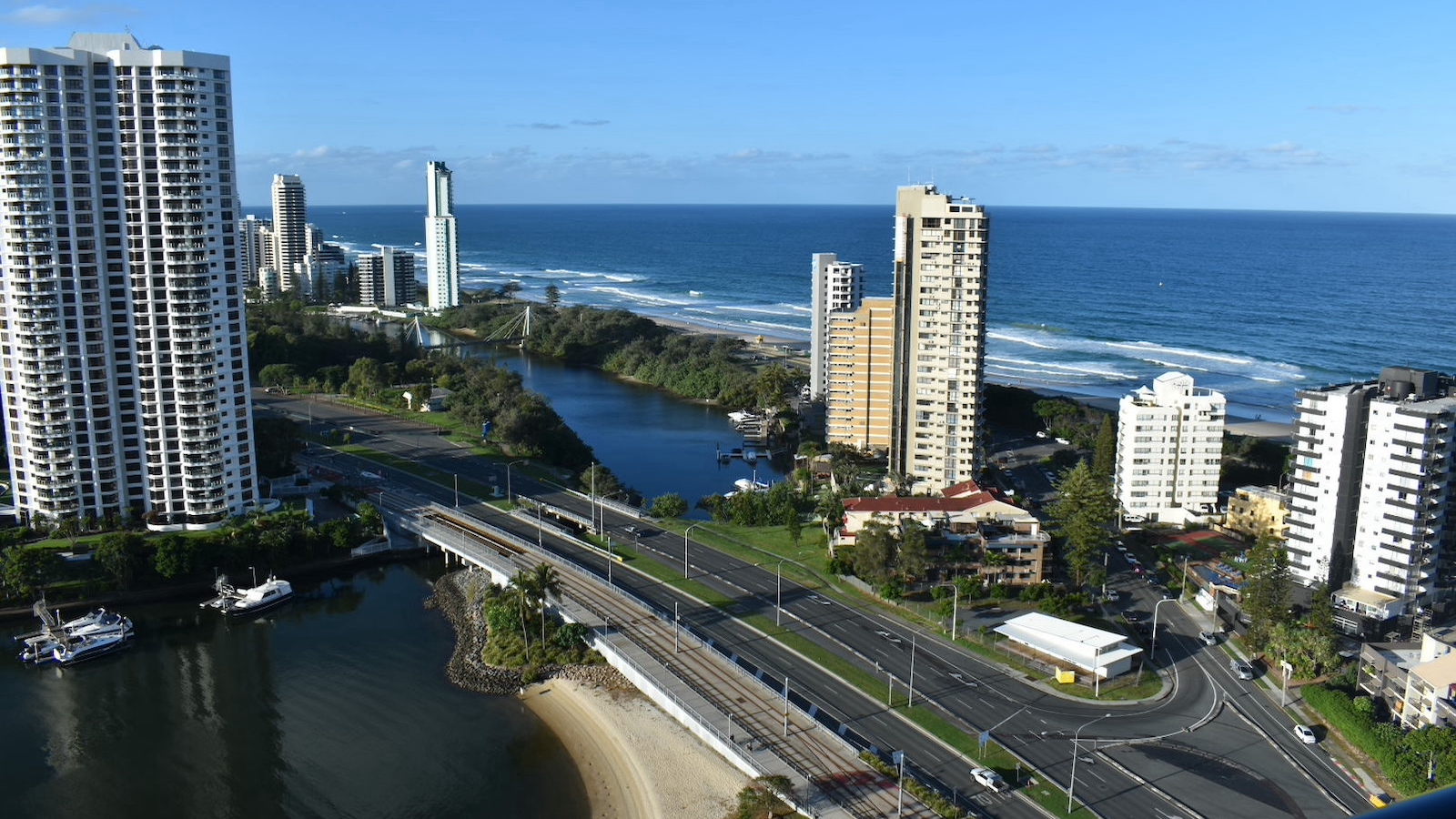 The room included a small balcony and outdoor setting that provided a spectacular view overlooking Main Beach. It didn't hurt that on the day I stayed at the hotel, there was hardly a cloud in sight.
The bathroom was quite spacious and included a long bench to place your toiletries and a shower that included both a hand shower and an overhead rain shower. My room also included a bathtub.
I especially liked a sliding door behind the bathroom bench that could be opened and provide a view of the room and more importantly, the wall-mounted TV. This allowed me to catch an episode of The Simpsons while shaving and brushing my teeth.
As with all JW Marriott hotels, Aromatherapy luxury bath amenities, created by Geraldine Howard, are provided to all guests. These amenities are designed to combat skin dehydration, stimulate the scalp and boost mental alertness.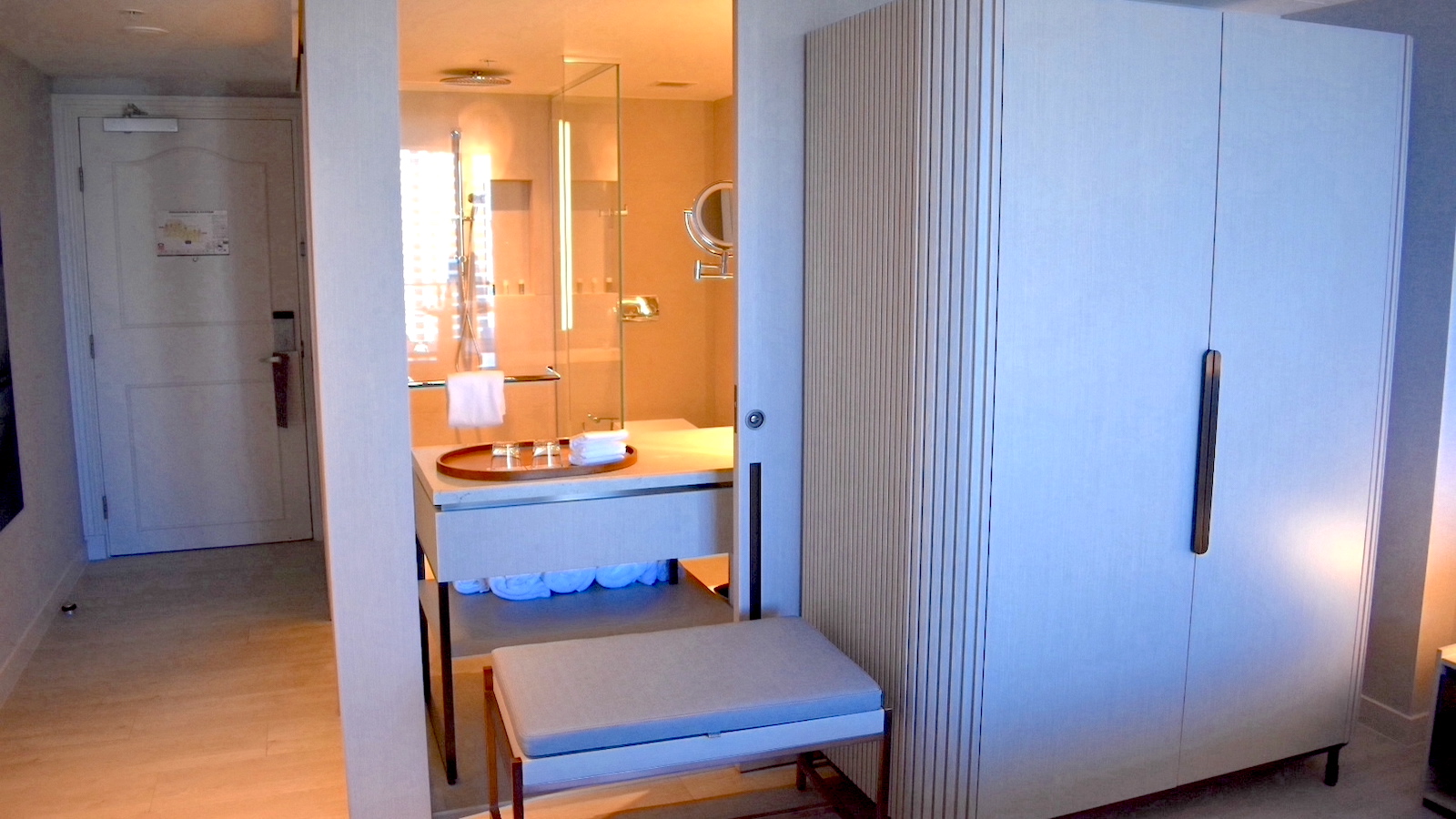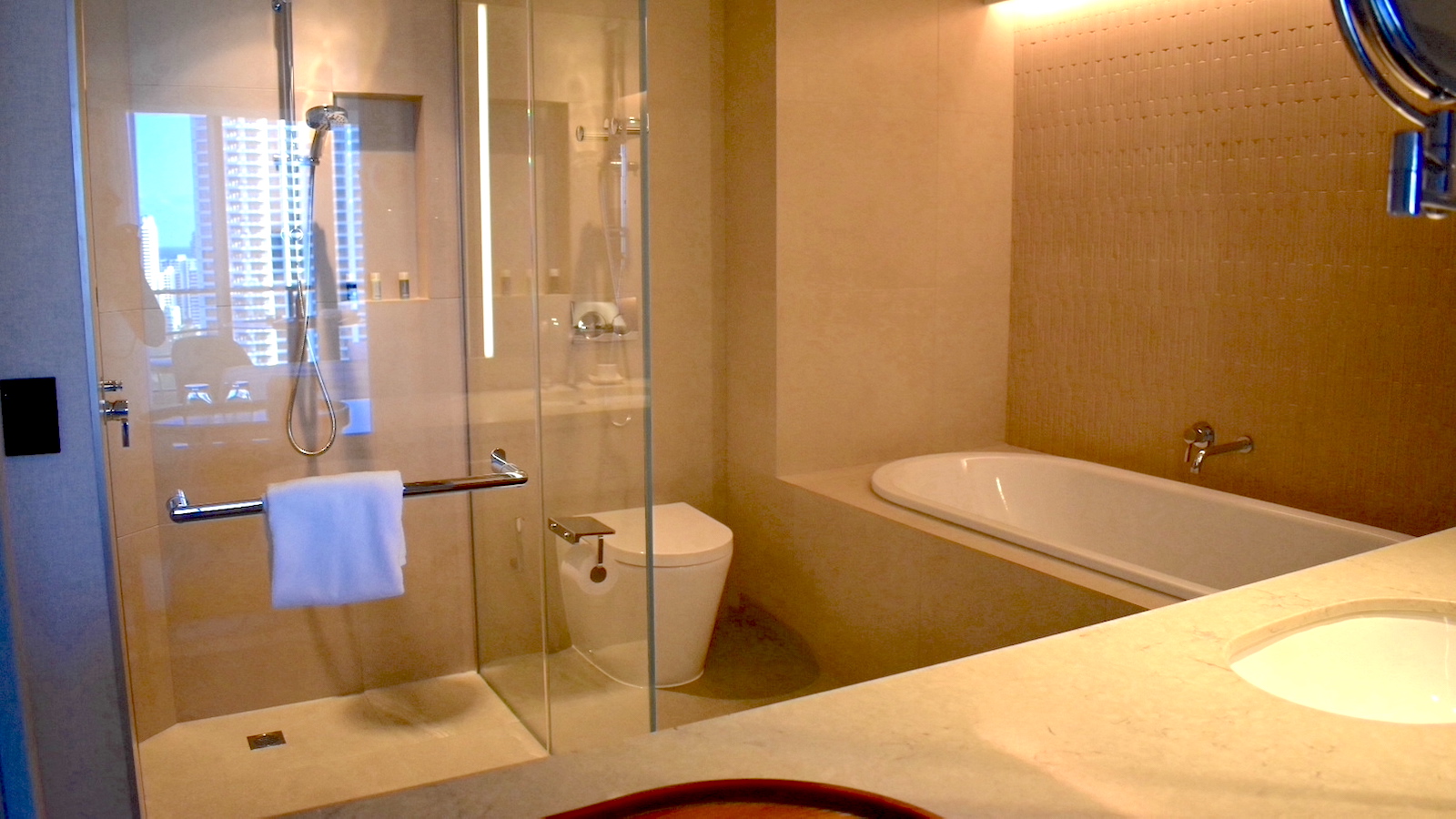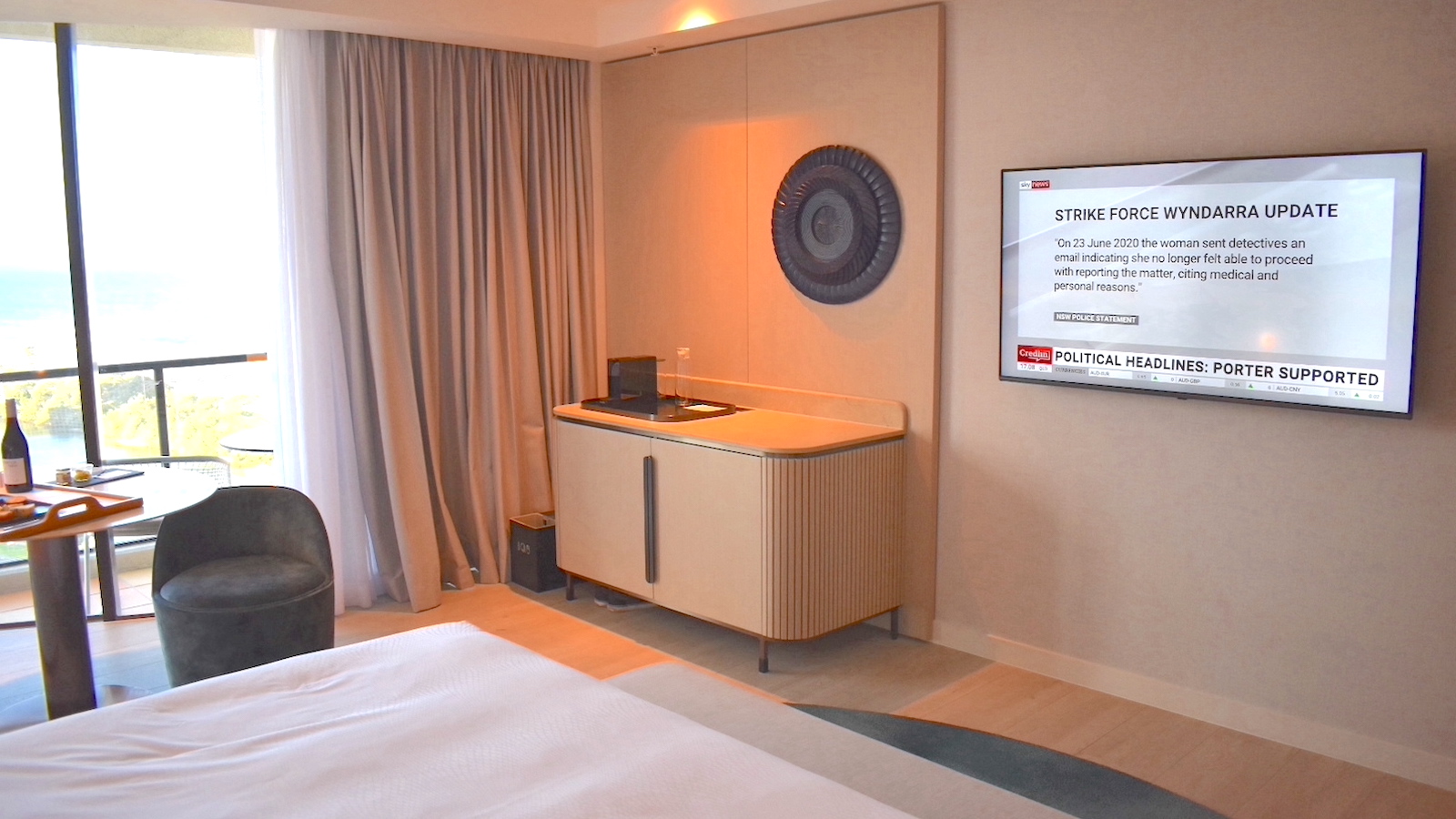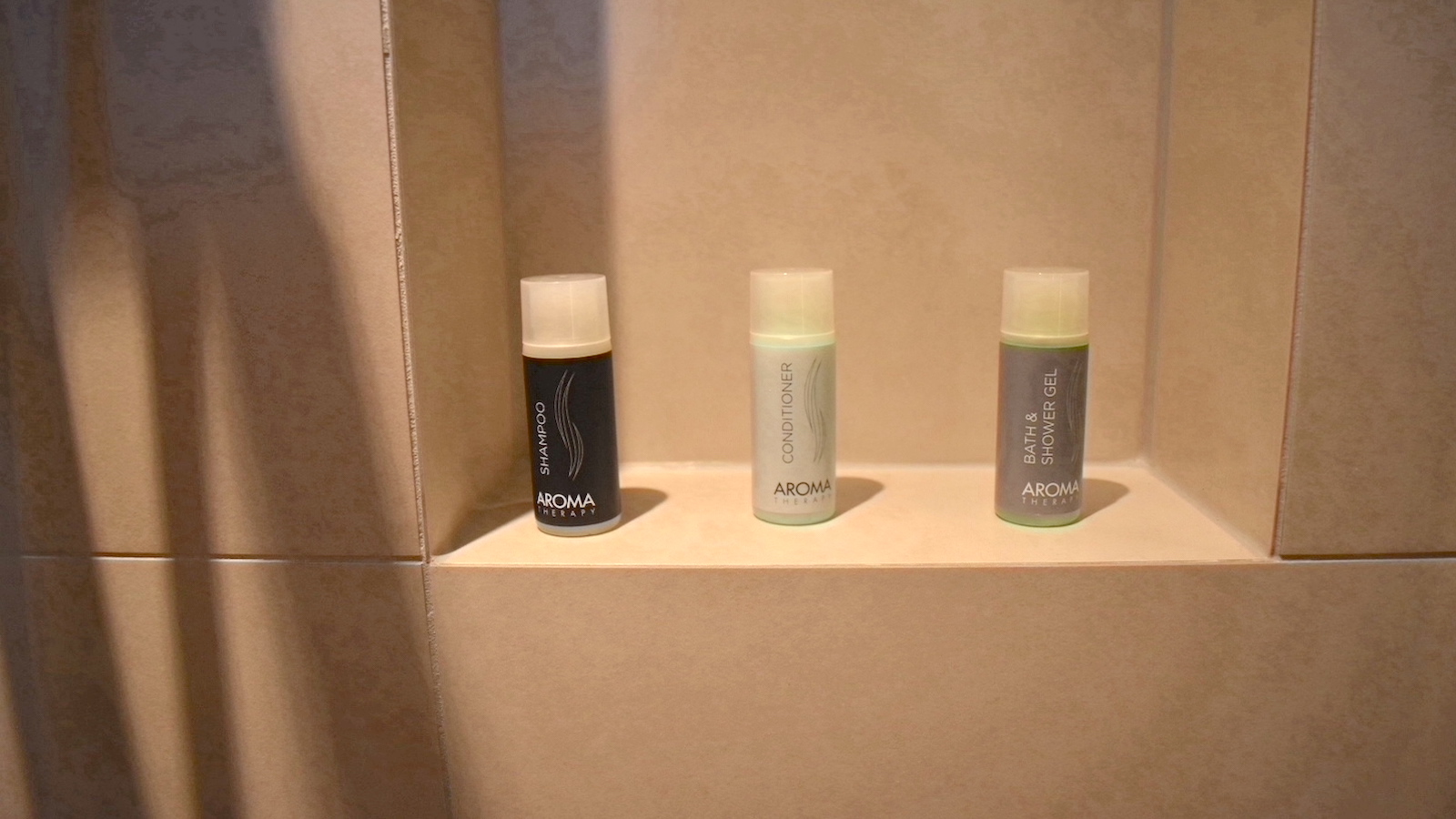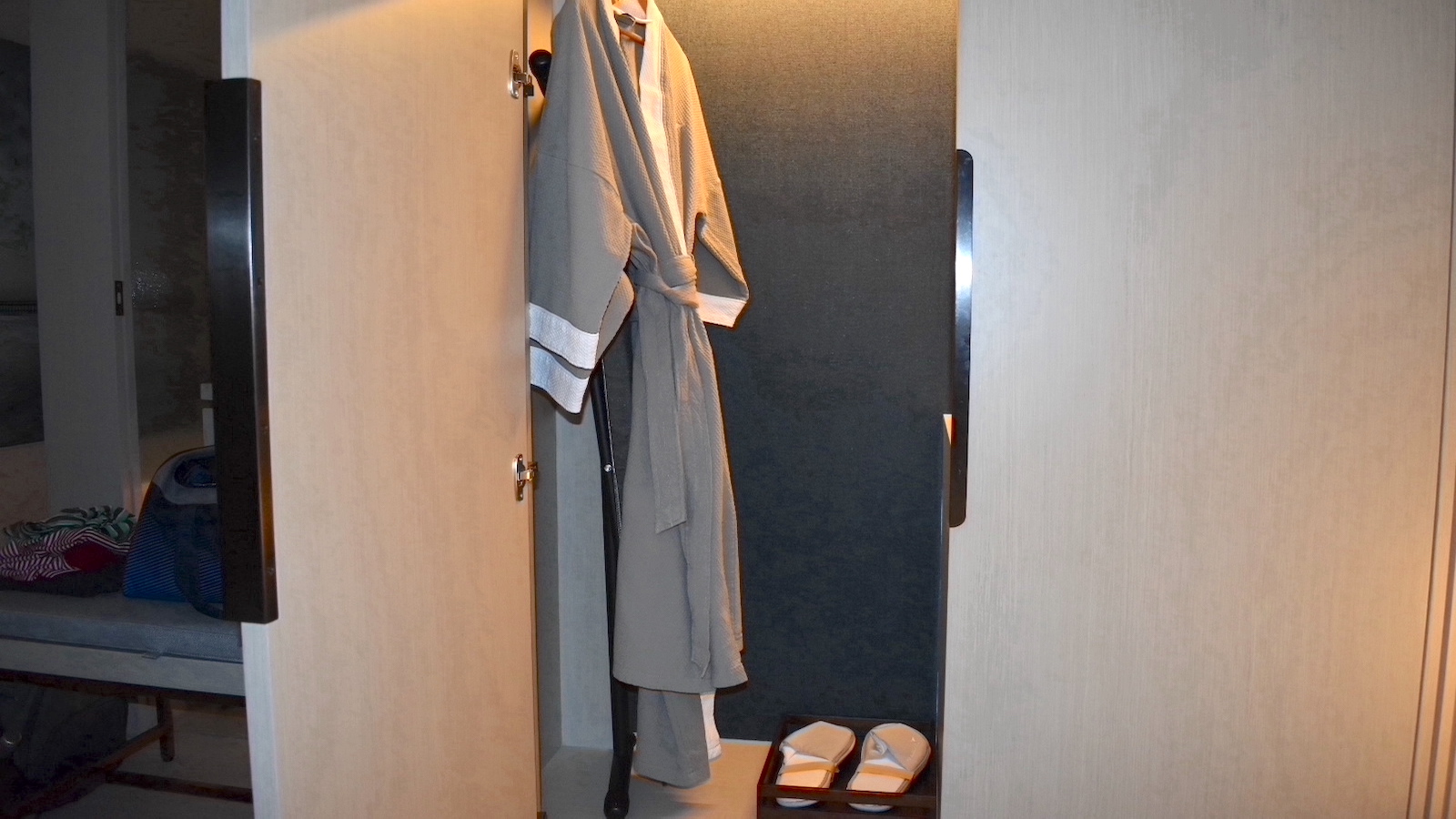 Junior Suite
Junior Suites are 68 sqm in size and feature a large open area containing both the living room and bedroom separated by a divider.
Don't be fooled by the word 'junior', as the layout has been optimised to provide the maximum level of space for guests.
The room includes two TVs, one in the living room and the other in the bedroom. Notwithstanding only a partial divider separating the rooms, guests can easily watch programs on their respective TVs without disturbing the other.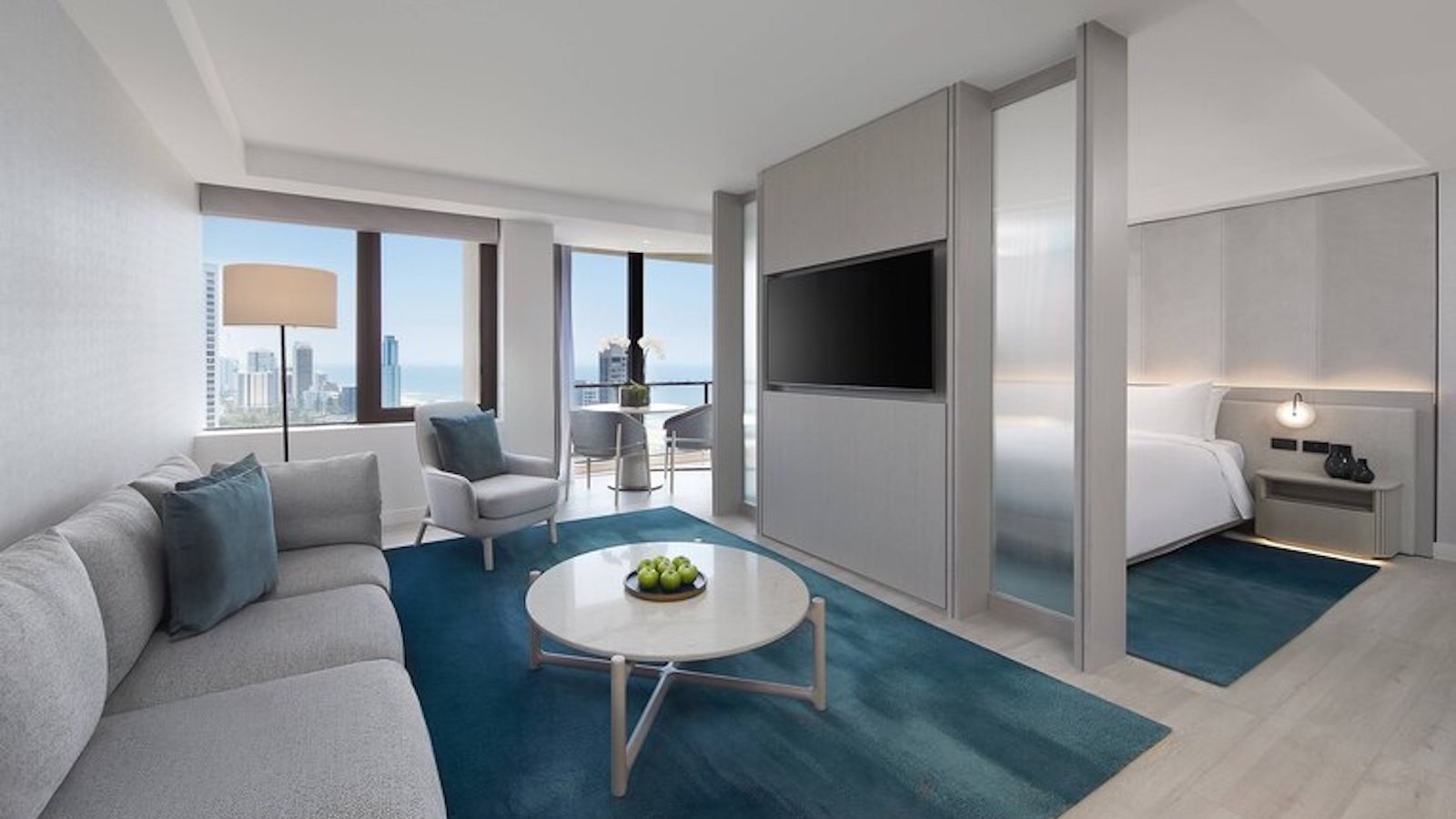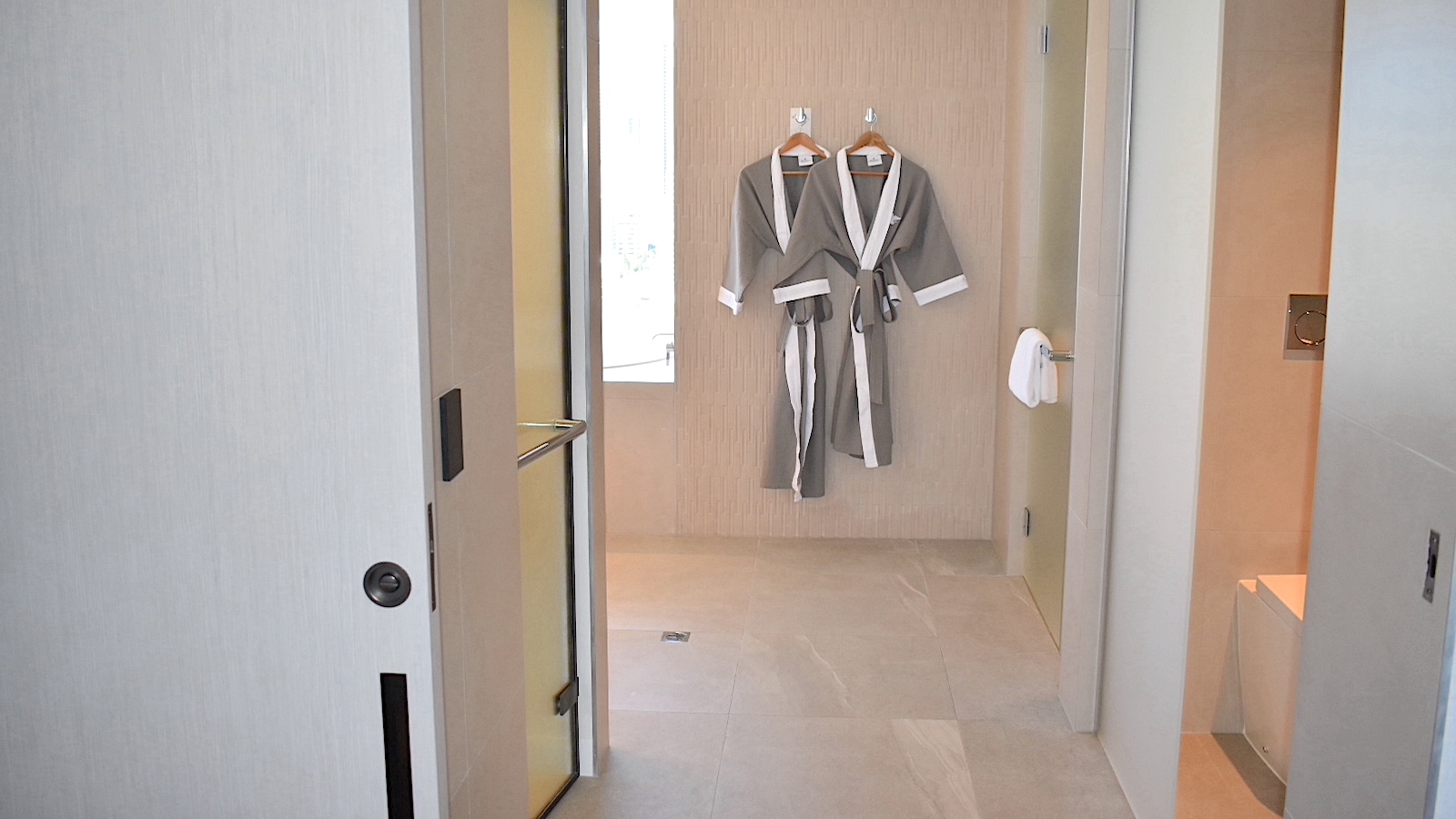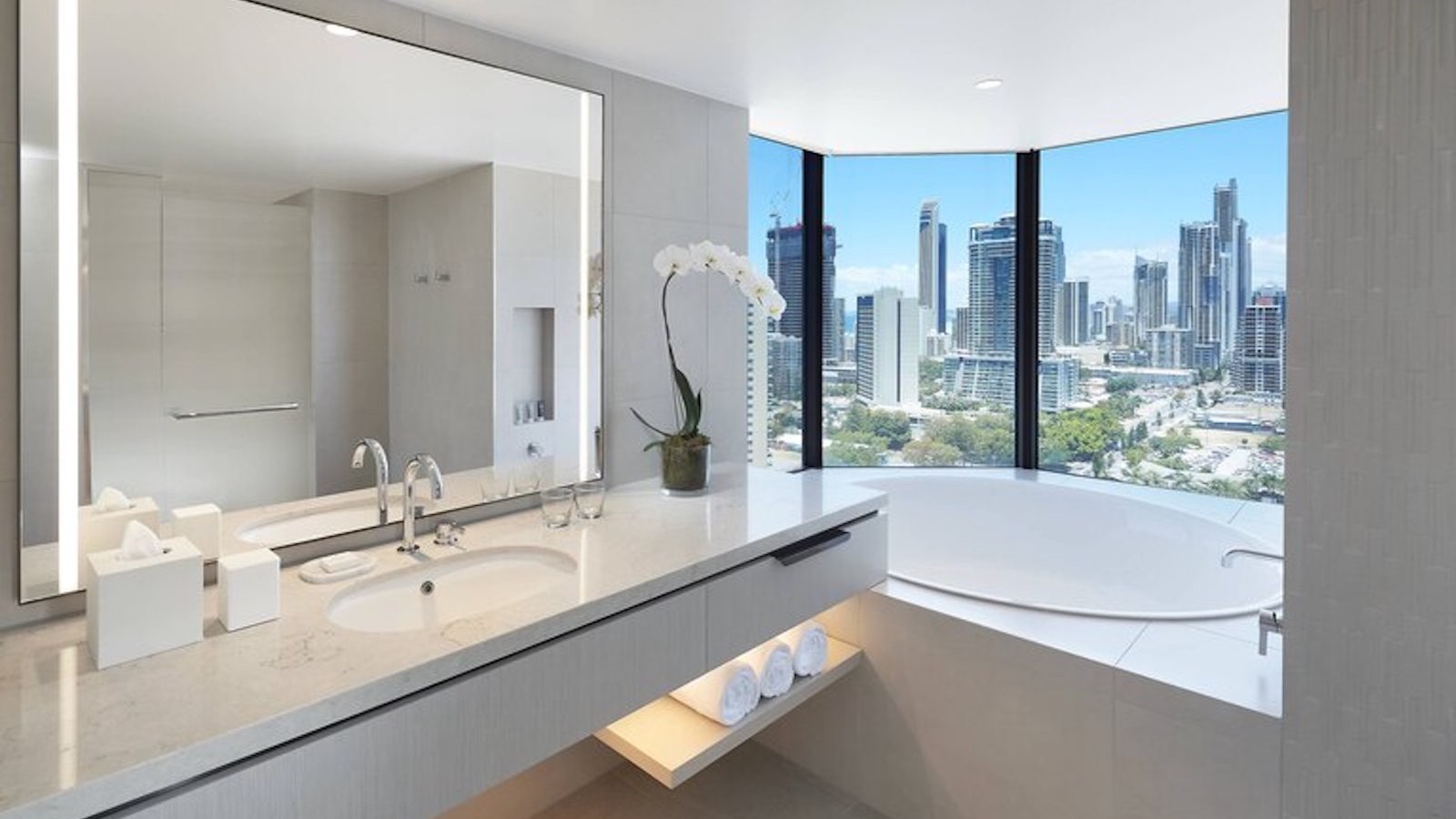 The standout feature of the Junior Suite is the spacious marble bathroom. As you enter, the toilet and shower are located on one side of the bathroom, with a large closet holding such amenities as iron boards on the other. The bathroom then opens up to reveal a long bench and an equally generous sized bathtub.
While I don't generally consider bathrooms to be the centrepieces of a room, and also am not a keen bath taker, the stunning views of the Surfers Paradise skyline from the bathtub would have seen me make an exception had I been lucky enough to spend a night in this Suite. Oh well, there will always be a next time!
Residential Suite
Residential Suites are 92 sqm in size and are located on the 4th and 26th floors of the hotel. They have separate living and dining rooms, which are divided by a standard door. The Suite is more like a small apartment than the Junior Suite, which feels more like a very spacious hotel room.
There is an internal marble bathroom with an oversized bathtub, however, unlike the Junior Suite, the bathtubs facing inwards and does not have views of the Surfers skyline.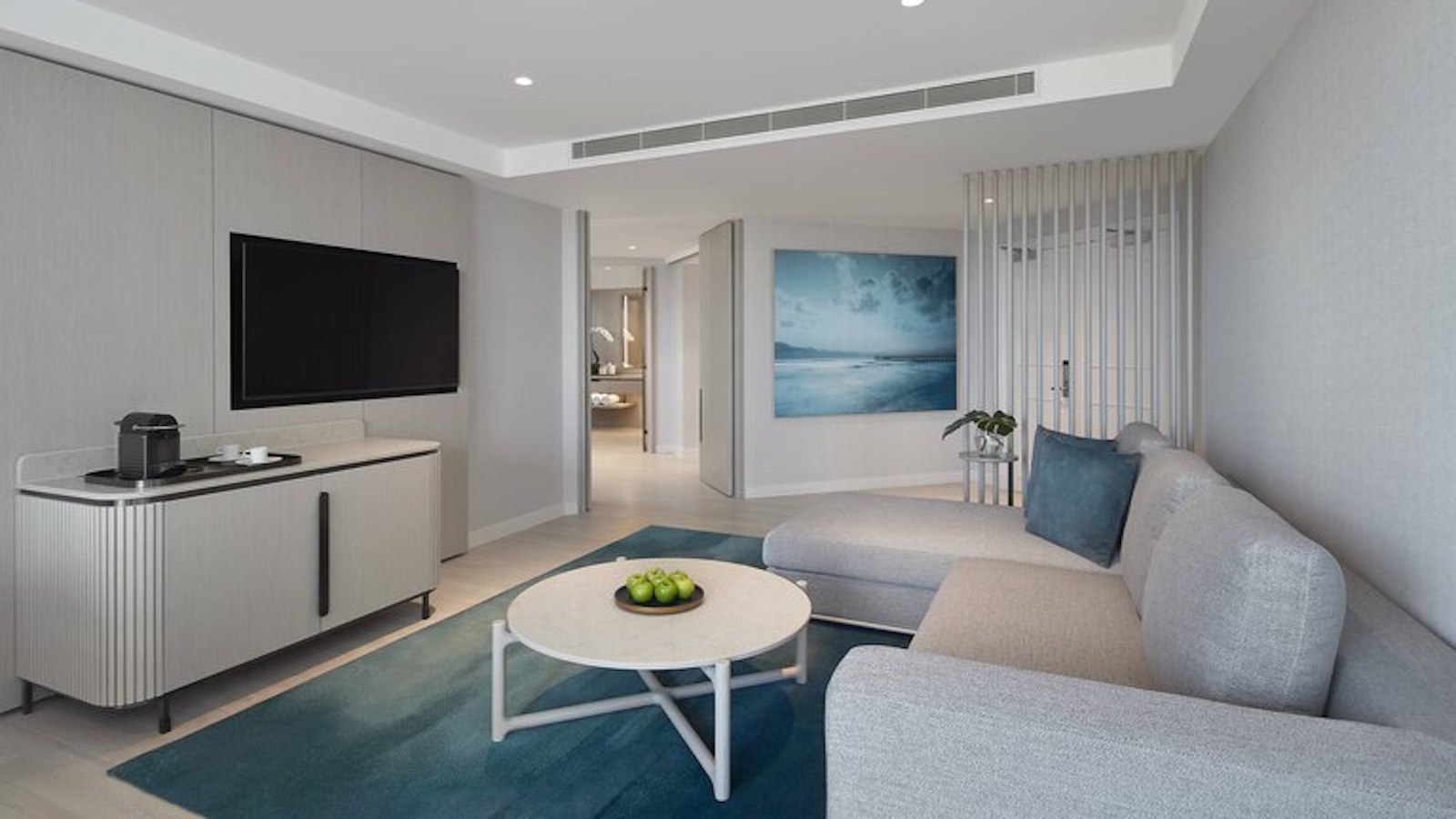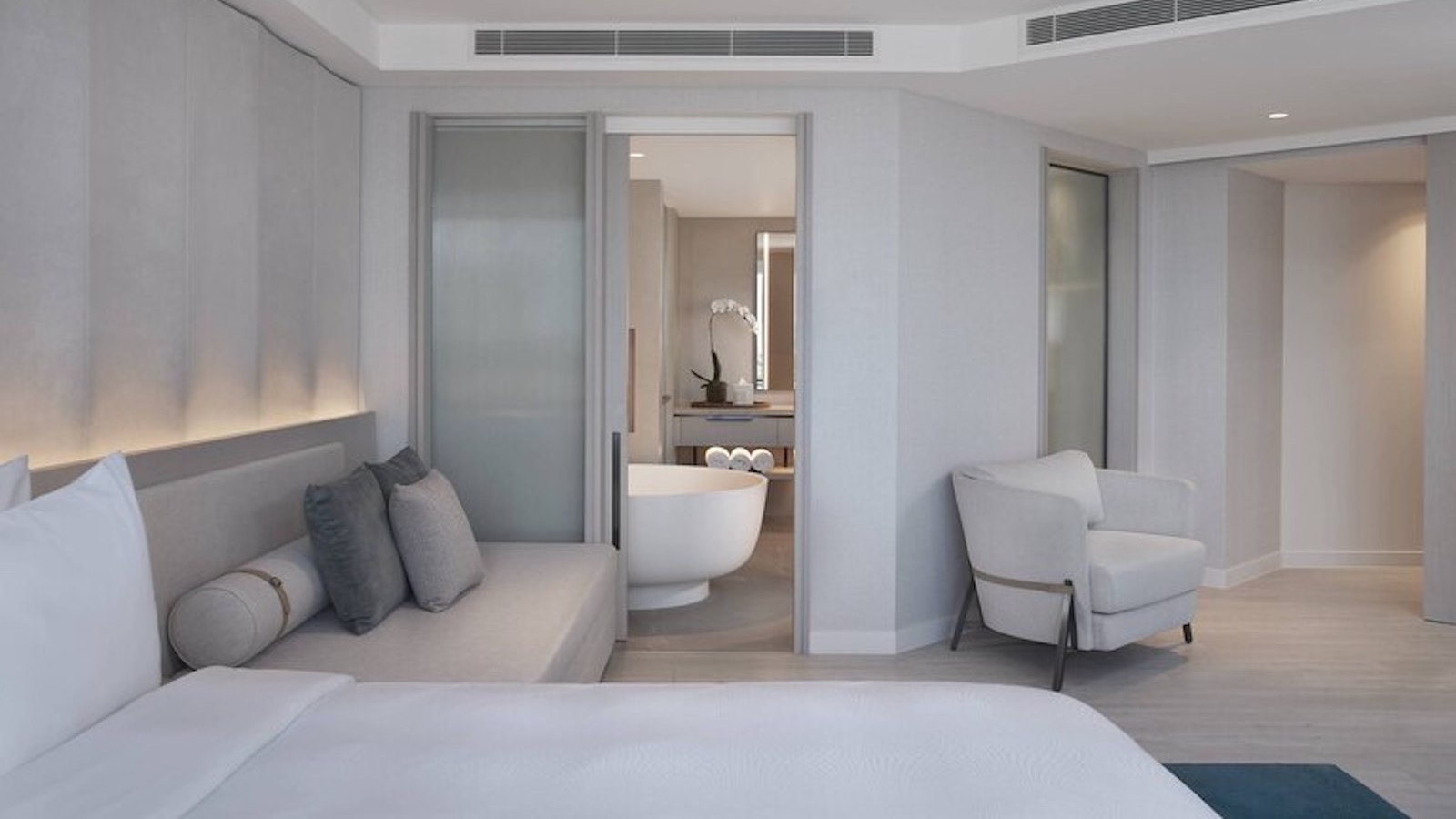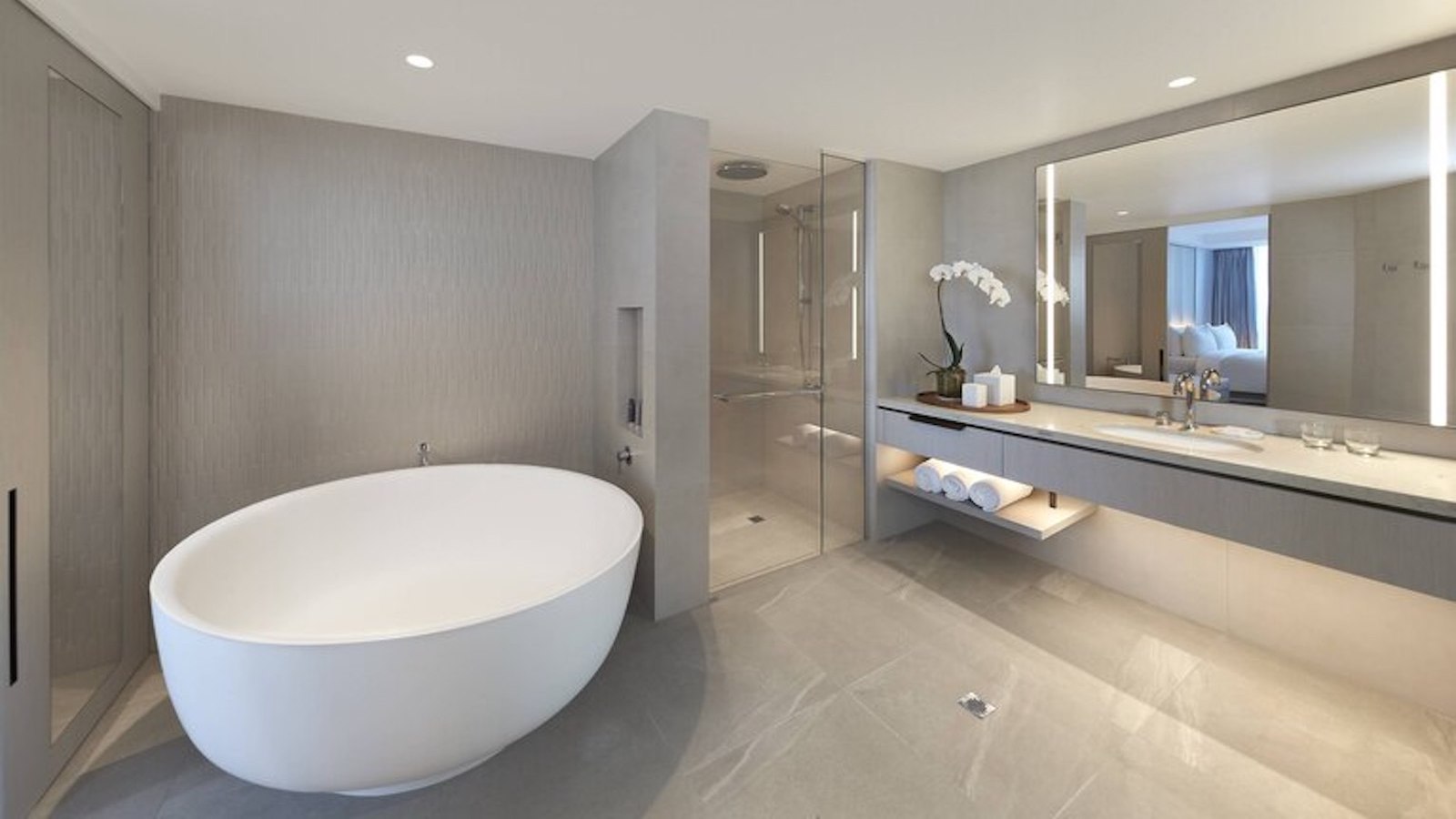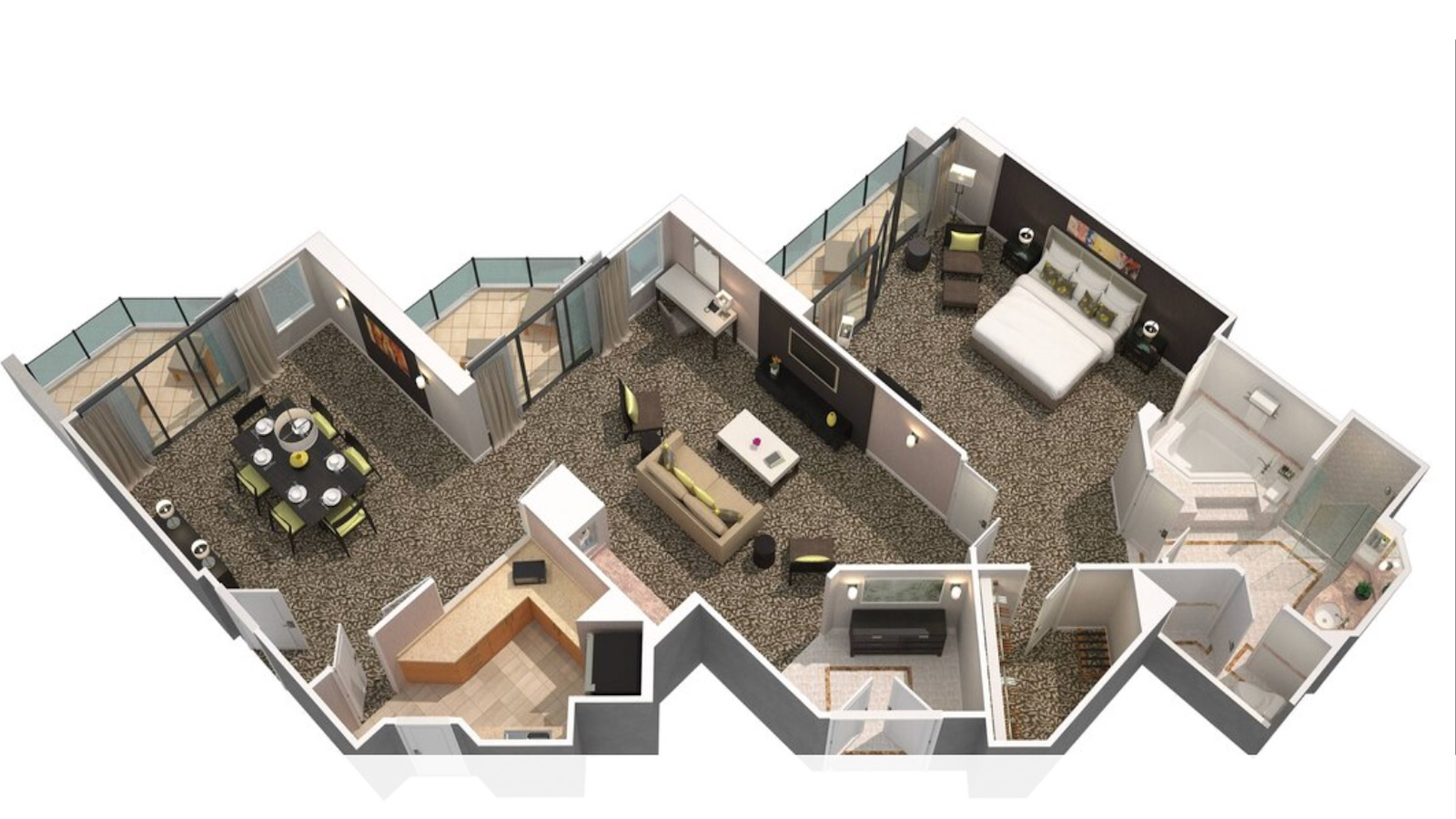 Executive Suite
While the Executive Suite is similar in size to the Residential Suite, coming in at 93 sqm, there are a number of differences between these Suites.
All of the Executive Suites are found on the high floors of the hotel, from levels 22 and above, and are located in the corners of these floors. Like Residential Suites, Executive Suites also have separate living and dining rooms but are divided by a large sliding door, giving the Suite a very open feel to it.
A marble bathroom is also a feature, including an oversized bathtub, however, the tub is external facing, providing great views of the Gold Coast hinterland. Executive Suites also have a separate powder room in addition to the standard ensuite.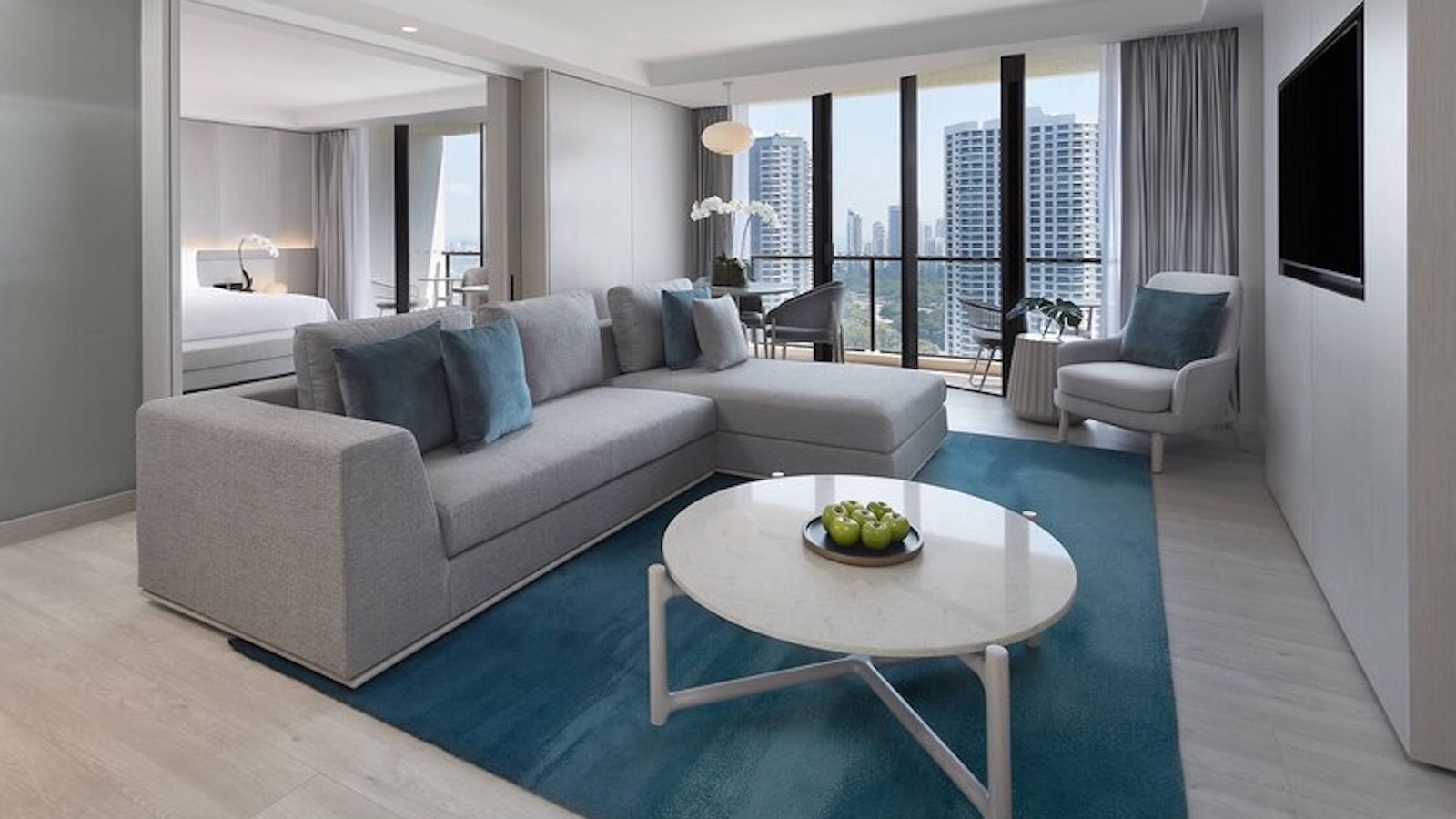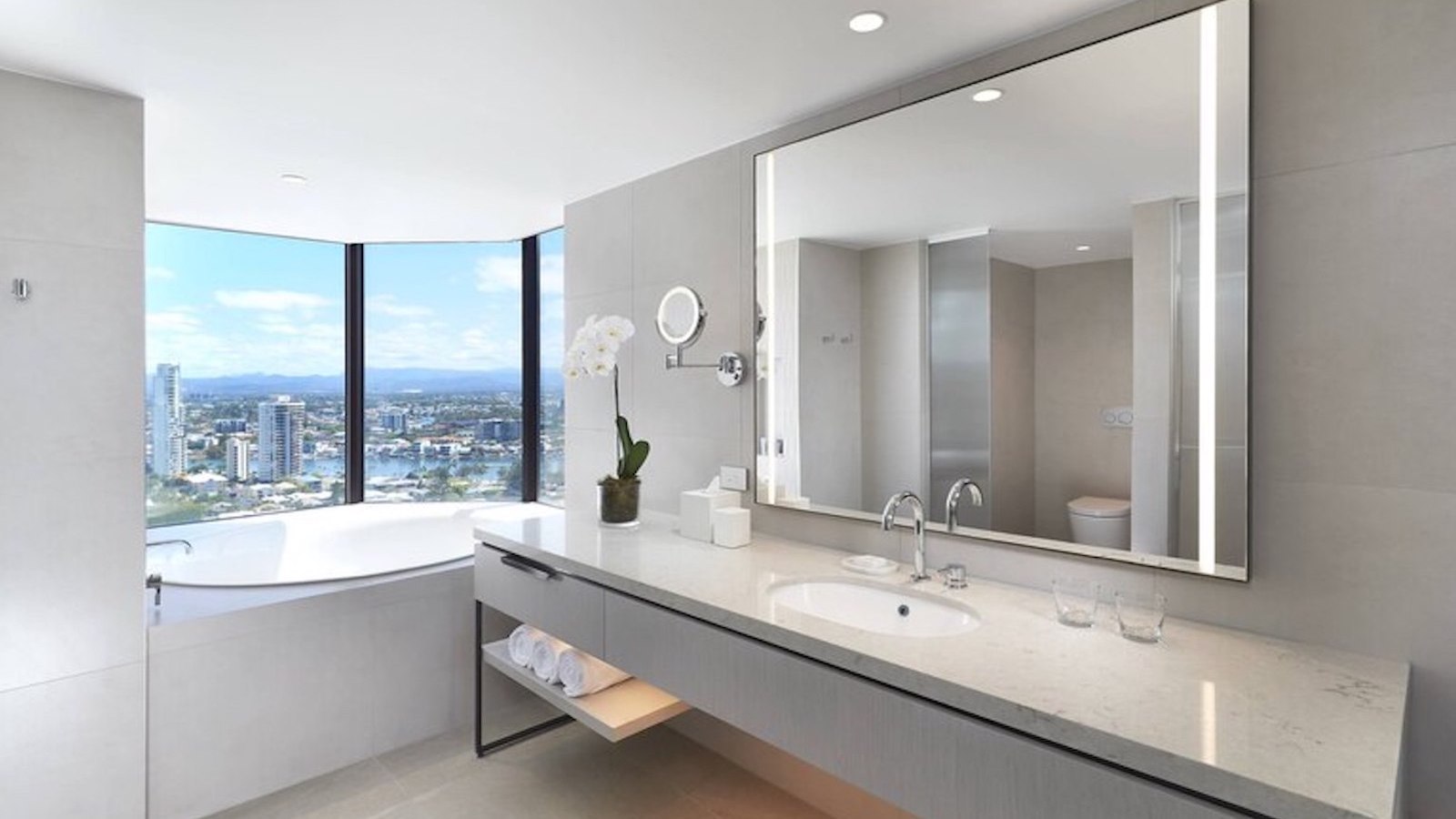 Presidential Suite
Well, the Presidential Suite is the height of opulence! Covering an area of 2,453 sqm, it includes 2 outdoor balconies, separate living and dining areas, a bedroom with a four-poster king bed and one and a half bathrooms. It also includes a master bathroom replete with a whirlpool tub.
Guests are greeted with a bottle of Moët & Chandon and a fruit platter upon arrival, and personalisation of the mini-bar is available on request.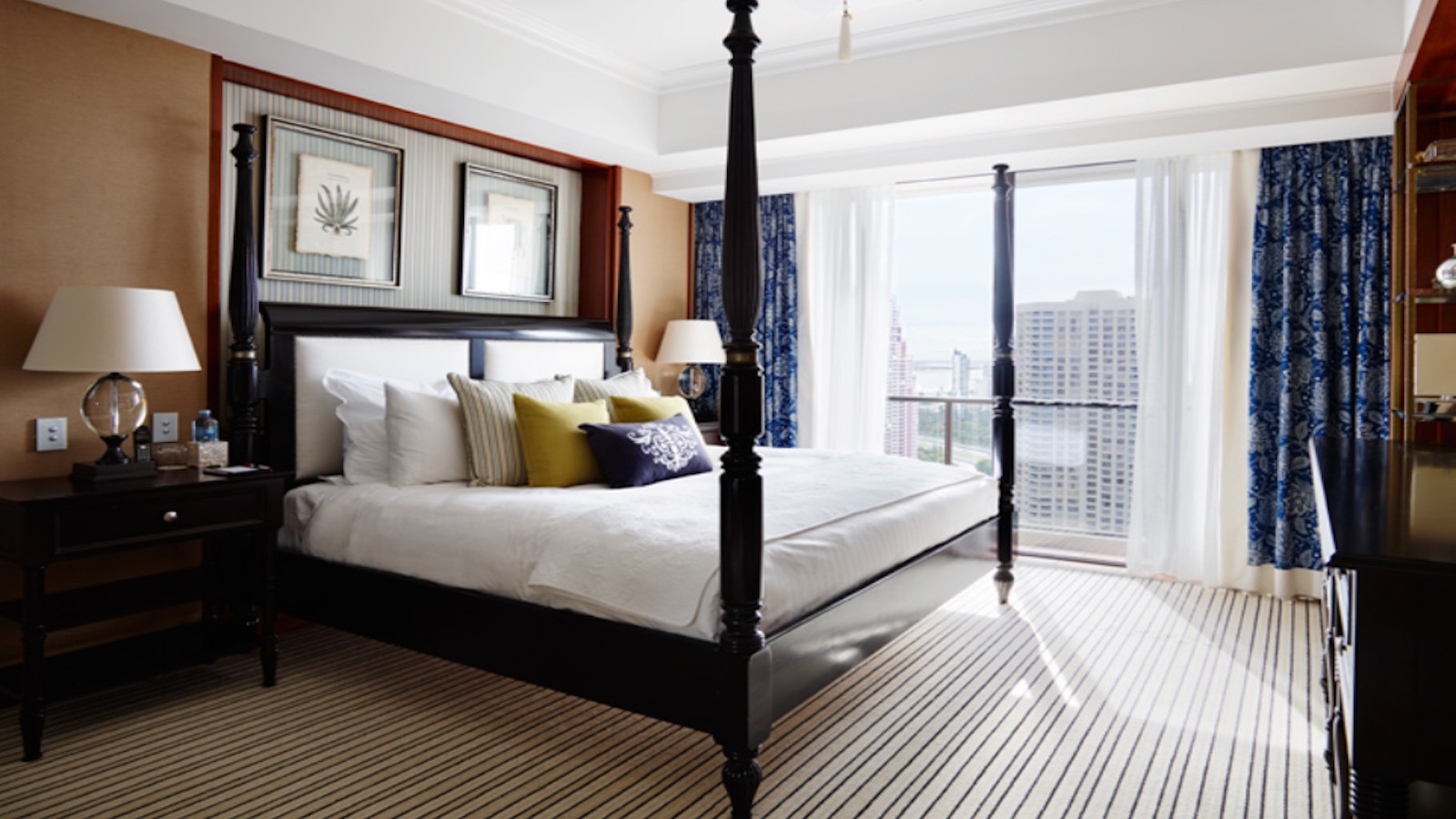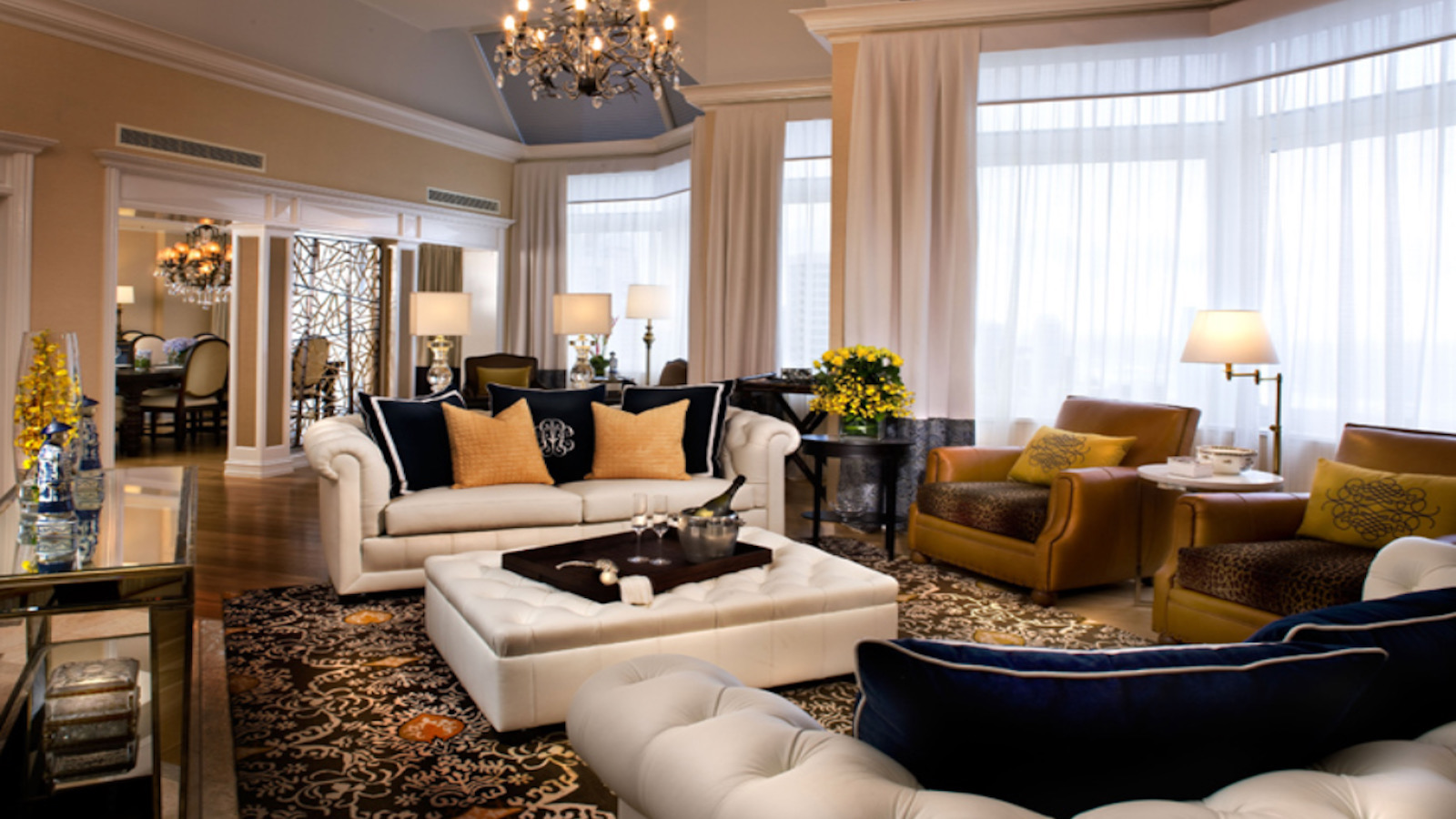 What amenities does the JW Marriott Surfers Paradise have?
The hotel has 2 main restaurants, Citrique Restaurant and Misono, as well as a bar that straddles both the interior of the hotel on one side of the bar and an outdoor pool deck on the other.
For those guests looking to relax by the pool, a retro food van called the Pool Pavilion provides vibrant street food created using local Gold Coast produce, bringing a touch of Asian cuisine to its guests.
Citrique Restaurant
The Citrique Restaurant is famous for its breakfast, weekend-long lunches and seafood market. The restaurant, although recently renovated, reminded me of the eighties, with a mixture of booth seating and chairs both adorned in an eloquent pastel grey colour. It definitely had a professional and upmarket feel to it.
The space is huge and can easily sit hundreds of guests. Citrique provides great views of the pool area, with an abundance of natural light courtesy of the floor to ceiling windows.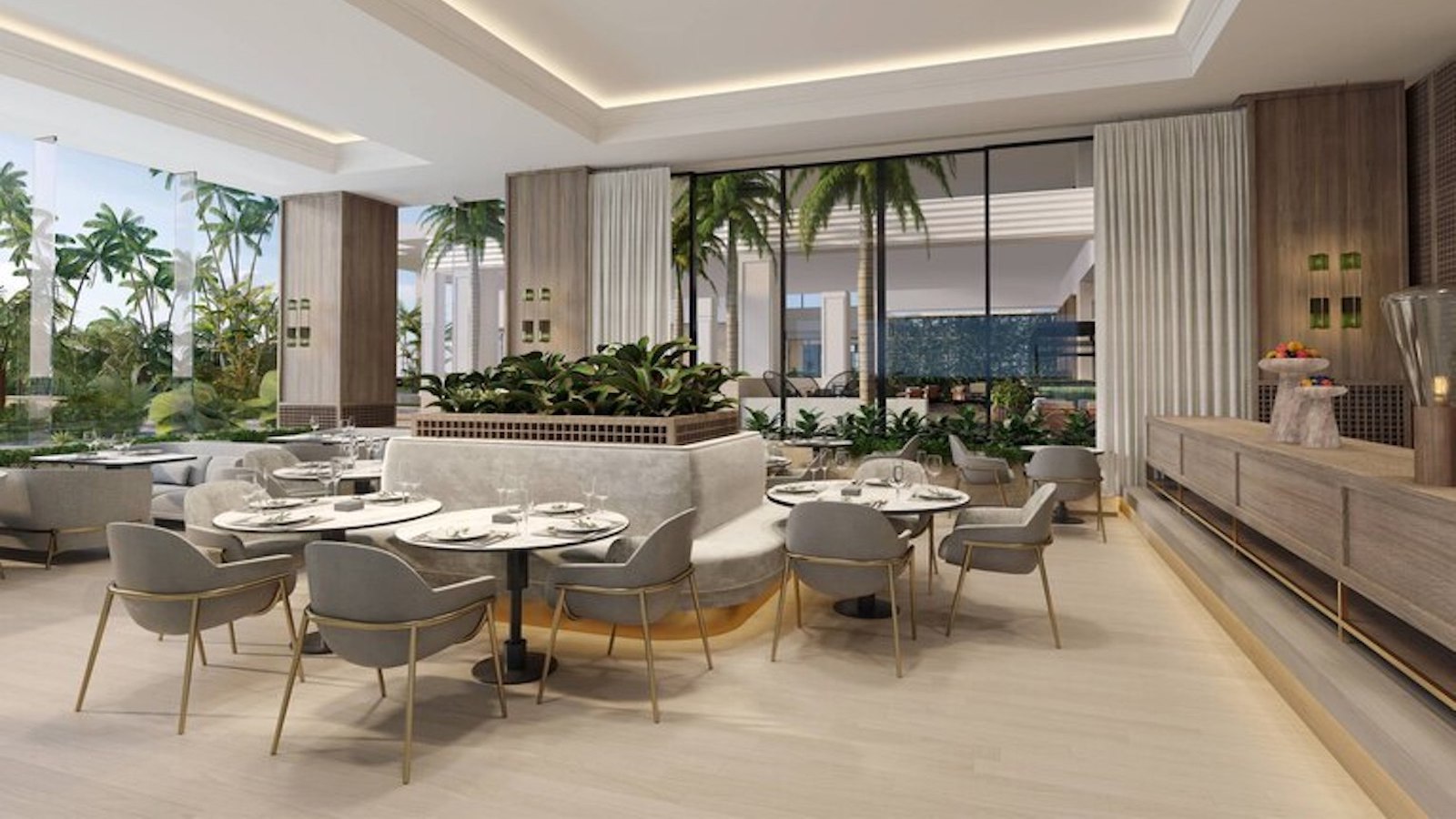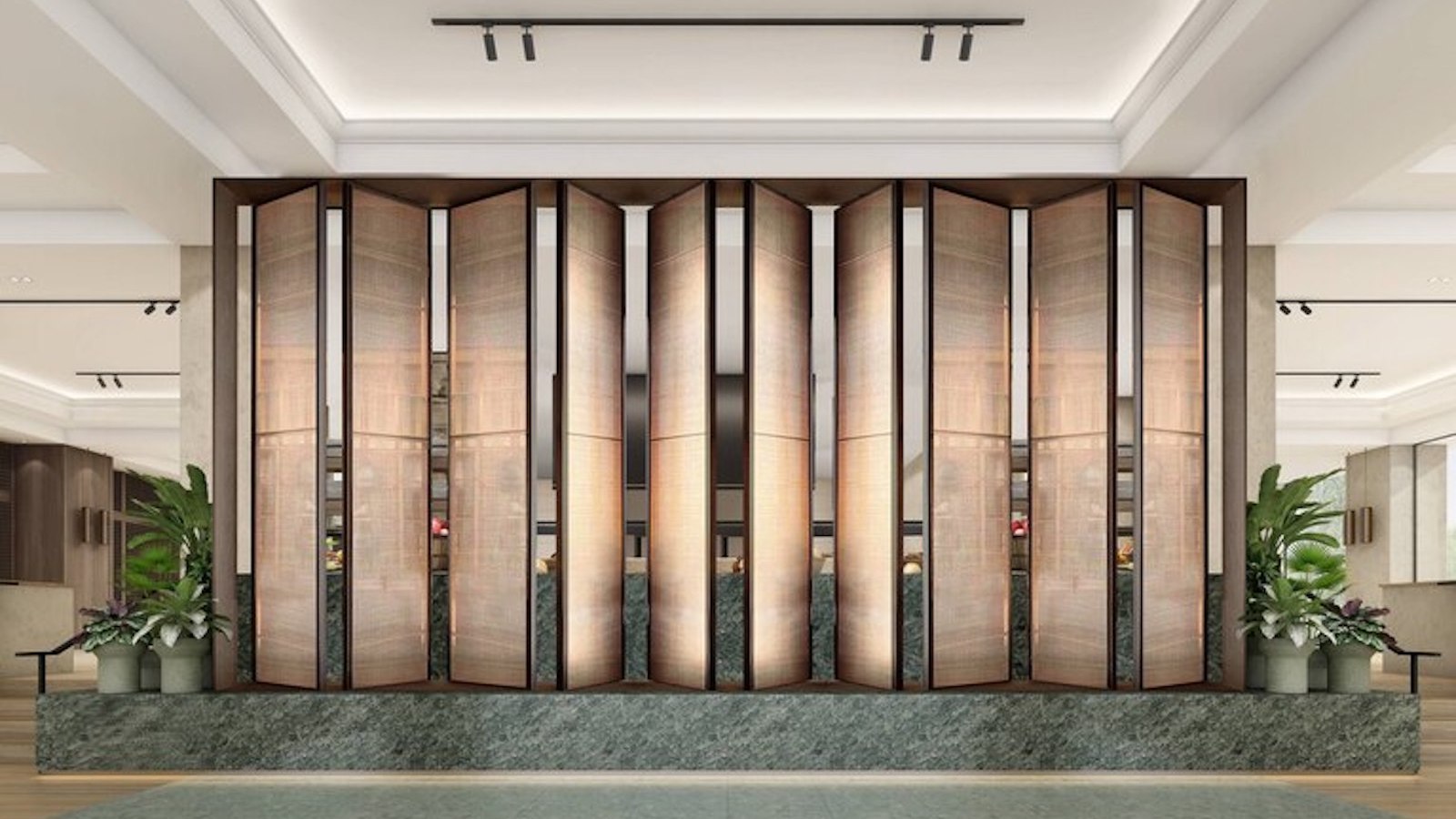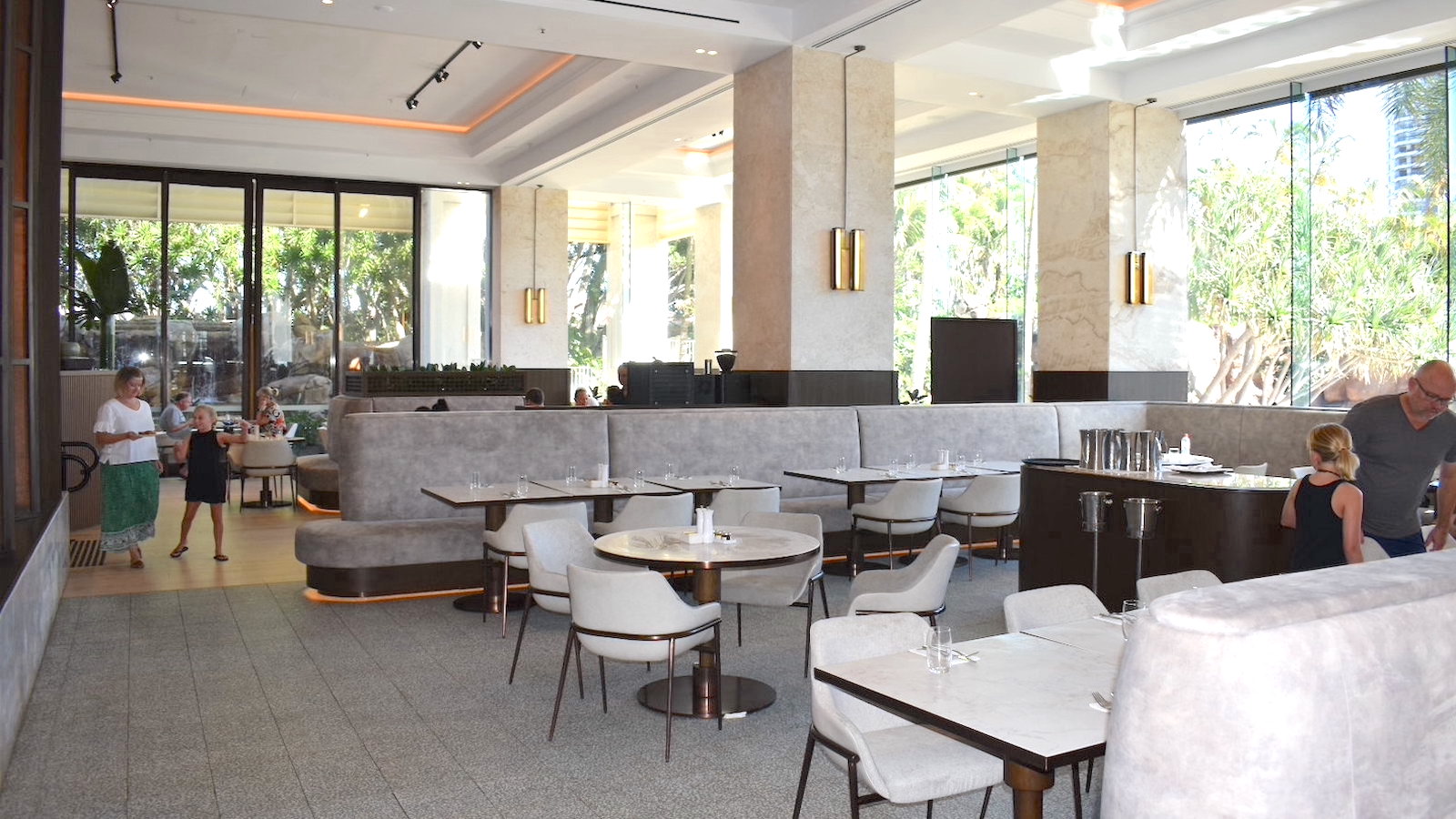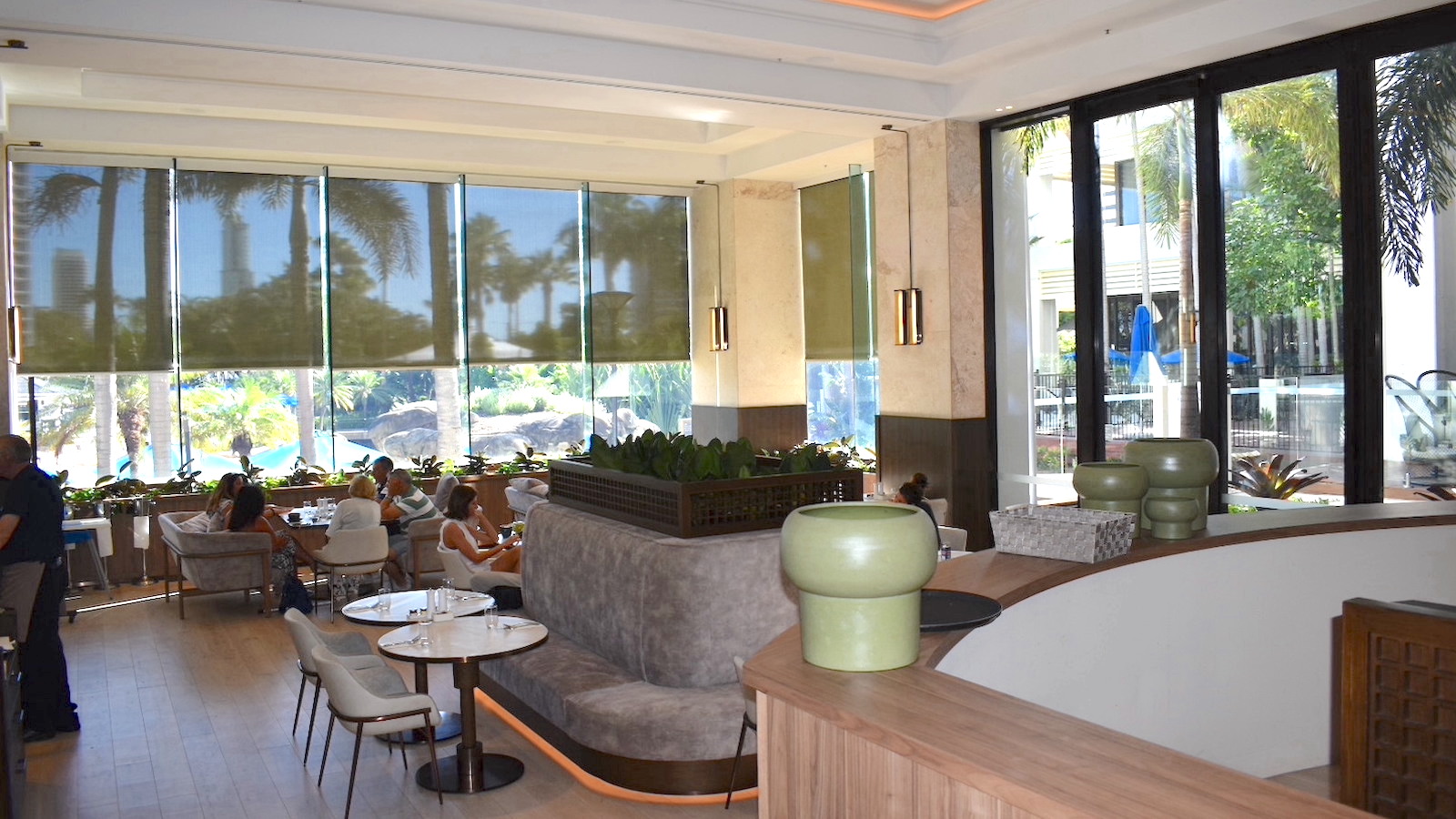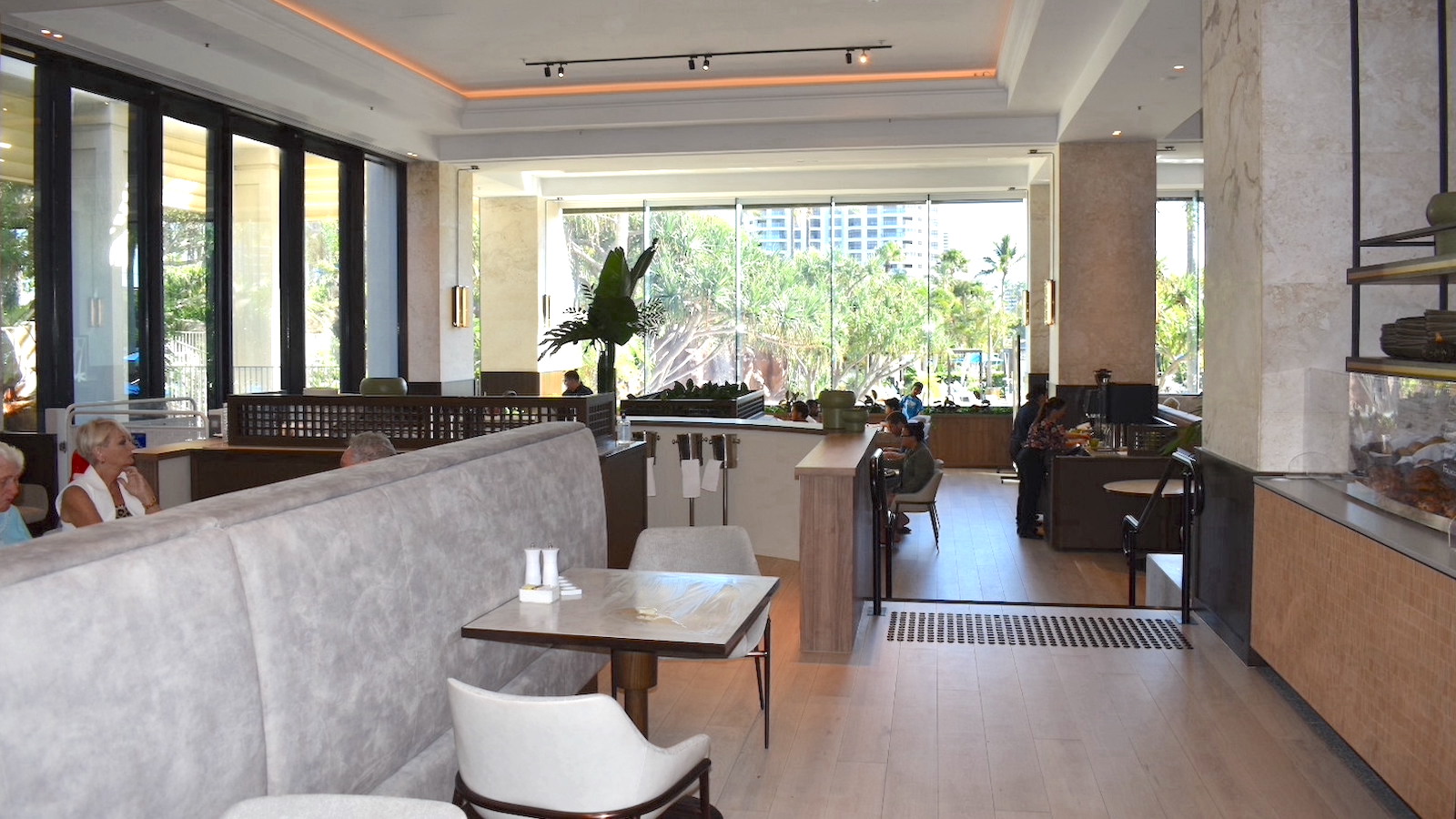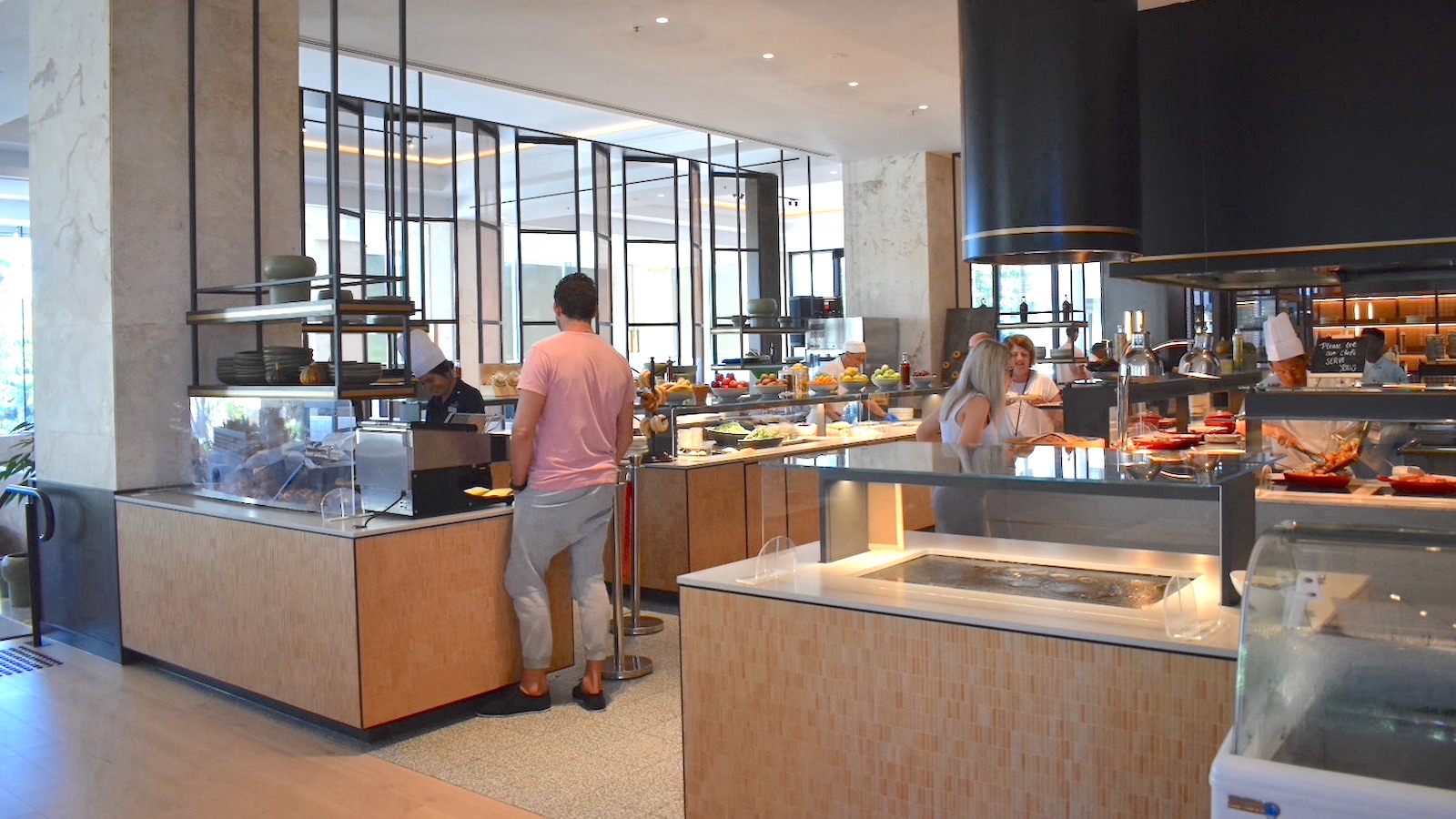 I was able to experience its breakfast offering and was not disappointed. There was a large selection of both cold and hot food available. These included cereals, fruits, yoghurts, cold hams and meats, cheese, salad, a variety of bread, mushrooms, baked beans, sausages, omelettes and eggs cooked to your liking.
The buffet was presented in a COVID safe manner, with all dishes served from behind perspex by a JW Marriott staff member.
Barista coffee was also offered when you are first seated, in addition to a variety of self-serve juices.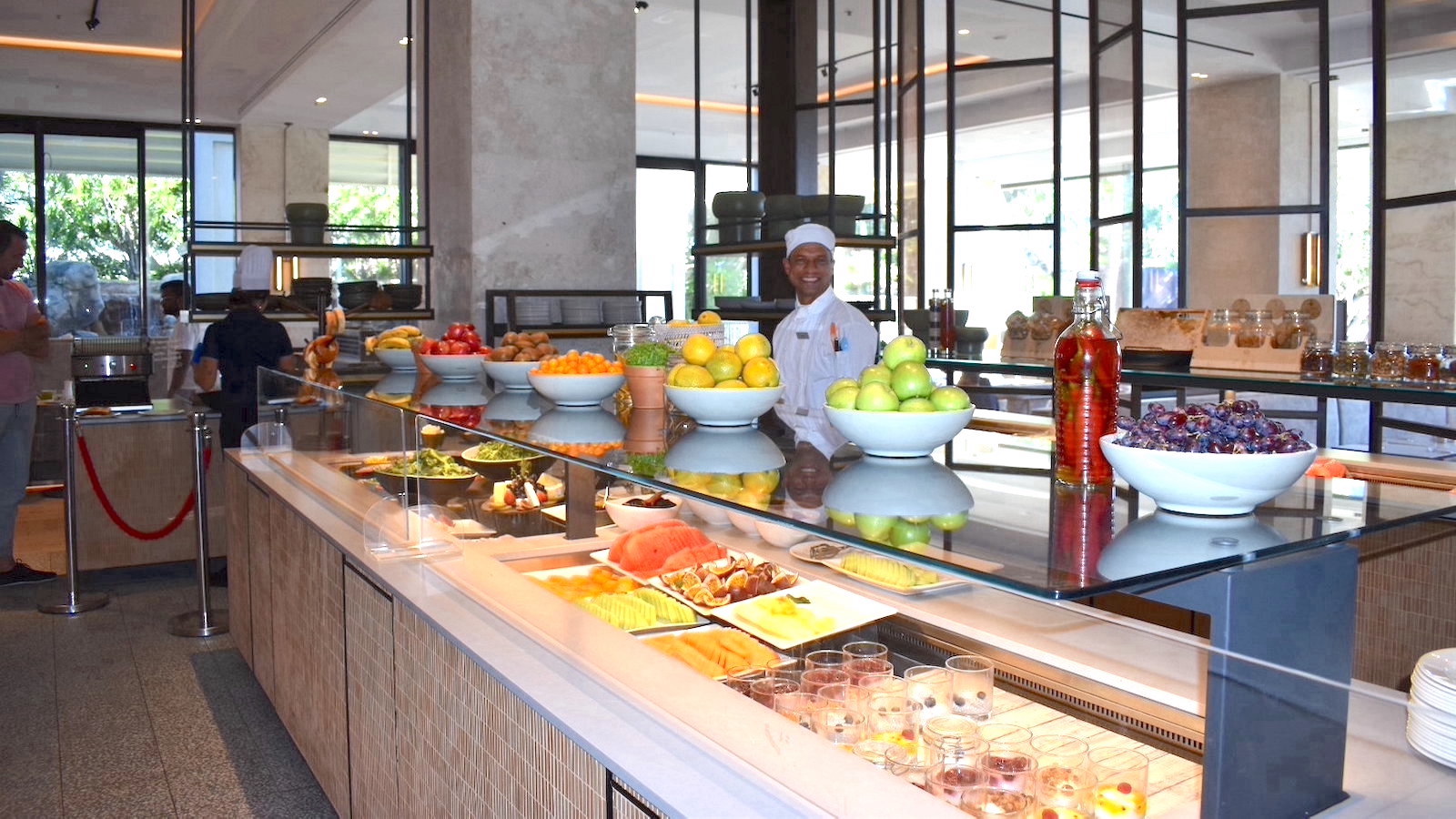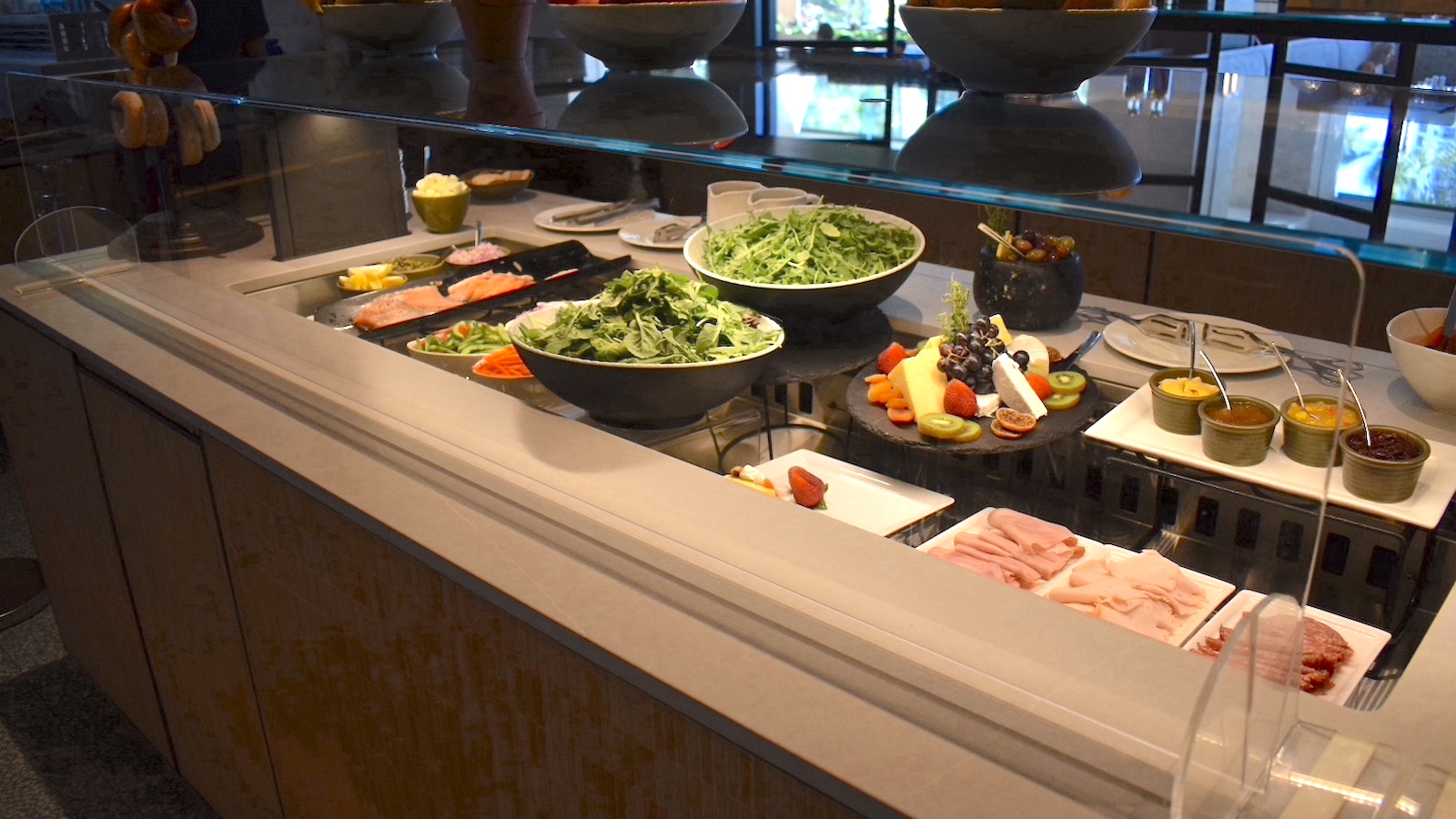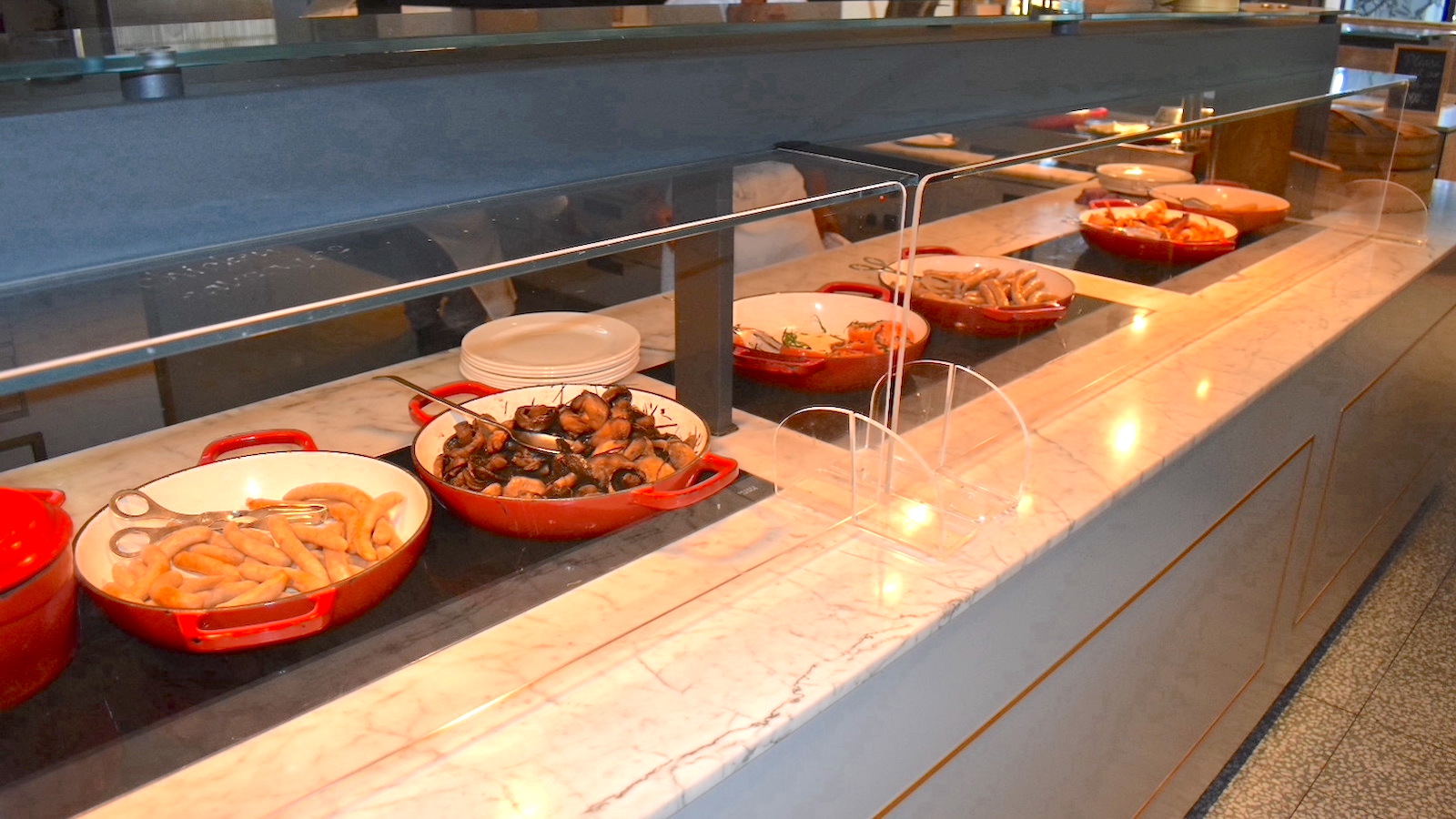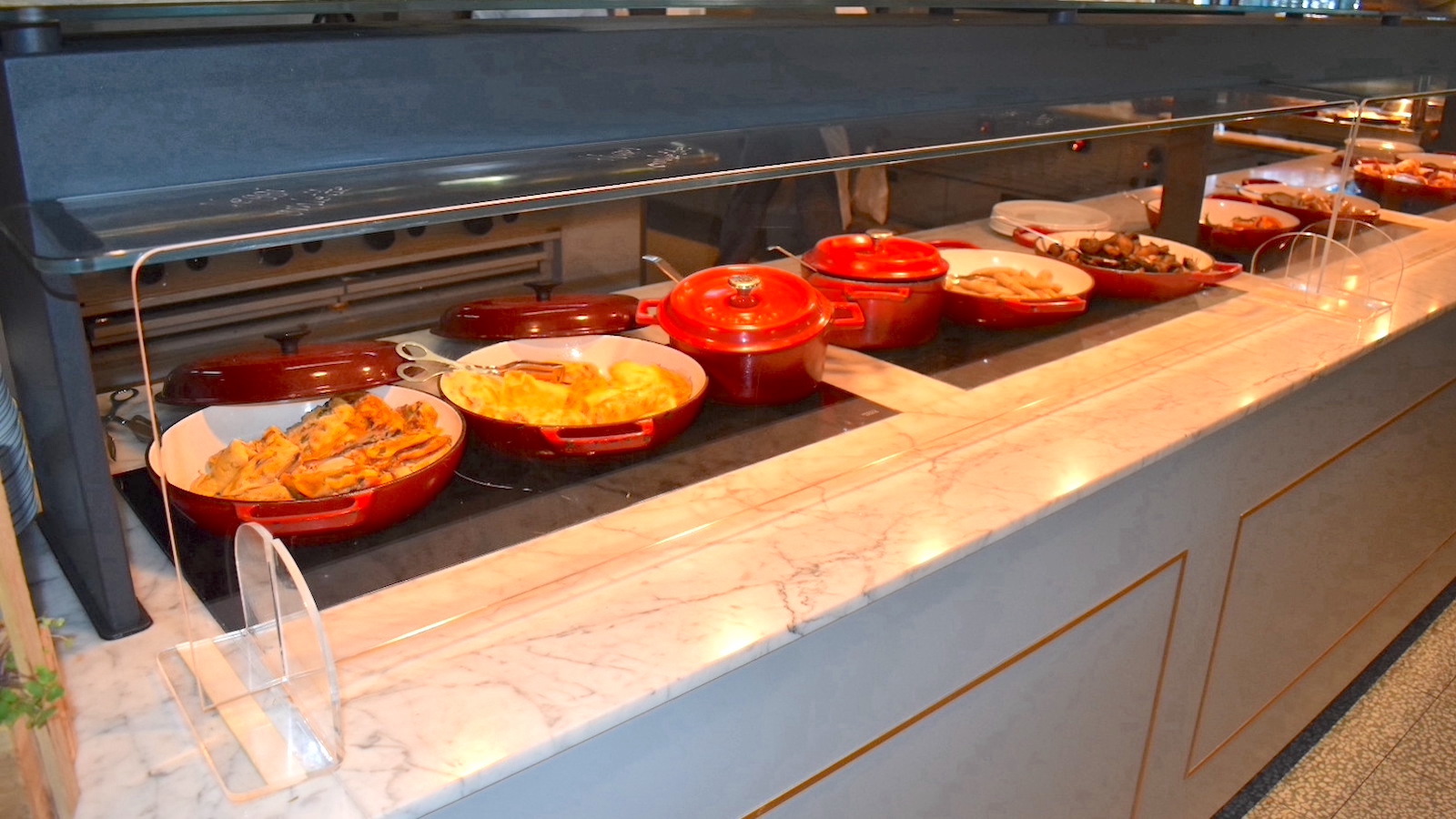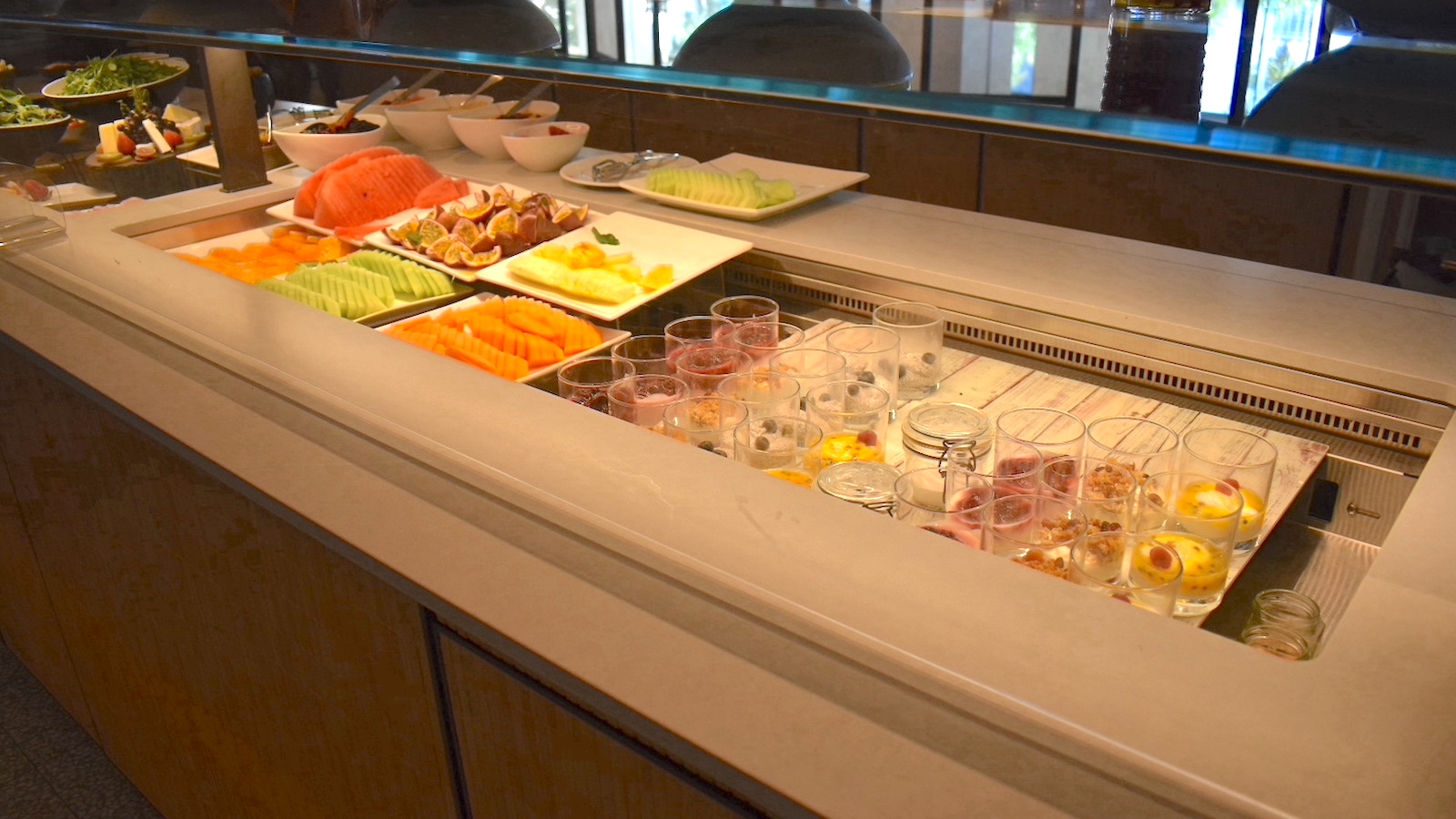 Misono
Misono is one of the Gold Coast's most famous Tepanyaki restaurants and a great place to visit as a hotel guest or a local alike.
The restaurant has a wide selection of food to satisfy all tastes. Guests can elect to choose individual food items such as sushi, sashimi and nigiri or from a range of pre-prepared teppanyaki or wagyu banquet options.
I elected to try the Splash & Meadow banquet that consisted of fillet steak and large prawns while also choosing to upgrade the steak to wagyu beef. To say the food was cooked perfectly is an understatement, with the wagyu beef literally melting in my mouth.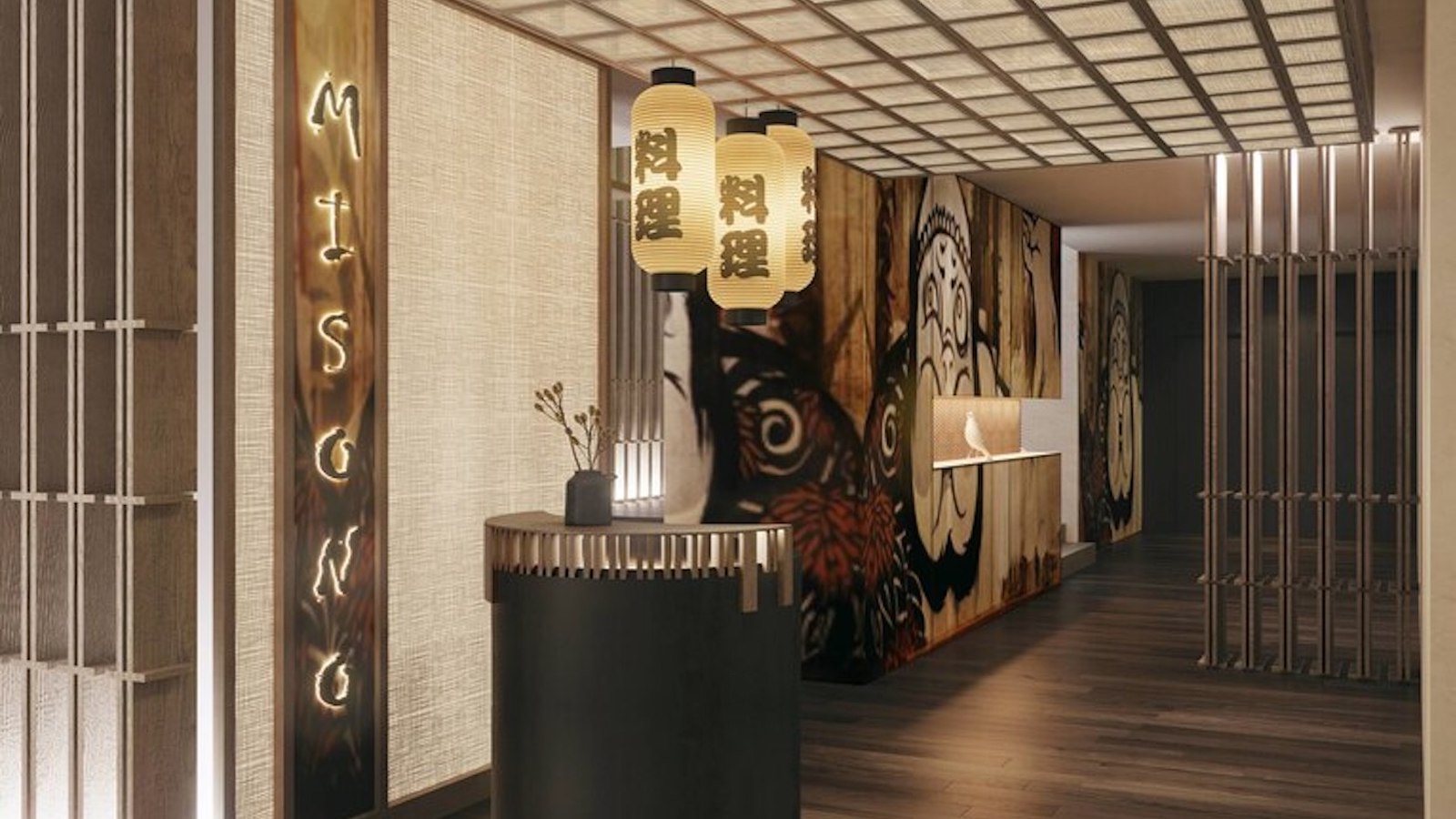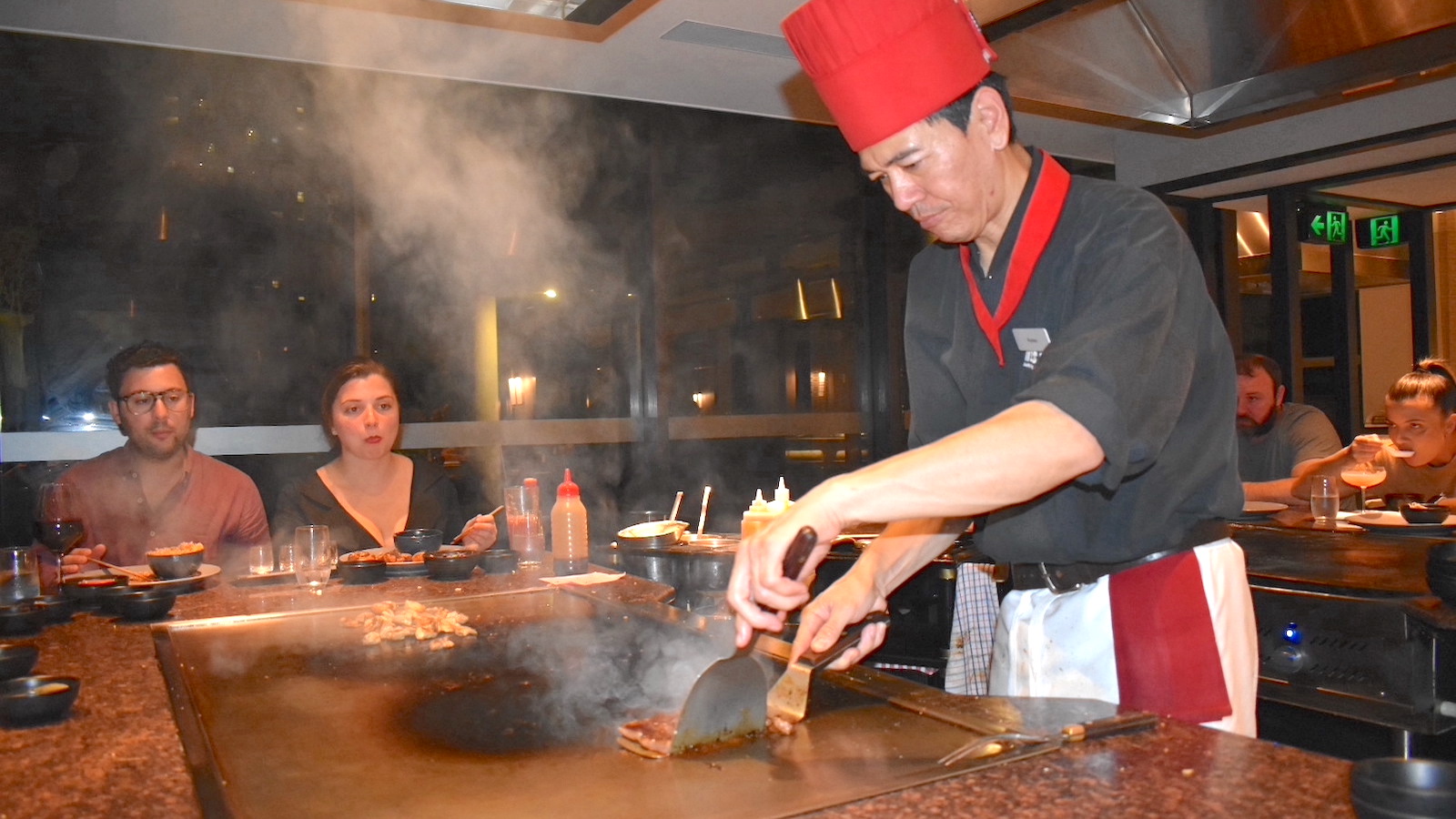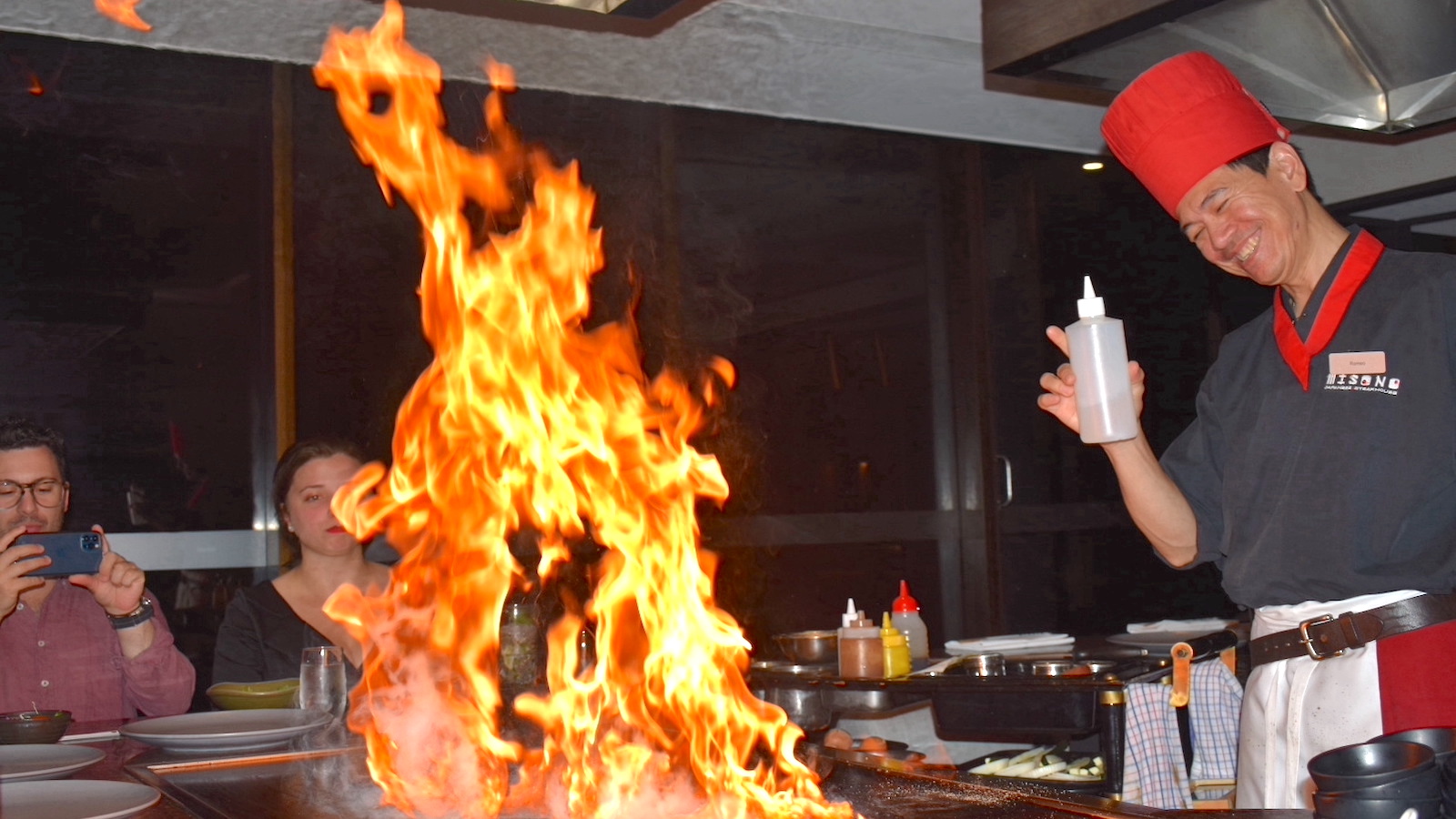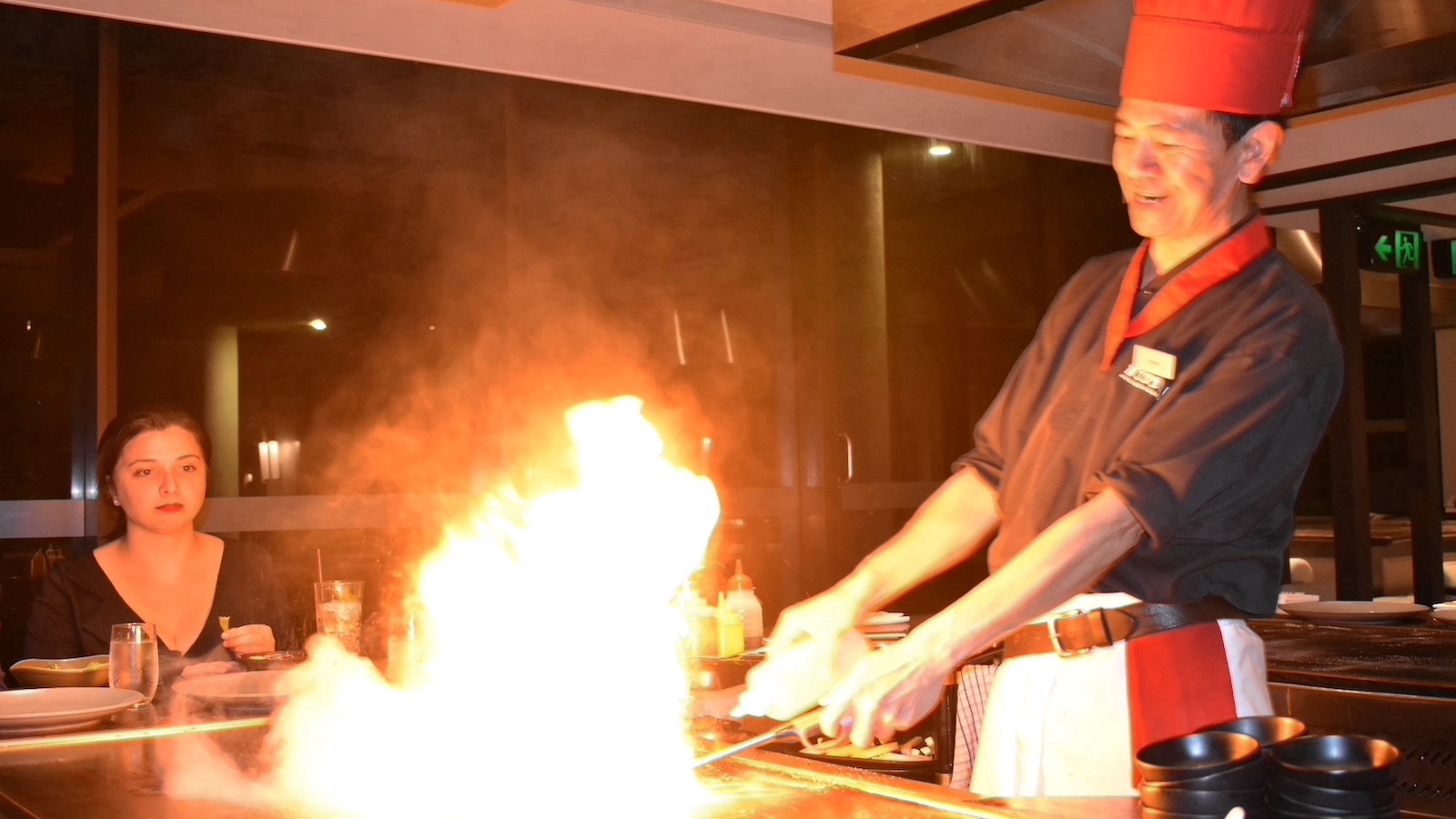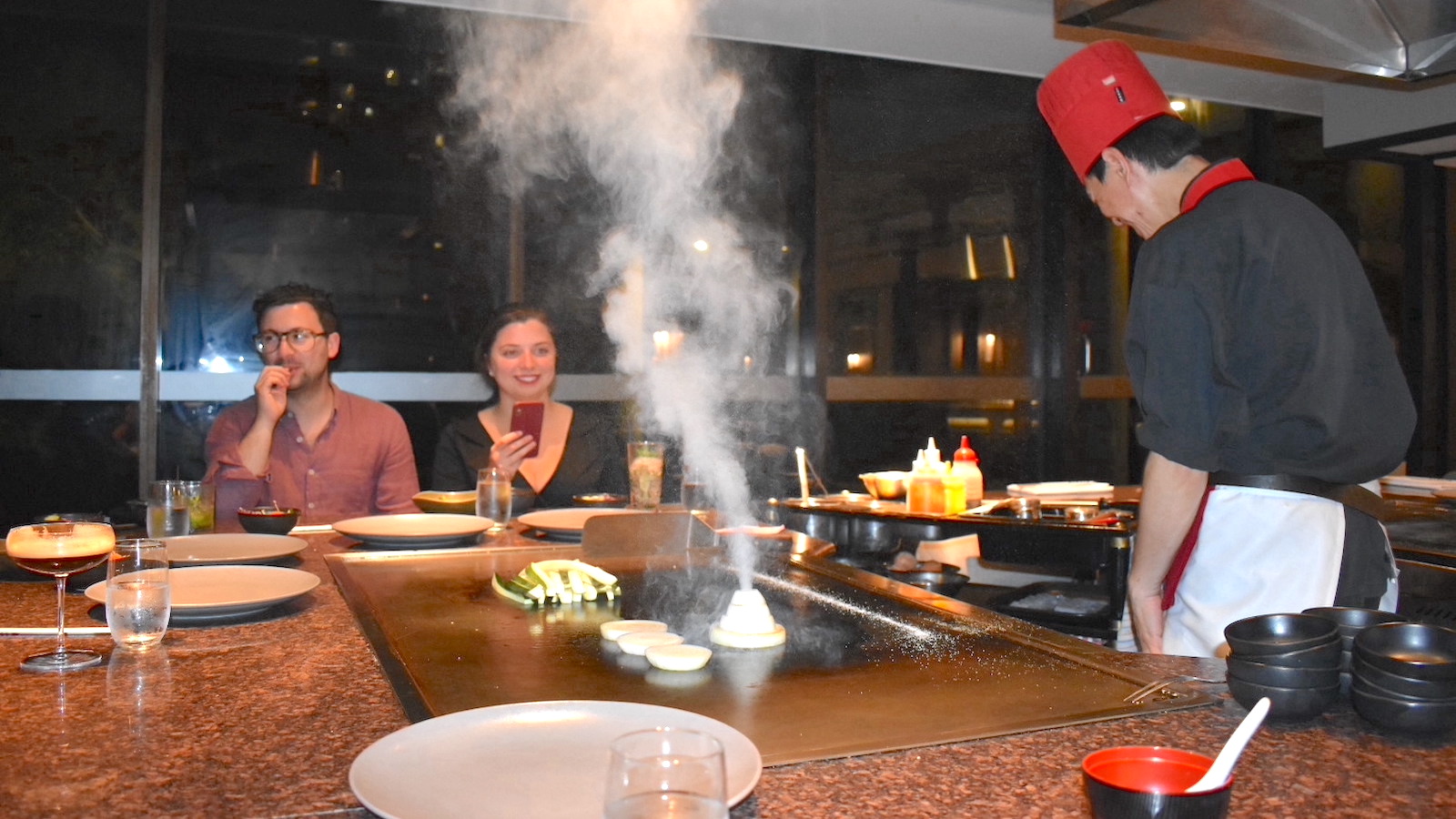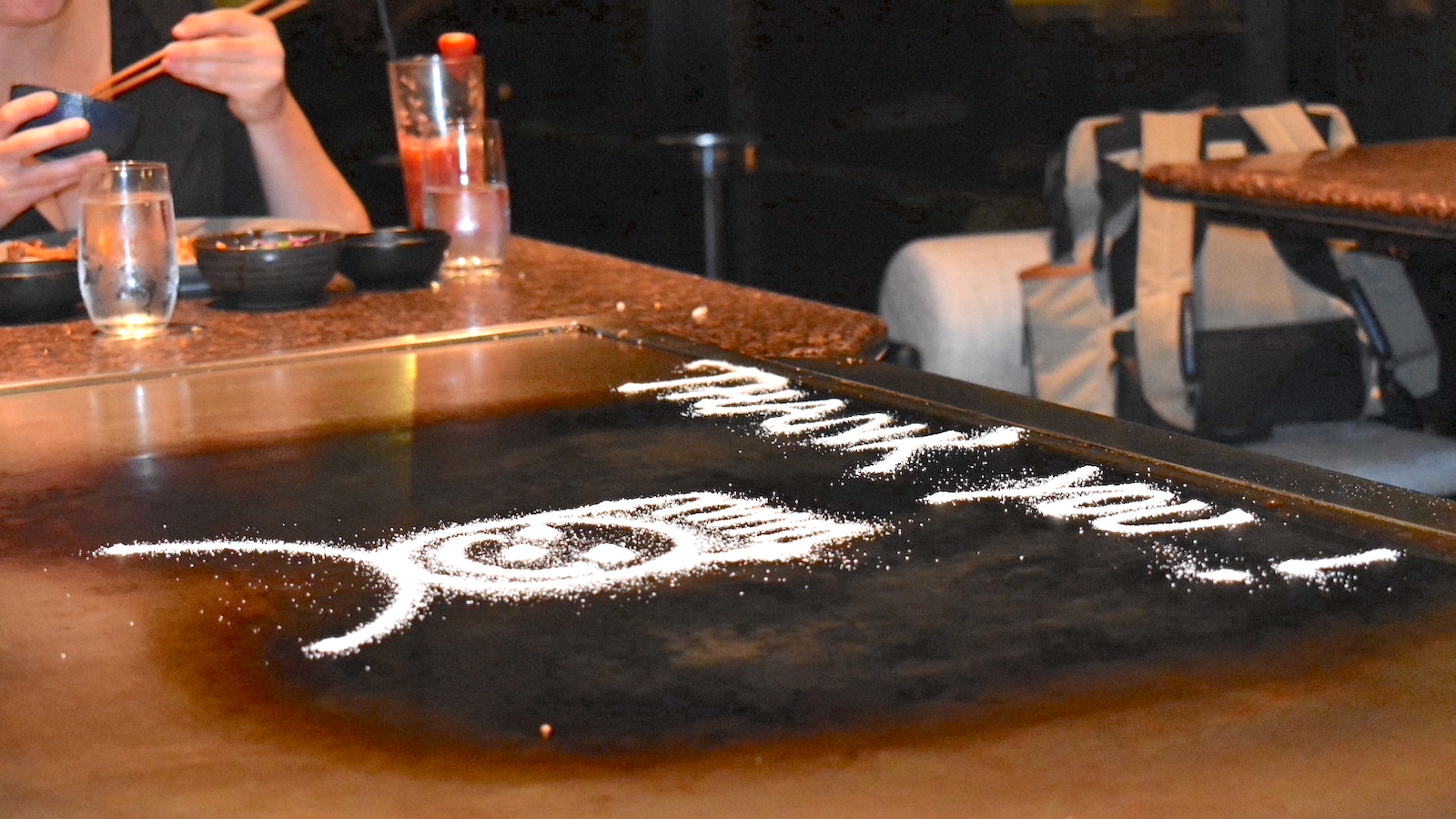 As with many Tepanyaki restaurants, half the fun and experience is in the entertainment provided while the food is being prepared, and Misono definitely didn't disappoint. From flying prawns being caught in the chef's hat, to egg pieces testing the mouth-eye coordination of Misono guests, the dining experience was an enjoyable one. Except perhaps for the poor lady sitting at my table who just could not master catching an egg piece. But even she walked out with a big smile at the end of the dinner.
Chapter & Verse
Chapter & Verse is located on the ground floor of the hotel, with one side of the bar facing the interior lobby area of the hotel, while the other fronts the outdoor pool area.
I was lucky enough to have the Chapter & Verse Manager, Alex, who kindly organised my trip review to JW Marriott, also prepare and serve my cocktails for the evening.
The bar menu is extensive, with everything from red, white and dessert wines, to spirits including vodka, gin, rum & cane spirits, tequila & mezcal, American bourbon whiskey, whiskey, cognac, brandy, port, sherry blended, aperitifs and liqueurs are all on offer. The main delight however is the bar's Signature and Classic cocktails.
I settled on 2 drinks, one being an aperitif before my dinner at Misono and the other was an "off the menu" cocktail available by request only.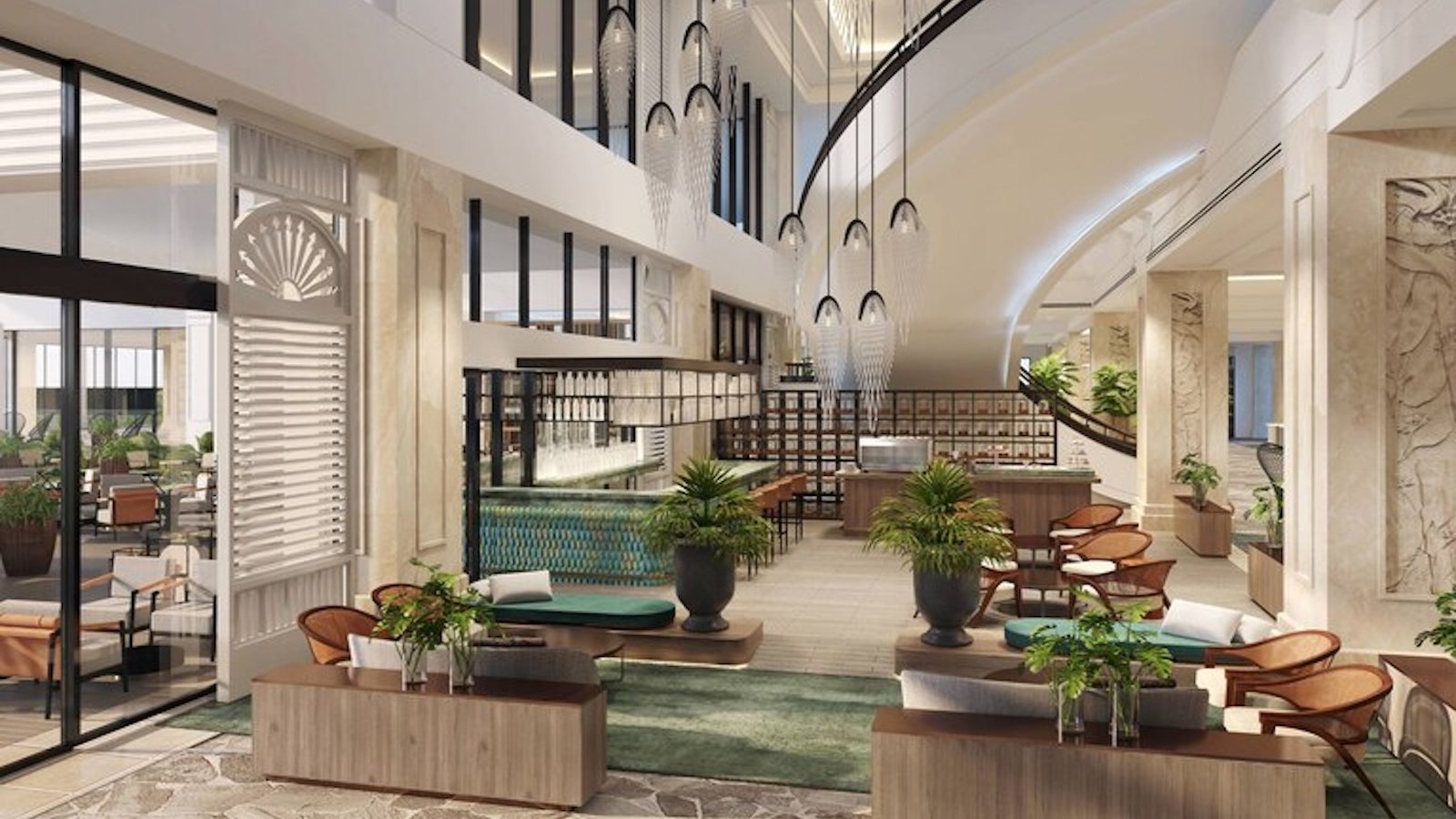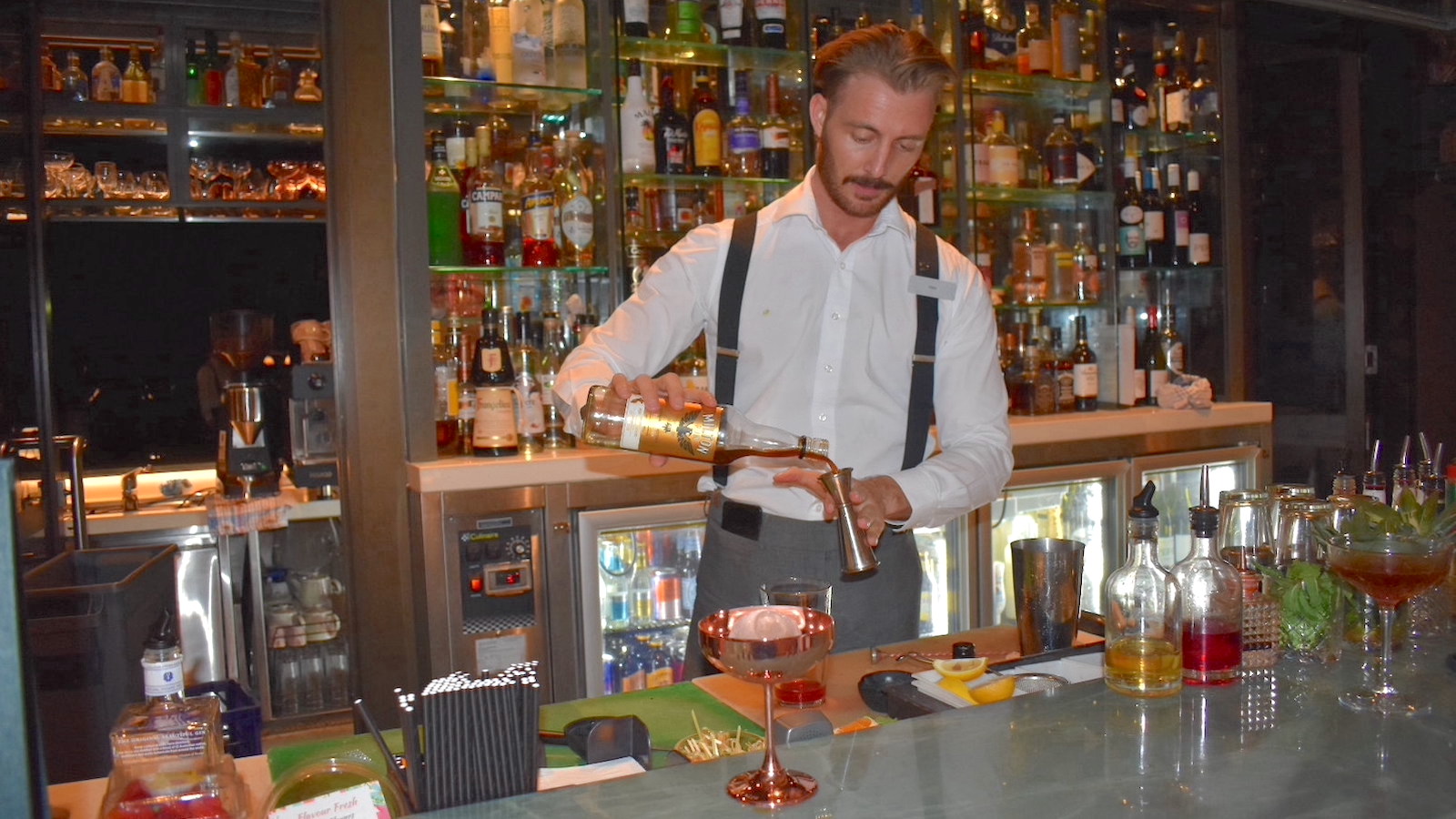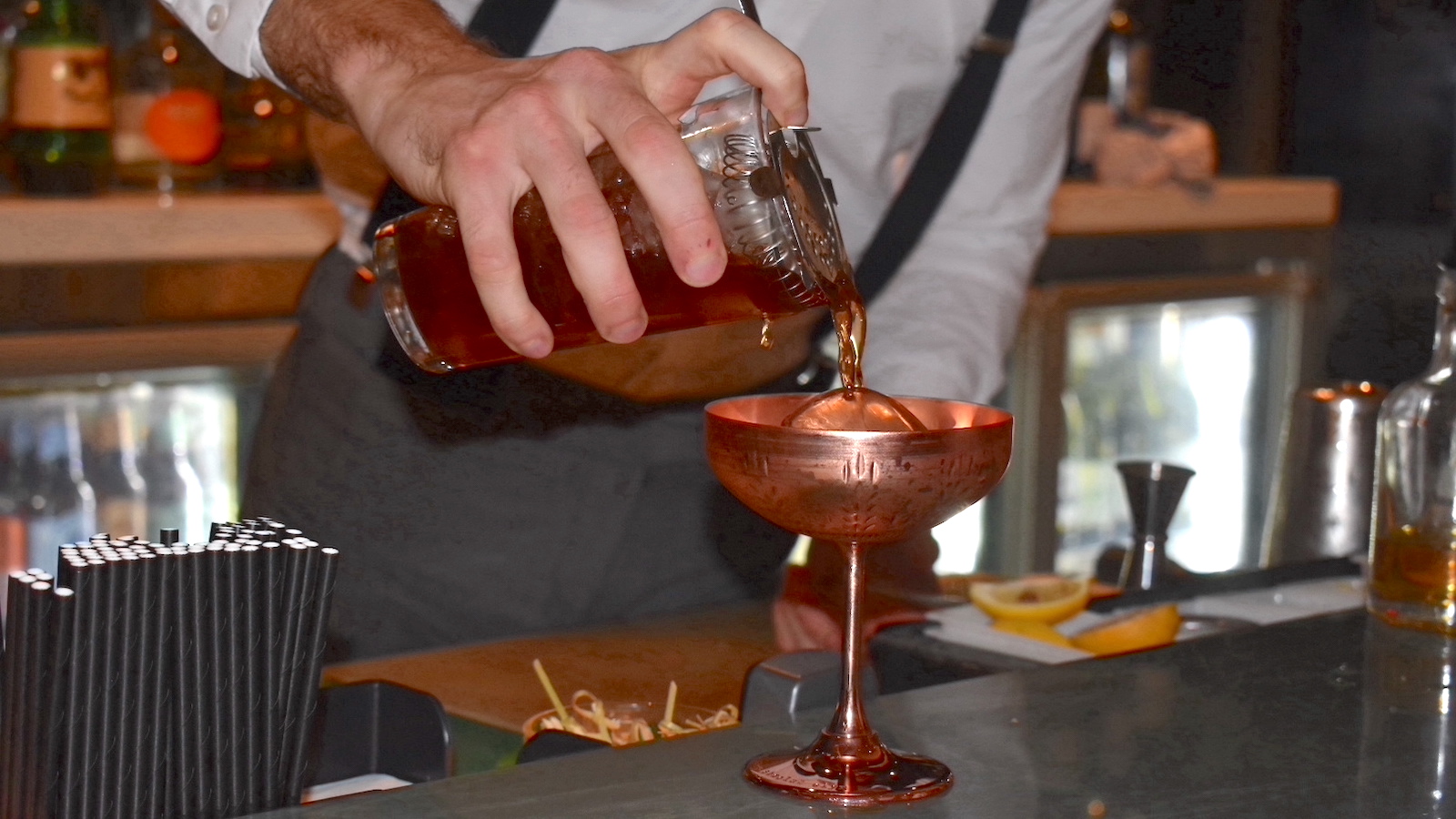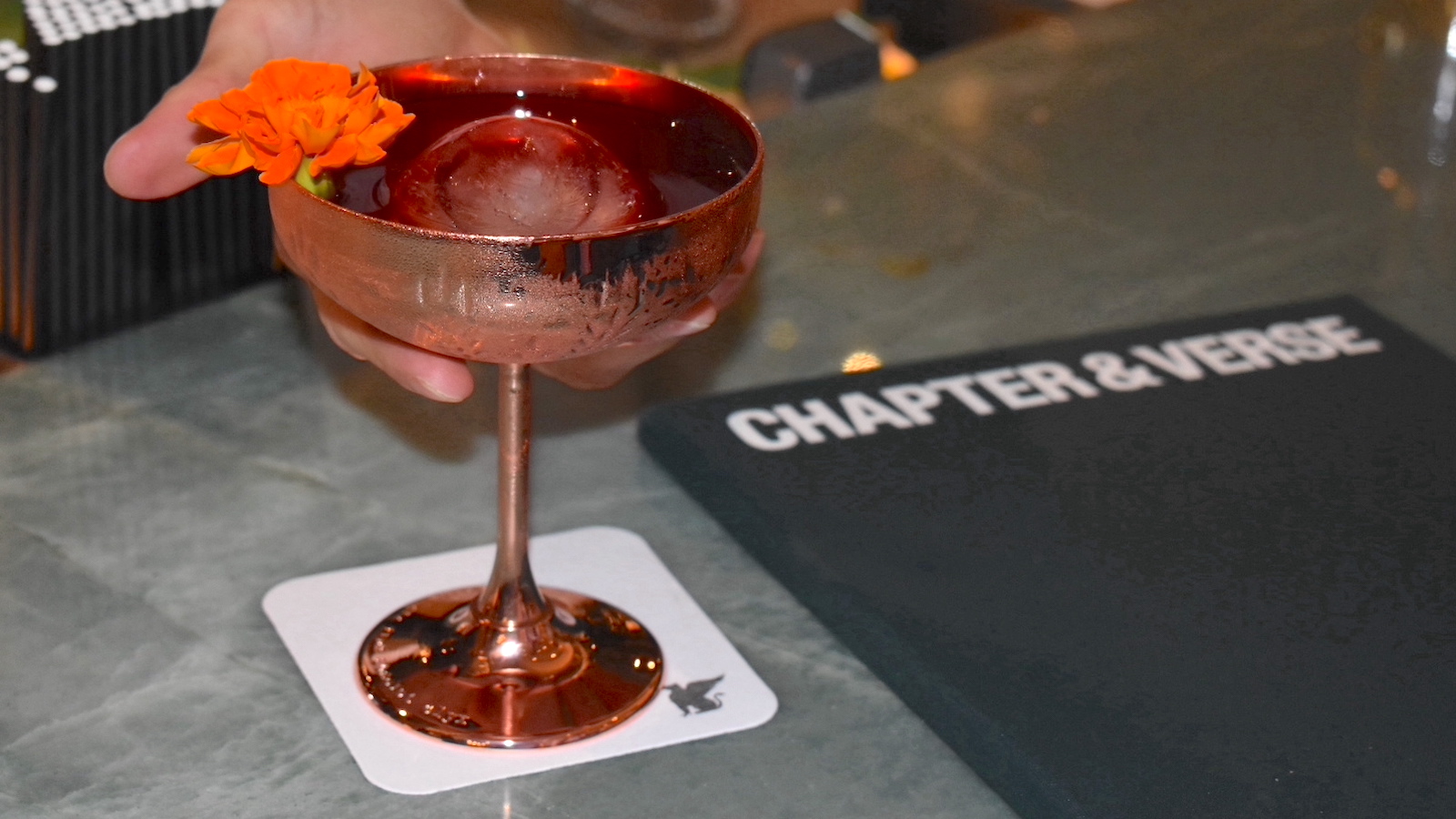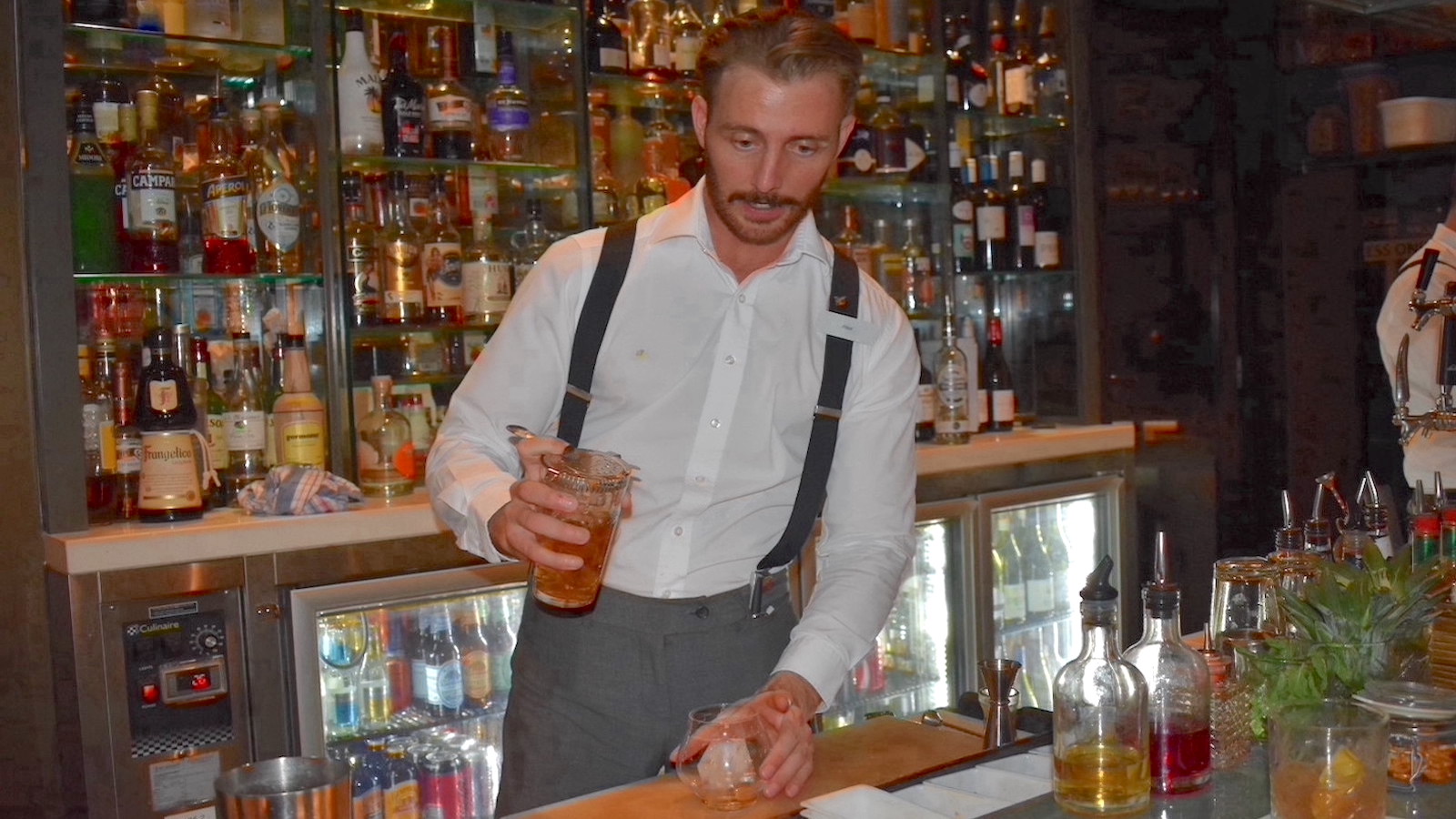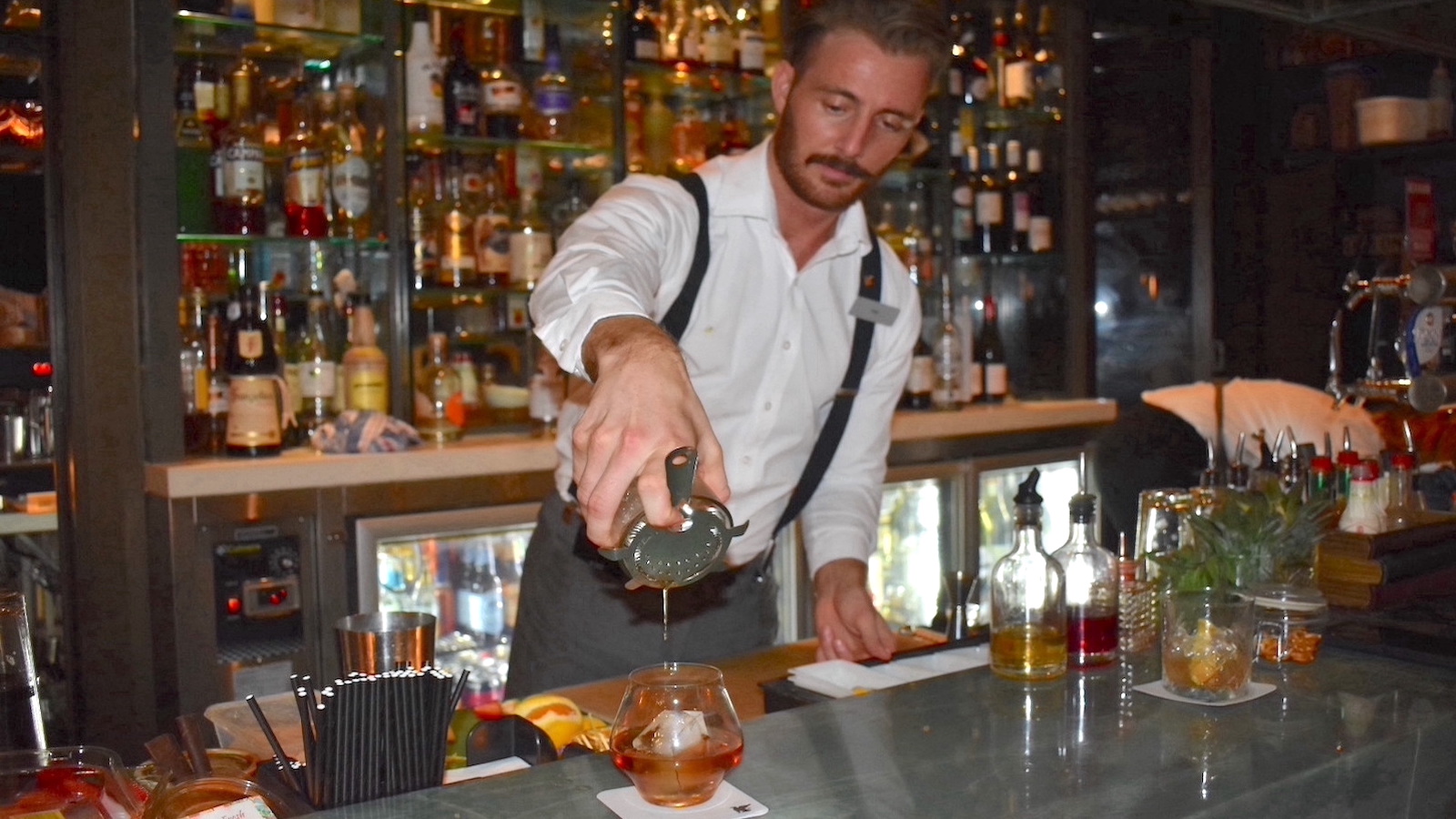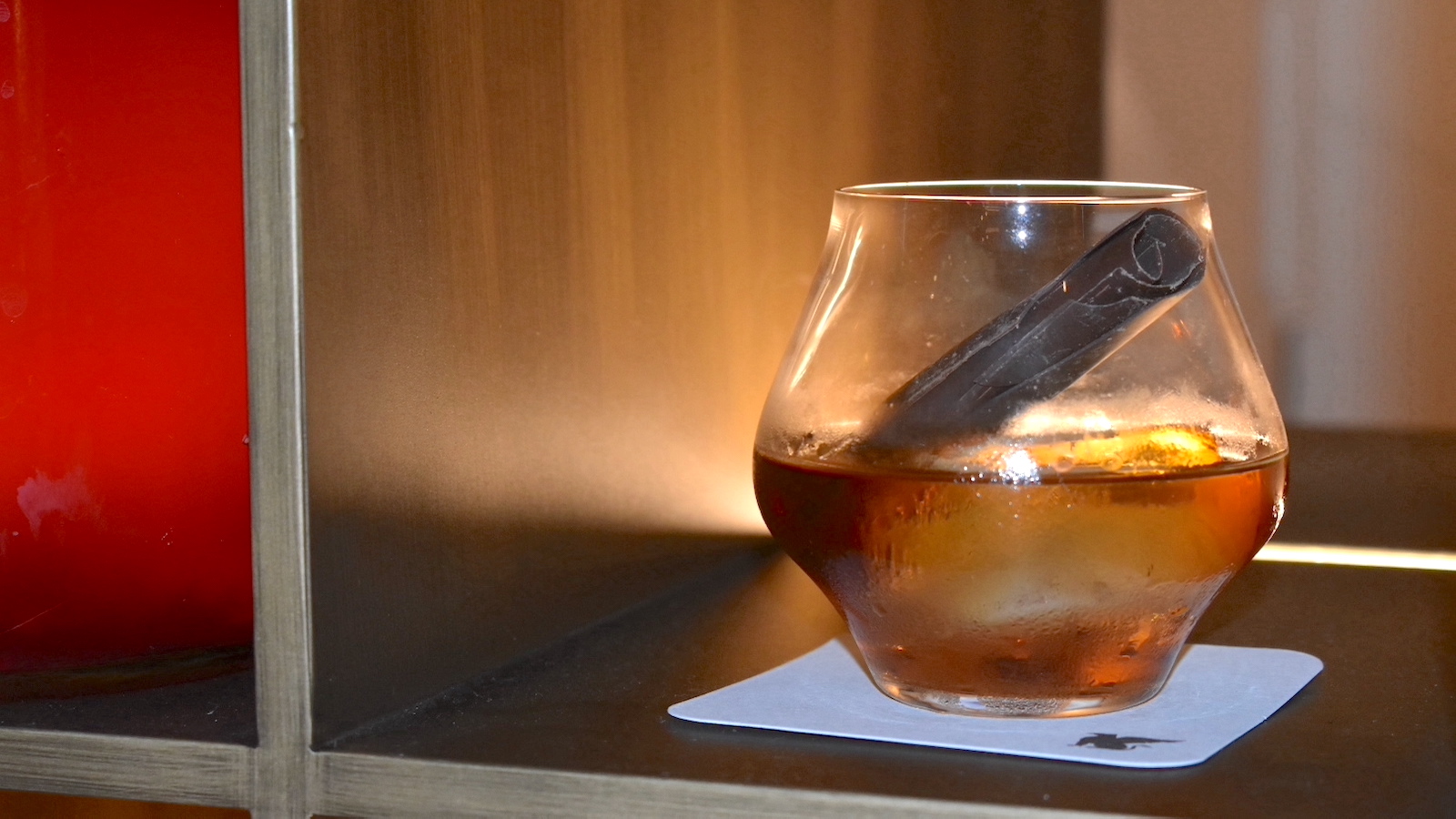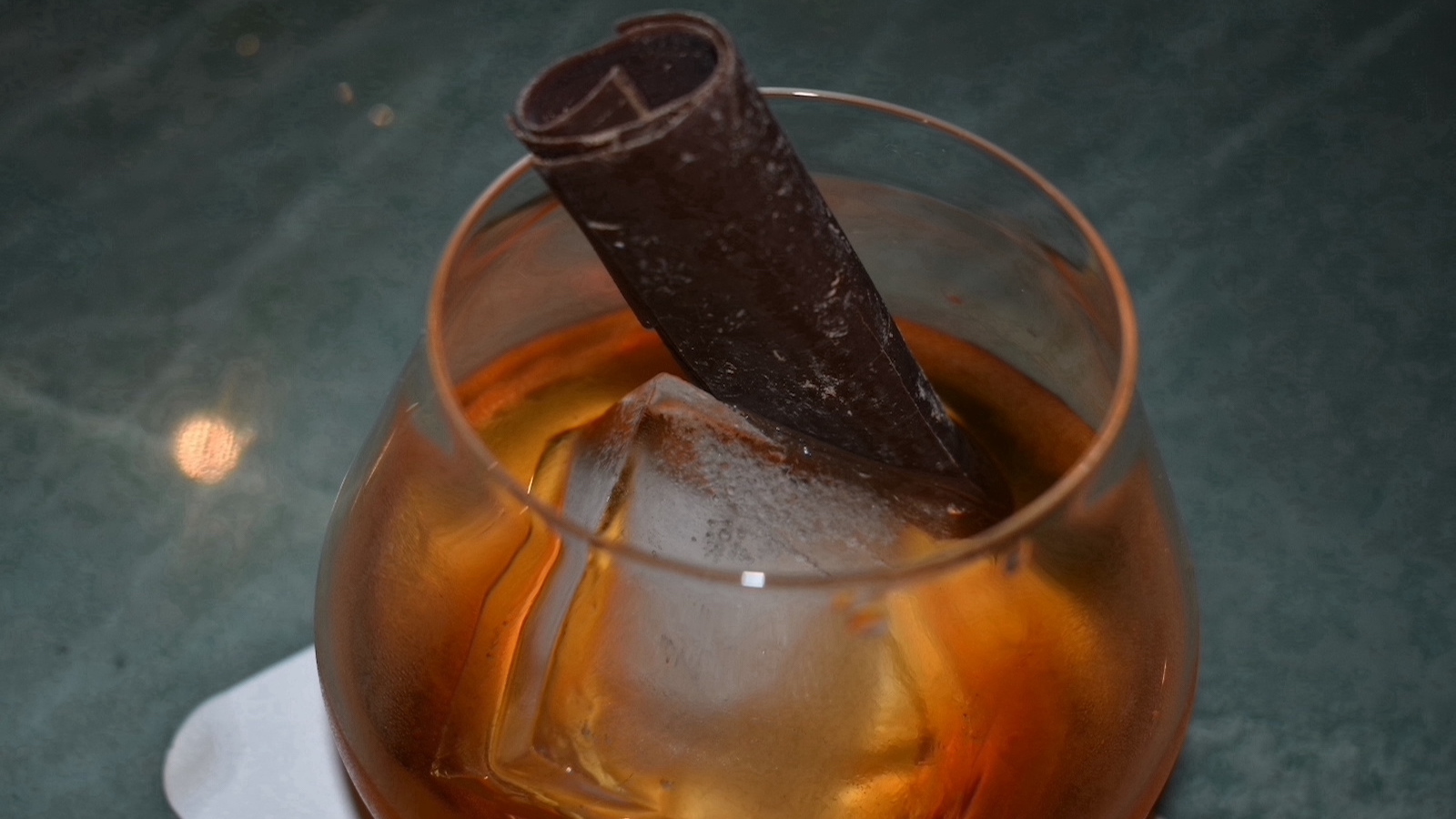 My aperitif was a Negroni's Coffee Swap, which included Milton Coffee Rum, Dubbonet Rouge, Amaro Montenegro, Campari and rhubarb. Mr Niagroni of Florence of Italy was known to swap soda for gin in his Americano. Chapter & Verse swap the gin for a local coffee rum, giving the cocktail a flavour of Tamborine Mountain (a Gold Coast hinterland suburb) coffee beans. It was a great blend between bitter and sweet flavours and definitely lived up to its goal of stimulating my appetite.
Upon my return from dinner at Misono, I was served an "off the menu" chocolate rum old fashioned. Again, this cocktail was a great mixture between bitter and sweet that went down incredibly smoothly.
JW Market
With the refurbishment, the hotel added a signature JW Market, which is a café and marketplace that fosters authentic connections to locally crafted products and produce.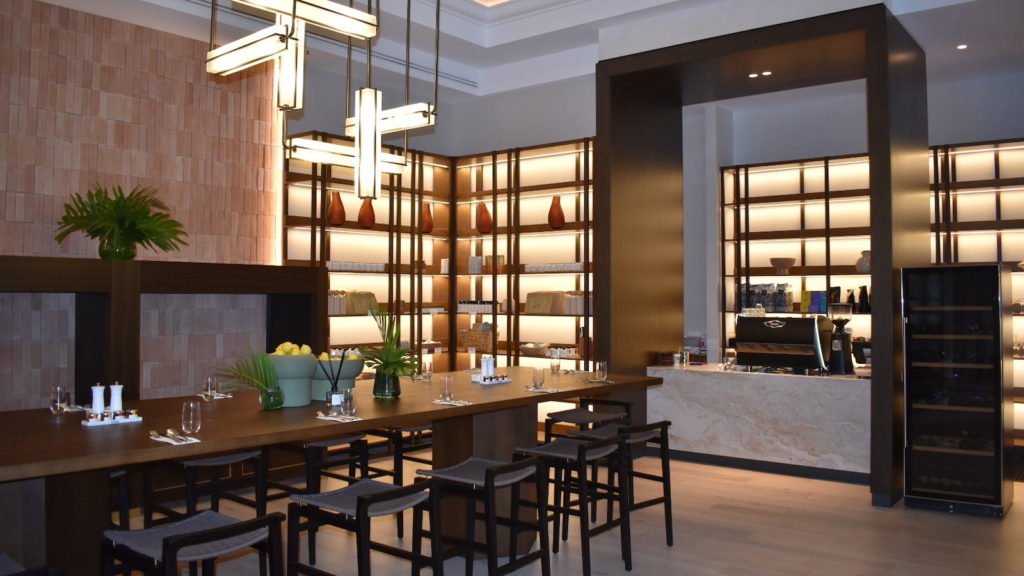 At the time of my visit, the JW Market was in the final stages of renovation.
Fitness Centre & Basketball, Tennis Courts
The hotel includes a fitness centre that contains machine and free weights, along with treadmills and other cardio equipment and is open 24 hours a day.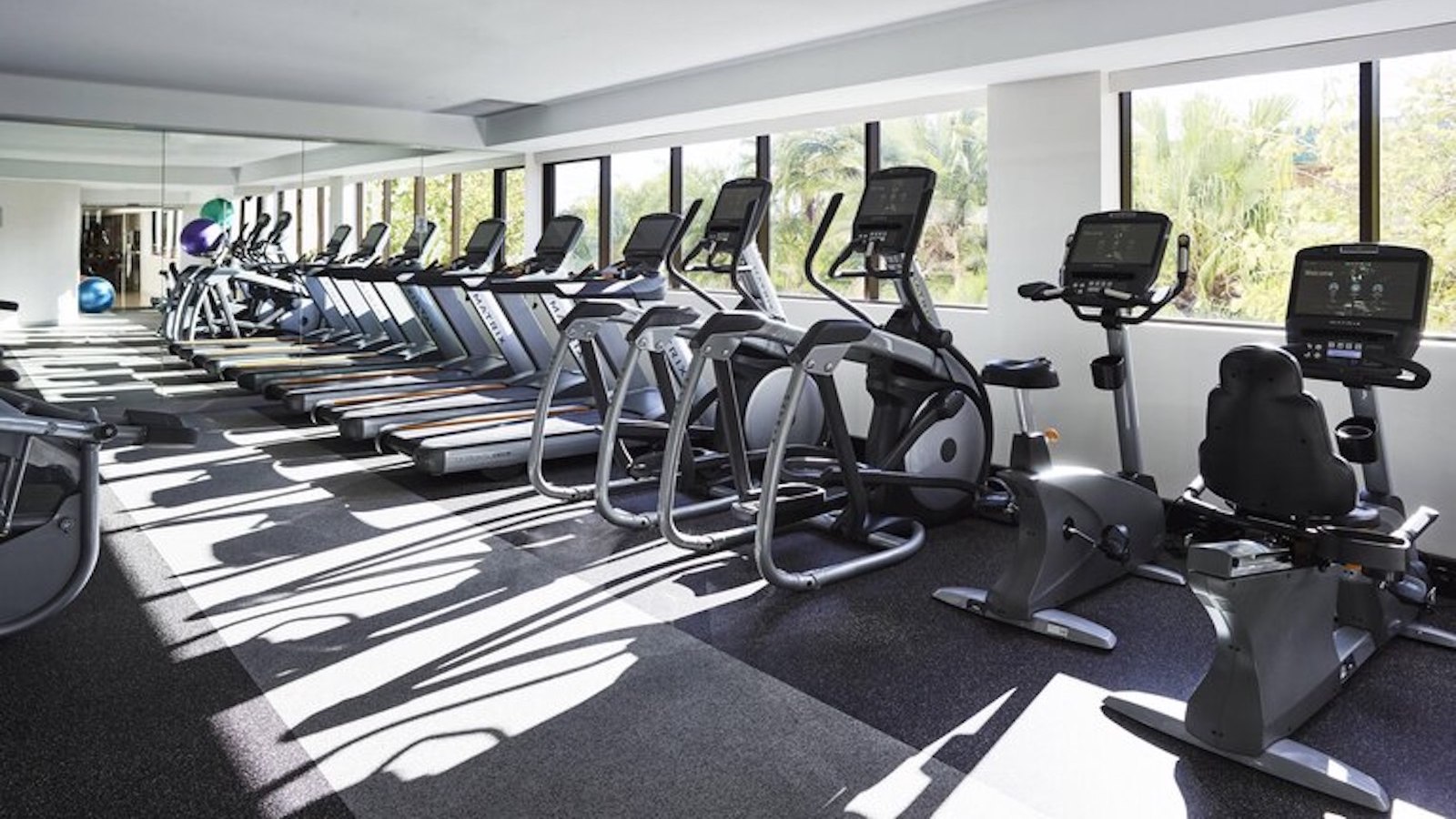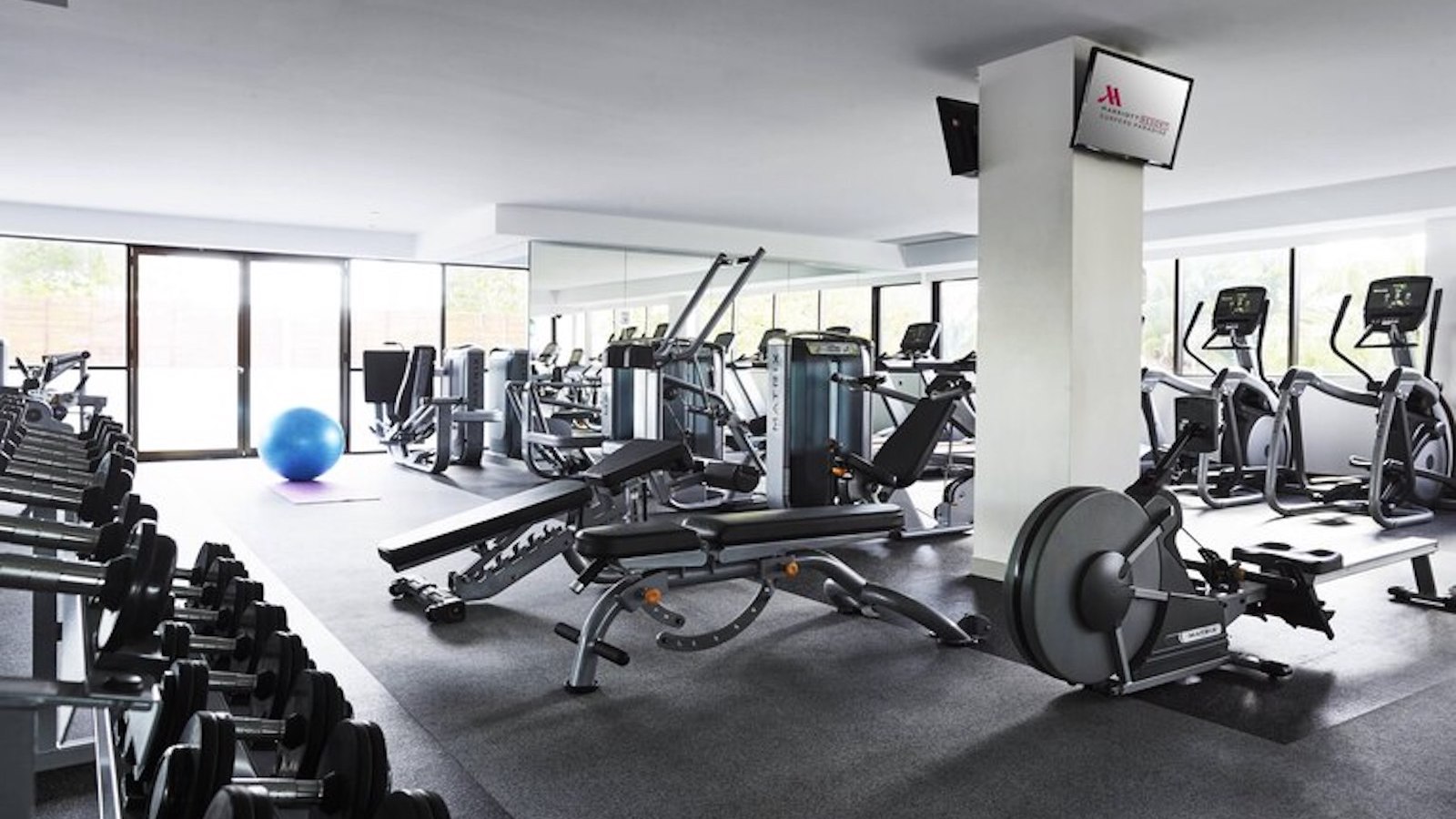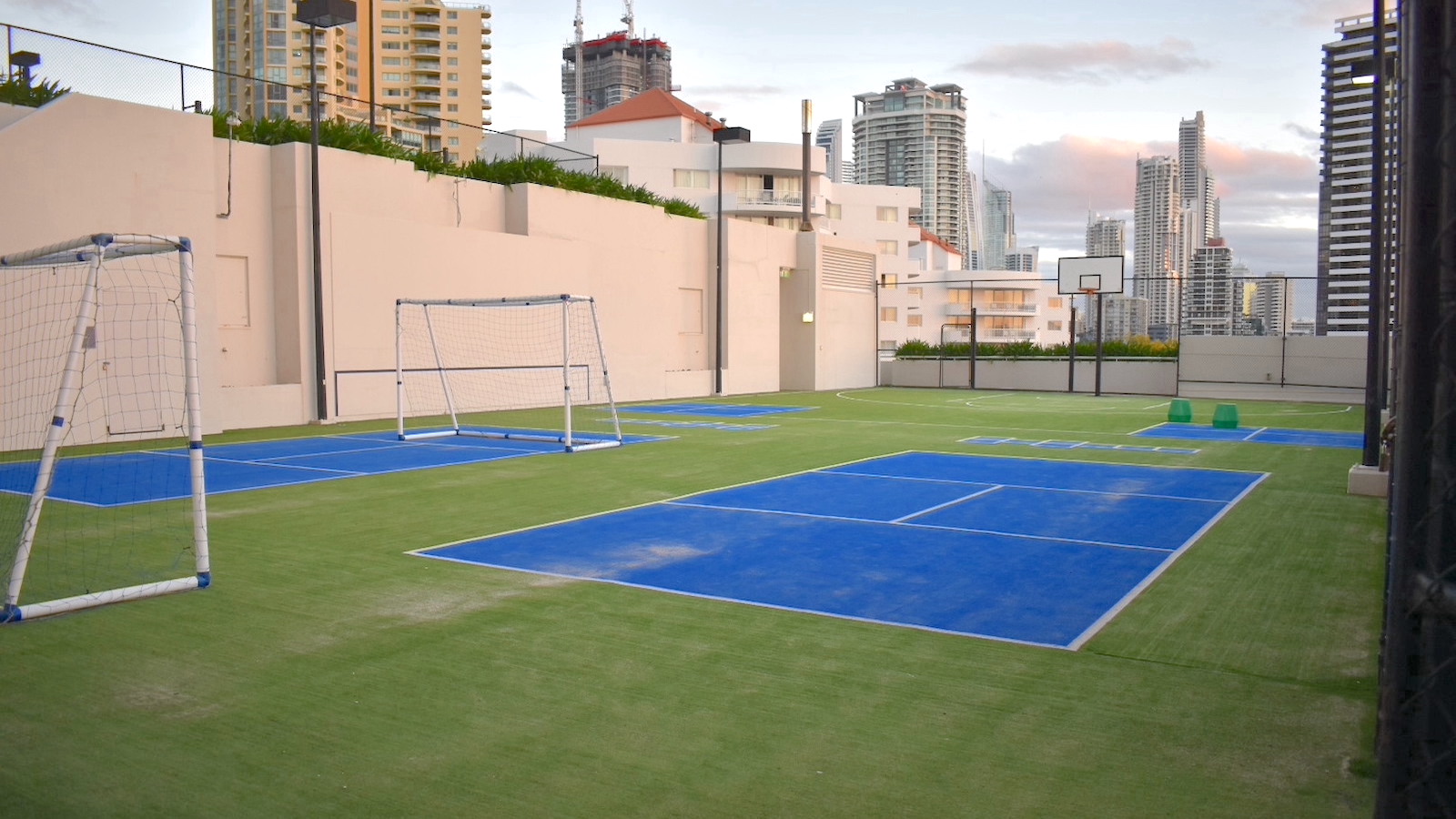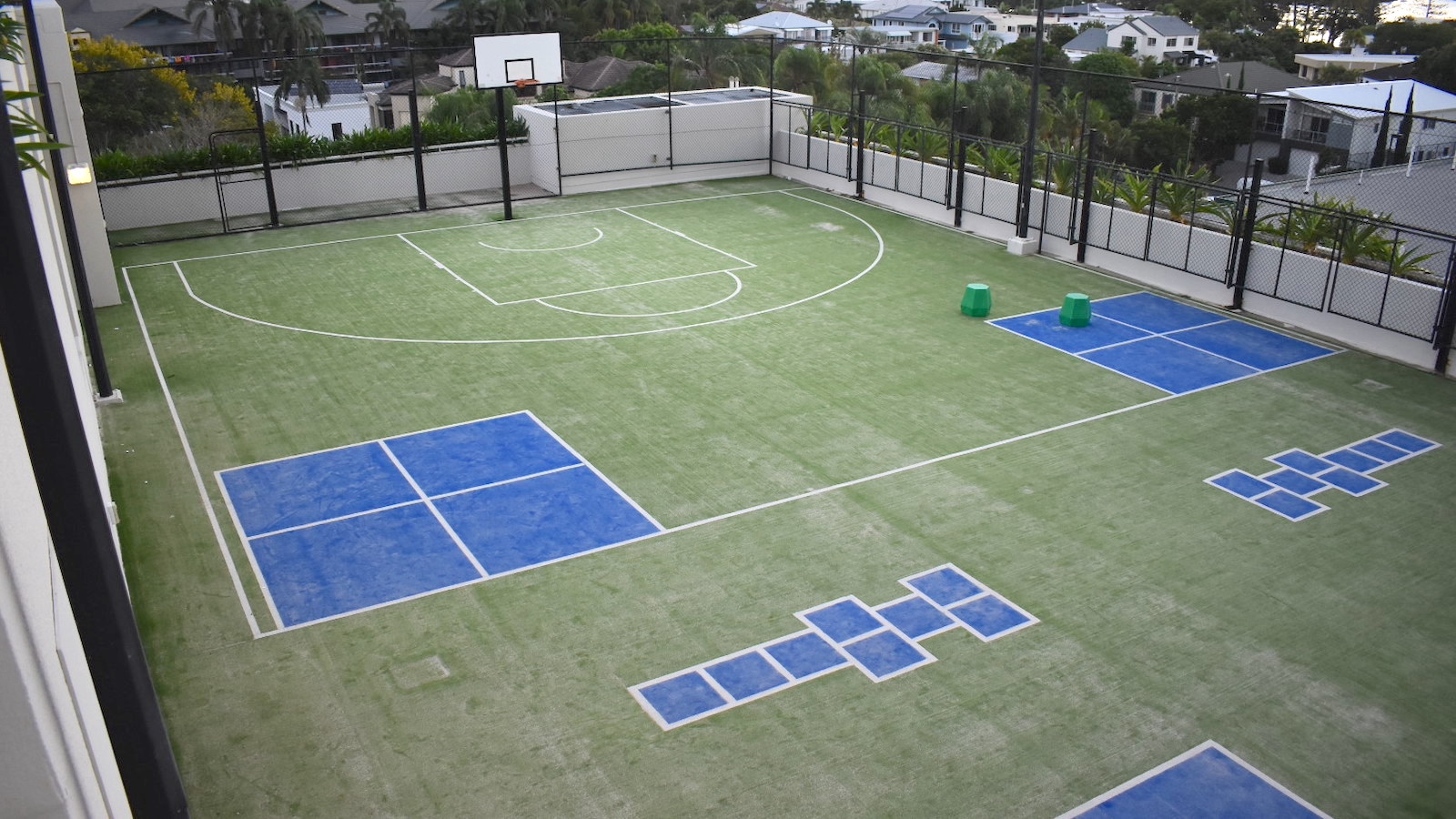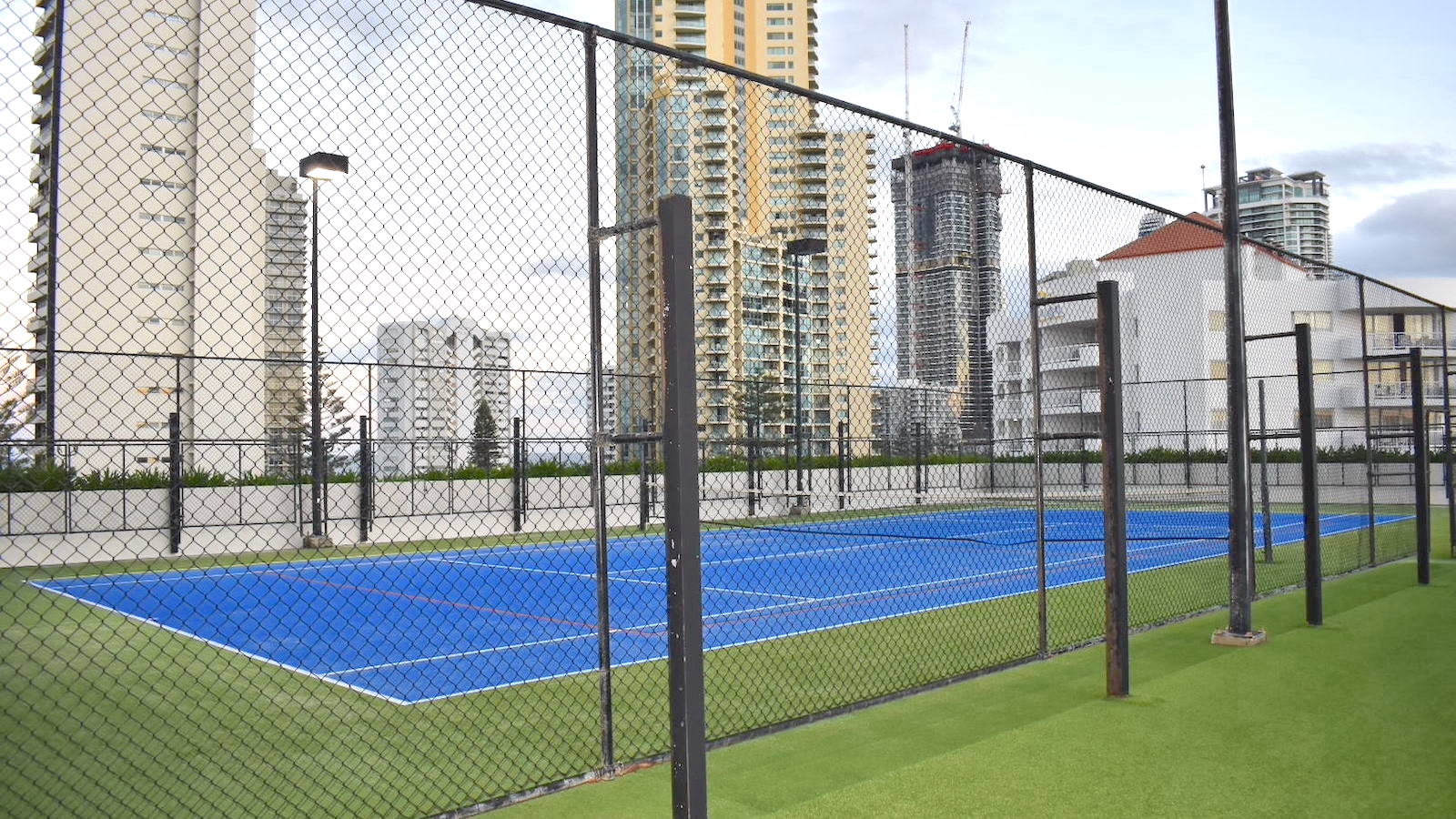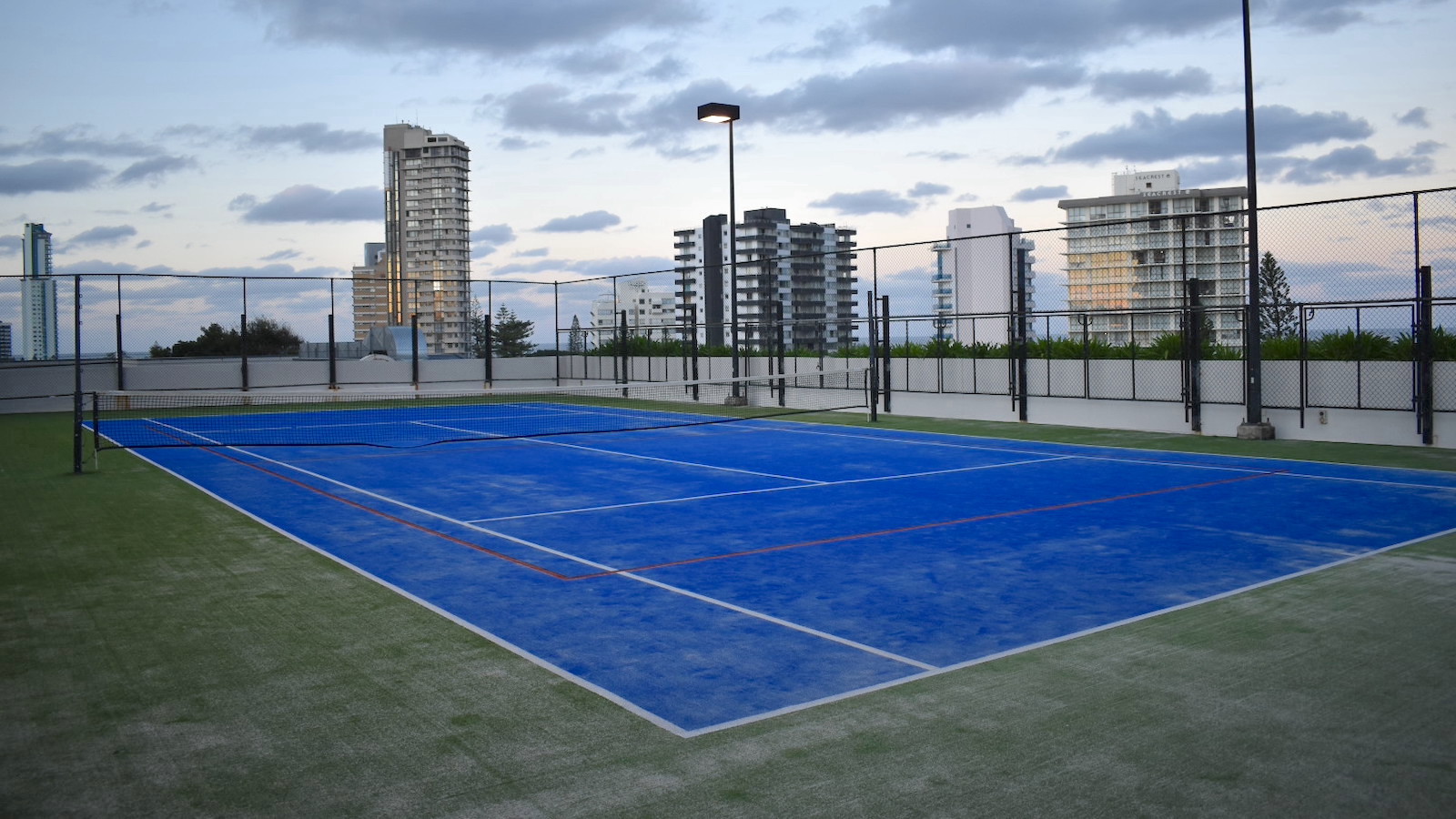 On level 3 of the hotel, there is an outdoor court area that can be used for basketball, soccer and other kids activities like hopscotch. An outdoor synthetic grass tennis court is also available offering some great views of the Surfers skyline while you have a hit.
The hotel also organises bike tours for guests.
The Beach + Freshwater and Saltwater Lagoons
One of the main attractions of the hotel that keeps bringing in return visitors year on year is their beach and lagoon area.
Consisting of an outdoor pool with sand and a whirlpool area, along with freshwater and saltwater lagoons, there is an area to satisfy all interests. For over two decades, the freshwater lagoon has been hit, offering guests the ability to snorkel and preview the amazing fish that live within the lagoon.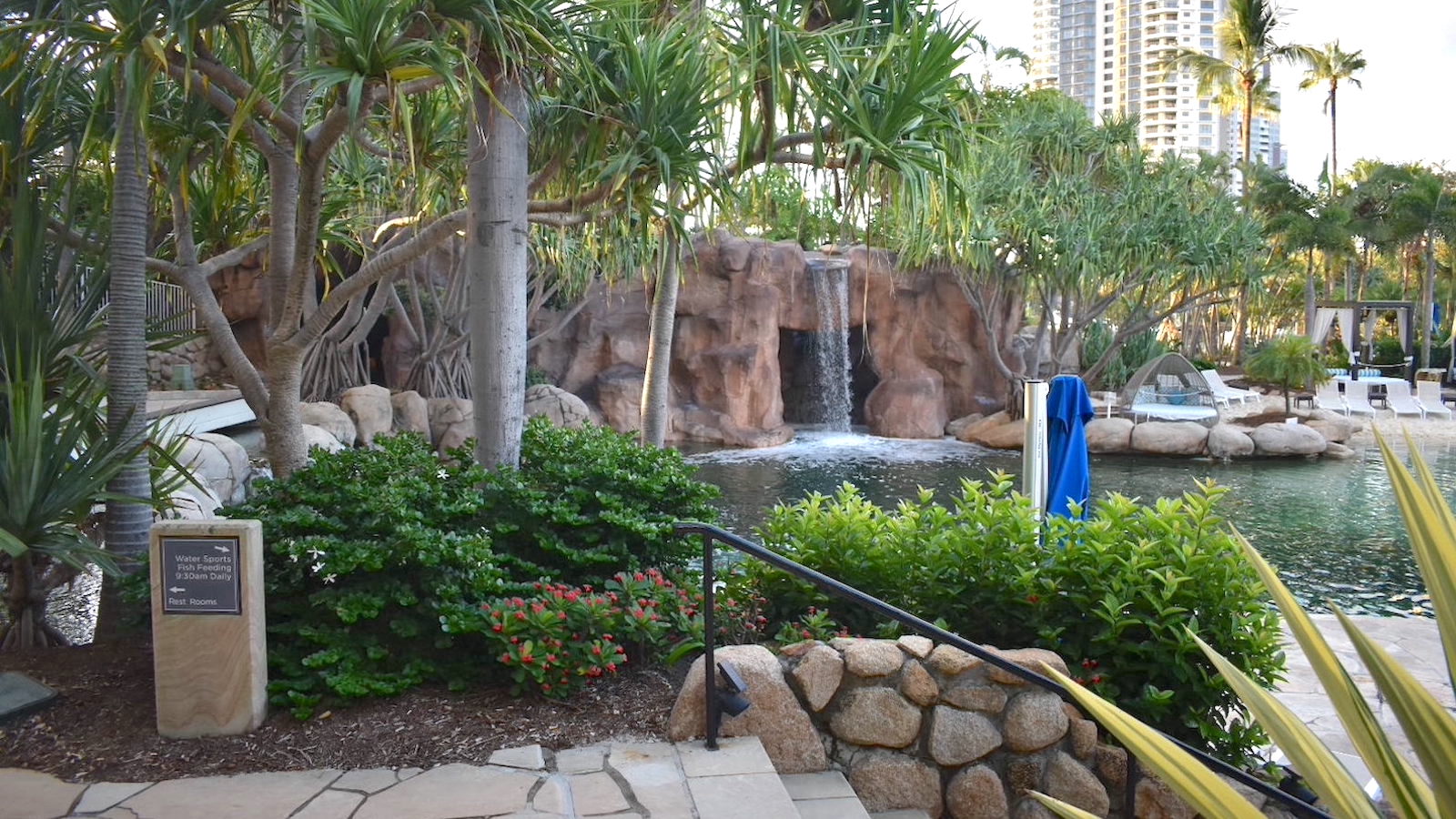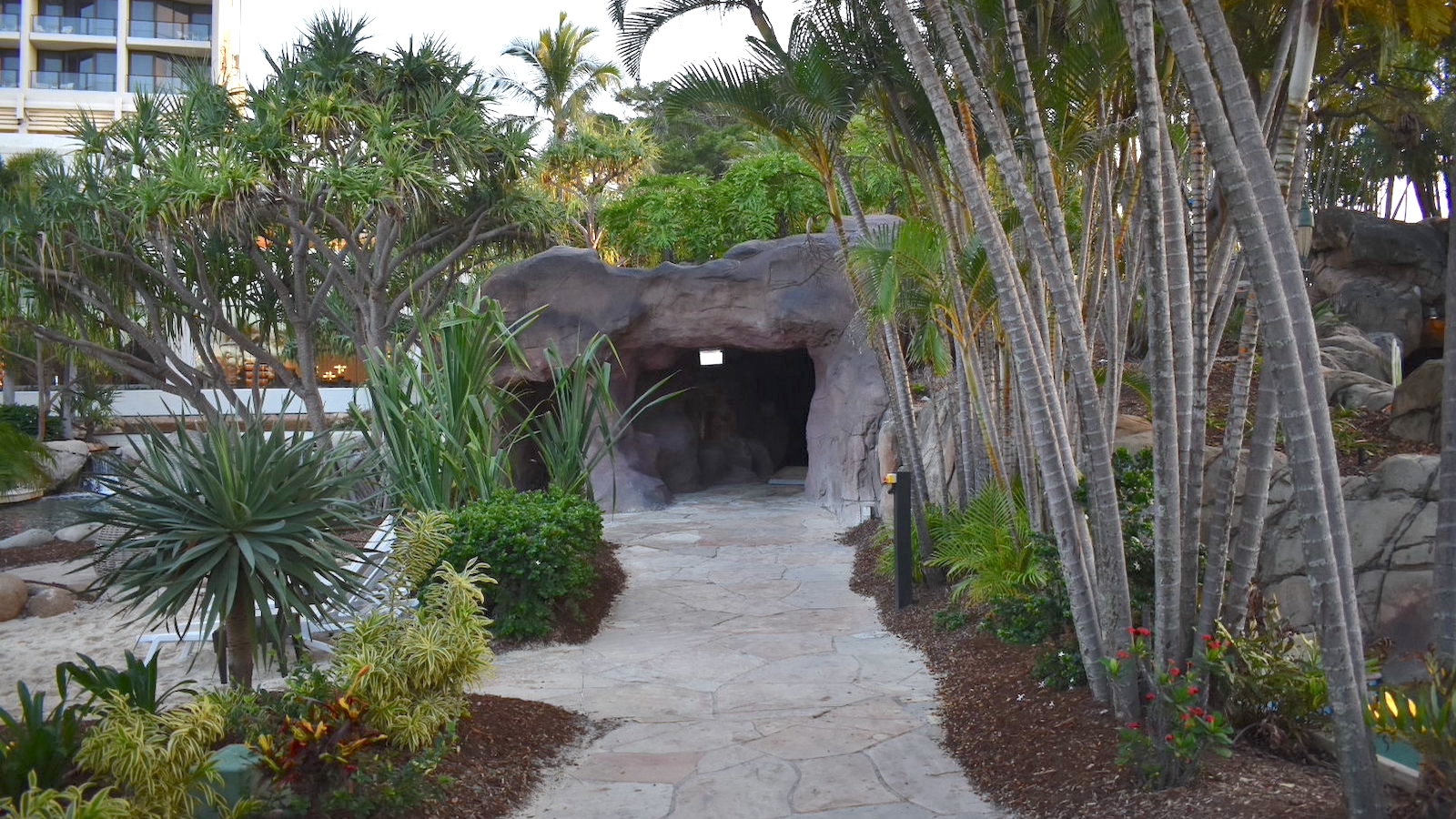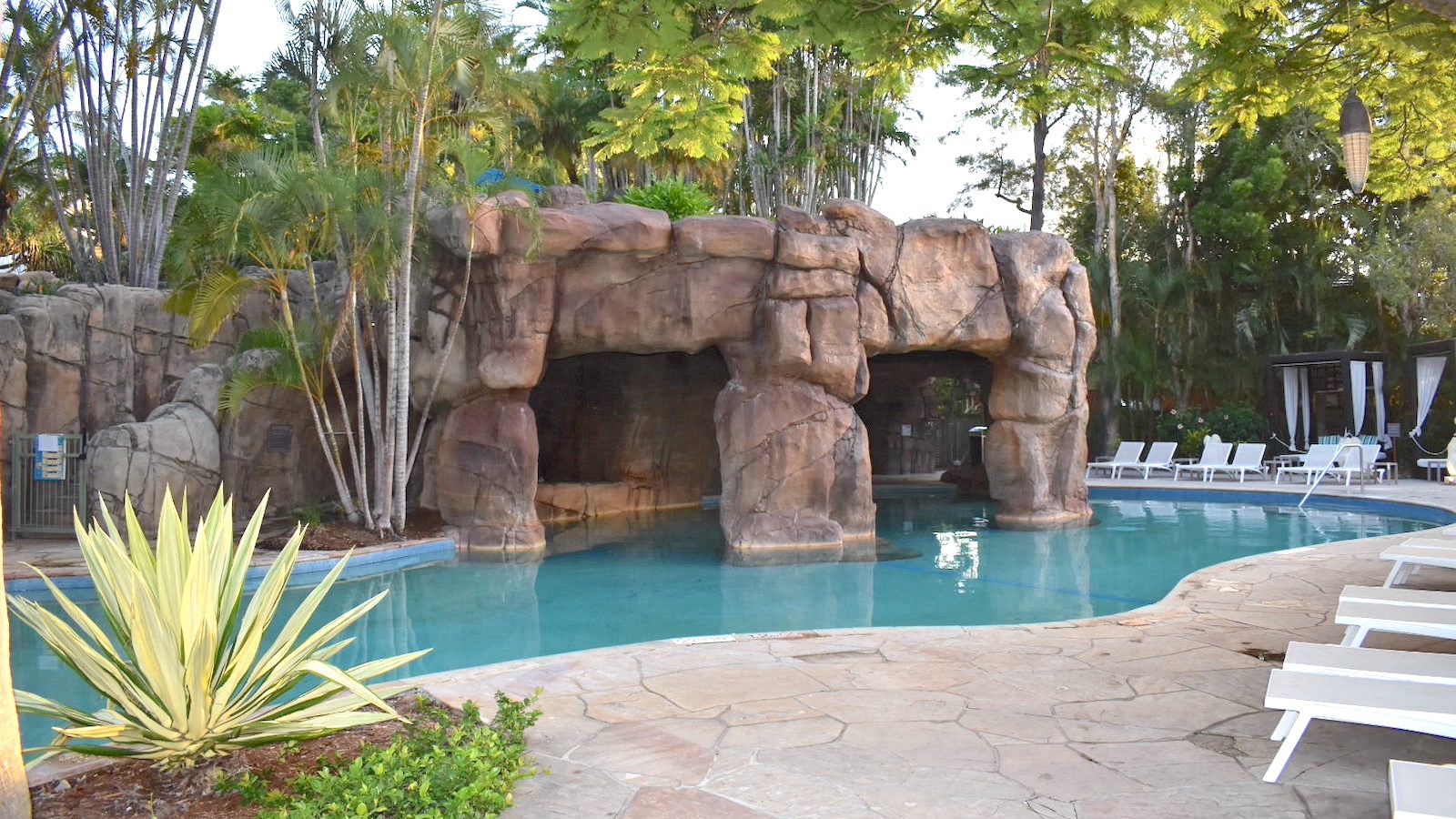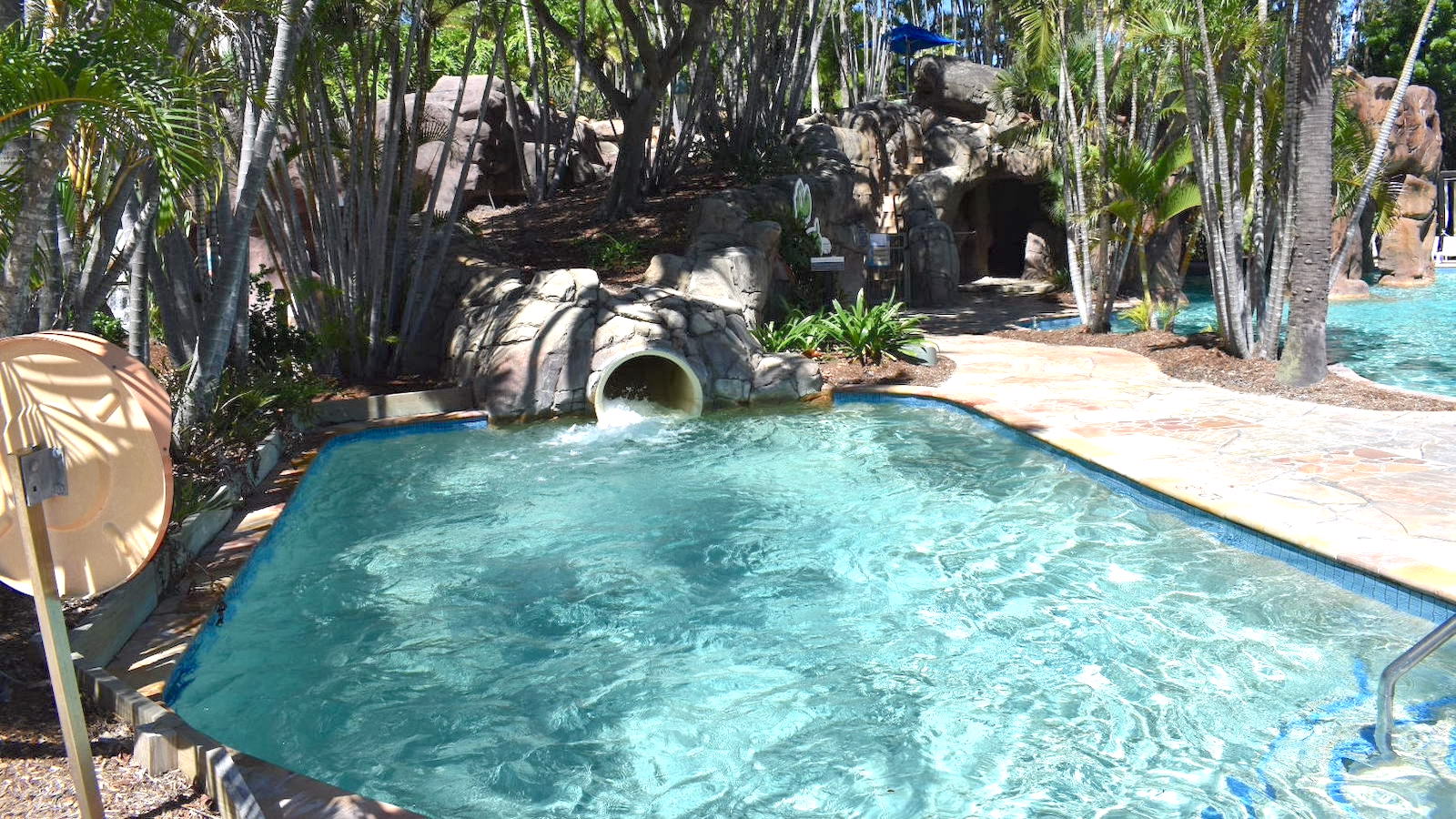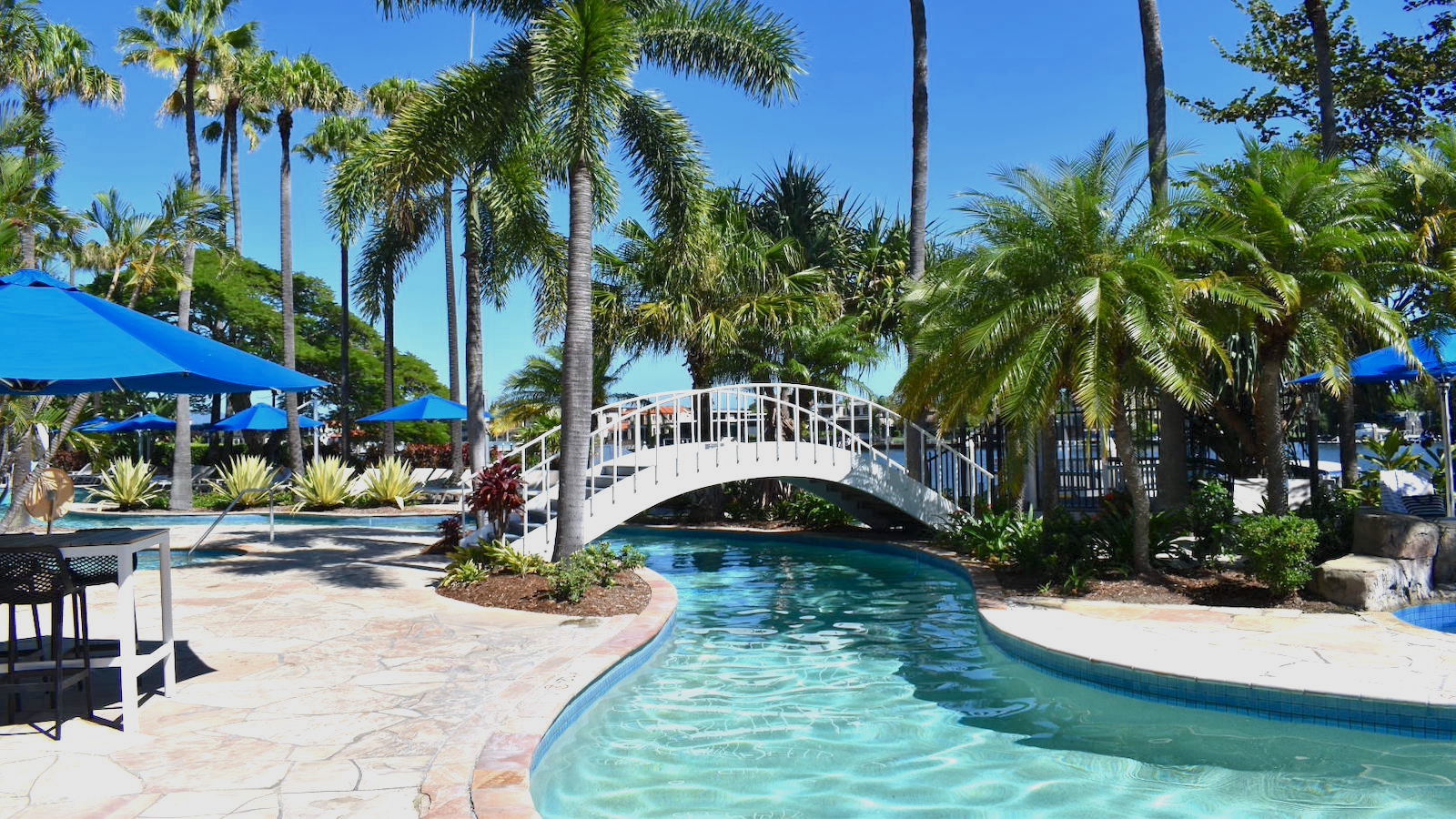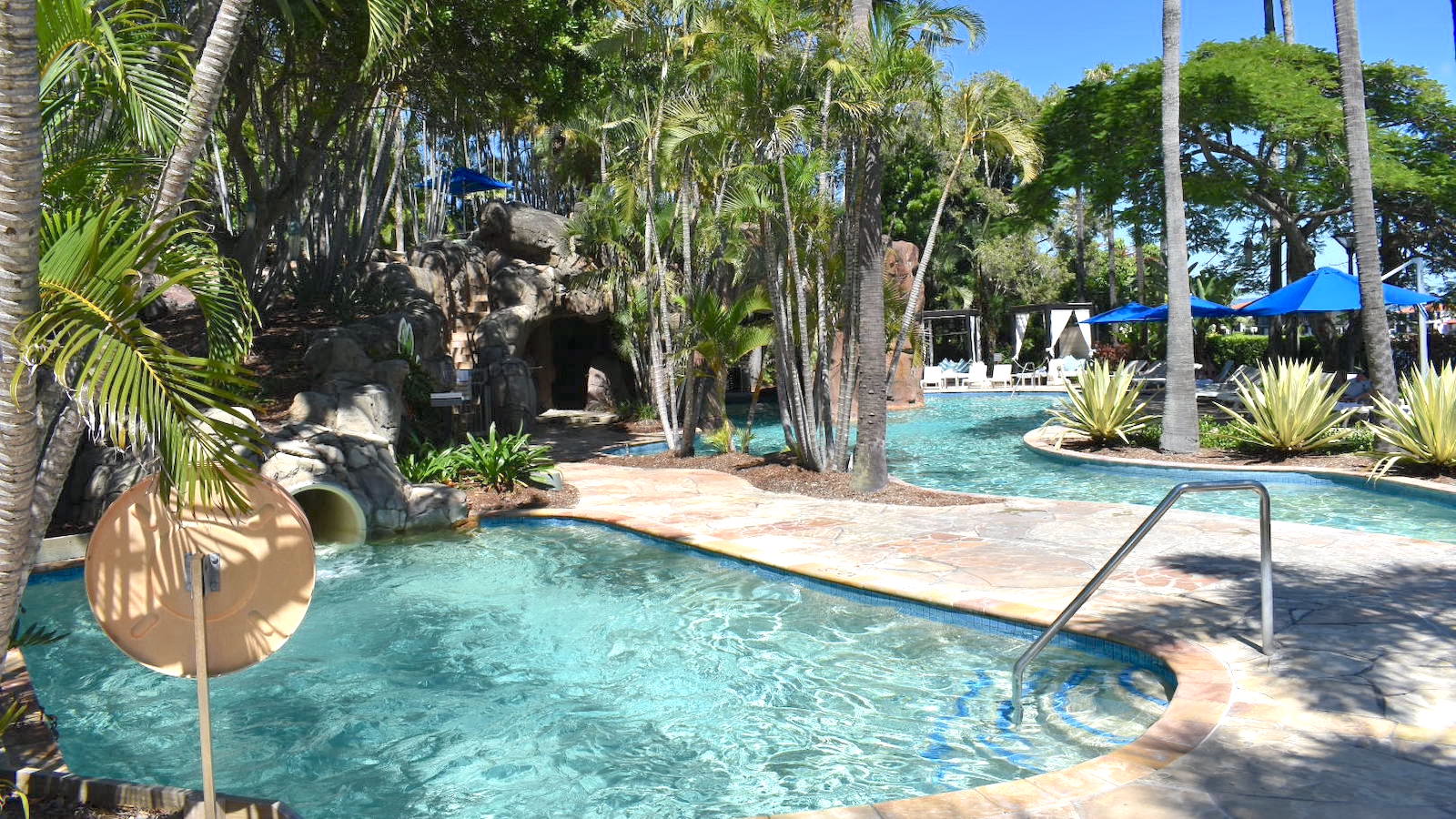 There is also small caves and waterslides that provide an added adventure for the kids.
The Secret Spot
For those looking to make the most of a relaxing holiday on the Coast, or business travellers looking for a quiet place to work, there are 'Secret Spots' located around the outdoor pool area that serves as a quiet haven from the busier confines of the hotel.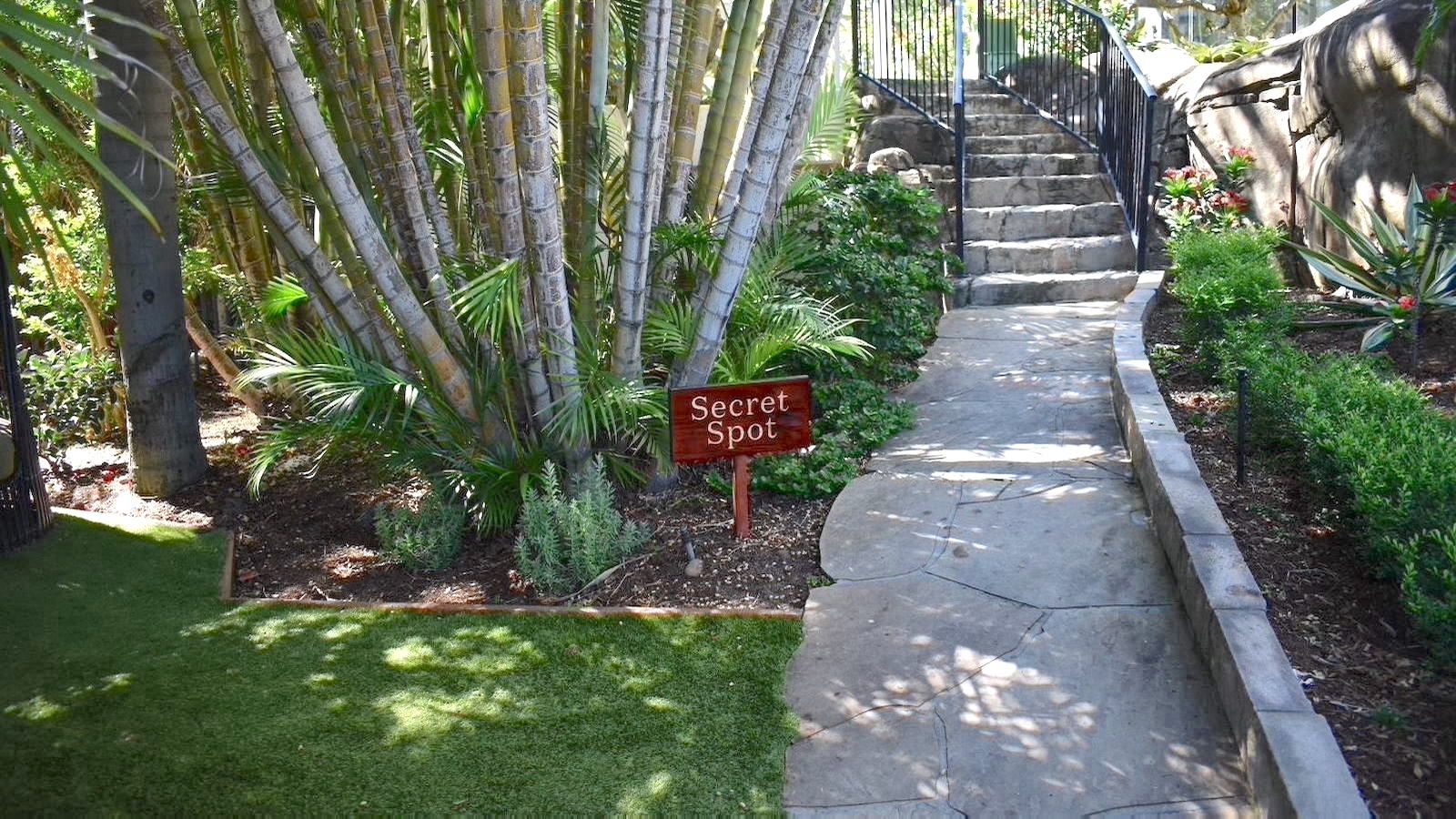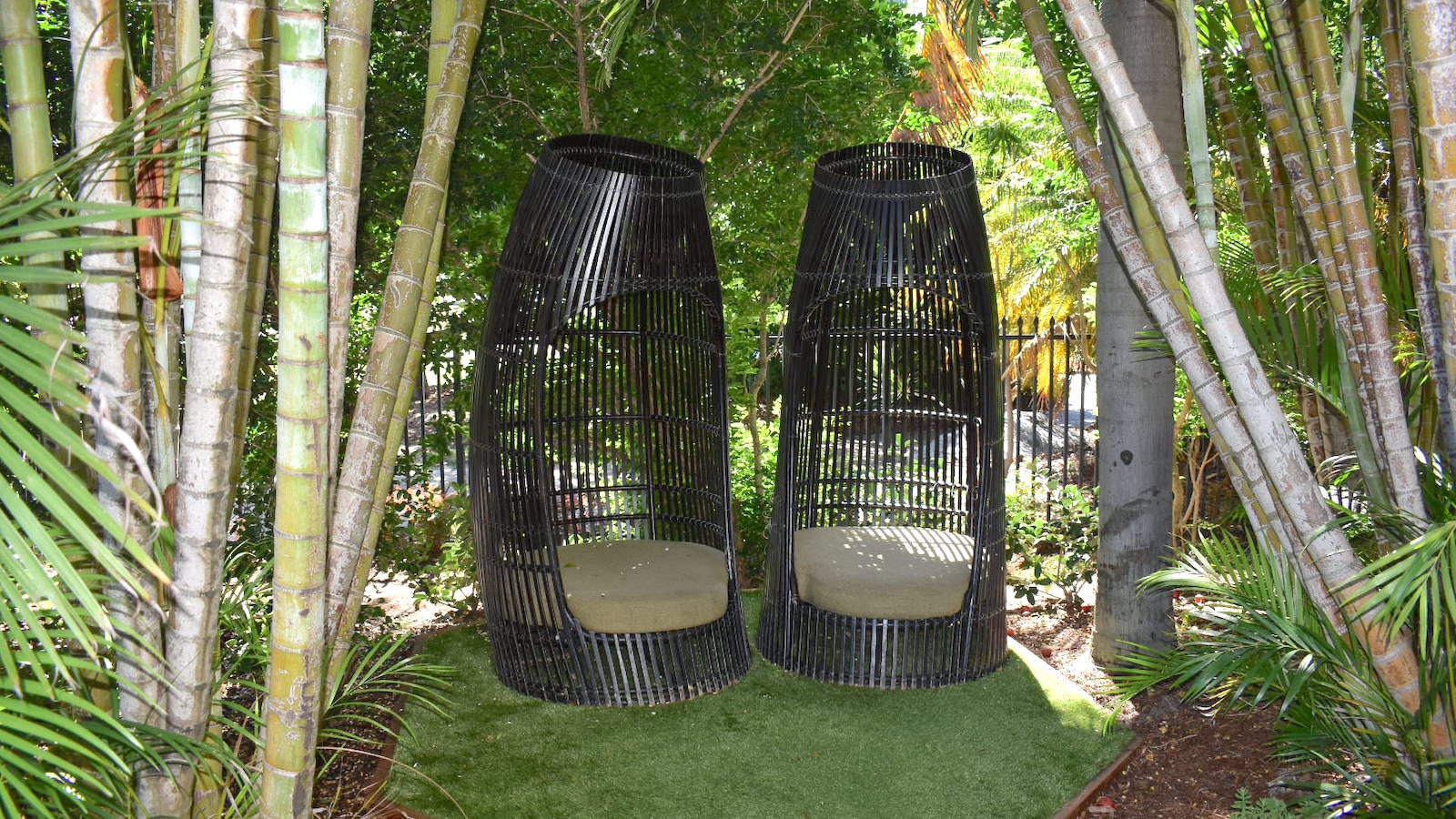 The Garden
The hotel has a newly renovated vegetable garden located at the side and back of the hotel in an area that was previously unused. It was created to showcase the hotel's farm-to-table program, which creates a sustainable way for their chefs to elevate the resort menus with seasonal herbs, edible flowers, fruits and vegetables while honouring a sense of environmental responsibility and encouraging a better relationship to food.
Each day, the hotel provides a tour for the kids and parents to view the garden, which also includes beehives and artistic works.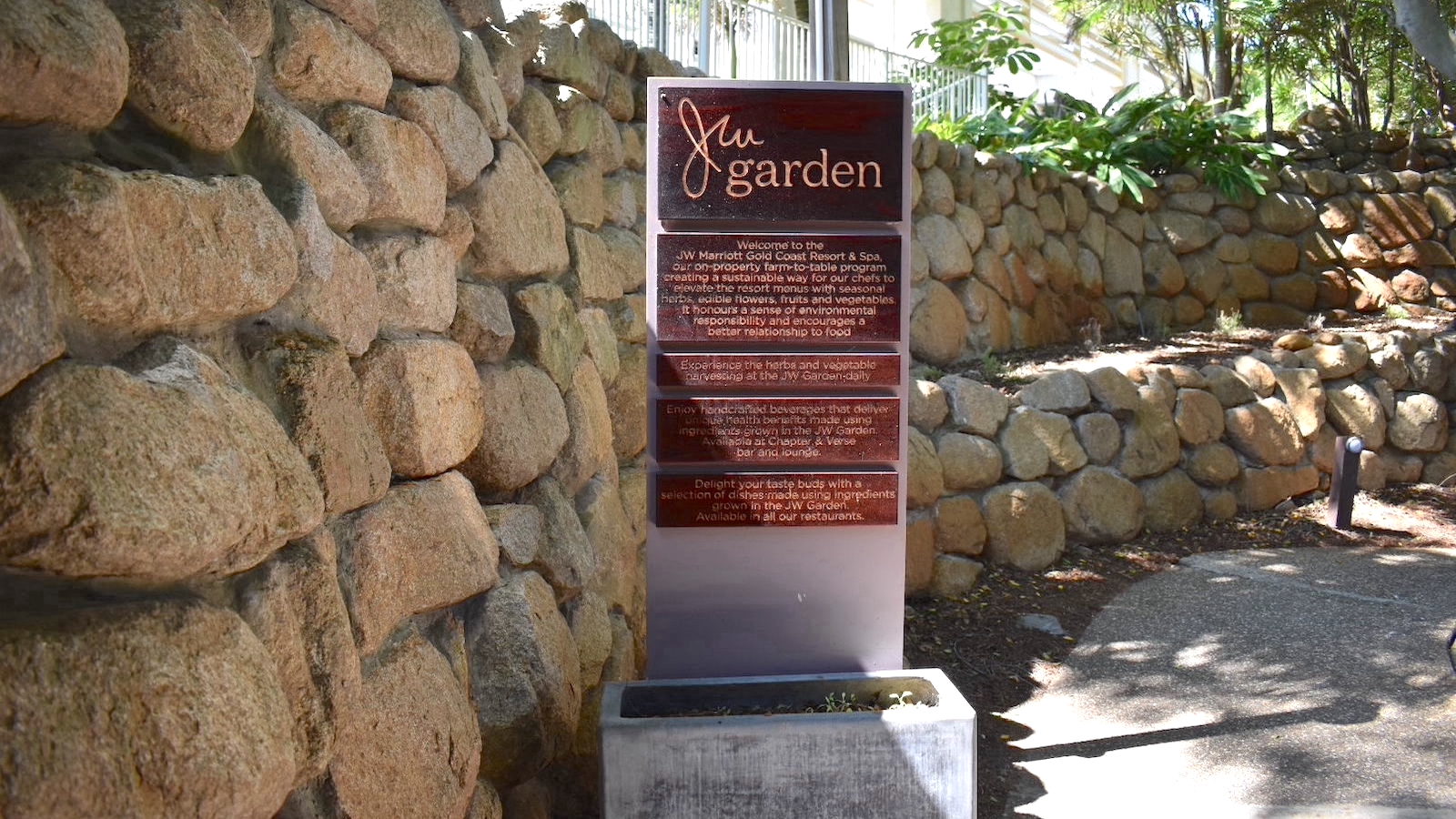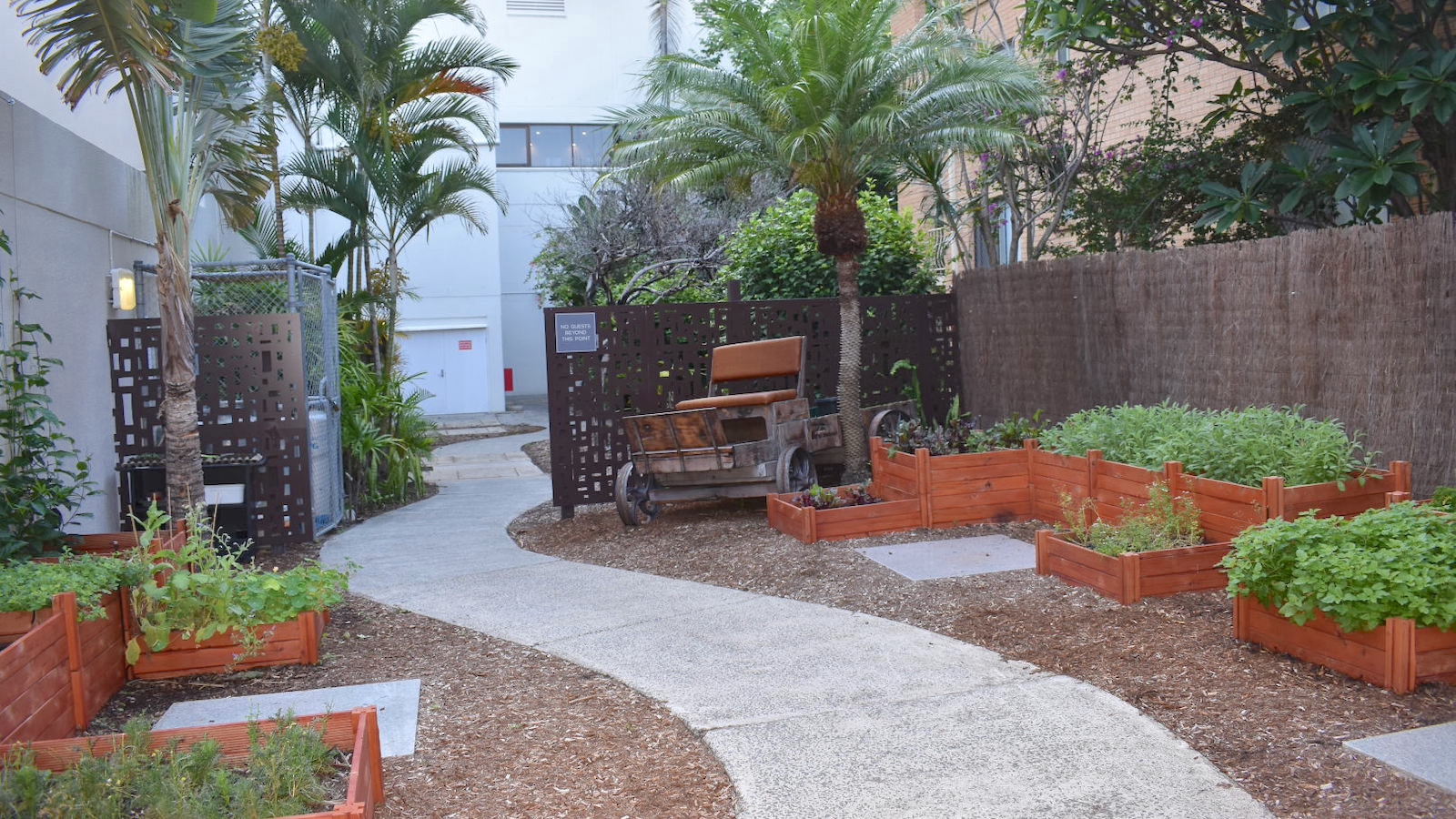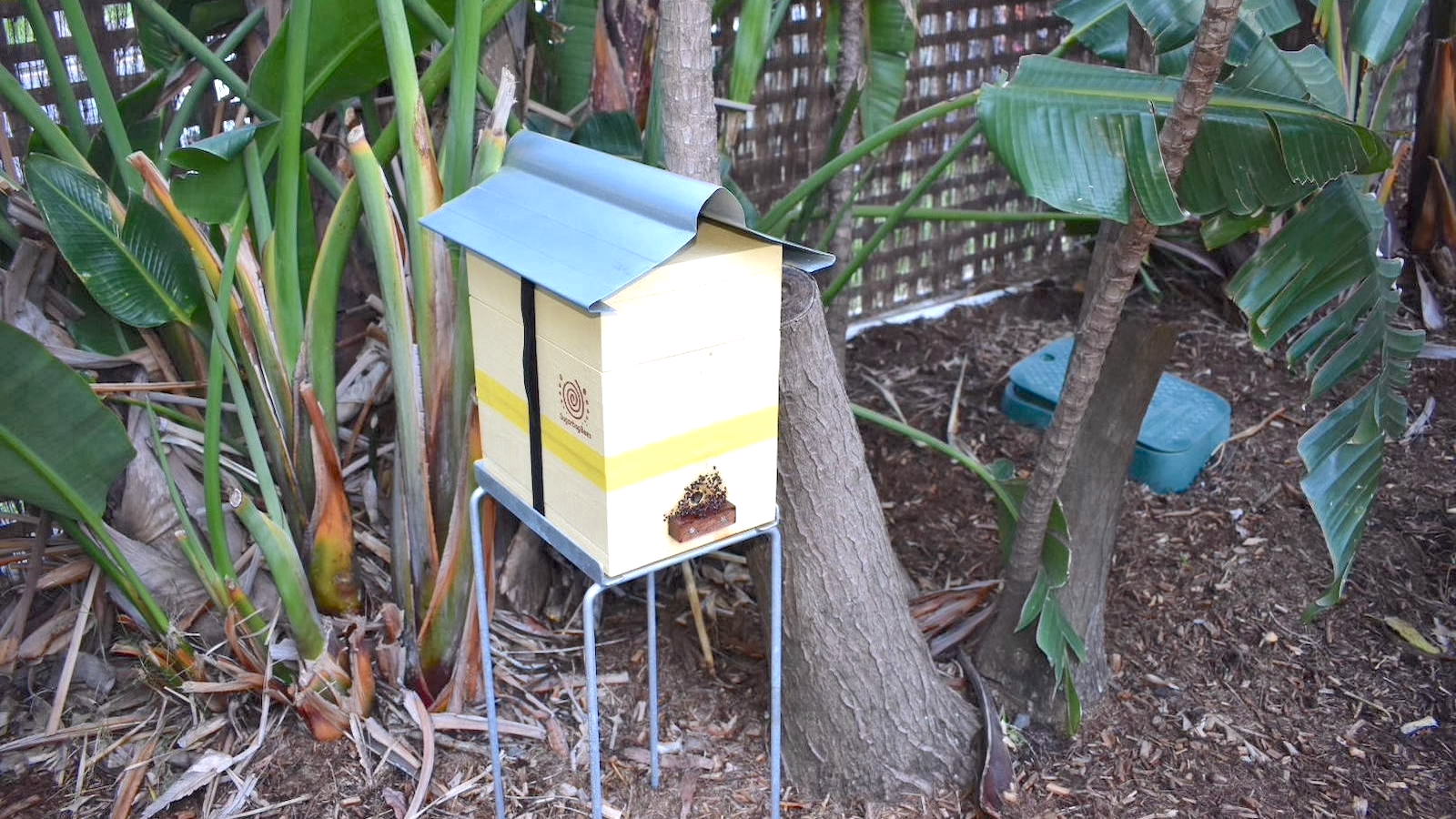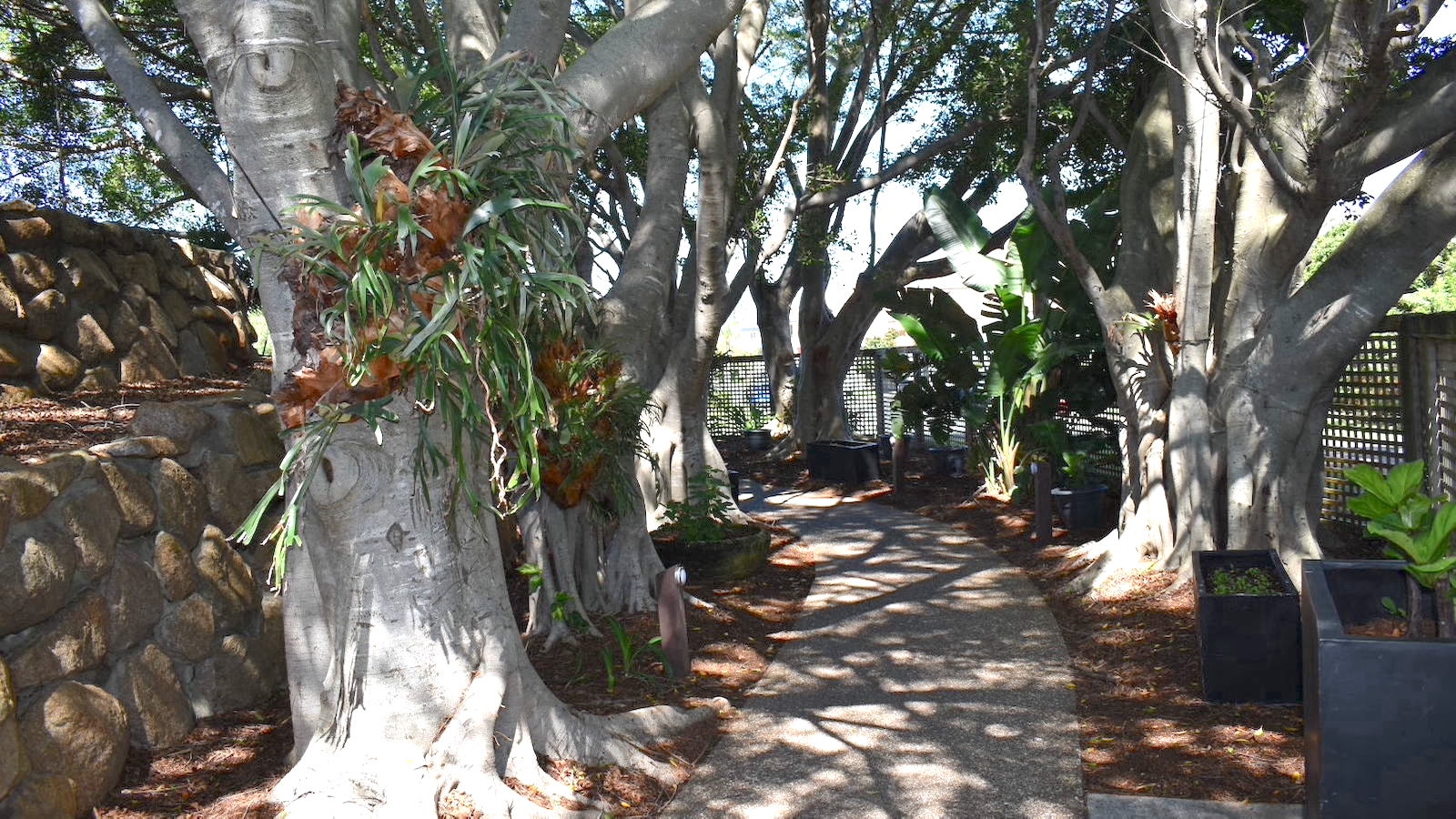 Hotel Lounge
The hotel does not have an Executive Lounge.
How can I book the JW Marriott Surfers Paradise with points?
As JW Marriott is part of the Marriott portfolio, you'll be able to use Marriott Bonvoy points to book a stay. You can easily transfer those points over from American Express Membership Rewards.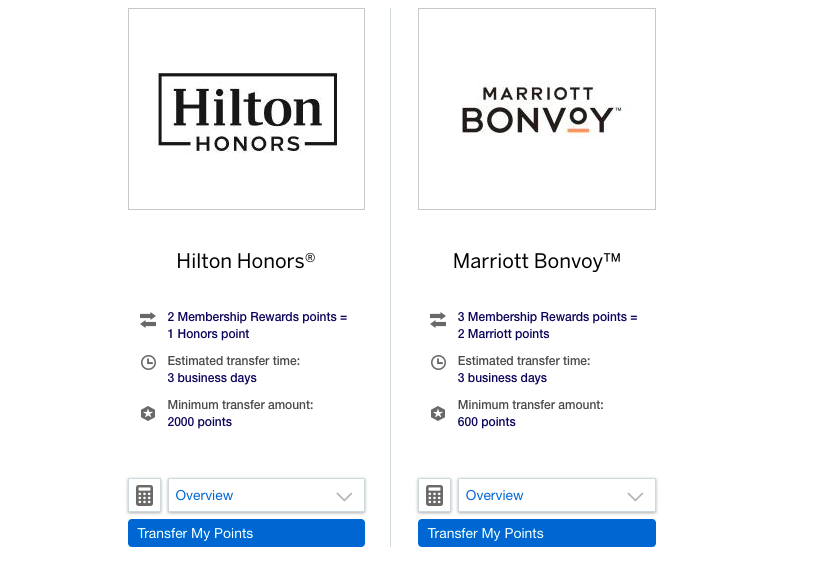 As a Category 6 property, you will need 40,000 to 60,000 points a night for a base-level Deluxe room, depending on whether your dates are during peak holiday periods or not.
Making the most of a Category 6 travel package for the JW Marriott Surfers Paradise
If you've got 510,000 Marriott Bonvoy points to spare, you could redeem your points for a package that includes 7 nights at the JW Marriott Surfers Paradise (or other Category 6 properties), plus 100,000 frequent flyer points in a participating program of your choice, including Qantas, Velocity, KrisFlyer and Asia Miles.
That's an exceedingly good deal and would save you 30,000 Marriott Bonvoy points compared to redeeming the hotel and air miles components separately. Read about Marriott's Hotel + Air packages for more info.
Summing up
The upgrade from Marriott to JW Marriott has turned this hotel from fantastic to exceptional. It is definitely a standout hotel within the Gold Coast market, offering amenities, many of them quite unique, that cater for every demographic and travel reason.
In addition, the hotel provides guests with not a comfortable stay, but also excellent service along with a great location to boot.
The dining options available within the hotel should satisfy all tastes and a reminder that Marriott Bonvoy members can also earn a serve of points for every $ spent within the hotel's restaurants and bars.
This hotel is definitely recommended for those looking to holiday or conduct business on the Gold Coast.
JW Marriott Gold Coast Resort & Spa, Surfers Paradise
was last modified:
October 18th, 2021
by