In this comprehensive guide, we rank the best First and Business Class products flying direct to Singapore from eight Australian cities and show you how to maximise the value of your frequent flyer points.
---
Point Hacks Singapore Series
Part I: The Why: Our top five recommendations when visiting Singapore
Part II: The How: The best ways to use your points to get to Singapore
---
The test
I looked at direct flights between Singapore and Sydney, Melbourne, Brisbane, Perth, Adelaide, Canberra, Darwin and Cairns.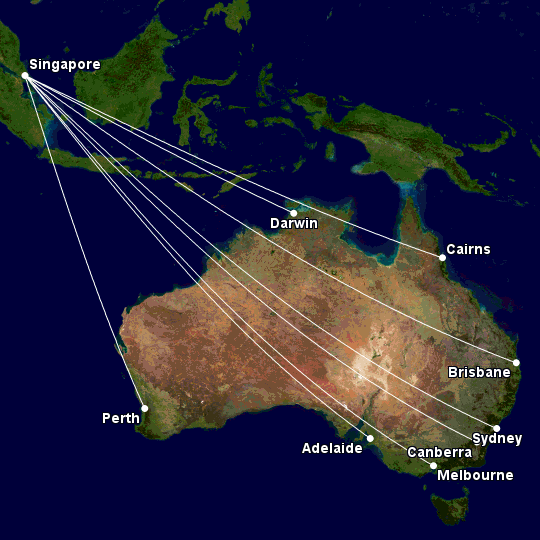 I excluded low-cost carriers such as Jetstar and Scoot.
And I only analysed First and Business Class redemptions, as they generally offer the most per-point value.
Whilst Premium Economy redemptions could offer good value to some travellers, I generally believe that these redemptions are best saved up for longer flights to Europe and North America.
Economy flights are usually best bought with cash, however, there are exceptions to that rule.
Finally, I've focussed on redemptions through the four most accessible frequent flyer programs in Australia – Qantas, Velocity, KrisFlyer and Asia Miles. However, you can also find good value in buying American Airlines miles for travel on Qantas and United miles for travel on Singapore Airlines (although award space is quite restricted to the latter)
All redemption pricing in this guide is for one-way travel.
---
Here are the rankings for First Class, which is only available from the big East Coast airports of Sydney, Melbourne and Brisbane (as well as Canberra from May 2018).
Best First Class: Emirates A380 and 777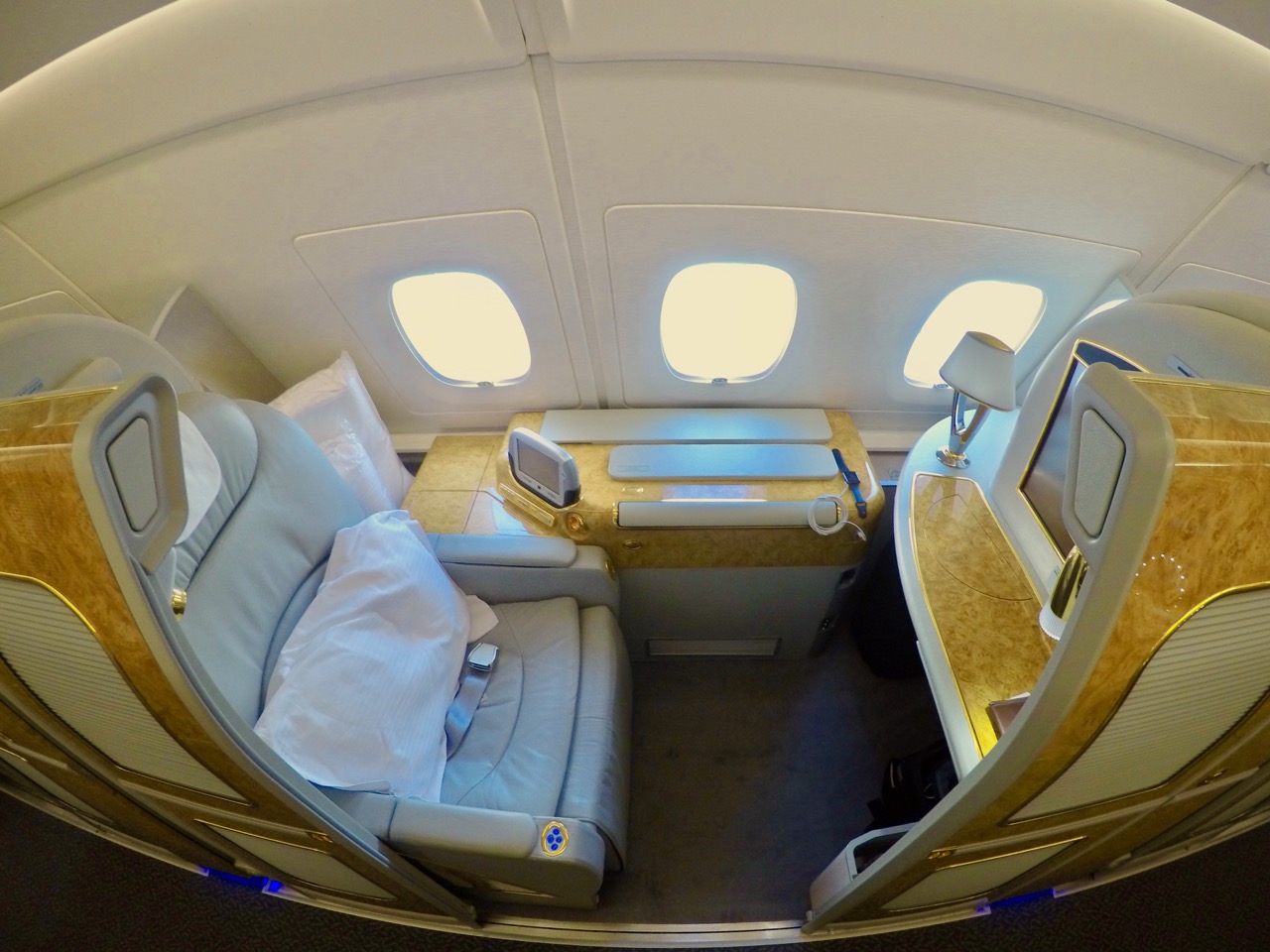 Flying direct from Melbourne and Brisbane to the Lion City on Emirates are strange fifth freedom routes but we'll take it!
Departing Melbourne, you'll get access to the excellent Qantas International First Lounge, however, unfortunately, the spa will be closed at this time of this flight. Not too worry too much, as you'll get access to a shower on your Airbus A380 with five minutes of hot water, as well as an onboard bar.
Departing Brisbane, you can pop into the Emirates Lounge and then settle into your private suite on your Boeing 777 for a good night's sleep coming into Singapore.
From both cities, you'll be picked up in a complimentary limousine and dropped at the airport, and then delivered to anywhere in the Singapore city-state on the other side.
Points needed: 90,000 Qantas Points
Emirates A380 First Class overview
Runner-up First Class: Singapore Airlines A380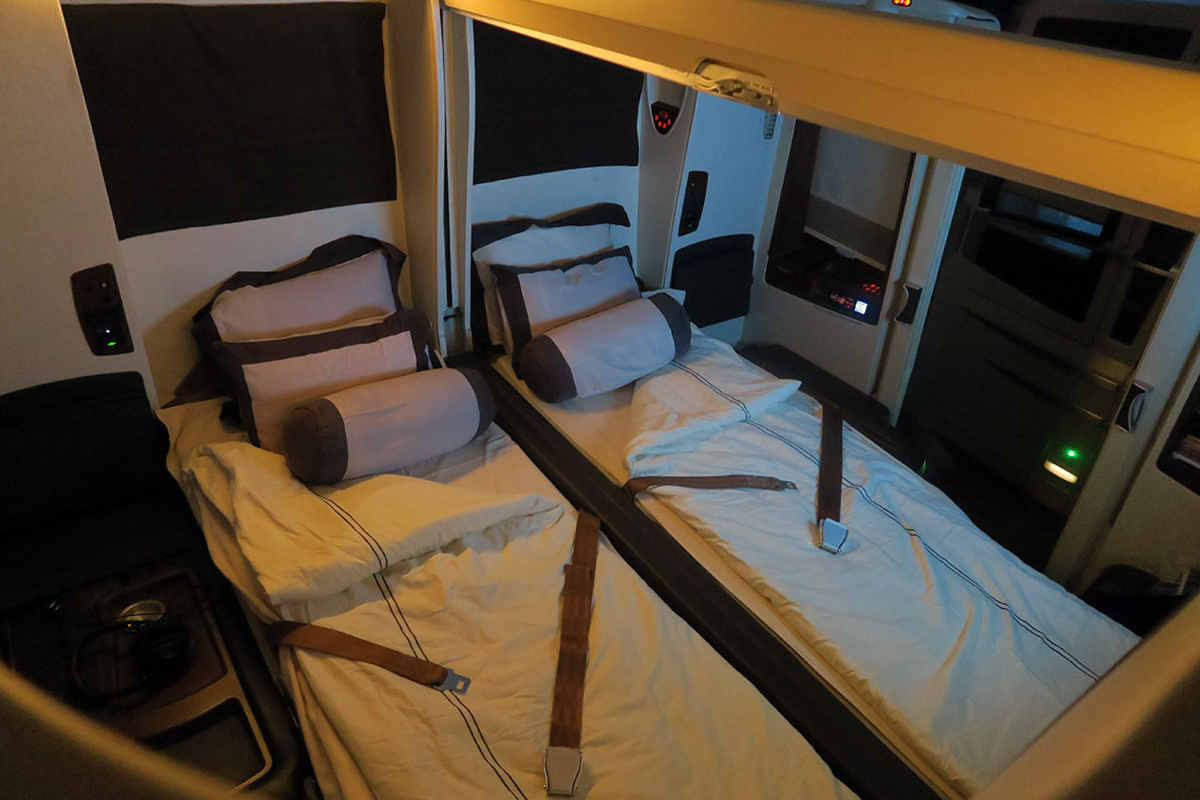 Singapore's flag carrier has a luxurious product in its First Class Suites flying on the A380, which is a regular fixture from Sydney and sometimes (though decreasingly) put on its Melbourne services.
Enjoy the more exclusive First Class side of the SilverKris Lounge departing Australia, and then step onboard with excellent customer service and a high degree of privacy. If you're travelling with a companion, you can convert the two middle seats into a double bed.
Note, though, that this product is due for a makeover in early 2018 and award space may tighten up as the number of seats is potentially halved from 12 to 6.
You can often find more availability on its 777-300ER flights, with its regular First Class still a solid product.
Points needed: 80,000 KrisFlyer miles or 95,000 Velocity points
Singapore Airlines A380 First Class Suites overview
Singapore Airlines 777-300ER First Class overview
First Class honourable mention: Qantas A380
When Qantas switches its European stopover point from Dubai back to Singapore from 25 March 2018, existing Airbus A330 services from Sydney and Melbourne with only Business and Economy Class will be replaced by the much larger A380, which has all four cabins.
However, First Class award seats on these flights will be reserved for Qantas Frequent Flyer Platinum and above status holders only.
Brisbane and Perth flights are not affected.
First Class not-so-honourable mention: British Airways 777
BA has been using Singapore as its stopover on the kangaroo route from London to Sydney for a while now, serviced by a Boeing 777.
It ranks in last place as you have the least privacy of all four airlines and the cabin crew can be surly.
---
And now the rankings for Business Class, which is available from all major Australian airports.
Best Business Class: Singapore Airlines A350 and 777-300ER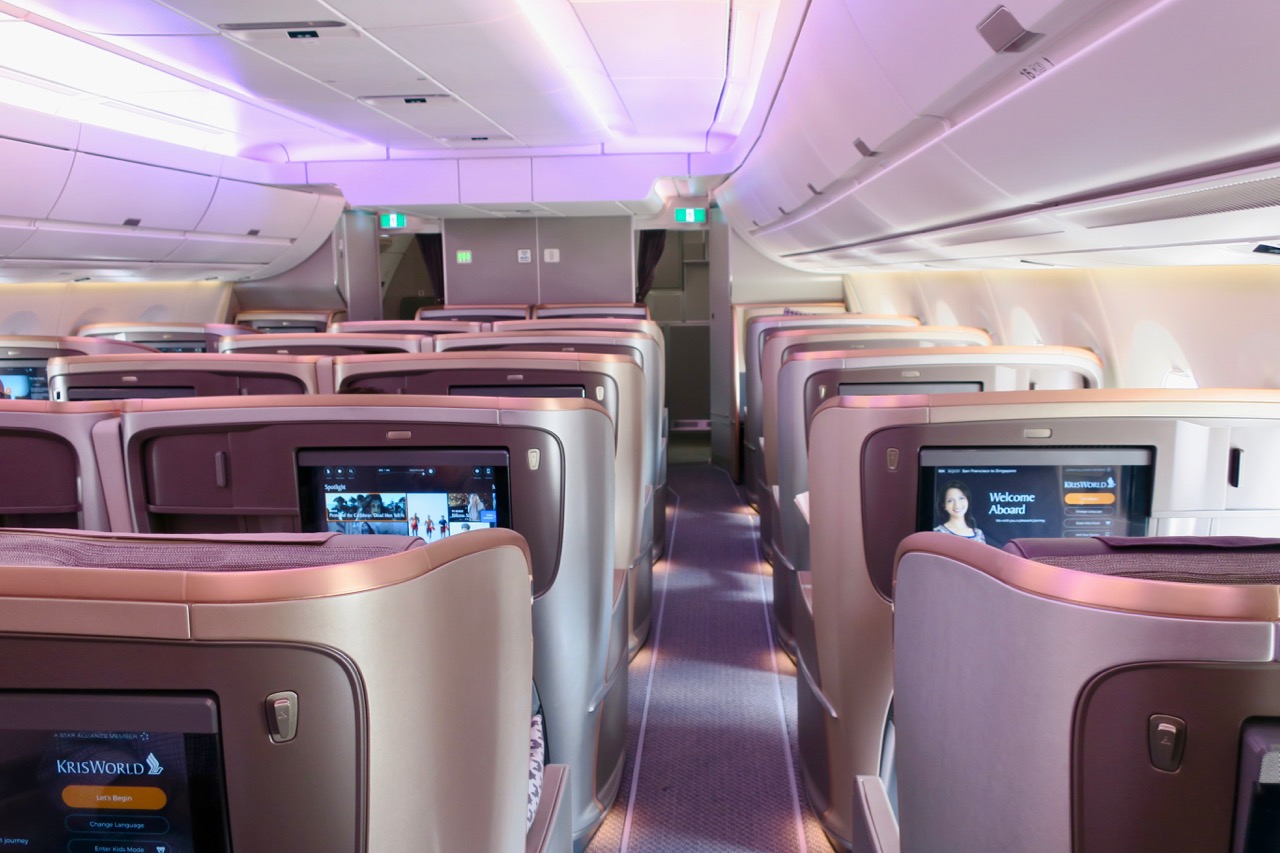 I recently had the pleasure of flying Singapore's newest Business Class product on the world's fifth-longest flight from San Francisco to Singapore and was really impressed by the comfort and width of the seat, responsiveness of the inflight entertainment system, and professionalism of the crew.
Singapore is progressively rolling the A350 out throughout its medium- and long-haul network, covering a majority of flights to Brisbane (by January 2018) and some flights to Melbourne. There are rumours it may be deployed on Perth flights too.
The same product can be found on retrofitted 777-300ER aircraft, which serve most Sydney and Melbourne flights, as well as Canberra from May 2018.
A still good option is to use your points on the second-newest Business Class product, which is found on A380 flights to and from Sydney and Melbourne, as well as some 777-200ER Brisbane and Perth flights. You'll get direct-aisle access from every seat. The A380 product is due for an upgrade from December 2017.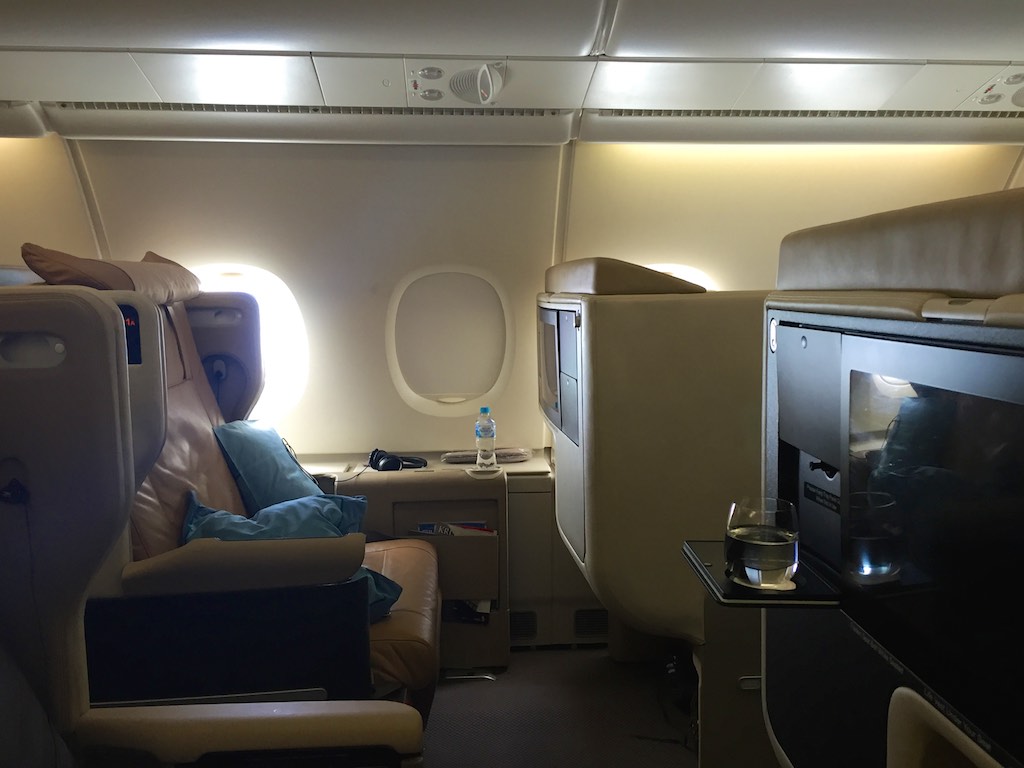 Unfortunately, the only Business Class product flying direct from Adelaide to Singapore is on the A330, which is also found on the majority of Perth flights as well as the daily 777-200 Canberra flight. This product features old angled-flat seats in a 2-2-2 configuration.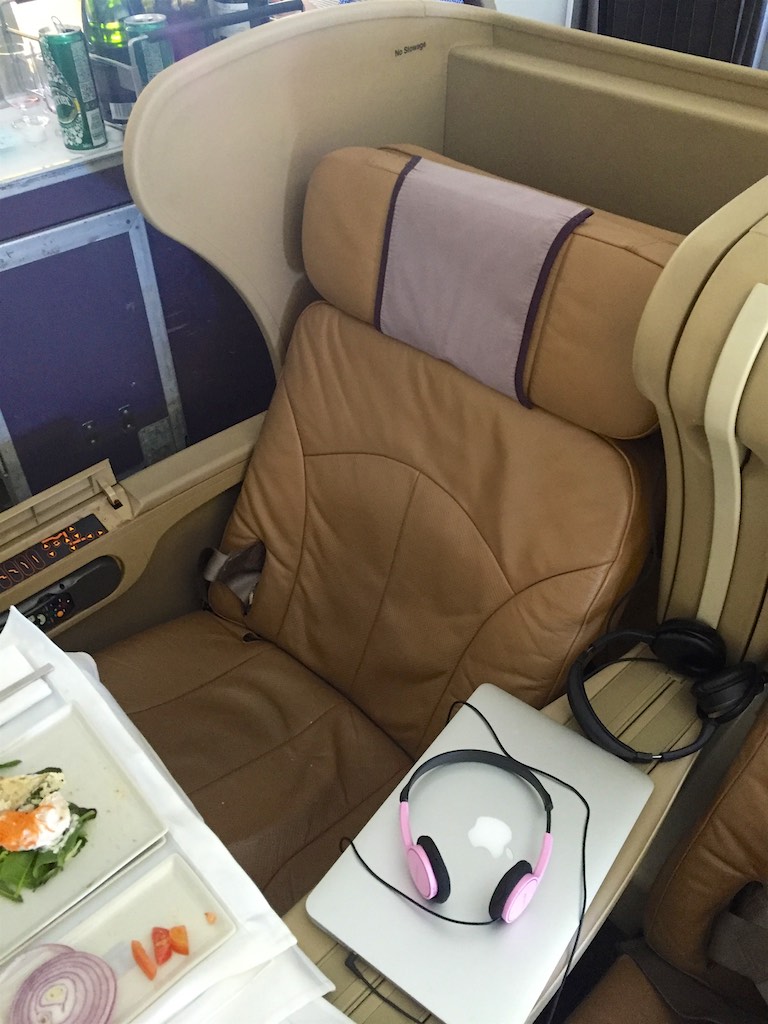 Points needed: 32,500/58,000 KrisFlyer miles from Perth/all other cities or 53,000/65,000 Velocity points from Perth or Adelaide/all other cities
Singapore Airlines A350 Business Class overview (same as 777-300ER)
Singapore Airlines A380 Business Class overview (same as 777-200ER)
Singapore Airlines 777-300 Business Class review (same as 777-200 and A330)
Runner-up Business Class (tie): Qantas A330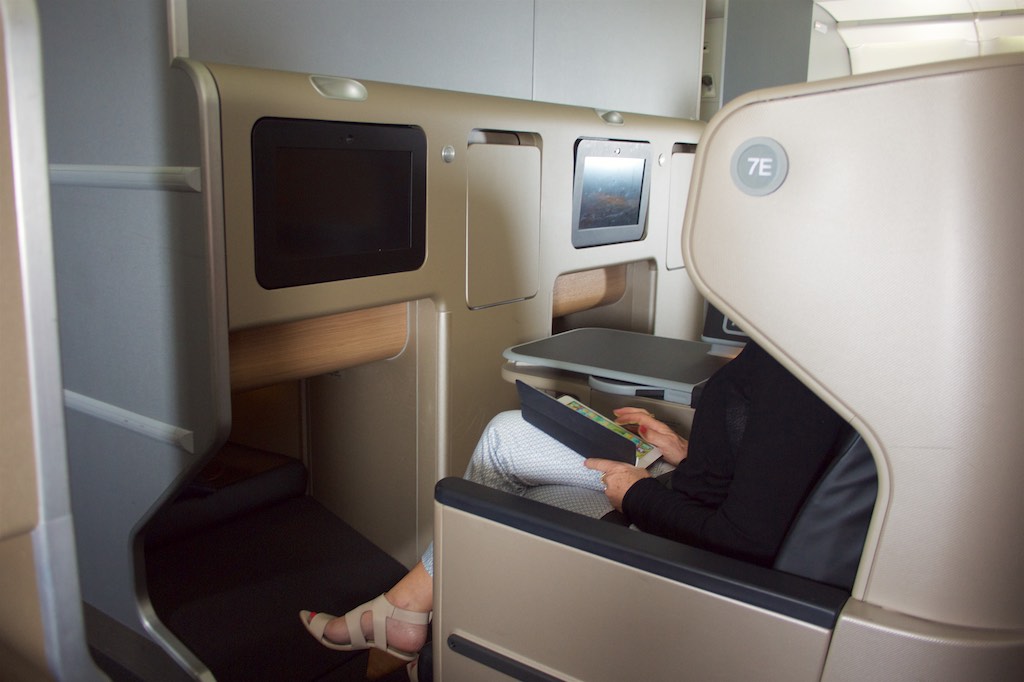 We really like Qantas' Business Studios product, which has sleek finishes as well as a lie-flat bed and direct aisle access for all passengers.
If you are flying solo, try to nab one of the staggered window seats that has you far from the aisle; if you are travelling with a companion, you'll probably want to sit in the middle. Just note that the seat divider is annoyingly fixed on the A330, however, they that will be retractable on new Boeing 787 Dreamliner aircraft coming into service on long-haul international flights from December 2017.
Up until late March 2018, you can find the A330 flying from Sydney, Melbourne and Brisbane to Singapore. However, after that date, it will only be Brisbane serviced by this aircraft, as the A380 will bring the older Skybed in a 2-2-2 configuration back to its Sydney and Melbourne flights.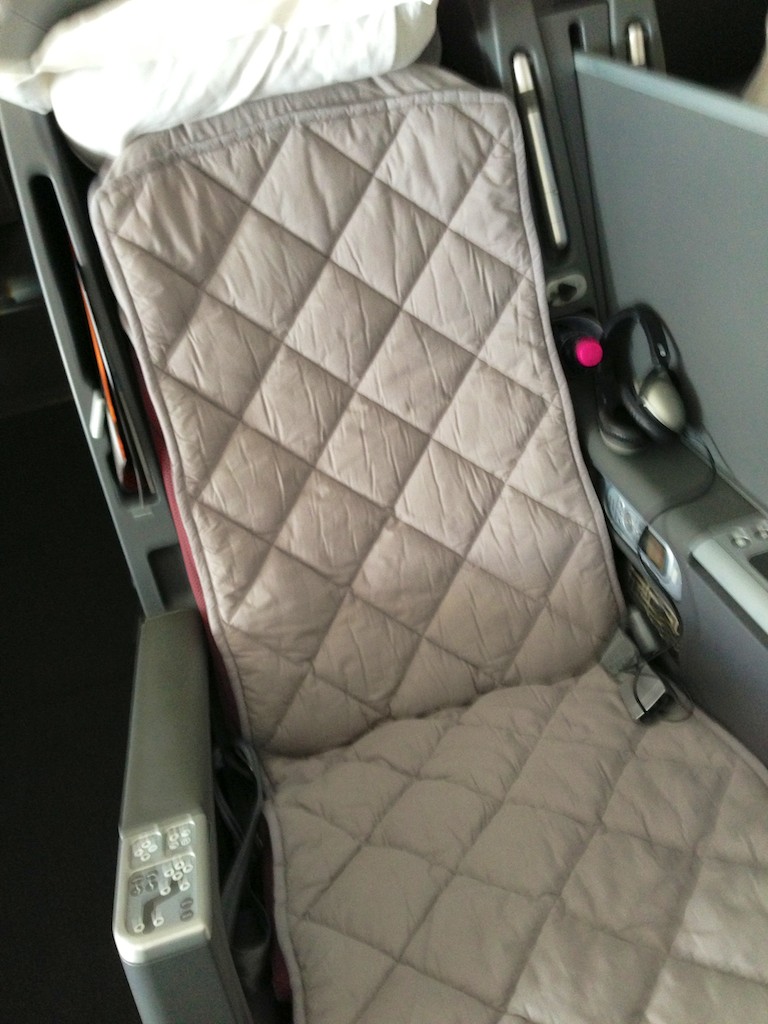 From Perth, you're stuck on a Boeing 737 with recliner seats, just like on most domestic flights.
Points needed: 50,000/60,000 Qantas Points or 30,000/45,000 Asia Miles from Perth/all other cities
Qantas A330 Business Class overview
Qantas A380 Business Class review
Qantas 737 Business Class overview
Runner-up Business Class (tie): Emirates A380
While this is a fantastic product, the reason I've put it as runner-up is that it is only available from Melbourne.
As the Brisbane flight is serviced by a Boeing 777, it has angled-flat seats in a less-than-ideal 2-3-2 configuration.
As one of Emirates' only partners, using your Qantas Frequent Flyer points on Emirates flights is a good option.
Points needed: 60,000 Qantas Points
Emirates A380 Business Class overview
Emirates 777-300ER Business Class review
Business Class honourable mention: SilkAir 737
Update: SilkAir is merging into Singapore Airlines over late 2010s/early 2020s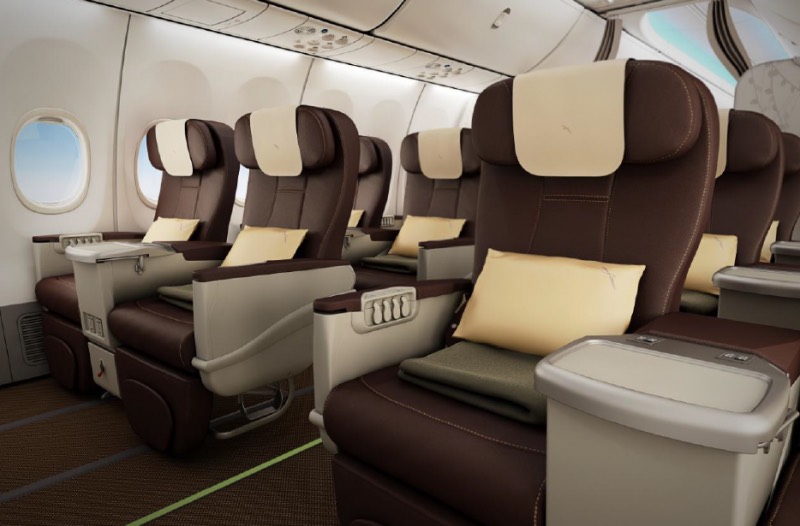 Image courtesy SilkAir
The sole reason Singapore Airlines' regional airline gets this prize is that it is the only direct flight to Singapore available to travellers based in Darwin and Cairns.
It gets brownie points for two reasons:
Business Class not-so-honourable mention: British Airways 777
Again, get with the program, BA!
Flying from Sydney to Singapore, as opposed to being four-abreast on most Singapore Airlines, Qantas and Emirates flights, you'll be one of eight squeezed into a row.
If you have your privacy divider up, you'll need to take it down every single time cabin crew serve you.
---
Transferring points from flexible currencies
Read more about why flexible currencies increase your points value.
Do you agree or disagree with my rankings and why? Please share your thoughts in the comments below.
The best ways to use your points to get to Singapore
was last modified:
May 20th, 2018
by