All is not equal in the world of reward seats — even if tickets are available on the flight you want, it might be selling for a much more expensive rate than you imagined.
Point Hacks reader Shanti commented on a post on our Facebook page with this question:
When I'm on the Velocity site doing a search, why can't I ever find awards under a million points to Los Angeles? Some seats show as sold out and the others are really expensive!

This is a really common question we get. So here is an easy-to-read guide to help you understand the difference between 'saver' and 'standard' awards. We've got examples from seven frequent flyer programs to help reinforce this.
If you need the definitions in a nutshell:
Saver rewards = cheaper but less availability
Standard rewards = more expensive but more availability
Obviously, 'saver' level rewards are the ones that everyone is competing for, as it's usually at a fixed price and with very limited availability.
Qantas Frequent Flyer
'Saver' reward equivalent: Classic Flight Reward
'Standard' reward equivalent: Any Seat
If you want to use Qantas Points to make a booking, we recommend clicking 'Use points' in the search box to see Classic Flight Reward options. That way you'll avoid getting offered a really expensive seat with points.

You must toggle this switch if you want to use Qantas Points with other partner airlines such as Emirates or Cathay Pacific. On the next screen, seats will only show up if Classic Rewards are available (i.e. expensive 'Any Seat' awards won't show up on this page.
However, if you do prefer to see your points options against cash fares for Qantas-operated flights, then leave 'Use Points' unchecked. Then you'll see both Classic Reward Seat availability along with Any Seats.
In the following example of this Business Class ticket from Perth to Melbourne — plus nearly all conceivable cases — it makes much more sense to pay 41,500 points + $38 in taxes.

Compare that to using 362,500 points for an Any Seat reward in Business Class, which effectively converts your points to cover the $2,366 cash fare.
Qantas Platinum Frequent Flyers and higher can unofficially request the release of Classic Flight Reward seats, even when none are available. This does depend on quite a number of factors, so it's not guaranteed.
Read more: Our best uses of 100,000 Qantas Points
Velocity Frequent Flyer
'Saver' reward equivalent: Reward Seat
'Standard' reward equivalent: Any Seat
No one should be paying over a million points for a flight — that's ridiculous. However, that result is a very common one when searching for the temporarily suspended Business Class flights to the US. Therefore, you'll want to aim for a Business Reward seat rather than an Any Seat in Business Class.
In the Melbourne-Perth example below, it's the difference between paying 24,800 points + $31.43 for a Business Reward seat (note that this is discounted from the usual 35,500 points it costs due to a promo), and almost six times that for an Any Seat in Business Class.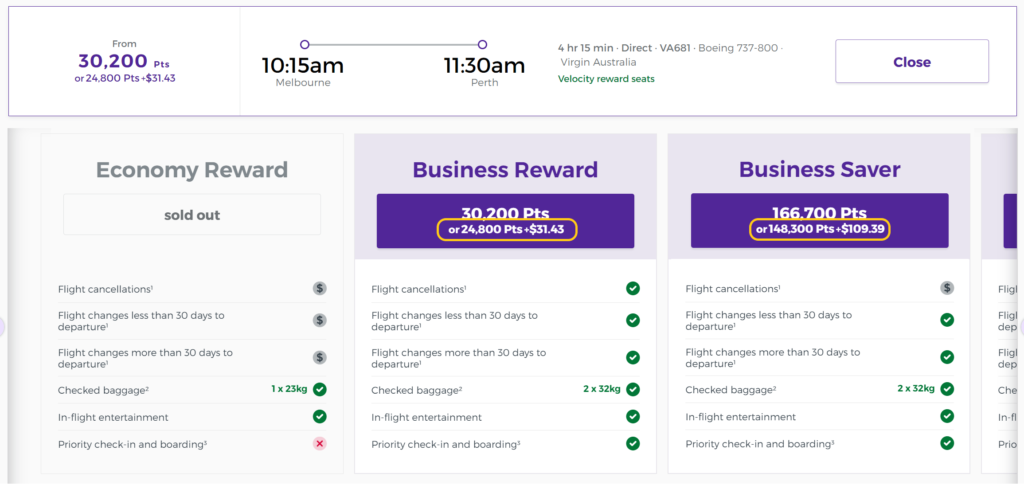 It is more likely you will see higher prices and a lack of reward seats during peak travel periods, including Christmas and Easter. To get around this, try booking a year ahead or as soon as you have travel plans.
Read more: How to redeem Velocity points to the USA
Singapore Airlines KrisFlyer
'Saver' reward equivalent: Saver
'Standard' reward equivalent: Advantage
KrisFlyer has two levels of award pricing for Singapore Airlines and SilkAir flights — Saver and Advantage. Both are fixed-price awards, unlike the fluctuating 'Any Seat' awards of Qantas and Velocity Frequent Flyer.

You'll want to aim to redeem a Saver award unless you can't take the risk of being on a waitlist and need the certainty of booking an Advantage award.
Saver awards are 30-50% cheaper than Advantage awards, but sneakily, Advantage pricing is listed first in the award chart, so make sure you scroll to the second page for the cheaper pricing.
Note that Saver awards allow you to have one free stopover on a return-trip booking only, whereas Advantage awards give you one free stopover for one-way bookings as well.
Read more: Singapore Airlines KrisFlyer guides
Ad – Scroll down to continue reading.Minimum spend, terms & conditions apply.
Cathay Pacific Asia Miles
'Saver' reward equivalent: Standard
'Standard' reward equivalent: Choice and Tailored (even more expensive)
Asia Miles has three levels of award pricing: Standard, Choice and Tailored.
Standard is the one to aim for with 'Saver'-level rates. Choice awards are a a good second 'choice' if you really need to be on that flight or must access award space a week earlier.
Tailored awards are usually around triple the rate of Standard awards, so are best left alone unless your travel with miles is crucial.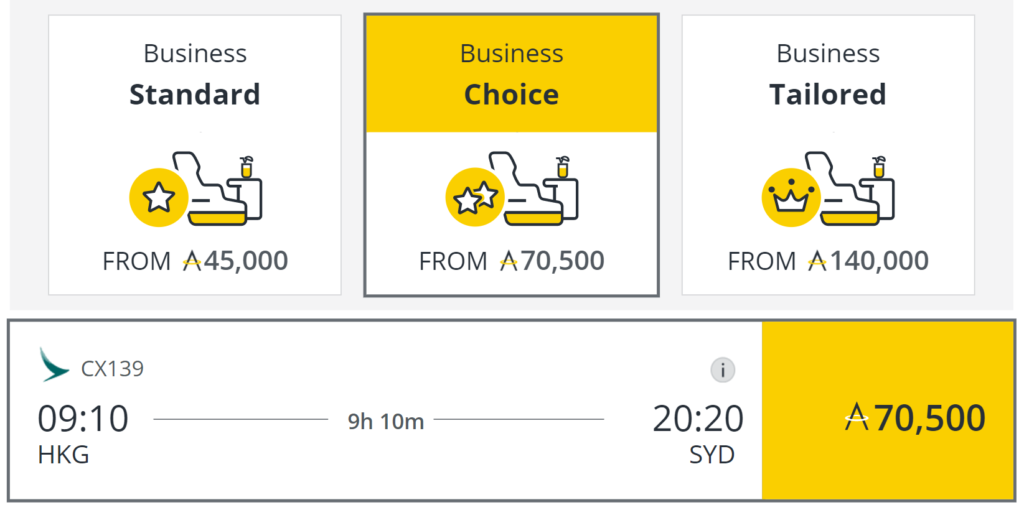 Read more: Cathay Pacific Asia Miles guides
Emirates Skywards
'Saver' reward equivalent: Classic Rewards
'Standard' reward equivalent: Cash+Miles
Like its major partner Qantas, Emirates also offers limited fixed-price Classic Rewards in all classes of travel, as well as the ability to pay commercial fares with its Cash+Miles option.
Be sure to toggle on 'Redeem Skywards Miles' on the flight search page to be shown Classic Reward seat options, such as below.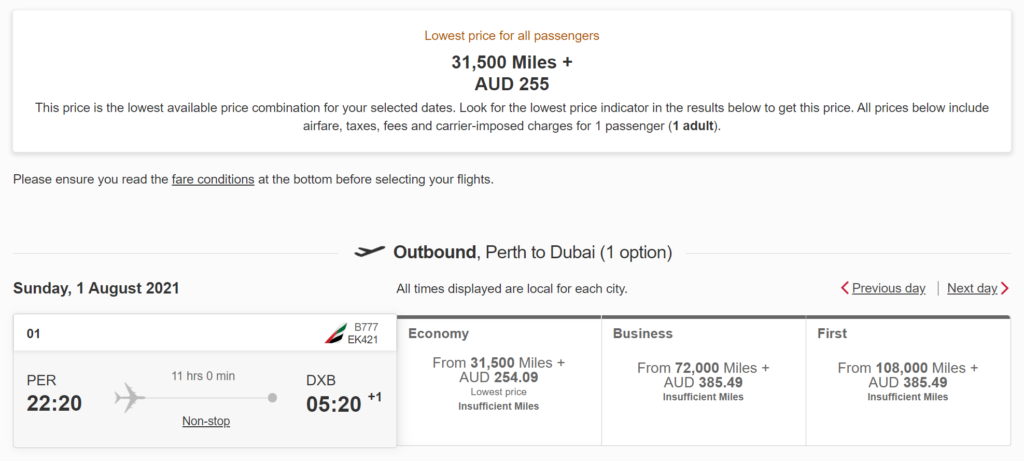 Read more: 7 best uses of Emirates Skywards miles
Etihad Guest
'Saver' reward equivalent: GuestSeat
'Standard' reward equivalent: OpenSeat
There is a big difference between these two types of awards. You can see that in this example that the OpenSeat pricing is more than triple the GuestSeat pricing.
GuestSeats cost a fixed amount depending on the flown distance (hence its uneven pricing) while OpenSeats convert your miles to the revenue value of the ticket, which fluctuates according to demand.
Read more: Guide to using Etihad Guest miles for Aussie travellers
United MileagePlus
United's loyalty program moved to a dynamic pricing model in November 2019 for United flights and April 2020 for partner flights. There is now no differentiation between Saver and Standard pricing. Rather, pricing reflects the demand for that particular flight.
Read more: Guide to buying United MileagePlus miles
Summing up
It can be a real struggle to find reward seats on the routes and dates you want. It's all part of the game, unfortunately. Here are some tips to help you use the least amount of points when trying to book reward seat travel:
Look at the first column of your search results, which will probably be the cheapest pricing at the 'Saver'-equivalent level
If it's not available and you have date flexibility, then look at dates around your original search
If you have flexibility in where you fly from or fly to, then search those alternate city pairs as well
In worst case scenarios, it may be worth considering the 'Standard'-equivalent price if its also fixed (such as with KrisFlyer and Asia Miles).
But it may be harder to justify this when the cost is tied to the revenue cash fare, in which case you might want to consider just paying cash instead and saving your points for another occasion.
Do you have a travel-related question? Ask us in the comments below or in the Point Hacks Community.
This article was originally written by Matt Moffitt.
How to tell the difference between Saver and Standard reward seats
was last modified:
December 22nd, 2020
by