Point Hacks reader Shanti commented on a post on our Facebook page with this question:
When I'm on the Velocity site doing a search, why can't I ever find awards under a million points to LA?
Some seats show as sold out and the others are really expensive!

This is a really common question we get, so here is an easy-to-read guide to help you understand the difference between saver and standard awards, with examples from five frequent flyer programs.
Basically:
Saver = cheaper but less availability
Standard = more expensive but more availability
'Saver' level awards are the ones that everyone is hunting for to get the best deal.
Velocity Frequent Flyer
Terminology: [Class] Reward = saver; [Class] = standard, e.g. Business Reward, Business
Velocity used to show complex search results with quotes of over a million points for Business awards (which was ridiculous because no one would pay that):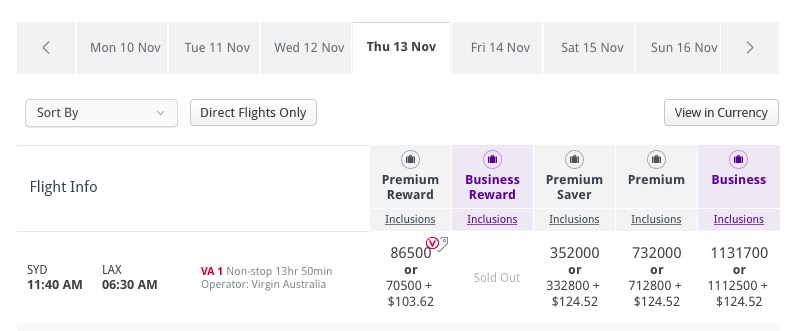 Under the improved current system, results are usually only shown at the lower Reward level, which corresponds with the figures in the Velocity award chart:

Where there is no award availability at all, instead of pricing at an astronomical level, now the searches just come up as Sold Out:

It is more likely you will see higher prices and/or award availability sold out in Business Class on long-haul routes such as Australia to the US during peak holiday periods such as Christmas-New Year.
To get around this, try booking a year ahead and look at alternative routes, e.g. Australia to the US via Asia.
Read more: How to make a Velocity points booking
Read more: How to redeem Velocity points to the US
Qantas Frequent Flyer
Terminology: Classic = saver; Any Seat = standard
If you check the option 'Use money, points or both' when conducting your search on the Qantas website, then you'll see not only Classic award availability (if any) but also how much revenue tickets are going for:

In this case of a Business Class ticket from Sydney to Tokyo – plus nearly all conceivable cases – it makes much more sense to pay 72,000 points instead of the equivalent of the nearly $4000 cash fare for 558,400 points when you click on 'View In Points':

However, you do earn points and status credits plus are covered by a different change and cancellation policy by 'purchasing' the Any Seat revenue fare with your points rather than a Classic award.
Read more: Qantas Any Seat awards guide
Singapore Airlines KrisFlyer
Terminology: Saver = saver; Advantage = standard
KrisFlyer has two levels of award pricing: Saver and Advantage awards.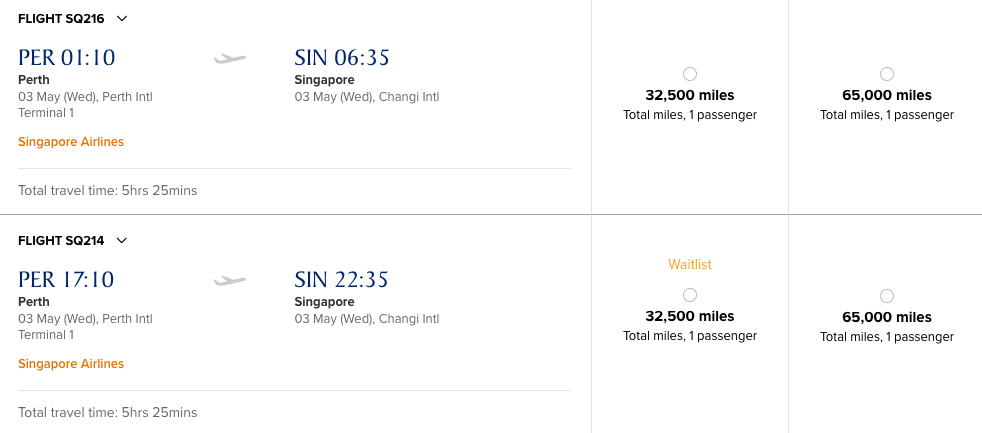 You'll want to aim to redeem a saver award unless you can't take the risk of being on a waitlist and need the certainty of booking a standard award.
Read more: Singapore Airlines KrisFlyer guides
Cathay Pacific Asia Miles
Terminology: Standard = saver; Choice = standard; Tailored = even more expensive
Asia Miles has three levels of award pricing—Standard is the one to aim for, with Choice a good 'choice' if you really need to be on that flight or access award space a week earlier.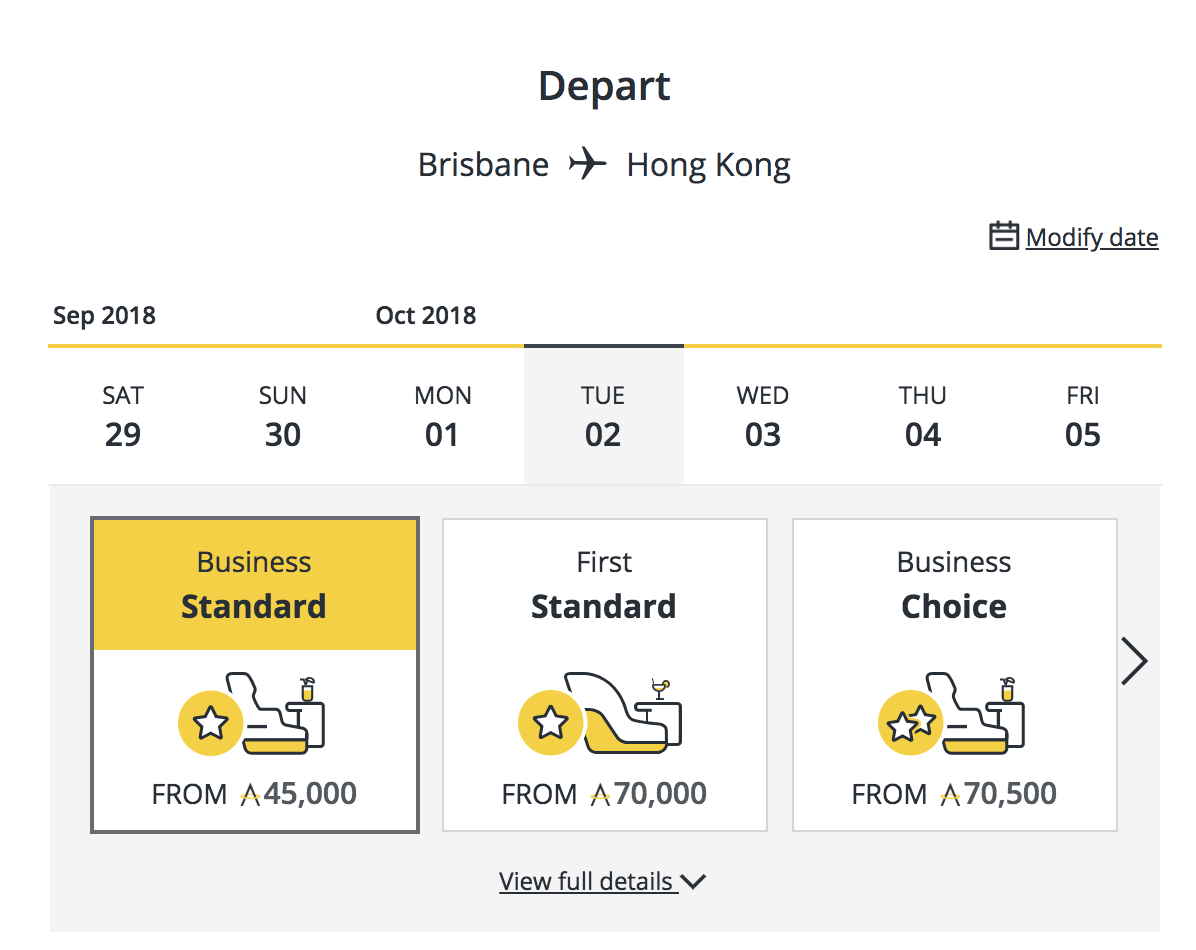 Read more: Cathay Pacific Asia Miles guides
United MileagePlus
In early April 2019, United's loyalty program moved to a dynamic pricing model for travel from 15 November 2019. Moving forward, there will be no differentiation between Saver and Standard pricing. Pricing will reflect the demand for that particular flight.
For travel until 14 November 2019, you can use the following guide:
Terminology: Saver = saver; Standard = standard
You may be using the united.com award search engine to search for availability for redemption through the Singapore Airlines KrisFlyer, United MileagePlus or Avianca LifeMiles programs.
It is difficult to find saver award pricing on domestic US flights – remember, where there are only two cabins, as below, 'First' is really Business Class with a dressed-up name.

Pricing may be different within and between columns, so make sure to check the United award chart first and to see the difference between Saver and Standard award pricing.
Read more: Guide to buying United MileagePlus miles
Read more: Guide to buying Avianca LifeMiles miles
Etihad Guest
Terminology: GuestSeat = saver; OpenSeat = standard
There is a big difference between saver awards – called GuestSeats – which price at a fixed amount dependent on distance, and standard awards – called OpenSeats – which price at the revenue value of the ticket, which can change according to demand.
You can see that in this example that the OpenSeat pricing is more than 2.5x the GuestSeat pricing:

Read more: Guide to using Etihad Guest miles for Aussie travellers
Summing up
Basically, you'll want to look at the first column, which will probably be the cheapest pricing at saver level.
Where that isn't available, if you have date flexibility, then look at dates around your original search and see if you can find saver availability there.
If not, you may be able to go on a waitlist or, worst case scenario, if you really need that ticket confirmed, then you can book at the standard award rate knowing that you have exhausted the other possibilities.
---
Do you have a travel-related question?
Search the Point Hacks website using the Looking For Something? box (located to the right-hand side of any post) to see if we have already answered your question in a post.
You can post your question in the Questions & Answers section of our website and someone from the Point Hacks community, whether another reader or one of our team members, will hopefully be able to help you out.
Beginners Guide: how to tell the difference between the cheap vs expensive redemption options on offer by frequent flyer programs
was last modified:
April 10th, 2019
by