Oneworld Alliance member Finnair is upping its game at the pointy end with an all-new Business Class cabin. That'll be joined by Premium Economy Class as well: a new addition for Finland's flag carrier.
It's all part of a €200m (AU$319m) overhaul of Finnair's long-haul service. Of course, Finnair is a popular choice for Qantas Frequent Flyer members travelling to Europe. While the airline doesn't send its own aircraft to Australia, it does serve cities right across Asia.
This includes many that intersect with Qantas' own international network, making Finnair a great option for spending your Qantas Points.
Rolling out Finnair's new Business Class and Premium Economy Class
For now, one Airbus A350 already sports the airline's new seats. And they're set to appear right across Finnair's long-haul network.
It's expected that all of the airline's new and existing Airbus A330s and A350s will offer these new seats within the next two years.
Our investment to enhance the long-haul customer experience demonstrates the continuing commitment of the whole Finnair team to deliver a premium experience in every cabin on our aircraft. The pandemic has had a dramatic impact on our industry, but it has not changed our ambition to offer a modern premium experience as we continue to be the first choice for travellers connecting Europe and Asia.

– Topi Manner, Finnair Chief Executive Officer, 10 February 2022
We're yet to learn where Finnair's upgraded planes will fly first. But we hear that'll become known on 1 March 2022. For now, here's a quick 30-second teaser of Finnair's new Business Class.
Finnair's new Business Class seat
Welcome aboard Finnair's revamped Business Class cabin. It's home to a brand new seat: one that you won't have flown before on any airline.
Dubbed the AirLounge, it aptly draws its influence from lounge furniture on the ground. Finnair says this new design is all about maximising comfort, space and freedom.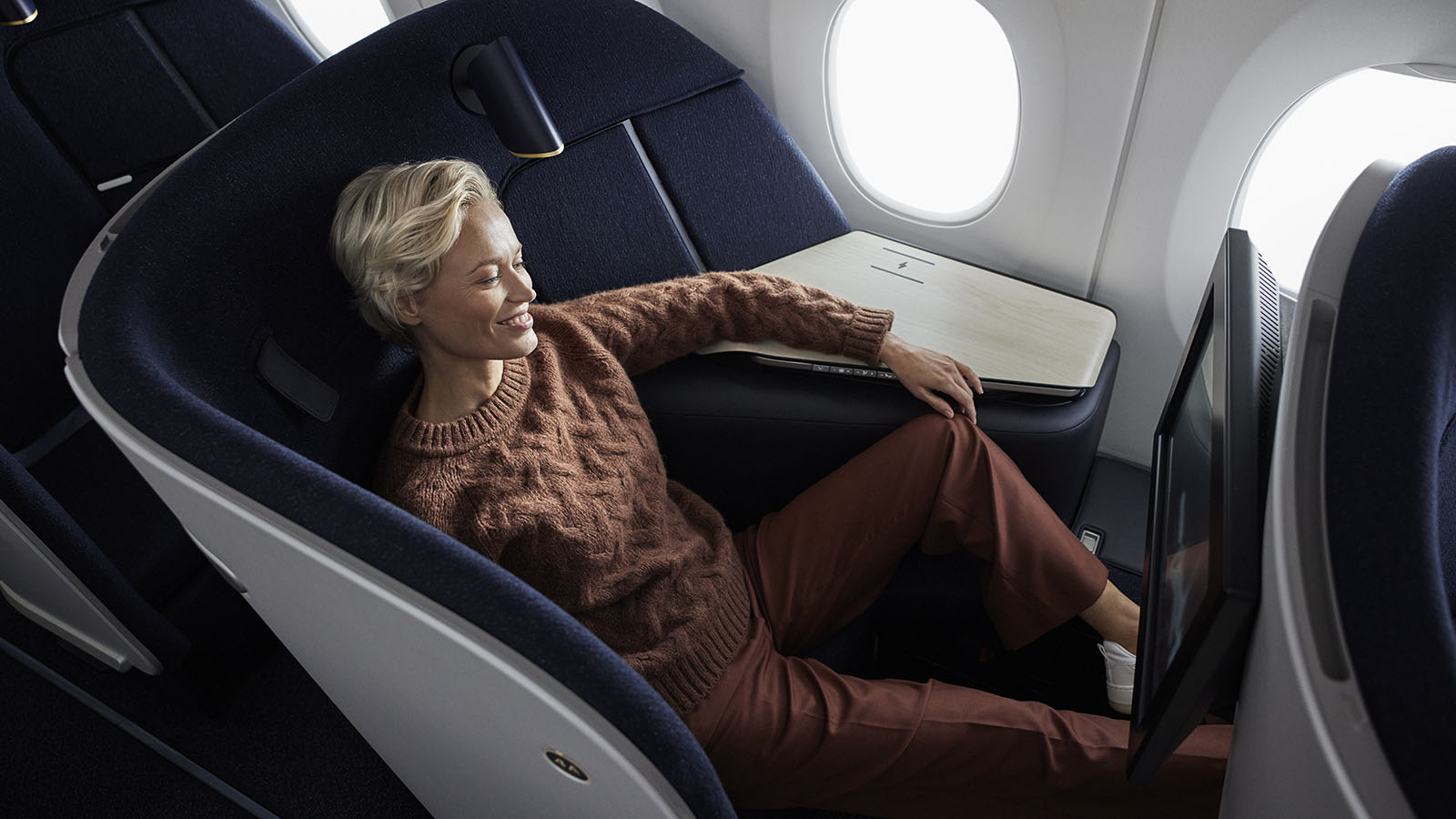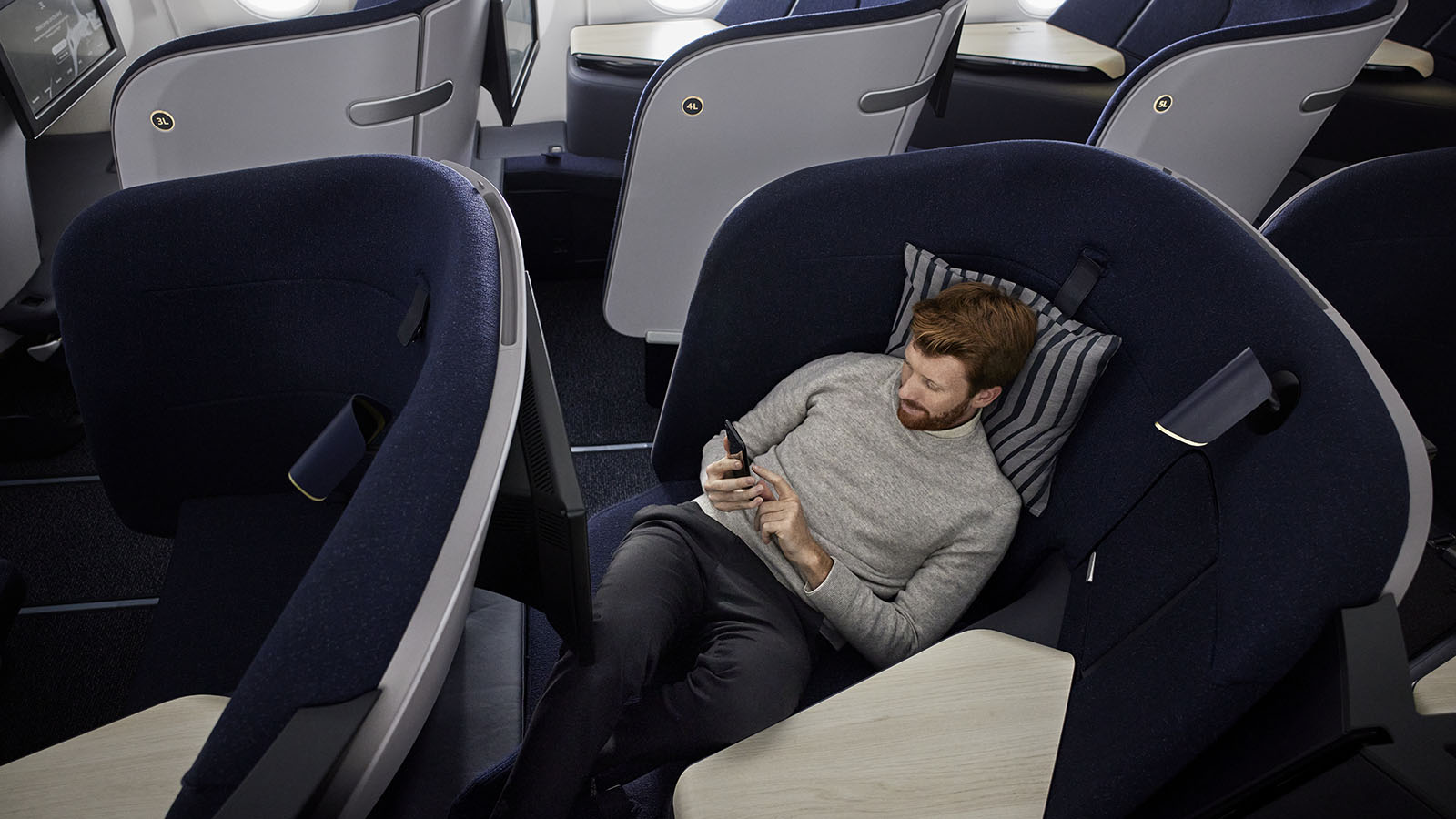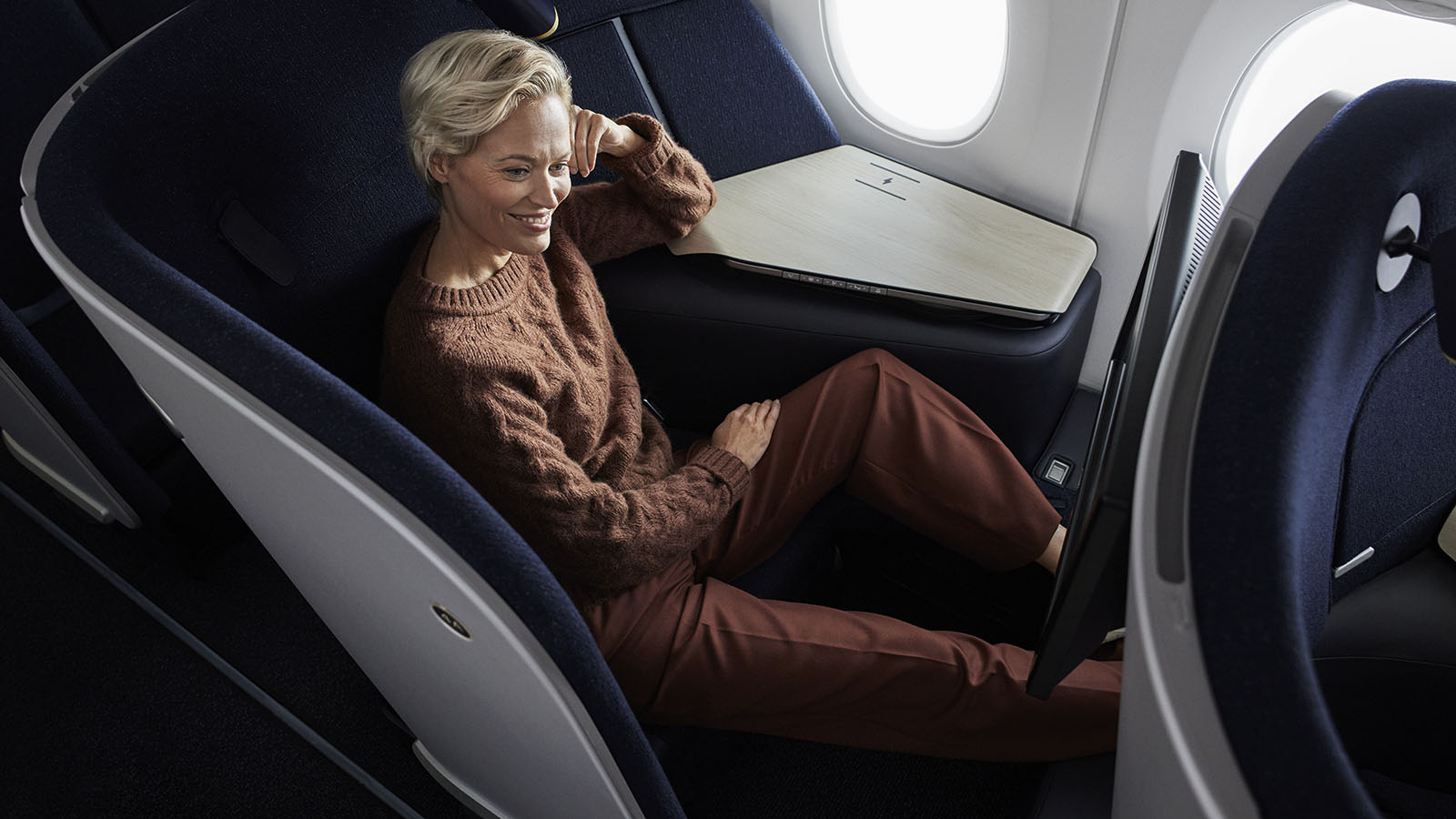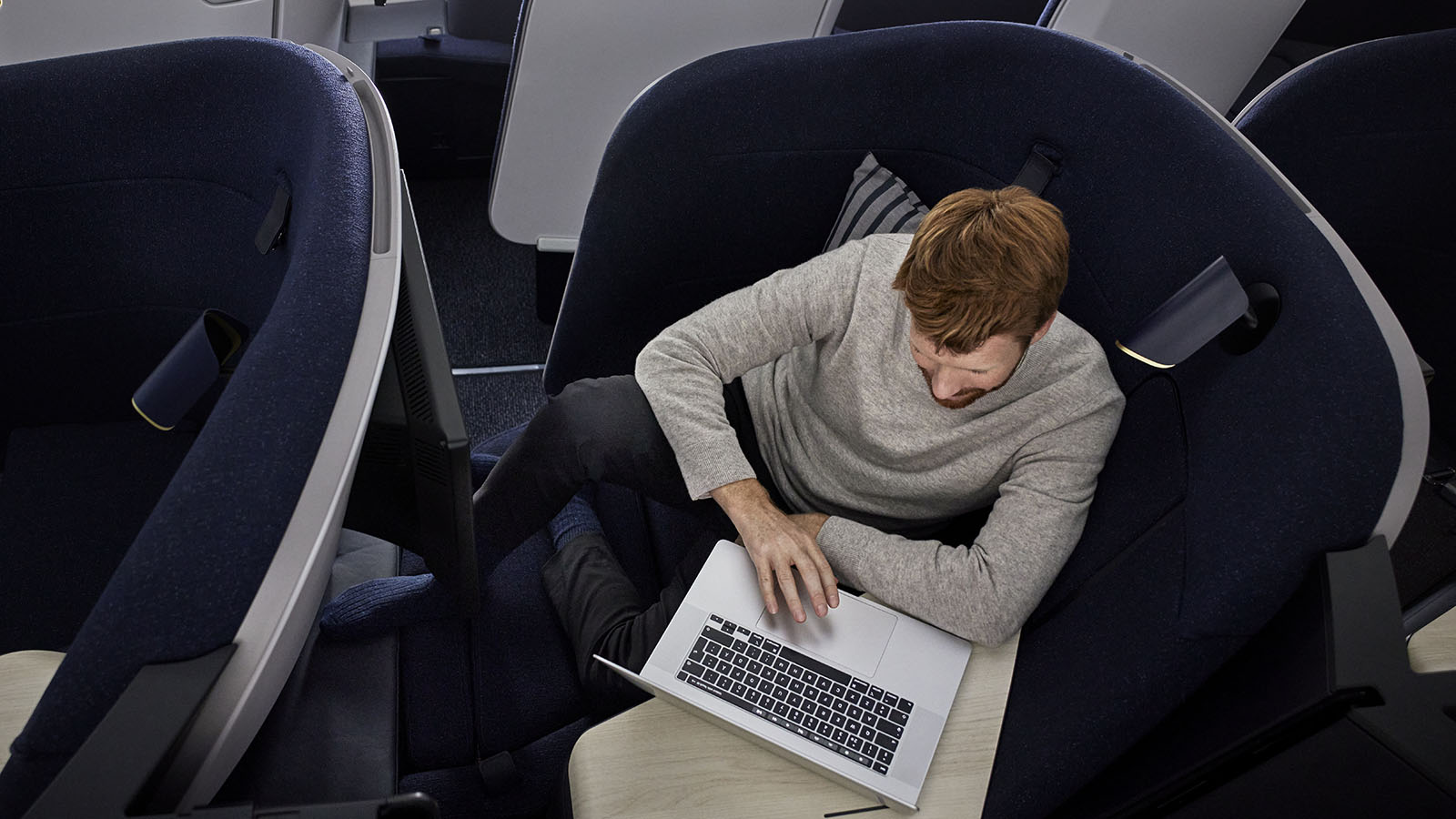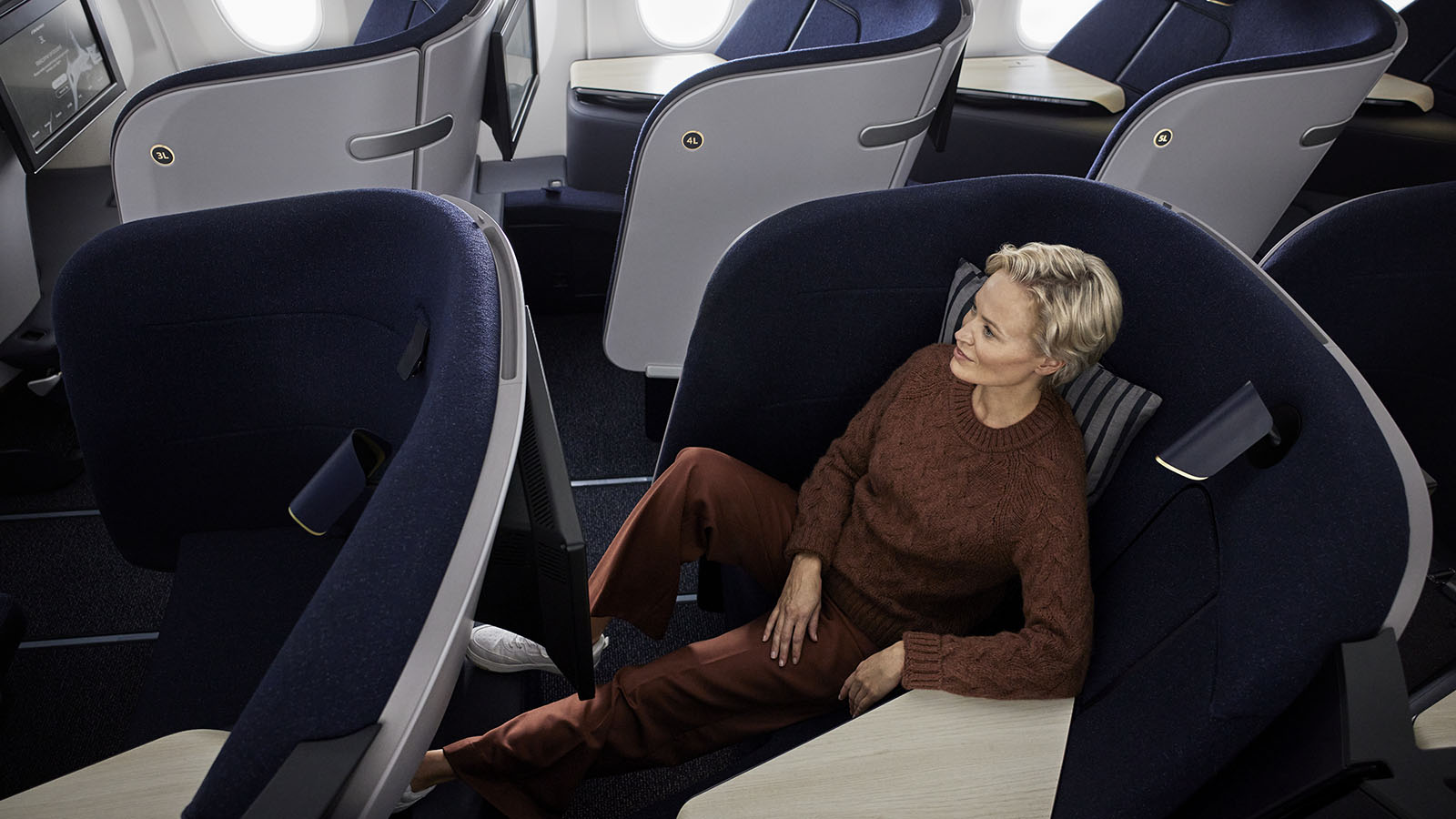 But it's an interesting concept, because this seat doesn't recline.
Don't panic – it can still transform into a bed. But when sitting upright, it's less about changing the seat to get comfortable, and more about finding your own 'sweet spot'.
We wanted to rethink business class and create more of a residential environment, emulating the comfort you would expect at home. By doing away with complicated seat mechanisms and using 3D curved shells, we're able to provide a larger flexible living space. This allows you to move more freely and take up different positions that traditional aircraft seats do not allow.

– David Kondo, Head of Customer Experience Product Design at Finnair, 10 February 2022
For a familiar 'Finnair' feel with a fresh twist, keep your eyes peeled for new Marimekko designs on the supplied duvet and pillows.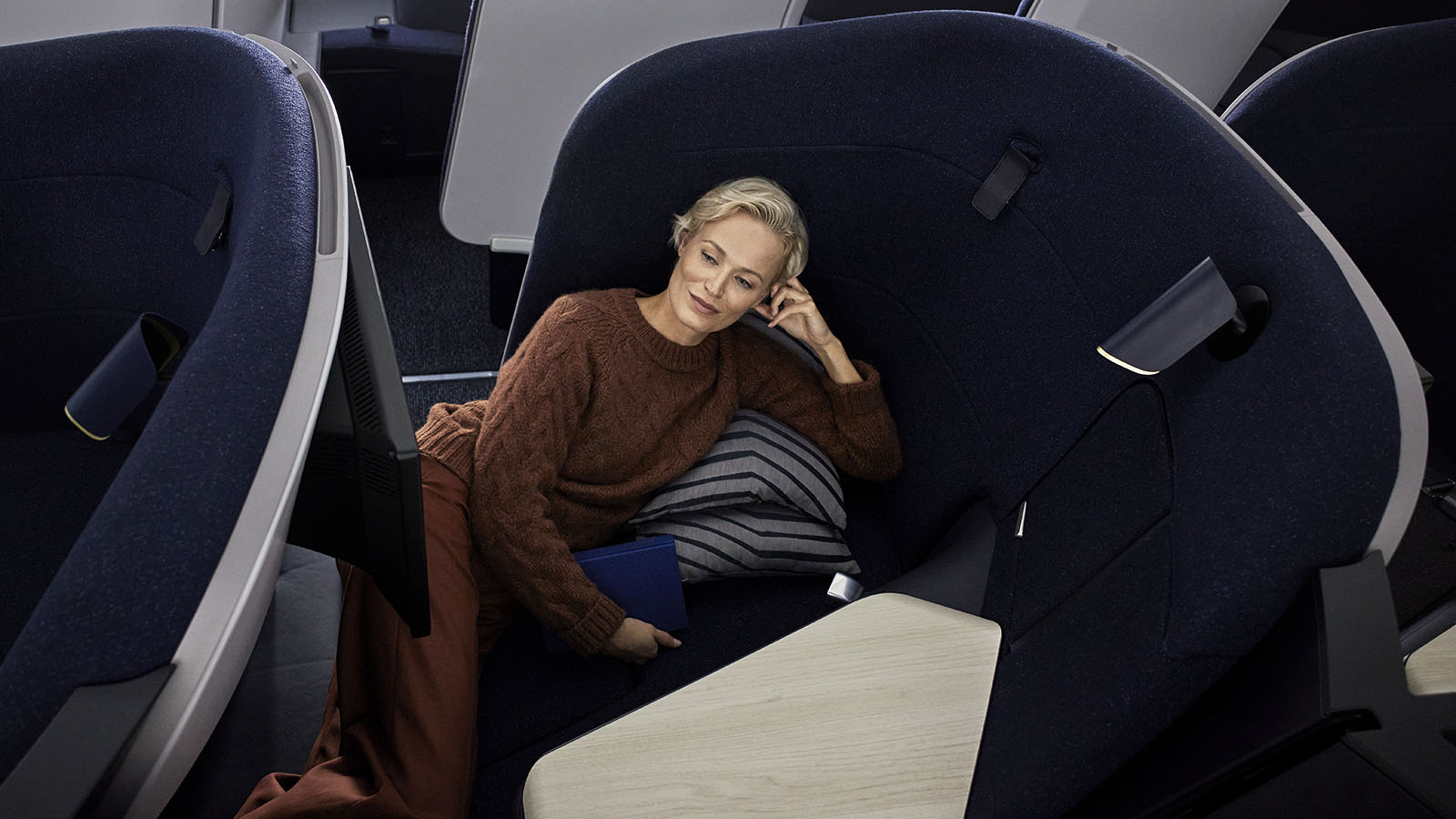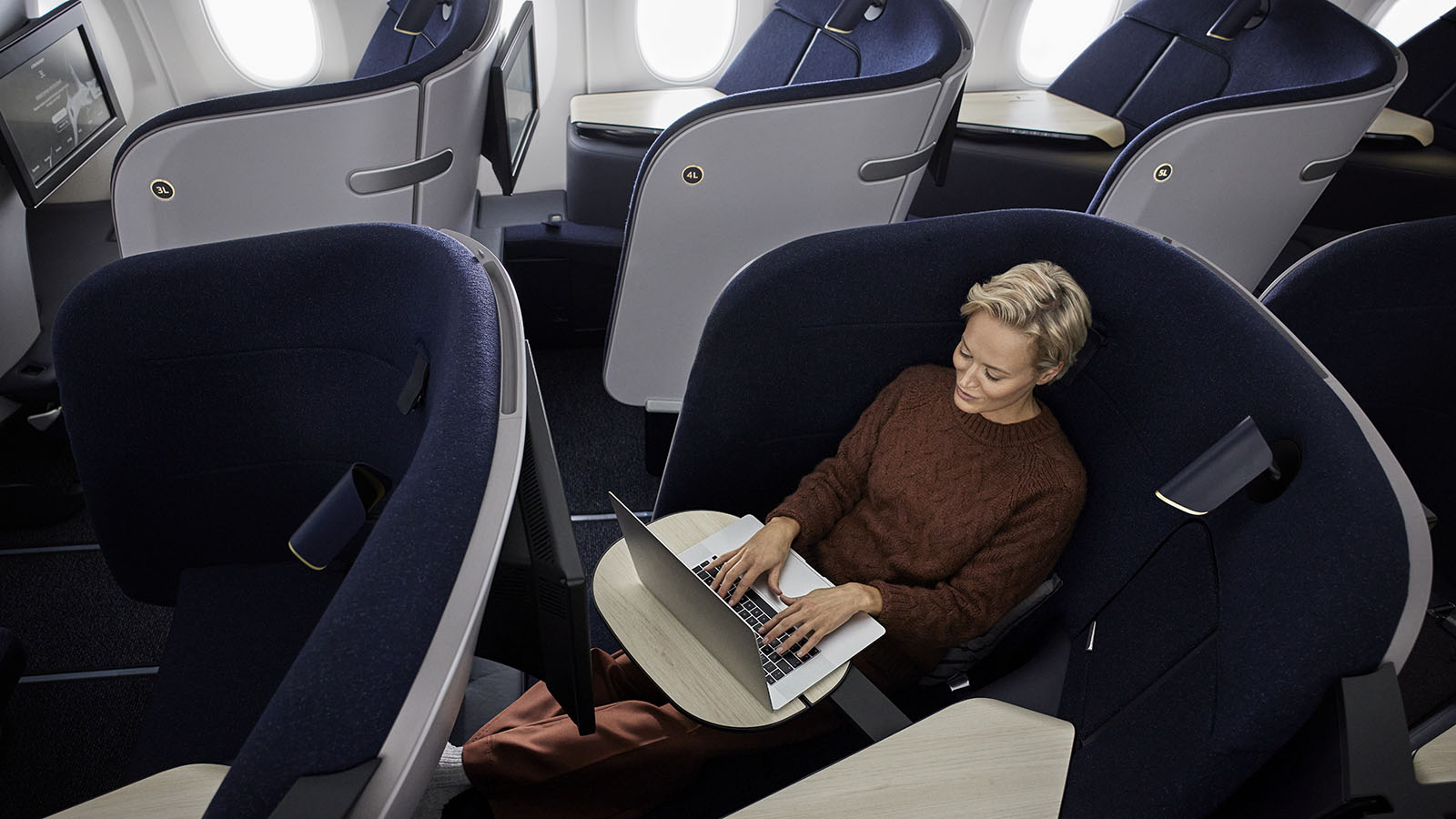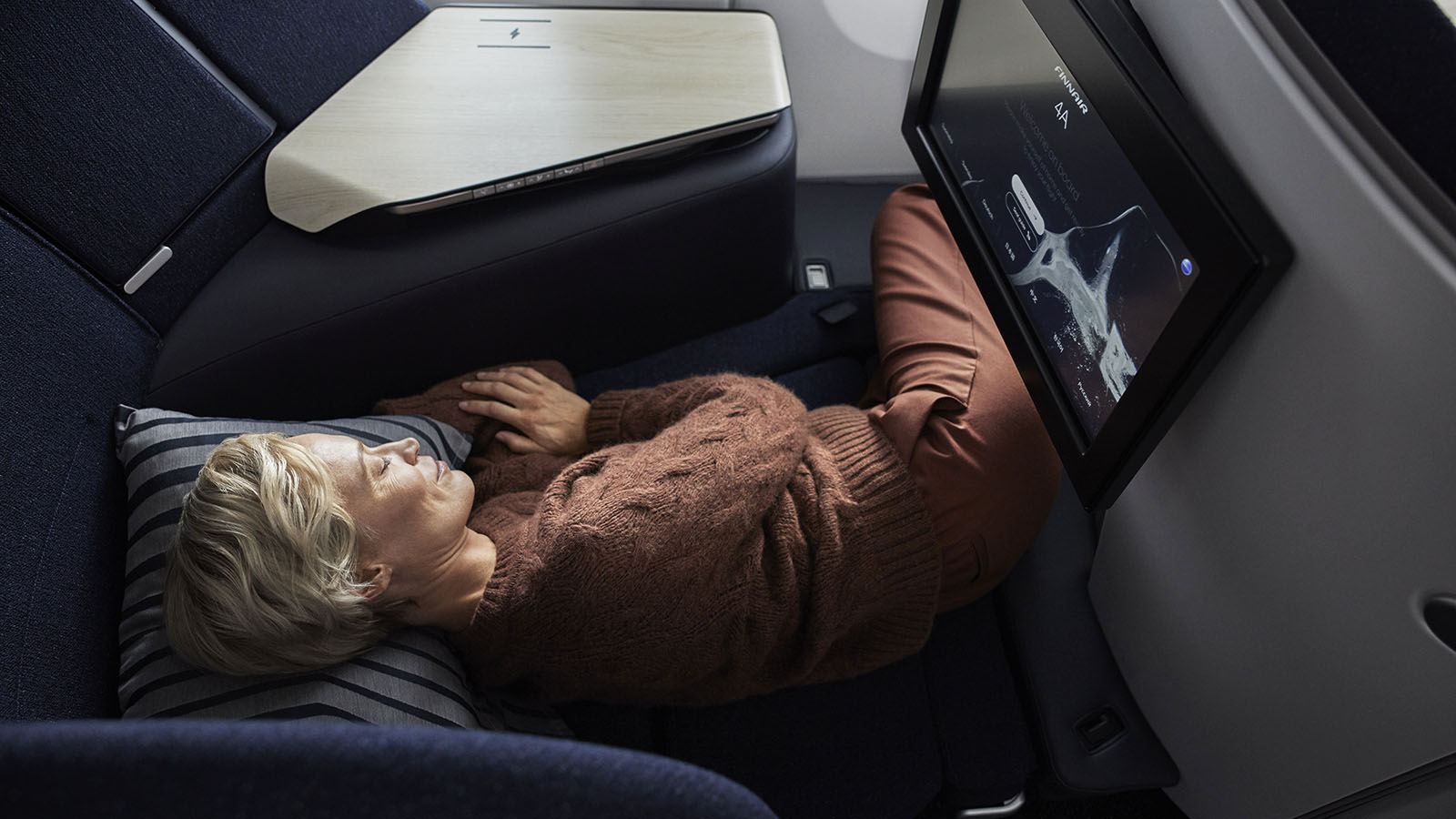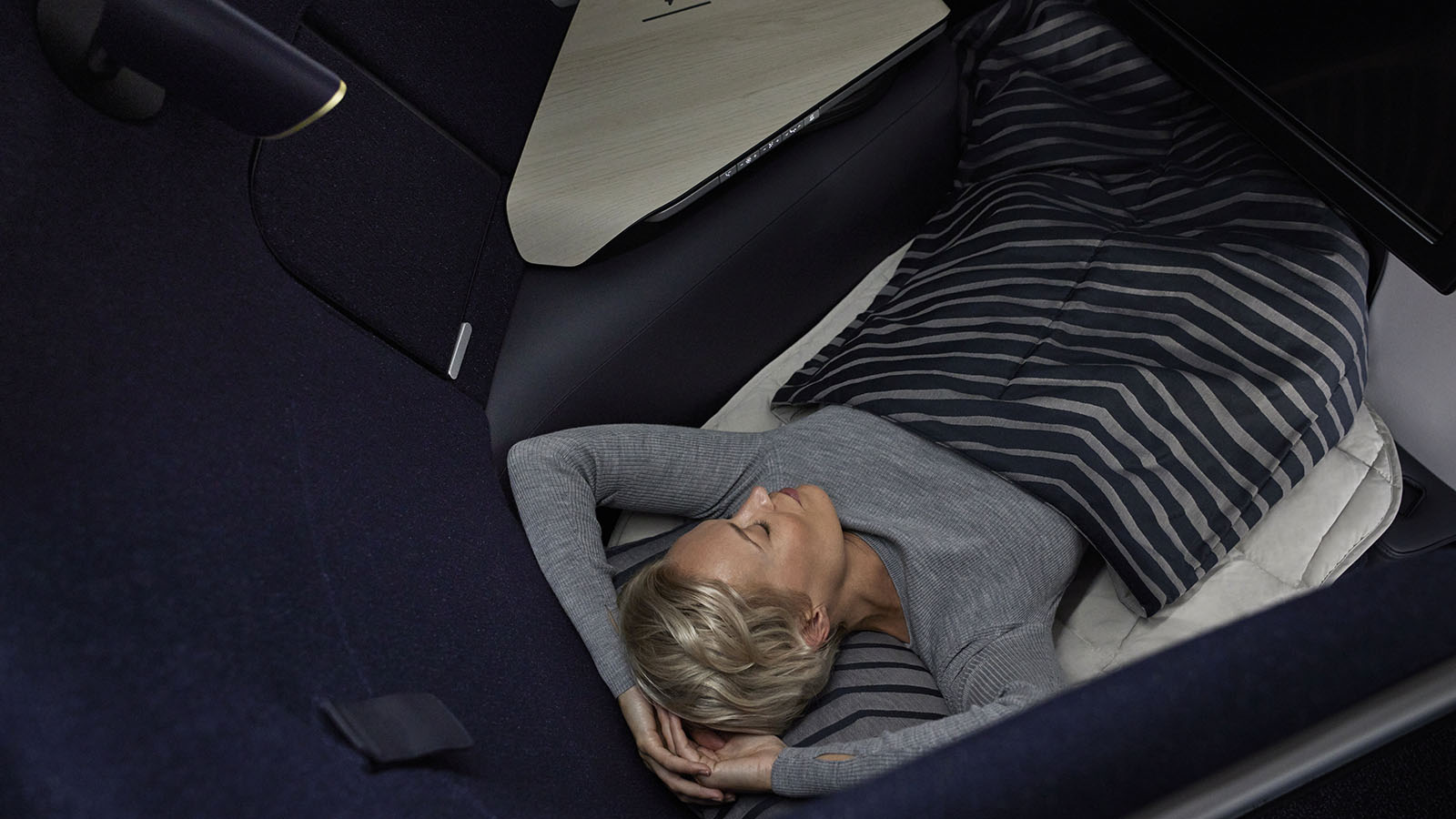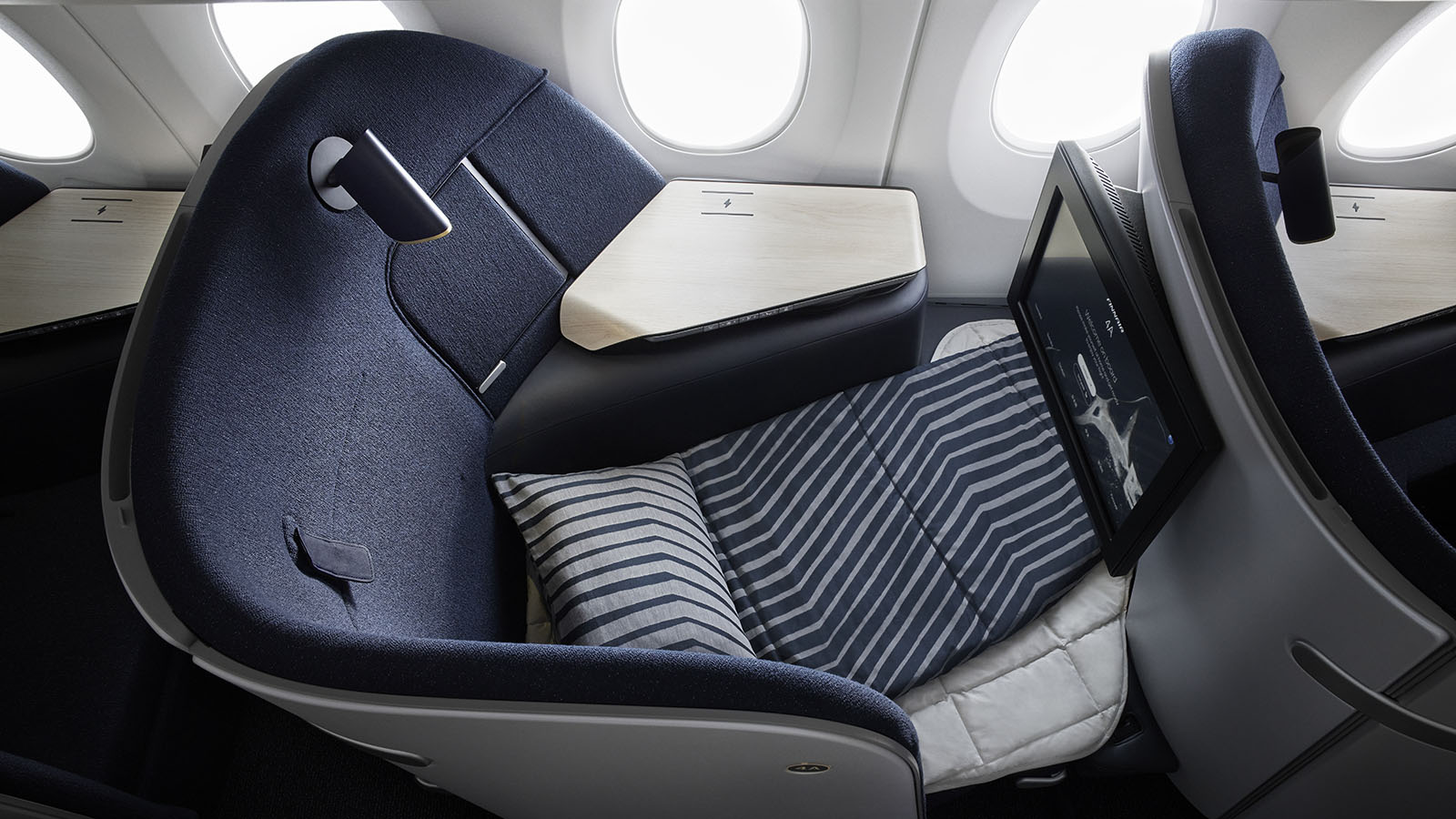 Up close with Finnair's new Business Class seat
Concept aside, Finnair's latest seat comes packed with features. Of course, a 1-2-1 layout guarantees direct and uninterrupted aisle access for each passenger. But there's so much more.
Privacy plays a big part here – seen throughout the cabin, with each seat featuring a high-backed shell. Those in the centre pods can also raise (or lower) a sizeable privacy shield. It's great to have that option, particularly for solo flyers who can't nab a window-side seat.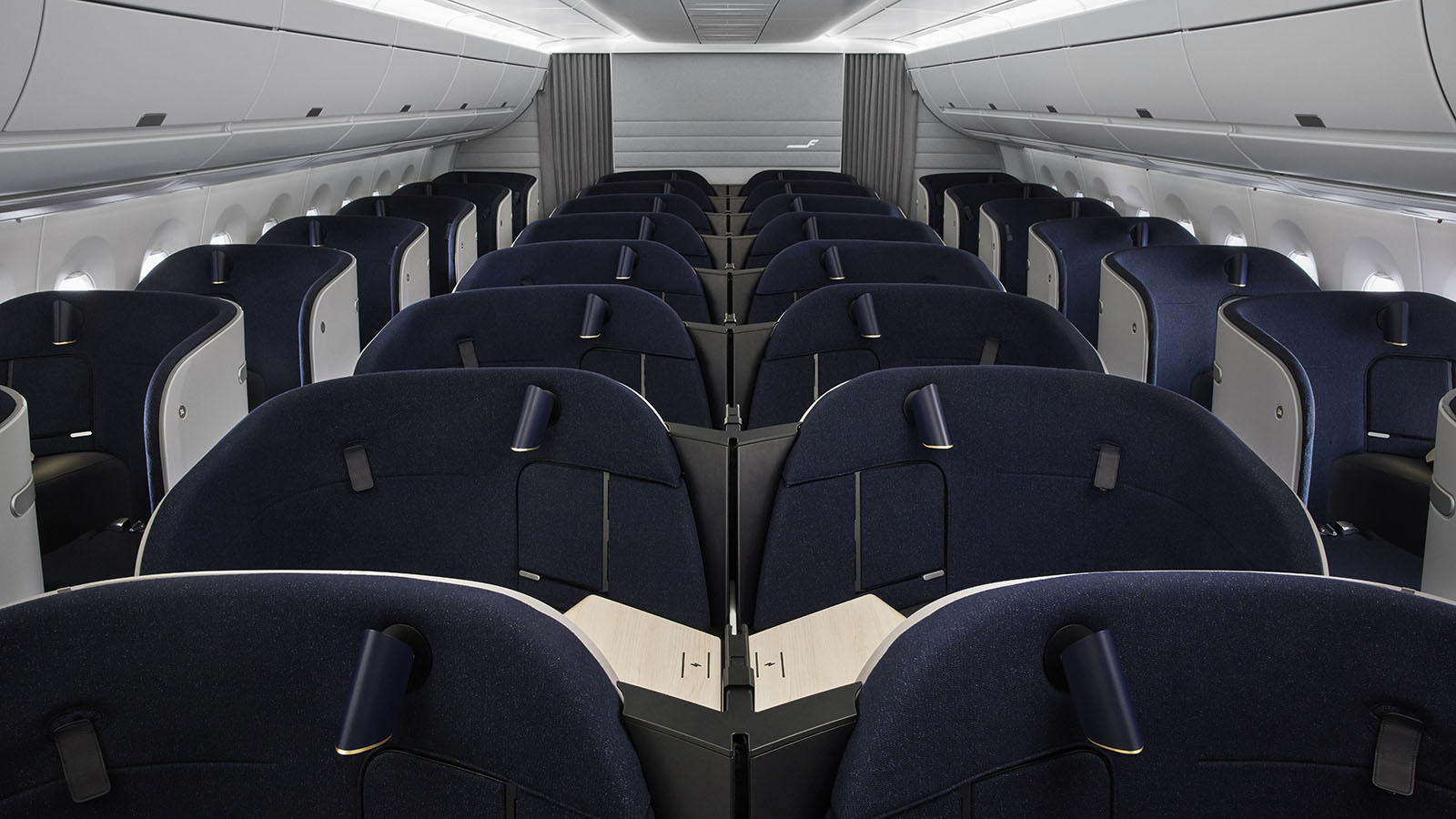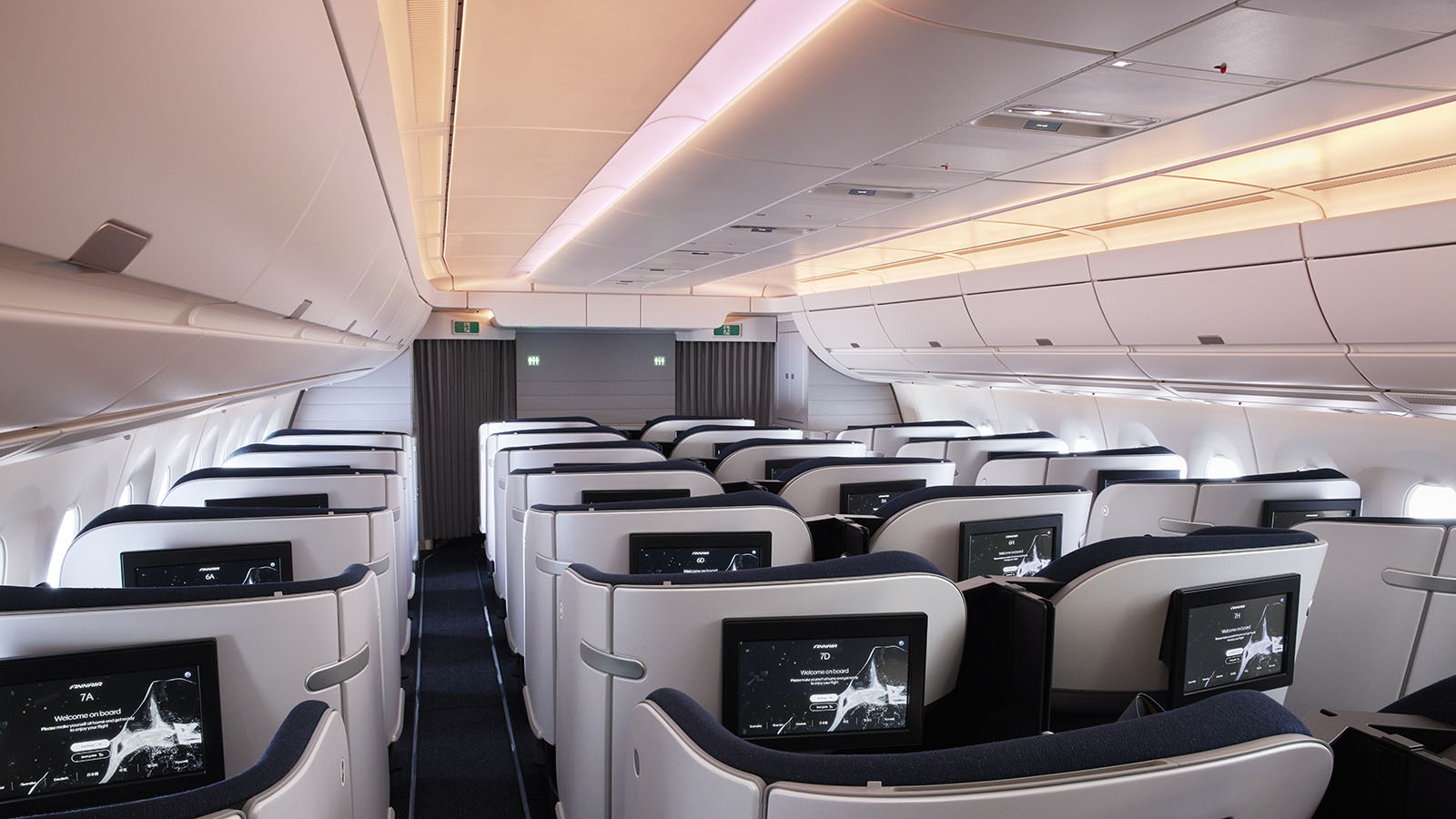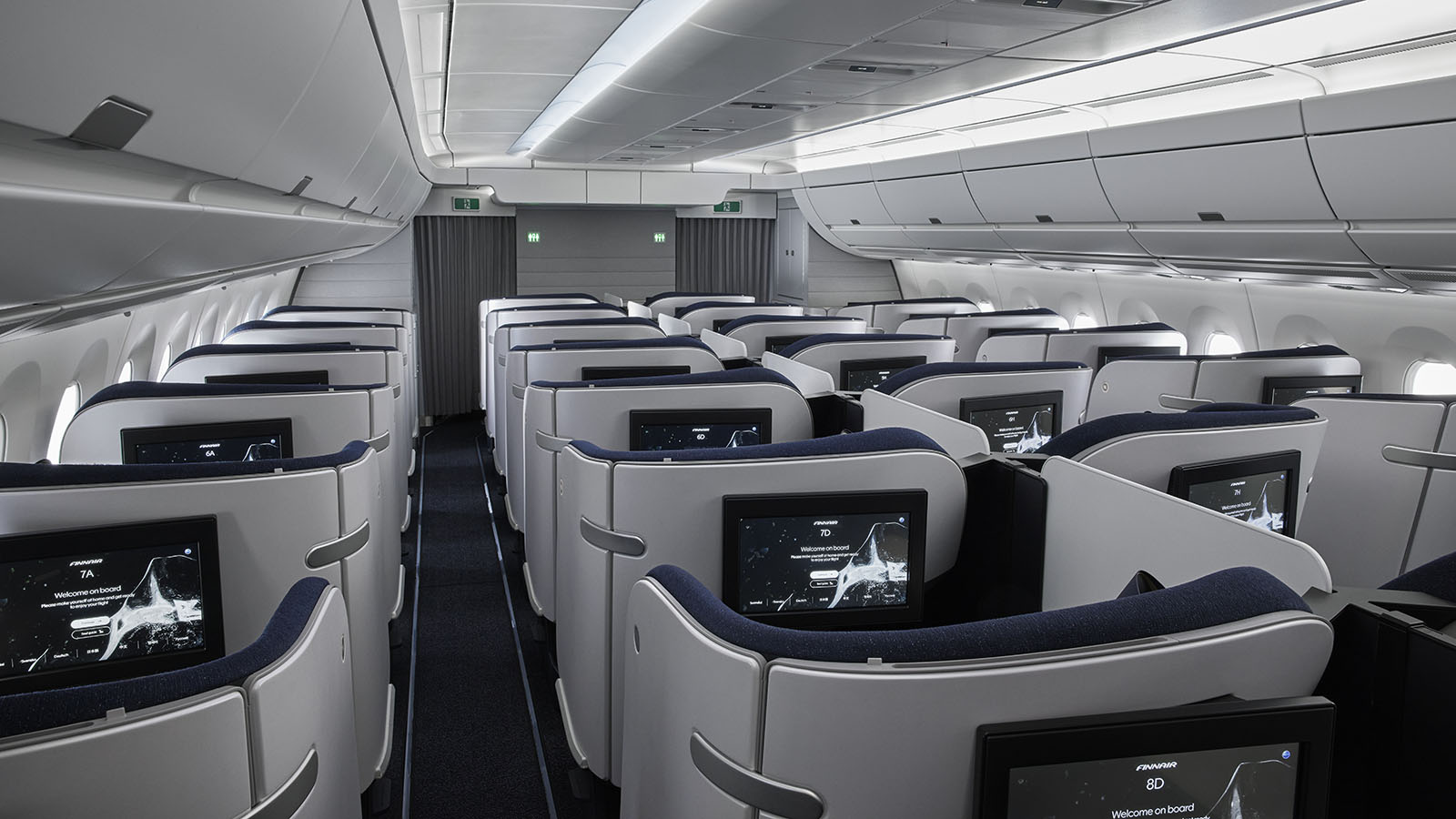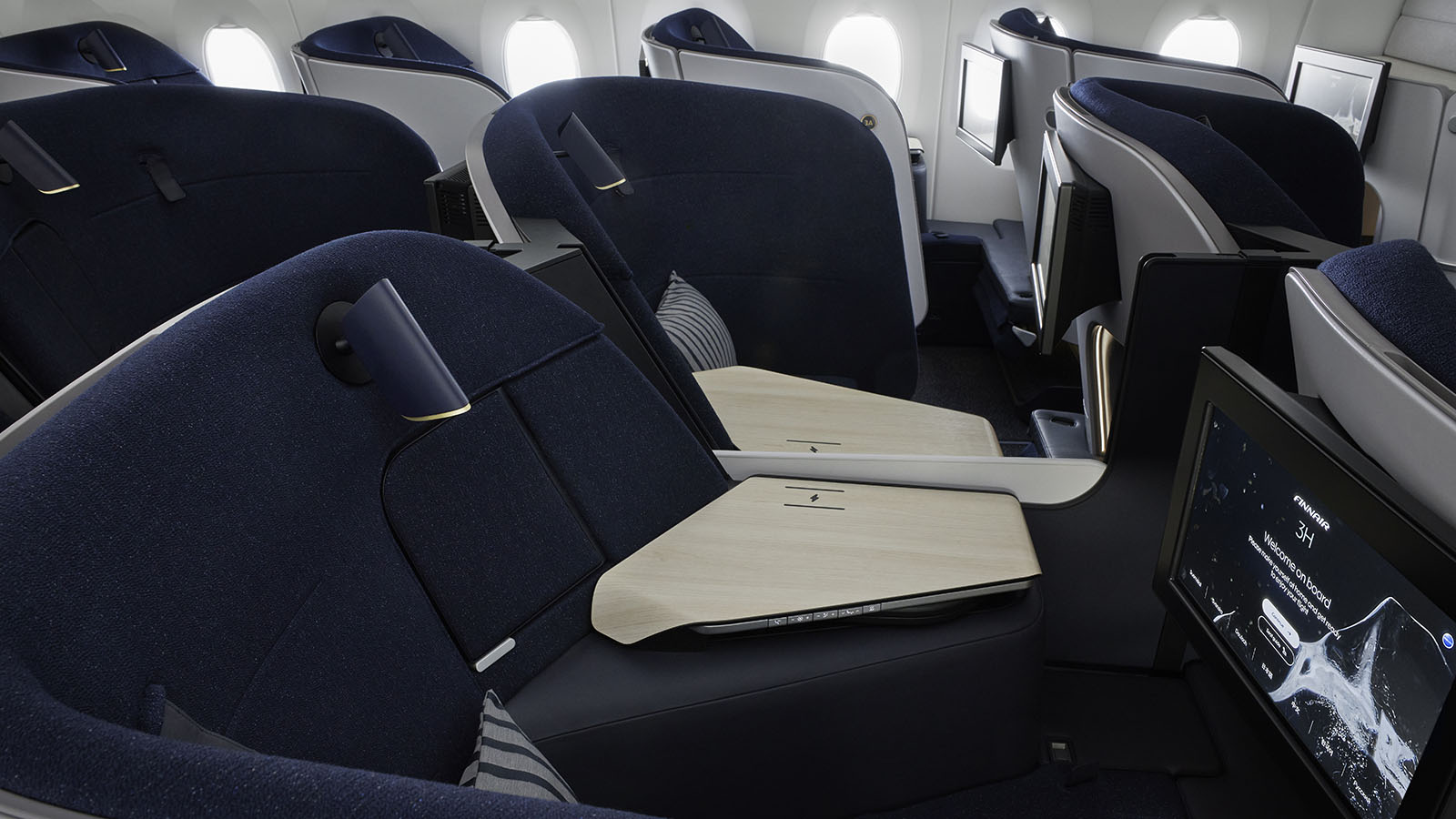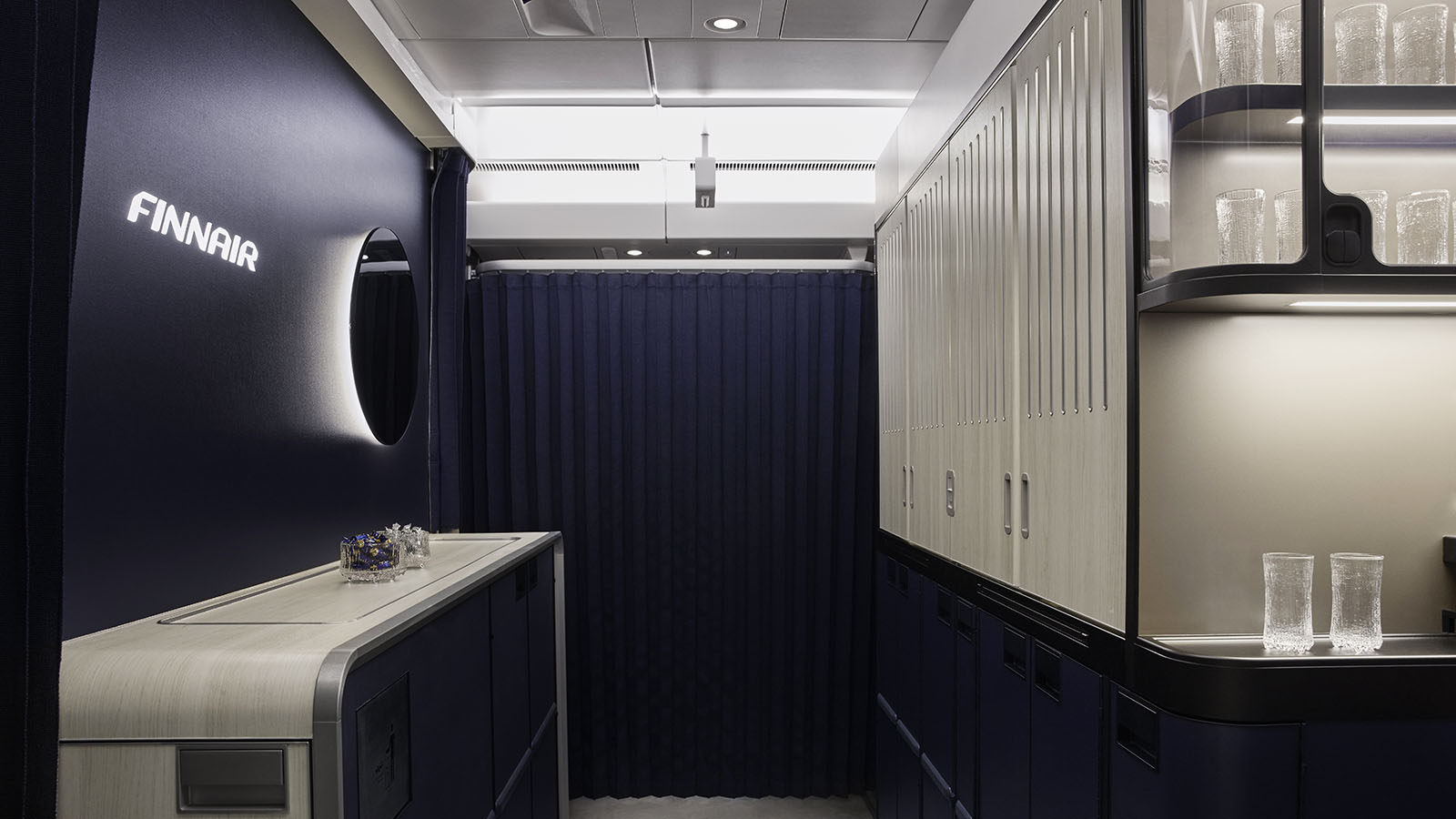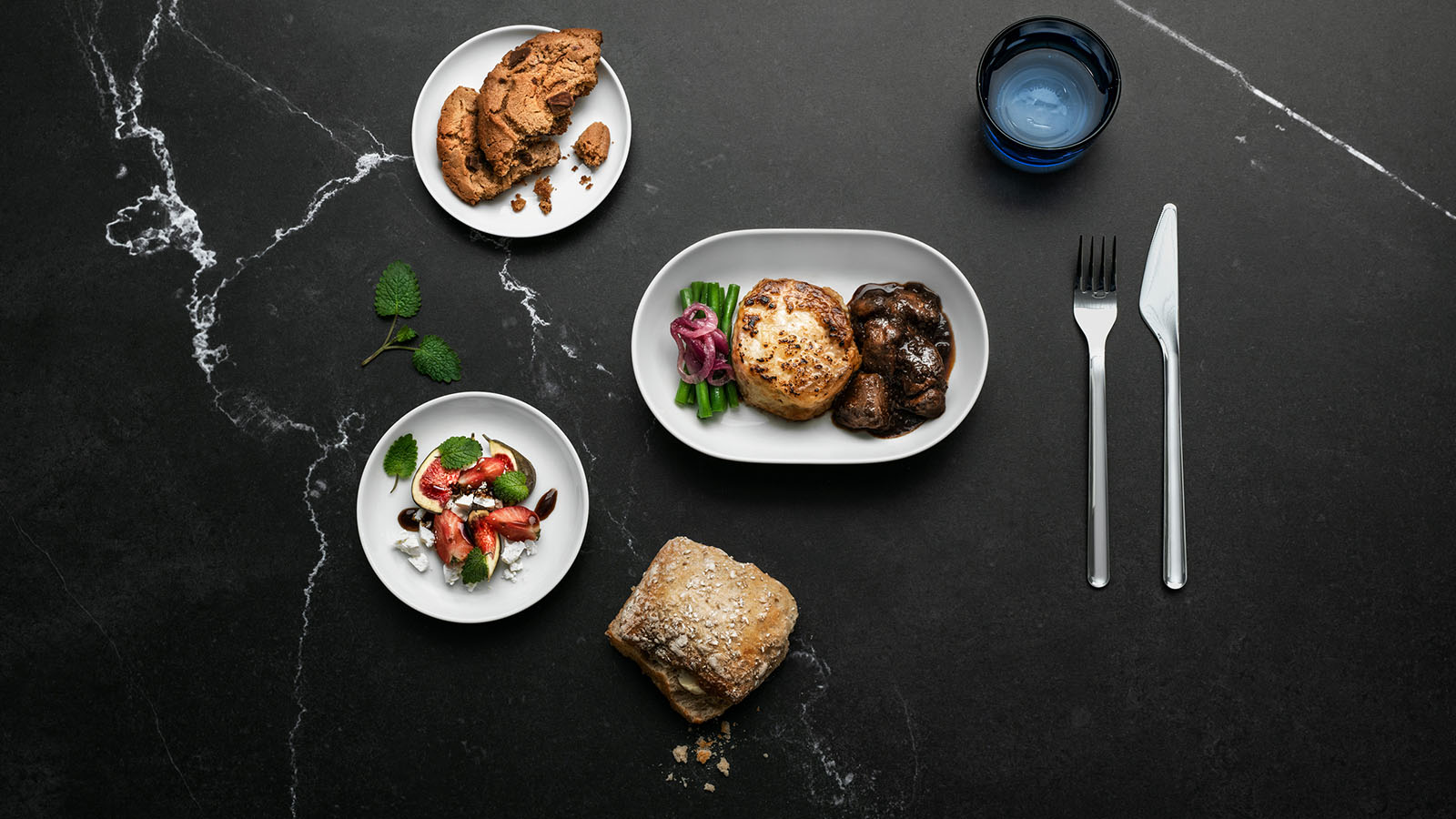 Storage pockets keep your personal items at the ready, and there's power aplenty. Joining the expected international-style AC sockets are separate USB-A and USB-C ports. There's wireless charging available too, keeping cables at bay.
Space is today's luxury, and we have put a lot of thought and attention to detail into creating the best Business Class seat for our customers. Both the seat and the whole Business Class experience is centred around customer comfort, space, and choice and is the culmination of our design ethos which will appear throughout our long-haul aircraft to redefine modern premium travel.

– Ole Orvér, Finnair Chief Commercial Officer, 10 February 2022
On the dining front, Business Class passengers will also be served dishes on new Harri Koskinen chinaware. It's part of a redesigned meal service, expanded to deliver up to six courses in a modern bistro style.
Ad – Scroll down to continue reading.Minimum spend, terms & conditions apply.
Exploring Finnair's new Premium Economy Class
Finnair's very first Premium Economy Class experience is also about to grace the Finnish skies. A cosy 26-seat cabin caters for those seeking greater comfort than in standard Economy Class, yet without the heftier Business Class price tag.
And comfort you shall enjoy. These seats afford each Premium Economy Class passenger around 50% more space than in Economy Class. A 2-4-2 seating arrangement also means you'll never be more than one seat away from the aisle.
Premium leisure is a trend that has been significantly accelerated during the pandemic, so we are confident our new Premium Economy travel class with its comfortable seats and more space will prove very popular with customers looking for an upgraded experience from Economy.

– Ole Orvér, Finnair Chief Commercial Officer, 10 February 2022
Each seat can recline up to 20cm (eight inches), with a six-way headrest helping you settle in for the journey. Memory foam cushions and a 'waterfall leg rest' round out the key experience.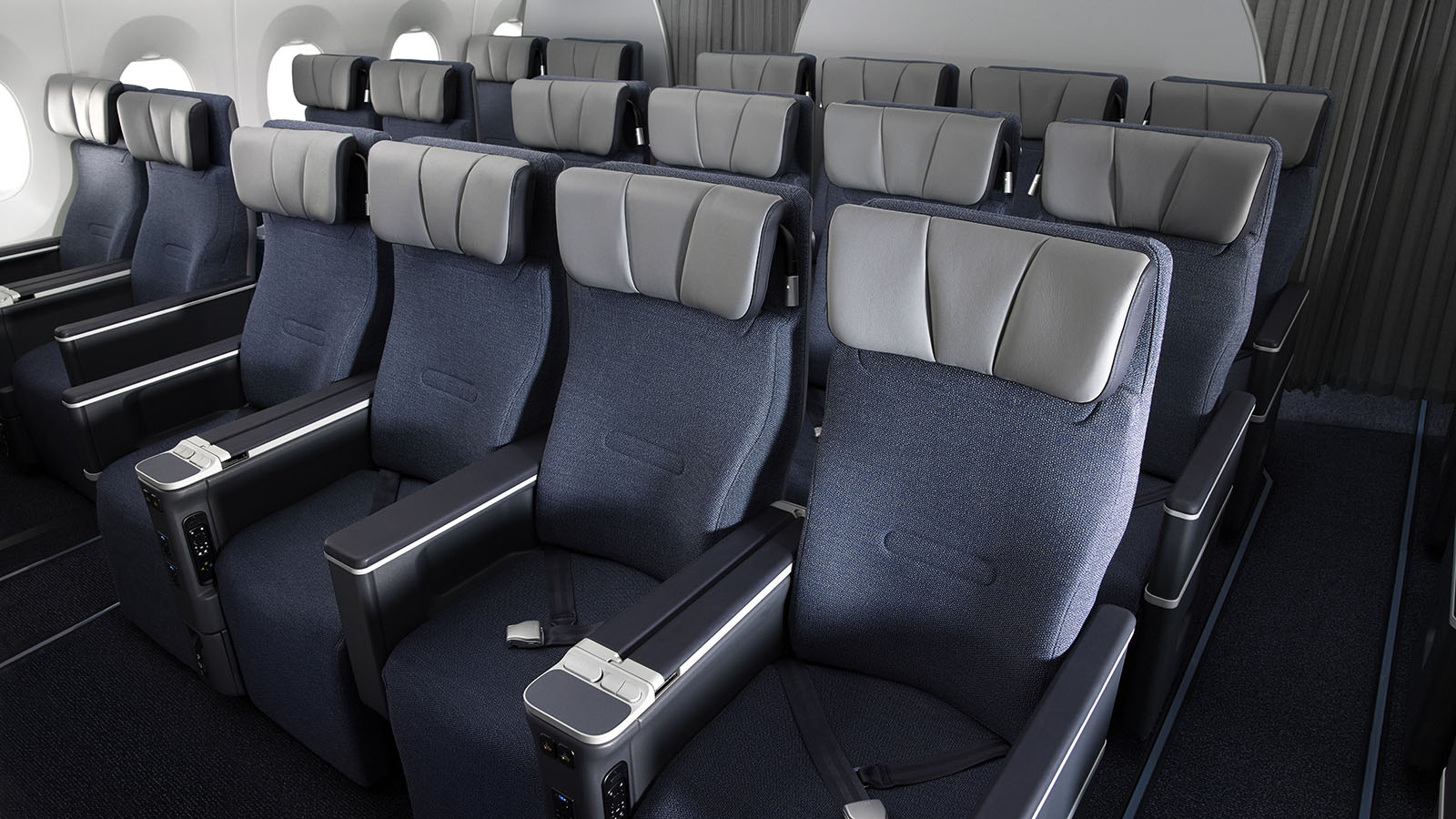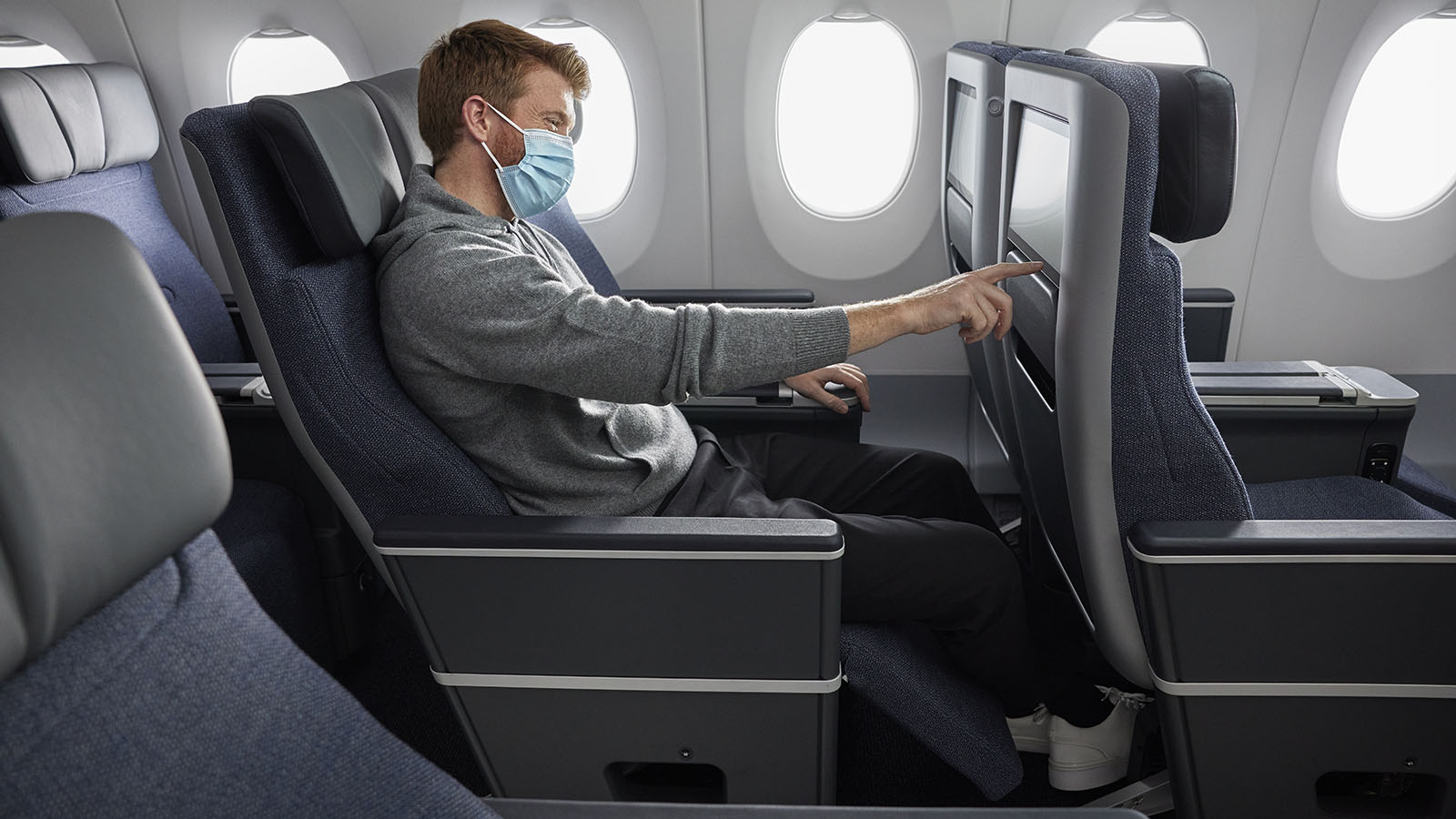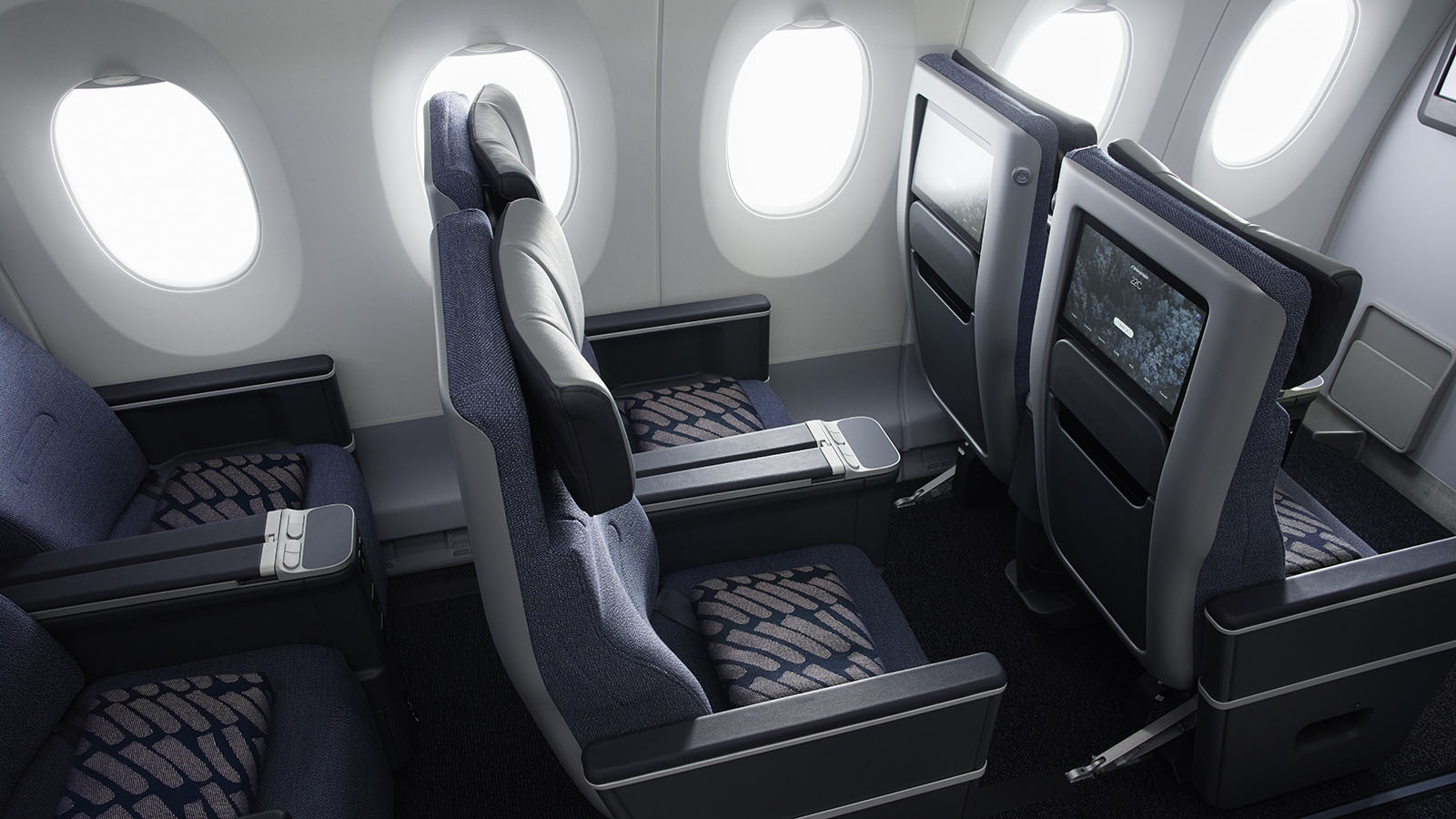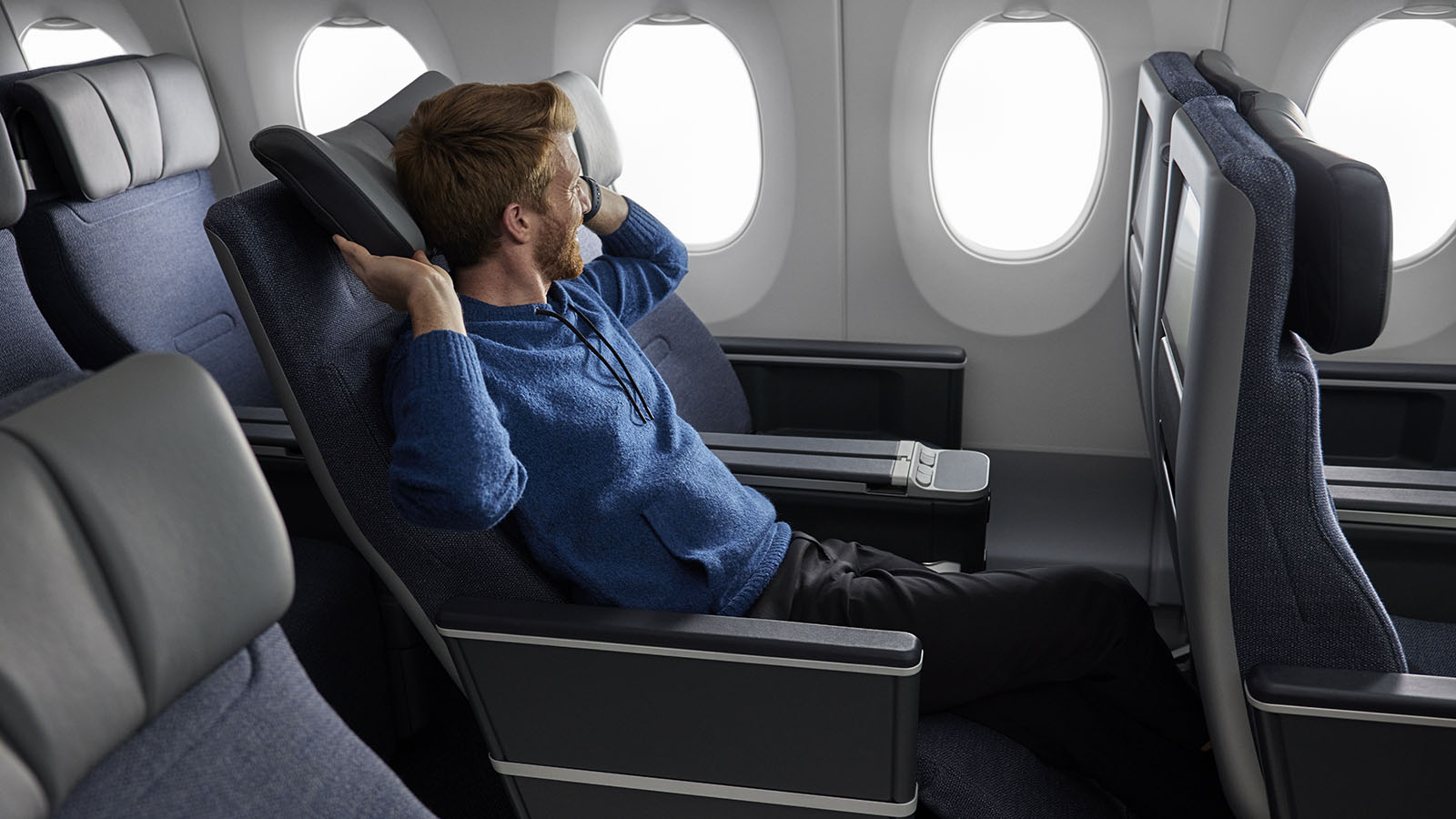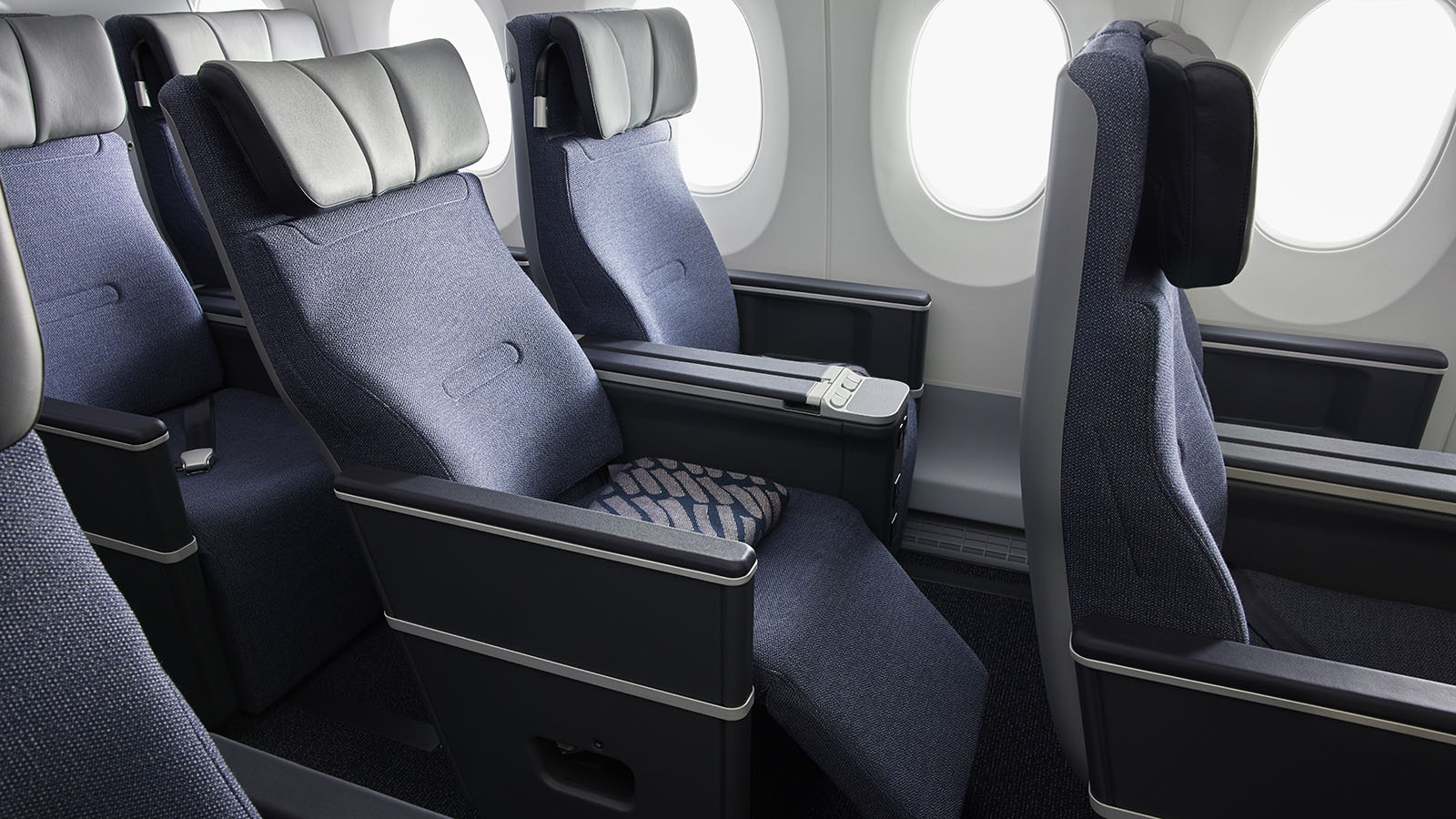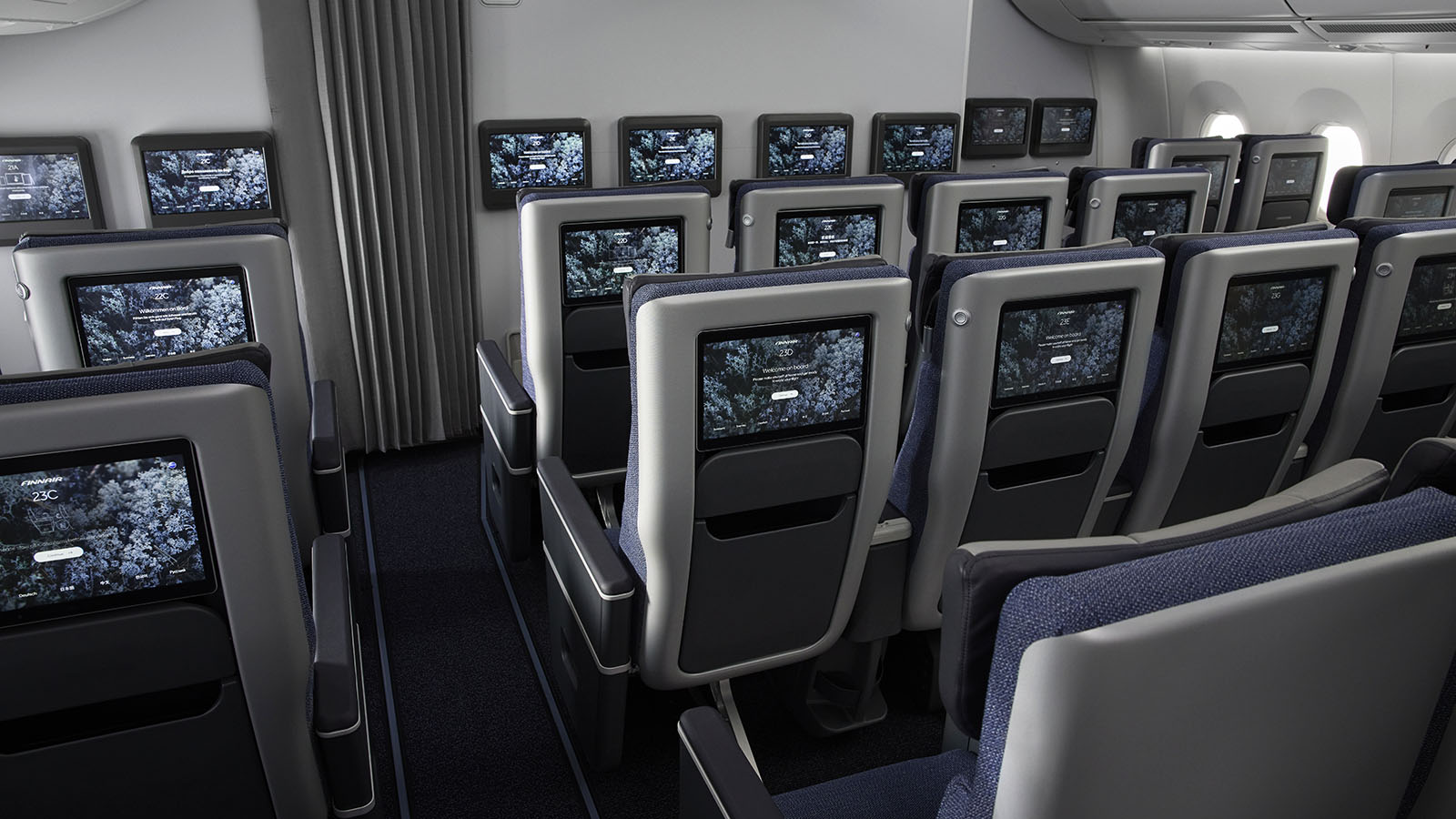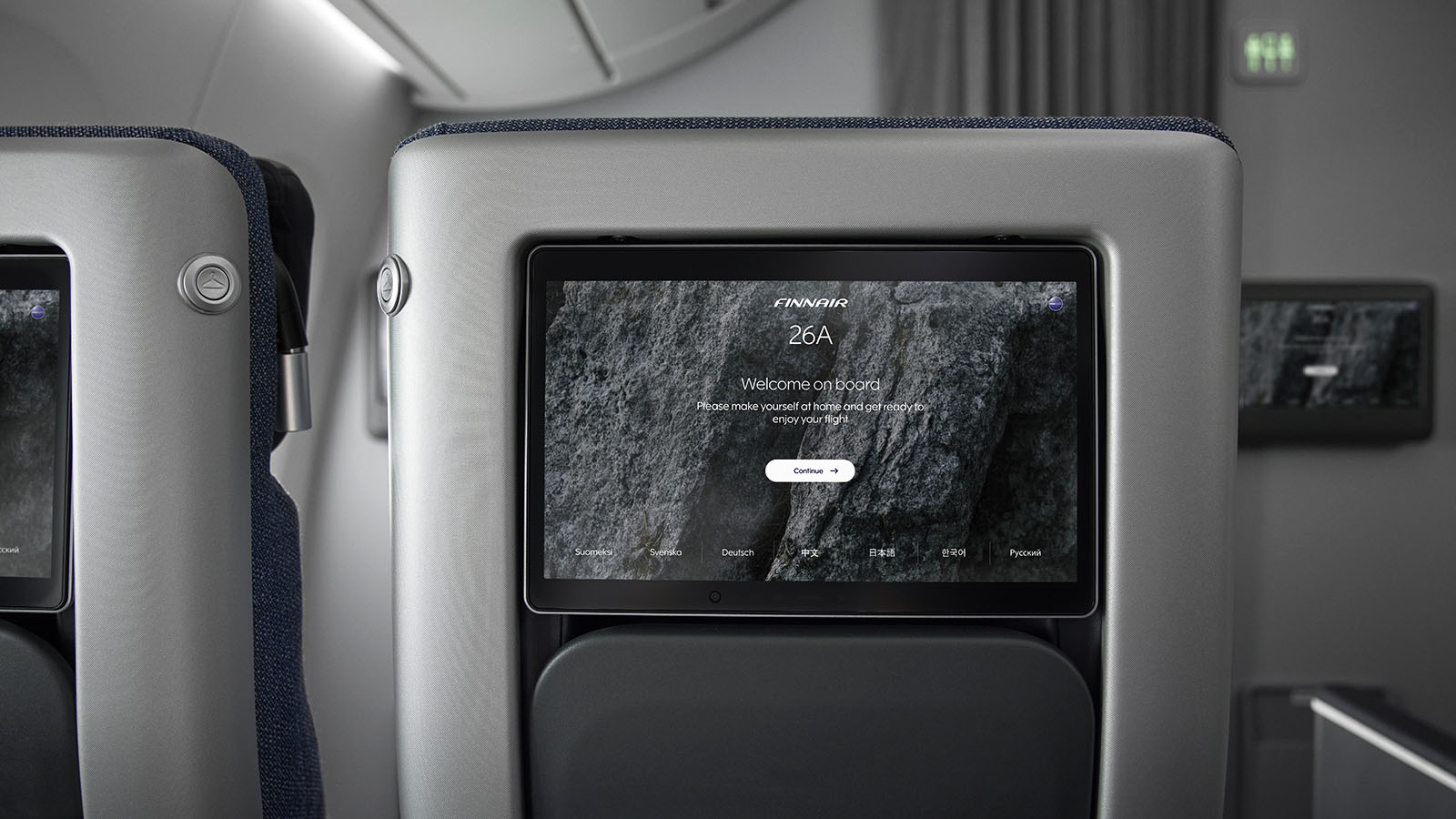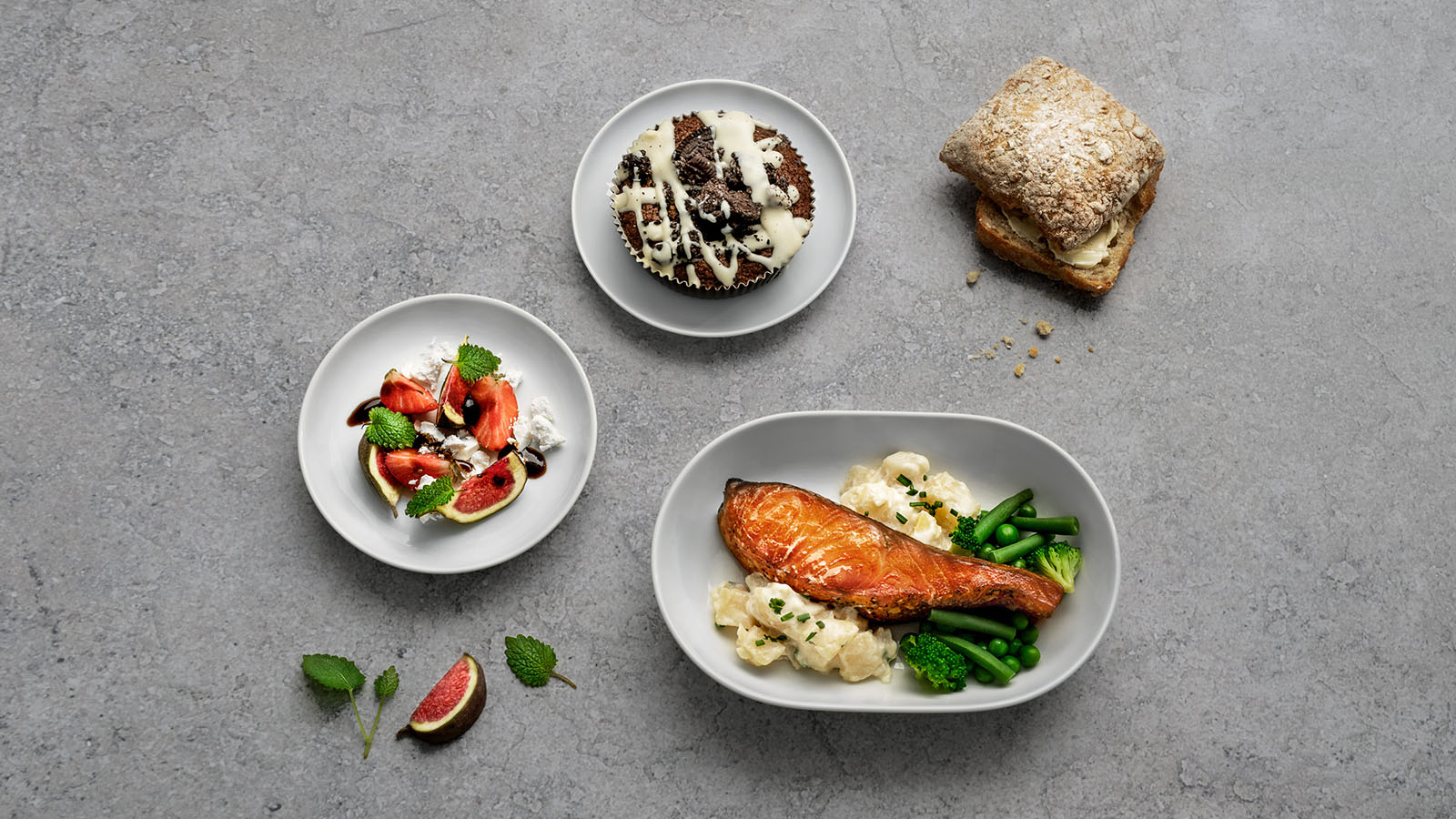 Whether you're flying for work or pleasure, AC and USB-A outlets will help keep your devices powered up. A 13-inch high definition entertainment screen is also yours to enjoy a sea of movies and TV shows.
Speaking of amenities, Premium Economy Class passengers also get a Marimekko neck pillow to maximise comfort on long flights. At mealtimes, look forward to a three-course service.
Video tour: explore Business Class and Premium Economy Class
For a closer look at Finnair's fresh inflight offerings, settle back and watch this four-minute tour from tip to tail. You'll also catch a glimpse of Economy Class, where new seat covers and entertainment screens are set to appear.
From its hub at Finland's Helsinki Airport, Qantas' partner Finnair serves destinations across Europe, Asia and the United States.
By mid-year, the airline expects to serve almost 100 cities, with plans to launch routes from Helsinki to Tokyo Haneda, Dallas, Seattle and Busan throughout 2022. That Tokyo service will add a great connecting point for Australian travellers, potentially linking up with Qantas' own flights from Sydney, Melbourne and Brisbane.
Summing up
With its enticing airfares and the ability to earn and spend Qantas Points, Finnair already appealed to many Australian travellers. But these new seats give those Down Under yet another reason to consider Finnair on their European adventures.
Certainly, a Helsinki transit adds a second stop to any journey from Australia. Yet the ability to clear Schengen Area passport control in Finland during that stopover can reduce hassle at your final destination.
With your passport already stamped, you'd then be straight off the plane, and free to roam like any other European traveller.
Also read: Countries start bringing down the barriers to international travel
Photography and video footage courtesy of Finnair.
---
Stay up to date with the latest news, reviews and guides by subscribing to Point Hacks' email newsletter.
Finnair unveils new Business Class and launches Premium Economy Class
was last modified:
February 11th, 2022
by