With Singapore and Australia bringing down barriers to travel, your next overseas trip won't be far away! Plus, all COVID tests are now scrapped for travellers. But flying to Singapore in the COVID era isn't the same as it was before.
Along with all the usual requirements of international travel, there's one more thing to tick off. The DPD, or Digital Passenger Declaration, is something you need to do before returning to Australia. It can't be done last minute at the airport (at least, we haven't tried yet). Still, once you've navigated the documents required for international travel right now, there are lots of great experiences waiting for you along your journey.
Here's what you need to know about travel permits, vaccination requirements and more for flying to Singapore. Plus, we explore the lounges and seats you can experience, and the airlines that'll take you there.
Paperwork and pre-flight COVID testing
Before turning up at check-in for your long-awaited Singapore voyage, there are a few formalities to complete. But thankfully, they're not as arduous as they were in early 2022.
Departing Australia for Singapore
With pre-travel COVID tests between Australia and Singapore now vanquished, travel is easier. The main thing you need to do is have your international proof of vaccination. In Australia, you can request this from the Medicare website or app. If you want, you can verify your certificate on the 'Vaccination Check Portal' for smoother entry, though this step is optional.
The Singapore Arrivals Card is a simple and free declaration you can start filling out from three days before departure. Once you finish it, you'll get an email confirmation you can show for smoother immigration checks.
And that's pretty much it. With 'Vaccinated Travel Lanes' now gone, you can take any flight into Singapore as a fully-vaccinated traveller. But be sure to check the Singapore Government checklist before departure, in case things change.
In the reverse direction from Singapore back to Australia, there's no paperwork to complete. That is, except for your incoming passenger card. You'll receive this on board, or can grab a copy at the airport before passport control.
Flying to Singapore with Qantas
The requirements for jetting abroad aren't too difficult, provided you're fully vaccinated. Once you've crossed the Ts and dotted the Is, your favourite lounges, cabins and airlines await!
Qantas, for example, runs flights to the Lion City from four Australian ports.
| | | | |
| --- | --- | --- | --- |
| Route | Frequency | Aircraft type(s) | Cabins |
| Sydney-Singapore (QF81/82) | Daily | Airbus A330-300 | Business, Economy |
| Sydney-Singapore (QF1/2) | Daily from 19 June 2022 | Airbus A380-800 | First, Business, Premium Economy, Economy |
| Melbourne-Singapore | Four times a week | Airbus A330-300 | Business, Economy |
| Brisbane-Singapore | Three times a week | Airbus A330-300 | Business, Economy |
| Perth-Singapore | Three times a week | Airbus A330-300 | Business, Economy |
Qantas' aircraft and cabins
Based on schedules in June 2022, most Qantas flights between Australia and Singapore will be aboard the Airbus A330. These jets offer Business and Economy But from 19 June, QF1 and QF2 return on the Airbus A380, bringing back First and Premium Economy as well.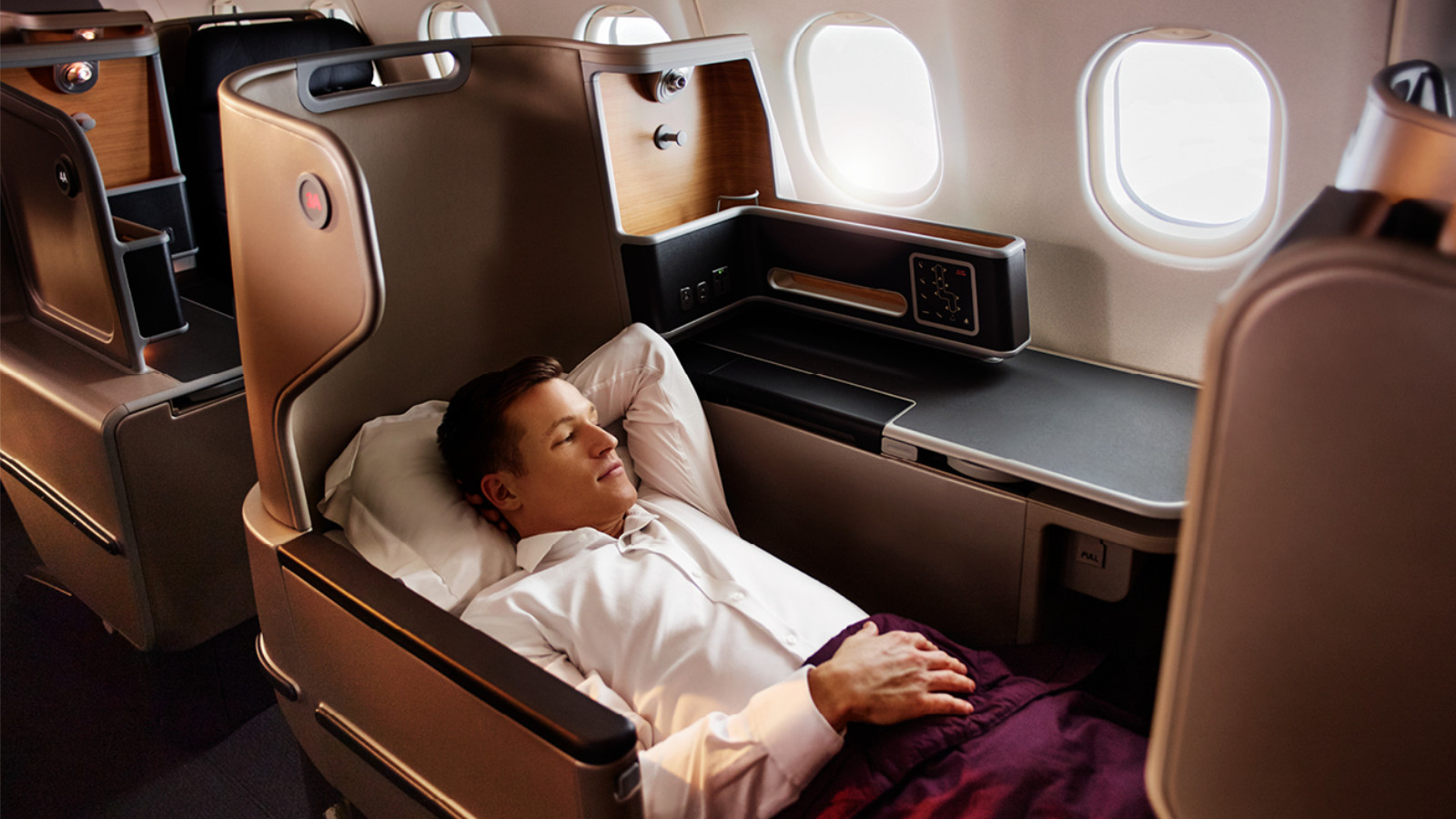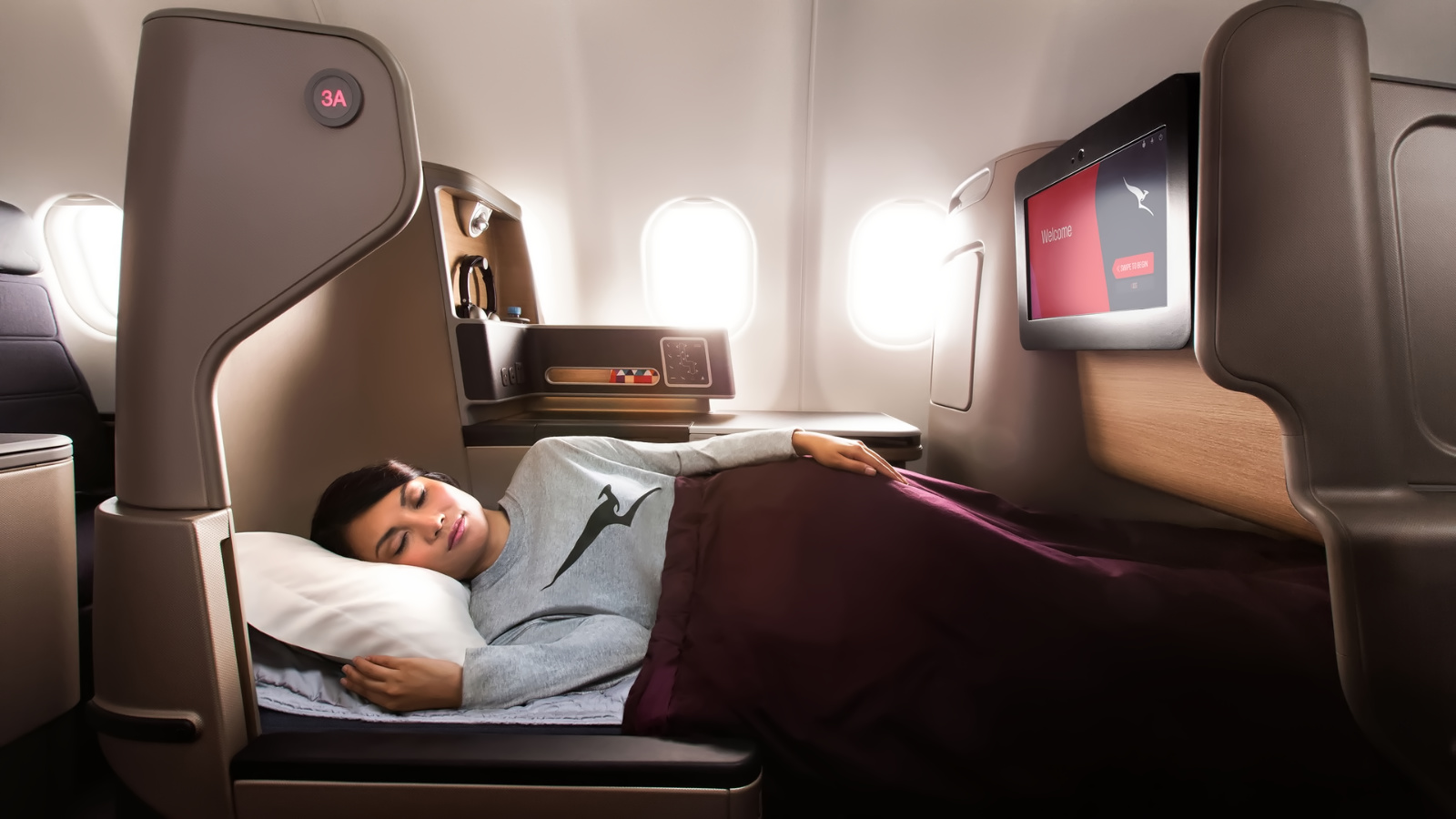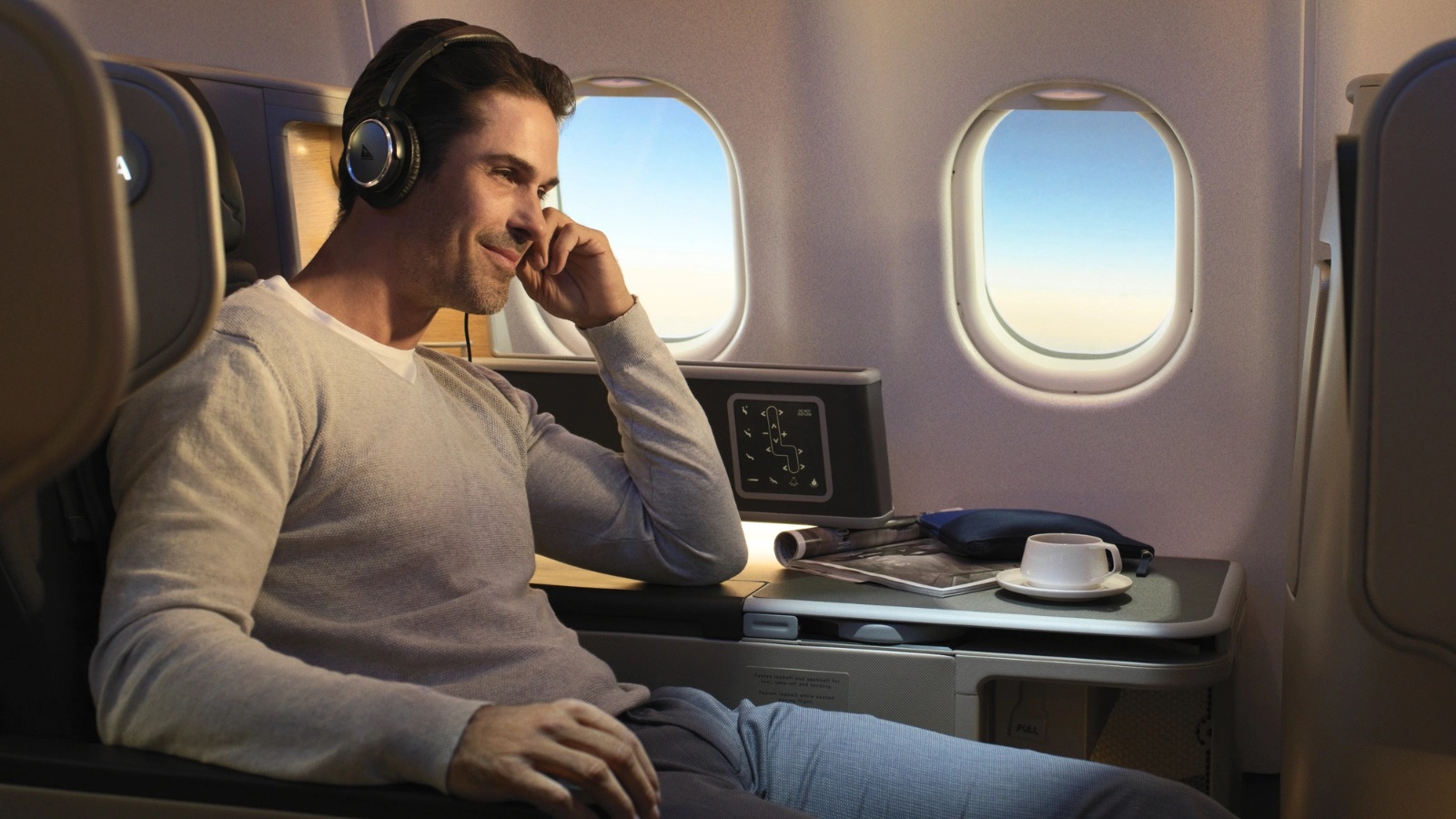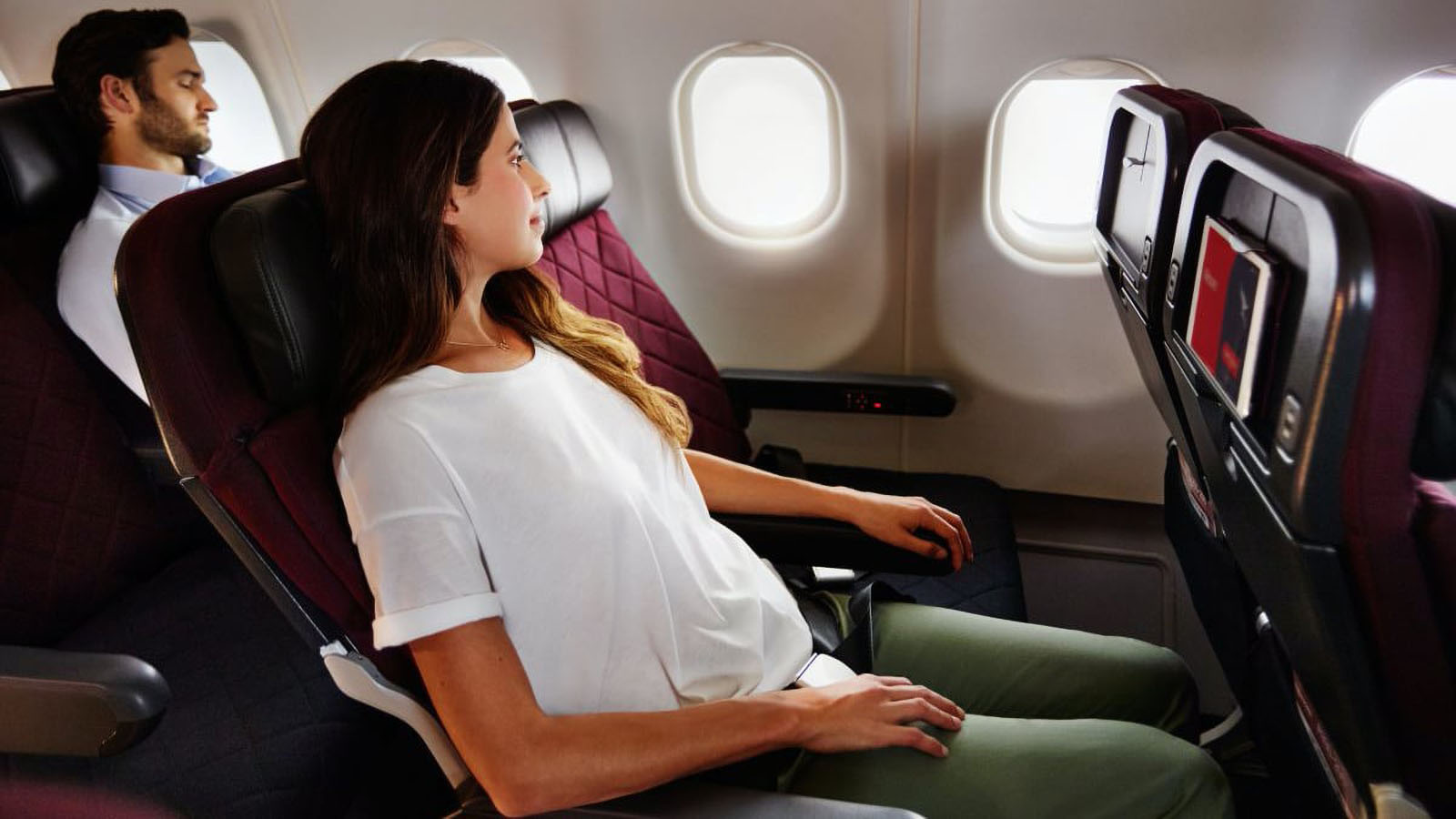 In Business, expect the airline's flagship Business Suite. These combine the comfort of a fully-flat bed with the convenience of direct aisle access at every seat. Back in Economy, seats come in a 2-4-2 layout on the Airbus A330. That's ideal for couples and pairs travelling together, who can nab the pairs against the windows, which don't have a dreaded middle seat.
The wider Airbus A380 has a dense 3-4-3 layout in Economy.
Qantas' lounges
Qantas has dedicated Business and First lounges in Sydney, Melbourne and Singapore. Of course, the Business spaces welcome Qantas Business passengers. They're also home to Qantas Club members plus Qantas Gold and other oneworld Sapphire frequent flyers travelling in Economy.
But if your wallet wields a shinier card, the Qantas First Lounge is calling! On the door list are Qantas Platinum, Platinum One, Chairman's Lounge and other oneworld Emerald cardholders. Inside, expect an upmarket décor, restaurant-style dining – and when departing Australia, even a day spa.
Travellers departing Brisbane can instead visit the Qantas Premium Lounge. That's the Roo's lingo for a Business Lounge that also serves Platinum-grade frequent flyers. It's not in the same league as a Qantas First Lounge, but still provides a comfortable pre-flight experience.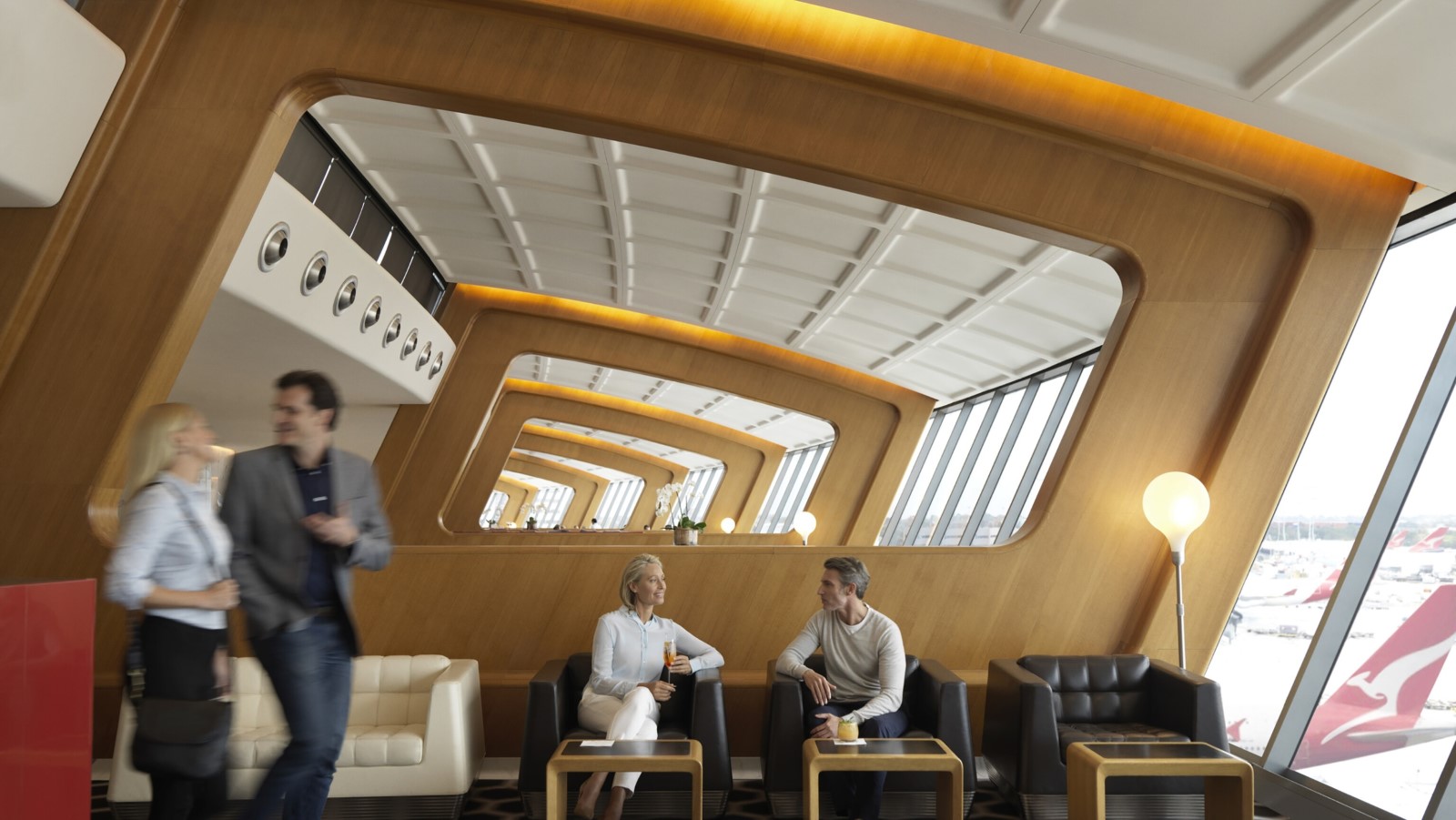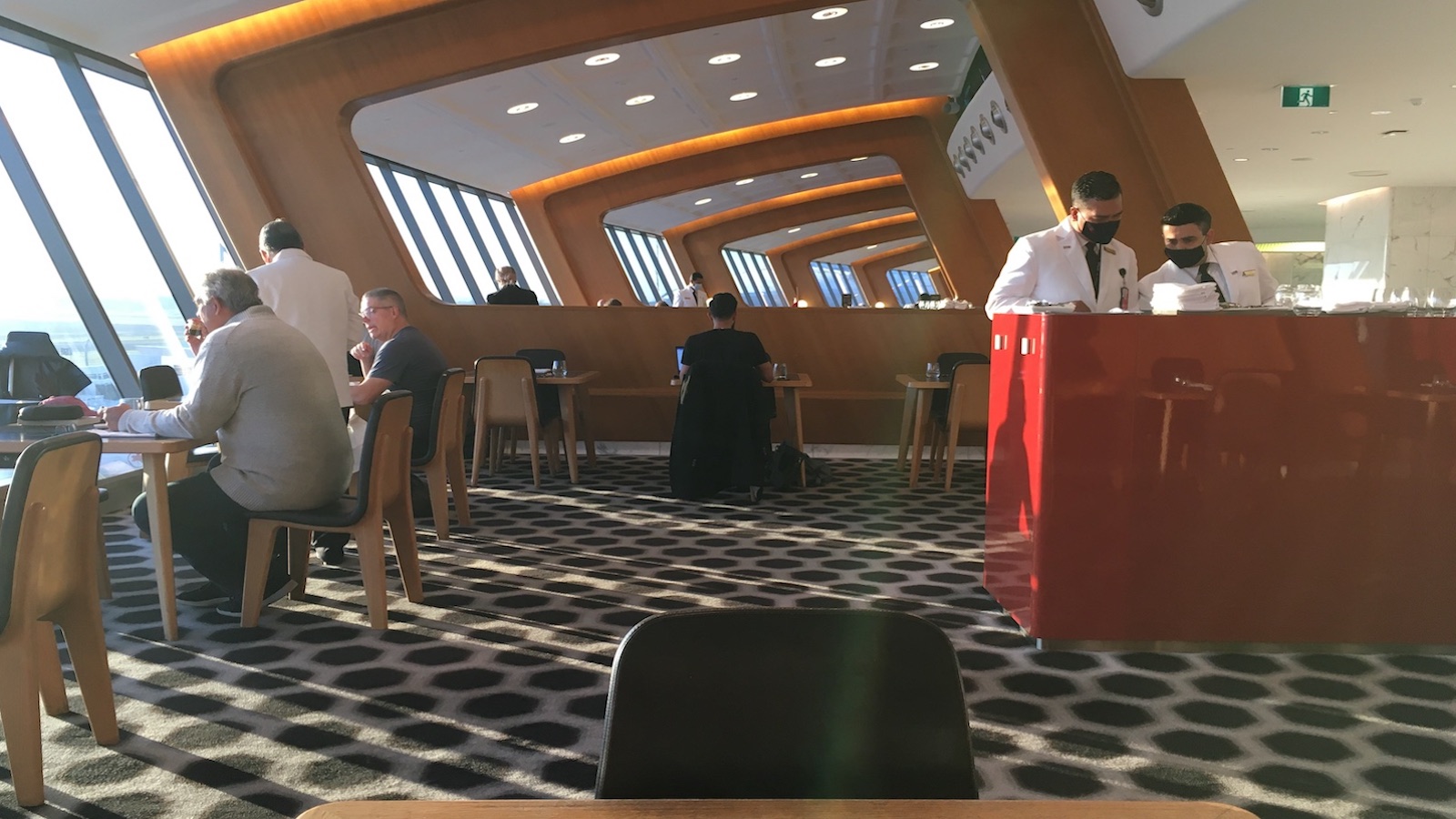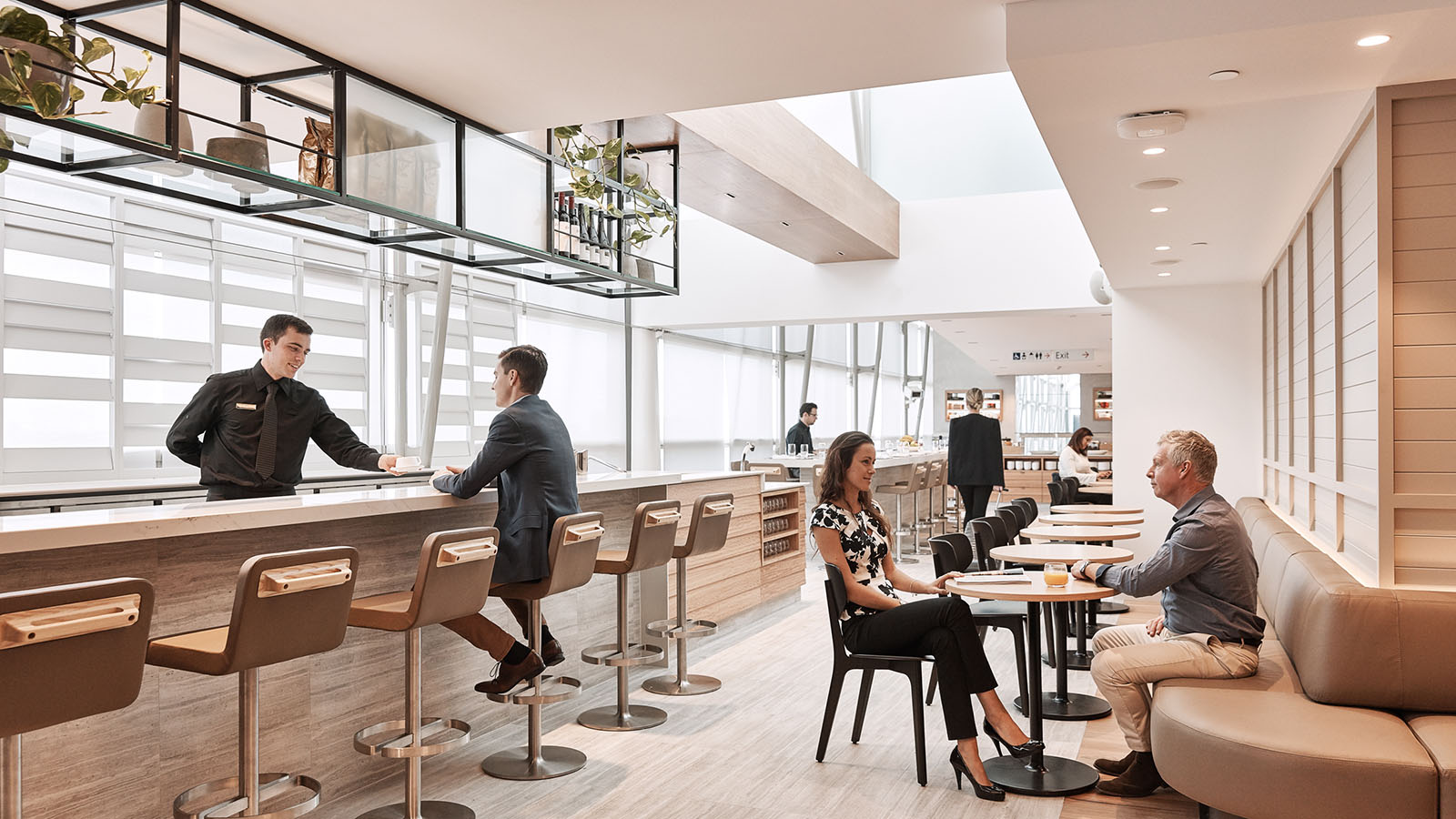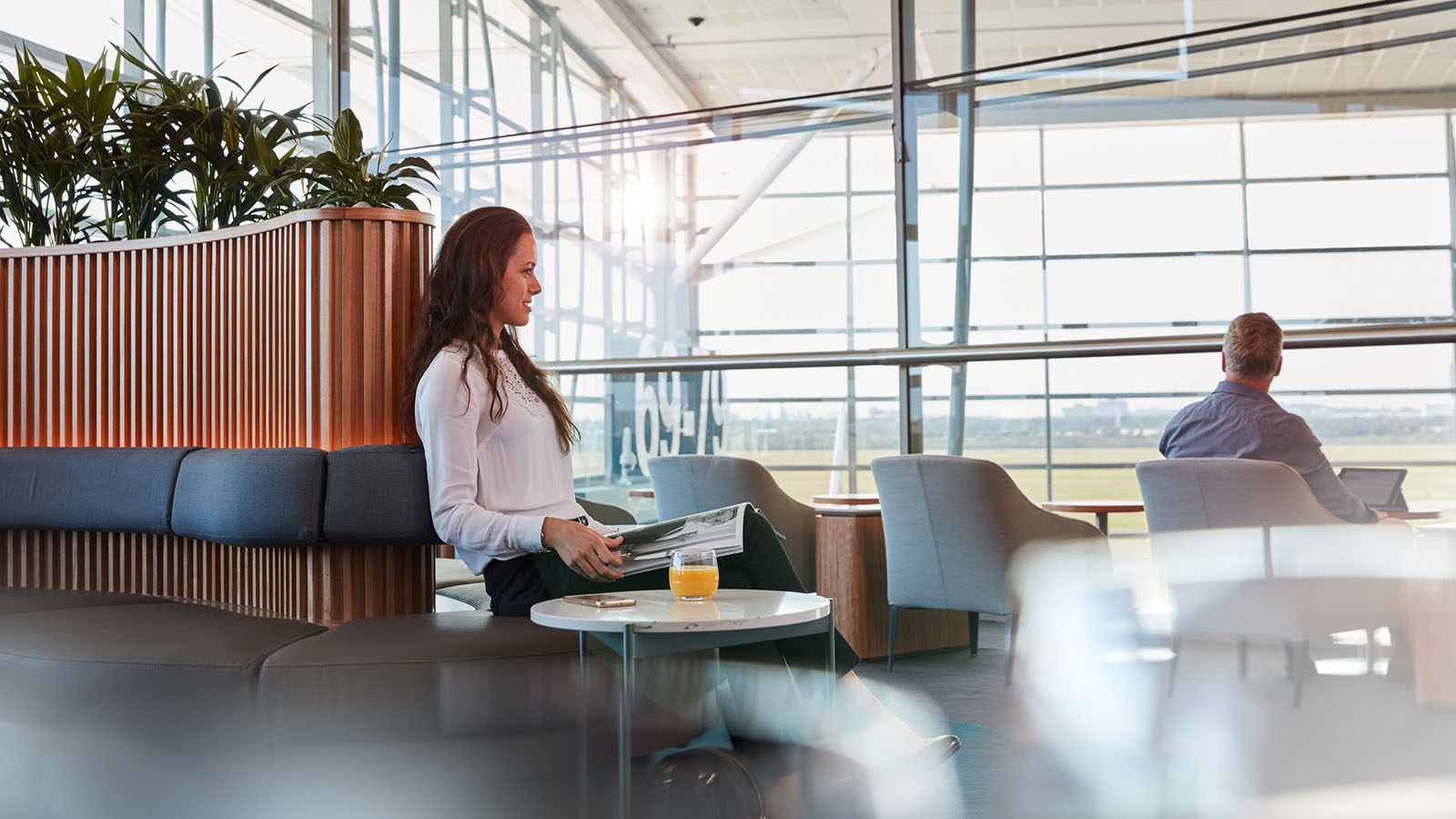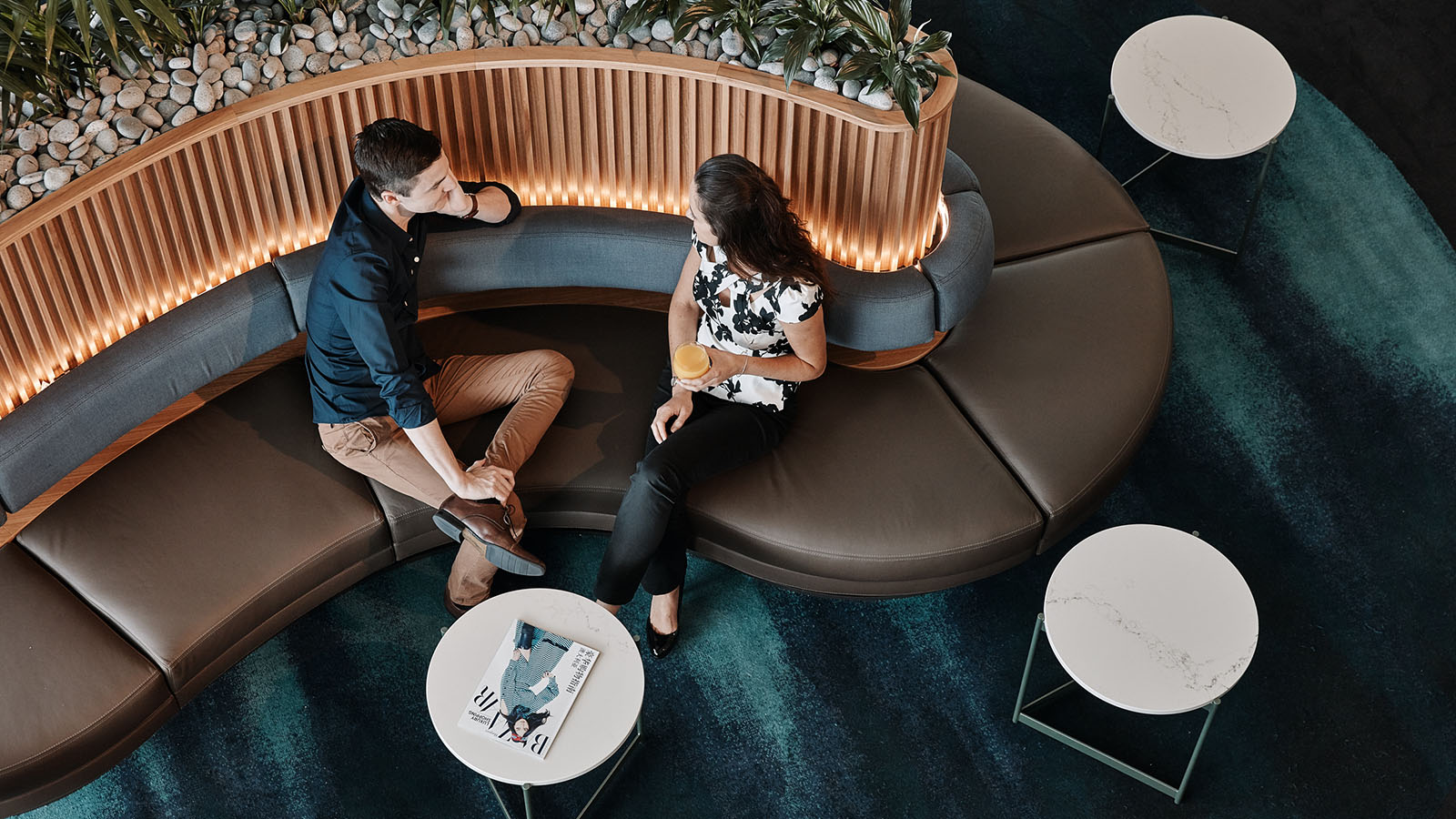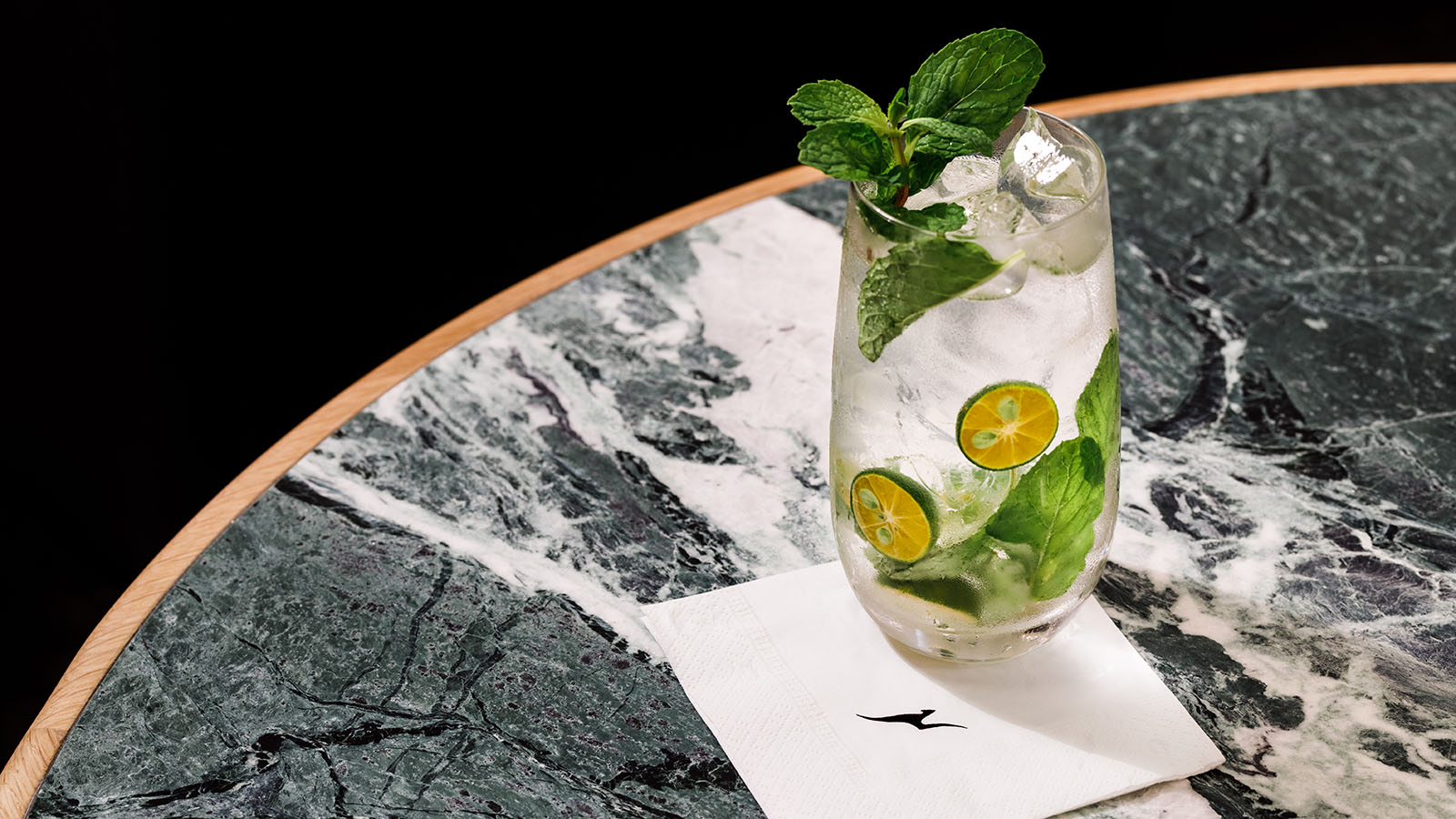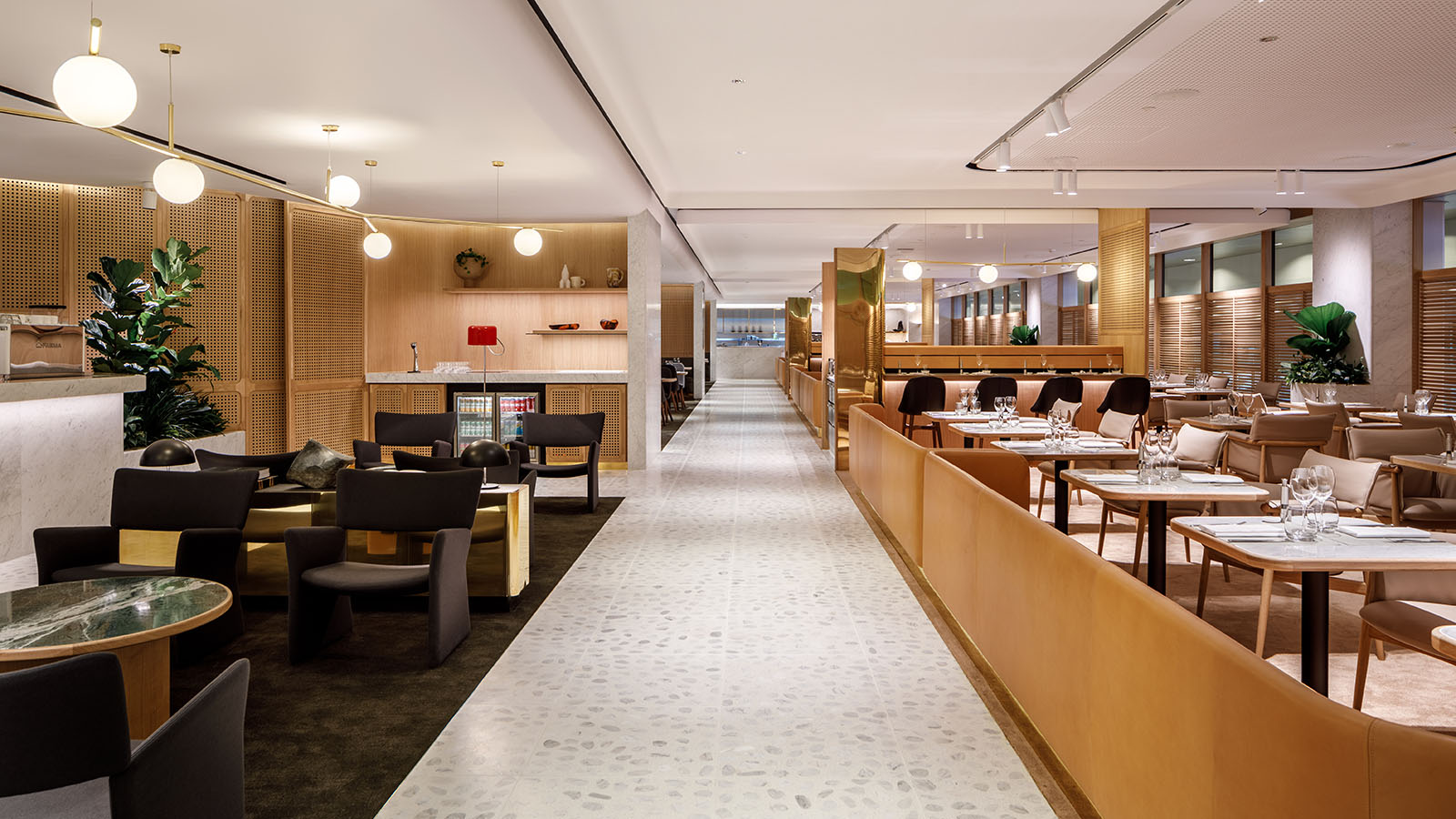 Over in Perth, Qantas' Singapore-bound flights are currently scheduled from Terminal 4. That's where most Qantas domestic flights depart, along with Perth-London services.
Prior to COVID-19, eligible passengers flying Perth-Singapore could access Qantas' Domestic Business Lounge, before going through immigration. This includes Qantas Gold and Qantas Club members, who'd normally use the Qantas Club in the same terminal when flying domestically. Temporarily, those same flyers might be able to access the Perth International Transit Lounge instead.
Flying to Singapore with Singapore Airlines
With Changi Airport being Singapore Airlines' home hub, there's no shortage of flights between Australia and Singapore. In fact, Singapore Airlines offers the most flights of any airline connecting the two countries.
Route
Frequency
Aircraft type(s)
Sydney-Singapore
Four times daily
Airbus A380-800
Boeing 777-300ER
Airbus A350-900
Melbourne-Singapore
Four times daily
Boeing 777-300ER
Airbus A350-900
Brisbane-Singapore
Three times daily
Airbus A350-900
Perth-Singapore
Three times daily
Airbus A350-900, Boeing 787-10
Adelaide-Singapore
Five times a week
Airbus A350-900
Darwin-Singapore
Five times a week
Boeing 737-8 MAX
Cairns-Singapore
Five times a week
Boeing 737-8 MAX
Singapore Airlines' aircraft and cabins
Singapore Airlines uses a raft of different aircraft types across its Australian routes. Sometimes, individual cities get a range of aircraft, too. Sydney, for example, gets the Airbus A380 on selected flights. But it also gets both the Boeing 777-300ER and the Airbus A350-900.
When the Boeing 787-10 jets in, the experience differs again. You'll find the Dreamliner on selected Perth departures. It's also similar to the airline's 'medium-haul' Airbus A350-900s flying to Sydney, Melbourne, Brisbane and Adelaide. These feature Business Class and Economy Class only. Just note, Business Class on these birds brings a more compact seat than on the superjumbos and Boeing 777s.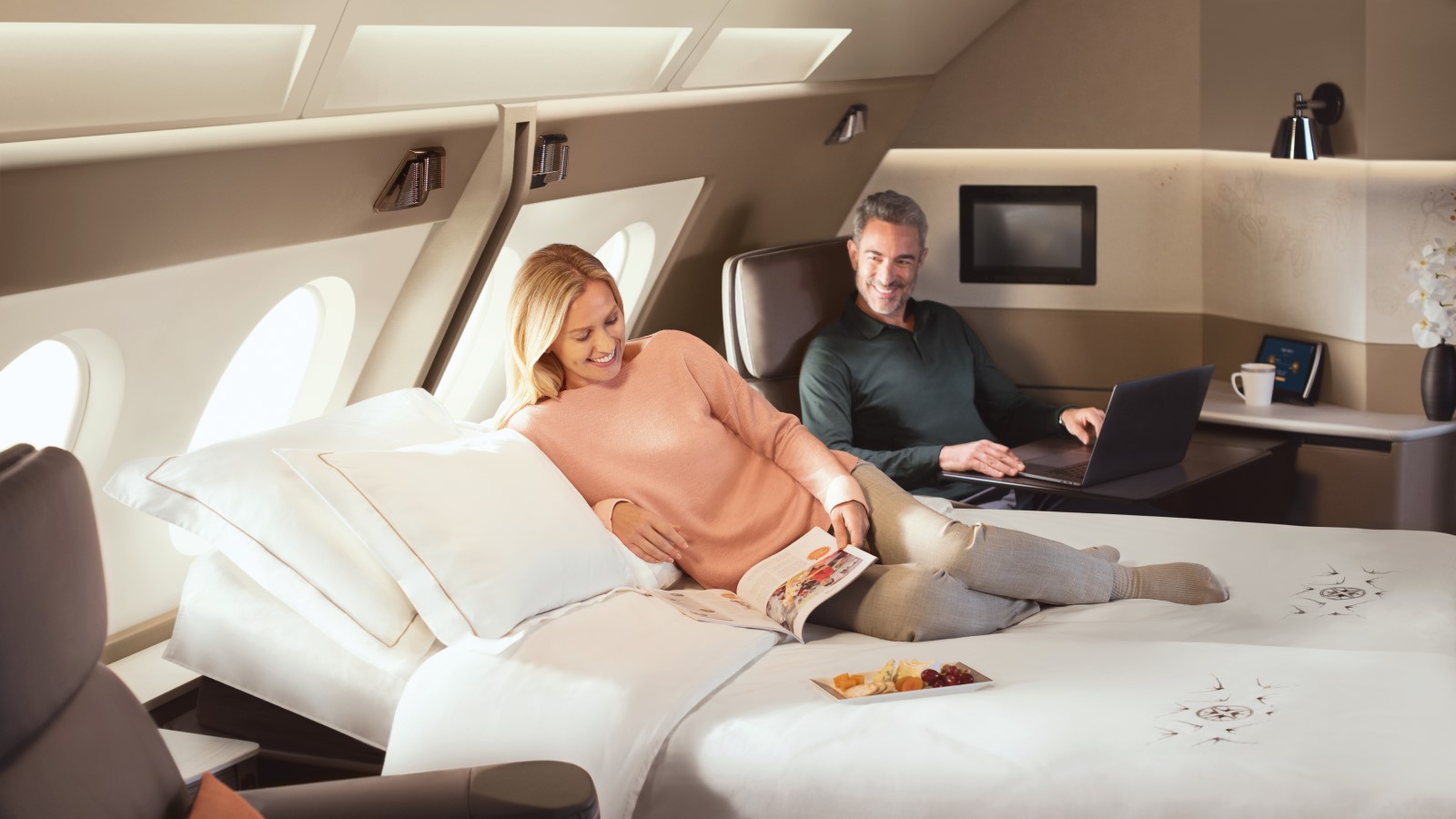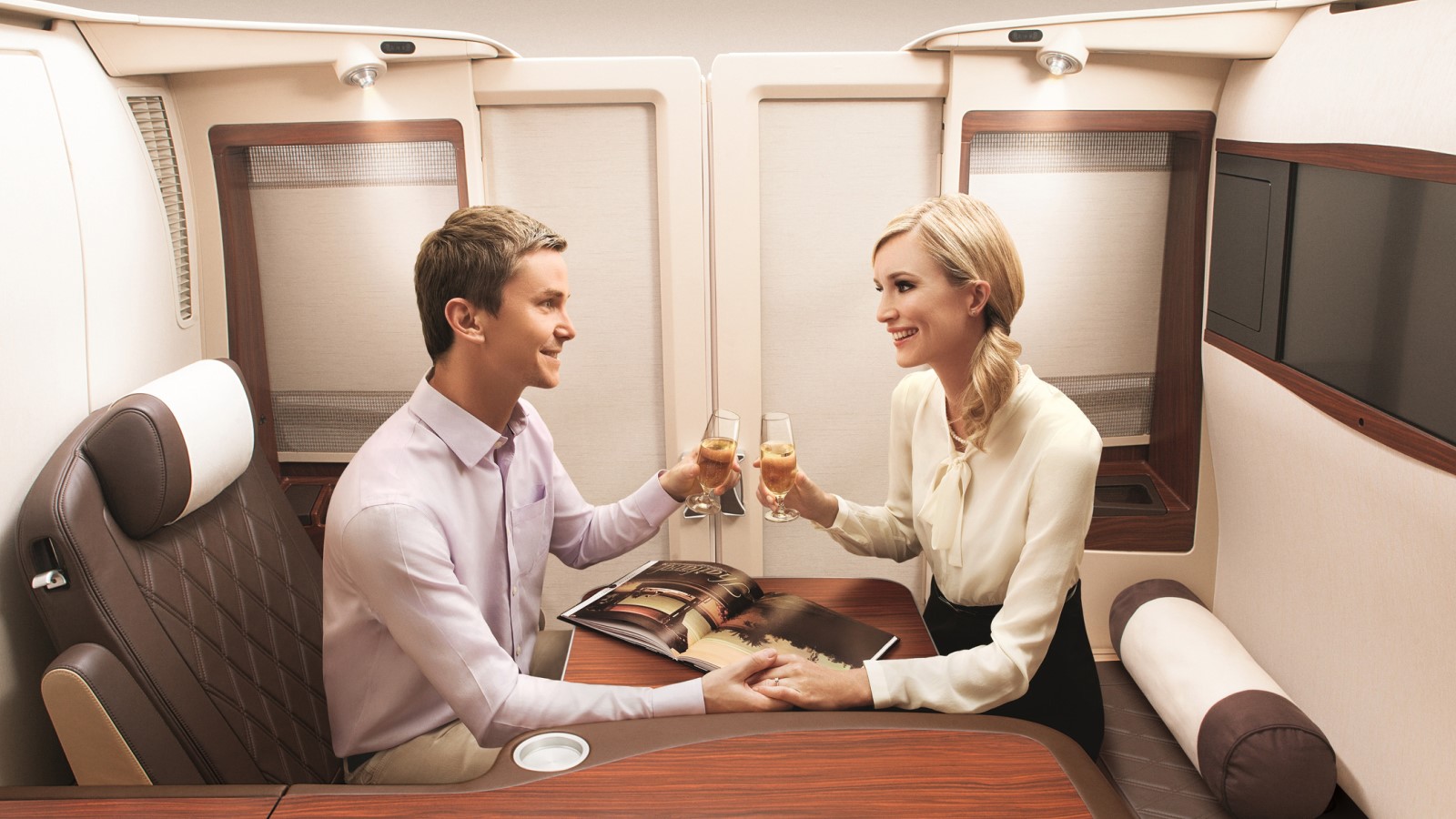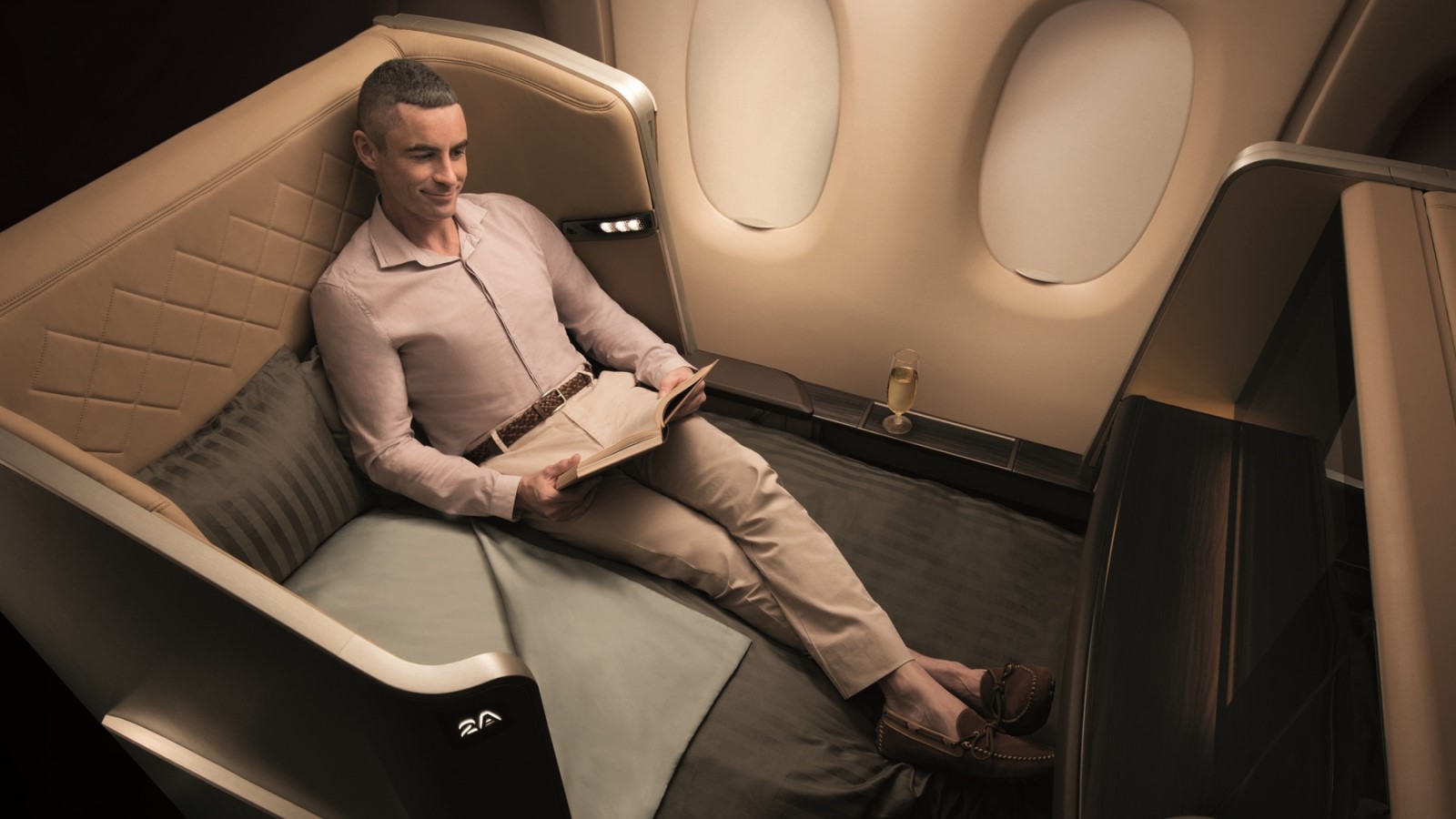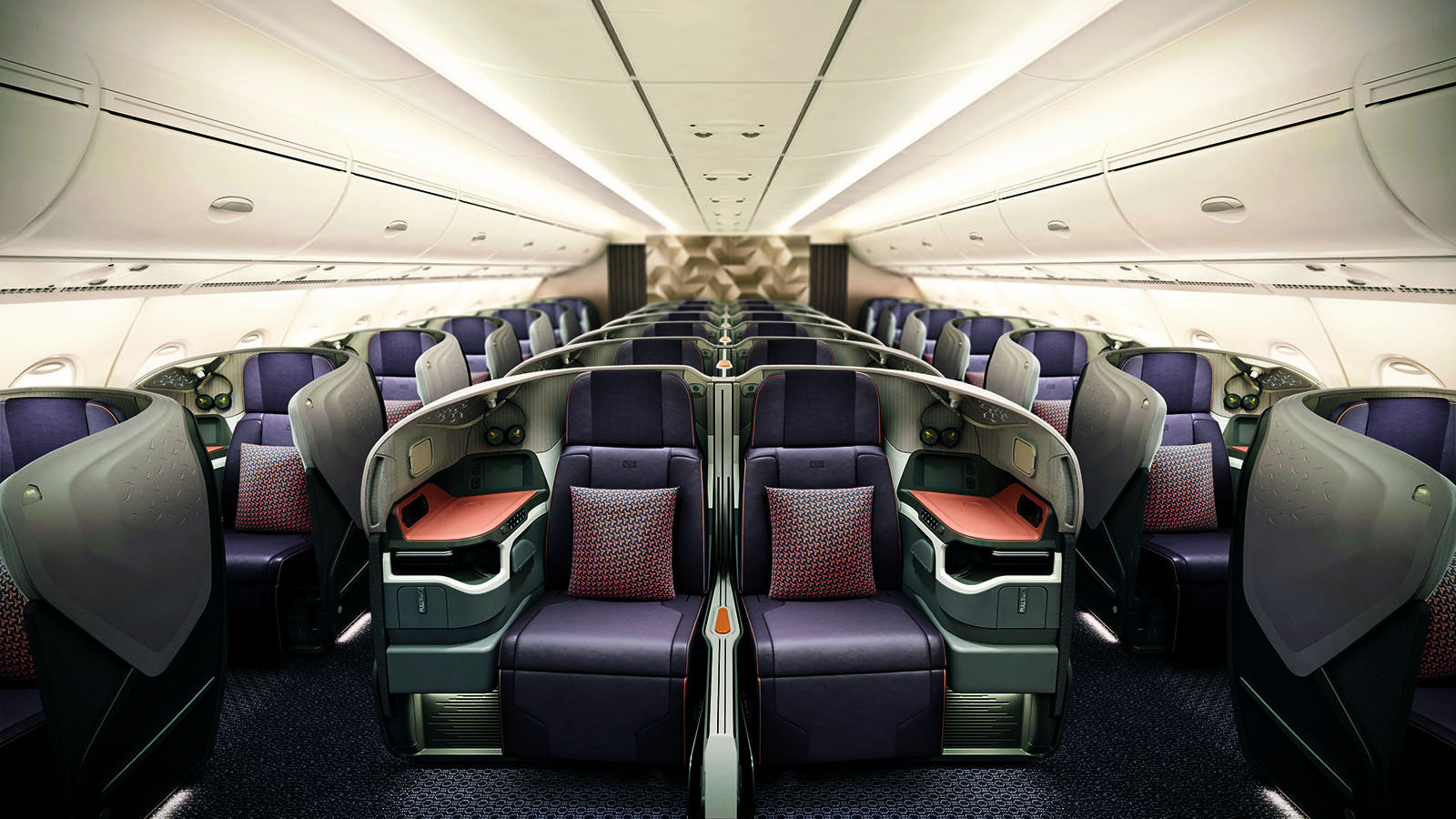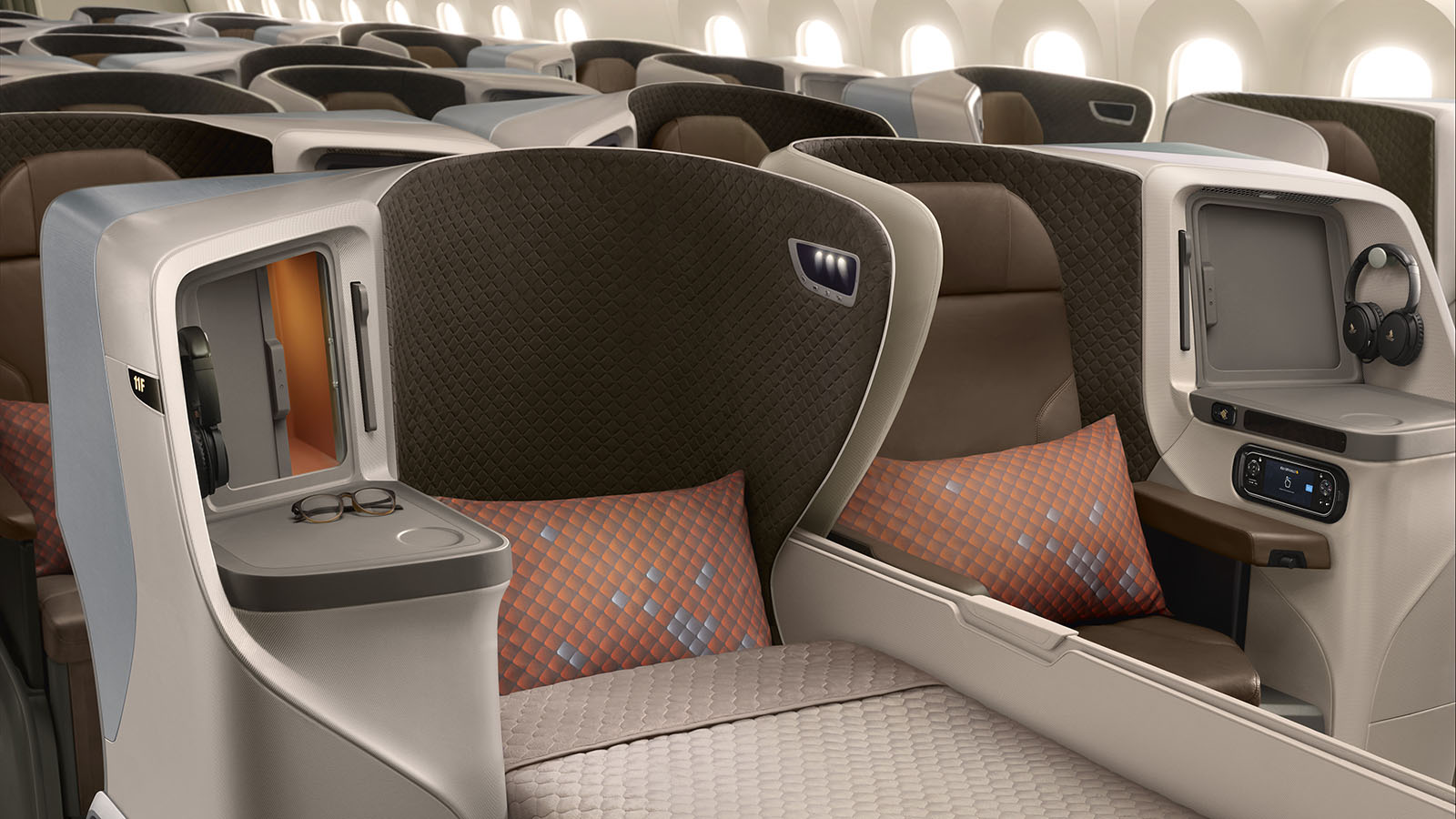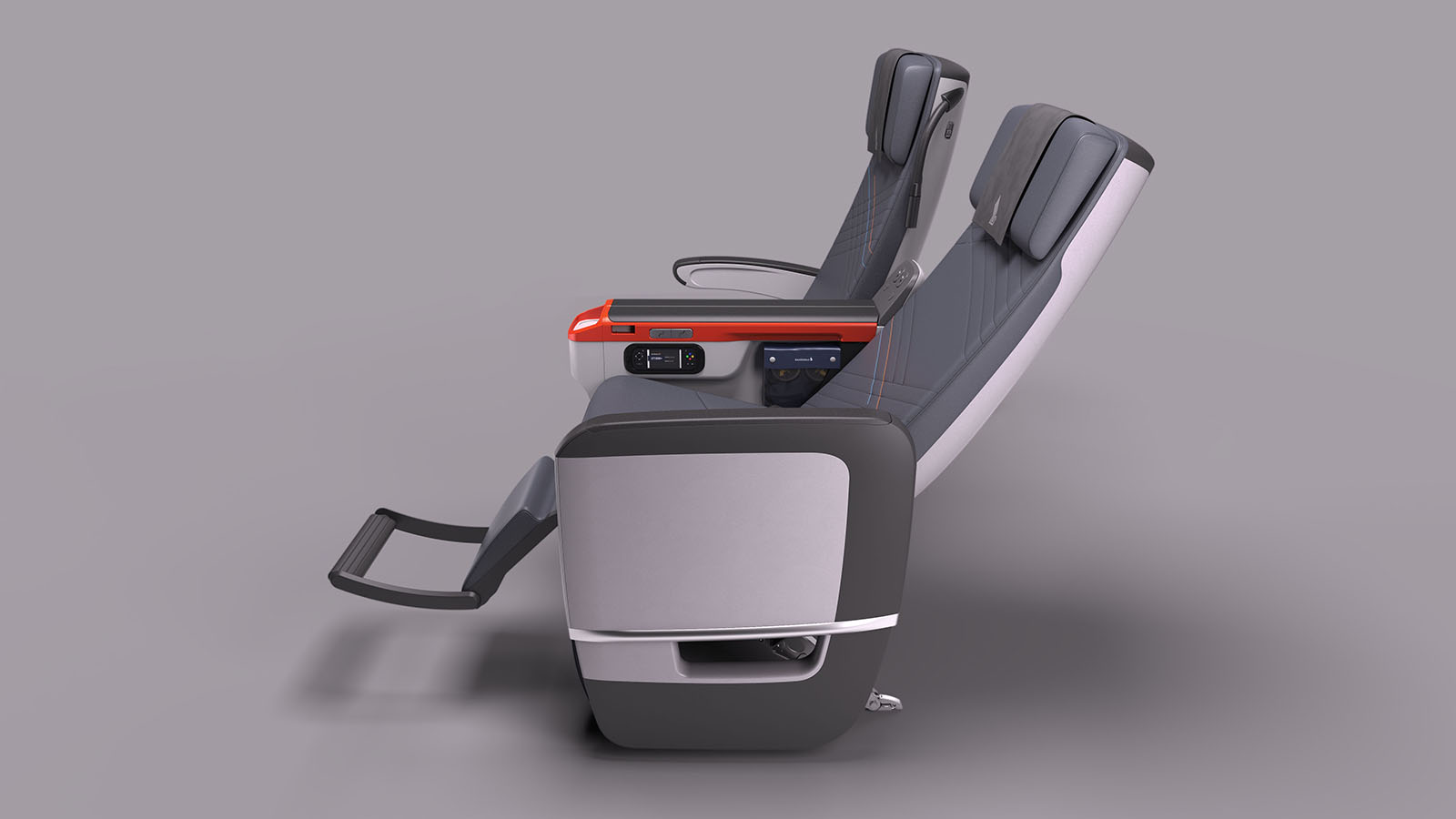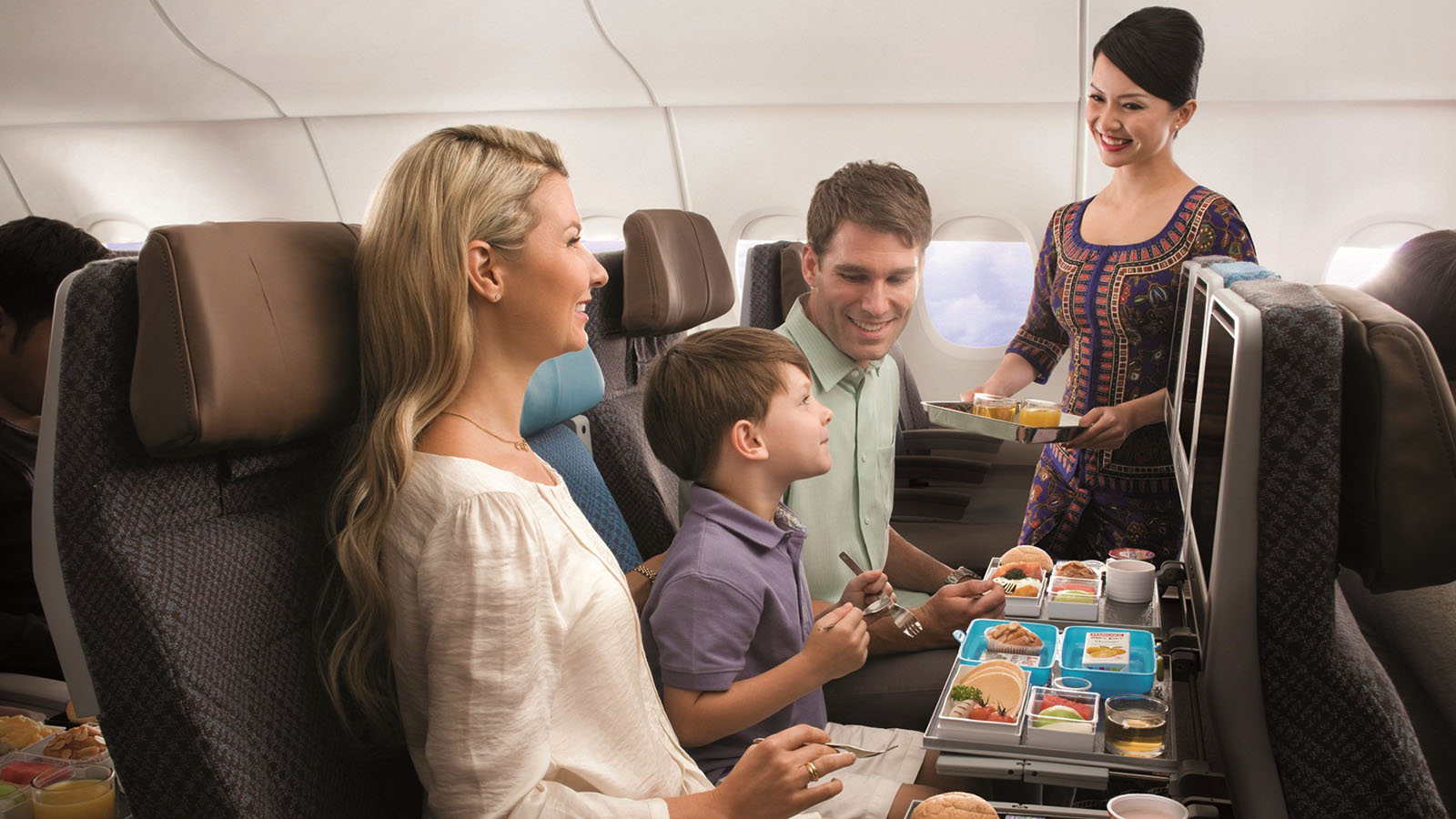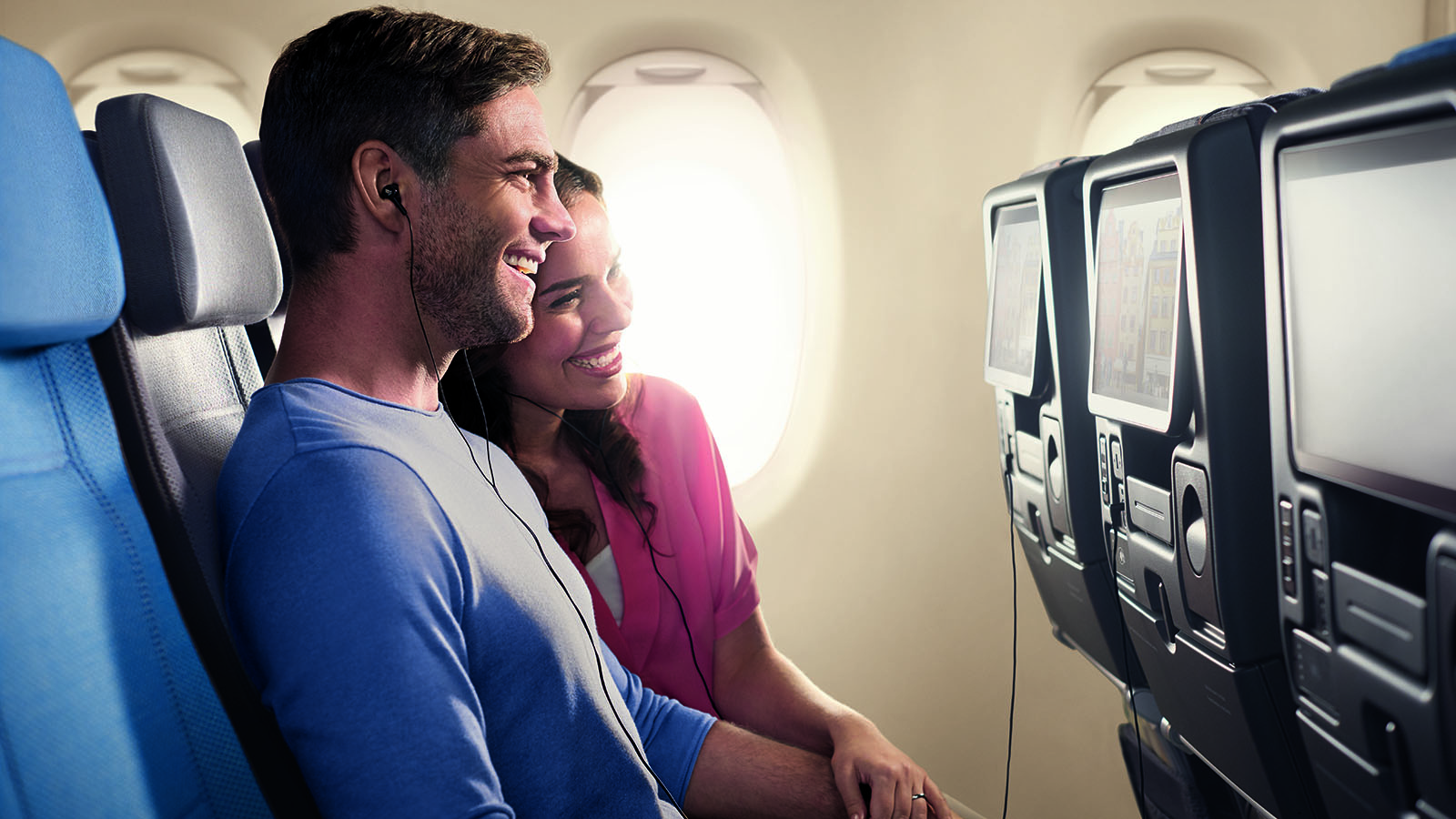 However, Singapore Airlines also flies 'long-haul' Airbus A350-900s on selected flights. Confused? The carrier chose to install different seats on different planes, to suit the routes they'd most often fly. The 'long-haul' Business Class seats are wider, while the 'medium-haul' seats are cosier. We're getting fussy here – both still provide a fully-flat bed with direct aisle access, so it's hard to go wrong. These long-haul planes also add Premium Economy Class into the mix.
It's a different story again for Darwin and Cairns. Being closer to Singapore makes these flights suitable for the airline's Boeing 737-8 MAX. But these jets have lie-flat Business Class seats, which is true luxury on single-aisle flights.
Singapore Airlines' lounges
In Sydney and Melbourne, Singapore Airlines operates separate Business Class and First Class lounges. The Business side caters to most eligible travellers, with buffet dining a staple. The First Class section is instead exclusively for First Class and Suites passengers, and the airline's highest echelon of frequent flyers. Only a Solitaire PPS Club card gets you through these frosted doors! Dining is both buffet and à la carte, so do make time for the scrumptious satay.
Brisbane and Perth are instead home to catch-all SilverKris Lounges. Welcoming all premium travellers and eligible frequent flyers, they're a relaxing place to await your flight. Expect nibbles and more substantial bites, with Brisbane featuring the airline's modern 'home away from home' styling.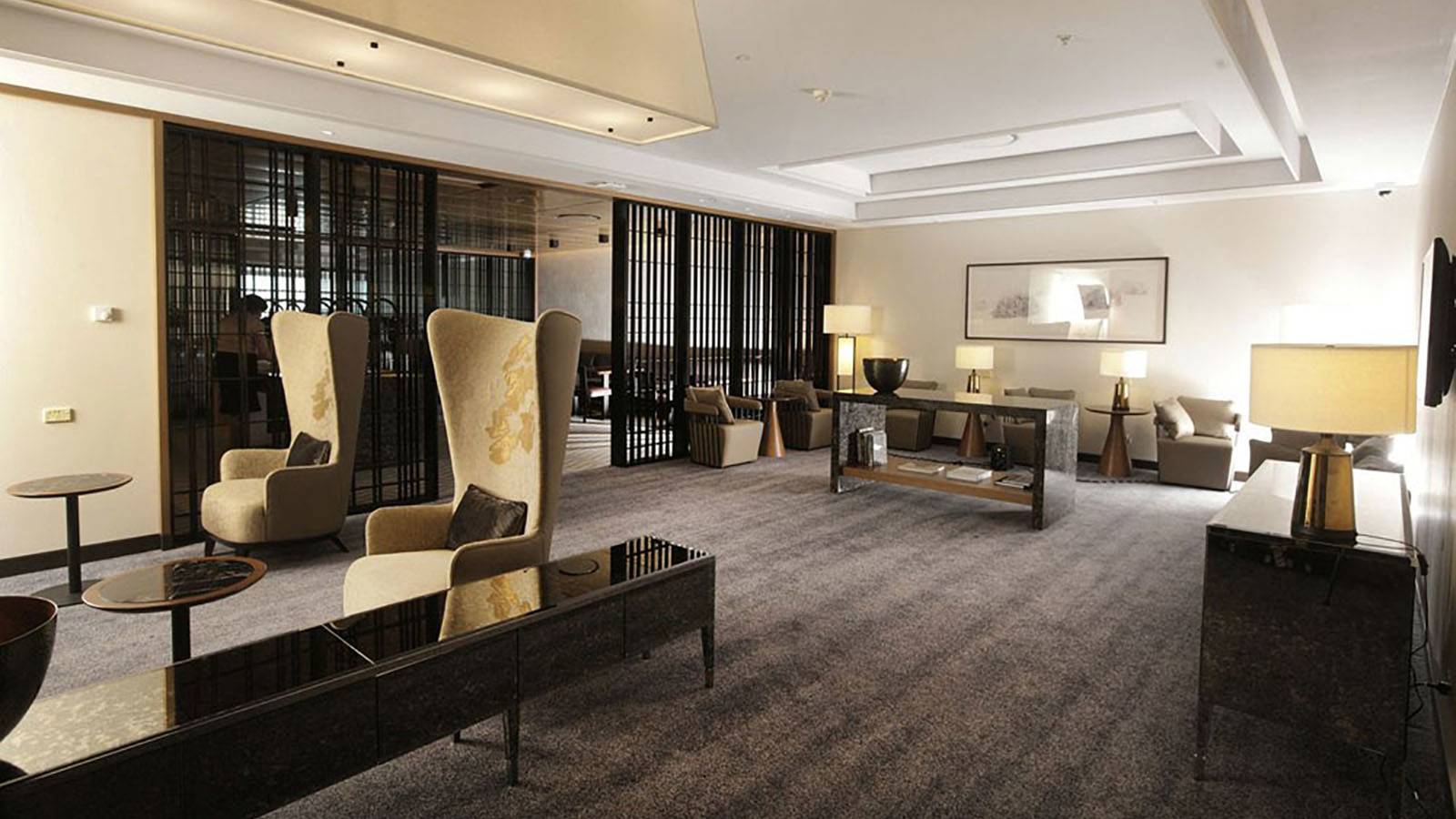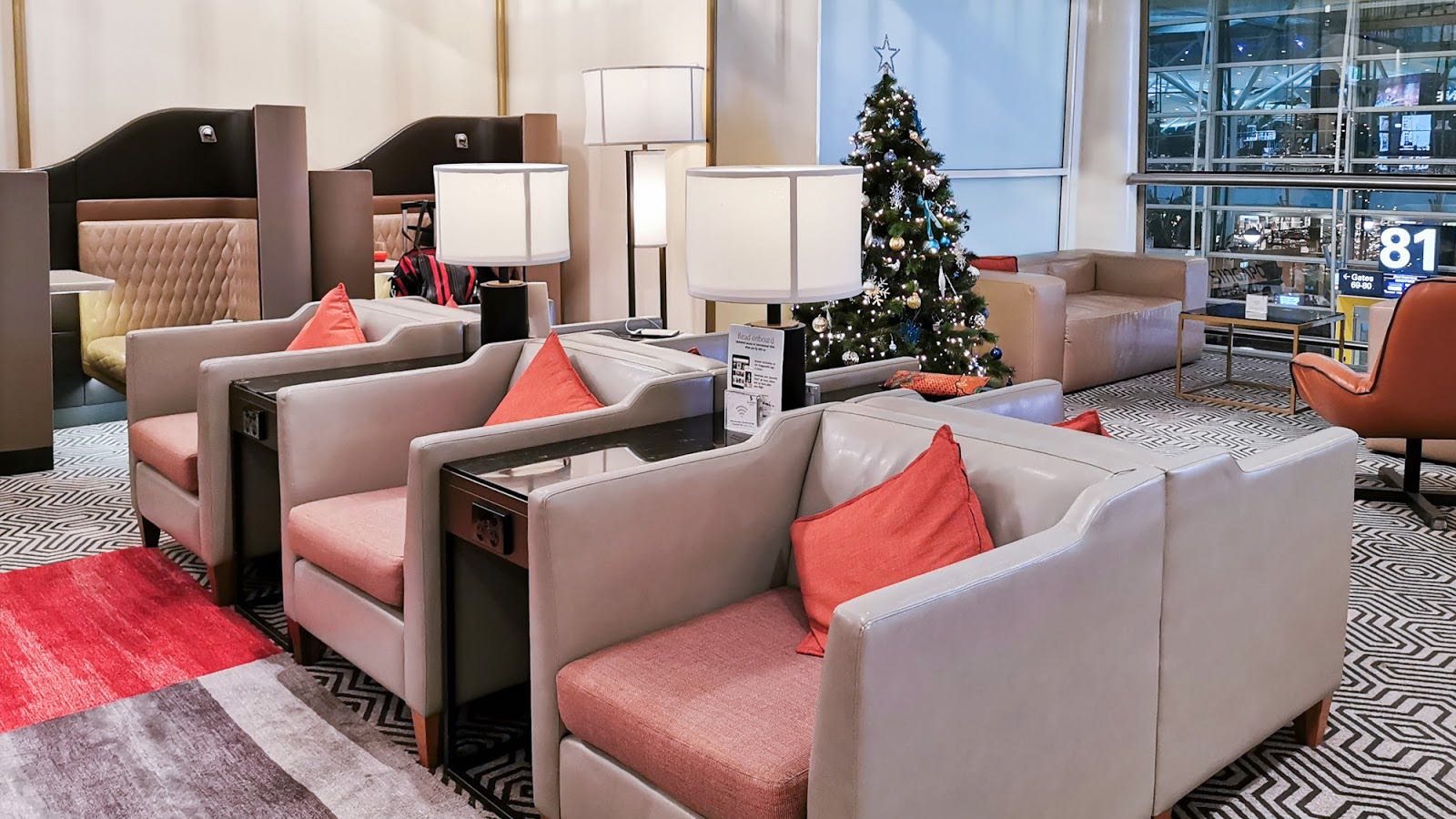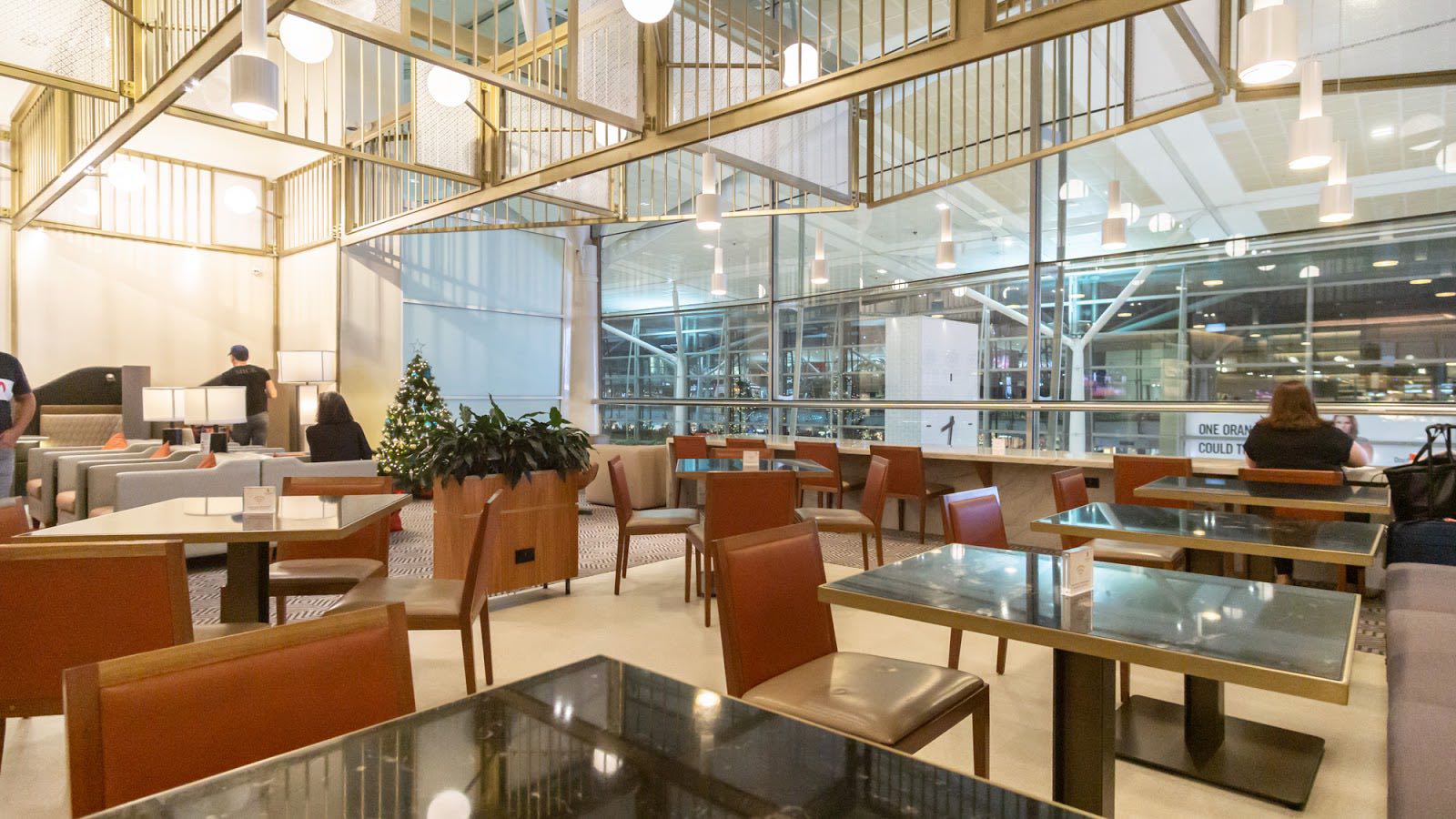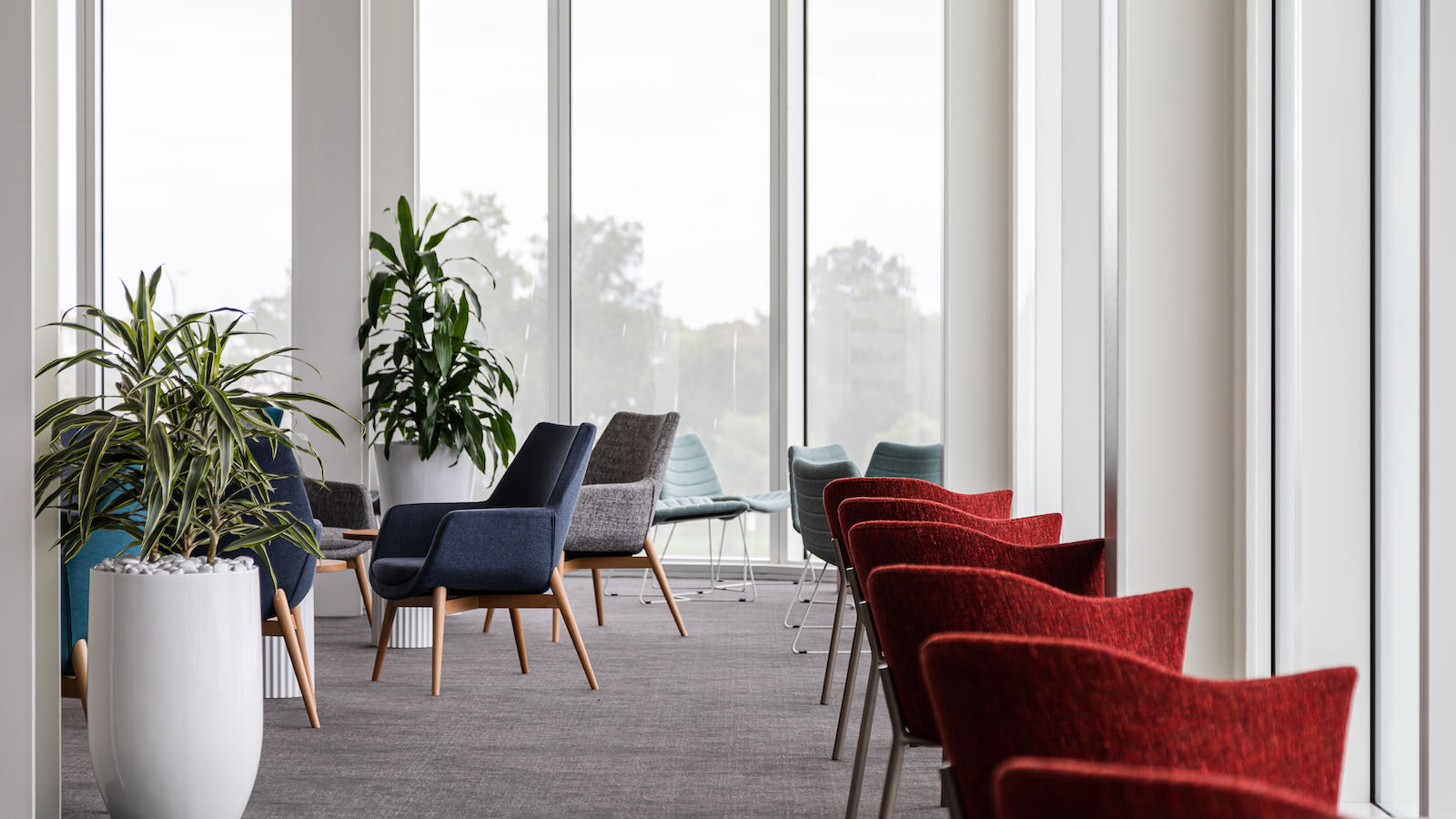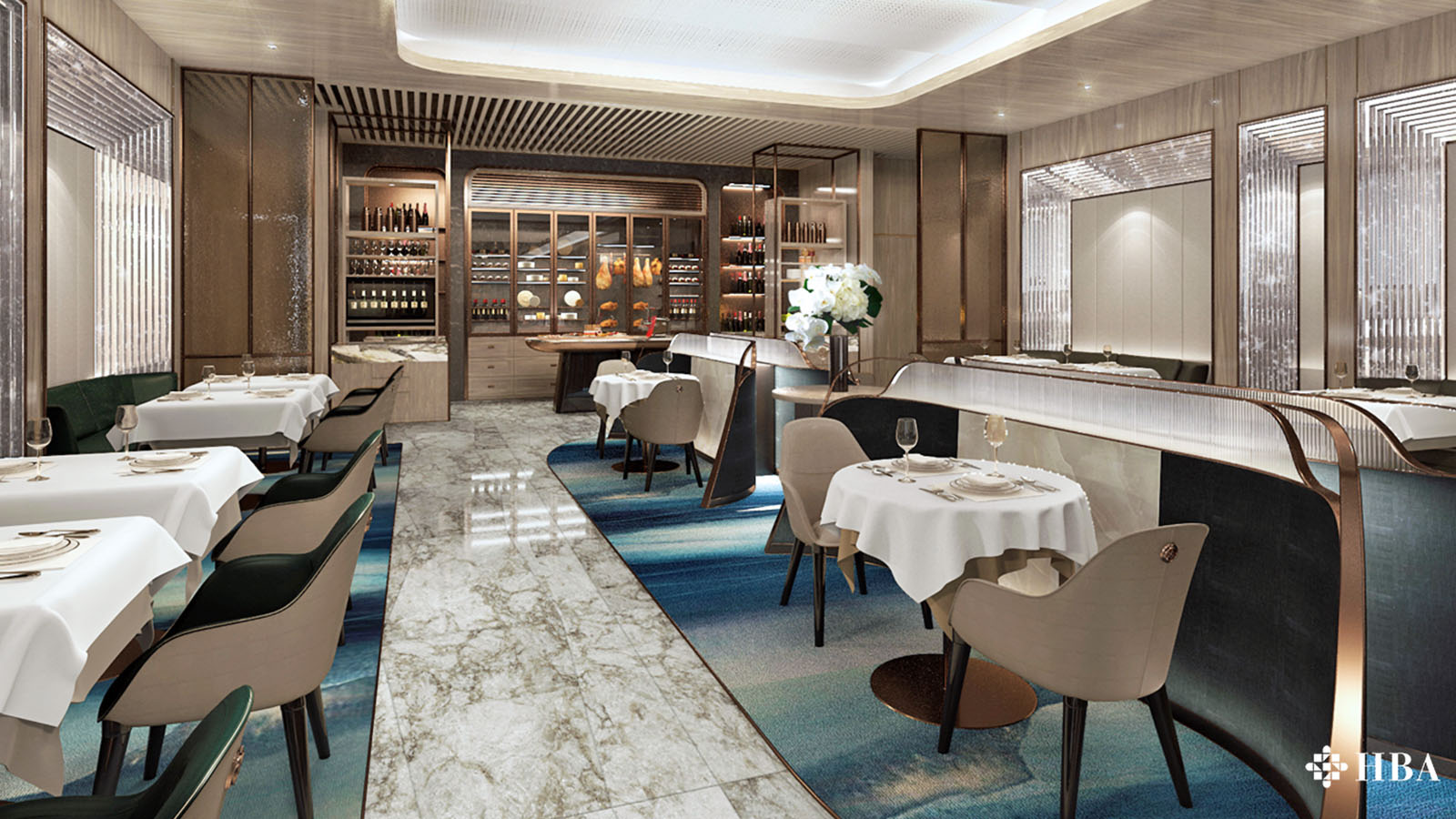 With Singapore Airlines' former Adelaide lounge permanently closed, the domestic Virgin Australia Lounge instead awaits in the SA capital. It's a great new space and one that opened in early 2021. Given the layout of Adelaide Airport, this lounge is before passport control, so allow plenty of time to reach your gate ahead of boarding.
Up in Cairns, the independent Reef Lounge is the go-to. But in our experience, it's not worth arriving early for. Across in Darwin, the airport's international Catalina Lounge is temporarily unavailable, as Qantas has repurposed the space into a transit lounge for now.
Flagship lounges at Changi Airport
At Singapore Airlines' home hub, there are four categories of lounges, depending on your ticket class and status.
The KrisFlyer Gold Lounge, for most frequent flyers travelling in Premium Economy or Economy Class.
The SilverKris Business Class Lounge, for Business Class flyers and PPS Club members on Singapore Airlines.
The SilverKris First Class Lounge, interestingly, for Solitaire PPS Club members not flying First Class.
The Private Room, for all passengers flying Singapore Airlines First Class and Suites.
As you climb the 'lounge ladder', the experience progresses from bustling buffets to delectable dining and sumptuous Champagne. Why not find out for yourself?
Ad – Scroll down to continue reading.Minimum spend, terms & conditions apply.
Flying to Singapore with British Airways
British Airways once again links Australia and Singapore. The flight is part of BA's service onwards to London, but can be booked without travelling to the UK.
| | | | |
| --- | --- | --- | --- |
| Route | Frequency | Aircraft type(s) | Cabins |
| Sydney-Singapore | Daily | Boeing 787-9 | First, Club World, World Traveller Plus, World Traveller |
British Airways' aircraft and cabins
Zipping between Sydney and Singapore will be BA's Boeing 787 Dreamliner. These jets come with First, Club World (Business Class), World Traveller Plus (Premium Economy) and World Traveller (Economy Class).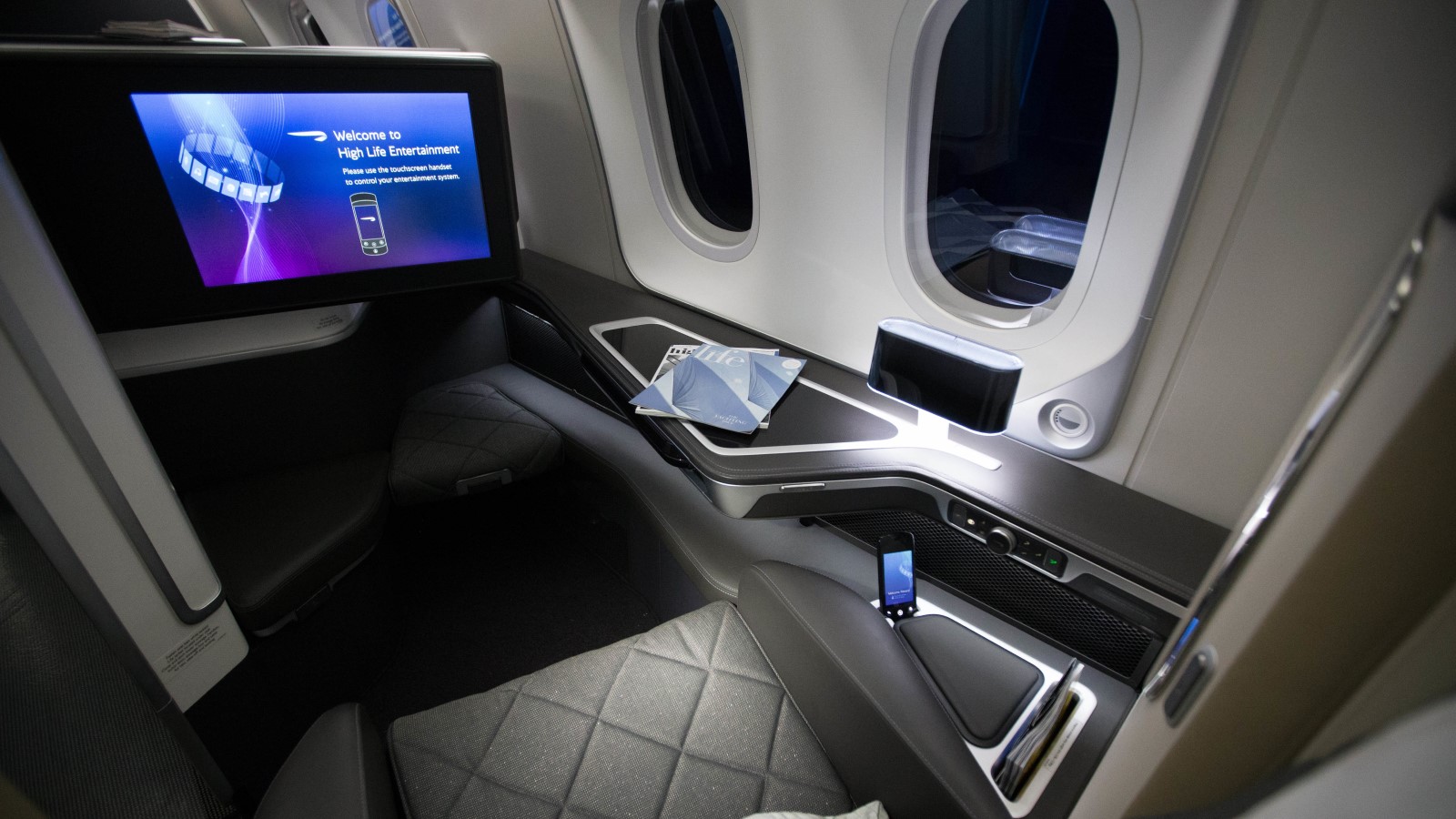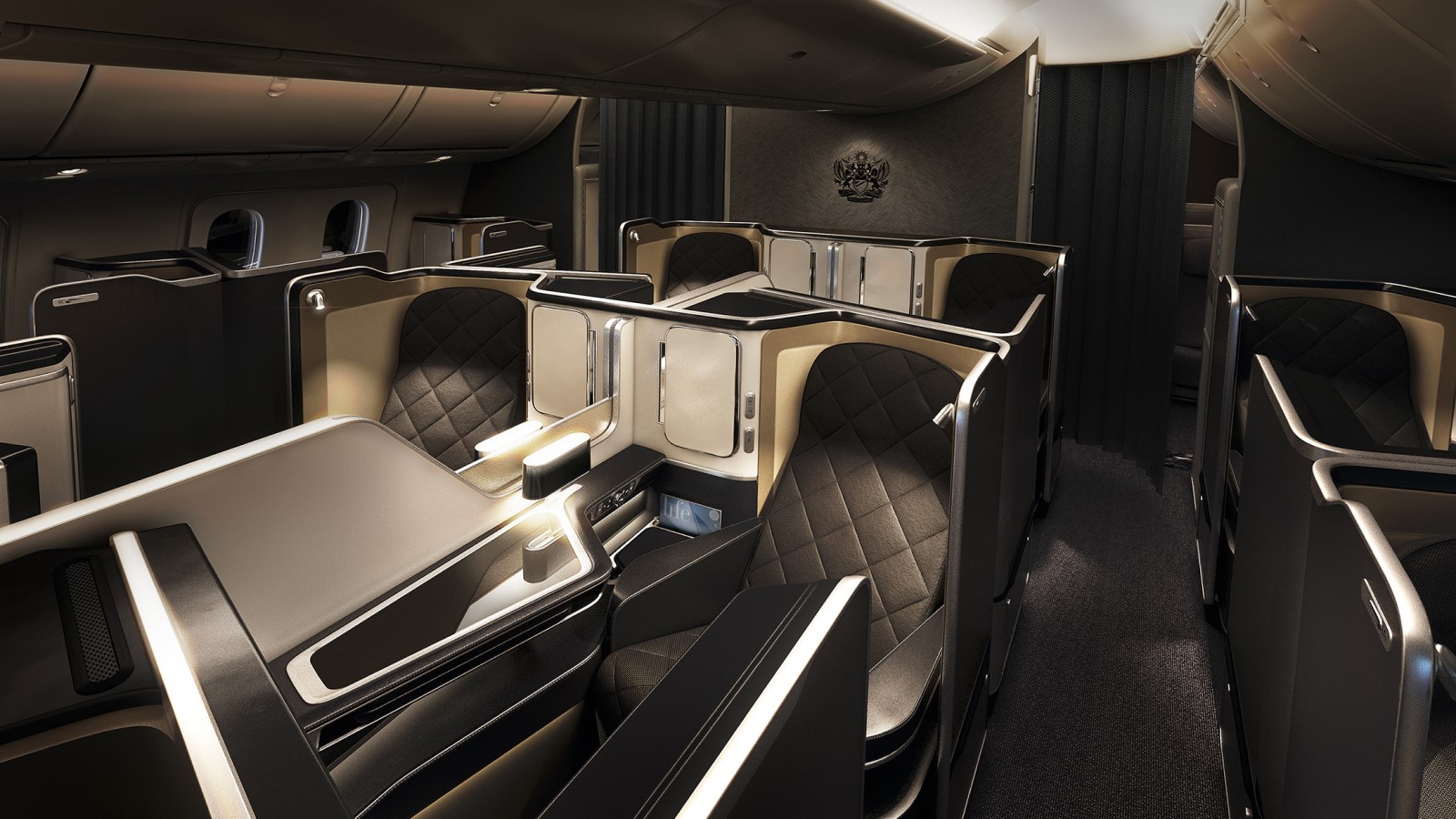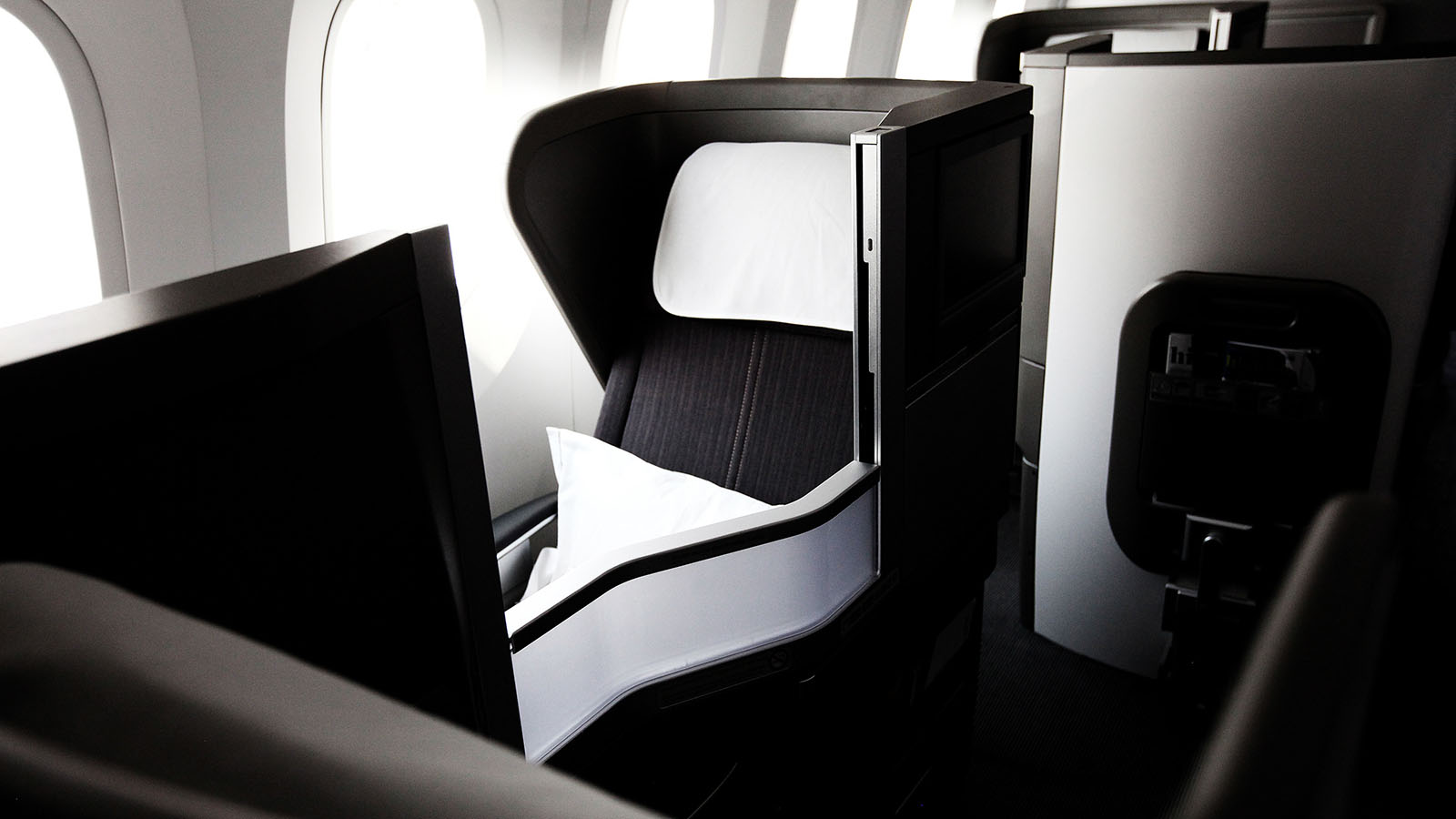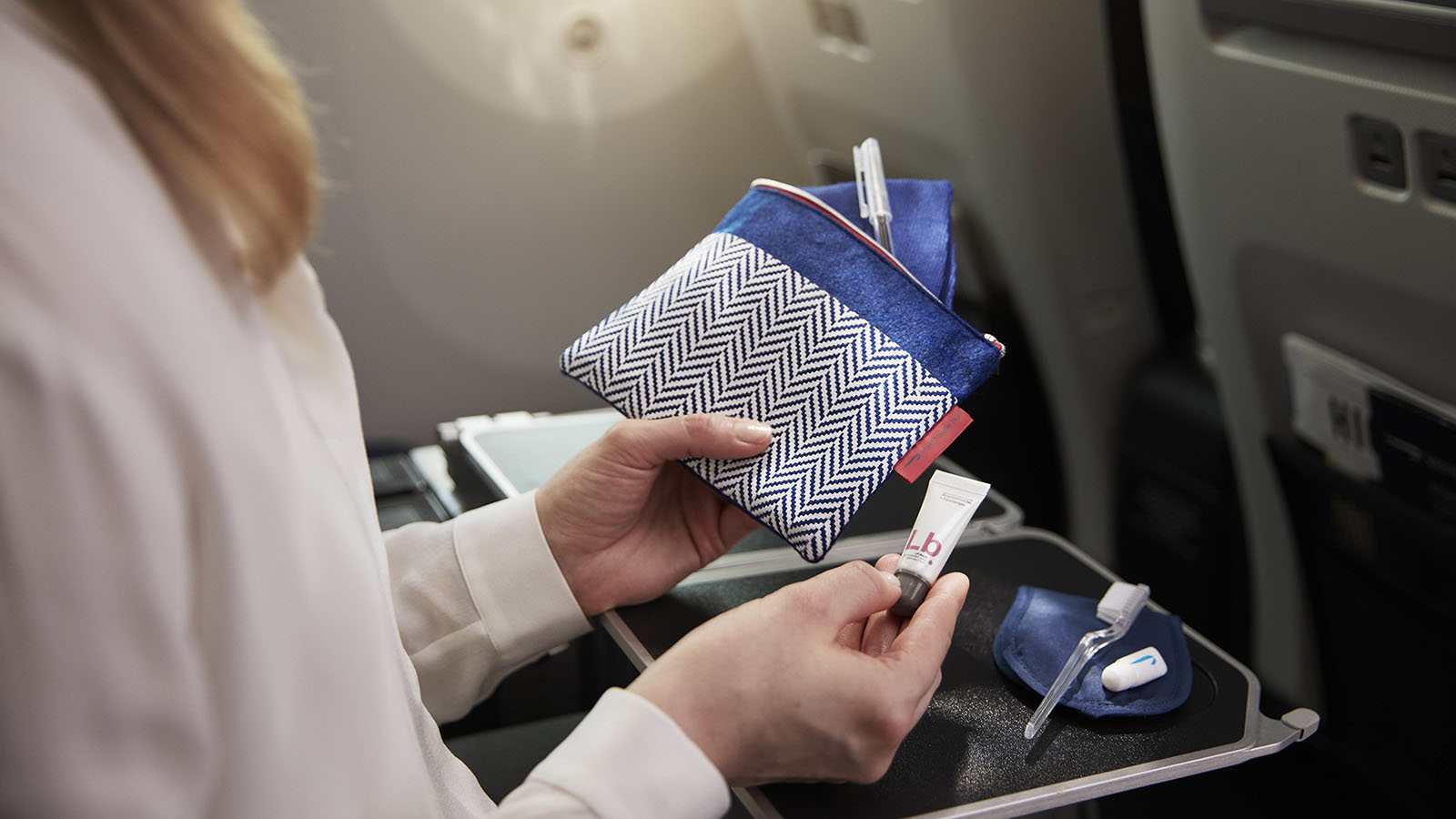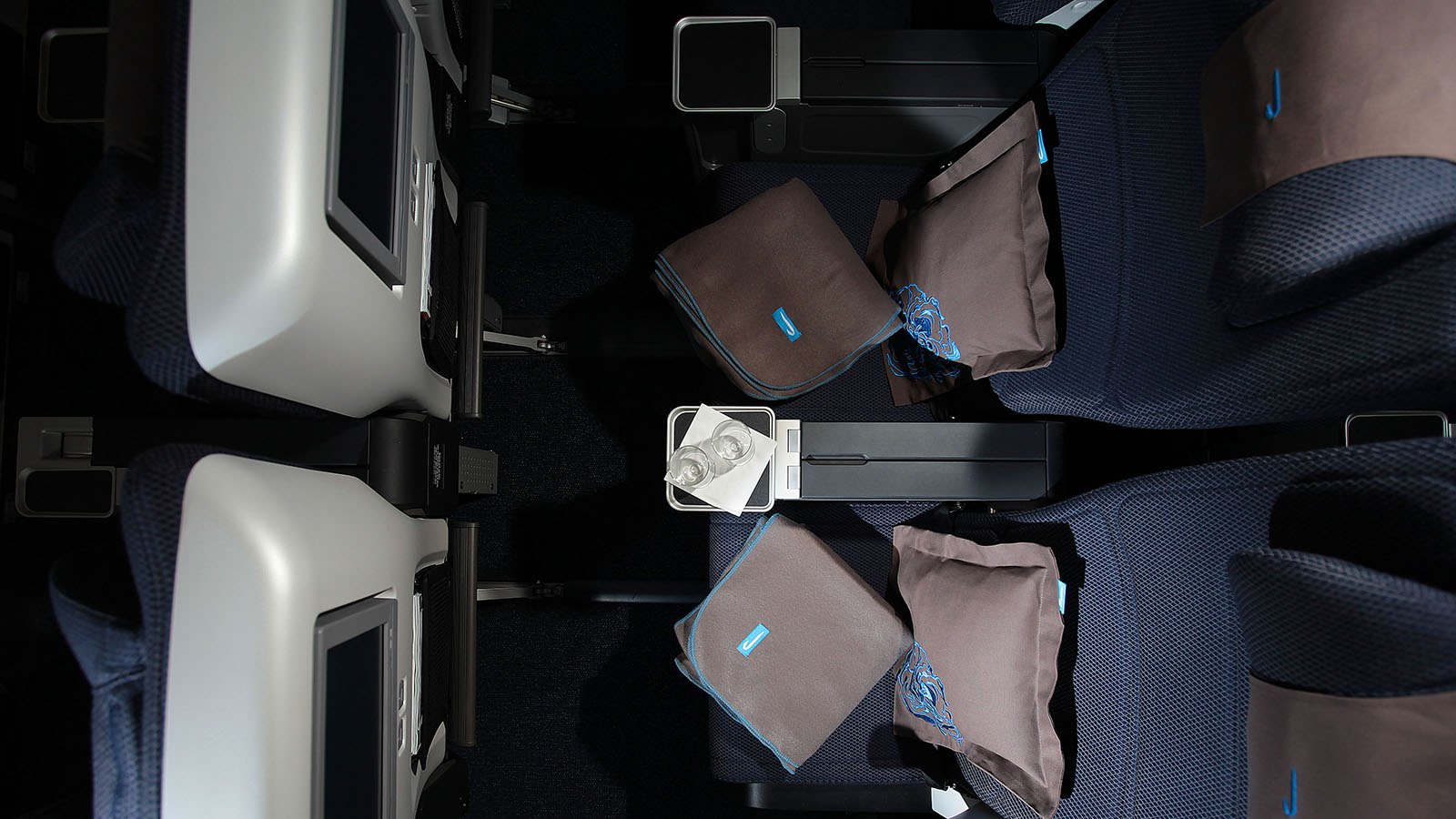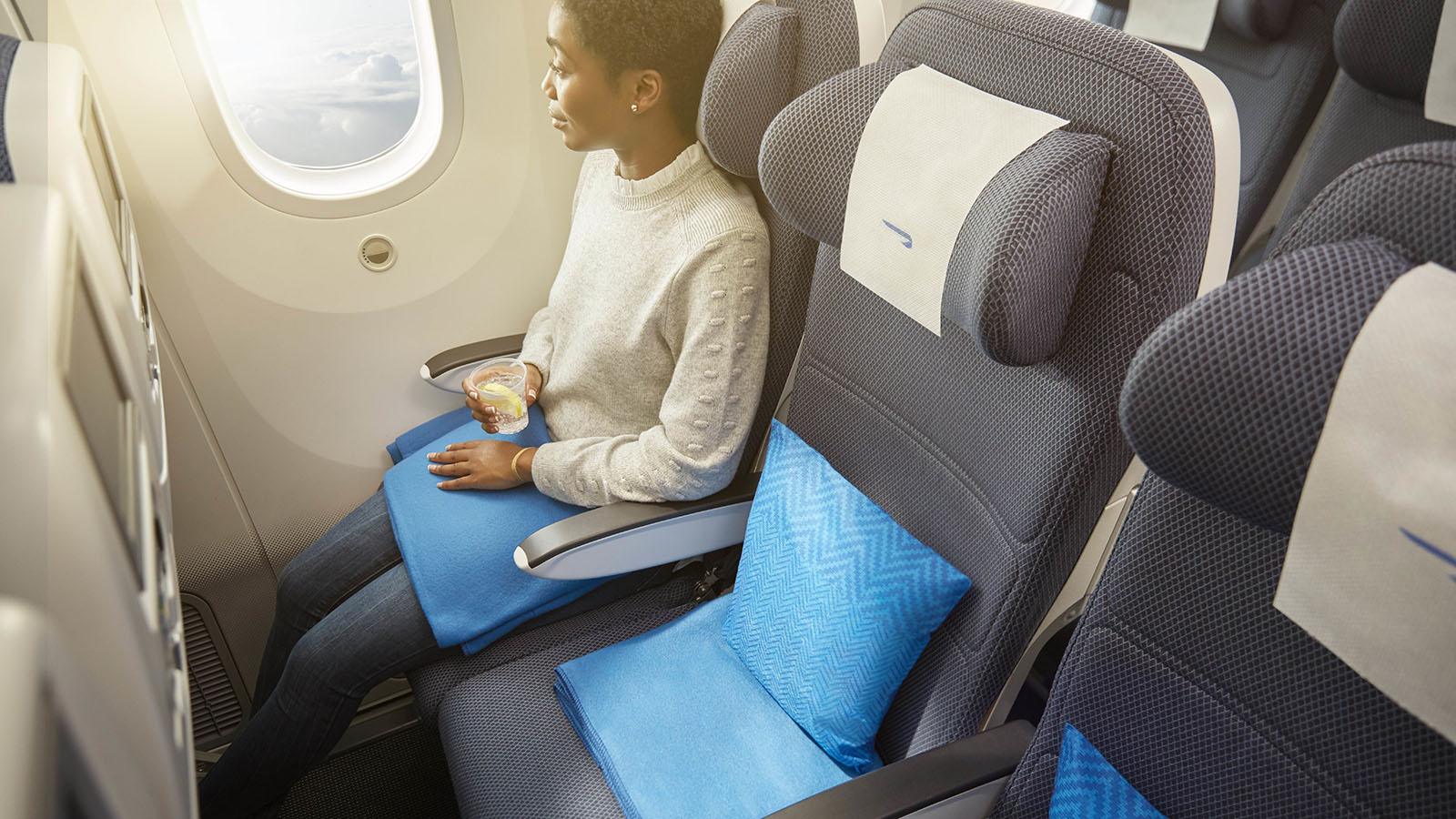 In First, you can settle into one of eight relatively private seats. They're certainly not on par with Singapore Airlines' Suites, but the focus is more on the dining and service. In Club, there's a little less privacy, owing to the zig-zag seating layout.
World Traveller Plus and World Traveller offer standard reclining seats.
British Airways' lounges
As a oneworld alliance partner of Qantas, eligible BA guests can use Qantas' lounges in Sydney.
For Club World and oneworld Sapphire cardholders (including BA Silver and Qantas Gold), that's the Qantas Business Lounge. Those in First or with oneworld Emerald status (e.g. BA Gold and Qantas Platinum) can instead look forward to the Qantas First Lounge. Don't forget to ask about a spa treatment!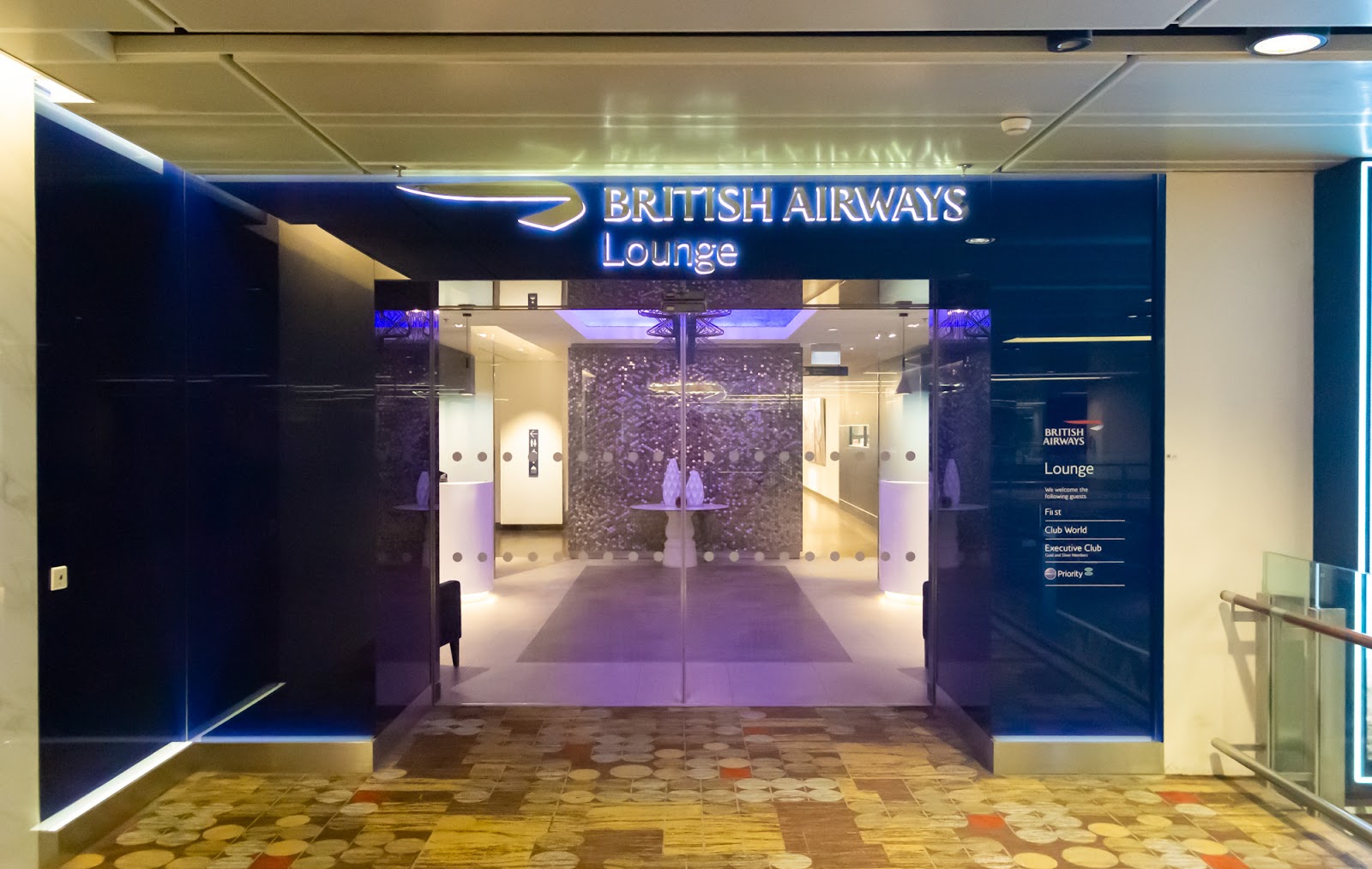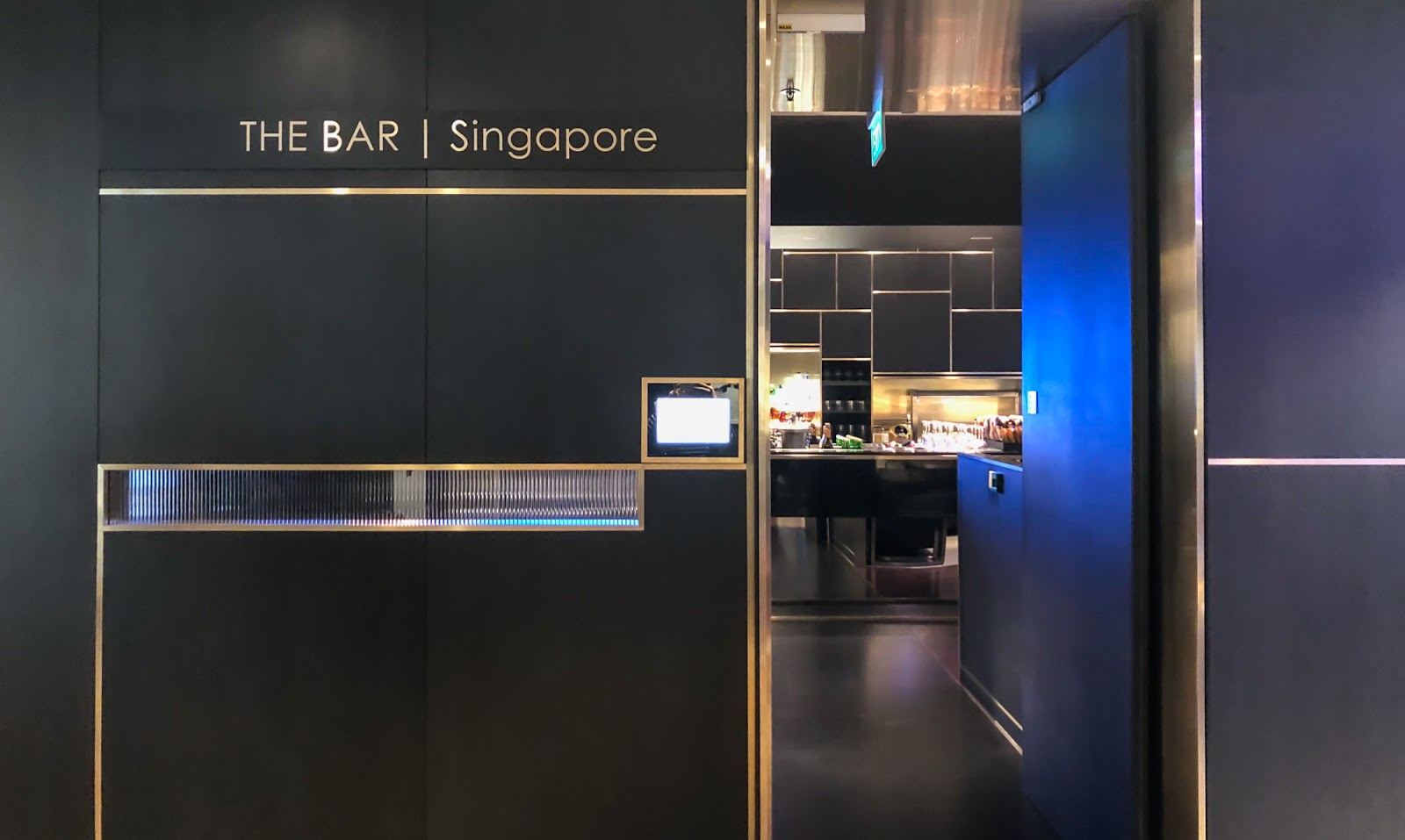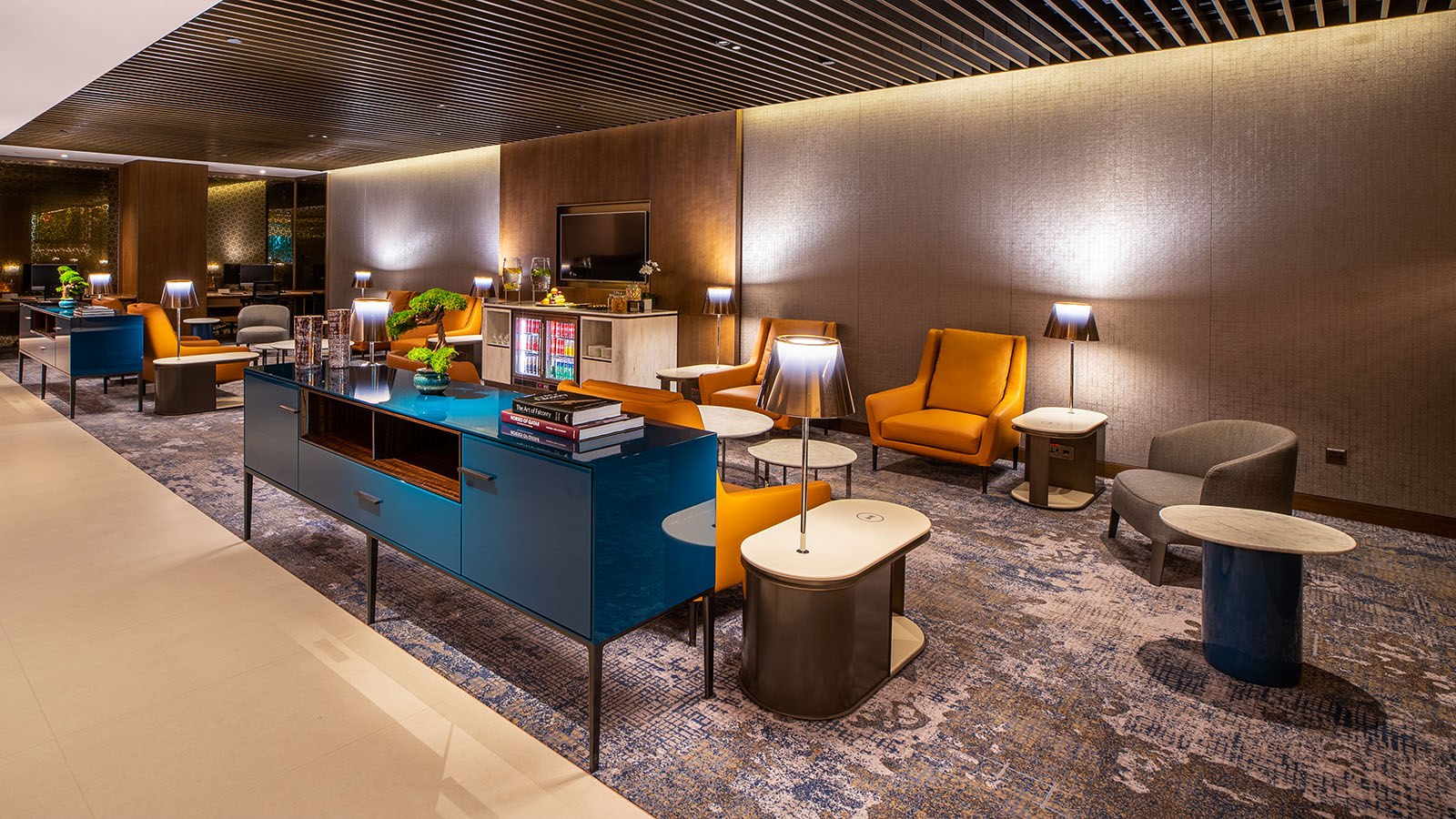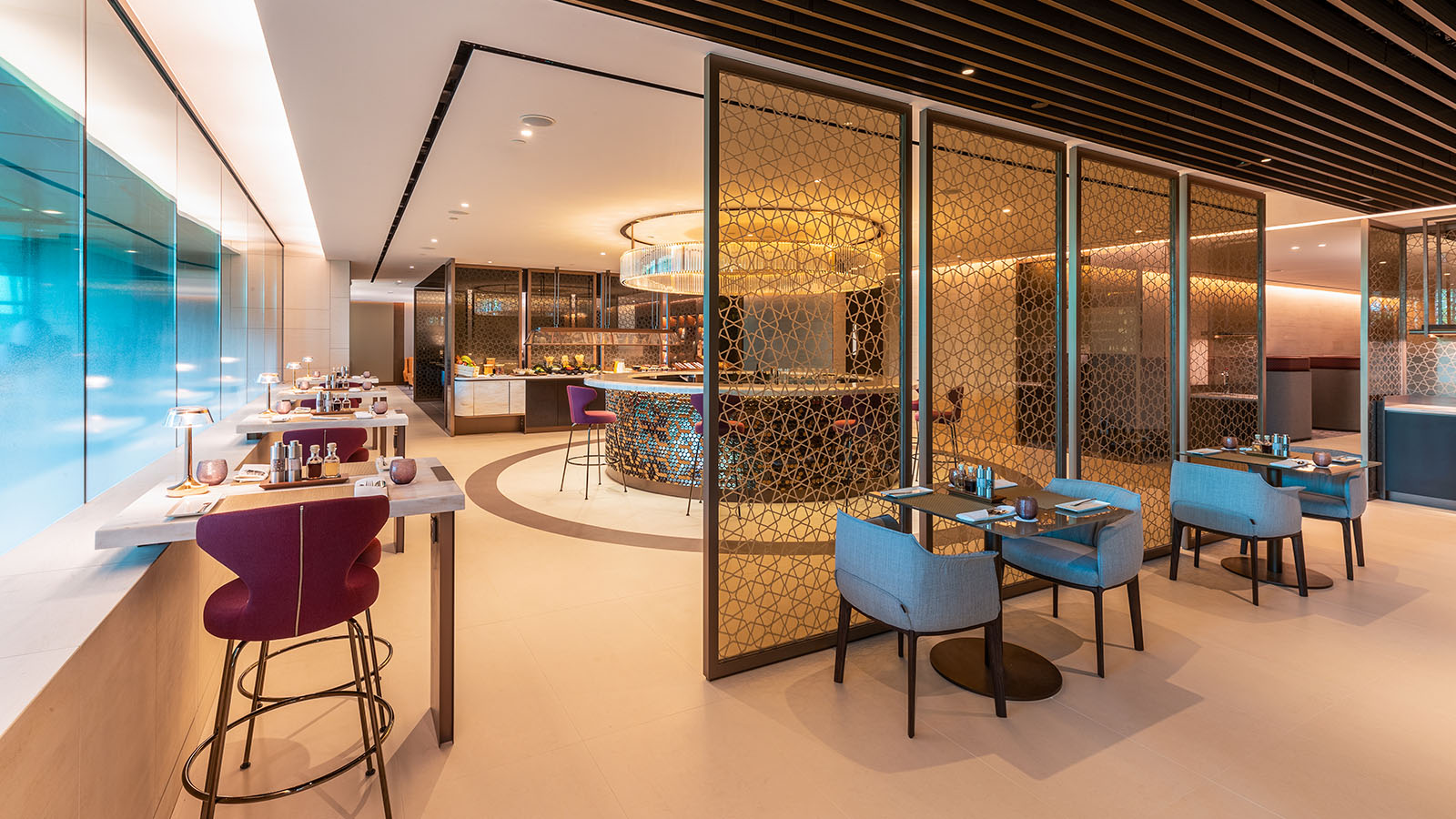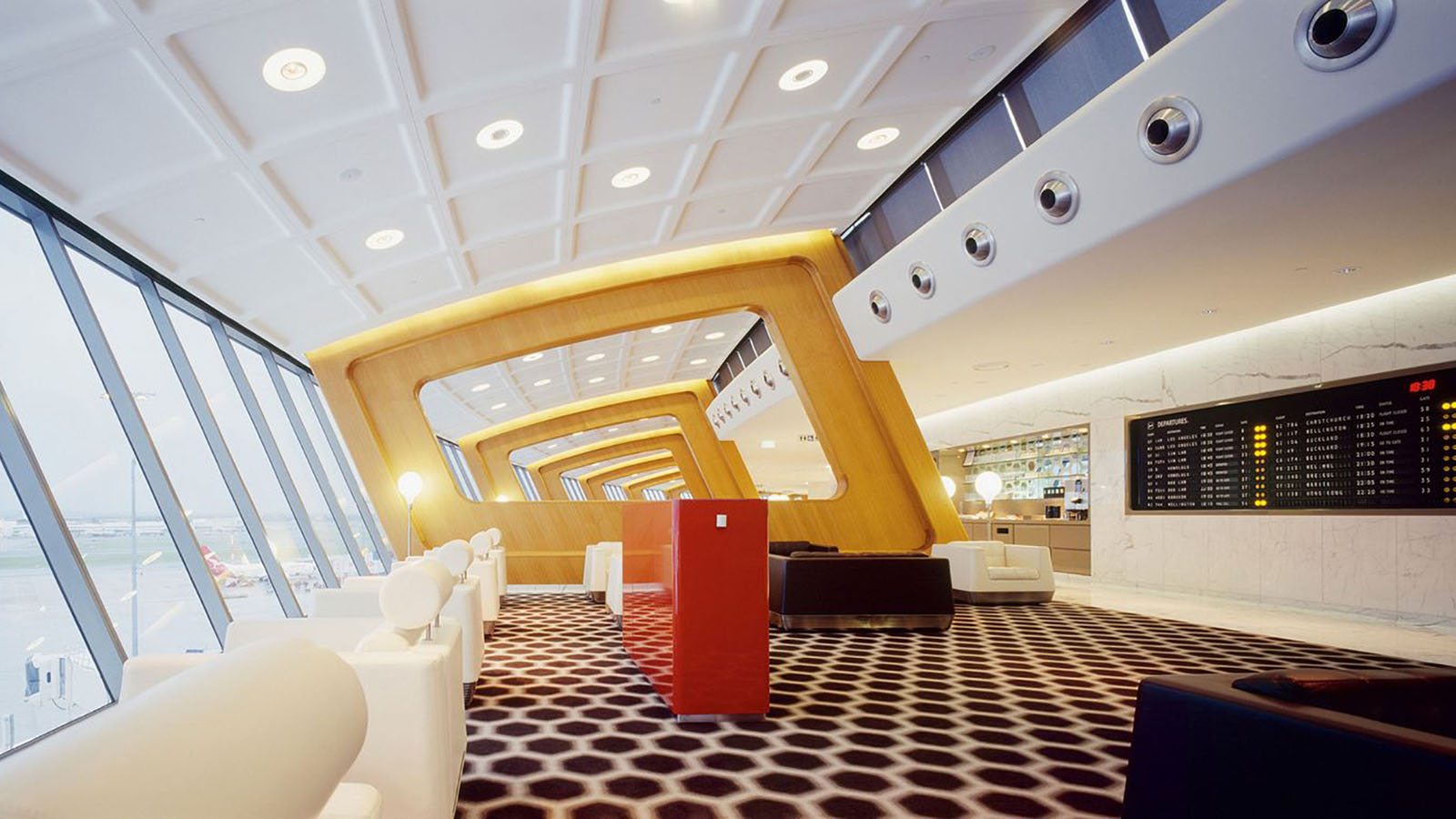 In Singapore, the British Airways lounge is the go-to for most flyers. With a separate Concorde Bar for First guests, it's an overall modern space with plenty of distinct zones.
Travellers may also have access to the Qantas or Qatar Airways lounges here as an alternative. For instance, Singapore's Qatar Airways Premium Lounge normally welcomes BA Club and First. Separately, the Qantas First Lounge and Qantas Business Lounge at Changi adopt similar access policies as in Sydney.
Flying to Singapore with Jetstar
Jetstar is back with flights between Australia and Singapore. Travellers can earn Qantas Points and Status Credits on eligible fares, and spend Qantas Points with Jetstar.
On the earning side, you'll need to book a Business Max fare if travelling Business Class. Fares instead branded 'Business Class' don't earn Qantas Points. In economy, Starter Max and Starter Plus tickets serve up those rewards, while Starter and Starter Flex tickets don't on these Singapore routes.
| | | | |
| --- | --- | --- | --- |
| Route | Frequency | Aircraft type(s) | Cabins |
| Melbourne-Singapore | Six times a week | Boeing 787-8 | Business Class, Economy Class |
| Darwin-Singapore | Four times a week | Airbus A320 | Economy Class only |
Jetstar's aircraft and cabins
On those longer flights from Melbourne, Jetstar's Boeing 787-8 contains both Business Class and Economy Class.
Being a low-cost airline, Business Class on Jetstar resembles the Premium Economy of many other airlines. It's also similar to Qantas domestic Business Class on the Boeing 737, with a reclining seat, rather than a bed. Economy offers standard seats with video entertainment and USB power for your devices. You can book both Business Class and Economy Class using your Qantas Points.
Between Melbourne and Singapore, you're looking at a precise 51,300 Qantas Points for Business Class, one-way. Economy Class requires just 21,500 Qantas Points in each direction. Taxes, fees and charges apply.
From Darwin to Singapore, expect Jetstar's Airbus A320s instead. As on Jetstar domestic routes, these come in an all-Economy layout. There's also just the one aisle, so patience is often required when wandering to the bathroom.
Jetstar's lounges
As you'd expect, Jetstar doesn't offer its own-brand lounges. However, you may be able to access a lounge through your ticket type, frequent flyer status or lounge membership.
Purchasing a Jetstar Business Max fare unlocks access to the Qantas Business Lounges in both Melbourne and Singapore. Economy Starter Max fares offer this too. Those same facilities are also open to Qantas Gold and Qantas Club members on any Jetstar fare.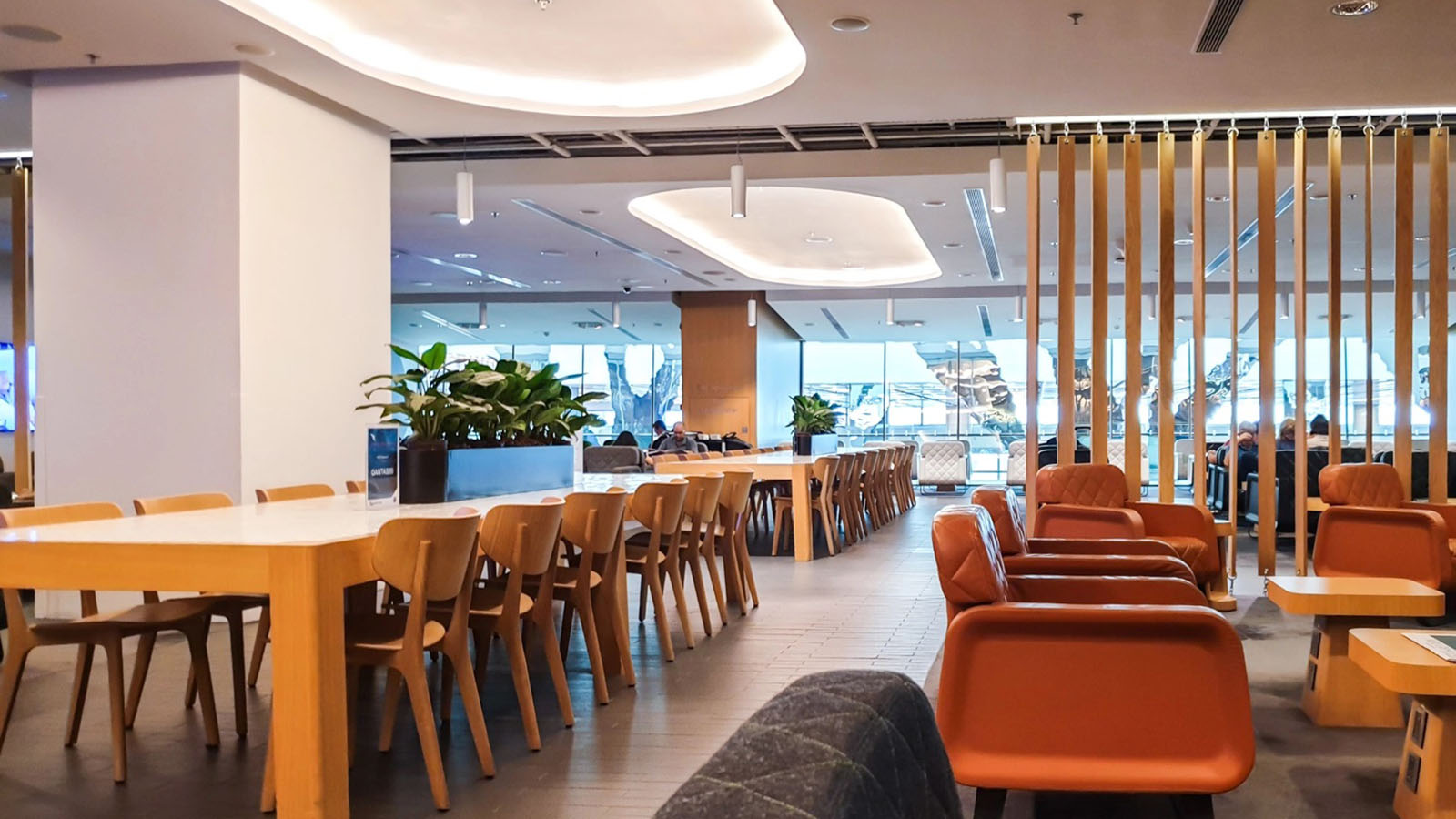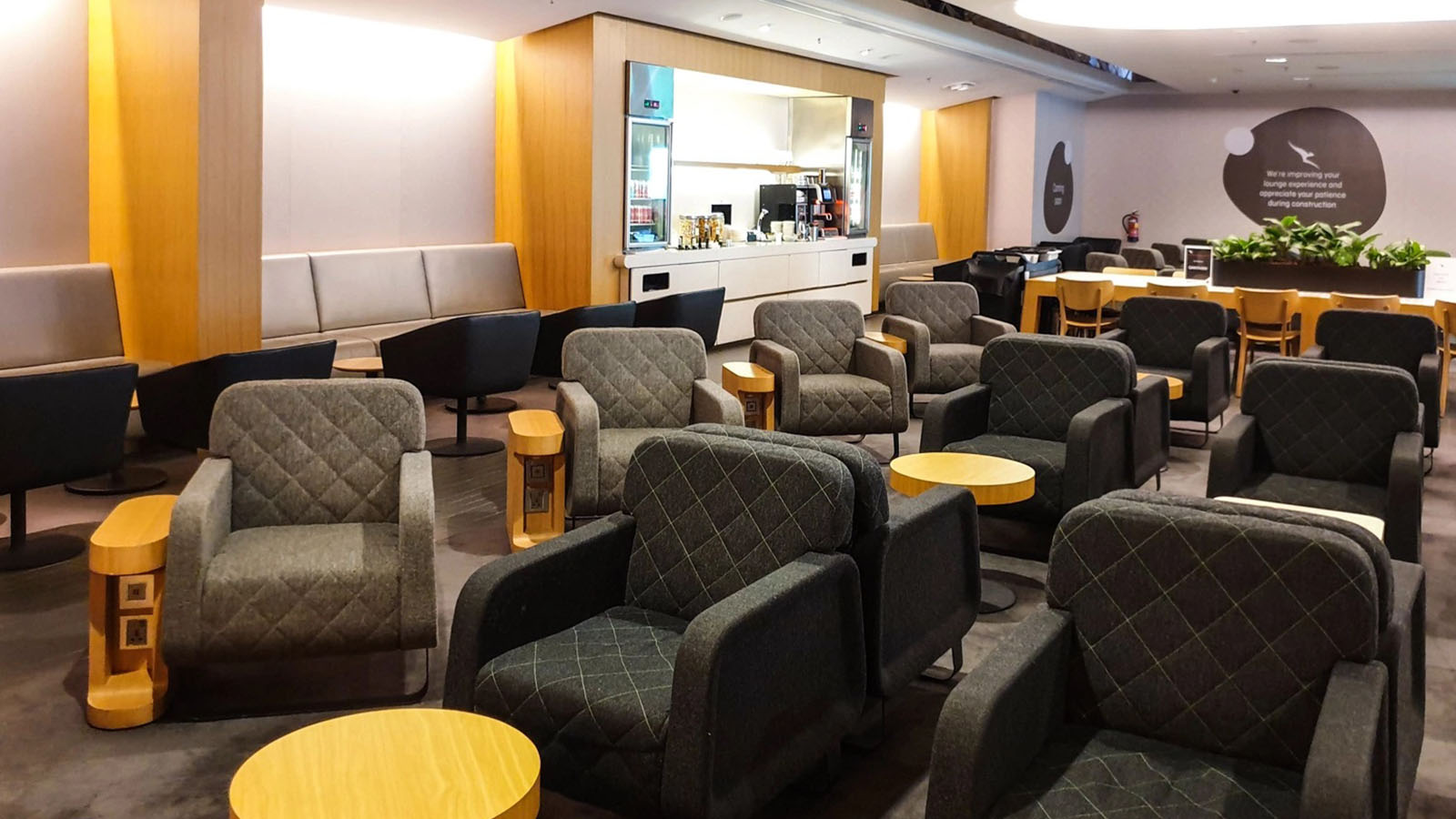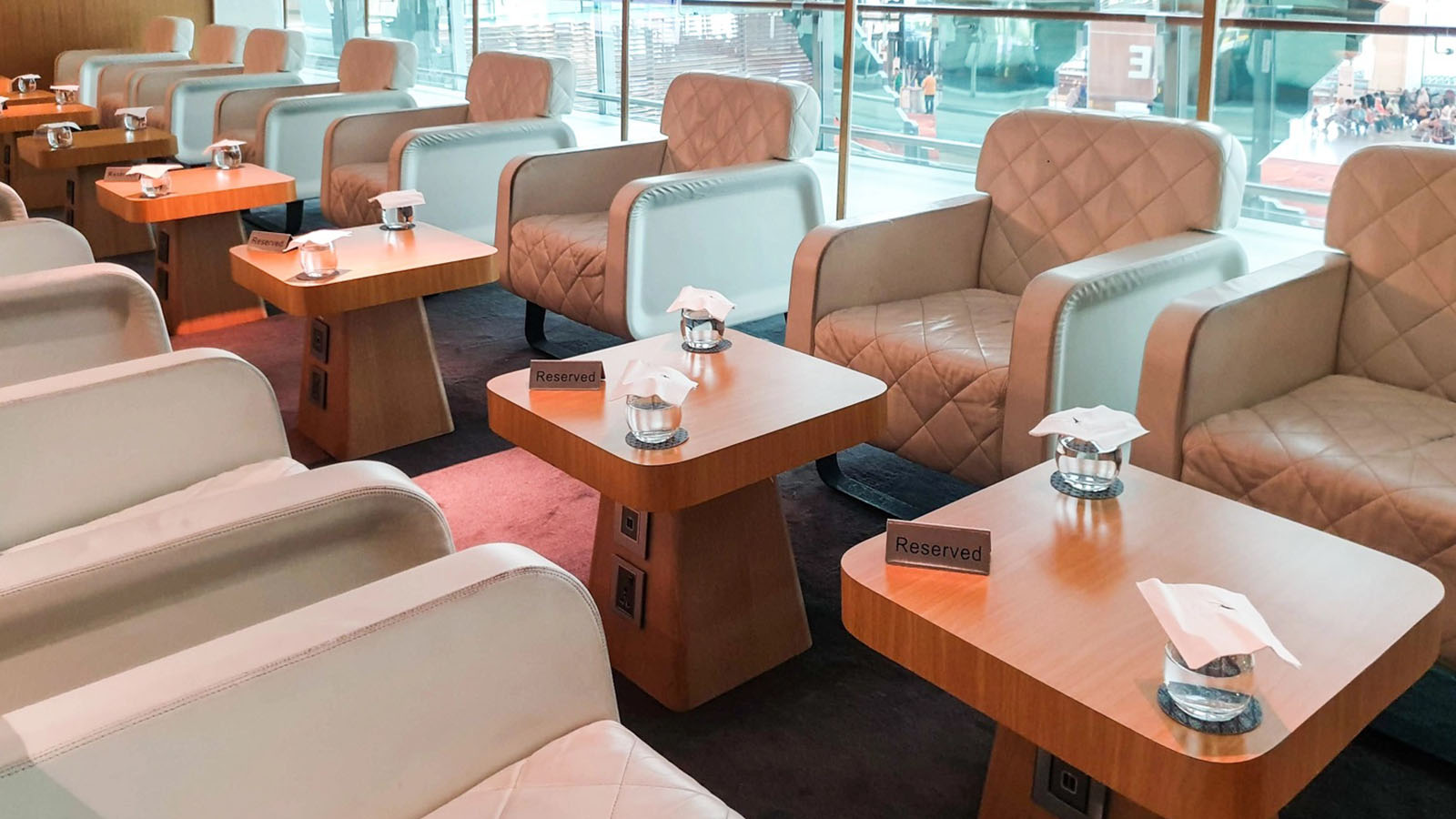 There's a nicer treat waiting for Qantas Platinum, Platinum One and Chairman's Lounge flyers. The salubrious Qantas First Lounges in Melbourne and Singapore are yours to enjoy, even when flying on Jetstar! There's simply no better start to a low-cost flight than from the heights of the Qantas First Lounge.
Lounge access in Darwin is trickier, as the only Qantas-branded lounge is the domestic Qantas Club. As it's located before immigration, you'll need to leave plenty of time before boarding to get through the formalities.
Also note that Qantas' lounges aren't always open for Jetstar flights. Usually, their doors are unlocked when Qantas flights are due to depart, and those timings don't always align with Jetstar.
As a backup, you could instead visit the likes of Melbourne's American Express Lounge, Plaza Premium Lounge or Marhaba lounge. There's also a Plaza Premium Lounge in Singapore. Access to these lounges isn't included with your Jetstar flight, but may be available to you through credit cards or separate lounge memberships. American Express Platinum Card members receive complimentary access to all these facilities, for example.
Flying to Singapore with Scoot
Given it's the low-cost carrier of Singapore Airlines, Scoot passengers can earn and spend KrisFlyer miles. KrisFlyer Elite miles can also be earned on paid Scoot flights.
At the time of writing, residents of four Australian cities are able to fly to Singapore with Scoot.
Route
Frequency
Aircraft type(s)
Cabins
Sydney-Singapore
Daily or twice daily
Boeing 787
ScootPlus (Business Class), Economy Class
Melbourne-Singapore
Twice daily
Boeing 787
ScootPlus (Business Class), Economy Class
Perth-Singapore
Daily or twice daily
Boeing 787
Airbus A320
ScootPlus (Business Class), Economy Class
Economy Class
Gold Coast-Singapore
Daily or twice daily
Boeing 787
ScootPlus (Business Class), Economy Class
Scoot's aircraft and cabins
Most of Scoot's flights to Australia use the airline's Boeing 787s, which offer ScootPlus (Business Class) and Economy Class. The exception is the thrice-weekly TR16/17 rotation, which runs on an Economy-only Airbus A320. This is in addition to the daily TR8/9 cycle to Perth which features the Boeing 787-9.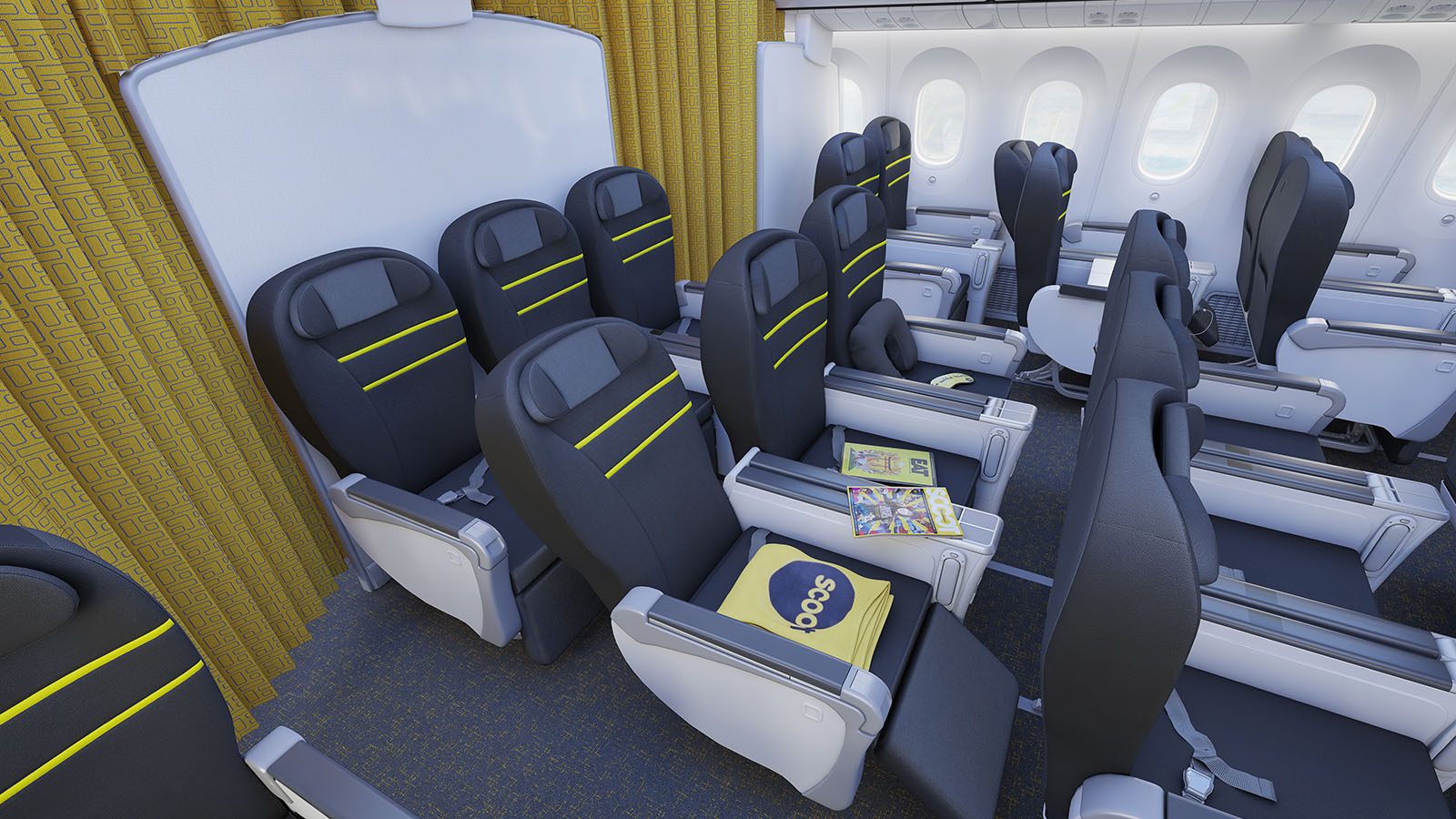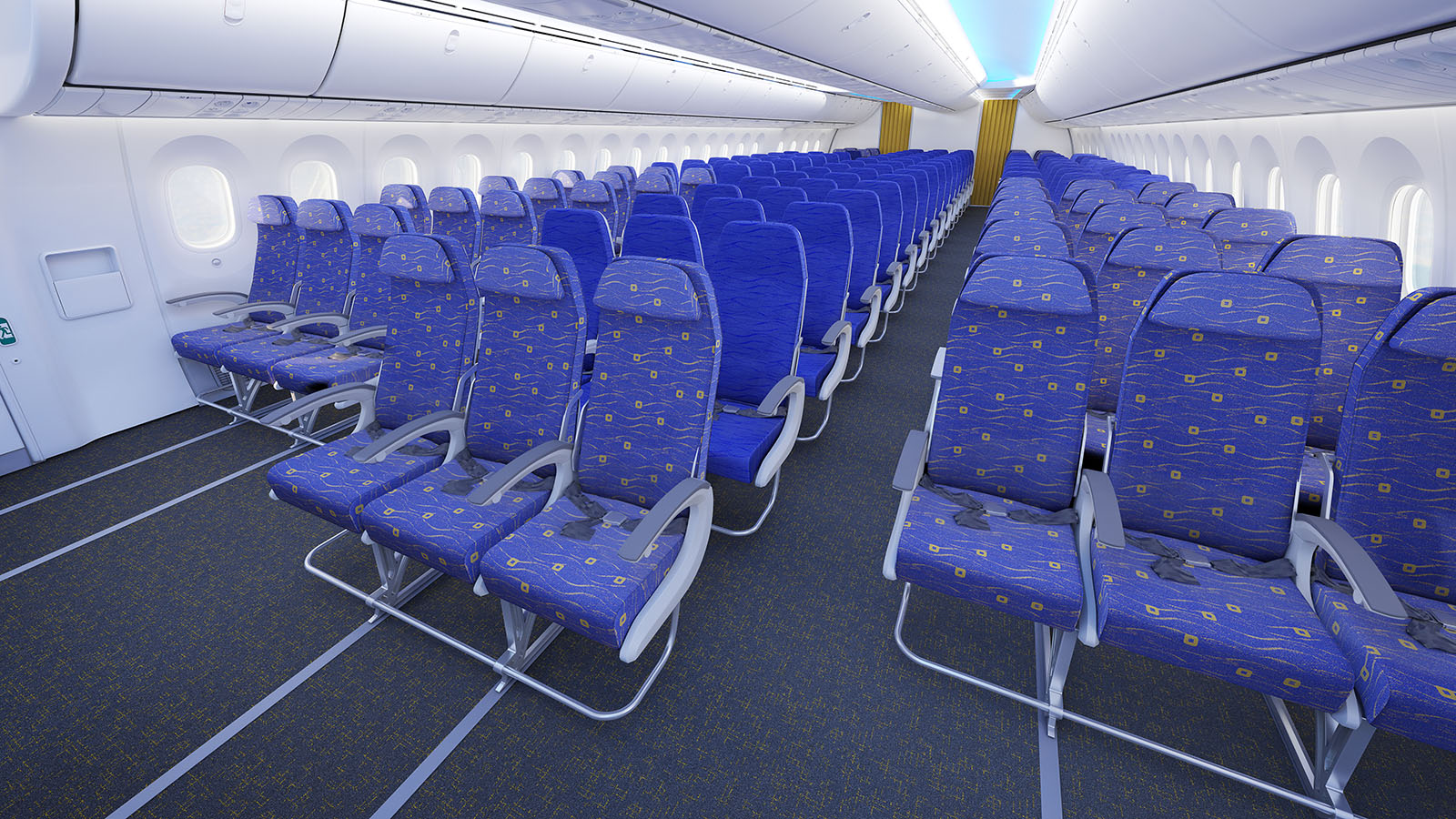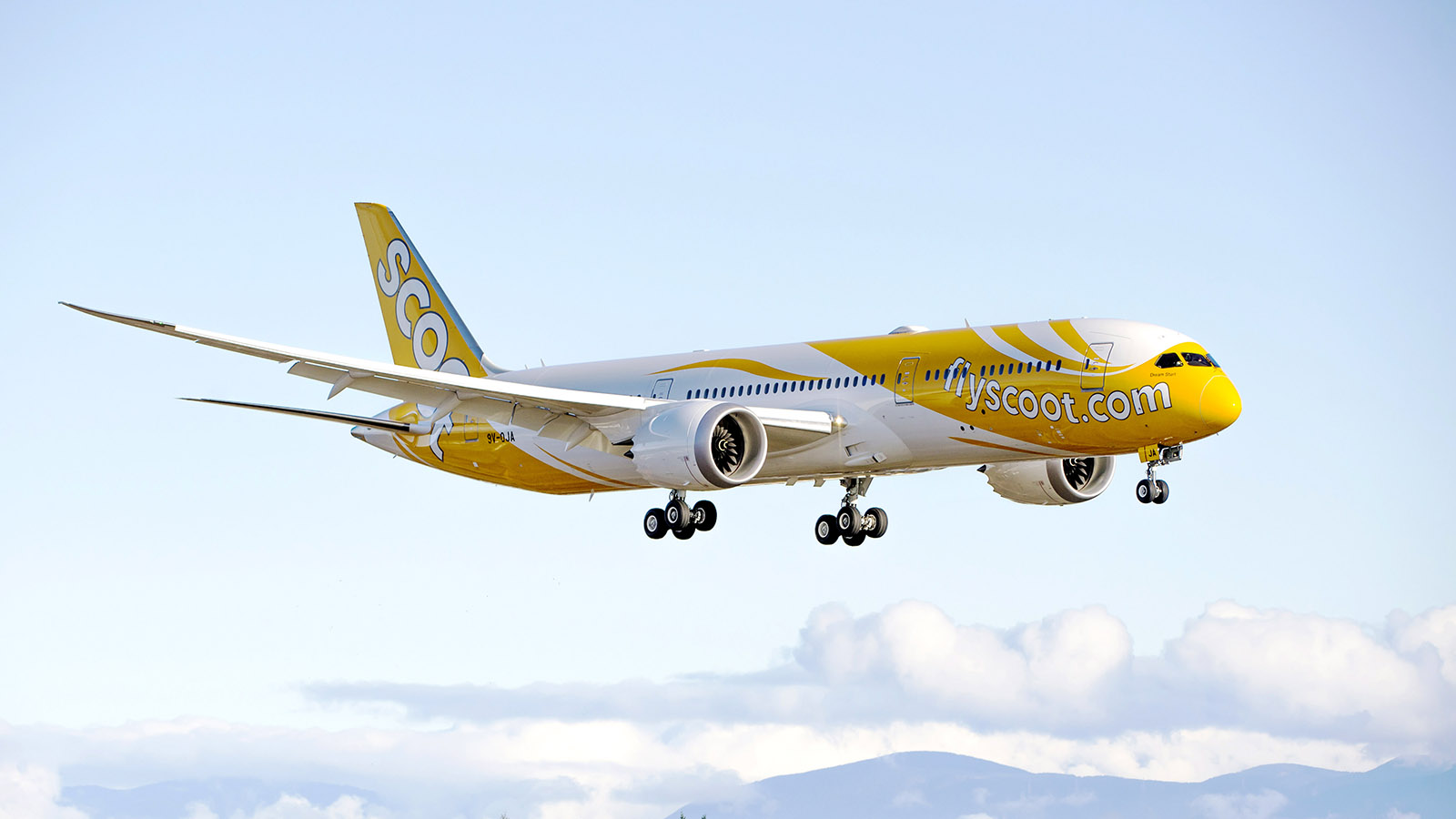 Up front, ScootPlus competes with Jetstar Business Class. Stretch out in a wide reclining seat, with plenty of legroom. Inflight entertainment, however, is BYO. In Economy, seats adopt a typical 3-3-3 layout, as on Jetstar.
If you're sitting down the back, consider paying a little extra for 'ScootinSilence'. It's a dedicated part of the cabin where babies are banned! That certainly makes these long flights more enjoyable. Added to that, your seat also gains an adjustable headrest for added comfort, which regular Economy lacks.
Scoot's lounges
You may be offered lounge privileges at an additional price during the booking process, but it's not a standard inclusion with ScootPlus. These lounges are all operated by third parties, in any case. That means you may already have access by way of a credit card or lounge membership.
For example, in Sydney and Melbourne, you may have access to the Centurion Lounges via your American Express card. Amex Platinum Card and Centurion Card members have the added option of the Plaza Premium Lounges, too.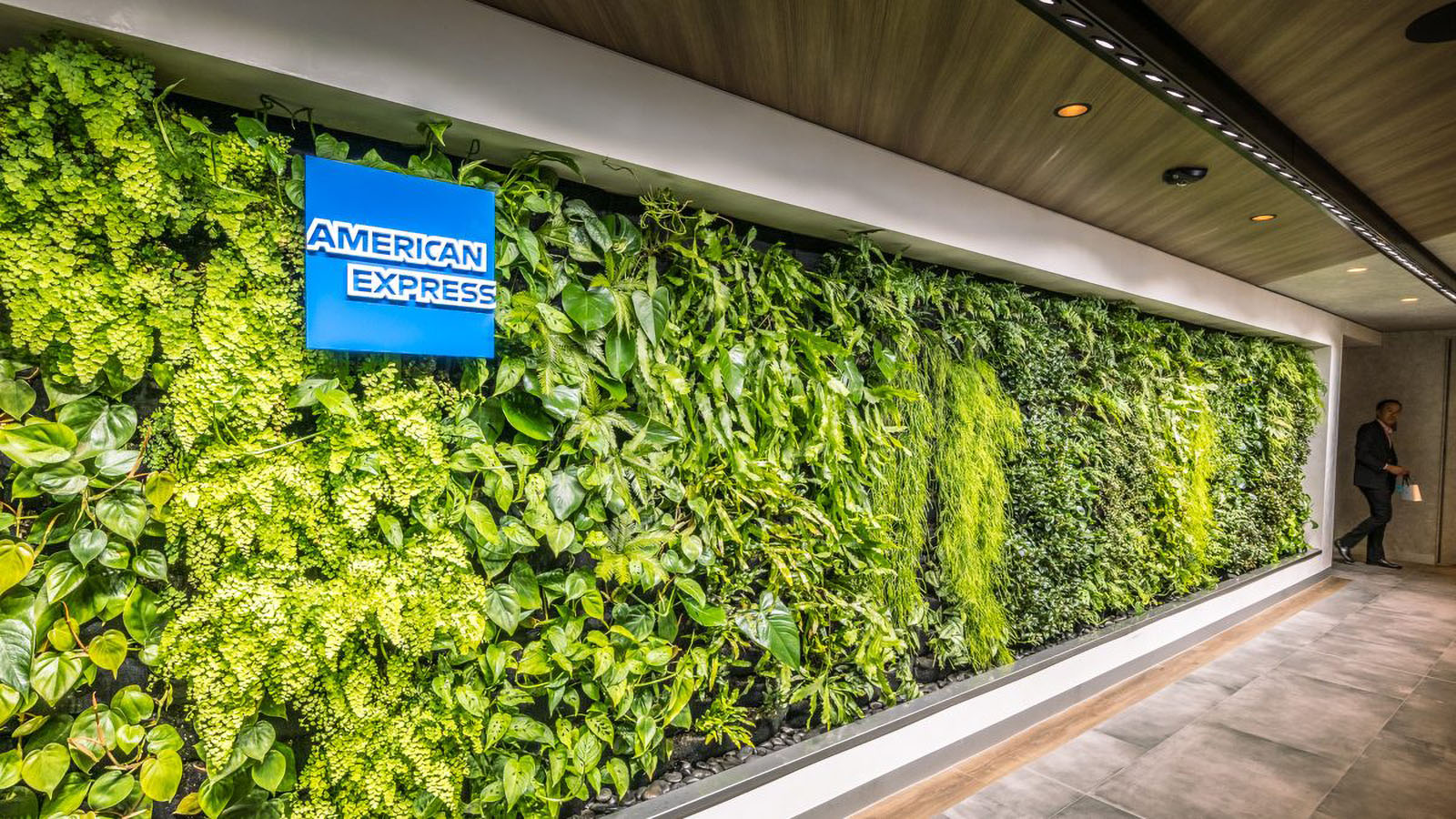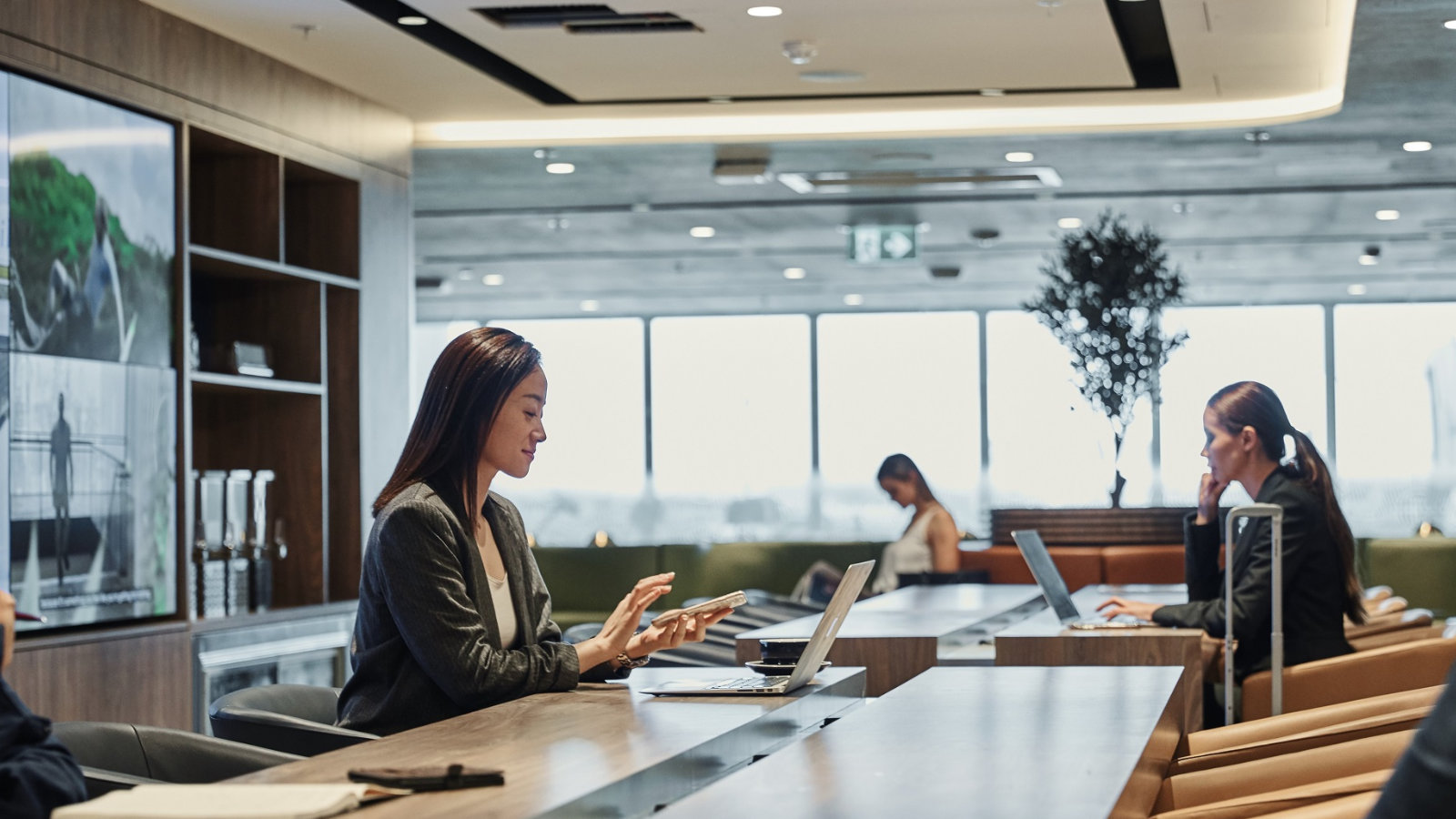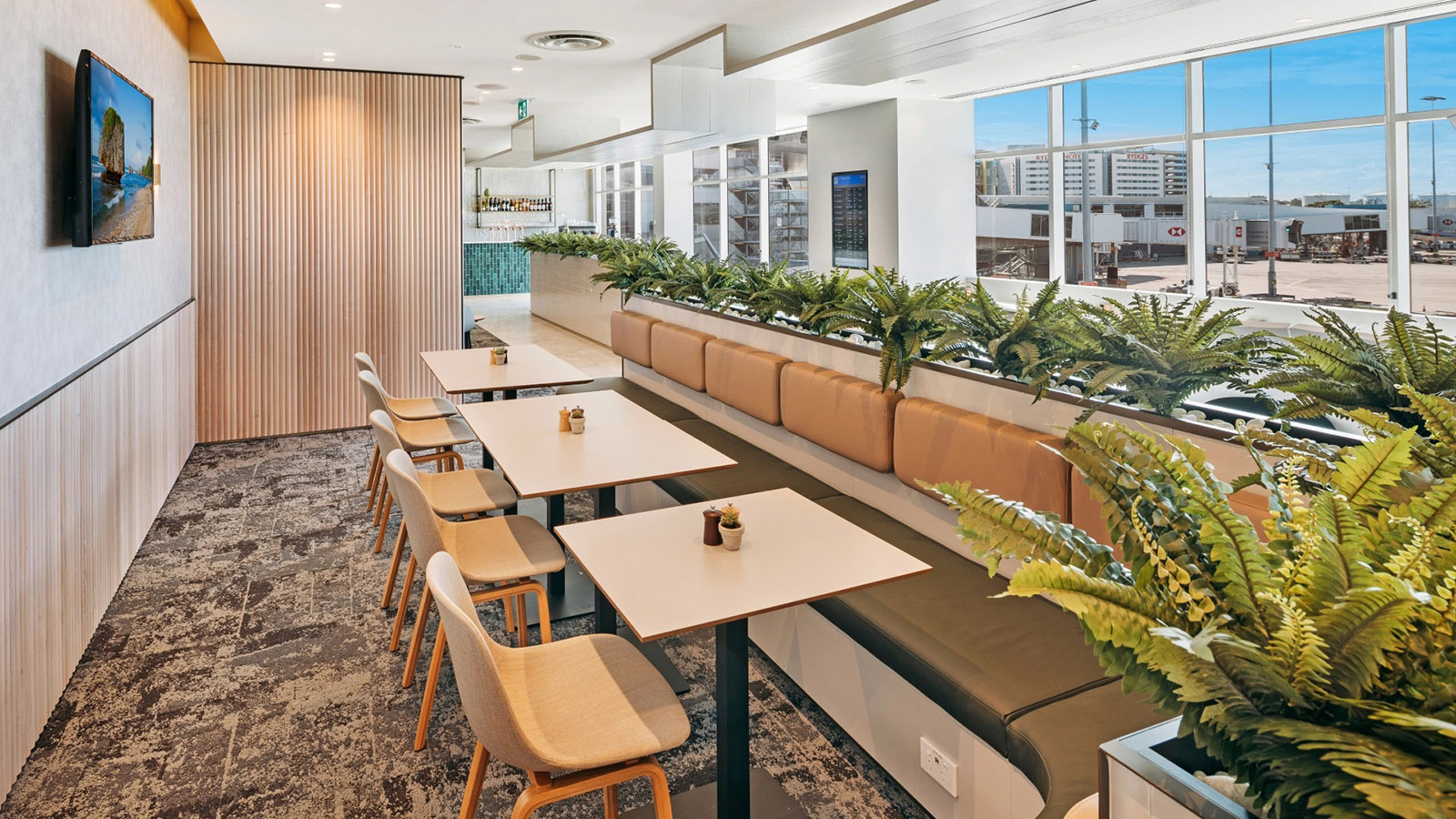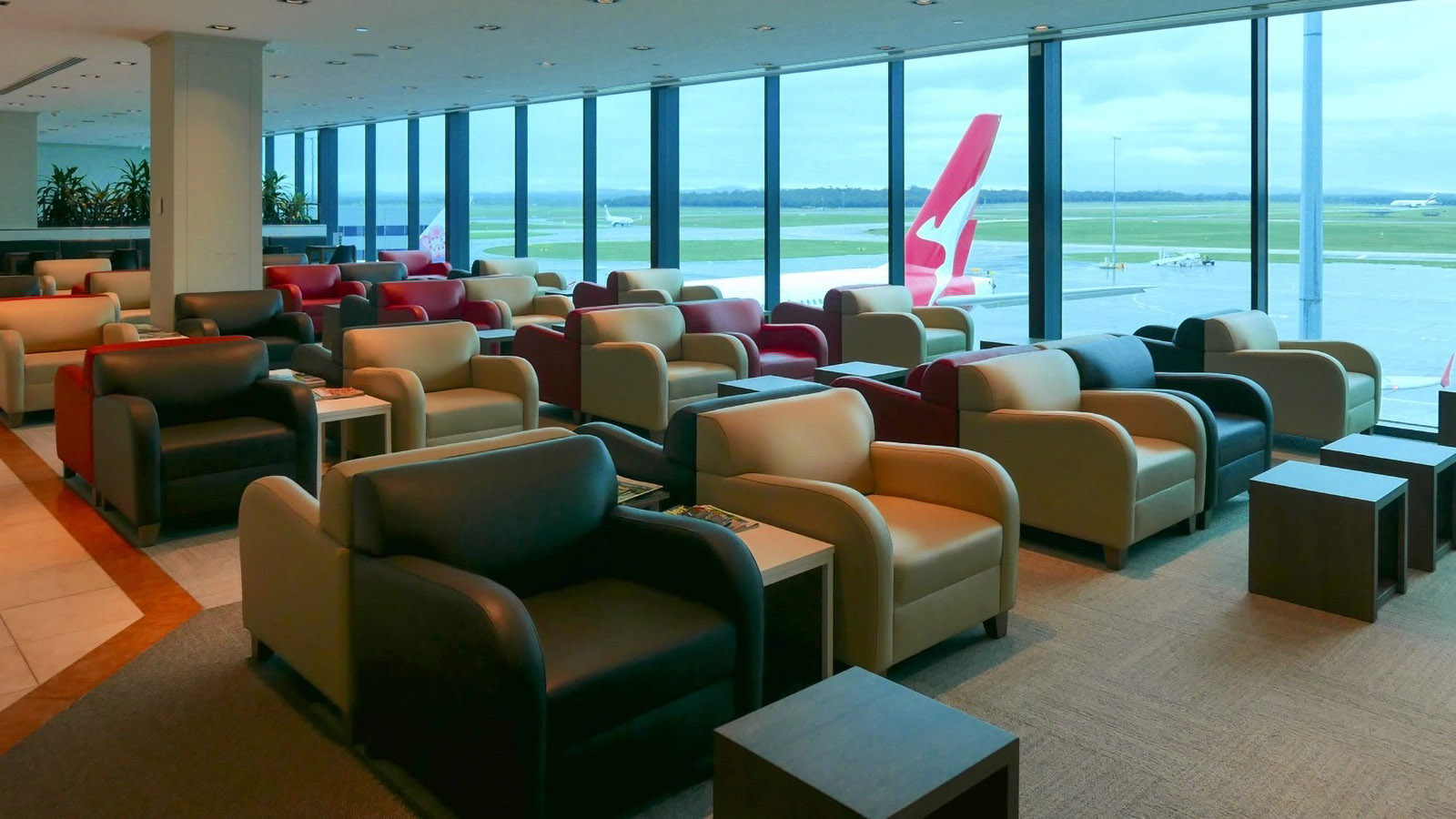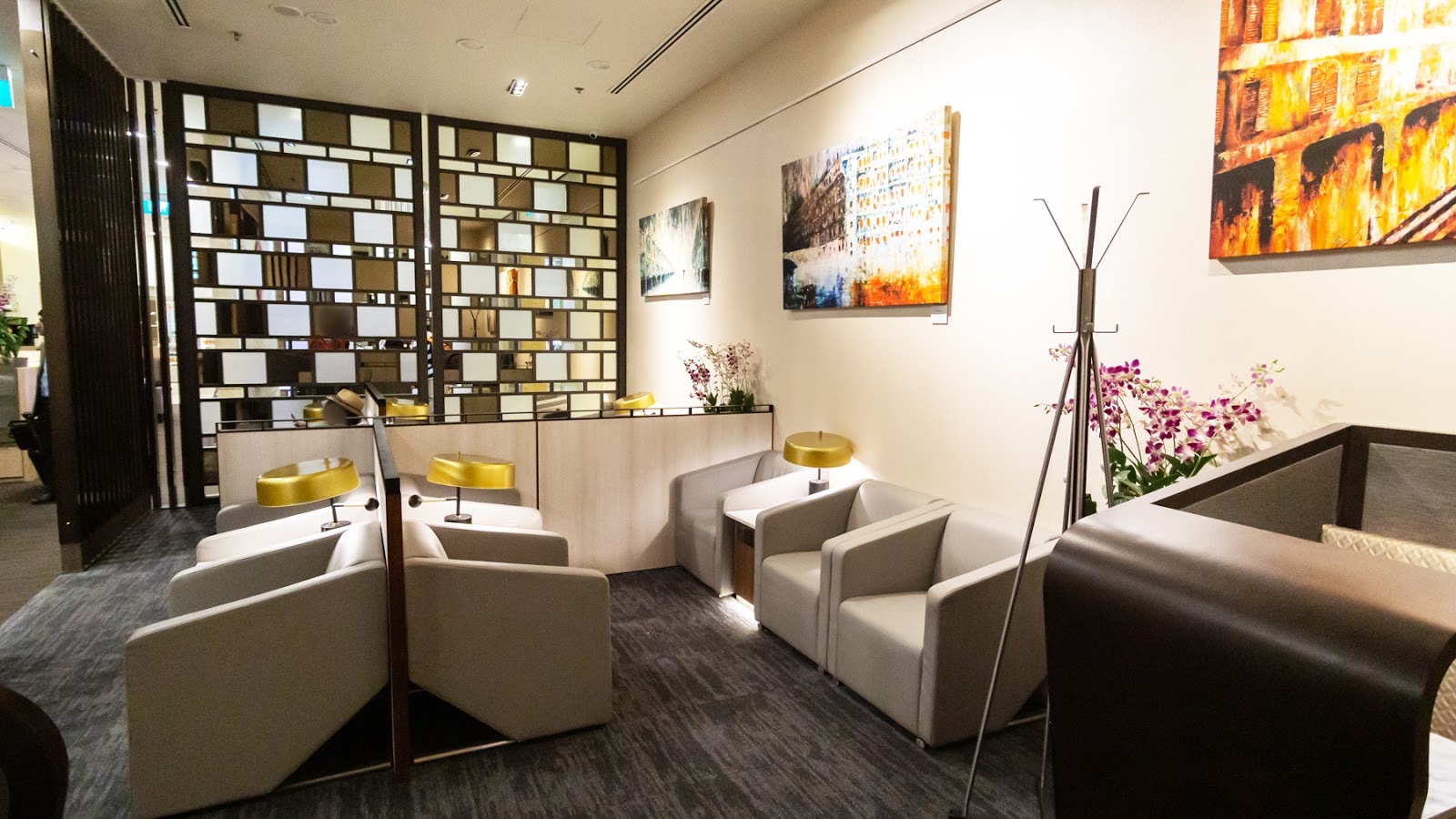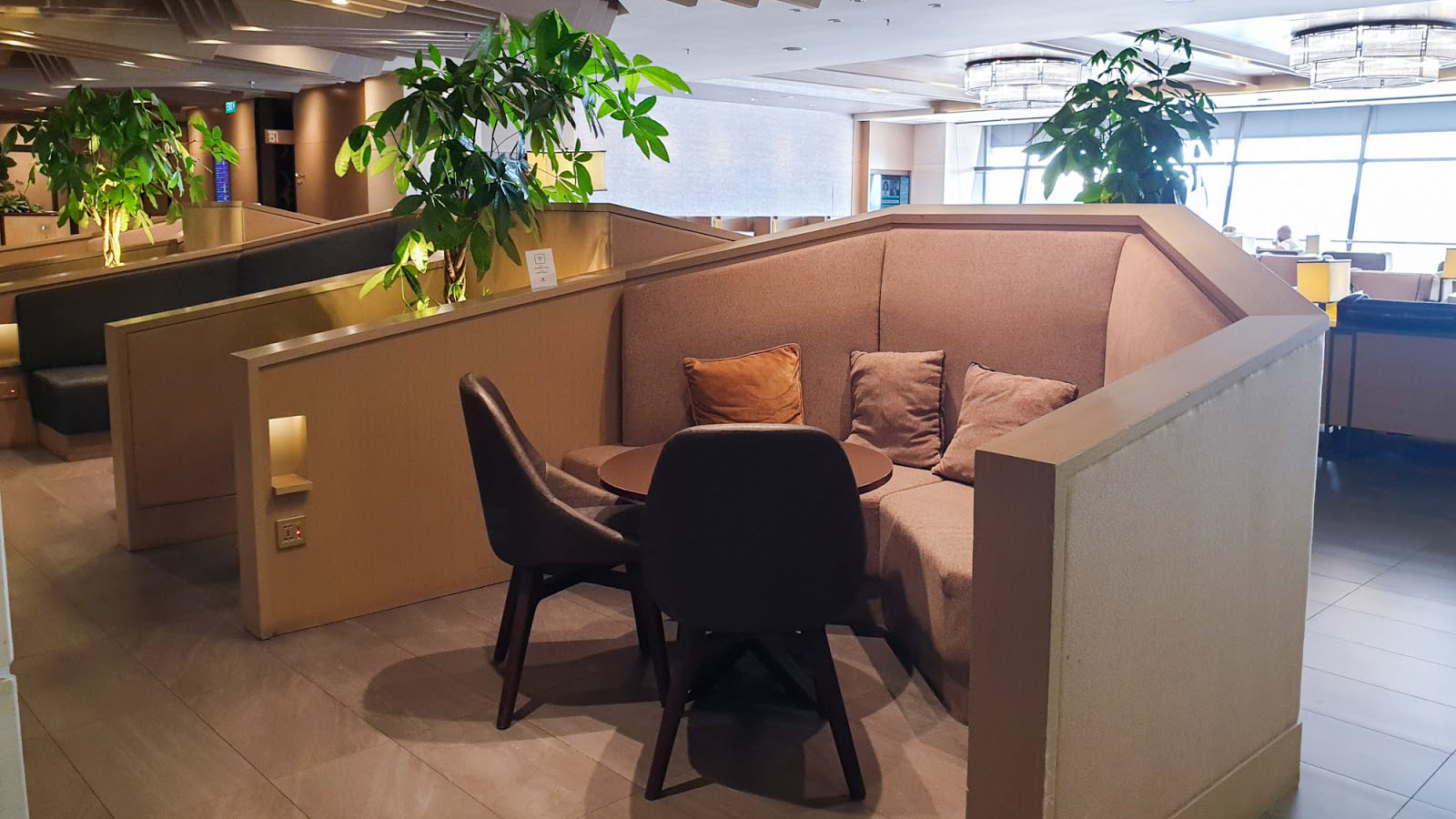 Separately, Melbourne's Marhaba Lounge welcomes Priority Pass members. Perth's new international Aspire Lounge is part of Priority Pass – mirroring its domestic cousin.
Up in Singapore, a wealth of independent lounges are available. Among them are a Plaza Premium Lounge, SATS Premier Lounge, Marhaba Lounge and the Ambassador Transit Lounge.
In summary: flying to Singapore
When you're next able to travel, there are plenty of ways to earn and burn points to Singapore.
Qantas Frequent Flyer members can take their pick of Qantas, British Airways and Jetstar. For now, however, Emirates isn't offering Melbourne-Singapore flights as it did before COVID-19.
Those with KrisFlyer miles also get their pick of Singapore Airlines and Scoot. You can also use Velocity Points to book on Singapore Airlines, too.
There's no denying that international travel still looks a little different than it did pre-pandemic. But extra paperwork aside, it's great to see that things are starting to find a 'new normal', with travellers getting back into the skies.
One thing's for sure – whichever airline you fly, touching down in Singapore is going to feel fantastic.
Recent updates by Brandon Loo.
What to expect when flying to Singapore
was last modified:
August 24th, 2023
by