Singapore Airlines is one of our favourite carriers here at Point Hacks, however, they have a confusing array of Business and First Class products.
In this guide
I outline which types of seats are on Australian (and popular overseas) routes so that you know which one to expect on your next flight with them.
There are three main First/Suites Class products and five—yes, five!—versions of Business Class.
This guide includes both aircraft and specific flight numbers, so if you know either one of those, then feel free to use Ctrl + F to skip right to your specific itinerary.
Important caveat: I am to keep this guide up-to-date but cannot guarantee the information due to route/aircraft changes and last-minute equipment swaps.
Here is a list of the aircraft and their products from newest to oldest:
---
2018 Regional Business Class
Airbus A350 (medium-haul) & Boeing 787-10 Dreamliner
For flights of up to about eight hours within the Asia-Pacific region such as Brisbane and Taipei, the medium-haul configuration of its Airbus A350-900 aircraft and Boeing 787-10 Dreamliners are often used.
There is no First Class or Premium Economy on these planes. Business Class sports a nice-looking but narrow lie-flat seat.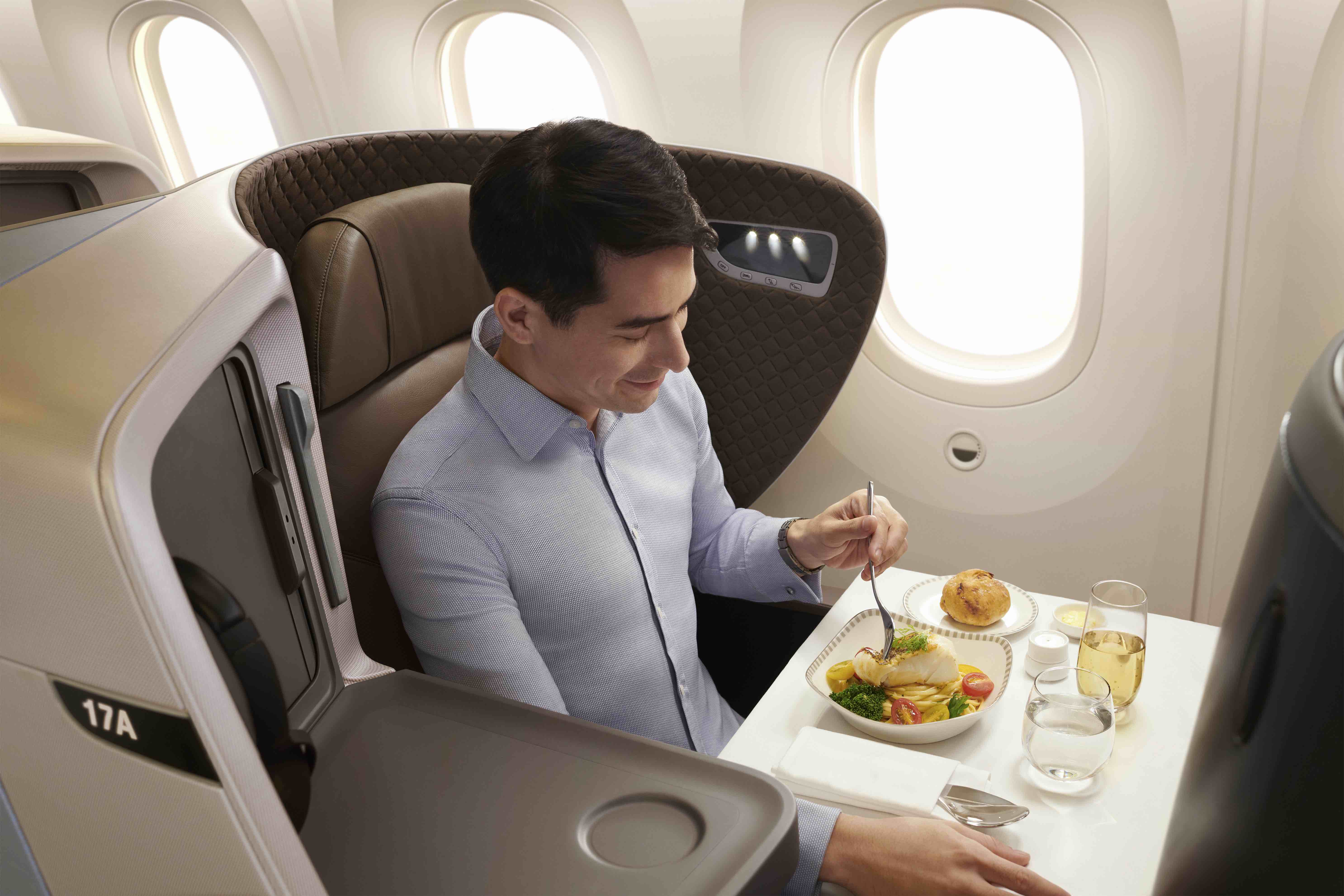 You'll enjoy large windows and increased air circulation to reduce jetlag.
Although flying at the back of the plane is not the focus of this guide, here is what you can expect from Economy Class on the A350 and 787-10.
The list of destinations with this product is consistently growing, including (but not limited to):
| Destination | Flight numbers |
| --- | --- |
| Brisbane | 235, 236, 255, 256, 265 & 266 |
| Adelaide | 278 & 279 |
| Perth | 213, 214, 215, 216, 223, 224, 225, 229 & 230 |
| Kuala Lumpur | |
| Bangkok | |
| Bali | |
| Hong Kong | |
| Taipei | |
| Manila | |
| Tokyo | |
| Osaka | |
| Nagoya | |
| Fukuoka | |
| Seoul | |
The different versions of the A350
This is how you can tell the difference between the two versions:
medium-haul (section above): no Row 22 in Business Class, no Premium Economy
long-haul & ultra-long-range (later on): Row 22 and Premium Economy exist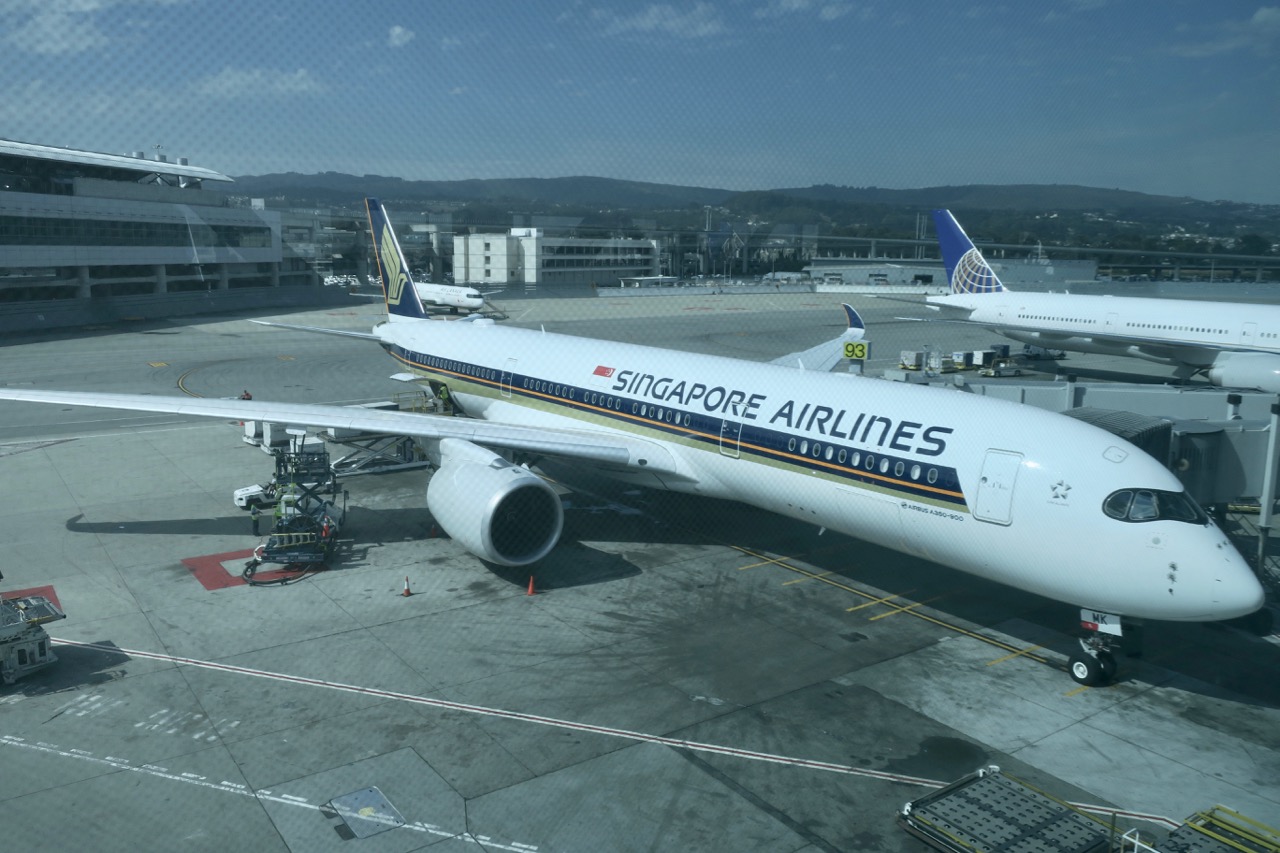 2017 Suites & Business Class
Airbus A380 (new version)
The airline is progressively retrofitting its 19 aircraft in their A380 superjumbo fleet with this updated product. There are six individual suites in First (or 'Suites') Class set up in a 1-1 configuration.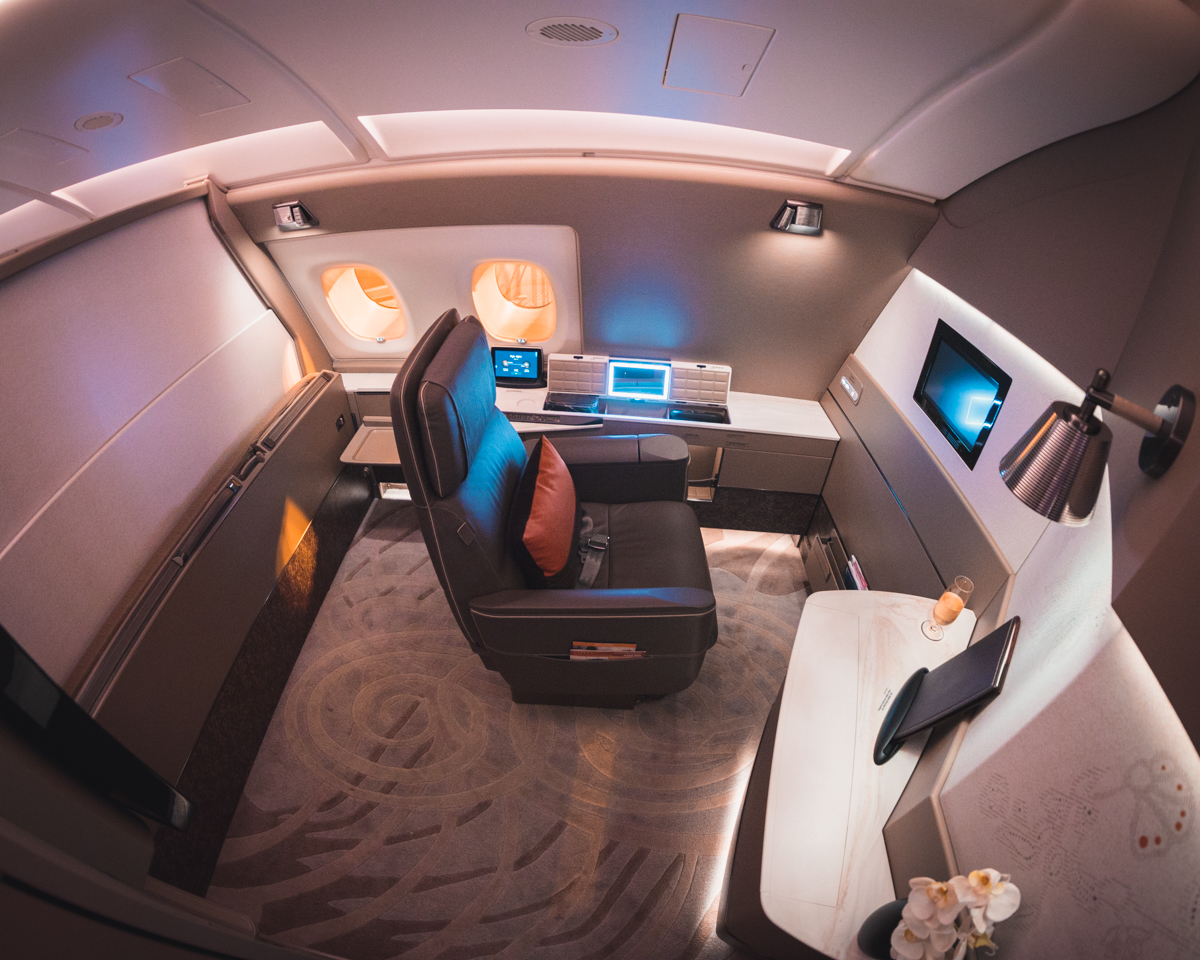 It boasts understated elegance and class-leading space with an excellent soft product but lacks the onboard shower and bar found on Emirates and Etihad.
In Business Class, you'll enjoy enhanced privacy and a more spacious cabin than on the older version. The two centre seats can be converted into a double bed.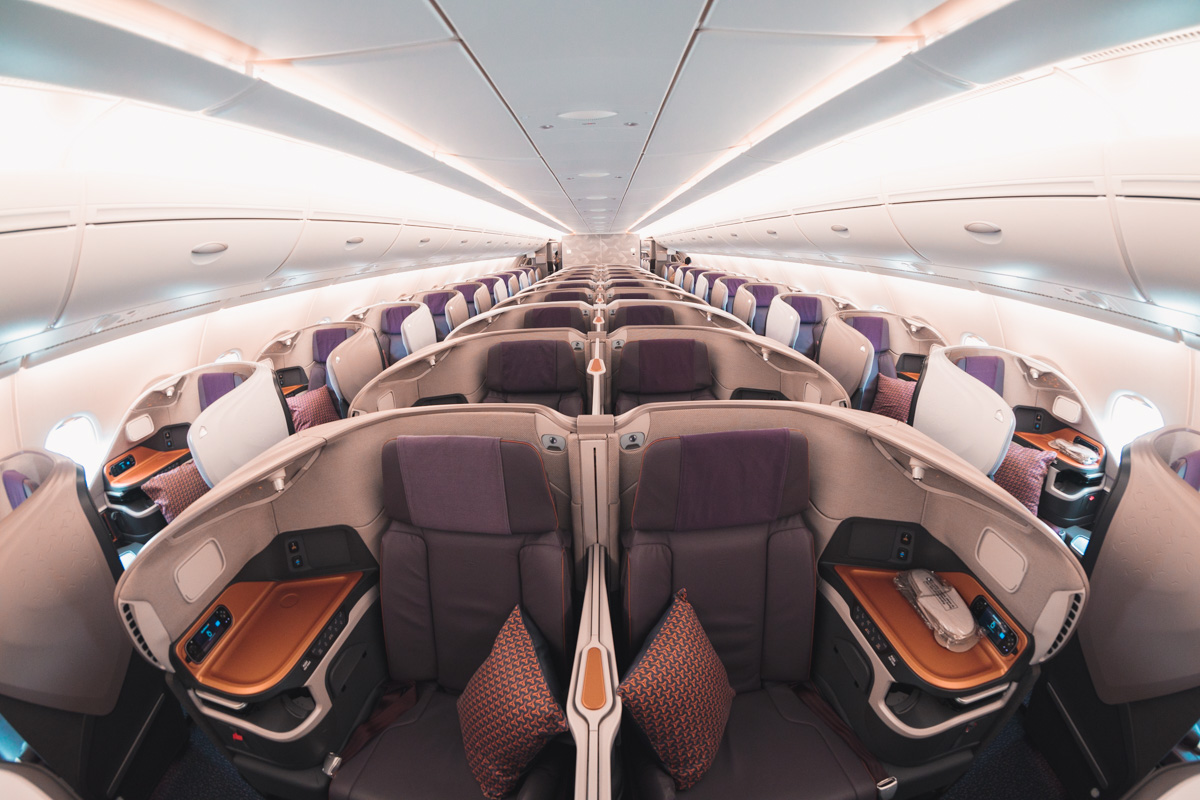 Note that this product is much more modern than the previous version but is also significantly more narrow than the old seat. A plus is that compared to the old version, you don't have to manually flip the seat over to turn it into a bed—this is now done electronically (like on most other airlines).
You can find this aircraft flying between Singapore and:
| Destination | Flight numbers |
| --- | --- |
| Auckland (from October 2020) | |
| Sydney | 221 & 232 |
| Hong Kong | |
| Mumbai | |
| Shanghai (route with most award availability) | |
| Tokyo Narita (until 24 October 2020) | |
| London | |
| Paris (from 1 July 2020) | |
| Zürich | |
2013 First & Business Class
Airbus A350 (long-haul and ultra-long-range) & Boeing 777-300ER
This is currently the most common type of product flying to and from Australia, therefore, it is the one you are most likely to be on, especially when flying from the East Coast.
In Business Class, you'll get a private and wide seat and a relatively cushy bed. However, if you are not accustomed to sleeping on your side, you may find the seat setup uncomfortable.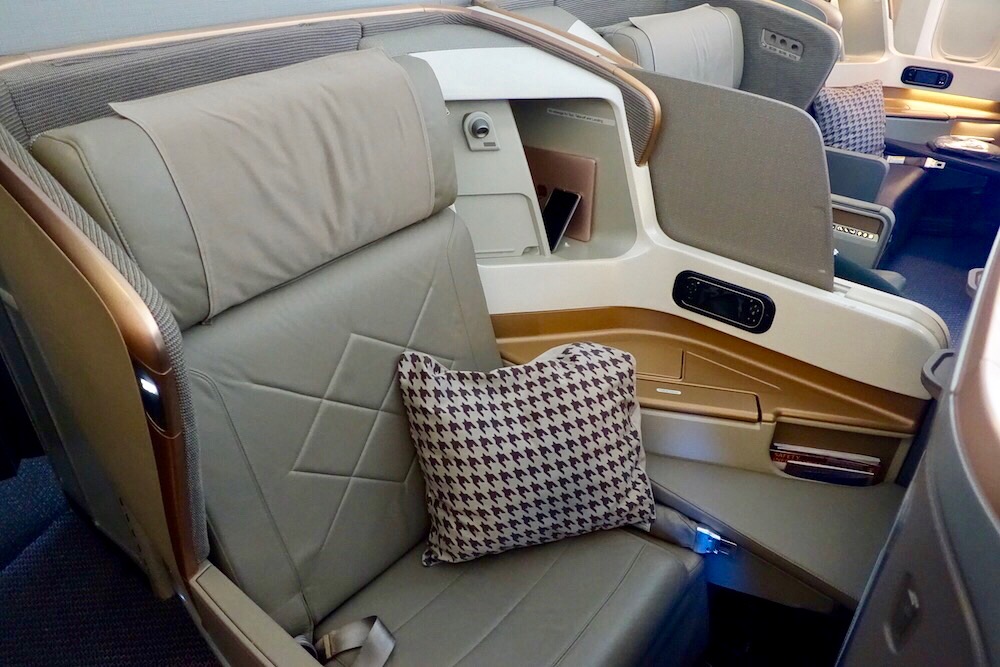 The bulkhead (first row) seats are the ones to aim for to maximise legroom.
Whilst no version of the A350 has First Class, all Boeing 777-300ERs do, featuring the following seat: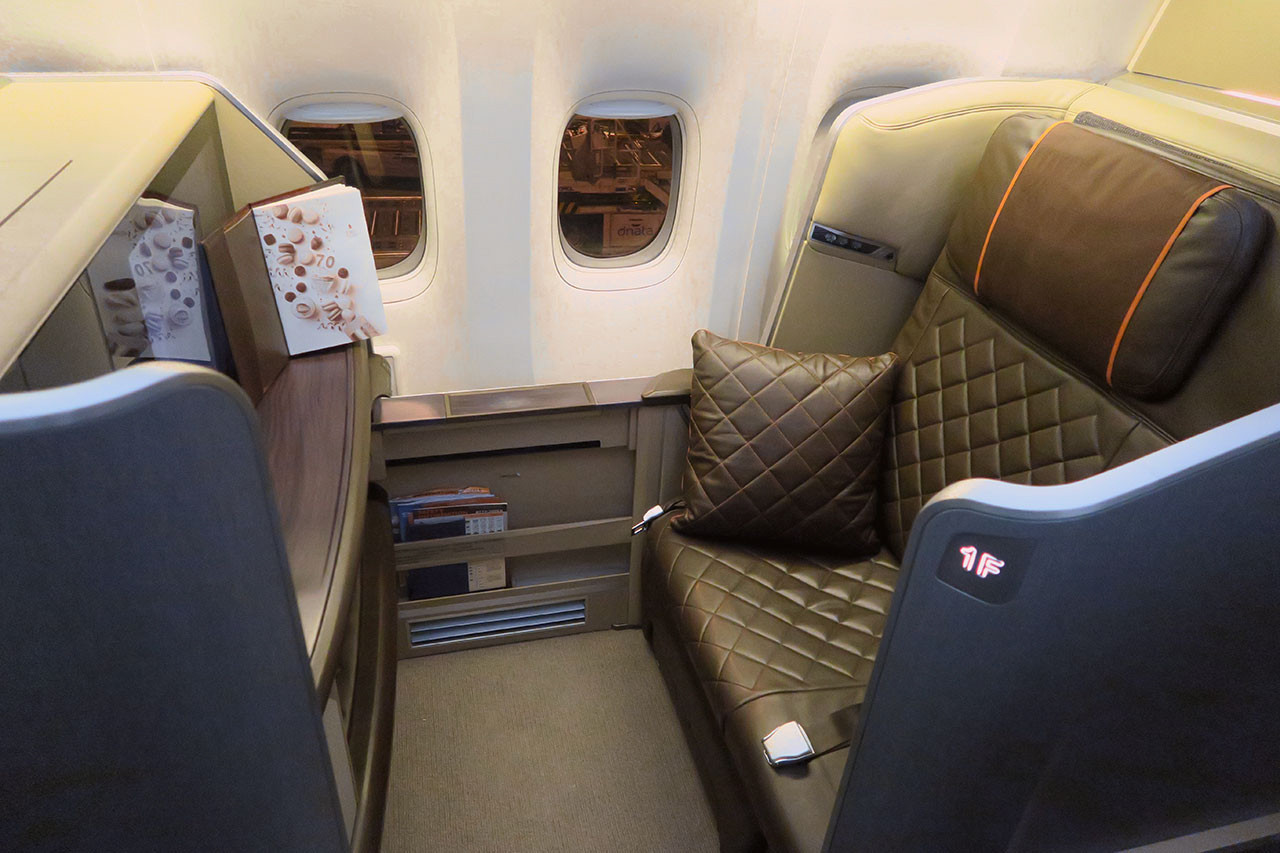 It is a premium product with excellent customer service but is definitely a step down from Suites Class on the A380. However, this is the type of aircraft you are most likely to find First Class availability on.
A350 (long-haul and ultra-long-range) and 777-300ER aircraft are found on the following routes:
| Destination | Flight numbers |
| --- | --- |
| Sydney | 211, 212, 241, 242 & 288 |
| Melbourne | 207, 208, 227, 228, 237 & 238, 247 & 248 (the last two are the airline's Melbourne - Wellington fifth freedom flight) |
| Brisbane | 245 & 246 |
| Canberra | 288 |
| Auckland | |
| Christchurch | |
| Beijing | |
| Shanghai | |
| Seoul | |
| Tokyo | |
| London | |
| Manchester | |
| Frankfurt | |
| Munich | |
| Düsseldorf | |
| Rome | |
| Milan | |
| Barcelona | |
| Amsterdam | |
| Stockholm | |
| Moscow | |
| San Francisco | |
| Los Angeles | |
| Seattle | |
| Houston | |
| New York (nonstop) | |
2009 Regional Business Class
Airbus A330-300 & Boeing 777-200 & -300
This is by far the most old-school Business Class product. It features angled-flat seats in a 2-2-2 configuration. This is a product to avoid if you can.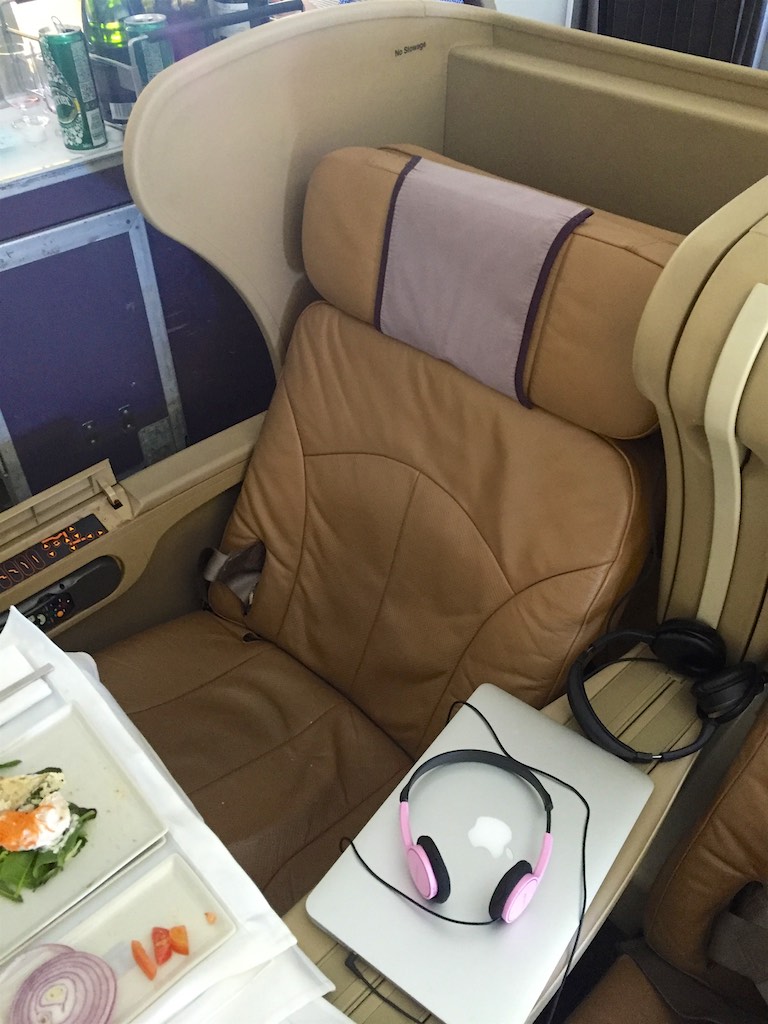 No Australian flights have this product anymore, but you may find it on some intra-Asian routes.
2007 Suites & 2006 Business Class
Airbus A380 (old version) & Boeing 777-200ER
The Suites Class was revolutionary when Singapore Airlines was the launch customer of the A380 back in 2007. Sydney was the first route to get it.
This version is found on the majority of A380 aircraft, but that is being reduced moving forward. (777-200ERs do not feature First/Suites Class.)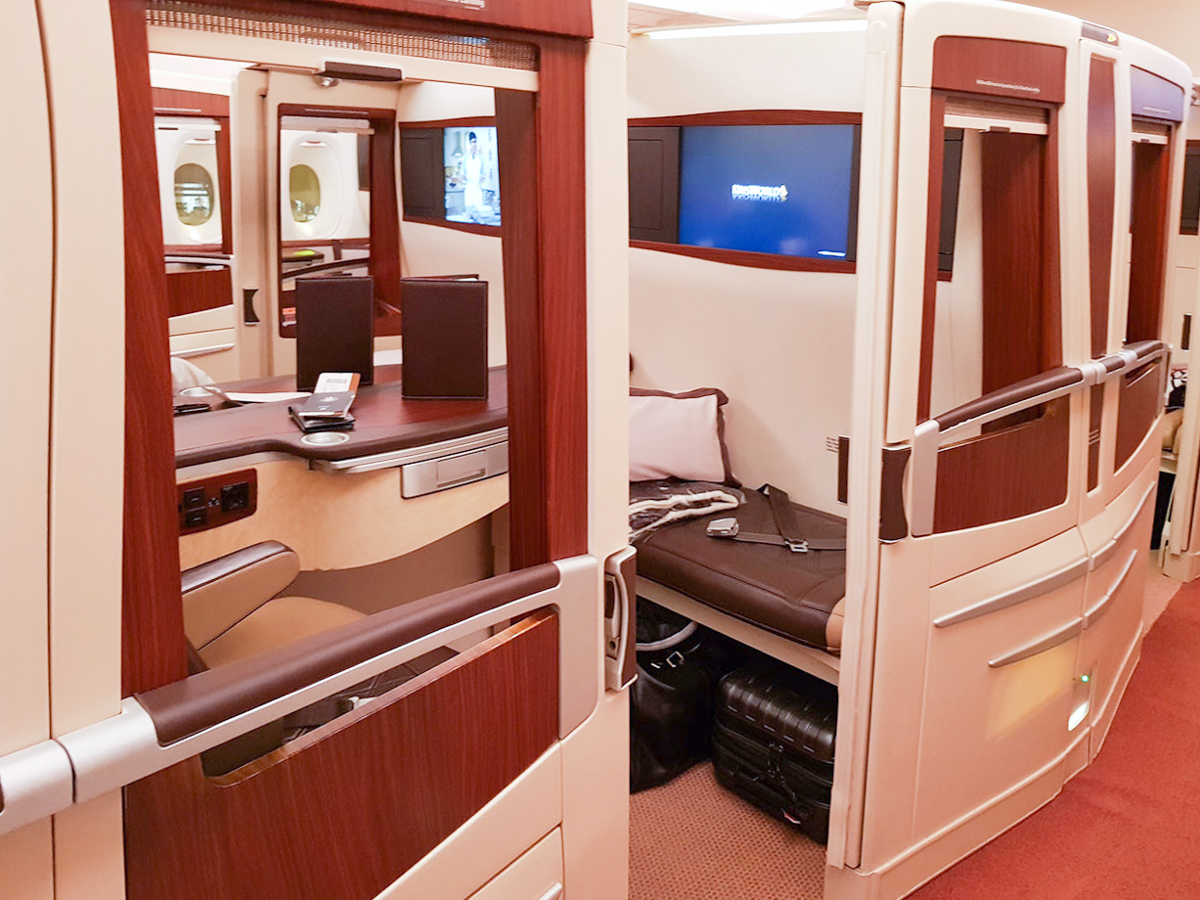 You'll get a private suite and the centre seats can convert into a double bed.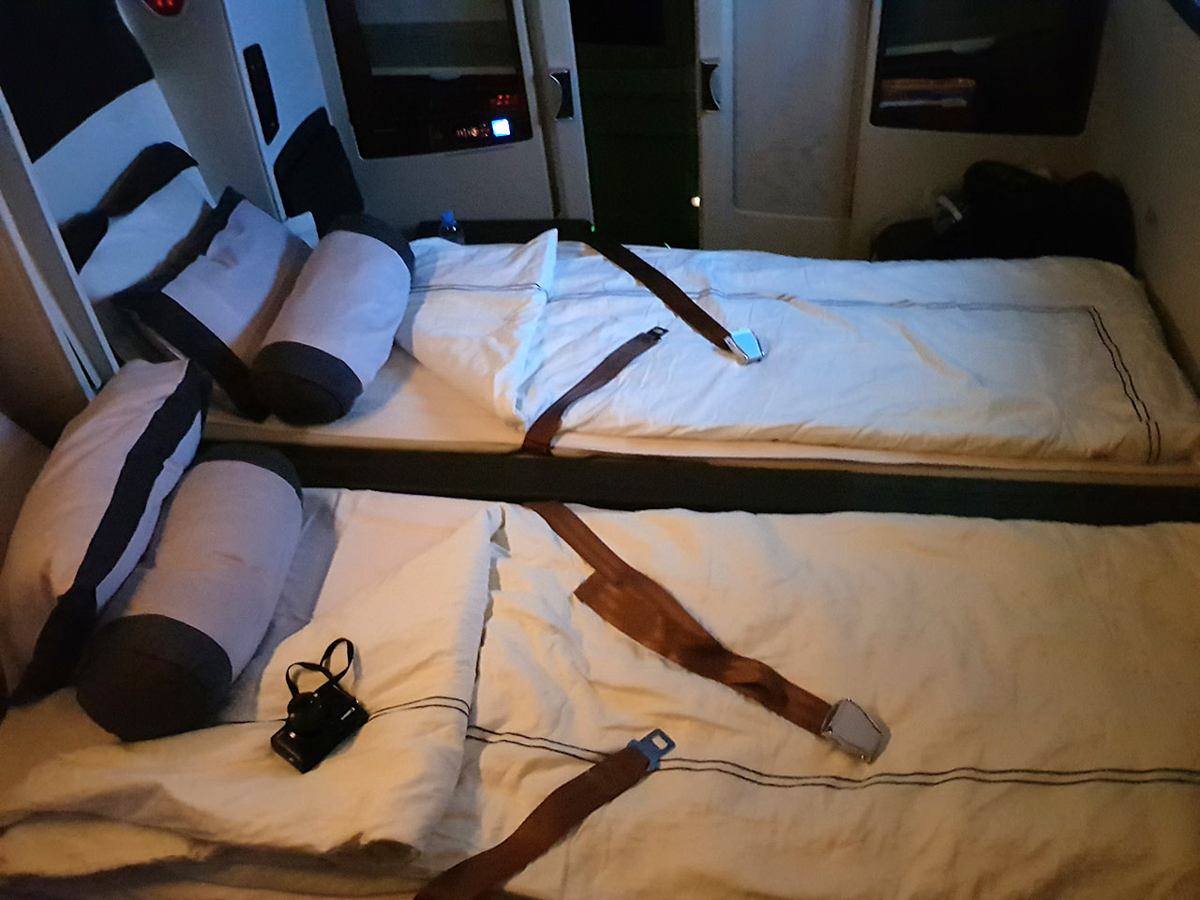 With double the amount of seats as on the newer version (12 versus 6), you are much more likely to find award availability on this version than the new one.
In Business Class, you'll get the widest seat in all of Singapore Airlines' fleet on the older A380 and all 777-200ERs. It can fit two people (snugly) in its 30-inch frame, however, it is a dated product.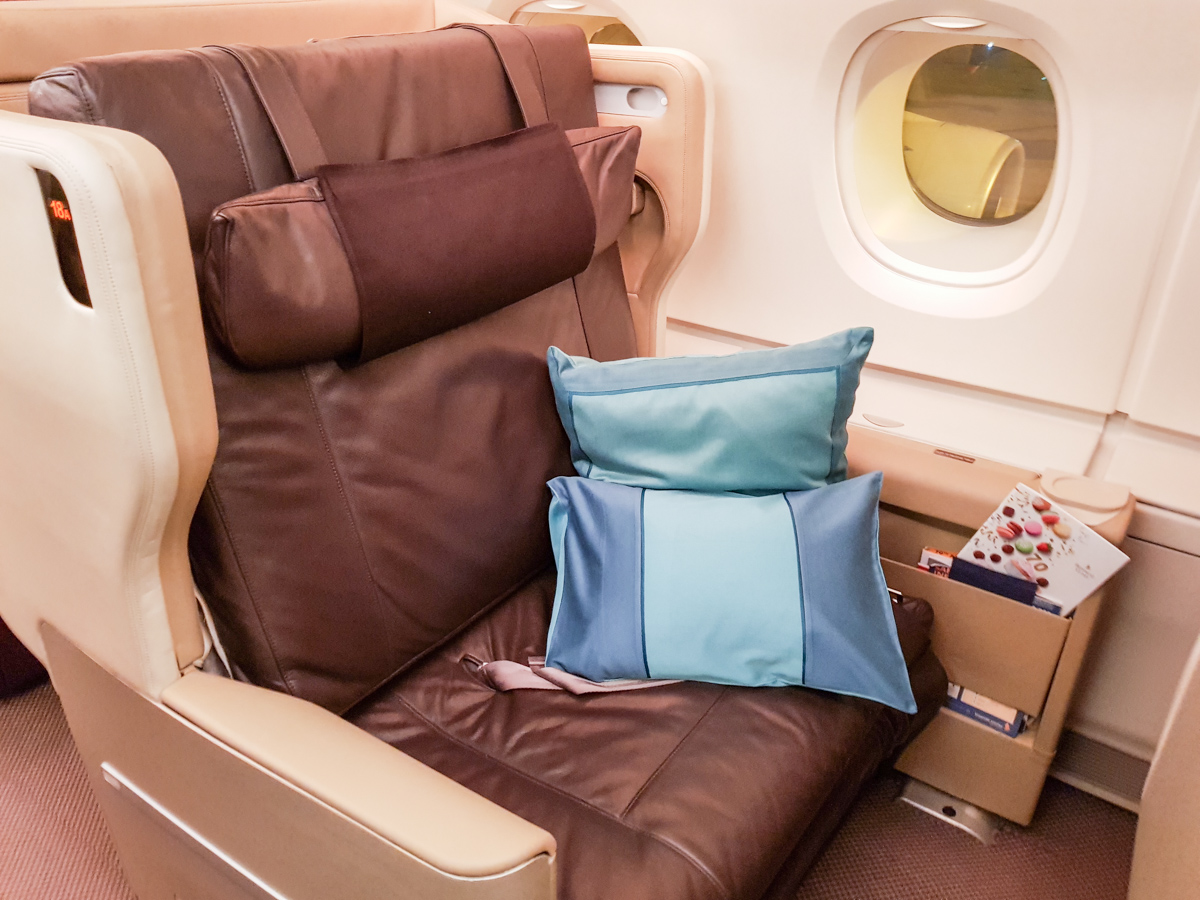 You can find the old version of the A380 on the following routes (expect these destinations to progressively move to the new version):
| Destination | Flight numbers |
| --- | --- |
| Sydney | 222 & 231 |
| Melbourne | 217 & 218 |
| Auckland | |
| Beijing | |
| Delhi | |
| Frankfurt | |
| London | |
| Paris (until 30 June 2020) | |
| New York (via Frankfurt) | |
What about other aircraft?
There are also some other fringe First and Business Class products on other aircraft but as far as I know, they don't fly to Australia, so I haven't included them in this guide. An example is the oldest First Class seat still in the sky, which is on the Boeing 777-300 (not -300ER).
If you're interested in covering all bases, check out this page on the Singapore Airlines website.
The airline has ordered 20 of the new Boeing 777-9 aircraft, launching in 2021. We don't yet know which products they will feature.
How to search for the aircraft on your trip
If you have already booked
Check your email itinerary for the aircraft type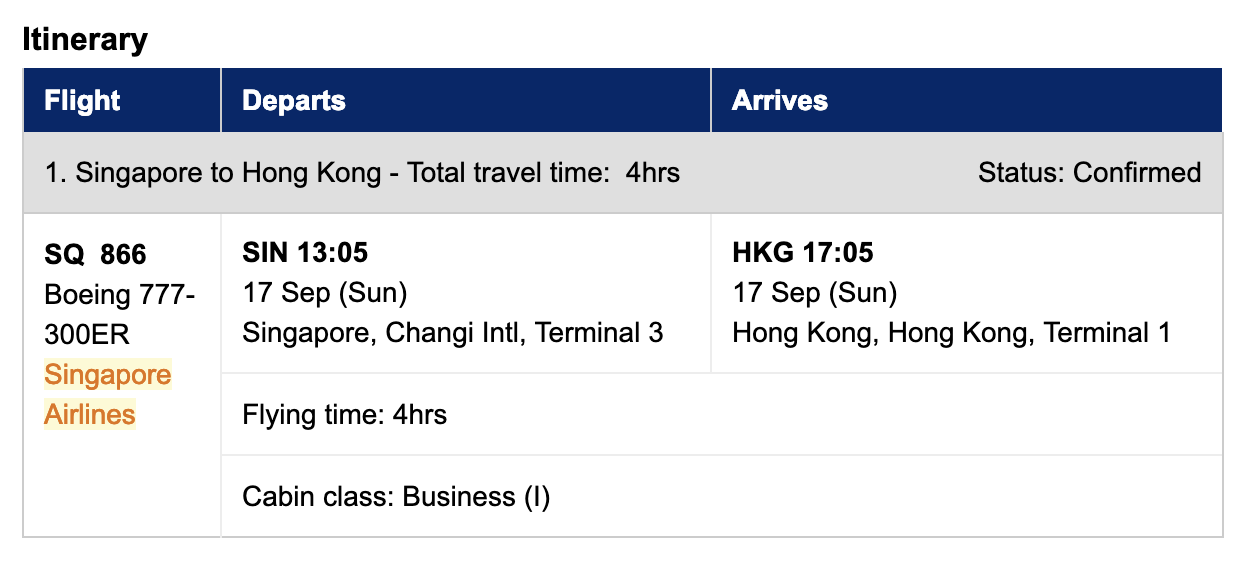 or you can:
Log in to your KrisFlyer account
Navigate to the Bookings section
Your booking should show the aircraft type
If you are planning a trip
Go to the Singapore Airlines website
Search for your desired route and date
Click on the arrow near the flight number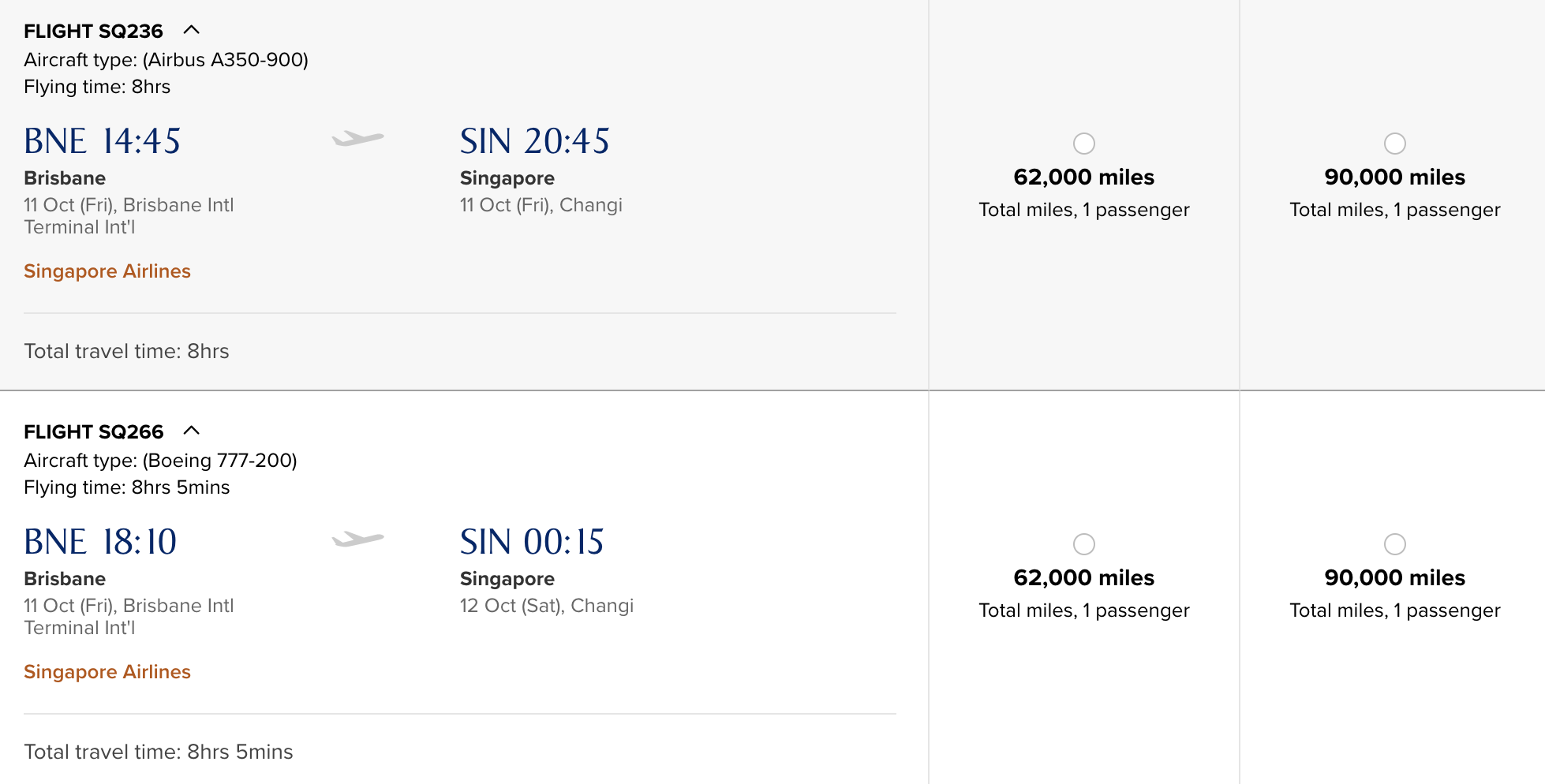 Summing up
Is this important? Yes. Why? Because Singapore Airlines' premium cabin products are so vastly different to one another. It helps to set realistic expectations of what you will be flying on.
A general rule of thumb is that the newer the product, the better it is. However, some travellers still prefer the generous width of the older A380 Business Class seat over more modern versions, for example.
Keep in mind that this is a fast-moving landscape and that the product you are booked on may change without notice. As such, my advice would be to double-check which plane you will be flying on as your departure date approaches.
Which is your favourite Singapore Airlines product? Have I missed out on any or gotten any of the details wrong? Let me know in the comments below.
A comprehensive guide to the many different Business and First Class seat types on Singapore Airlines
was last modified:
July 22nd, 2020
by