Velocity Frequent Flyer Points Boosters are a handy stop-gap measure for when you're just shy of your next reward. Right now, you can buy more Velocity Points with up to a 40% discount.
Buying Velocity Points might make sense when topping up your balance for specific reward seat bookings on Virgin Australia, or a partner like Singapore Airlines or United. We also have a dedicated guide on how to buy Velocity Points if you're new to this idea.
Up to 40% discount: what you need to know
Offer expires: 28 July 2023
Velocity Frequent Flyer is offering up to 40% off purchased Points Boosters until 28 July 2023. This is one of the highest discounts we've seen, so it's worth considering if there's a redemption you can book right now.
(But it's not as good as the previous 30% off Points + 30% off reward seat sale we saw back in April 2022).
This time around, the offer is tiered based on how much you buy per transaction:
1,000 to 15,000 points: 10% discount
16,000 to 50,000 points: 20% discount
60,000 to 100,000 points: 30% discount
110,000 points: 40% discount
Here are the key caveats:
Each purchase must be a minimum of 1,000 points and a maximum of 250,000 points.
A maximum of 250,000 points purchased per calendar year applies.
The price per point varies. As you buy larger amounts, the cost per point decreases. Plus, the bonuses are tiered based on how much you buy. So keep this in mind!
There's no limit to how often you buy points, as long as you remain under the overall cap.
The value per point gets better as you buy bigger amounts. Say you purchased 30,000 points with a 20% discount: each point would cost you 2.1c. However, if you buy a maximum of 250,000 points with a 40% discount, that drops the per-point price to 1.4c each. Not too bad now.
We currently value Velocity Points at 1.80 cents each. Where possible, try to get more than that value-wise when you redeem your points.
Maximising this promotion for a huge discount
We generally recommend only buying points as a top-up, rather than getting the whole balance. But there can be cases where buying the whole amount needed for a reward can be handy.
For example, Sydney to Perth in Business Class usually costs:
$1,209 one-way as a cash fare, or
35,500 points + $30.75 one-way as a reward seat
For a return journey, you'd need 71,000 points + $61.50. And you can buy 70,000 points for $1,146 with a 30% discount (we'll assume you already have the remaining 1,000 points).
So you can secure that $2,418 return ticket for just $1,208 by buying points and redeeming reward seats. Note that reward seats don't earn points and don't count as 'eligible sectors' for Velocity status. But you've saved over $1,200, so that's a fair trade-off.
It even works for international flights. Say you want to fly from Sydney to London in Singapore Airlines Business Class. Currently, you can find reward seats for 139,000 points + $473 one-way.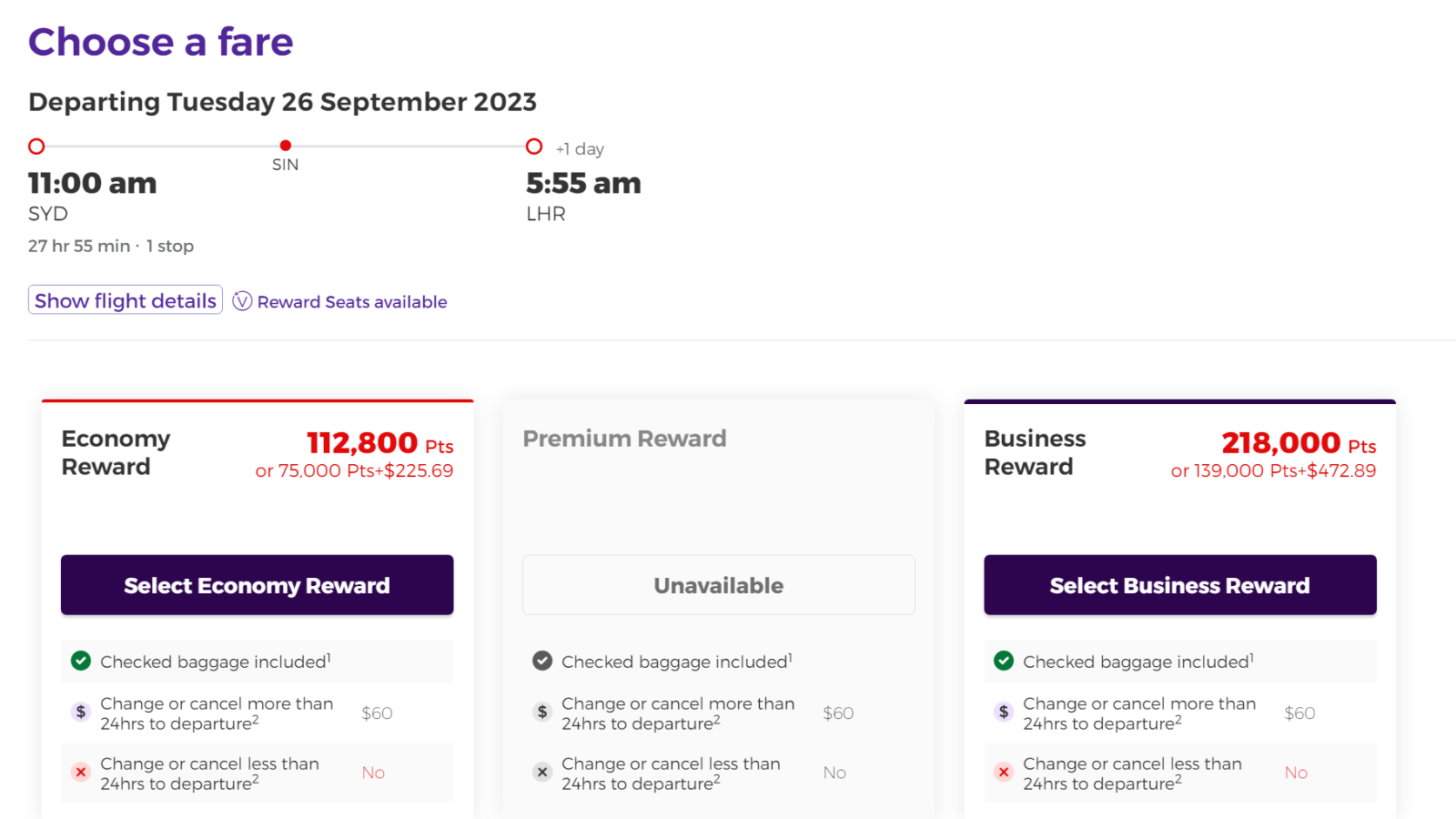 You can buy 140,000 Velocity Points for $1,966, after a 40% discount. That's enough to book the one-way reward for a total of $2,439 including taxes. It's even cheaper if you buy a maximum of 250,000 points for $3,510, after taking 40% off. You'll need to bridge the remaining 28,000 points through other means to have enough for a return flight, but overall, there's some good value here.
Just make that you have reward seat availability to book before buying points.
Note: Velocity Points expire after 24 months of inactivity in your account, so make sure to keep your account active by earning/redeeming points regularly.
Ad – Scroll down to continue reading.Minimum spend, terms & conditions apply.
Offer history
Sometimes Velocity offers a bonus and sometimes a discount. The 100% bonus deal back in October 2020 is the best we've seen to date. The latest 40% discount offer is better than usual.
| Month | Bonus (%) | Discount (%) | Lowest price per point | Notes |
| --- | --- | --- | --- | --- |
| July 2023 | | 40 | 1.40 | lowest price, tiered |
| November 2022 | | 40 | 1.40 | lowest price, tiered |
| April 2022 | | 30 | 1.64 | Also had 30% off VA reward seats |
| November 2021 | | 20 | 1.87 | |
| October 2020 | 100 | | 1.06 | |
| February 2020 | | 15 | 1.99 | highest price |
| October 2019 | | 20 | 1.87 | |
| May-June 2019 | 20 | | 1.95 | |
| February 2019 | 20 | | 1.95 | |
| August 2018 | | 15 | 1.99 | highest price |
| April 2018 | | 15 | 1.99 | highest price |
| Average | 20 | 15 | 1.96 | |
Summing up
Hot tip: ensure there is reward seat availability for the redemption you're eyeing before you purchase the extra points needed! Then, it's easy to buy the Velocity Points Booster and redeem it straight away.
In general, we don't advise that you buy points speculatively in any program. But if you have your eye on that Singapore Airlines trip to Europe or that United flight to Los Angeles, then Velocity Points Boosters could help get you there.
For other ways to earn Velocity Points, check out this guide.
This content contains affiliate links from which Point Hacks may earn commissions from transactions generated from new customers, bookings and general enquiries. Find out more here.
Buy Velocity Points Booster for up to 40% off
was last modified:
July 25th, 2023
by