When it comes to spending points on travel, 'fifth freedom' flights can provide some excellent opportunities for booking at the pointy end. Now, you might have heard that term before – but what does 'fifth freedom' actually mean?
As it happens, all international airlines are subject to 'freedoms of the air'. Some of those so-called freedoms merely allow an airline to fly over a country without landing, or to land but without passengers on board. Others permit airlines to sell flights into a foreign country, and then to carry passengers from that country back to their home base.
But the 'fifth freedom' is different – and for us, more exciting. If an airline has fifth freedom rights, it can sell flights to carry passengers between two foreign countries. And therein lies some interesting opportunities.
Examples of fifth freedom flights
Take Qantas' flagship QF1 service from Sydney to London as an example. This flight makes a stop in Singapore. Because Qantas has fifth freedom rights, it can carry passengers in the following ways:
Solely from Sydney to Singapore, without the passenger also travelling to London.
Just from Singapore to London, without the traveller visiting or departing from Australia.
From Sydney all the way through to London.
Fifth freedom routes generally form part of a longer journey like this. Here, Qantas' planes still begin in Australia and ultimately return back to Australia after flying back from London to Sydney via Singapore. And by doing so, Qantas can sell flights to travellers jetting only between Singapore and London.
Here are just some examples of the many popular fifth freedom routes available to travellers:
British Airways: Sydney to Singapore.
China Airlines: Brisbane to Auckland.
Emirates: Milan to New York, Sydney to Christchurch and Bangkok to Hong Kong.
KLM: Singapore to Denpasar (Bali) and Singapore to Jakarta.
LATAM: Sydney to Auckland.
Qatar Airways: Adelaide to Auckland.
Singapore Airlines: Frankfurt to New York and Tokyo to Los Angeles.
All the routes above ultimately come from or return to the airline's home country. But passengers can fly solely between these other cities, thanks to these fifth freedom rights. Yes, you really can fly Qatar Airways without touching down in Qatar, or Singapore Airlines without setting foot in Singapore!
Ad – Scroll down to continue reading.Minimum spend, terms & conditions apply.
Booking fifth freedom flights using points
There's another reason fifth freedom routes can be interesting. Not only can airlines sell cash tickets on these flights: they can also accept bookings from those spending frequent flyer points.
Fancy a stint in British Airways' flagship Club Suites Business Class? You don't need to fly to London – just 75,000 Qantas Points (plus taxes, fees and charges) can get you a one-way flight from Sydney to Singapore.

Have meetings to attend in Frankfurt, and want to cross the pond to New York in comfort and style? Sure, you could book with an airline based in Germany or the United States. But you could also use KrisFlyer miles for a jaunt across the Atlantic with Singapore Airlines – again, without flying to Singapore.

Or, how about a four-hour flight in a Qatar Airways Qsuite across the Tasman for just 38,000 Velocity Points plus taxes and fees? Done.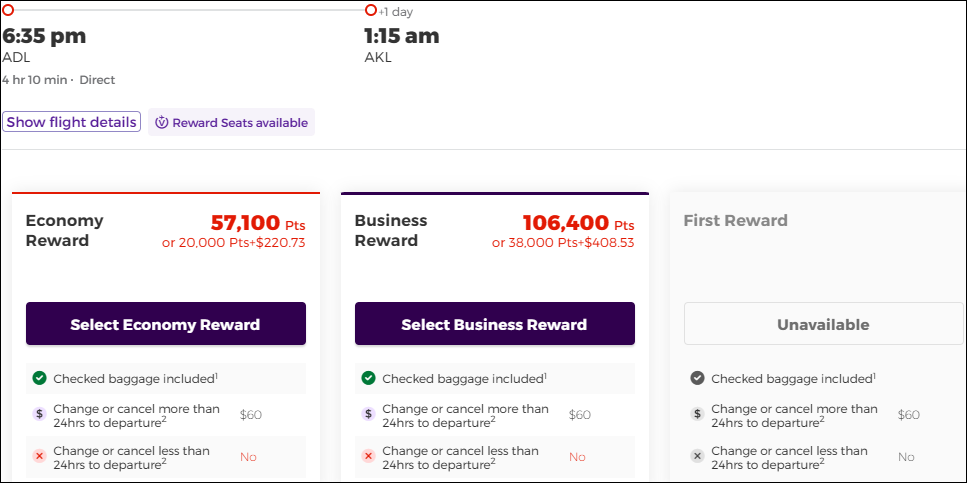 The great thing about fifth freedom flights is that the airline doesn't call either the origin or the destination home. This means it's not directly flying to or from a large home base of regular clients.
Because passengers can also buy seats on just one aspect of a longer journey, the airline might struggle to fill the seats on the subsequent 'fifth freedom' leg. For instance, these Auckland flights for Qatar Airways run as Doha-Adelaide-Auckland. Many passengers might only want to travel from Doha to Adelaide, leaving the seat to Auckland vacant.
Rather than flying empty, airlines often release those seats to frequent flyers to help fill each aircraft. Ultimately, this means reward bookings on many fifth freedom flights can be easier to secure than on a 'normal' service.
If you're paying cash, fare prices can also be attractive to entice bookings. For instance, I've previously purchased Economy flights with China Airlines between Brisbane and Auckland. At the time (pre-COVID), the asking price for a ticket was less than half of the comparable fares charged by Qantas, Virgin Australia and Air New Zealand to fly on the same date.
Summing up
Whether you're looking to save money on flights or to spend your hard-earned points, it's good to be aware of your fifth freedom options.
Certainly, it won't make sense to seek out fifth freedom routes every time you travel. But by knowing they're there, you might uncover some excellent opportunities for spending points.
One of the easiest ways to check what's available is to venture to the Wikipedia page of the airport you'd like to fly into, such as Changi Airport. Under the 'airlines and destinations' section, you'll be able to find a list of which airlines fly to that airport, and where they fly from (and to).
As with anything on Wikipedia, these pages won't always be up to date – and you'll need to cross-check what you find to make sure it's accurate. But they can be a helpful starting point, especially if you're familiar with airlines, and which can be booked using the frequent flyer points available to you.
Also read: These tools can help to redeem your frequent flyer points
Feature image courtesy of Andrea Piacquadio/Pexels.
---
Stay up to date with the latest news, reviews and guides by subscribing to Point Hacks' email newsletter.
What are 'fifth freedom' flights?
was last modified:
January 16th, 2023
by