A year ago flybuys had very little to offer for frequent flyers, with no airline partners.
However, recent additions and improvements to the program have meant that there are now several ways to redeem your points for air travel, as well as other rewards.
In our previous guide we covered the basics of earning flybuys points, and in this guide we go through the main redemption options and the kind of value you can expect to receive from your flybuys balance.

Frequent flyer program partner redemptions
Flybuys joined forced with Etihad late last year, and then more recently with Virgin Australia. These partnerships really open up the redemption options for frequent flyers looking to use their flybuys points.
Whether or not transferring your flybuys points to either program will increase their value depends on what you plan to redeem them for. Flybuys points are worth a minimum 0.5c each (see below), so if you can redeem them for more than that you are winning.
You can check our points valuation here, but remember that best redemption is the one you really want, regardless of whether it is the most cost effective.
Summary of the key flybuys redemption options
Redemption
Value / Rate
Our Guide
Coles discount at checkout
0.5c per flybuys point
flybuys travel
0.5c per flybuys point
Guide to flybuys travel →
Velocity transfer
Variable value:
>1c per Velocity Point for flights is achievable relatively easily
(= 0.435c per flybuys point)

>2c per Velocity point for flights by being more strategic
(=0.87c per flybuys point)
Best uses of Velocity Points →
Etihad Guest Transfer
Variable value:
Approx target 1-1.5c per Etihad Guest Mile for a redemption with an Etihad flight depending on class of travel and taxes/fees (=0.4c to 0.6c per flybuys point)

>2c per Etihad Guest Mile achievable for a Virgin Australia domestic Economy Class flight on select routes
(=0.8c per flybuys point)

>3c per Etihad Guest Mile for a Virgin Australia domestic Business Class flight on select routes
(=1.2c per flybuys point)
Using Etihad Guest Miles for Virgin Australia flights →
Etihad Guest Miles transfers
You can transfer your flybuys points to Etihad Guest miles at a rate of 1 to 0.4, meaning that 5 flybuys points will get you 2 Etihad Guest miles.
There is a minimum transfer of 10,000 flybuys points, which will net you 4,000 Etihad miles.
Transferring to Etihad can be an attractive option, it will obviously allow you to book an Etihad flight, but it will also open a number of other doors – including some relatively cheap Virgin Australia domestic flight redemptions on a number of routes in both Economy and Business Class.
For more, check out our guide on the best uses of Etihad Guest miles with Virgin Australia.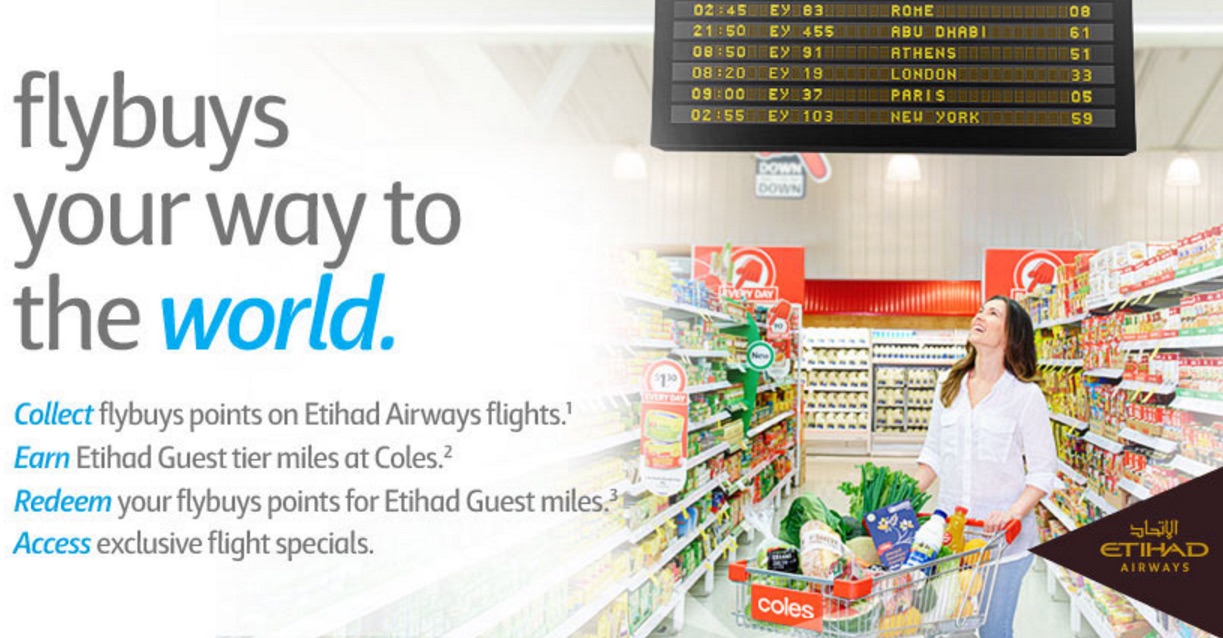 Velocity Frequent Flyer Point transfers
Flybuys point can also now be exchanged for velocity points at a rate of 2,000 to 870. To get started you'll need to link your accounts and then make transfers of at least 2,000 points.
There are many ways to use Velocity Points – check out our guide to the best uses for more.
At the moment flybuys is also offering a 15% bonus for all flybuys points transferred over to Velocity, until the end of November 2016.
flybuys Travel
Earlier this year flybuys launched their own flight booking website, flybuys Travel.
This not only lets you earn flybuys points when you book with any airline, but also lets you use your flybuys points to pay for any flights booked through the website. Our full guide to flybuys travel is here.
Since flybuys are not partners with all the airline carriers, redemptions are not based on distance like most frequent flyer programs. Instead, redemptions will be based on the cost of the ticket. Each flybuys point is worth 0.5c.
You can also use flybuys Travel to book hotels, cars and travel packages.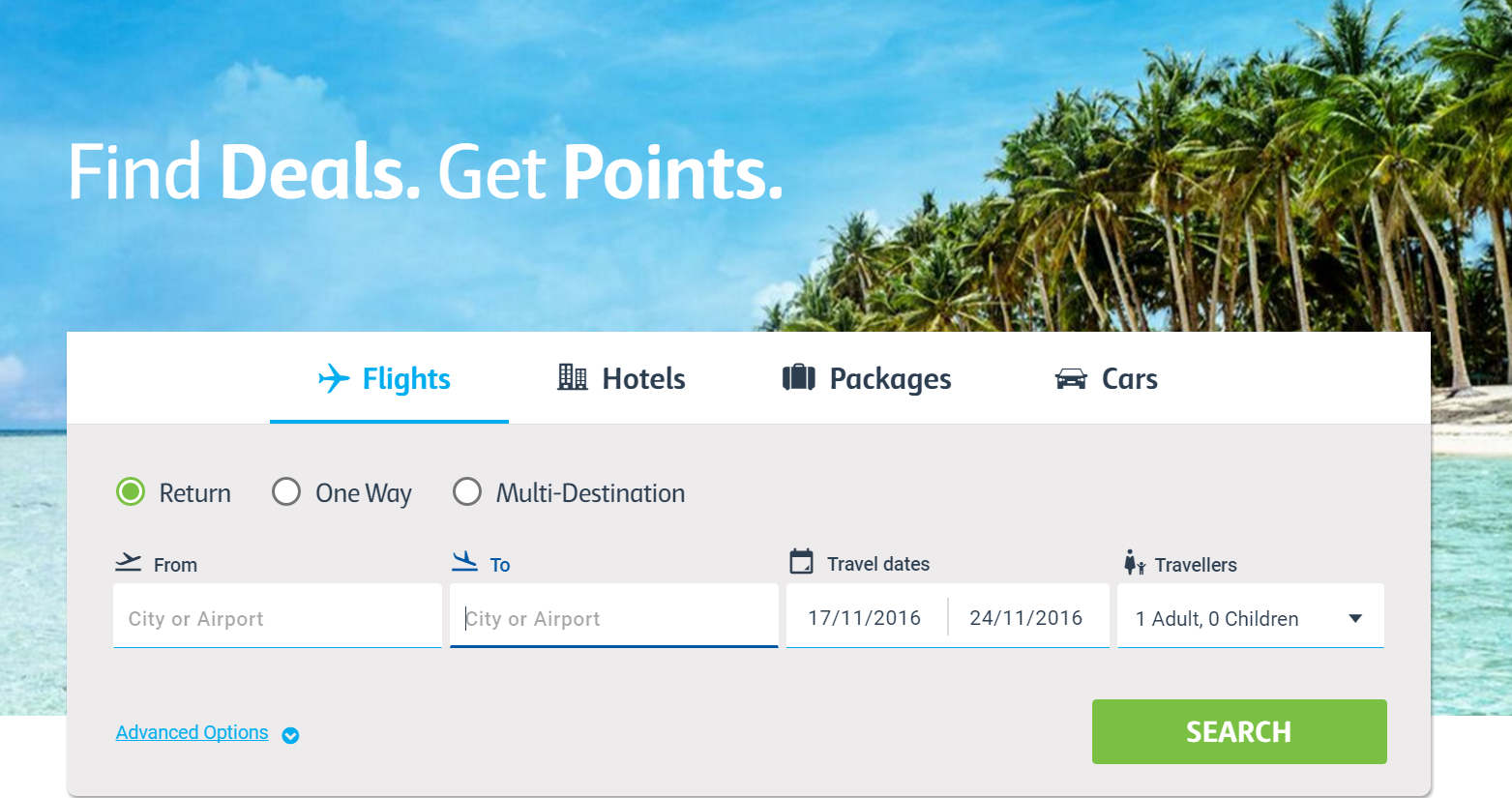 You can both earn and redeem flybuys points at flybuys Travel
Non-flight redemptions
Redemption at checkout
The bedrock use of flybuys points is to redeem them for cash off your grocery shop at Coles. For each 2000 points you have you can get $10 off, once again making each point worth 0.5c.
It's not surprising why this is the most popular redemption option since it's quick and easy to redeem.
If this is what you have in mind you can set your account to prompt you at the register each time you have 2000 points to redeem.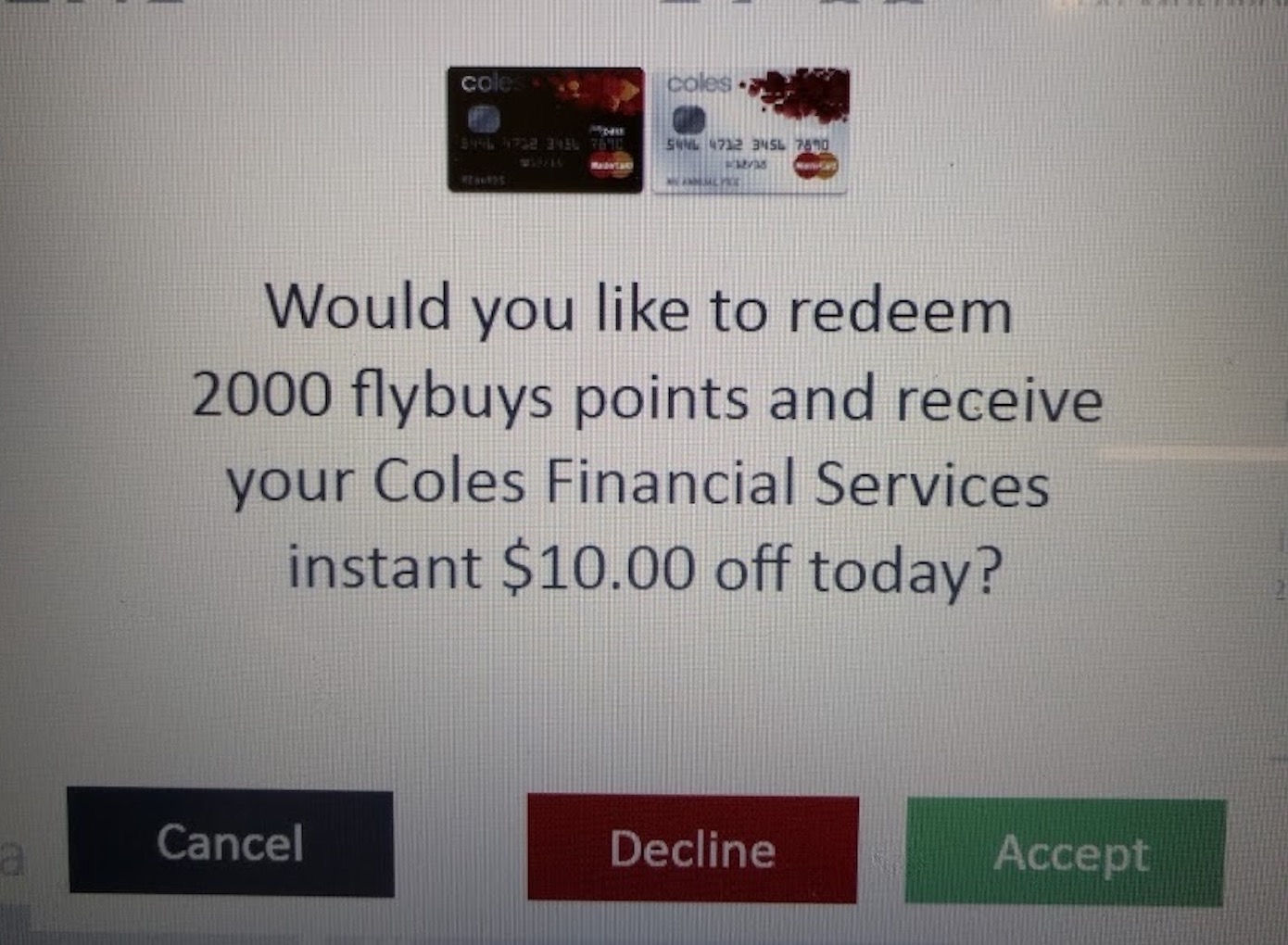 An automatic prompt to exchange 2000 points for a $10 discount at the Coles self-checkout
Flybuys online store
Like all reward programs, flybuys also have their own online store where you can buy a range of items.
You can also choose the points plus pay option if you find a reward that you do not have enough points for. Depending on which gift you're redeeming your points value can fluctuate a little bit, but for the most part it will still turn out to be 0.5c per point.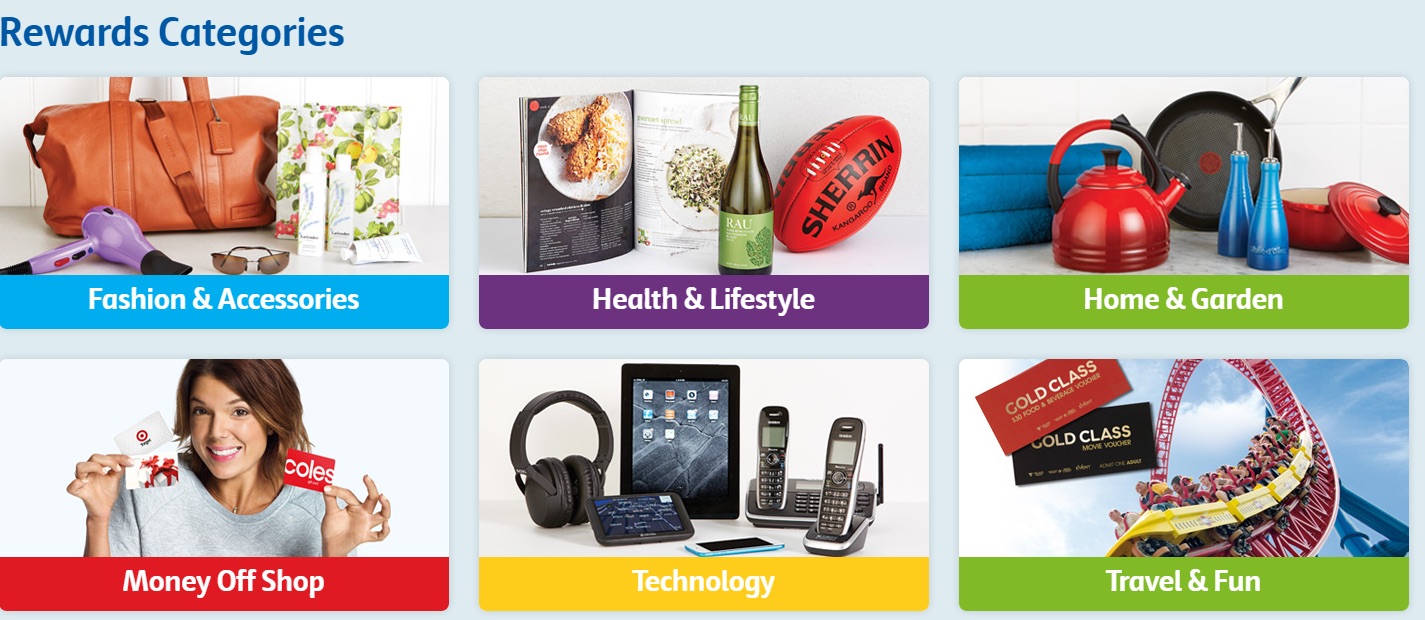 Flybuys reward store categories
Summing up
Recent changes to the program have put the 'fly' back in flybuys.
Their partnerships with Etihad and Velocity have opened the door for transfers to a more valuable points currency, and good value flight redemptions.
Flybuys points are pretty consistently valued at 0.5c each, regardless of which method of redemption you use, unless you can transfer them out and redeem them for more.
Apart from Velocity and Etihad transfers, discounts at the checkout is the most tempting redemption option as it's as good as cash in hand
Flybuys Travel also presents an interesting opportunity for redemptions especially since they include budget airlines (such as Jetstar and Tiger) which means you don't necessarily need a lot of flybuys points to score a free flight.
Getting the most out of your flybuys balance – frequent flyer partners, travel or check-out discounts
was last modified:
March 17th, 2019
by