At Point Hacks, we usually suggest that Flybuys points are best converted to Velocity Frequent Flyer and then used to travel in premium cabins with Virgin Australia and partner airlines. While this notion still holds true on a numbers basis, it may not be the best option for you currently.
Enter Flybuys travel: another alternative to turning your Flybuys points into travel experiences. But there's a catch — your Flybuys points will fetch a set 0.5 cents each when used this way, no better than when you use your points for a discount at the checkout with Coles.
Read on to learn how to earn and spend Flybuys points for travel experiences on the Flybuys travel website.
Not familiar with Flybuys? Watch this video to learn more:
What is Flybuys travel?
Flybuys travel is a flight and hotel booking site which allows you to earn and redeem Flybuys points on your flights with just about any airline. You have the option of:
Earning 1 Flybuys point for every dollar spent through the site — this is equal to 0.435 Velocity Points when converted.
Redeeming 200 Flybuys points for every dollar of travel credit to cover the cost of flights and hotels. This is 0.5 cents per point, which is the same rate as using points at Coles.
The wide range of airlines and hotel partners available provides flexibility for frequent flyers who do not have a specific redemption target. However, note that you will not get as much value out of your Flybuys points compared to booking premium reward seats with Velocity Frequent Flyer.
Ad – Scroll down to continue reading.Minimum spend, terms & conditions apply.
How do I earn points with Flybuys travel?
Earning points is automatic for members of Flybuys when booking through Flybuys travel. You will earn 1 Flybuys point per $1 spent on flights, accommodation, car hire, cruises and travel insurance. Here are the steps to do it:
Visit the Flybuys travel website and login to your account (or create a new one)
Browse your flights, accommodation or other travel experiences through the website
Enter passenger info and other details as requested. You may enter your airline frequent flyer number against the booking to also collect those reward points, as booking through Flybuys travel does not change this.
Make payment to secure your booking. Your Flybuys points will be credited 5-10 business days after completion of all your travel.
Be sure to use a points-earning rewards credit card to potentially triple dip on points — Flybuys points for making the booking, frequent flyer points for the flights itself, and reward points on your credit card when paying the booking.
How do I use points with Flybuys travel?
The wide range of airlines, which include low-cost airlines such as Jetstar, make Flybuys travel one of the most flexible rewards programs around.
Unlike ordinary frequent flyer programs, which calculate their redemption cost based on distance travelled, Flybuys travel redemptions are calculated on the price of the ticket.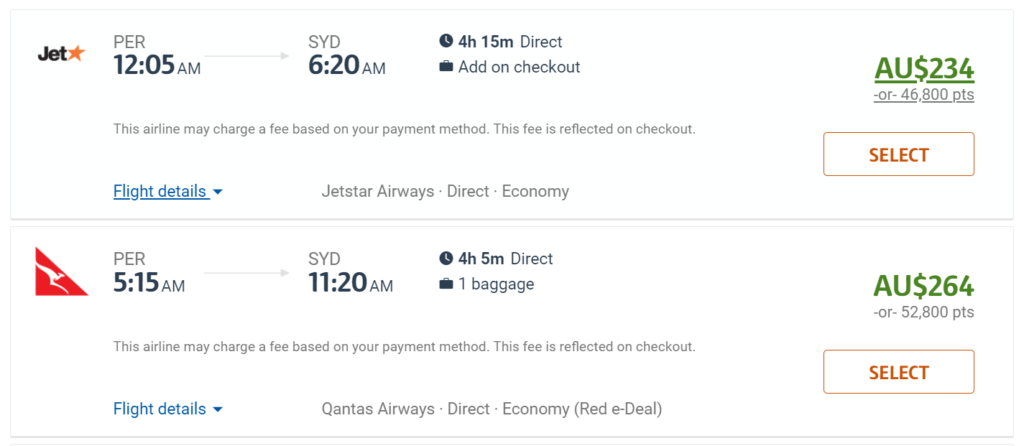 As we've mentioned a few times now, the set redemption rate is 0.5 cents per point or 200 Flybuys points per $1 redeemed in simpler terms.
Flybuys travel will also allow you to use a 'points + pay' option if you do not have enough Flybuys points to cover the whole ticket price. You'll need to have at least 2,000 Flybuys points in your account to make a redemption, though.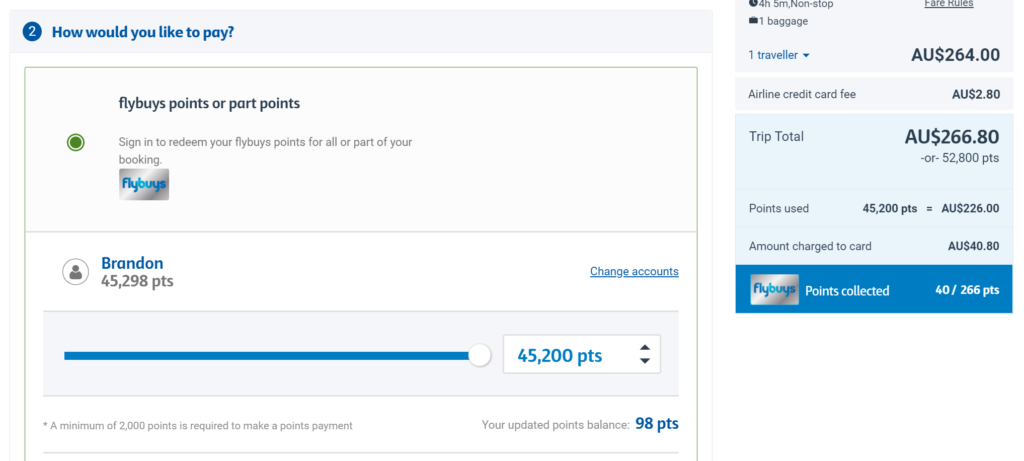 Options for redeeming Flybuys points will be found at the checkout, just before where you'd otherwise enter your credit card details.
Summing Up
Flybuys travel makes the Flybuys rewards program a bit more worthwhile and versatile for travellers, beyond the Velocity partnership.
The flexibility of being able to redeem with any airline is the biggest upside, particularly with the inclusion of low-cost airlines, as well as airlines that do not have any existing rewards programs.
The key thing to remember is to continue to do price comparisons. You can still earn points directly through your airline, as well as through your credit card if you book through Flybuys travel.
This content contains affiliate links from which Point Hacks may earn commissions from transactions generated from new customers, bookings and general enquiries. Find out more here.
The Ultimate Guide to Flybuys Travel
was last modified:
October 19th, 2023
by