Flybuys is a shopping loyalty program aligned with Coles and is popular with Point Hackers since it offers ways to redeem Velocity Points and travel. Members often get bonus point offers as well, which can set your balance soaring.
In our previous guide, we covered the basics of earning flybuys points. In this guide, we go through the main redemption options and the value you can expect to receive from your flybuys balance.
Frequent flyer program partner redemptions
Flybuys was previously aligned with Etihad, but that partnership ended in 2018. The program's sole airline points partner is now Virgin Australia and Velocity Frequent Flyer.
Flybuys points are worth a minimum 0.5c each at the check-out (see below), but you can get so much more out of them with certain Virgin Australia flight redemptions.
You can check our current points valuation here, but remember that best redemption is the one you really want, regardless of whether it is the most cost-effective.
Summary of the key flybuys redemption options
Redemption
Value / Rate
Our Guide
Coles discount at checkout
0.5c per flybuys point
flybuys travel
0.5c per flybuys point
Guide to flybuys travel →
Velocity transfer
Variable value:
>1c per Velocity Point for flights is achievable relatively easily
(= 0.5c per flybuys point)

>2c per Velocity point for flights by being more strategic
(= 1c per flybuys point)
Best uses of Velocity Points →
Velocity Frequent Flyer point transfers
1,000 flybuys points can normally be exchanged for 500 Velocity Points. To get started you'll need to link your accounts before making transfers.
There are many ways to use Velocity Points — check out our guide to the best uses for more. We generally find great value with Business Class redemptions, such as 35,500 points from Tasmania to Melbourne to Perth.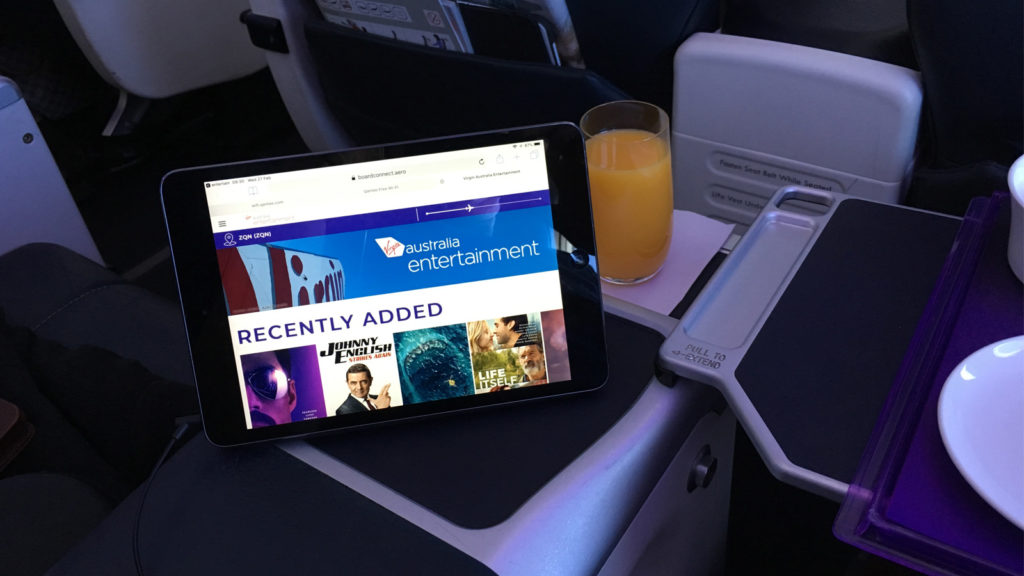 72,000 flybuys points would give you 36,000 Velocity Points, enough for a Perth to Sydney transcontinental Business Class experience, usually worth around $1,299.
That's a value of 1.80 cents per flybuys point, nearly four times the value you'd get at the check-out with the same number of points (which is $360, incidentally).

With Coles running major flybuys bonus points deals at least once every few months, getting enough Velocity Points for a Business Class seat is definitely within reach.


Flybuys Travel
Flybuys has its own flight booking website, flybuys travel. This not only lets you earn flybuys points when you book with any airline but also lets you use your flybuys points to pay for any flights booked through the website. Be sure to check out our full guide to flybuys travel.
Since flybuys travel is essentially a third-party online travel agent, redemptions are not based on distance like most frequent flyer programs. Instead, the flybuys points needed will be based on the cost of the ticket.
Just like at the check-out, each flybuys point is worth 0.5c. Since budget airlines such as Jetstar are included, you may not necessarily need a lot of flybuys points to score a free flight!
You can also use flybuys Travel to book hotels, cars and travel packages.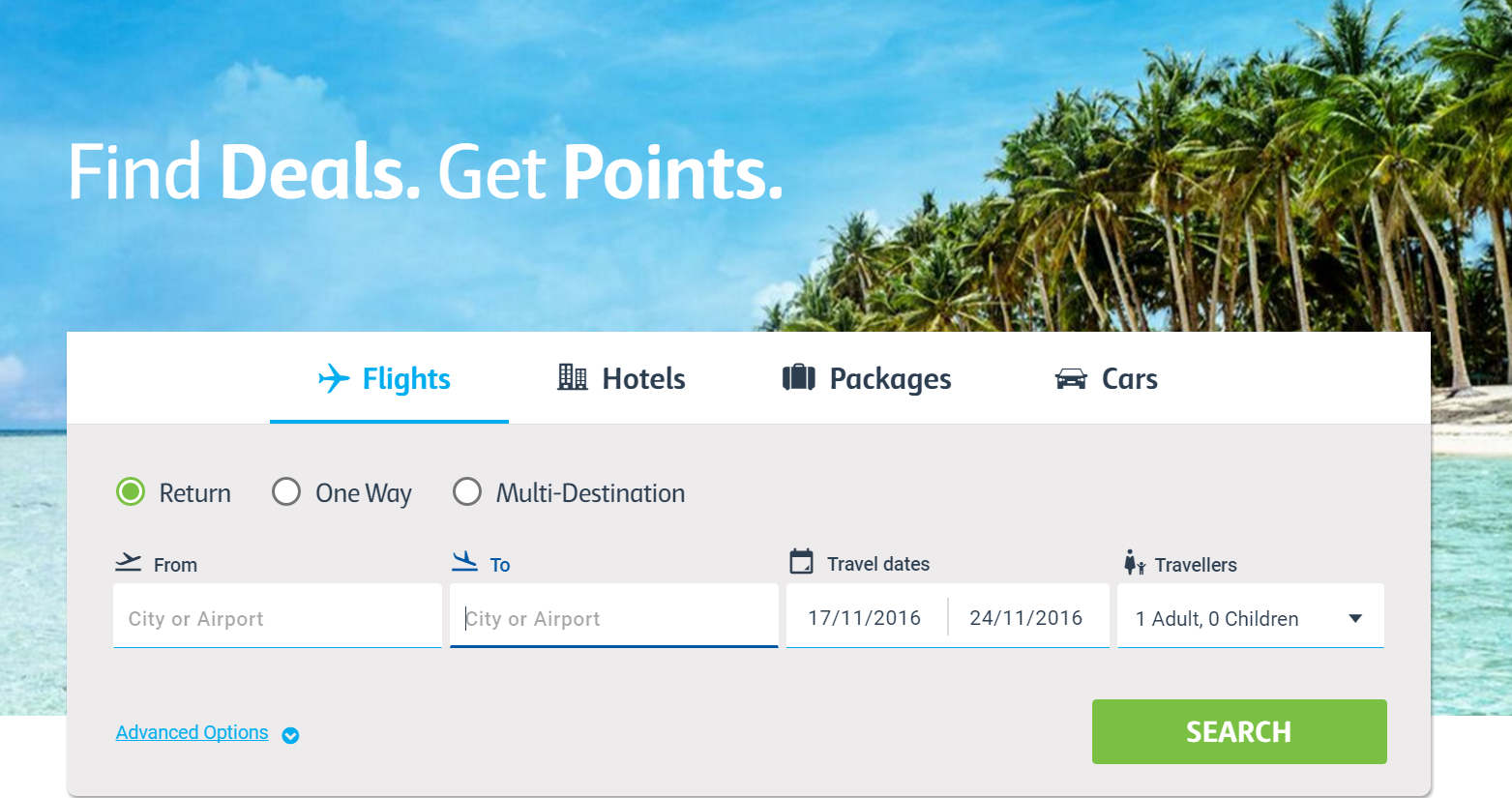 Non-flight redemptions
Discount at checkout
The most common use of flybuys points is to redeem them for cash off your grocery shop at Coles supermarkets. For every 2,000 points you redeem, you can get $10 off (0.5c per point). Just make sure to log in to your flybuys account and redeem online before heading out to the stores.
It's not surprising why this is the most popular redemption option since it's quick and easy to redeem. No restrictions, no fuss. You can also use your flybuys dollars in-store at Liquorland, First Choice Liquor, Coles Express, Kmart, Target and mycar.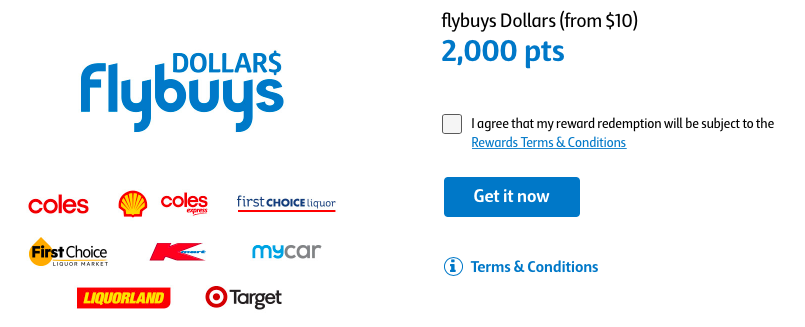 flybuys online store
Like all reward programs, flybuys also have their own online store where you can buy a range of items.
You can also choose the points plus pay option if you find a reward that you do not have enough points for. Depending on which gift you're redeeming the value of your points can fluctuate a little bit, but for the most part, it will still turn out to be 0.5c per point.
Take these Samsung Galaxy Earbuds retailing for $249 JB HiFi in October 2019. You can also buy them at flybuys for 51,798 points which roughly equal 0.48 cents each. It's even worse with 'Points + Pay', where your flybuys points are worth as low as 0.26 cents each.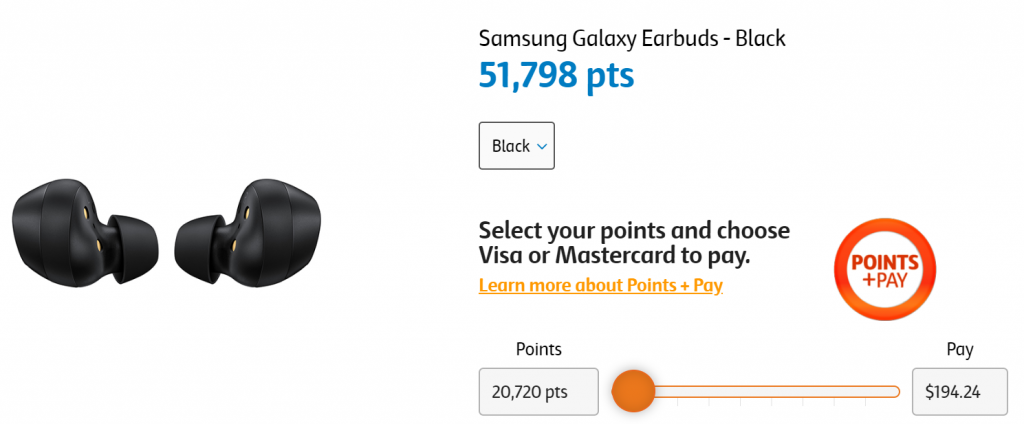 The takeaway from this? Don't use your flybuys points for getting merchandise off the rewards store, unless it's really the only thing you want to do with your hard-earned points.
Summing up
Originally, flybuys was designed as a loyalty program for airline flights but quickly morphed into a shopping loyalty program with no airline partners. It is great to see that once again the redemption choices put the 'fly' back into flybuys.
The partnership with Velocity has opened the door for transfers to a more valuable points currency, and good value flight redemptions. Saving your flybuys points for Virgin Australia Business Class bookings could get you a lot more value than using them at the checkout.
Flybuys points are pretty consistently valued at 0.5c each, regardless of which method of redemption you use, unless you can transfer them out and redeem them for flights, where it is possible to get nearly 2 cents value from each flybuys point.
Otherwise, discounts at the checkout are probably the next best redemption option as it's as good as cold hard cash. And don't feel bad for doing it this way if you have no travel plans – your points give you the most value for the things you want.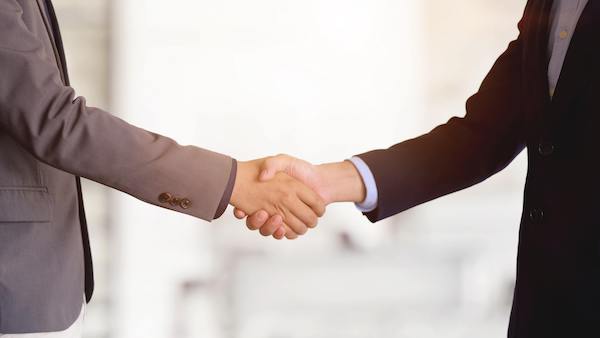 This content contains affiliate links from which Point Hacks may earn commissions from transactions generated from new customers, bookings and general enquiries
Getting the most out of your flybuys balance: travel and check-out discounts
was last modified:
July 8th, 2021
by
Getting the most out of your flybuys balance: travel and check-out discounts
was last modified:
July 8th, 2021
by