The ability to transfer points from Velocity to Singapore Airlines Krisflyer program has been available since late 2014, and it is one of the only frequent flyer program partnerships in the world which allow you to transfer your points between programs.
You can transfer points/miles in either direction, with a rate of 1.35 points/miles in the origin program equating to 1 point in the destination program.
I thought I'd run a refresher on how you transfer and how to calculate how many points/miles you'll receive.

Velocity brought in changes to its award charts in June 2016, which you can read about here and Krisflyer also announced some award pricing changes effective March 2017. All figures in this article have been updated to reflect these changes.
Why you would transfer points
The ability to transfer points between the programs is most useful for Australian Velocity members. It's not too hard to amass a chunky Velocity balance given the aggressive way they have acquired partners and offered points earning opportunities here to compete with Qantas Frequent Flyer.
It's also worth noting that you can only technically become a member of Velocity by residing in some of the local markets that Virgin Australia serves directly – so Australia, New Zealand, and the Pacific Islands.
KrisFlyer miles are also more valuable than Velocity points in my book, so taking a devaluation of KrisFlyer miles on the way to Velocity doesn't make too much sense.
As such there wouldn't be too many overseas KrisFlyer members trying to take advantage of this function – mostly it will be Velocity points holders looking to take advantage of KrisFlyer redemptions on Singapore Airlines flights.
Singapore Airlines has a superb international network and inflight product into Asia and Europe, and even to the US, and very competitive redemption rates – along with good availability in most cases for redemption in Business and First.
Here's an example: KrisFlyer redemption to Europe, one way, in Business Class
KrisFlyer is ideal for long-haul redemptions on Singapore Airlines operated flights. A quick search of Melbourne to London Business Class flight including the miles needed, taxes and fees looked like this: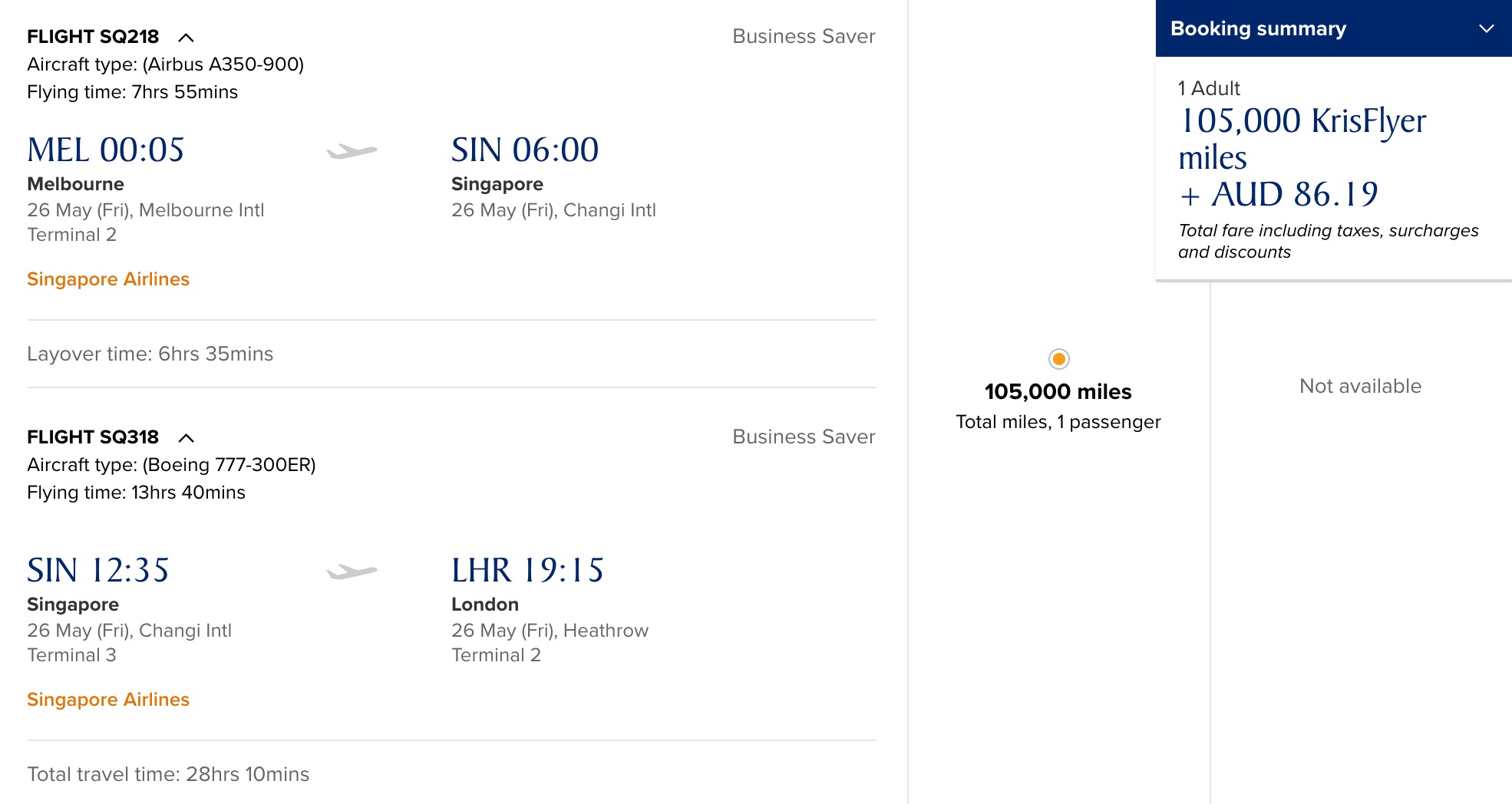 Put simply, this is nearly 24 hours in one of the world's best Business Class products – for over 23,000 points less than the equivalent flight when redeeming through Qantas Frequent Flyer. Plus, the recent Krisflyer award pricing changes have significantly lowered the taxes on redemptions making it even more appealing.
Calculating how many points you'll receive when you transfer
The calculation is fairly straightforward – for every 1.35 Velocity points, you'll receive 1 KrisFlyer mile.
Similarly, for every 1.35 KrisFlyer miles, you'll receive 1 Velocity points.
More simply, the transfer rate is 0.7405 – so transferring 100,000 Velocity points would earn you 74,075 Krisflyer miles, and vice versa.
Terms for points transfers
The main notable restriction is that accounts need to match by name and birthdate, so you do need to do same person to person transfers, with no room for transferring points to a friend or family account.
Making the transfer from Velocity to Krisflyer
The transfers are initiated from the website of the frequent flyer program you are transferring from, and you'll find the link to trigger the transfer in the left-hand navigation of www.velocityfrequentflyer.com.au.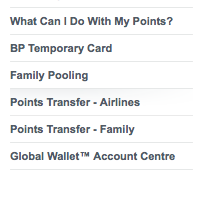 This screenshot shows my Velocity and Krisflyer accounts already linked, and is where you are prompted to start the transfer process.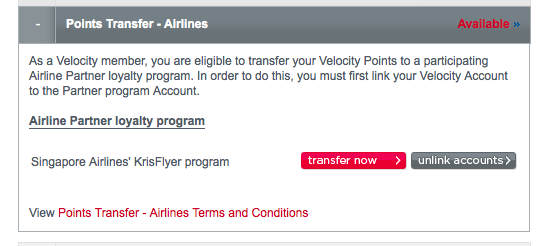 If you haven't yet linked your accounts you'll need to do first.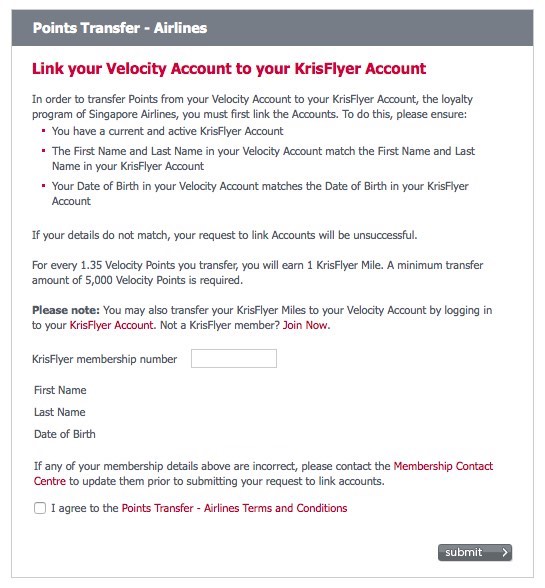 On clicking 'transfer now' you'll see a slider which allows you to calculate the points / miles transferred on the fly.

There's a minimum points transfer of 5,000 Velocity points, which would equate to 3,704 KrisFlyer miles. Click transfer now shows a confirmation screen before you complete the transfer.
Summary
If you have a the Velocity points, and are looking at making a redemption to Europe or Asia, transferring them over to KrisFlyer rather than redeeming through Velocity directly is probably going to get you better value.
Similarly, if you already have an active KrisFlyer balance and you need to top it up to make a redemption, this is a great way to do so.
How to and why to transfer your points between Velocity and KrisFlyer
was last modified:
April 6th, 2017
by