Citi Rewards is a flexible credit card points program that's affiliated with the bank's three main credit cards. With those cards, you can earn Citi Rewards points on just about anything and later transfer them to frequent flyer programs. Not feeling like travelling? Citi Rewards also offers eVouchers and 'Pay with Points' so you can enjoy money off your shop.
How does Citi Rewards work?
Some credit cards in Australia directly earn frequent flyer points with a chosen airline. Others provide greater flexibility by first awarding points in a bank's loyalty program. Later, those points can be converted into rewards with another program of the cardholder's choosing. For us at Point Hacks, that's usually an airline frequent flyer program.
Citi Rewards is one such program with this flexibility. Cardholders can amass points in Citi's own loyalty program. When it comes time to travel, those points can be converted into airline frequent flyer points. The exact options and transfer rates available for Citi Rewards members depend on your specific Citi card. More on that below.
What is the Citi Rewards card range?
The Citi Rewards loyalty program has three main credit cards attached. These are:
It's worth pointing out that these cards come with different options on the points front. You can, of course, choose Citi Rewards as your program of choice. But there's also an option to earn Qantas Points or Velocity Points directly. If you choose the Qantas path, you'll forgo that flexibility.
Citi Prestige sits at the higher end of the market. With a higher income requirement and a $700 annual fee, it won't be for everybody. A more affordable choice is Citi Premier. It packages a more affordable annual fee, lower income and minimum credit limit requirements, but still with the ability to earn rewards.

The standard Citi Rewards card is more of an entry-level product but one that still gets you in the door to earn points via Citi. We'd say it's best for those who are working part-time or just beginning to discover the world of points.
What are the Citi Rewards transfer partners?
For most cardholders, transfer options from Citi Rewards are low in number but high in quality. Transfer rates improve for those partners as you progress from the entry-level card to the mid-tier offering. But at the top of the pecking order, Citi Prestige cardholders get far more choice than most.
Here's how the transfer rates currently shake out across Citi's trio of eligible credit cards.
| | | | |
| --- | --- | --- | --- |
| Program / Card | Citi Rewards | Citi Premier | Citi Prestige |
| Cathay (formerly Asia Miles) | – | – | 2.5:1 |
| Etihad Guest | – | – | 3:1 |
| Flybuys | 1.33:1 | 1:1 | 1:1 |
| Qatar Airways Privilege Club | – | – | 3:1 |
| Singapore Airlines KrisFlyer | 3:1 | 2.5:1 | 2.5:1 |
| Virgin Australia Velocity | 2.5:1 | 2:1 | 2:1 |
Minimum transfer quantities vary by frequent flyer program. Sign in to your card account to see the latest transfer rates and minimum transfer levels applicable to your card and preferred transfer partner.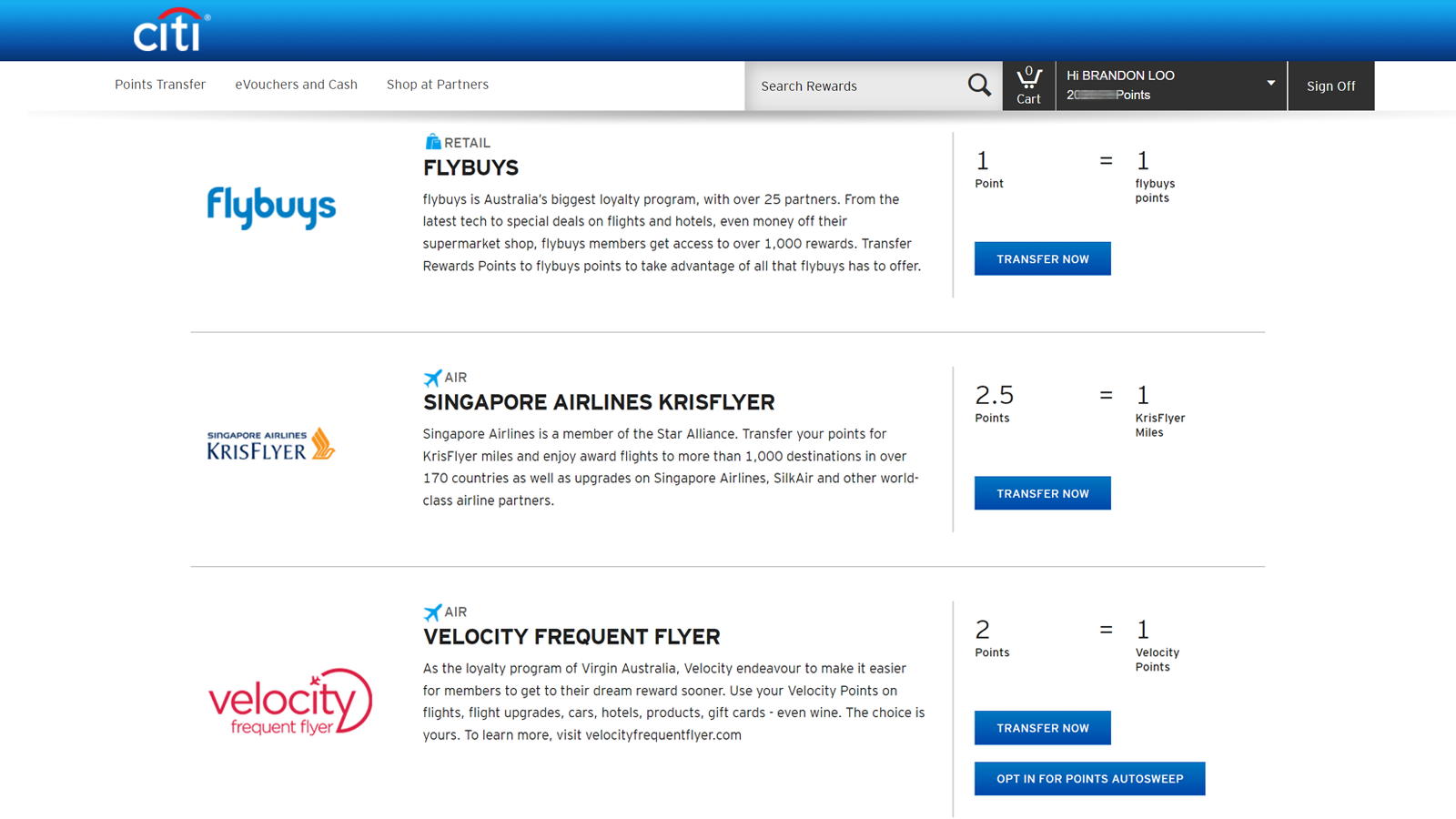 What else can I do with my Citi Rewards points?
Opportunities to use Citi Rewards points for merchandise are much more limited now than in the years gone by. But there are still some options if you'd prefer to spend your rewards on the ground.
Gift cards are one of those options. These days, 10,500 points can fetch a $50 gift card, while 20,900 points are your ticket to $100. For a $200 gift card, you'll part with 41,700 points. A $500 gift card sets you back 104,200 points. As you can see, your points stretch furthest when you're buying a higher-value card.
Pay with Points comes with greater flexibility. This allows cardholders to use points to offset purchases made using their Citi credit card. In effect, spending points delivers cashback on your bill. Redemption rates can vary, but as of September 2023, it takes 2,000 points to offset an $8 transaction. That's 0.4 cents in value per point redeemed, whereas gift cards offer 10-20% better value.
Shop with Partners is another way to turn your points into products but with retailers such as Apple and Kogan. If you're in the market for an iPhone 14, you'd need 371,200 points for a 128GB model. This gadget otherwise retails for $1,299, giving only 0.35 cents per point. Therefore, you would be better off purchasing the phone via credit card and using fewer points to offset the transaction.
How can I contact Citi Rewards?
You can call Citi on 13 24 84 from Australia for credit card-related queries, including rewards programs. From overseas, that number is +61 2 8225 0615.

Alternatively, head to this page to submit an online enquiry and choose 'Rewards related' on the drop-down menu.
Summing up
Citi Rewards has its strengths, particularly for Citi Prestige cardholders who get greater choice in transfer partners. Prestige members also get improved transfer rates for some of the program's shared partners, like Velocity and KrisFlyer.
But while the program itself may be attractive, a lot can come down to which card each customer holds. Not just because of those transfer options but also with respect to how many points can be earned per dollar spent and where.
Standard Citi Rewards cardholders earn one Citi Rewards point per $1 spent on most Australian transactions. But given the 2.5:1 conversion rate for Velocity, that's only 0.4 Velocity Points per $1 spent. The rate is better for the Citi Premier card, particularly for online transactions where it earns two Citi Rewards points per dollar.
For most, though, American Express Membership Rewards is a more accessible program. It features a broader range of cards and transfer partners. That's especially true for those interested in hotel redemptions instead of flights.
Frequently Asked Questions
How can I redeem my Citi Rewards points?
Redeem your Citi Rewards points by visiting this landing page and logging in to your account.
What is the value of a Citi Rewards point?
The value of a Citi Rewards point varies depending on how you redeem it. Merchandise and gift cards might net you 0.4 cents per point, whereas transferring to an airline partner and redeeming them for Business Class could see each point worth upwards of 1.8 cents each — almost five times the value!
Is the Citi Rewards card good?
Head to the Citi credit card comparison page and see if the Citi Rewards card matches your needs compared to other cards on the market.
Editorial Note: Opinions expressed in this guide have not been reviewed, approved or otherwise endorsed by Citi. This article was previously written by Chris Chamberlin.

The Ultimate Guide to Citi Rewards
was last modified:
December 6th, 2023
by