In our previous guide we covered which fare classes you should book if you plan on upgrading with Qantas or Virgin. In this guide, we cover Singapore Airlines' KrisFlyer and Cathay Pacific's Asia Miles.
Using your points for a flight upgrade is one of the best ways to maximise their value, but not every ticket can be upgraded – with restrictions on fare class and upgrade availability.
This is one to reference if you're going to make a booking which you're planning to try and upgrade using your KrisFlyer miles or Asia Miles.
Read the Point Hacks' comprehensive guide to fare classes for points earn and upgrades here.
Upgrading with Singapore Airlines KrisFlyer
If you intend on upgrading from Economy to Premium Economy or Business, only tickets purchased in Economy Standard (M, H or W booking classes) and Economy Flexi (Y, B or E booking classes ) on flights operated by Singapore Airlines or SilkAir are eligible.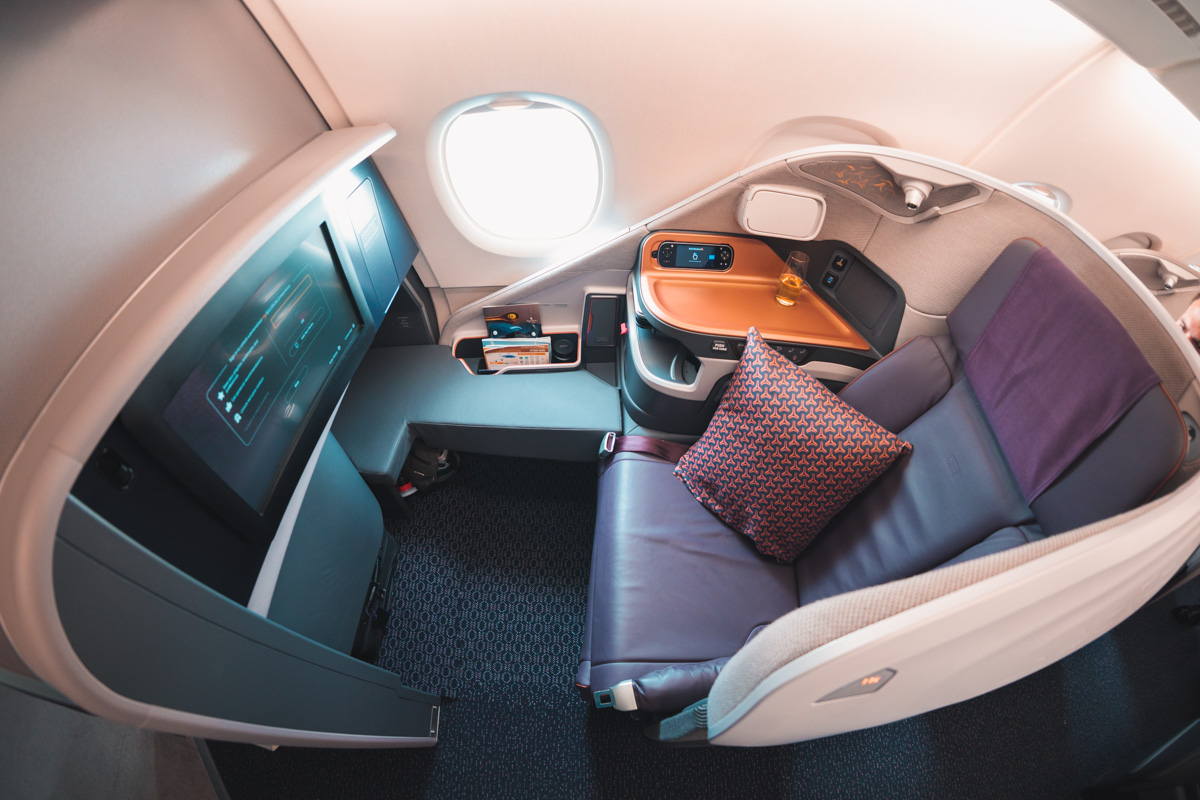 Premium Economy tickets booked in S, T, P or L class, and Business Class tickets booked in Z, C, J or U class are eligible for upgrade award redemption
Premium Economy Lite and Business Lite fares are not eligible for redemption upgrades.
You cannot use points to upgrade from Economy or Premium Economy to First.
To see how many points you need to upgrade to each class check the table here. Note: these are one-way upgrade prices.
Your flight also needs to be operated by Singapore Airlines or Silk Air to be upgradeable under this table.
Star Alliance upgrades with KrisFlyer
There are plenty of upsides to the KrisFlyer program, one of which is that it is part of Star Alliance, the largest airline alliance.
You can use your KrisFlyer miles to get an upgrade with 26 different Star Alliance member airlines. However, each airline has a different policy about which fare classes it will upgrade.
This table will tell you which fare class each airline will allow you to upgrade.
Note that upgrades are only available to the next higher class of service. That means that double-class upgrades on partner airlines are not permitted, i.e. from Economy Class to Business Class where there is a Premium Economy cabin. (This type of upgrade is permitted on Singapore Airlines flights, though.)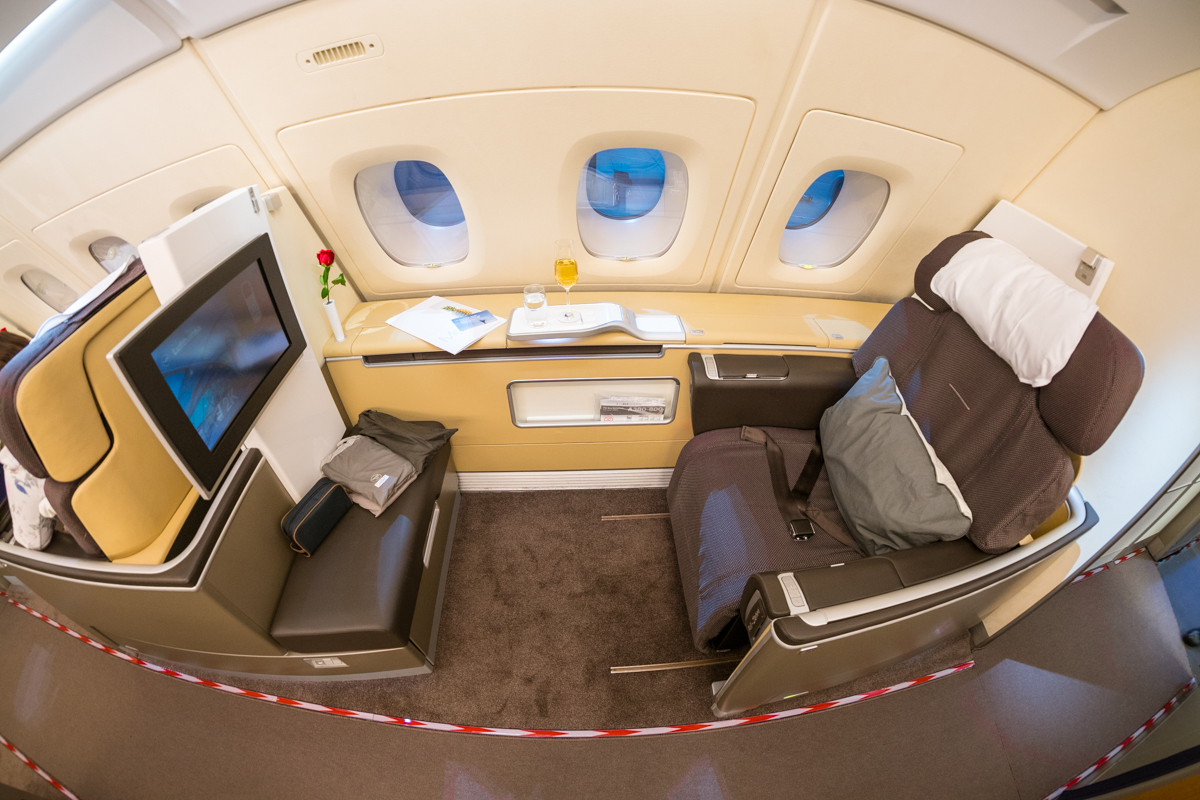 Ad – Scroll down to continue reading.Minimum spend, terms & conditions apply.
Upgrading with Cathay Pacific Asia Miles
Asia Miles is a diverse points program which has dozens of airline and hotel partners. If you're new to Asia Miles, check out our beginner's guide.
However, despite having plenty of airline partners, you can only use Asia Miles to upgrade with Cathay Pacific and Cathay Dragon.
You can find the upgrade chart here.
Eligible fare classes are summarised them in the table below.
Unlike KrisFlyer, double upgrades are not allowed. You will only be able to upgrade from Economy to Business if the flight you're on does not have Premium Economy.
Which fare classes you upgrade...
Economy to Premium Economy
Premium Economy to Business
Economy to Business
Business to First
Cathay Pacific
Y, B, H, K, M, L, V
W, R

Y, B, H, K, M, L, V

J, C, D, I
Cathay Dragon
Not applicable
Not applicable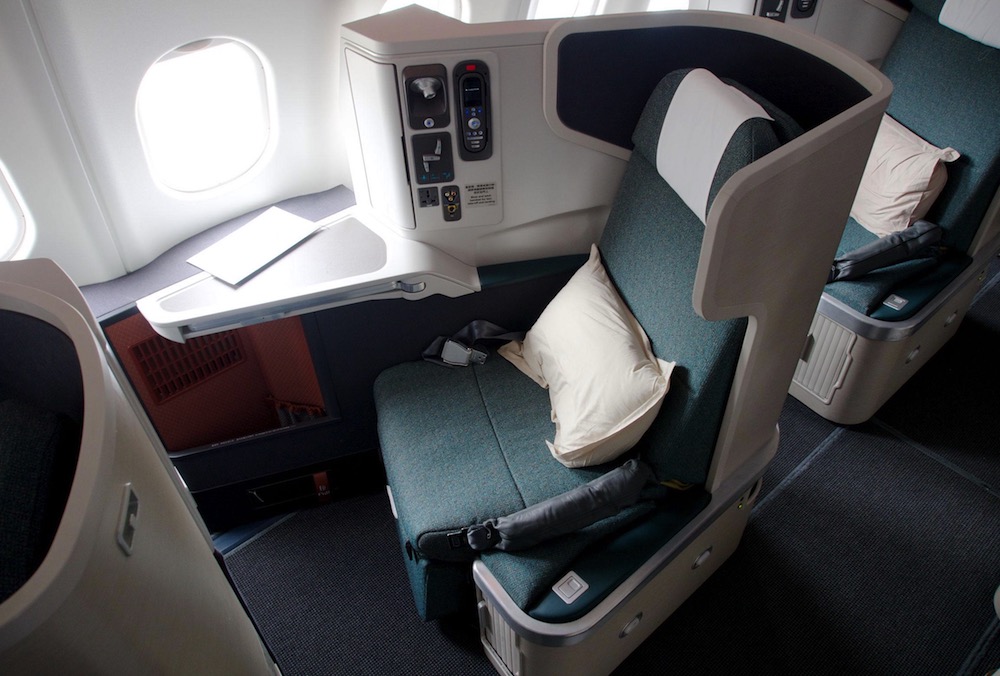 Summing up
KrisFlyer is flexible in offering upgrades with partner airlines.
Their recent change of policy also means it is easier to get to Business Class from Economy, even when Premium Economy is offered on the same flight.
Asia Miles, however, has an offering more on par with Qantas and Virgin Australia, in only allowing upgrades on their own metal.
If you book through a travel agent and you intend on upgrading with points make sure you check the airline's policy to ensure you're in the right fare class.
Have you used points to upgrade with Singapore Airlines or Cathay Pacific? Let us know in the comments below.
Which fare class to book with Singapore Airlines and Cathay Pacific to upgrade using points
was last modified:
February 2nd, 2023
by