Half the battle with frequent flyer points is finding the seats you want for your trip and using your points for your ideal travel goal. In this introductory guide – updated for 2021 – we look at how to search for and book Virgin Australia reward seats. If you don't quite have enough points yet, be sure to check out our best Velocity card bonus offers.
We also explore handy tips and tricks on using your Velocity Points effectively, including how to search for reward seat availability quickly, and what fees or charges may apply.
Editor's note: International flight redemptions with Velocity Points are not currently available. This is expected to change in the coming weeks, with flights on Virgin Australia, Delta, Etihad, Singapore Airlines and Air Canada to be available for booking with Velocity Points.
How to book a reward seat with Velocity Points [step-by-step]
For those who have a simple one-way or return itinerary, and already know what they want to book, here are the quick steps to get you on your way.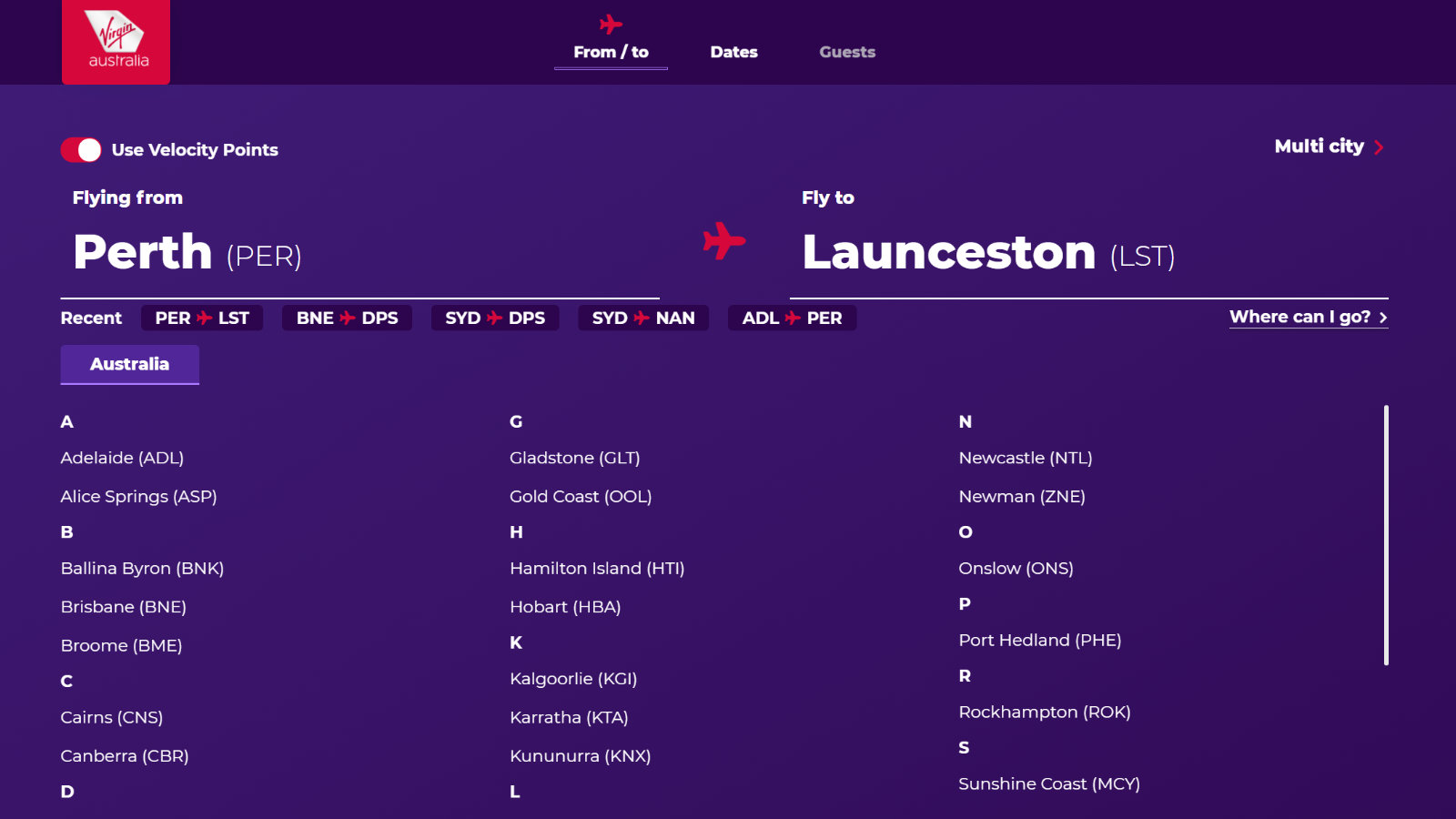 Head to the Virgin Australia website and login to your frequent flyer account.
Enter all your travel details, including origin and destination. Select 'Use Velocity Points'.
Continue with adding your travel dates and number of guests travelling. Click 'Let's fly'.
On the results page, look for flights that show 'Velocity reward seats' in green.
Choose your desired flight and cabins that show 'Economy Reward' or 'Business Reward'.
Checkout as usual to reserve those reward seats. We recommend you use the minimum Velocity Points amount and pay the taxes via cash for the best value. However, you're also able to pay the taxes with points as well.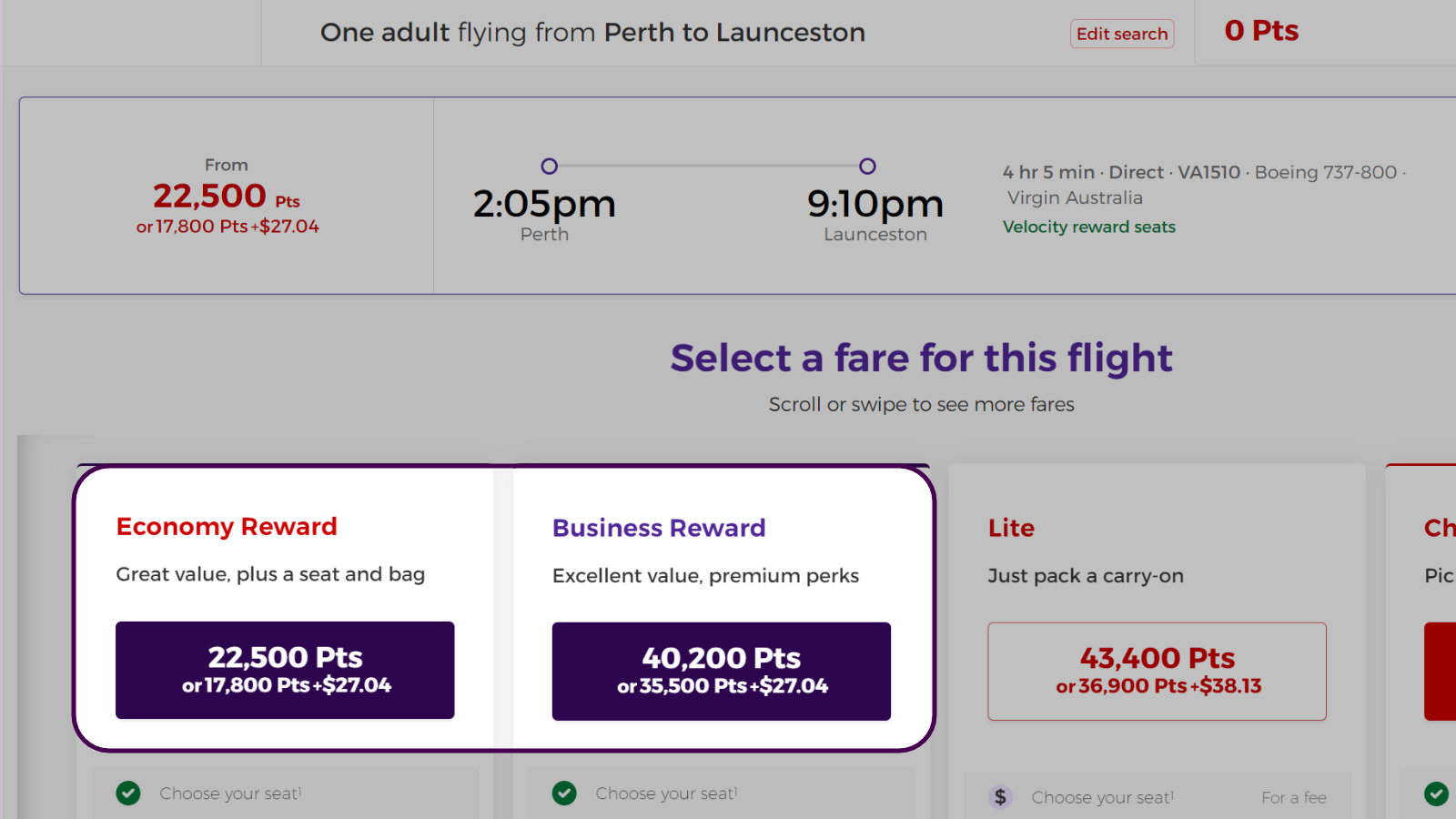 You'll usually receive your itinerary quickly after making payment. If you do need to make a change or cancel your reward seat, you might be able to do it online. Otherwise, call Velocity Frequent Flyer for assistance.
Reward seats that you book with points and cash: these can only be cancelled by contacting Velocity Frequent Flyer or filling out this Travel Cancellation form.
Reward seats that you book wholly with points: you can cancel the booking directly through the 'Manage Booking' page.
Ad – Scroll down to continue reading.Minimum spend, terms & conditions apply.
How to plan a reward seat booking with Velocity Points
It's simpler to plan a trip with Velocity Points than with Qantas Points, for example, because Velocity is inherently a smaller program with fewer airline partners. But the concept of reward seats is still the same.
1. Work out the distance you'll travel
Start by using the Velocity Mileage Calculator to work out the distance between your origin and destination. If your route isn't displayed, perhaps use Great Circle Mapper as an alternative.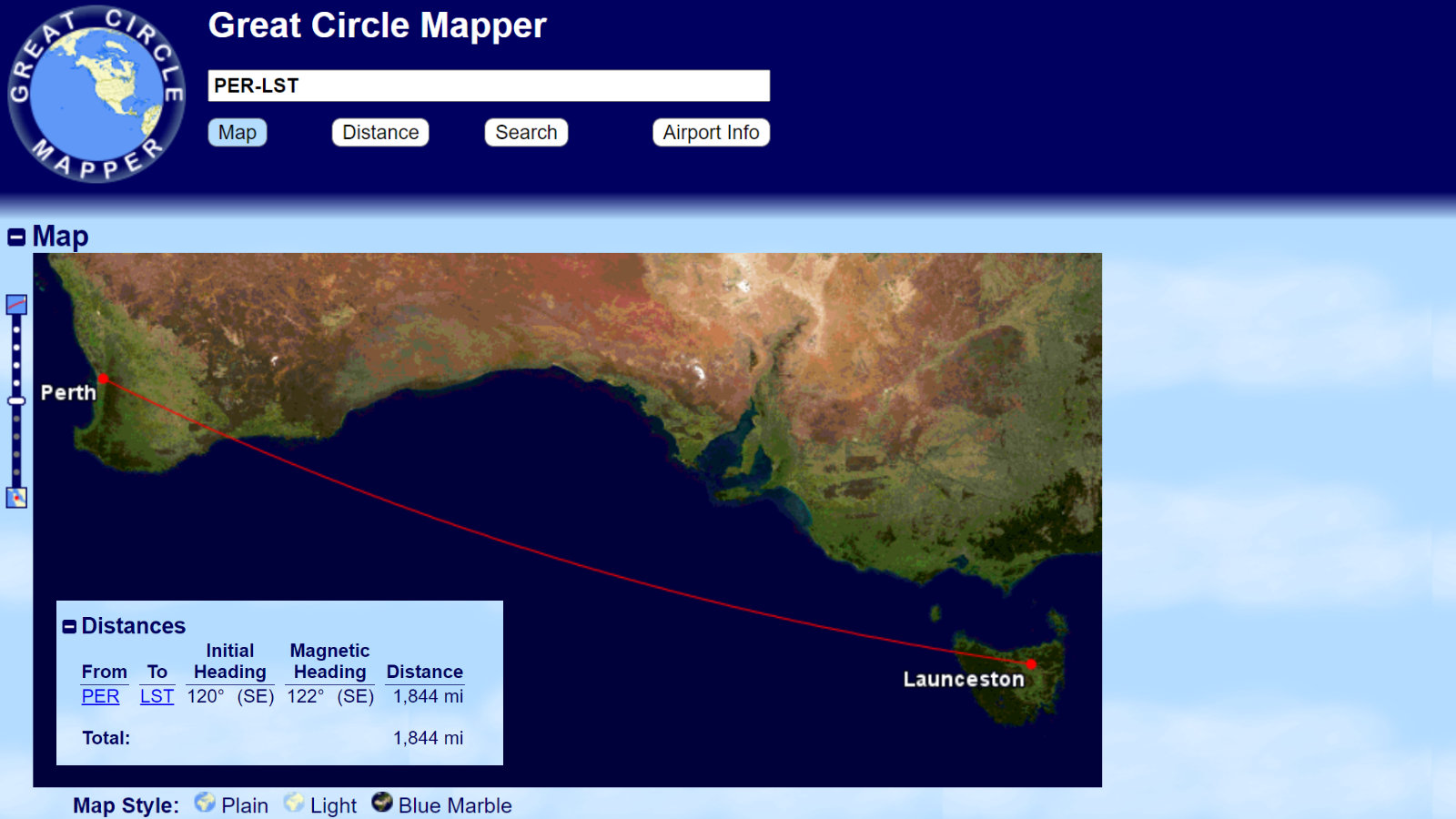 2. Find out how many Velocity Points the reward will cost
Next, hit up the Reward Seat tables to see how many Velocity Points you need for a flight of that distance. For example, the Perth-Launceston route is 1,844 miles, according to Great Circle Mapper. That means that reward seats on this flight are 17,800 points in Economy or 35,500 points in Business Class, plus taxes.
| | | |
| --- | --- | --- |
| One-way miles | Economy reward | Business reward |
| 1-600 | 7,800 points + taxes | 15,500 points + taxes |
| 601-1,200 | 11,800 points + taxes | 23,500 points + taxes |
| 1,201-2,400 | 17,800 points + taxes | 35,500 points + taxes |
| 2,401-3,600 | 22,300 points + taxes | 49,500 points + taxes |
Velocity Points needed for Virgin Australia domestic and short-haul international flights. Correct as of 29 Sept 2021.
(At the time of writing, Virgin Australia hasn't yet re-introduced reward seats on partner airlines. Once this returns, there is also a separate partner Reward Seat table that applies to those carriers).
Taxes and charges apply to all reward seat bookings. For domestic flights, this is usually under $30 per person, each way. Part of that is a Virgin Australia charge of $11 per sector.
For international flights, taxes and charges may exceed $100 per person, each way. Virgin Australia adds on a heftier carrier charge for short-haul international reward seats (e.g. to Bali or Fiji). This is $35 in Economy or $70 in Business Class. Other airlines, such as Etihad, also levy higher carrier charges on reward seat bookings – up to USD$300 per flight!
3. Search for those reward seats
Once you've collected enough points, it's time to start booking! Follow our earlier step-by-step guide to begin the search for reward seats. If you find the seats you want right away, that's all well and good. But what if you're struggling to find reward seats?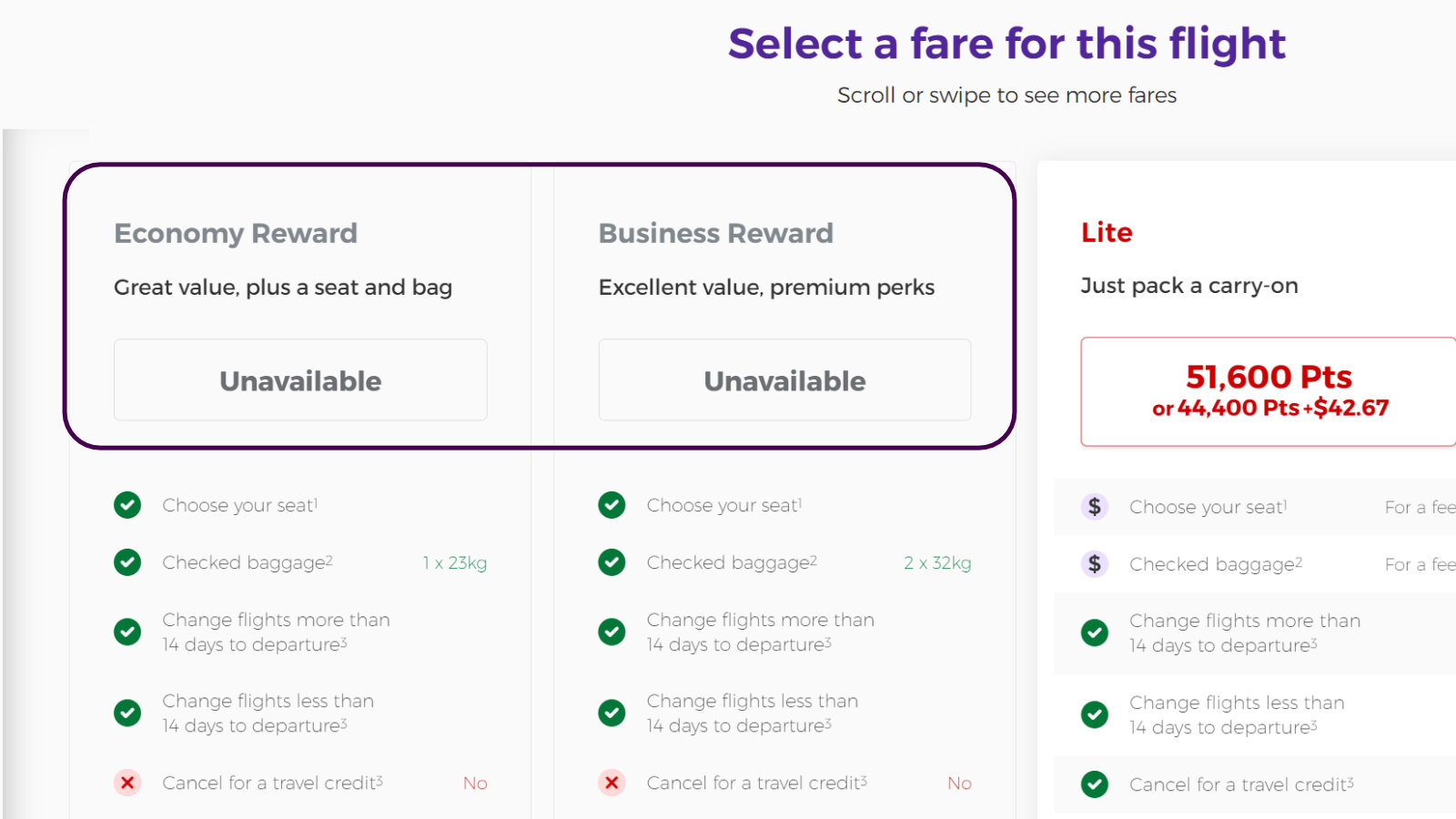 Virgin Australia's website doesn't exactly help you find reward seats easily. You can only search day-by-day, and even the weekly tab at the top doesn't indicate which days have reward seats. Virgin is a partner of Delta, so you can use Delta's website to help your search.
Using Delta to help find Virgin Australia reward seats
Visit Delta.com to get started – you don't need to be a member. Select 'Shop with Miles' and 'My dates are flexible' (if that suits) for the best results. On the next page, click 'Price Calendar' to show the full results over 5 weeks.
In this example, I can see that although Friday 7 Jan 2022 isn't available, the following Sundays and Fridays throughout January 2022 do have Business Reward seats available.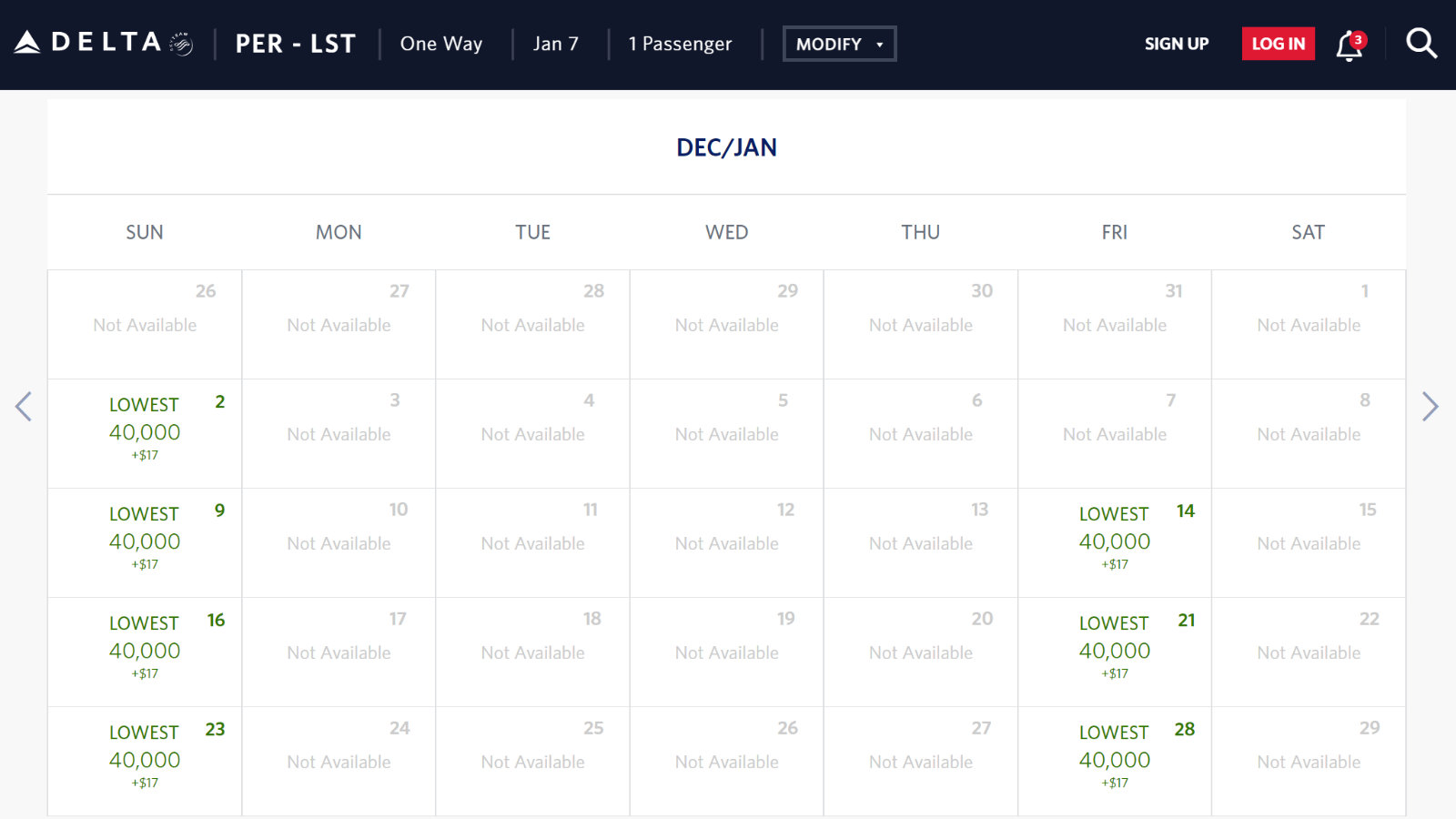 Armed with this information, you can now head back to the Virgin Australia website to book those reward seats with your Velocity Points.
Gold or Platinum? Request guaranteed reward seats
Can't find the reward seats that you're looking for? If you're a Velocity Gold or Platinum member, then you can request for some Economy seats to be opened up. But notably, you can only request this at least 180 days in advance, so it won't work for last-minute trips. It also only covers up to 4 travellers, including yourself.
If you're booking anytime up to 6 months before a trip, just call up Velocity and ask them to look into this for you. You'll need to provide the date you wish to travel. But bear in mind, Velocity might offer you reward seats on alternate flights, which might not be on the same day as you request.

Frequently asked questions
How early can I book reward seats with Virgin Australia?
Virgin Australia's booking calendar opens from 330 days before departure. You'll have a decent shot at nabbing reward seats if you search far in advance.
Are there fees for booking reward seats with Virgin Australia?
A card payment fee may apply if you choose to pay the taxes and surcharges with a card. As of September 2021, the fee is 0.41% for debit cards and 1.024% for credit cards. The fee is capped at $11 for domestic and $70 for international bookings. If you book over the phone, a separate fee may also apply. This is currently $40 or 5,200 points per person, per booking.
What are Virgin Australia taxes and carrier charges?
With reward seat bookings, you have to pay any airport and government taxes that apply, such as security screening and airport movement charges. Virgin Australia and some other airlines will also levy a separate carrier charge. This starts from $11 per flight on domestic routes and can be much higher for international routes.
How much does it cost to change or cancel a Virgin Australia reward seat?
It will cost you $35 or 4,500 points per person to cancel a domestic booking. For international, it's 7,500 points or $60 per person. These fees may be waived due to COVID-19 disruptions.
Can I upgrade a Virgin Australia reward seat?
No, you can't upgrade a reward seat booking further.
Do I earn points or status credits on Velocity reward seat bookings?
Generally, no. Sometimes, Velocity will run promotions where points and/or Status Credits may be offered on reward seat bookings for a limited time.
Do I still have a luggage allowance with Virgin Australia reward seats?
Yes, Economy Rewards are considered a fully-inclusive fare with seat selection and baggage included.
How to book a reward seat with Velocity Points
was last modified:
September 29th, 2021
by