When it's time to say Sawasdee at the end of a Bangkok adventure, Thai Airways is a fitting way to fly. I needed to get back to Singapore to catch my onward Qantas flight to Perth. Since I'd already flown Singapore Airlines Business Class on the way over, I decided to put our company KrisFlyer miles to work and test out Thai Airways Airbus A350 Business Class on the return journey.
The Bangkok-Singapore redemption cost us 24,000 KrisFlyer miles + $124 one-way in Business Class – admittedly not the best use of miles, as a one-way ticket is about $500 in cash. But if you have countless KrisFlyer miles at your disposal, as many savvy frequent flyers would, then it's really just a drop in the figurative points ocean.
Here's a taste of the Thai Airways Business Class experience from their home hub of Bangkok.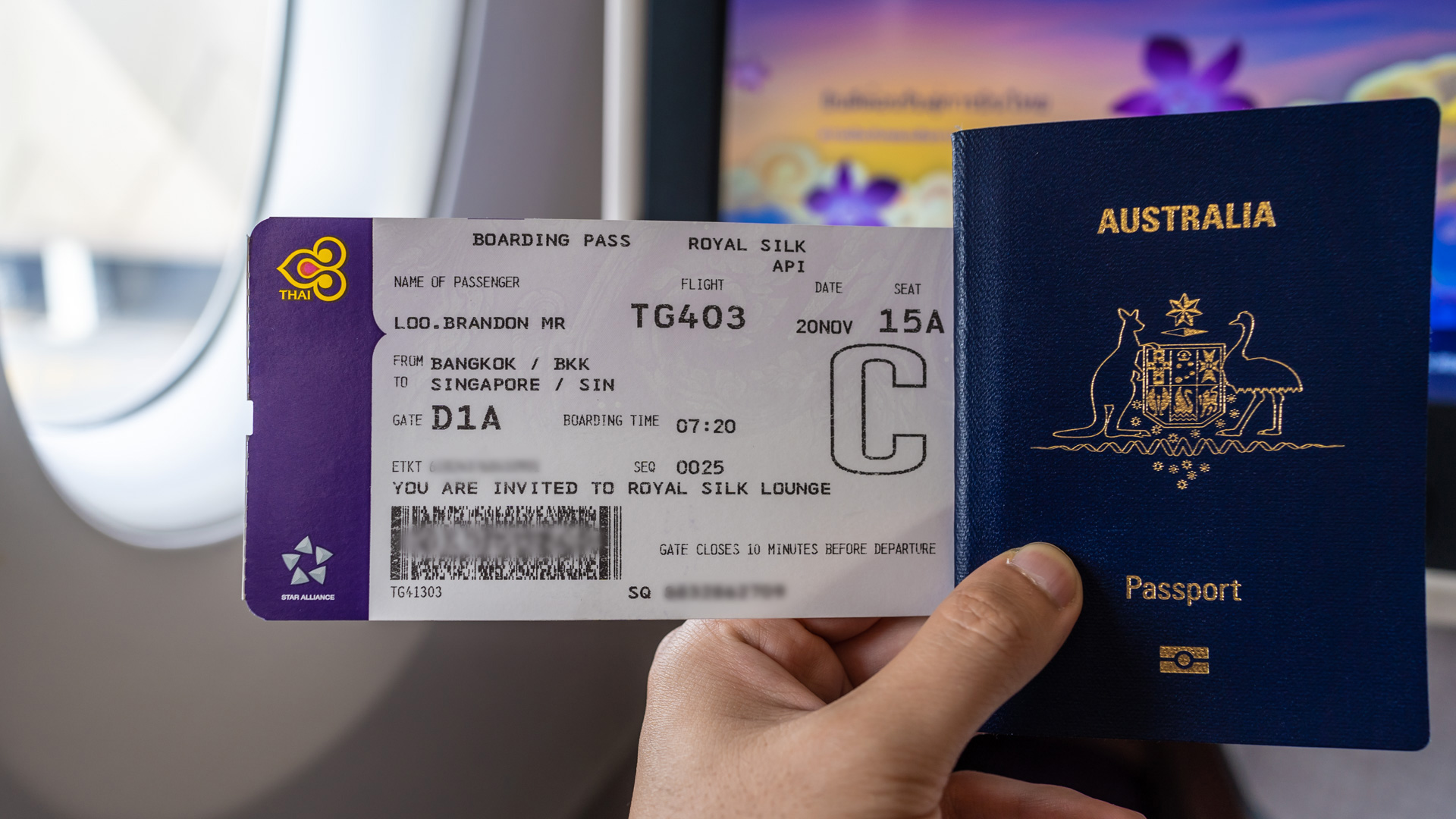 Check-in, lounge and boarding
The royal treatment
TG403 is an early-morning departure, so I grudgingly get out of bed at some unfathomable hour and take my pre-booked hotel transfer to Bangkok's Suvarnabhumi Airport. Thai Airways Royal Silk (Business Class) passengers can use the dedicated entrance and check-in counters. Just ask to be dropped off at the first door of the departure floor.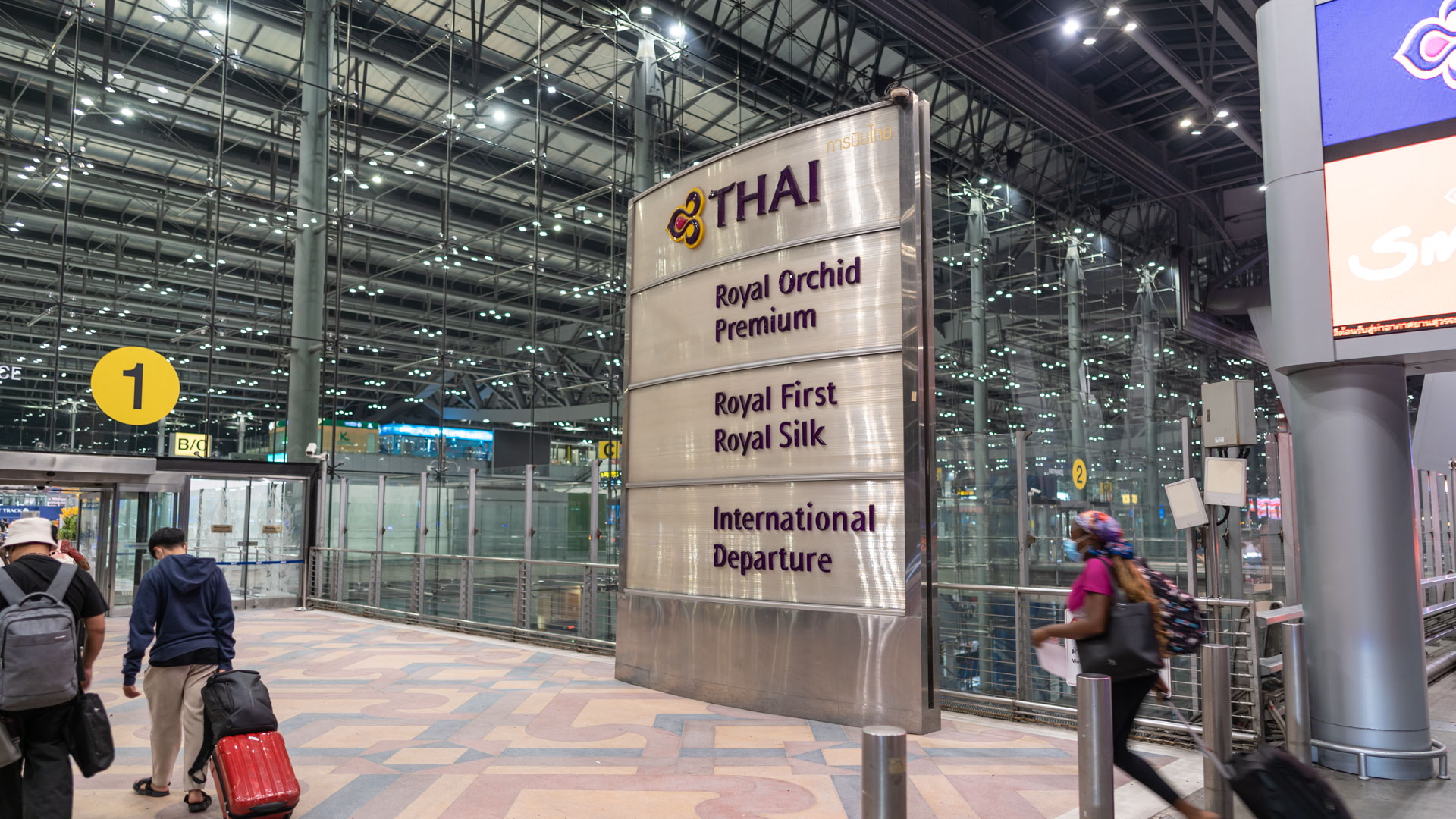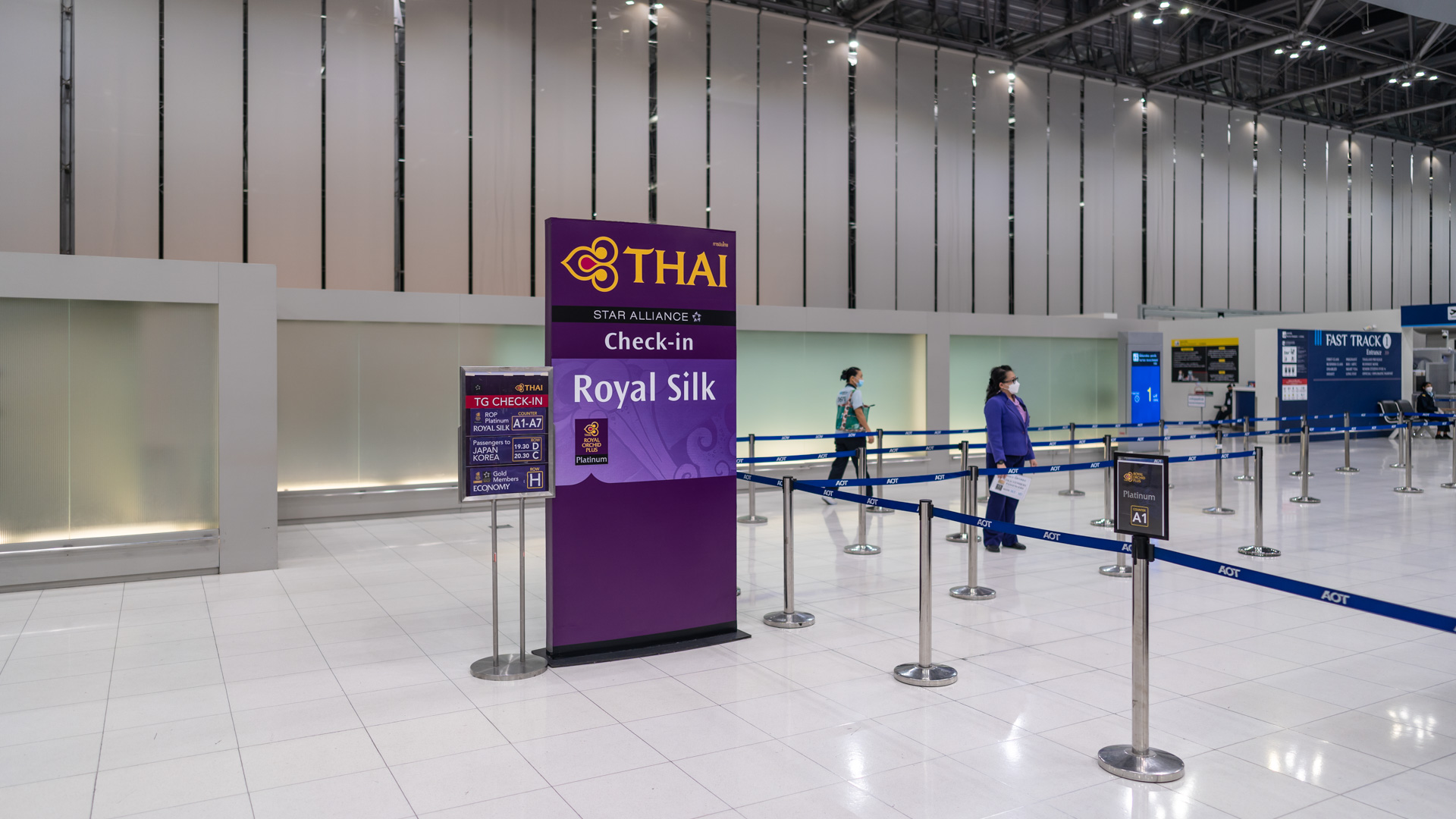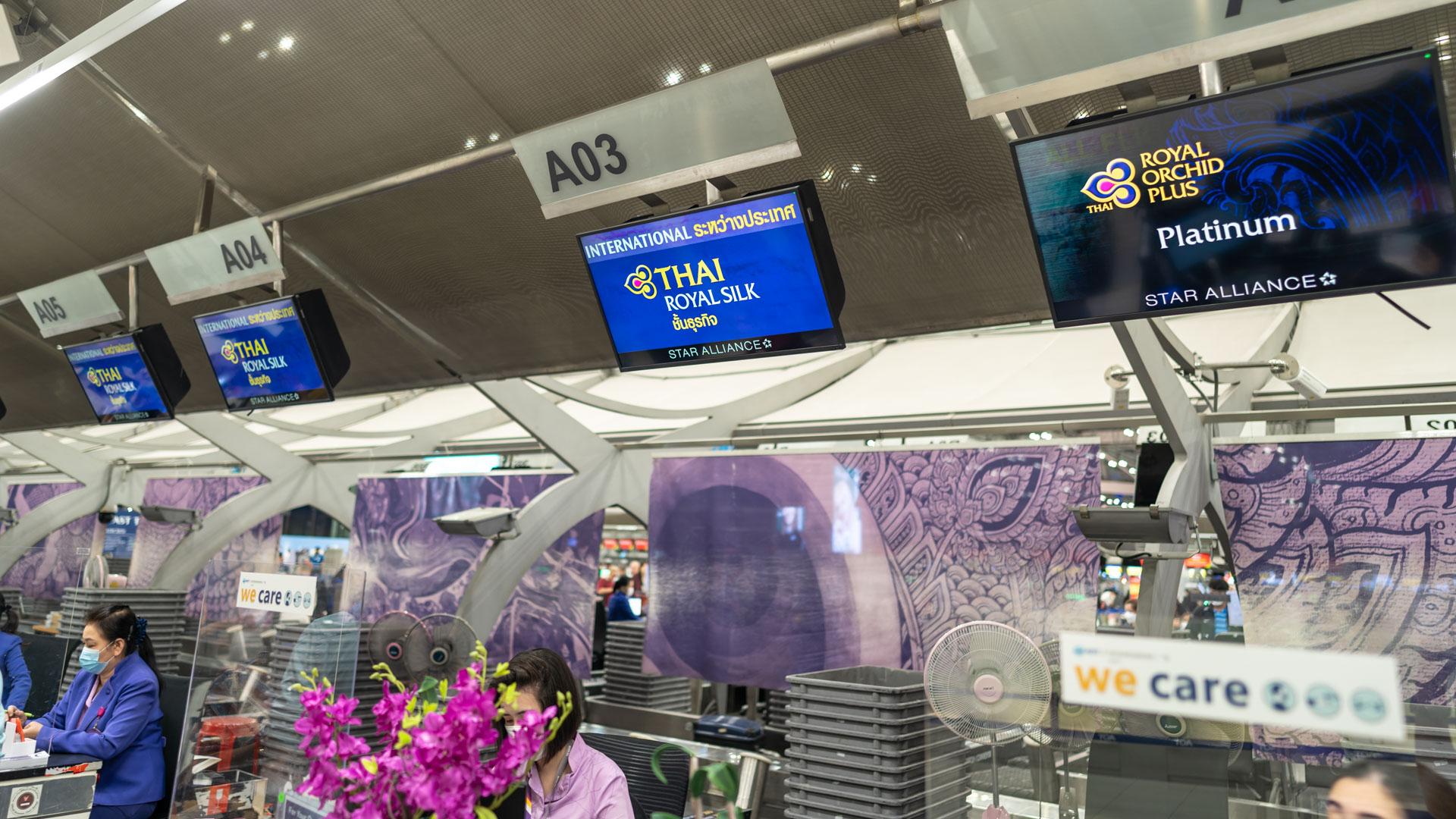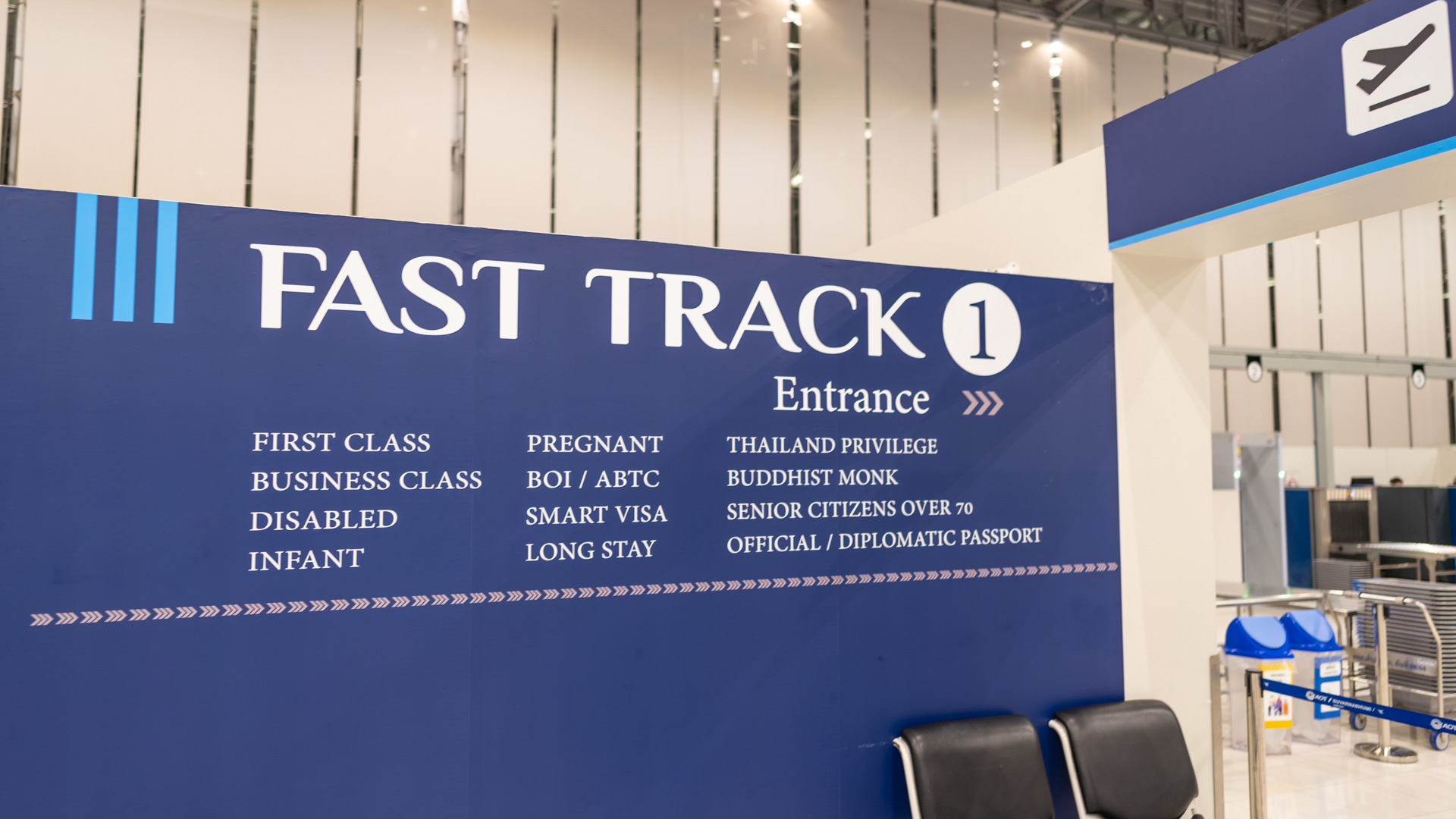 Check-in takes mere minutes. I also enjoy access to the Fast Track lane for immigration and security, clearing both in under five minutes as well.
Thai Airways Royal Orchid Prestige Lounge
Straight after Fast Track security is a direct shortcut into the Thai Airways Royal Orchid Prestige Lounge. As the airline's newest and biggest lounge, there's plenty of seating and a good range of food and beverages in the morning. Skip the coffee machines – barista-made coffee is located at the bar.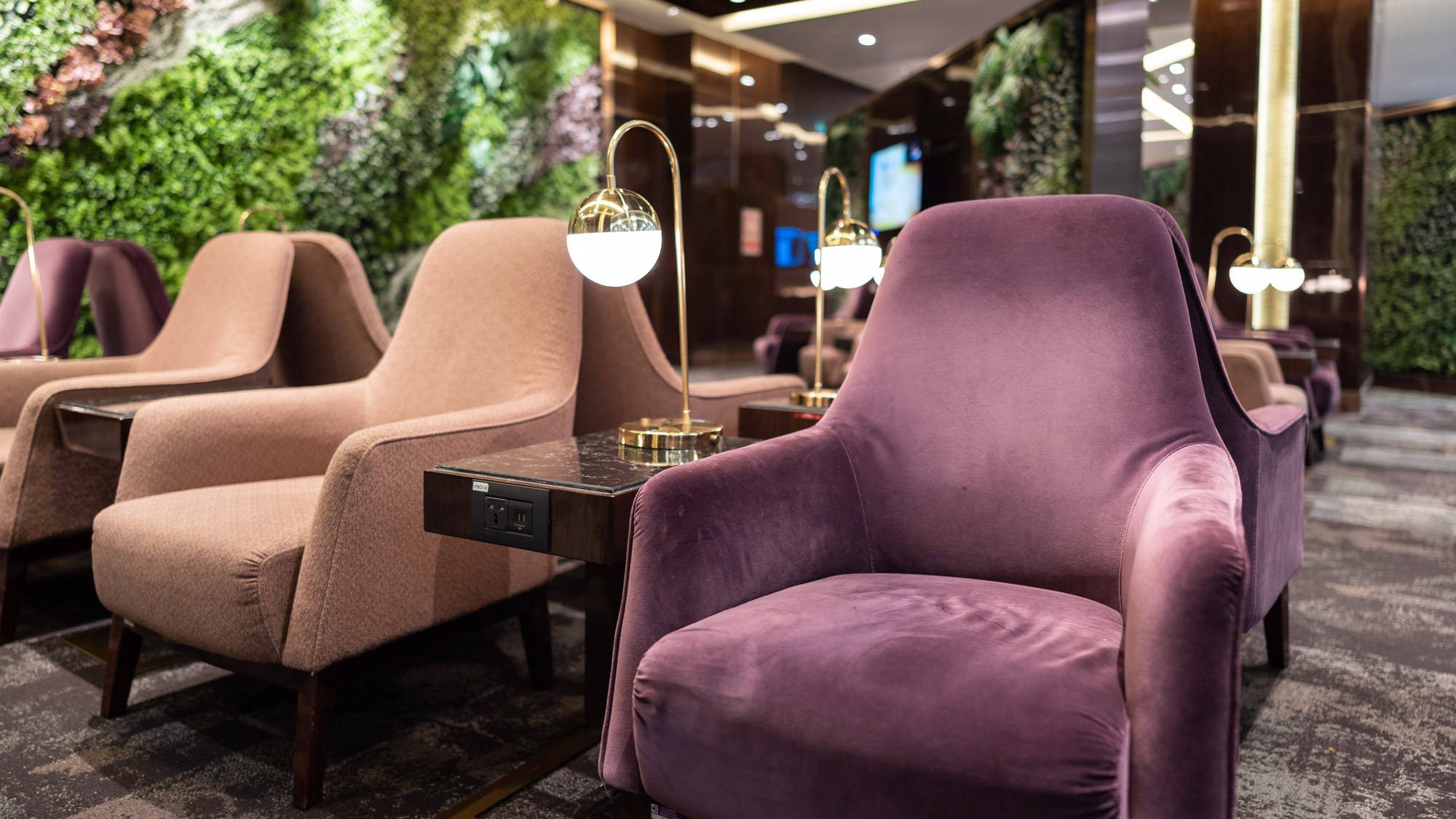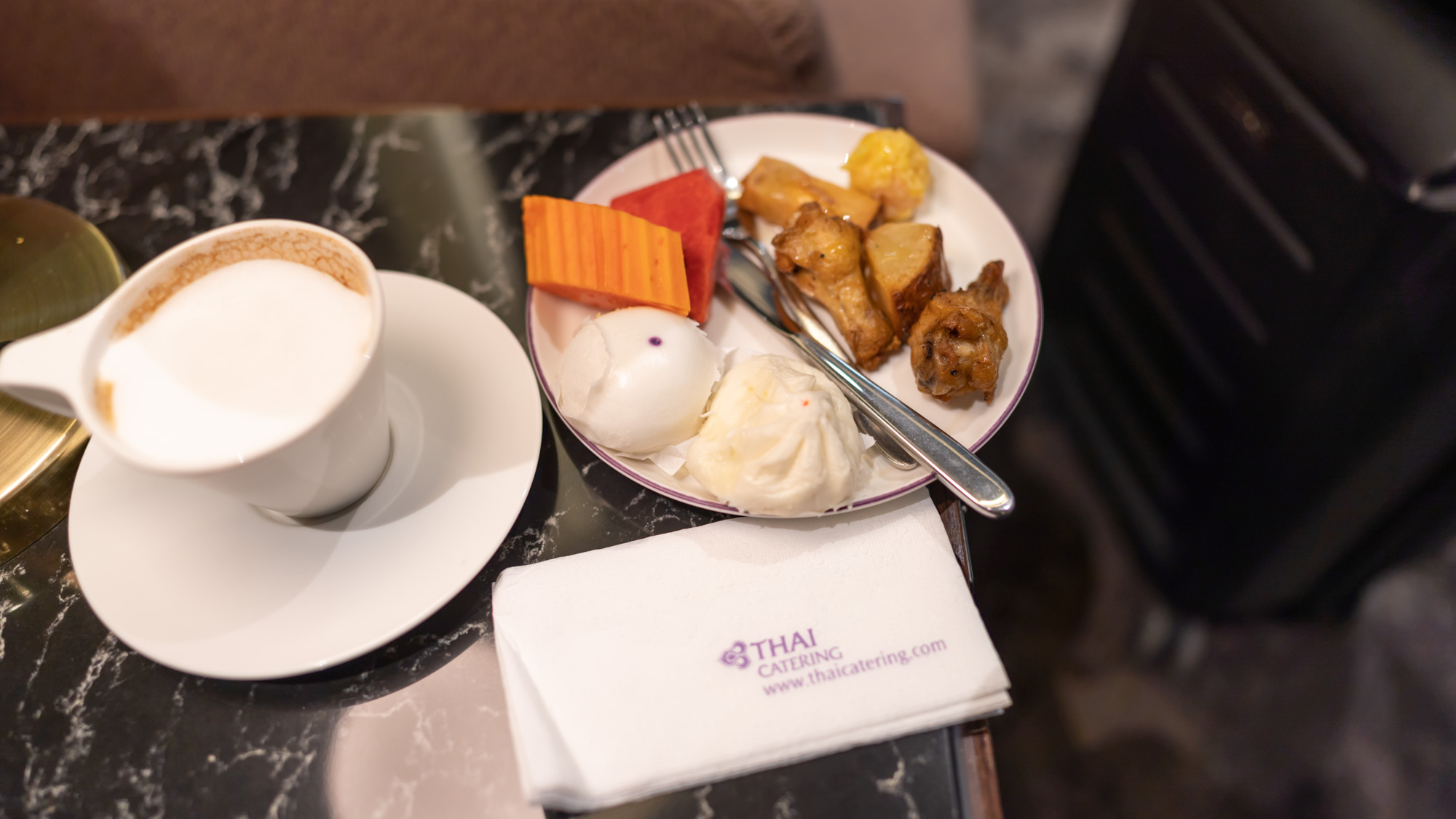 Boarding at a remote stand
Today, we're leaving from Gate D1A, which is actually a remote stand. Priority boarding is called at the gate, with Royal Silk passengers invited to get on the bus first. We still wait a few minutes for the bus to fill up, before it takes us over to our awaiting Airbus A350.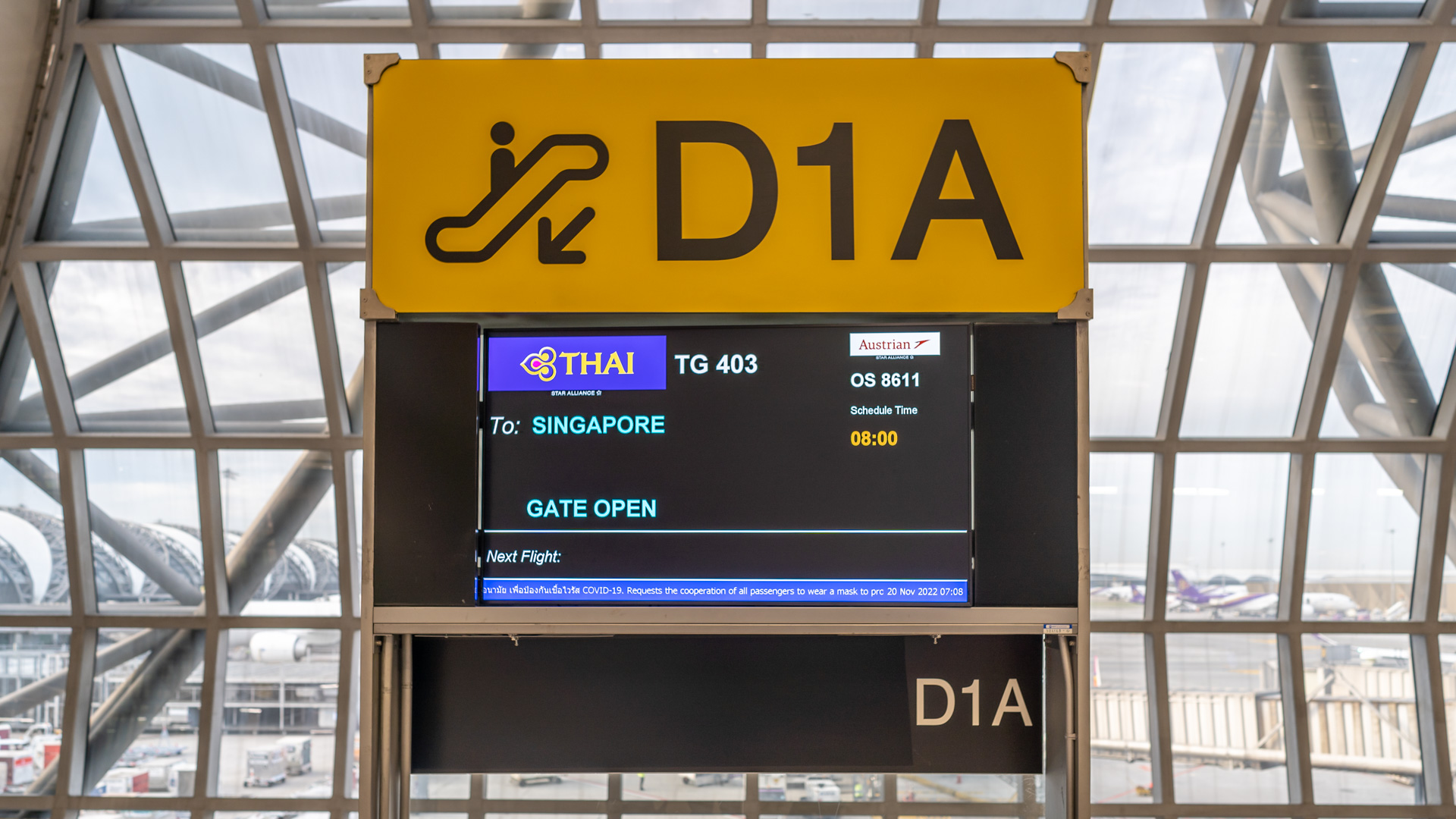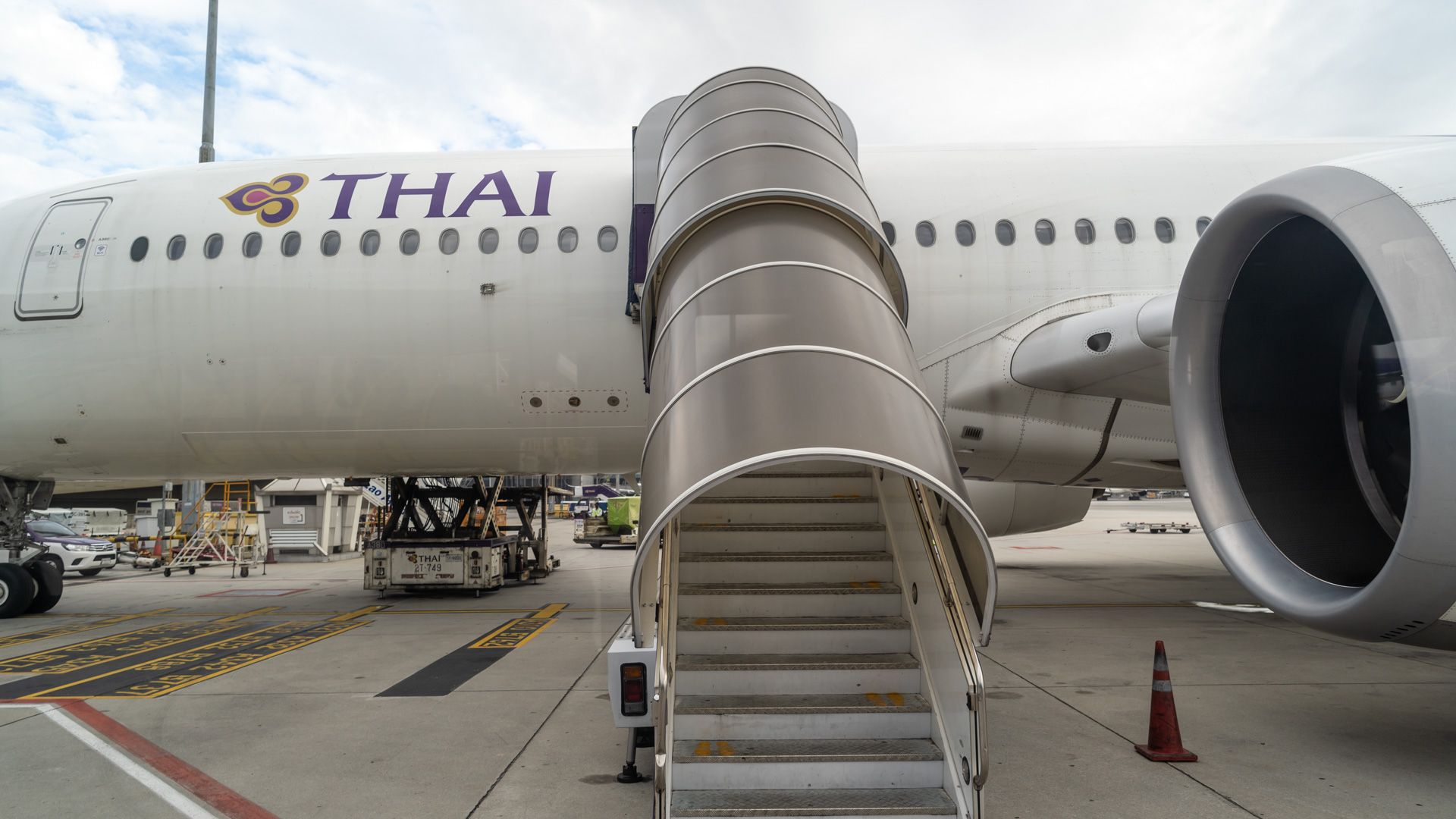 Thai Airways Airbus A350 Business seating
Business Class cabin overview
Thai Airways has 12 Airbus A350s in the fleet, all configured with 32 Royal Silk class seats and 289 Economy seats. The fuel-efficient jets are currently flying all across the network, including Kuala Lumpur, Melbourne, Munich, and of course, Singapore.
Set in a 1-2-1 configuration, each row alternates from being close to the aisle and away from the aisle. In the middle seats, you can choose between the 'honeymoon' and 'divorce' pairs – but we won't blame you if you want some time apart from your travelling companion!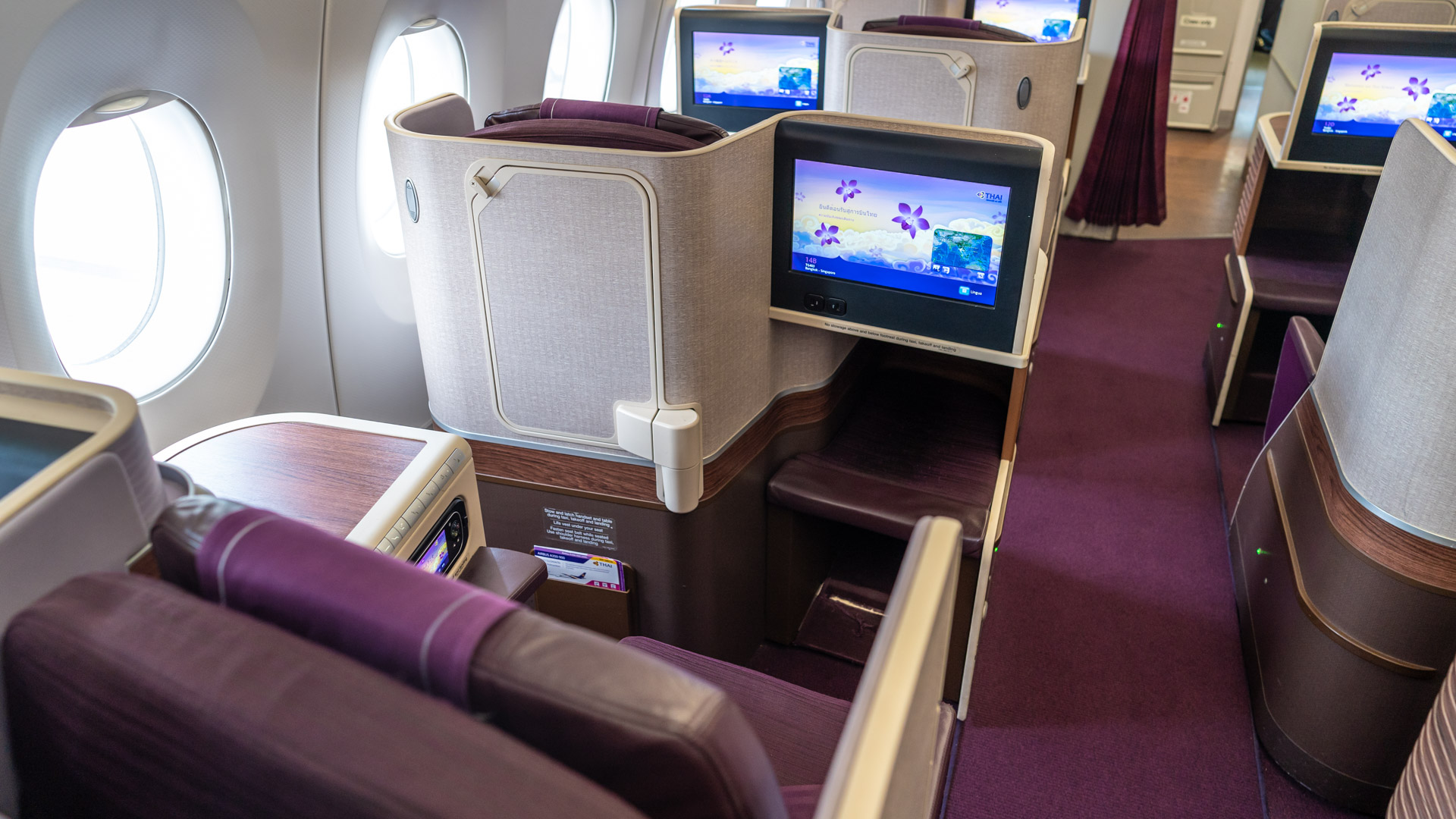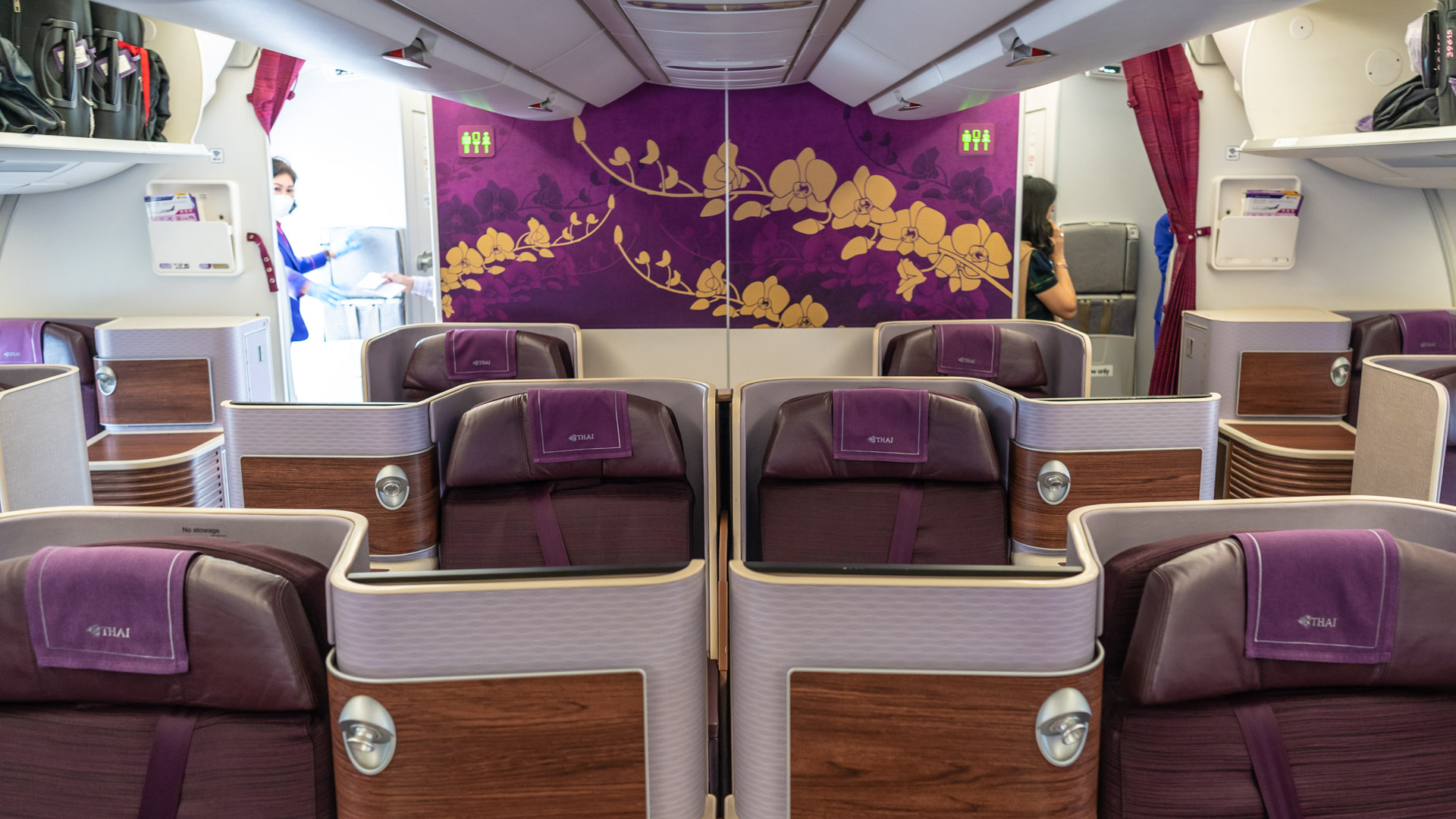 Business Class seat features
I'm flying in 15A today, a window seat that offers a bit more privacy from the aisle. Though I haven't flown in this particular staggered seat type before, I find it's actually very comfortable. A cut-out in the ottoman lets me stretch my legs out, and of course, there's plenty of space if I want to put my legs up on top.
The side console houses the many buttons that adjust the seat to your liking – and I do make it go fully flat for a bit after breakfast is finished. An AC power plug is also located here.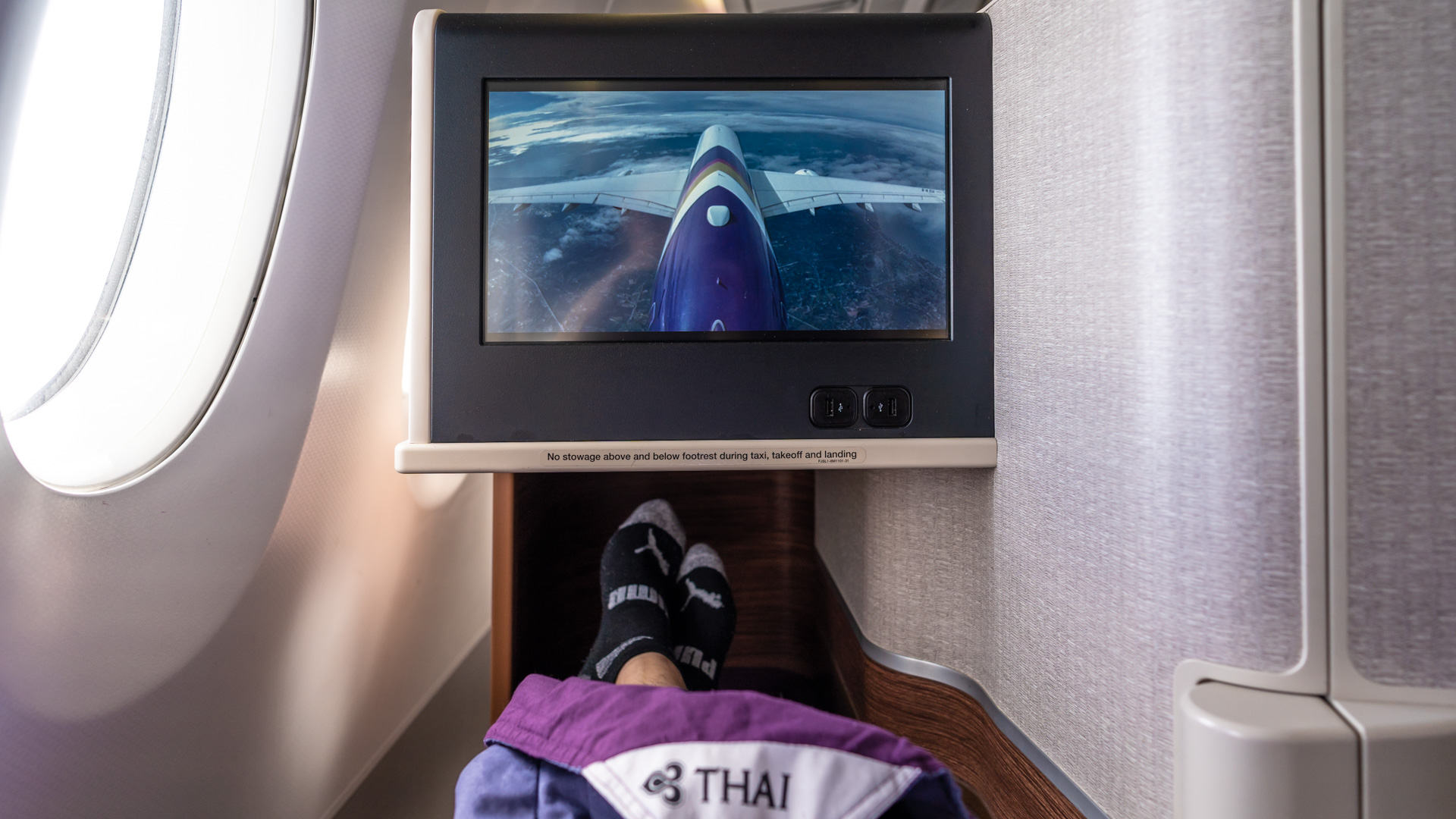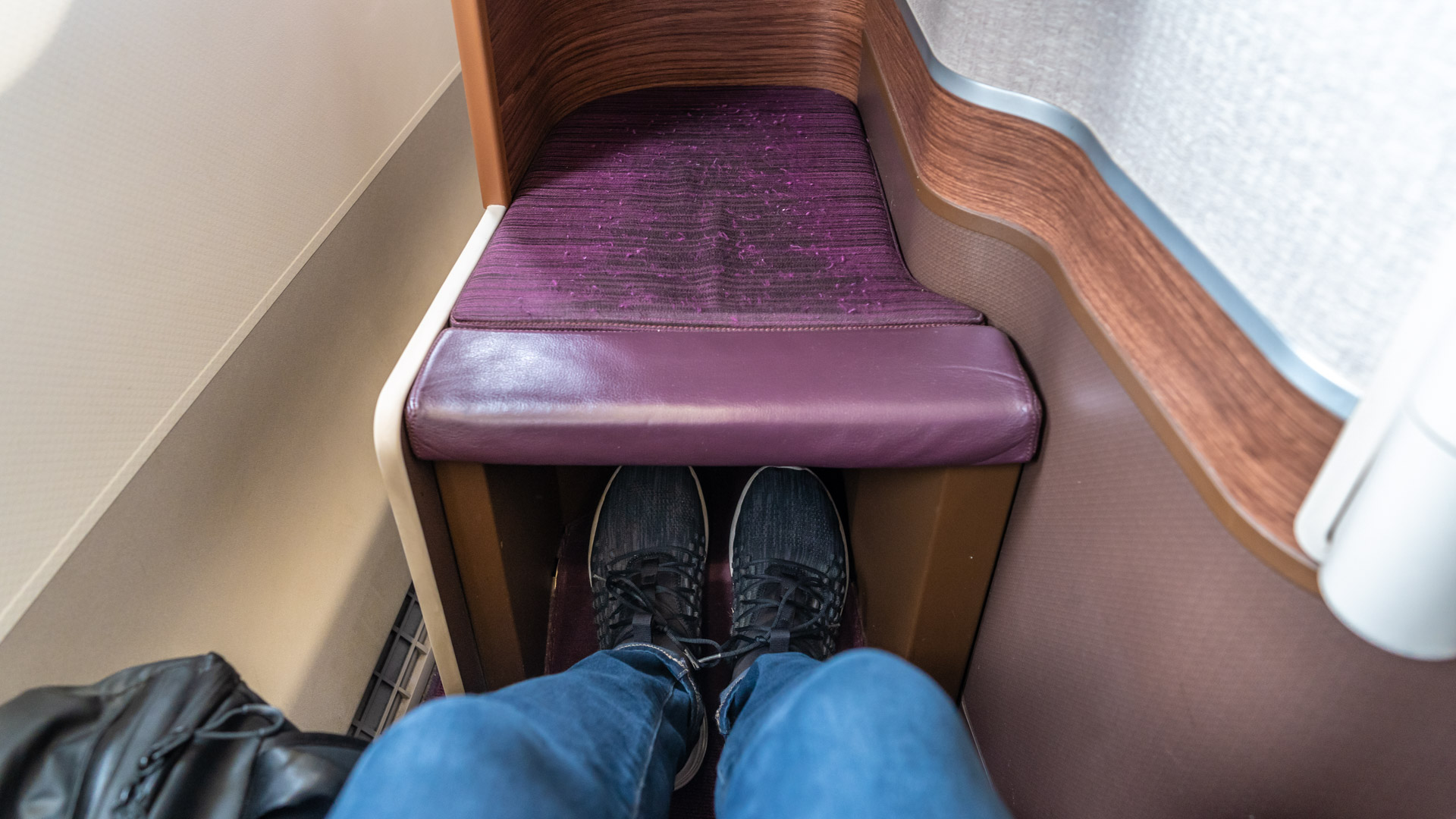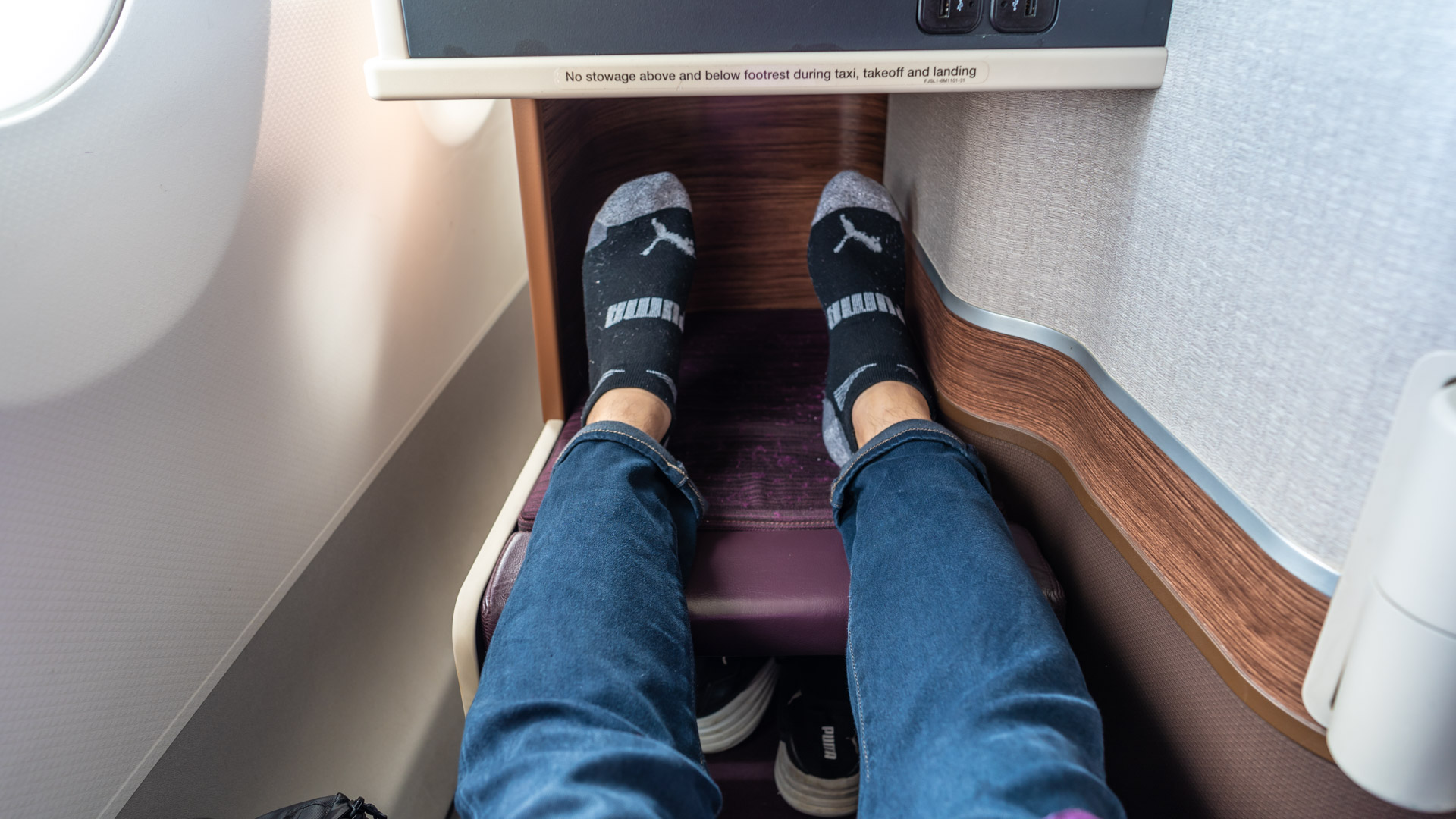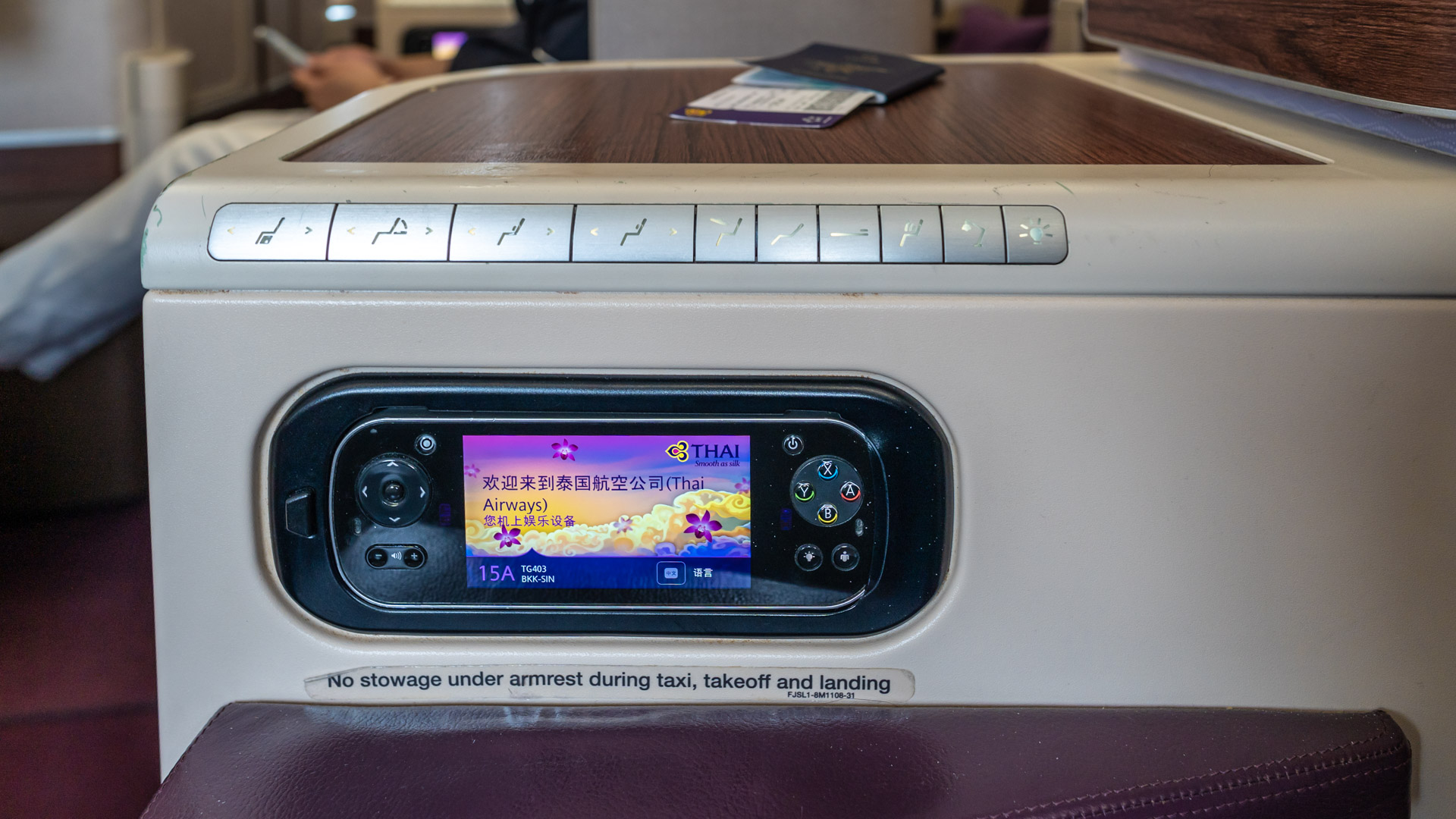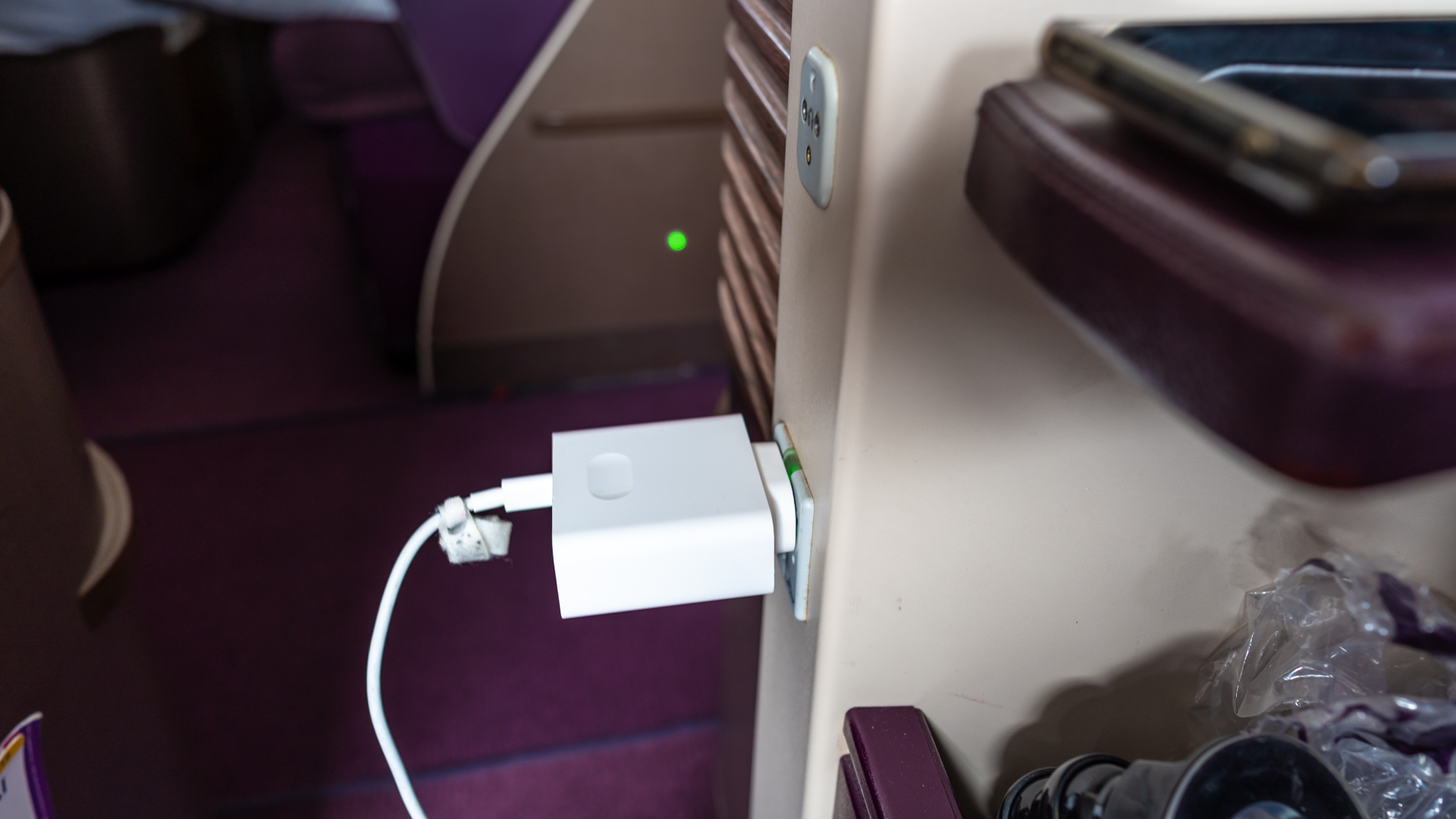 One detail I couldn't help but notice – and it truly puzzled me – was how tattered the seats are. The Airbus A350s are a relatively new jet, but my seat had pilled fabrics, major scratches on the hard surfaces and even a tear on the armrest. I've seen my fair share of wear and tear, but this is on a whole new level. How peculiar.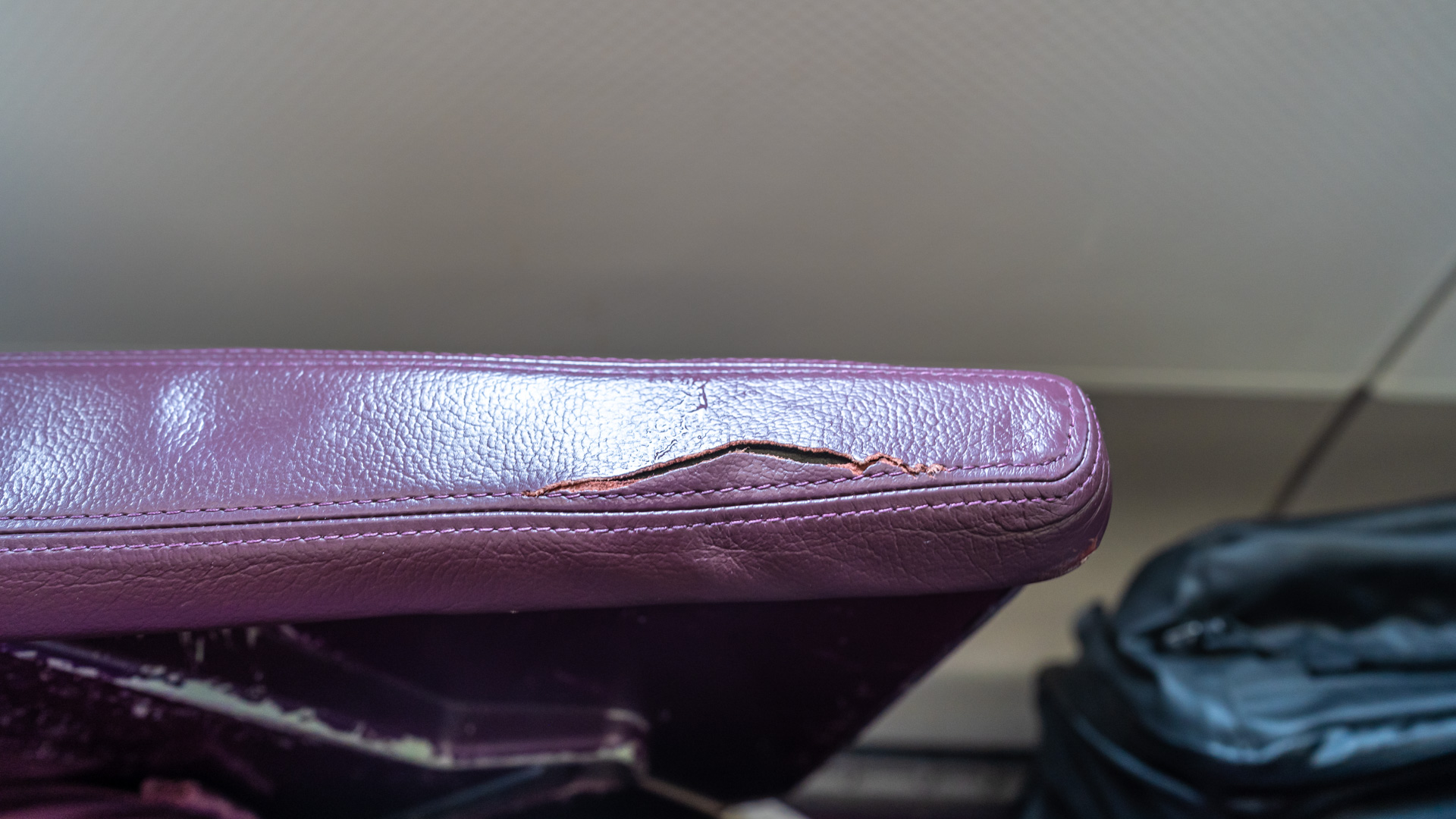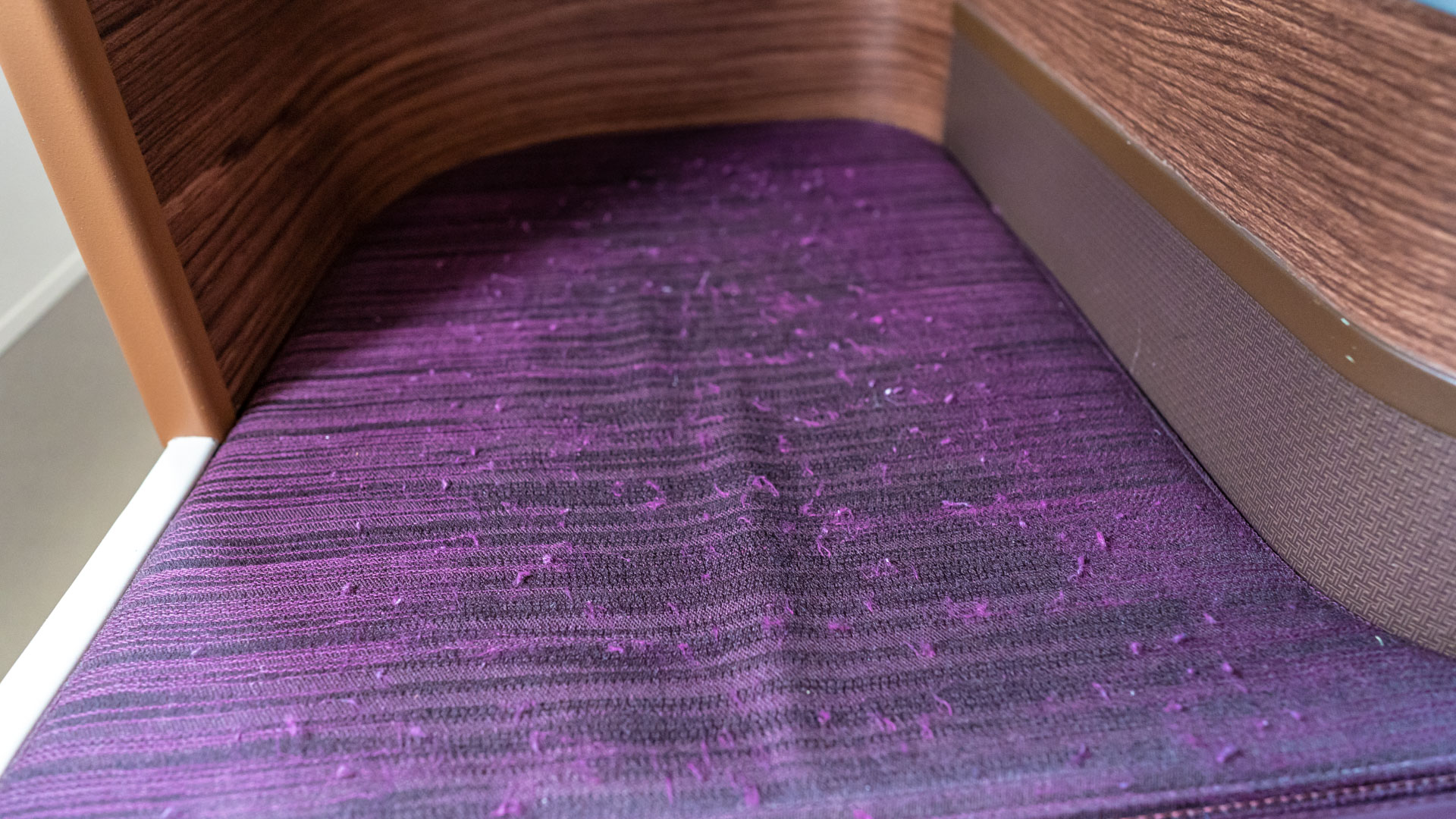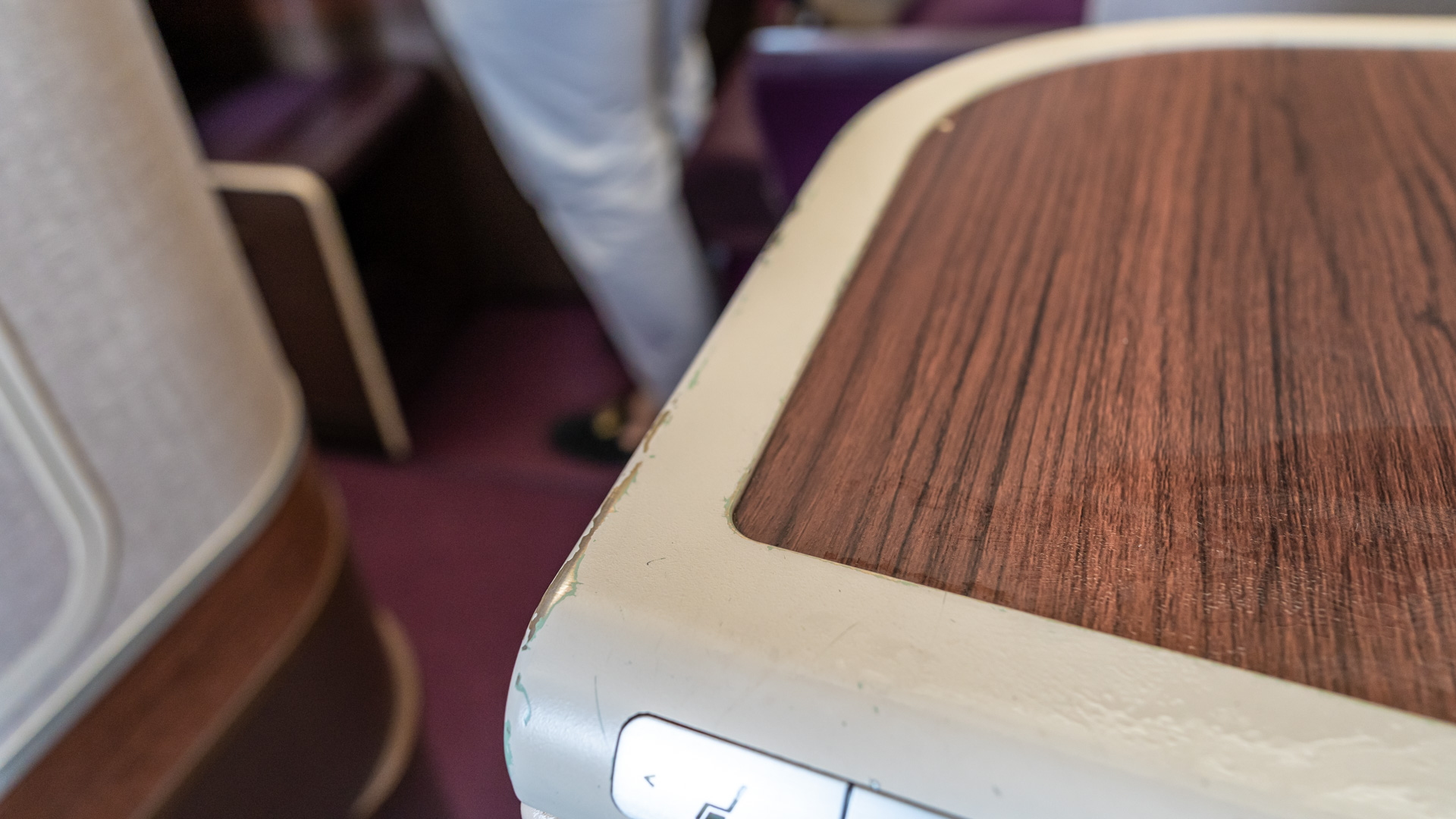 Thai Airways Airbus A350 Business food and beverage
Credit to Thai Airways where it's due, the soft product (onboard service) is excellent. Before take-off, the cabin crew offer us water, juice or Piper-Heidsieck Champagne. The bubbles are served in an actual Champagne flute, which is exceedingly rare on airlines.
Soon after take-off, breakfast is served. Prior to the flight, I could pre-select a 'chicken in mushroom gravy' or a 'quiche with beef medallion' online. But it turns out these are the same two options offered onboard, anyway.
I choose the braised chicken and mushrooms with rice and fried egg and have absolutely no regrets – it's a simple and filling brekkie.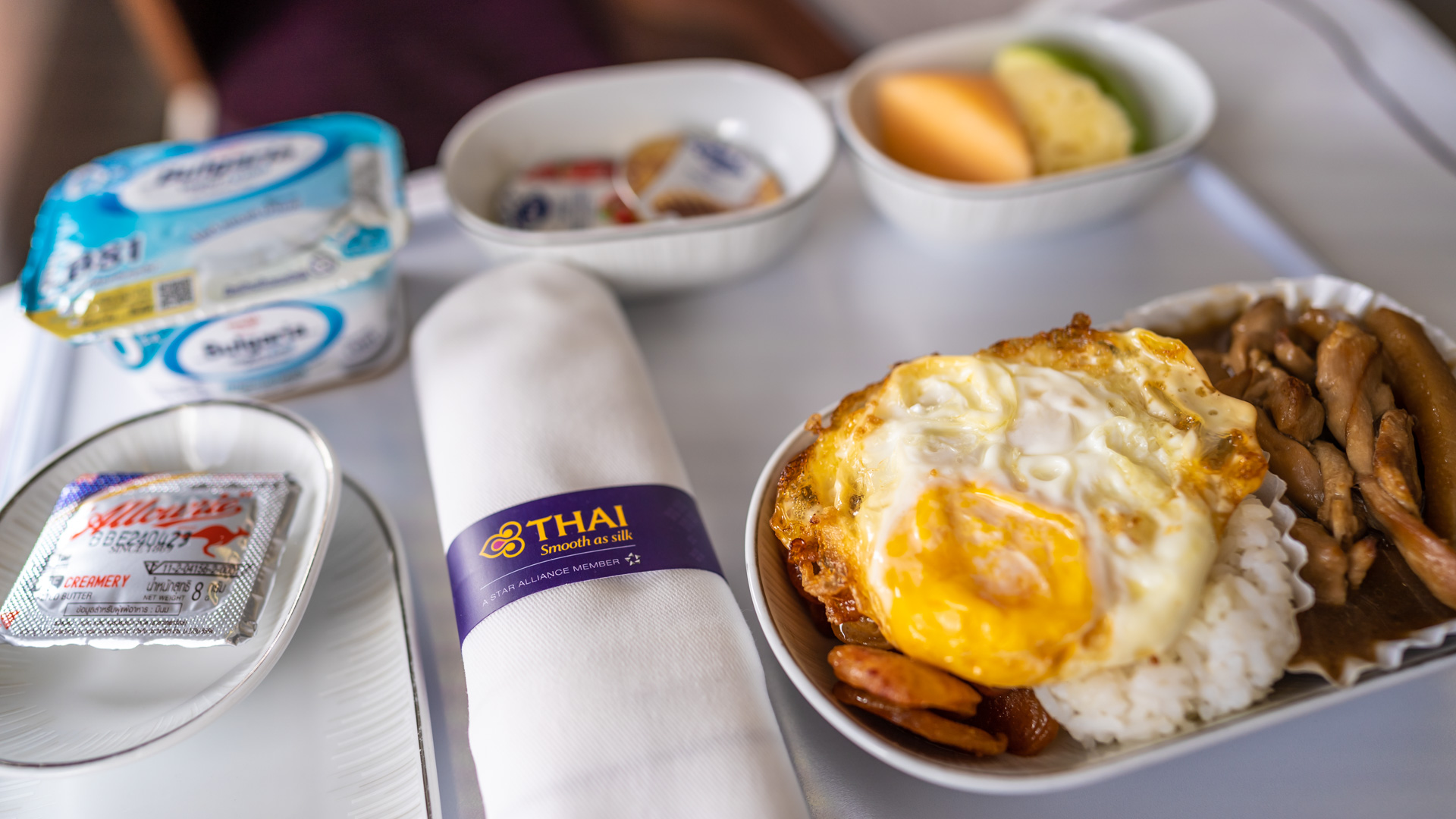 We didn't get printed menus on this flight, but it appears a basic selection of beer and wine is also available, along with soft drinks. I didn't enquire about spirits. Instead, I ordered a warm Thai milk tea, reclined the seat into a bed and remained comfortably curled up for the rest of the flight.
It's small moments like these that remind me what a privilege it is to fly Business Class, even for a short flight such as Bangkok-Singapore.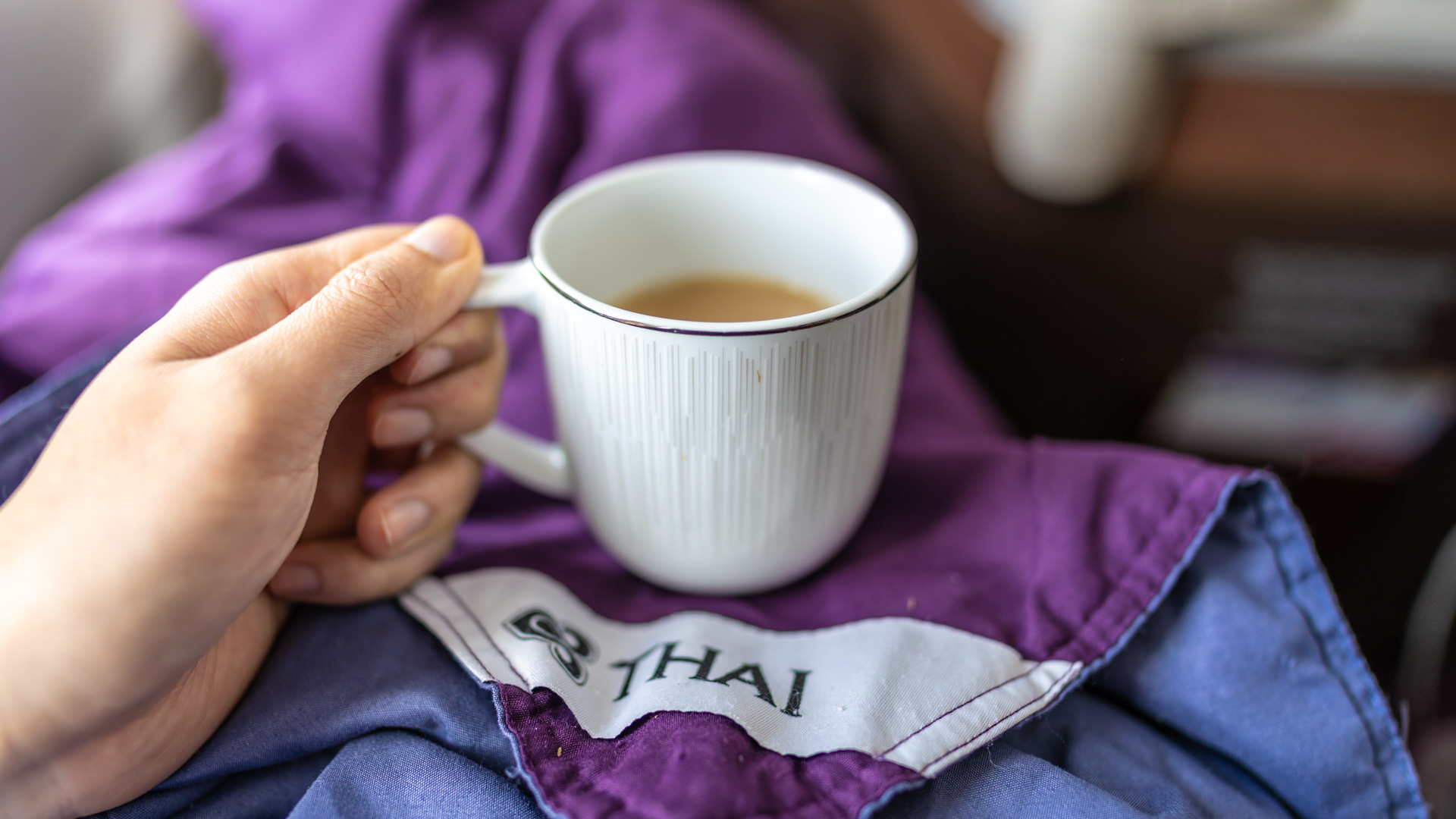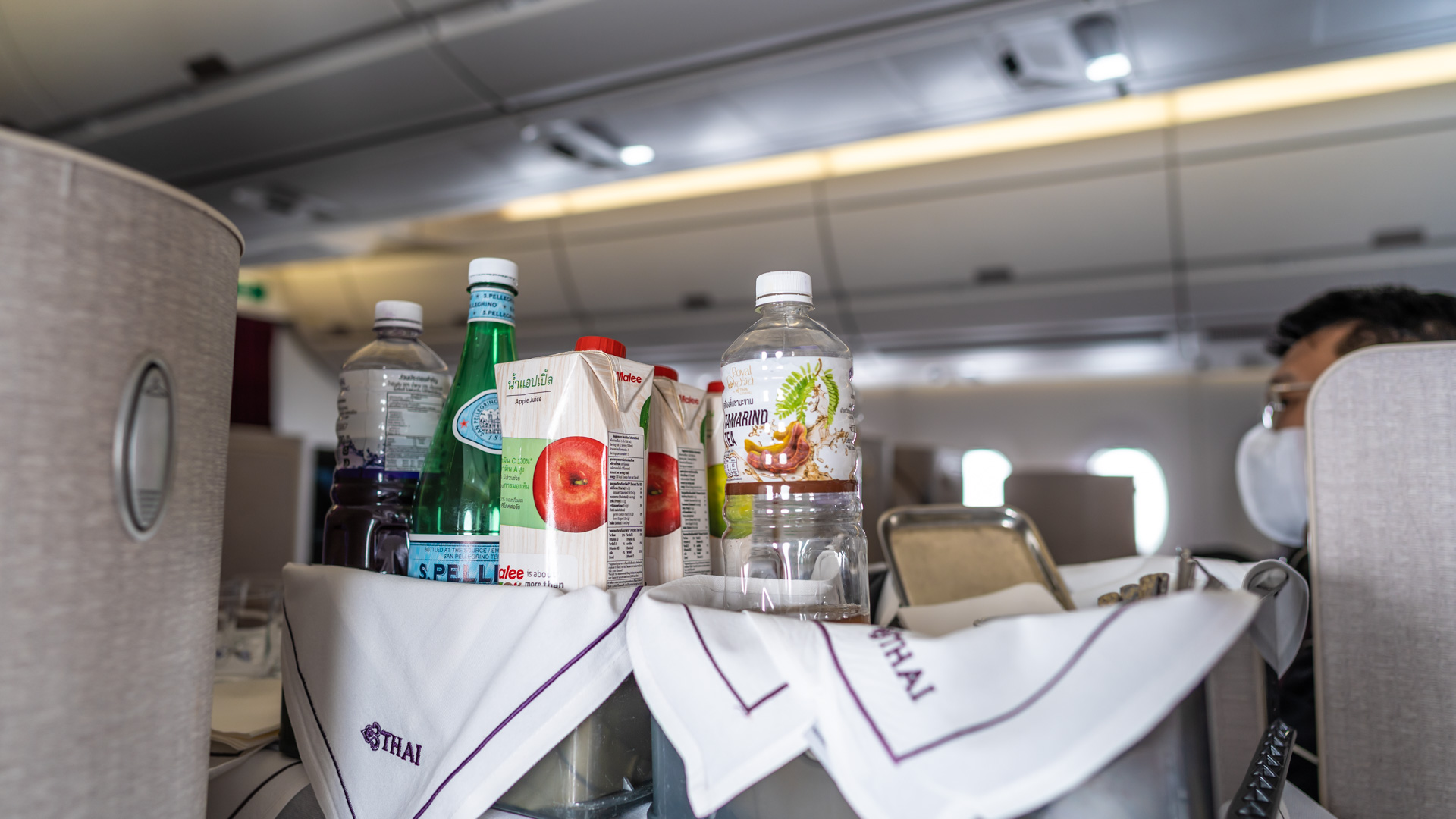 Thai Airways A350 Business Class amenities
Inflight entertainment
Each Royal Silk seat has a 16″ (40 cm) touchscreen with a surprisingly good range of content. While the interface is a bit old-school, it responds reasonably quickly. Having a quick glance over the content, there's a selection of new-release movies such as Jurrasic World: Dominion alongside full seasons of TV shows, which I'm sure TV buffs will appreciate.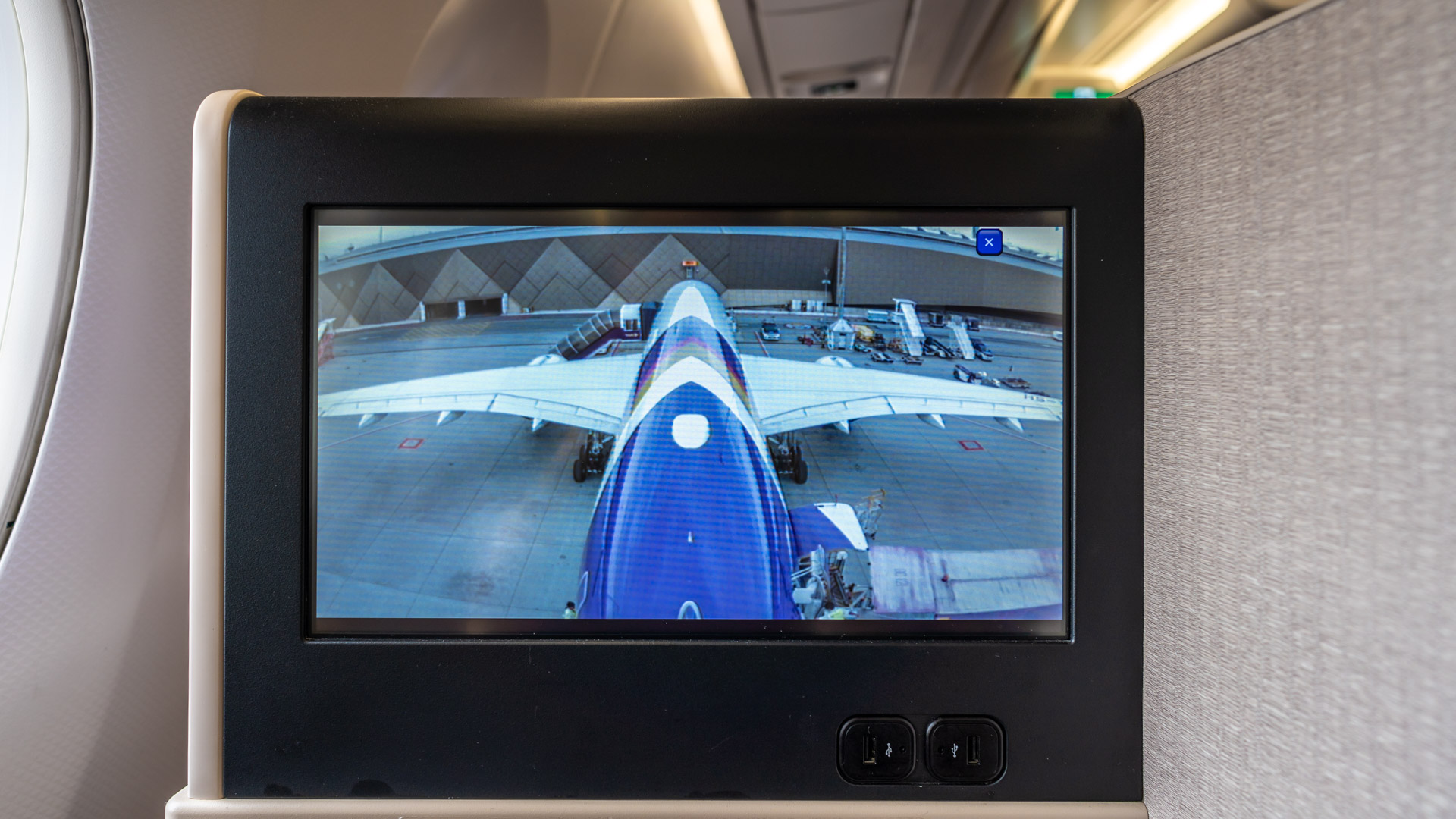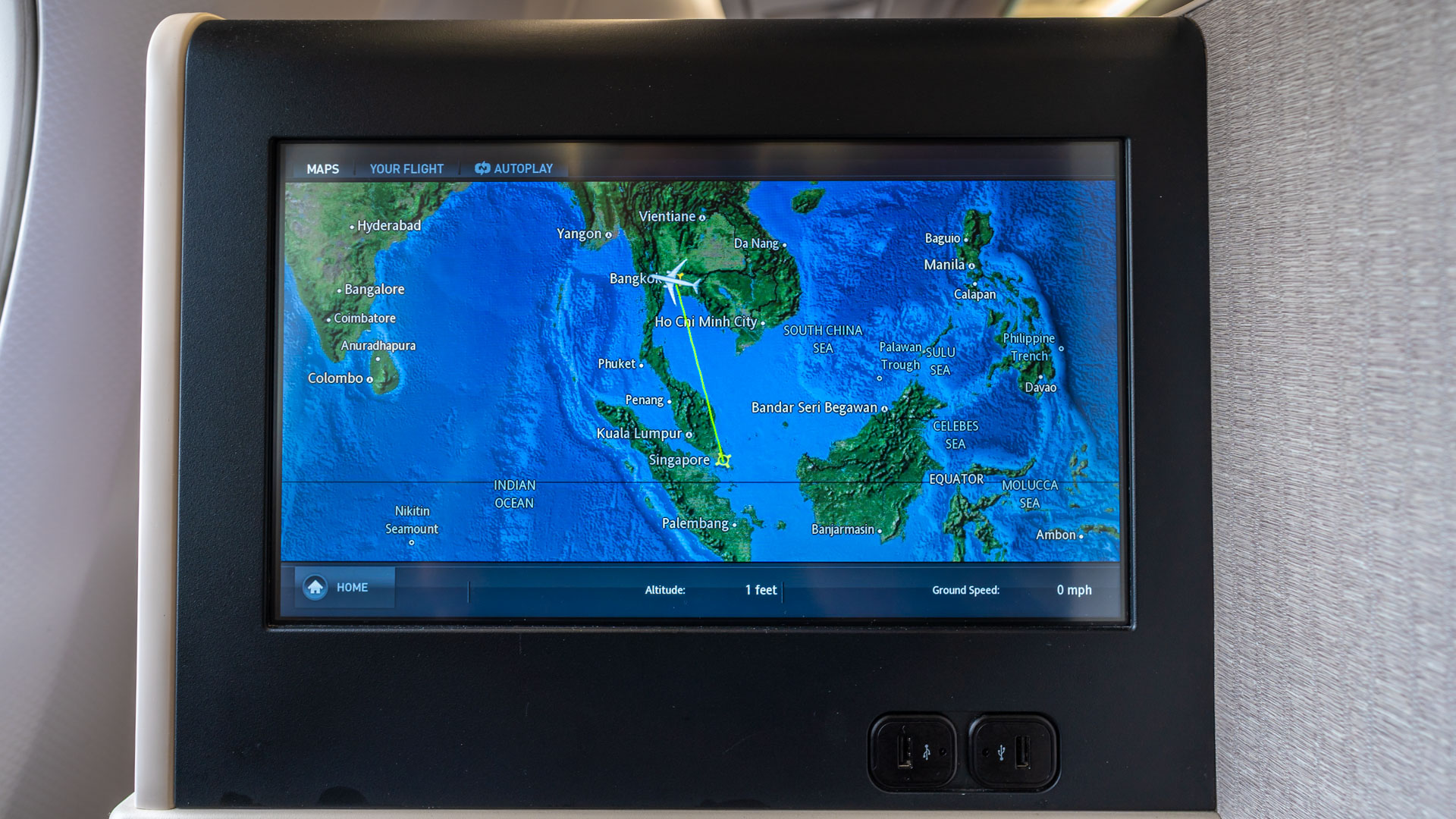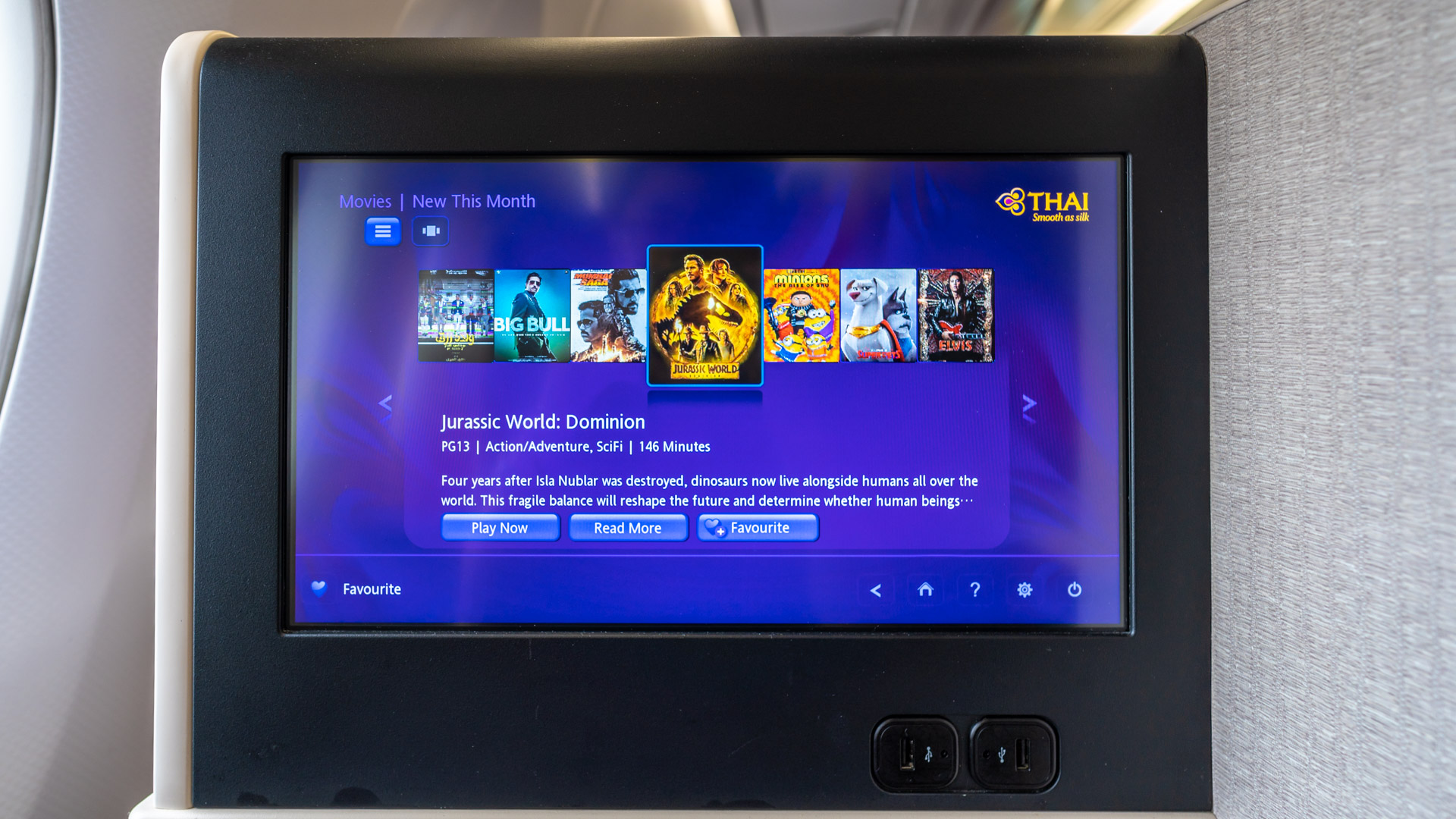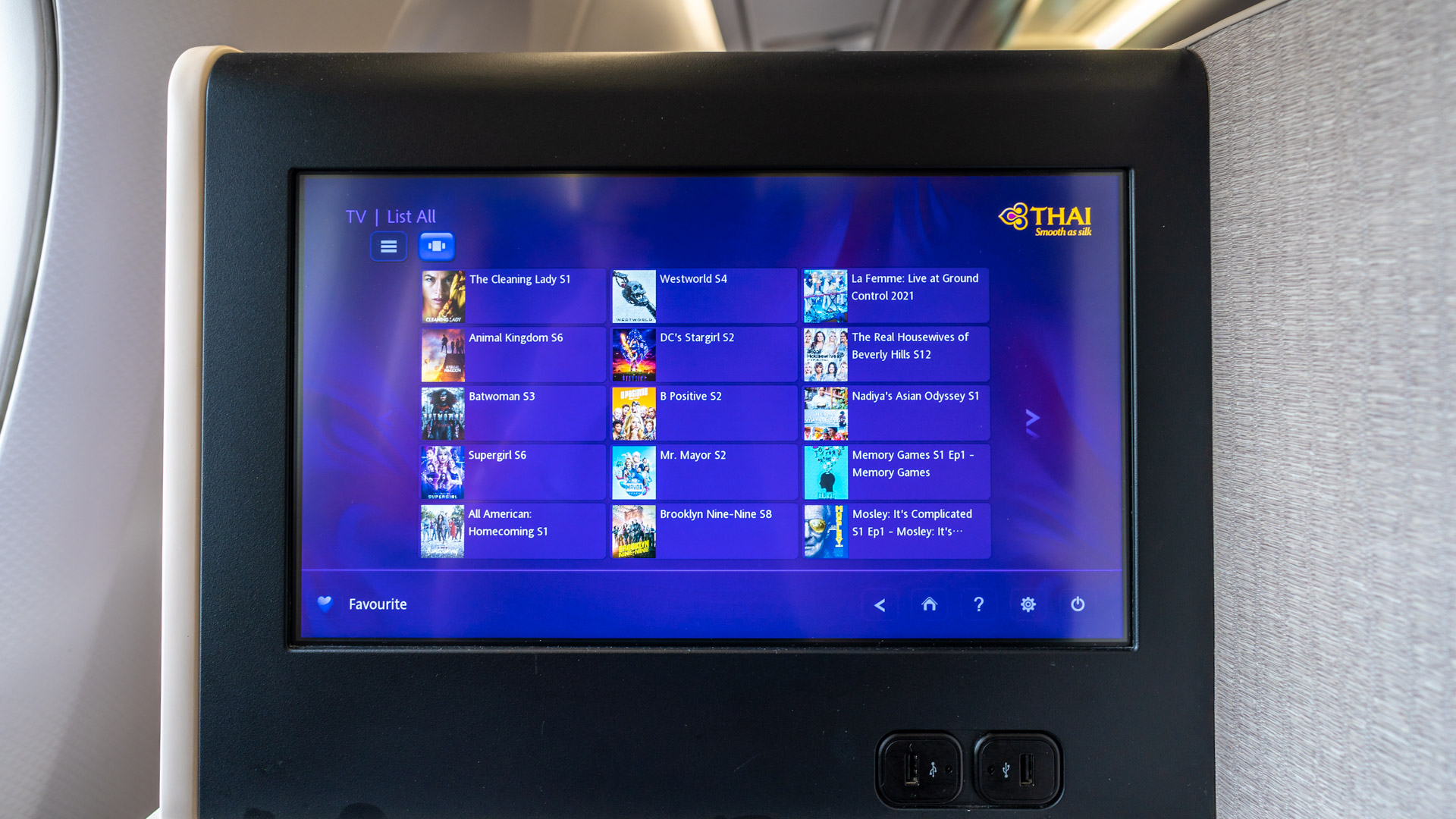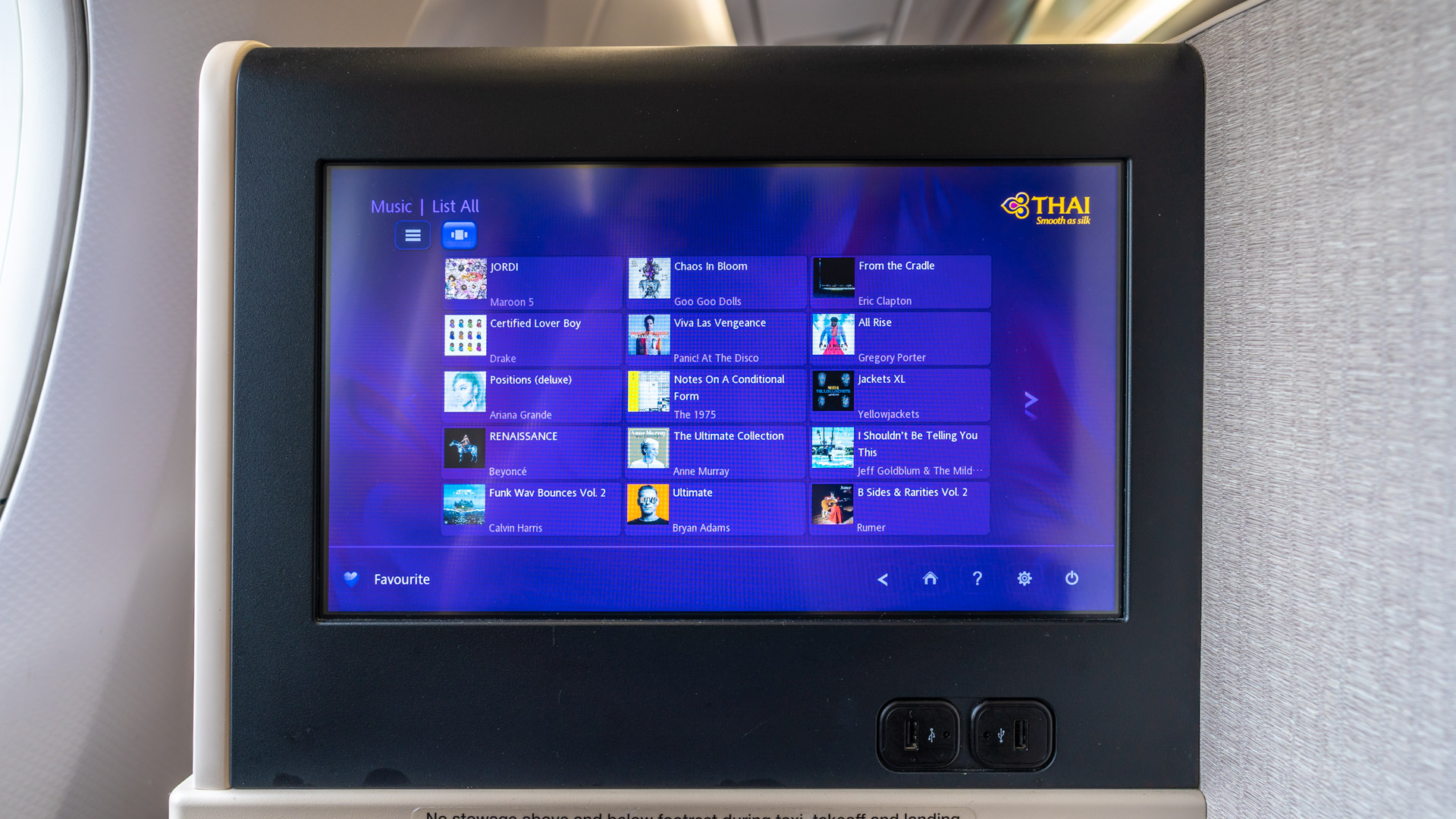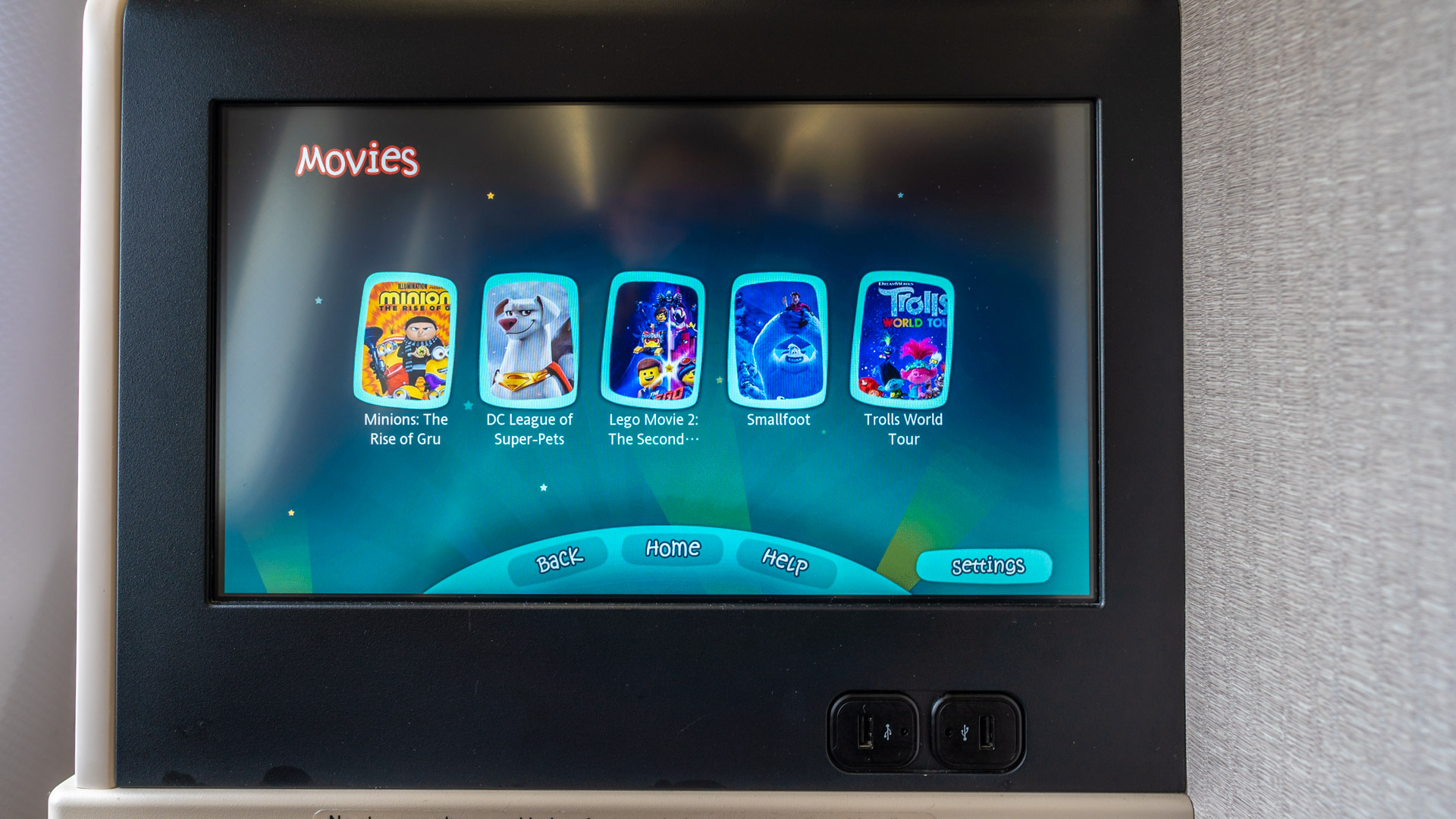 Kids aren't forgotten either – they'll have fun exploring the dedicated kid's section. But young or old, all will likely enjoy watching the take-off and landing from the Airbus A350's various external cameras.
As expected, noise-cancelling headphones are located at each seat. These ones are made by AKG – a well-known acoustics engineering company.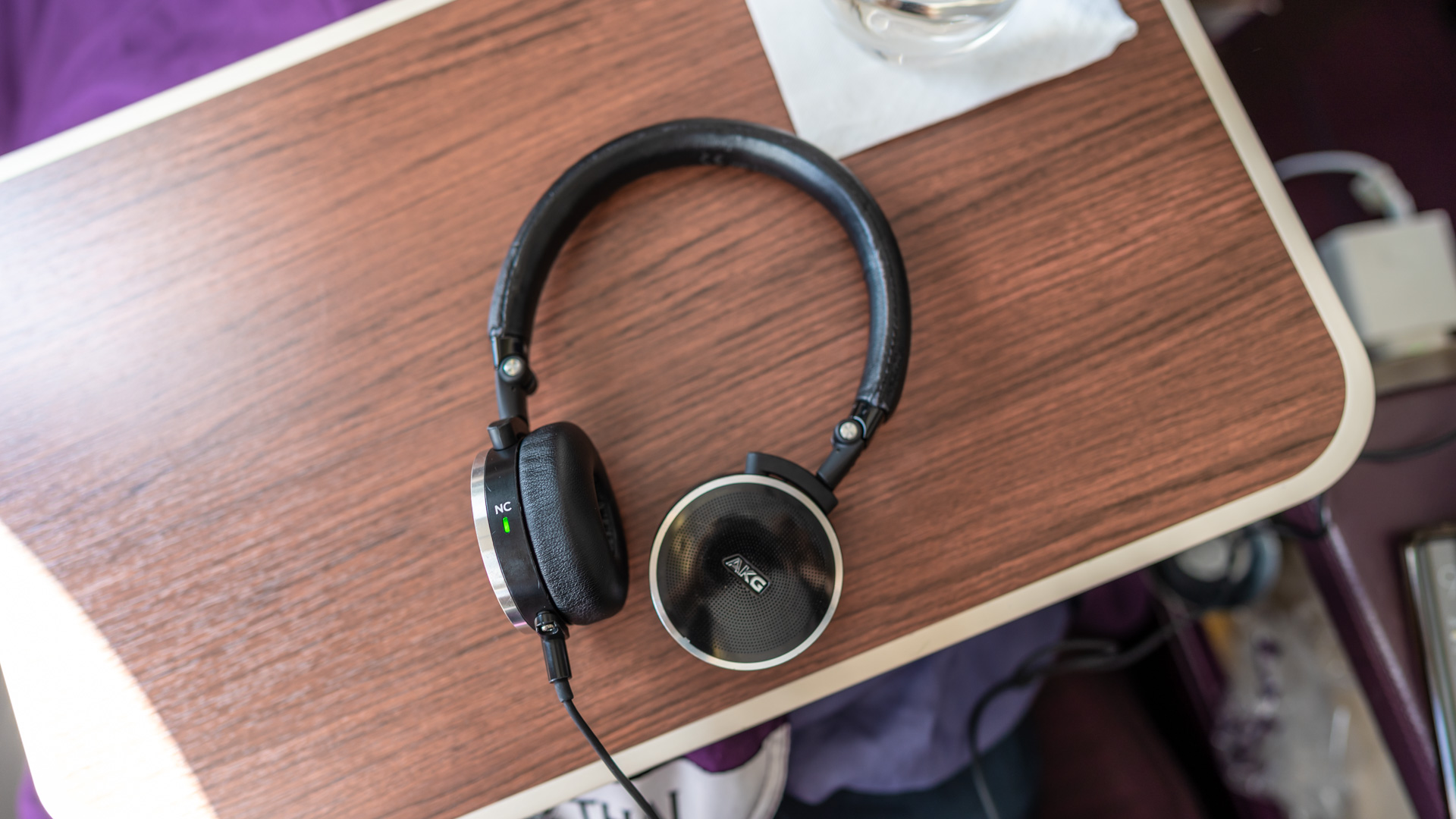 Inflight Wi-Fi
Inflight Wi-Fi is supposed to be available, but it wasn't working on this particular flight. I could connect to the onboard network, but the portal said 'internet not available' for the entire journey.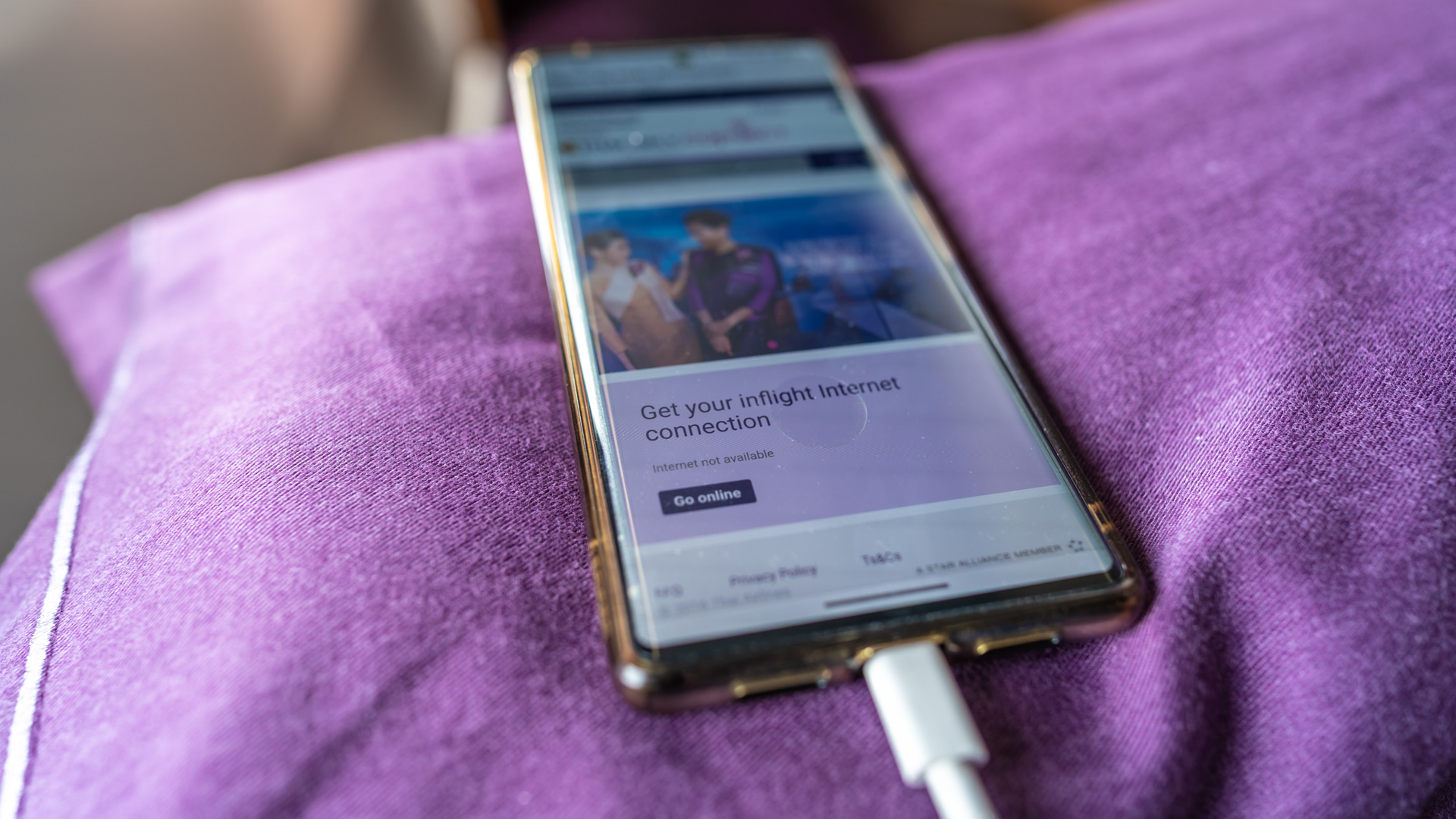 Summing up
My Thai Airways experience is very pleasant from start to finish. There's certainly nothing major to make a fuss about – the lounge experience is fine, the onboard service is exemplary, and the Airbus A350 Business Class seat is very comfortable. I would be happy to fly this product to Melbourne, which is a nine-hour flight (you can book that for 81,500 KrisFlyer miles + taxes, one-way).
I just feel there's a bit of room for Thai Airways to refine the experience further. Things like threadbare seats and battered consoles don't lend themselves very well to a five-star experience, even if they don't directly impact the comfort of the flight.
---
Stay up to date with the latest news, reviews and guides by subscribing to Point Hacks' email newsletter.
Photography by Brandon Loo, who travelled at Point Hacks' expense.
Thai Airways Airbus A350 Business Class (Bangkok – Singapore)
was last modified:
February 13th, 2023
by