Offering an extensive network of flights paired with its local Virgin Australia partnership, Singapore Airlines is a popular option for travel to The Lion City and beyond. Business Class service greets travellers on every flight, with First Class – or Suites – also found on selected services.
But with a large network comes a variety of aircraft types. The Business Class experience on one plane can differ greatly from the next. That's why it's important to know which plane will arrive at your gate, and what it'll have on board.
In this guide, we'll explain Singapore Airlines' various Business Class and First Class seats. We'll also show how to check which one to expect on any given flight – whether that's before you book, or just before you fly.
Singapore Airlines' flagship Suites
'Suites' is the name that Singapore Airlines gives to its highest-tier First Class experience. And if you book Suites on one of the airline's updated Airbus A380s, you're in for a real treat.
At first glance, your suite comes with a bed, but also a separate armchair. That's handy for dining and working, with a tray table opening up from nearby. But if you're travelling with a companion, things get even more interesting.
That's because you can lower the dividing wall between the suites in rows one and two – giving you much more space to stretch out. When it's time to doze and that divider is down, the crew can combine each suite's bed to make a double.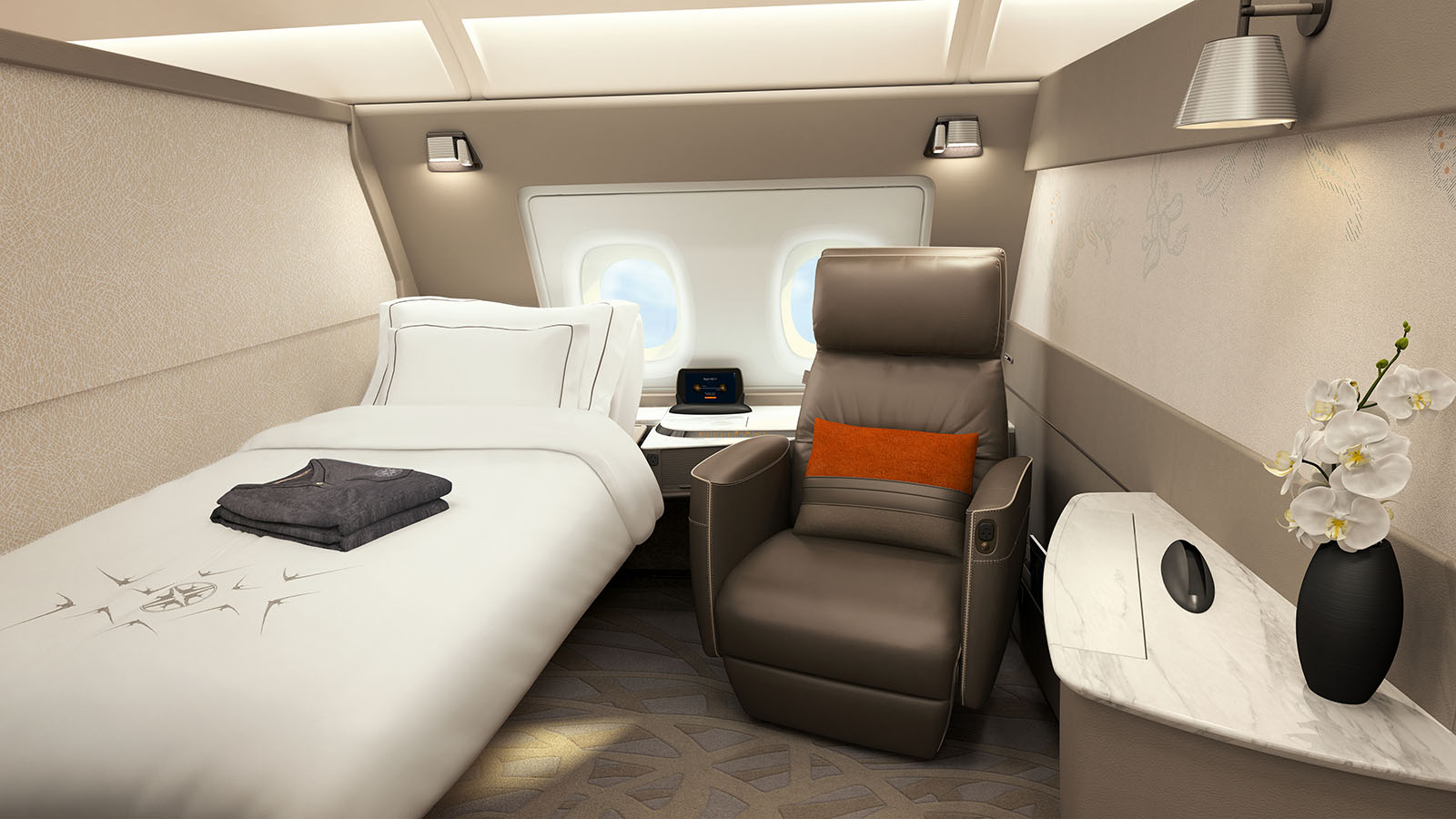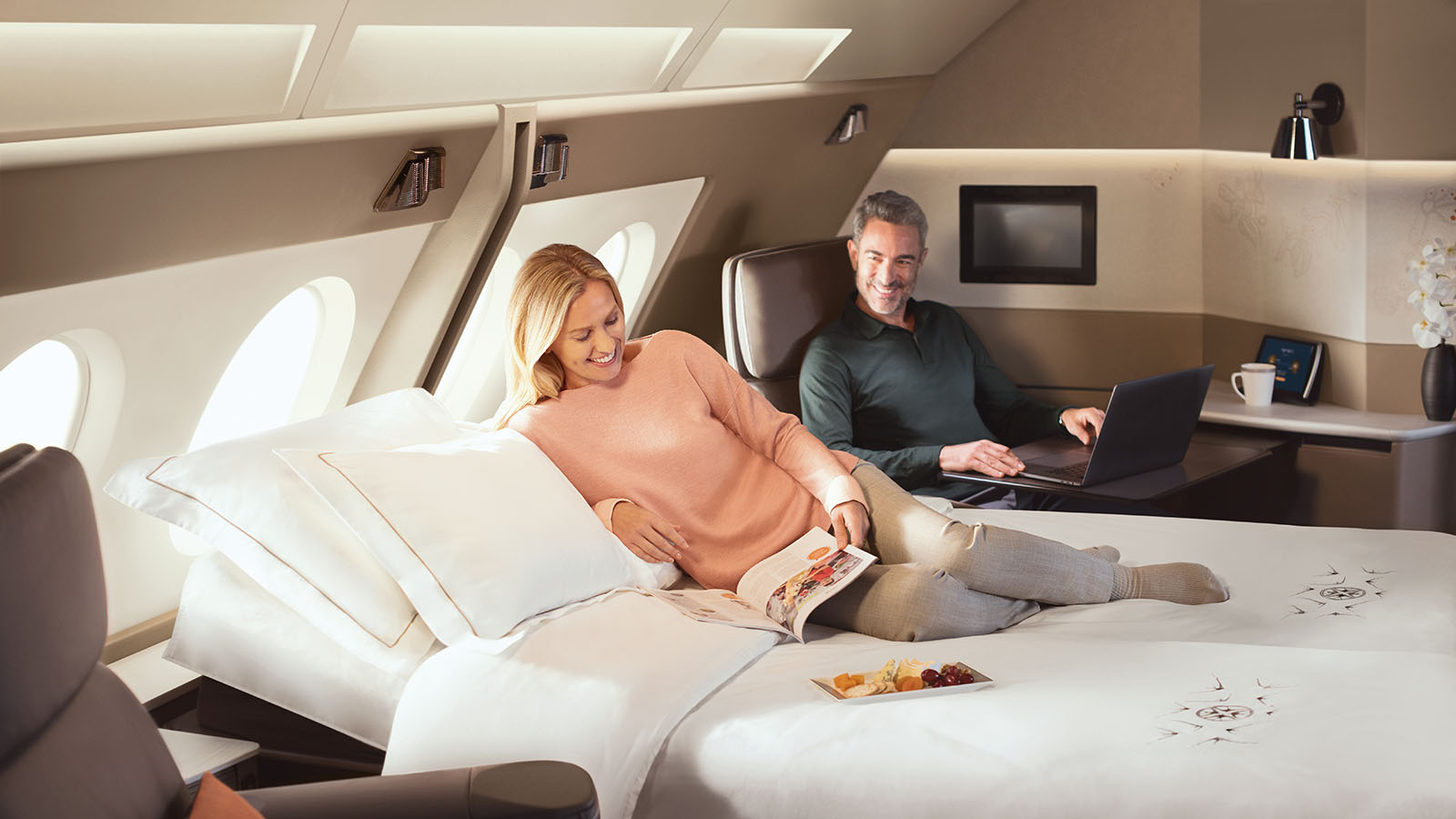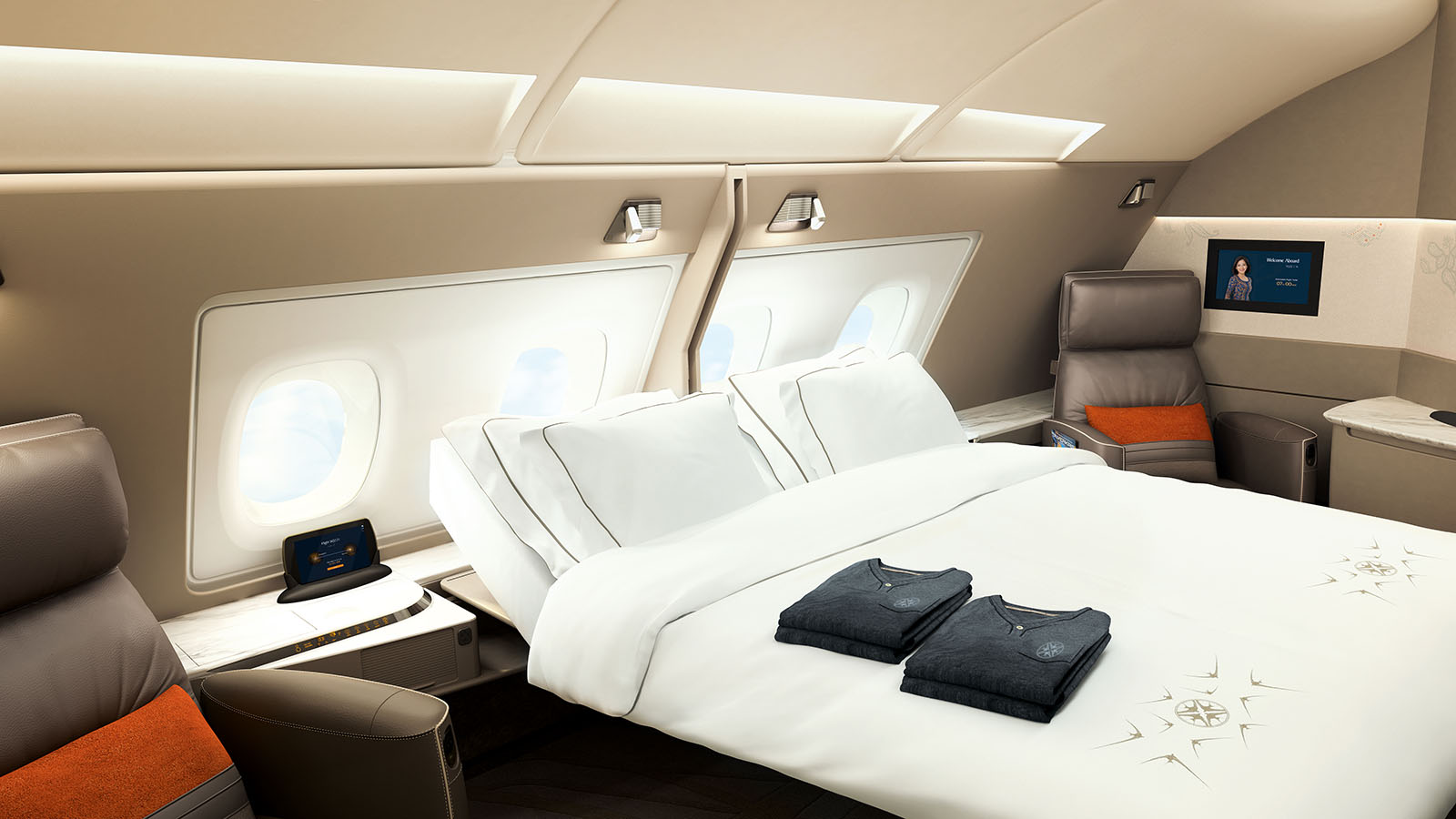 You'll find this particular cabin on many of the airline's flagship Airbus A380 routes. This includes selected flights between Singapore, Sydney and London, among other destinations.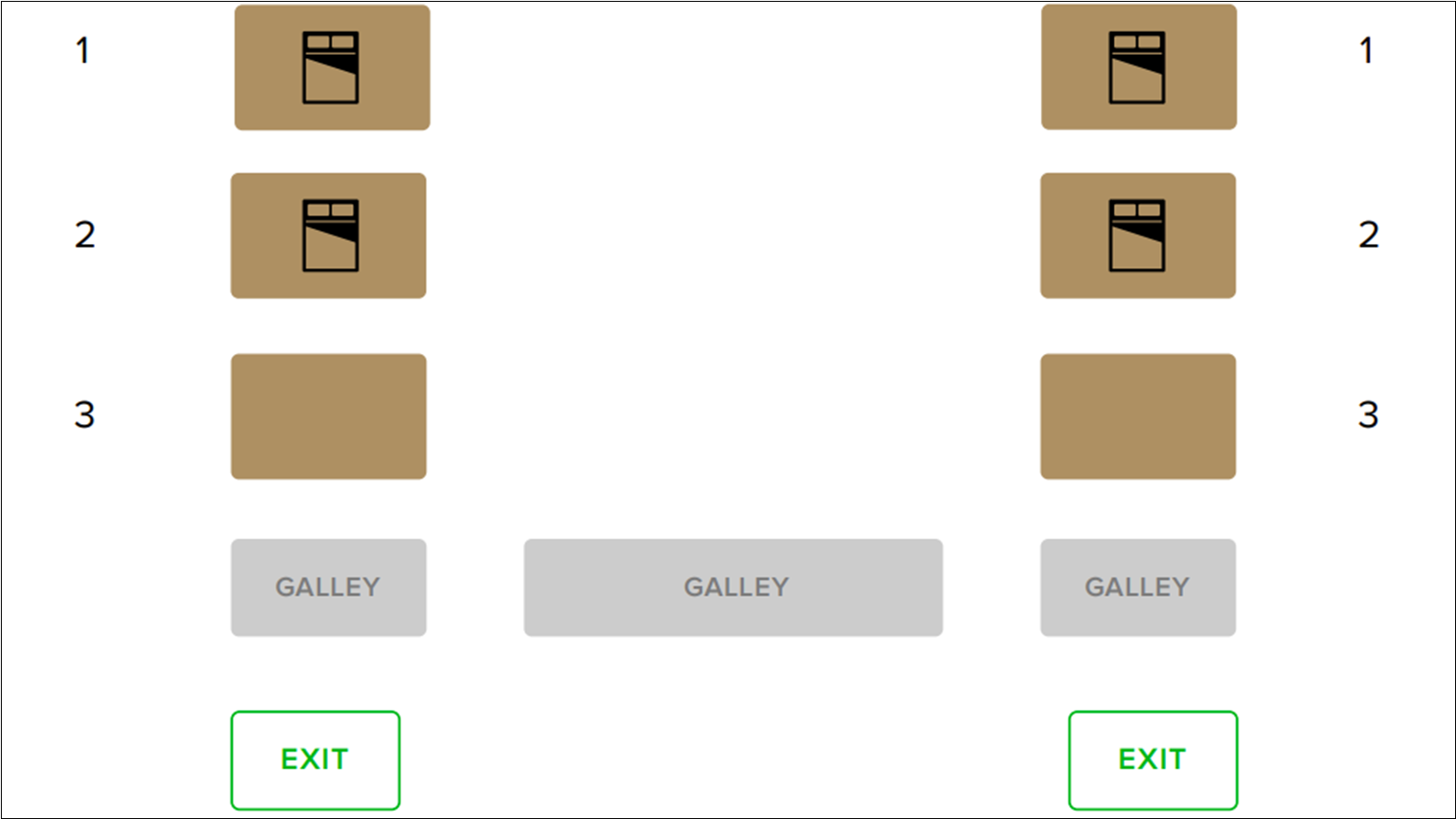 You'll know your flight has this Suites Class experience if there are only six Suites in the cabin when selecting your seat.
Watch Toby's experience here:
Singapore Airlines' previous-generation Suites
If you're booked in Suites, there's a very good chance you'll fly on the new product described above. But for the sake of completeness, here's a look at Singapore Airlines' original Airbus A380 Suites.
Rather than the 1-1 layout of the new cabin, the original comes in a 1-2-1 configuration. This means the window-side seats remain solo suites. But the suites in the centre can open up and become a shared space (and a double bed) when two people are travelling together.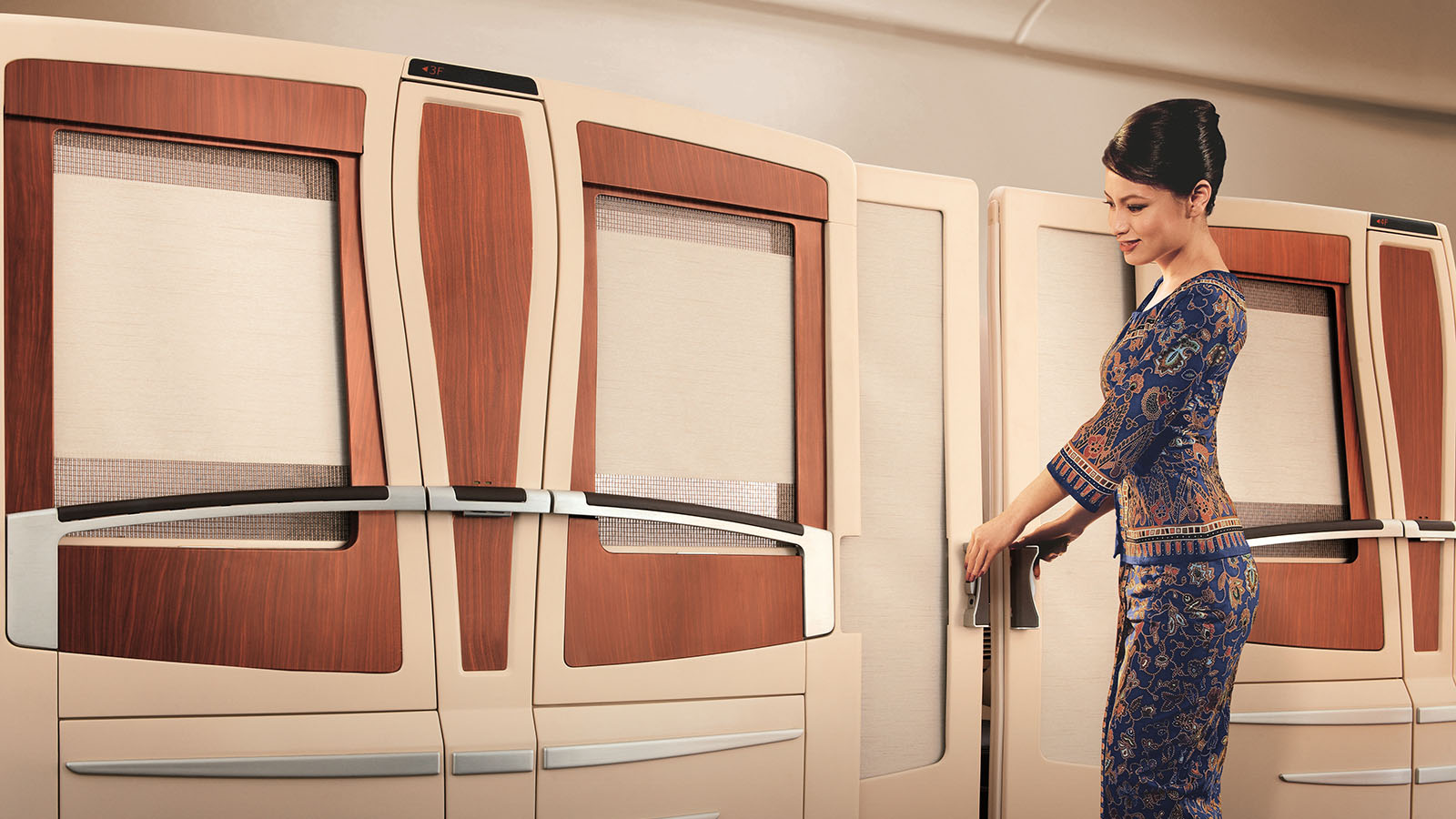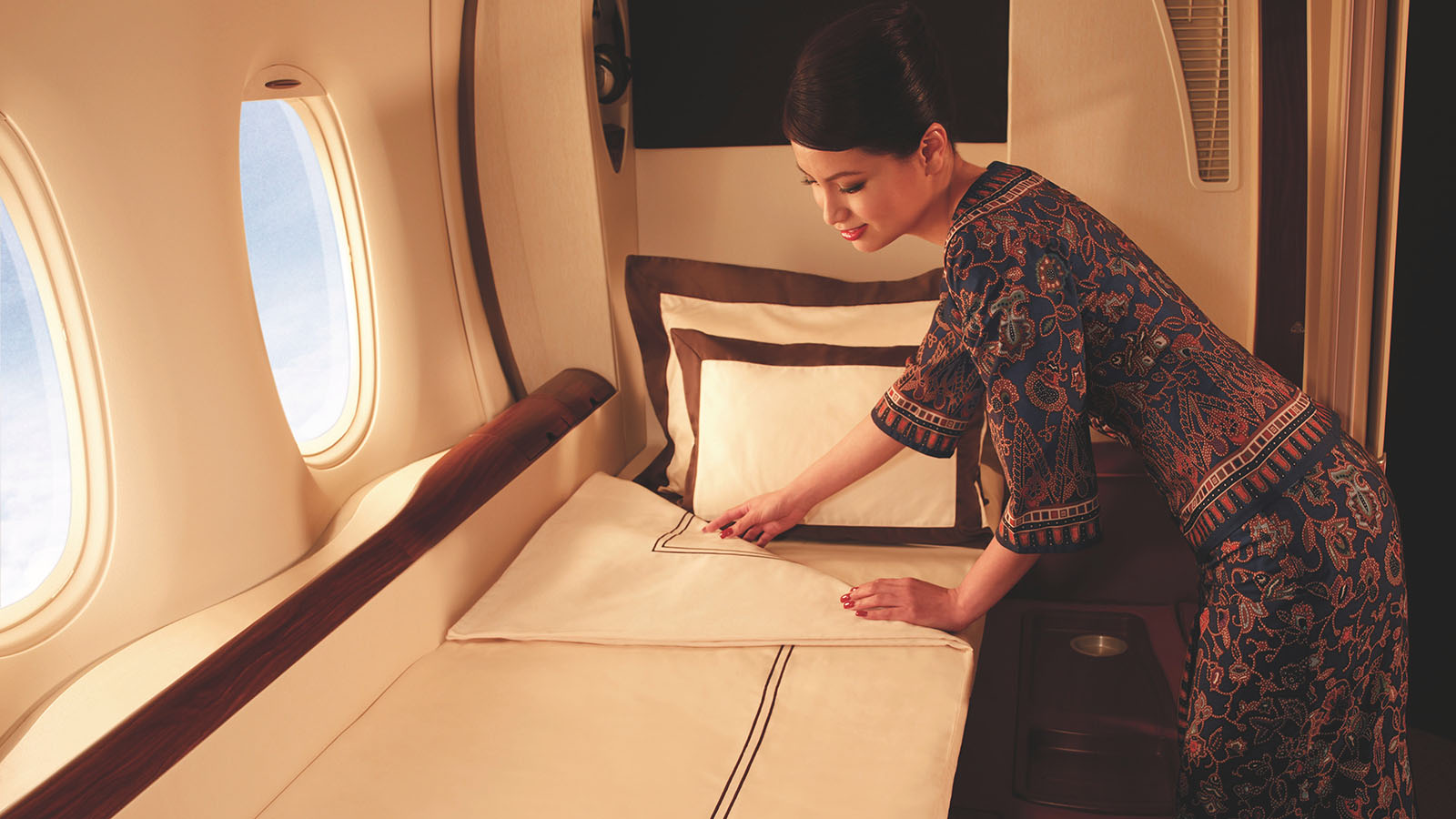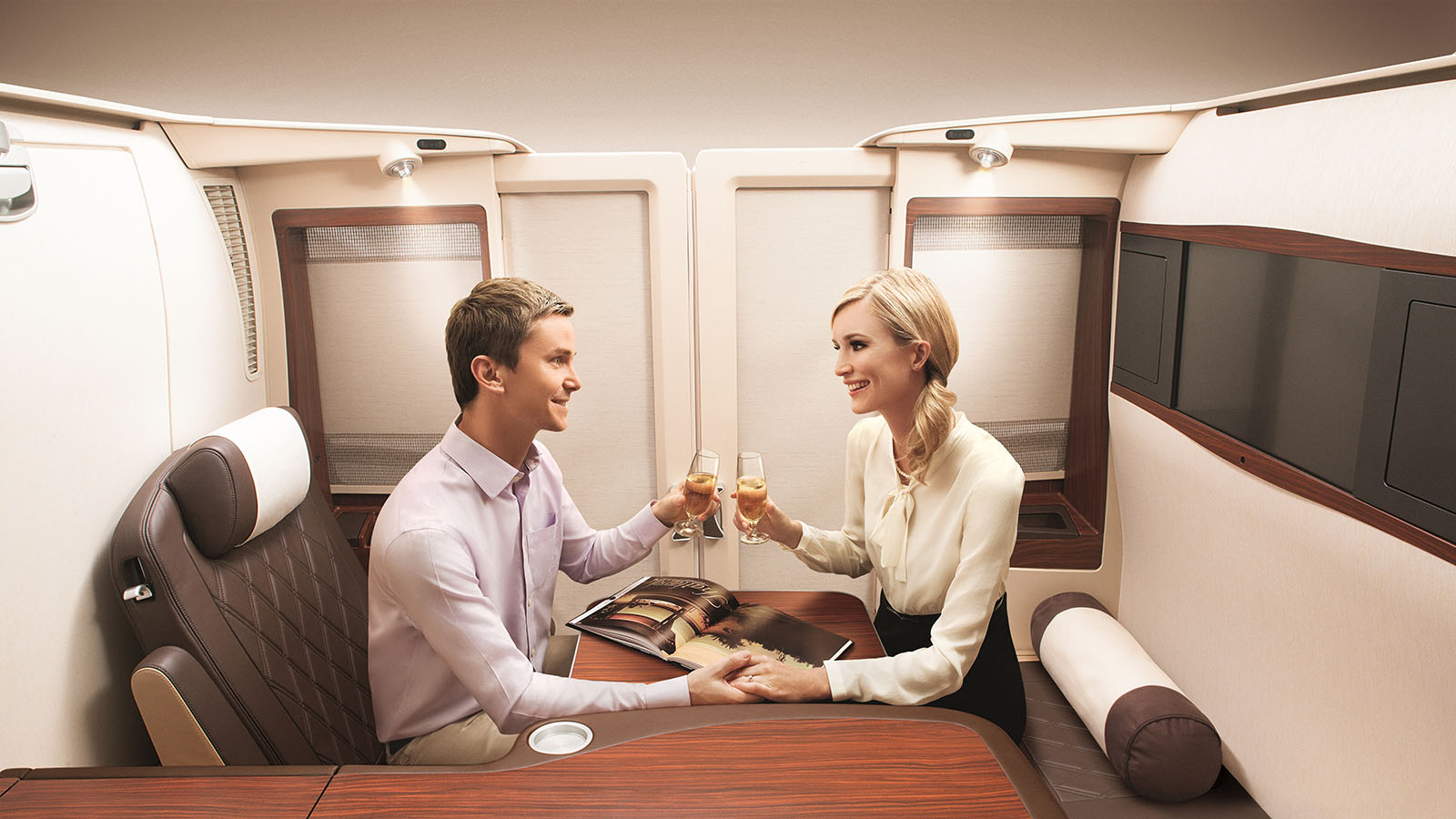 Most of Singapore Airlines' Airbus A380s now feature the new product. But there's still one superjumbo in the fleet with this older iteration of Suites. It's currently in long-term storage at Alice Springs Airport.
It remains to be seen whether that A380 will eventually return to service in its current format, or be refurbished first. If Singapore Airlines opts for the latter, this version of Suites will mark its retirement.
First Class on Singapore Airlines
Separate to Suites, Singapore Airlines also offers First Class. So what's the difference?
In short, booking Suites means you'll have a door – that is, a truly private suite. In First Class, the space is more open, and you can't combine any of the seats to make a double bed.
Suites is also found only on Singapore Airlines' Airbus A380s. First Class, on the other hand, appears only on the carrier's Boeing 777-300ERs. That makes it an either/or proposition – you'll never find both on the same flight.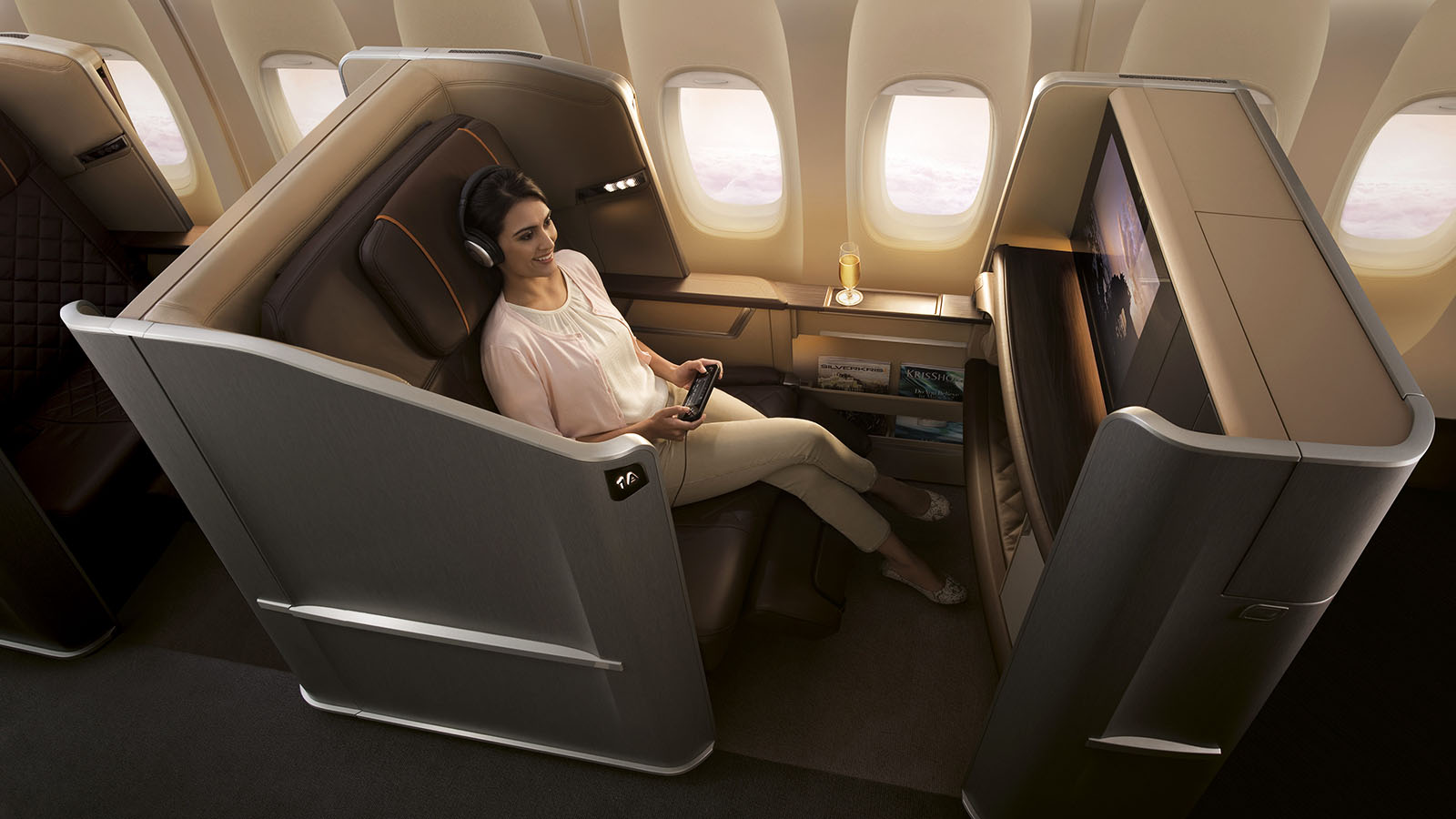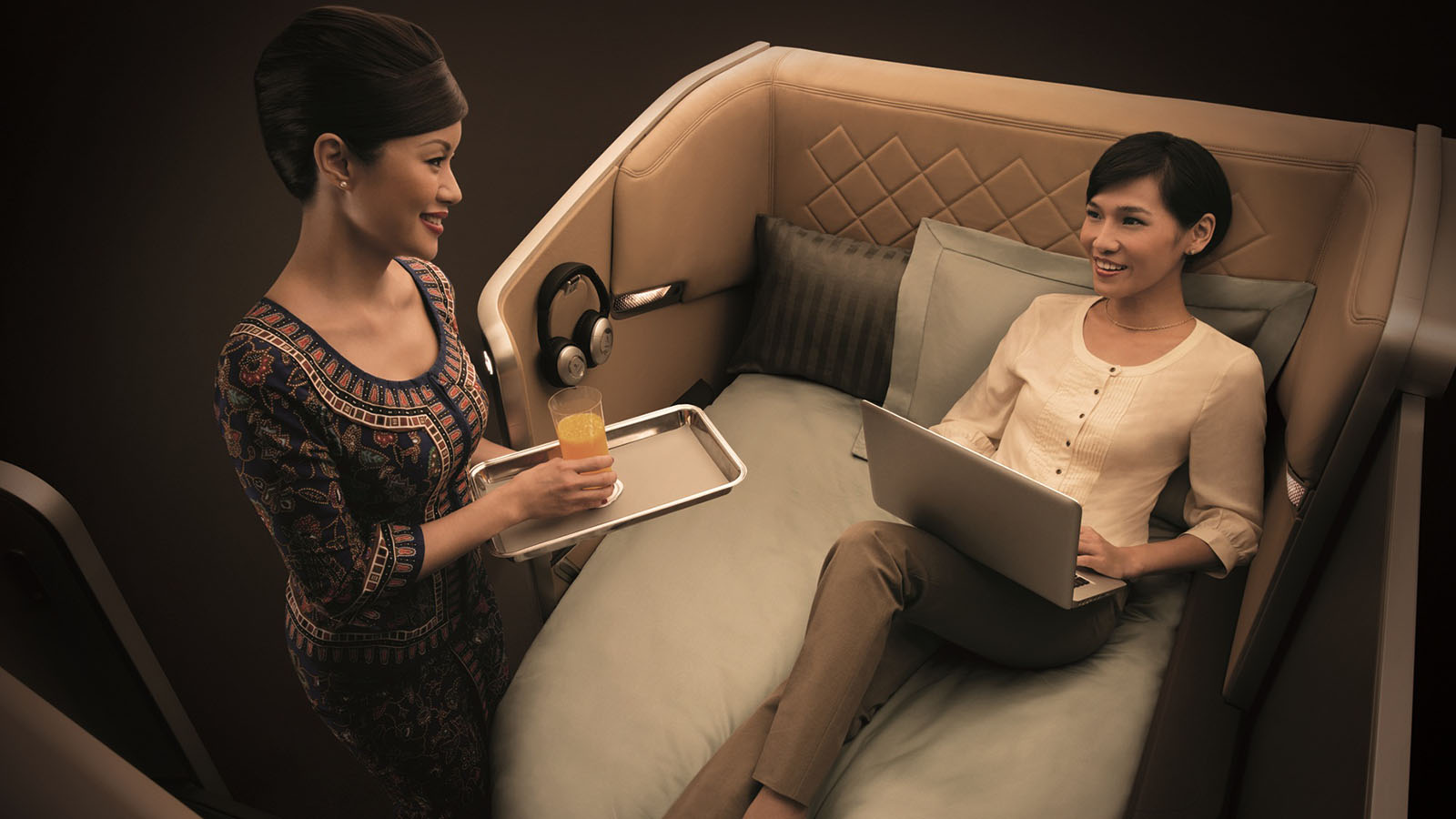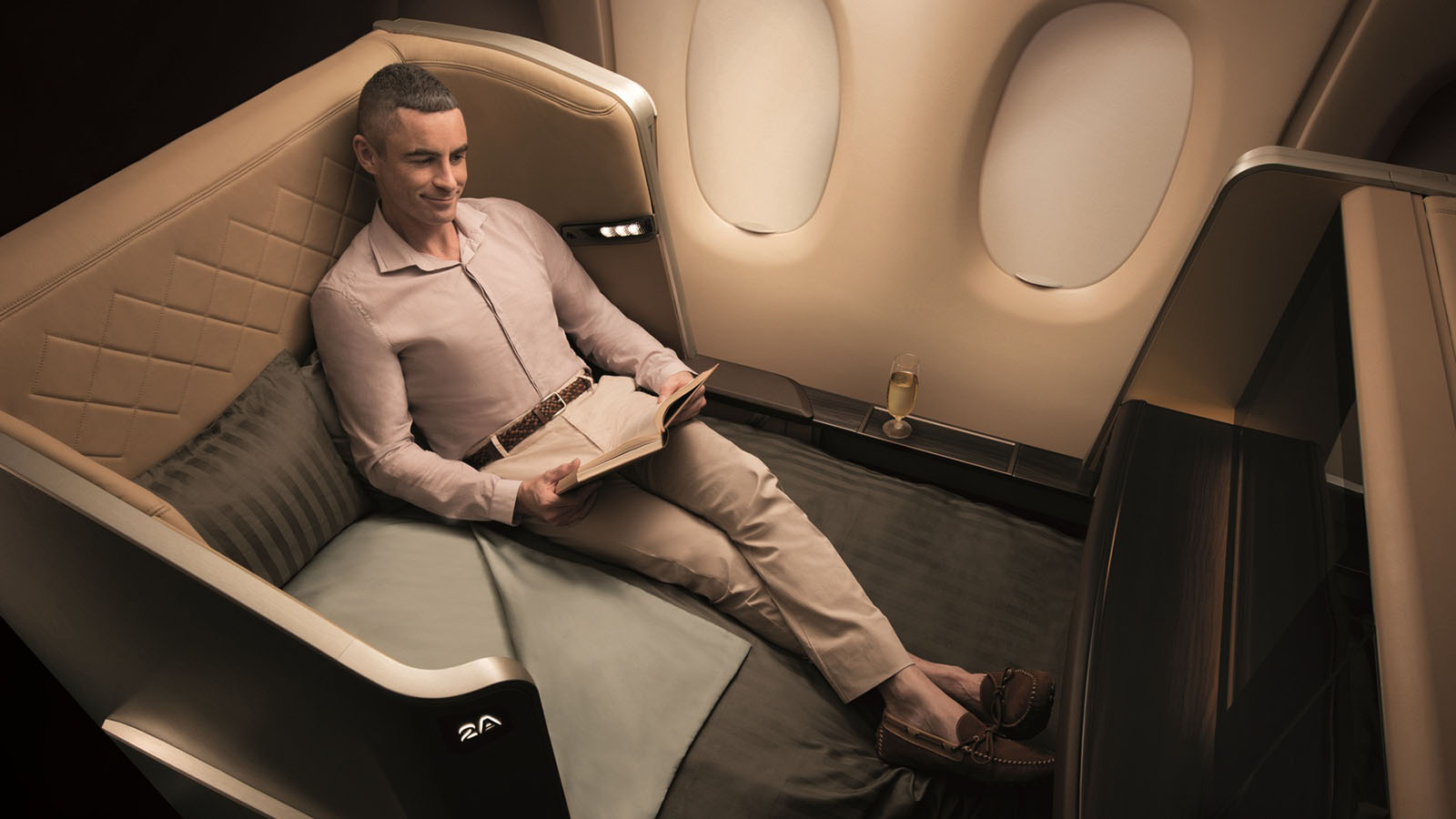 Whether you book Suites or First Class, the service experience is the same. You'll have access to the same lounges, earn (or spend) the same number of KrisFlyer miles, and dine upon the same inflight meals.
Why not try both, and see which you like best?
The latest Airbus A380 Business Class
And then comes Business Class. If you have the option, Singapore Airlines' Airbus A380s are the choice pick. On the same planes as the airline's latest Suites experience comes its best Business Class offering, too.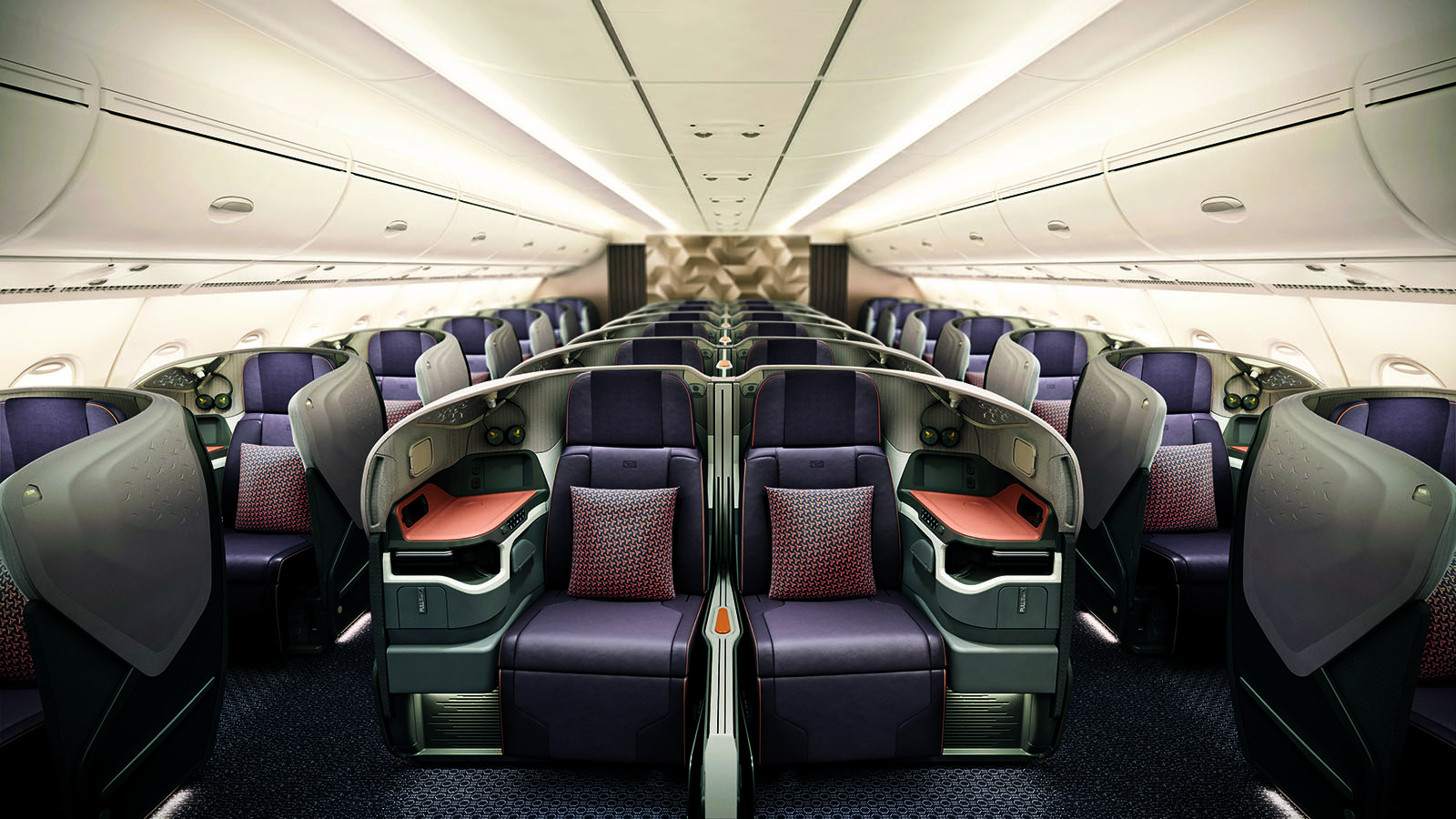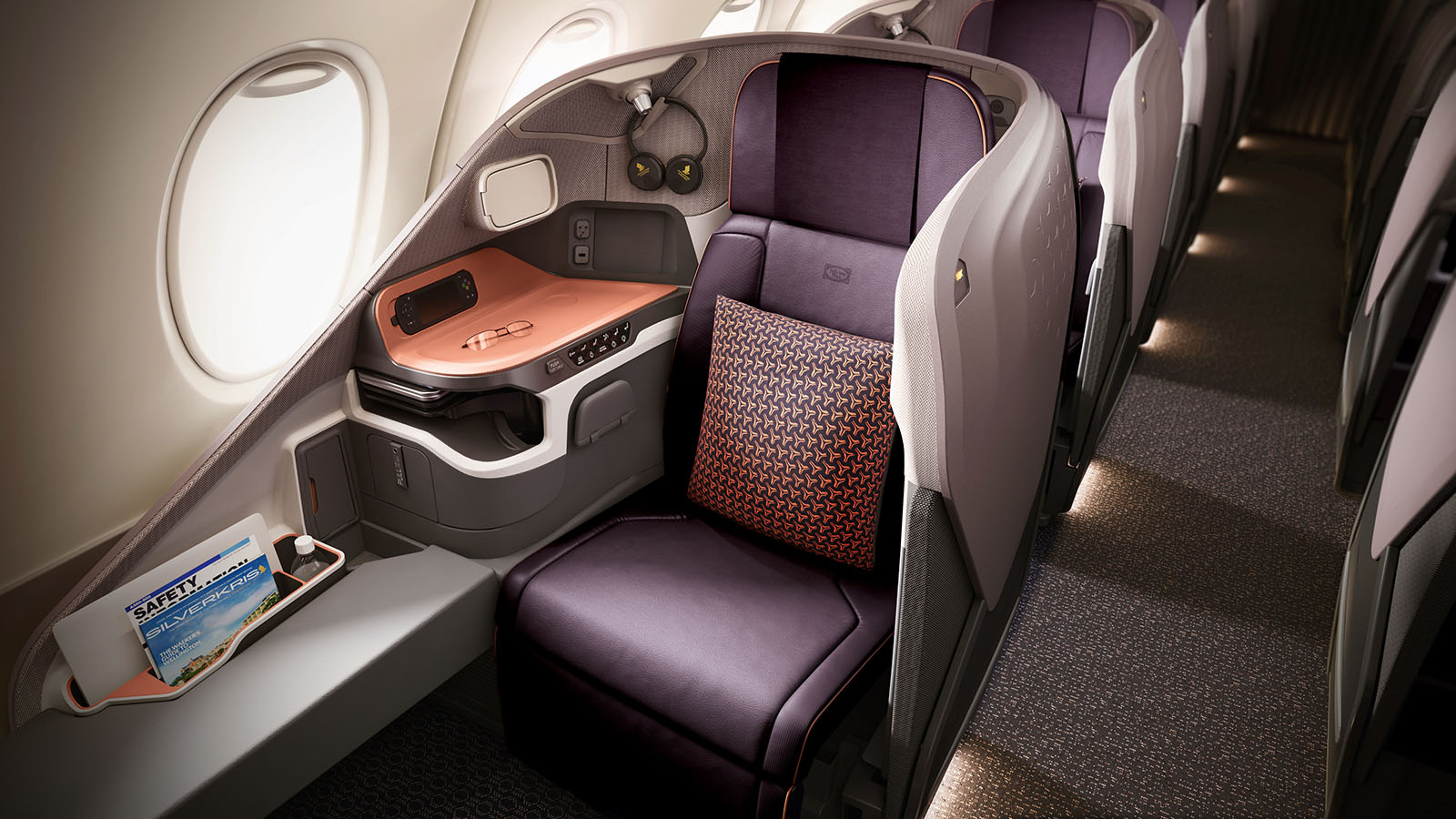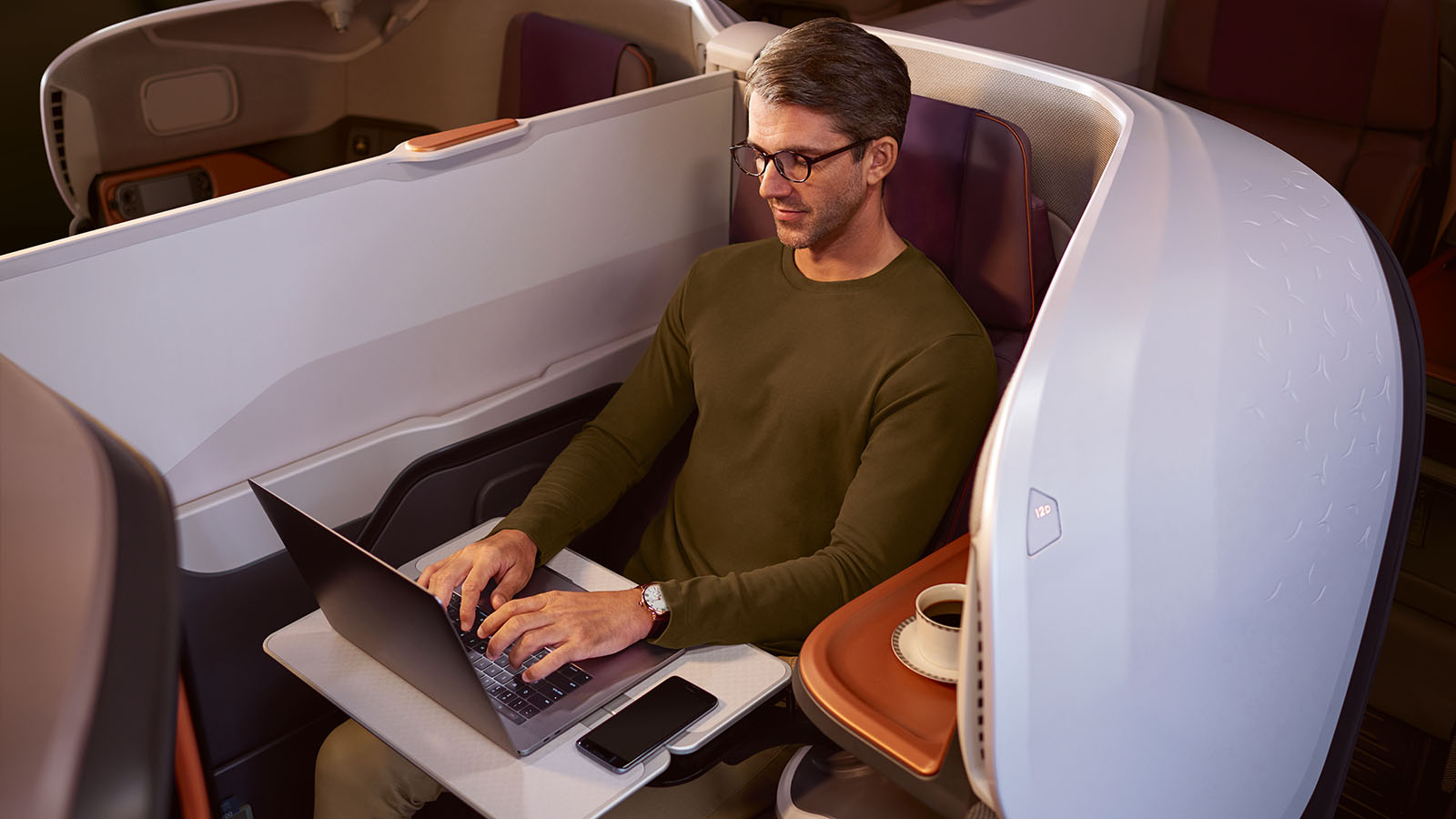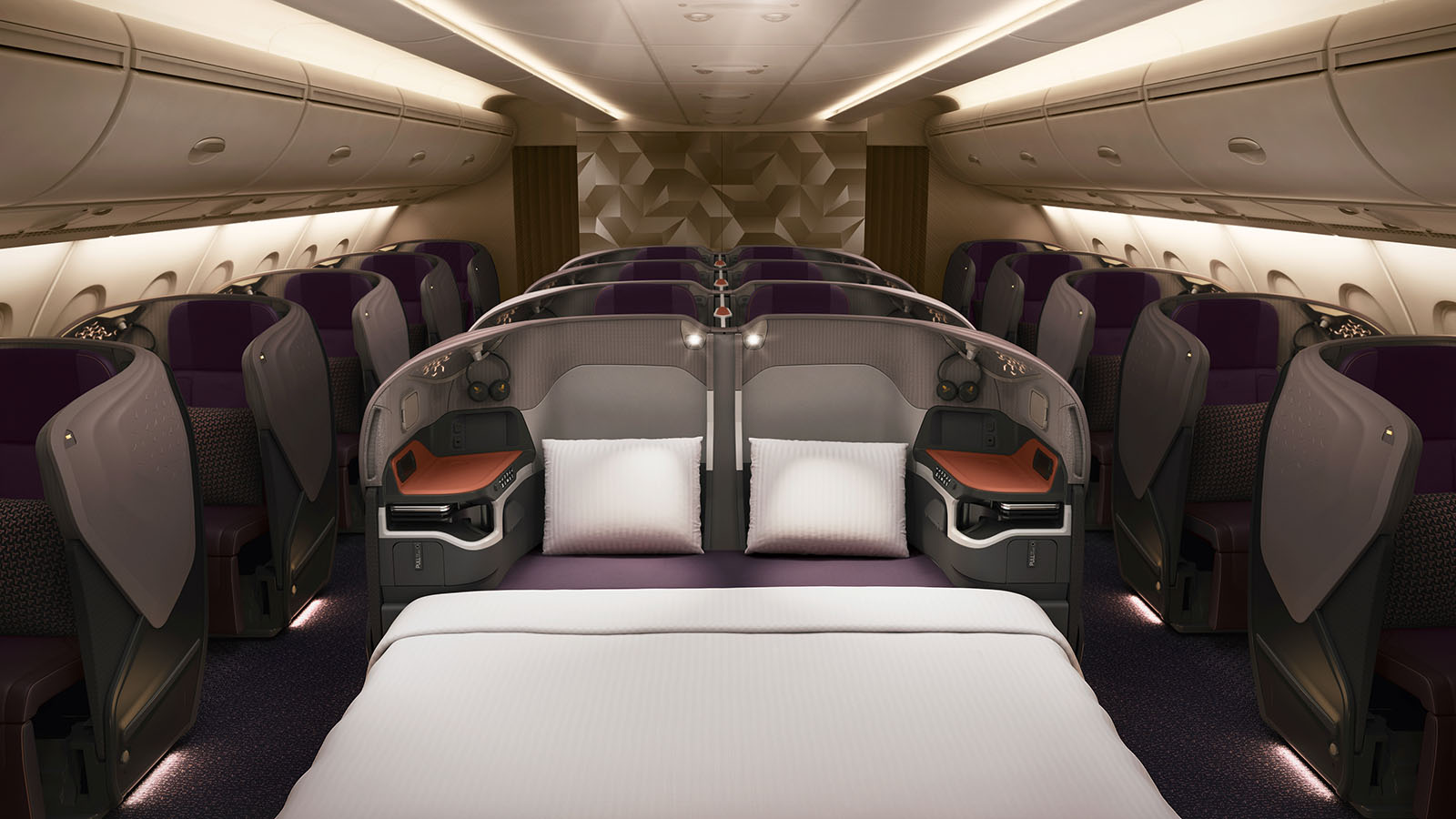 These modern cabins bring a fresh twist to the Singapore Airlines Business Class experience, with a funky and fresh design. There's a good degree of privacy for each passenger, with a shell wrapping around every seat. Oh, and did somebody say a double bed?
As with the updated Suites Class product, you're almost certain to find this Business Class experience if your flight is operated by the Airbus A380.
Ad – Scroll down to continue reading.Minimum spend, terms & conditions apply.
Singapore Airlines' 'long-haul' Airbus A350 and Boeing 777 Business Class
Next down the ranks, the separate cabin referred to by Singapore Airlines as its 'long-haul' Business Class experience. Found on selected Airbus A350s and all Boeing 777-300ERs, it's no longer the flagship product, but still, a great way to travel.
Of course, there's direct aisle access at every seat. That seat also reclines for comfort or flips forward to reveal a true flatbed. Some even prefer to use that 'bed mode' for comfort during the day.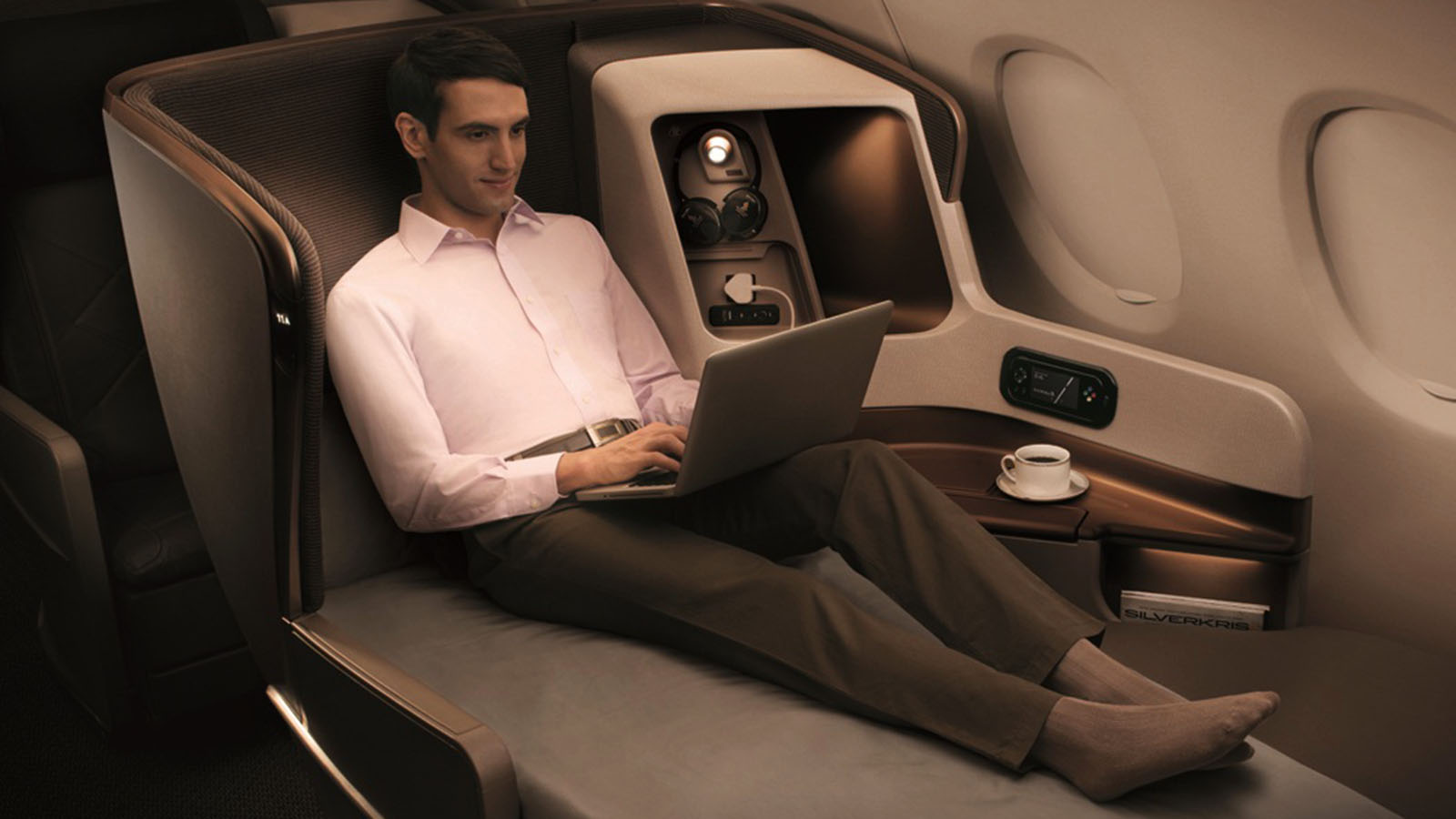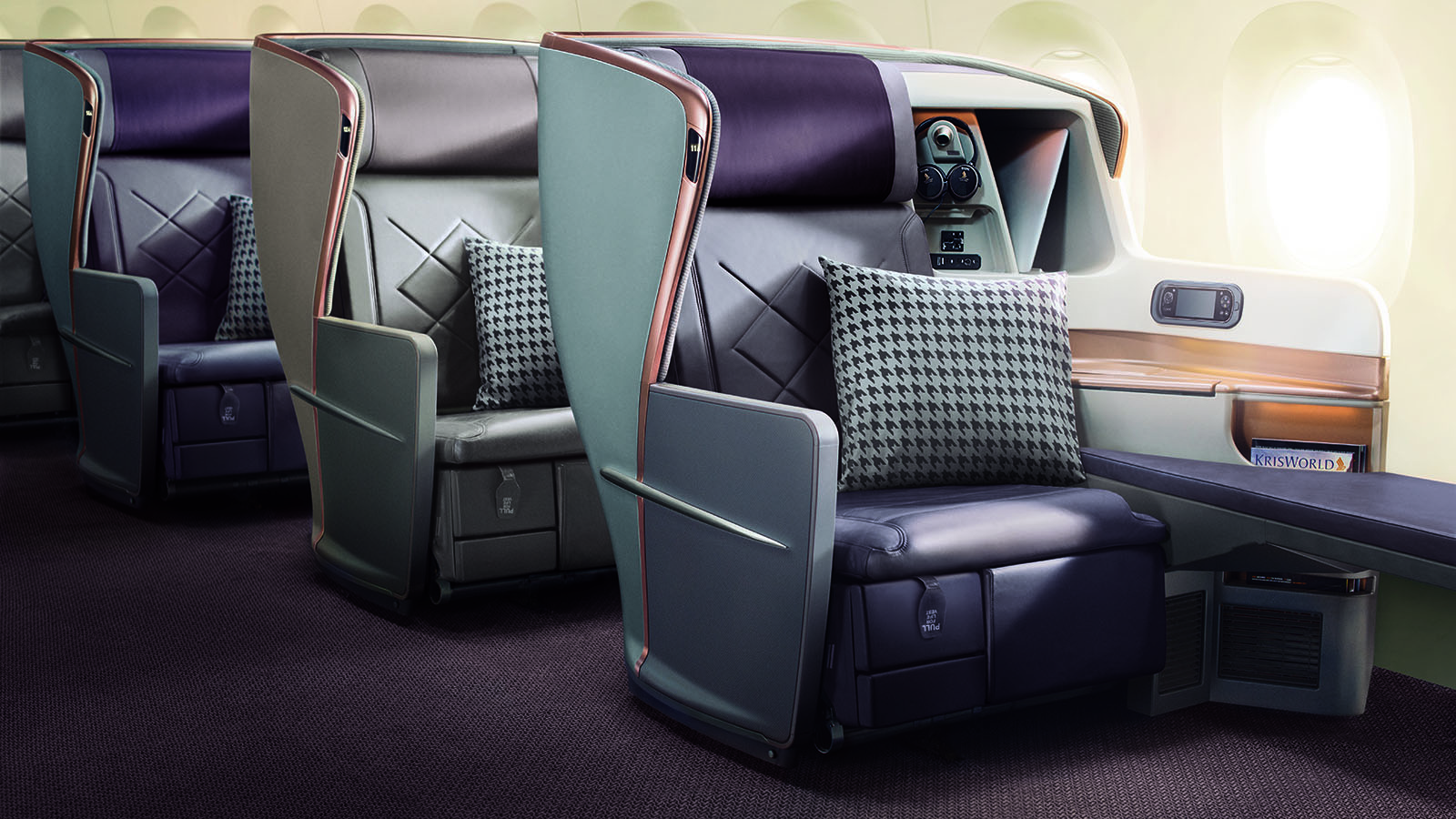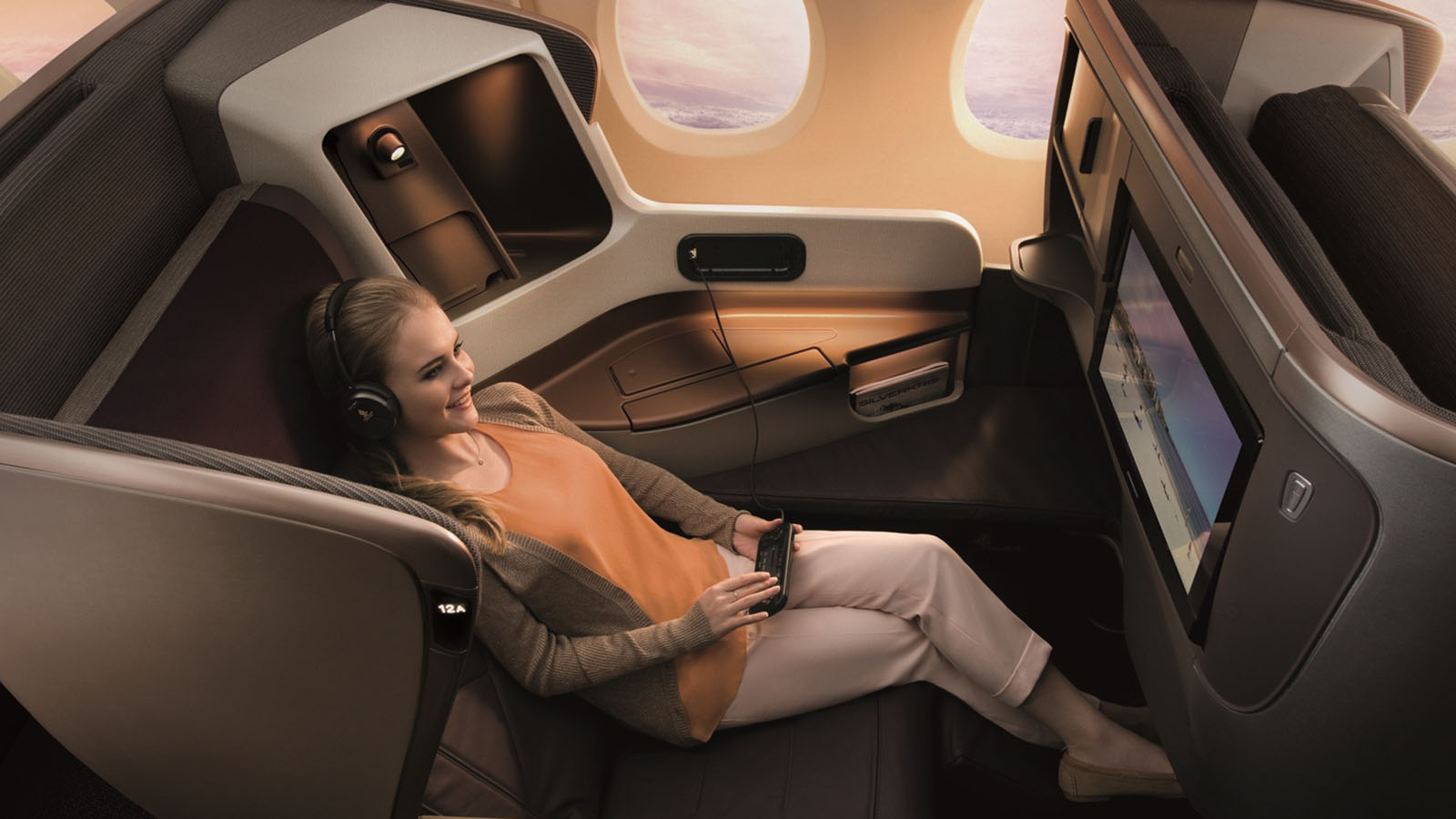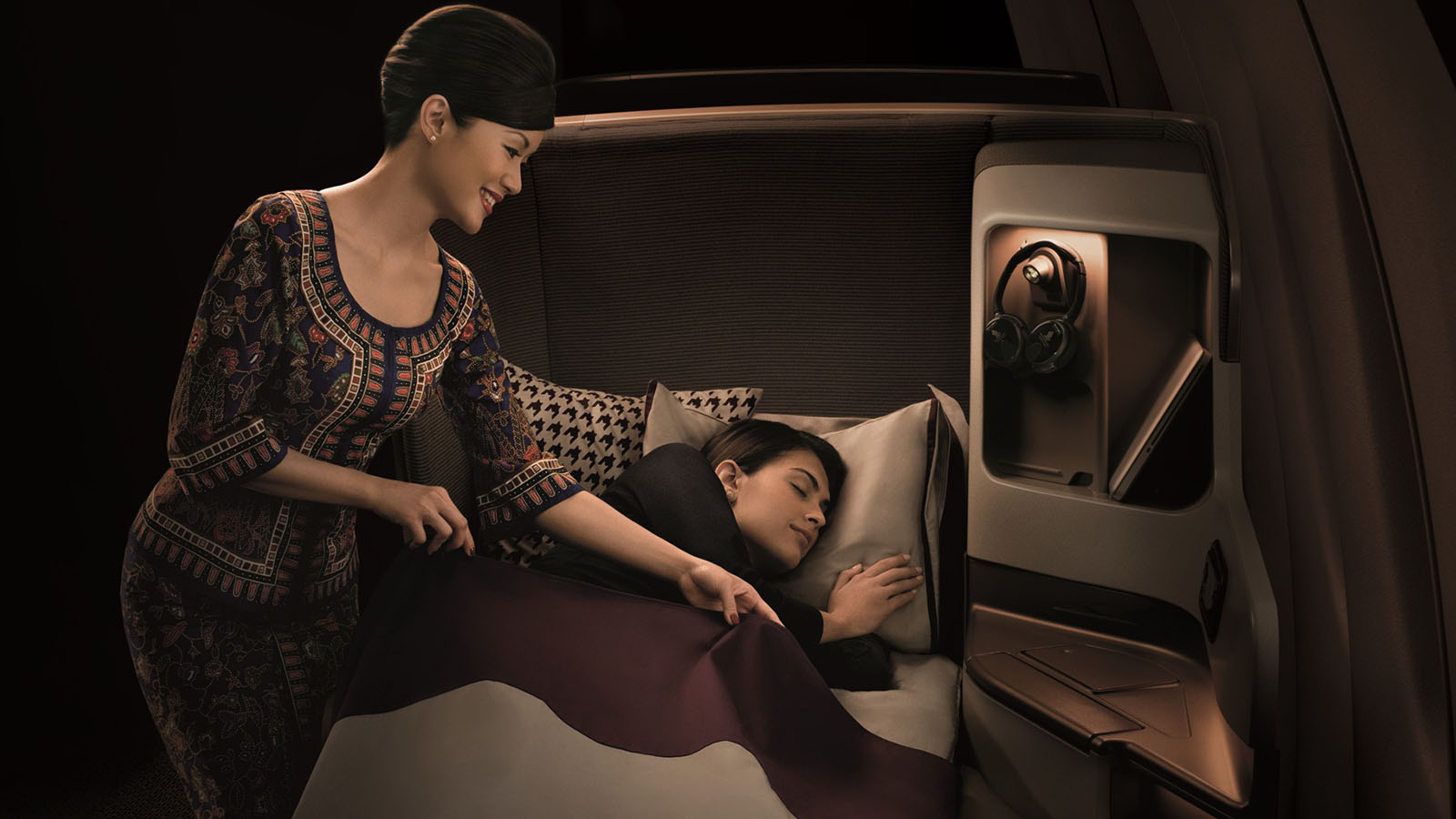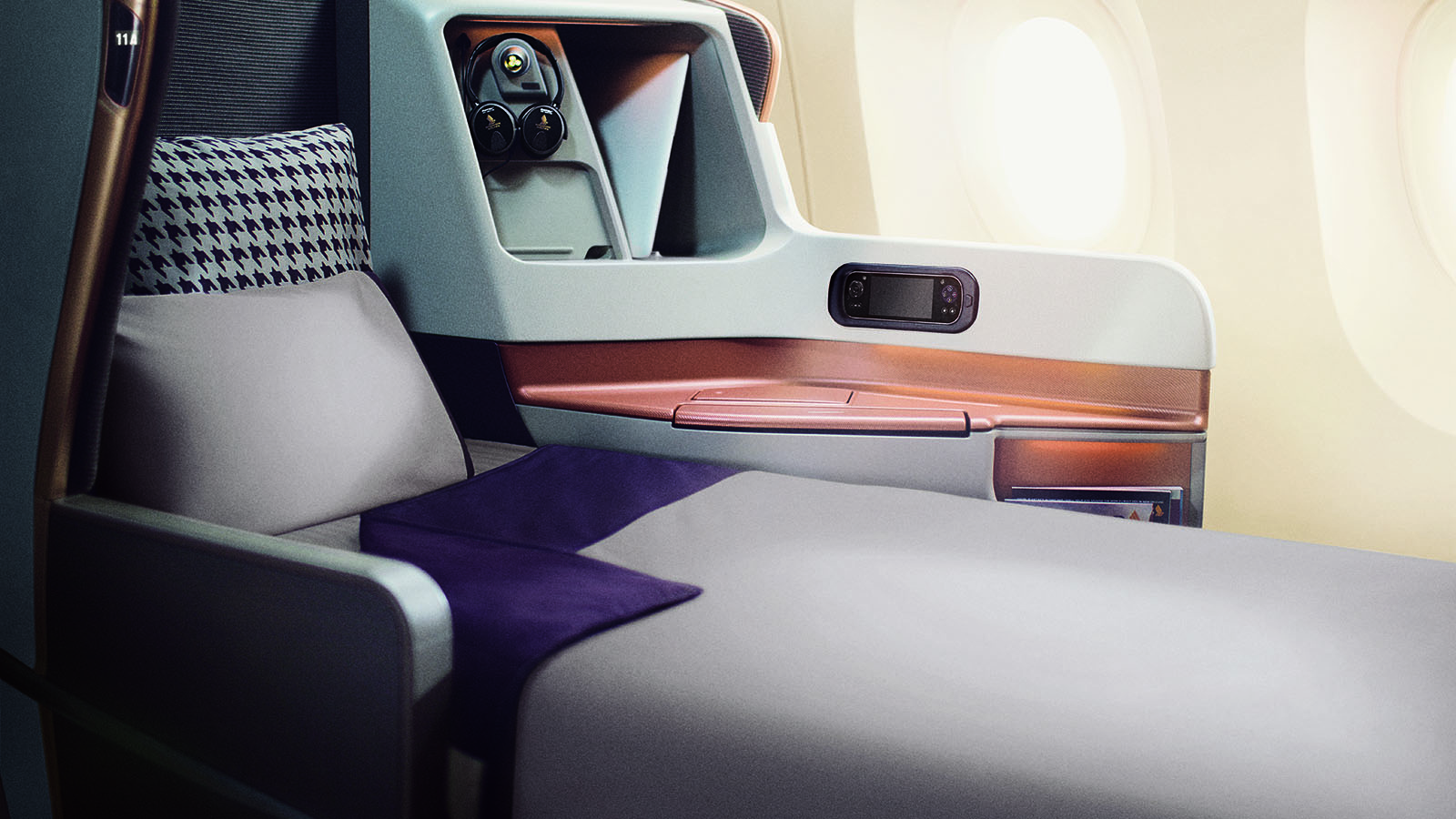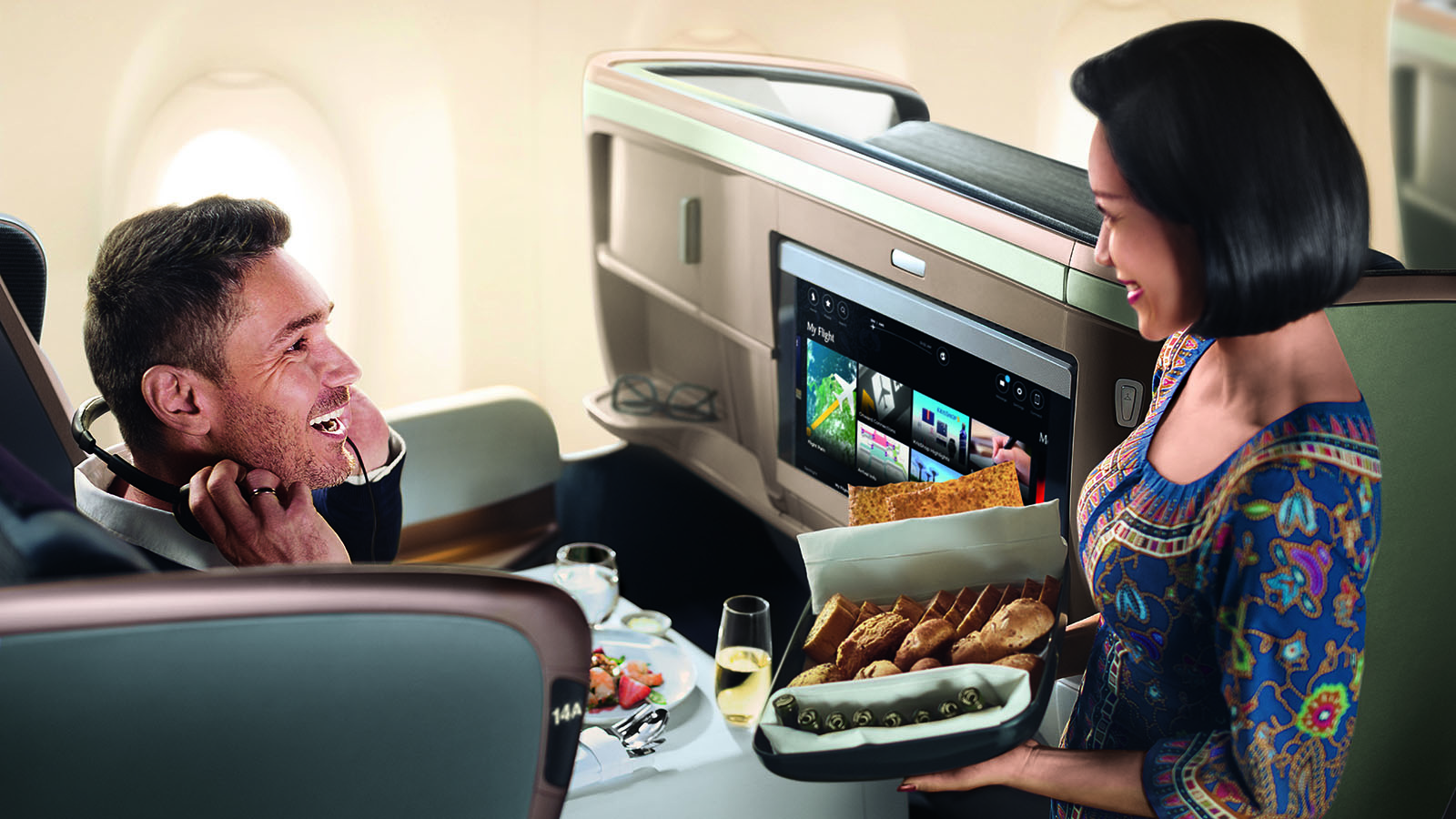 This Business Class product appears on the airline's 'ultra-long range' Airbus A350 flights between Singapore and New York. It also pops up on other selected Airbus A350 routes and flights. Here's how to find it:
If your Airbus A350 flight also has Premium Economy Class, you'll have this Business Class cabin.

Can't tell whether there's Premium Economy Class? If there's a row 22 in Business Class on your Airbus A350 flight, you'll be flying in this cabin.

If you're on a Boeing 777-300ER, you'll also have this Business Class cabin.
Just take note that some Airbus A350 destinations get a mix of those planes, and not all flights to the same city may have this particular cabin. Journeys between Brisbane and Singapore, for instance, only have this cabin layout on selected departures. That's usually SQ246 from Brisbane and SQ245 from Singapore.
The original Airbus A380 Business Class
As with Singapore Airlines' original Airbus A380 Suites, we're including this Business Class cabin for completeness. The airline's original Airbus A380 Business Class seat remains on just one superjumbo – the jet currently parked in Alice Springs.
Even though the airline has been phasing these seats out, they're still perfectly comfortable. They're also super wide, so you can relax in the pose that suits you best.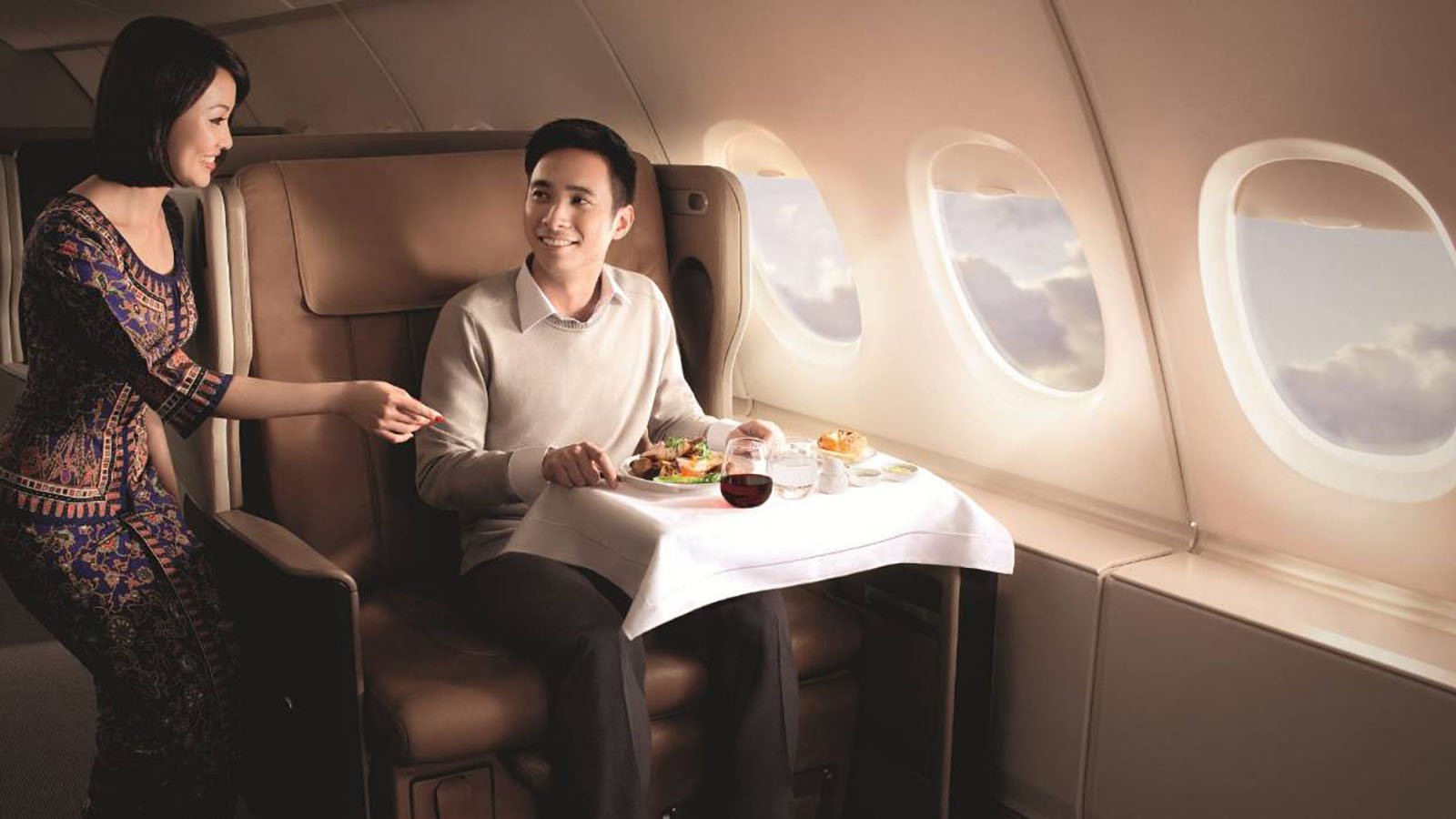 Fun fact: these seats have two headphone outlets. This allows you to cosy up with a companion and watch the same movie together if you don't mind sharing the seat. For take-off, landing and turbulence, of course, that companion will need to fly in their own Business Class seat.
In previous years, this seat also flew on Singapore Airlines' Boeing 777-200s and Boeing 777-300s. But now, those jets have been retired. The Boeing 777-300ERs that remain all feature the updated Business Class seat, as shown in the previous section.
Singapore Airlines' regional Business Class
Up next is Singapore Airlines' regional or 'medium haul' Business Class experience. Now, when we say 'regional', we don't mean a propeller plane in the outback. Singapore Airlines jets are far nicer – and even in this layout, still sport a 1-2-1 layout.
What makes these seats different to the others is their staggered layout. While Singapore Airlines' other Business Class cabins have the seats looking the same from one row to the next, these seats zig-zag. In one row, the seat will be closer to the window – while in the next, it'll be closer to the aisle.
With that in mind, these regional seats aren't quite as roomy as Singapore Airlines' other Business Class products. You're less likely to notice that during the day, but may find there isn't quite as much space when switching to 'bed mode'.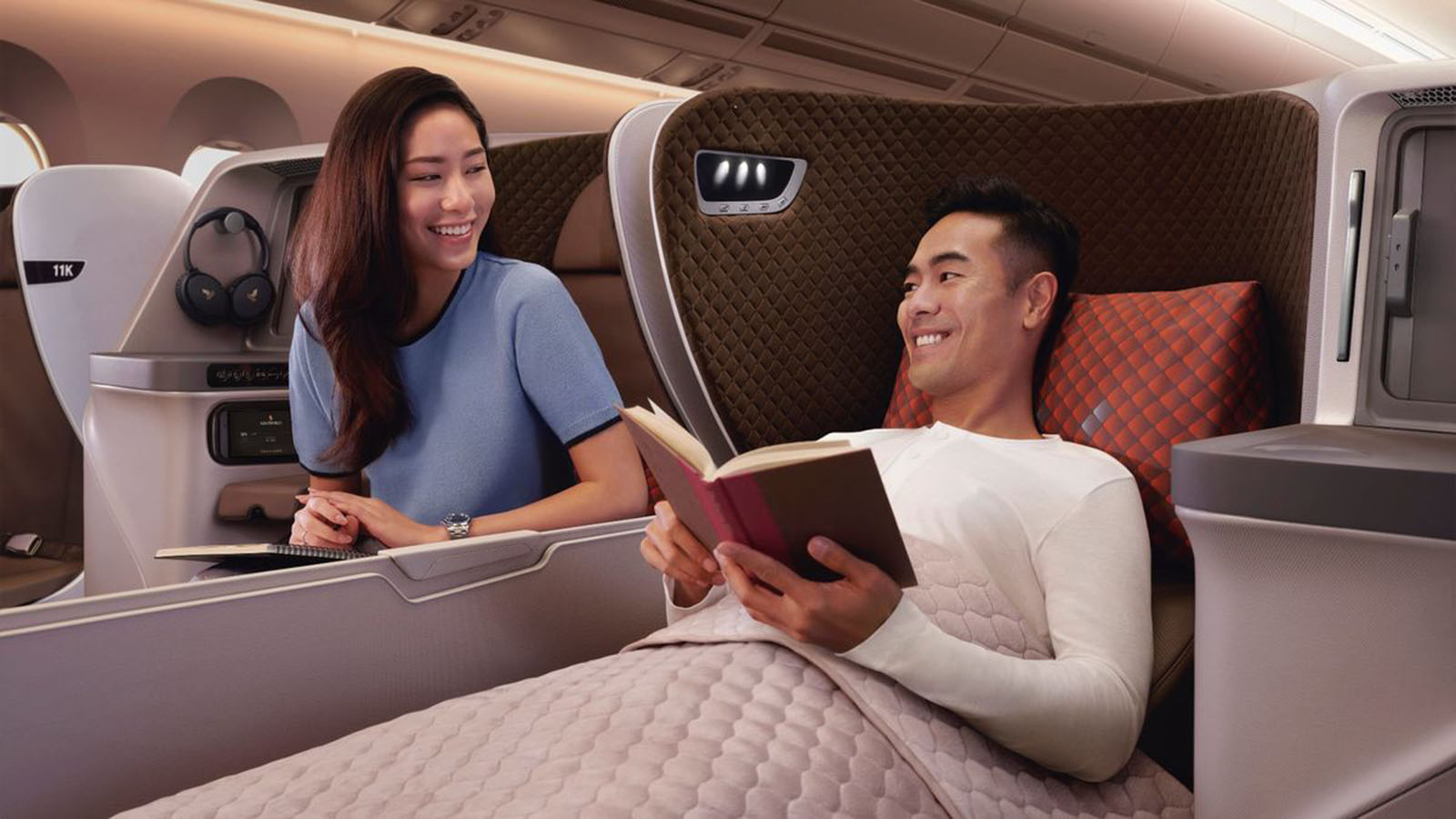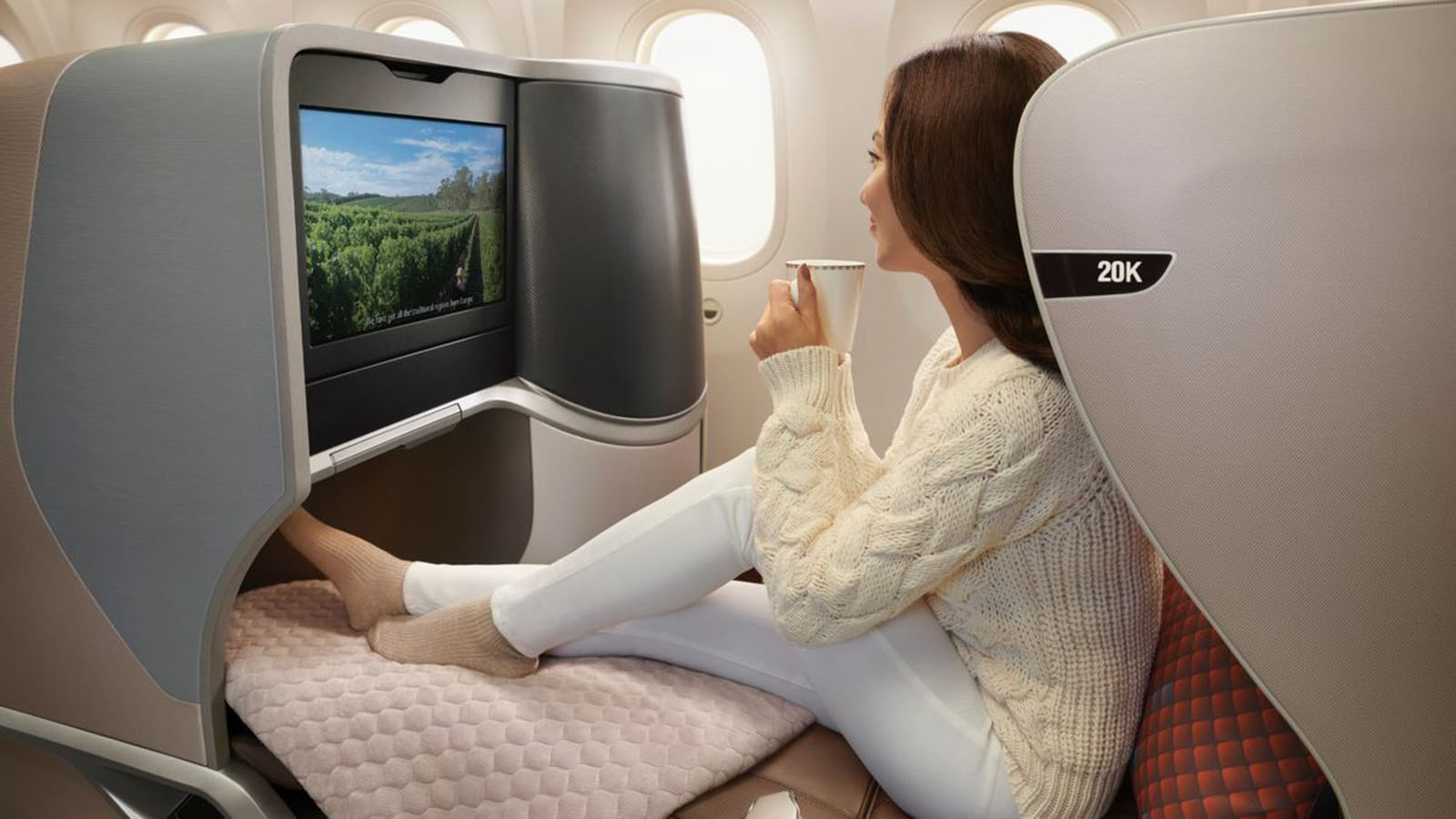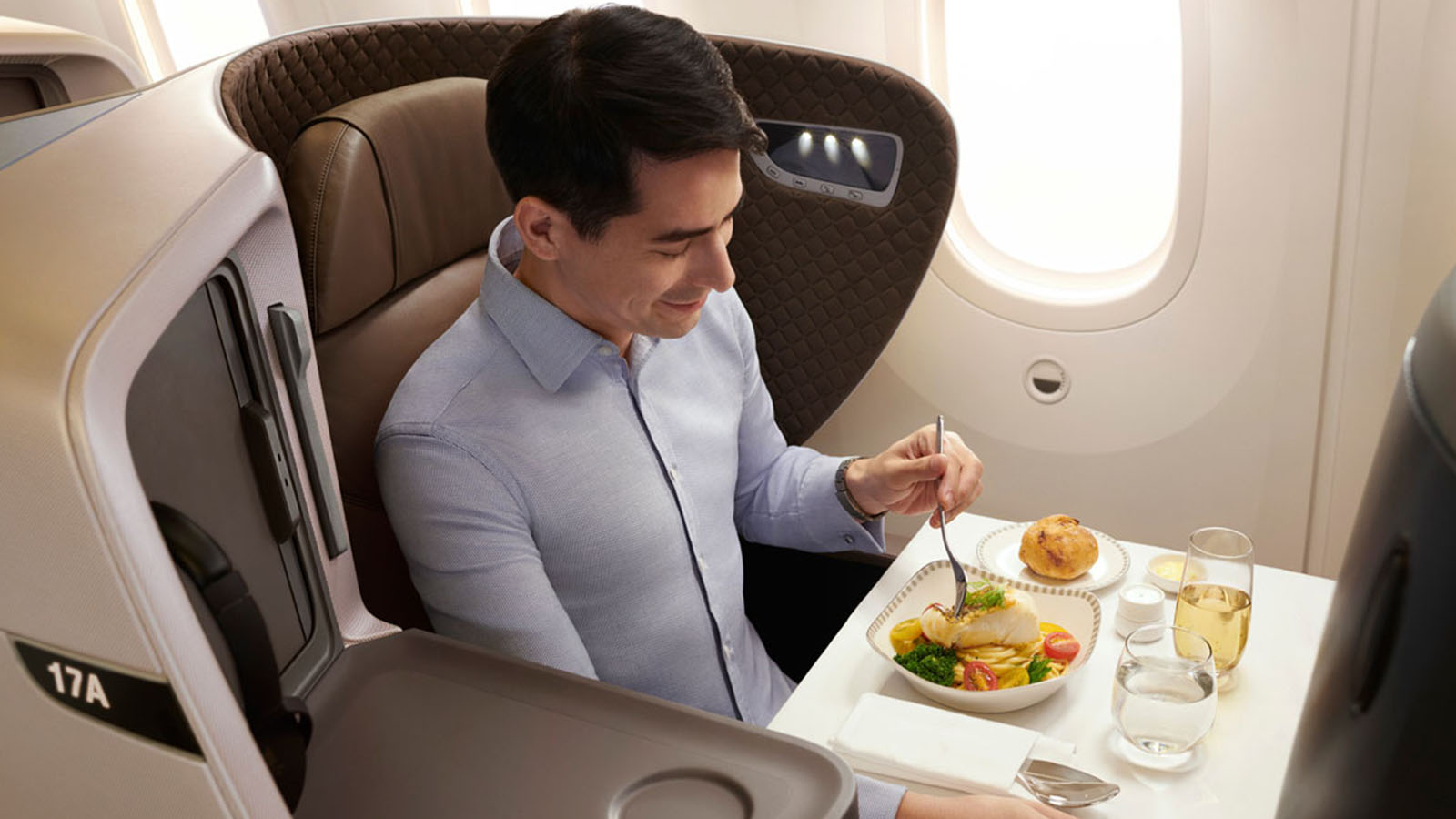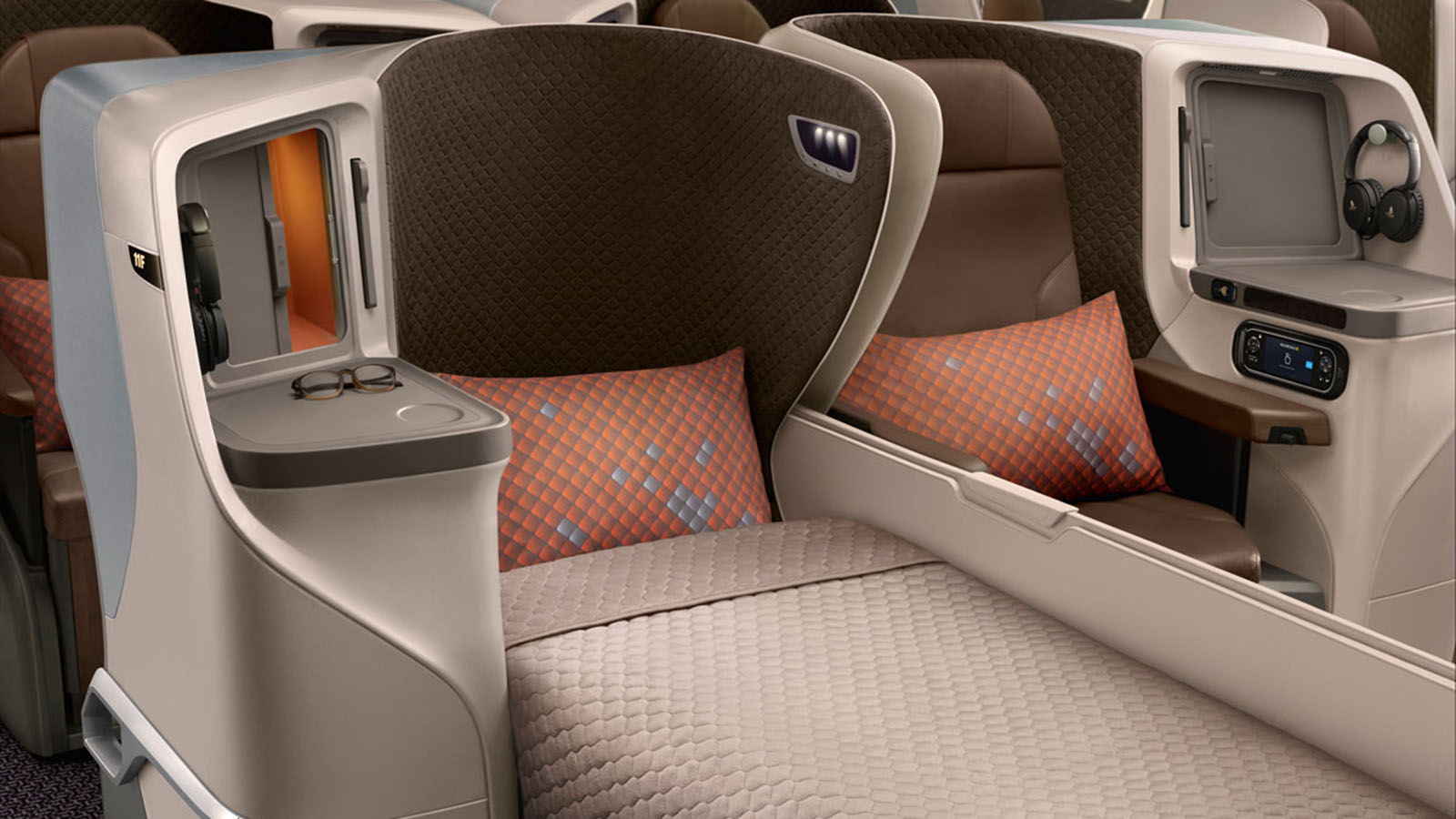 You'll know these seats are on your flight if:
You're travelling on a Singapore Airlines Boeing 787-10.
Your flight is on a Singapore Airlines Airbus A350, and Business Class ends at row 22.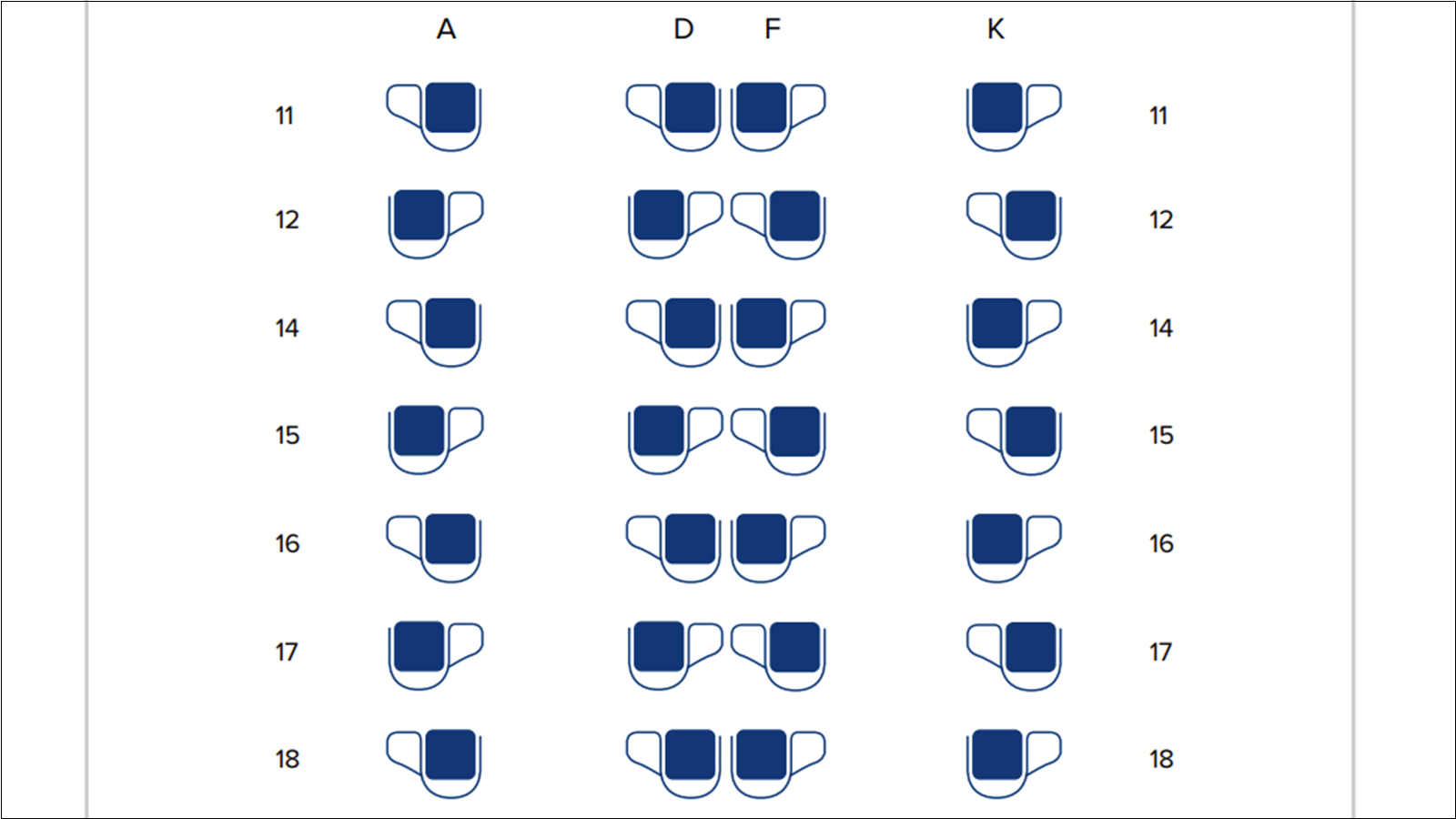 Having flown on this regional Business Class product as well as the wider alternative, I wouldn't go out of my way to avoid the medium haul cabin. But having said that, if the airline's wider seats were also available on a flight that still suited my plans, I'd be swayed to book that.
Flatbed Business Class on Singapore Airlines' Boeing 737-8s
Now we get to Singapore Airlines' single-aisle jets. Previously, these flights were under the SilkAir banner, but now carry the full Singapore Airlines flag.
If you can snag yourself a spot in Business Class on Singapore Airlines' Boeing 737-8, you'll be glad you did. These planes feature the carrier's brand new cabin experience, with a fully flat beds in every row. In fact, when flying solo, aim for the second row (listed as row 12), and you'll get maximum space and privacy with a seat all to yourself.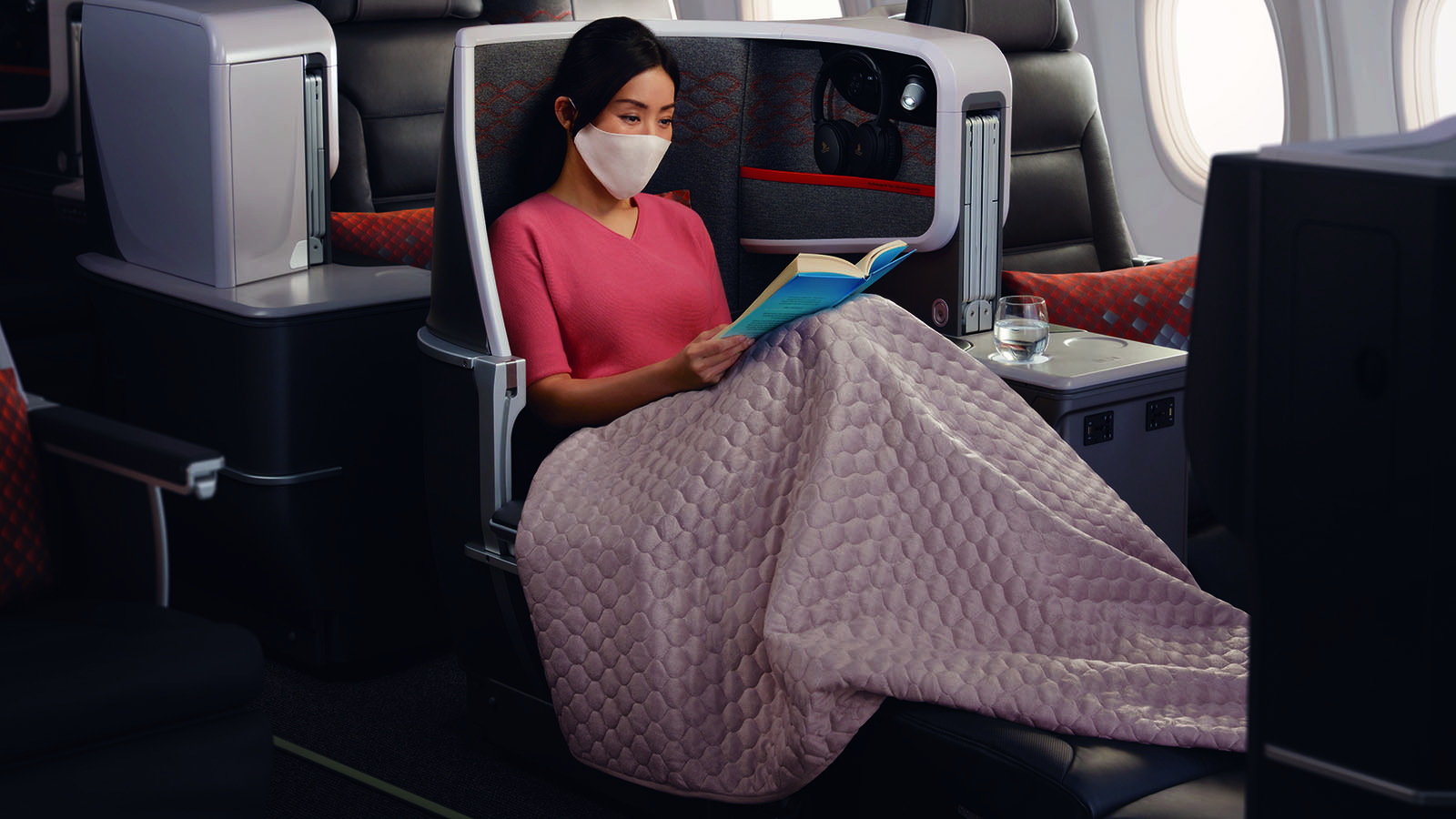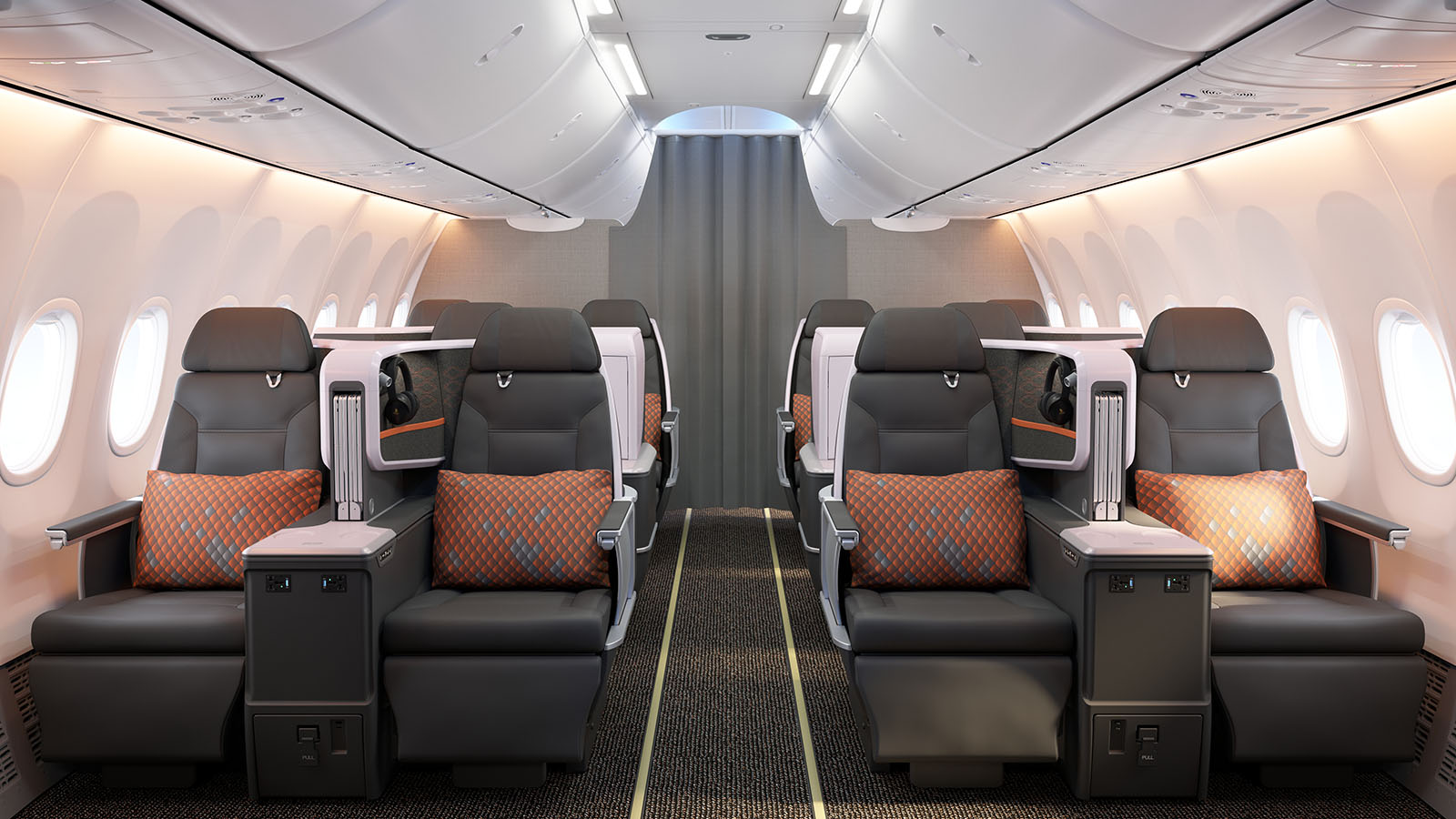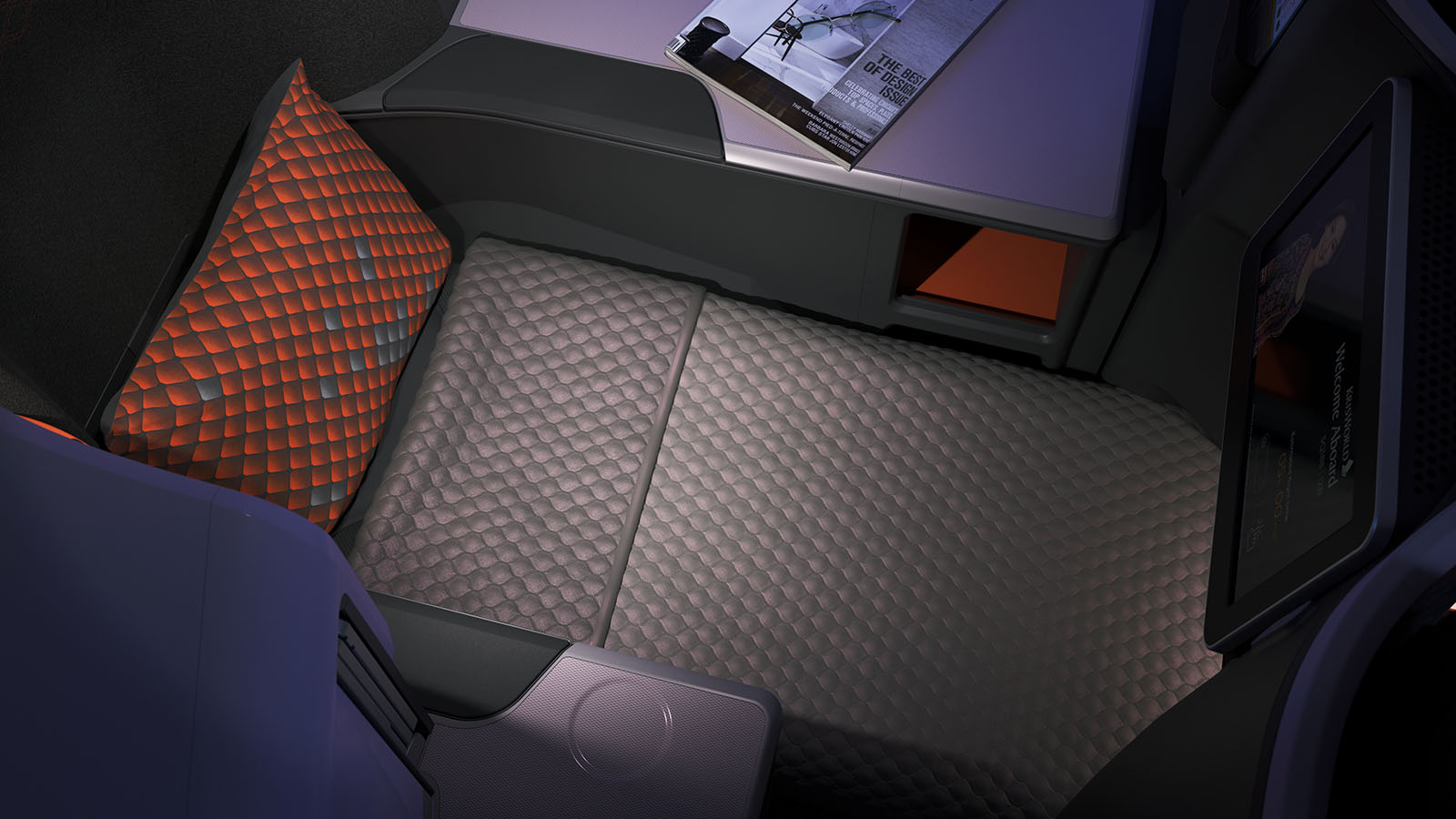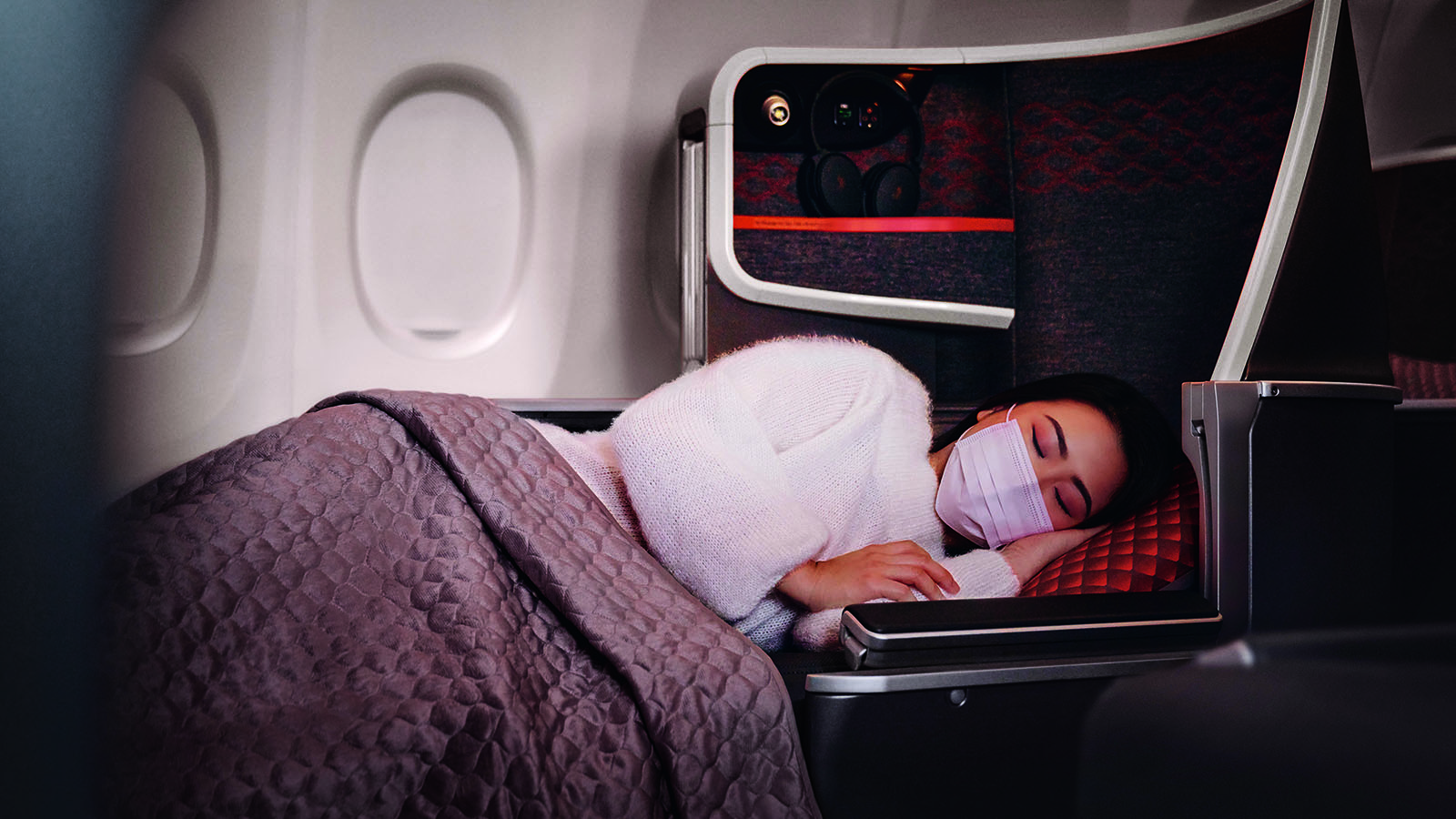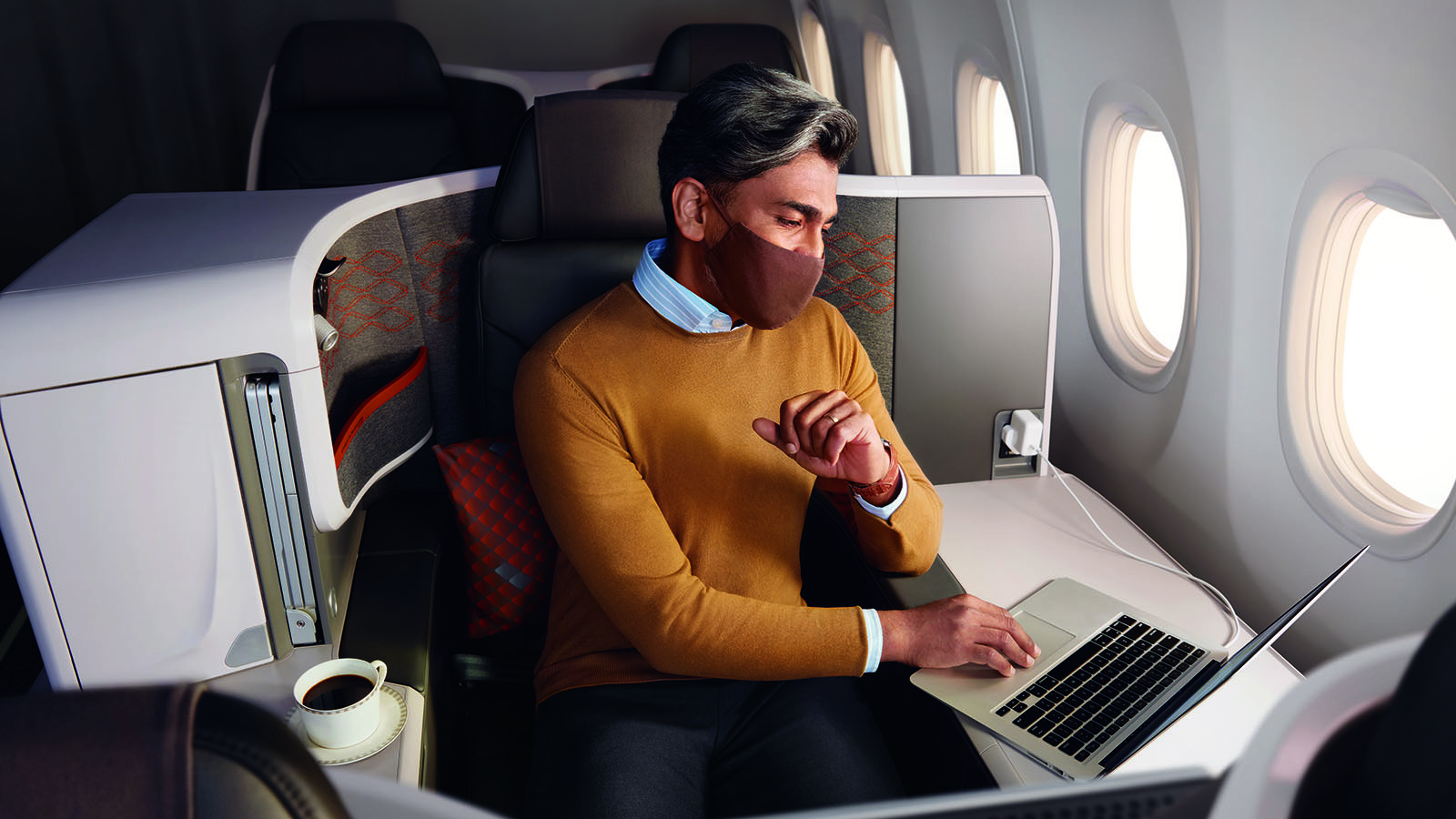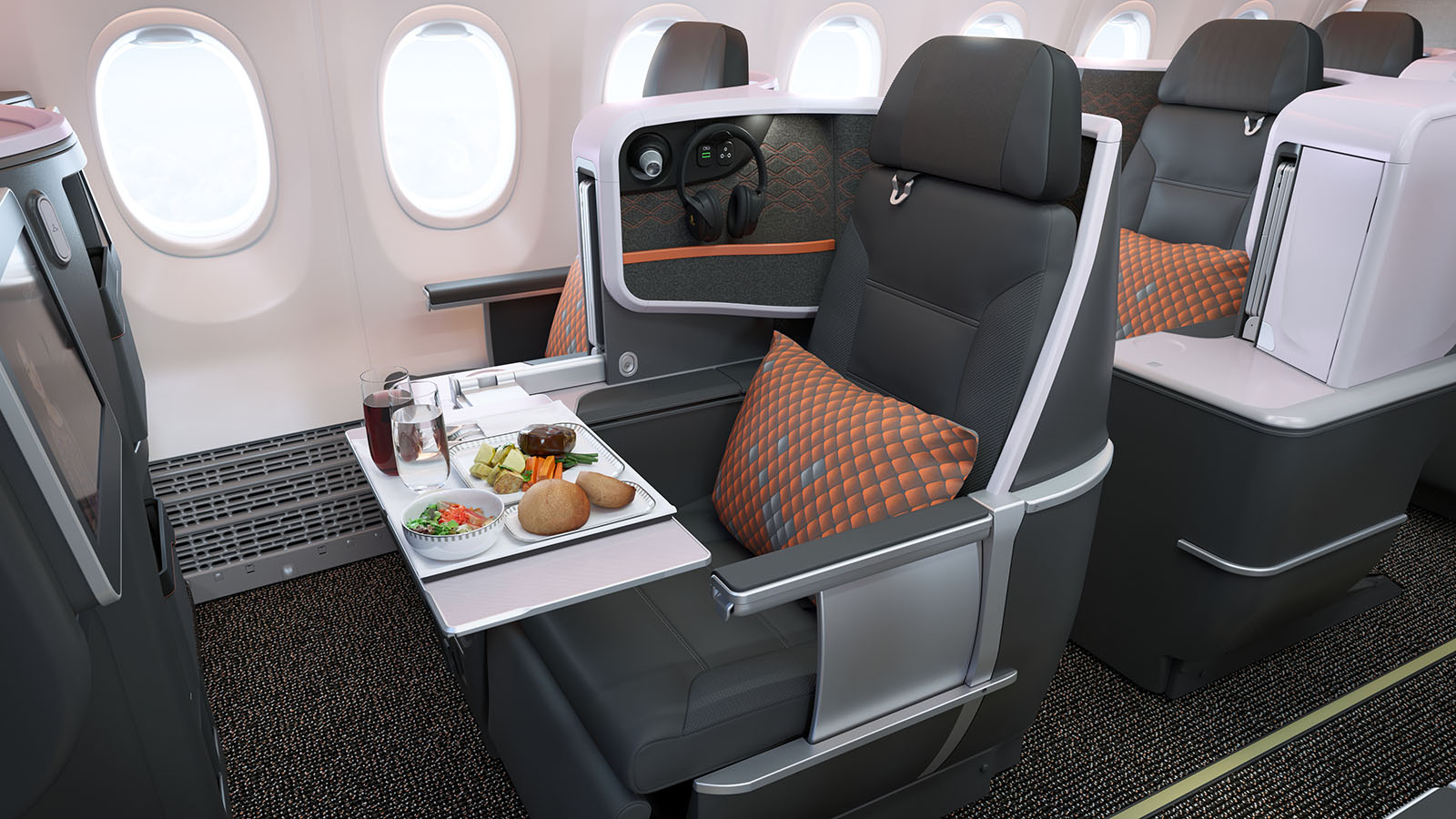 This cabin alternates between a 2-2 and a 1-1 layout. That is, the first row has two seats on either side, but the second row only has one seat either side of the aisle. In row three, there are again two seats on each side.
These jets usually appear on flights under six hours, including from Singapore to Malé in the Maldives.
Reclining Business Class on Singapore Airlines' Boeing 737-800s
Finally, we get to Singapore Airlines' Boeing 737-800s (that's -800, rather than -8 as above). These former SilkAir planes offer reclining seats at the pointy end, and are common on quick hops. From 28 March 2022, they'll also appear on flights between Cairns and Singapore, when this route resumes.
Singapore Airlines' longer-term goal is to retire these jets in favour of the Boeing 737-8s. But for now, you may still find yourself aboard.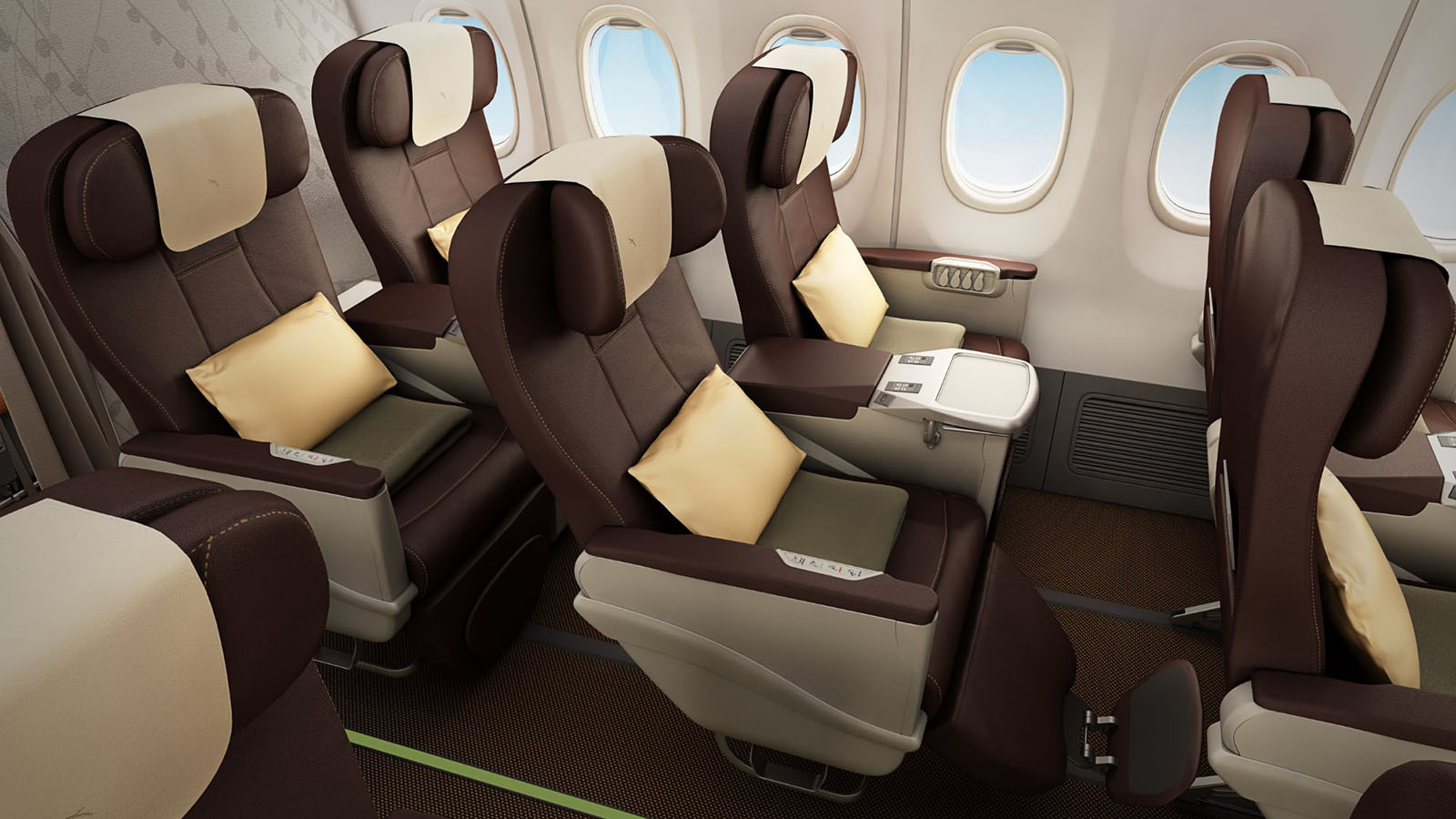 These Singapore Airlines Business Class seats recline and have an adjustable leg rest. A separate footrest can also fold out from the base of that leg rest, which can then be adjusted to your preferred height.
You'll know you're flight has this product if it's listed as a Boeing 737-800 (rather than a Boeing 737-8). You can also tell you're on this product if the second row (badged as row 12) has two seats on either side of the aisle.
Summing up
Singapore Airlines currently has six distinct Business Class cabins, as well as two iterations of Suites, and a separate experience branded as First Class. Depending on the flight you book, you could have anything from a reclining armchair to a sizeable seat that can annex the space next door and become a double bed!
By knowing the difference between Singapore Airlines' many products, you'll be able to plan your journey better. You'll also avoid any unwanted surprises on departure day if you were expecting one type of seat but end up flying another.
---
Stay up to date with the latest news, reviews and guides by subscribing to Point Hacks' email newsletter.
A comprehensive guide to Singapore Airlines' many Business and First Class seats and suites
was last modified:
November 20th, 2023
by