While Australians are not able to currently travel overseas for non-essential services, we have been getting a number of enquiries about planning for overseas travel for 2021 and beyond. For those that collect Singapore Airlines KrisFlyer miles, a round-the-world award redemption represents one of the best uses of KrisFlyer miles, especially if you are looking to visit a number of cities in one trip.
In fact, did you know that instead of just flying to New York return in Business Class, you can trek across the globe and stop in up to seven cities for up to 18,000 KrisFlyer miles less, while still flying Business Class? You could even do the trip in First Class for not much more in miles. Today, we're going to teach you how.
KrisFlyer is the frequent flyer program of Singapore Airlines, and one of the best ways to use your miles is to redeem a Round The World (RTW) Award in Business Class or First Class with Singapore Airlines and its Star Alliance partner airlines.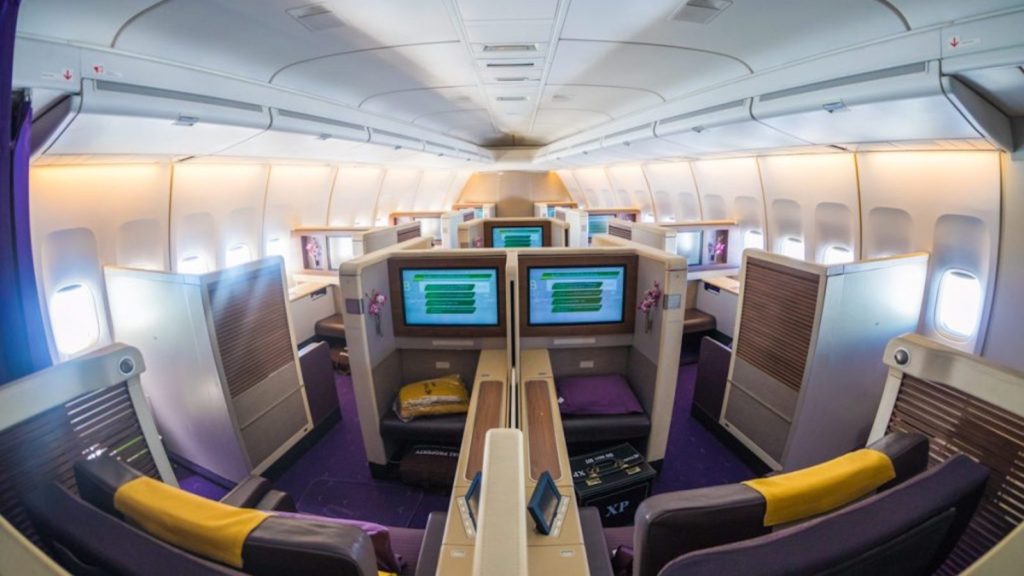 What is the cost?
With a RTW Award, you can circle the globe, visit up to seven cities up to 35,000 miles over a 12-month period for 240,000 KrisFlyer miles in Business Class and 360,000 KrisFlyer miles in First Class.
Here is a cost comparison of flying to New York or Europe return, or doing a RTW trip in Business / First Class, in KrisFlyer miles:
To New York return
To Europe return
RTW Award
From Sydney, Melbourne,
Canberra, Brisbane, Adelaide,
New Zealand
258,000 Business
334,000 First
232,000 Business
296,000 First
240,000 Business
360,000 First
From Perth, Darwin
242,000 Business
320,000 First
212,000 Business
285,000 First
240,000 Business
360,000 First
While it may seem too-good-to-be-true, the numbers don't lie. It costs less KrisFlyer miles to fly around the world in Business Class, than it is to fly from Australia to New York return in the same cabin.
For First Class, there is a moderate increase in miles needed, compared to flying to New York or Europe return in First Class.
Why is this award good value?
A cash round-the-world ticket on Singapore Airlines and Star Alliance partners for a similar journey booked with a travel agent will start around $16,000 per person in Business Class, jumping to $26,000 in First Class. That's a huge amount of money!
This RTW award is also better value than a simple one-way or return award redemption with KrisFlyer miles, in terms of the distance travelled and number of flights you're allowed to take.
For example, if you wanted to fly from Australia (excluding Perth or Darwin) to New York return, it will cost you 258,000 KrisFlyer miles in Business Class or 334,000 in First. In comparison, the RTW award costs 240,000 miles in Business Class and 360,000 miles in First Class.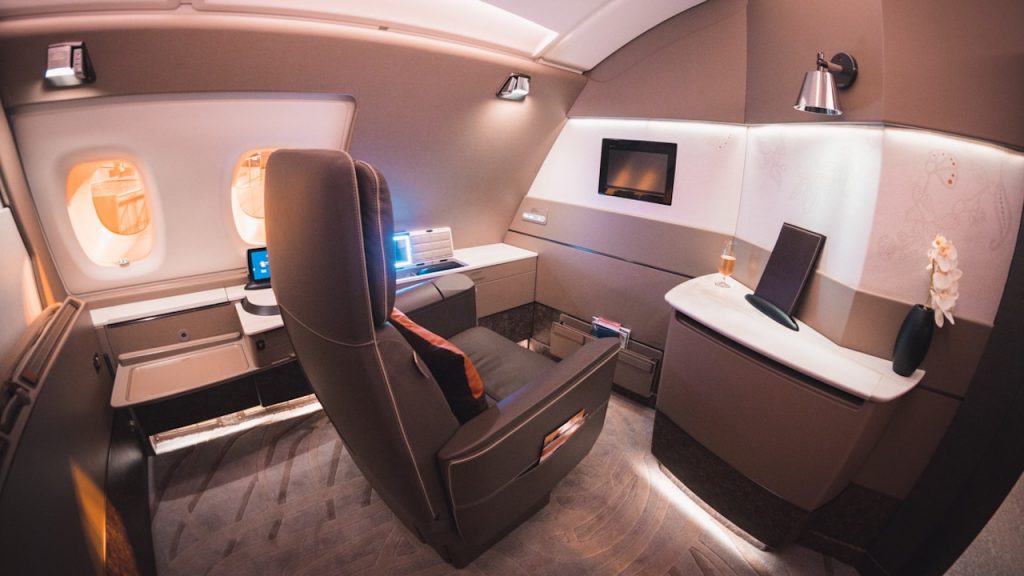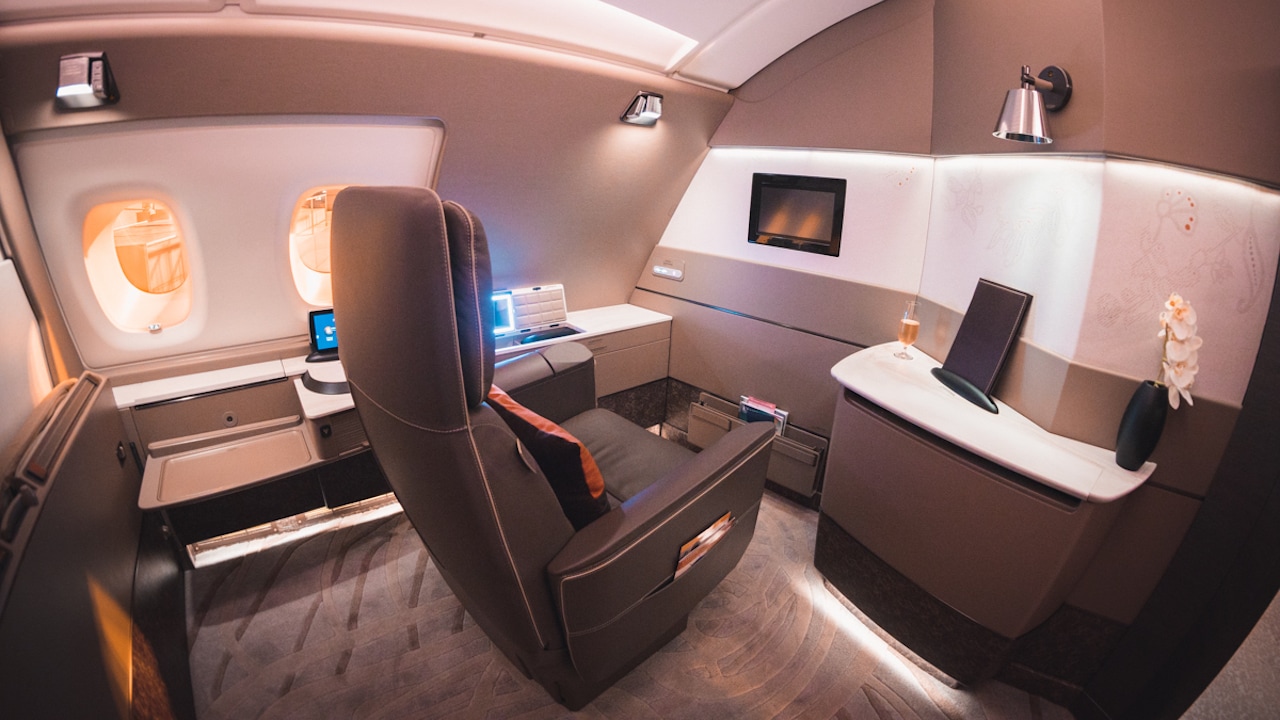 Therefore, for 18,000 miles less in Business Class or 16,000 miles more in First Class, you can fly around the world! Having said that, if you only wanted to have a holiday in Europe and USA because a RTW is too extensive, then read our guide to maximising KrisFlyer redemptions by using free or additional stopovers.
Why shouldn't I save my miles and just use them on more Economy Class flights?
It's absolutely your prerogative to spend your miles as you see fit, and a RTW Award in Economy Class costs 180,000 miles. In comparison, an Australia to New York return ticket is 120,000 miles from most cities, or 110,000 KrisFlyer miles from Perth or Darwin.
Generally, you will get the maximum value out of your points by using them for premium cabin travel.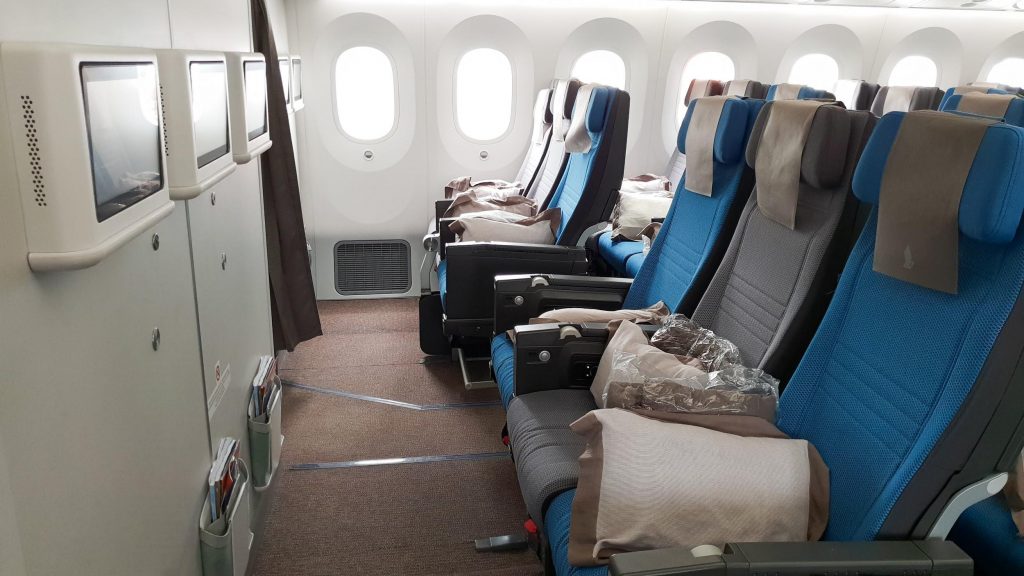 How do I earn KrisFlyer miles?
The great news for Aussies is that KrisFlyer miles can be earned relatively easily, as it is a transfer partner of several credit cards including American Express Membership Rewards.
Why does this redemption also apply to Velocity members?
In response to our ever-popular guide on how to fly around the world in Business Class for 318,000 Qantas Points with the oneworld Classic Award, many Virgin Australia Velocity readers asked us how they can use their Velocity Points to make a similar round-the-world award redemption.
Velocity doesn't have its own RTW Award but you can usually transfer your Velocity points to KrisFlyer miles at a ratio of 1.55 Velocity Points = 1 KrisFlyer. (Unfortunately, this is temporarily suspended as of early April 2020 until further notice).
In normal times, it means that Velocity members can transfer 372,000 Velocity Points to fly Business Class or 558,000 to fly First Class around-the-world, booked through Singapore Airlines KrisFlyer. Let's hope that this transfer opportunity will be opened up soon.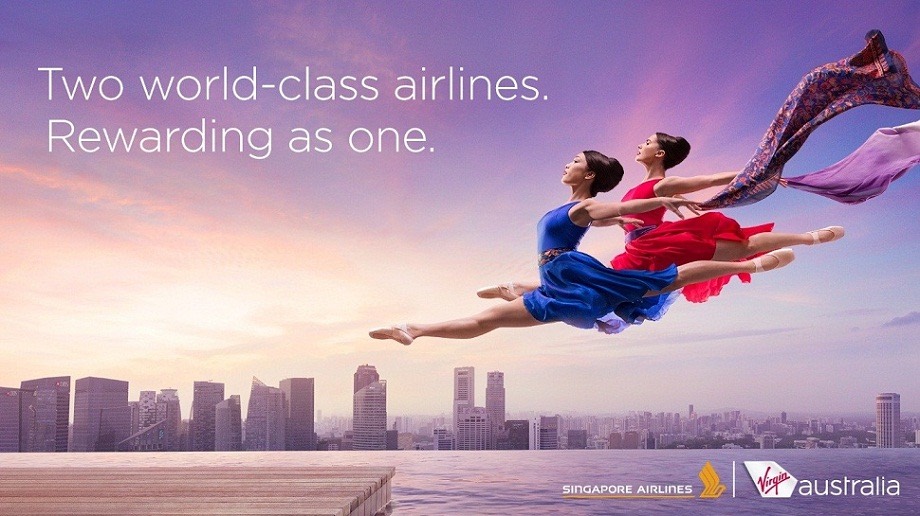 Where can I fly?
Although there are so many different combinations possible, depending on where you want to travel, here are two examples that keep to the 35,000-mile maximum for your inspiration:
Example 1
Sydney – Tokyo on ANA // Tokyo – Toronto on Air Canada // Toronto – New York on Air Canada or United // New York – Rio de Janeiro on United // Rio de Janeiro – Lisbon on TAP Portugal // Lisbon – Istanbul on Turkish // Istanbul – Bangkok on Turkish // Bangkok – Sydney on THAI
Example 2
Sydney – Seoul on Asiana // Seoul – Los Angeles on Asiana or United // Los Angeles – Vienna on Austrian // Vienna – Istanbul on Turkish // Istanbul – Johannesburg on Turkish // Johannesburg – Singapore on Singapore Airlines // Singapore – Melbourne on Singapore Airlines
You can use the excellent Great Circle Mapper tool to calculate the total distance for your trip.
Which airlines can I fly on?
You can choose from over 1300 destinations in over 190 countries covered by the Star Alliance network, which is made up of 26 partner airlines, including Singapore Airlines, Air Canada, ANA, SAS and United.

All of the airlines have Business Class but only six have First Class, notably Air China, Air India, ANA, Asiana Singapore Airlines and THAI.
I'm leaving Lufthansa and SWISS out of that list because they only release First Class award seats to their partners 14 days before departure and for this award, you'll need to book more in advance.
Also, note that Air New Zealand is notorious for having poor award availability, so don't count on them for any long Business Class legs in your planning.
Fuel surcharges
Effective March 2017, KrisFlyer no longer imposes fuel surcharges on award redemptions on exclusively Singapore Airlines flights, however, it is not applicable on a RTW redemption because we will be mixing with other Star Alliance airlines.
Here are some approximate taxes and surcharges examples:
Sydney to Frankfurt in Singapore Airlines First Class: $365
Frankfurt to New York in Lufthansa Business: $272
Tokyo to Los Angeles in ANA Business: $41.50
Seoul to Chicago in Asiana Business: $7
You will need to pay the combined taxes and surcharges of each individual flight when booking your round-the-world adventure.
The rules
You must travel in a continuous eastbound or westbound direction, so that means no backtracking and the journey must begin and end in the same country. However, you are allowed an origin open-jaw in the same country, so you can depart from Melbourne and return to Sydney, for example.
You must make only one crossing of the Atlantic Ocean and only one crossing of the Pacific Ocean.
Your total travel distance must not exceed 35,000 miles. You are allowed a maximum of 16 segments (meaning individual flights) and seven cities, and you cannot purchase additional stopovers.
You may stopover only once in each city and no more than twice in any one country
Surface sectors are permitted but will count as stopovers, so if you land in Paris and take the train to London and fly out of London, that is counted as two stopovers – be careful.
No change of flight/date is allowed once your journey has started.
How do I book a RTW Award?
Search for availability If you want to fly on Singapore Airlines, especially in First Class Suites, search on the KrisFlyer website. For all other partners, use United's search engine.
Write down the dates, flight number and cabin class for any award seat availability that fits your itinerary.
Step 3: Call KrisFlyer or fill in this Partner Reservation Request Form [PDF], as a RTW ticket cannot be booked online. Staff will check your routing to ensure it fits within the published rules.
We have further details in our guide on how to search for award space most efficiently.
Like other award redemptions, seats are subject to availability and there is a chance you would not be able to fly on the date you desire, so you need to be flexible. Because you are flying RTW, you do not need to search for all the flights at the same time.
It is best to search one flight at a time as if it were a one-way journey, e.g. Sydney to Singapore, Singapore to Tokyo, Tokyo to Toronto.
Note that in order to redeem the award for the purpose of the RTW, the availability must be classified as a Saver Award, because seat availability under Advantage Award categories cannot be booked under RTW.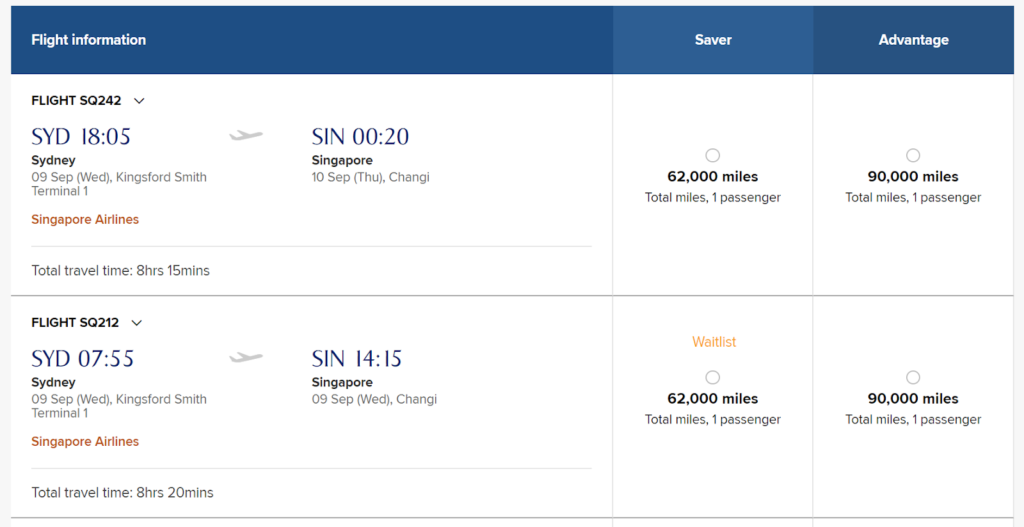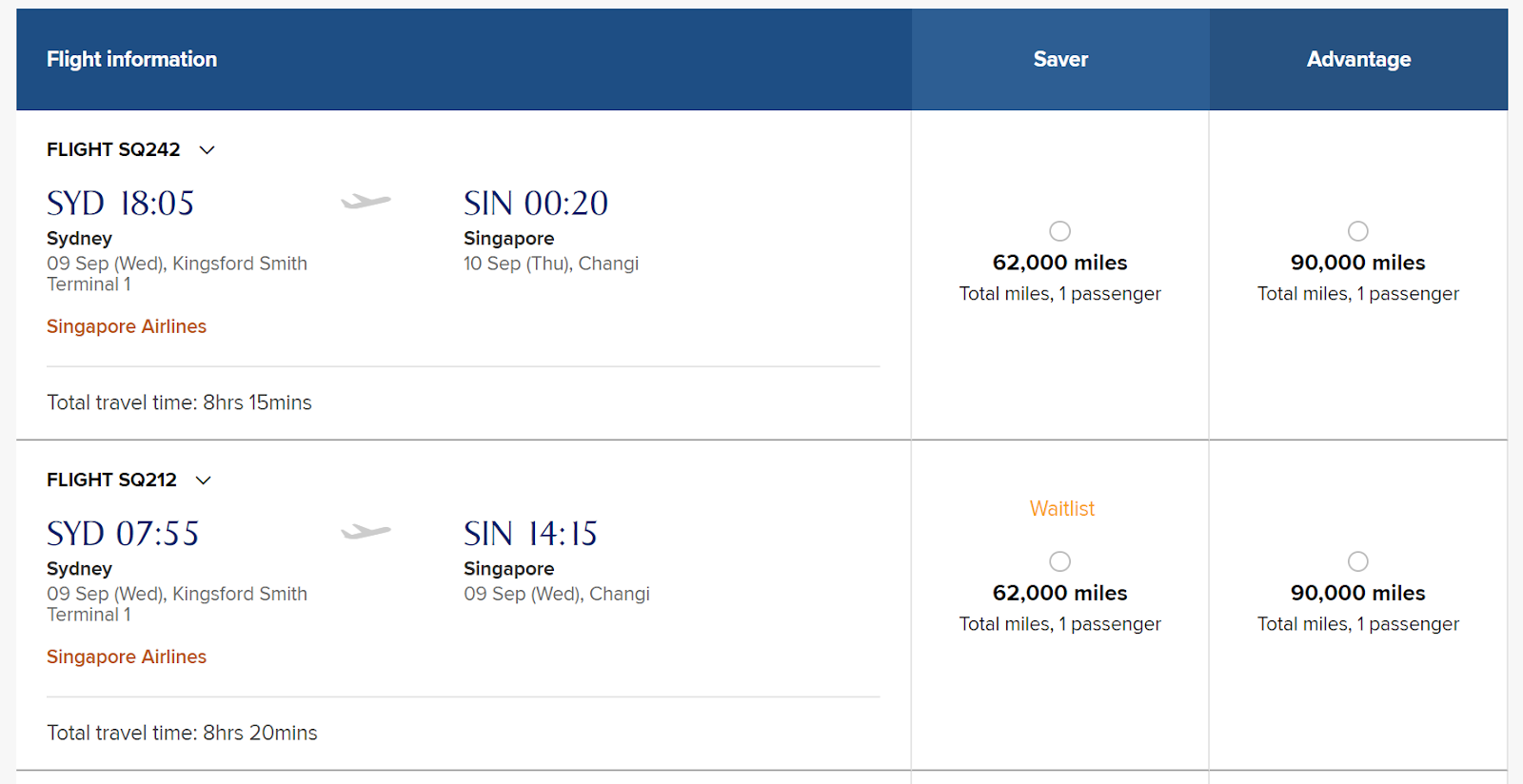 Have a notepad handy because when you find the available flights, you have to provide the information to the Singapore Airlines agent on the telephone. Not all agents are knowledgeable about this award, so you may have to hold their hand through this process.
Speaking from personal experience, these five handy tips will save you a lot of hassle, so write down the following (taken from the example screenshot above):
Date/s with available seats: e.g. 9 Sep 2020
Origin and destination airports: e.g. Sydney to Singapore
Operating airline: e.g. Singapore Airlines
Flight number: e.g. SQ 242
Departure and arrival times: e.g. 18:05 to 00:20 the next morning
You could also try filling in the Partner Airline Reservation Request Form online, which is a PDF you enter with your desired flight details and then email or fax off. However, it only has room for six flight legs, so it's probably not useful for most people booking a RTW.
How do I contact KrisFlyer?
To get in touch with KrisFlyer about a membership enquiry or flight redemption, try:
calling +61 2 8228 1188 from anywhere, anytime.
While the Call Centre might be the quickest way to resolve your issue, try the social media channels if the line is busy. During this coronavirus pandemic, which is heavily affecting Singapore Airlines, it may not be possible to book your RTW trip in a timely manner.
Summing up
The KrisFlyer Star Alliance Round The World award represents great value compared to both cash tickets and simple one-way or return routings, provided you can find the award space on the dates and routes that you are looking at. In some cases, it's even cheaper than a simple return ticket from Australia to New York.
It will require quite a bit of work to firstly collect enough miles for the number of people travelling, then finding the right award seat availability on the dates you want, then calling up Singapore Airlines KrisFlyer to book the journey one leg at a time.
But ultimately, it's all worth it and you can relax during your extended trip, knowing you've successfully pulled off one of the hardest awards to book in the frequent flyer world.
How to book a $16,000 round-the-world Business Class ticket for 240,000 KrisFlyer miles
was last modified:
July 16th, 2021
by