Business or First Class availability for Qantas flights to the US are known as one of hardest points seats to find out there – we'll look at ways to get a seat on these flights, as well as other options for using your Qantas Points to the US.
We'll cover off:
An overview of the award options and points required for redemptions
What the best uses for your points are to get the most value
For the purpose of this series, we've picked three example cities favoured by Aussies to use as comparison points – Los Angeles, Honolulu and New York.
Costs summary – using Qantas Points with Qantas, Jetstar, or on partner airlines
Due to the Qantas changes that were announced on June 2019, the number of points required for these routes is set to increase from 18 September onwards. We have updated the table accordingly.
Route (one way)
Airline / Cabin
Qantas Points needed
UNTIL 18 September
Qantas Points needed
AFTER 18 September
East Coast
Los Angeles
Qantas Business Class
96000
108,400
East Coast
Los Angeles
Qantas First Class
144000
162,800
East Coast
New York
Qantas Business Class
128000
144,600
East Coast
Honolulu
Qantas Business Class
72000
82,000
Brisbane
Honolulu
Jetstar StarClass
48000
51,300
Melbourne / Sydney
Honolulu
Jetstar StarClass
57600
61,500
East Coast via Nadi
Honolulu
Fiji Airways Business Class
72000
82,000
East Coast via Nadi
Los Angeles
Fiji Airways Business Class
96000
108,400
East Coast via Dubai
New York
Emirates Business Class
128000
144,600
East Coast via Dubai
New York
Emirates First Class
192000
216,900
East Coast via Qatar
New York
Qatar Airways Business Class
139000
159,000
All Australian ports via Hong Kong
New York
Cathay Pacific Business Class
139000
159,000
Sydney via Tokyo
New York
Japan Airlines Business Class
139000
159,000
Sydney via Singapore & London
New York
British Airways Business Class
139000
159,000
Sydney via Singapore & London
New York
British Airways First Class
203000
227,500
Using Qantas Points for travel on Qantas and Jetstar to the USA
Qantas flies from Melbourne and Brisbane to Los Angeles, and from Sydney to Los Angeles, Dallas Fort-Worth and Vancouver (only seasonally though).
One of the Sydney flights connects onward to New York JFK from Los Angeles, and back to LA to connect back to Sydney, Melbourne and Brisbane return flights.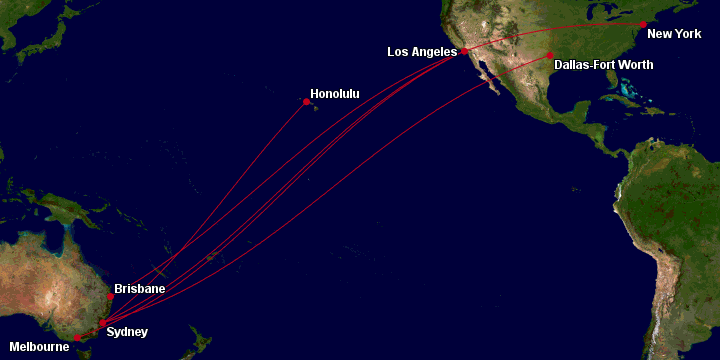 There are also flights from Sydney to Honolulu with Qantas, and from Sydney, Brisbane and Melbourne with Jetstar.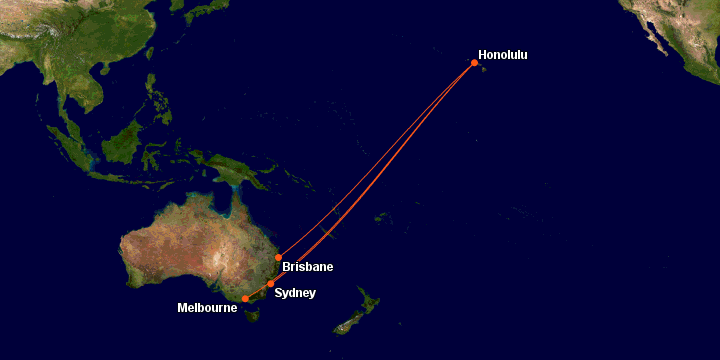 Finally, we have American Airlines flying daily from Sydney to Los Angeles. Points redemption costs using Qantas Points are the same as if flying Qantas.
Finding availability on Qantas operated flights to the US
Seeking out Business or First Class seats on Qantas flights to the USA, especially for multiple passengers, is like finding a needle in a haystack.
The general consensus is that it's worth knowing the following:
Look when the award redemption calendar first opens up at 353 days away from your day of travel – this is the most likely time to find available seats. Usually this is around midnight GMT, or mid morning AEST each day
If you don't have Qantas elite status, find someone you know well who does and who also has a decent Qantas Points balance to search for award availability and book for you on your behalf. More seats seem to be available to elite members. Do a trade with them for points for a future booking from your own account.
If you missed out previously, if someone cancels their Qantas Points booking the availability usually goes back for rebooking by others within around 24 hours – so it's worth monitoring award availability (I prefer awardnexus.com or ExpertFlyer.com for this)
The likelihood of cancellations increases the closer you get to the flight, so keep checking back to see if availability has opened up
If you have Qantas Gold or above status, then you may stand a chance in the points upgrade lottery, otherwise it's probably not even worth considering
The Sydney – San Francisco route as a new option may have a little more availability, although this is not guaranteed
Qantas availability to Honolulu is very, very limited, with them preferring to offer more seats on Jetstar instead
Remember to check availability out of alternate cities to home (i.e. check Brisbane if you're Sydney-based)
Using Qantas Points for travel on Qantas' airline partners to the USA
There a number of Qantas partner airlines that will also get you to the USA indirectly when using your Qantas points.
These include:
Fiji Airways, to Los Angeles and Honolulu via Fiji – read this guide for more about why this is a good value option
Cathay Pacific via Hong Kong, Japan Airlines via Tokyo
Emirates – arguably the best 'value' for your Qantas points when it comes to time in the air! It costs the same as Qantas/American Airlines flights, but on Emirates A380 where there is an onboard bar in Business Class and shower in First Class.
Qatar Airways and other oneworld partners (flying the 'long-way' from East Coast Australia, or maybe not so bad from the West Coast)
All redemptions with Qantas and its partners attract a fuel surcharge, which start from $335 per person one-way.
Fiji Airways
At first glance, adding an extra stop in Nadi doesn't sound like a great option – but Fiji Airways' Business Class cabin (if you can snag an A330 operated flight) is fairly comfortable, with an angled-flat bed.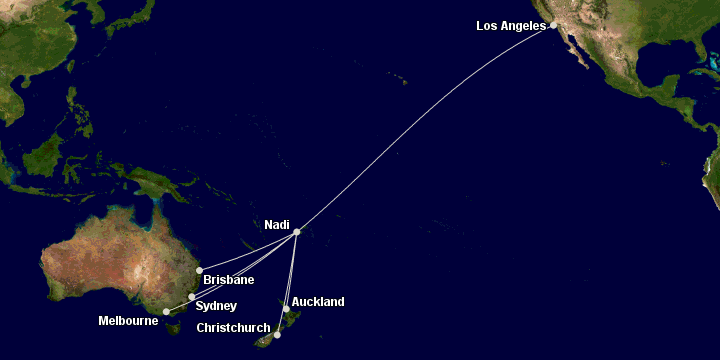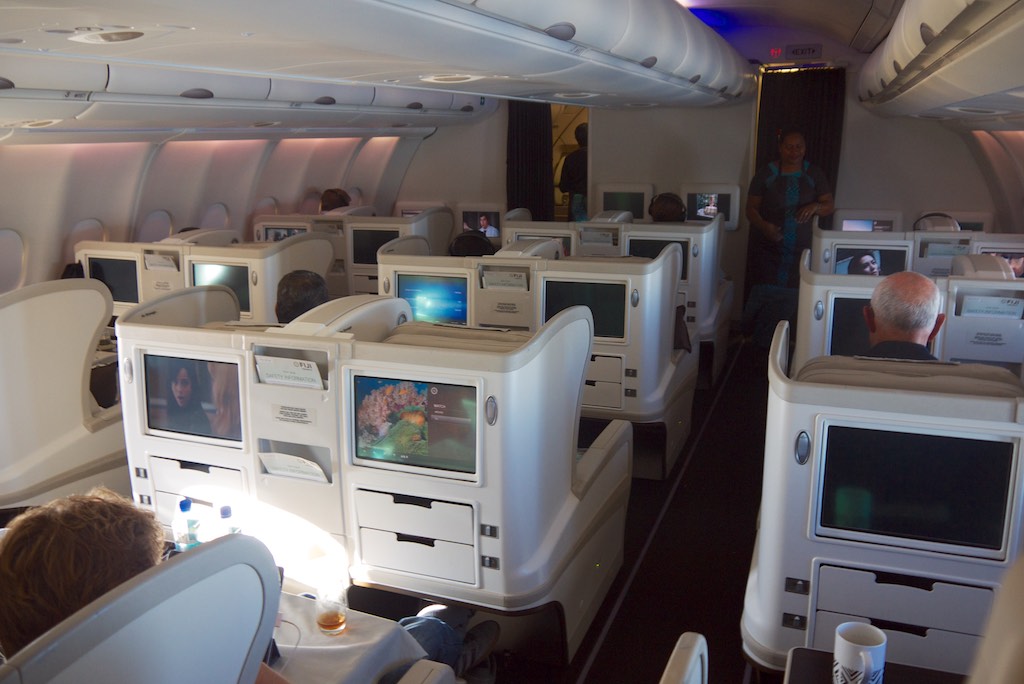 If there's no other availability, it's not the worst option out there, and it's geographically not too indirect.
Cathay Pacific via Hong Kong
Cathay Pacific are a good option for flights to East Coast USA (and Chicago), where the connection in Hong Kong adds a few hours to the overall flight time.
You'll get to travel in one of the world's best and most consistent Business Class products on Cathay's A330 and 777 fleet.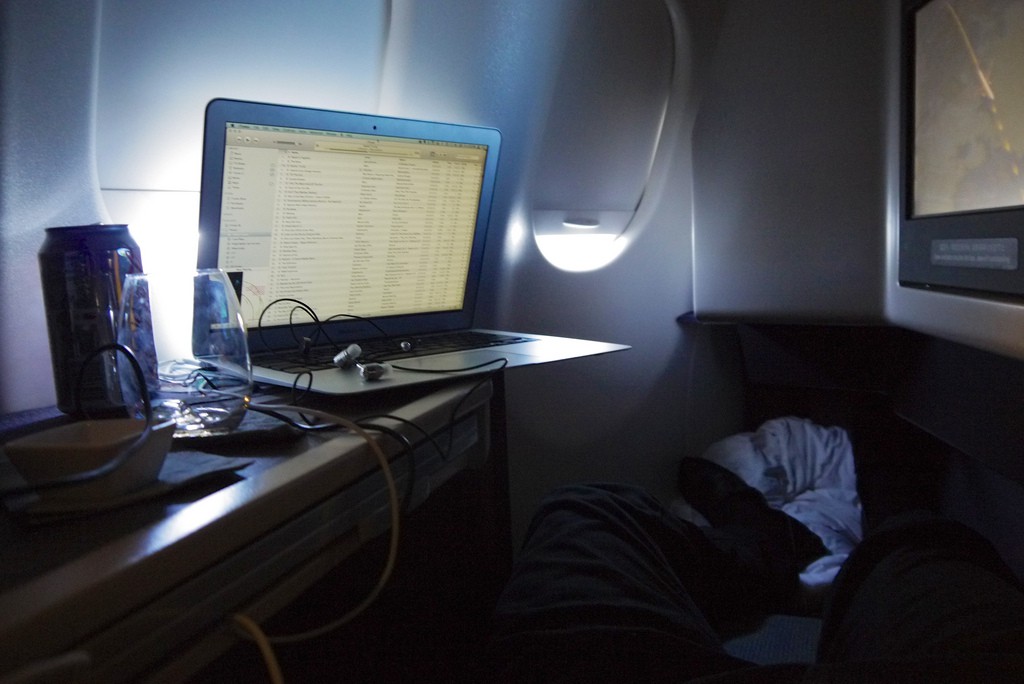 To Los Angeles Cathay Pacific are less practical, with a significant amount of extra travel time.
Cathay fly from all major Australian capitals via Hong Kong to Los Angeles, San Francisco, Newark, JFK, Boston and Chicago.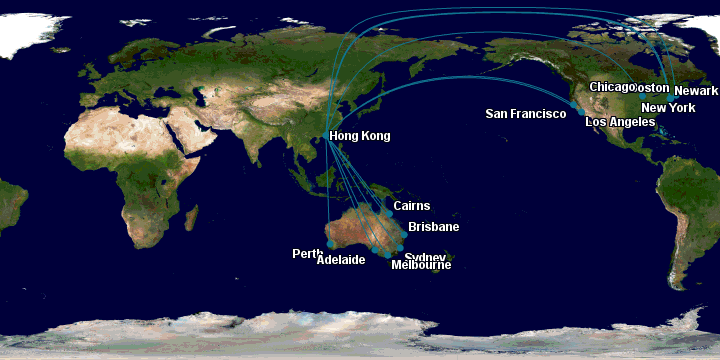 Japan Airlines via Tokyo
Japan Airlines fly to Tokyo Narita from Sydney only, but connect onto a large number of US cities. Again this is most practical, in terms of travel time, for connections to the East Coast – Boston and New York.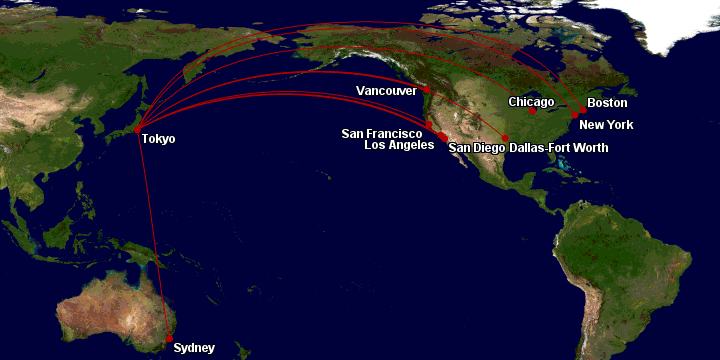 Options for Western Australians, or people who like travelling the long way, for points redemptions to the USA
So far I've mostly looked at travel options from the East Coast cities in Australia.
However, if you're travelling to East Coast USA from Western Australia, it's equally worth considering travelling via the Middle East to get to the US in terms of total travel time.
Or if you enjoy spending hours in Business or First Class and want to travel from East Coast Australia to East Coast USA, you can still transit the Middle East and redeem for Qantas Points.
Qantas have a maximum upper limit of 15,000 flown miles for a partner award – and Sydney – Dubai – New York, for example, comes in at just under that limit.
Emirates via Dubai
Emirates fly via Dubai to the US from Perth, Adelaide, Melbourne, Sydney and Brisbane.
You could pick up an Emirates A380 in Sydney, Melbourne or Brisbane and connect to another in Dubai. This would be very tolerable in either Business or First Class!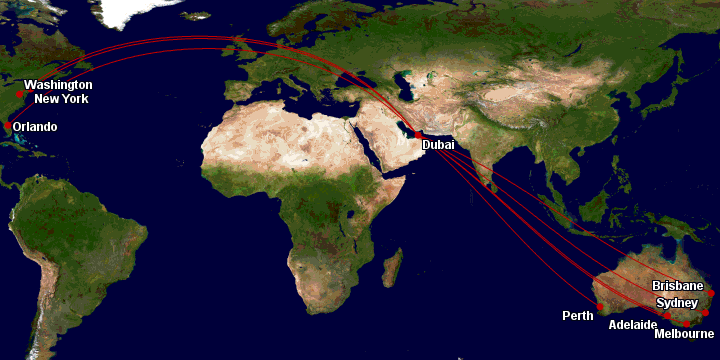 Qatar Airways via Qatar
With Qatar now flying from Sydney, Adelaide and Melbourne – and in 2018, Canberra- you can use Doha as a connecting port to East Coast USA in the same way as Emirates.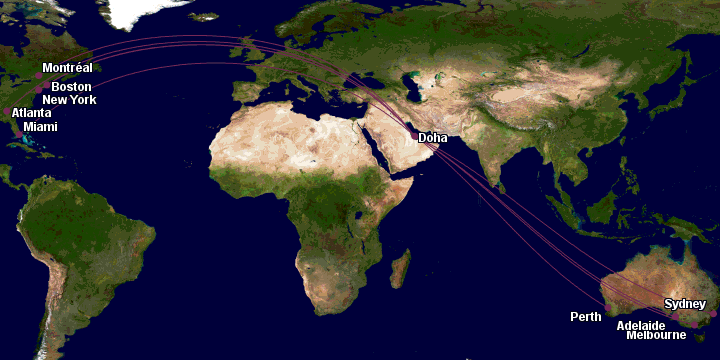 British Airways via Singapore and London
You can technically also fly on British Airways via Singapore and London, connecting onto one of BA's many routes to East Coast USA and the Carribean from London.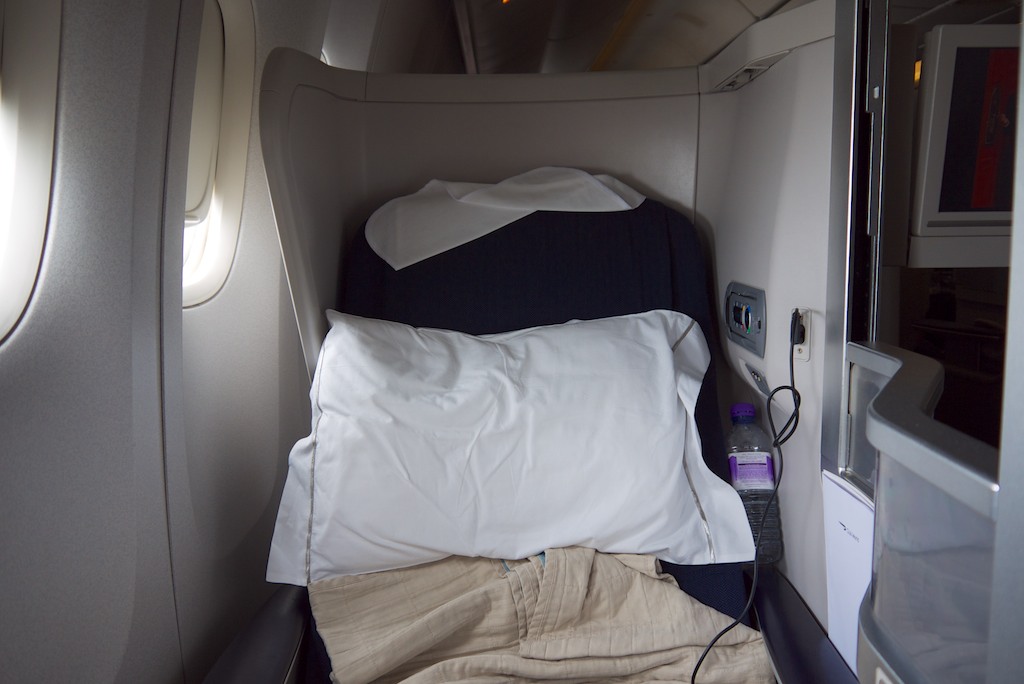 If you're a masochist, you could do this in Business Class (BA's Business is not great) but it's probably a routing that's better to aim for a First Class redemption on.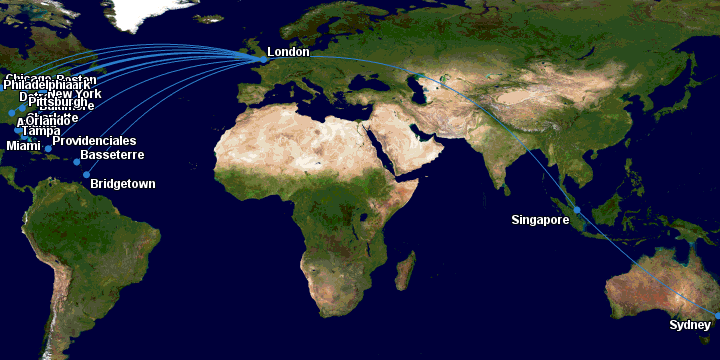 Summing up – using Qantas Points to the USA
The point of this post is to demonstrate the other options beyond the Qantas direct flights if there's no availability.
The best uses of points are, of course, on the most convenient flights for you to get to your destination, and there's no doubt that Qantas have that nailed with their direct options – which is why they are so hard to get.
In addition, Qantas are now increasingly making their redemptions to the US and other key cities more available to Qantas status holders (Gold or above, making it harder to score a points redemption).
If you live outside of Sydney, Melbourne or Brisbane, or just can't find availability on Qantas for your dates, then knowing about the other options gives you a head start in finding alternative uses for your points.
The options really open up if you are travelling further afield, with flights to the US East Coast quite feasibly done via Hong Kong, Japan and the Middle East with a reasonable amount of additional travel time.
If you're willing to be more flexible about your routes and travel time then there should, hopefully, be some availability with some partner airlines on indirect routes.
Options for redeeming your Qantas points for flights to the USA from Australia
was last modified:
August 8th, 2019
by